The best birthday – or holiday gifts for a 3 year old girl are here! When you're done, check out our similar list for 3 year old boys. This post contains affiliate links. Product was provided by brands for photography and review purposes, however they were curated and vetted by our family. All reviews are based on our own experiences.
---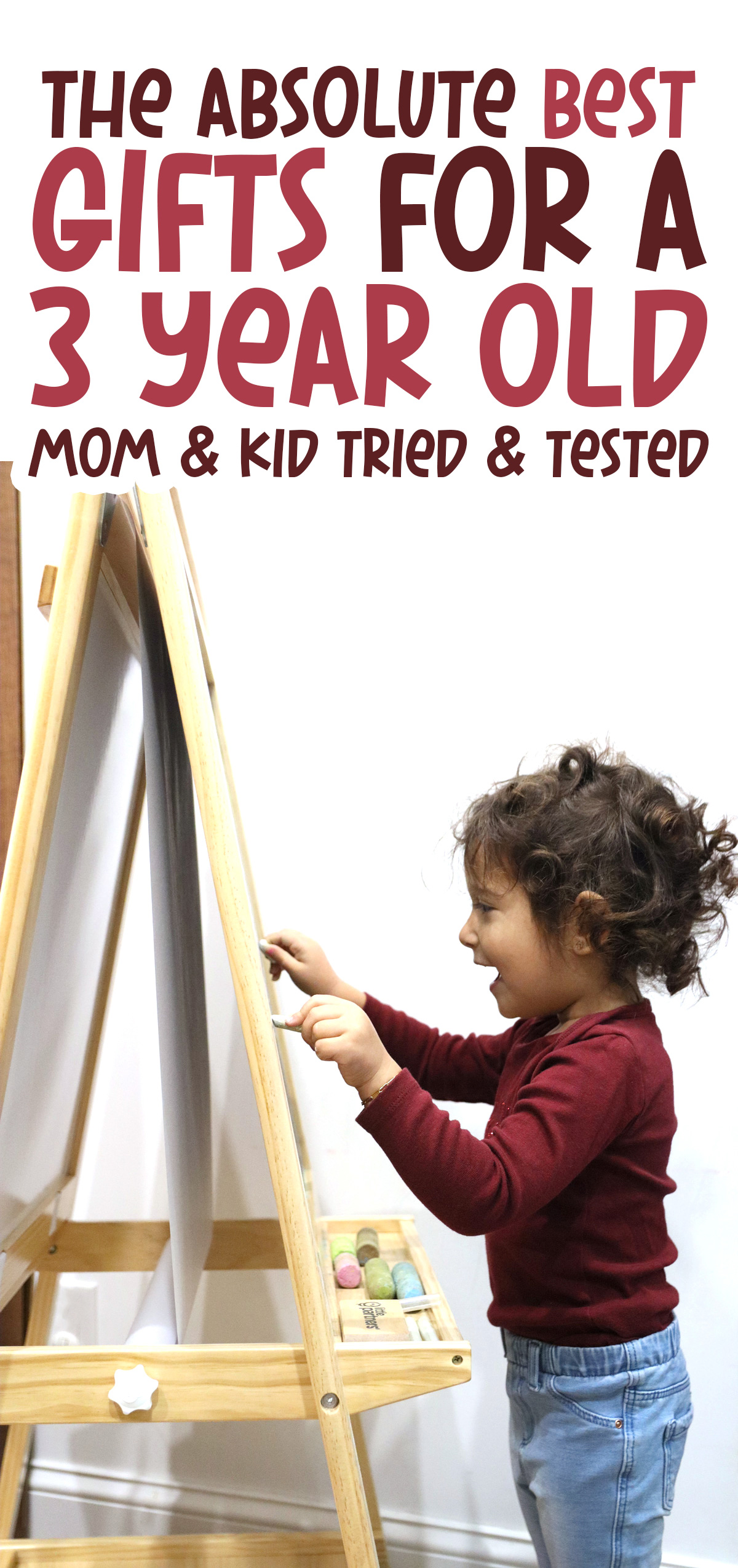 Three year olds are just beginning to exit the world of toddler toys… and enter into the next magical stage of preschool toys. There are just so many things out there for them to explore and discover at this major learning part of their lives!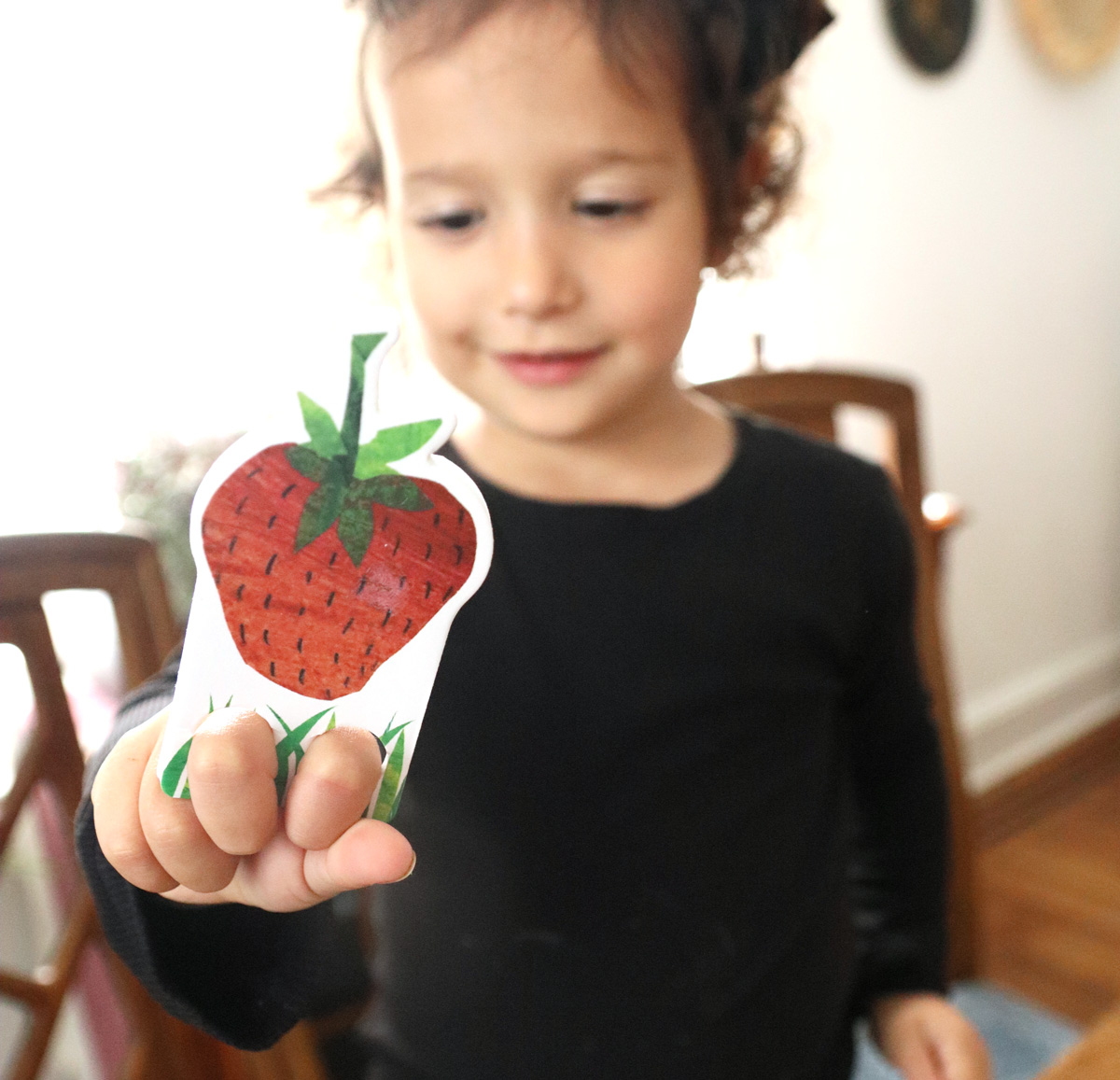 These gifts for three year old girls also include some non-toy options. At this age, they are not yet spoiled to need something glittery and noisy. Finding something that has educational appeal, wholesome play value, or some other "pull" is the way to go.
You can still gift clothing if it has a favorite character or a cozy element. Art supplies, and even workbooks are a win.
Of course these gifts are fabulous for boys too, it just depends on their interests! These were all tried and tested by our own three year old daughter, A.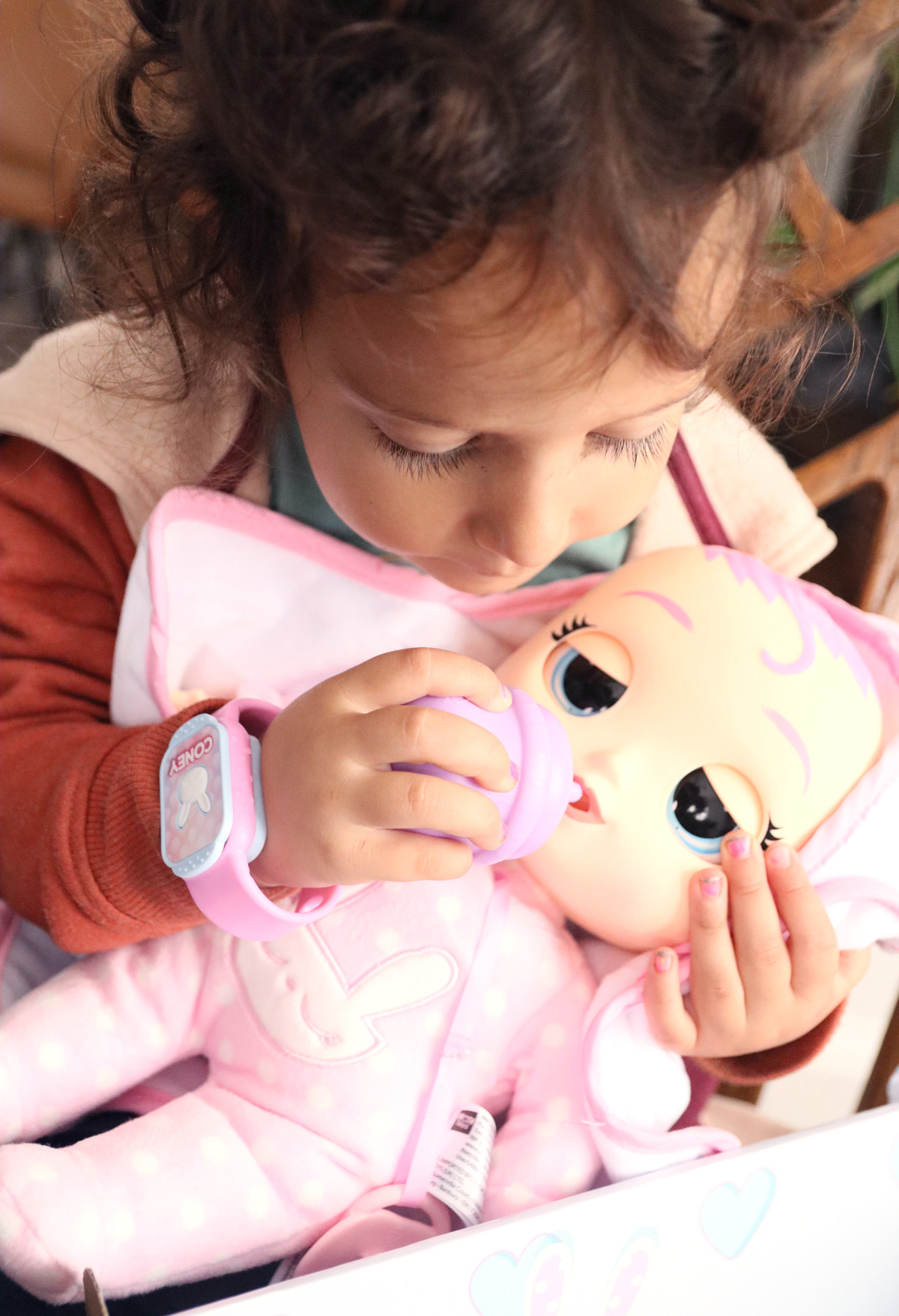 Here are some of our favorite holiday or birthday gifts for a 3 year old girl.
I've split them by interest, but of course there's overlap, so I highly recommend you read through the whole list to find your favorite!
Creative & STEM Toys for 3 year old girls
Three is the perfect age to start investing in some forever toys, including lifelong building toys as well as sensory play. Three year olds can be surprisingly creative, and these toys really bring that out!
Magformers is one of those forever toys that you can build on bit by bit over the years. My kids start playing with them at age three and M, age ten, still has fun with them! Magnetic building toys are always a win, but we find that our Magformers creations hold together really well because of the grooved edges.
We also love all the inserts that click easily into the center.
The Mystery Spin set is the perfect blend between basic pieces and "special" ones. The spin piece has a fidget spinner-type center that connects with other pieces in different ways.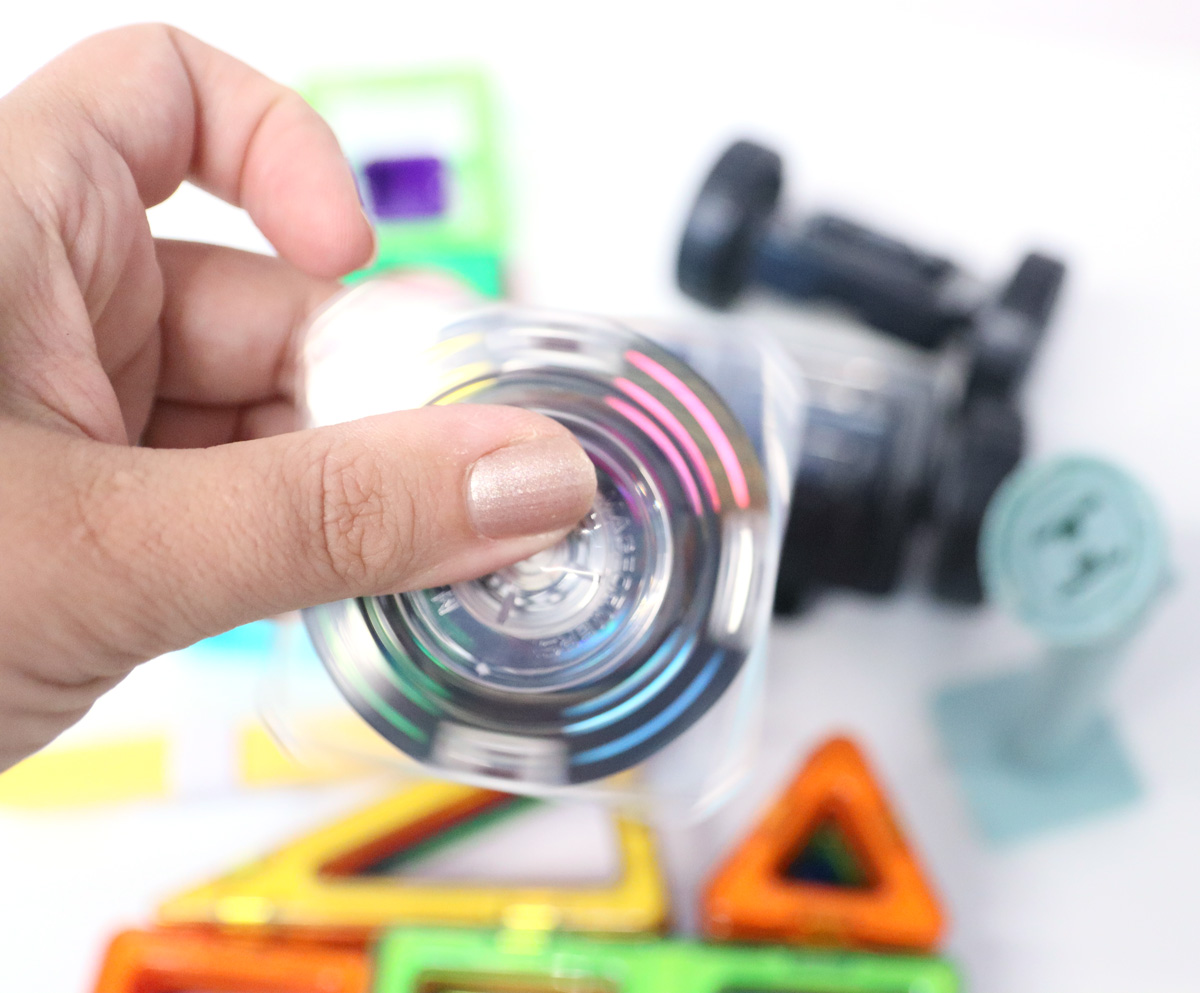 But it's not just a gimmick. You can make all sorts of spinning things.
The vehicle that we built to test this out was from our imagination, but there are loads of cool ideas in the instruction booklet too.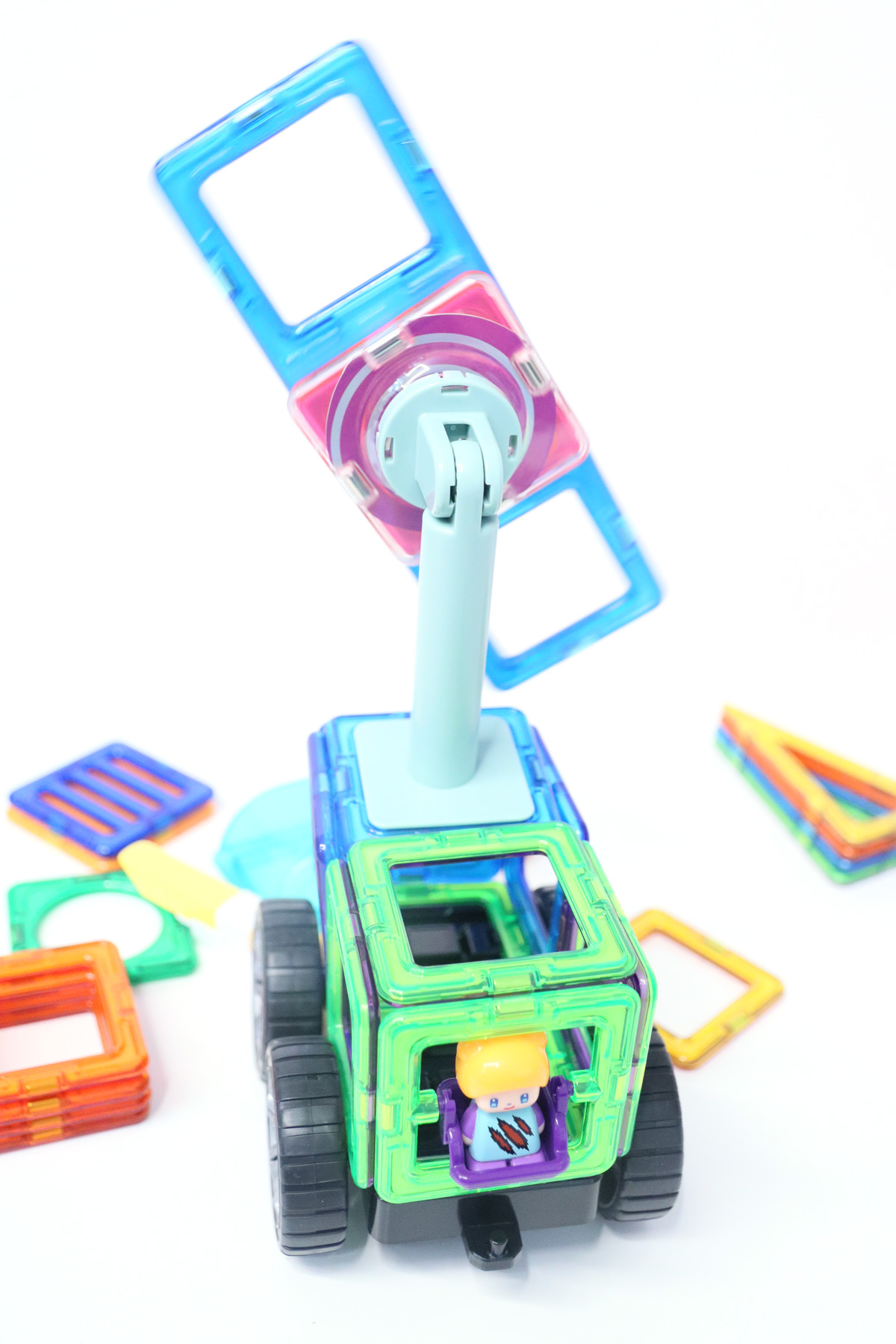 This set comes with some additional specialty pieces including a seat, vehicle bases, a siren (my kids' favorite), a figure, and more! It also comes with a fair amount of basic pieces, making it a fabulous set whether you've already started your Magformers stash or not.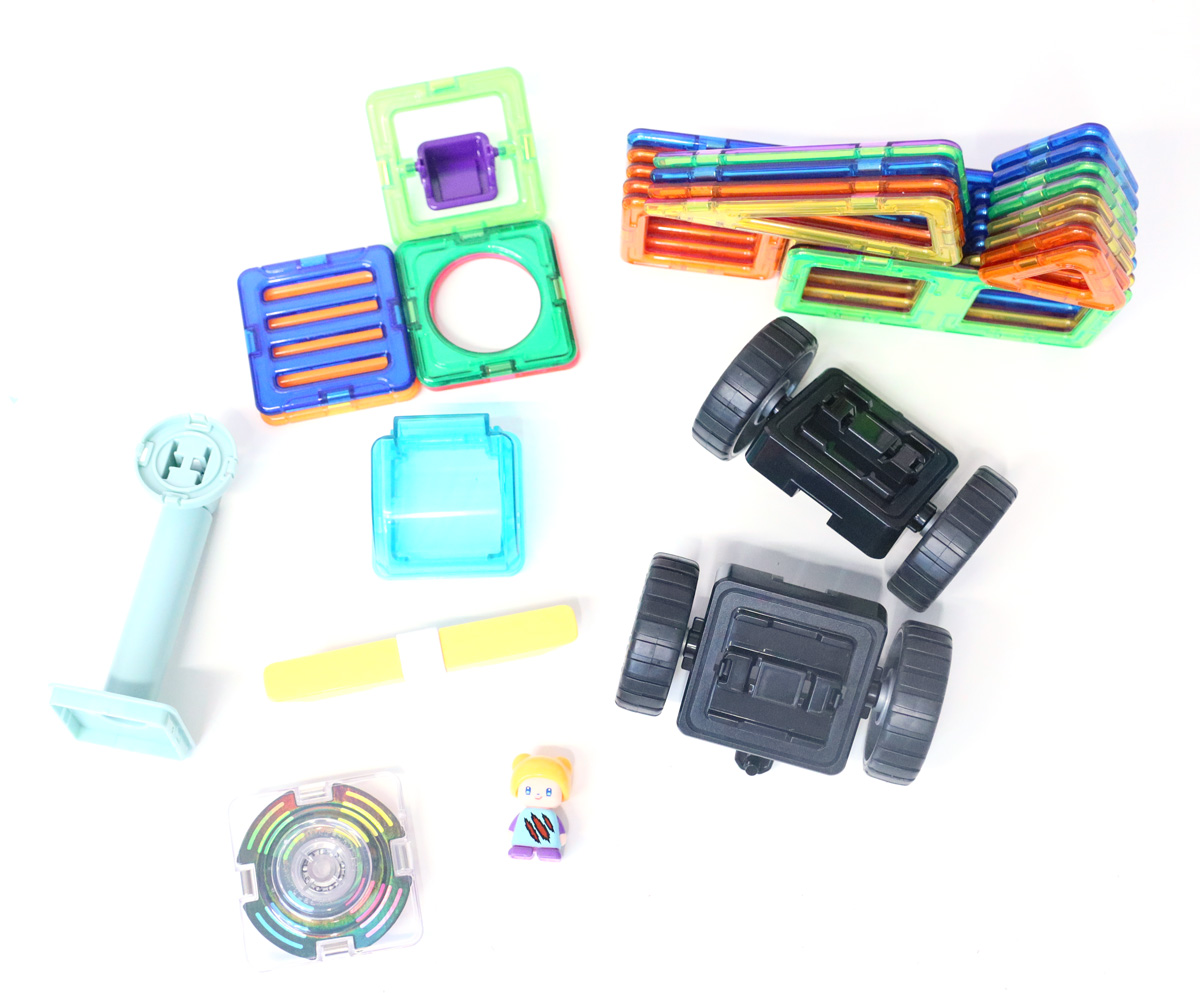 Educational Insights' Design & Drill line is another favorite creative toy that can be built on and expanded, but it's so unique! Their special drill has a bit with a hexagonal groove to fit over the whole screw, making it super fun and easy for preschoolers.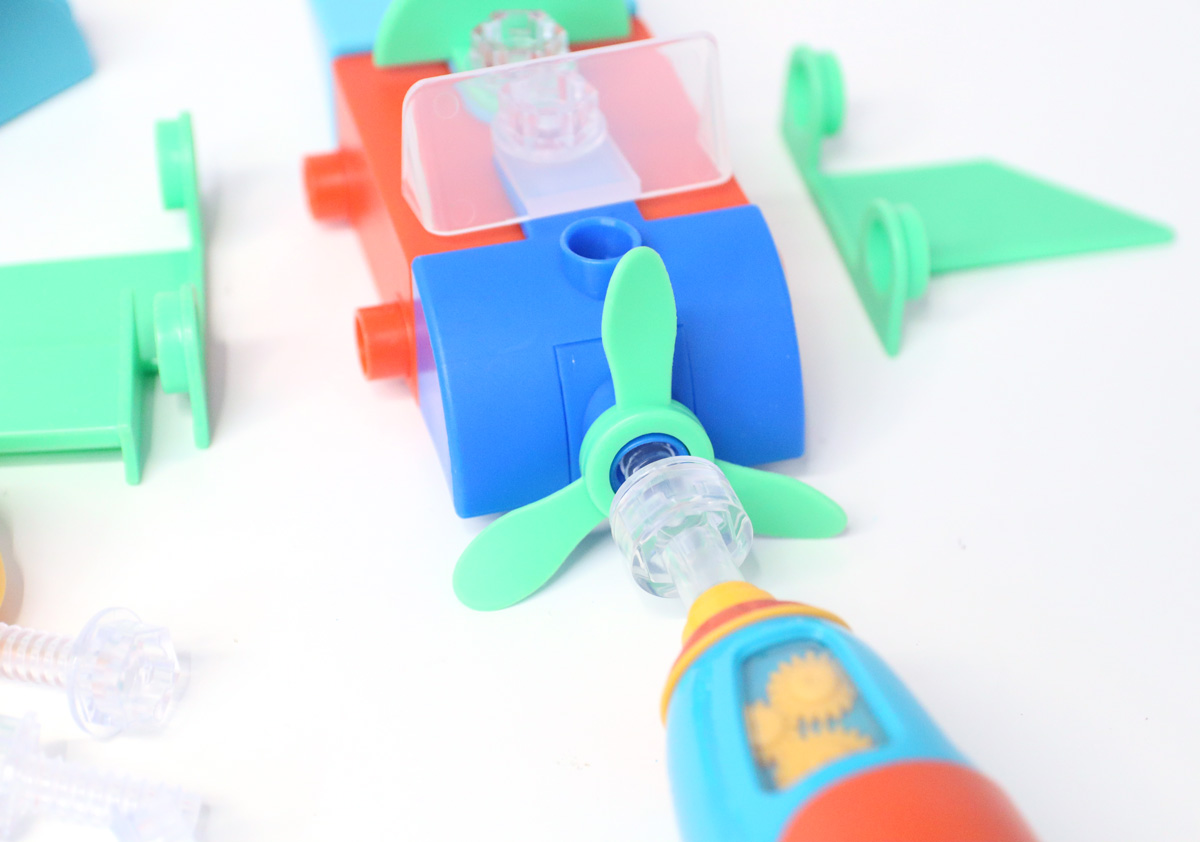 The Design & Drill Build-it bucket kind of like a take-apart vehicle toy, but in the reverse. It's more creative, with mix and match elements that can be used to create different vehicles.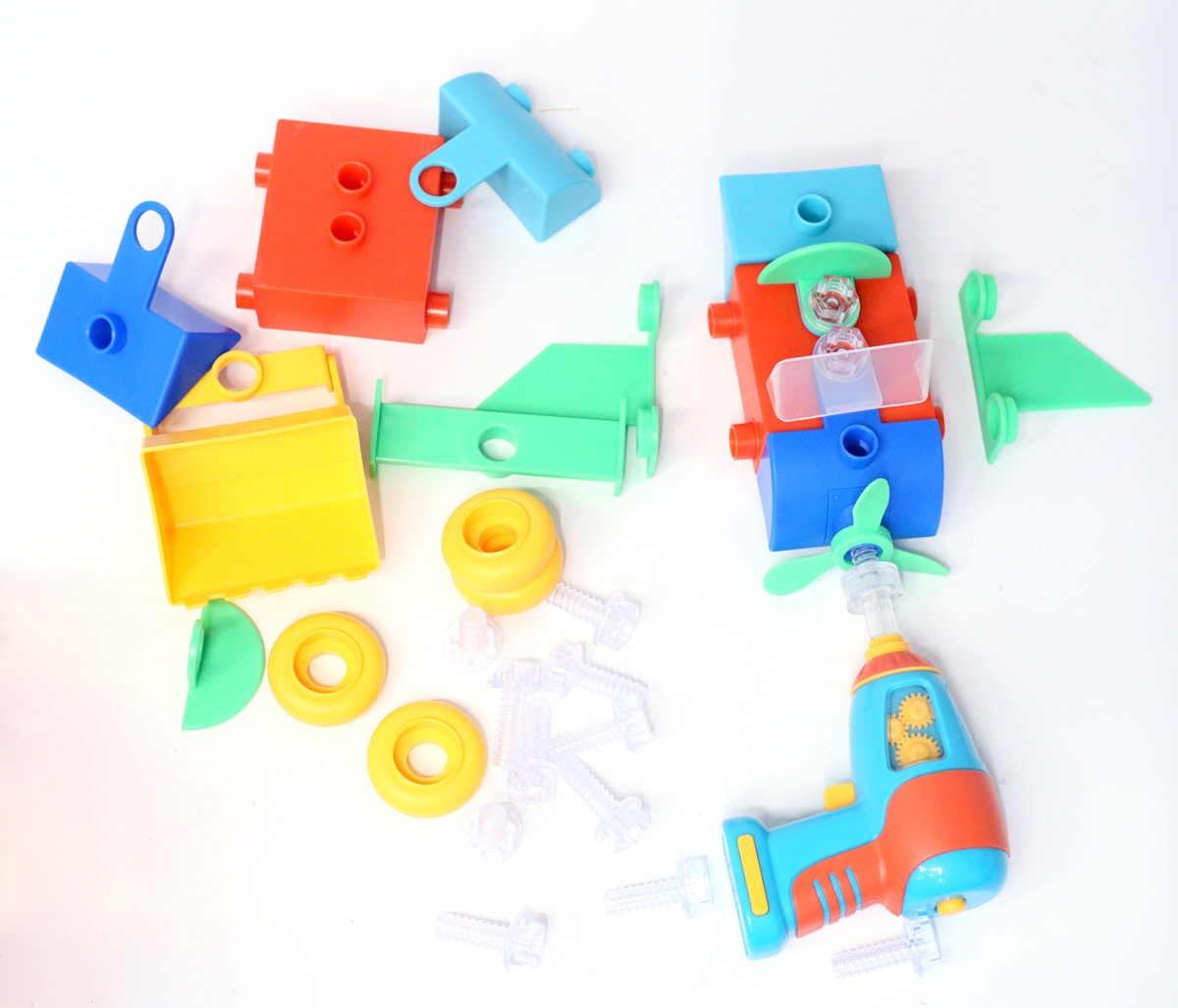 And it's even self-storing as it comes in a bucket!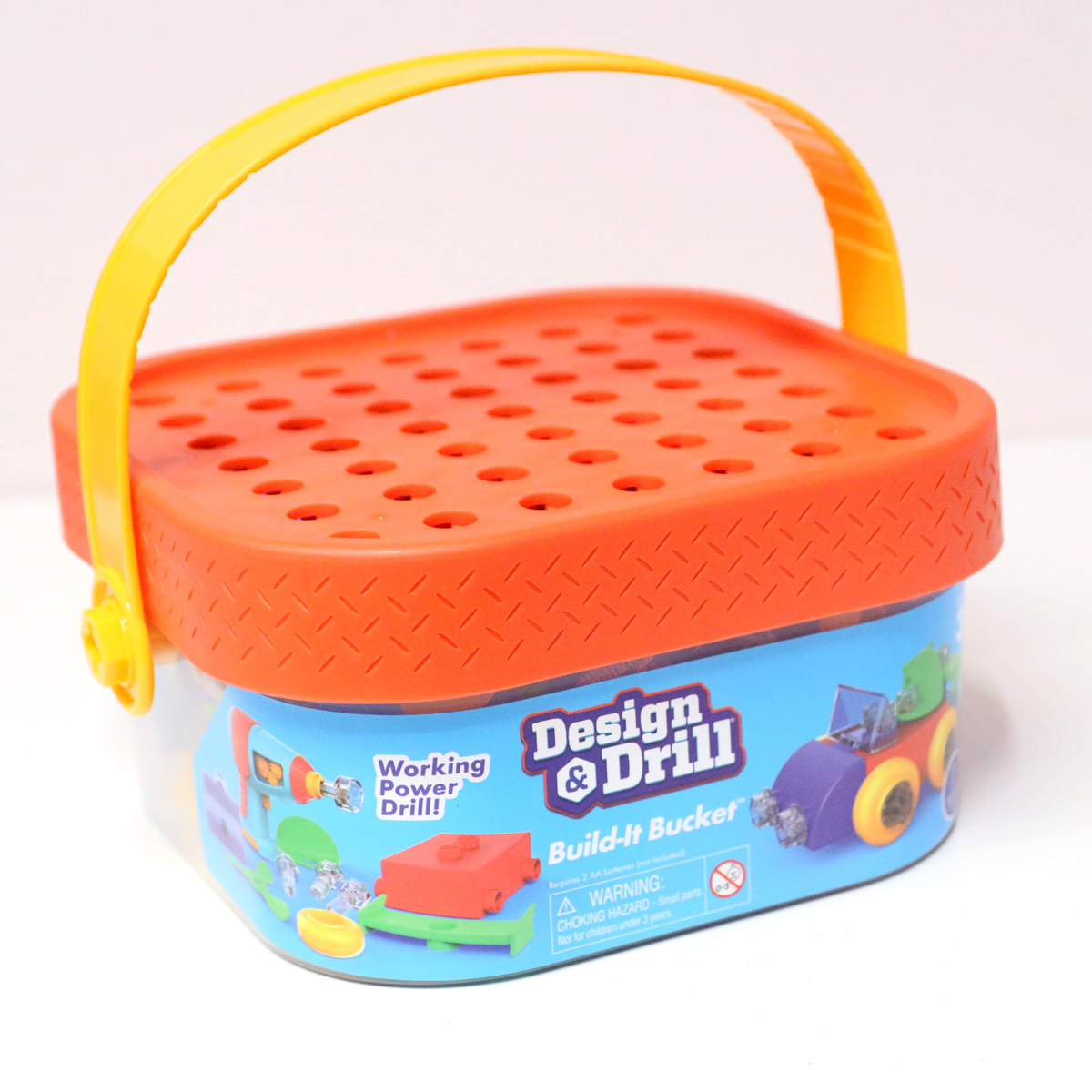 We love this, because it has the hype of an electronic toy with a power tool (and as a power tool-loving mom, I love empowering my daughter to pick one up too), but it has a truly creative element to it as well.
If you've read my gift guides in the past, you'll be familiar with our love for Plus Plus. What I hadn't realized was how early on kids can start using the BIG line (18 months!) which I discovered when we met up with the team at Plus Plus at a toy showcase last Spring.
A instantly fell in love.
Plus Plus BIG is designed for younger kids who don't yet have the dexterity for the smaller pieces. It really works their fine motor skills while stimulating creativity, and yes, even the big kids enjoyed it! That makes it another grow-with-me household toy and a fabulous gift for three year old girls.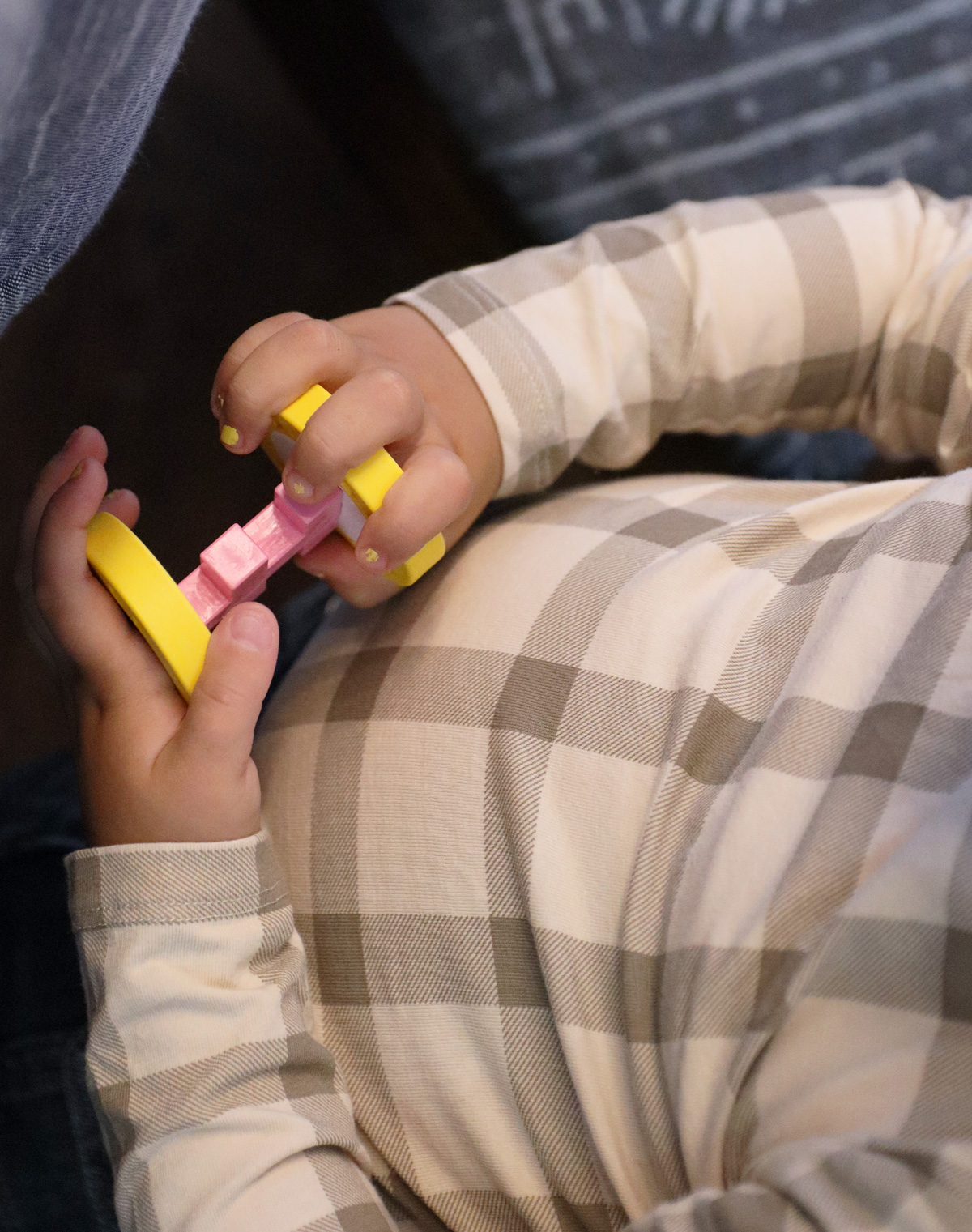 The Learn to Build activity set is the perfect one for starting your stash. Later on, you can add to it, with smaller tubes with individual builds available as prizes. This set comes with activity cards for starting out (match the color, create flat patterns, and more.) Then, there are small builds, challenges, and more – all in laminated cards and not a flimsy booklet!
It even has a base and wheels to extend the building possibilities!
Paint that can't possibly make a mess? What could be better?
How about a paint brush that lights up with the color that it's about to paint? We don't know how it works but we think it might be magic.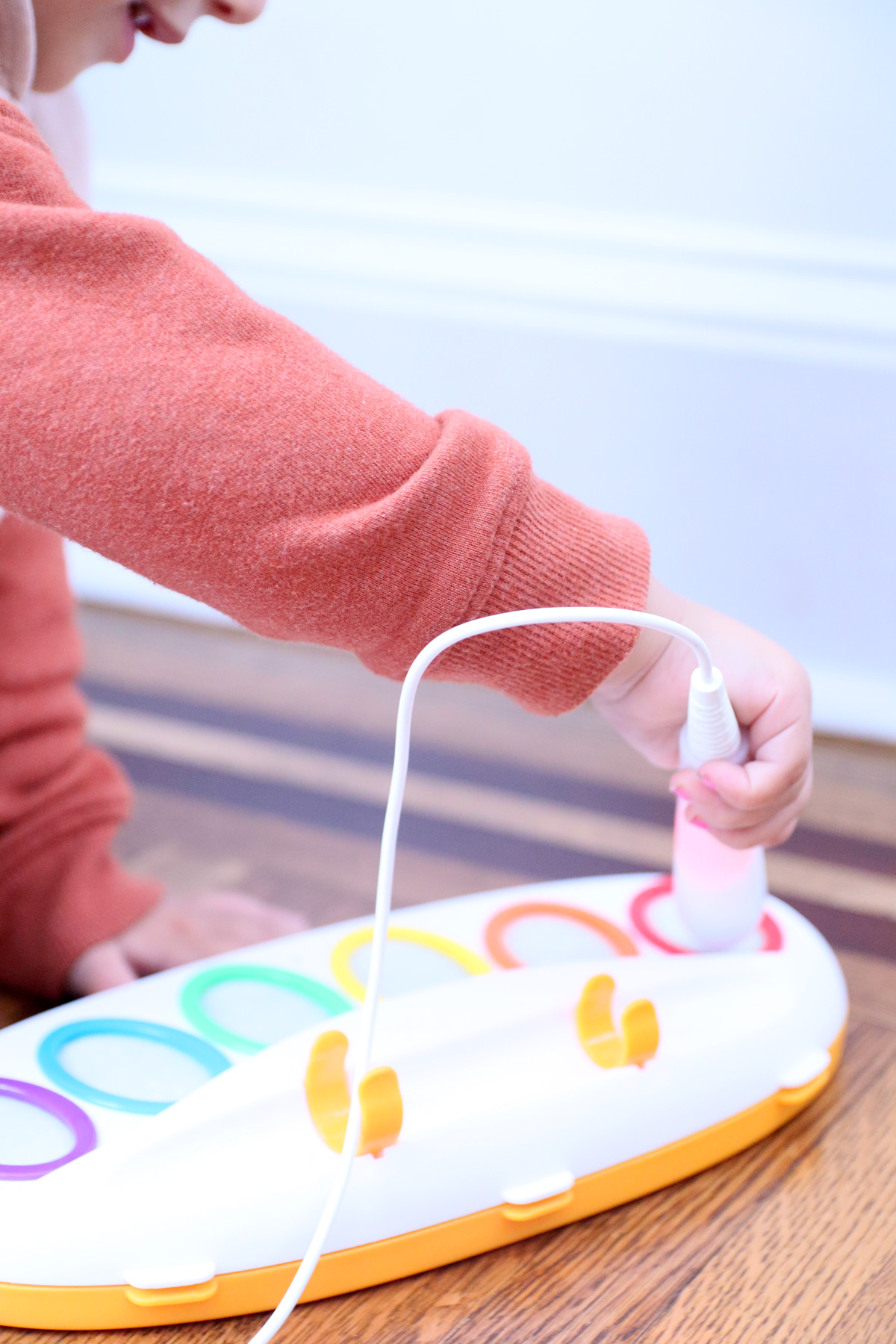 Color Wonder markers and paper by Crayola have been a favorite activity to bring to bring to weddings for a long time. Their majorly improved paint set features a paint that doesn't show up on any surface besides for Color Wonder paper.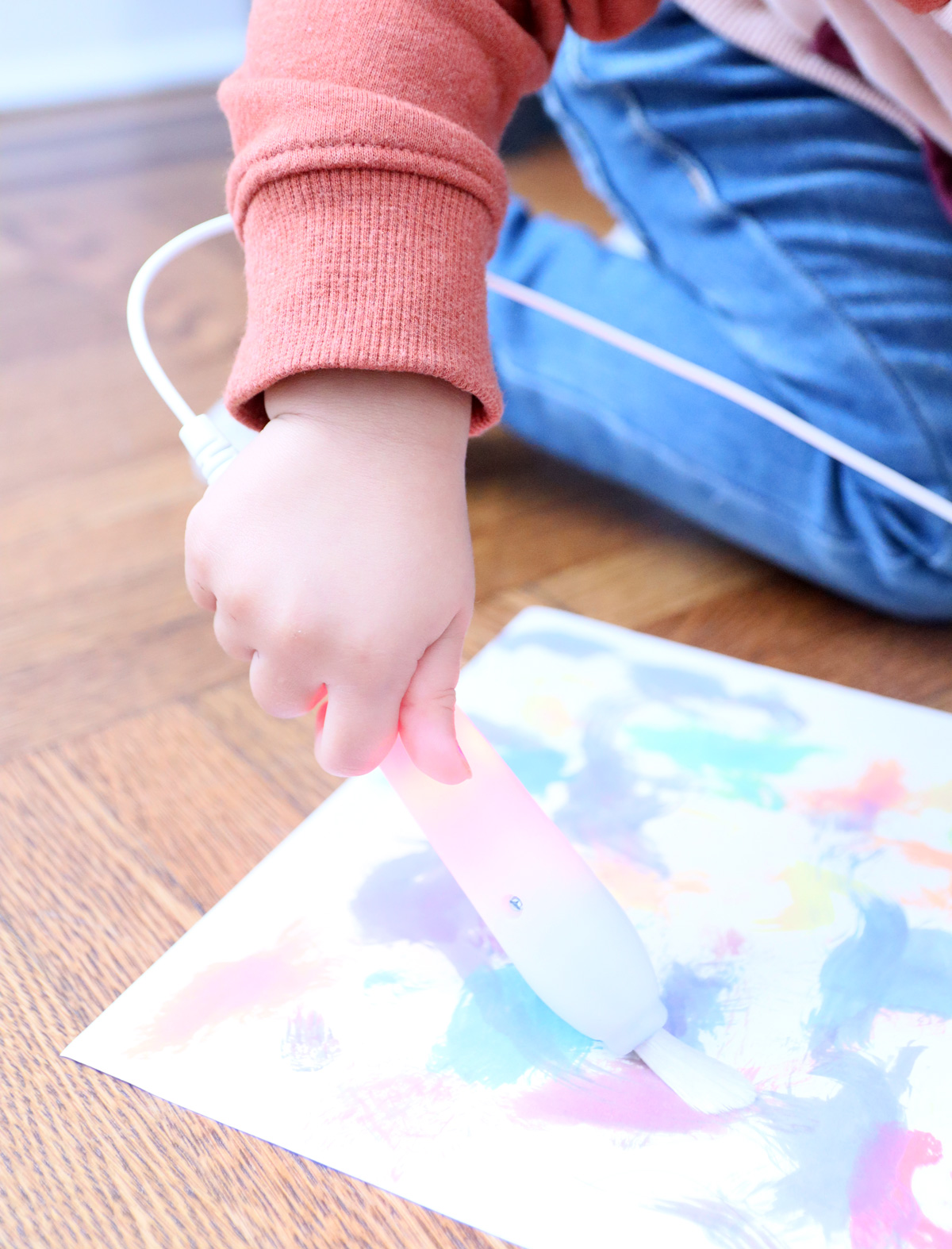 The kids love the light-up element, and A had fun "testing" it on her dress, her hands… and it didn't work!! It only worked on the [color wonder] paper.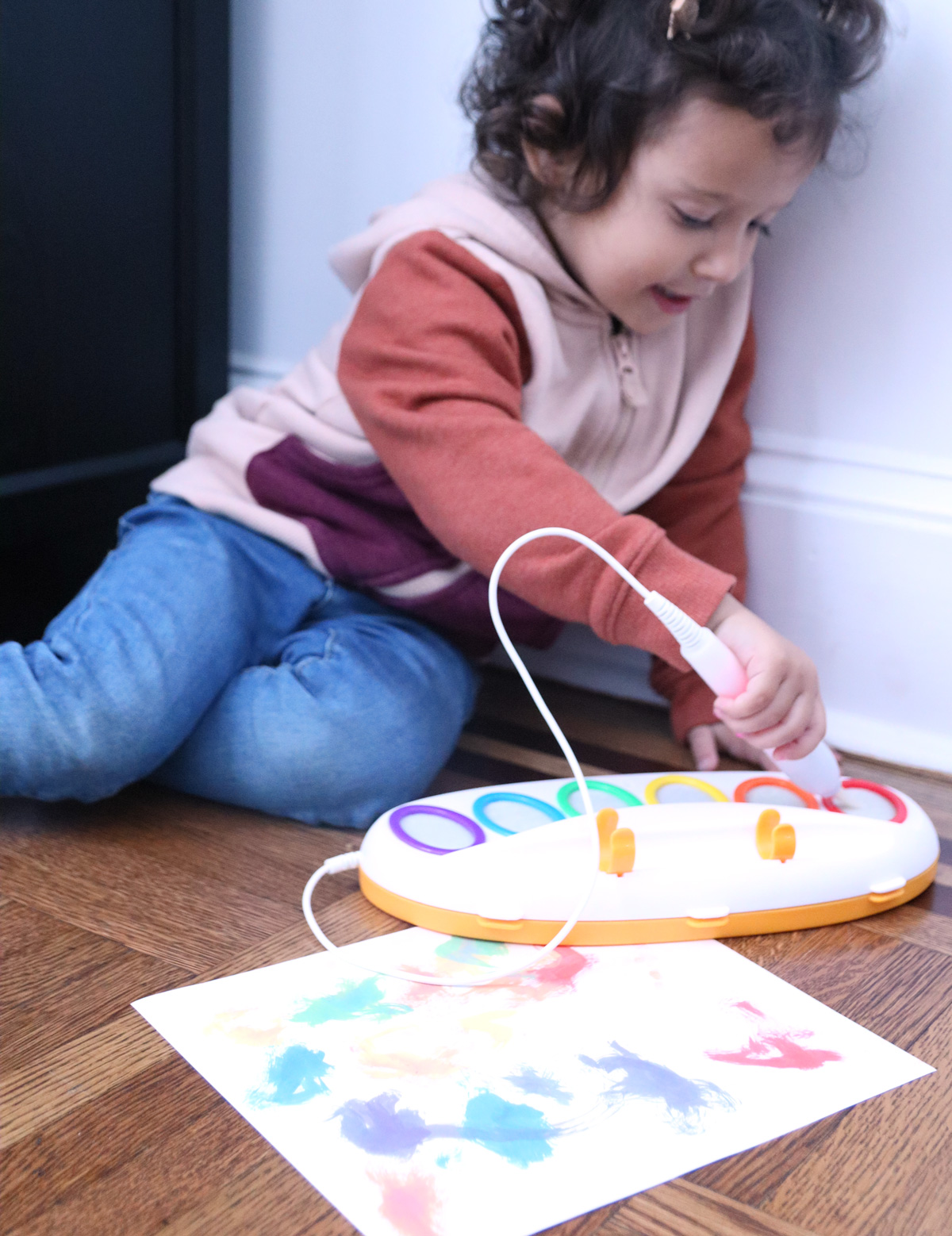 Bring the sand castle home! Kinetic Sand is a household favorite and has proved its worth in the hours of entertainment it provided for my kids (see some of our Kinetic Sand sensory bin ideas here).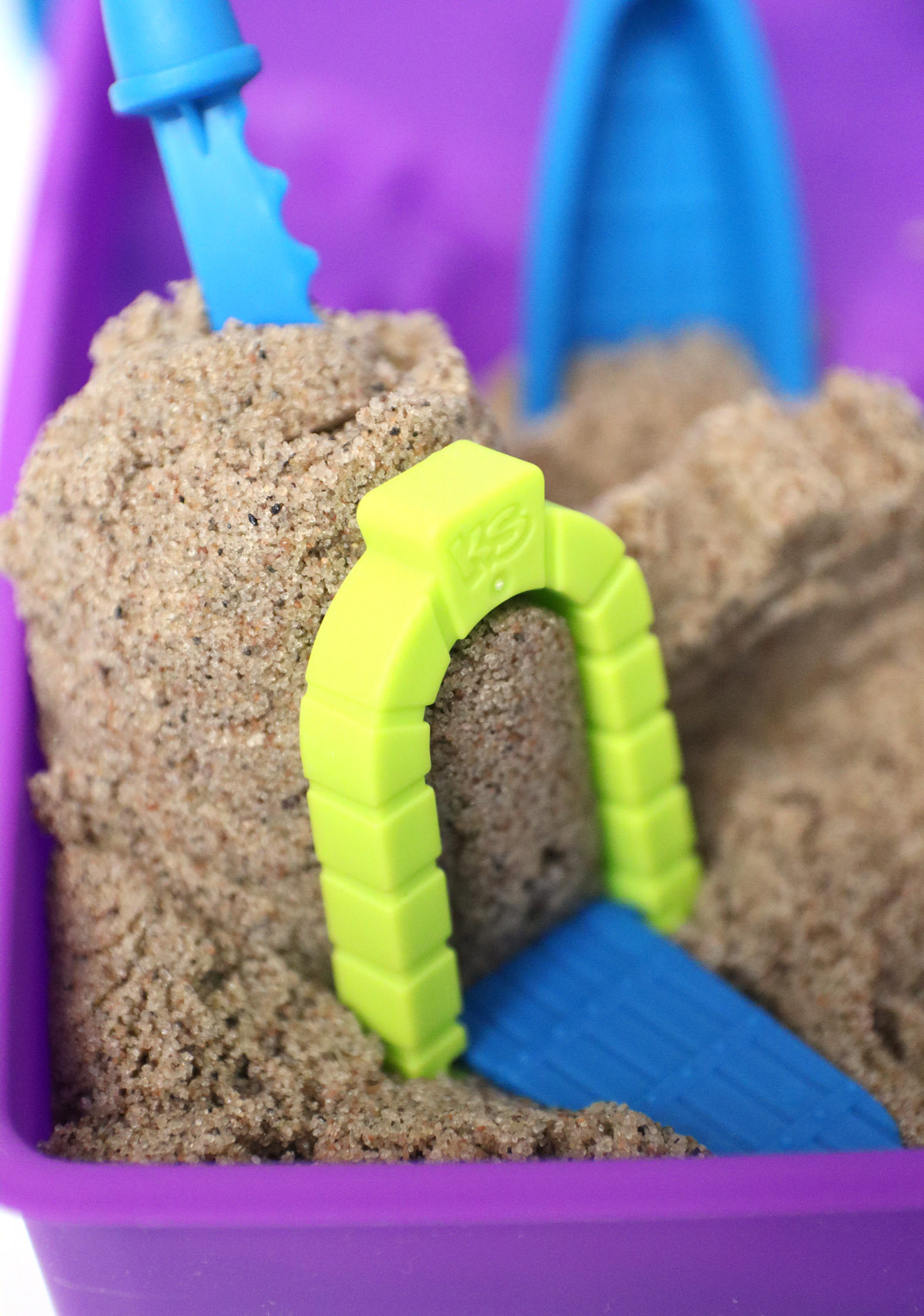 The Deluxe Beach Castle play set brings a fabulous creative element and our kids' favorite memories of the beach to the table (literally). The natural colored sand is so wholesome and fits with the beach theme. It is also self-storing with a sensory bin/storage container so that you can go seamlessly from shelf to play and back to shelf.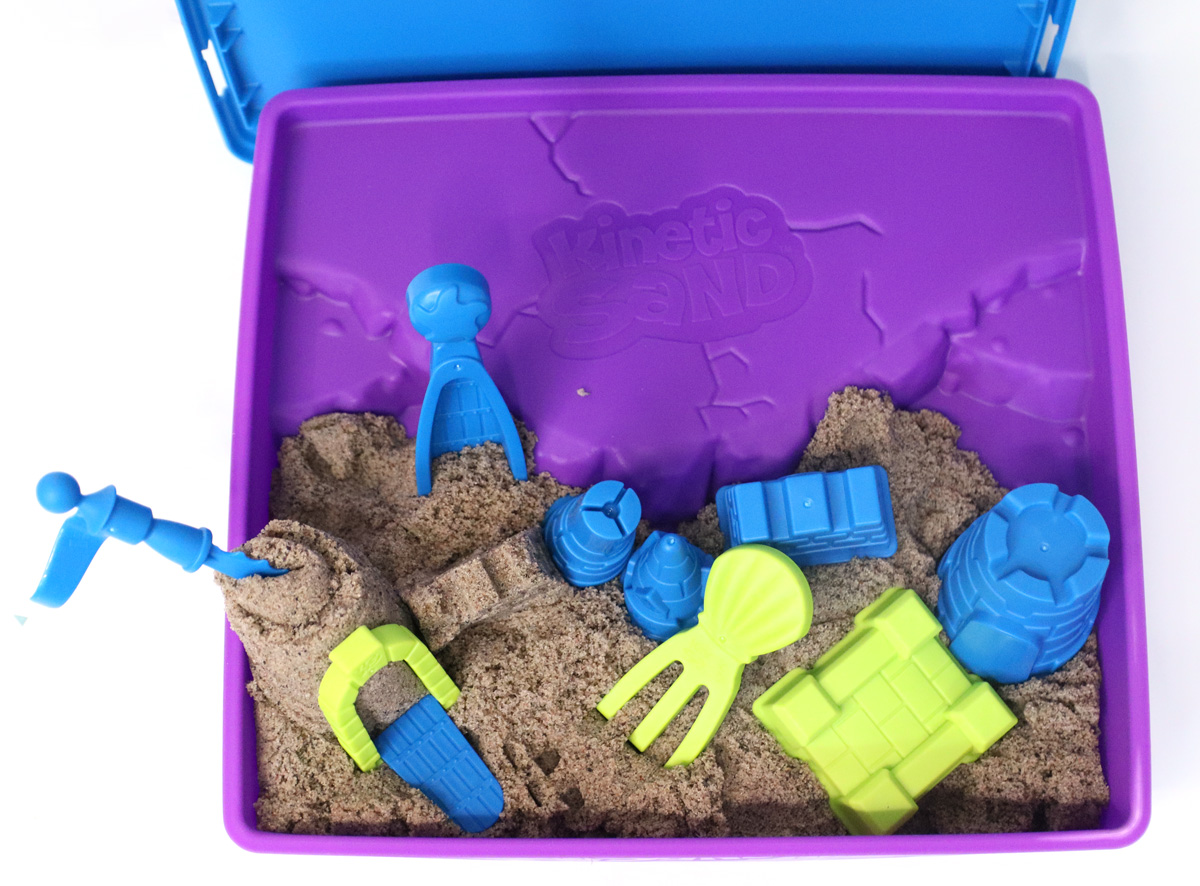 Tools double as castle props, and the opportunities for creative sensory play are endless.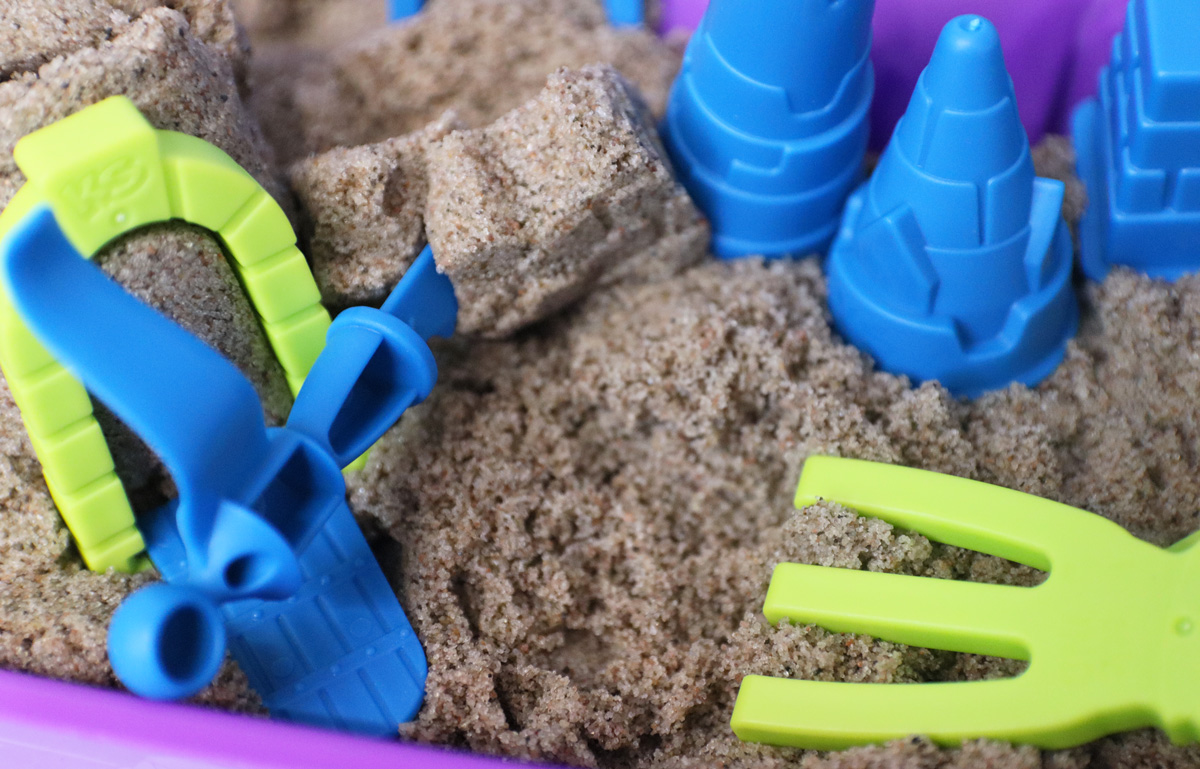 Nothing encourages artistry quite like always having it available… and the Little Partners Artist EZ Easel has everything you might need in an always-there easel!
Easel writing also helps build core strength, and essential pre-writing skills, in a way that doesn't feel educational.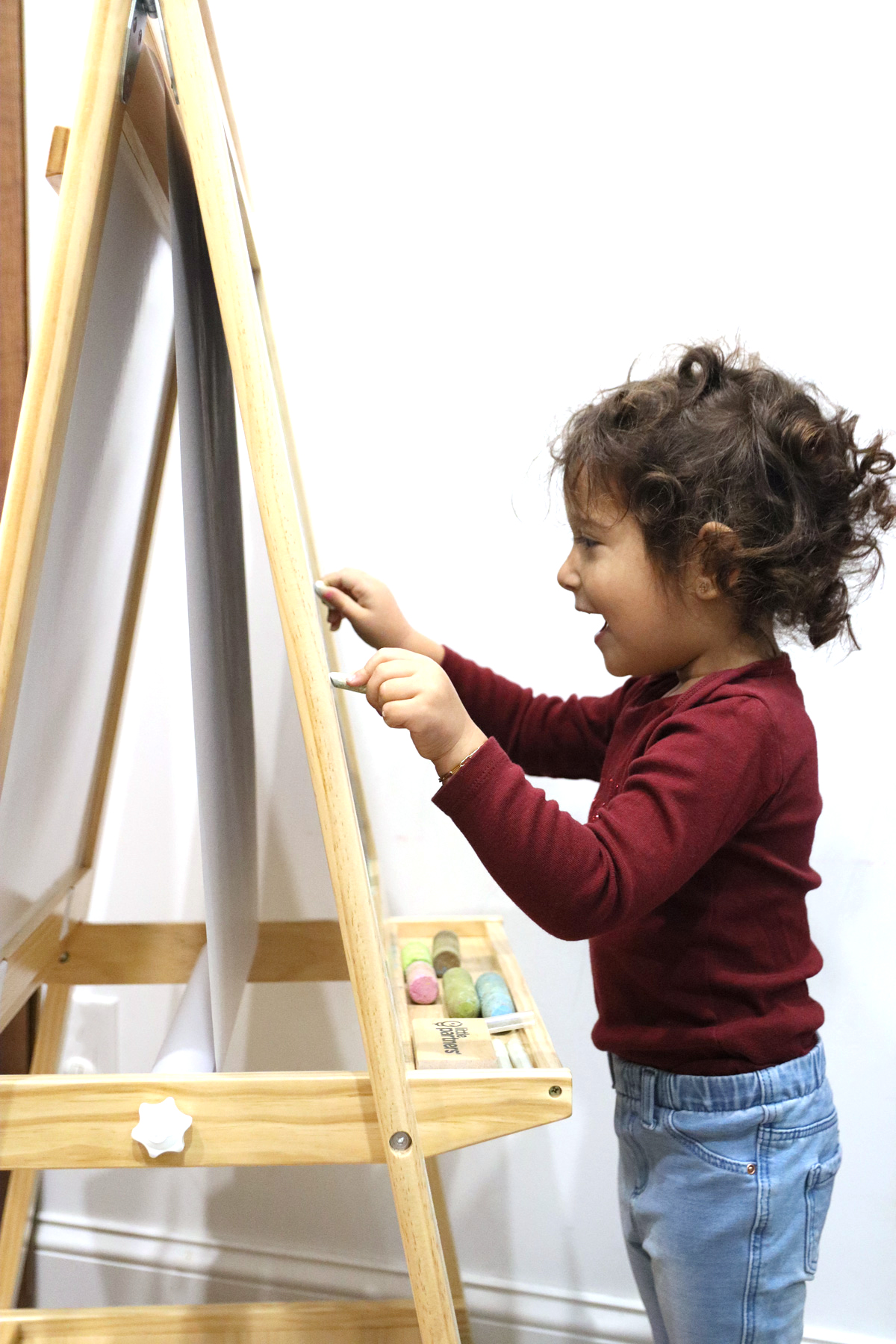 One side is a chalkboard, the other is a whiteboard, and it's got a paper roll feeding from the center too. The location makes it less likely for your three year old to destroy it and the paper clips into place on the whiteboard size. You can even neatly slice it against the bar that holds it in place at the top when you're done, and feed a clean paper!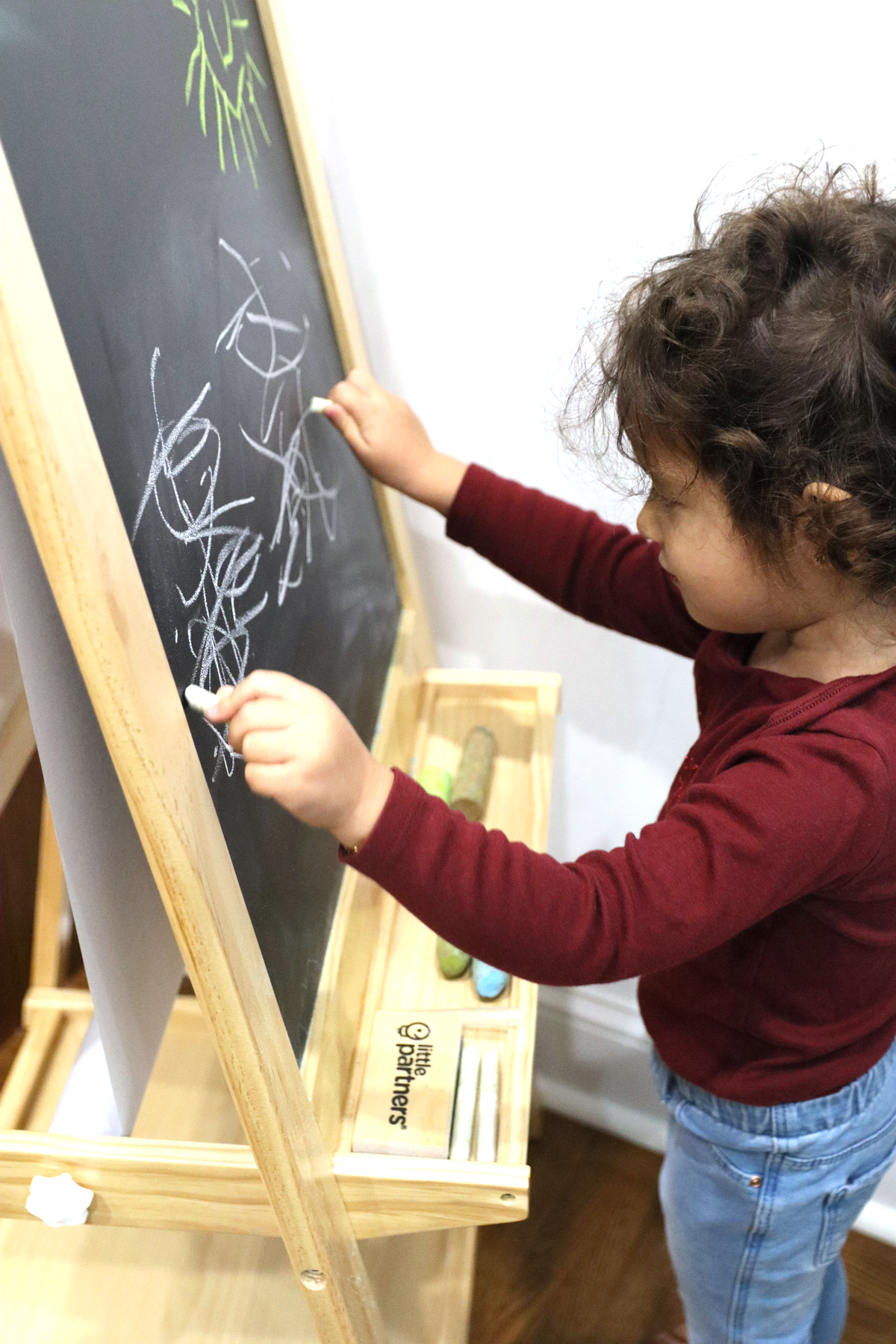 Generous ledges on each side can hold a nice selection of chalk – even sidewalk chalk, dry erase markers, the included erasers, and even a large box of crayons! And it has a nice-sized storage shelf on the bottom for even more supplies! Two built-in paint cups even allow for tip-proof painting.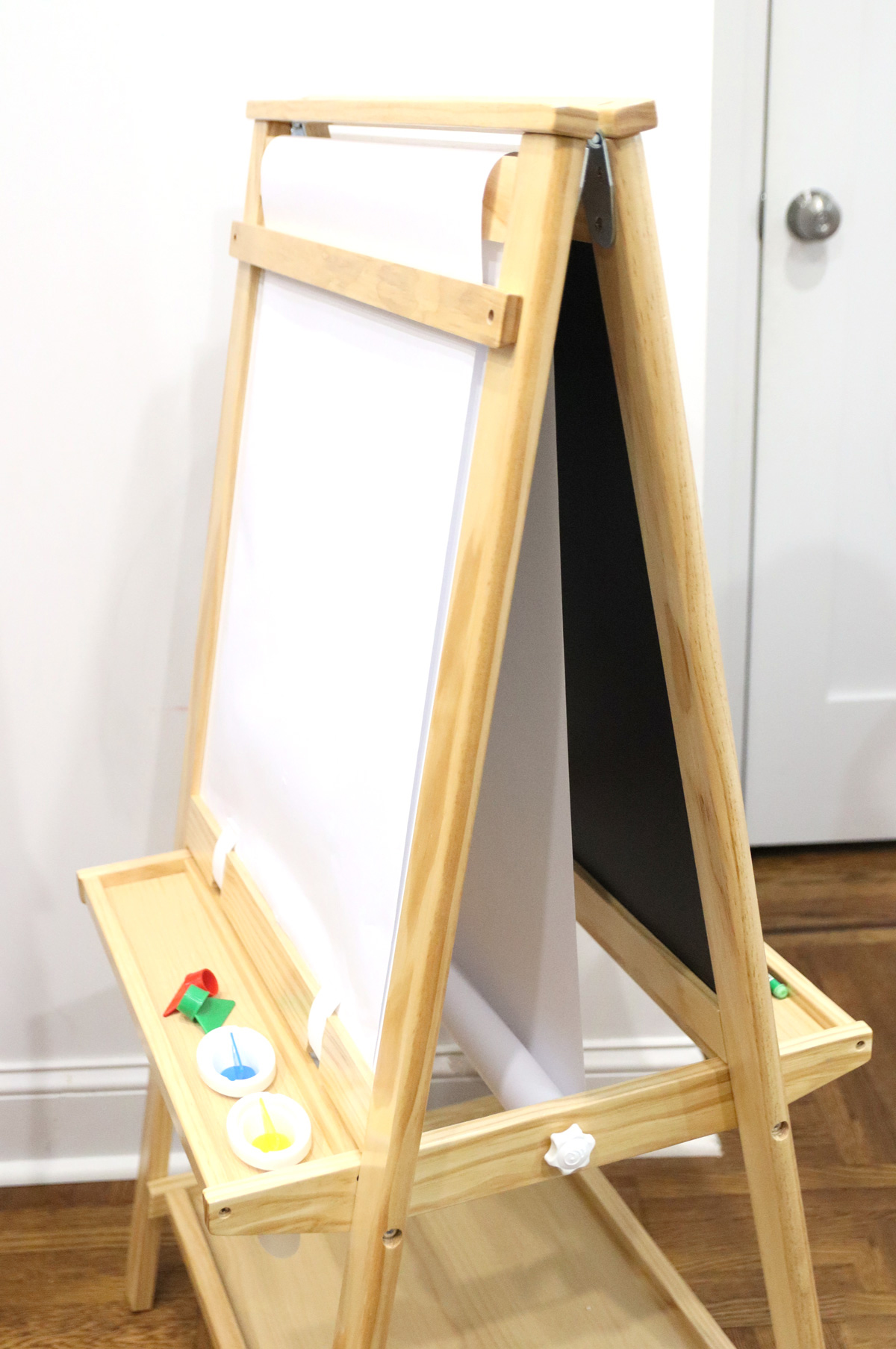 It's relatively compact – taking up just the space it needs to, aesthetic, and very sturdy, making it a fabulous investment for long-term use.
Dramatic and Role Play
Preschool is dramatic play central and kids learn so many skills that way. They learn empathy, social skills, they learn about life, and life skills.
Here are some of my best birthday gifts for 3 year olds featuring dramatic and role play!
Bababoo and Friends combines imaginative play with milestone and classic wood toys.
This one features a rainbow stacker – a popular preschool-toddler toy – as well as a vehicle, house, and stackers. The box even turns into the "background" for play! All of this is set in the backdrop of the story of the Enchanted Rainbow.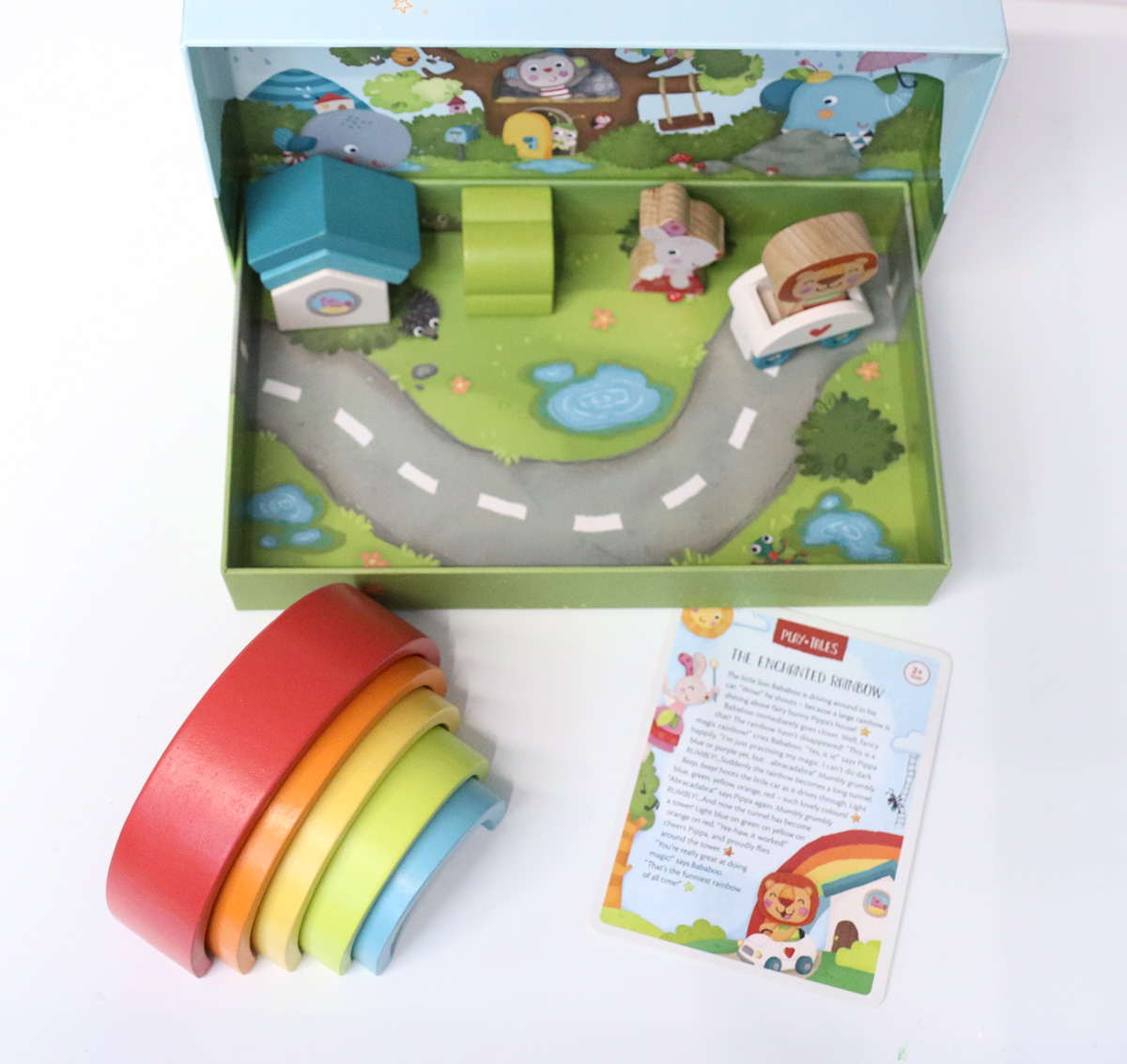 The small details are brilliant and really contribute to A's pretend play. The house has two roofs that stack on it. The bush has a bell that turns it into a musical toy. And the rainbow is just something my little girl loves! You can stack it different ways, and play with the parts individually too if you prefer.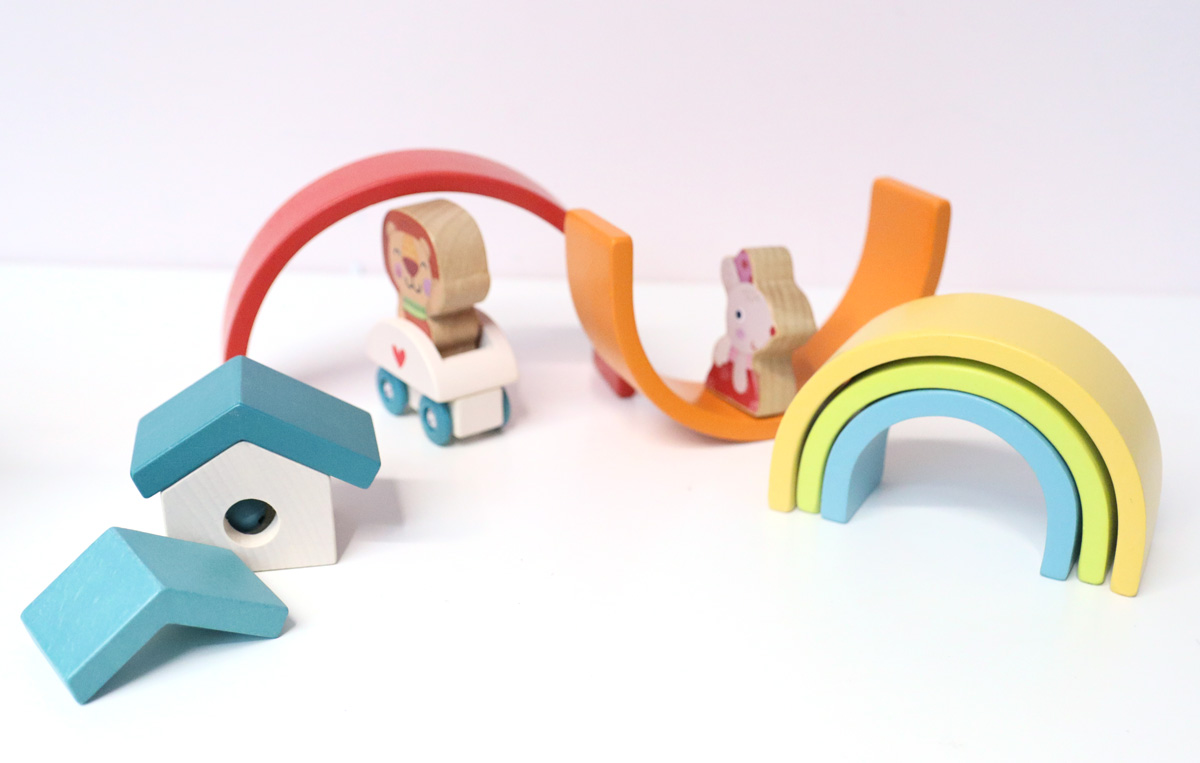 Hold, hug and soothe little Newborn Coney, an interactive doll from Cry Babies that makes real baby sounds. As a newly minted big sister, A's soft side has really been emerging as she nurtures her own baby brother. But sometimes she needs an outlet for that.. extra love!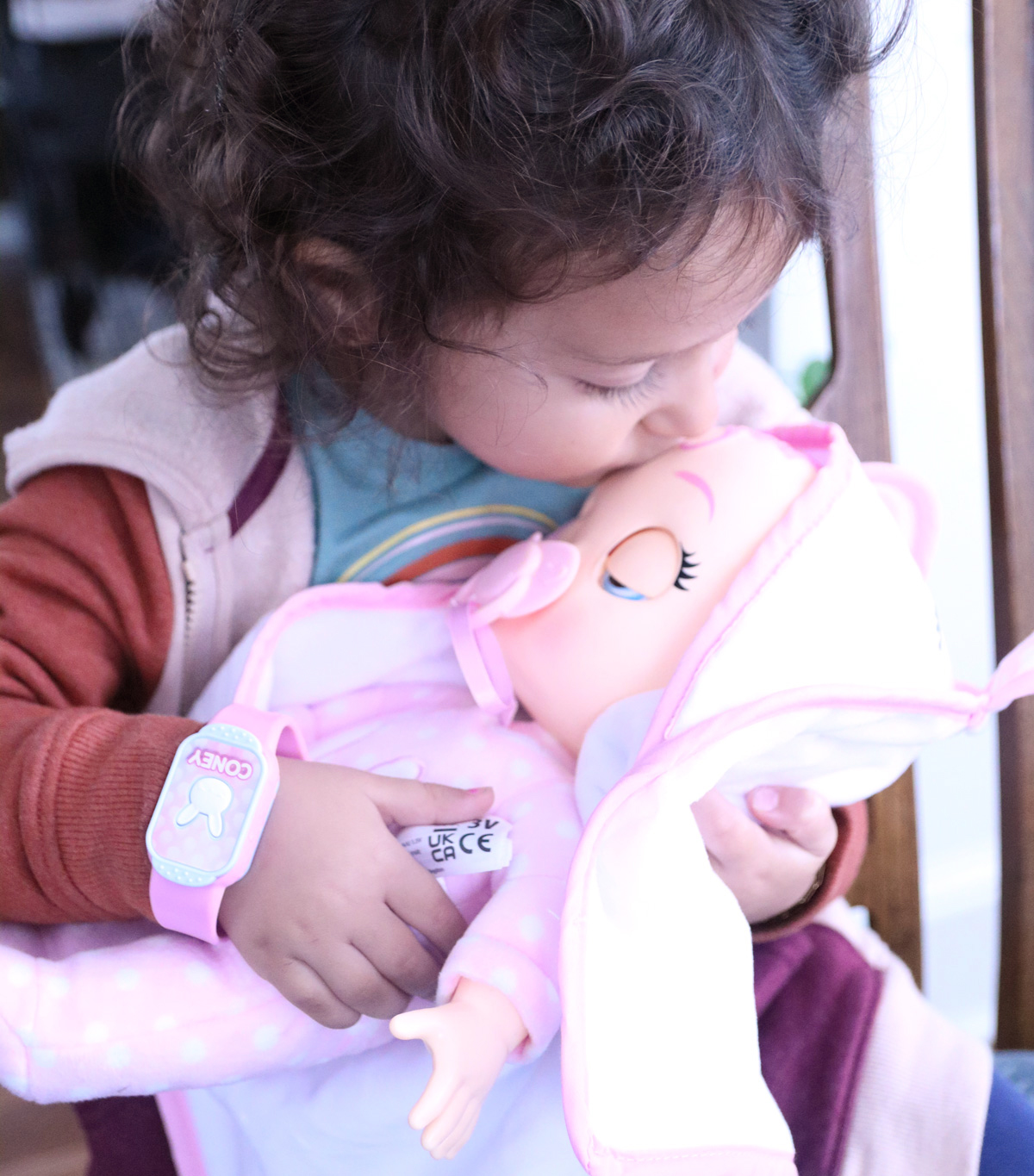 Coney loves sucking on her pacifier, playing with her rattle, and drinking from her bottle. She even sucks her thumb – just like A! Sometimes she cries and needs a cuddle, and her eyes close when she's lying down.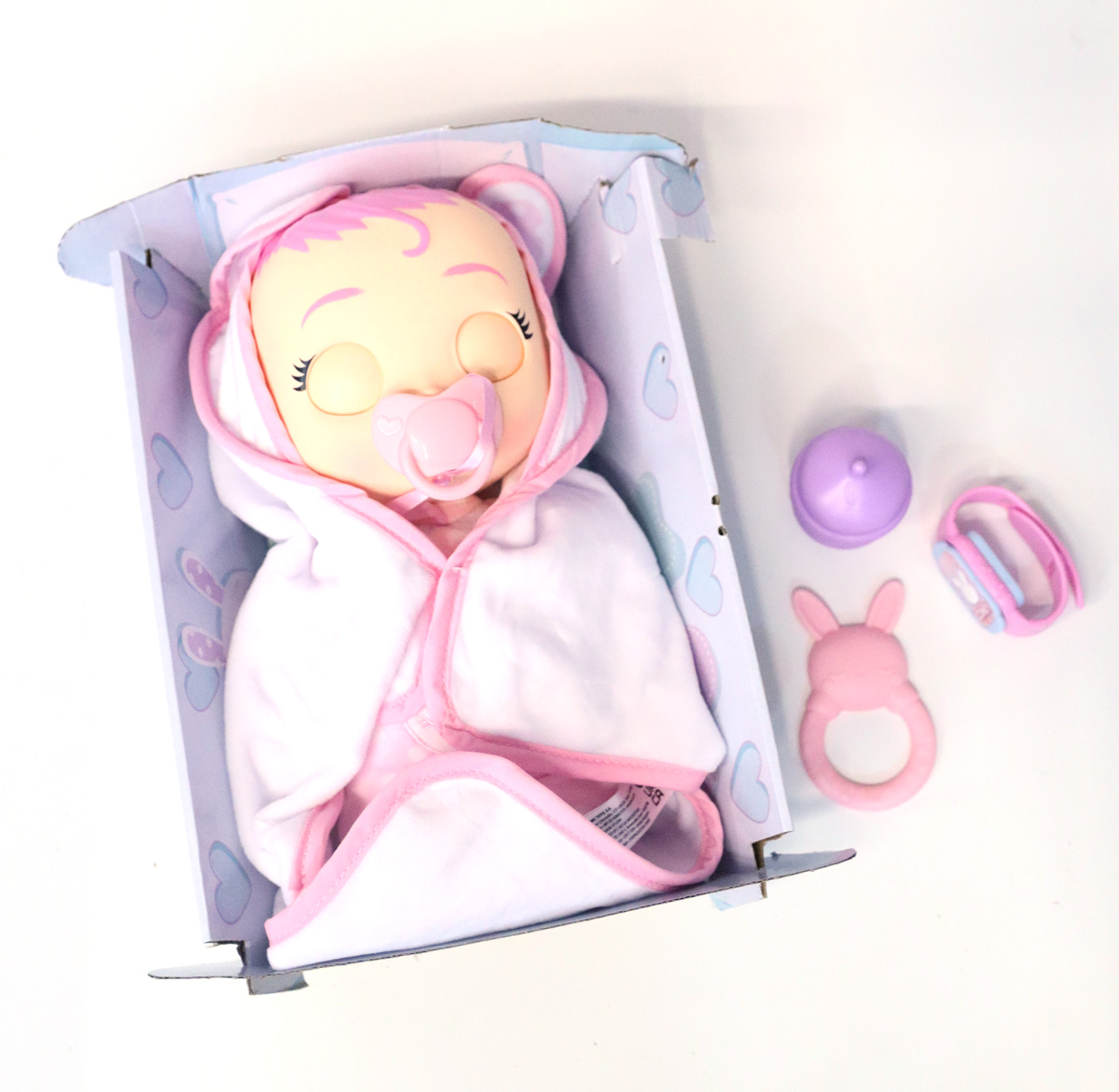 A really loves the cozy blanket with fun bunny ears, and tries swaddling Coney, just like Mom and Dad do for Baby Jay! And when she wears the included wristband "watch" Coney recognizes HER as the mom and her cheeks light up.
Coney cries real tears, which A likes to wipe off with her "cozy blanket". She learns empathy skills and how to nurture and care.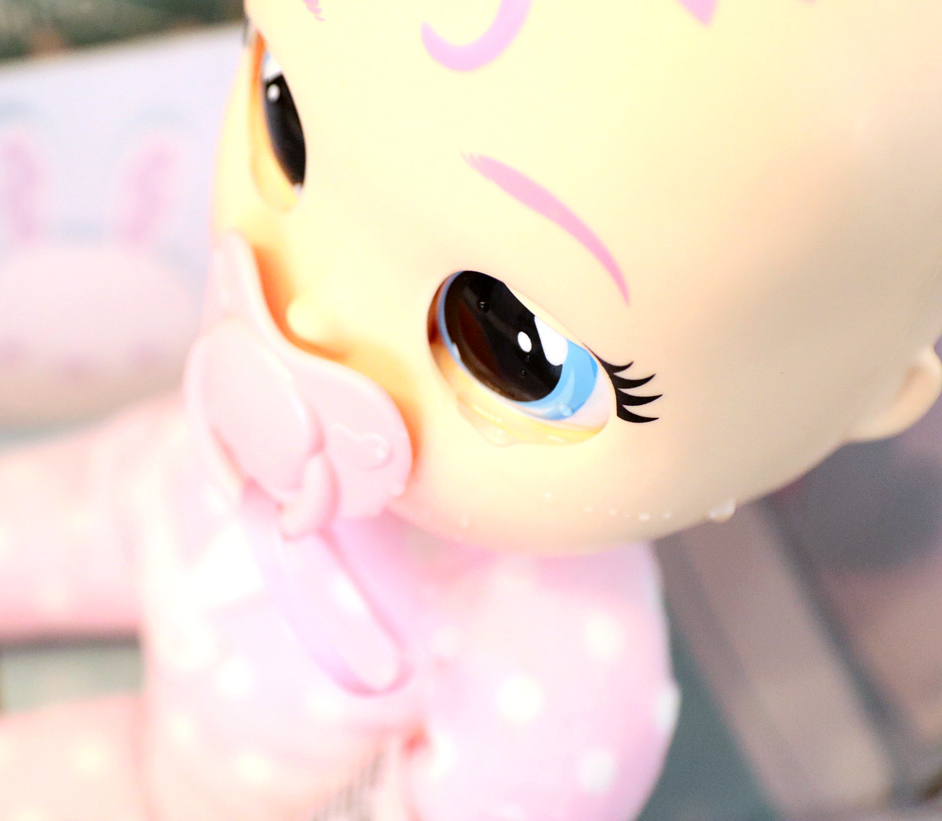 Also from Cry Babies, Crawling Miley is fabulous for when you want a bit of an older baby doll, or if your child already has a newborn doll and you want something that does a little more.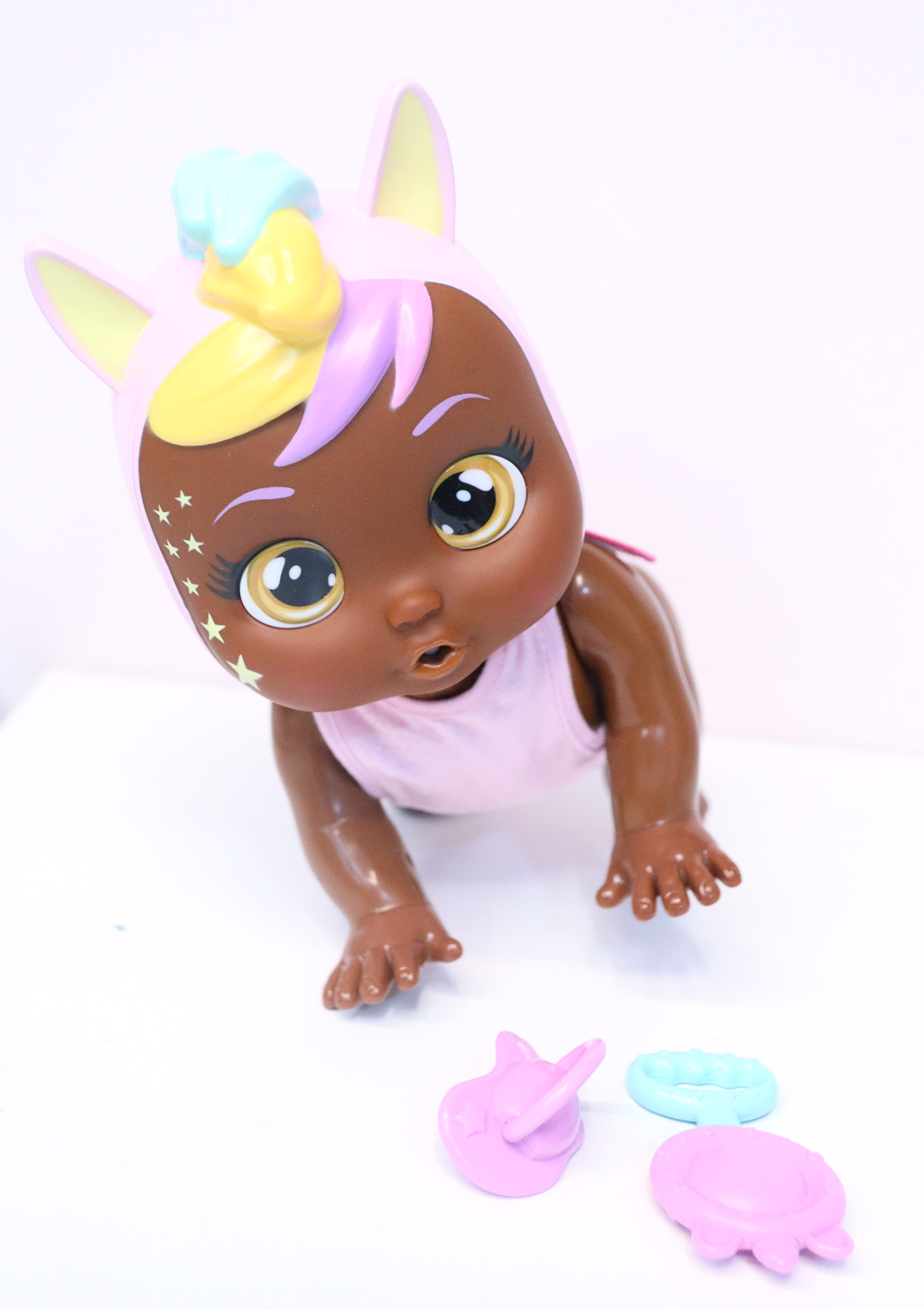 Miley crawls when you press the button on her back. She also cries and loves having her pacifier to soothe her (it'll make her stop crying). You can even lie her on her back and tickle her – she'll move her arms and legs just like a real baby!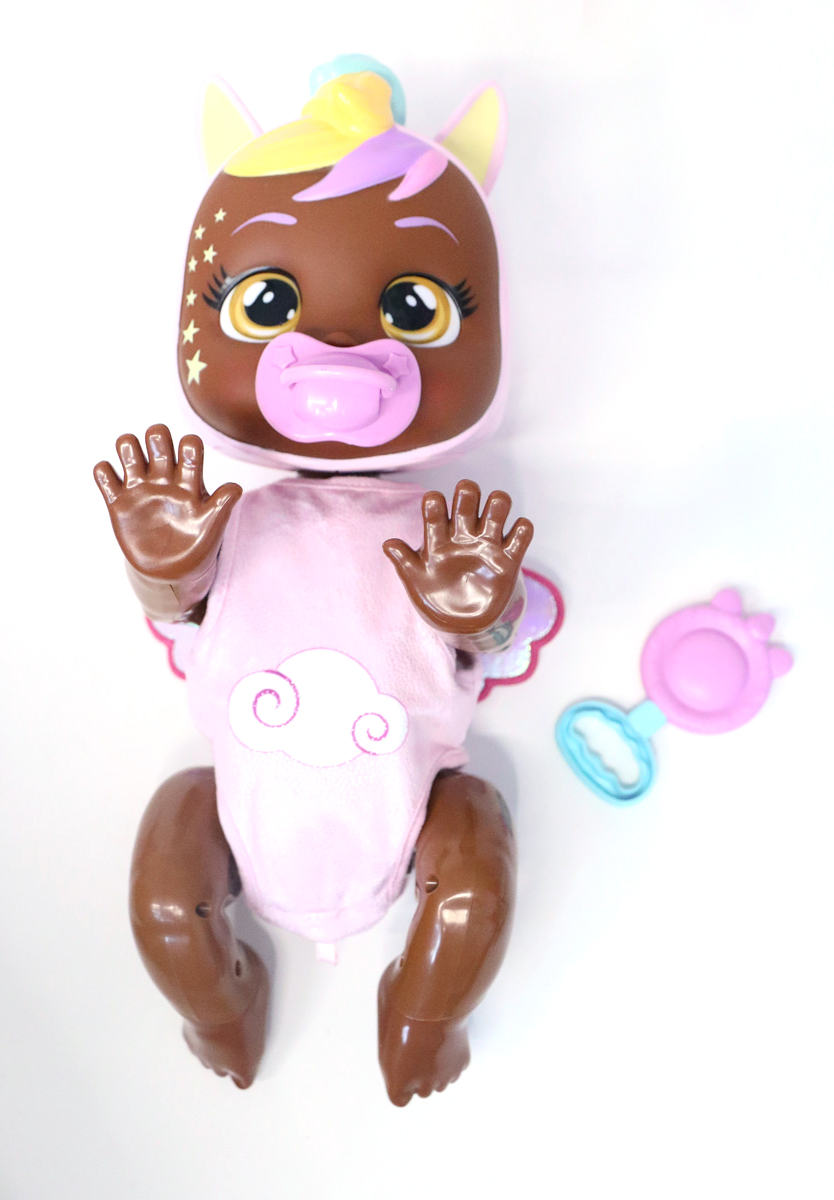 Favorite Characters
While most of these holiday and birthday gifts for 3 year old girls overlap with other categories, I decided to include them here for a simple reason: it's one of my favorite ways to shop for gifts! Gift something with a character that your 3 year old likes, it can even be underwear and the kid will be excited!
These character toys also have additional play value, and I recommend finding something that incorporates the play your child enjoys so that it lasts beyond the excitement of the character.
Let's go back to the idea of forever toys that you invest in and use well, for a long time, because Playmobil is DEFINITELY one of those.
Their new 1.2.3 line in collaboration with Disney features six sets. Beyond just pretend play, they build milestone-based skills for older toddlers and younger preschoolers. And they feature kids' favorite characters: Winnie the Pooh and friends and Mickey and Minnie!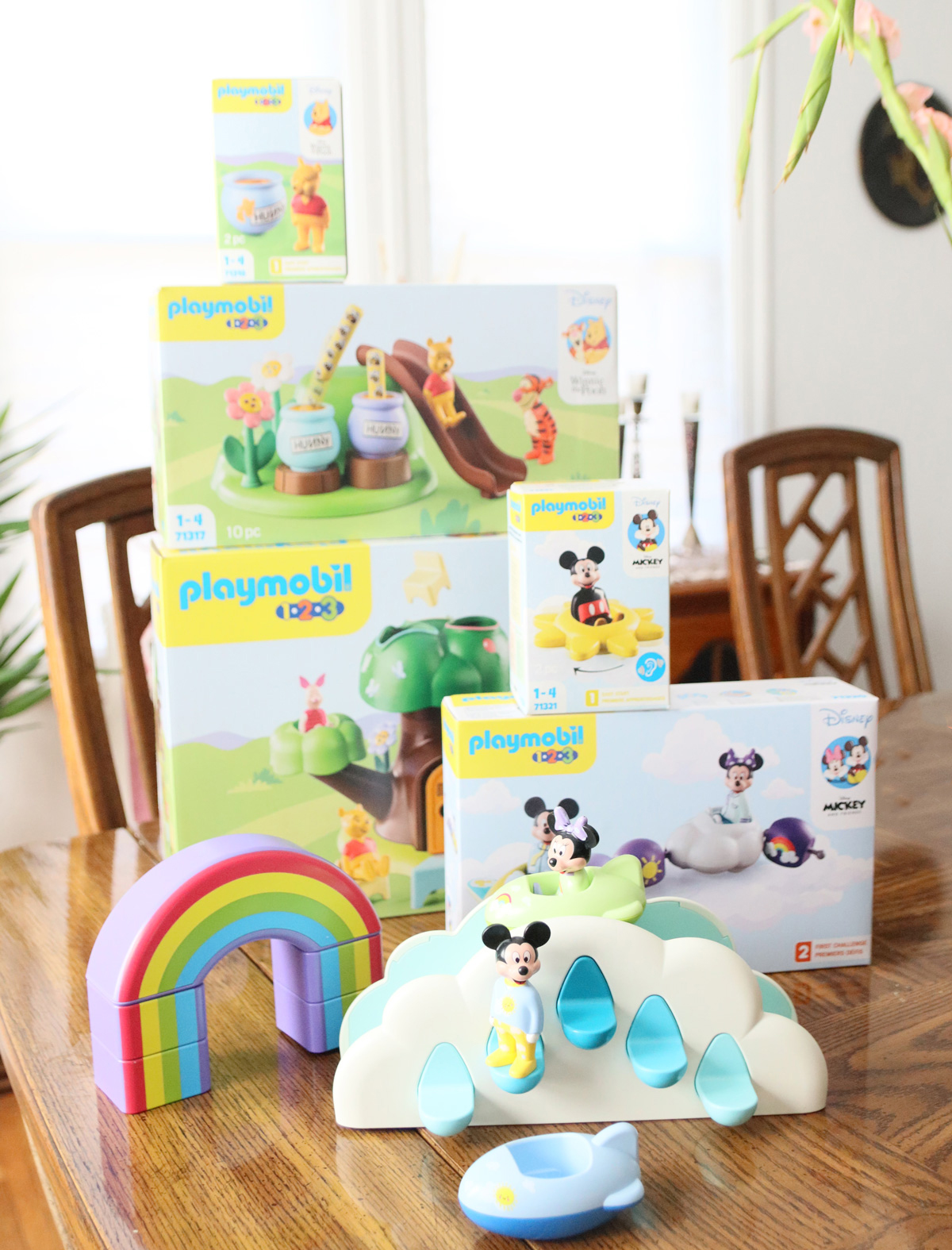 The toys incorporates different features of more classic toddler toys.
Winnie's & Piglet's Tree House has a built-in shape sorter using the chairs, table, and pot as the shapes. Sort the shapes into the correct holes, then open the door and find them! The tree swing is a favorite!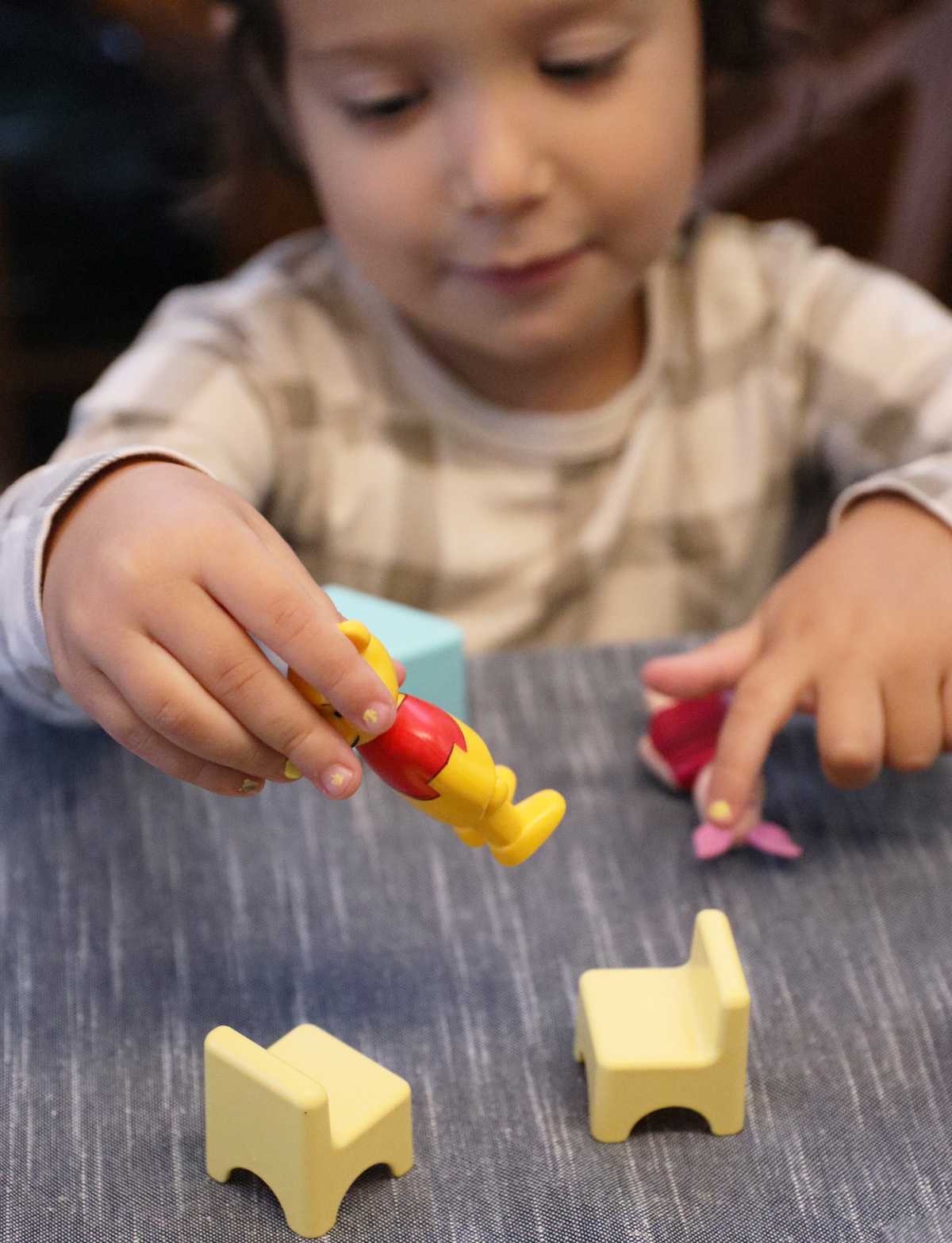 Mickey's & Minnie's Cloud Home features stacking, and color sorting. Place the raindrops into the holes, building fine motor skills. The rainbow flips over and becomes a rocker. Mickey and Minnie each have their own airplane.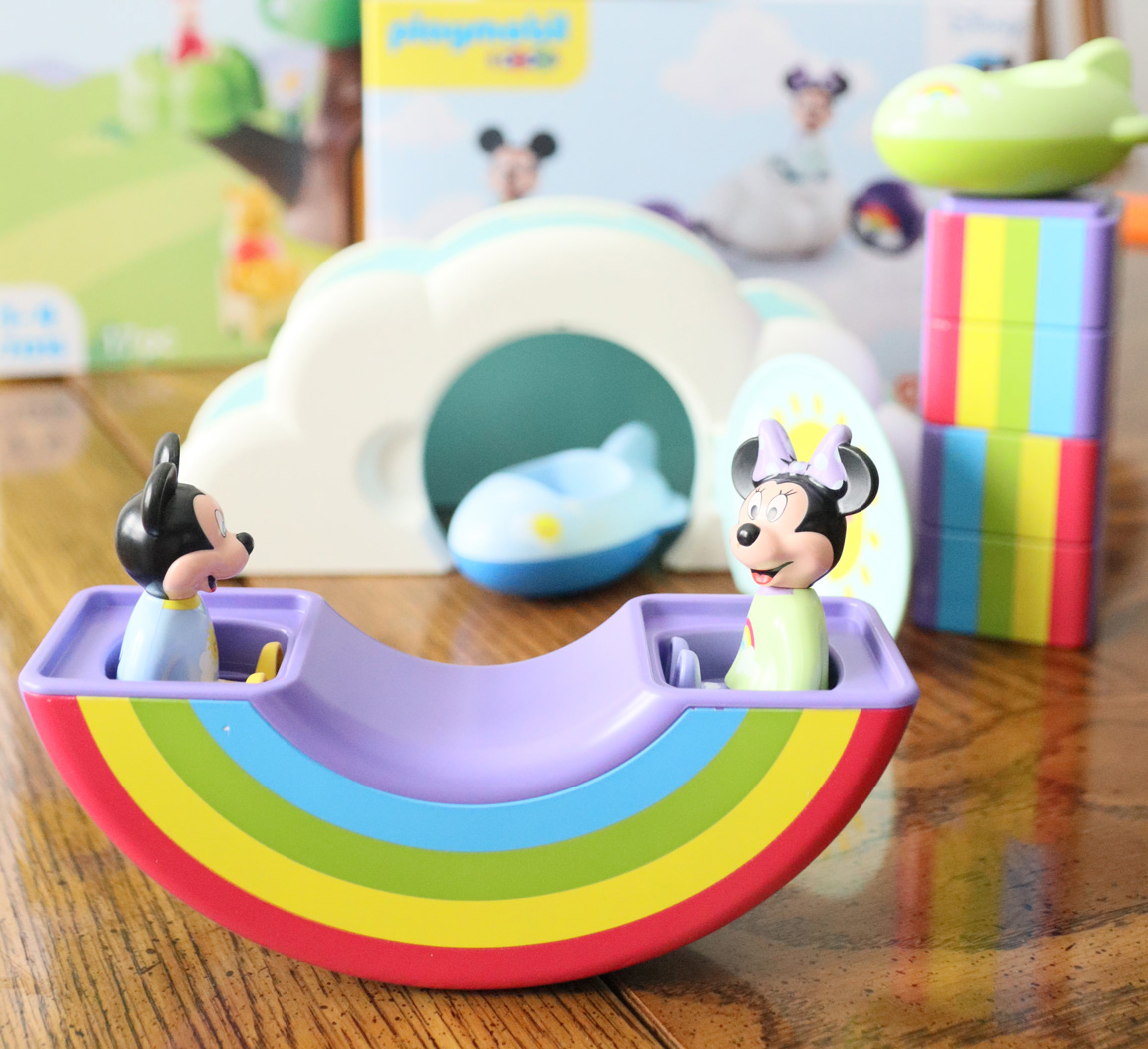 Winnie& Tigger's Bee Garden features rods with bees that spring up when you press on them. It has a cave too for playing hide and seek! A's favorite part, though, is the slide.
Mickey & Minnie's Cloud Ride is kind of like a train of clouds! Kids can connect the clouds in order of the numbers on one side – or not! They teach about seasons through images on the other side.
Winnie's Counter Balance Honey Pot spins and teaches about balance with a fun little toy that perfectly supplements the sets above but is fun on its own too!
Mickey's Spinning Sun – has a rattle inside and is a fun interactive cause-and-effect toy to complement the set above or on its own.
Each detail is highly interactive. A is obsessed with the little figures that feature her favorite characters! These are a household must-have!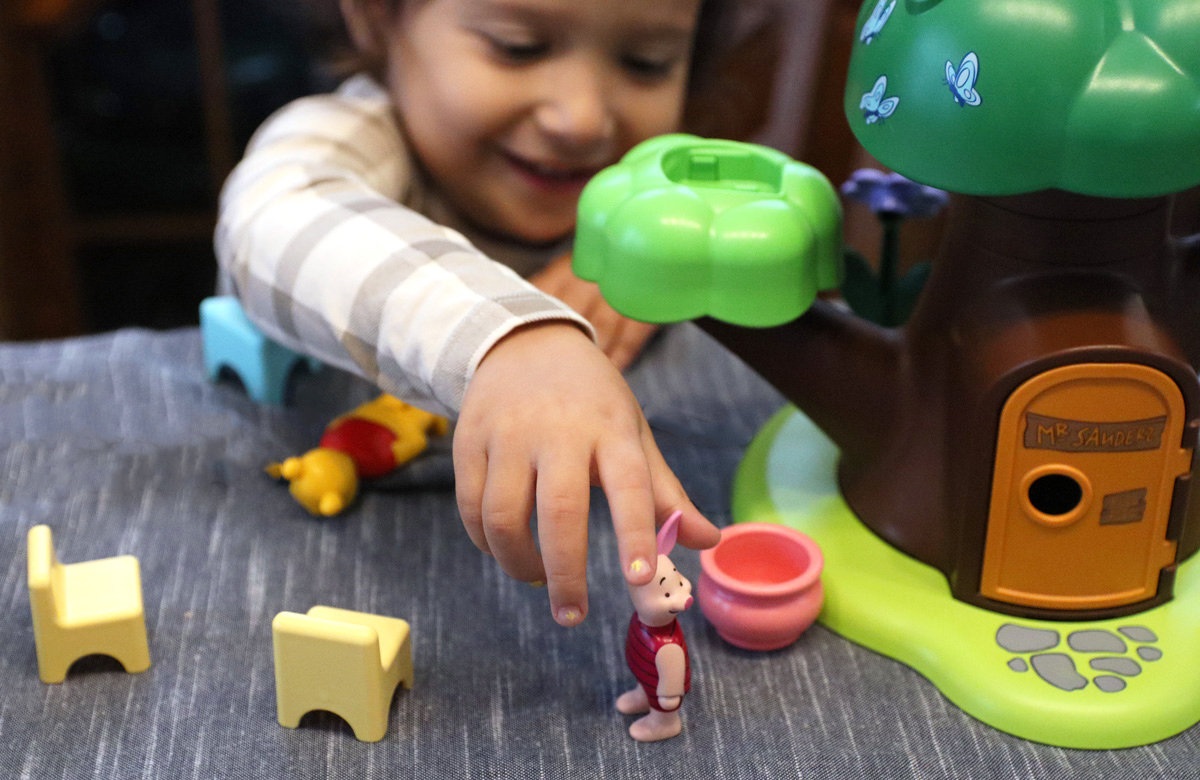 Whether you choose to use them in the bath or for "sensory soups", Glo Pals are like magic! They glow up when put into water.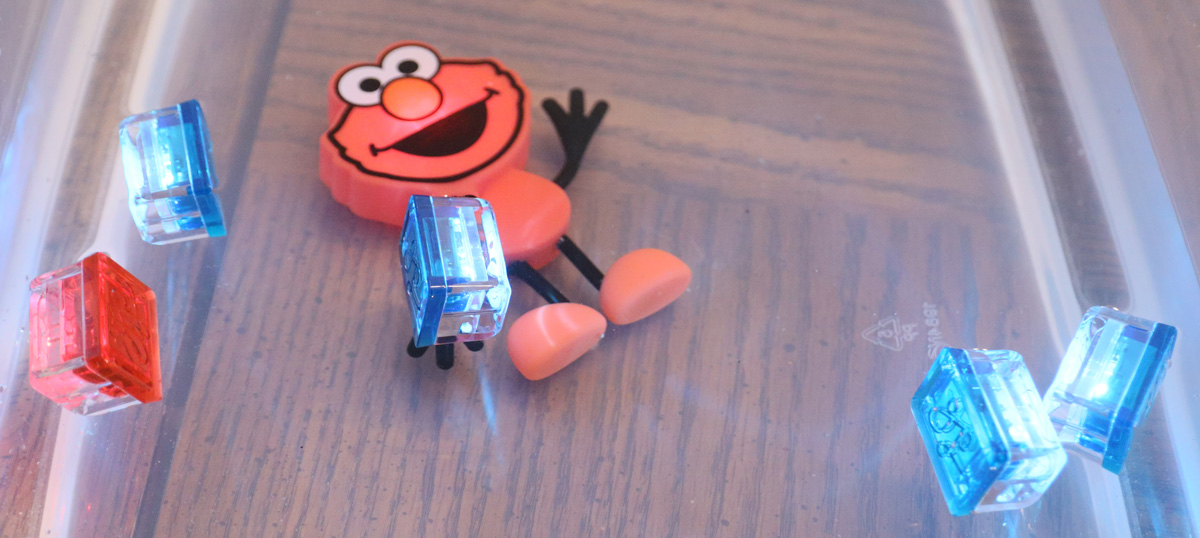 They come both as standalone cubes or cubes with included figures. The cubes have fun faces on them, and they can be put into a larger character that "takes a bath". My favorite are the Sesame Street ones – because they delight A with some of her favorite characters!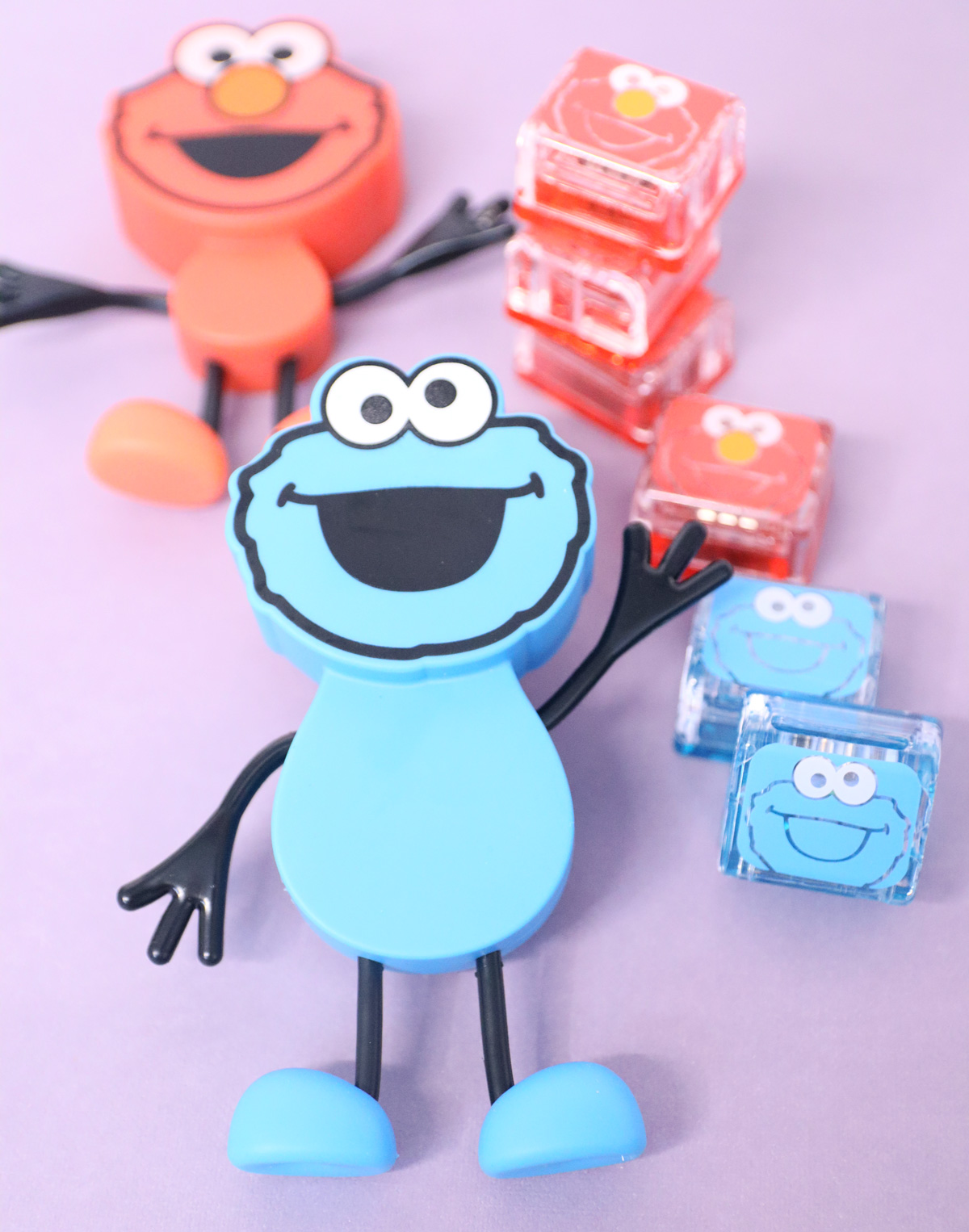 We used them as a sensory toy at first (and then we transferred them to the bath). A bathed them in a little container as a sensory play setup. Not only are they fabulous for pretend play with favorite characters and sensory experiences, but they also offer a fabulous little lesson in cause and effect, as they get wet and light up.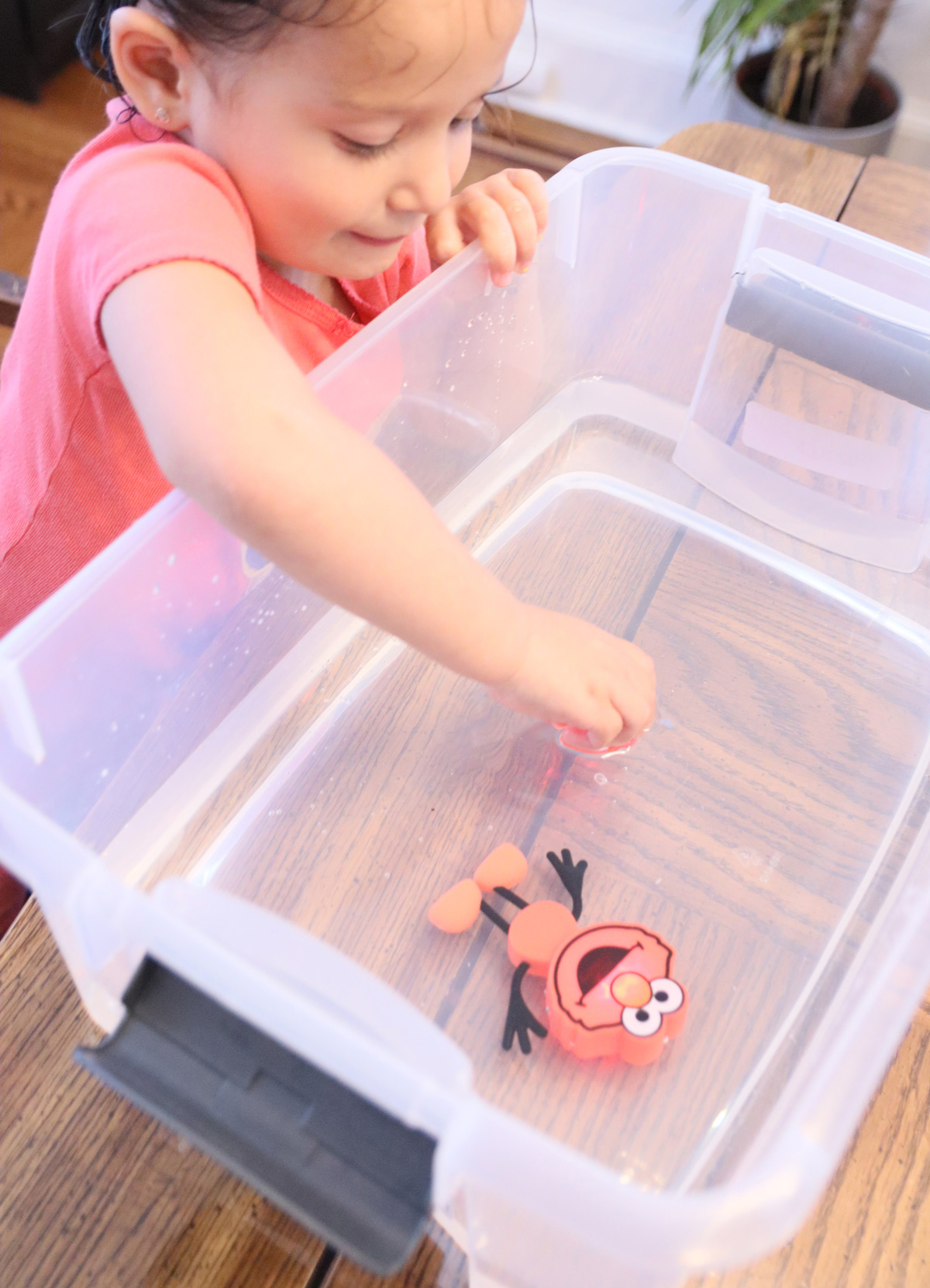 My kids had fun watching the new Paw Patrol Mighty Pups movie and the vehicle is the perfect completion to that experience!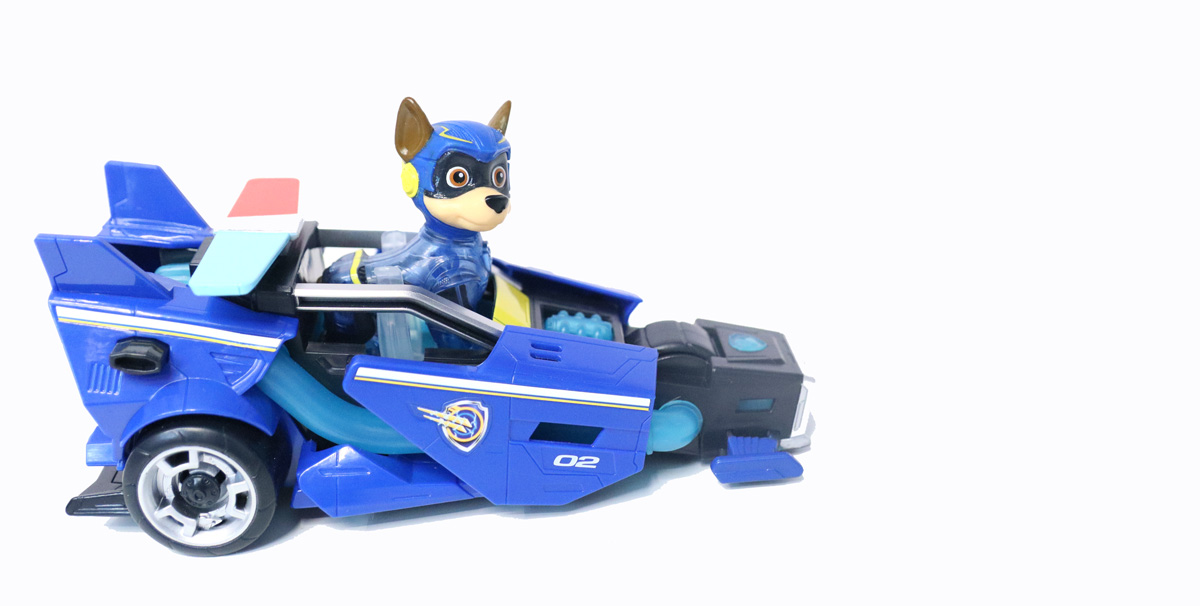 The Chase one features a Mighty Chase figure with a transparent body as well as his car. The car has lights and sounds and when Chase is in it it almost looks like he's lighting up too, because of the translucent nature!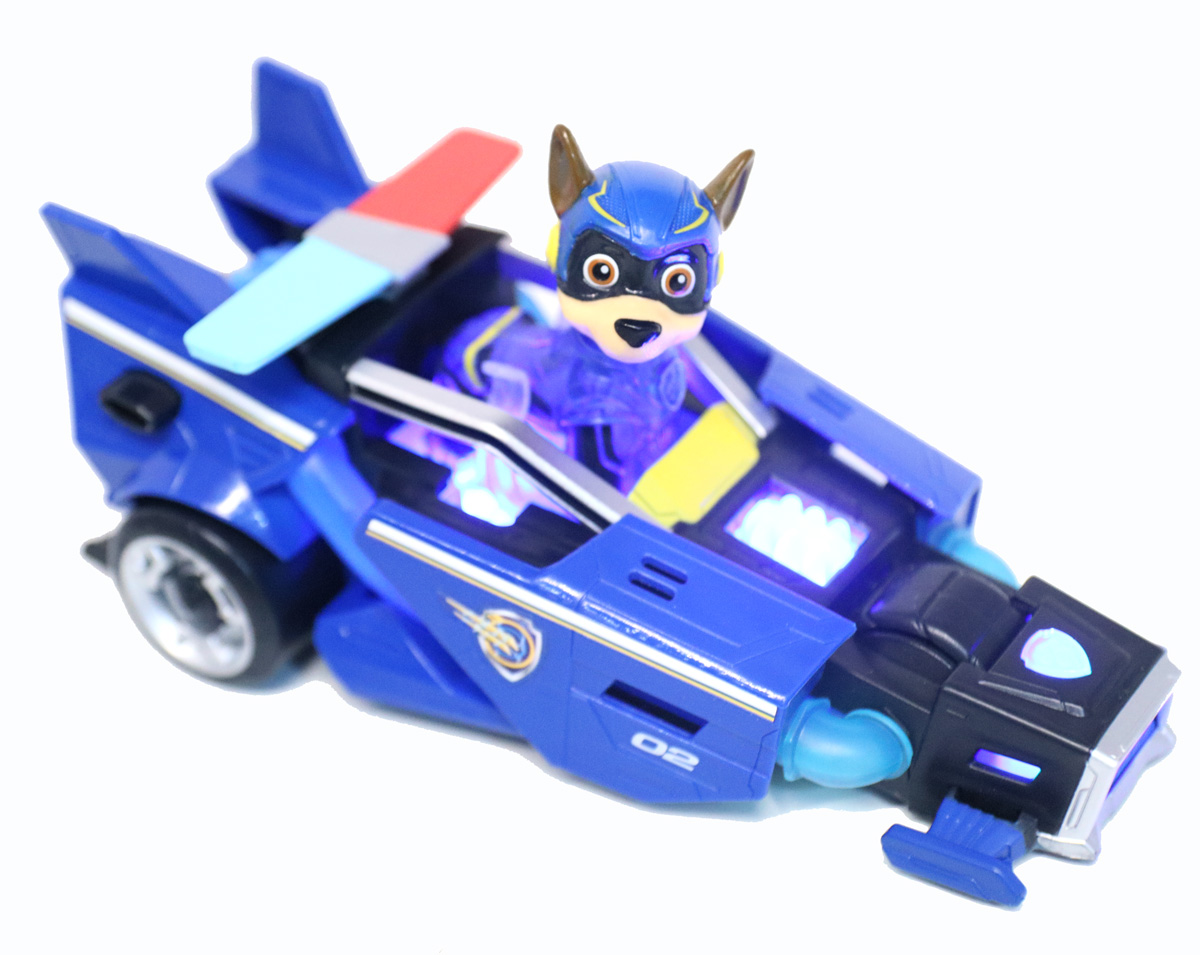 Age three is when kids can really begin to get the satisfaction of making something on their own – and using it!
This little craft kit is a DIY toy, scaled down to a preschool level by using stickers made of high quality felt. A had a good idea of what to do with lots of guidance. She looked at the photos in the instructions and followed along with my assistance. She removed the ones that went on a bit wonky and straightened them out.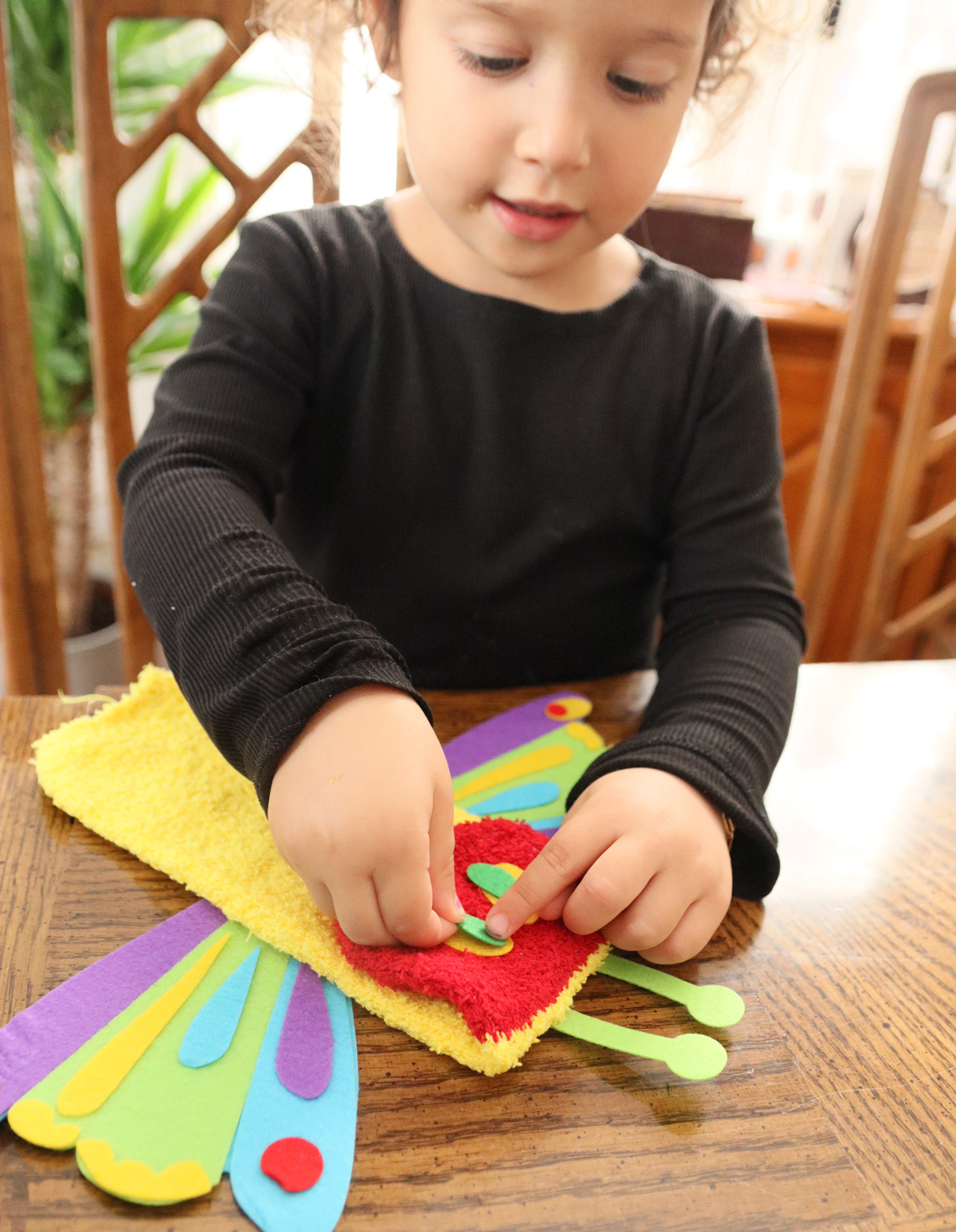 And as a sensory seeker who loves something cozy, she absolutely loves the final puppets!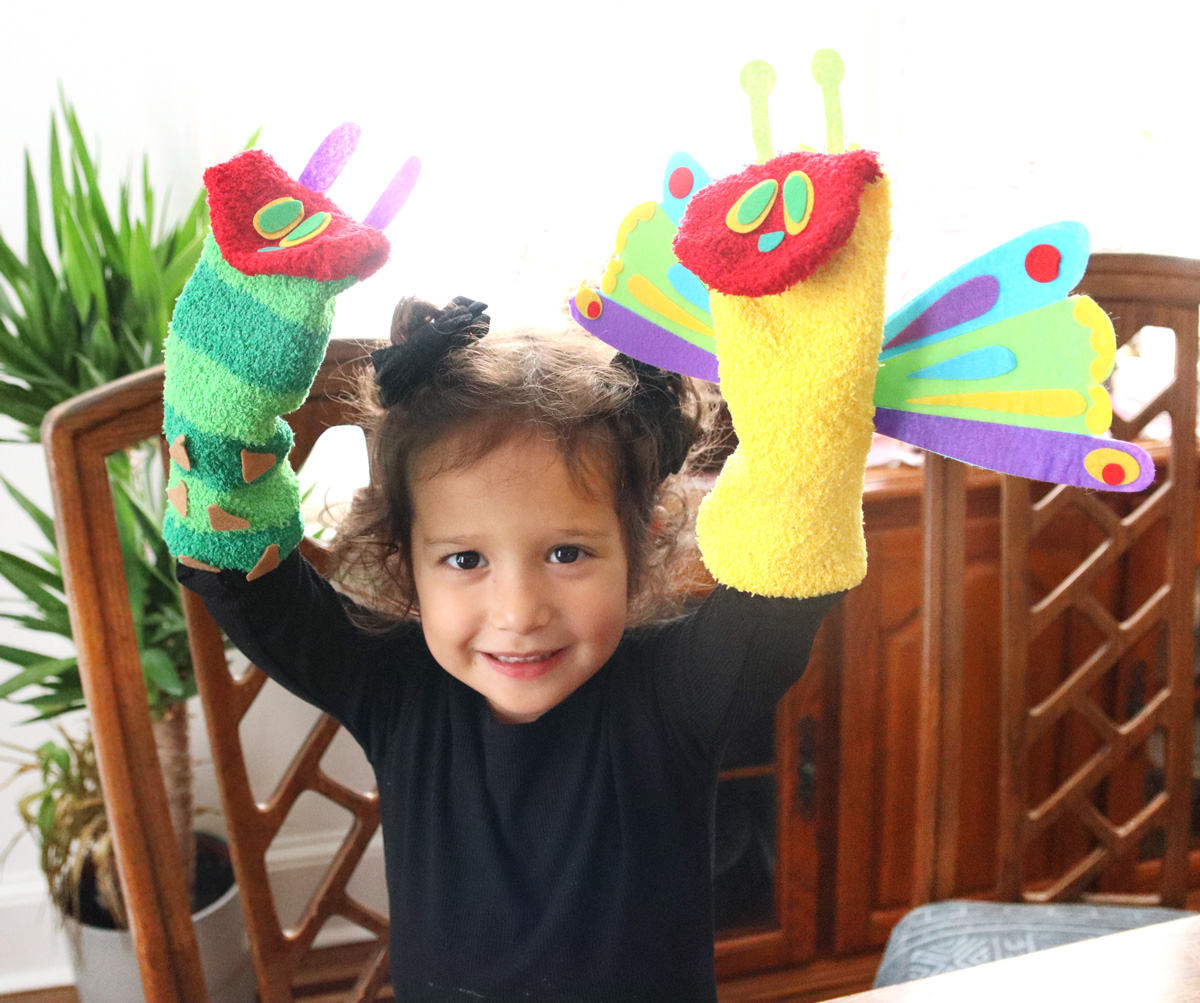 I love that the kit is a true "make and play" based on a favorite book. The fact that it comes with finger puppets for the food as well means that we can really act out Eric Carle's The Very Hungry Caterpillar as a team!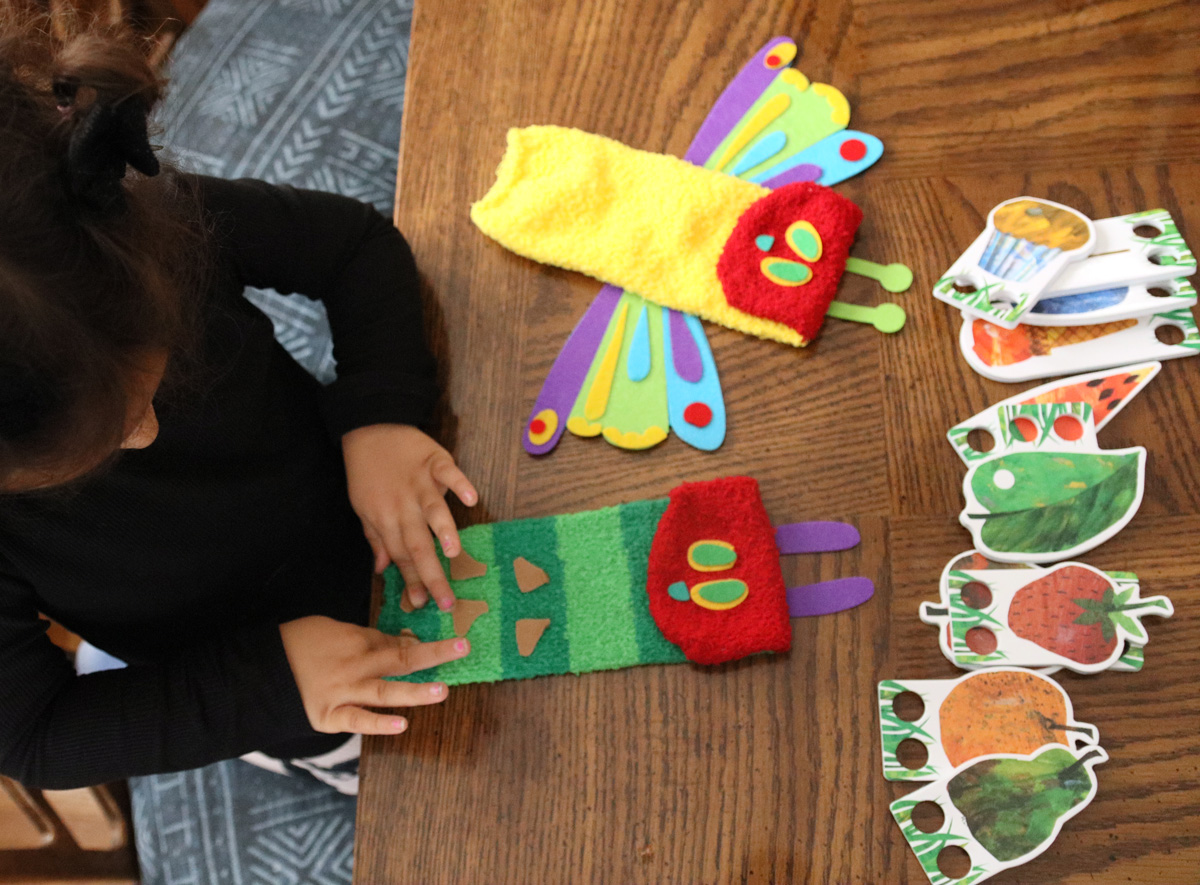 Age three is a fabulous time to introduce first games! This one is spot on for the age level. It includes two decks of cards for two different play levels, making it a "grow with me" game that'll be loved for years.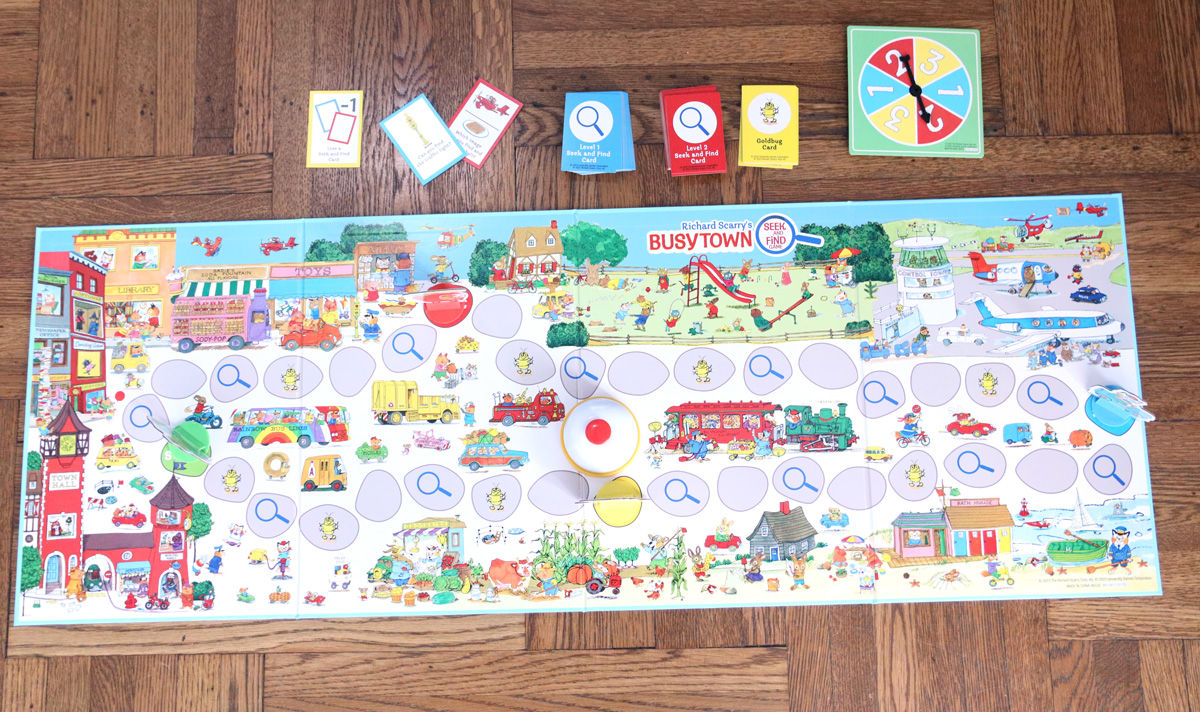 Richard Scarry's Seek & Find Game is a classic-style board game in its core play: spin the spinner, move that many spaces. There are different things you can land on. If you end up on an all play space – each player draws their own seek card, everyone waits until the player says "ready, set, seek!" Each player flips their card over and tries to find what's on the card.
When they find it, they point to image and quickly ding the bell. Whoever is first keeps the card. The first with five cards wins.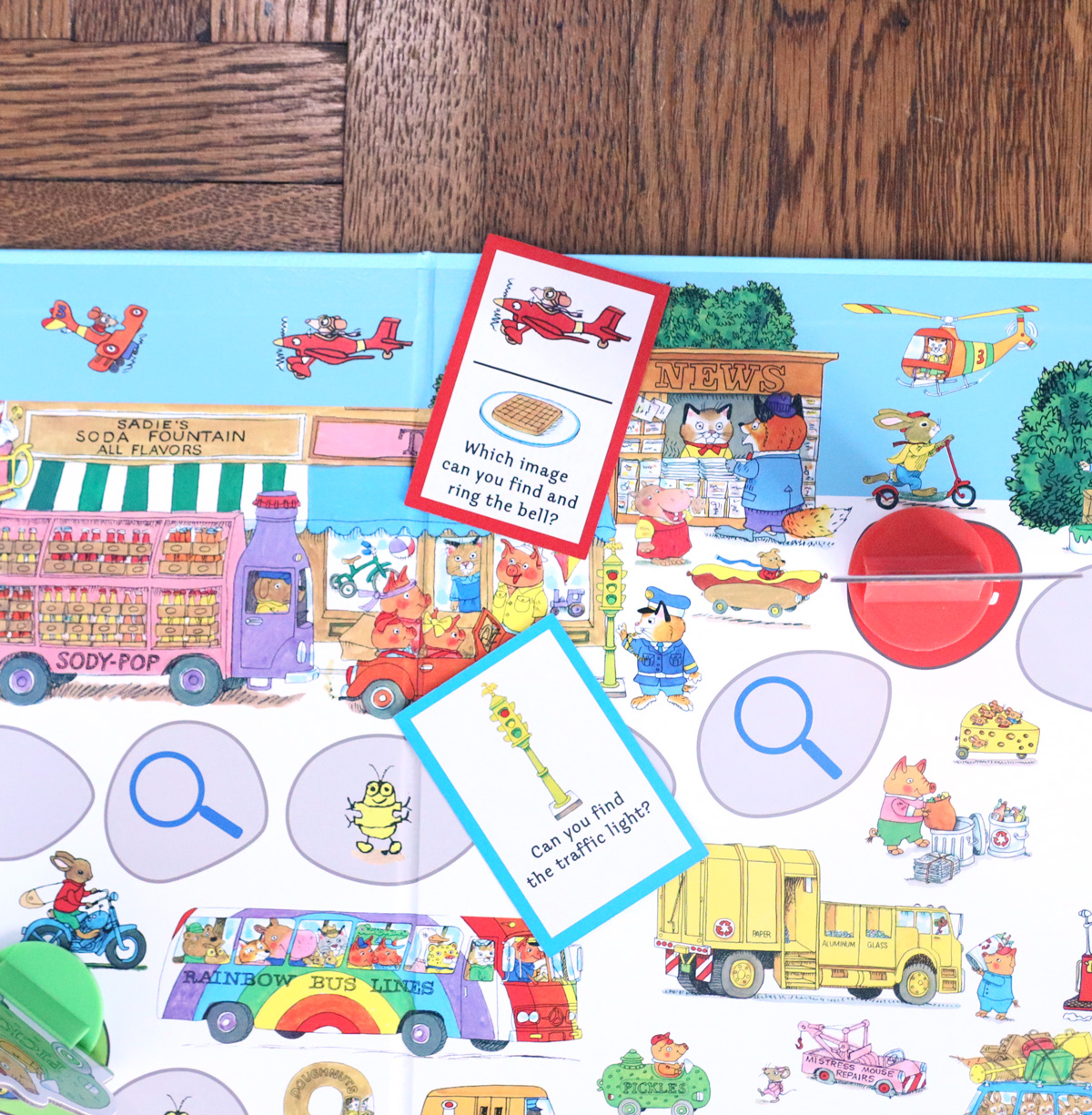 Goldbug spaces draw goldbug cards with special instructions, such as a seek and find card (player only), lose a seek and find card, move forward or backward.
It's perfect for little kids, for who waiting for too long between turns is too difficult. The rules are simple enough for a three year old, and they absolutely love ringing that bell! And it includes their favorite characters and images from Richard Scarry's Busytown books – including moving pieces featuring the quirky vehicles that they ride.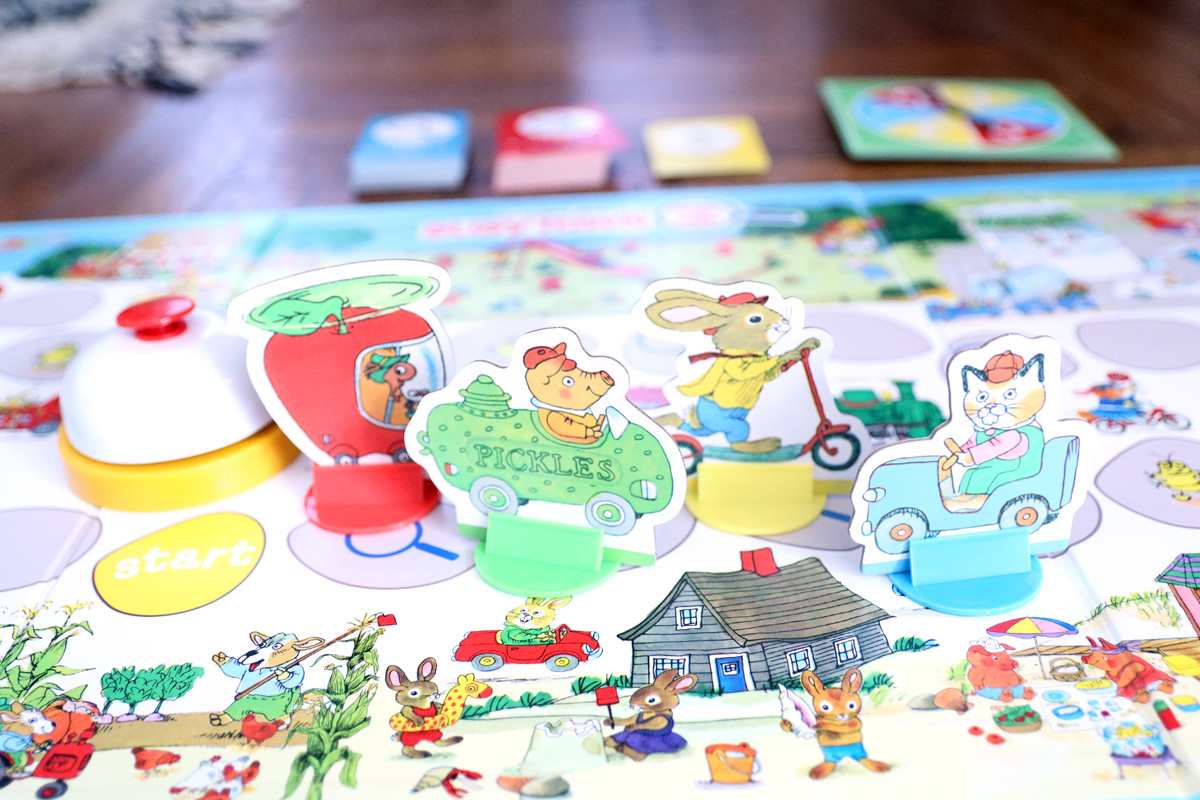 Non Toy
Our kids have lots of toys, and so I'm always looking for more things to gift that AREN'T toys. Some are toy-ish (like books and activities) and so equally exciting, but still less overwhelming than toys if you have too many. Some are more educational and useful.
At this age especially, kids really appreciate things that aren't toys. Look for their favorite characters or other themes that interest them – whether it's dinosaurs, princesses, or both.
A loves painting, but I just don't always have the time or energy to deal with it. Water Magic books are the perfect solution.
These activity books are mess-free and can be done again and again, making them earth-friendly as well! Just fill the brush with water and paint. When it dries, you can use it again.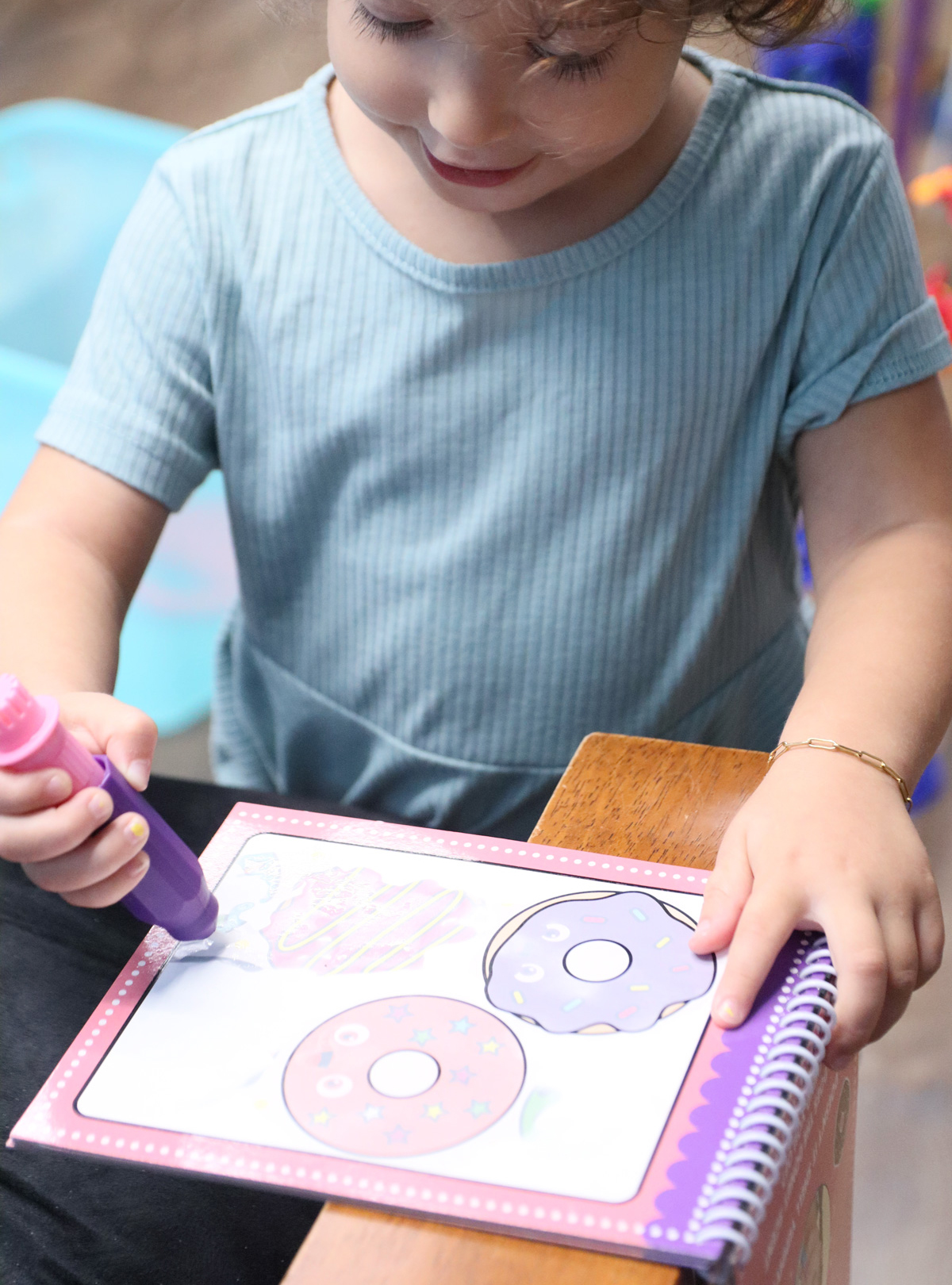 A has done it almost every day after day care for a week already. They come in two packs featuring similar themes that can be gifted together or split up for smaller prizes.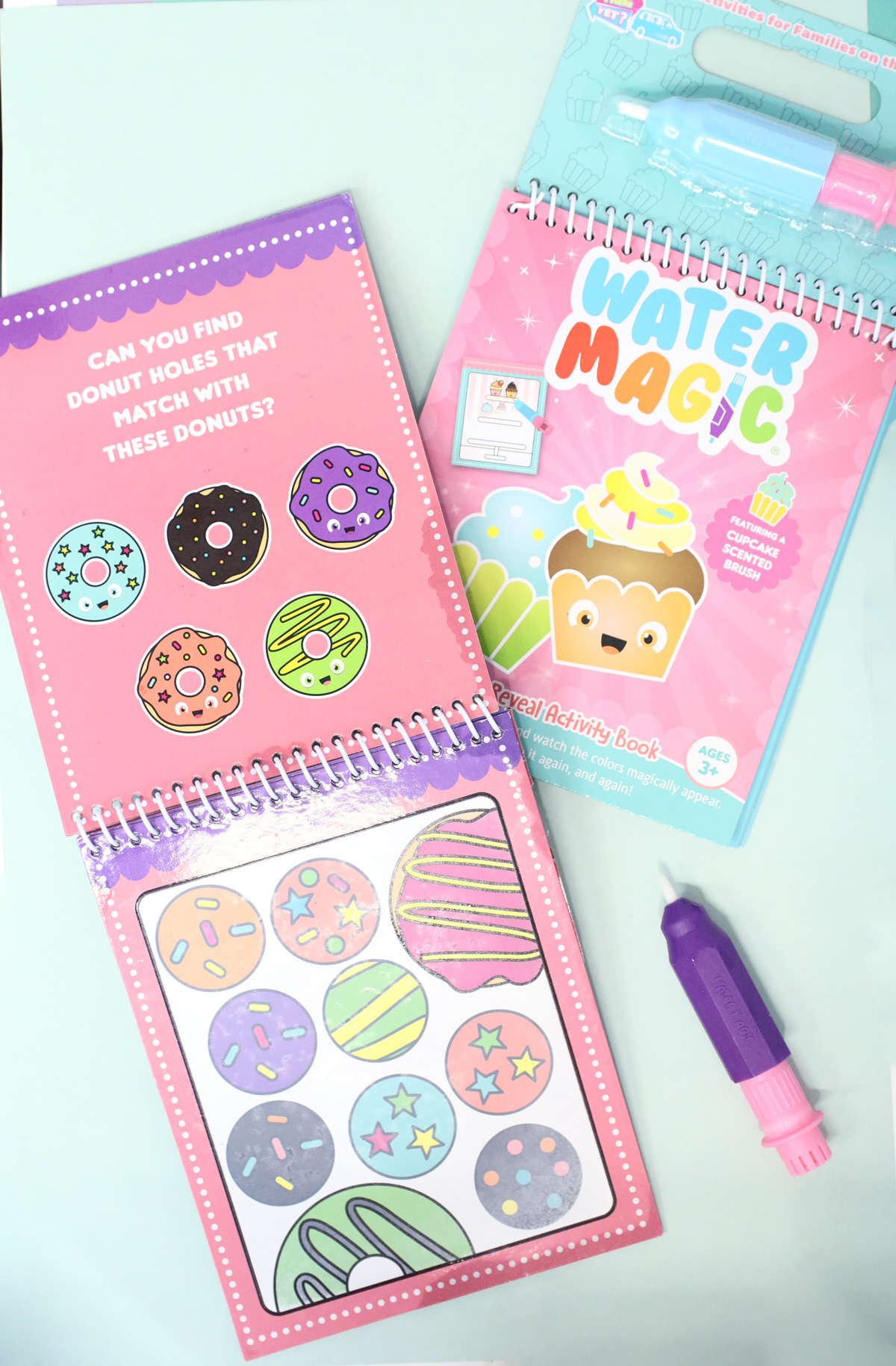 I'm of the mindset that "you can never have too many books and we're always looking for unique ones. The ones that we read again and again share something in common: they are without fail all silly.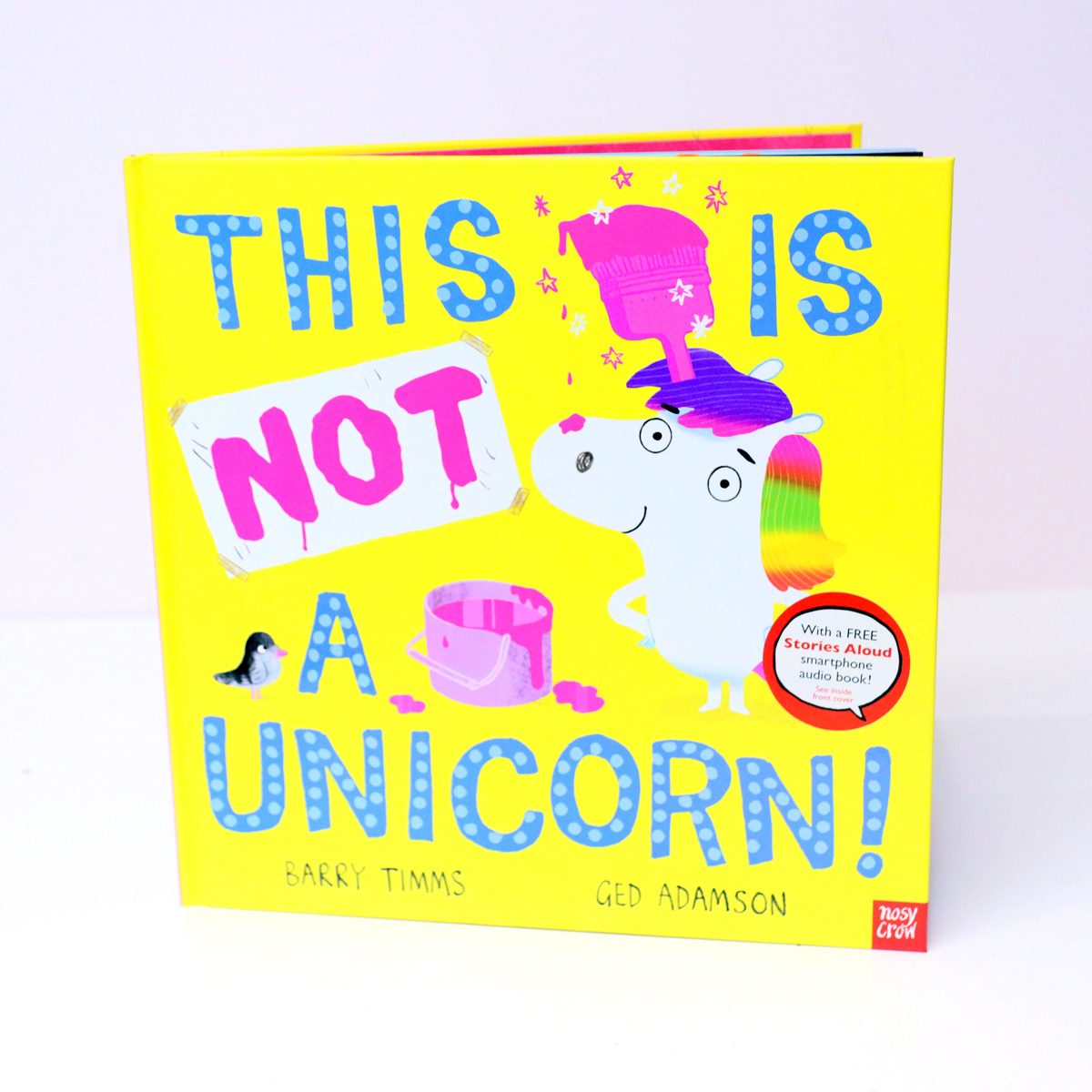 So if you have a child who ALREADY loves unicorns, this book will make them giggle! It shows all the ways the not-a-unicorn can use their horns with whimsical, silly illustrations. Because if we're pretending anyway, why not go all the way?!
And it's got that rhythm that little kids love when you read them books.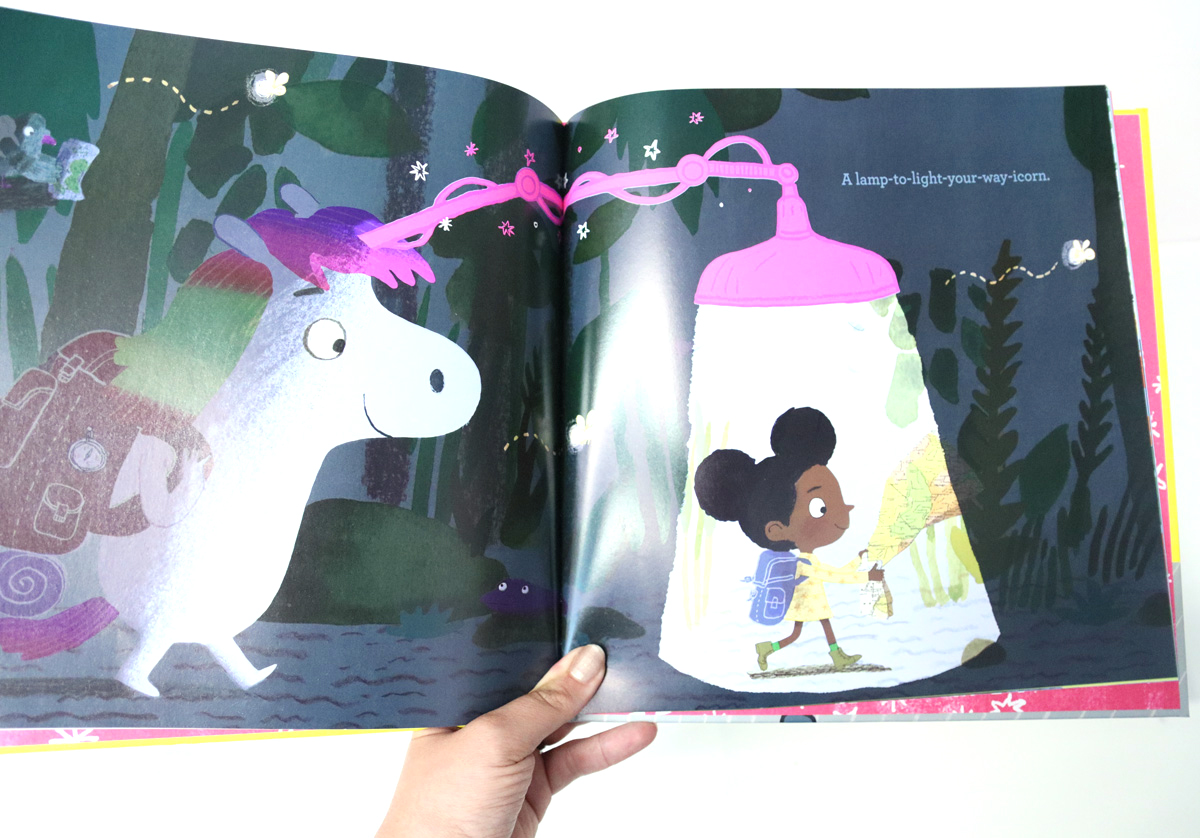 Buying clothing as gifts is something that is a skill. You need to know the kid, and find something in the 'fit that'll get them excited. Older kids might do well with favorite designers or bands, but for younger kids, we LOVE going… cozy!
A is absolutely obsessed with the sherpa hoodie on this outfit from Little Me. I love the mix-and-match element: it comes with fun and classic jeggings, a pretty and practical t-shirt, and a coordinating zip-up that takes it from chilly mornings to sunny afternoons.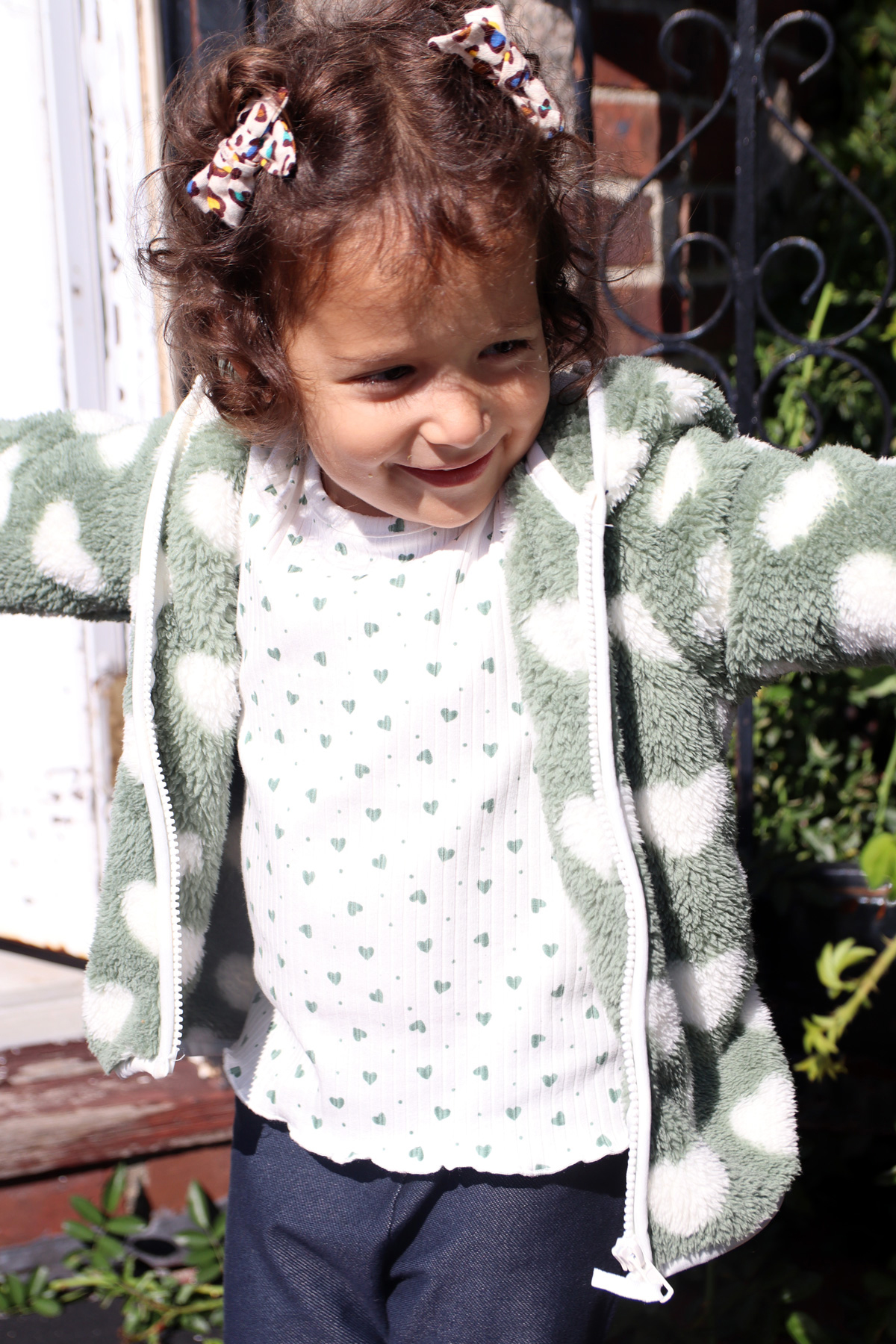 A loves hearts, so this one is perfect for her, but if that's not your thing, check out their other styles too!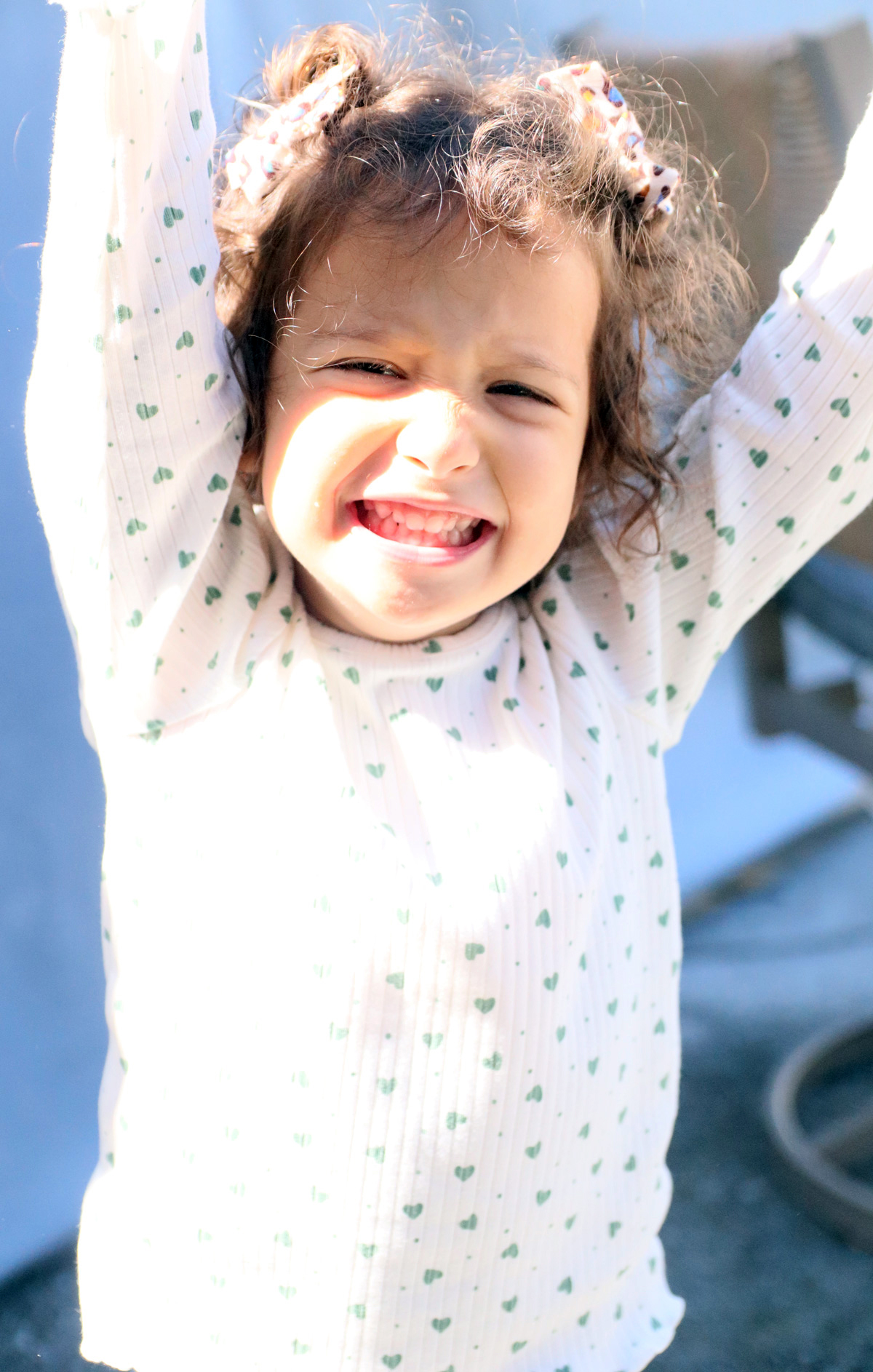 One of my favorite things about three year olds is that they don't care how educational the gift is – if they think it's exciting, they'll love it!
Workman Publishing's Brain Quest line features a series of Learn to Write books. They start from the ground up with basic pen control, a perfect 3-year-old skill.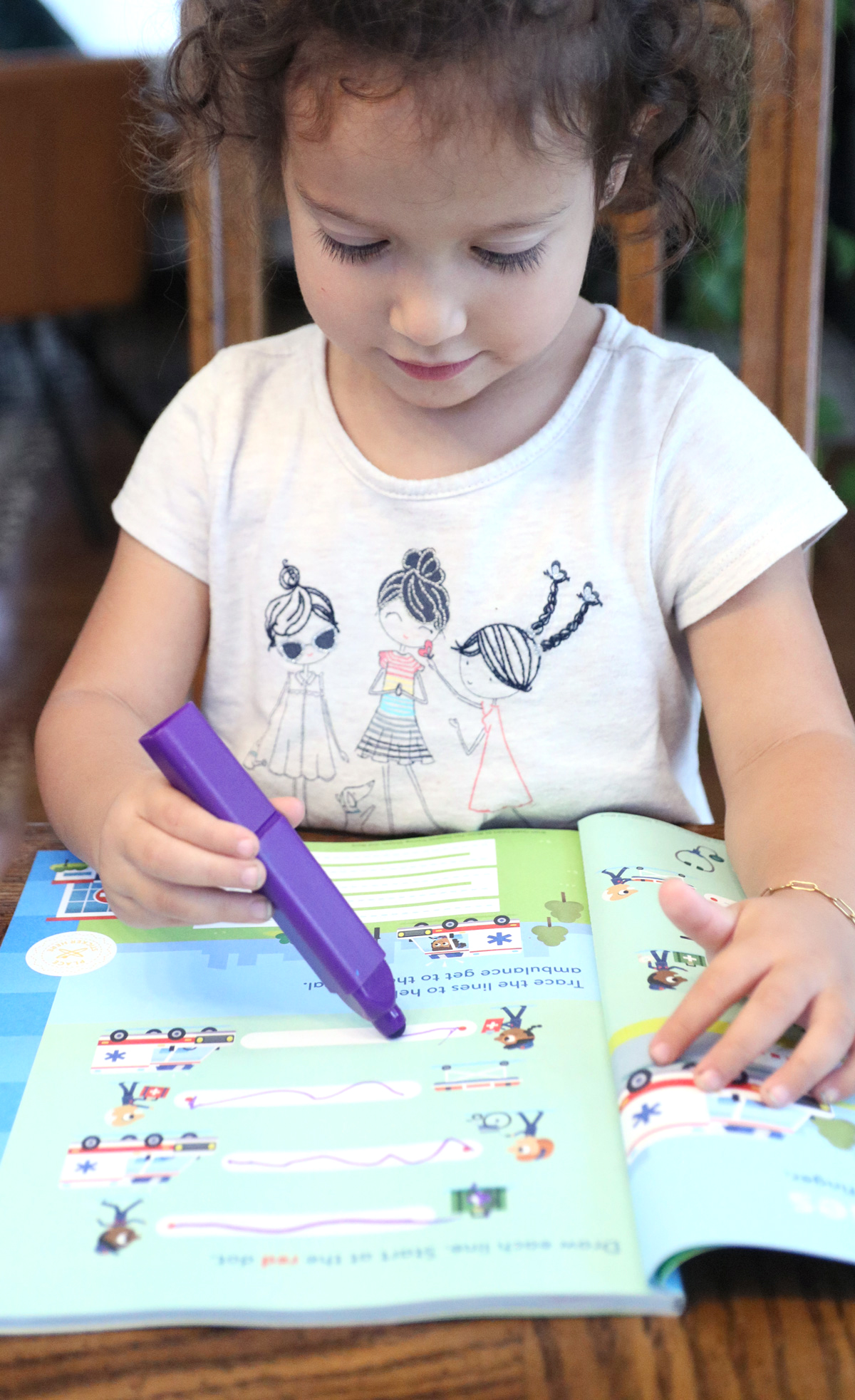 Move on to letters and numbers when your child is ready.
As a fourth-time mother, I now value giving my kids a head-start in writing. A lot of writing is muscle-memory and finger-strength based skills, where lots of exercise and practice can get them ahead of the game.
And since much of schooling relies on writing proficiency, this is a fabulous way to keep them entertained and to gift while helping to build the framework for valuable life skills.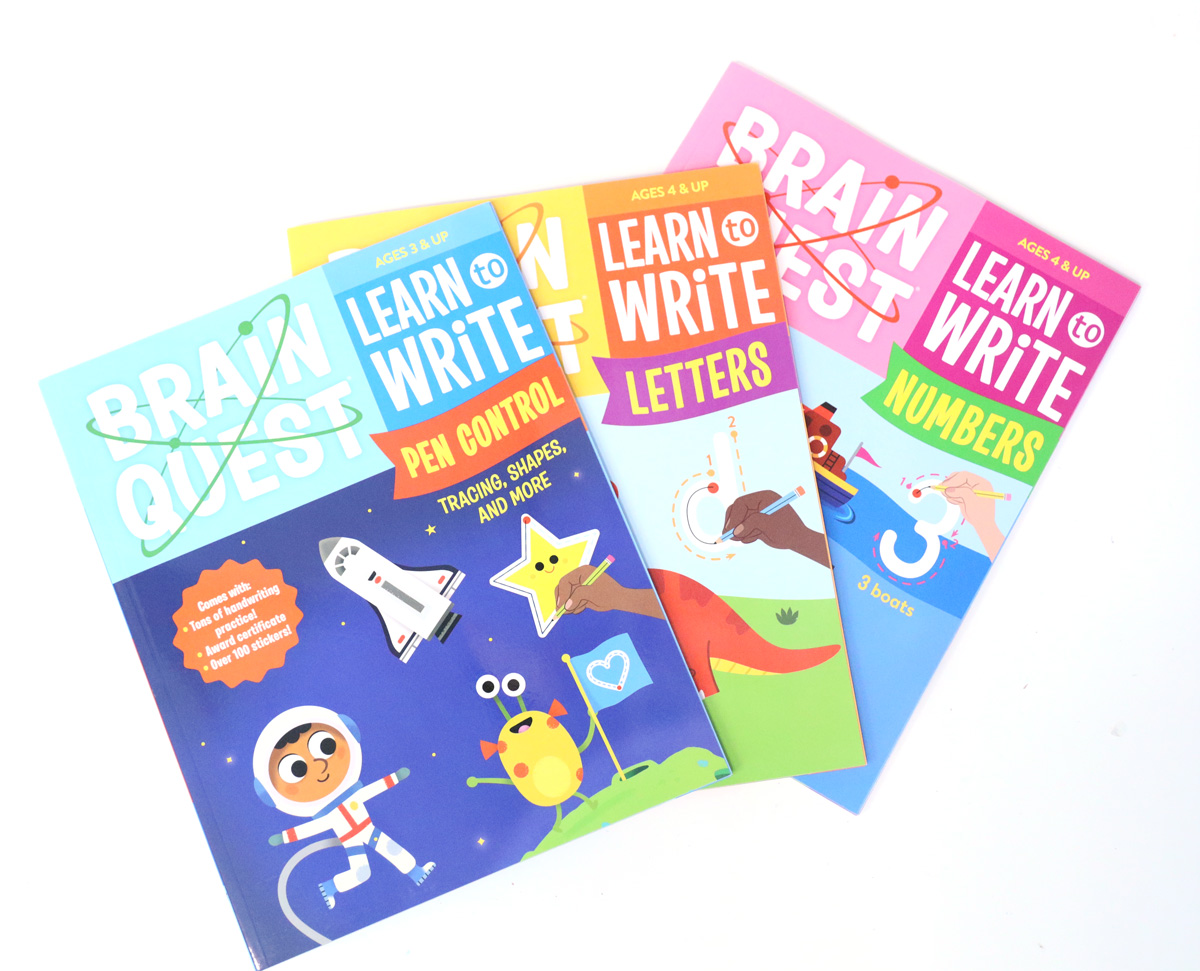 As we prep A to transition from crib to bed, and night train her, a night light is the perfect companion.
The VAVA night light is activated with taps and safe for babies, making it the perfect choice for my little princess.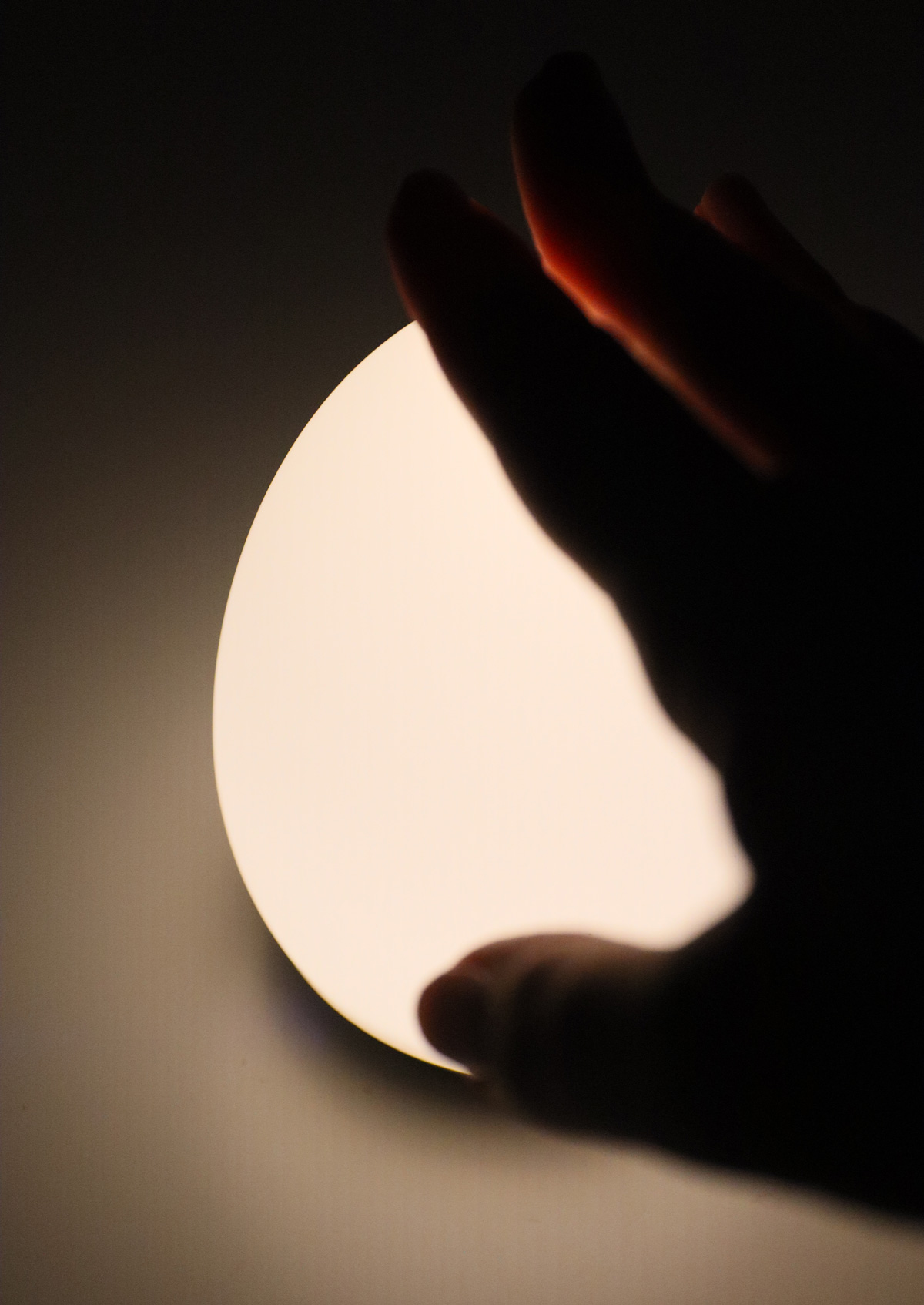 It's small in size, has a simple, modern silhouette. You can leave it on a white light or have it transition between different colors. Do this for fun, or to influence the brain with sleep cycles: warmer colors for going to sleep and blues for waking.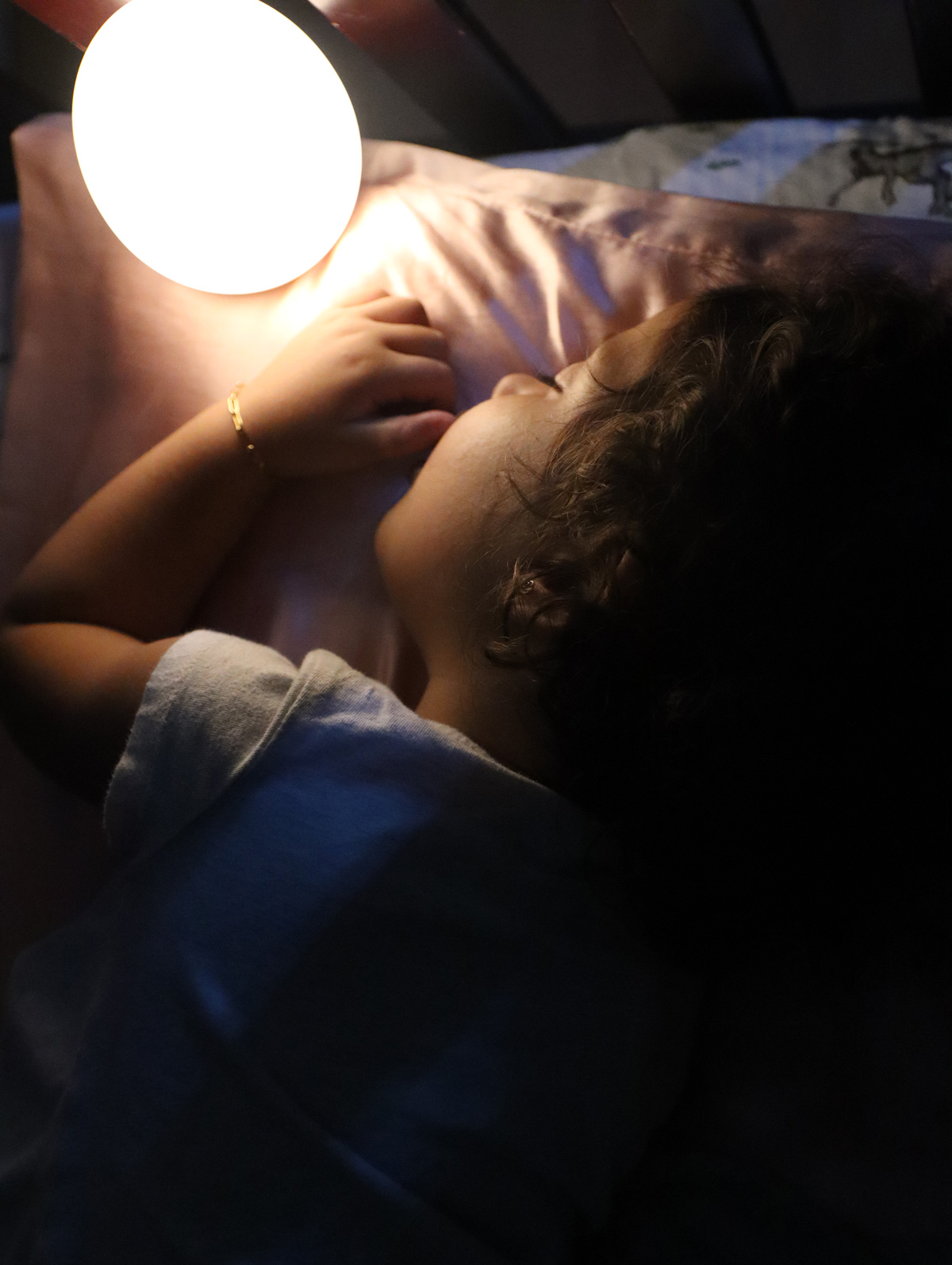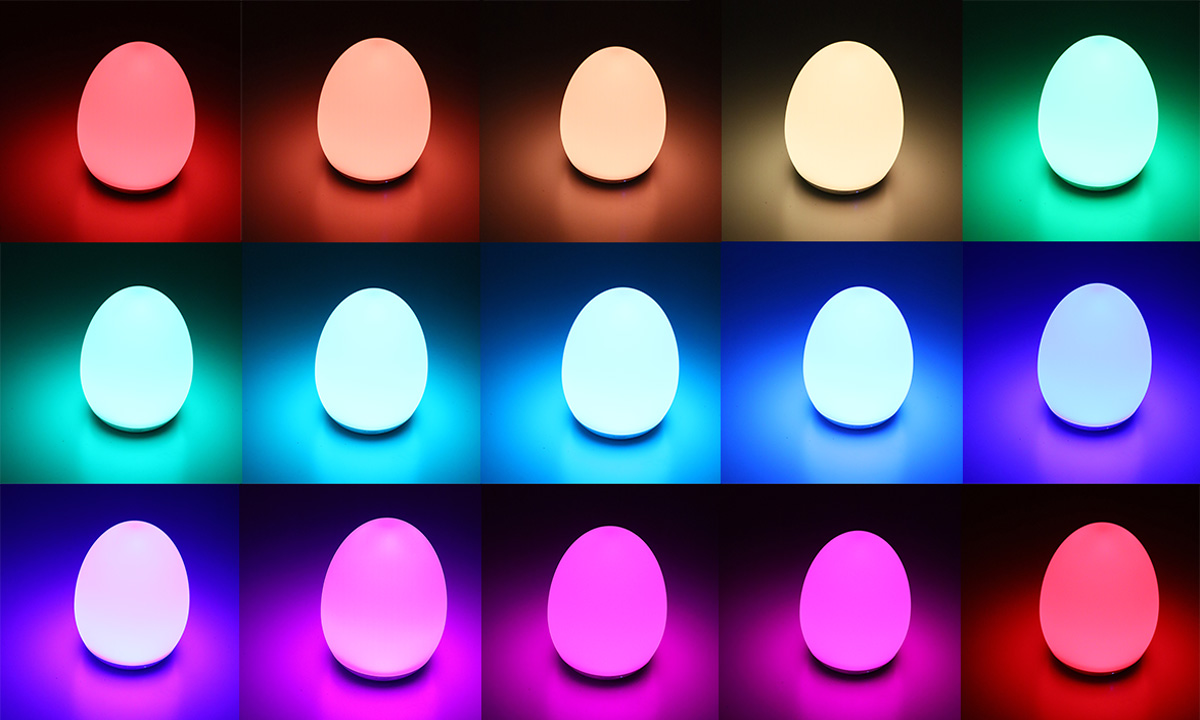 Got any favorite gifts for a 3 year old girl to add to the list? Comment below!