Y and I put together this list of top picks for three year old boys – whether it's birthday gifts, Christmas gifts, or even Hanukkah gifting!
These ideas are perfect for rewards and potty training, or whatever you're looking to encourage your child in.
While sharing the best birthday gifts for 3 year old boys, I was very mindful of sibling play as well.
Of course, while I am sharing these as birthday gifts, I'm also sharing these during the holiday season to help with your Christmas and Hanukkah gift shopping. Starting with age is a fantastic approach, and you can then zoom in on that child's specific interest.
While I know that adding the gender into this list can get touchy, I often choose my subjects according to what people search for. As a mom of two boys who love things that are stereotypically "boys", that is what this list is going to look like. Of course, if you have a girl, you might find some fun stuff here t00 (I'd have loved many of these as a child), and if your boy likes glitter and unicorns (nothing wrong with that!) this might be the wrong list because my children have very different interests.
So this is a "boys" list because:
I have boys
Most people do search according to gender to narrow things down for themselves and I want them to find my post 🙂
With that, I shall share with you our favorite birthday gifts for 3 year old boys (or Christmas gifts for 4 year old girls…)
Best STEM Gifts for 3 year old boys:
Got a kid who loves to build, use his hands, and discover new things, but isn't necessarily a creative? These STEM gifts offer so many opportunities for learning through play, tinkering and fun!
If you're already fans of Magformers – or even if you haven't tried them yet, your three year old will love this new construction-themed magnet play set!
Build tractors, cranes, or even imaginary vehicles with this fun magnetic toy. My boys are already big Magformers fan, and this set was a huge hit with them. It even comes with two construction workers!
Another very different magnetic building toy, BizyBeez Magstix are a better option for kids who like to make their own thing or are still new to magnet toys. It has an easy-to-use ball and stick structure, and comes with a magnetic Buzyboard base – which both my boys love.
It also comes with click-on wheels to turn them into vehicles. It's colorful and tactile, with a larger, easy-to-grip surface, making it ideal for kids with special needs too.
Three is the perfect age to start learning with hand-on science, and exploiting natural curiosity to create learning experiences! For example, if we use three different shape bubble wands, what shape will the bubbles be? Why?
Splashology not only comes with ideas for water-based experiments like this, but also with all the fun gear to do it! This is an age ripe for sensory exploration too, and Splashology is your little one's first science lab! We plan to use this set in water play too, allowing the kids to do their own color mixing and exploring.
Best Vehicle toys for 3 year old boys:
Sometimes it seems that Y can't get enough of vehicles, and while single Hot Wheels cars are our go-to "prize box" options, for more special gifts, we still turn to more "advanced" vehicle play toys. These birthday gifts for 3 year old boys aren't all cars, but they're fantastic for kids who love vehicle play!
Race these fun pull-back cars, and when they crash…. the heads pop-off!
A favorite of mine from the Sweet Suite event I attended back in July, these fun vehicle toys make fantastic birthday gifts for 3 year old boys, or even older!
They make great sibling gifts for the holidays too!
They are an affordable toy that make little kids crack up and enjoy those silly moments. It's impossible to capture fully in a photo, so here's a video of Knuckleheadz in action:
With its small profile but sturdy, build, we are in love with the Green Toys Parking Garage! It's got a helipad and a helicopter that lifts up the vehicles.
Other vehicles include a yellow taxi and a police car.
Green toys managed to find the best balance between space-efficiency and functionality. Unlike other toy garages we've had in the past (and we've had many) this one is very sturdy, especially for one that's made out of plastic. It has a removable slide, an elevator, a car lift, and more. It can be played with from any angle – making it fantastic for siblings.
Speaking of plastic, it's made of 100% recycled plastic milk jugs, and packaged in a way that's mindful of our environment. That's a triple win!
If your little one loves vehicle play, Pocket New York is the perfect accessory! Not only is it educational (Y can now name the Statue of Liberty and Freedom Tower), but it's also a great addition to existing favorite toy, and a fantastic standalone toy too.
Made of quality wood, this 18 piece set is a fun travel toy, and comes in a self-storing box with a handle. The details are adorable and it's pretty enough to keep on an open toy shelf.
This smashing car slowly builds up damage as it hits into things. I mean, it self-damages… when your little one bumps it into chairs and couches. Then, when the light turns red, it heals itself with the push of a button!
Little ones who love vehicle play will love how this breaks – but doesn't! You can rev up the engine by pulling the throttle back and forth to "charge" it. Choose English, French or sounds only, and enjoy the adorable interactive sounds Demo Duke makes. See what he does when you touch his Mohawk!
Best Creative Birthday Gifts for 3 Year Old Boys:
Y is a very creative child, with a love for both art and music. Below, you'll find some of the best birthday gifts for 3 year old boys who have that artsy side to them.
It's a toy but it's real! This fantastic toy synthesizer has a huge array of sounds you can make, using dials, levers, and buttons. And the lights only make it more fun. If you have a child who likes music, and especially likes to make it, the Blipblox synthesizer works for real! You can mix music from the built-in speakers or use the 1/4 inch audio output jack.
And, get this – you don't need batteries! Blipblox comes with a USB power cable but can work with batteries too if you prefer that. This is safe for ages three and above, but it's fun through adulthood.
We love sensory experiences in our house, but we also love creating. Mold the two together (pun intended) with Mad Mattr!
It's a fantastic gift set for a child who is new to Mad Mattr, complete with a brick-shape mold, extruders, a kid-safe knife, and two colors of Mad Mattr. But I also love the pods and Meteor Monsters for bundling with the starter set – or for rewards charts, for holiday stocking stuffers, and other smaller gifts. I love it when a new toy lends itself to expanding in increments later on!
Crayola does it again! We tried Scribble Scrubbies last year and loved them, but my boys were stoked to see the new Safari set!
Color these little pet figures using the included super washable markers, and then give them a bath with the included brush and tub. Collect figures, mix-and-match sets, and get creative! As a creative, Y especially loved this toy. I don't usually let him color on his toys, mean mommy that I am, and this was extra fun because it almost felt like mischief!
The safari set has jungle animals, a tub with a tree canopy and a fun slide.
13.Crayola Inspiration Art case: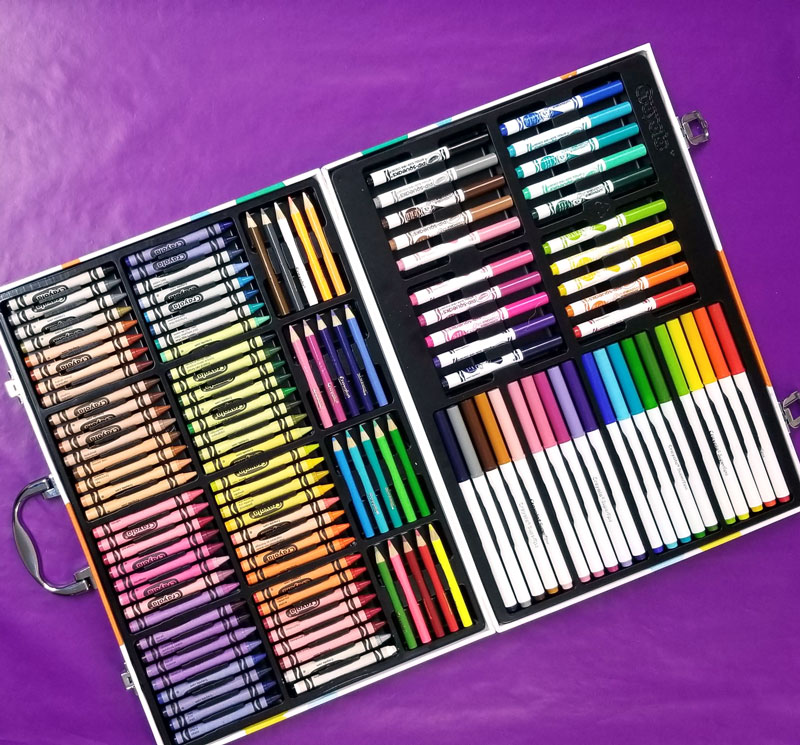 This list simply wouldn't be right without Y's favorite Hanukkah gift from last year. Actually, it was a favorite for both M (then age 5) and Y (then age 2) so it's perfect for your three year old! And no, I did not buy it, a cousin who apparently is really good at buying gifts did.
The Crayola inspiration art case includes a full line of Crayola's top notch supplies – colored pencils, Supertips markers, Pip Squeaks broadline markers, and crayons. They have been using it throughout the year for crafts, coloring pages, and artwork, and they still have lots of mileage left to gain from it.
Get the art case on Amazon | Walmart | Target
Favorite Character Gifts for three year old boys:
One of my top tips for spotting the perfect gift for kids is to pinpoint their favorite character and shop accordingly. You can even buy them socks – if it's got their favorite cartoon featured, they'll love it at this age! In this list of the best birthday gifts for 3 year old boys, I chose a few favorites. You can also check out my top PAW Patrol gifts, as well as the best Elmo gifts for toddlers.
Launch your pups to rescue Adventure Bay! The Launch 'n Haul Patroller opens up into a full play set, full of opportunities to slide, jump, and glide.
It comes with the start of your child's collection of Spinmaster's new true metal die cast line. My boys were thrilled to see that this set includes Robodog – possibly the only Paw Patrol figurine we have yet to own! And I personally love the durable, collectible quality of the die cast.
The vehicle itself can store seven True Metal vehicles, making it a self-storing toy.
Open it up for a track set with three missions, close it for a fun Paw Patrol team vehicle.
Go into the night to save the day with the toy of the season: the PJ Masks Seeker! The front detaches from the back so the team has two vehicles if they nee it. And don't forget their personal vehicles!
The Seeker comes with Catboy and his car.
It has loads of different things to attach and play with. Launch discs with the disc launcher that can be attached in two different spots, catch villains with the attached cage. It even has a working spotlight that makes sounds!
It's got a spacious interior that opens from the front and the back and a ramp that slides out of the top. Lift up the tab to launch the vehicle.
Y received this as a third birthday gift from his great-aunt, and his big brother kept stealing it! What should he do?
This adorable learning tablet has interchangeable vehicles belonging to three favorite characters, and loads of games to play, while accidentally learning. It was a big hit for my boys!
Pin any of the images below to share with your followers!