So you need to figure out how to retain your sanity with kids at a wedding… I've got you covered! These ideas for entertaining kids at a wedding plus tips for keeping them happy will help ensure that you get to enjoy your evening too! Check out the cool wire wrapped necklace I made for this wedding if you like to DIY! Disclosure: this post contains affiliate links.
When my sister got married a few weeks ago, the kids were obviously invited to the wedding. There were many things that worked out for us with kids at a wedding, and some mistakes that we made.
I decided to compile this list of ideas for entertaining kids at a wedding, plus give you some other tips for bringing kids to a wedding based on my experiences. Some of these are based on what we did that was successful. And some are based on what we didn't do.
These tips and ideas for entertaining kids at a wedding and retaining your sanity are geared toward moms bringing their own kids.
But you'll also find ideas that'll work for a kids' table and tips that are great for the event organizer too.
First, you'll find some activities for entertaining kids at a wedding, then you'll find some general sanity-saving tips.
Activities for Entertaining Kids at a Wedding: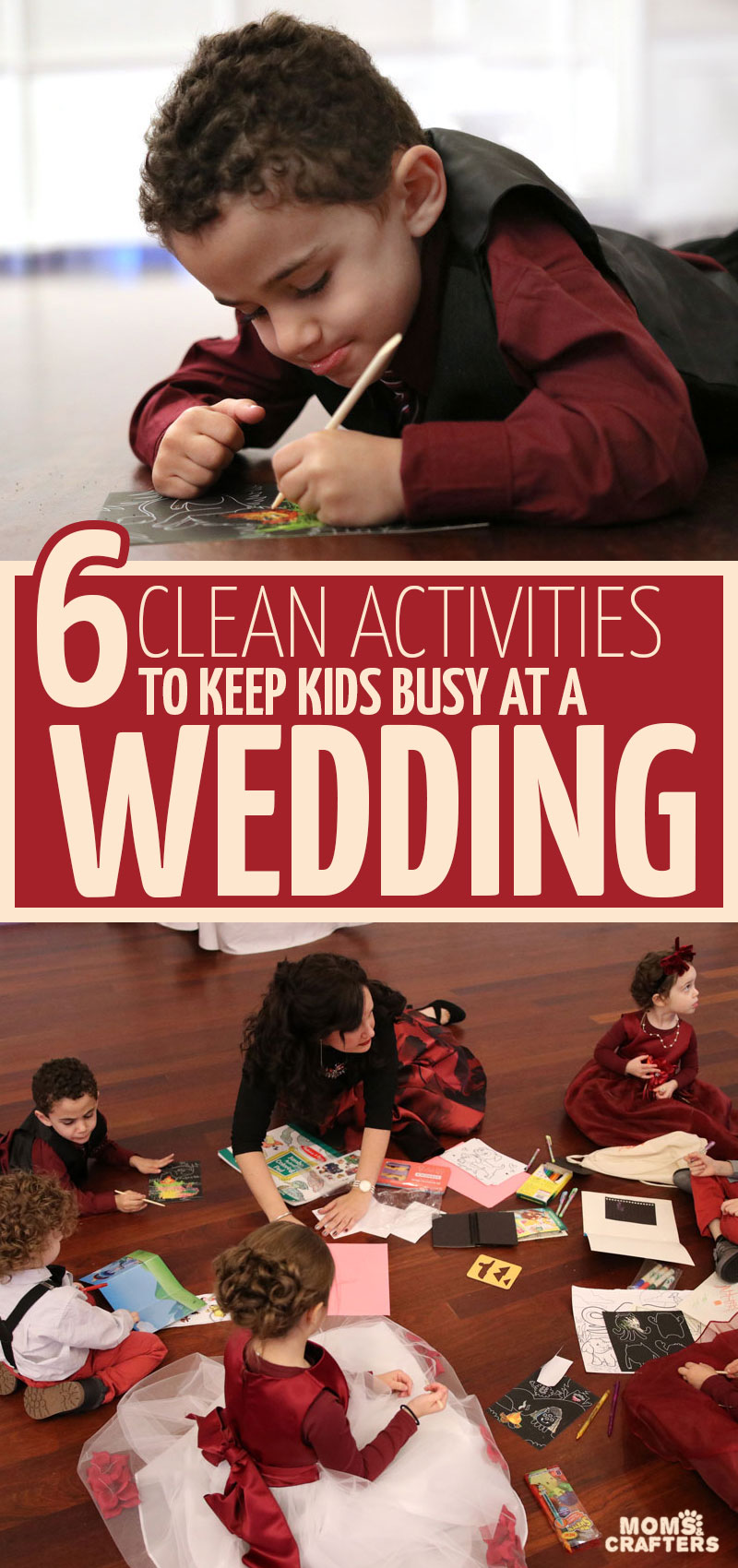 When it comes to entertaining kids at a wedding, the most critical parts are the photography sessions (when they need to be available but out of the way) and the actual procession. For the procession itself, I'd recommend keeping it simple: if you need the screen, pull out the screen.
I also believe in giving the kids a chance to actually watch the procession – they may find it interesting, as mine did, especially when it's a favorite aunt or uncle getting married.
If your kids are getting fidgety, pull out the kids' tablet or your phone and let them play games with the sound off.
For the photos, I brought along activities for all the cousins as well. I didn't want to use these at the procession because it's more formal. I stuck to things that were creative but non-messy, or at least not messier than gathering up a pile of big garbage.
Here are some of the activities I brought for entertaining kids at a wedding, plus more that you can choose form that would work:
1. Mess-free coloring:
We brought plenty of Crayola Color Wonder products and the kids just had fun coloring while they remained on call for photos.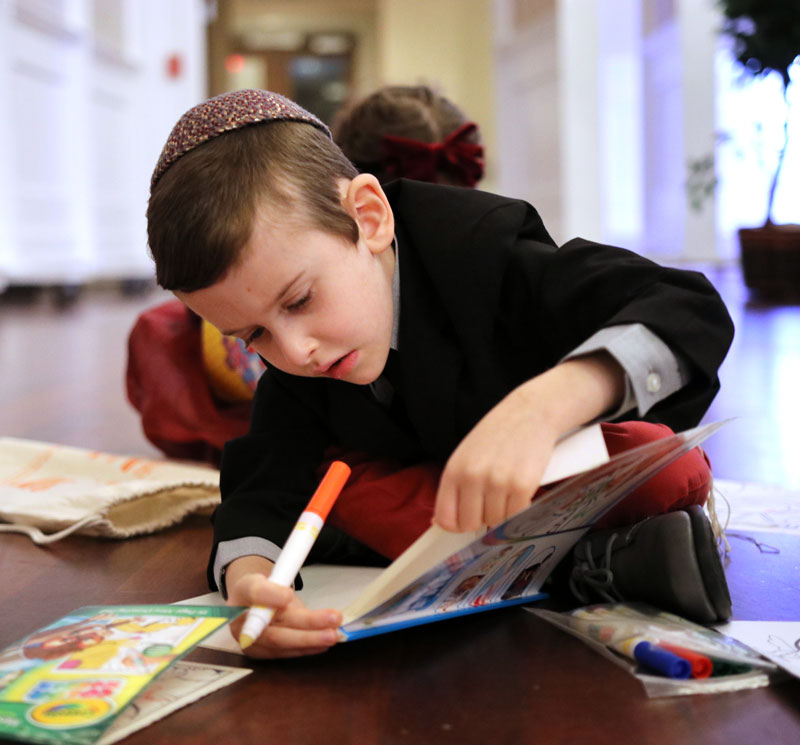 I brought this for entertaining the kids at my brother-in-law's wedding a few years ago as well, and grabbed some Color Wonder for this wedding as well.
2. Semi mess-free coloring:
For my sister's wedding, instead of just Color Wonder, I also brought along regular coloring things that were fresh for the kids but still not quite as messy as markers. (I just didn't have enough Color Wonder to go around as there are a lot more kids.)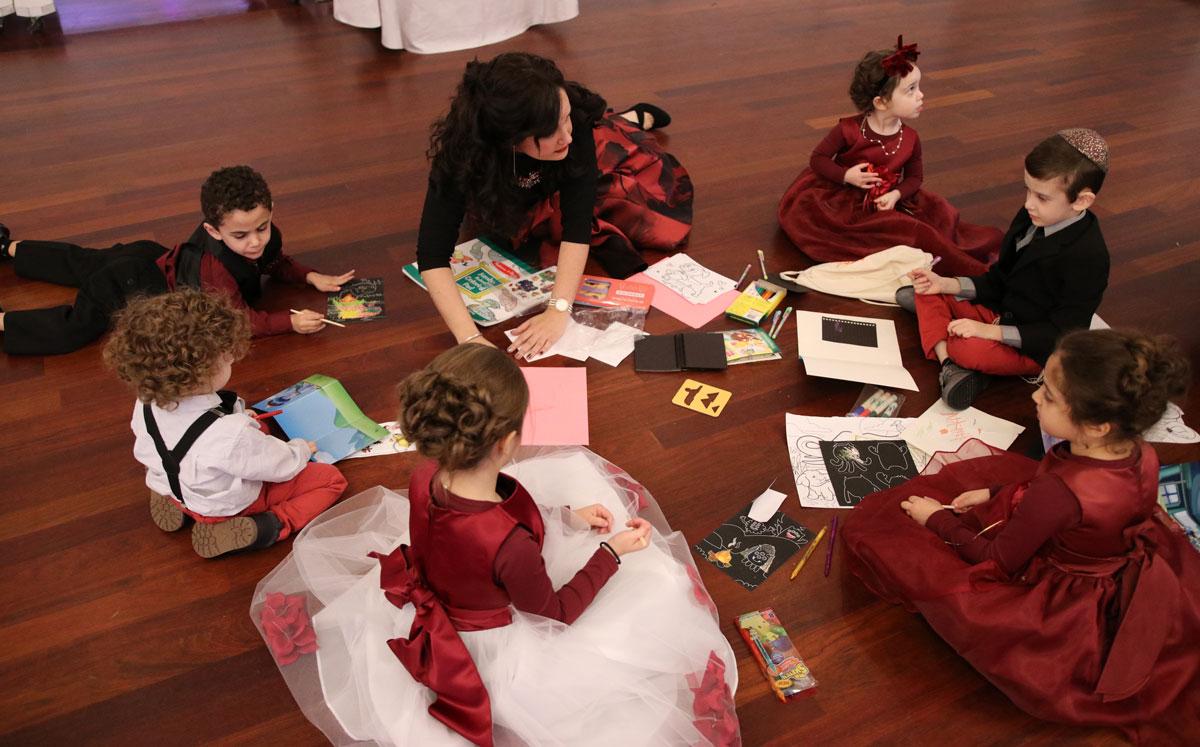 Cool coloring stuff for entertaining kids at a wedding include: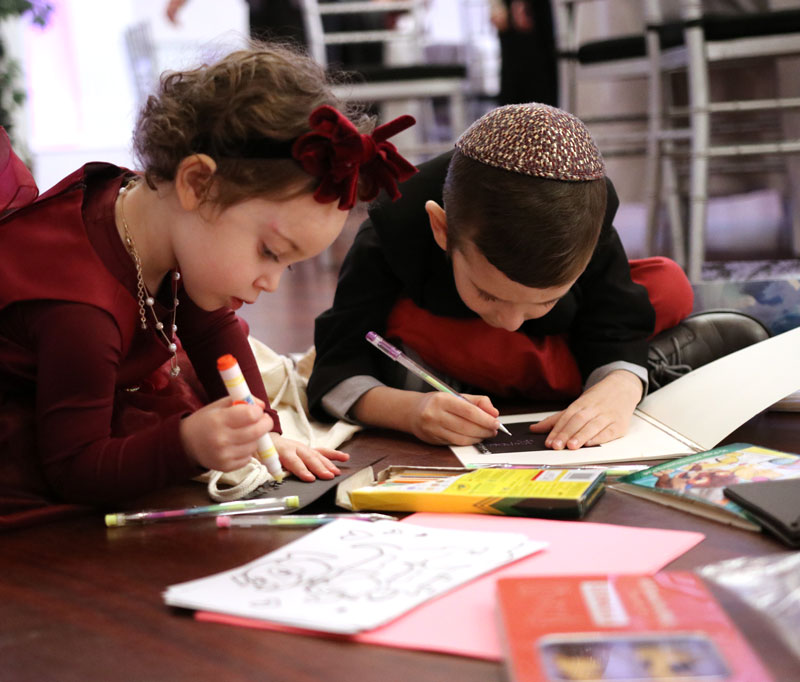 Tip: don't take everything out at once! Give the kids a choice and then hand them 1-2 activities at a time, so you don't have 1-2 kids hoarding everything.
3. Scratch art for age preschool and up:
My sister recommended scratch art kits and it was a huge hit among the older-than-toddler set! The kids got very into it, especially my nephew (whose mother's idea it was in the first place.)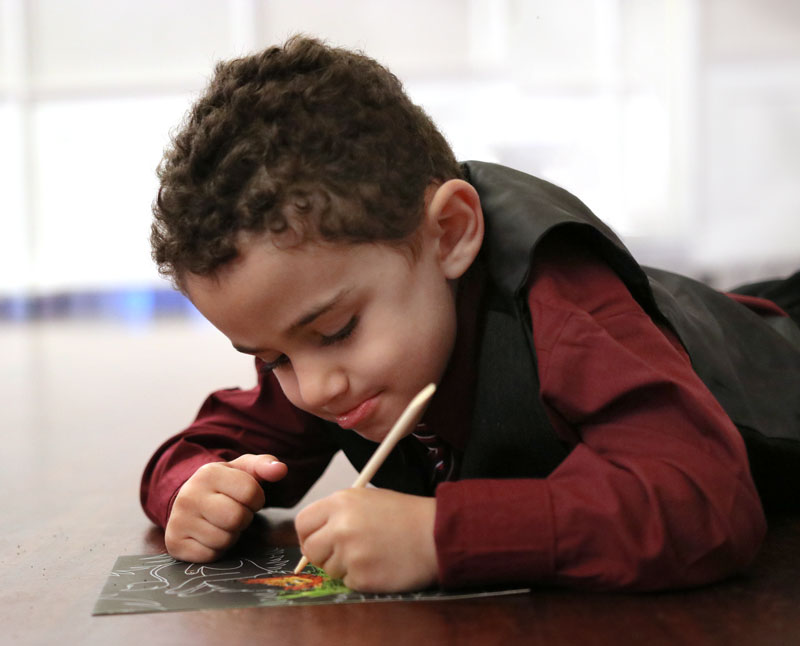 4. Reusable sticker scenes for the toddlers:
Stickers are perfect for entertaining toddlers, but real stickers will cause problems. Baby Y loves wearing them and I knew he'd stick them on the floor.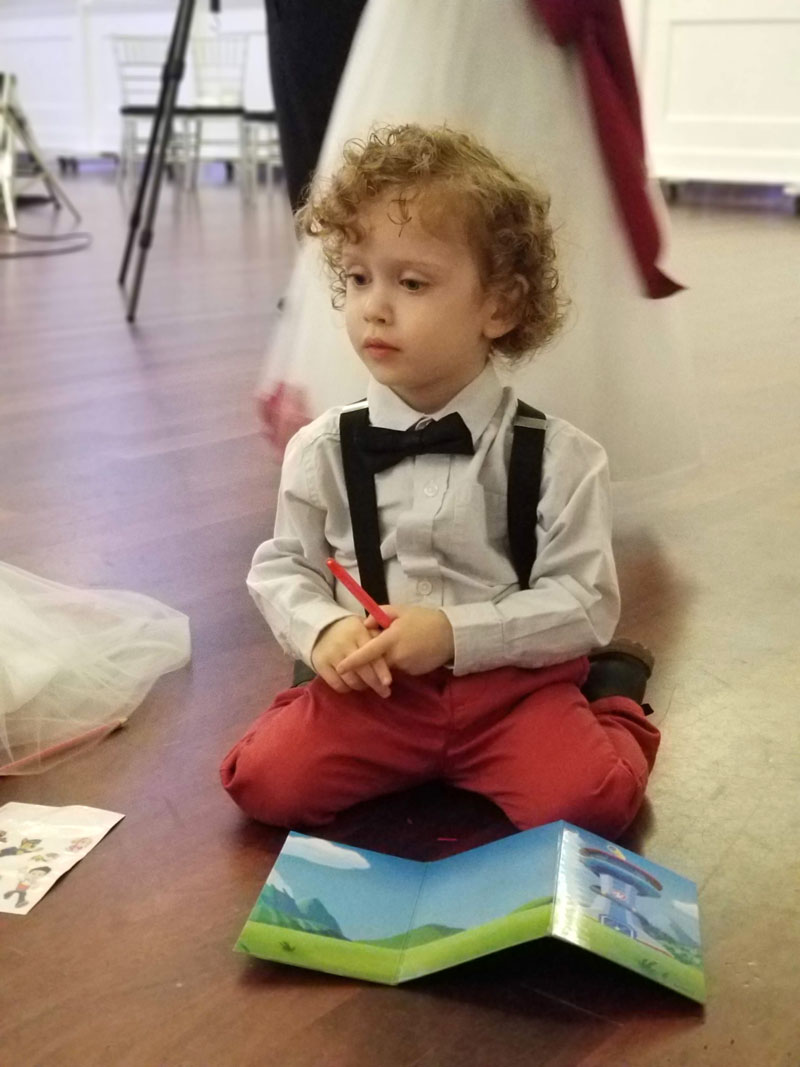 So instead I brought those glossy sticker clings that don't have glue on the back – they just cling. I bought my kids' and their cousins' favorite characters – PJ Masks, PAW Patrol, Frozen…
Tip: peel off the outline of the stickers in advance so that they have an easier time peeling them off – thanks Susie of Busy Toddler for this idea!
Stickers are a choking hazard – don't give to kids who mouth things and always supervise!
5. A tablet with kids' apps:
For the procession, and if you need an emergency "pull-out" I'd recommend having something handy that you know will keep 'em busy. My kids' love the Little Scholar learning tablet, but if you don't have something like that (or you don't want to invest in one), at least enable child lock features on your phone and download some age-appropriate games in advance. Or, pull out an old smartphone that's no longer in use and turn that into the "kids' phone".
6. Puzzles and other compact, entertaining toys:
If your kids are entertained by puzzles, grab a few flat ones to bring along! Other great toys along these lines would be chunky wooden lacing beads, a felt busy book, or Etch-a-Sketch toys.
Sanity saving tips for enjoying yourself with kids at a wedding: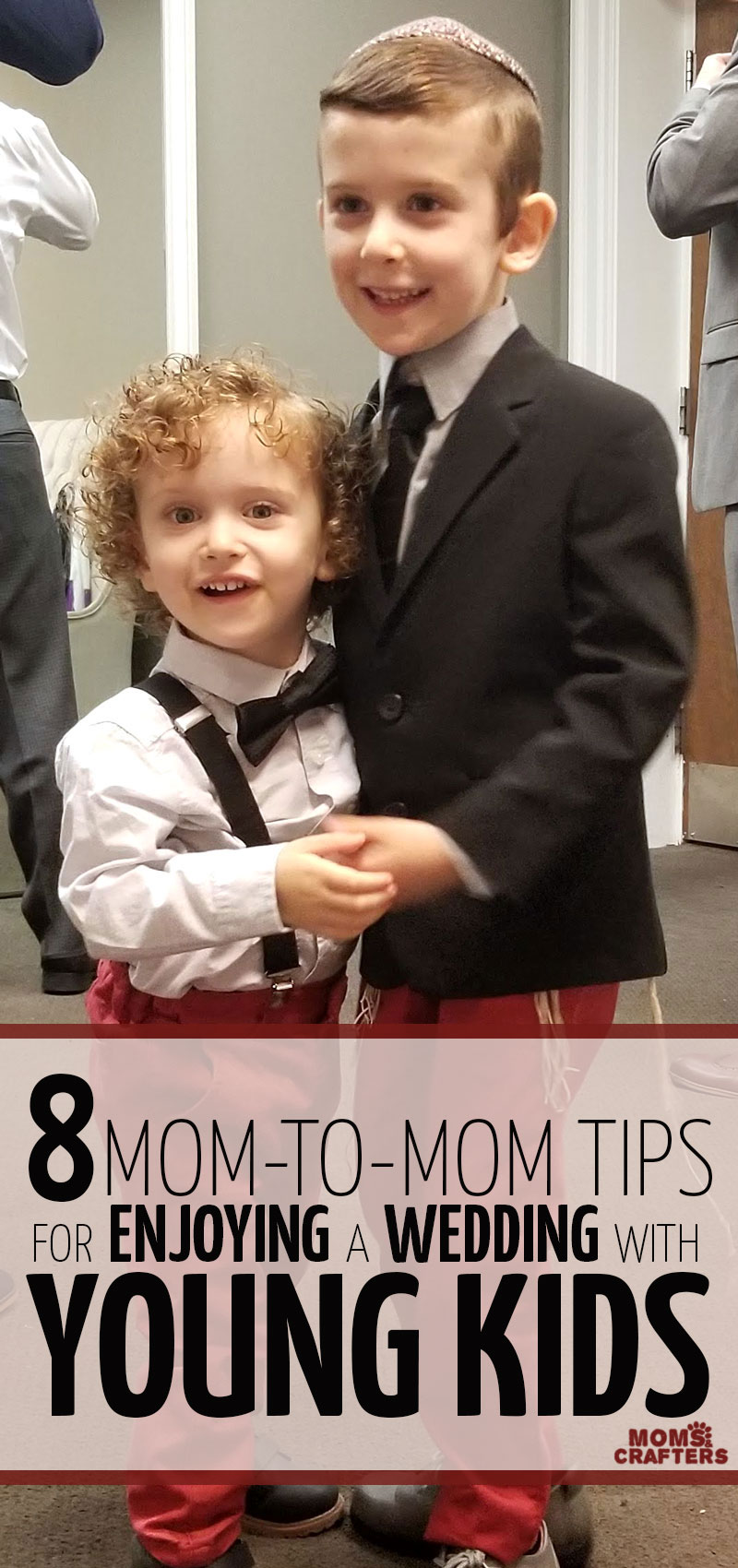 1. Bring the kitchen sink… I mean the medicine cabinet.
Murphy's law: Baby Y spiked a fever during the wedding. We realized afterward that it was because of a 24 hour bug going through his playgroup, but at the moment all we knew was that we were going to have a really long night with a really unhappy tot.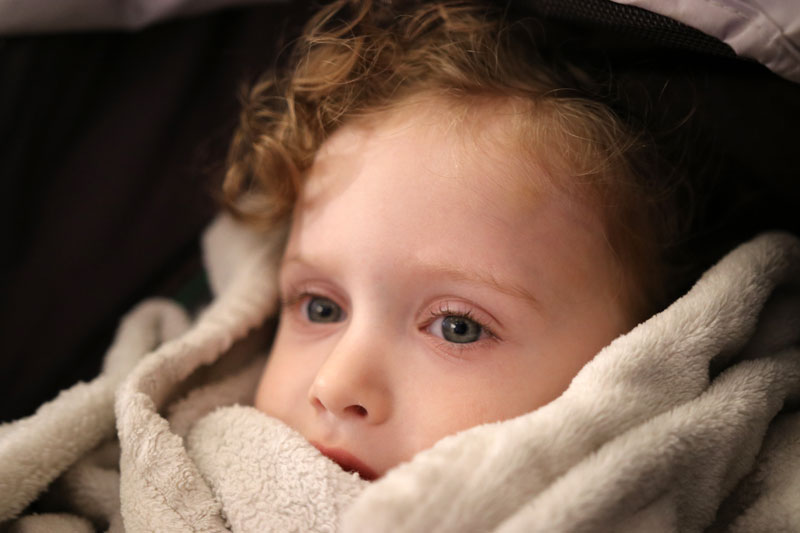 So my husband ran to the closest CVS for Tylenol and nearly missed the big family photo – he literally slipped in as the photographer was clicking the button.
We also saw a suspicious rash earlier and with an allergic child, and us taking the caterer's word for it which foods he can eat, I was kicking myself for not bringing Benadryl. We just watched the rash, which ended up being part of the virus, but I realized how stupid I was for not bringing it.
I highly recommend equipping yourself with the works. You might not expect your child to need it, but we all know that kids choose the worst times to get sick. So bring it all: Tylenol/Motrin, Benadryl, Band-aids – bring a whole first aid kit just in case!
Eventually the Tylenol kicked in and the evening went much smoother!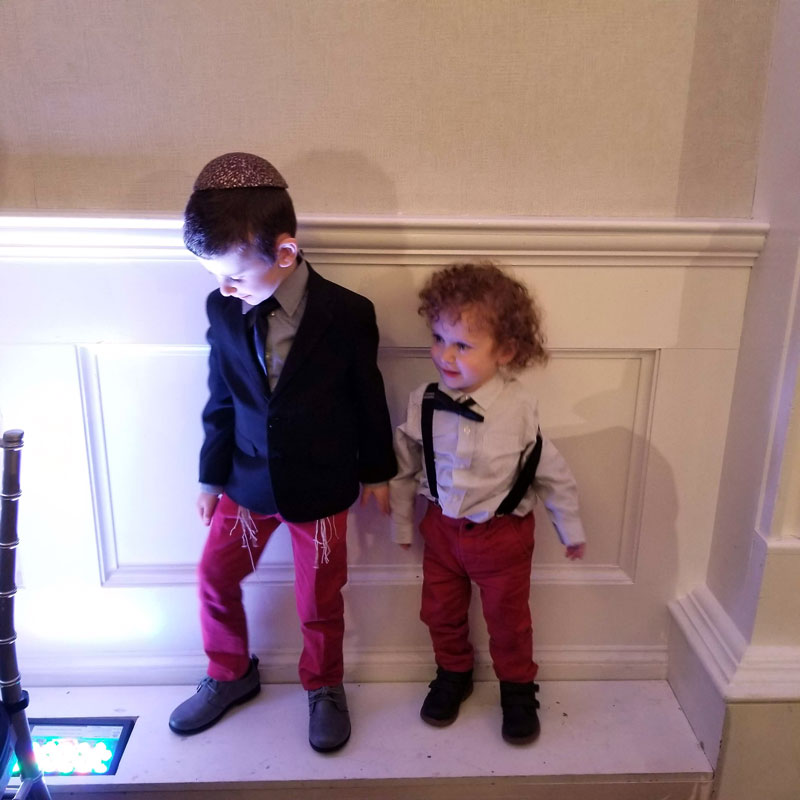 I also highly recommend earplugs for babies since music can be loud. They help for any kid that is sensitive to too much noise.
2. Changes of clothing that work in the best-case scenario:
We had a whole color scheme planned out, so while I obviously didn't want to change my kids, I brought along dressy outfits that would work for the photos in case something got messed up before pictures.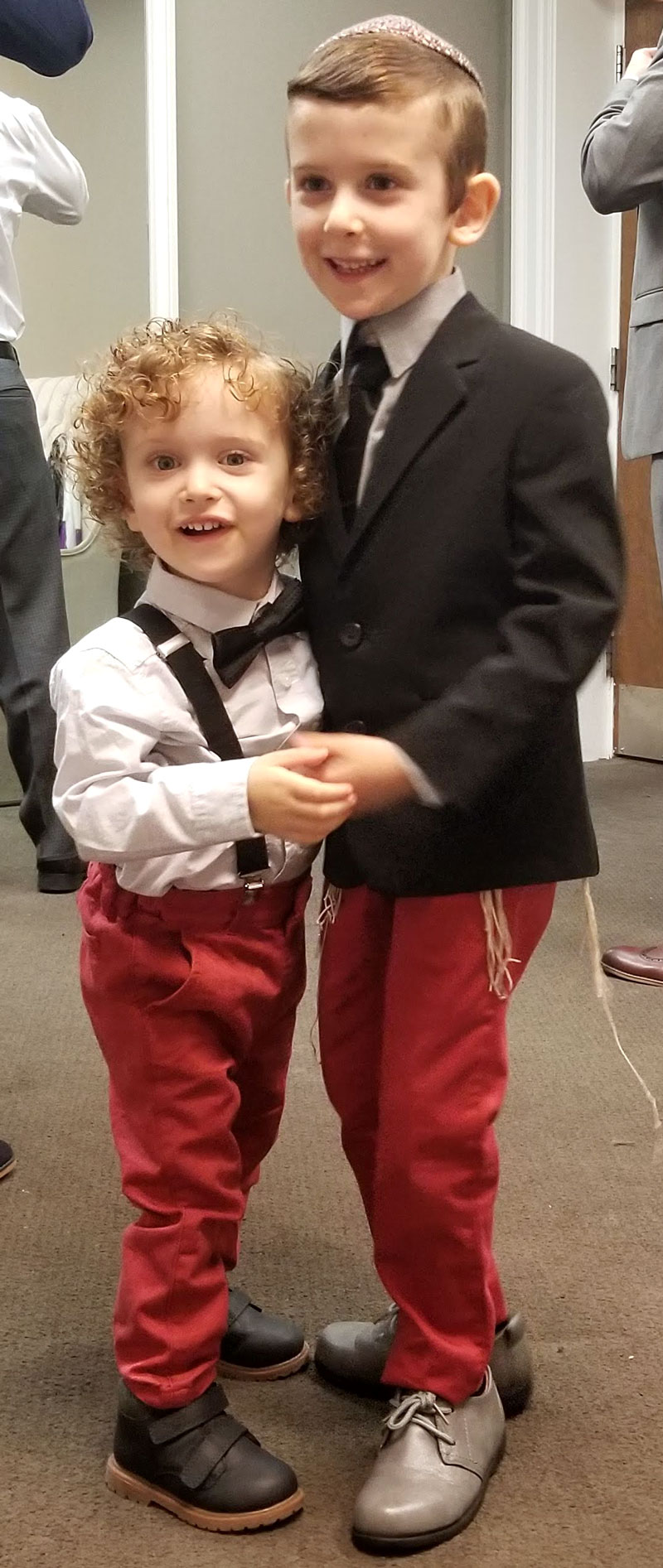 They didn't need it, but I guarantee you if I wouldn't have had that changed, Baby Y would have had a blowout on the way in….
Which brings me to:
3. Dress your kids as close as possible to the venue:
The wedding was a two hour drive from our house, but fortunately we have plenty of family in the area.
We stopped off at the sister that lives closest to there, got dressed and then drove to the wedding venue, surviving the five minute drive intact…
4. Try to nap the kids – but don't push it:
I did try to nap the kids late morning. Baby Y napped, M didn't.
In the end the hype of the event helped M stay up late, but the fact that Baby Y napped helped us a lot.
5. Fill them up beforehand and bring snacks:
Your kids may or may not like what's offered at the wedding. They may or may not be fed when they are willing to eat. And if you have a food-allergic child, catered food can be risky.
I came with a huge "sack o snacks" – pretzel flats, sandwiches, sippy cups, healthy fruit snacks, treats… Snacks like pretzels are also great for giving kids during the reception to keep them happy.
6. Bring the stroller if you can:
If you have a younger child, bring the stroller in. Not only do you have a place to drop all your cargo (yay!) but your child will want to rest at some point.
We left ours in the car and had to go through the hassle of getting it. Consider this especially if you're in a place with valet parking and access to the car might be more complex!
A coupla hours in, Baby Y was screaming that he wants his stroller. Granted, he was burning up, but like I said, you want to be prepared. Note: you may be able to "coat check" it until you need it.
Tip: If your kids gets overwhelmed in busy situations, bring a stroller cover as well.
7. Prep them in advance:
Talk about the wedding in advance so that they know what to expect, what will happen.
Katelyn of What's Up Fagans says " Remind them it isn't a day about them, but about so-and-so getting married. Tell them any expectations in regards to a receiving line, eating cake, first dances are NOT for them, and that presents are not for them. It's helpful to go over common marriage ceremony and reception events so that they know what is going on and when and why."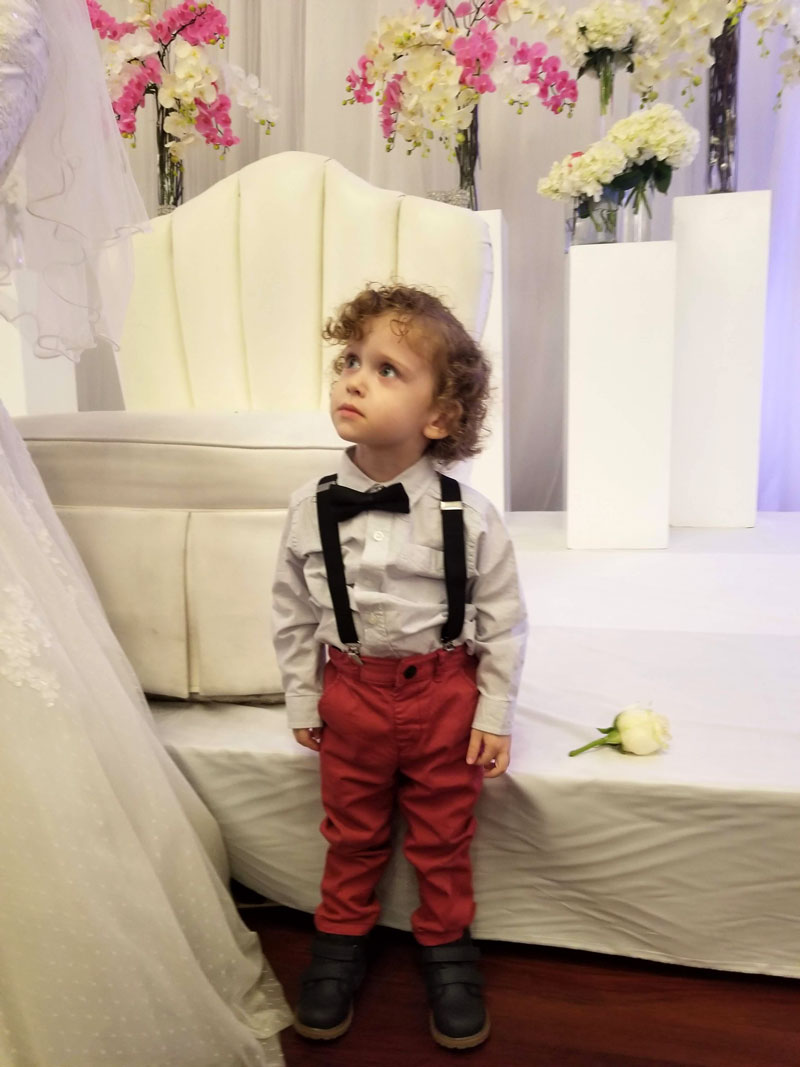 8. Bring Pajamas for the drive home:
You'll likely be getting home quite late. If you have a drive home after, definitely change them before you leave! That way you can hopefully just transfer them right to bed and crash yourself.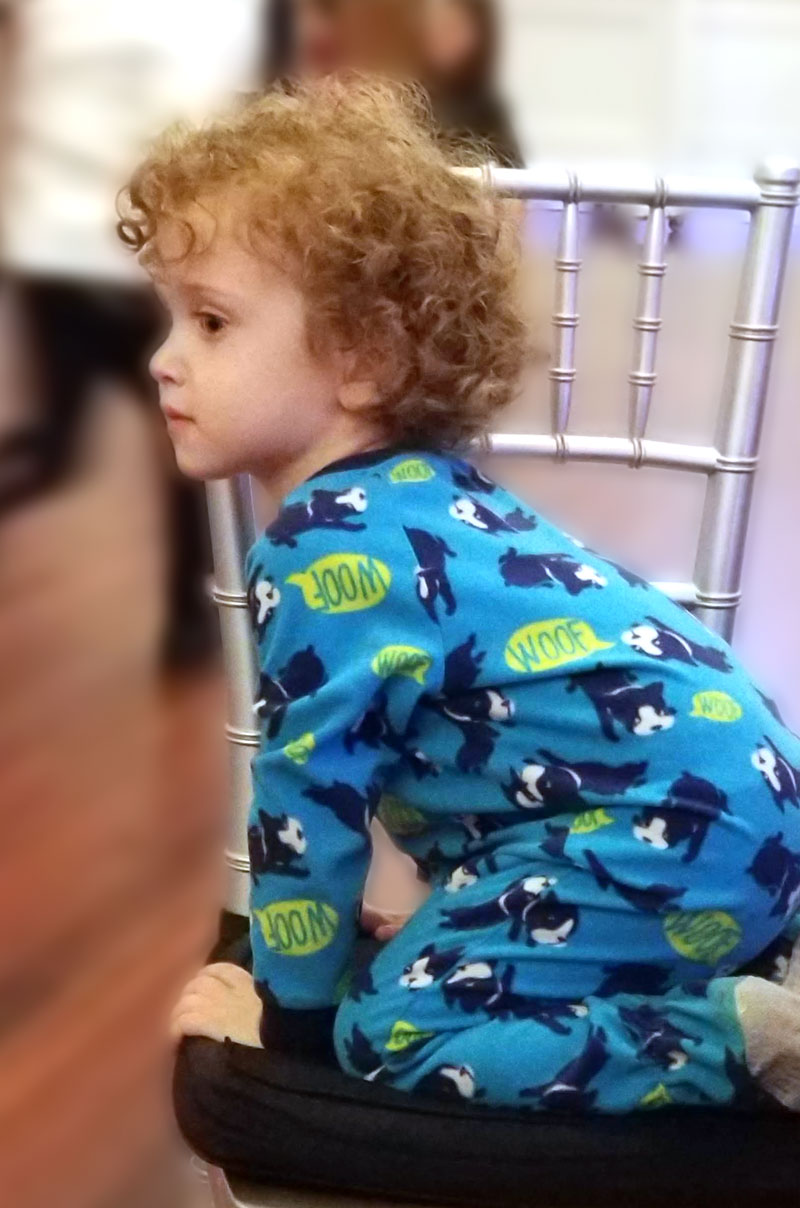 That's all for now with my tips and ideas for entertaining kids at a wedding! I'll pop in with any more and add them to the list as they come up!
Do you have any sanity-saving tips for bringing young kids to a wedding? Got any other ideas for entertaining kids at a wedding? Comment below!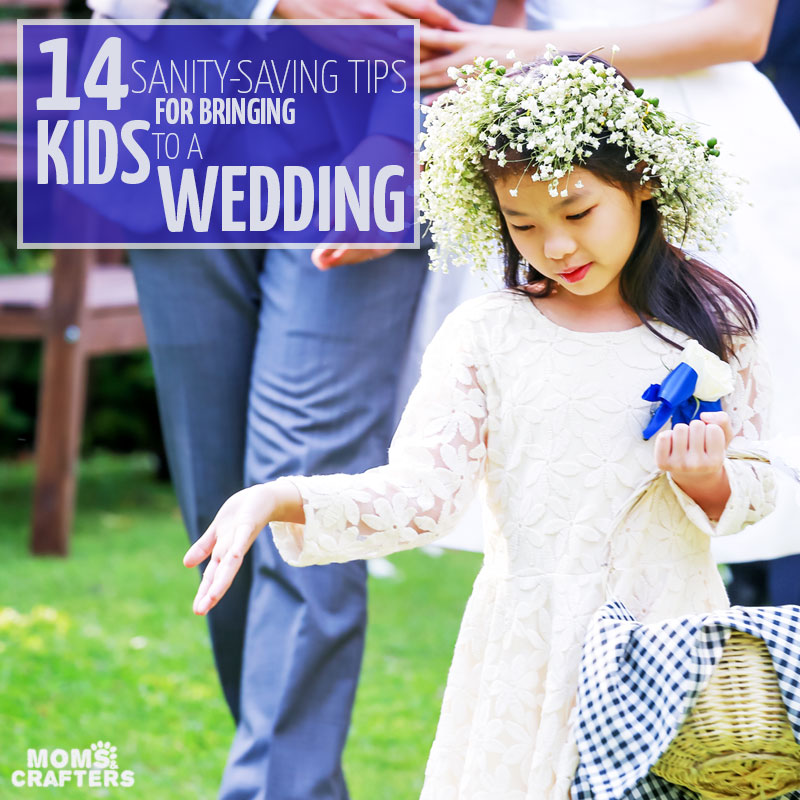 Loved these ideas and activities for kids at a wedding? You'll love the posts below!