Ready to learn a little bit more about the best hot glue guns for crafts? These tried and true options are a crafter's favorites! When you're done, check out this comparison of the best sewing machines for beginners. This post contains affiliate links.
---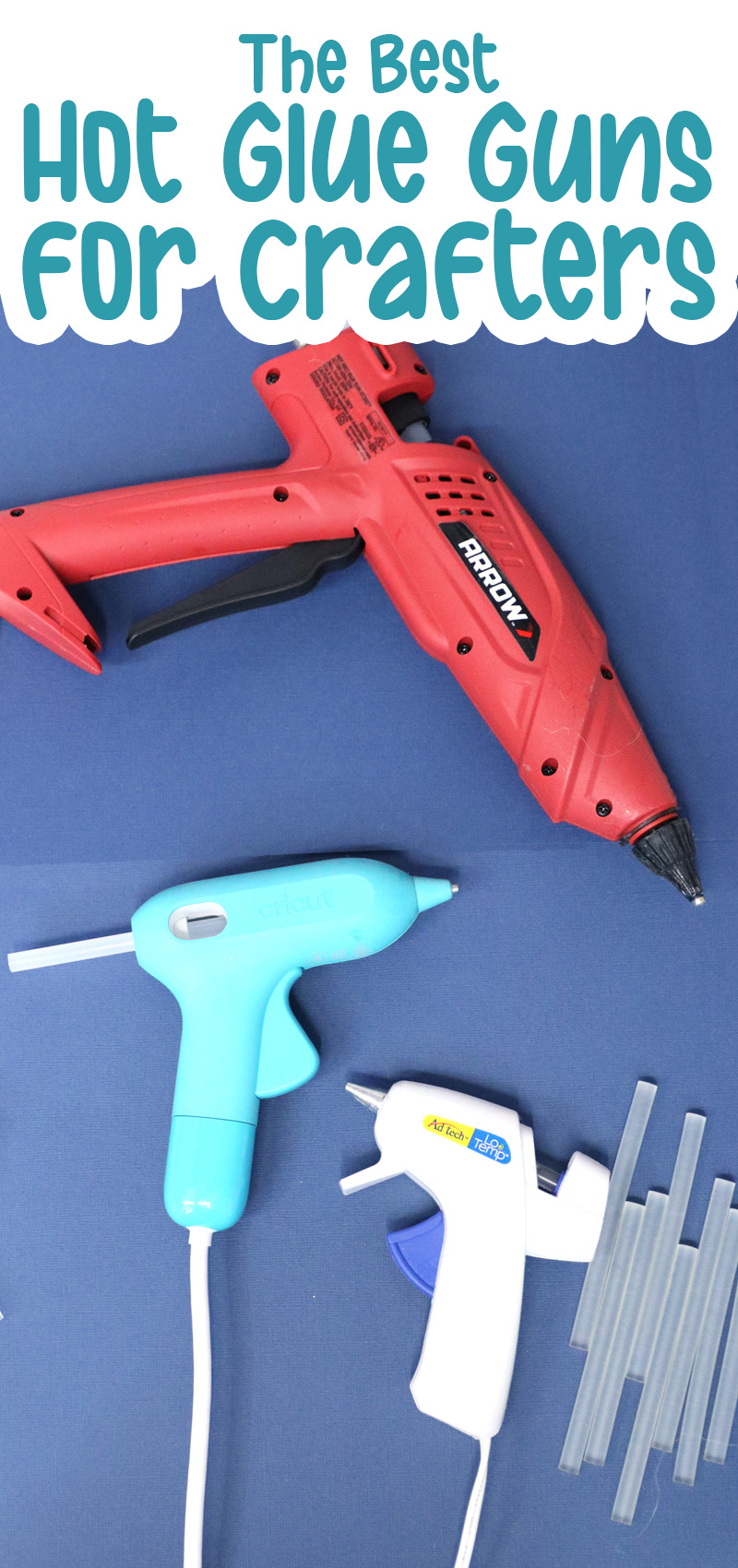 Once in a while, I like to pop in with a review and comparison of different crafting supplies that have become craft room staples.
Everyone knows that a good hot glue gun is a crafter's best friend, but which should you start with? What is the best hot glue gun for crafts?
These options aren't just about which single one is best. It's about figuring out which type you want and which works best for you! Then, you'll want to go ahead and dig through reviews, using this list as a starting point.
Table of Contents:
The three best hot glue guns for crafts
When it comes to choosing the best hot glue gun for crafts, quality DOES matter. Better glue gun + better glue sticks = better adhesion.
Beyond that, many have added features that may really enhance your crafting experience.
Keep in mind that this list is targeted toward general crafters, choosing the best option in each category for crafts. For heavier duty DIY, I did include some suggestions interspersed.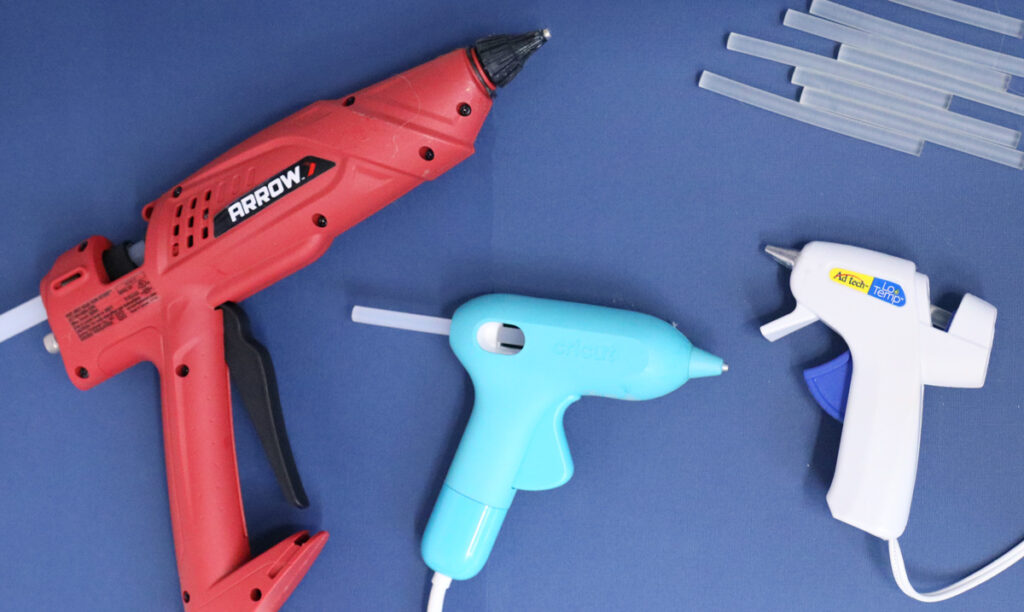 The best mini hot glue gun: My favorite is Cricut's new hot glue gun and is the one I use the most. It's small, easy to use, but a mini powerhouse. It's great for finer applications, such as making hair bows.
The best industrial hot glue gun: I've used the Arrow Fastener hot glue gun for a while and still pull it out when I need more glue output. It works extremely well, has a stand, and has flexible output options.
The best cordless hot glue gun: I have a hard time finding a crafter who doesn't swear by their Surebonder, and they actually sent me one to review AFTER I created this post. You have different options, but I love the Ultimate Creators Kit!
Below, I will also discuss the budget options from Amazon as well as some honorable mentions.
In-depth reviews of the best hot glue guns for crafts
Ready to roll? Here's why these are my favorites to pull out for all sorts of crafts!
Often, mini glue guns are also low temp. While fabulous for old-enough kids (more on that below), for your own crafts, you want a full temp one.
It simply works better.
Cricut recently came out with a glue gun, and I'm in love. I went ahead and gave away my subpar mini, and started using this one for most of my crafts. First of all, it works. Second of all, if I forget to unplug it (true story…) it turns off itself. Third, it's easy to use.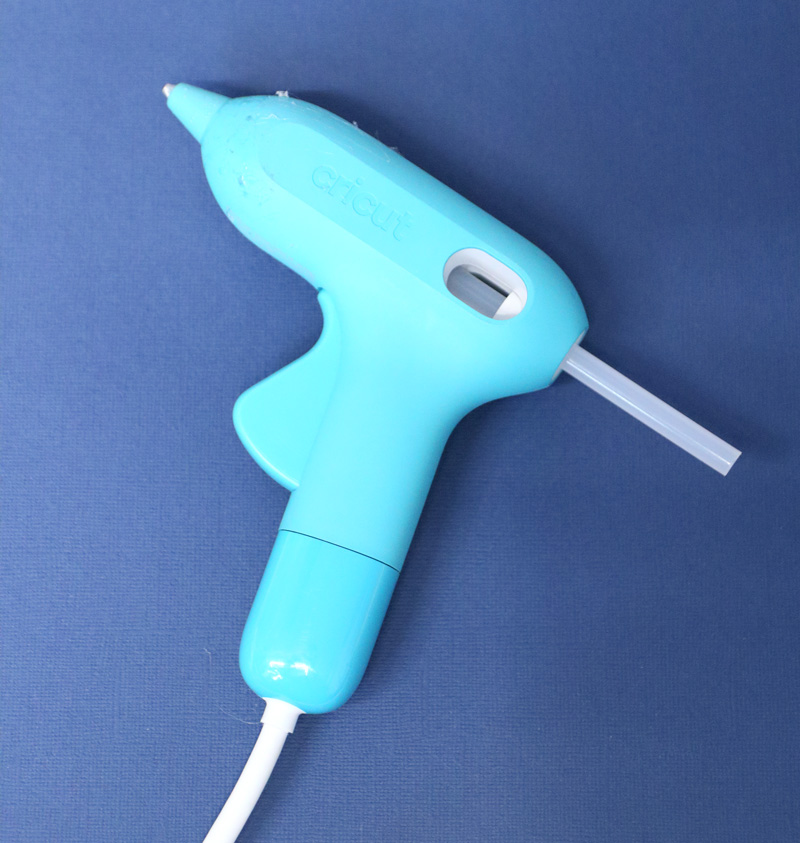 It's got a precision tip, perfect for small projects. In general, the small size is fabulous for handling fine work. And only a teensy bit of it gets really hot, minimizing burns. (Of course, I still get burnt! Don't touch hot glue if you don't want to get burnt!)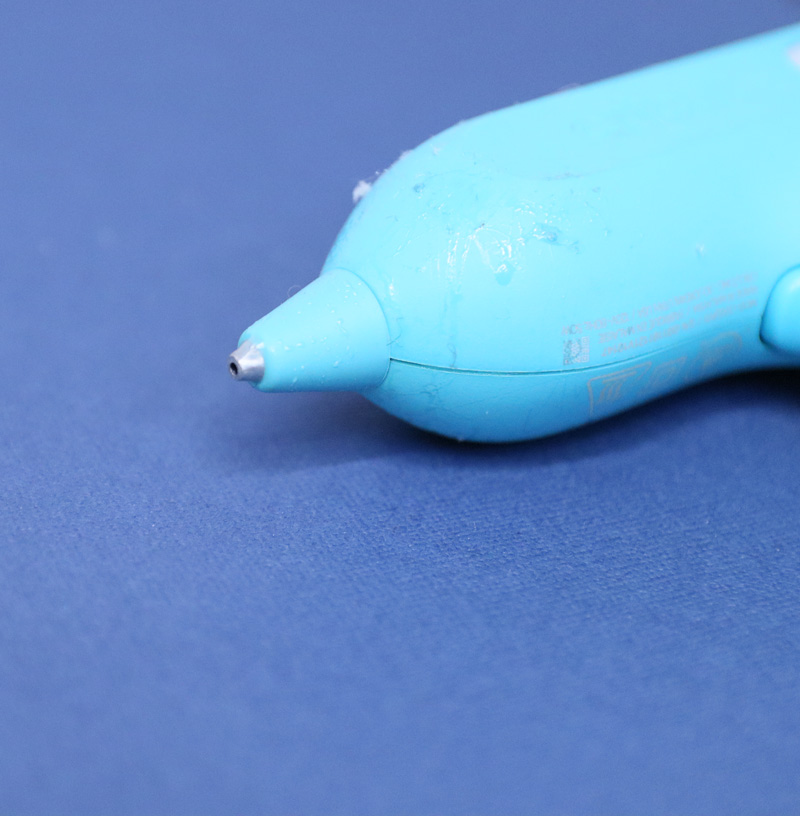 The trigger is really easy to use. Surprisingly easy. But not too easy. This helps to minimize fatigue when crafting a lot. You can get longer or shorter glue sticks for it, from various brands. The glue sticks you use DO matter and Cricut's worked extremely well, however, they do fit other brands – it's a generic size.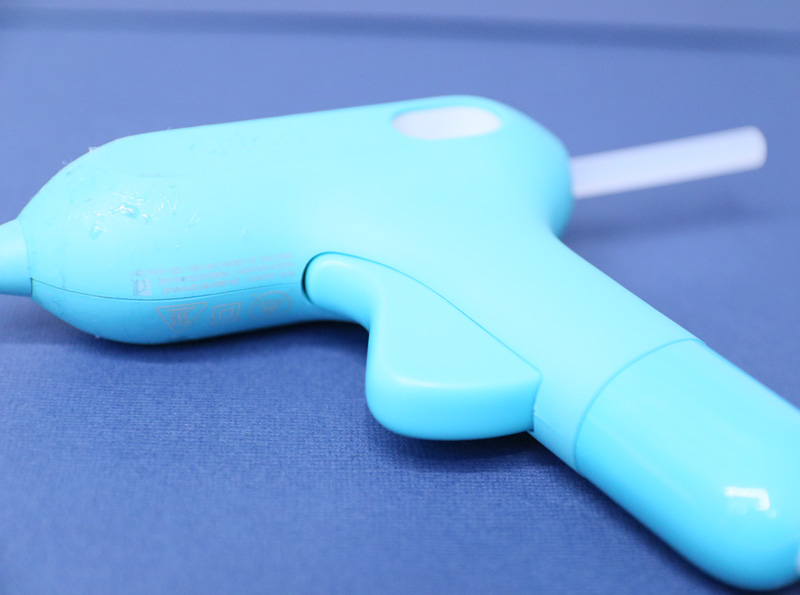 Now for the bullet points for those who need it.
Auto shut off
Ergonomic and comfortable to use trigger
Beautiful design
High temperature in a mini size
Small tip for precision
Minimal strings and globs
Most of the tip is silicone protected
Works with most brands of high temp mini glue sticks
LED light shows you when it's ready to use
The biggest negative on this one is that it's definitely on the higher end price-wise!
For years, Arrow was the brand I used. this glue gun taught me just what a glue gun is SUPPOSED to do after years of suffering through minis.
While this is a larger full-sized glue gun, it works for regular crafts too.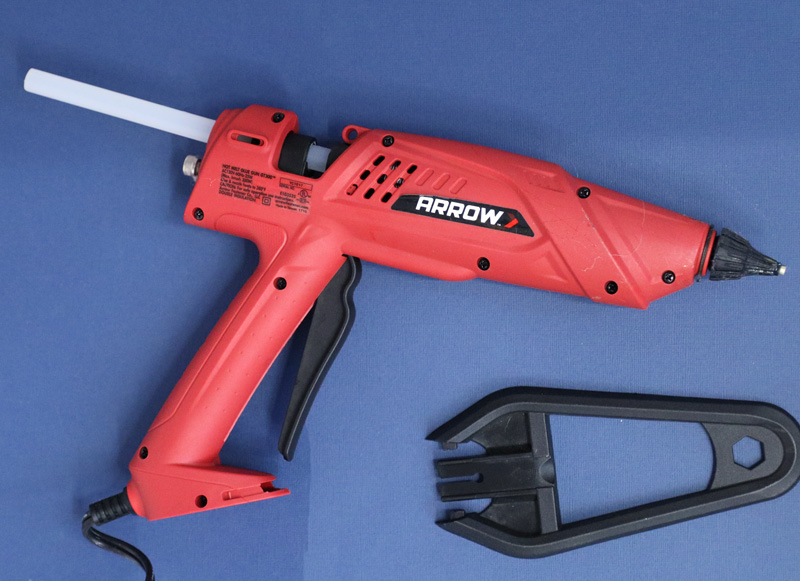 It has a removable slide-on stand built in so that you can prop it up as you work.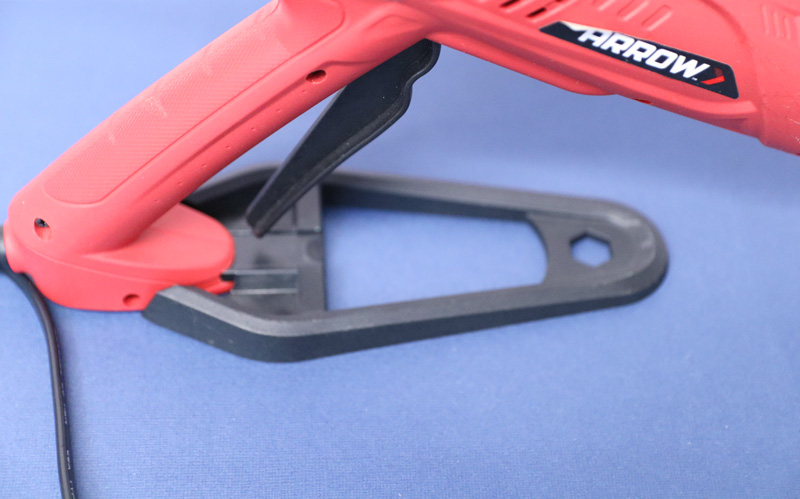 On the back, you have a small knob that you can turn to adjust the flow. While it frustrates me that it's a bit of guess work, it's a feature that can be very valuable if you like to do both larger scale projects and precision work, and you don't want to own two glue guns.
The nozzle is insulated, with minimal "burn surface" so you can do precision work. It's not the ideal one if you're looking mostly for precision work, because the size prevents that from being as smooth as you might like. However, it's good to have that as an option.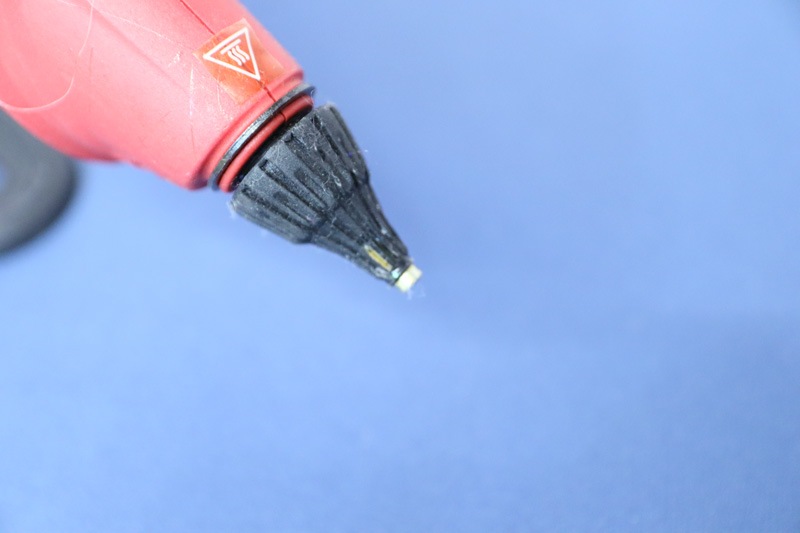 The trigger is large and easy to handle. It doesn't take much work to operate and I found it to be quite ergonomic. You can see the scale to my hand – it's a LARGE glue gun.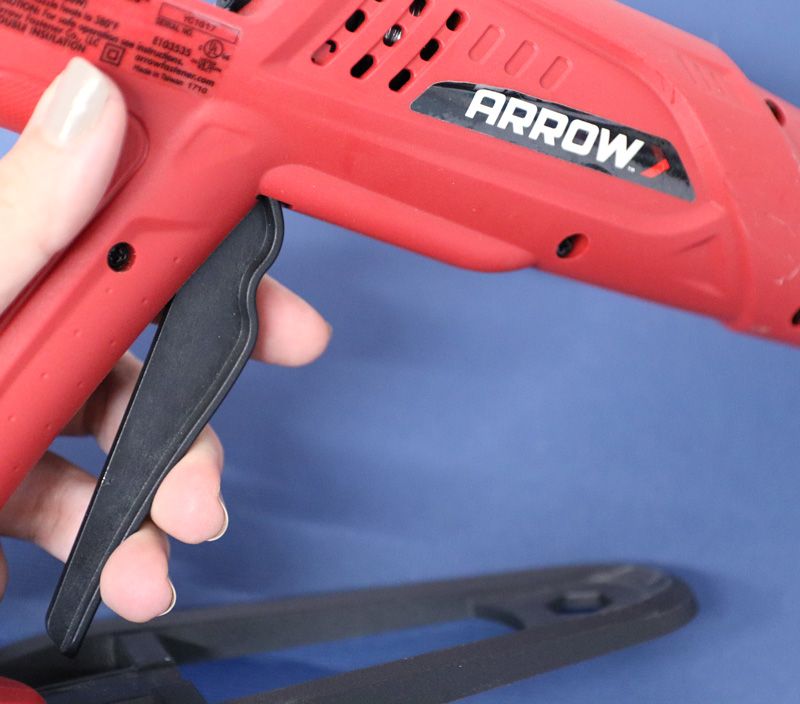 The biggest drawback: the glue stick diameter is somewhat proprietary at half an inch. This would matter more if they weren't any good, however, their glue quality is fantastic. It is a bit annoying that standard glue sticks don't really fit. I HAVE used other brands that are slightly narrower (standard would be .43″), and they just don't feed as well. So it's doable, but not as smooth.
In a nutshell: this has worked well on incredibly heavy duty projects, and I started using it more than E6000 for a lot of my larger projects.
And here are the bullet points:
Fabulous industrial glue gun for heavy duty needs – professional quality
Proprietary 1/2 inch glue stick diameter
Adjustable flow nozzle
Insulated precision tip
Large size
Ergonomic trigger grip that has a long pull, making it easier to control
Includes detachable stand
Long tip is good for harder-to-reach areas
I have finally been privileged enough to try a cordless glue gun that so many of my craft friends use and swear by: a Surebonder.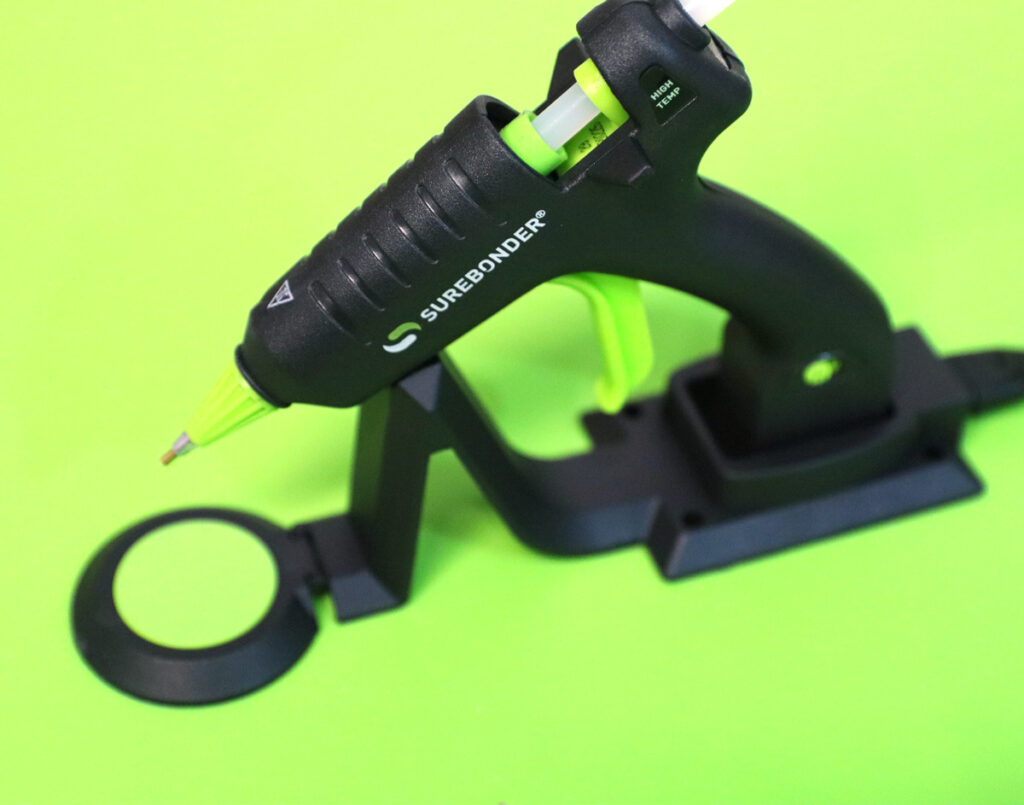 It's extremely affordable compared to some of the above options. It's actually semi-cordless and so easy to use! You get three minutes of cordless use but you can also use it corded – a must-have for spontaneous crafters!
My favorite feature is the stand/base with a pad to catch glue drips. The biggest catch: it's not rechargeable. It simply stays hot with a warming pad that allows you to take it and move it around. So you won't really be able to take it outdoors to do a huge DIY (I do have a recommendation for that below), however you won't be restricted by a cord as you actually maneuver around your craft.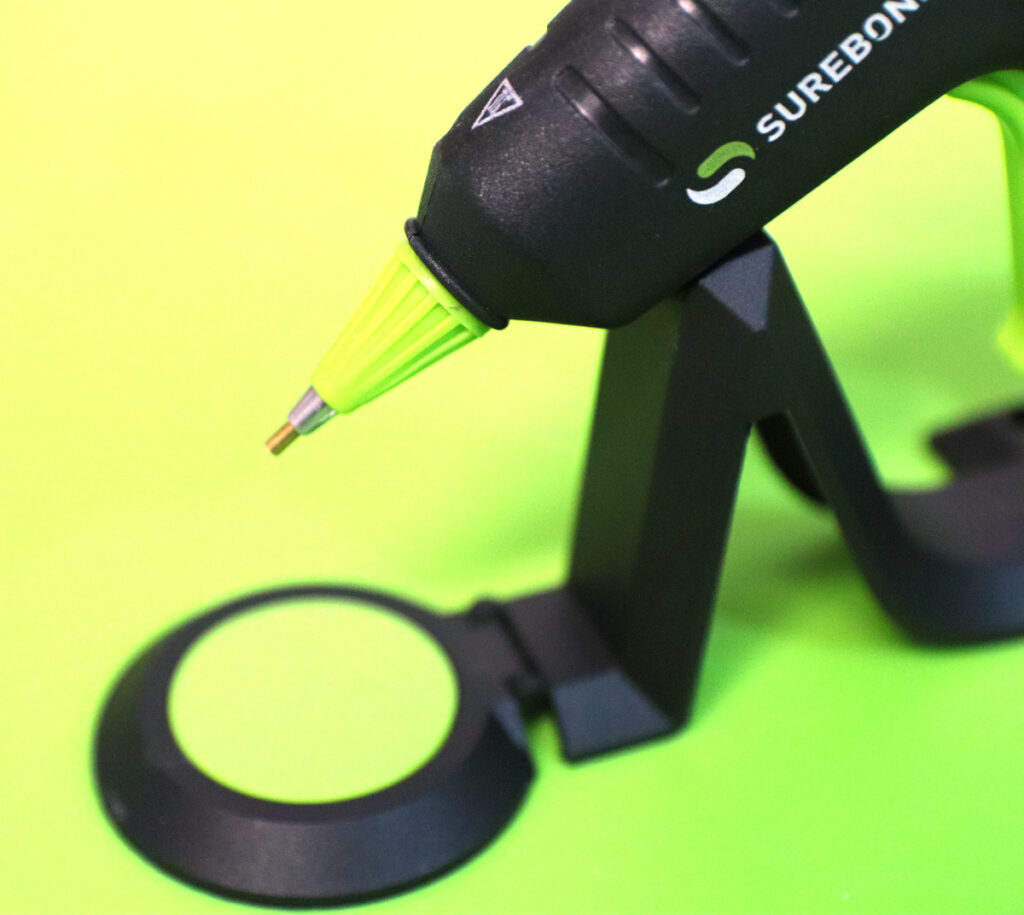 This allows it to remain very lightweight, reducing strain.
I tried it on a small project and it was so easy to use. The trigger is very easy to control, and it has the longest, narrowest tip of the three options here, for easy control.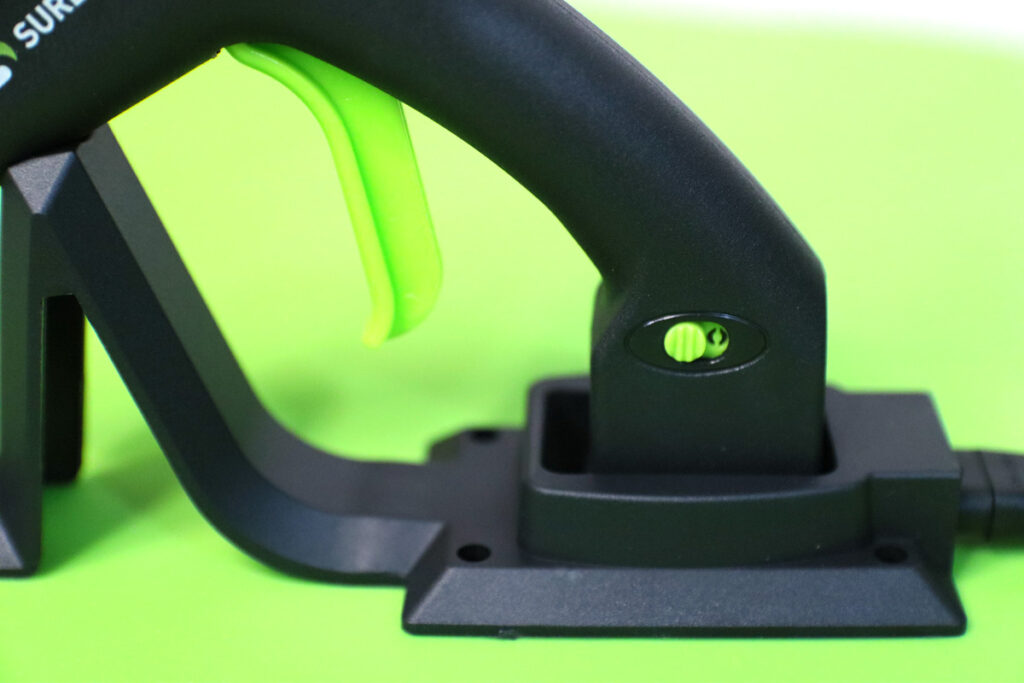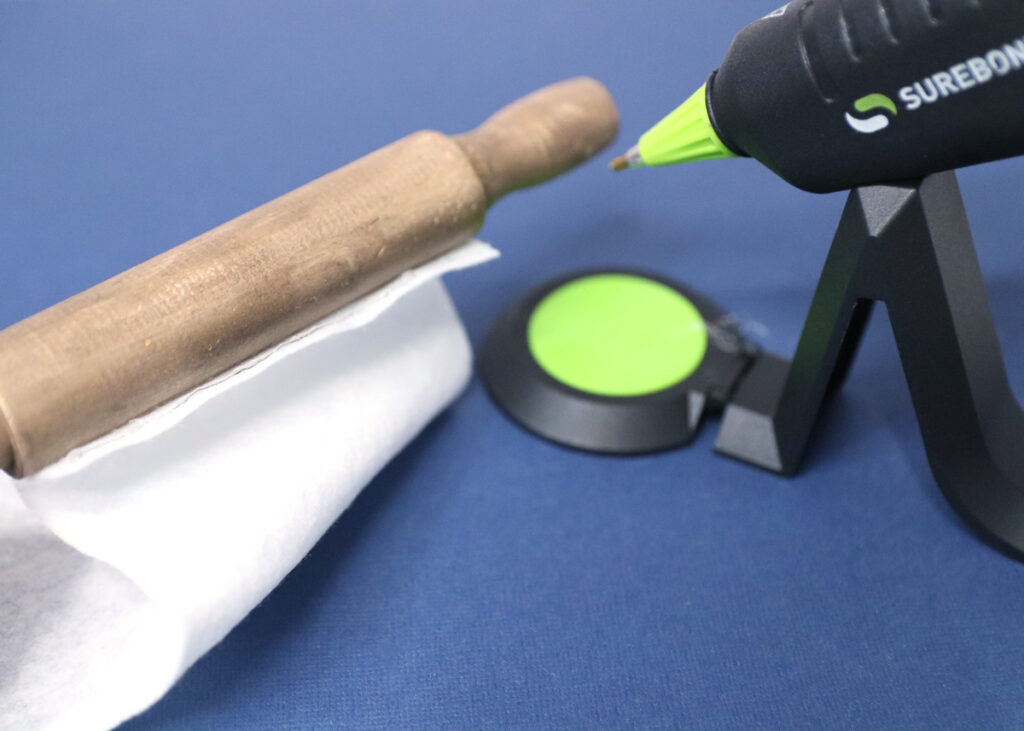 I recommend the Surebonder cordless glue guns for those who want to be unrestricted, with a budget-friendly, high-heat solution.
The one I've been linking here is the Ultimate Creators Kit with a variety of glue types for different projects.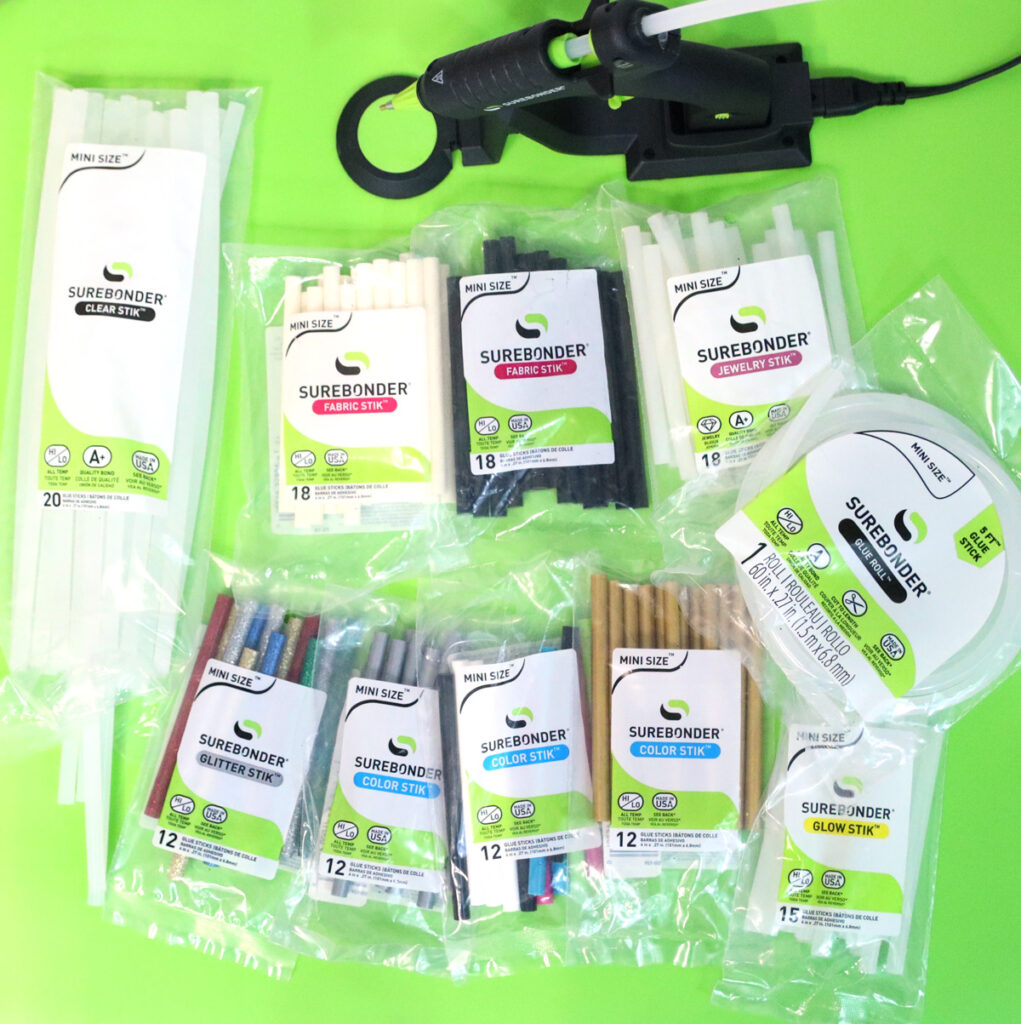 The bullet points:
3 minutes of uncorded use, longer with corded use
No battery so it's lightweight
Stand includes drip pad to minimize mess
High temperature
On/off switch!
Ergonomic long trigger
Another protected nozzle with minimal hot point
20 Watt (60 watt version is available in full size.)
Are the cheap mini hot glue guns on Amazon any good?
Now, let's talk about those cheapie glue guns. If you can spend a few bucks, why should you spend 3-10 times that much!
Because you want one that works.
Mini, low temp glue guns tend to not work nearly as well. Besides for the fact that they're often not as well-made, with shorter cords, unprotected nozzles, and simple hard-to-control triggers, the glue just doesn't get as hot. It doesn't stick well.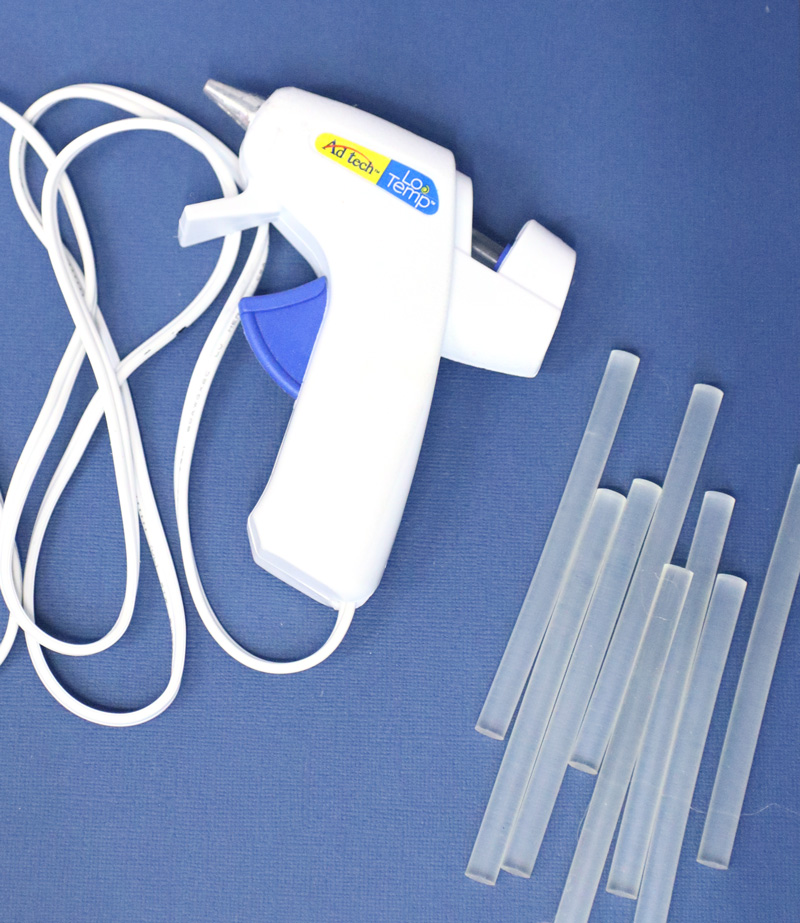 These are okay for kid whom you already trust with a hot glue gun, but want them to use a lower temp one so that they don't get burnt. But honestly, I recommend waiting until kids are ready to use a FULL temp glue gun before allowing them to use any.
They tend to have little gap time to glue things down and need to be applied as you're gluing. Even on lightweight, porous surfaces, you'll find that they don't stick that well.
I'd really recommend these only for those last-minute paper-to-paper projects that will get temporary use and you REALLY don't have time to allow to dry. Like maybe school posters.
More favorite hot glue guns for crafts
These honorable mentions are winners for their own reasons and are definitely full of fabulous features if they suit your needs more!
We R Memory Keepers has a new hot glue gun with some very appealing features. It charges via USB and is a compact, cordless size. Because of its size, it seems easy to handle and extremely precise. Fabulous for fine work. Innovative, with an easy flow button for continuous flow without the fatigue.
It's great if you're short on space, or need a "toss in your tote bag" option for paper crafts.
Ryobi Industrial Cordless – If you're looking for something hard-core and cordless, opt for one from a tool brand. These are recommended for larger DIY, not fine crafts, as they're bulky to handle for crafts.
Gorilla Dual Temp – Anything Gorilla + Glue is usually recommended. If you want sturdy, budget-friendly options that work, and none of the ones I shared are a fit for you, just look through their offerings and you may just find one. They just know their glues.
If you're looking for a dual temp glue gun because you DO sometimes need low temp, this one is a great choice!
So what is the best hot glue gun for crafts?
I usually try to offer an actual answer to the question when reviewing a few products side by side. For me, with all the options I've tried, Surebonder's glue gun is a favorite.
I like the size. I tend to get crafting fatigue and it is really fantastic (the size – not the fatigue). It's fabulous for precision work, and the ability to move around with it unrestricted is a game changer. And finally, the fact that they kept it at a price point that's accessible to hobby crafters of all budgets makes it my top choice.
Did I neglect to mention YOU best hot glue gun for crafts? Comment below with your own glue gun advice for crafters!