Use this free printable paper rocket template as a favor box for a party, a gift box, or as a fun toy (like we did!). We love paper toy templates and this one appeals to the inner astronaut in all of us. This post contains affiliate links.
---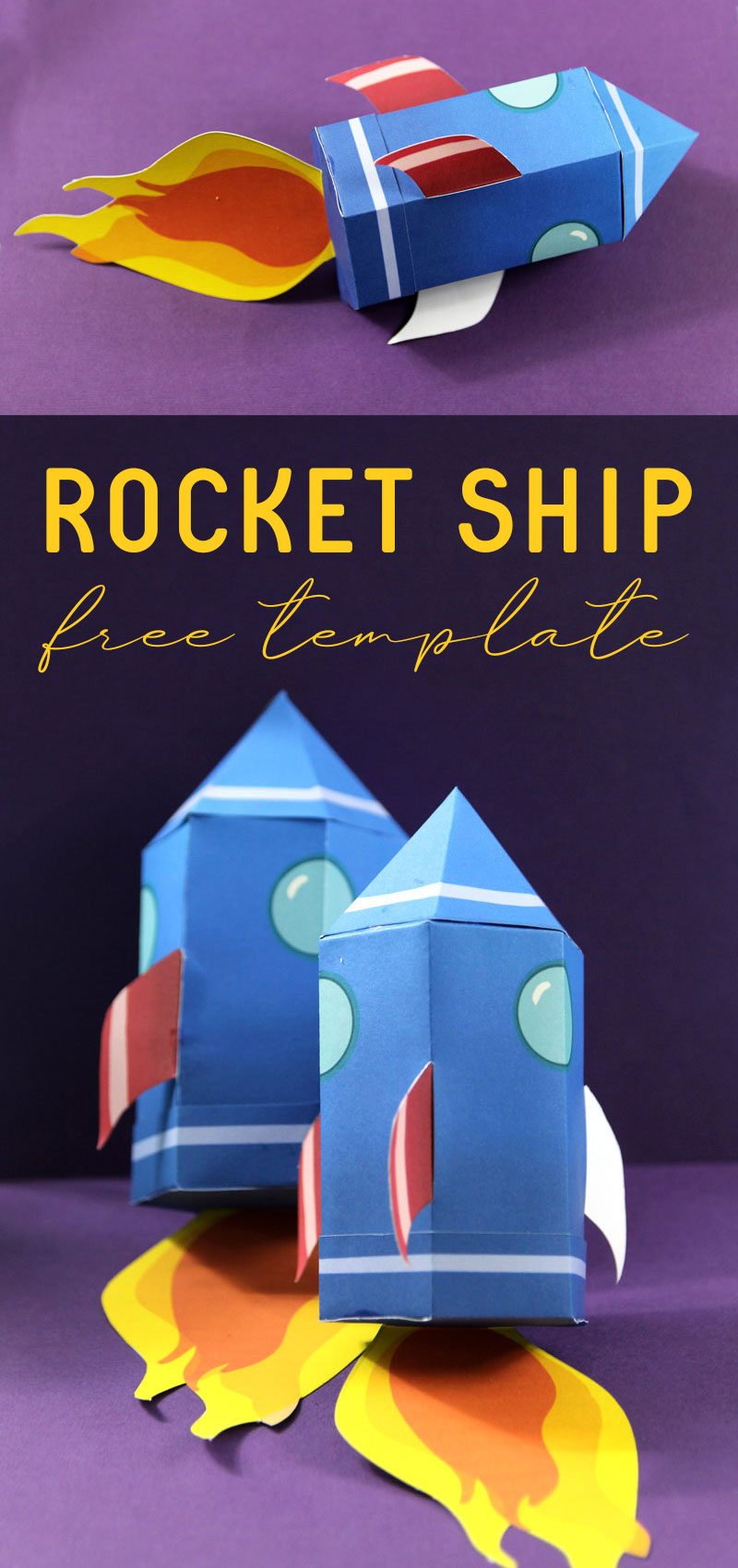 After Y flew on a plane for the first time last summer, we hit an unexpected issue: he simply did not understand why the next level wasn't to go on a spaceship.
"But we went on an airplane. Now let's go on a spaceship!". I told him that we need to be an astronaut to do that, we need to "first go to astronaut school". He got the idea in his head that that Sunday we were going to go to astronaut school.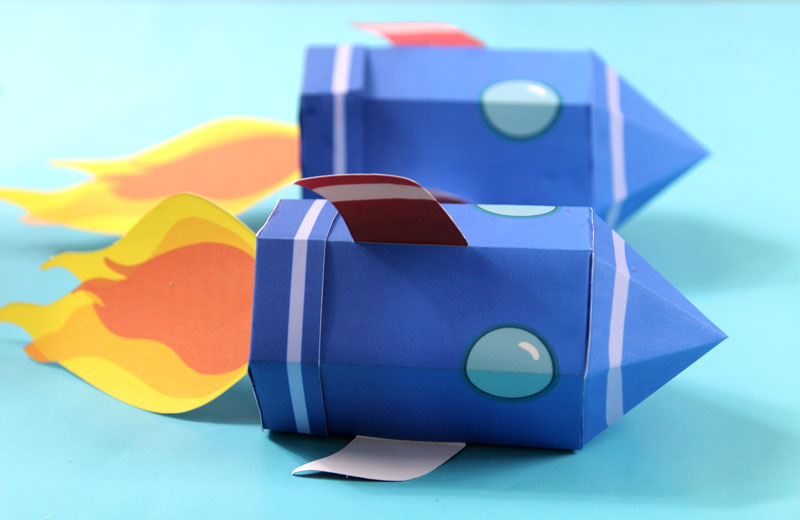 We ended up this saga with a promise of a "spaceship themed" birthday party for his fourth birthday (which was ten months away at the time) and moved on in life.
Cute, misguided toddlers aside, that birthday party didn't happen.
Because 2020 happened instead.
So we ended up improvising with a quick, slapped together birthday party with some cousins when things were settling down in NY/NJ – we chose one family that we "bubbled" with, and the rest just got some last minute plain, unthemed goody bags delivered from a distance.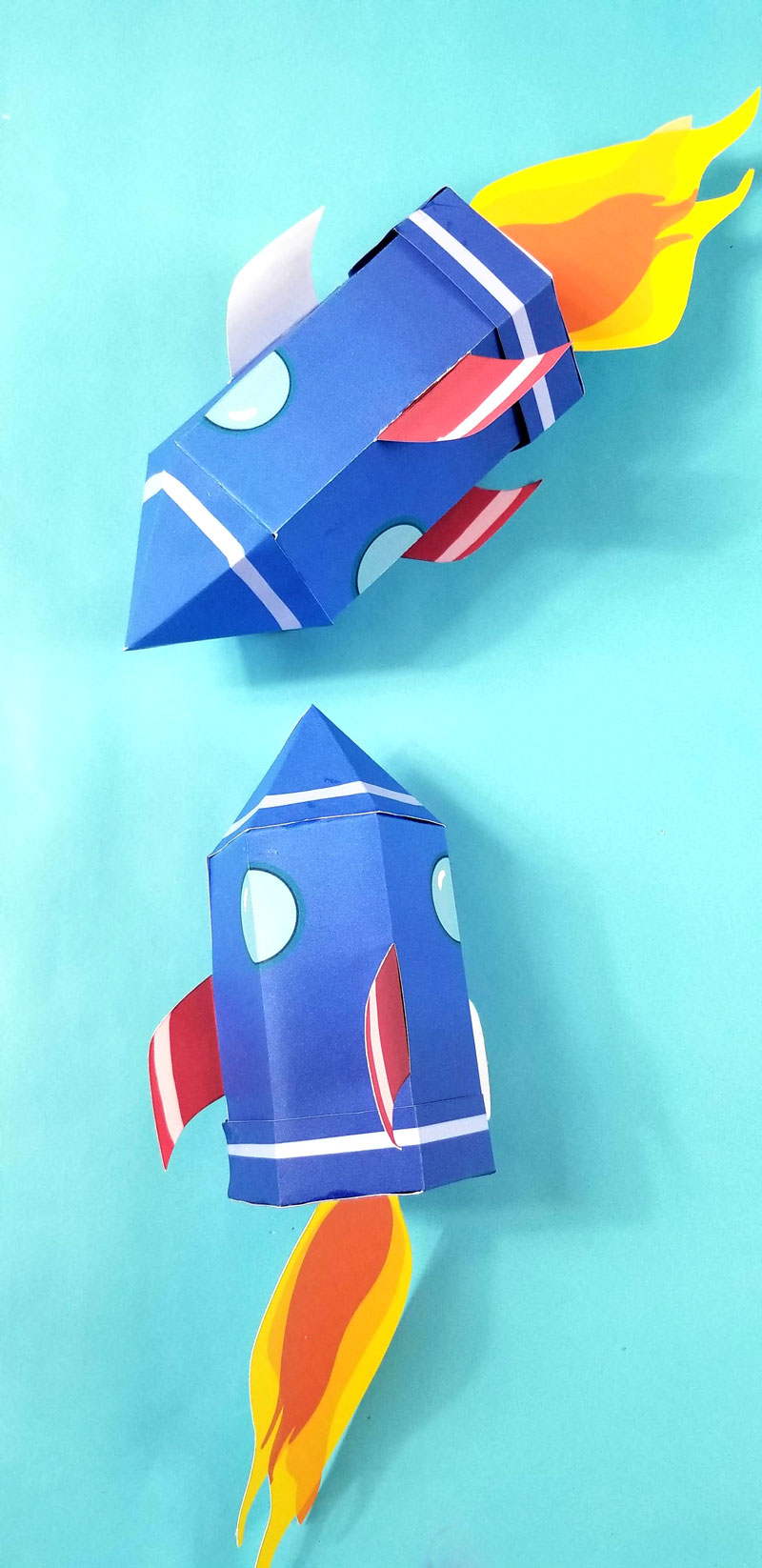 Originally, I had planned to design this paper rocket template as a goody bag/box for his planned party.
Since we ditched that, I decided to design it anyway to feed the little guy's obsession.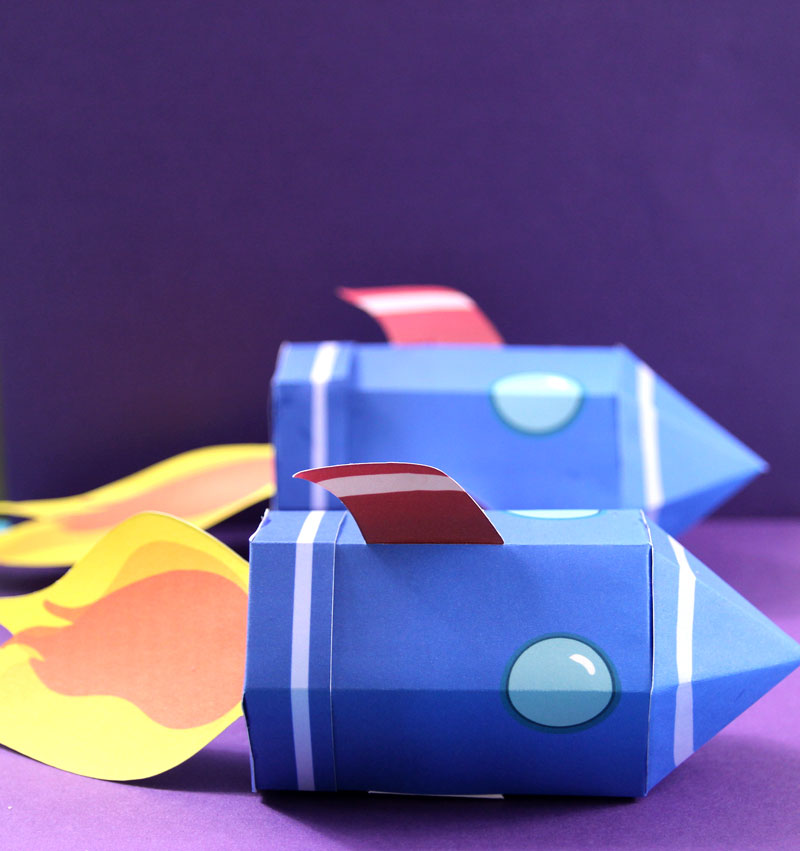 I started with the basic shape I designed for my pencil box template and turned it into a fun rocket by adding some wings, and a trail of fire.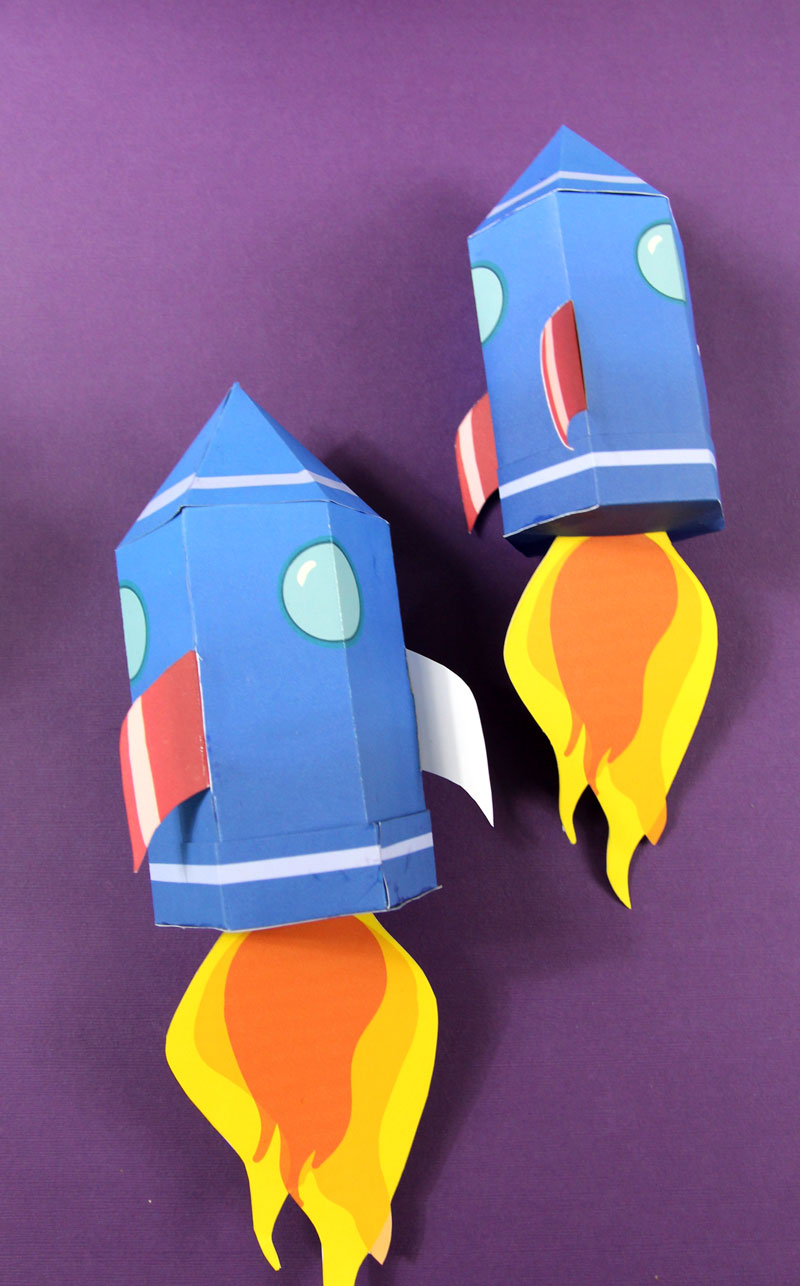 It's a box because it has a removable lid, but if you want it to not be a box, you can glue the lid on.
I assembled this using the Print then Cut feature on my Cricut Maker, along with the scoring wheel.
The template comes with PDF and PNG files so that you can print it to cut and score by hand or to cut and score by machine.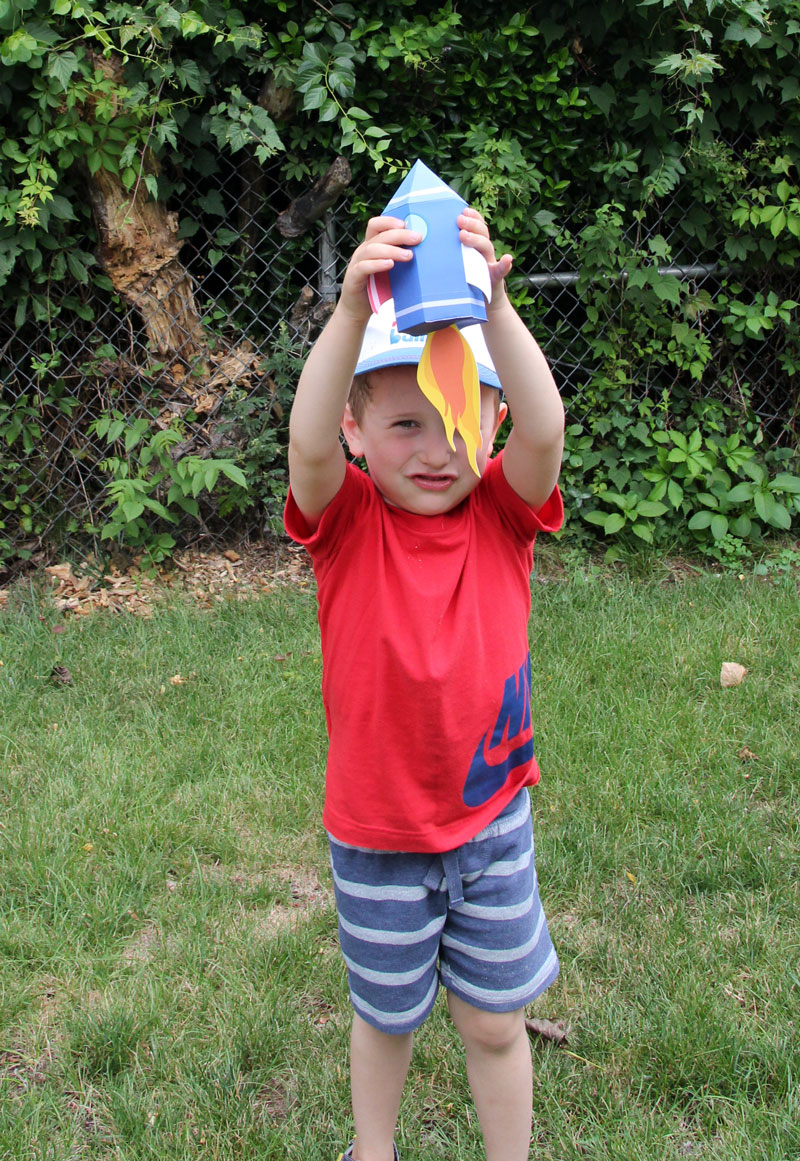 I haven't yet figured out how to easily offer a Print then Cut image with a score file so I added the score lines manually in Cricut Design Space and will show you how to do that below. I'll also share how to make it by hand.
Both the PDF and the PNG files have very faint cut and score lines on them so that you don't need to do complicated overlays with a separate template. If you need help finding them, just refer to the template on your computer or phone – it'll be easier to see there.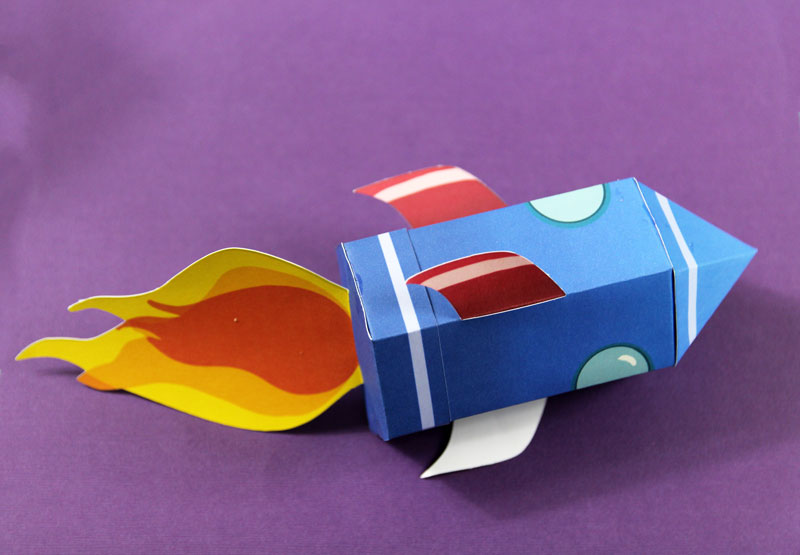 It's a bit of a pain to add the score lines, but you only need to do it once and then you can cut it as many times as you like from the same design. So if you're making a lot for a party, Cricut is definitely the way to go, if you can.
This is quite a large box – which makes for a great toy. The Cricut version does need to cut smaller and you can scale both versions as long as you keep both pages proportionate.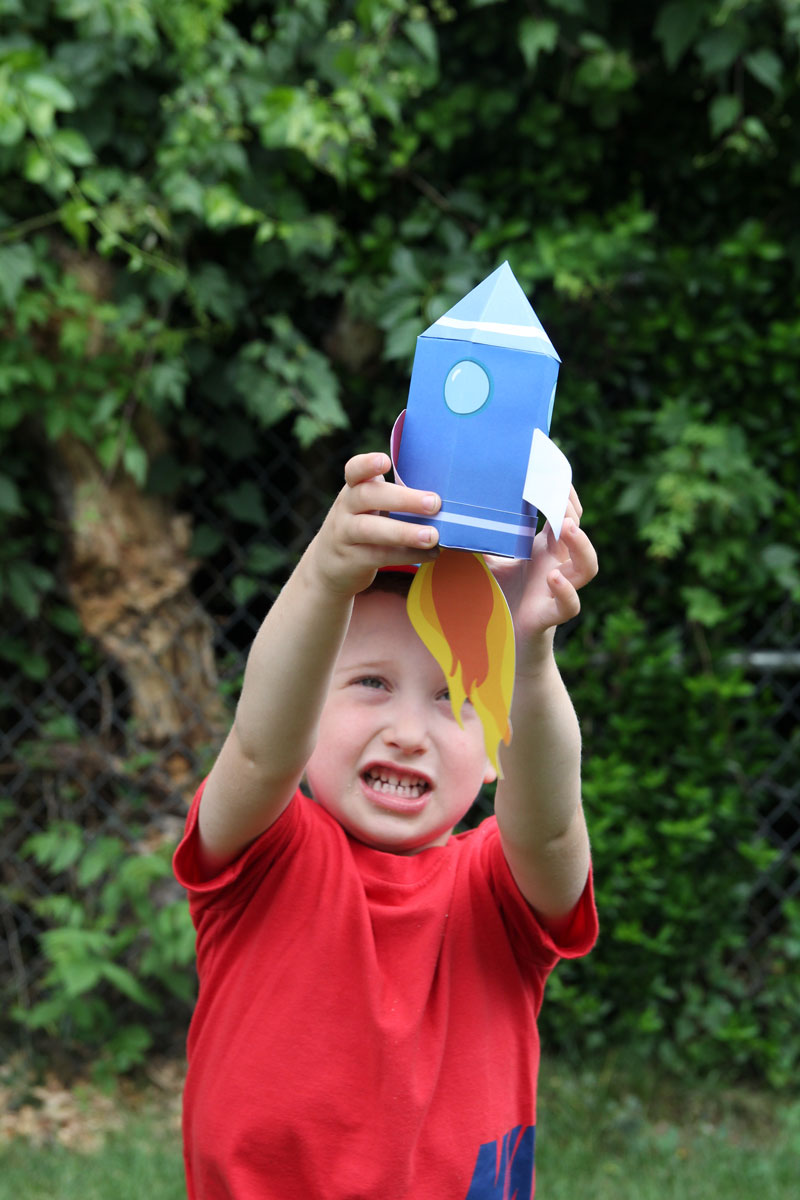 You can see the difference in size between the full-size PDF and the Cricut print then cut: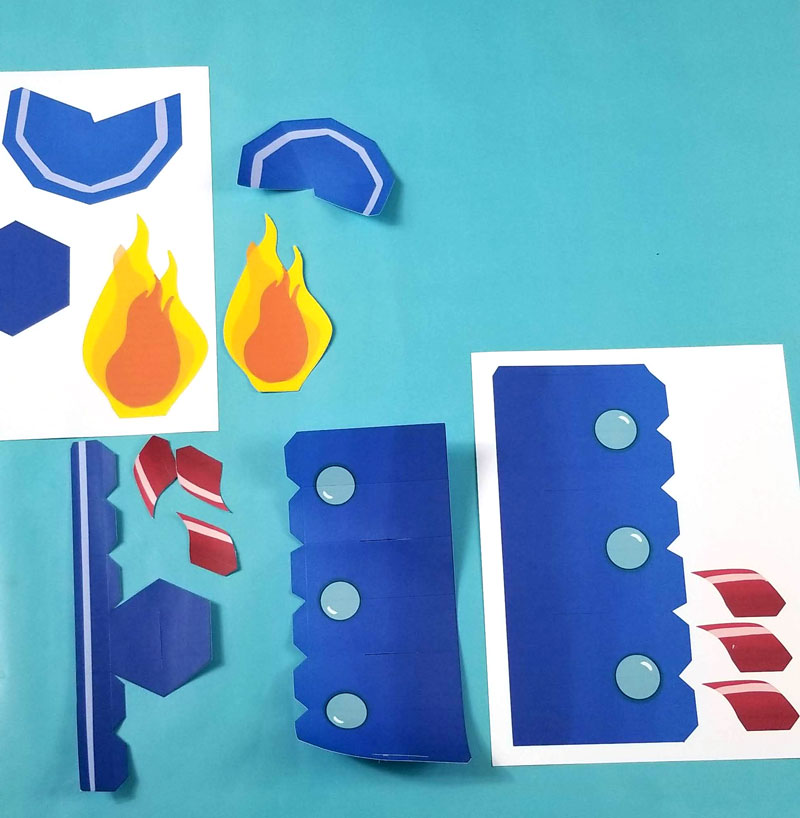 Download the paper rocket template
To download your paper rockets, just enter your email in the form below. It'll be delivered right to your inbox. You'll be signed up for relevant updates – unsubscribe at any time. I will never, ever share your email address with anyone else.
By signing up, you agree to receive relevant email updates.
When you finish filling out this form, you'll be redirected to an insanely cool limited time offer for a huge paper craft bundle at a huge discount. That's totally optional – you'll still get your download right to your inbox whether you choose to get the bundle or not.
What you need to assemble these paper rockets
As I mentioned, you can assemble your paper rocket cutting by hand or by machine.
Supplies needed to cut with your Cricut
Supplies needed to cut by hand
Supplies needed for both
How to make a paper rocket using your Cricut to print then cut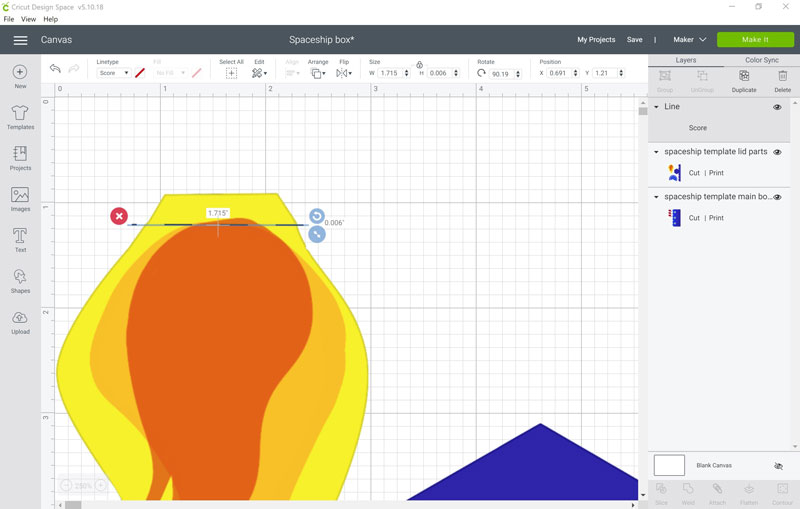 1. Upload, resize, add score lines
Upload your images as a print then cut image (more about that here). Resize so that they can fit print then cut. Make sure to keep the resizing proportionate so that your parts fit each other. Under "shapes" you'll find "score line" – add that to any area that has score lines on the images.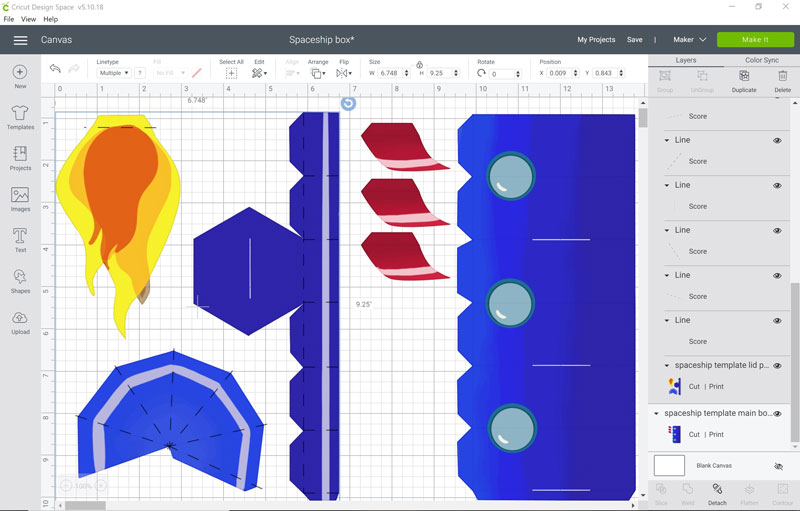 2. Attach each image
Your template is split into two different images/pages. When you're done adding the score lines for one image/page, select the image and all its score lines and "attach" so that they are locked into place over the image. Repeat with the second image, hit "make it" and follow along with your machine instructions to print then cut.
3. Place on mat
After printing on card stock, place your image in the top left corner of your mat. Use a scraper or brayer to smooth it out, make sure it adheres well. Load your scoring tool and follow the machine prompts. You'll see the machine first scan the black border – which works as a "registration" mark to make sure your machine cuts in the right spot. When it tells you to switch tools after scoring, do NOT unload your mat – just put in your fine point blade.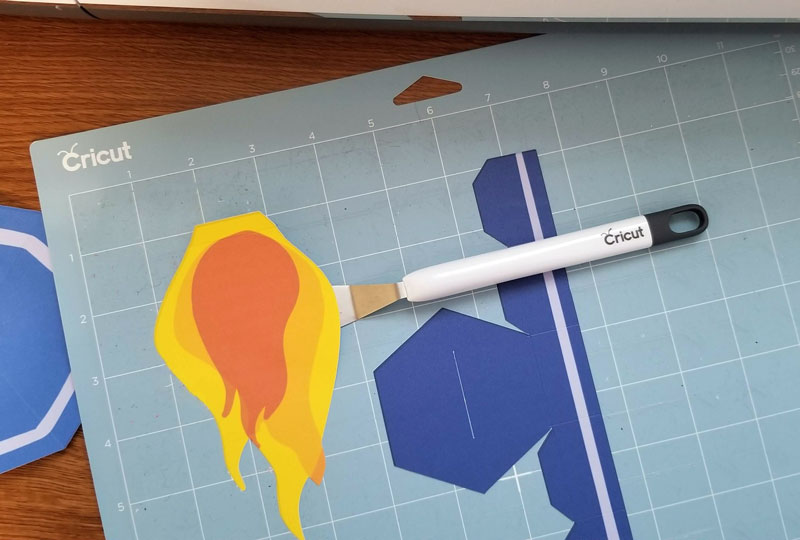 4. Remove
Use a spatula to help remove your project from the mat, sliding it under the part so it doesn't curl. It also helps to flip over your mat and curl the mat instead of your project.
How to make paper rockets
Watch the video or scroll down for step-by-step instructions: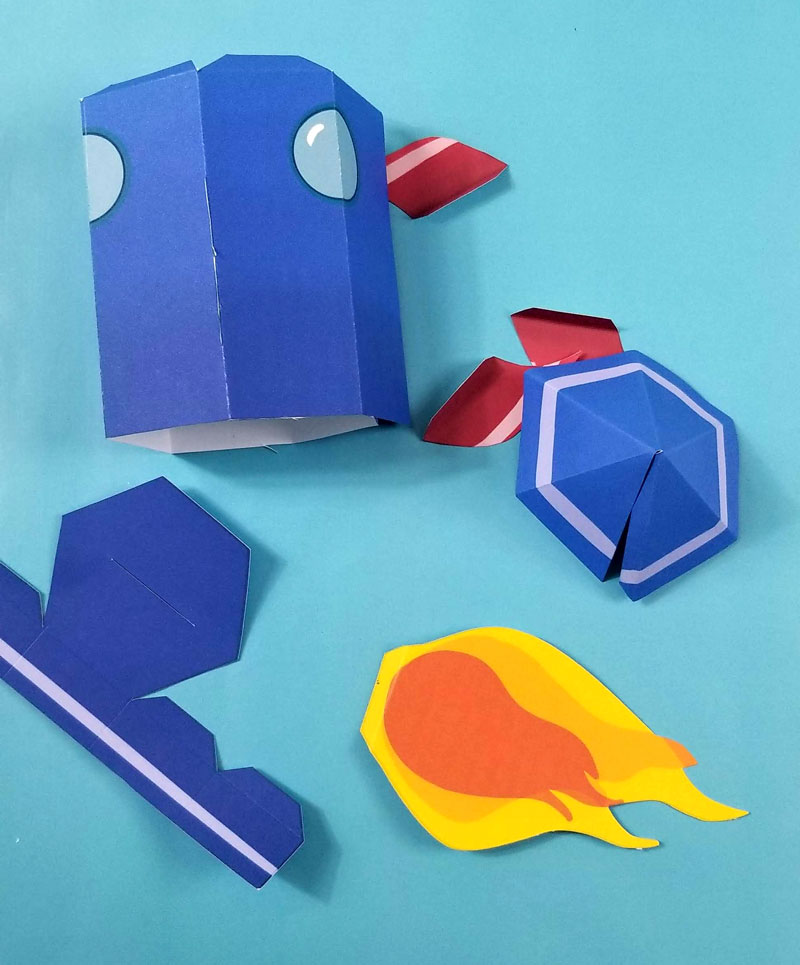 1. Cut, score, fold
If you are cutting by hand, use your scoring tool to score the dotted lines, your knife to cut along the solid lines, and of course use your ruler to keep you on the straight and narrow… Don't forget the slits in the lid and the rocket for your wings/flame. Fold your parts along the score lines.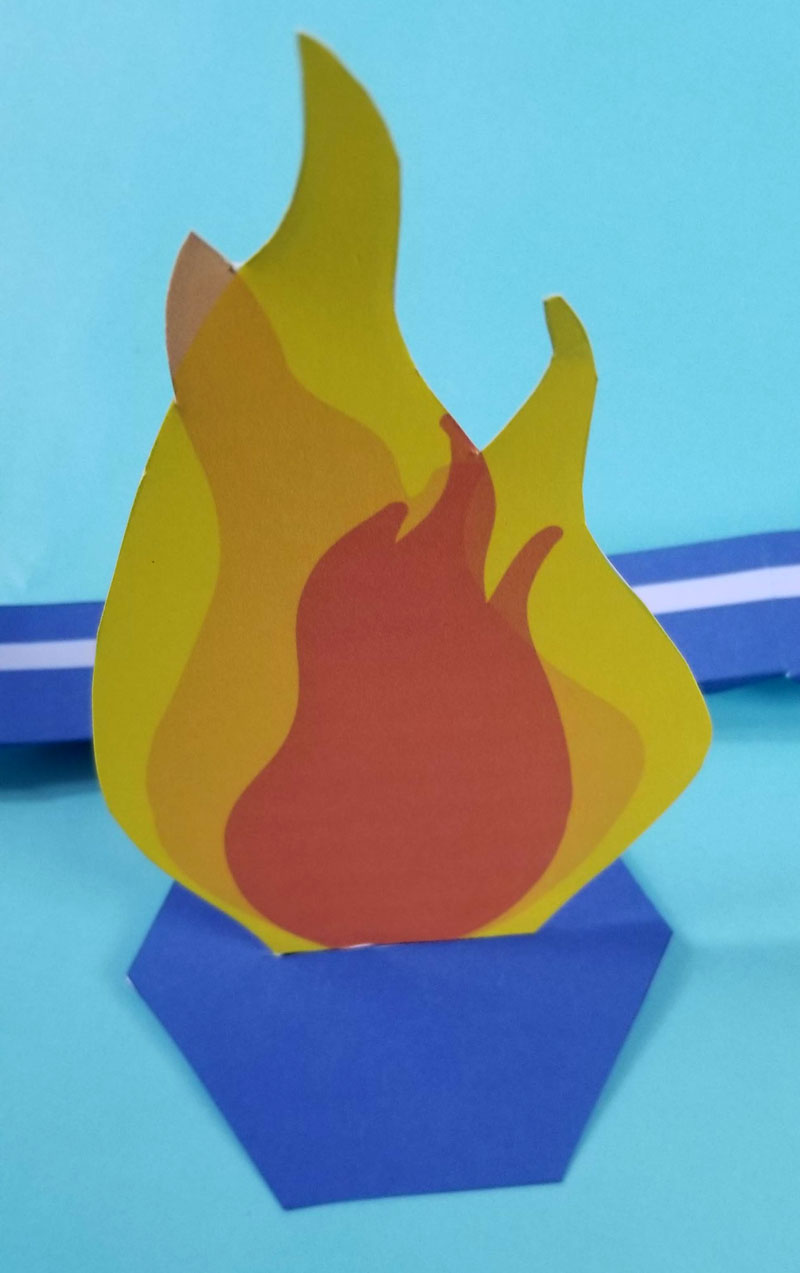 2. Insert flame
Insert the tab of the flame until the fold into the lid slit. Tape or glue the tab down on the inside of your lid.
3. Assemble lid
Glue the tabs around the hexagon that makes up the lid to the inside of the top hexagon. Then glue the final side-tab to close the hexagon.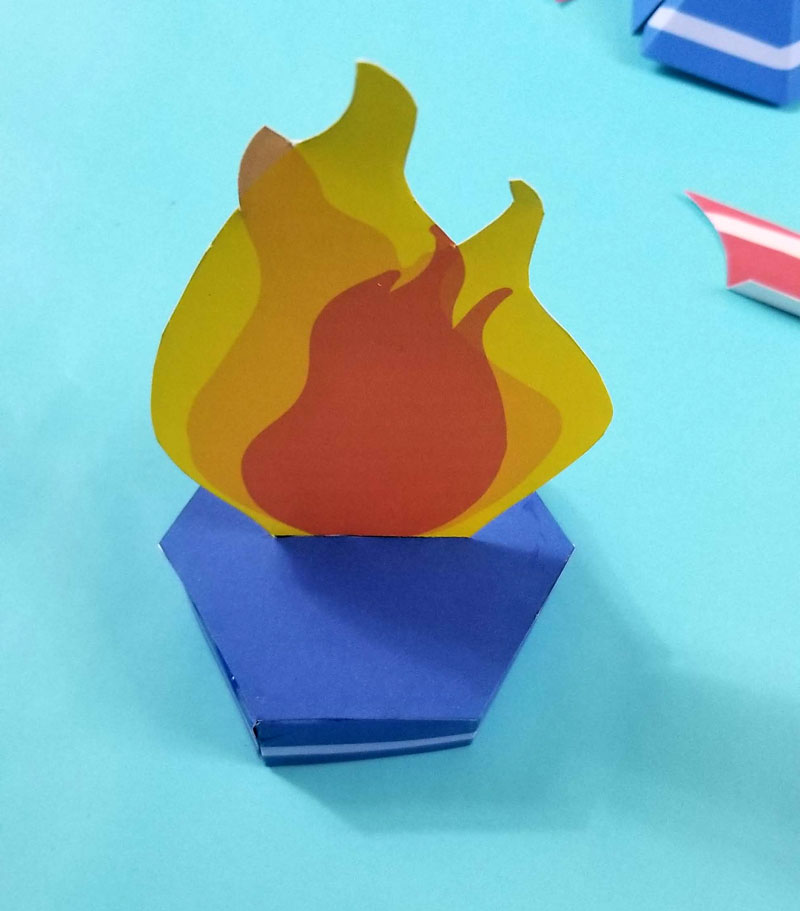 This is what your lid looks like!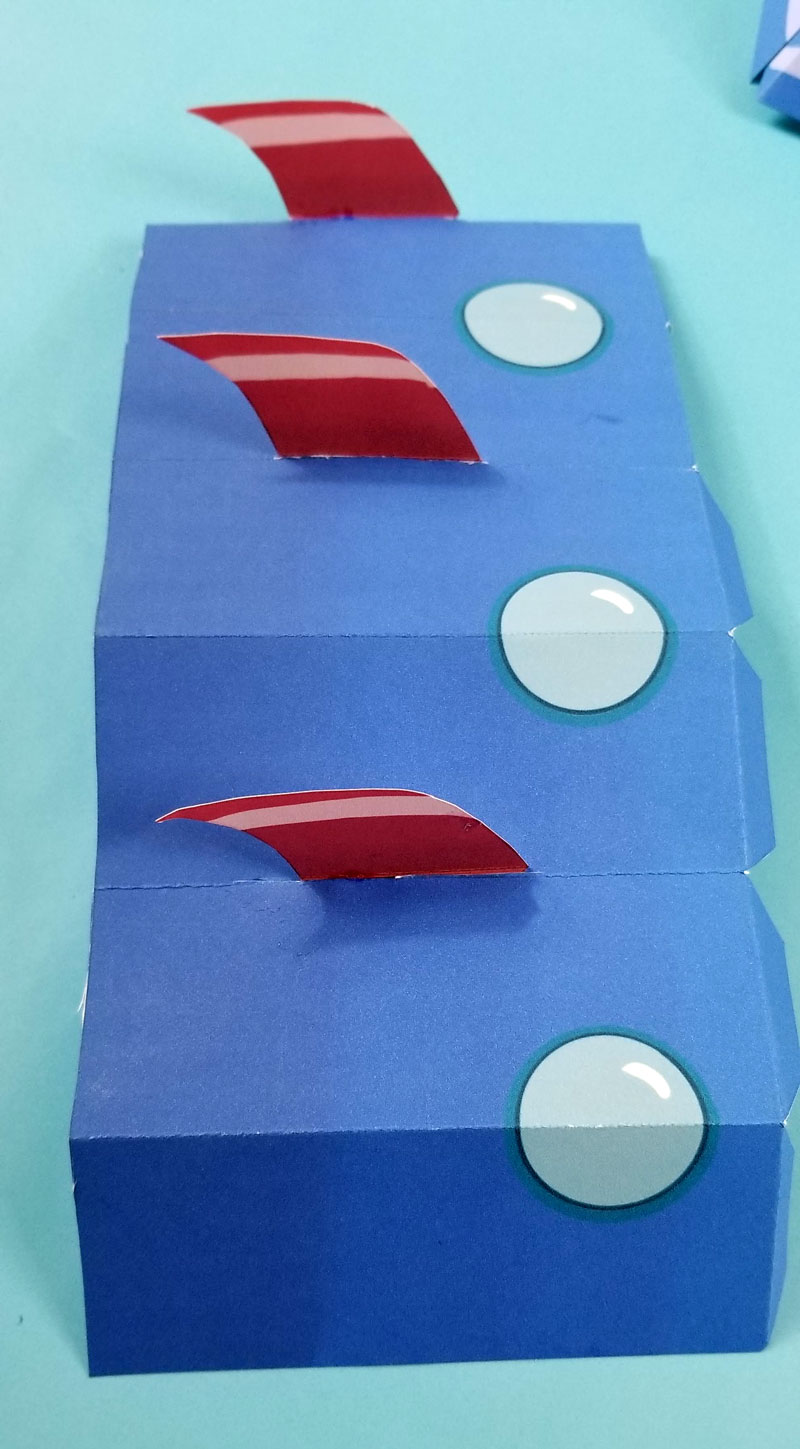 4. Add wings
Insert your wings into the slits on your rocket. If you're having trouble finding those slits, they're on the folds that don't have windows. Tape or glue the tabs in place on the inside.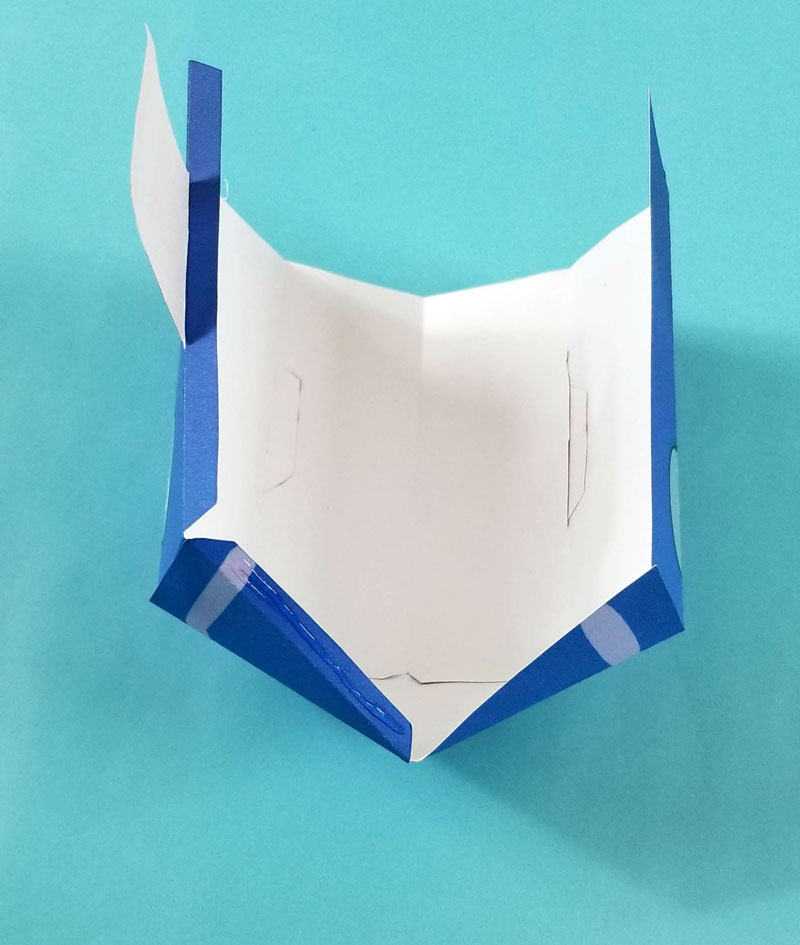 5. Glue on point
Starting with the side that has both tabs, line up one flat side of your point with the top tab of your main rocket body. Glue them together, one side at a time.
6. Close her up!
Finally, glue the side tab on the point and the main rocket body to the other side of your template to complete the hexagon. This part is the hardest believe it or not! You may need to reach into your paper rocket to apply pressure to the tab from the inside and the outside at the same time.
Your paper rocket is complete! What will you be using it for? A space themed party favor, a fun paper toy? Comment below!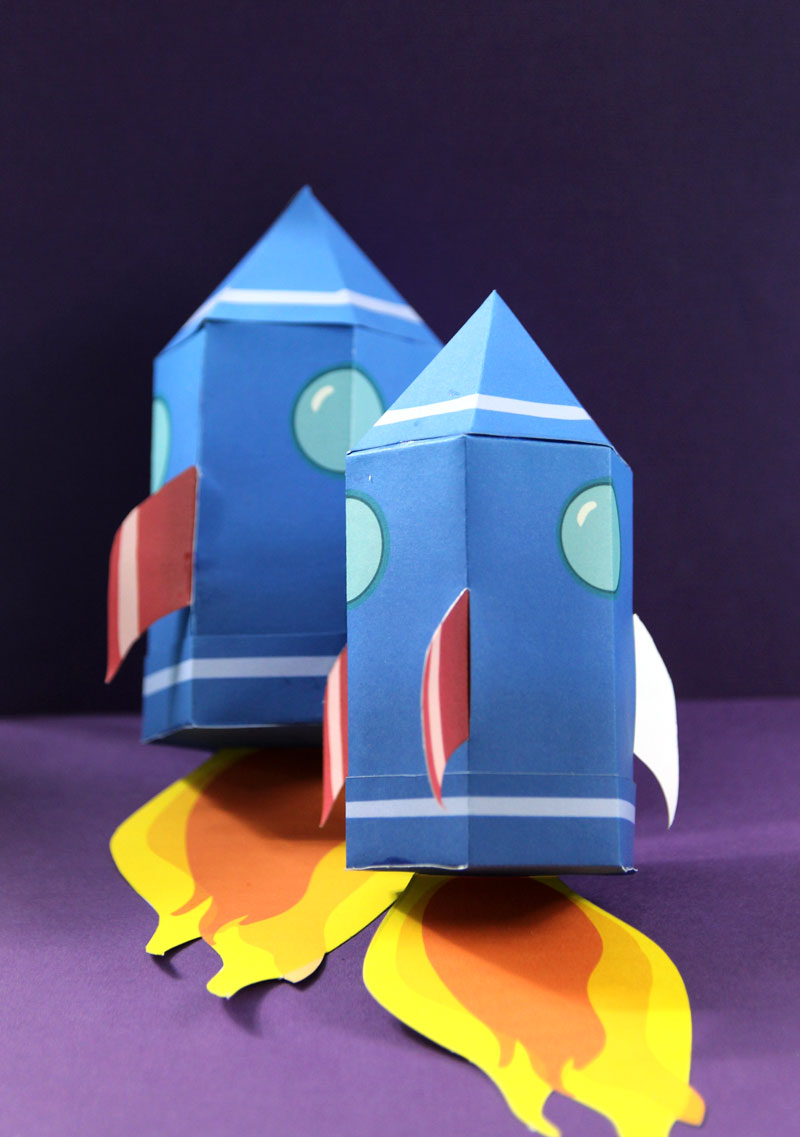 Want more crafts like this? Check these out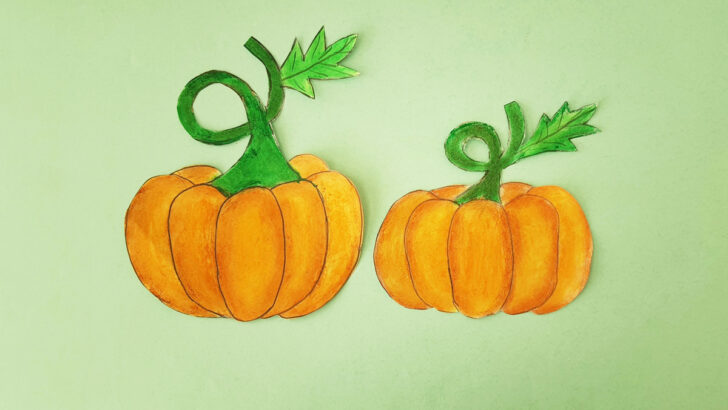 There's no better way to get into the fall spirit than learning how to draw a pumpkin! This step-by-step tutorial will make the whole process …