If you're on the hunt for the best semi professional sewing machine that'll create professional quality garments or other sewing projects, look no further for the top three options! If you're looking for the best sewing machine for professionals, check out that specific list. Tip: find my best sewing machine reviews of individual needs to find the machine that best suits yours! This post contains affiliate links.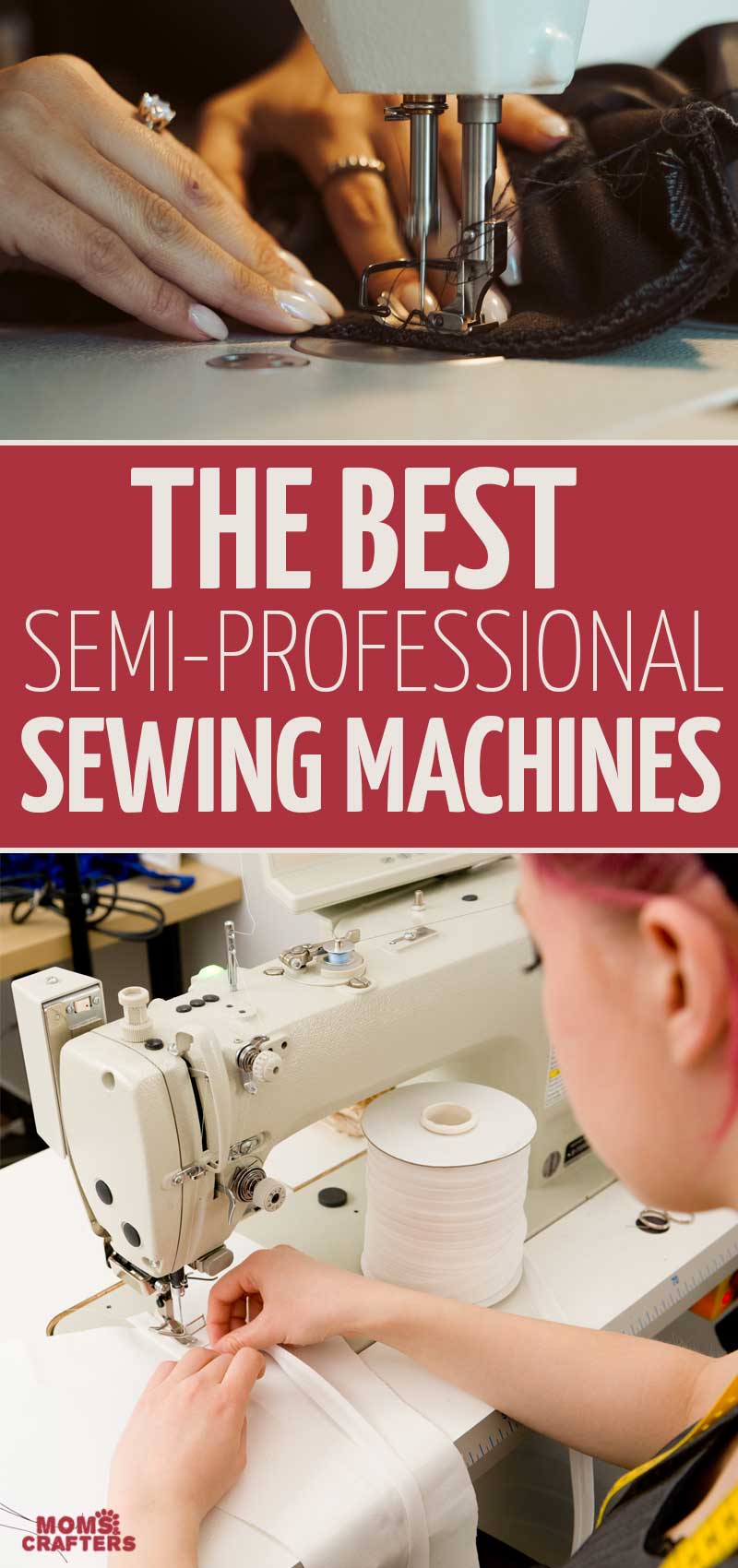 When looking for the best semi professional sewing machine for this list, I focused on machines that might look standard or at least be a more moderate sized, streamlined machine – but have the features that professionals need.
For sewing machines for beginners, I focused more on affordability, ease of use, and crafty features. For the best semi professional sewing machine, the more important features are good foot pressure, lower thread tension, the variety of feet for the projects you'll need, as well as the capability to produce better, more professional seams.
This is not to be confused with the best heavy duty sewing machines – focusing on features for sewing heavier fabrics.
However, sewing machines are so nuanced, you'll need to really look into your specific needs. The candidates for the best semi professional sewing machine were chosen because they'll fit most semi professional needs, produce professional results – and you won't need to take out a loan to buy them! You also won't need an extra room in the house for these.
I love Sewing Machines Plus for purchasing machines – they have experts ready to answer your questions, find the machine for your specific needs, and they are tax free in most areas – which can save you a LOT!!
They also offer free shipping over $49, ship quickly, offer financing options in case you can't front it right away, and have a 60 day money back guarantee.
---
1. BASIC PICK: Consew 7360R-7DD Sewing Machine with Assembled Table and Motor
Want something sturdy, industrial, without all the bells and whistles? I decided to start with a machine that's all work and no play – a sturdy straight-stitch machine with basic automation features, a powerful motor, and high speeds.
This machine is the best semi professional sewing machine that's more heavy duty too that won't take over your home! It's a high speed straight stitch machine perfect for sewing all sorts of garments in different fabric weights.
It has automatic reverse and automatic lubrication makes it easier to maintain. It can handle light to heavy weight fabrics.
Key features:
Noise and vibration absorbing table mounting

Automatic reverse
Treadle controlled foot lifter
Included motor type: Servo motor
Electric thread clamp (holds thread after thread trim)
Maximum speed: 5000 SPM
Digital stitch counter
Comes with a fully assembled table and motor
For more details, check out the detailed product specs and features on the listing itself:
---
Prefer ALL the bells and whistles?
This is on the higher end of the best semi professional sewing machine options, with the ability to go fully digital. It's feature-rich with an industrial build. This is the priciest option on this list but you get the best of all worlds here in a solid, high speed machine that has all the features you want to complete a variety of tasks. It's as fast as the Consew above (5000SPM) but has way more features.
This fully-featured semi-professional sewing machine is perfect for when you want something sturdy that'll do all your most difficult tasks. It's a wonderful investment for dressmakers, tailors, and seamstresses who value precision and workmanship.
It also takes the brainwork out of things for you by computing the optimal settings for your task, detecting the material thickness using a sensor, and allowing you to save settings for later use.
All these fancy features accomplish the one thing you need in the best semi professional sewing machine: consistent seams and sewing quality.
If you're looking to set up shop professionally, have stellar workmanship, and need something that'll really work well for everything you need, this is the semi-pro sewing machine of choice.
Key Features:
Make sure you choose the right model. the FMS is full digital, with digital control of all features. The SMS is digital type. The features listed here are for the FMS.
Sensor detects your material thickness!
Save sewing data and settings from project to project.
4.3 inch touch color LCD panel
Needle thread tension: active
Presser foot pressure is electronically controlled

517×178mm

bed
Digital feed horizontal and vertical
Adjustable feed locus
Optional table comes fully assembled
For more details, check out the detailed product specs and features on the listing itself:
Watch the video:
---
3. AFFORDABLE PICK: Janome Memory Craft 6300 Professional Sewing & Quilting Machine:
If you're looking for a feature rich, basic computerized sewing AND quilting machine, this is the machine of choice. You can say it takes a little bit from each of the first two options on the list – more features, but not fully digital. It's less heavy duty than other options but perfect for those getting started with professional sewing, who want quilting features too.
This is great if the Juki above was appealing to you but want to spend less.
It's also great if you want to spend less and have on machine that can do more types of tasks – more of a "do it all" than a "specialized" machine.
Key features:
Features a generous quilting extension table
66 stitches + four buttonholes
Your main buttons are conveniently placed so that you can snip threads, control speeds, and more easily
Maximum speed – Straight stitch: 1,000 spm; Zigzag stitch: 700 spm
Automatic thread cutter with memory
Stitch editing
Speed control lever and visible pressure gauge for better accuracy
External feed balancing dial
Notable review:
"This sewing machine has been a dream! It has a zigzag stitch (which is rare for a long arm machine), will handle very thick layers of fabric, has enough room in the work space to sew a decent sized project, and is very intuitive. It is easy to figure out, comes with every foot you could imagine (except the piping foot and gathering foot), and is very quiet. Overall I would recommend this machine to someone who sews a lot of large projects but doesn't need hundreds of decorative stitches. It does everything I need it to do and I have not had a single problem with it yet!"
For more details, check out the detailed product specs and features on the listing itself:
---
Which is your top pick for the best semi professional sewing machine? Which features are you looking for? Comment below!