Gifting kids creativity has benefits beyond making them feel special, and these craft making kits for kids are the perfect place to start! Find my favorite places to buy cheap kids art and craft supplies and then scroll down for my favorite craft kit gifts! This post contains affiliate links. Some items were received free of charge for review purposes.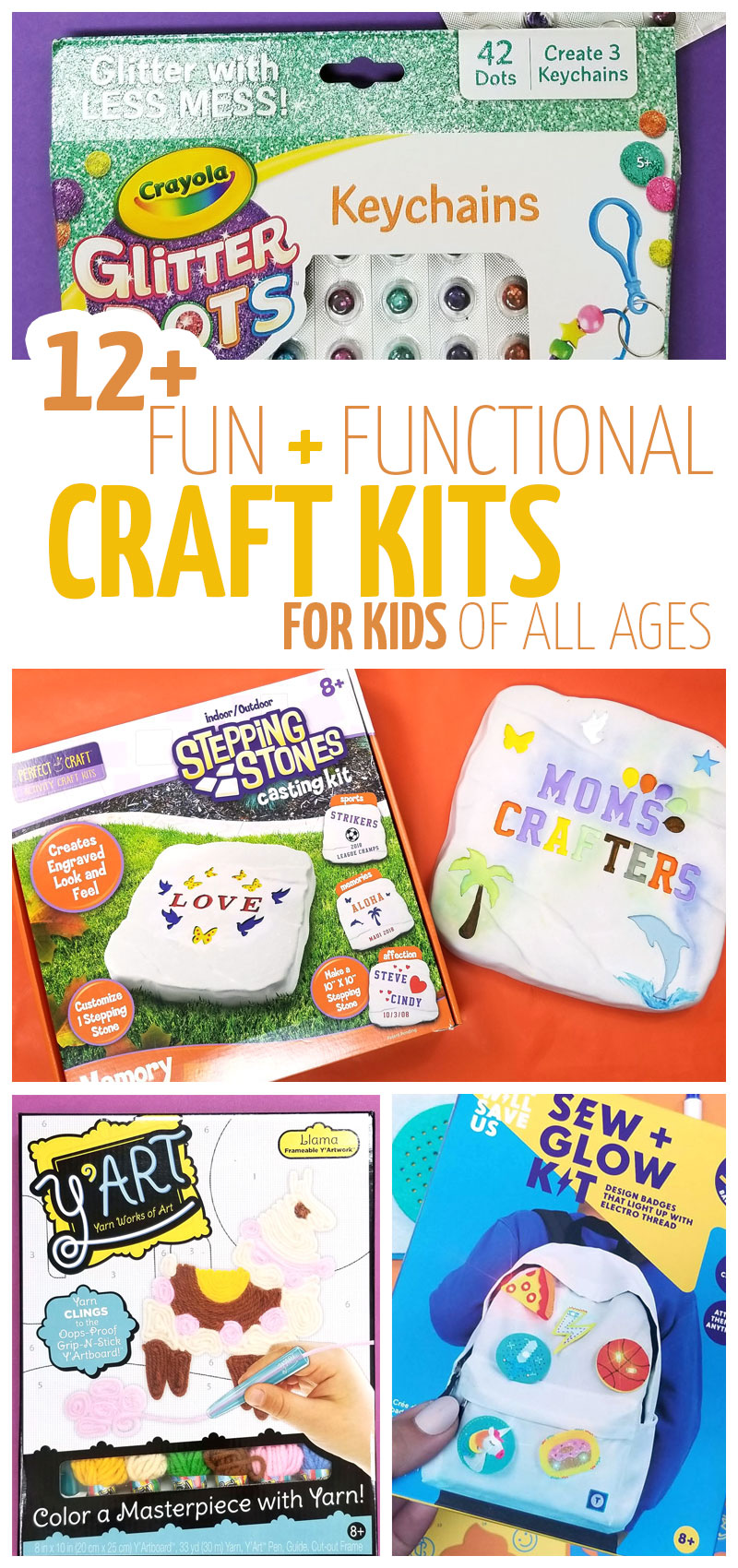 If you're a creative, you probably enjoy "drafting" other people into your creativity. I confess, I might like to do that just a little.
When it comes to gift giving for kids, I know it's right. I mean, there's nothing like giving a young child the satisfaction of creating something tangible, and that's what kits do.
Crafting making kits for kids come in so many shapes and forms, and I decided to share with you a few unique ones today, that go beyond your typical "stuffed animal plushie" kits. Although those are cool too.
So enjoy and comment if you have any questions!
And check out my favorite subscription boxes for kids here, as well as my top gifts for crafters of all ages here.
Note: all prices on these craft making kits for kids are approximate and valid as of the date that this post is written. Double check the price on the actual product before you purchase.
Top Picks in Craft Making kits for Kids:
1. Y'art by Kahootz:
Price range: Under $15
Age: 8+ (but a younger kid with good fine motor skills can do this too!)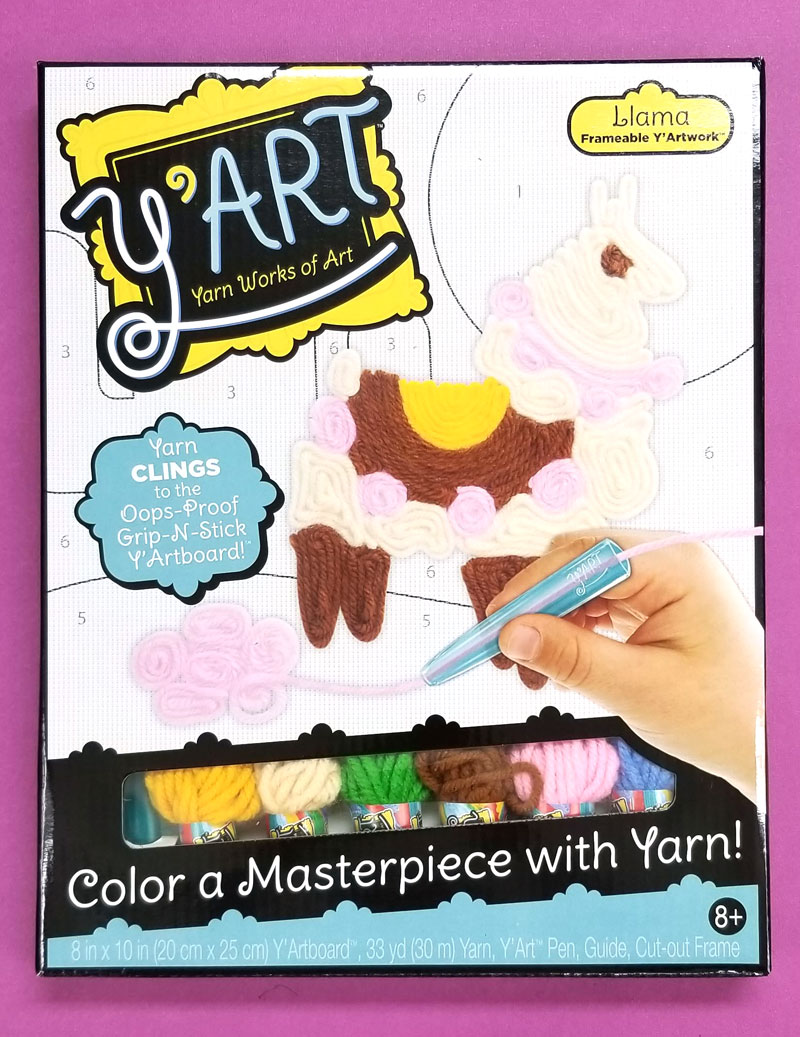 If your kids love tactile and sensory art experiences, Y'art is a fantastic new craft kit concept! It works similarly to hook and loop, with a hard textured side that grips the yarn.The yarn can be removed and reapplied, so if your kid is a perfectionist, you'll get even more busy time out of this!
Each kit comes with a numbered-coded picture and some mini skeins of yarn in corresponding colors. You also get a little "applicator" which your child may or may not want to use. It's so relaxing to do, kind of like diamond painting for kids! One of my favorite features is that the box has a cut-out frame built in so your child can feel like a true artist.
2. Tech will Save Us Sew & Glow: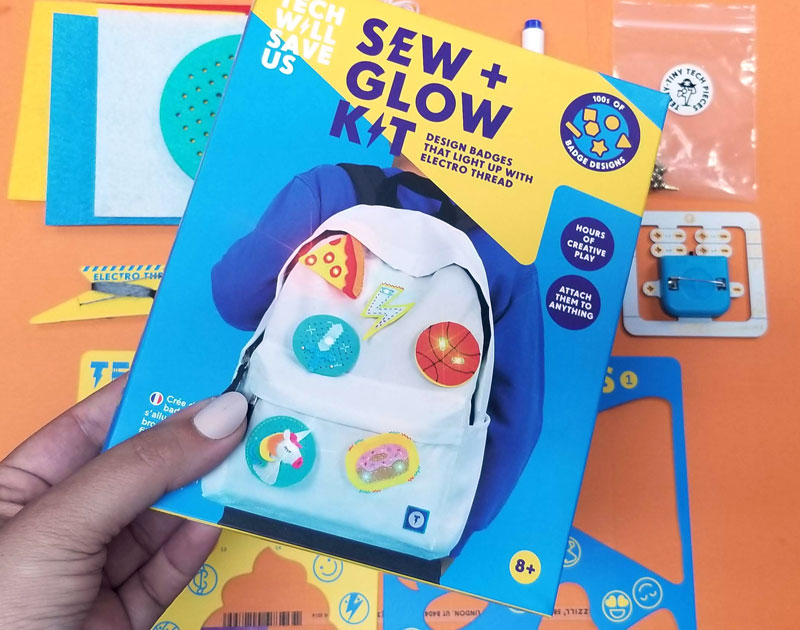 Conductive thread – what?!
This is the perfect STEAM experience for kids who always ask "but what does it do?" The answer to this one is it actually lights up! I love the fusion of classic felt crafting with tech. It's a great way to show kids just how far crafting can go!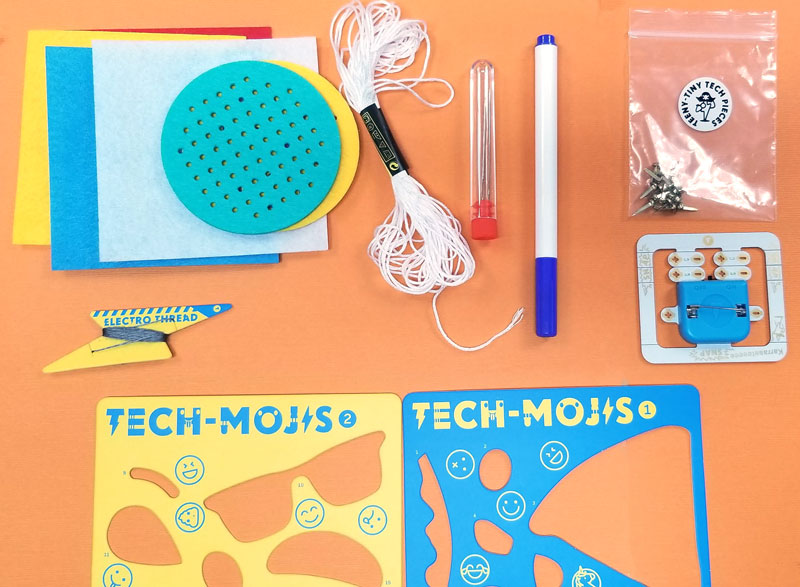 This kit comes with felt, stencils, ideas, templates, needles, connectors, thread, and even a pen! But the best thing you'll find in this kit is the Electro-thread that completes the circuit.
3. Perfect Craft Memory Walk Stepping Stones: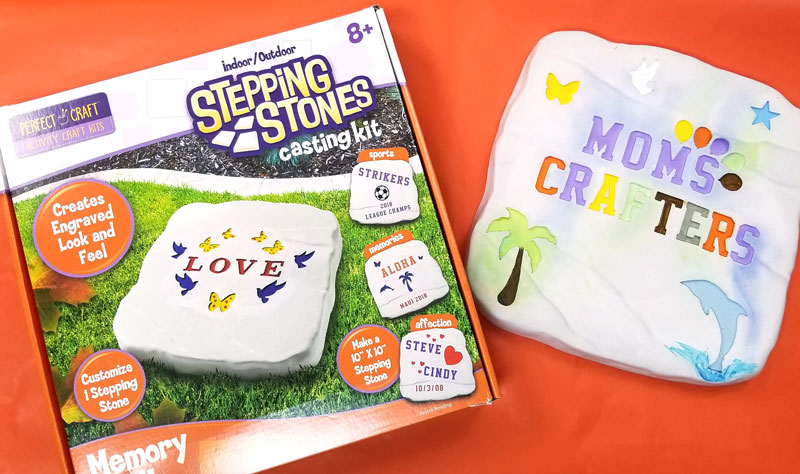 Cast your own memory stepping stone with this sweet craft kit!
Kids love to contribute to home decor, and allowing them to create a stepping stone to place in their play space is a great way to contribute to that pride and give a boost of self-confidence – without messing with your aesthetic!
And I love how open-ended this is! Isn't the Moms & Crafters stone that the team at SD Toyz put together for me adorable?!
Get Perfect Craft here or at your local Hobby Lobby!
4. ALEX Toys Little Hands Pop Stick Art Craft Kit :
We love ALEX craft kits for little kids, and this one is a great true beginner kit! It comes with paper shapes, stickers, and popsicle sticks, as well as a glue stick and instructions. It's open-ended, with individually wrapped projects you can pull out one at a time. If you're looking for basic, bare-bones crafting for older toddlers, this is perfect.
I first learned about this new product at an event, and loved it so much! I then got to try them at home and love them even more. For those who (like me) believe that glitter makes life better, but can't stand the shedding, this is for you! It's glitter in a clay-like texture, meant for spreading and using in projects.
Crayola has included these in a few kits, but my favorite so far is the keychain kit. It has a small learning curve (you need to fill the spaces – not spread it thin) but once you get the hang of it, you'll fall in love! You also probably want to glue the keychain shut.
It's geared toward ages 5+ but Y (age 3) is crafty and had fun with it too! He just needed a little more help.
Age: 8+
Price Range: Under $20
This is a craft kit for kids straight from my childhood of Klutz crafting! Yes, I actually had this exact kit (or maybe I borrowed it from a friend and used my own strings?) Either way, this is the book that got me into designing my own friendship bracelets including the 3D zig zag pattern. And yes, I am quite pleased to see that it's still around! Don't you just love those 90's kids in the book?
Get Klutz Friendship Bracelets here!
Age: 4+
Price Range: Under $30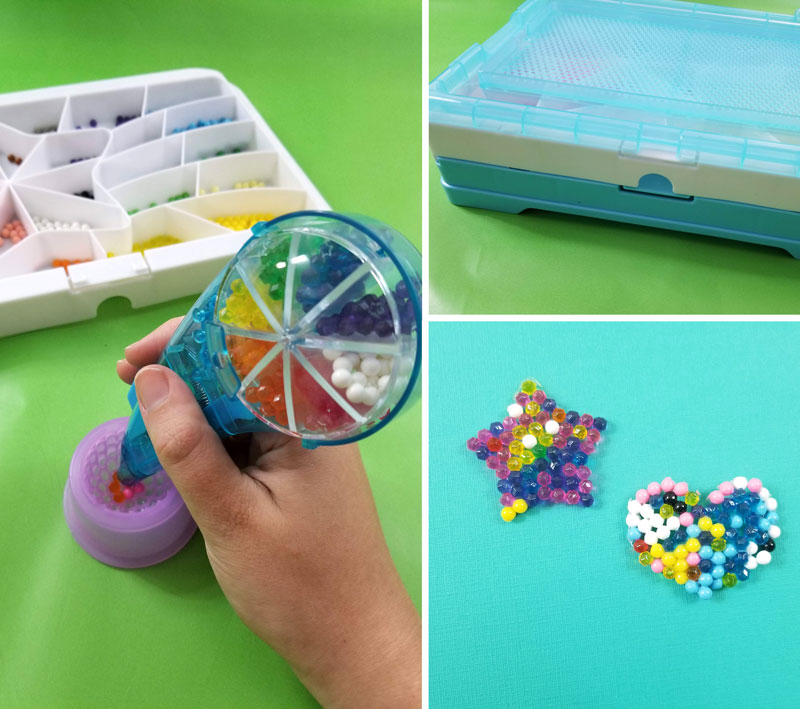 I included this kit in my list of gifts for creative kids from last year, and decided to put it into this list as well because it was so cool – M used up every last bead in the kit, after hours of play! He made so many things with it, and he's NOT usually such a craft-minded kid (he prefers STEM type toys and activities). So it's a big win for me for him to have a craft kit that engages him creatively in this way.
8. Melissa & Doug Decorate Your Own Train:
While looking for craft making kits for kids in a lower price point for one-time activities, I found this Melissa & Doug painting kit. We've done projects like this on weekends and days off, and the kids loved playing with the train after the paint was dry. I love a double-duty kit – craft and then play!
9. 3 Bees & Me Button Flowers:

Age: 4-12
Price: Under $15
While I've never quite tried this kit, we've done similar crafts at home and I think that the kit is so cool, especially at this price point! It even comes with the vase, and it has enough supplies to make a whole bouquet.
Get the 3 Bees & Me Button Flowers here!
10. Kid Made Modern:
Shipping: Free for $25+ orders
Price range:
Age range:
While not a specific kit, Kid Made modern is a go-to source for "craft library" type kits, as well as more open-ended kits that are more "invitation to create" rather than a very specific kit. They are a trendy, high end kids' craft supply source and I love them for craft making kits for kids, with a low minimum shipping rate.
They are the perfect source for when you want to jumpstart a kids' craft stash, or to open it up to a new area of crafting. They're also fun for inexpensive weekend activities, school vacations, and more.
Shop Kid Made Modern craft kits here.
11. Wikki Stix Traveler Playset:
Price Range: Under $20
Age: 3+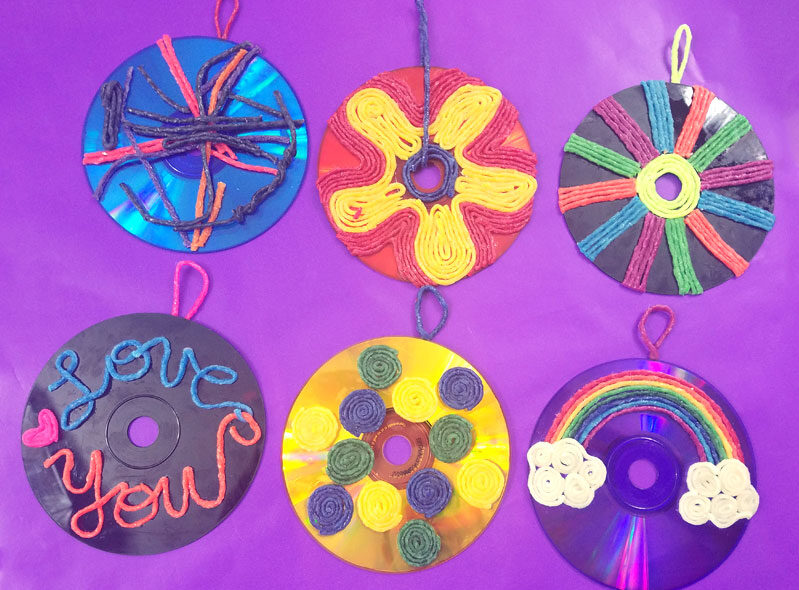 Wikki Stix are a fun, engaging wax-covered string that offers open-ended crafting opportunities for ages 3+! They are a staple in our home, and Y has been creating with them from the age of two (although at that age, he mostly mushes them up, rather than creating cool things). This kit comes with a case, an idea booklet, and of course, a good starter selection of Wikki Stix.
Ann Williams is dreamland for your crafting tween, but they also offer craft making kits for kids in other age groups! From jewelry making to pom poms, to animals, accessories, and room decor, every child will find something functional to create.
Shop by age group, price range, or by craft type.
Shop Ann Williams craft kits here!
Favorite Hunting Grounds for Seasonal Kids' Craft Kits:
If you're looking for more specific or seasonal craft making kits for kids, these spots are more specialized hunting grounds for craft kits than the ones above!
1. Zulily:
You may have noticed in previous posts that I am a big fan of Zulily, and one area where they often score high on my list is kids' craft kits! I've purchased craft making kits for kids from them for birthday gifts, vacations and more. And their selection is constantly changing making it perfect for seasonal craft making kits for kids!
2. KiwiCo:
Another favorite stop with a constantly-changing selection, KiwiCo offers kits for a huge range of ages and you don't need to subscribe! While they are most famous for their STEM subscription box, they also have ready-made, specific craft making kits for kids, with a selection that changes seasonally!
Shop KiwiCo craft and STEAM kits
Oriental Trading craft kits have a low per-project cost, with plenty of seasonal and evergreen choices.
Oriental Trading is a wonderful source for group crafting sessions such as birthday parties or play dates. The quality is a little more "school craft" level than DIY, so of course, shop according to your needs.
Shop Oriental Trading Kids' Craft Kits
What are your favorite craft making kits for kids? Are craft kits your favorite gifts too? Comment below!