Kids can learn how to sew surprisingly young, and this review of options for the best sewing machine for kids shows just how easy it is to get started! You can also refer to my list of the best sewing machine for beginners, find all my reviews of the best sewing machine, or scroll down for kid-specific and other beginner options.Disclosure: this post contains affiliate links.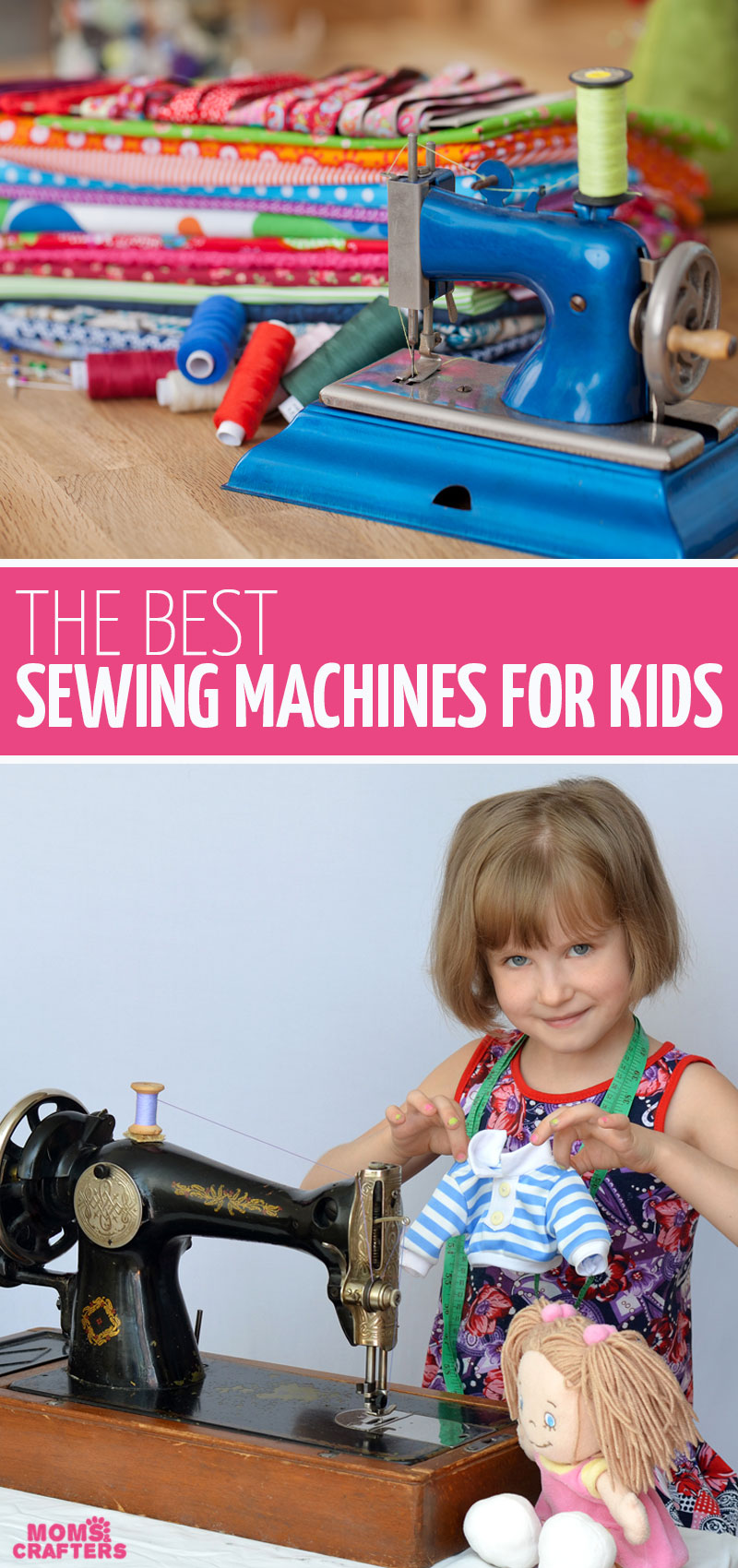 When I was a tween, I found a really cute jumper in the store that I really wanted as a skirt. FYI it was hot pink. Yep, there was a time that even I wore pink!
So I borrowed my mother's overly complex sewing machine, cried many tears trying to get it to work, and turned it into a skirt.
Only it was huge around the waist, because that's how jumpers are…
So we took it to the seamstress who finished the job.
Sewing is an essential life skill that they should really still be teaching in schools. Whether it's a simple mending job, creating a costume, or whatever the future brings, it's a valuable skill to have.
And you'd be surprised at how young kids can show an interest! You can take advantage of a child's natural fascination with machines and anything that "does stuff" and encourage this life skill from an early stage. Once your child is motivated, well coordinated, and responsible, you can give it a go with these tips.
The best sewing machine for kids come and go seasonally, and often have low ratings and so they can be a tough item to navigate.
There are, however, a few options that have great rankings and actually do the job. These are split into two categories:
Machines that are designed for kids that are essentially "working toys". They can sew but are tiny and really just for kids who are just doing primitive crafts. These are great for when you want your kid to get interested in the basics but don't plan to use it long term. It's also good for very young kids.
Beginner sewing machines for adults. If you're dealing with an older kid, I'd definitely recommend getting this because it can last for many years, your child can really learn how to sew, and it allows you to take this interest in sewing more seriously.
Scroll down for the best sewing machine for kids in both categories!
---
---
Best mini/toy sewing machines that work:
1. Varmax Mini Sewing Machine:


When a machine costs under $30 (disclaimer: prices are subject to change) you don't expect much from it other than "it works!" And reviewers say that this machine does work, so that's a start.
If you're simply looking for a cheap machine to get your child interested, this machine does work and does a great job for small sewing projects. And while the size is miniature (and super portable) it does include an extension table for expanded functionality. It runs on batteries or via a plug-in adapter, and operates with a foot pedal.
The main con: it has no reverse. It also is only a straight-stitch machine.
Best for: If you don't care about quality or features and just want something that works. It's perfect for when you want something you can easily put away and take out for day-to-day kitchen table crafting.
---
2. Sew Cool Sew N Style Machine:
If you're after the best sewing machine for kids that is truly a toy, the Sew Cool Sew N Style Machine is perfect!
It's designed for the 6+ set, with safety features, a built-in pom pom maker, sparkly fabric, and more, making it a craft kit with sewing machine included.
The biggest con: it uses its own specialized yarn, so it's really specialized. It's not really meant for your child to sew unique projects.
Best for: If your child shows interest in crafting but not necessarily sewing OR isn't ready for needles. It's a great way to spark interest, and an upgraded "craft kit" that gets your child started with real life skills.
Update: read all about the Stitch n Style Fashion Studio by Cool Maker and get 3 machine sewing projects for kids!
---
And now it's time for the real stuff…
---
---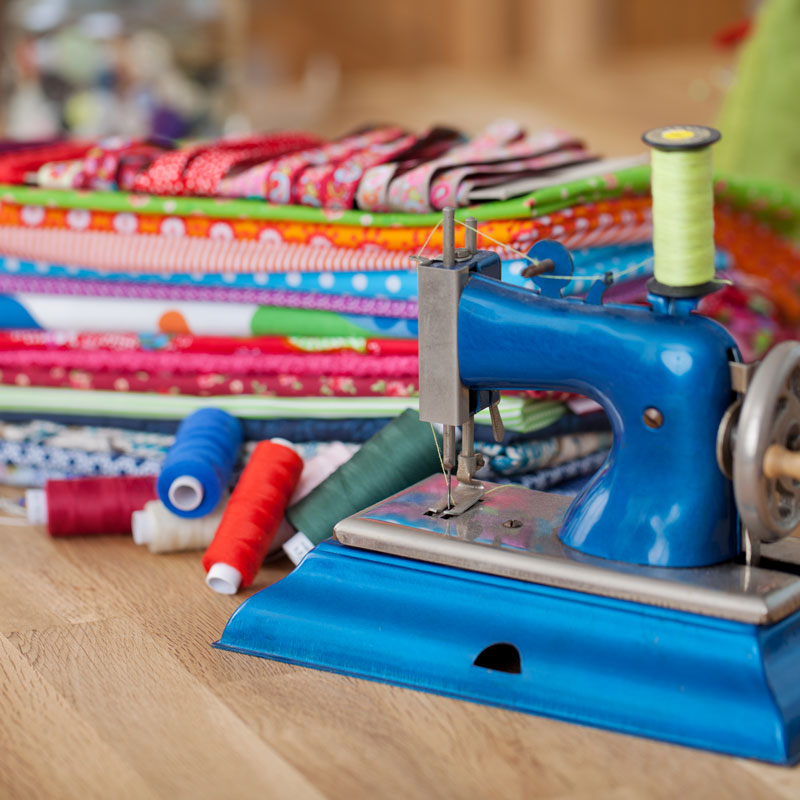 Best beginner sewing machines for kids:
The best sewing machine to get for a child who is ready for it is a real grown-up sewing machine with very basic features. Not only will it grow with your child, but it's necessary for making real projects and not just simple sewn crafts.
If you can swing it, this is what I recommend for most children.
Of course, you won't have the safety features and extreme portability of a toy machine, but hey, it'll sew!
The main feature you need here is ease of use – and a fun color can't hurt either!
3. Janome Easy-to-use Sewing Machine with Interior Metal Frame:
Fun colors aside, the name says it all. You have the very basic features you need – 15 stitches, mechanical, removable free arm, beginner feet and accessories etc.
The basic features teaches your child how to use a mechanical sewing machine without the overwhelm. While your first instinct for today's' child might be to go digital, there are long-term perks to knowing how to use a mechanical machine, and they tend to be easier to maintain. You'll be able to teach about tension with an easy tension dial, create large projects with the generous throat, and show your child that you take their sewing ambitions seriously with a full-sized, real machine that can make seriously cool stuff.
It comes in three cool colors and is built to last with a sturdy frame. It's got easy-to-understand instructions and tutorials.
Best for: You want a rock solid machine from a top brand – and don't mind adding a little fun to the mix. You want basic, no-nonsense features for someone serious about learning to sew.
---
4. Brother Sewing Machine XM2701
This super versatile and affordable sewing machine is one that'll be a serious machine for your child. It's got 27 stitches, an automatic needle threader, and one-step buttonholes.
The biggest con: I personally a very similar Brother model and I can assure you that it's far from perfect. It can be glitchy, the tension isn't spot-on, and sometimes more stitches can just cause more overwhelm for a new sewer. I love this machine but if purchasing again, I'd personally go for the Janome above instead. In addition, it's got automation which means your child won't learn how to do it on her/his own.
It's very user-friendly and includes all the accessories your child needs to get started.
Best for: You want to save as much as possible and don't care as much about the actual machine sturdiness. You want more features and stitches for a better price.
---
5. Brother Sewing and Quilting Machine CS6000i
Sometimes the best way to get a child interested in something is all the bells and whistles. If that's the case, this machine is perfect for you! It's also an amazing upgrade for a child who already sews and is in it for the long run.
It's among the more basic computerized machines with perks such as automatic needle threading, LCD screen, quilting table, faster sewing speed, and lots of different stitches (60 to be exact). It's got a one-step buttonhole with seven styles, plenty of decorative options, free arm, a large table, and adjustable sewing speeds.
Feature-wise it's the best sewing machine for kids who regularly sew and already know how.
The biggest con: because so much is automated, your child won't learn how to do it. You're also paying for more than you need to get started, and too many features can sometimes cause overwhelm.
Best for: You want a machine designed for quilting too. You prefer a computerized machine to a mechanical one and want as many features as possible.
What is your best sewing machine for kids? Did you try any from this list and have a favorite? Comment below!