While I'm putting together a list of the best first birthday gifts from the products that we actually love and use, I want to leave you some pointers that can help you choose the best first birthday gifts on your own. You can use these tips when browsing through my list, or you can use it if none of the items I've listed work for you. It will also help you understand how or why I chose those items.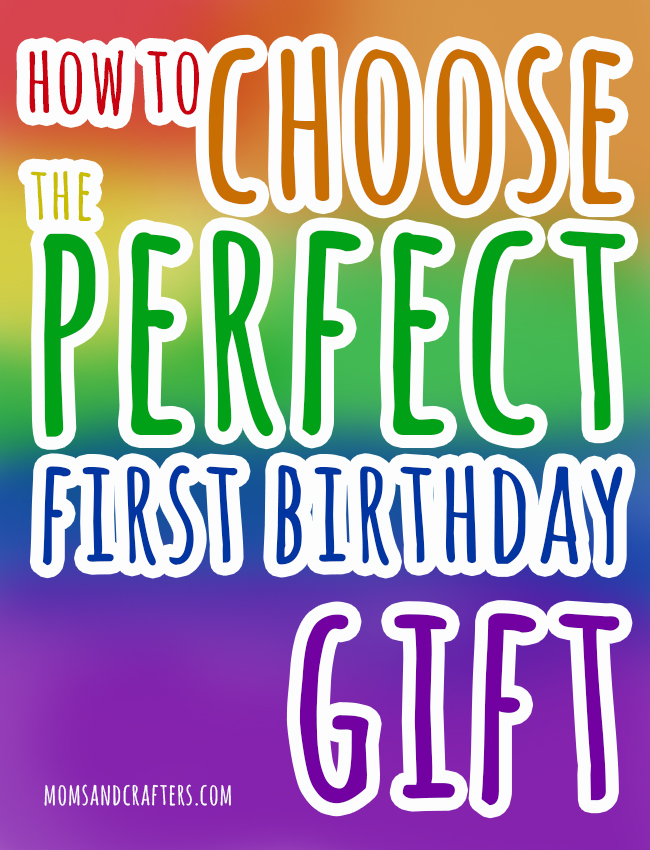 Know the child – Knowing a little bit about the child's personality can, of course, help. Is this an active child? Is the child developmentally delayed in any way (even in just basic motor skills)? If you don't know the child, try asking someone who does!
Think beyond toys – Toys might be the first thing that comes to mind when you're buying a gift, but there's a lot more. Think essentials, gear, clothing, subscriptions, books, and more. For more ideas, check my 1st Birthday Gift Guide and my list of the Best Gifts For a First Birthday.
Think ahead – Baby will not have another birthday until he or she turns two. That year is a very productive year, full of new milestones, events, and action. Don't just get toys that are intended for twelve months and on, get those for eighteen month milestones as well.
Think backward – It might seem silly to buy a toy that is intended for six months and on, but to be perfectly honest, most babies can't stack cups or rings, or sort shapes until at least a year. Many stacking and sorting toys will still say that they are good for six months and up. I think they do that because the are safe for that age. If your budget is small, these toys are perfect.
There's no such thing as too many books – They hardly take up space. They are the most educational "toy." You can hardly go wrong! I've even gotten duplicates, and still like having both (in case one goes missing or gets torn).
Find out sizes – If you are going to give anything wearable, find out the baby's size first. My little man is always ahead of the average. He's currently wearing size 12-18 and size 18-24 months. Unless it runs big, it's a shame for someone to get him something in size 12-18 months as it will only fit him another month or so.
Include a gift receipt where possible – Including a gift receipt is like insurance – there's no way you can go wrong!
Think like a mom – Put yourself in the mind of the mother. If you are not a parent yourself, this might be hard, so you can speak to mom friends (like me) and ask what their favorite gifts were.
Think like a baby – This is really hard, as you can hardly hold a conversation with a one year old (other than garbledy gook). But you can see what makes him or her smile. If you don't have a child, "talk" to a friend's.
Multi-purpose wins – Some of my favorite items serve more than one purpose. Since children develop so quickly at this stage, many items hardly last more than a few months. Toys and gear that cover more than one milestone minimize storage needs, and save space in the house.
Try for Variety – Some will say electronics are much more engaging, and some will say they stifle creativity. I like to aim for a balance. There are times when I need the electronics for my own sanity. There are times when electronics do teach important skills (talking toys can teach rhyming and language, toys with lights can teach cause and effect.) Yet it's crucial for me to have creative toys as well as role playing toys, and other categories.
Do you have any tips to help my readers choose the best first birthday gift?