There are so many earring studs DIY ideas out there, that it's time for a dedicated list of unique jewelry making projects! If you prefer a more advanced skill, you can learn how to make wire bracelets, or scroll down for these simple tutorials. Disclosure: this post contains commissioned links.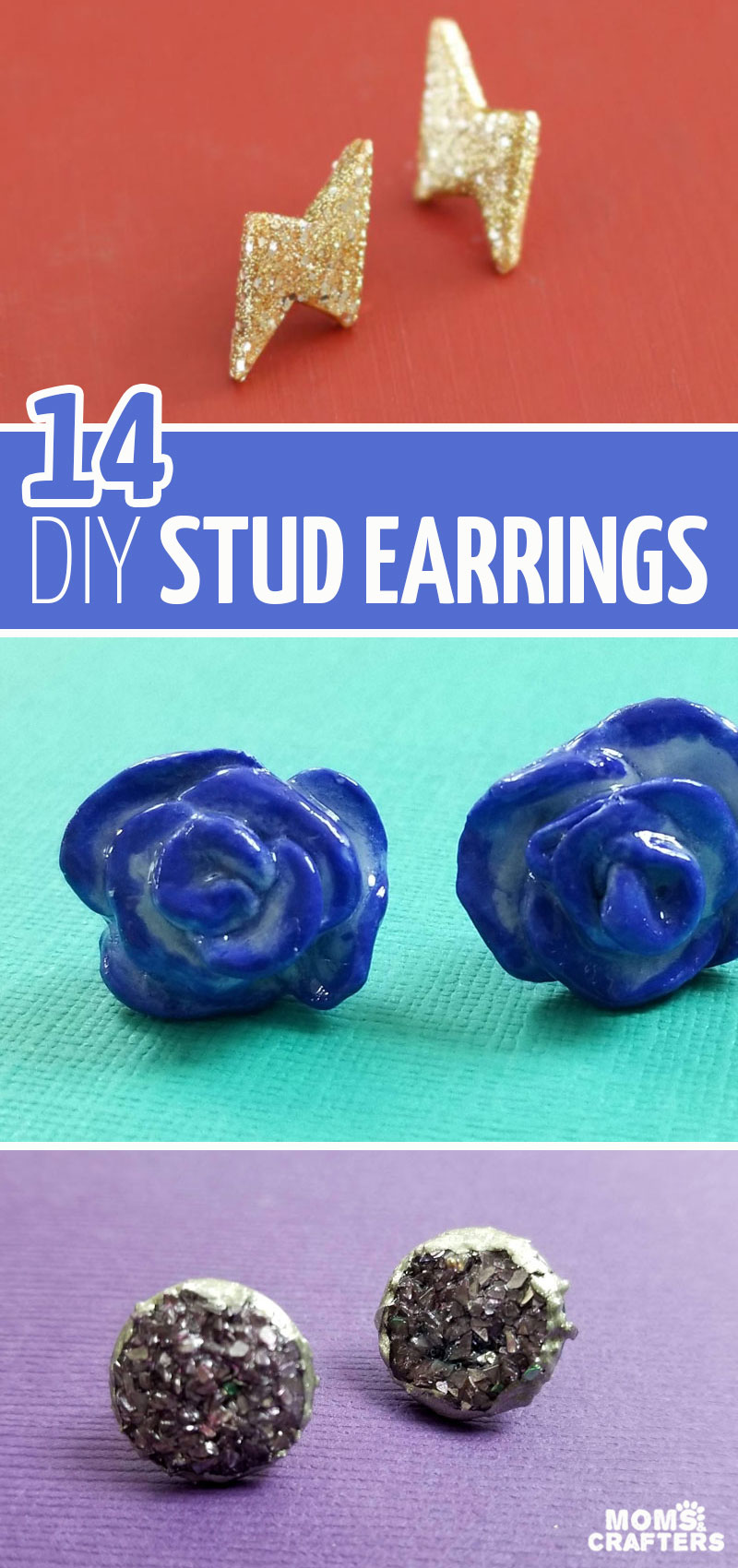 When we think of stud earrings, sometimes we imagine just a boring gold or silver colored ball. I'm here to tell you there's so much more to stud earrings! Just add some crafting supplies, and you can make your own stud earrings DIY for any occasion!
Stud earrings are great for adding just a touch to complete your outfit tastefully. You also don't have to worry about them falling out which is an added bonus.
That said, studs don't have to be boring! These stud earring DIY ideas will bring your earrings to the next level!
In this post, you'll find all kinds of awesome earring stud DIY ideas! They are broken down into 3 categories based on style:
Traditional Studs
Moderate Studs
Statement Studs
No matter what style you're looking for, there's something for everyone here!
Traditional Earring Studs DIY ideas
These stud earrings DIY tutorials are the style most people think of when they think of studs. Basic round shape, stays close to the earlobe, nothing too crazy! But each one still has a unique twist so that you can make it totally yours.
1. DIY Candy Button Dot Earrings by Happiness is Homemade: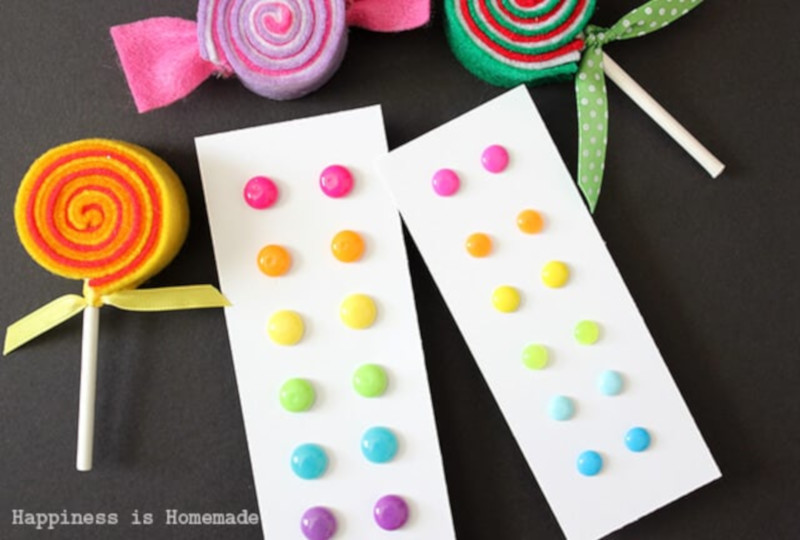 These adorable little candy dots are a fresh take on a classic stud earring! Keep it simple and inexpensive with this colorful stud earrings DIY.
2. DIY Magazine Earrings by Happiness is Creating: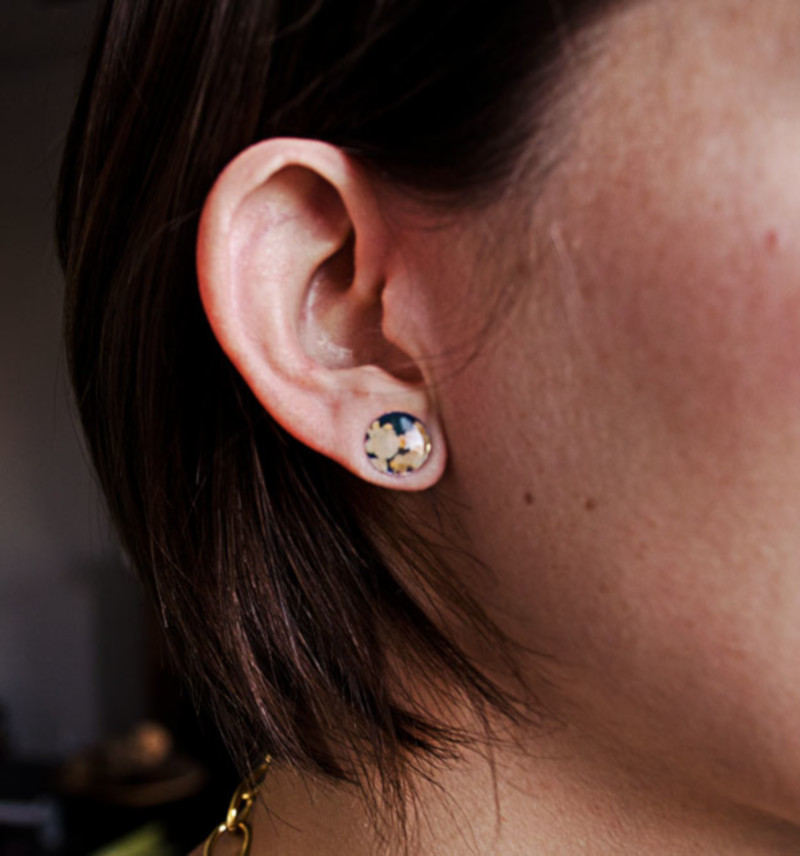 Give those old fashion catalogs new life as jewelry! Remember that one pattern you loved when you saw it on the page? Now you can turn it into a pair of awesome DIY stud earrings.
3. DIY Marble Jade Earrings by A Beautiful Mess: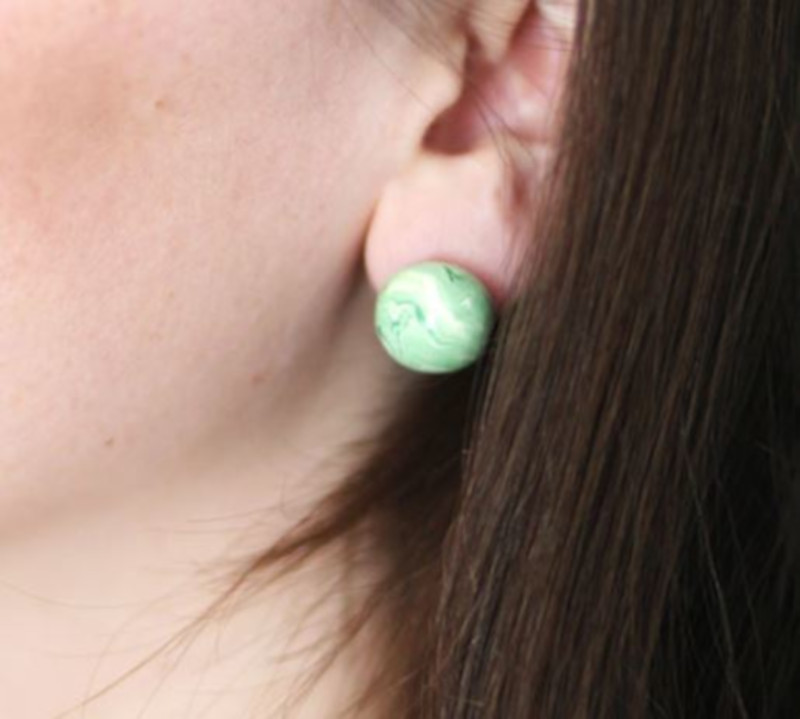 These quick and easy DIY stud earrings look like beautiful jade stones. With just a little clay, anything is possible!
4. DIY Paper Stud Earrings by JewelryTutorialHQ:
These DIY stud earrings are the perfect upcycling project. Using any print you can find, you can make adorable studs!
---
Want to learn how to make jewelry out of anything? Get the book!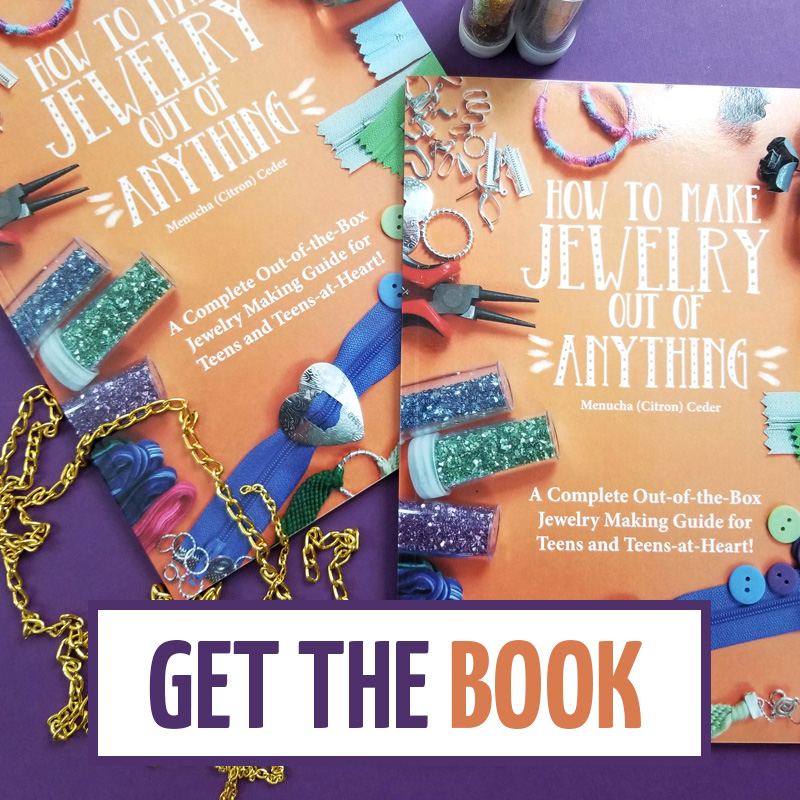 ---
Moderate Studs
These stud earrings DIY ideas stray from the traditional style a little, giving them a unique flair! While they're still clearly studs, they stand out a little more. But they're still subdued enough to wear in a professional setting, and if you're not quite up to going all out with your earring style.
5. Marbled Cubes by Brit+Co:
Marbled clay gives these DIY stud earrings have an icy cool look! The marbled blues and whites really give off an arctic vibe.
6. Druzy Earrings DIY Tutorial by Moms & Crafters: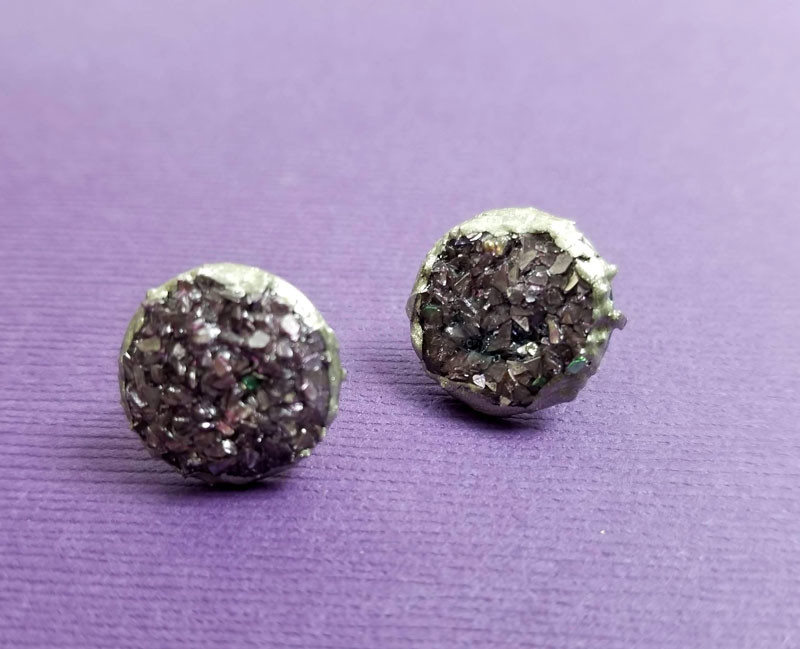 These stud earrings have an awesome subtle shine, adding some glam to your look without overdoing it. Use glass glitter for structure, Mod Podge Super Gloss for a solid finish and edge it with metallic nail polish.
7. Marbled Stud Earrings by Brit+Co:
These DIY marbles stud earrings are so cute! Using only clay, you can create any look you want with these.
8. Fabric Button Earrings by Purely Katie: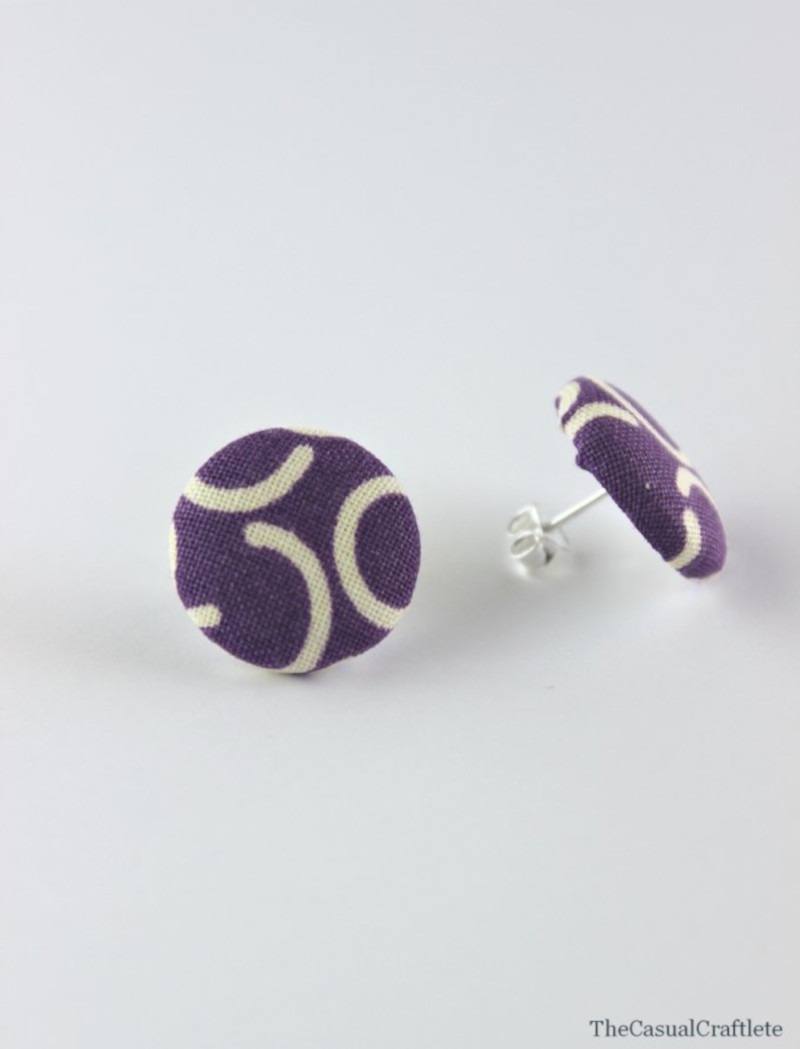 If you have some fabric patterns that you love, but just can't find a use for, you're in luck! Using only a few square inches of fabric, you'll have a new pair of stud earrings!
Statement Studs
Looking to push the limits of stud earring styles? These are the earring studs DIY ideas for you!
9. How to Make Clay Rose Earrings by Moms & Crafters: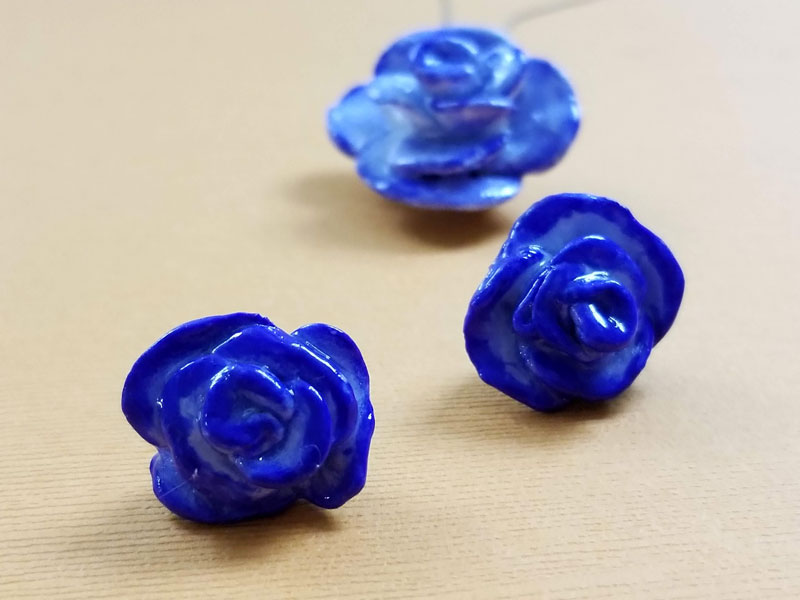 Use super lightweight clay to make these gorgeous statement studs, and then finish them off with watercolor paint. To add that gorgeous glossy look, use Mod Podge Super Gloss. I made a pendant using the tutorial as well!
10. DIY Leather Earrings by Design Mom:
Tiny leather earrings have been quite the trend lately, and these DIY stud earrings fit perfectly! They're a great solution if you love leather earrings a la Joanna Gaines but want to tone it down a bit.
11. DIY Seashell Earrings by Moms & Crafters: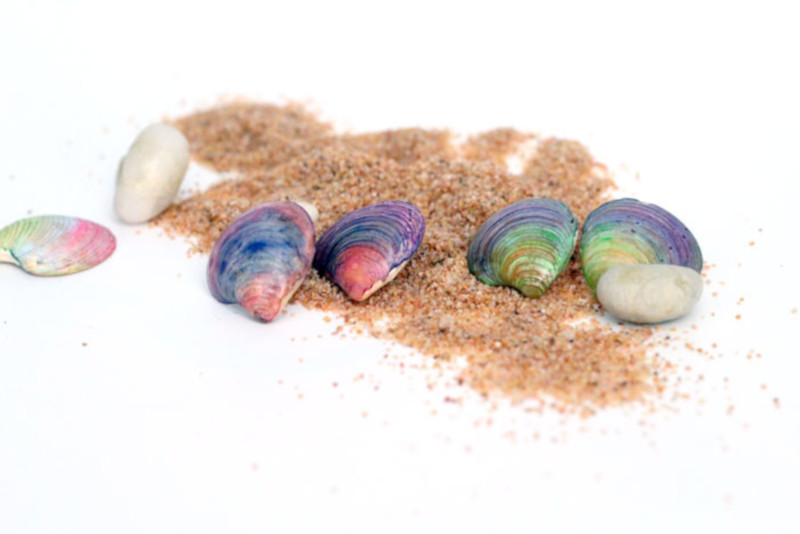 You go to the beach, you can't resist those beautiful shells, now what do you do with them? These DIY stud earrings are a great craft for all ages! They're a bit mermaidesque too… And if you don't have small shells, you can pick up a pack on the cheap.
12. Glittery Gold Thunderbolt Earrings by A Beautiful Mess:
Give your ears some sparkly flair with this earring studs DIY! These lightning bolts will give your accessories a fabulous sparkle.
13. DIY Dipped Earrings by Moms & Crafters: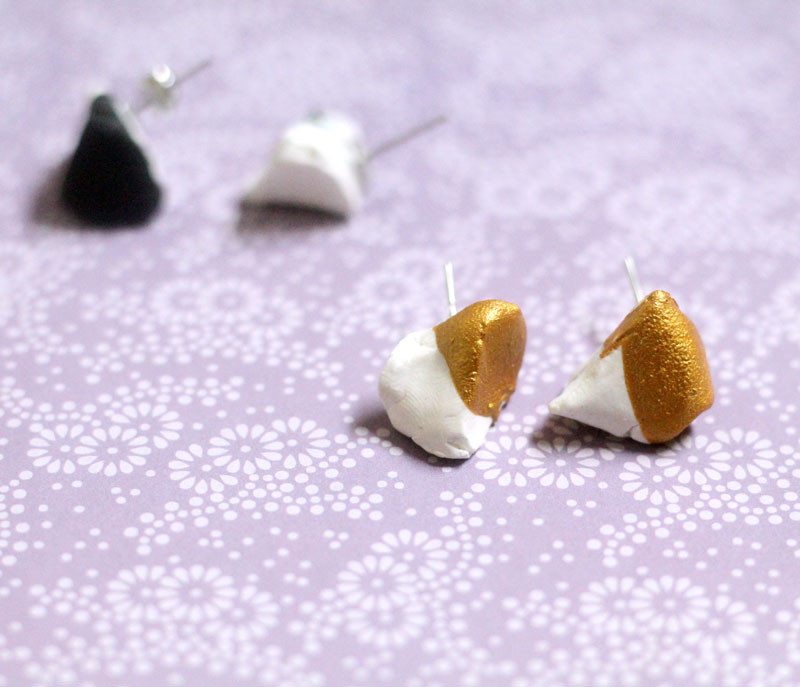 These studs are so simple to make, and they match everything! You can color them any way you want to match your wardrobe. Once again, they use lightweight clay so that they're not heavy. Match them up with bullet clutch earring backs for full support.
14. DIY Alex and Ani Inspired Earrings by Jamie B Hannigan: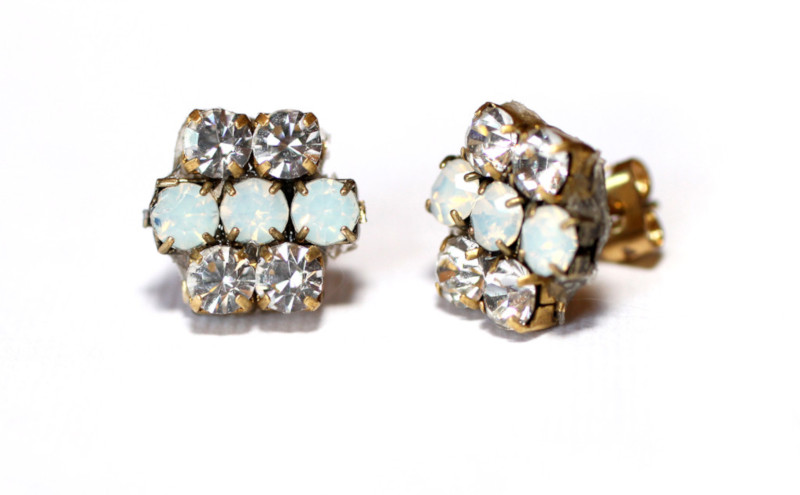 These stud earrings are inspired by Alex and Ani, and they look amazing! The glitzy rhinestones will really make you sparkle when you wear them.
Do you wear stud earrings often? Have you tried any earring studs DIY ideas? Which style is your favorite? Let us know in the comments!