I've created holiday cards to color and Hanukkah coloring pages for kids, but what about some Hanukkah coloring pages for adults? I've seen so many people asking, that I decided to go ahead and illustrate one of my favorite Jewish holidays!

I must say, I think I had a blast on this one. It was truly fun and nostalgic to draw.
Disclosure: this post contains affiliate links.
You can scroll down for a full preview of these Hanukkah coloring pages for adults. Check out more of my adult coloring pages here.
This packet of printable Hanukkah coloring pages for adults is available on Gumroad or in my Etsy shop. You can also purchase it below:


5 Hanukkah Coloring Pages for Adults:
In this packet, you get the following:
Intricate Menorah – It can be a colorful ceramic or sparkling silver – you get to choose! The Menorah might be the most obvious symbol of Hanukkah, but it's also my favorite! It definitely evokes lots of fond memories.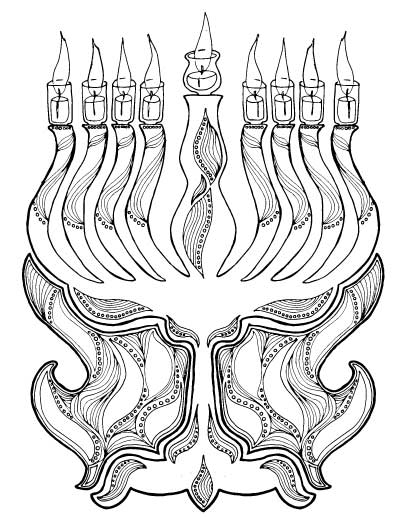 Designer Dreidel – I always loved detailed dreidels, so I drew one for you to color! This one is for display AND for play!
Naturally, this is the one I chose to color (or at least to start coloring.) I used gel pens because I thought it would be cool and appropriate to have that metallic touch. Gel pens are amazing for shading and lay down bright, vivid color.
Donuts – They may not be EXCLUSIVE to Hanukkah, but you simply can't do Chanukah without a batch of sufganiyot! When I crowd-sourced for ideas for this Hanukkah coloring pages for adults packet, the thing most people said Hanukkah reminds them of is FOOD! So here's are some yummy donuts, a Hanukkah staple.
Pattern Play – I wanted to make something a little more graphic and relaxing to color. I though it was cool how dreidels and menorahs can intersect so beautifully, so I made this fun pattern for you. It's for the moments when you want something mindless…
Menorah lit nights – Based on my early Hanukkah memories, these menorah lit brownstone houses are truly nostalgic. Some of my earliest Hanukkah memories include driving to my grandmother's house in the Boro Park neighborhood of Brooklyn, with its concentrated Orthodox community. Most of the homes would be lit up with multiple Menorahs in the window, creating a warm feeling.
Get these printable Hanukkah coloring pages for adults on Gumroad or in my Etsy shop.
Grab your pencils, pens, and markers, put on your Yarmulke and color-in Hanukkah!!
And don't forget to spread the news by sharing this link with all your friends, family, cousins, neighbors, and colleagues!! 😉 😉
Get the book! Coloring for Coffee Lovers is my most popular coloring book, but you can find all of my printed and digital coloring books here.