If you're traveling with a toddler, whether by road or plane, you know that it can sometimes be challenging to find the right snacks. You want something that your child can eat independently without making a huge mess.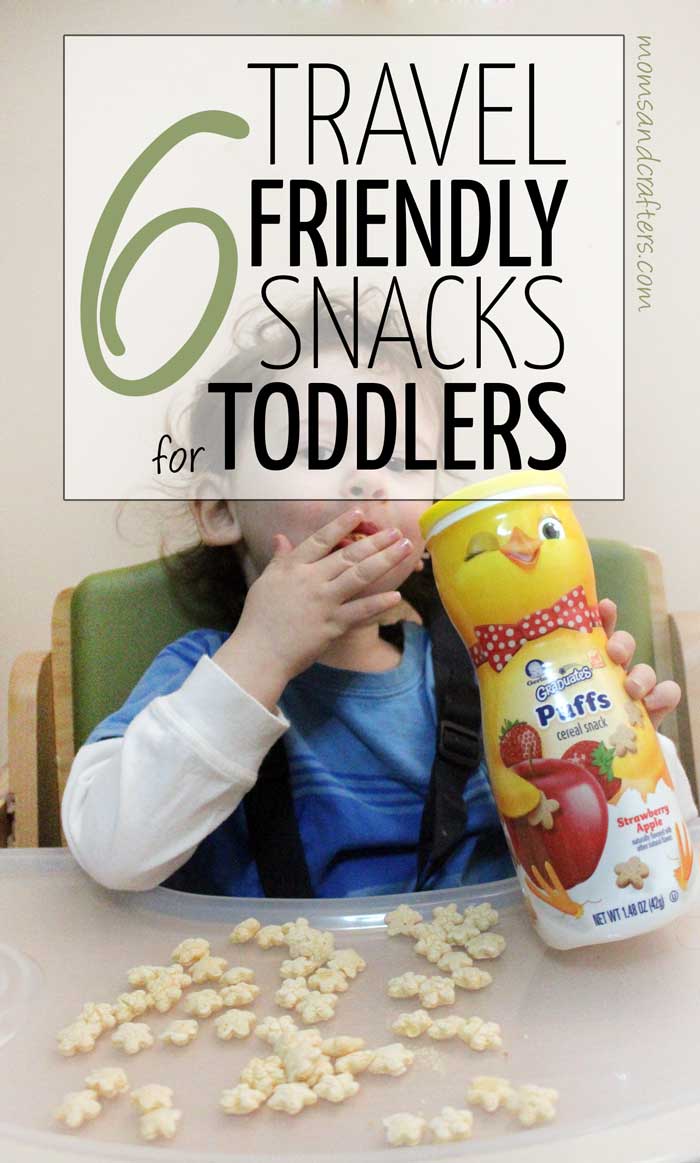 Gerber is a brand my baby has grown with, and their Gerber Graduates offer so many options – not just for mealtime, but for snack time as well! They have an amazing program going on right now where you can get a free gift! I'll let you know about that soon but first….
6 Easy Travel Snacks for Toddlers:
Here are a few easy solutions. I'd love to hear your suggestions as well in the comments!
Cut fruit and veggies (try seedless cucumbers, and clementine segments)
Cheese sticks, string cheese, cheese slices
Yummy fruit and veggie muffins, or try these healthy oat muffins too!
Gerber Graduates yogurt and fruit pouches
Healthy chocolate chip cookies that you can make
Gerber Graduates Puffs, Lil' Biscuits, and other dry snacks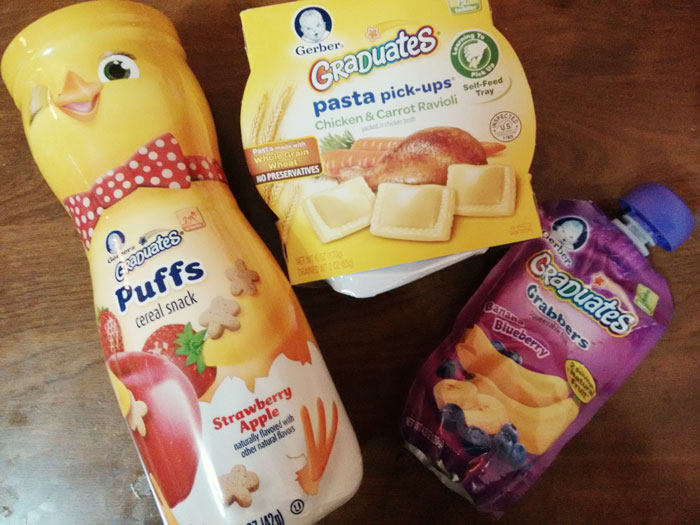 Celebrate your Win Win Moments with Gerber Graduates:
The first sign that you've got a toddler, is finding yourself resisting the urge to yell "no!" every minute. When we hear the word "toddler", our first reaction is a messy little troublemaker. Sometimes we ever wonder if we can skip that stage entirely…
But toddlerhood is full of winning moments too. Think about that first step. The first time he said the word "Mommy" (mine still hasn't…) The first time she ate dinner by herself.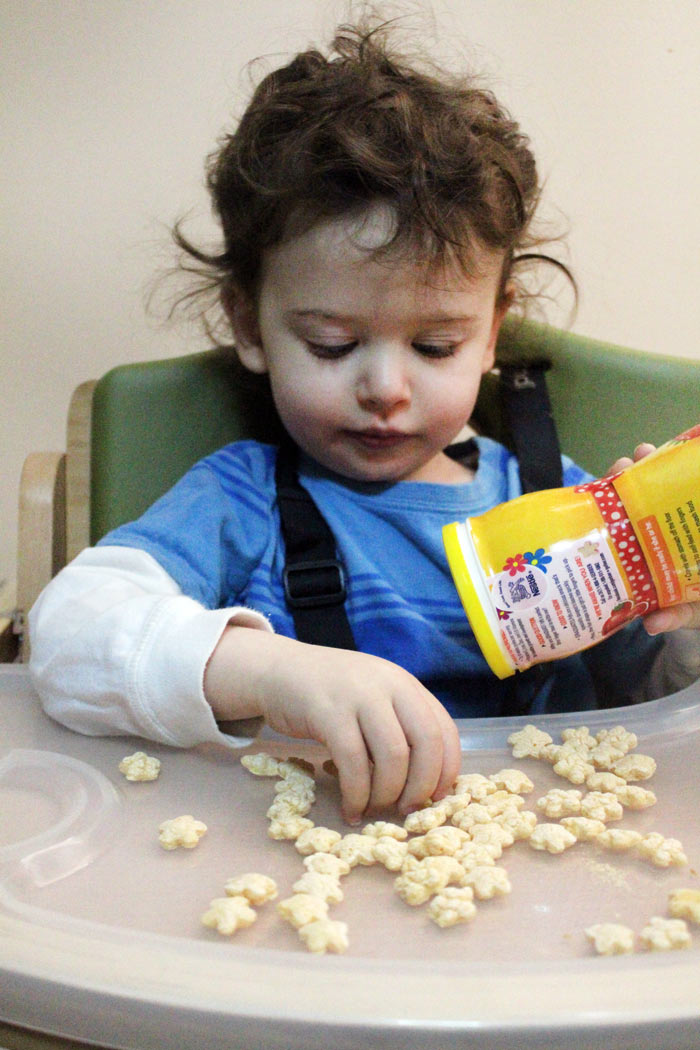 There are smaller "wins" too! The first time M touched my nose and said "beeep!" was a moment to remember. All of the new associations he makes are too. His first molar came as a surprise. The first time he cuddled onto his miniature armchair like a little man.
Gerber Graduates is with you on this journey. They have a huge amount of options for toddler food. Our favorites are the Puffs cereal snack. M loves them and gets so excited when he sees them. We try to avoid giving him junk food, cookies, and cakes. Gerber Graduates helps us add nutrition into his snack time, giving him a much better option.
Gerber Graduates also has ready made meals. Their line includes yogurts in squeeze pouches, fruit pouches, and so many puffed snacks that your toddler will never tire of them.
How to get your free gift set:
Gerber Graduates is offering an adorable gift set, including a Gerber MealMat by Nuk and a Gerber bib! You get it with your purchase of any ten Gerber Graduates food items. Here's a step-by-step:
Go shopping
Buy ten Gerber Graduates food items in one trip
Snap a photo of your receipt
Head on over to the Gerber Graduates Win Win website
Upload the receipt
Watch your mailbox
Eat puffs!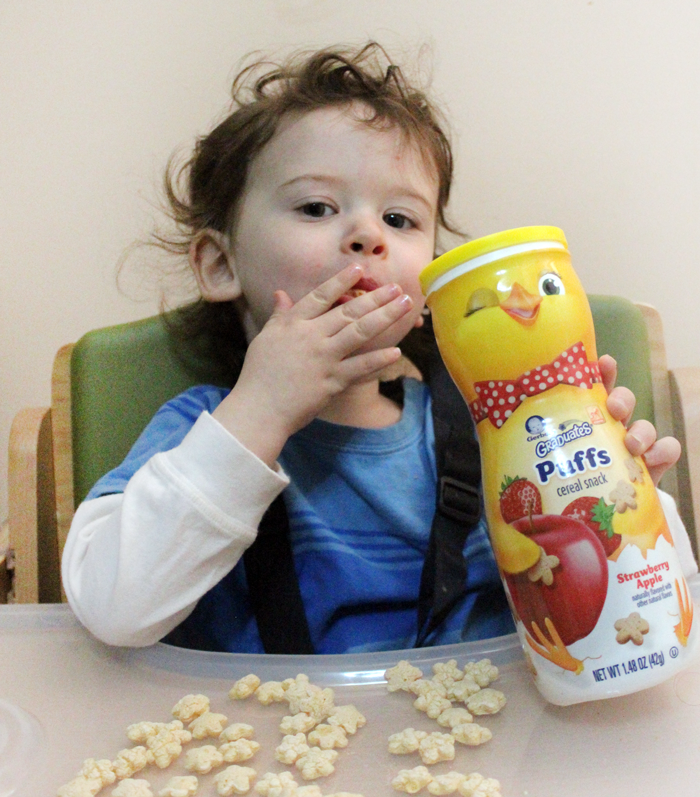 And by "eat puffs" I don't just mean your toddler – I mean you too! I put them in my salad instead of croutons and it's delicious.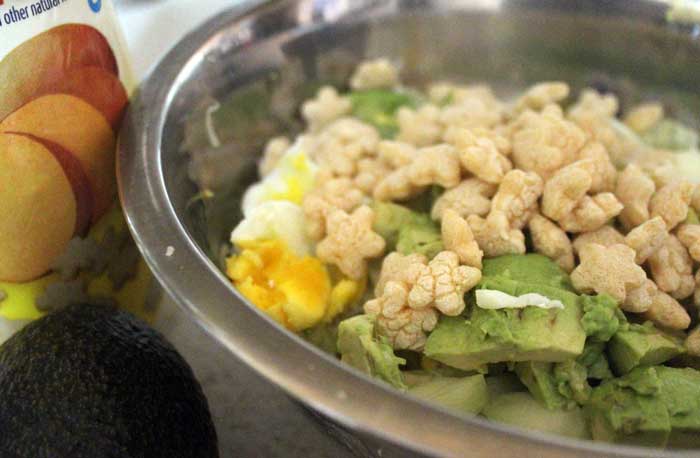 What is your toddler's favorite on-the-go snack? Have you tried out the Gerber Graduates Win Win promotion?
Disclaimer: This is a sponsored post; Moms & Crafters received compensation in exchange for promoting the product. This post contains an affiliate link.