I'm thrilled to share with you today a collaboration between me and M (age 6): a list of the best birthday gifts for a 6 year old boy! And of course, these make fantastic Christmas gifts too, which is why we're publishing them in November. You can check out our top picks for birthday gifts for 3 year old boys here. This post contains affiliate links. Many of the products in this post were received free of charge from the brand for coverage consideration. All thoughts and opinions are mine and M's.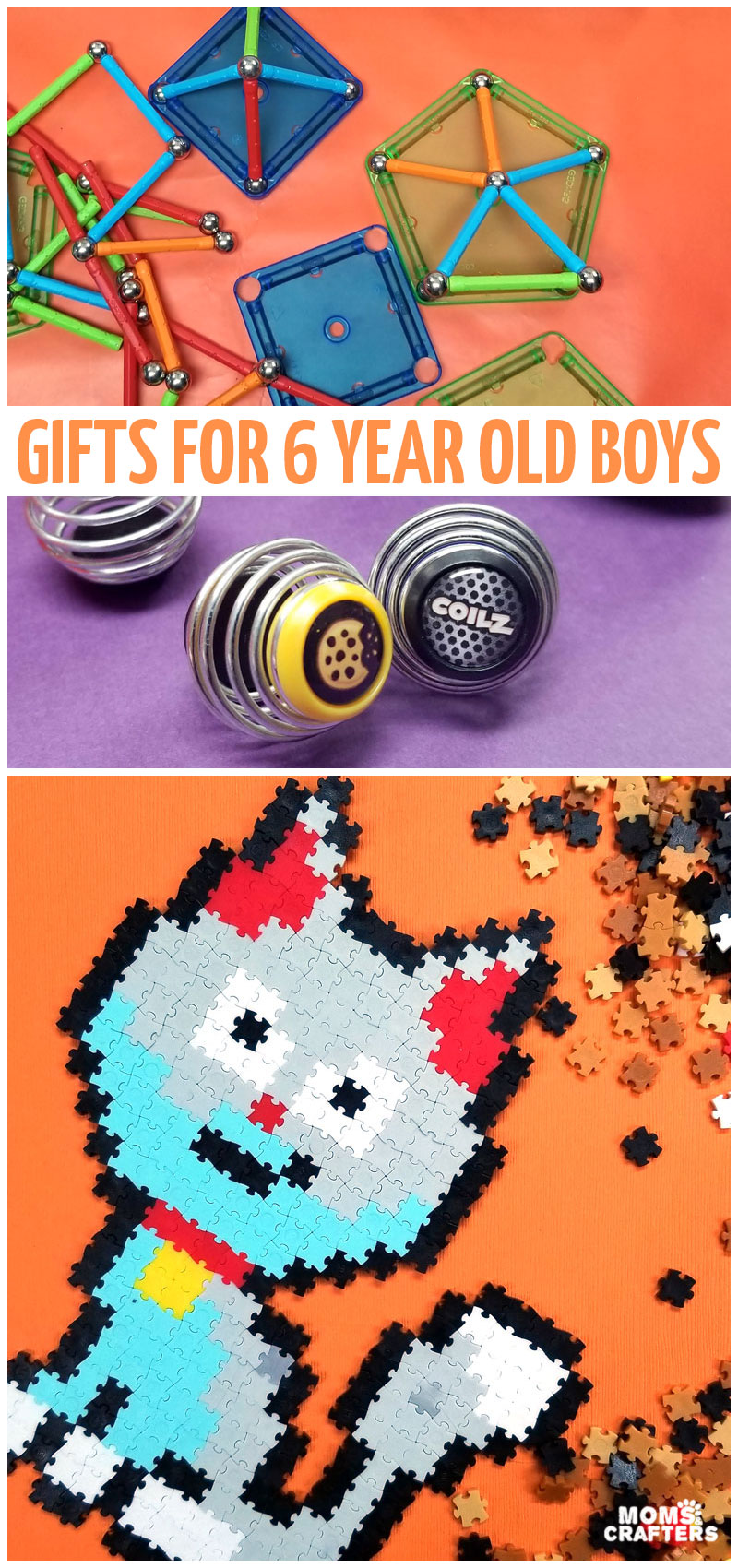 As I explained in my list of gifts for three year old boys, these are great for girls too! And the age range is very general – it'll depend more on your child's development. I titled this as gifts for 6 year old boys because:
Most people search for gifts by age and gender, so I target my post accordingly.
These were actually tested by a 6 year old boy, so that's what I can speak to.
Of course, girls and boys of a variety of ages will enjoy these (I mean I enjoyed a lot of them too, as did Y – age 3).
But the goal of this list is to help you find the best birthday gifts for a 6 year old boy. They make great Christmas gifts too – but I avoided sharing things that are specifically Christmas so these work for any time of the year!
Some of the gifts in this list, as you'll see, are for ages 7 or 8+. The reason for this is that I usually recommend buying ahead rather than behind once safety concerns are out of the picture. You simply get more use out of your toys that way.
I also find that brands often err on the side of caution when suggesting ages, and the guidelines work with very generalized rules that don't account for a child's individuality (because they can't possibly).
Meaning, they work with research and statistics so that if some 6 year olds can do it, but all 7 year olds should be able to, they'll mark it as 7+ so that you don't buy it for your 6 year old and find that it's too advanced.
I'm okay with sharing you what my 6 year old loved, but it's important to know what interests the child you're buying for, and what his skill set is.
M is very technical and less artsy. So anything artsy will be in the 5+ range for him, but things that are STEM-minded will be a little ahead.
So here are my best birthday gifts for a 6 year old boy, sorted by an odd assortment of categories so that you can skim a little if you want to.
Best gifts for the 6 year old boy who loves to create:
Creating doesn't always mean crafting, as I've learned with M, the non-crafty creative. He loves to tinker, wants to build and make things that work, but will also enjoy a sensory crafting experience with a hard-to-mess-up end result.
1. My Robotic Pet Tumbling Hegehog by Thames & Kosmos:
This epic STEM kit includes everything you need to create a toy hedgehog, complete with sound sensors!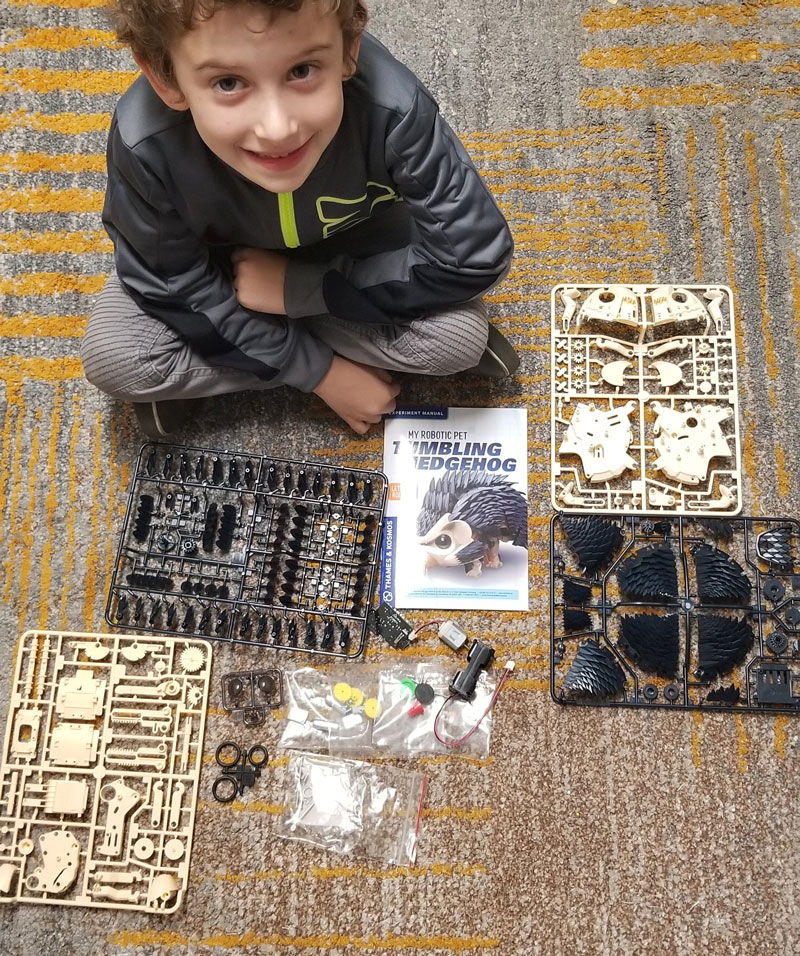 And yes, it's a true STEM project, not just a toy that needs to be assembled. Expect to get involved, and spend time on it. You are building this hedgehog bit by bit, starting with the transmission. The parts come clearly labeled in plastic frames (do NOT remove the parts before you're ready for it). It's challenging, and invigorating.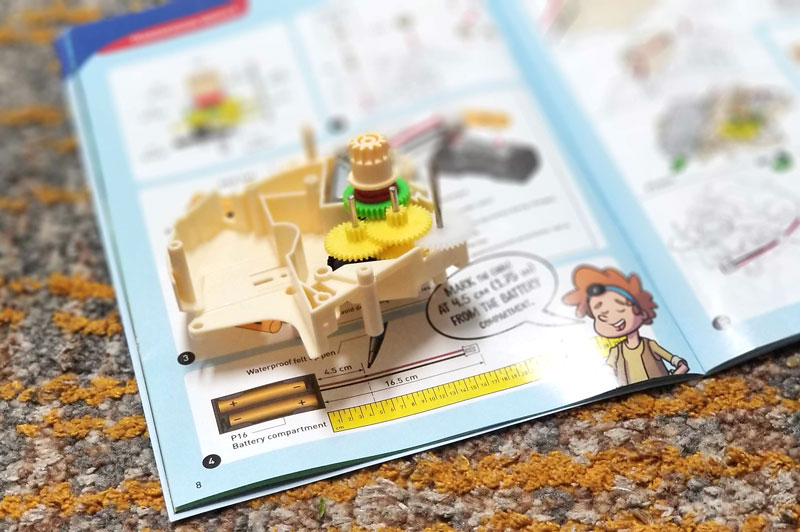 The recommended age on the Tumbling Hedgehog is 7 with help, and 10 without. M can definitely do it with my help, and I am enjoying it every bit as much as him. We've been working on it together as a homework incentive. This gift is perfect for kids who are very technical and love to build things from scratch and understand how they work. It takes lots more than 1-2 hours to assemble as the kit states, but for us that's a perk – we get more hours of fun out of it!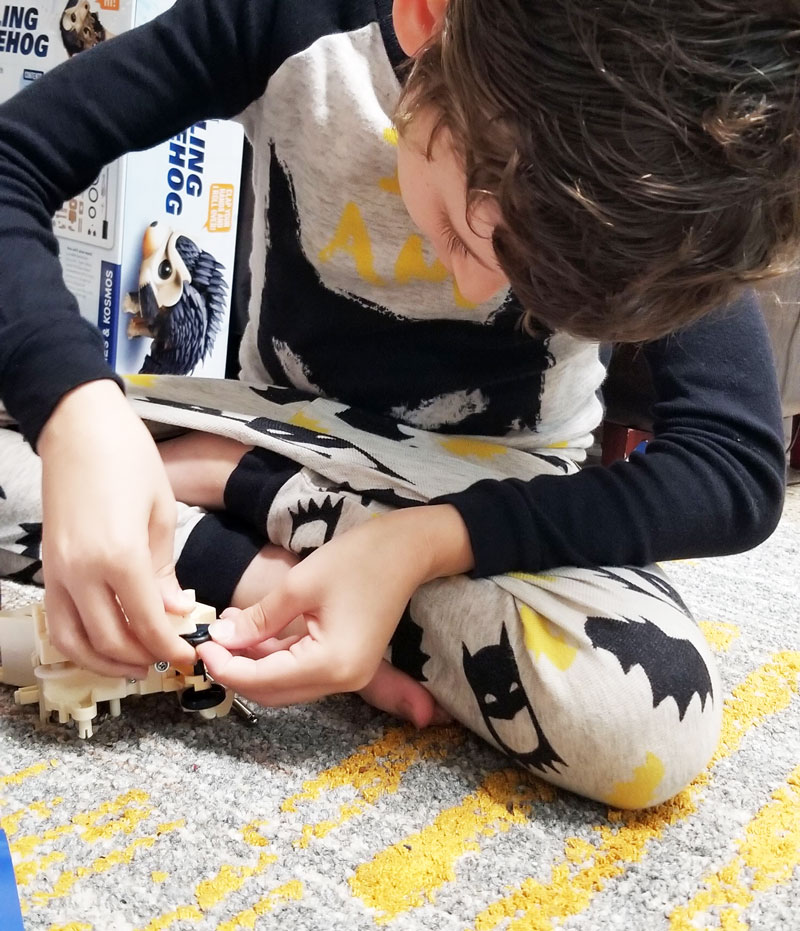 Once finished, the hedgehog responds to your claps and other sounds. It rolls over, its eyes light up, it bristles its spines and it's a lot of fun to play with!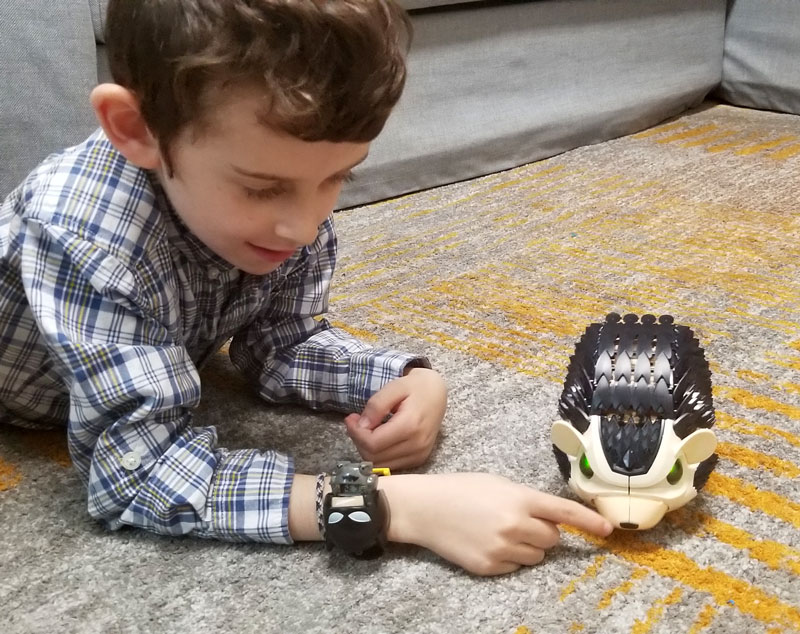 Get the Tumbling Hedgehog at Amazon | Walmart! | Thames & Kosmos
M started woodworking at school this year and he loves it! A six year old can start using certain tools with supervision, so why not start making something that works? Why not build their own wooden toys and gadgets to play with afterwards.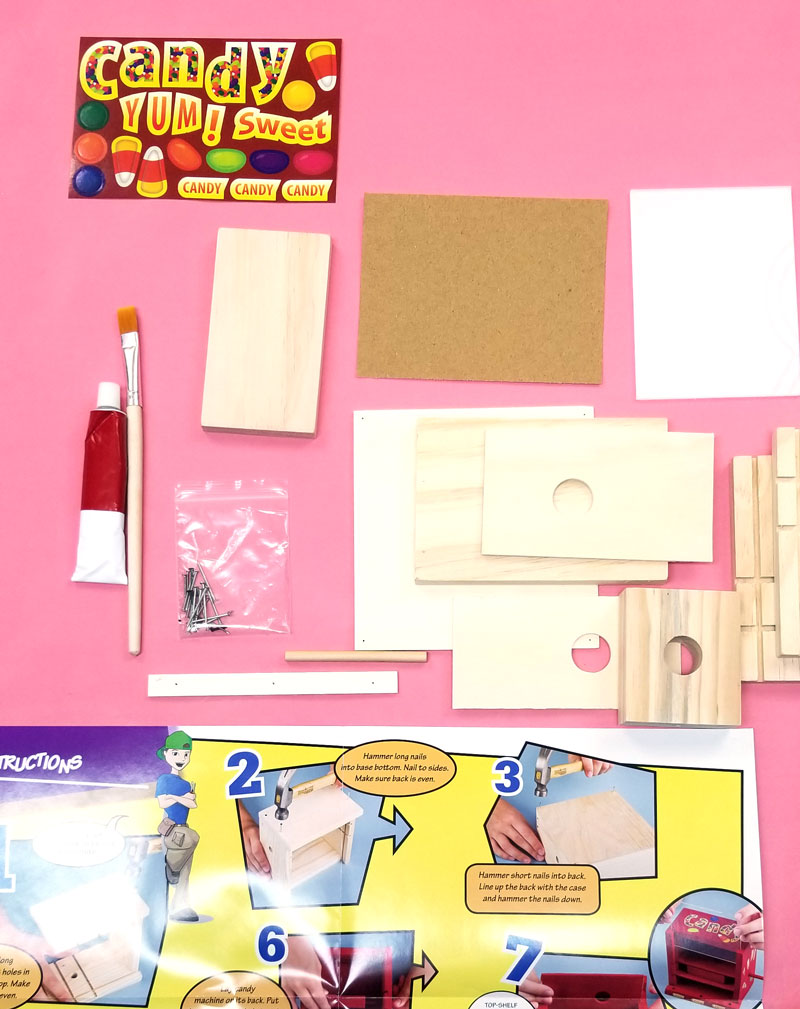 Annie's Young Woodworker's Kit Club is a monthly woodworking subscription perfect for this age group. The first kit comes with a hammer. Each one comes with the materials your child needs to make something functional, down to the paint!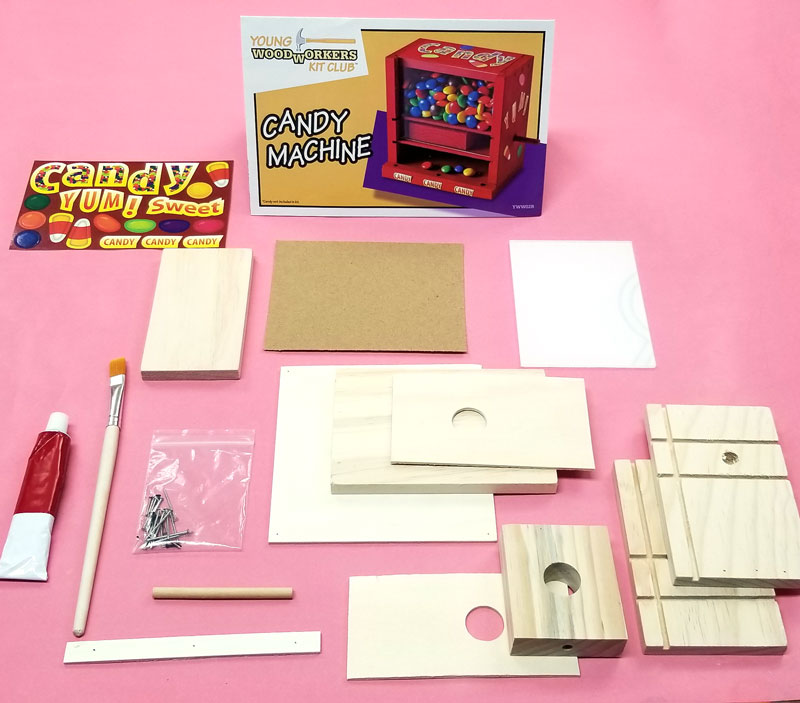 This candy machine is adorable and M can't wait to build. It's a gift that keeps giving and a great wait to jumpstart that love for DIY.
As a Moms & Crafters reader, you can get 50% off your first kit when you use code CRAFTER50 at checkout. This code never expires.
Sign up for Annie's Young Woodworker's Kit Club here!
We fell in love with Plus Plus during our summer travels, taking their small tubes with us wherever we went, to keep the kids busy. Their Super Tube is next-level epic at an affordable price!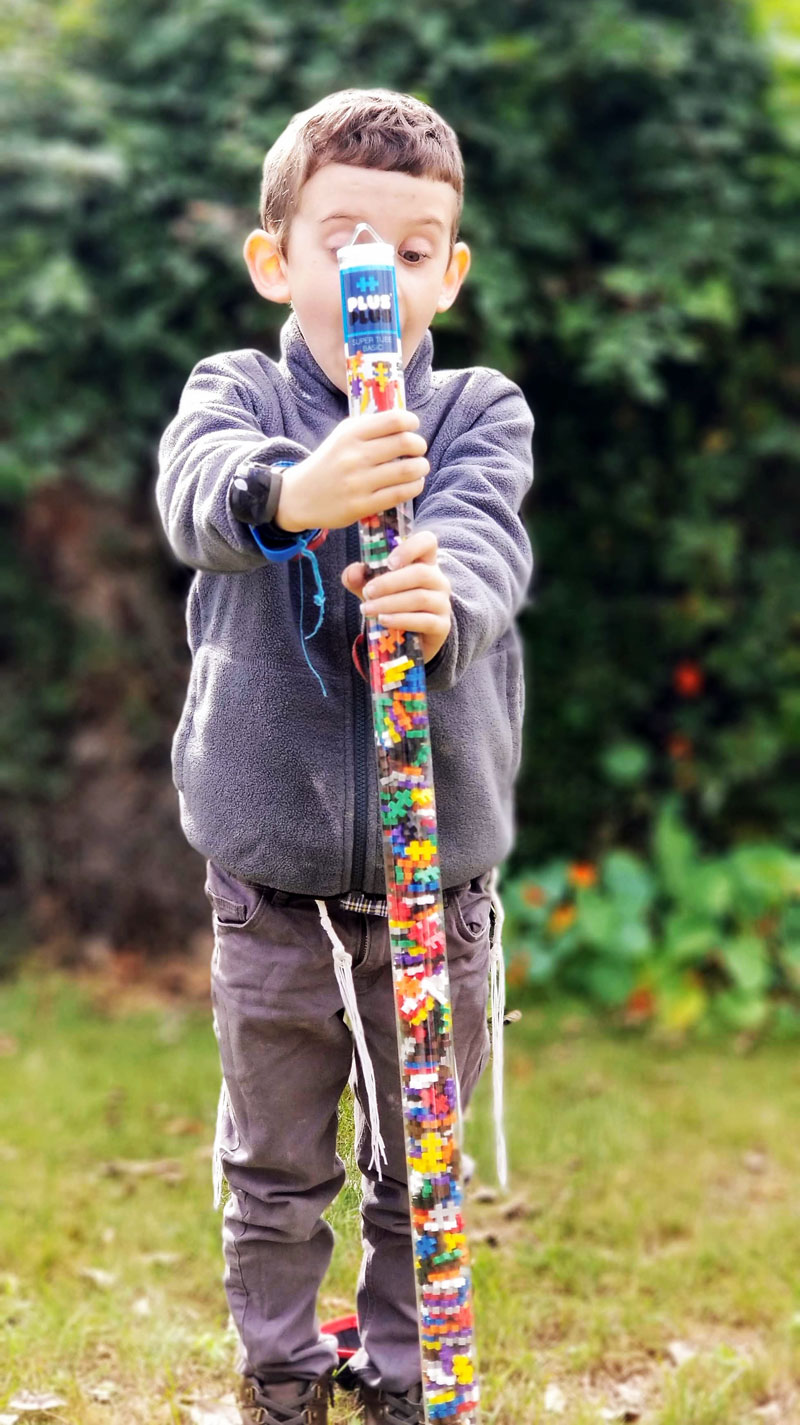 I mean, it's almost as tall as M is!
This fun building toy is shaped like two joined + signs, and can intersect in a number of ways. It's small and compact, with endless possibilities – a new classic!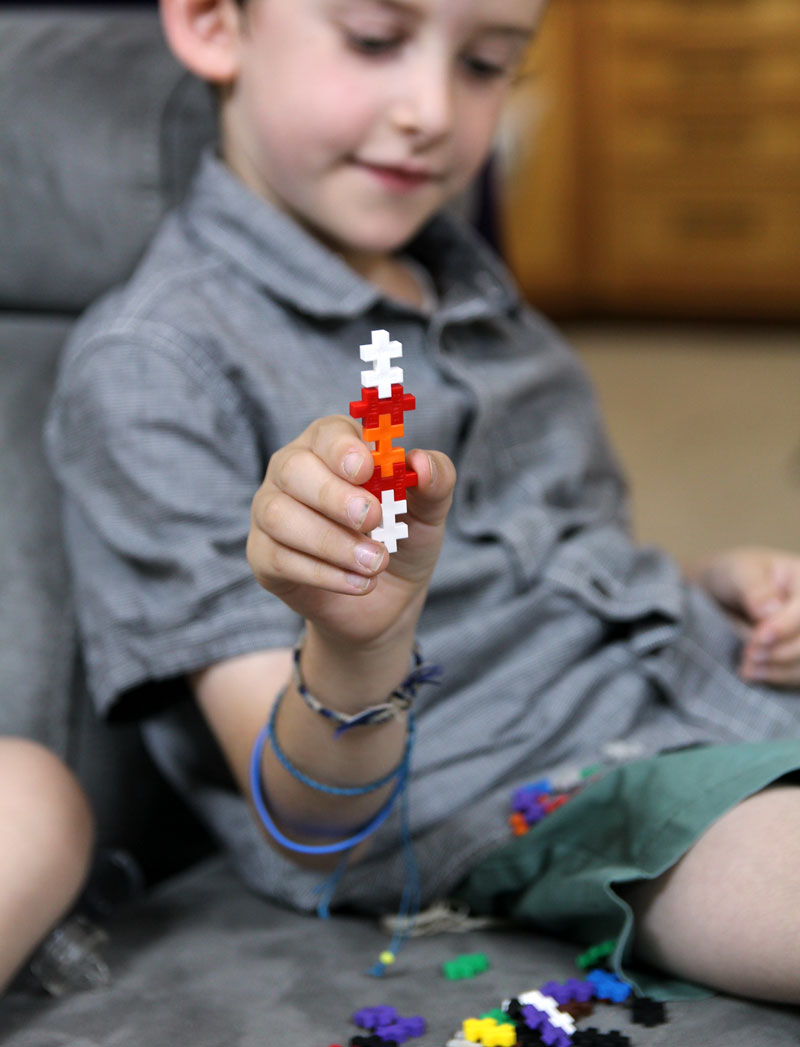 The super tube comes with 500 pieces and can be easily stored in the tube.
Get the Plus Plus Super Tube at Amazon | Plus Plus | Macy's
This fun new tactile craft is a favorite for both my boys. I shared these in my list of craft making kits for kids too because we love them so much!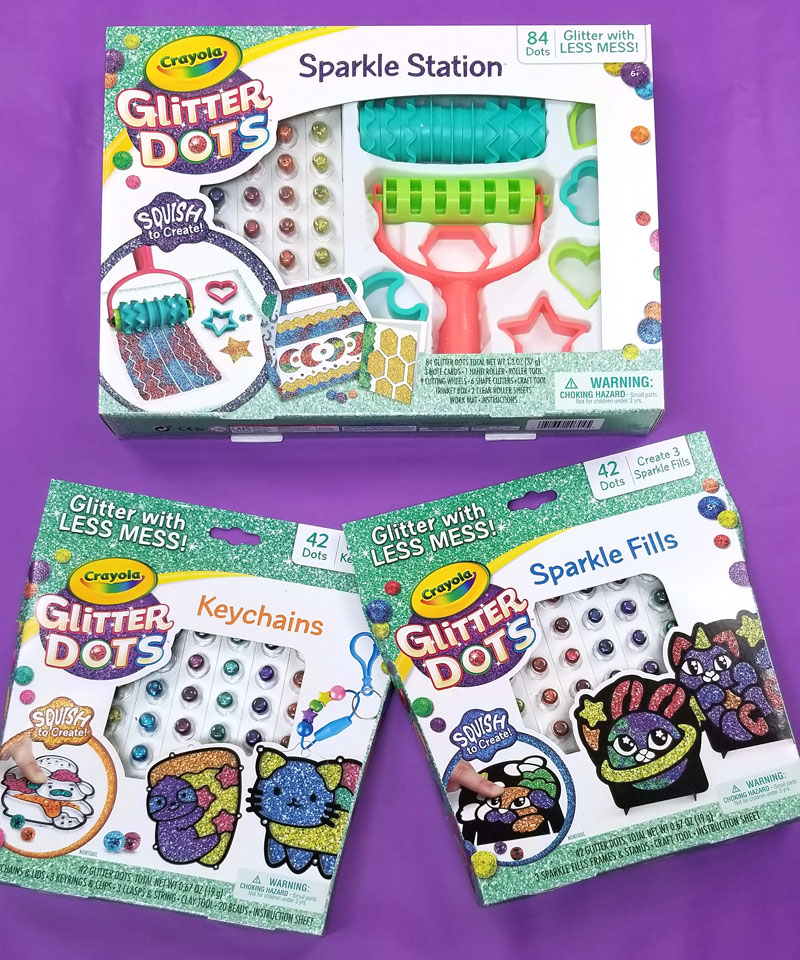 Glitter dots are basically mushy dots with glitter in them that can be used in different types of crafts. Think glitter without the mess! So far, my boys had fun making the keychain set and with a touch of glue, they're holding out marvelously on their backpacks!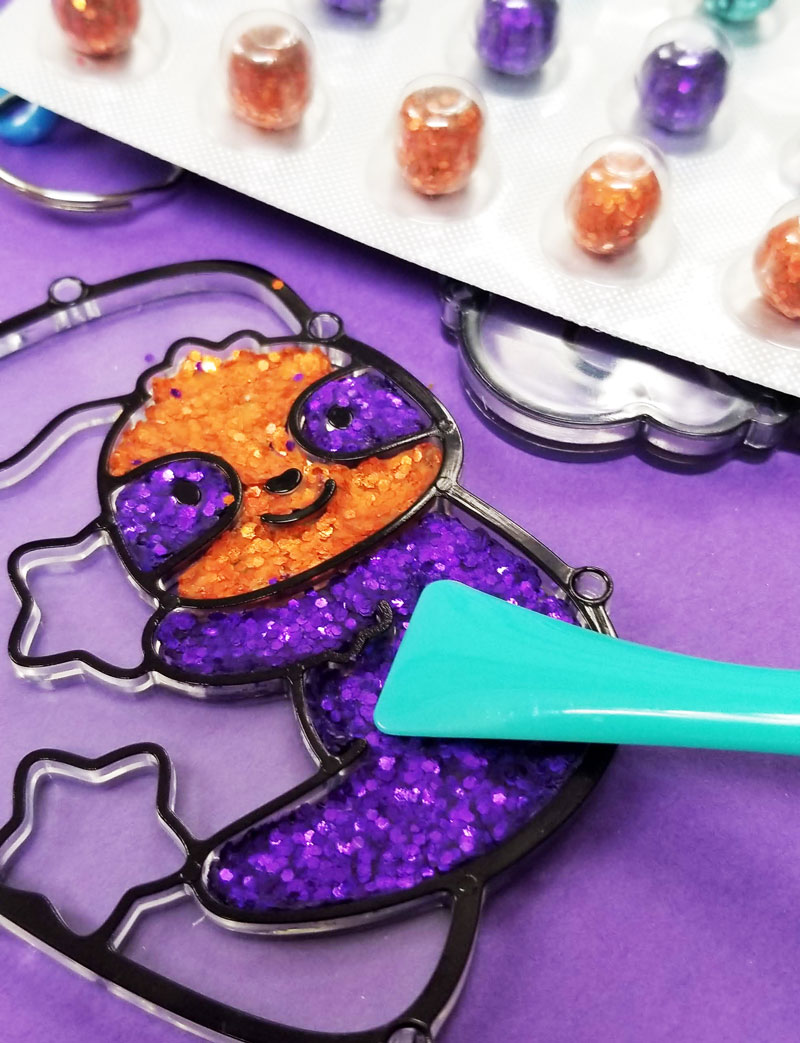 Whichever price range you're looking at, Glitter Dots has it. You can pick up the smaller kits – like the keychains or Sparkle fills. Even the refill packs are great standalone gifts to use in any craft! Or, go big with the Sparkle Station that includes a texture roller and other cool tools to get their creativity going. And if you want to go really big, or gift a few siblings together, you can bundle a few kits together.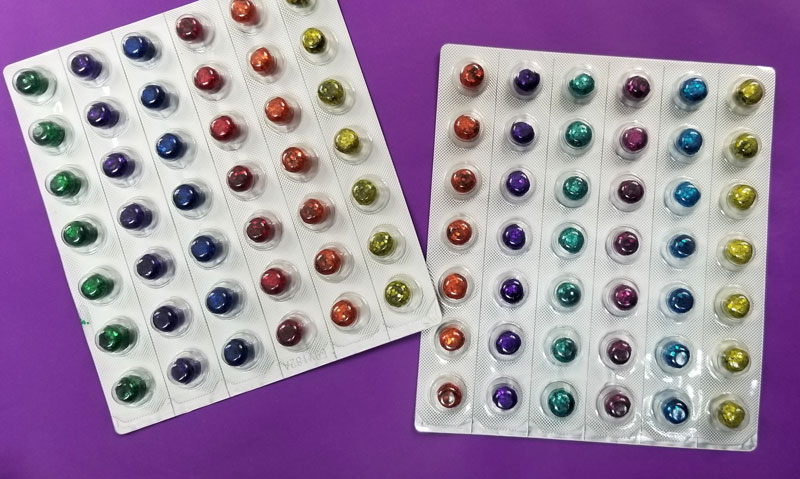 Get Glitter Dots at Crayola | Amazon | Walmart
Jixelz are small, colored plastic jigsaw puzzle shaped pieces that combine to create different pixelated images. Each super affordable kit comes with enough pieces to make two separate creations using different pieces (meaning you can build them both without taking one apart!)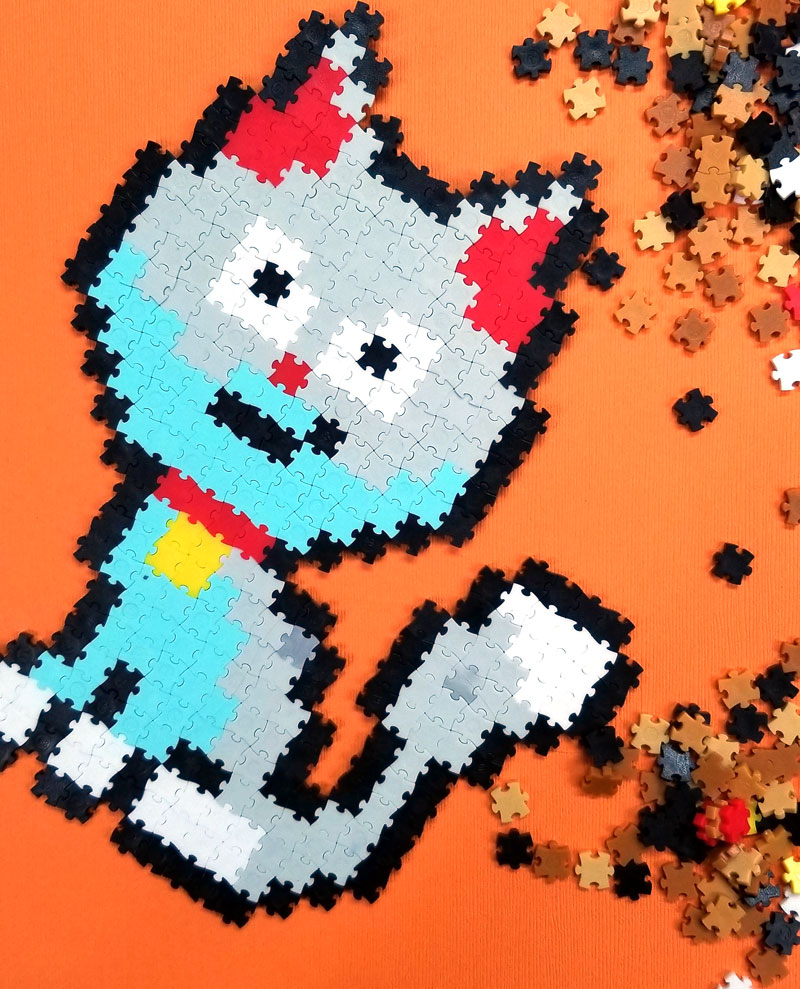 And when you're done, you can either keep it as-is (think iron-fuse beads without the fusing) or you can take it apart and make something new! M, the non-crafty-creative, really enjoyed assembling this and could do it without my help. But of course, I couldn't resist joining in on the fun.
Get Jixelz on Amazon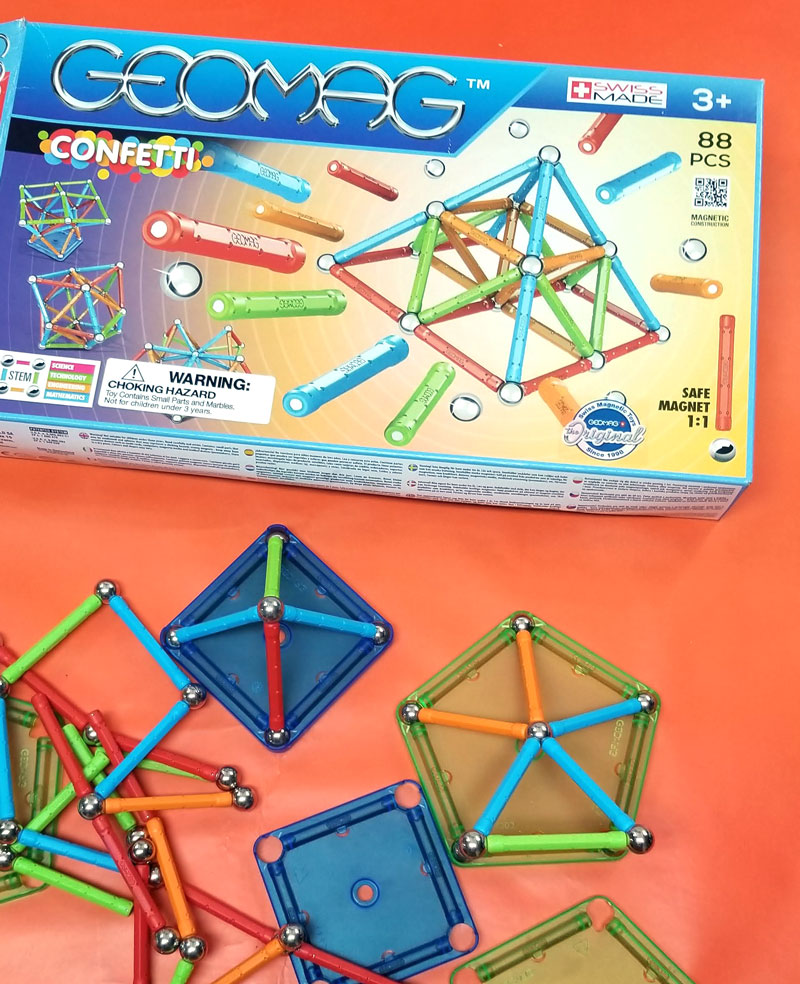 If you missed my science coloring page, you may have missed my introduction to a super cool building toy! While we are enjoying their gravity machines, for a 6 year old who wants to build on his own, I highly recommend their classic line!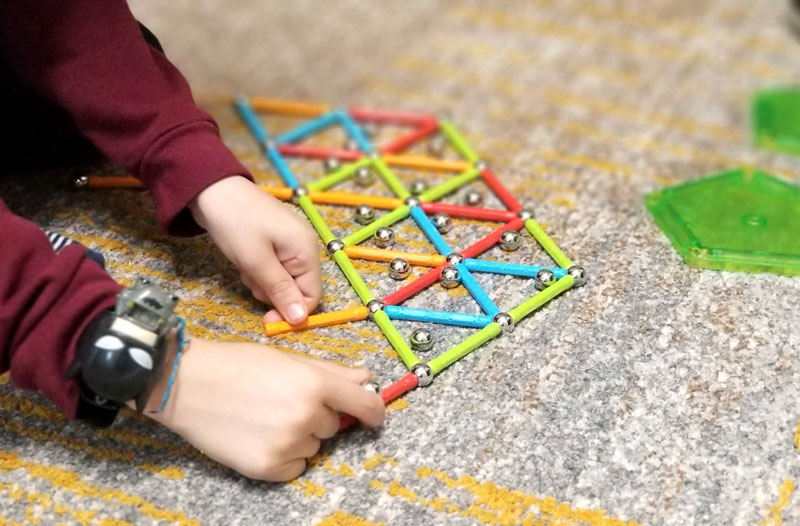 It's got metal marbles and magnet-edged sticks that attach them, along with the bases that go with them. It's a classic STEM toy that's both a great accessory to the Gravity line, and its own fantastic building toy as well. Both M and Y enjoy playing with this together, building geometric creations, and mastering new engineering skills.
Get Geomag at Amazon | Michaels | Walmart
7. 3Doodler Start Robo Sumo Set:
Want to get something truly epic? For years, I had the 3Doodler 3D drawing pen on my wish list. When I met the people behind the brand at a recent event, I was thrilled to see that they have a kid version too!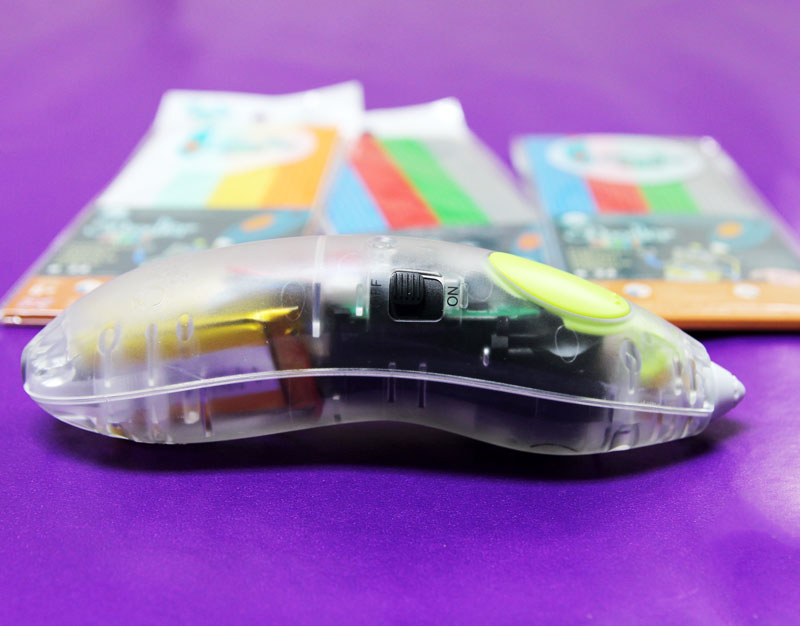 The 3Doodler Start is a different product entirely – not just a kid-marketed version. It is much more kid-friendly in how it works. First of all, it's not hot – just warm – and won't burn even those not-so-agile fingertips. Second, it's moldable when it comes out (it uses a different type of filament) and so your child can create things using molds as well.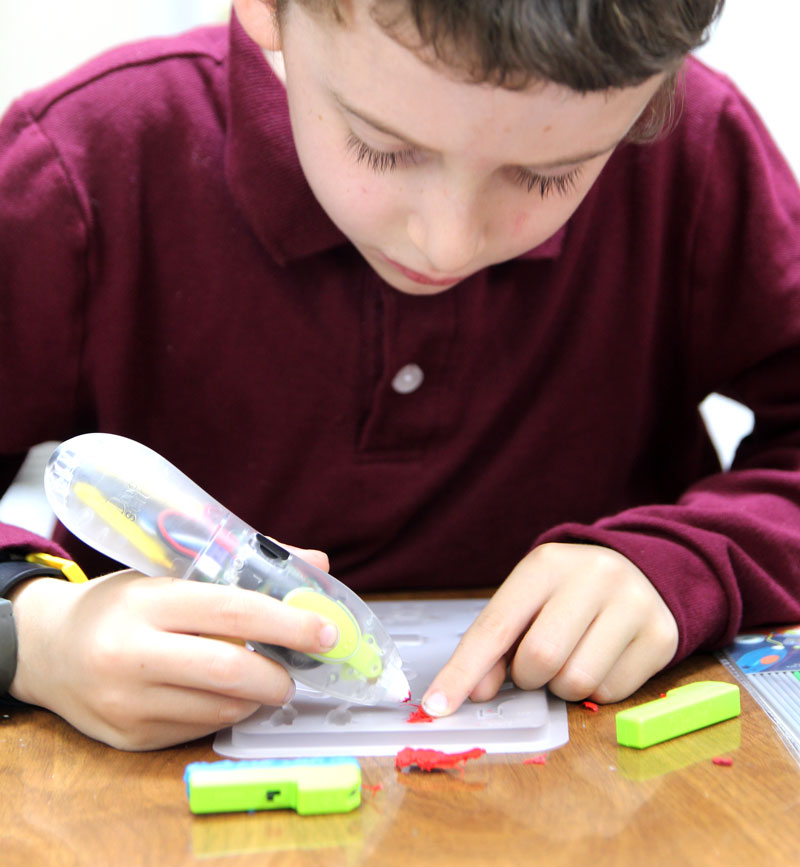 It can also be used to draw in 3D – as in, in the air – just like the grown up version, teaching kids physics, engineering, and more. Together, it is a fantastic STEAM gift for creative kids, and is highly engaging.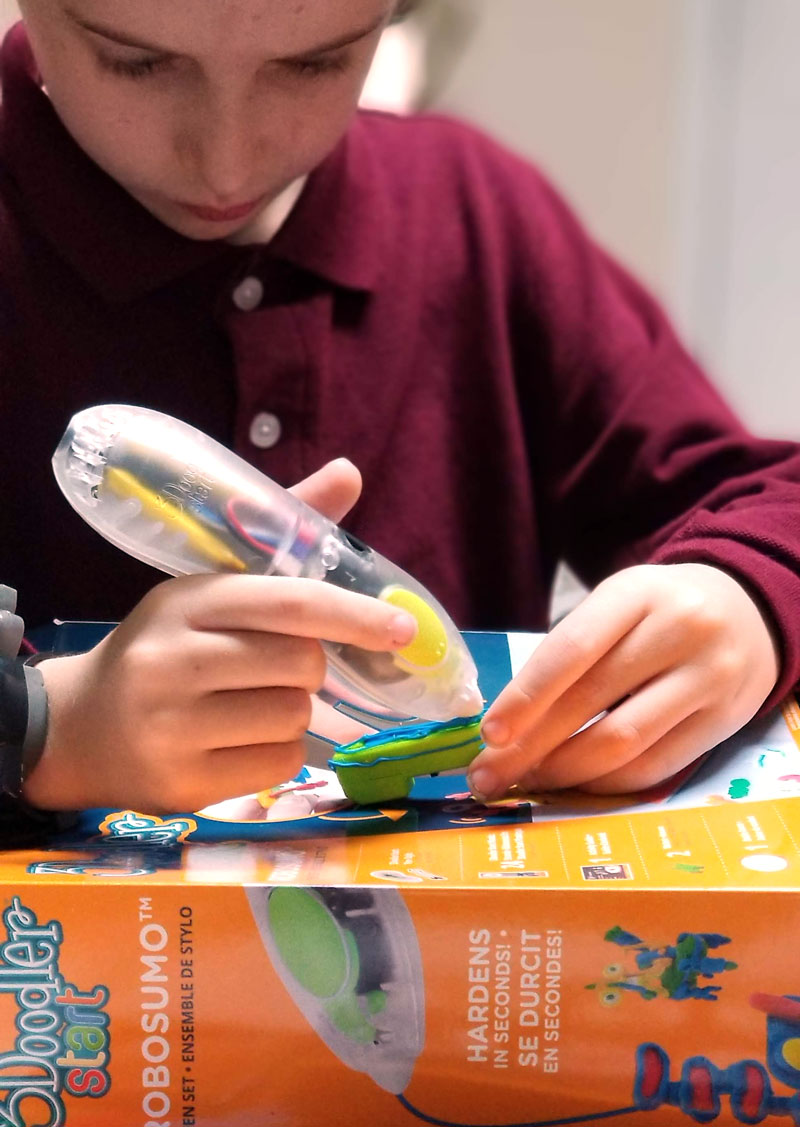 The Robo Sumo set is a more practical application that includes a pen and activities. Use the molds and motors to create vibrating wrestling bots.
Get 3Doodler Robo Sumo on Amazon | 3Doodler
Birthday Gifts for the 6 Year Old Boy who has everything:
Got a boy who has everything, every toy out there? I'm going to share a little secret: he doesn't! First of all, look for something NEW to gift him. The toys here are new for 2019. Another tip: look for items that they can use more of: consumables, collectibles, and of course, a little bit of GRAND AND EPIC can't hurt.
As you can see below, this comes in every price range.
8. Rise of the Teenage Mutant Ninja Turtles Babble Heads:
Gift your TMNT fan this adorable new toy that's full of giggles! These interactive figures come with an accessory and recognize whether or not they're holding it. They laugh and babble, high five, and tell jokes. The mouth actually moves when he talks, and it's got movement all over – the hands, the head, they eyes…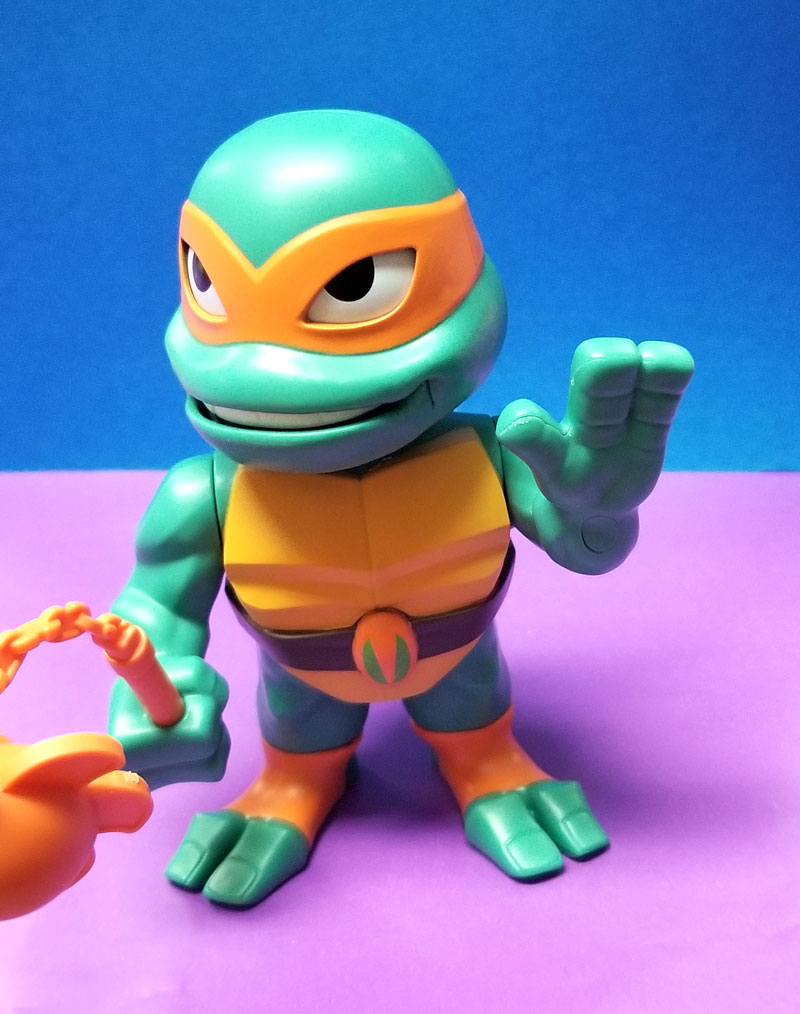 They are interactive and have sensors in various parts. High five it and see what happens! Try tapping the chest. Kids love when their toys interact and this one's got the silly factor going for it too!
Get Babble Heads on Amazon | Ebay
9. Coilz by Relevant Play:
It's a brilliant, simple concept in a highly entertaining game! Coilz are small coiled balls that can bounce, be flicked, and be used in different types of game play. You can get this tactile toy in different starter kits, including the Coilz Cup – a mix of goals and distant markers to complement Coilz sensory play.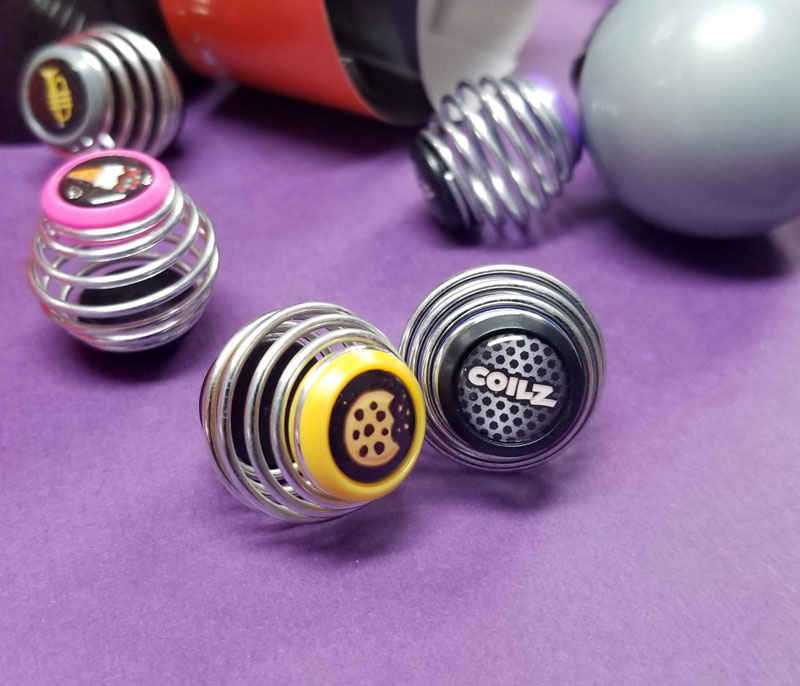 Their are 50 different Coilz to collect so kids can have fun trading with their friends, and blind bags in different sizes can serve as reward chart prizes, supplementary gifts, and earning goals. It's simply brilliant!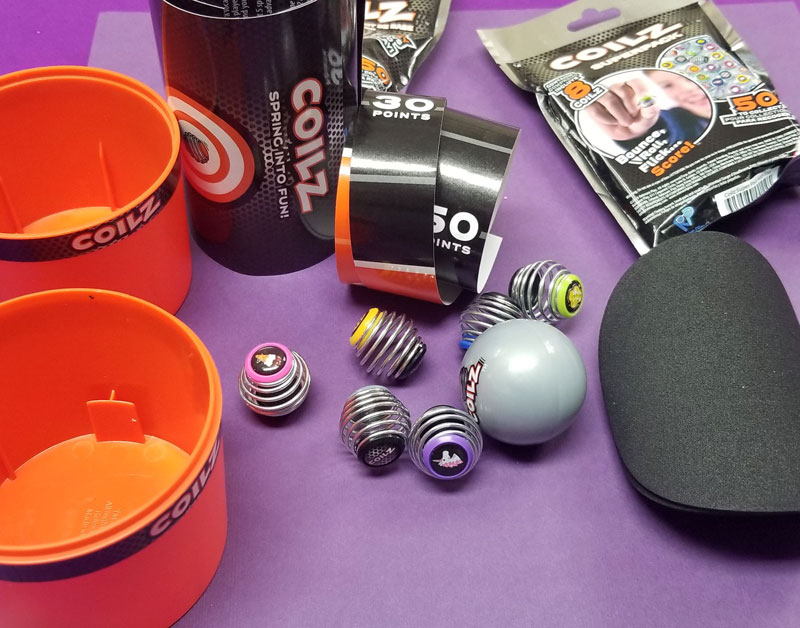 Get Coilz on Amazon
10. Playfoam Pluffle by Educational Insights:
I confess: I'm that anti-slime mom. That's not to say that we don't do it at all (hey, it makes a fantastic science experiment) but I do whatever I can to avoid it these days.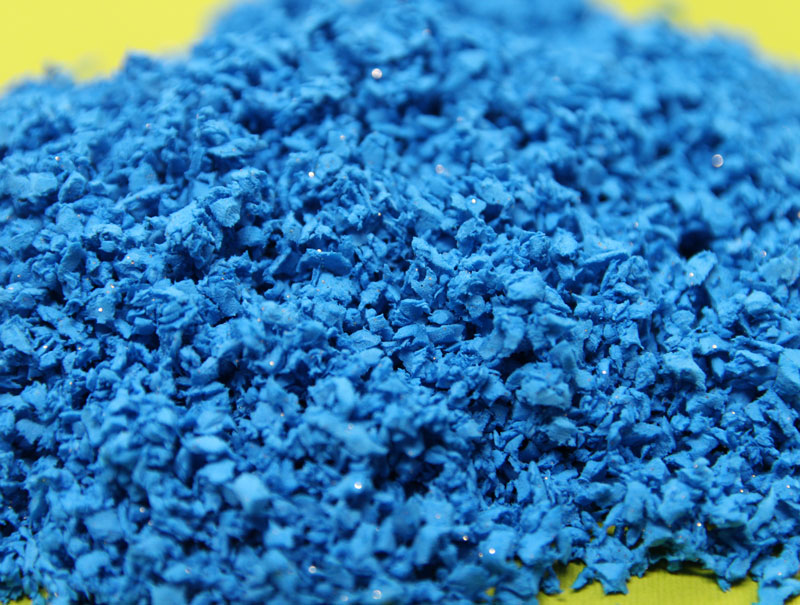 Pluffle is the perfect sensory, tactile fix for M. It doesn't actually stick and cleanup is as easy as turning on the vacuum cleaner. And it's such fun to play with. Flip over the tube it comes in and watch it slowly fall, or just play with it in an open bowl or container.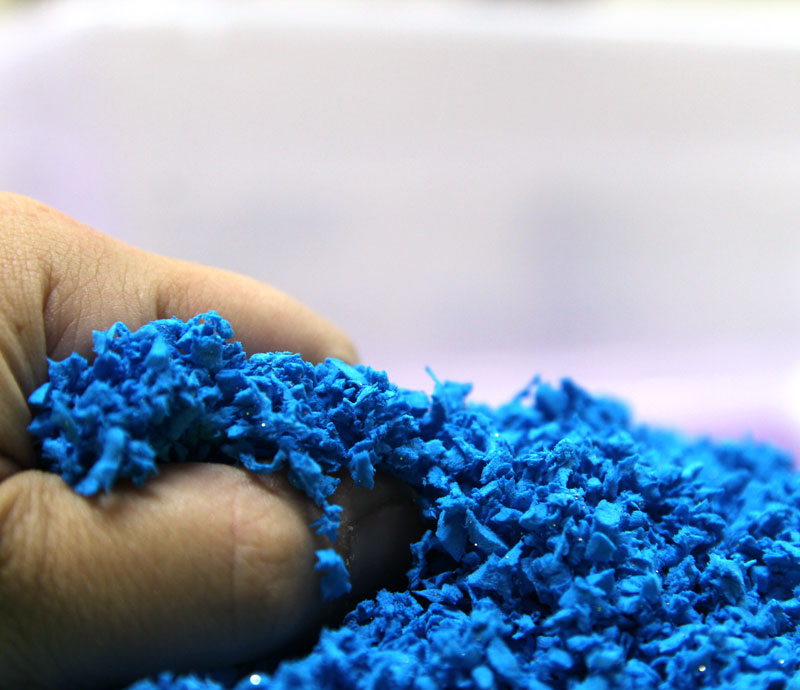 It's a cross between Playfoam and a fluffy cloud dough – it's not moldable, but it's smushable – and it never dries out. It's mesmerizing!
Get Pluffle at Amazon | Educational Insights | Walmart
11. Novie by Spinmaster: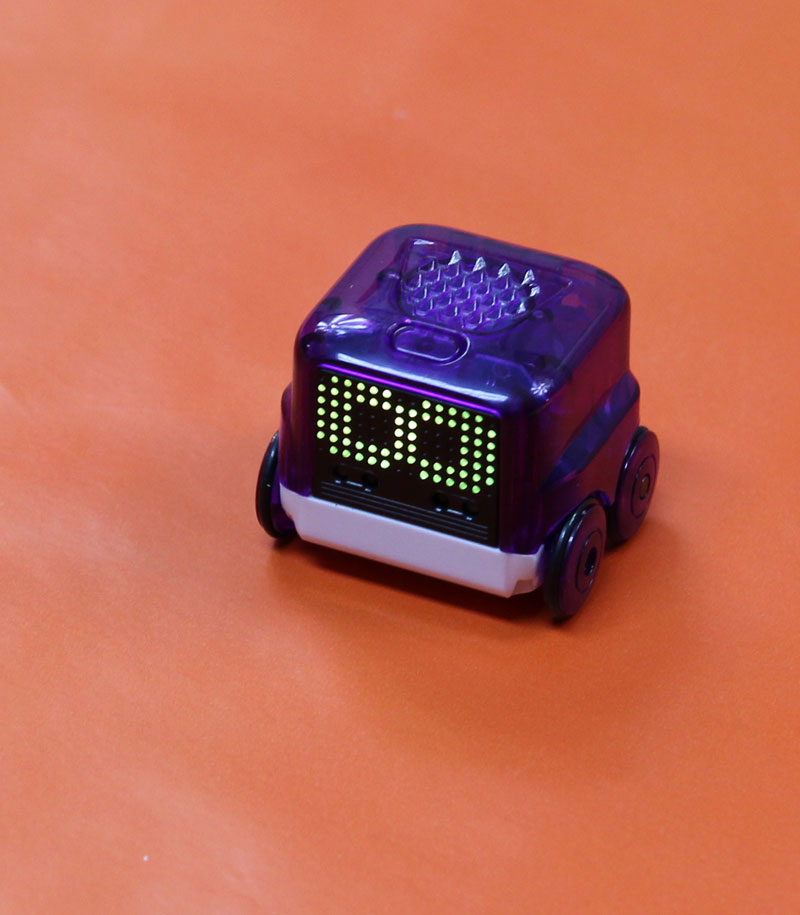 Novie is going to keep your 6 year old on his toes. This adorable, tiny, trainable robot learns new tricks, zips around on its wheels, spins in all sorts of directions, pops a wheelie, and even do those two together! The more you play, the more you learn. And it's so fast, it keeps M moving!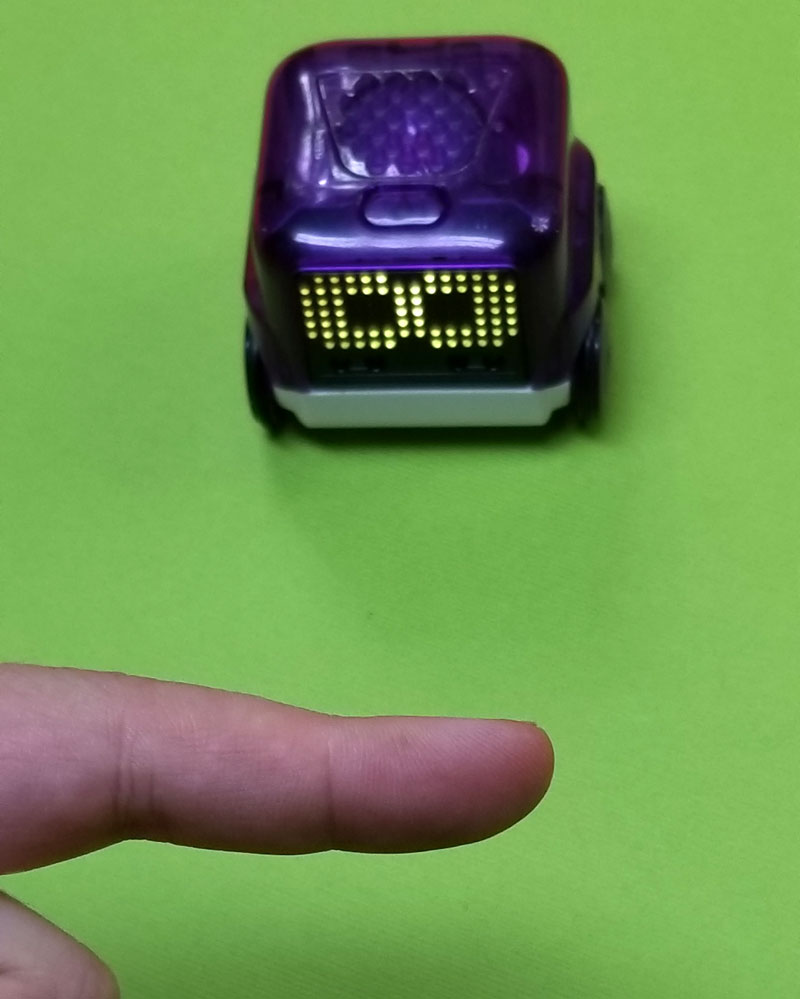 It's small enough to fit in M's pocket, and if you've got more than one, they interact, making it a great sibling gift! The LED eyes change colors according to which mode you're in, it responds to hand gestures, makes funny robot noises, and provides hours of entertainment, batteries included.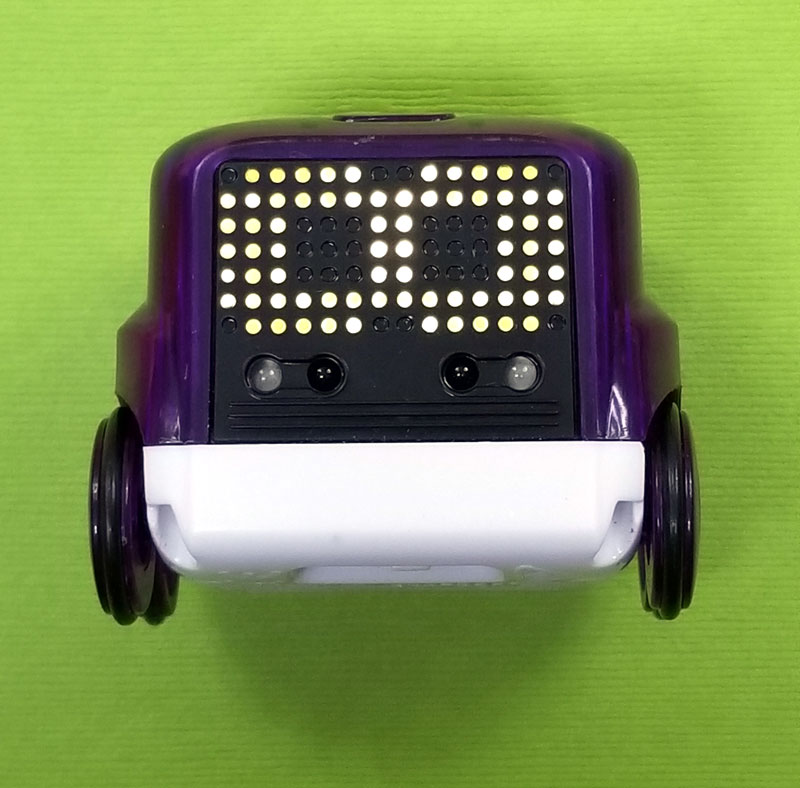 12. Monster Jam Mega Grave Digger All Terrain Remote Control:
The Monster Jam Mega Grave Digger by Spinmaster is THE toy of the season. It's an epic-sized remote control 1:6 scale model of the real deal.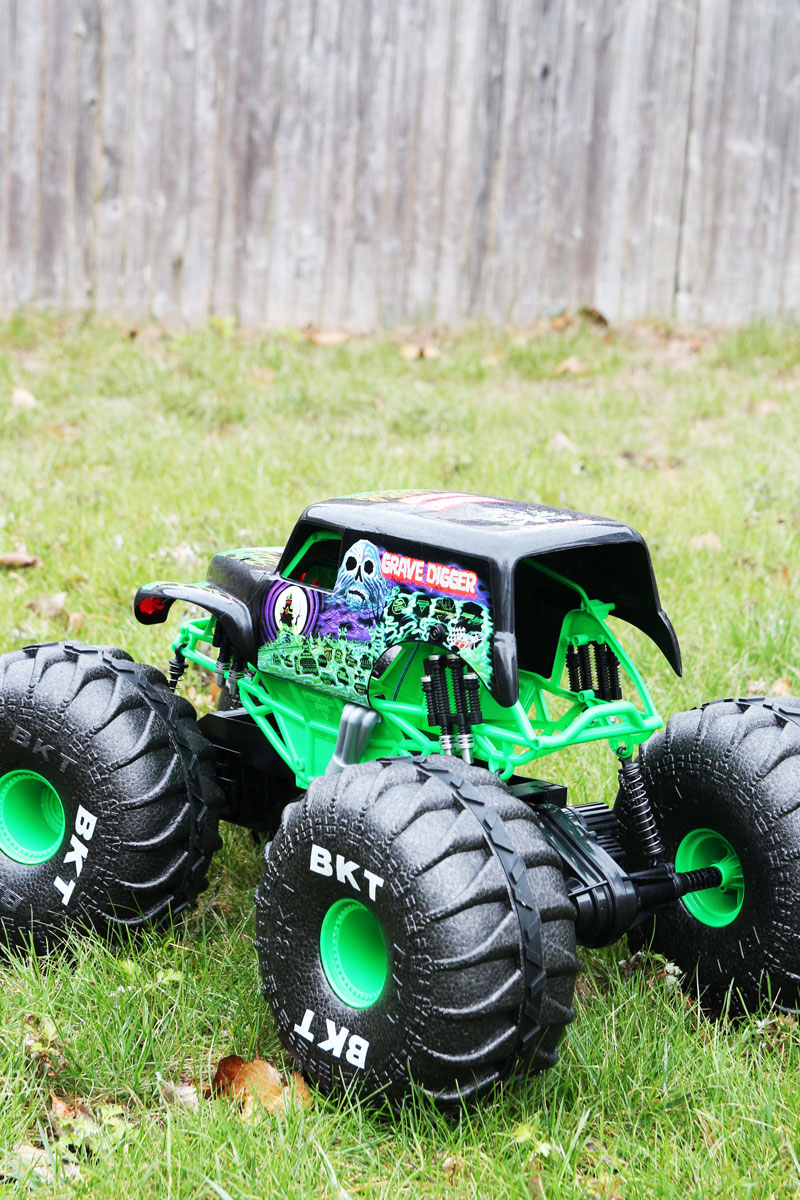 And oh, my goodness, it's a monster.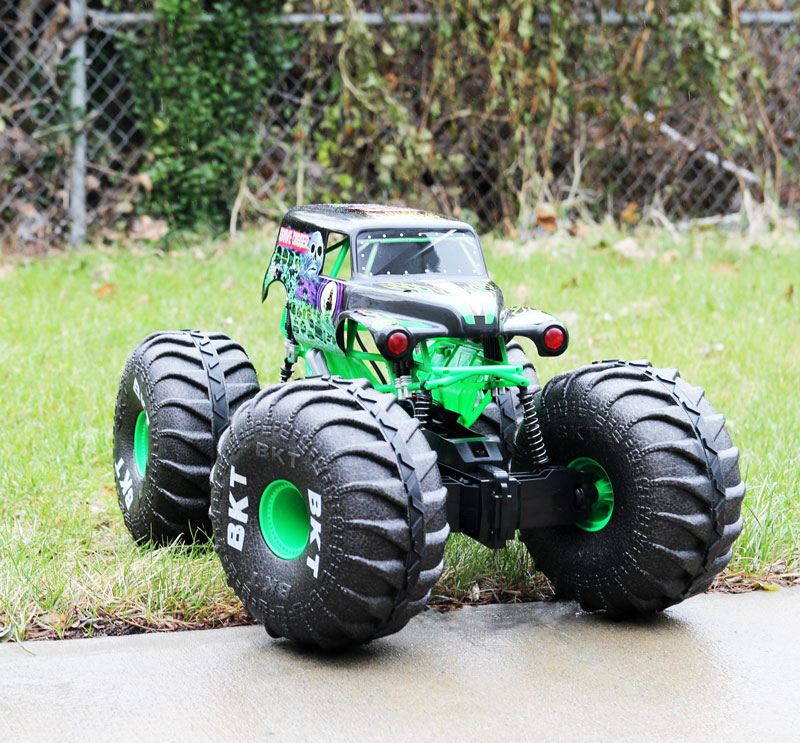 It's ginormous, surprisingly lightweight, the main car can be charged via USB, and comes with a dual joystick remote – without an antenna for the kids to break. It goes over all different obstacles – challenge your kids to create outdoor courses using recyclables, humans, and whatever else they want! It's got real details, like working lights, huge shocks and suspension, and more.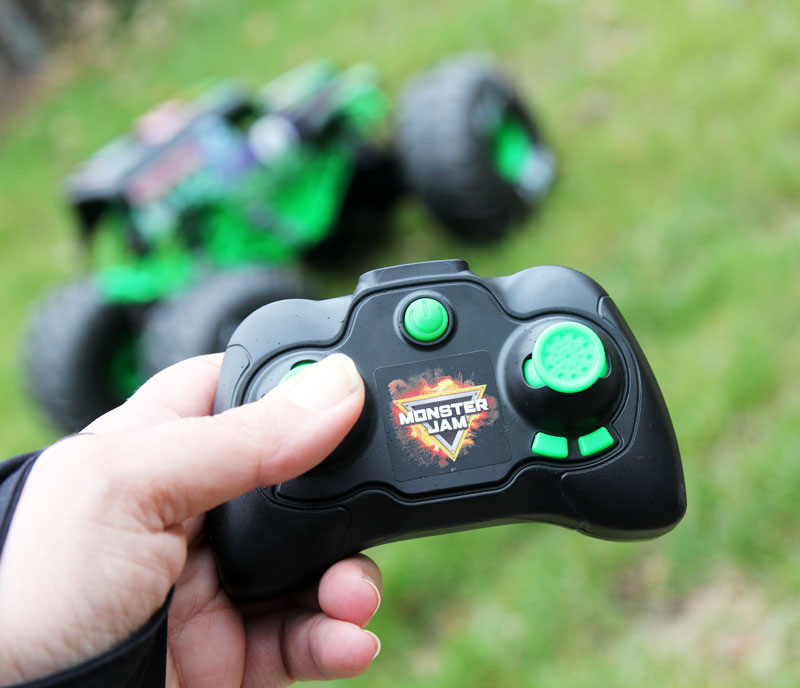 I love it as a tool to get the kids outdoors again, but it's great for any kid who loves remote control cars and monster trucks.
Get the Mega Grave Digger on Amazon | Walmart | Target
13. Ben 10 Alien Game Omnitrix:
Got a Ben10 fan?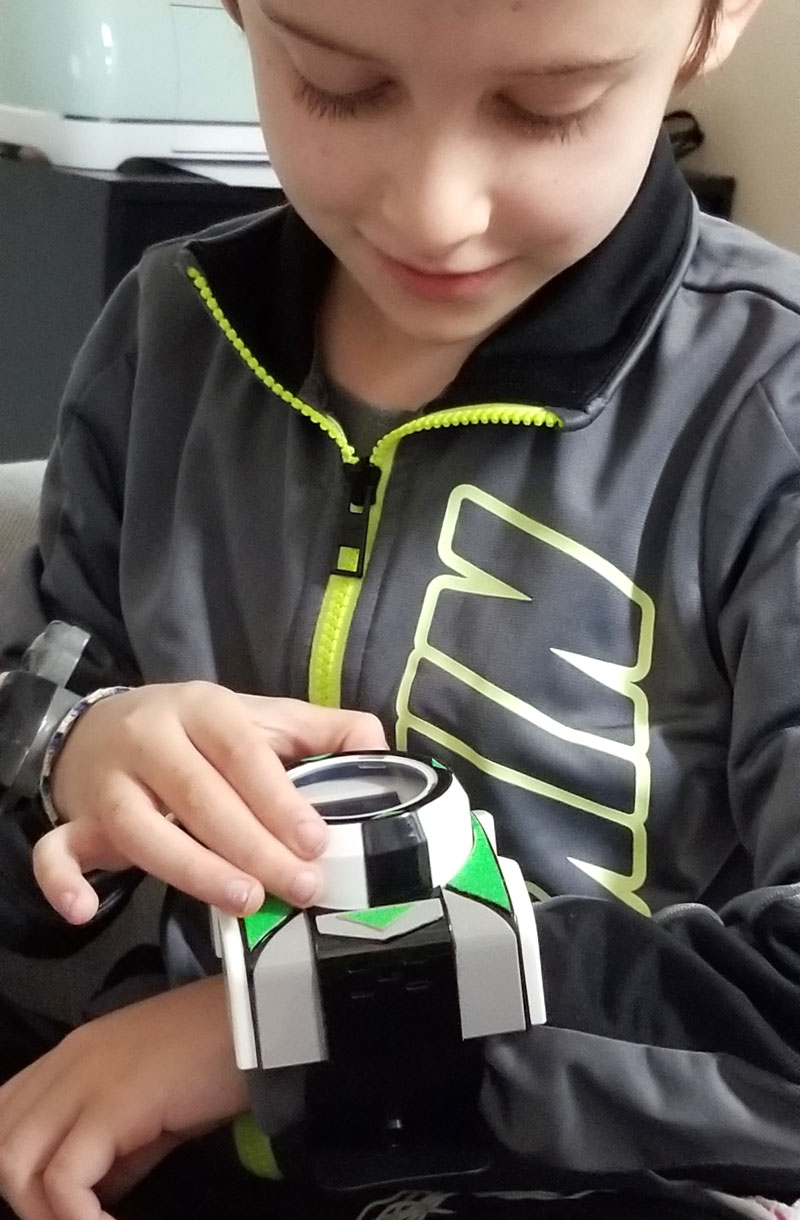 He'll LOVE wearing this Omnitrix – and playing the four different themed games that come along with it. Transform into aliens, play the memory game, battle the bad guys, or see how quickly you can choose the right alien.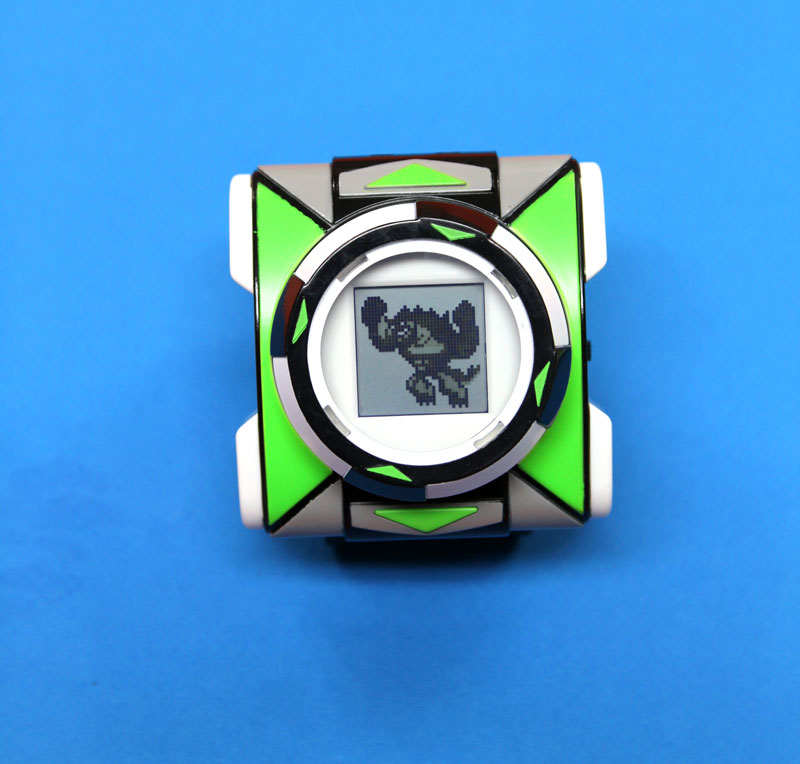 Turn the dial, press the face, and more in this easy-to-play, portable role play toy. M is excited to bring it along on our next road trip and loves playing with it and pretending it's a "real" Omnitrix!
Get the Ben10 Alien Game Omnitrix on Amazon | Walmart
14. Light Up Marble Racers by SD Toyz:
Race these light up pullback cars and see who wins! My boys have this thing with going into their bedroom, closing the light, and playing with light up toys in the dark. And hey, I don't mind those few minutes of silence.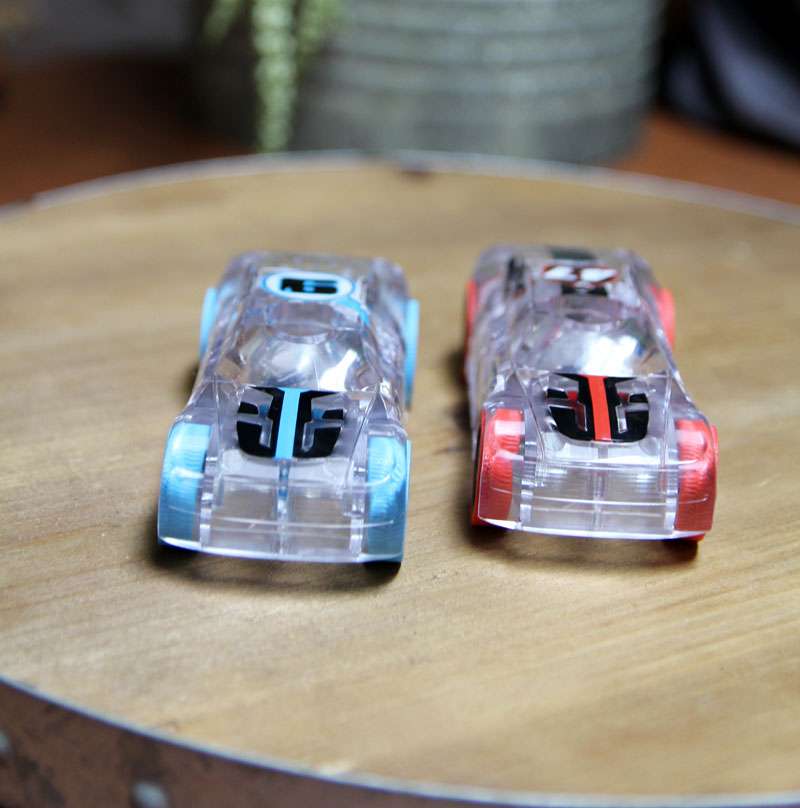 These marble racers come in different colors and can be gifted alone or in sets. They go really fast, and are large enough for kids to easily grip, pull back, and let go. And anything that lights up is a win in our book! And they're surprisingly affordable too.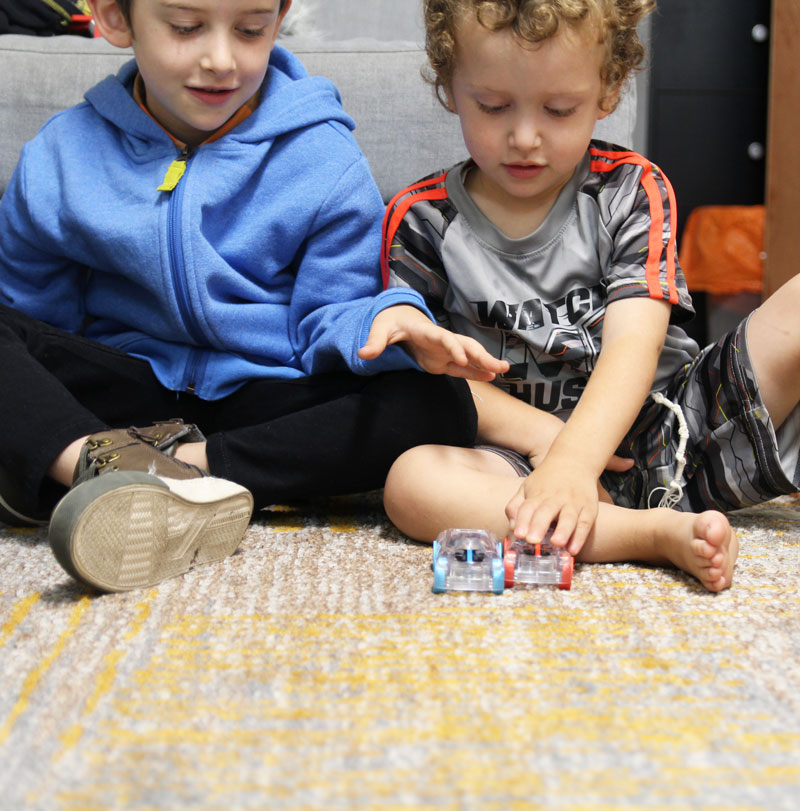 Get the marble racers on Amazon | SD Toyz | Walmart
Book Gifts and gifts that encourage Literacy for 6 year old boys:
Whether you have a bookworm or not, books can make the best birthday gifts for a 6 year old boy!
They are affordable, last for a long time and appeal to basically any interest once you leave the strictly reading category.
15. Bob Books and Versatiles by hand2mind:
At six, your child is likely ready to start getting more fluent with reading. If yours, like mine, needs a little extra reading time to get there, Bob books are perfect because he can read it on his own! He needs that kind of motivation, and more reading makes for better fluency.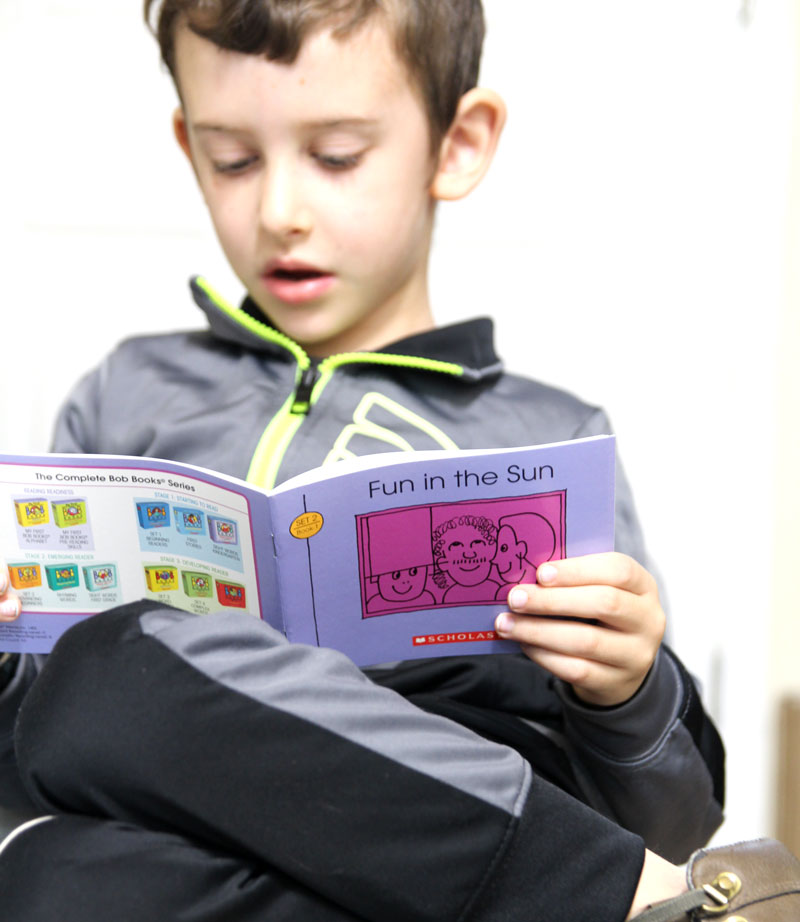 VersaTiles is a self-correcting workbook system that uses tiles and a clear-sided case in various literacy worksheets. But it doesn't feel like a worksheet. Kids feel like they're playing with a toy, and M had fun checking his answers by comparing the patterns on the back of the tiles. It took him about a minute to get the hang of how it works.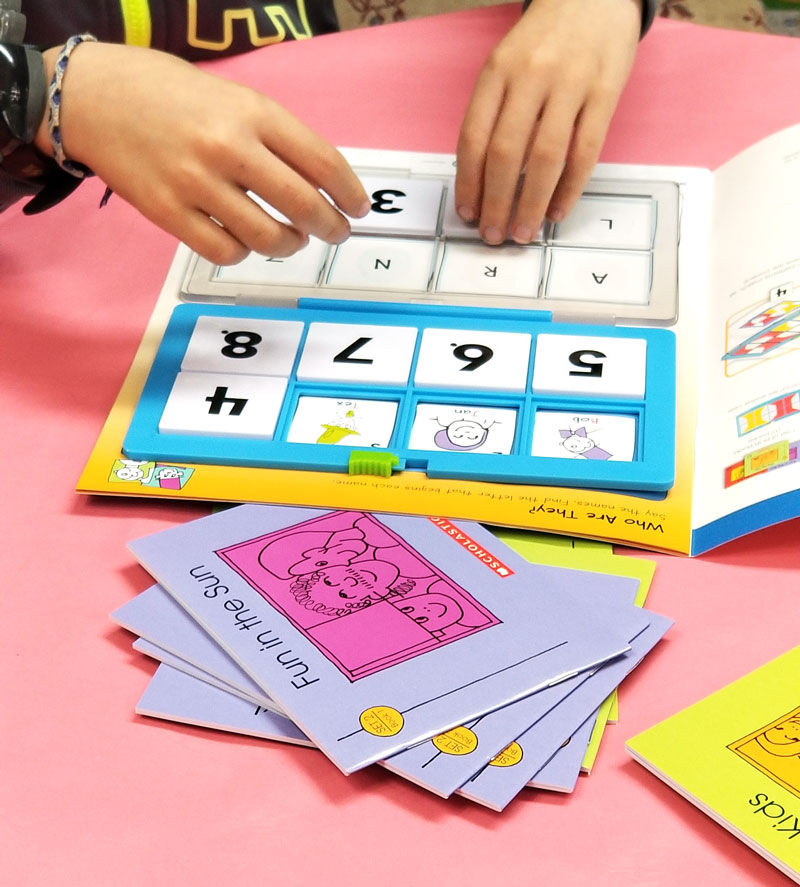 Combined in this gift set, they provide the perfect literacy tool. Think it might be too educational and boring? M spent his whole Sunday afternoon and Monday morning voluntarily playing with it because he thinks it's a toy! It's a wonderful, highly engaging tool to help support his learning in school.
The advancing beginners set is perfect for his beginning-of-first-grade level.
Get Bob Books + Versatiles on Amazon | Hand2Mind
16. National Geographic Books:
M can be entertained for hours with information type books. Yes, he is a nerd, and we are proud! National Geographic has two new books that are perfect for information junkies who love bold, pictures, fascinating facts, and a little wisdom in their youth.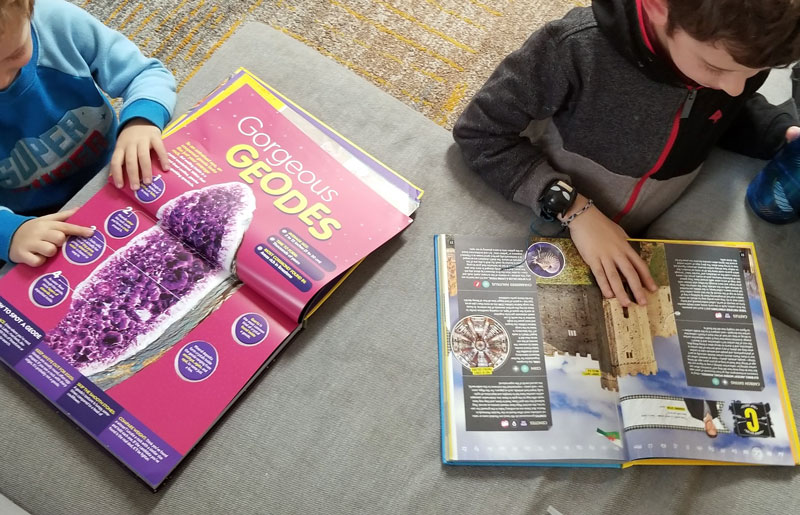 These are the perfect gift to last for many years – soon, they'll be able to read the facts and not just look at the pictures. And they'll love showing off everything they know!
Our top picks: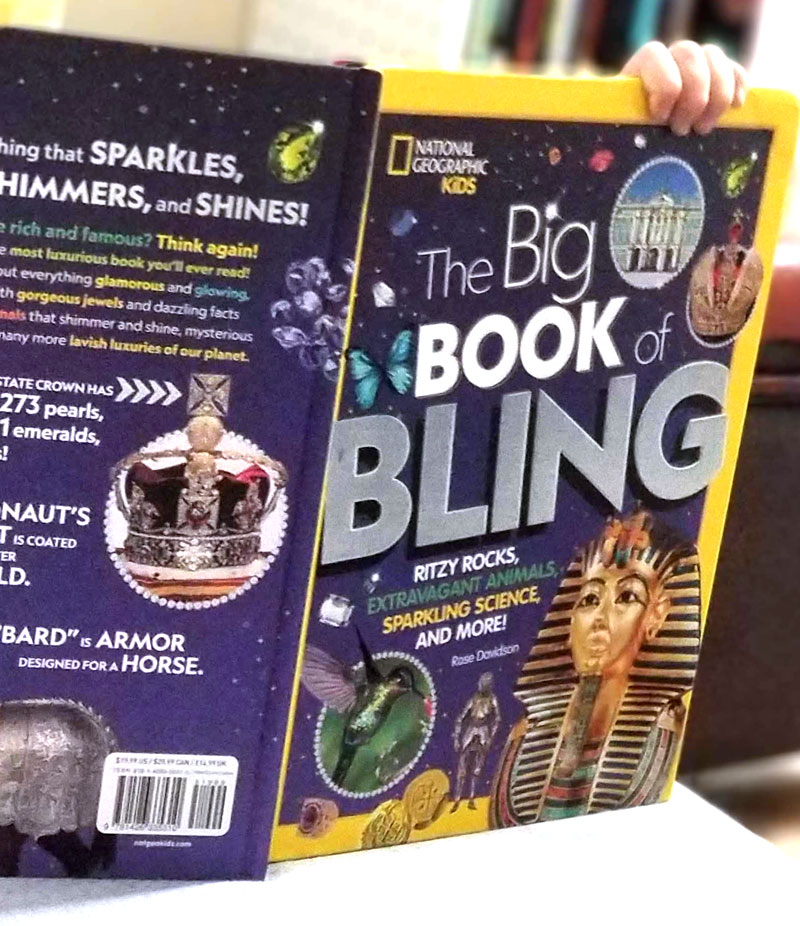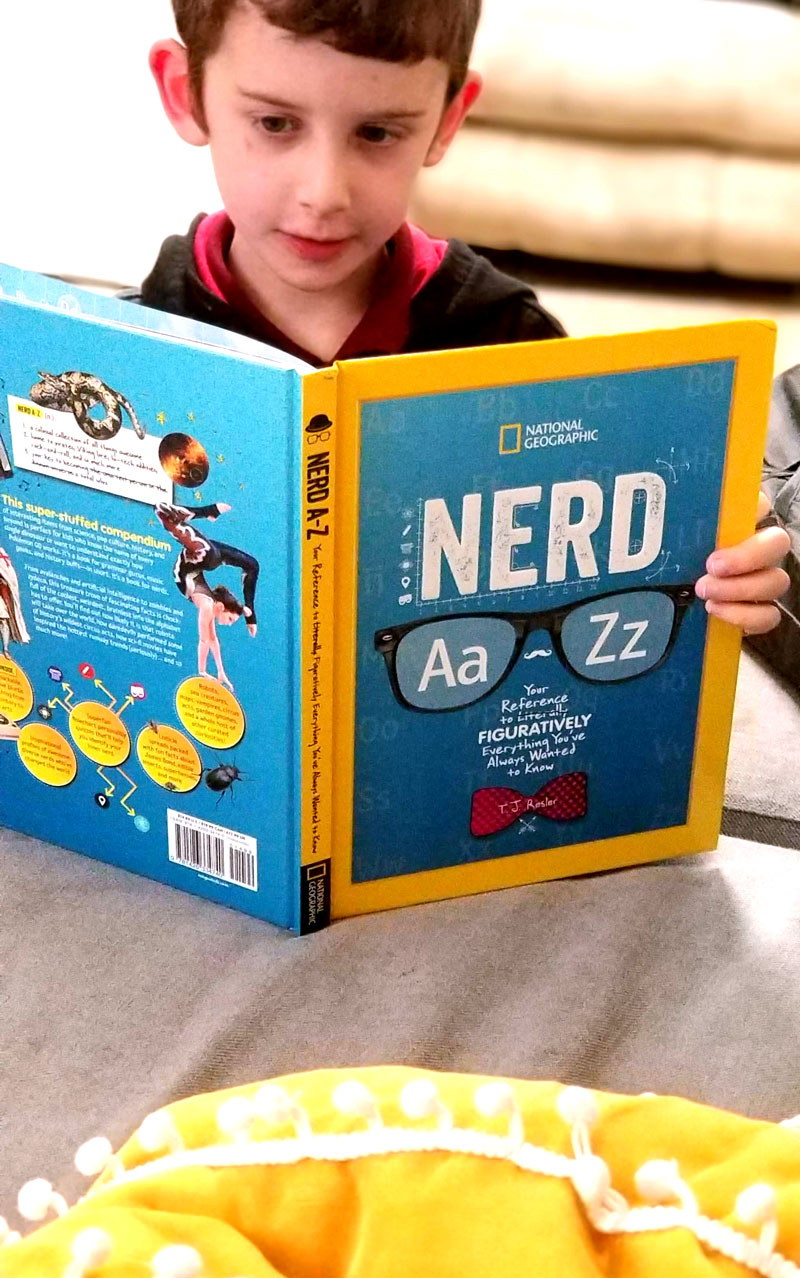 17. STEAM Books:
Quarto Kid's STEAM Club is NOT a book subscription – it's even better. It's a free email subscription with STEAM book and toy suggestions – but mostly books. So if you love the subscription concept of having book ideas chosen for you, but don't want to commit to purchasing them, or prefer to have the last word in what you get, you can sign up for free here!
Here are some of our favorites for 6 year old boys that were suggested on these lists – find all past suggestions here: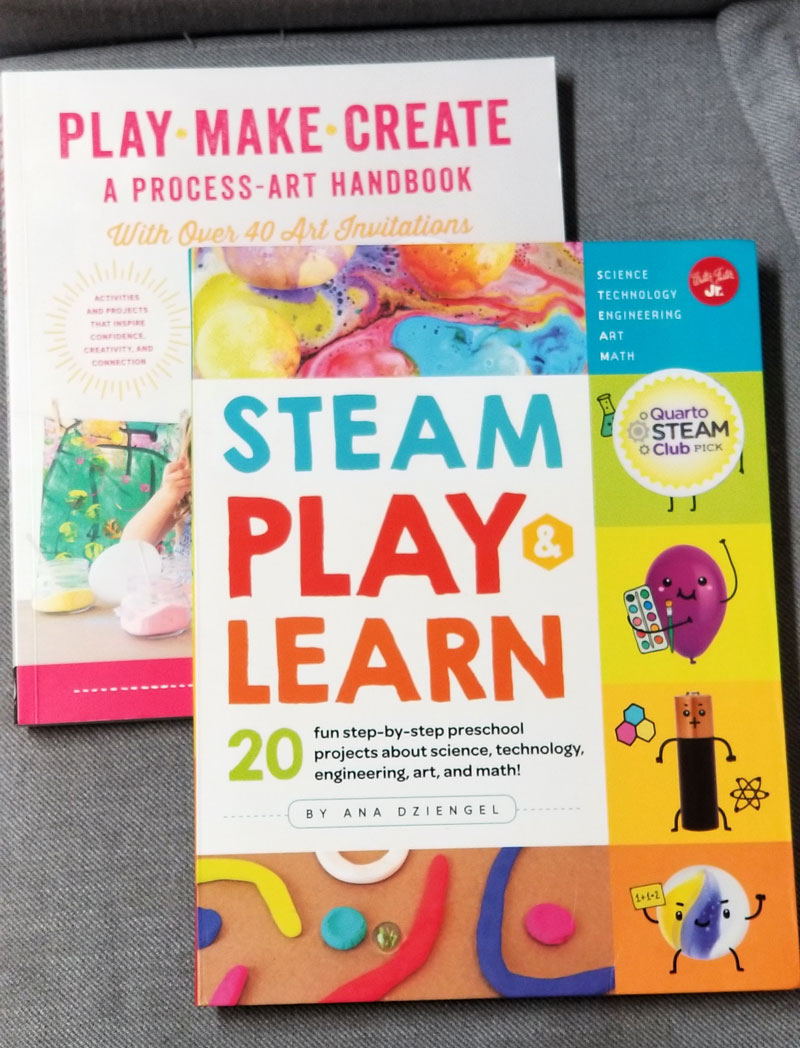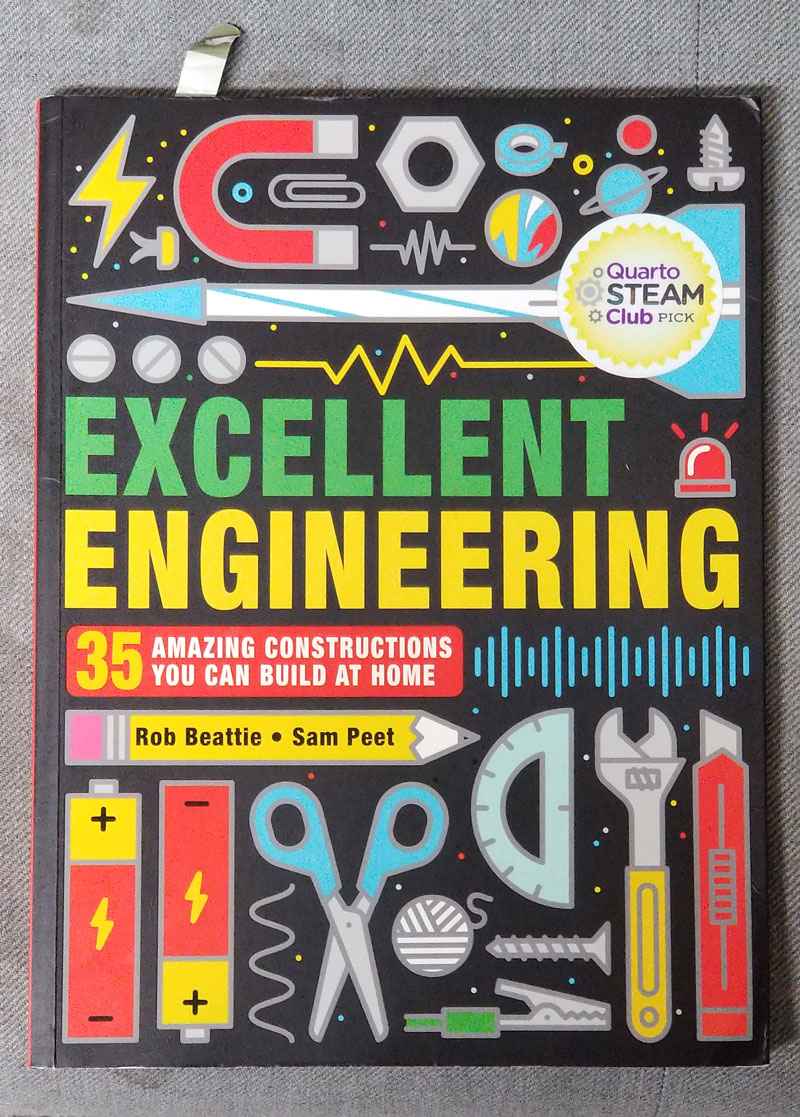 18. LEGO books:
When your kid already has heaps of LEGO, why not give him more to do with it? M can sit and read these LEGO books by favorite blogger Sarah Dees for hours. They also give new life to old bricks. Our favorites: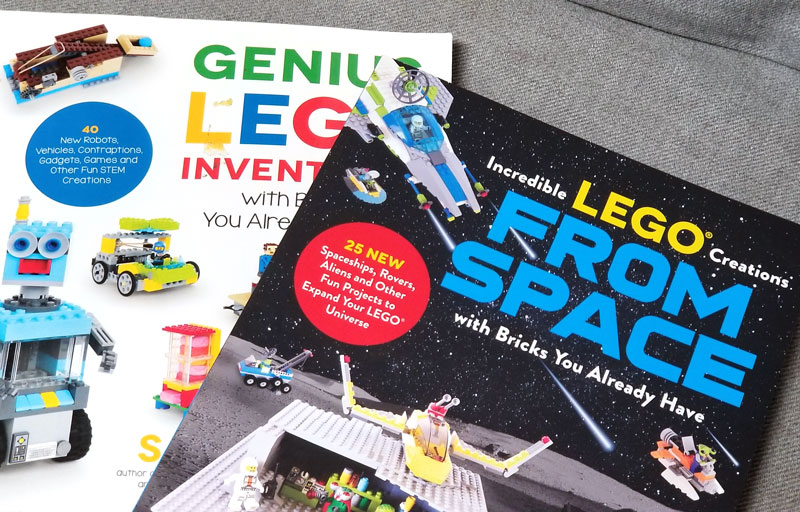 19. DIY Books:
Get your kid crafting with these cool crafty picks!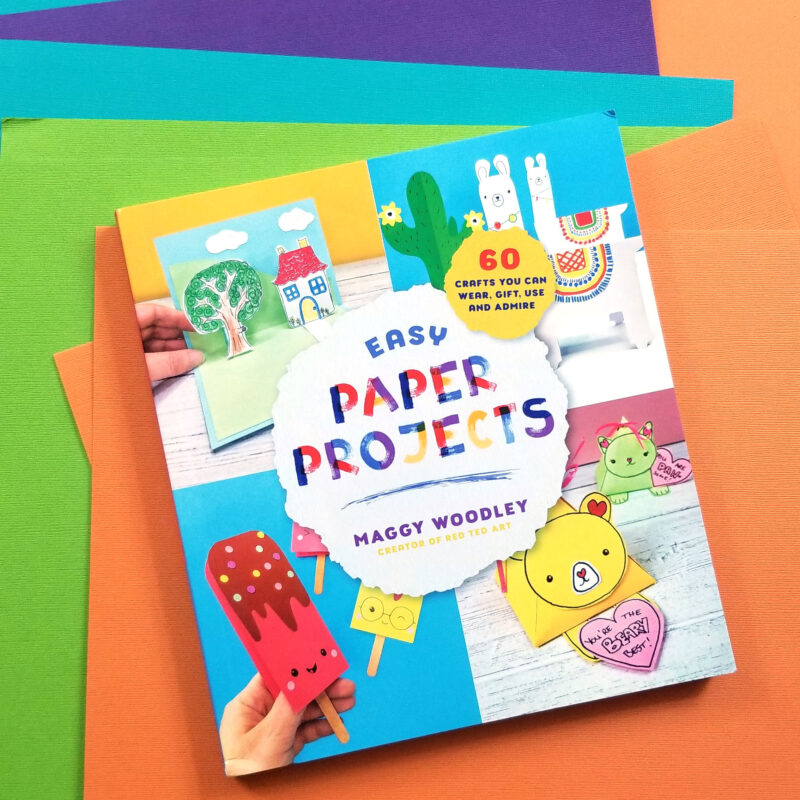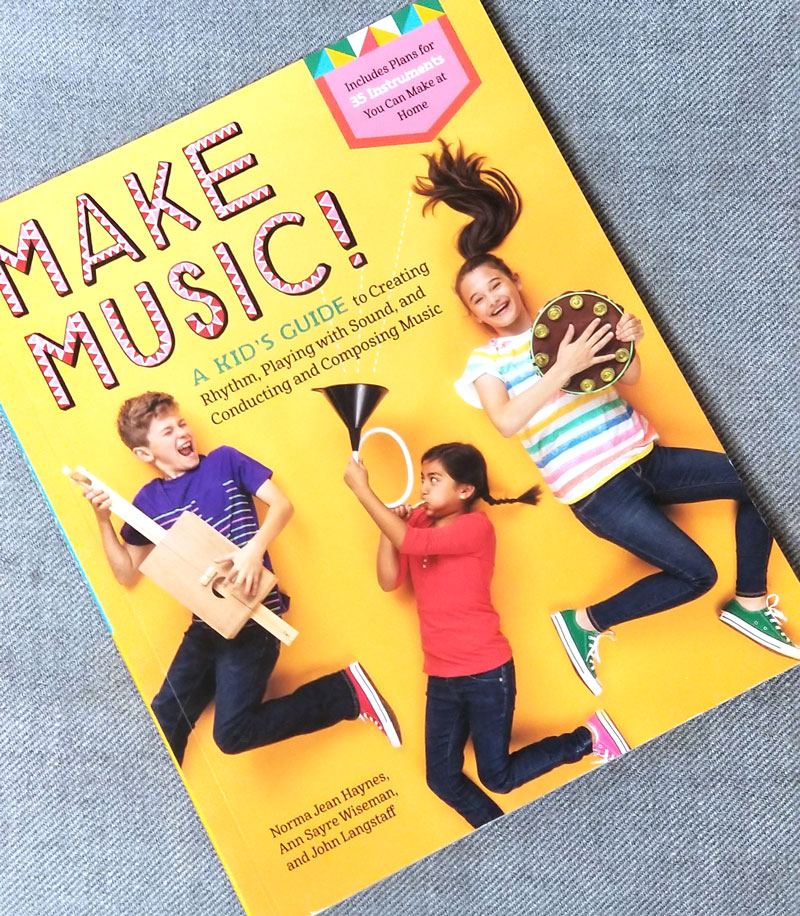 While there are piles of more things I can include in the best birthday gifts for a 6 year old boy, that's all for now! You can check out some of my other gift guides – the best gifts for preschoolers, my favorite craft subscription boxes, and the best gifts for creative kids.
What are your best birthday gifts for a 6 year old boy? What do you normally gift your kids for birthdays, and Christmas or Hanukkah? Comment below!