Bust your stash or save $$$ with these cool things to make with leather scraps! Find my best things to make with ribbon scraps here. This post contains affiliate links.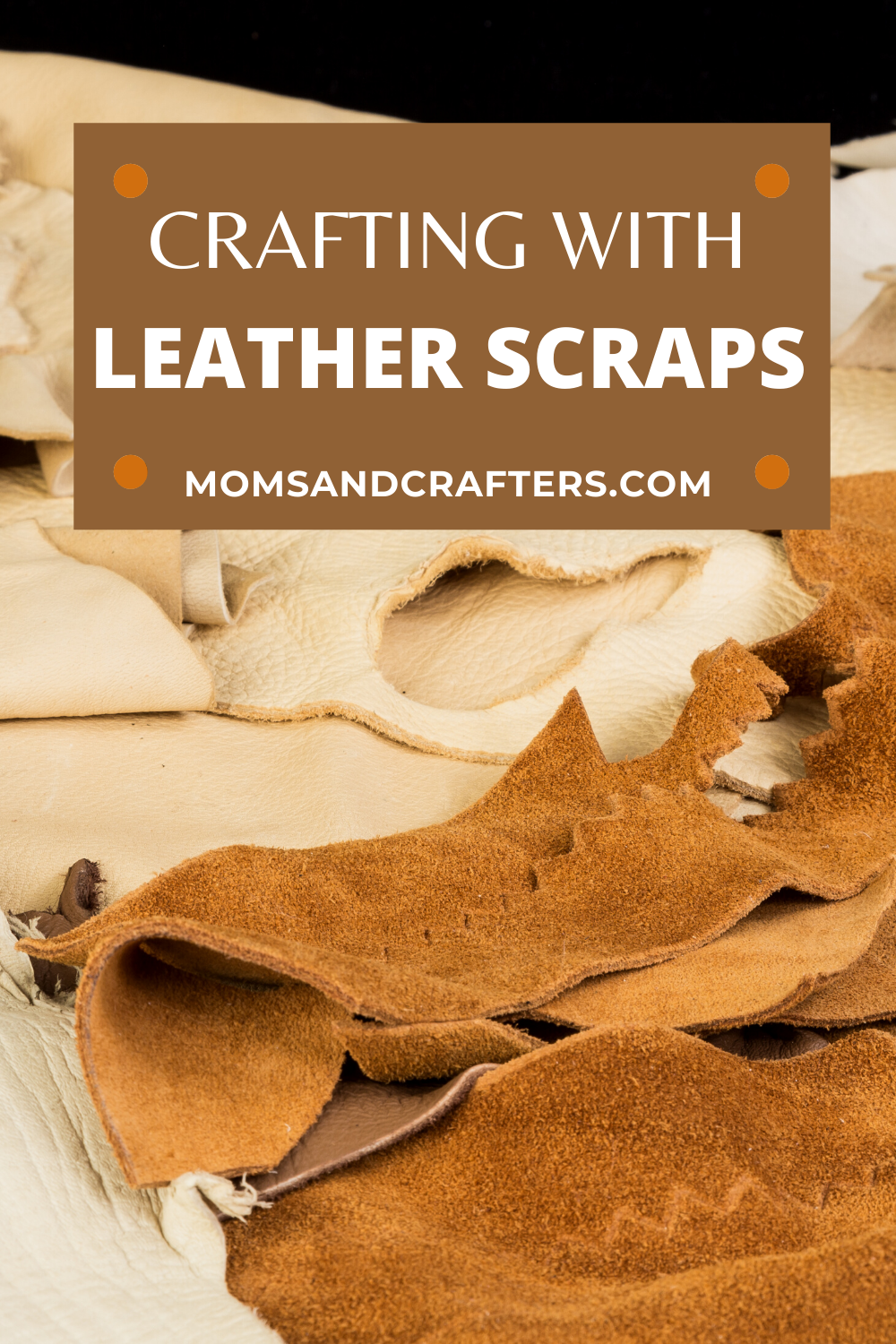 Some of my favorite things to make are things to make with leather scraps. Leather can be quite pricey, and not only do you not want to waste a teensy bit, you also might not want to buy full size pieces to begin with.
Enter leather scrap bundles… I just adore these. They include so many unique finds!!
Where to get leather scraps for crafts
Maybe you have piles of leftover leather from projects… but of all the crafts out there, leather scrap crafters tend to buy their sraps.
So where do you get affordable leather for crafting? Here are a few of my favorite picks. Keep in mind that these are mostly scrap bundles, so they vary greatly and I can only share my personal experiences trying these:
Things to Make with Leather Scraps
Leather Jewelry Crafts
Jewelry is my go-to for any kind of scrap busting projects, but especially leather jewelry looks so chic!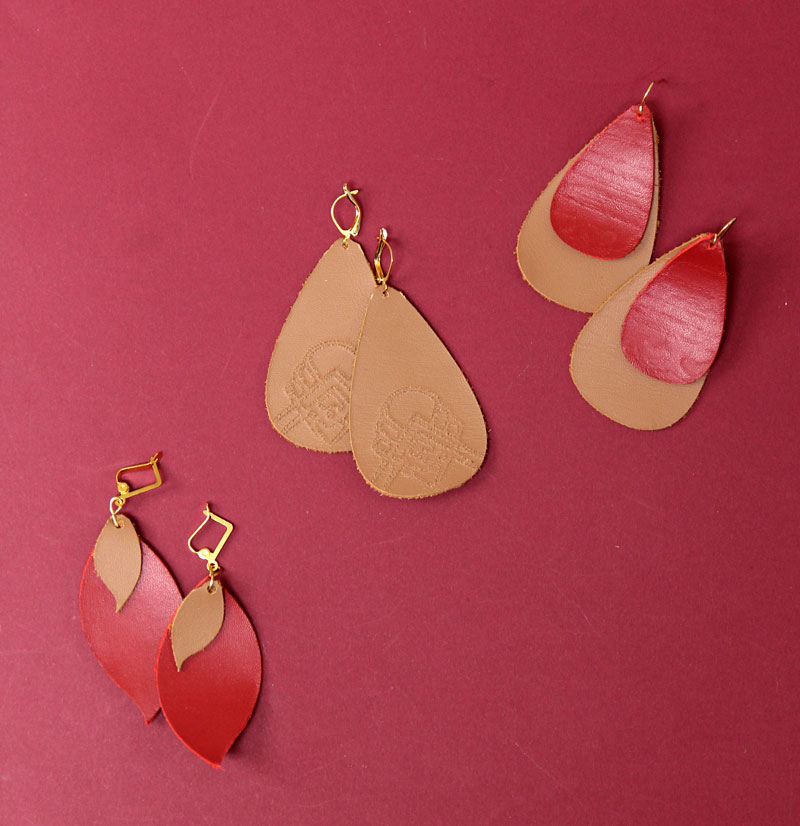 Your smallest scraps will look fantastic on leather earrings! You can really use itty bitty scraps for these, engrave them, paint them, iron onto them, or just keep them as is. The post linked above has LOADS of ideas, so head on over and check it out!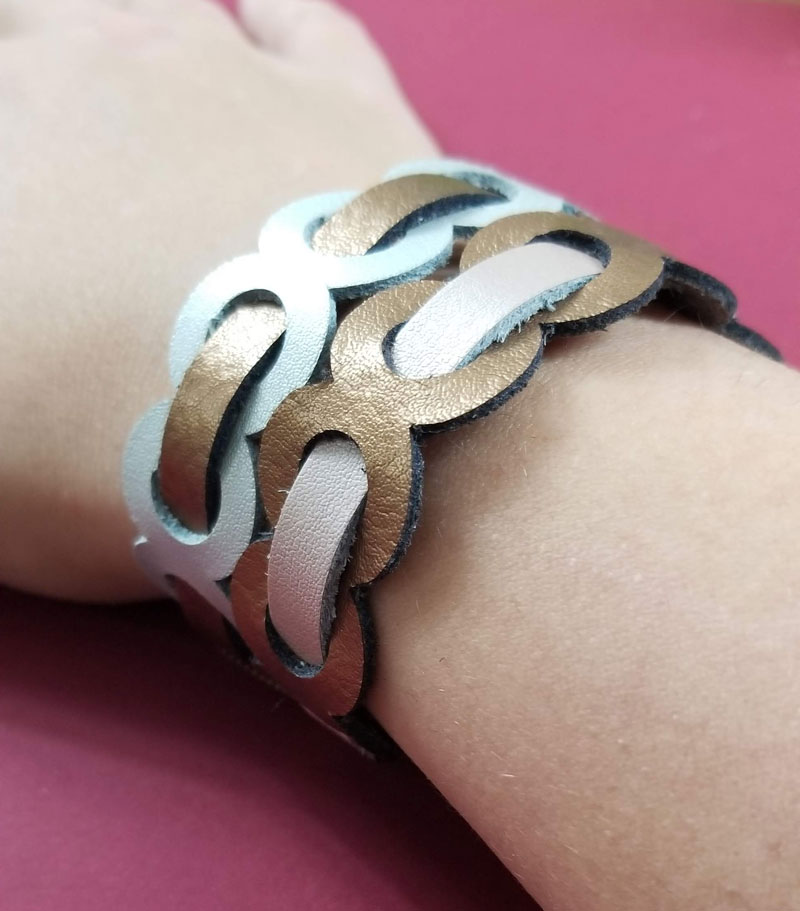 These woven leather bracelets are so easy to assemble and have gotten me loads of compliments! These are ideal for those longer strips of scraps. You can even use thin ribbons that are too small to run through a cutting machine for the center part if you want.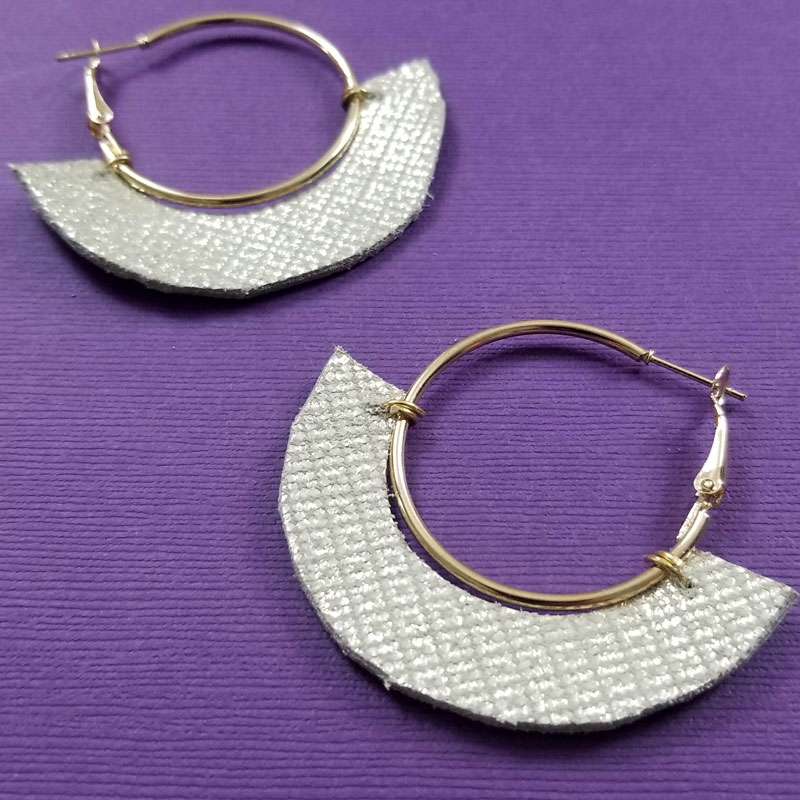 What do you do when you see some cool bling but you're not about to dish out $$ for it? If you're a crafter, you make it! I saw these online, but decided to go the DIY route. Using a scrap of leather with a super cool texture really upped the chic factor.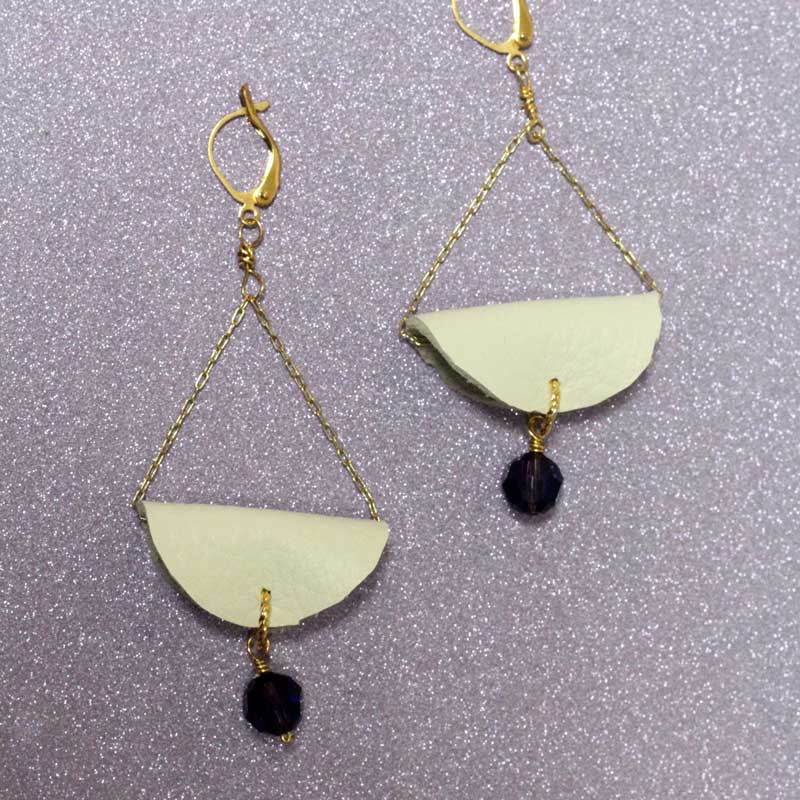 When my brother first saw them he said "cool, taco earrings!" What a brotherly thing to say! Either way, I loved them to death back when I made them. No cutting machine is required for these either.
A leather bow cuff acts as an accessory more than bling, but it's really really pretty! You'll need a slightly larger scrap – but still a scrap! You'll also do best with soft garment leather, rather than stiffer leather (I've gotten a mix in the scrap packs I bought).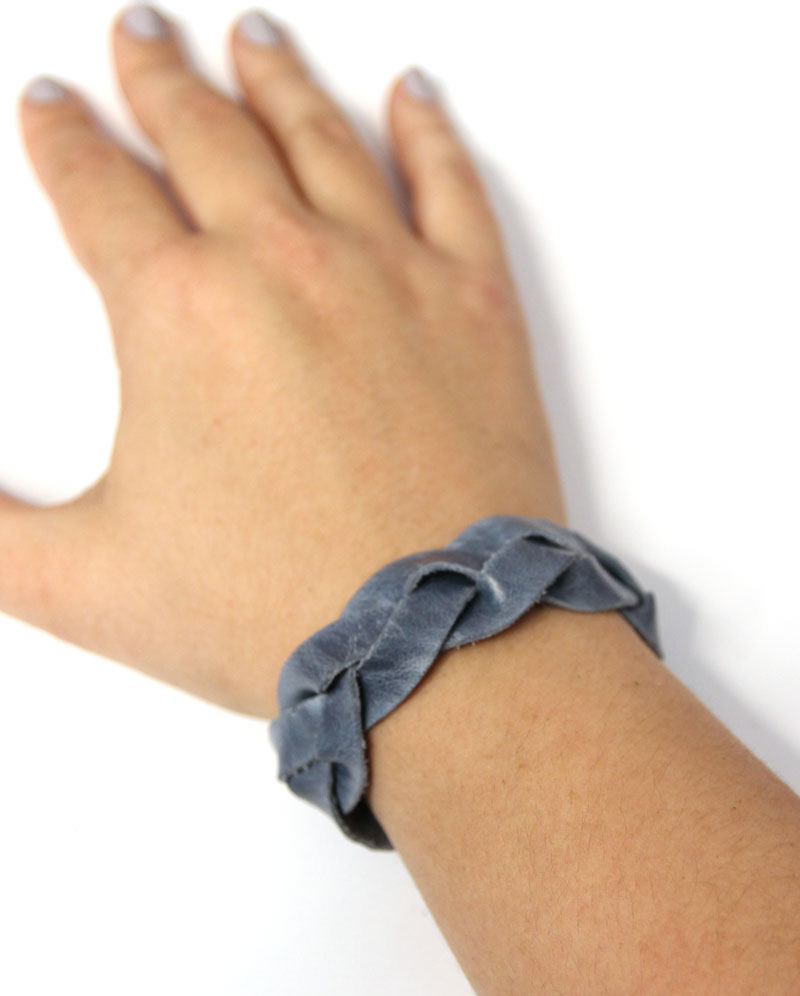 The braid on this bracelet comes together magically so that the ends remain connected! It's so much fun to make, you'll want one in every color to match your wardrobe.
Leather Accessory Crafts
Go beyond jewelry with some super cool, super giftable accessories made from scraps! Many of these were gifts and some were also made from faux leather, but you can definitely try each and every craft in this section using real leather scraps.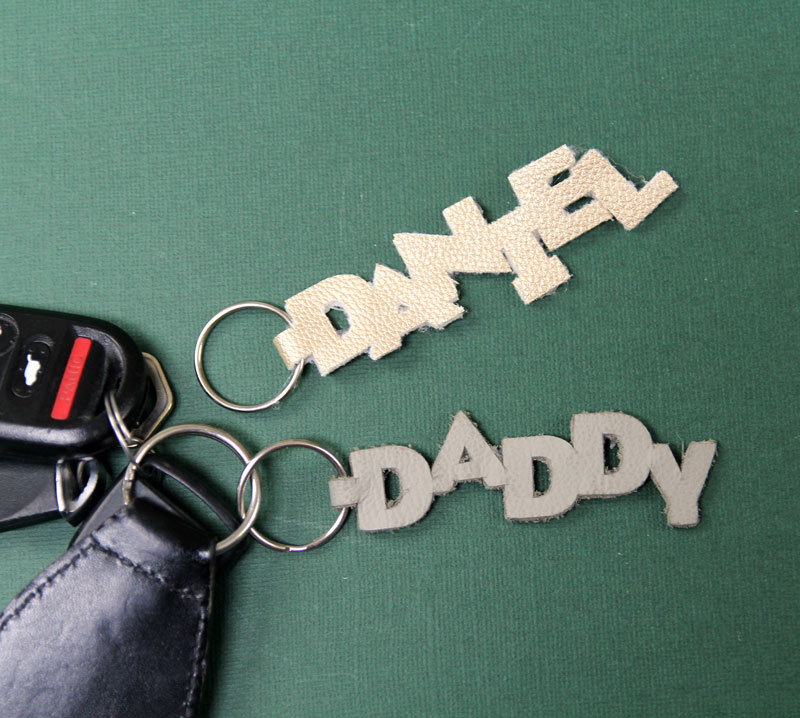 There's nothing like personalization for gift giving! WE made these from faux leather for lots of M's friends as drive-by birthday gifts. Then when Daddy's birthday came around the boys said "we need to make him a keychain!" So we made his from real leather scraps for him.
Carry your shades (or regular glasses) in style! If you have a piece large enough – which many scrap packs do come with – you can give this adorable glasses case a go! lt's super slim too, making it easy to toss into a handbag. Or, gift it! It's easy to get right the first time with a free template.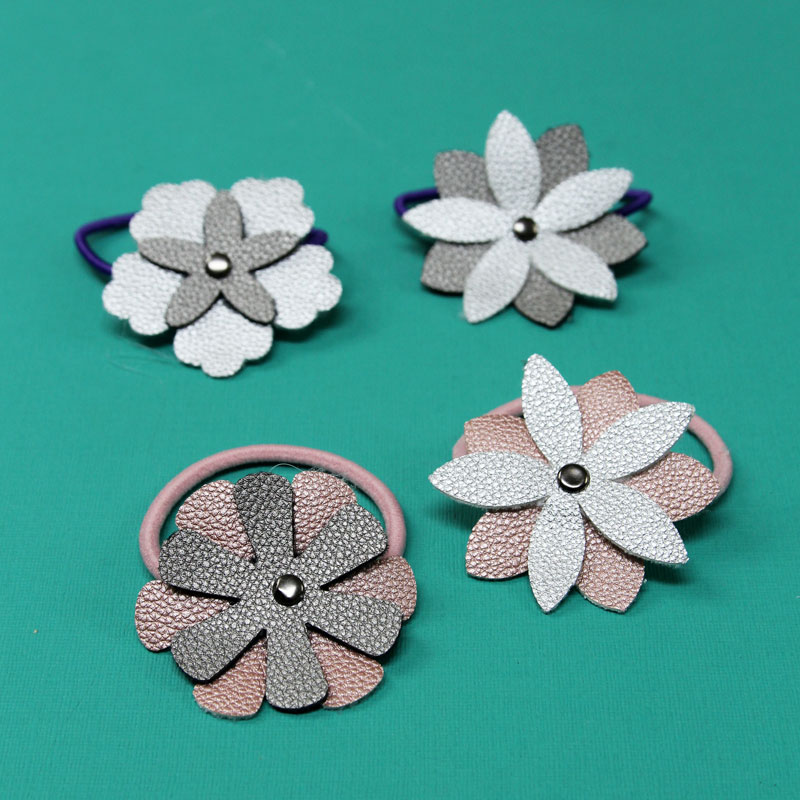 These flower hair ties were made for my nieces as gifts, using faux leather. But there's no reason you can't make them from those pretty scraps in your stash. I even used leather rivets to put these together.
I love contrasting textures, and there's something cool about cozy crochet and cool leather combined in one project. This is another hand cut project that can use your smallest scraps.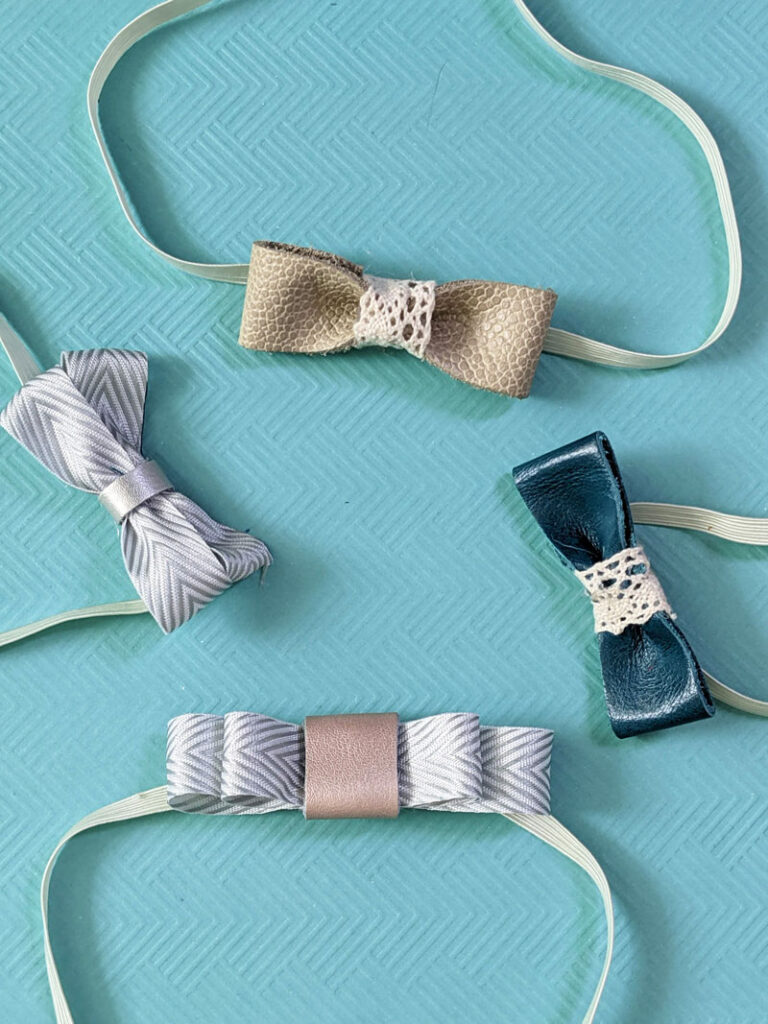 Here, I treated small leather strips as ribbon to make cool hair bows for Princess A. Again, I contrasted chic, shiny leather with softer lace.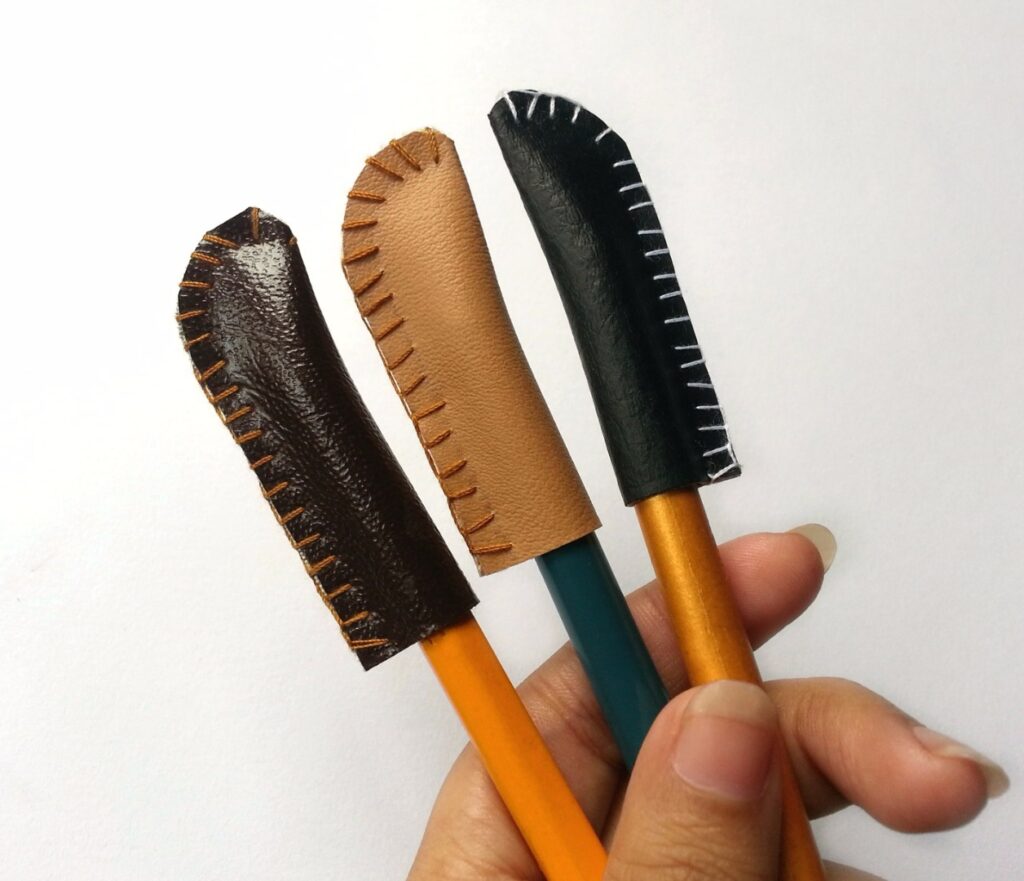 A sweet gift for the men in your life, these pencil caps are great for that guy who always has one sticking out of his front pocket. Let it look a little classier!
Take your smallest scraps and turn them into an incredibly cool personalized gift! These monogrammed cufflinks can be made with literally any type of leather scrap (although some types of leather take better to stamping than others).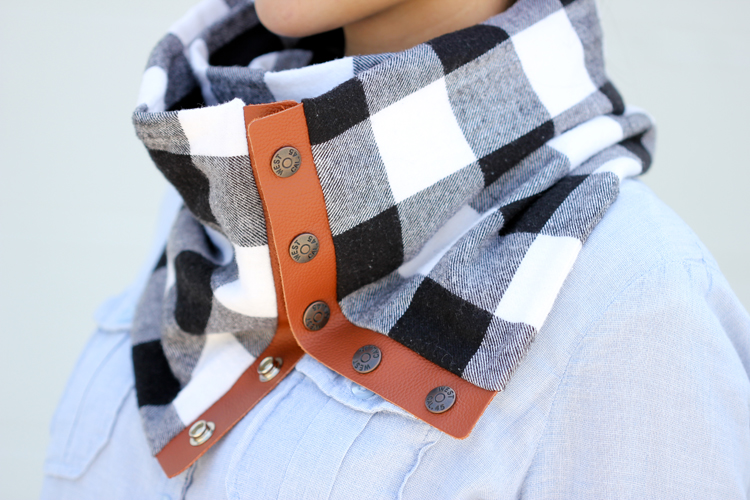 Projects like this that use leather strips are cool, because they're really easy to hand cut. Just use a knife and steel ruler to keep you on the straight-and-narrow. Here, it once again contrasts with something that's a bit more of a "cozy" look for an incredible textured effect. This cowl scarf is totally unisex too!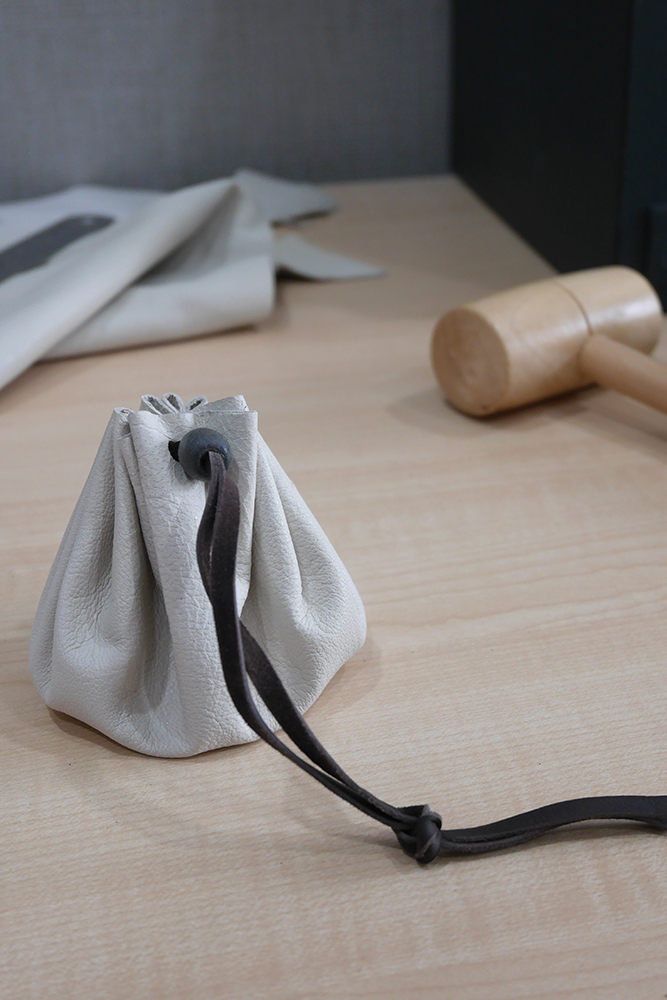 This coin purse is incredibly simple and brilliant and so so fun to carry! It's a cute idea for those of us who still always need a stash of quarters for parking.
Leather Crafts for the Home
I am obsessed with leather in the home! I'm a big fan of texture over prints when it comes to home decorating, and leather just oozes that texture – whether in large scale uphostery, or small things to make with leather scraps like these.
What a cool way to both label plant pots and upgrade them!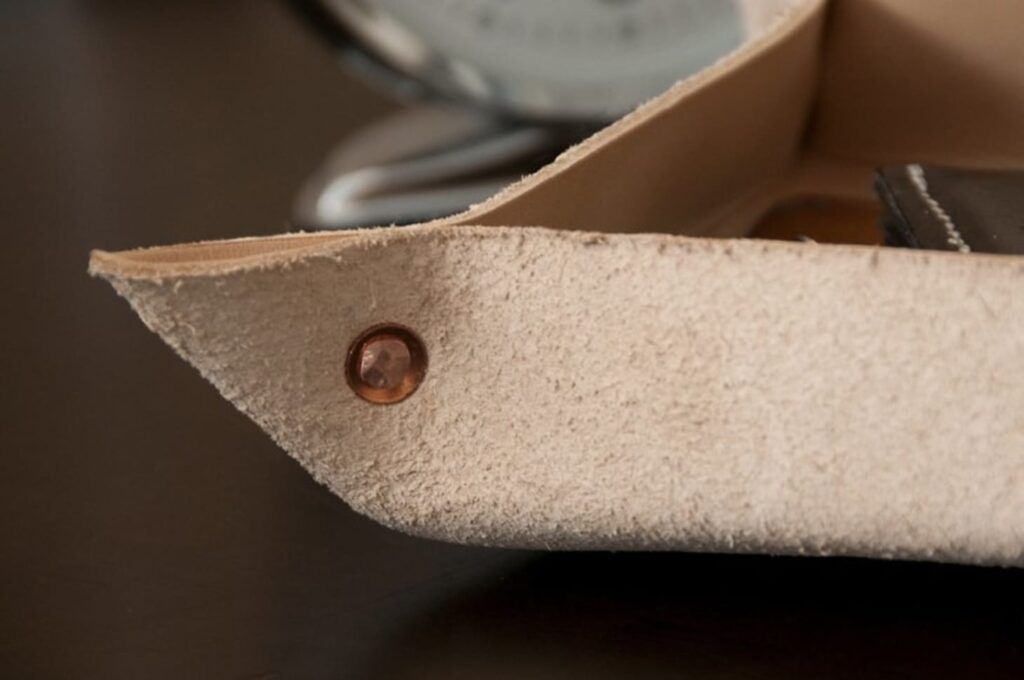 One of the cool things about making this leather valet tray from scraps is that its size is not an exact science, so you can customize it to the size of your scrap! It's great as a key/sunglasses drop zone in entryways, a ring tray, or a valet tray.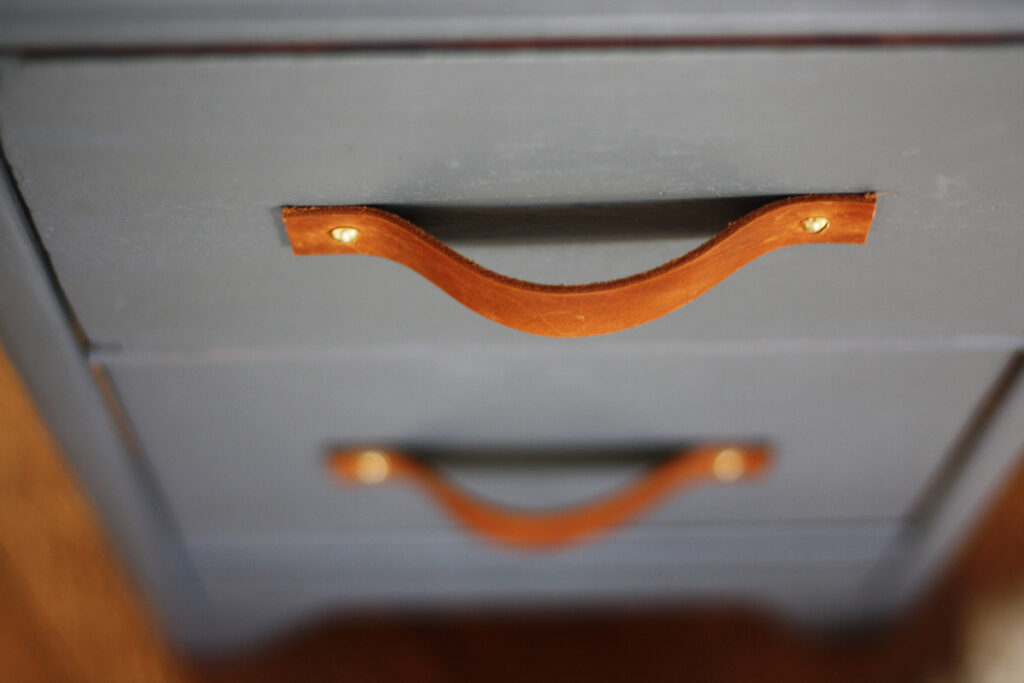 While I've seen this look in kitchens too, leather scraps work best on smaller projects. So give that dresser upgrade a fashion-forward twist with leather pulls! And since you're using scraps, they likely don't even cost more than real pulls would cost (and possibly much less).
What are your favorite things to make with leather scraps? Comment below!