Ready for some fun fall projects to do with your kids? I'm so excited to present Maggy from Red Ted Art as a guest poster here, sharing with you some great ideas!
Ahhh! There is something magical about leaves changing colors in fall, don't you think?! We adore walking through parks in fall when trees are raining leaves! So awesome! We also enjoy all the time we spend crafting and, over the years, we made quite a few DIY fall garlands and a number of different fall crafts for kids to decorate our homes. Easy kids crafts rock. Let's get crafty and have lots of fun for fall!
10 Fun Fall Projects to Make with Kids:
1. Baking with kids is messy but fun! If you're looking for easy to make but very eye-catching fall cake, try making this fall cake decorating idea with leaves, hedgehogs and little mushrooms! Maybe even too cute to eat!
2. Gather all newspaper and invite kids to paint leaves in fall colors! Best part about crafting with old newspapers is that is costs absolutely nothing and yet, when you see your finished newspaper leaf garland hanging in your home, you will be stunned! Such a clever newspaper craft for kids. Easy and so very pretty!
3. Another great paper craft for fall… Some crafts look super complicated to make since they look so pretty when finished but, in reality, they are really super simple. One of the best examples is this paper leaf craft where you can fold one leaf, tons of them, in one color, or many different as you wish! Hang them on a string to make a garland or decorate branches with them for lasting decoration. So many ideas and ways to use them!
4. Want to make a fall craft with all the colorful leaves but don't want to spend days pressing them? You don't have to press leaves to make leaf lanterns! It's enough to make sure they are not wet and you can make your lanterns as soon as you back from walk gathering them!
5. If you want to make a gift for someone during fall season, this craft is simply perfect! Stunningly looking but basically easy to make clay leaf bowls are beautiful when finished! Kids can make them as a class project or you they can try making them at home.
6. You know physalis plant? It's also called Chinese Lantern or Japanese Lantern and it's bright orange color is so beautiful! Use the plant to make amazing fall fairy lights to light up your home in warm and cozy color!
7. You would like to decorate your front doors for fall but don't have much time or supplies on hand? You don't need them to make this super simple leaf wreath! Make it in minutes and hang on your door when done!
8. Have you ever tried stain glass crafting technique using wax paper? It's easy and results are beautiful. Like in this nature leaf garland kids helped to make and hang!
9. Did you know there are 6 different ways to preserve leaves?! Wow! Right? Learn how to preserve leaves in all different ways and let us know which technique you liked the most!
10. Stamping projects are super easy and fun even for kids as small as babies and toddlers. Ok, probably as messy as well! But, that's one of the joy of crafting! We adore cork printed fall tree and your kids will too! Give it a go!
From decorative crafts for home or classroom to lovely gifts kids can make, we hope you will find here idea to try and make with your kids. Fall is awesome time of the year because it provides so many wonderful natural materials for kids crafts. So, take a walk outside, gather your supplies from nature and enjoy spending time crafting with kids!
What are your favorite fun fall projects to make with kids? Comment below!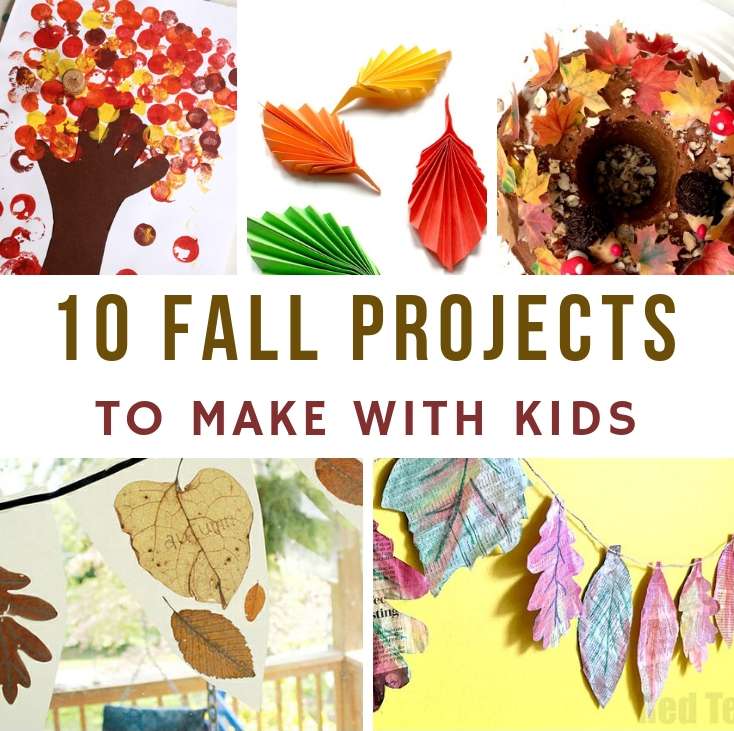 Loved these fall projects? Try the crafts below: