This friendly turkey puppet is an adorable open-ended Thanksgiving craft, perfect for kids… and grown-ups! Download the free printable template, and then check out my other clothespin puppets. Disclosure: this post contains commissioned links.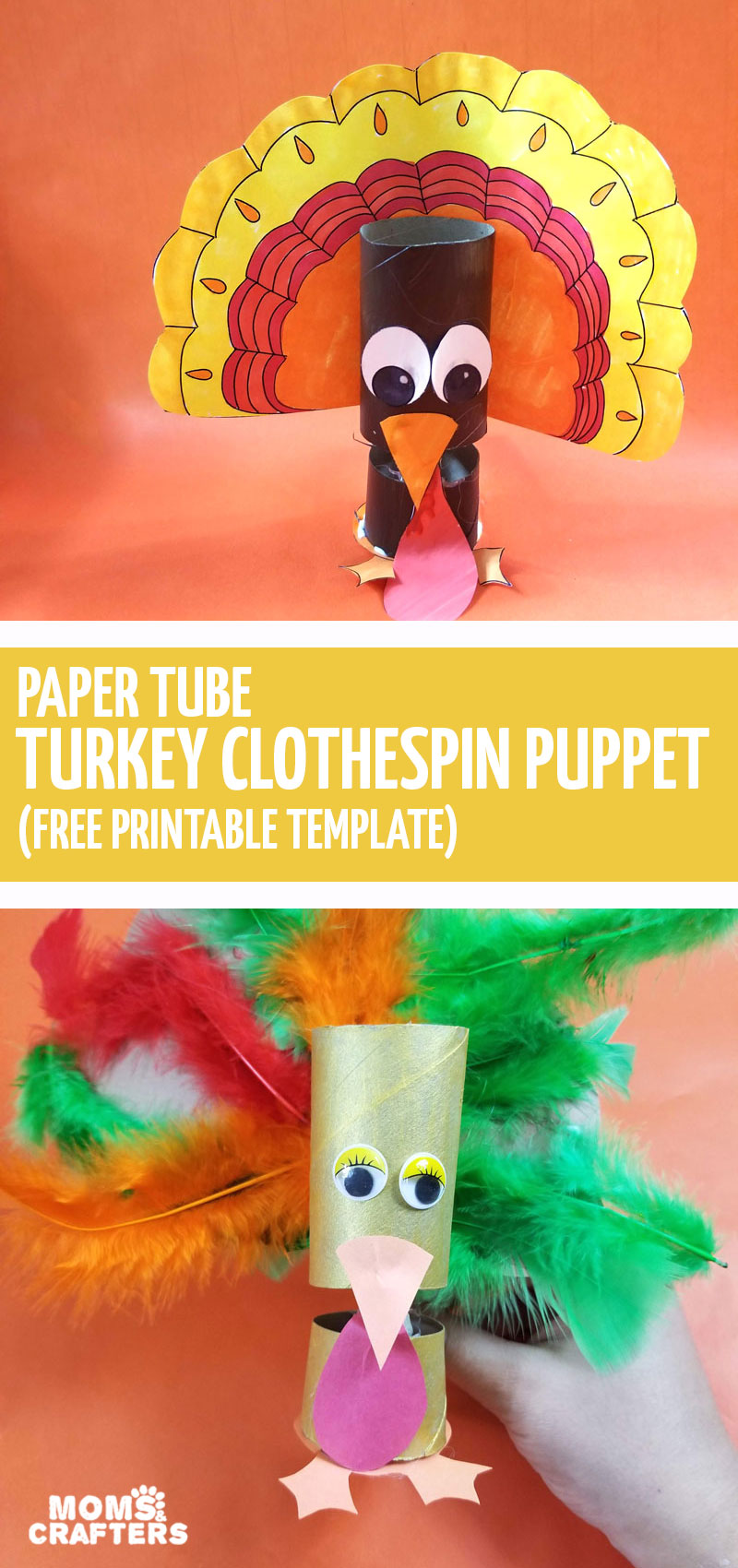 Some products below were received free of charge from the brands (Plaid, OOLY, STABILO, Arrow) as part of previous sponsored campaigns, or in the hopes that I'll use them in a craft and share it here.
When I design paper toy templates, I try to be mindful of a few things:
I like when anyone can do it, so I try to avoid complex assembly
I love using up items from my stash and upcycling (hey, paper towel tube!)
Most important of all: I try to leave it open-ended, sharing the basic idea, with room to take it further.
I created this free printable template for you to make a turkey puppet for Thanksgiving – or for learning the letter T.
Take the template and color it in fun autumnesque colors. I used STABILO Power markers for that.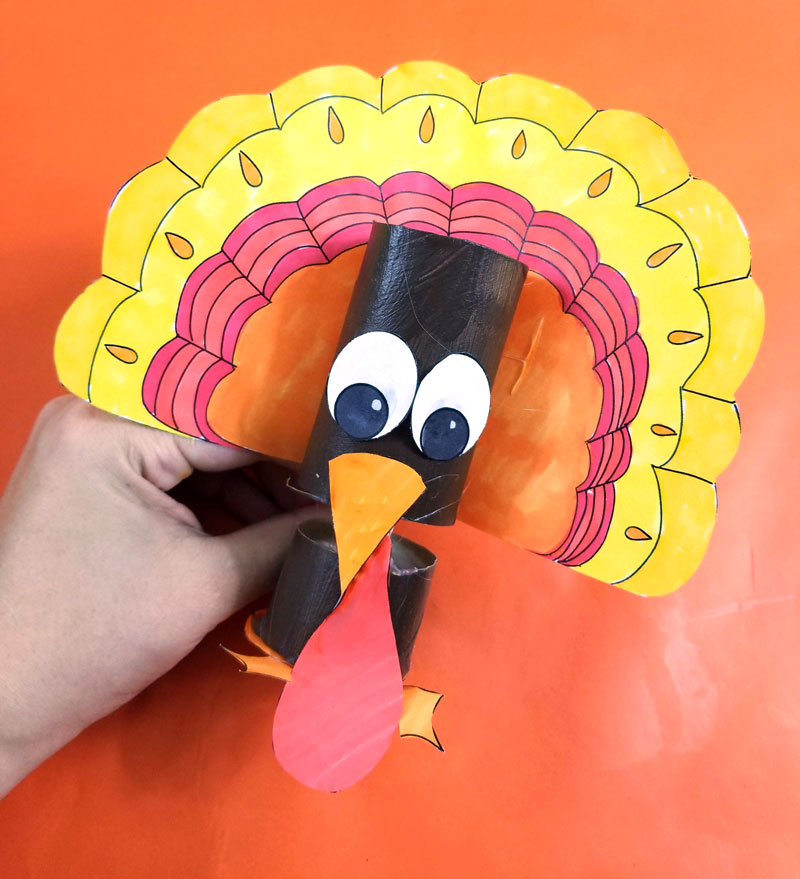 Or, use the basic shapes in my templates to cut the parts out of construction paper. Decorate with feathers, googly eyes, and more!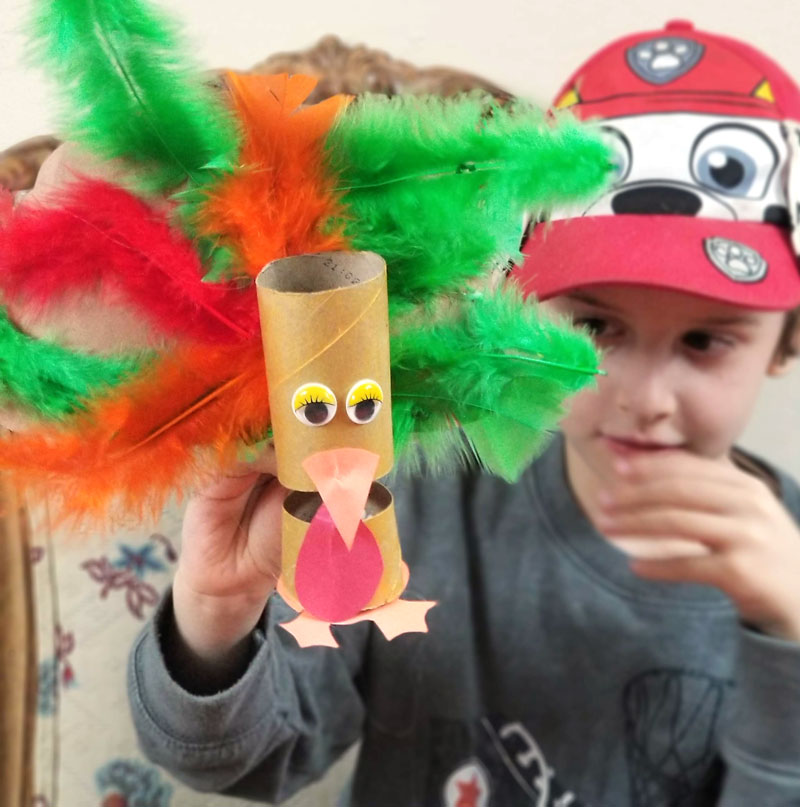 I used FolkArt paint in Real Brown for the body of my turkey.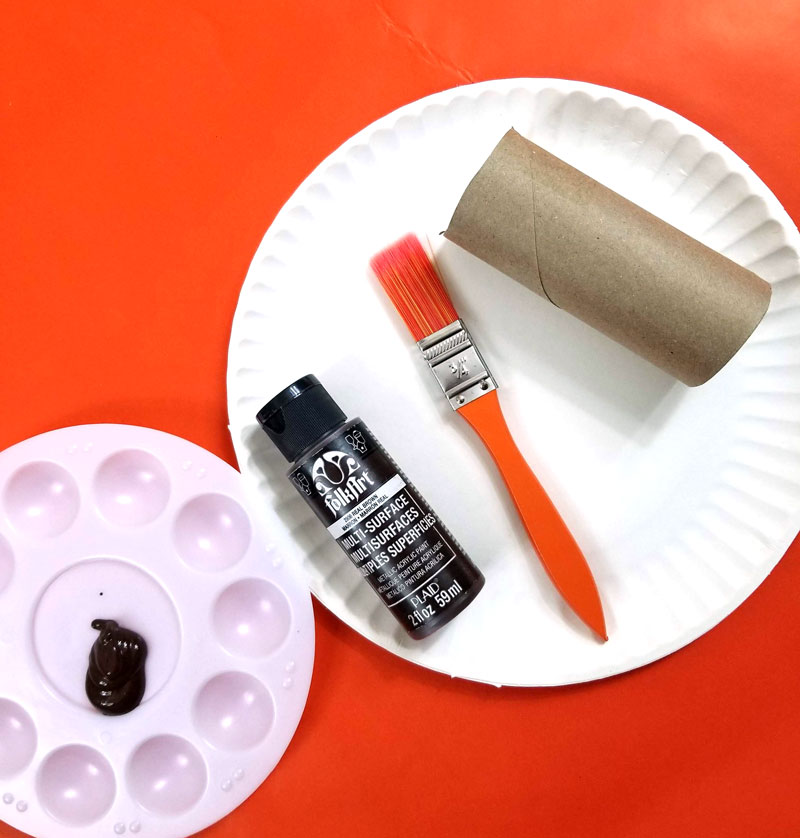 M wanted his to be gold (not a bad idea on his part), so he colored his using an OOLY Chunkies paint stick. I confess: I didn't argue with that idea because I anyway wasn't in the mood of smocks and messes at the moment…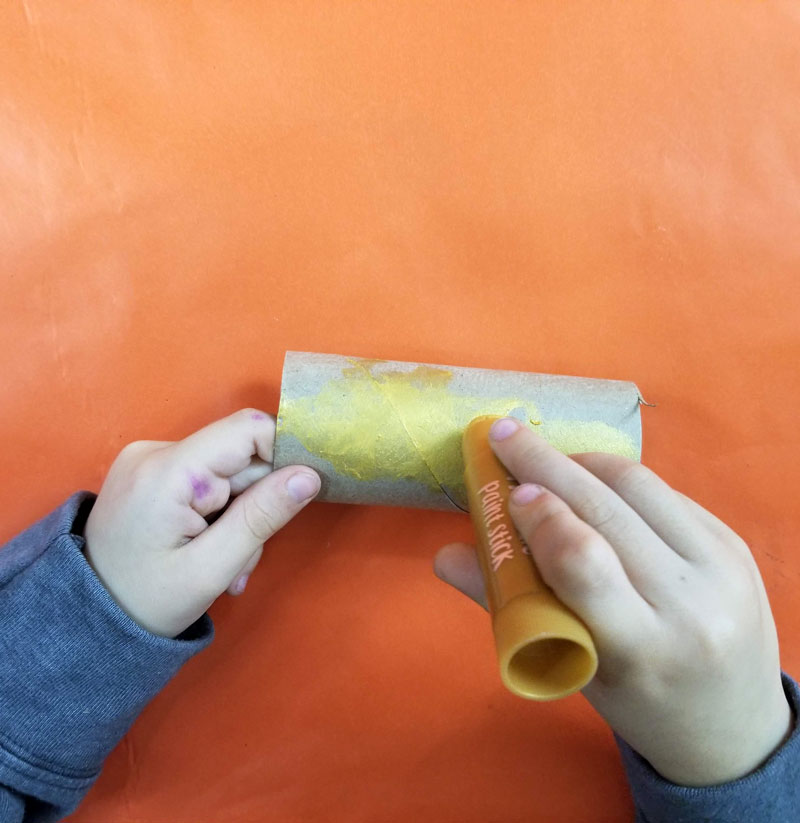 While it's not as animated as my other toilet paper roll clothespin puppets, it's still fun to open and close. The bonus perk of this project is… lots of pincer grasp practice!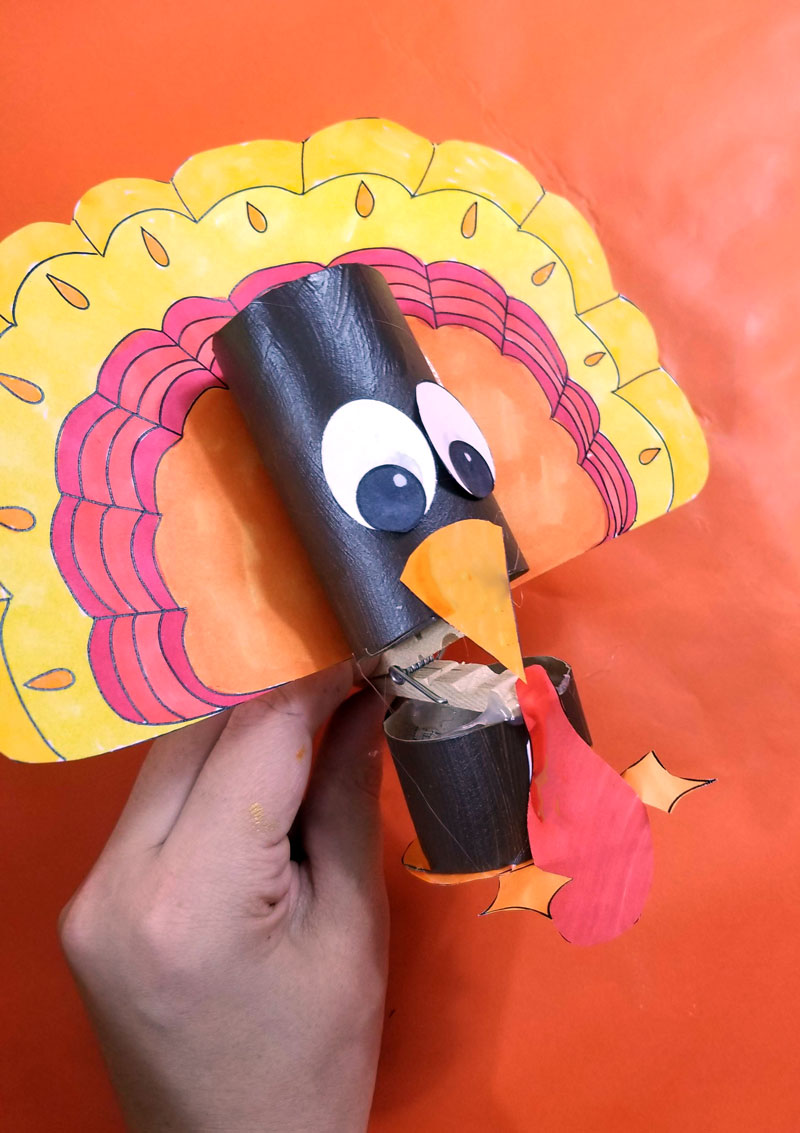 M even got more fine motor practice in, while squeezing the little tube of glue I gave him to use.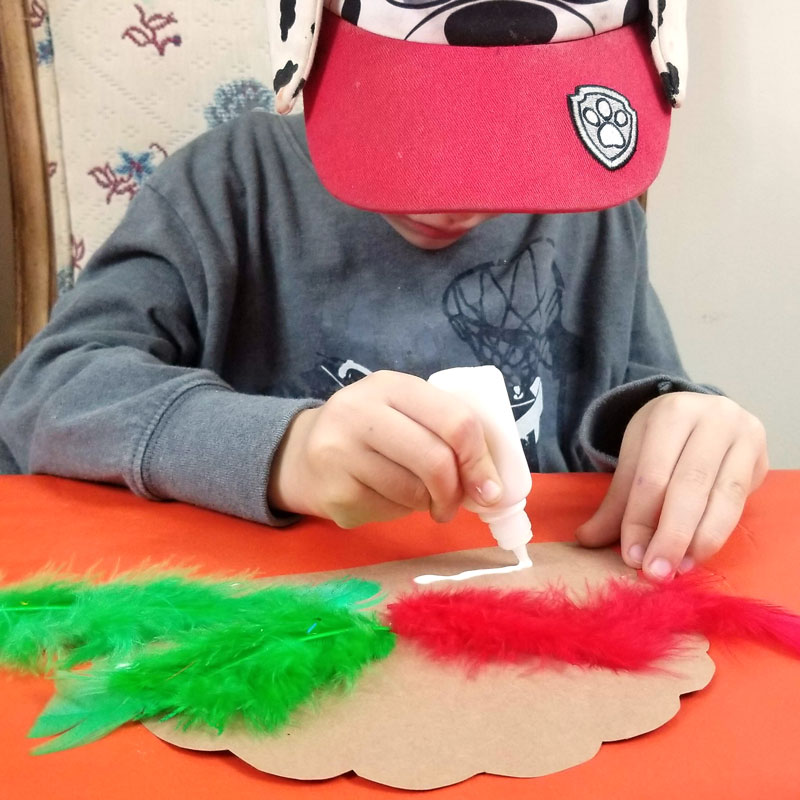 M is extra super proud to be sharing this tutorial with you – he even told me "I'm almost a blogger. I'm a REAL artist!"
Well, he really is.
Watch the turkey puppet tutorial video below – showcased in part by M himself!
What you need to make a turkey puppet:
Making the base of your turkey puppet:
1. Paint the base of your turkey puppet brown or gold.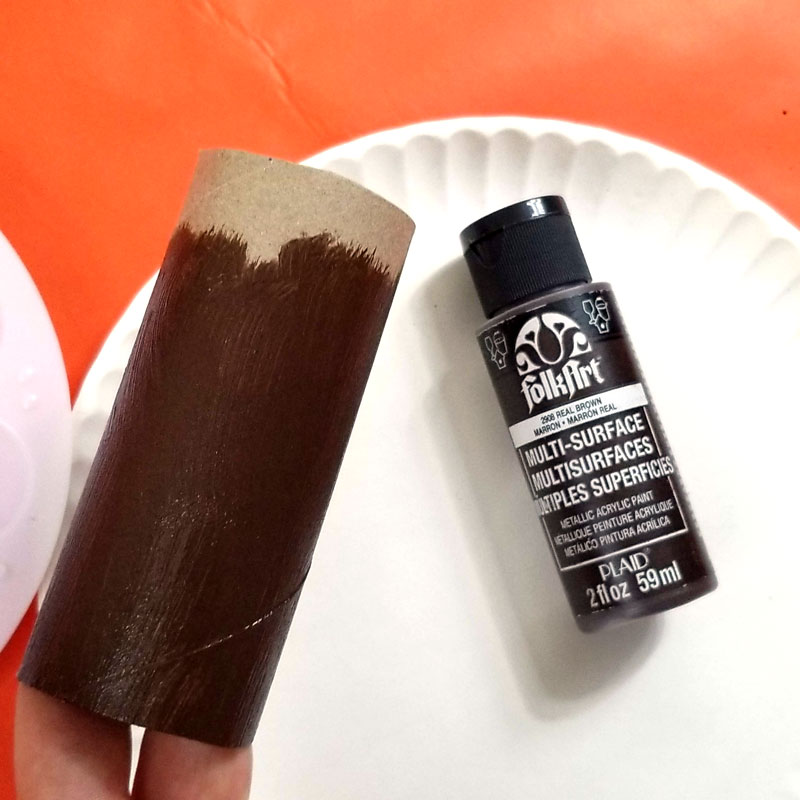 2. Allow it to dry completely and then cut off the bottom third (approximately).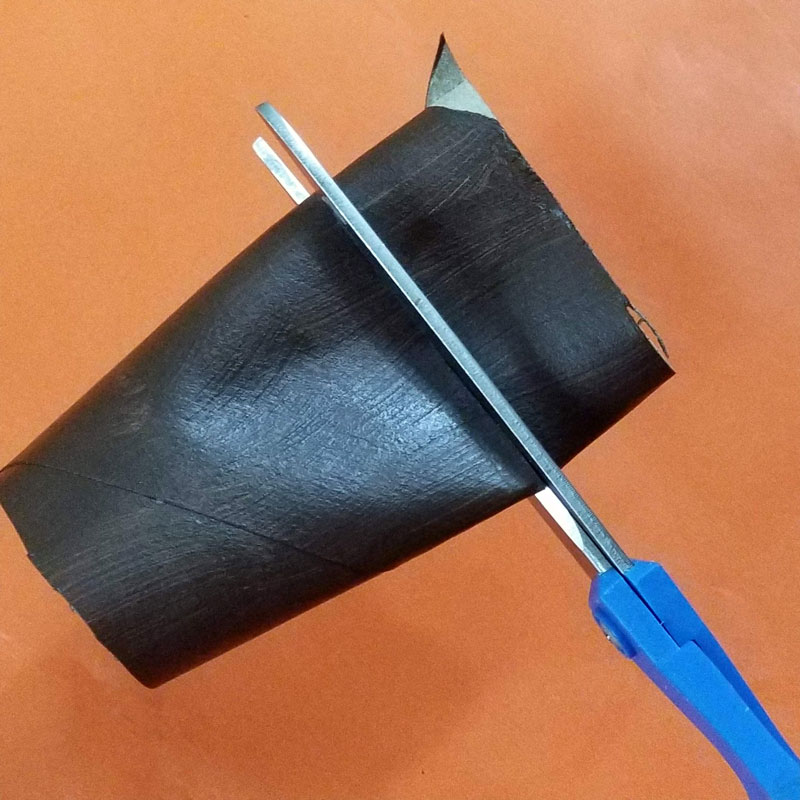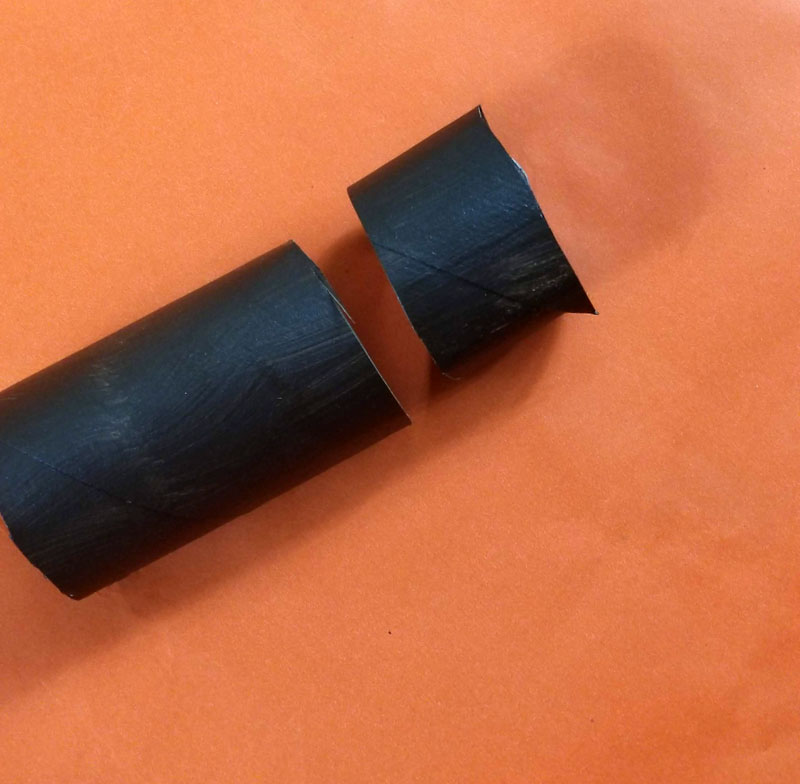 3. Use a hot glue gun (adults only) to add two dots of glue opposite each other on the toilet roll.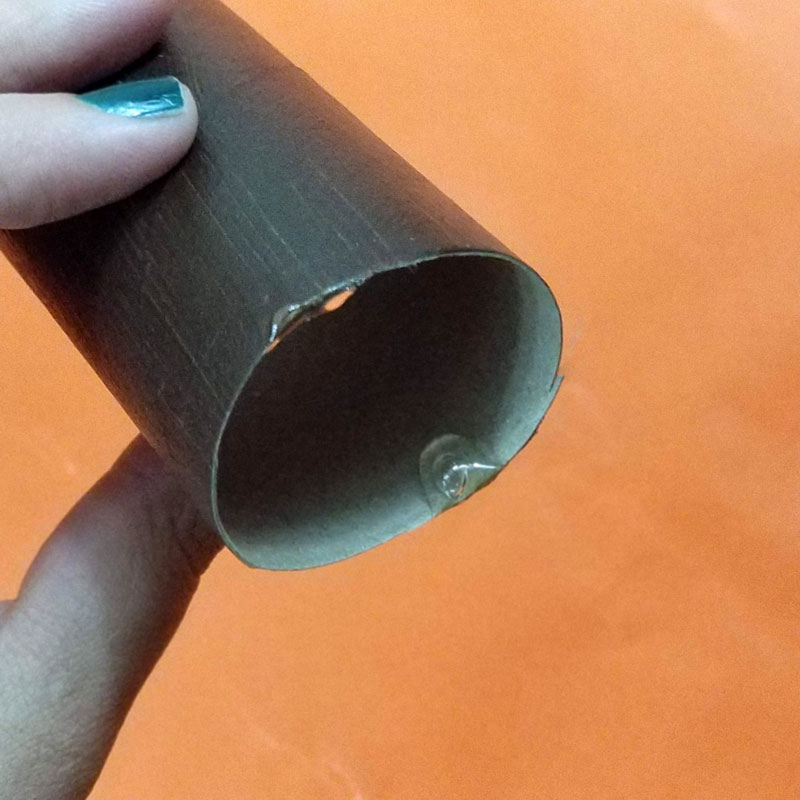 Glue your clothespin between the two parts of your paper tube as pictured and allow it to dry completely. Reinforce with more hot glue if needed.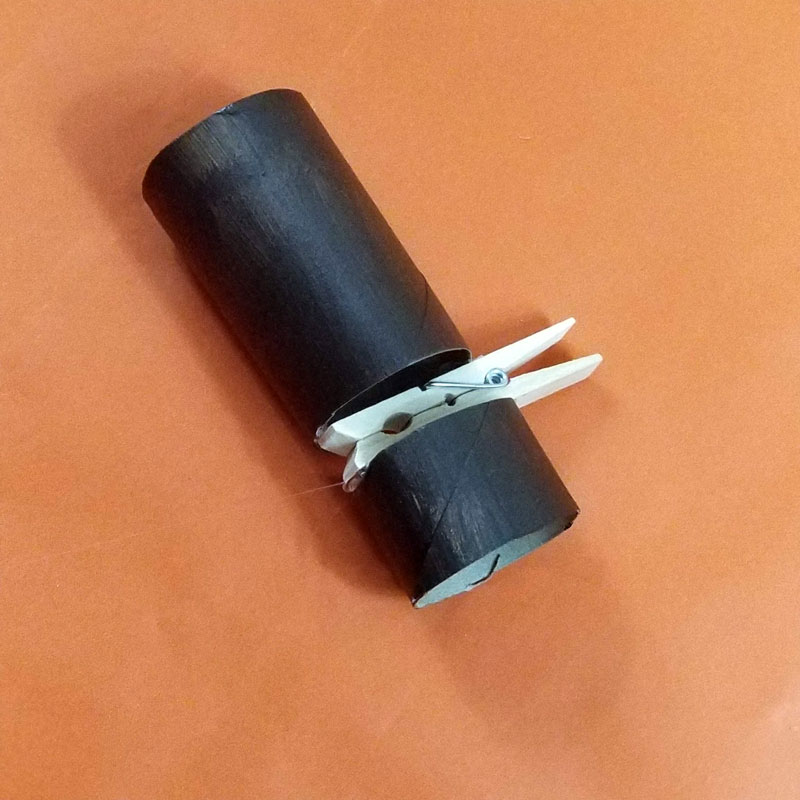 It should be really strong and open and close easily when you're done.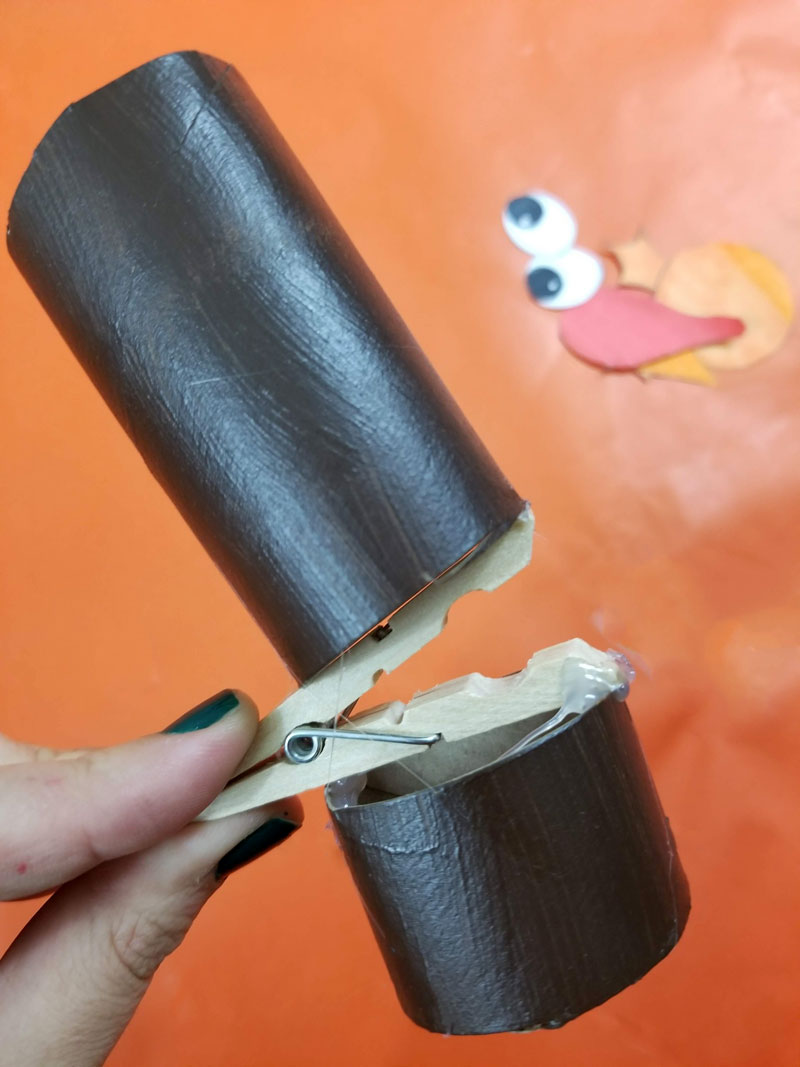 How to assemble your final turkey puppet – 2 ways:
Color-in:
Color in the parts of your turkey, adding details if you want.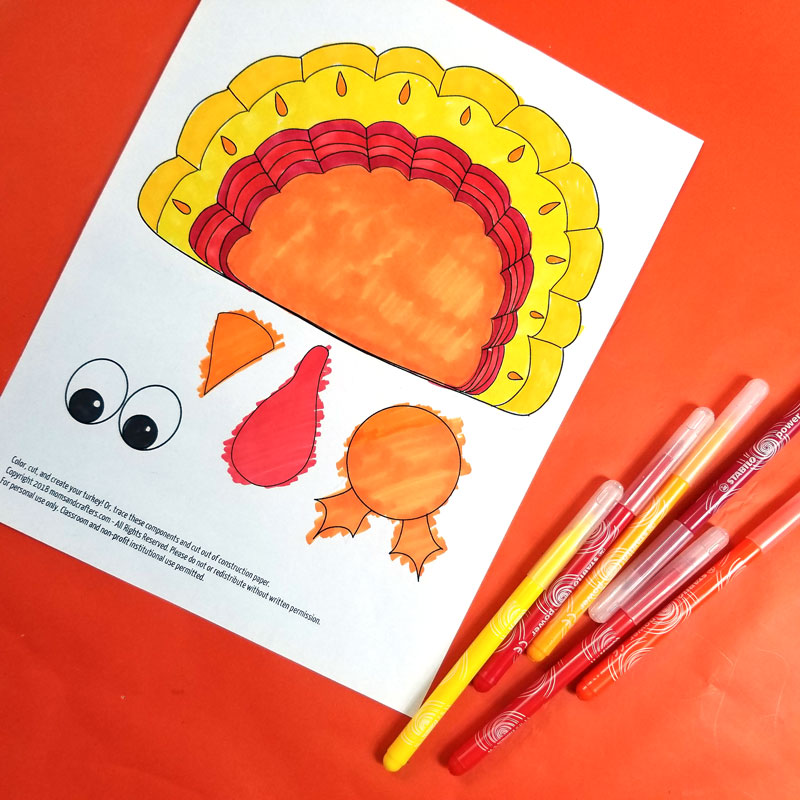 Cut out the parts and glue them in place! I slightly miscalculated with the feet so you may need to tweak and adjust a bit if you want the wattle to fit between the legs. Or glue the wattle partly in the clothespin so that it doesn't hang so much (like I did with M's version, below.)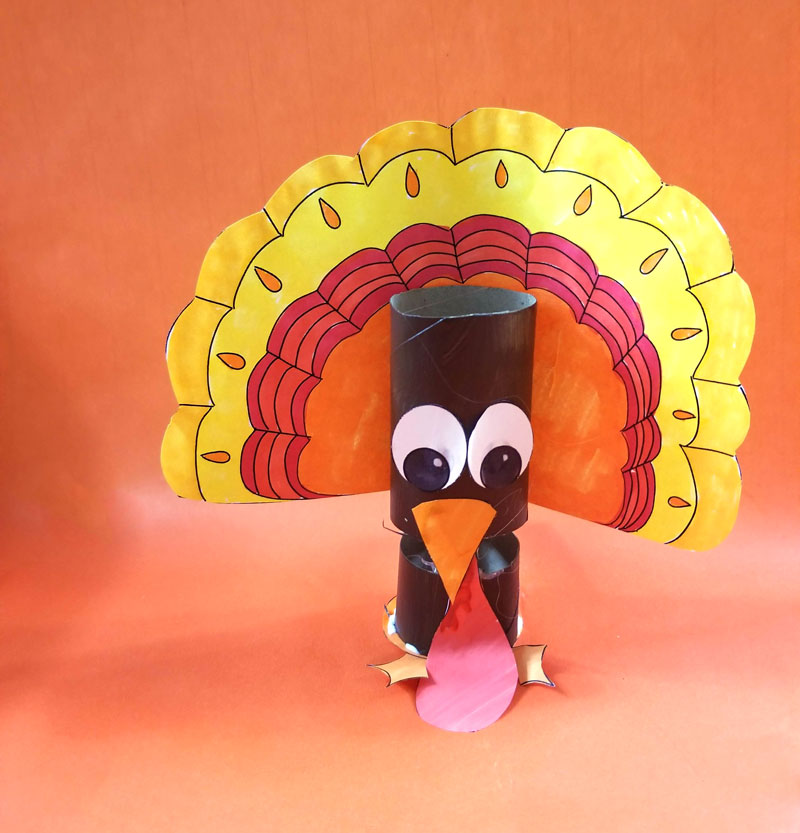 M's version:
1. Cut out the parts of your turkey, skipping the eyes. Trace them on the appropriate colors of construction paper (orange beak and feet, red waddle, brown feathers).
2. Add strips of glue to the feather portion and glue on colorful feathers.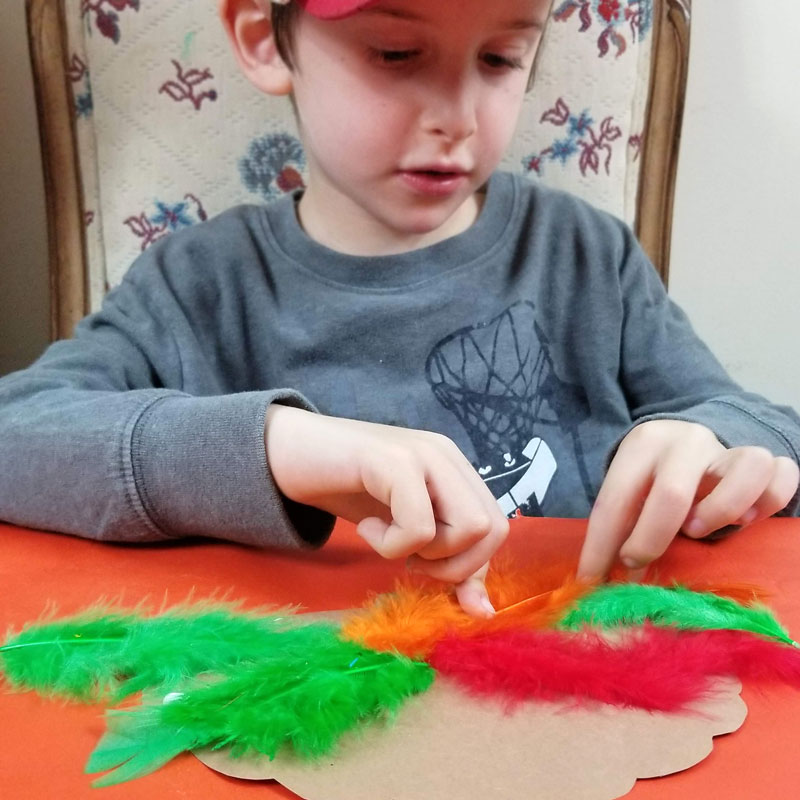 3. Glue on your feathers and allow them to dry. Tip: to help M place the parts correctly, while allowing him to do it on his own, I drew lines and dots where the various parts belong.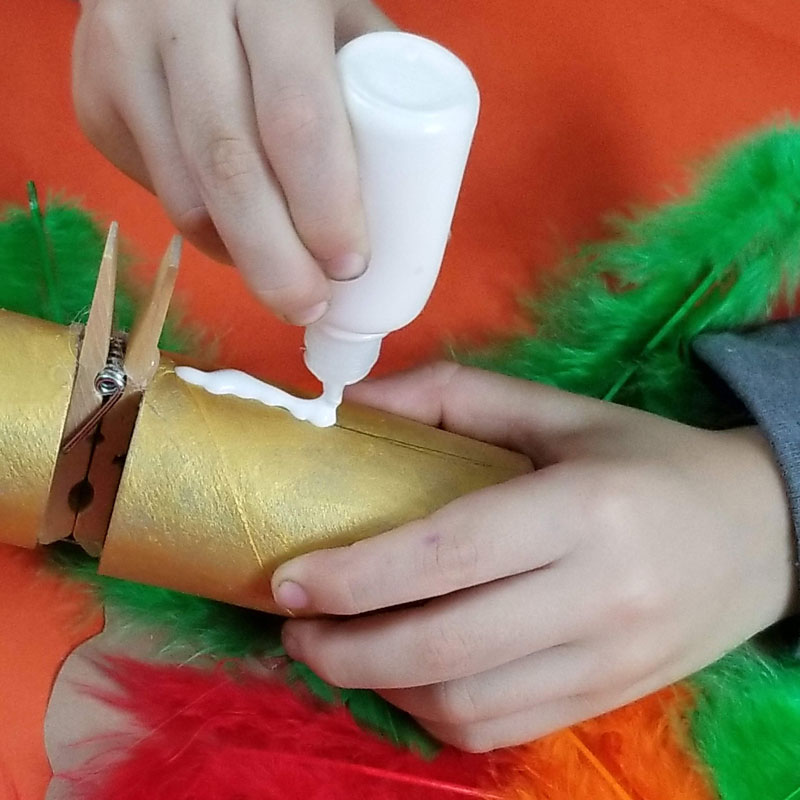 4. Glue on your features, with googly eyes for the eyes. Over here I glued on the waddle partially in the clothespin so that it fit with the feet.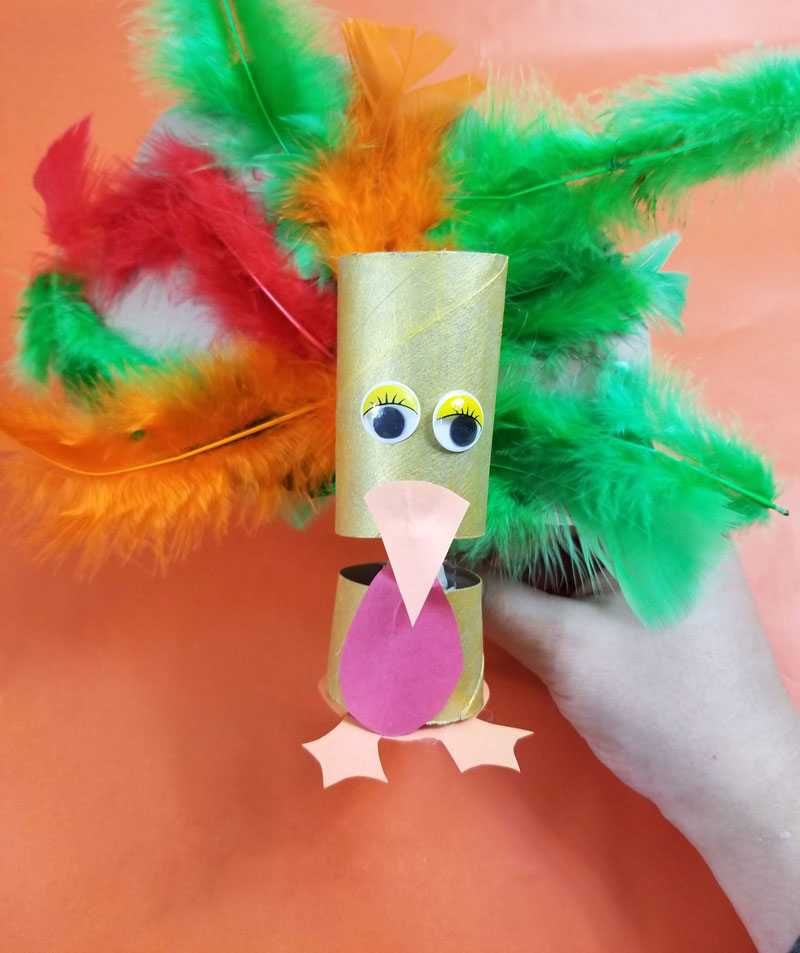 That's all!
Have fun putting on a Thansgiving puppet show using this adorable Thanksgiving recycled toilet paper roll craft.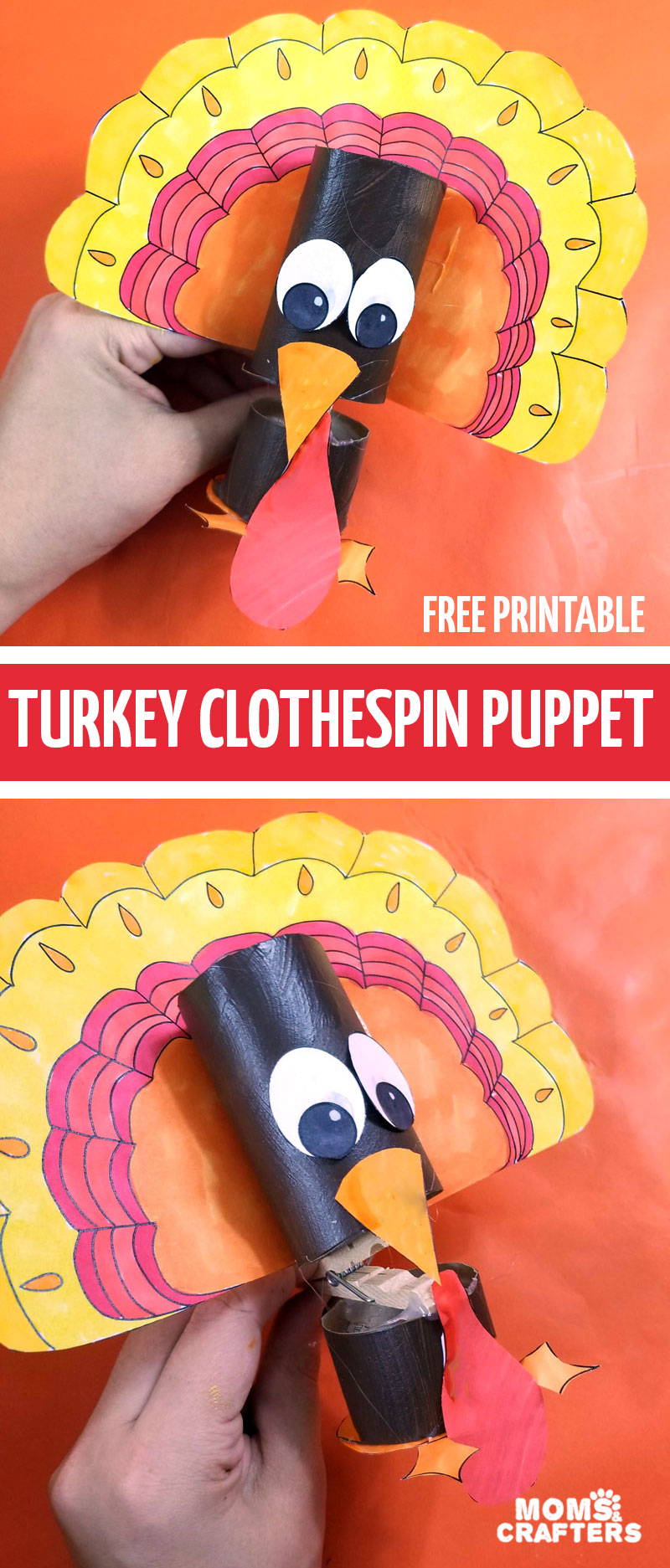 Who will you be making this turkey puppet with? Comment below!
Loved this adorable Thanksgiving craft? Try more like it: