This gift wrap for guys tutorial has been compensated by Collective Bias, Inc. and its advertiser. All opinions are mine alone. #NauticaforDad #CollectiveBiasGifting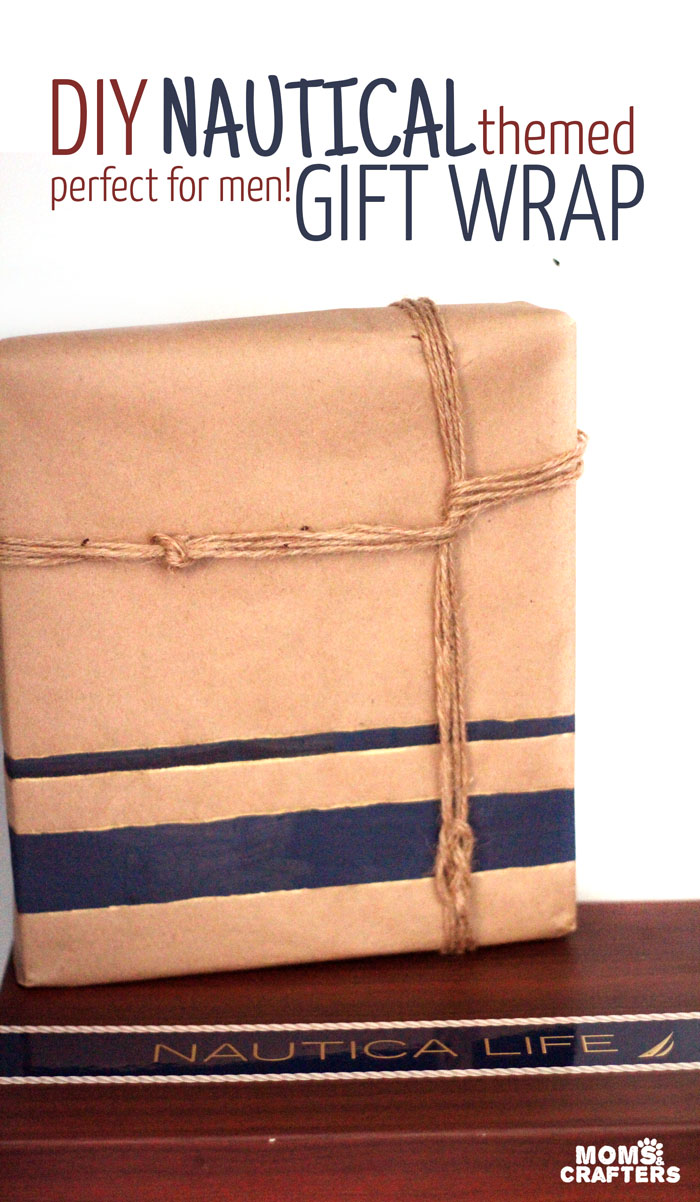 Gifting for men doesn't need to be so complicated. A lot is what you buy and a little is presentation, so follow along for great ideas for both – plus an amazing giveaway!
Celebrating my husband on Father's Day is important to me. My toddler is still too young to understand, so it's up to me to show my husband how much I appreciate him. My husband is truly there when I need him – ready to help. He doesn't believe in or stick to traditional gender roles.. He views everything as teamwork, and takes care of the dishes, the laundry, and of course our toddler.
He's been as obsessed with M as I am since the moment he was born. I know I can fully rely on him to be the loving Dad I want him to be – the kind that's reliable, is there for important moments. There's nothing as heartwarming as seeing him frolic with my baby, so I wanted to buy him something he'd really like.
Buying for men is a challenge but it's not as bad as you think. You need to put yourself in their shoes, and figure out their preferences. My husband loves a fresh smelling cologne so Nautica Life was a perfect match.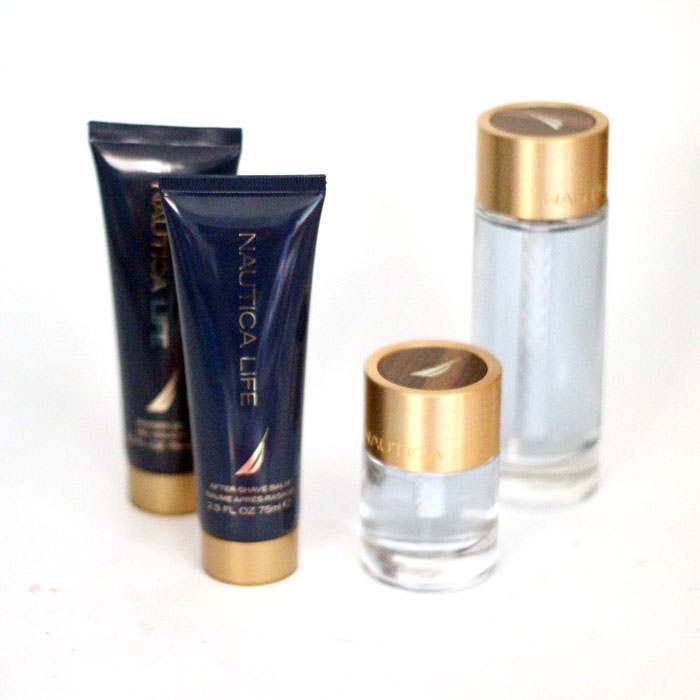 Instead of just buying the eau de toilette, I upgraded it drastically by getting the Nautica Life gift set at Macy's. (It costs only $65.00, for a $128.00 value, and includes: 3.4 oz Eau de Toilette, 2.5 oz Aftershave Balm, 2.5 oz Shower Gel, and 1 oz Eau de Toilette.) My local mall has two Macy's locations. I found it near the women's fragrances, together with other similar gift sets, so if you don't see it in the men's department look there.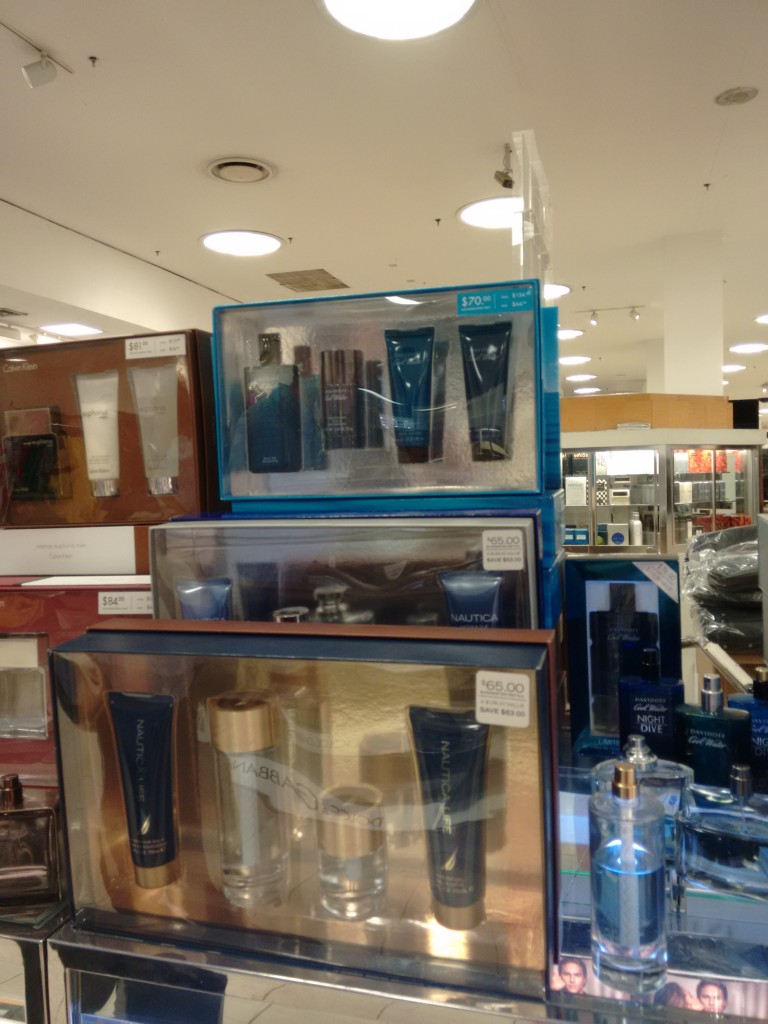 The next step was presentation – because presentation is important (who doesn't judge a book by its cover?)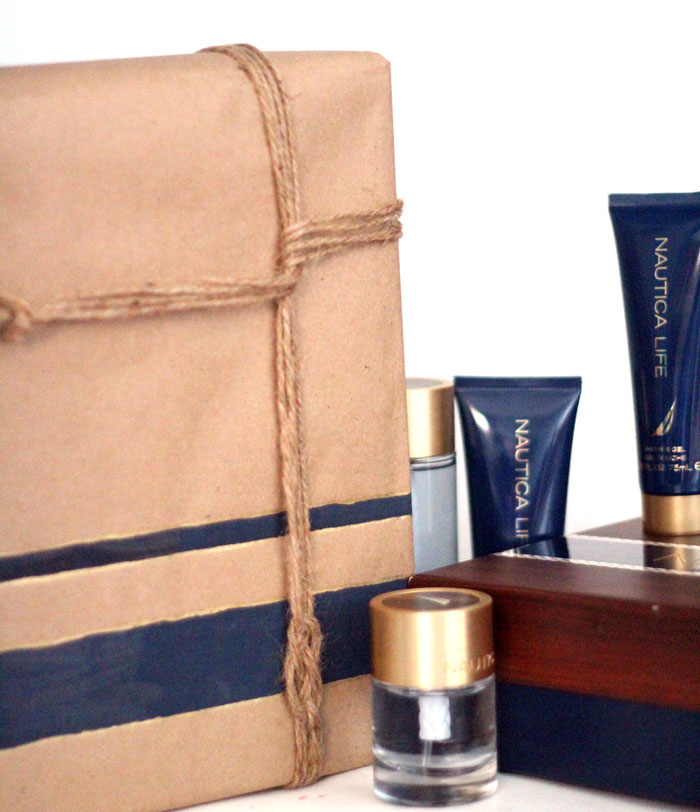 The Nautica Life gift set comes in a beautiful box as it is, but I still wanted the suspense of gift wrap. To make something that will complement and work TOGETHER with the box, I decided to go with a nautical look. My first attempt was a fail, so I'll spare you the details – but I loved how my second try worked out!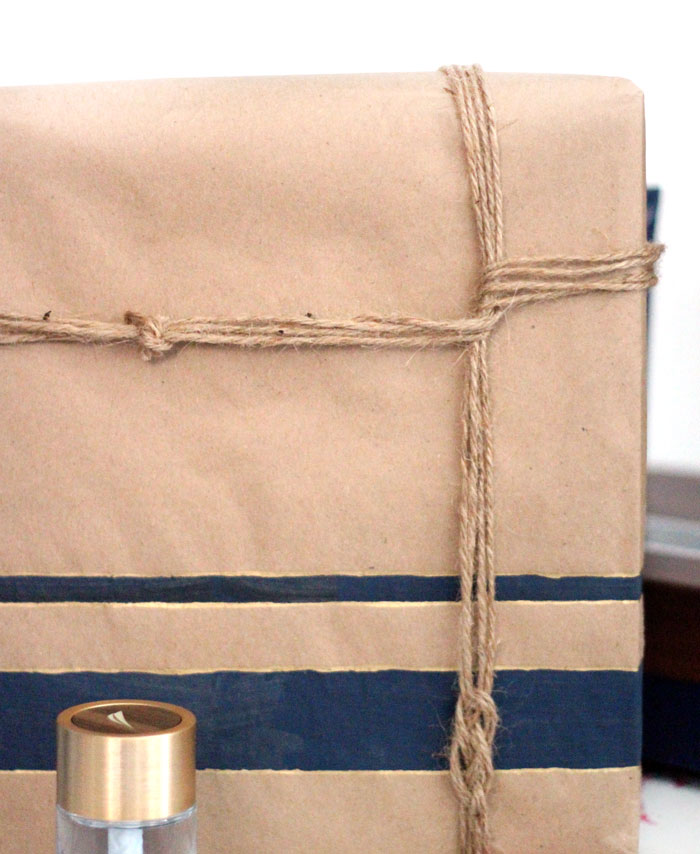 I'll apologize in advance that the step-by-step photos aren't the best quality – the weather here is really bad and I rely on the natural light for my photos. But I wanted to get this out in time for Father's Day so here goes…
How to make nautical gift wrap for guys:
Supplies:
Brown wrapping paper
Navy blue craft acrylic paint (I added a little black to bright blue) and a foam paintbrush.
Painter's tape.
A flat, narrow tipped gold paint pen
Twine
Scissors, tape
Instructions:
Measure your gift set, and cut a generous piece of wrapping paper.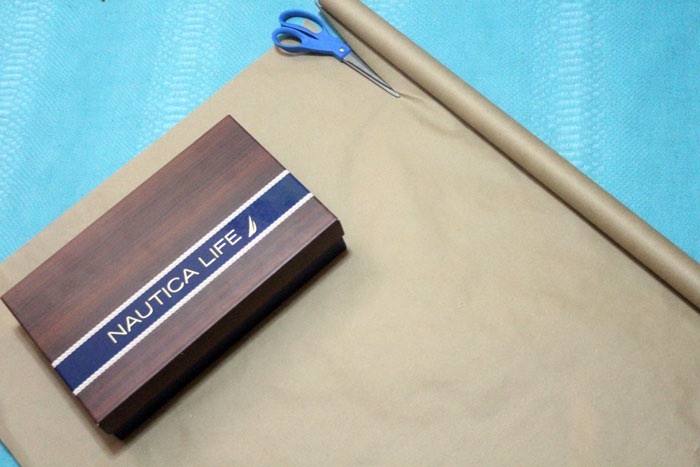 Mark where you will be folding it around the gift set by making a crease (so that you know where to put the stripes).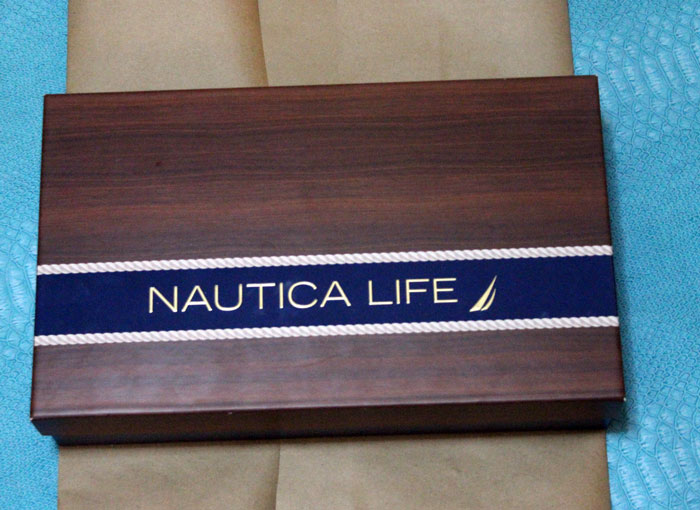 Apply painters tape, leaving a thick stripe and a thin one (or however you want). Paint between the stripes, and allow it to dry before removing the tape.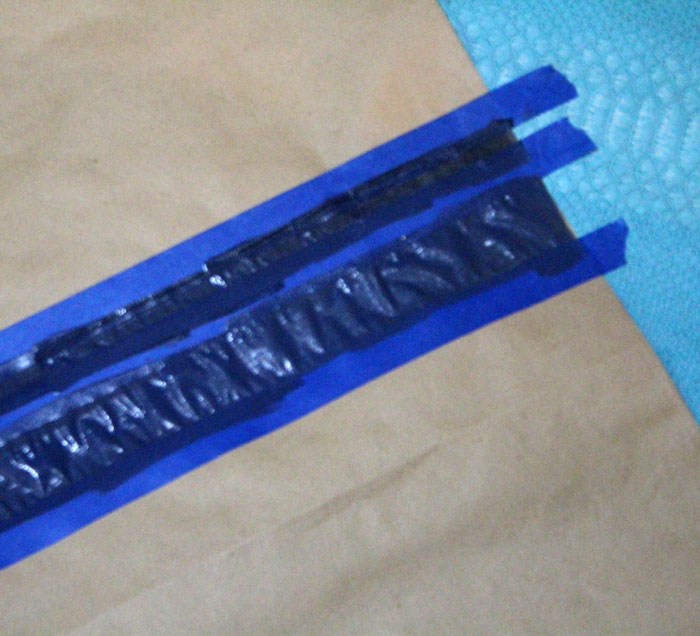 A little gold goes a long way! I traced the edges of the stripes with a gold paint pen.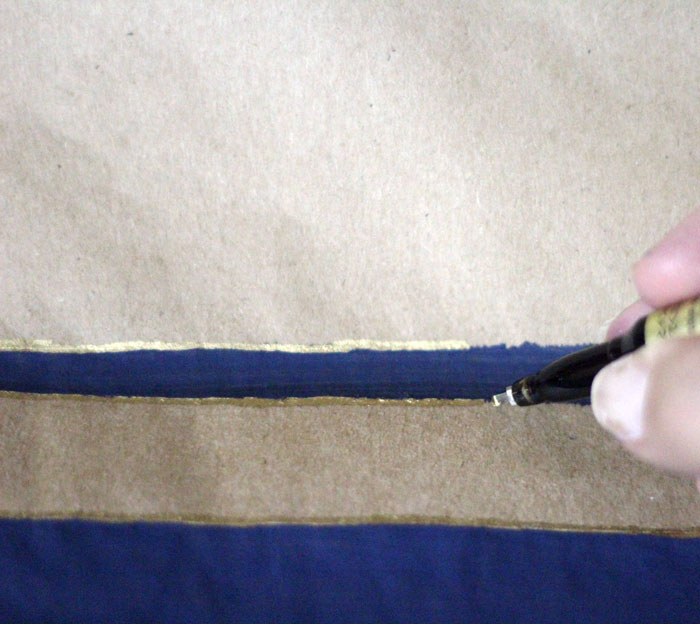 Now wrap your gift set! For the tutorial, I actually wrapped a stack of my toddler's books (that's why the shape is a little different) so that I can take pretty photos of it next to the gift set and show you how beautiful they look together…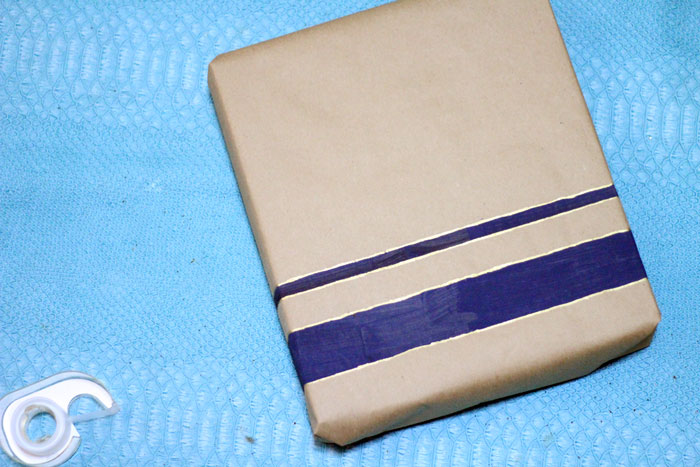 Make a sailor's knot! This really deserves its own tutorial, but I'll give it to you here quickly. I doubled the twine to make it fuller. Cut four pieces about 5 feet in length. Pair them up so that you're working on two sets of two. Place one in an upside down fish shape, and the other over it in an upside down U (1st image). Place the left half of the top set underneath the left of the bottom, and the right half under the loop of the fish (2nd image). Weave the left side of the top set as follows: over the loop, under the right of the top set, and over the loop (image 3). Finally, pull all your corners to complete the knot – but leave it a little loose because it's pretty!

Use your knotted twine to wrap your gift as you'd like! I placed it vertically with the knot over the wide stripe for contrast. I flipped, crossed twisted the strings around each other to switch to vertical, and then brought them back to the front. There, I twisted it once around the vertical where it crossed over. I knotted them, and trimmed it close (twine is very rough so it holds well).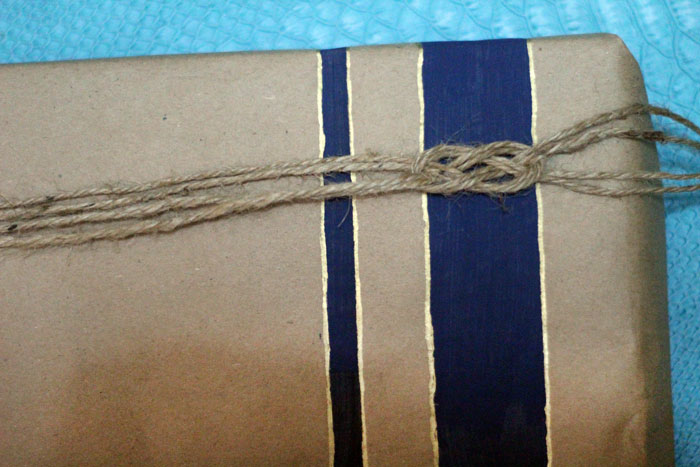 Give it to the Dad in your life, and watch his face light up!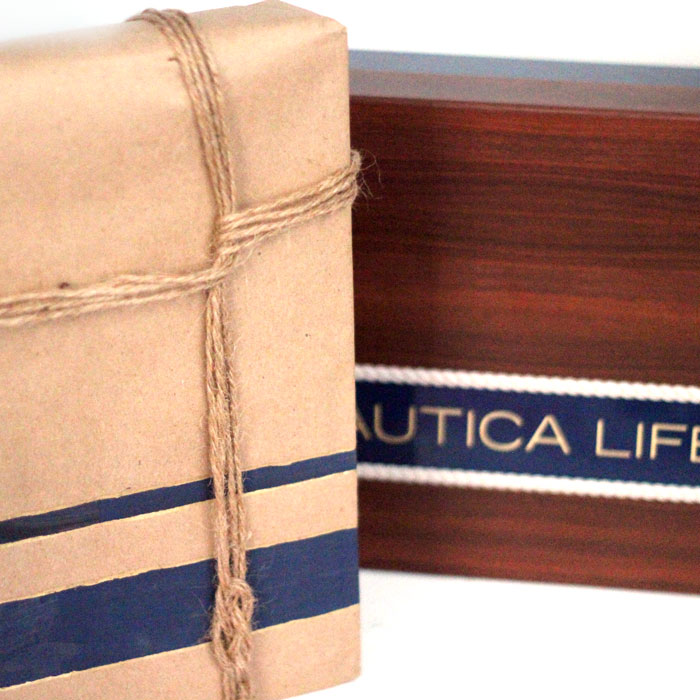 But first, enter to win an amazing prize, sponsored and fulfilled by Collective Bias, Inc!
Prize:
1 Grand Prize winner will receive a $4,000 cruise vacation package
5 Second Place winners will win a Nautica men's fragrance gift package
Giveaway ends on July 2, 2015 at 11:59:59 PM ET. Eligibility: 18+, resident of the US.
What ideas do you have for gift wrap for guys? How would you wrap the Nautica Life gift set?
Connect with Nautica:
Nautica Fragrances | Facebook | Twitter | Instagram