These DIY enameled spoons are so easy and fun to make and require no experience or skill. They make a great hostess, housewarming, or engagement gift – or use them to serve dips. They are also a great way to customize teaspoons for a party (for example, you can use these as wedding cake spoons!) They are one of my favorite nail polish crafts. No one will believe you did these yourself and the finish on the crackle one, as you can see here, is beautiful and unique! Disclosure: this post contains commissioned links.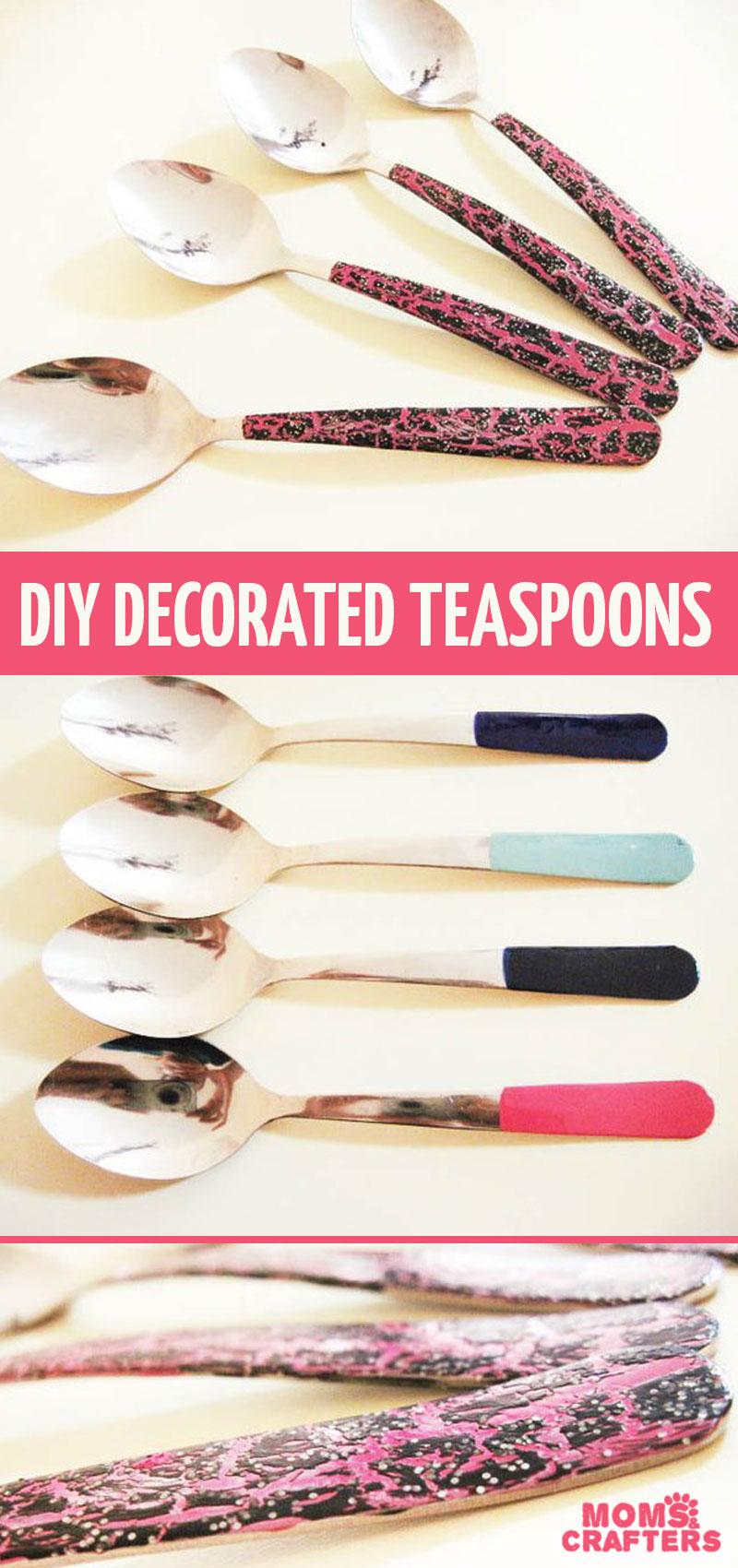 This post was originally published in 2014… that's four years ago! It was one of the very first posts shared here on Moms & Crafters, well before I was serious about turning this blog into a full-time thing, but after I already had a crafting style that I wanted to share.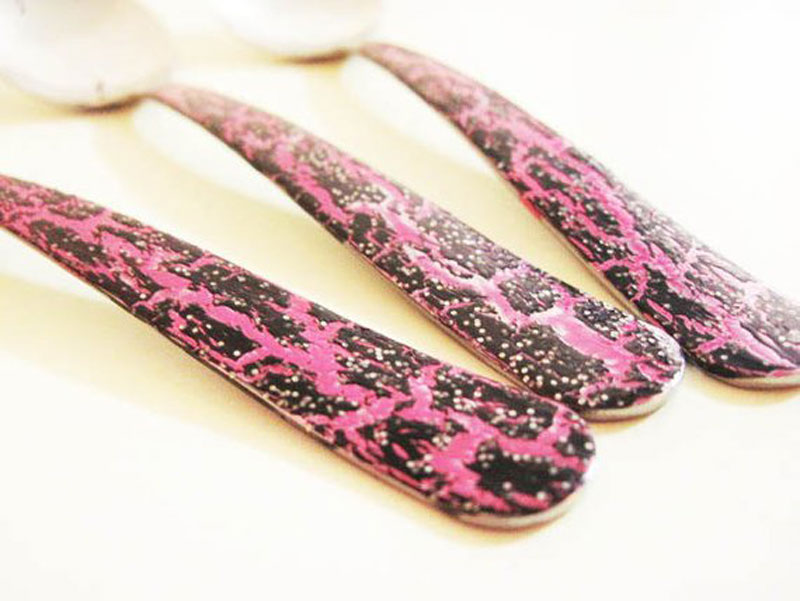 When it comes to making new, functional crafts, I like to keep things simple. For me, the point of crafting is twofold:
To enjoy the process without pressure
To customize my life and have a functional outcome.
These DIY faux enamel spoons give me both. They are so much fun to relax with and paint carefully spoon after spoon. While they might not be a long-term solution, they got plenty of use before the paint began to peel. And technically you can remove the finish using nail polish remover and decorate them again if they do get ruined.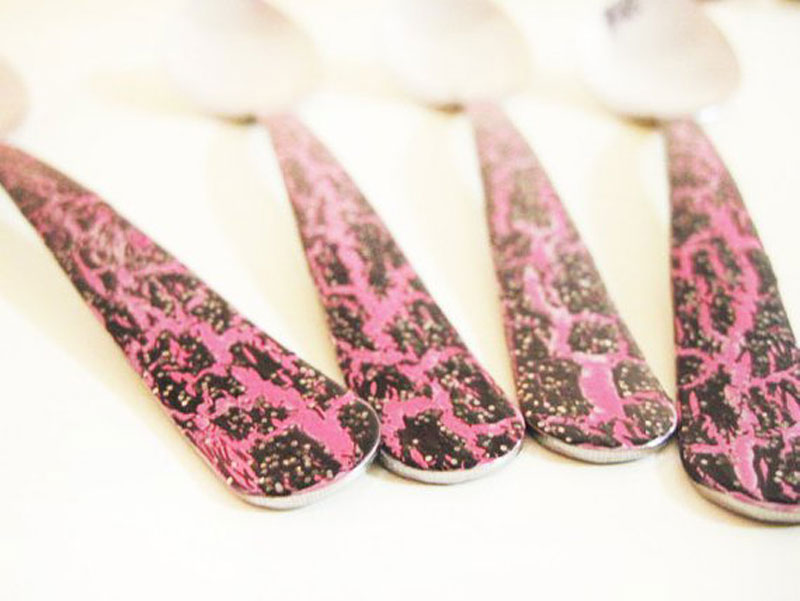 A note:
Nail polish is NOT food safe. I typically used these in ways that the polish wouldn't touch the food (such as for dips).
You can coat it with a layer of dishwasher safe Mod Podge if you'd like to extend the life. I haven't tried it personally – it's just the next step that comes to mind if you want to make it more food safe and durable.
The cool thing about nail polish: it comes in every single color under the rainbow. It even comes in cool finishes! Here, I made a color block version as well as a crackle polish version. Raid your stash and go crazy!
Check out the complete list of five minute craft ideas!
What you need to make your own faux enameled spoons: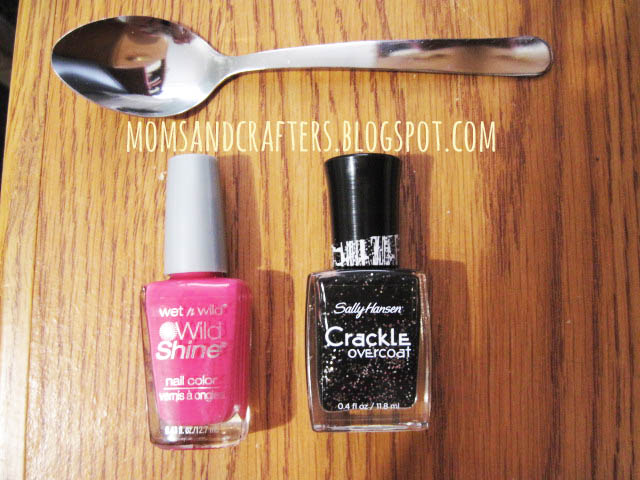 Simple stainless steel or similar spoons – I used these.
Topcoat (if not sealing more permanently)
Nail polish of your choice
How to make faux enameled spoons:
Watch the video below where I shared some more cool nail polish crafts – including these DIY enameled spoons – to see it in action! Or scroll down for detailed instructions specific to this craft:
1. Prep:
Clean your spoon well, removing any dirt or dust. This will help the polish stick better and go on smooth. Dry with a soft, absorbent cloth. Protect your surface. (If you get nail polish on your surface, you can clean it with nail polish remover). Make sure your work area is well-ventilated.
2. Apply two coats of nail polish.

Start with a horizontal stripe where you want your polish to end. Then apply the rest, stopping at that point. Let it dry completely between coats.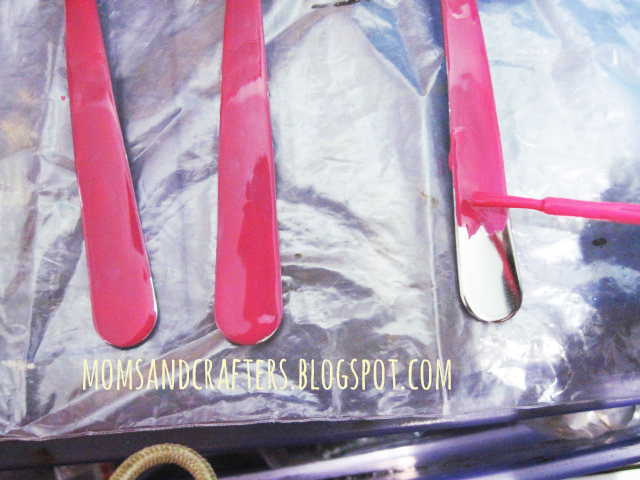 3. Apply a third coat
If you're adding a cool finish, do it in your third coat. If you're working with solids, you can make it bolder with a third coat of nail polish.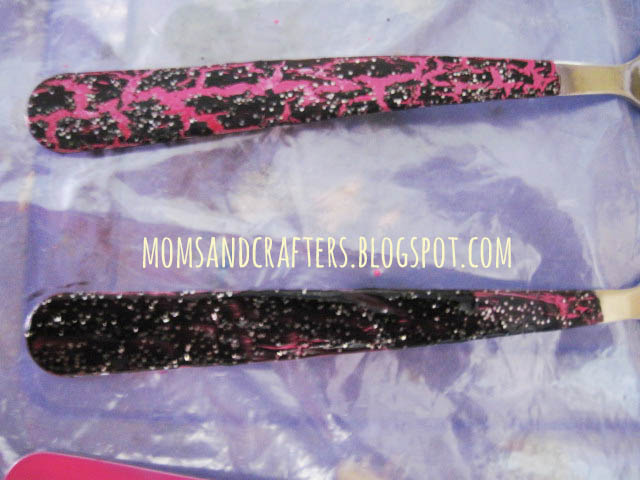 4. Apply a topcoat
Do this once the previous layers are completely dry. This is especially necessary for finishes or any patterns you make where it's not just a block of color. You can also do this for the color block spoons for added durability.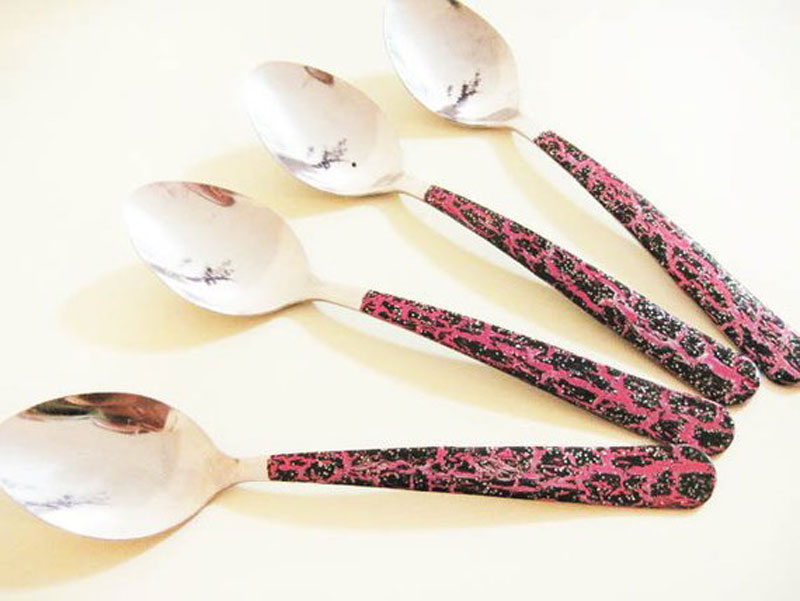 5. Dry overnight
Give these spoons generous drying time – the time you can't afford to give your nails!
6.Handle with care
Care instructions: Hand wash with a soft sponge, mild soap, and lukewarm water to get the most life out of these faux enameled spoons.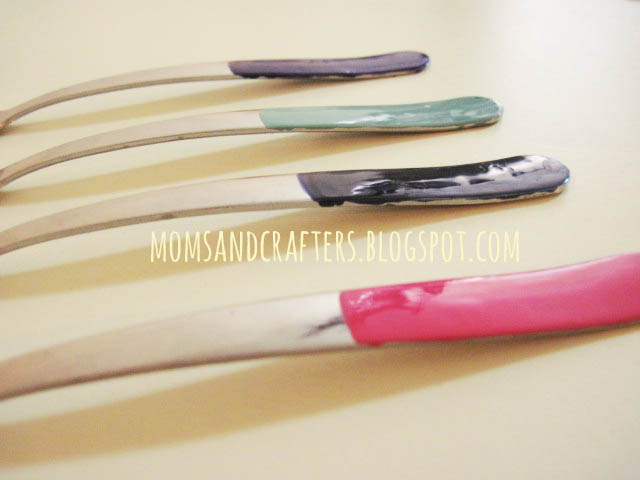 Important:
I'm assuming the nail polish is not made to be food safe. I figure that I handle my food and cook with nail polish on my hands all the time. I do not, however, recommend putting the painted part in actual food. If you paint to the bottom, use it in a shallow food. If you want to use it for tea, or in deeper dips, paint only the tops (as in the case of the color blocked spoons – or less!).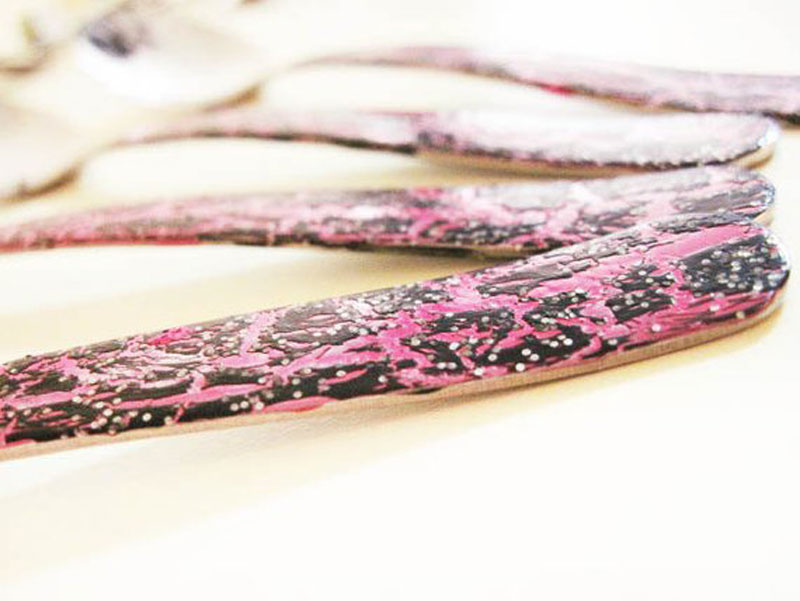 Loved these DIY enameled spoons? Check out the cool craft ideas below!