These DIY enameled spoons are so easy and fun to make and require no experience or skill. They make a great hostess, housewarming, or engagement gift – or use them to serve this eggplant dip!  No one will believe you did these yourself and the finish on the crackle one, as you can see here, is beautiful and unique!  I'm tempted to try this on a whole set of cutlery!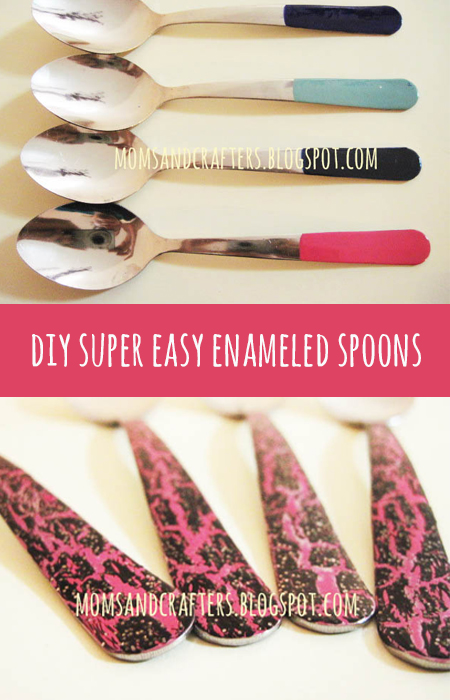 I've made it in two styles, which I will outline in simple to follow steps below.
DIY enameled spoons – YOU NEED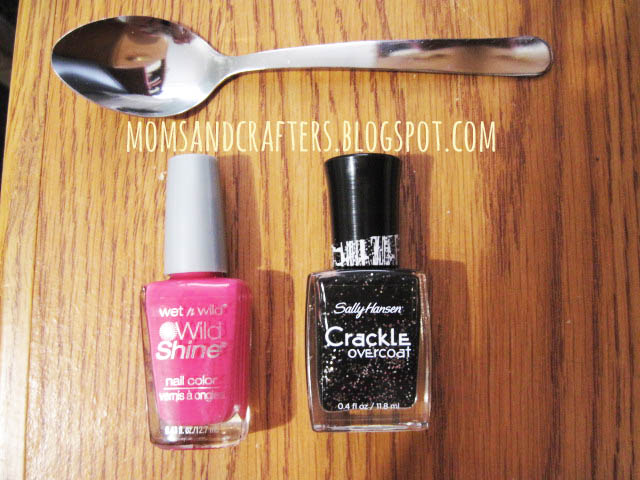 For both styles:
Simple stainless steel or similar spoons – I used these.
Topcoat – I used the Sally Hansen Advanced Hard As Nails Strengthening Top Coat
For the pink crackle: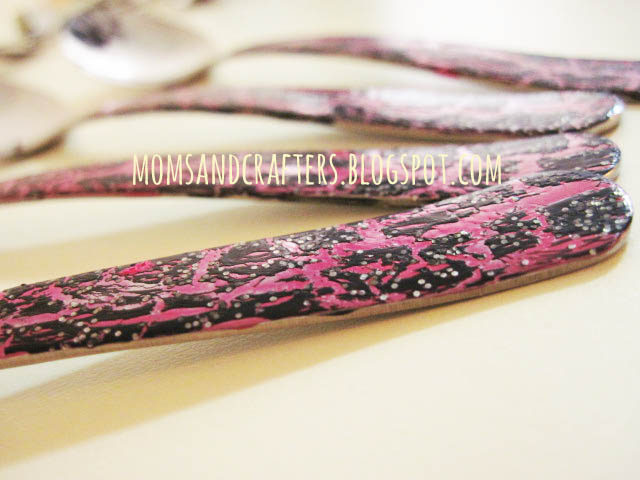 Pink or any bright color nail polish – I used Wet n Wild in Lavender Creme

Crackle overcoat coat – I used  Sally Hansen in Star Burst
For the color block

Any brightly colored nail polishes. I used Wet n Wild in Lavender Creme
, An H&M color I got in store and can't find online (the deep purple), Jade nail polish in mint (not available online or in any retailers in the US) and Careline nail polish in a deep navy (also not available here). If you want to do similar colors to what I did, here some similar polishes are: OPI Nail Lacquer in Pamplona Purple
 Sally Hansen nail color in Mint Sprint
 and Maybelline nail polish in Midnight Swim. 
DIY enameled spoons – WHAT TO DO
Prep
This will help the polish stick better and go on smooth. Dry with a soft, absorbent cloth. Protect your surface. (If you get nail polish on your surface, you can clean it with nail polish remover). Make sure your work area is well-ventilated.
Apply two coats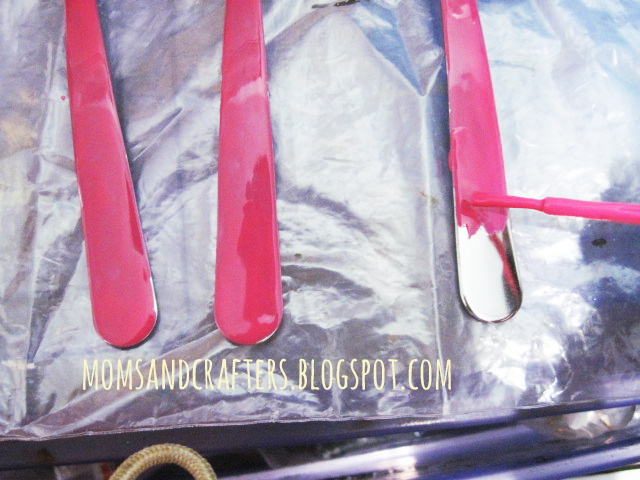 For the pink crackle – apply a horizontal stripe just above where you want it to end (this is to ensure a neat edge). Apply the rest vertically from that stripe. For the color block, start a little more than halfway up. Let it dry in between coats.
Apply a third coat
For the pink crackle this is your crackle coat. Apply a thick stripe covering the original horizontal stripe. Apply a thick layer of crackle vertically as shown. The crackle appears as it dries.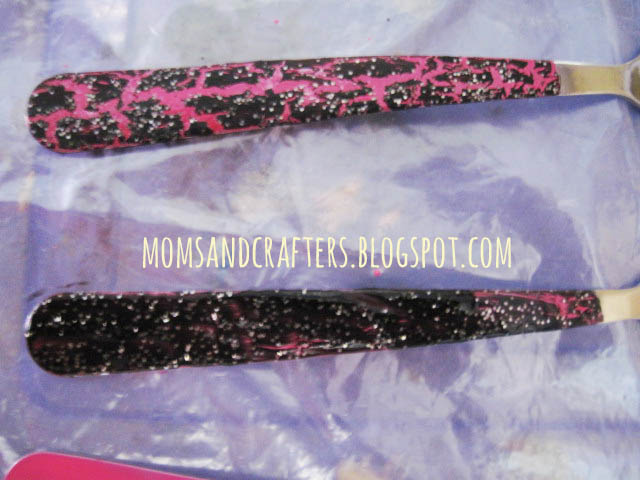 The top spoon is totally dry, the bottom is still mostly wet. You can see it's starting to crackle at the base. This is thick you want it to be.
For the color block, only apply another coat if you feel it needs it. This coat should be the same as the previous.
Apply a topcoat
Do this once the previous layers are completely dry. This is especially necessary for the pink crackle. You can also do this for the color block spoons for added durability.
Dry overnight
Give these spoons generous drying time – the time you can't afford to give your nails!
Handle with care
Care instructions: this is the last detail that I've been trying to work out. Hand wash with a soft sponge, mild soap, and lukewarm water
Variations
I've shown you two easy variations. If you're a bit more bold, try stripes, ombre, or chevron. I've done it using a sheer sparkle as well
. Post to my facebook page if you've tried it yourself – I've love to see what you've done!
Important:
I'm assuming the nail polish is not made to be food safe. I figure that I handle my food and cook with nail polish on my hands all the time. I do not, however, recommend putting the painted part in actual food. If you paint to the bottom, use it in a shallow food. If you want to use it for tea, or in deeper dips, paint only the tops (as in the case of the color blocked spoons – or less!).
If you don't like to DIY you can purchase these from my Etsy shop – if you don't see it listed, just contact me – I may not have posted it yet, or it may be out of stock.
Copyright: You many use this for personal use and for gifting. You may not use this tutorial for resale, and you may not take credit for it or any of the images. If you'd like to share it, please do so using the link to this post. Thanks and enjoy!
Disclaimer: This post contains affiliate links. By purchasing through them, you are supporting my blog and enabling me to provide you with quality content, at no additional expense to you.