Learn how to paint a stunning ombre finish on this painted sea glass stemware. You'll love the cool, breezy look of this summer craft – that will just complement all of your seashell crafts this season! Disclosure: this post contains commissioned links and images.
When people ask me what my favorite type of craft is, I don't REALLY have an answer. I mean, I love jewelry making, am starting to learn brush lettering, but the things I REALLY love to do when I'm relaxing? They don't have a name. But they have one common denominator: cover every surface I can get my hands on with lots and lots of paint.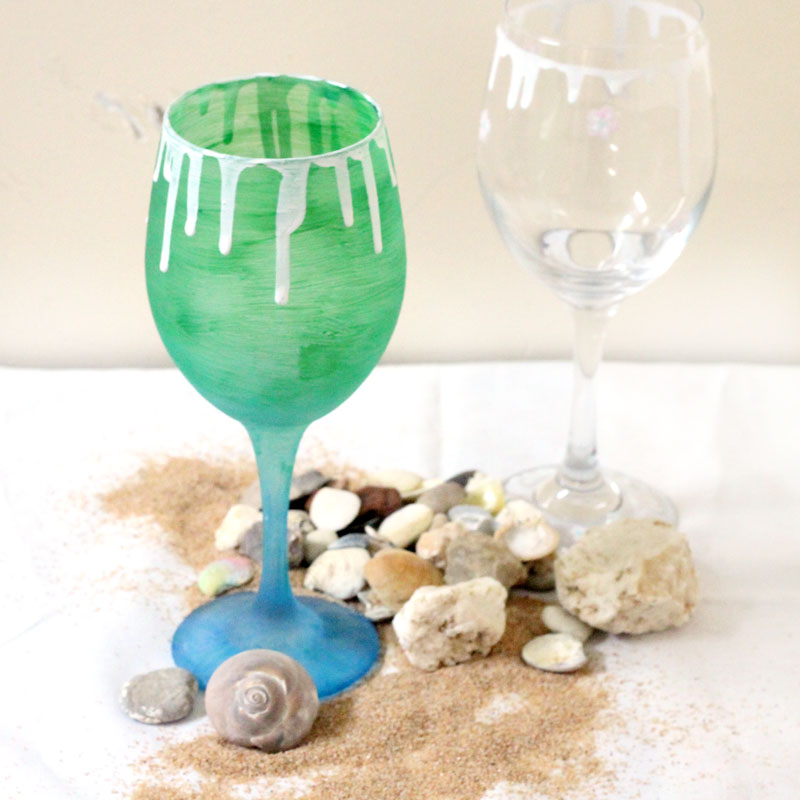 No, for real. I find it incredibly relaxing to simply cover surfaces in paint.
So how do I channel that energy? I try to paint things that are functional with the proper paints to get them going. When Plaid sent me these beautiful glass paints as part of their Ambassador program, I decided to paint some inexpensive stemware to make pretty centerpieces.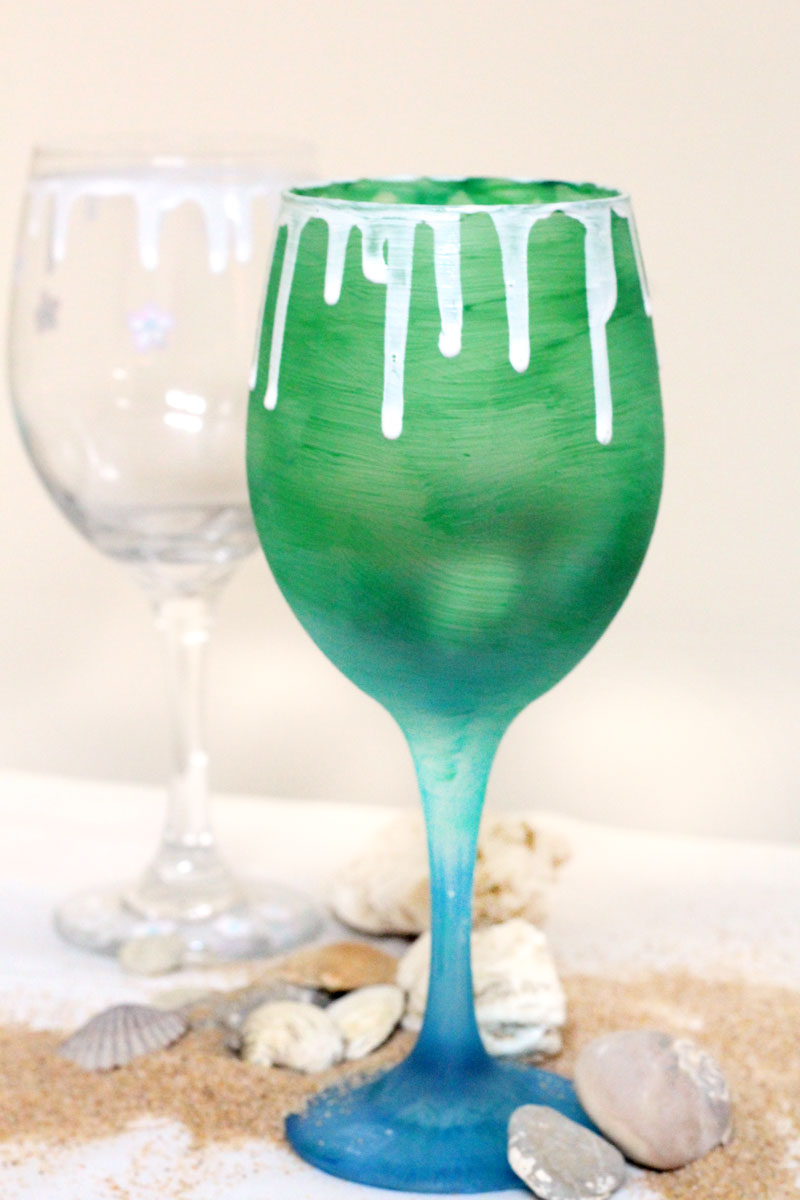 The possibilities for these painted sea glass centerpieces are endless: fill with sand, add a tea light, and you have candle holders. Fill with sand, add some sea shells on top. Deeper stemware can be used as mini vases. Or just paint a vase to begin with…
If you'd like to use these as actual wine glasses, just leave an inch at the top without paint. You won't get the full sea glass look, but it will still be amazing and will serve your purpose.
I added a white drip to the rim to add some spice to the project. Obviously, that's optional.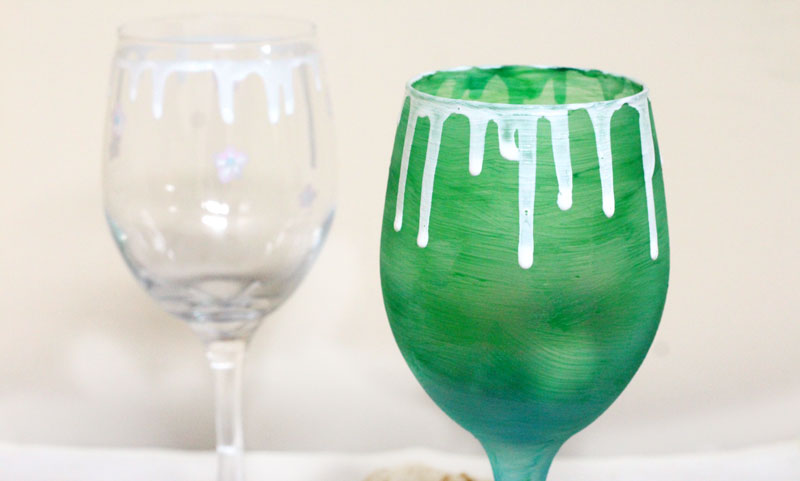 The two different paints that Plaid sent me are good for different purposes. The sea glass paints have a translucent finish that does a great job at mimicking sea glass. The milk glass paints are more opaque and give that vintage milky glass look. They're also great for painting on patterns. You can get them both at Amazon as well.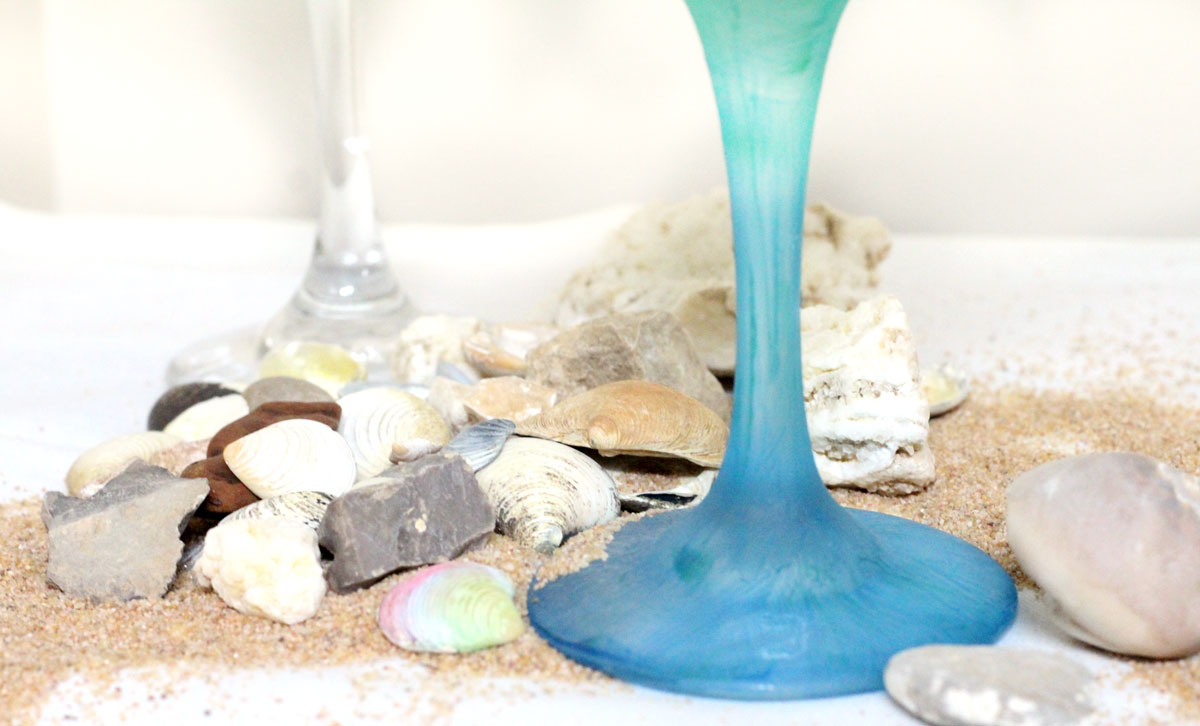 What you need to make this Painted Sea Glass Stemware Centerpiece:
How to make this Painted Sea Glass Stemware Centerpiece:
1. Lay out your 3 colors on a plate in order of the ombre.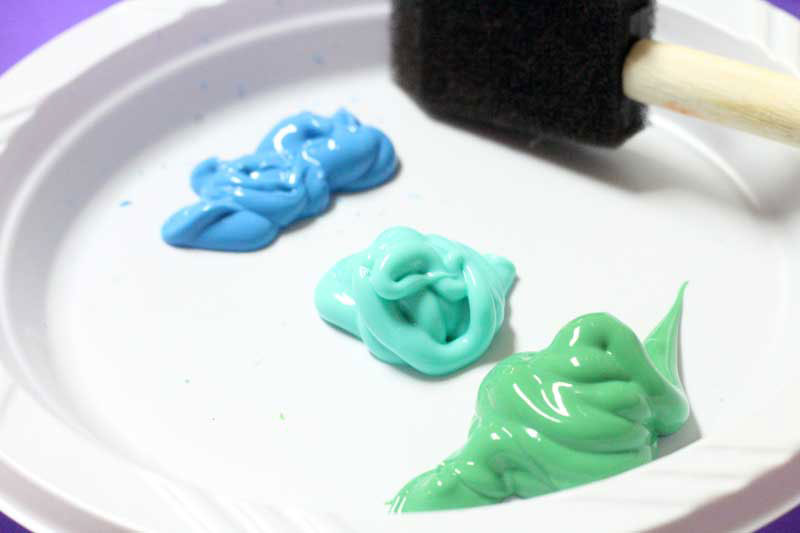 2. Start from the base and paint upward with your first color, a bit more than 1/3 of the way. Overlap your second color with the first, blend smoothly, and continue with your second color. The trick is to keep your strokes in one direction.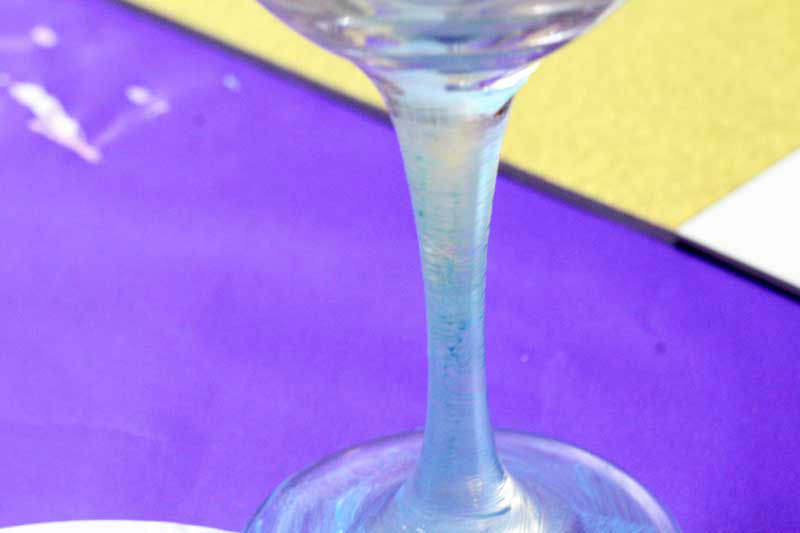 3. Continue with your 3rd color, painting in the same direction, and overlapping slightly with the second.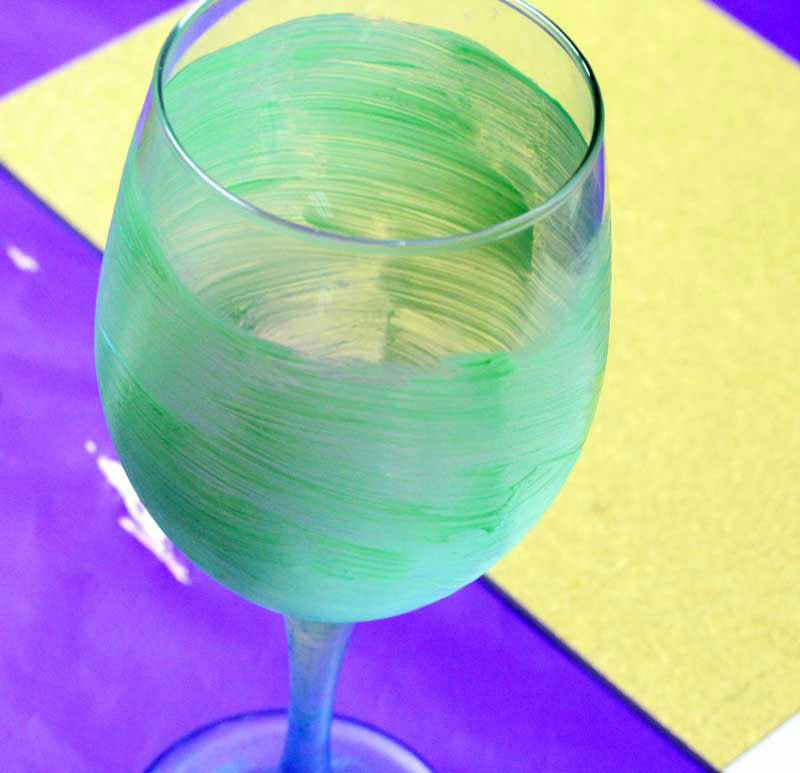 This is the effect before I added the paint drip.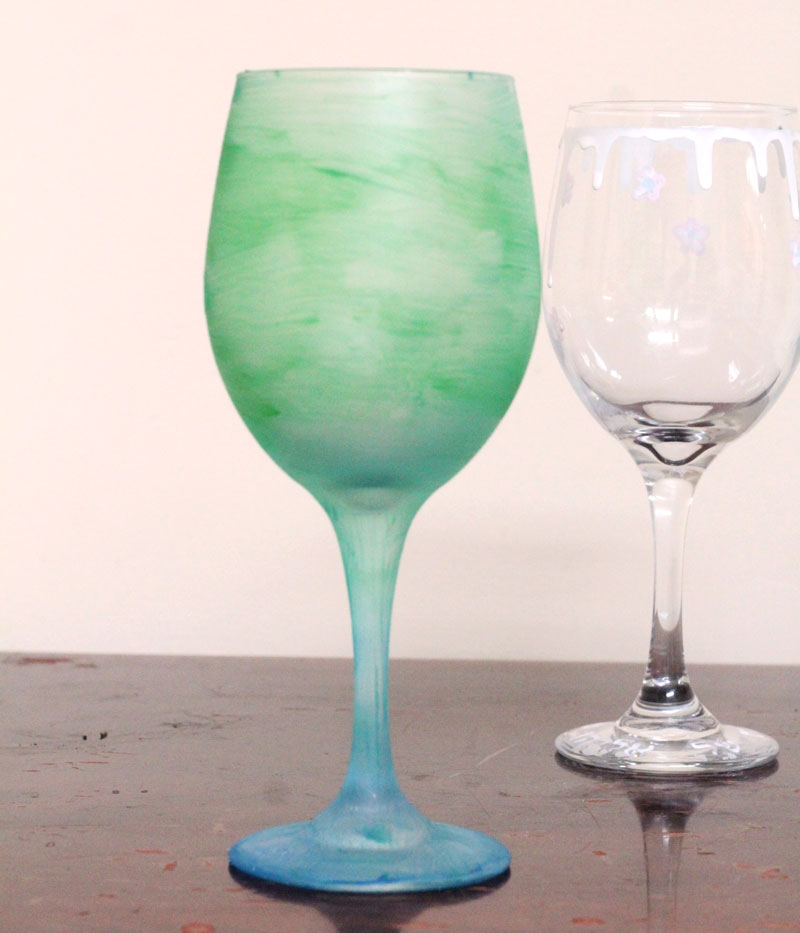 4. If you'd like, add a paint drip around the edge, or a bit below it. Note: the photo below is of a different project. Do add the paint drip, draw a line around the rim, loading it in some spots and allowing it to drip down at intervals.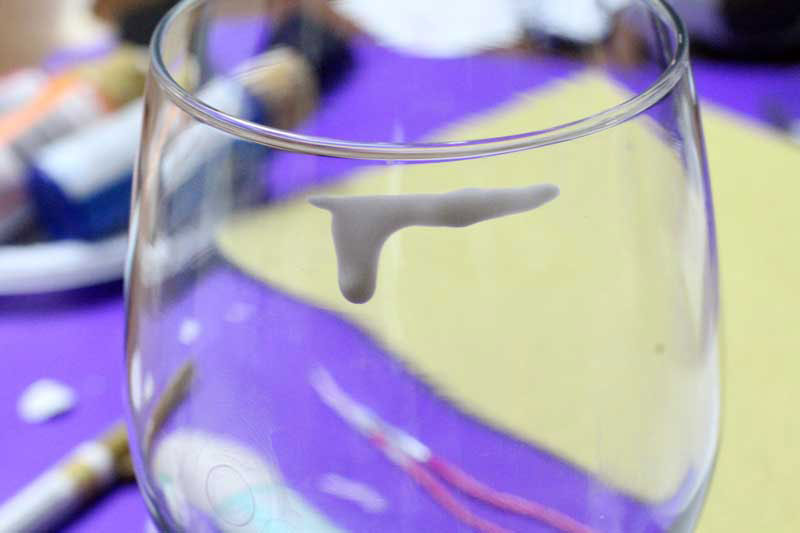 Allow your glass to dry and cure according to package instructions! To cure it properly:
Allow it to dry for 24 hours before baking. Place it in a cool oven to avoid breaking your glass, set to 350ºF and allow it to bake for 30 minutes after the oven has reached the proper temperature. Turn off the oven and allow it to cool completely before removing it from the oven. Wait 72 hours before using it.
What will you be using this painted sea glass stemware for? Comment below!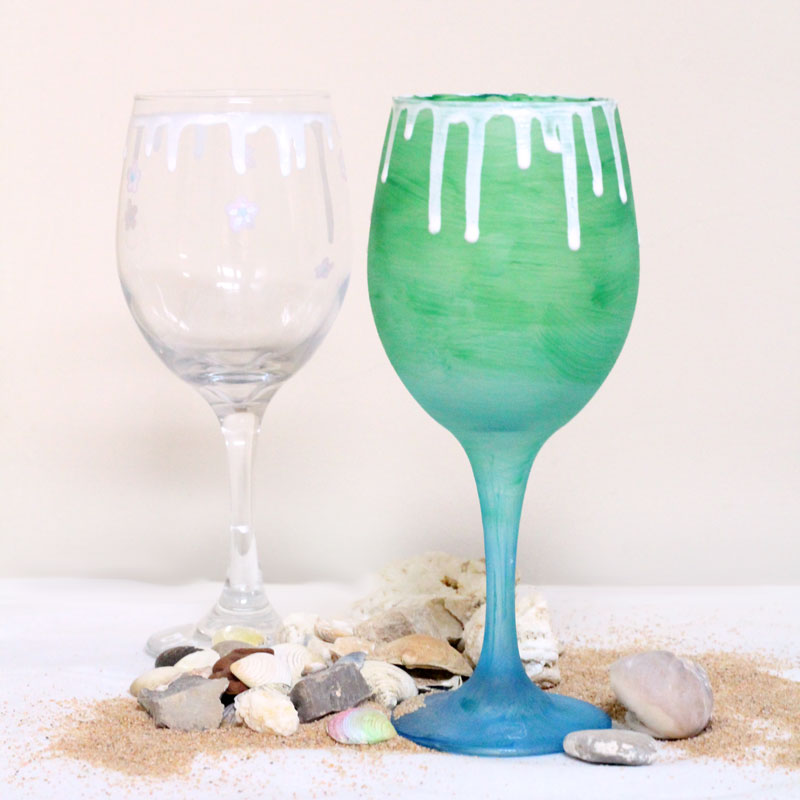 Looking for more cool summer craft ideas like this painted sea glass stemware? Check out the ideas below!
Love coloring? You'll love these beach-themed coloring pages!