Learn how to make a tulle bow to use as a hair clip, headband, a fun accessory, or whatever you feel like crafting today! When you're done, go ahead and make a pom pom with tulle too! This post contains affiliate links.
---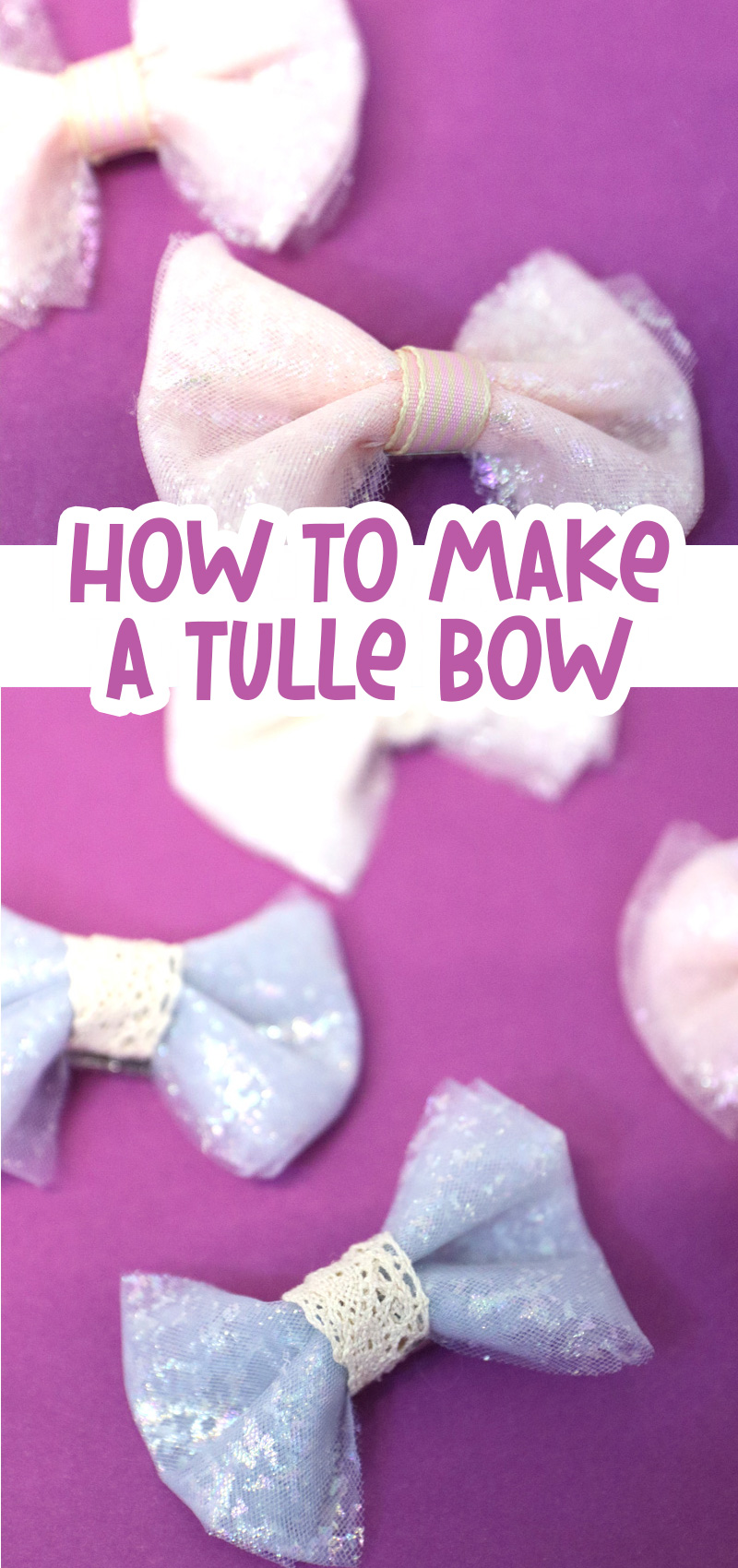 Tulle is a fabulous material for Spring crafting. It's light, airy, and you can get sparkly varieties too! With the outdoors becoming more accessible, it's a fun way to dress up a party or event too.
But one of my favorite things to do with it is to create fun little accessories for my little self-proclaimed princess. She loves bows.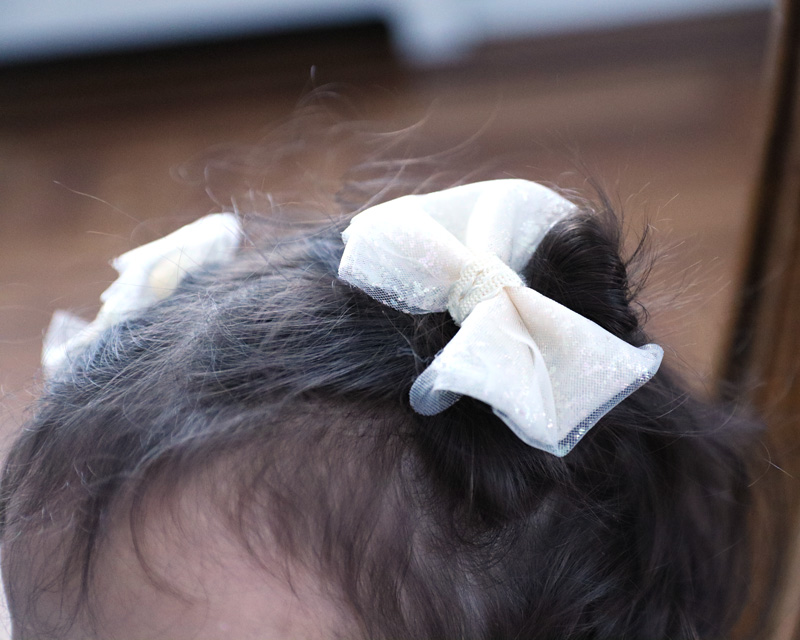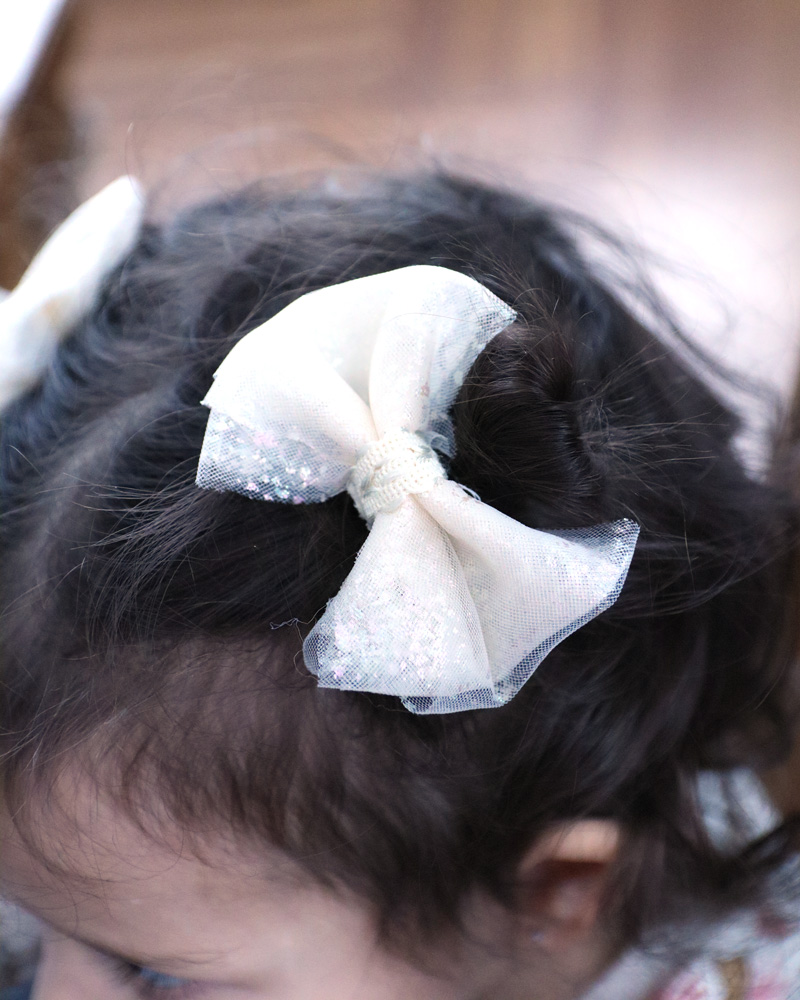 The thing with the "terrible terrific twos" is that you always gotta give them a CHOICE and today, when I gave A a choice of bows, she chose her pink sparkly ones (below).
So I figured it's time to share the tutorial for how to make a tulle bow. It's SO easy.
It took a grand total of half an hour for me to make the six pictured in this tutorial!!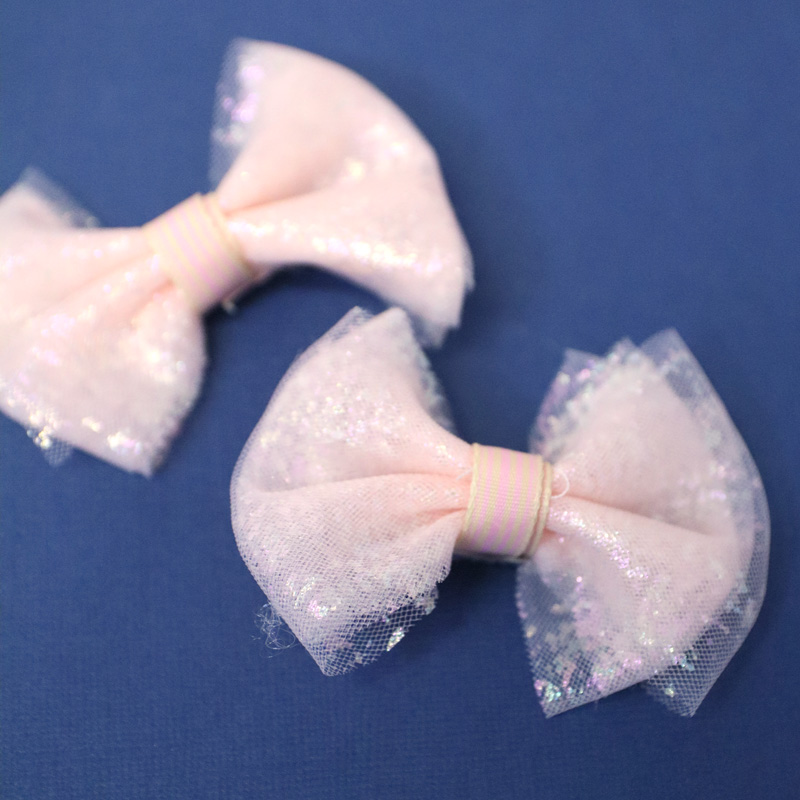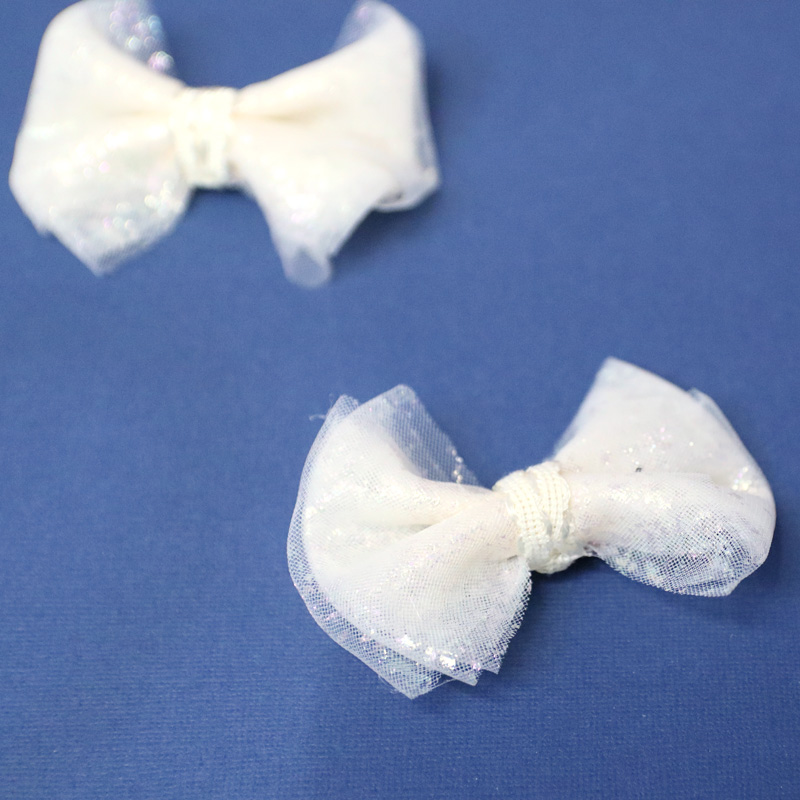 How to make a tulle bow: the basic process
The basic process for how to make a tulle bow is simple: loop layers of tulle ribbon in your choice of width (more on that below).
Gather it together in the center with a needle and thread. No, you don't need to SEW sew. You're just threading it through once and winding it around the center to create a good, gathered cinch.
Finish it off with a ribbon – or whatever you'd like, more ideas on that below. And attach it to whatever you'd like, in this case, an alligator clip.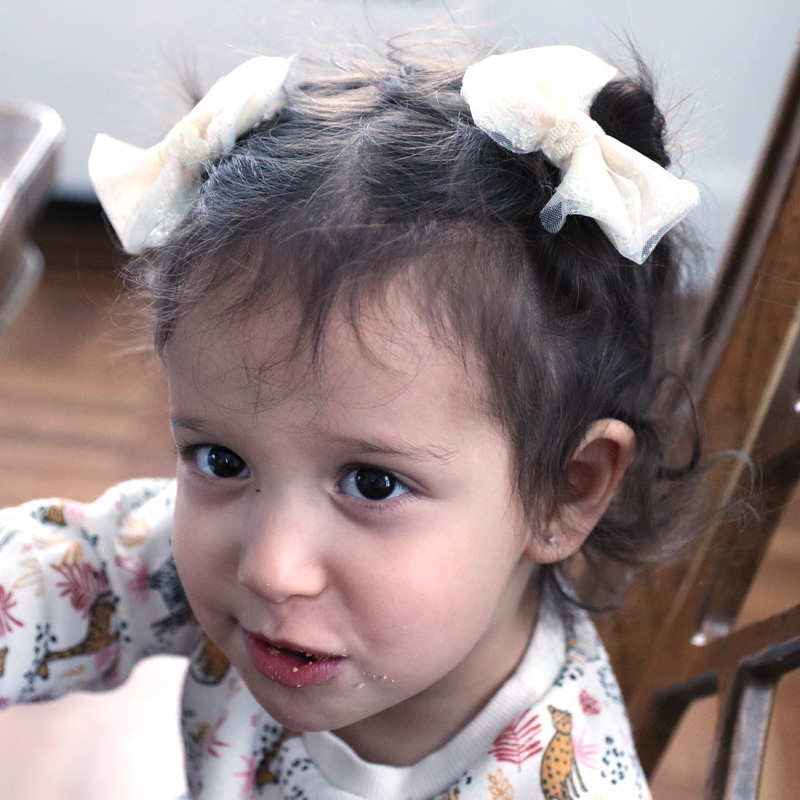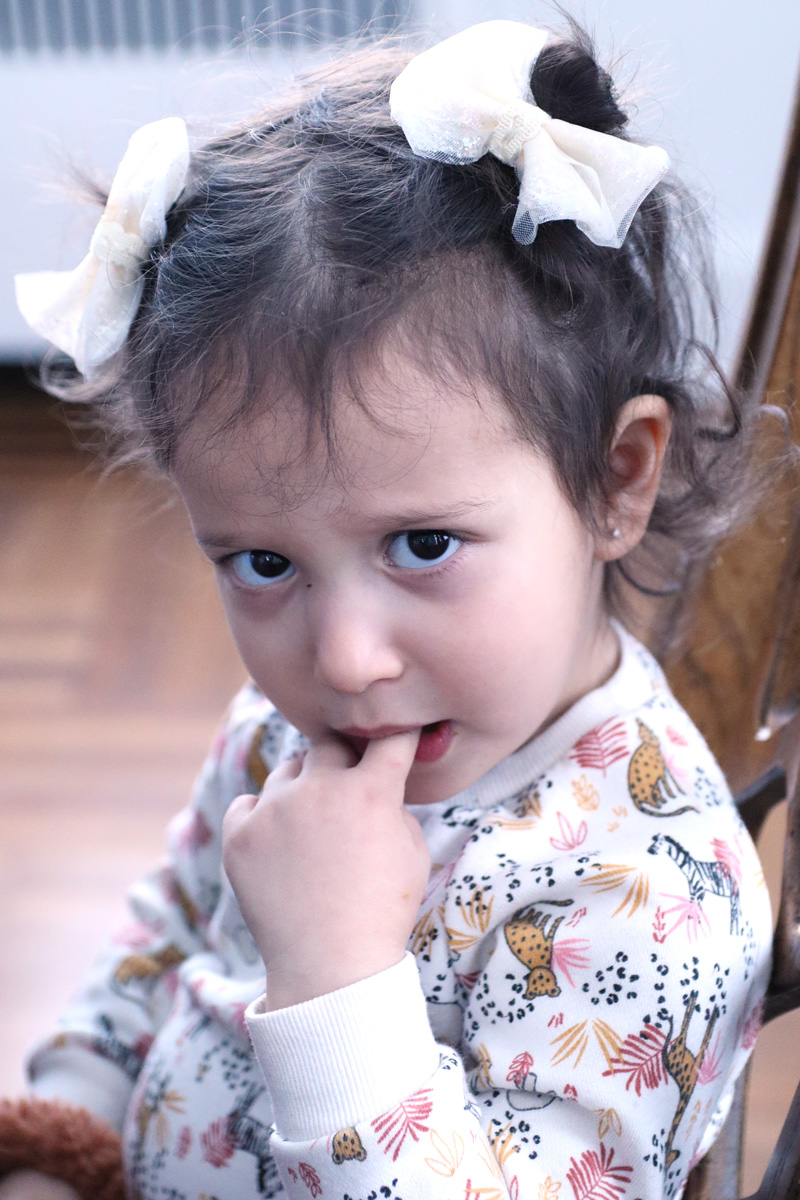 The loops on the sides of the bow are left CLOSED for a simple reason: it's sturdier this way.
You're layering it to get that gauzy depth but there's no need to open them up. You CAN if you want, but you'll find that it gets messy quicker that way.
Closed, it flows beautifully, with a soft curve, and gentle pleats. And everything stays in place.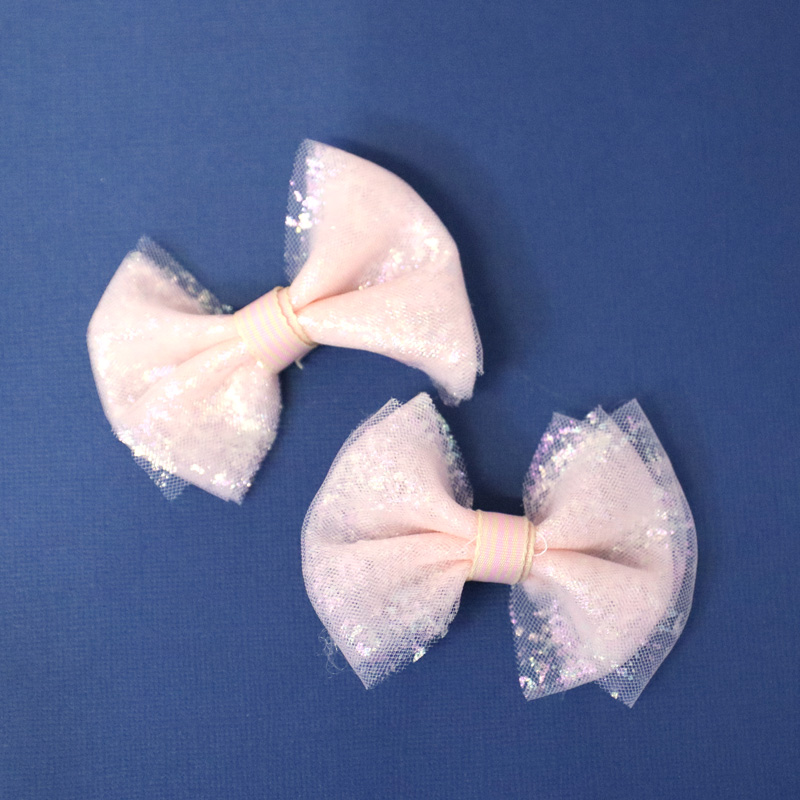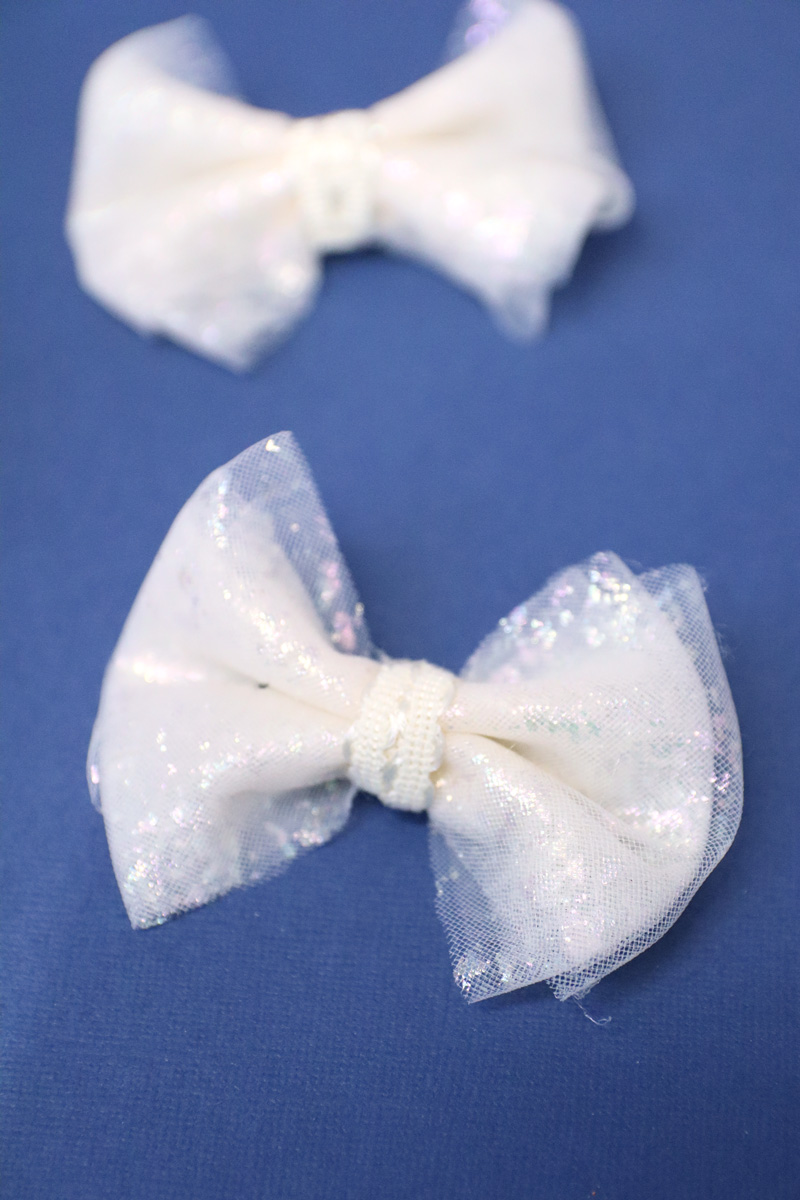 Which materials are best for making tulle bows
The best tulle to use
To make these, I used tulle ribbon that is 6 cm (about 2.5-3 inches) wide.
You can go with wider if you have a hard time finding this size. Your bows will come out larger. You can also cut 6 inch tulle ribbon in half along the length.
Play around with different types of tulle – sparkles, stars, ombres… whatever suits your needs!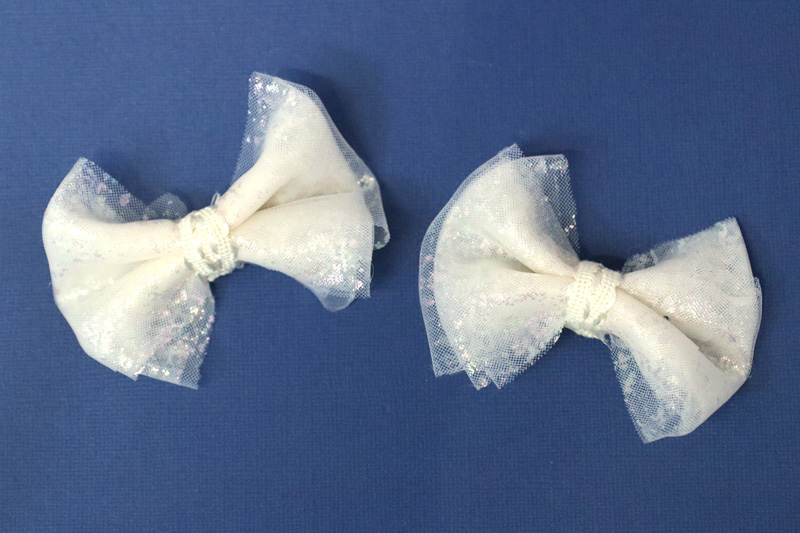 How to finish the center
The center of your tulle bow is held together using a needle and thread. However, that's not very pretty. I used ribbons from my big stash of scrap ribbon – and it is a fabulous stash buster! I wound them around more than once for two reasons:
I was working with some narrower ribbons that looked better this way.
Even the thicker ones looked better wrapped a few times because it mimics that depth that you have with the layered tulle.
My ribbon came from a mix of dollar store lace trim and Michaels scrap packs.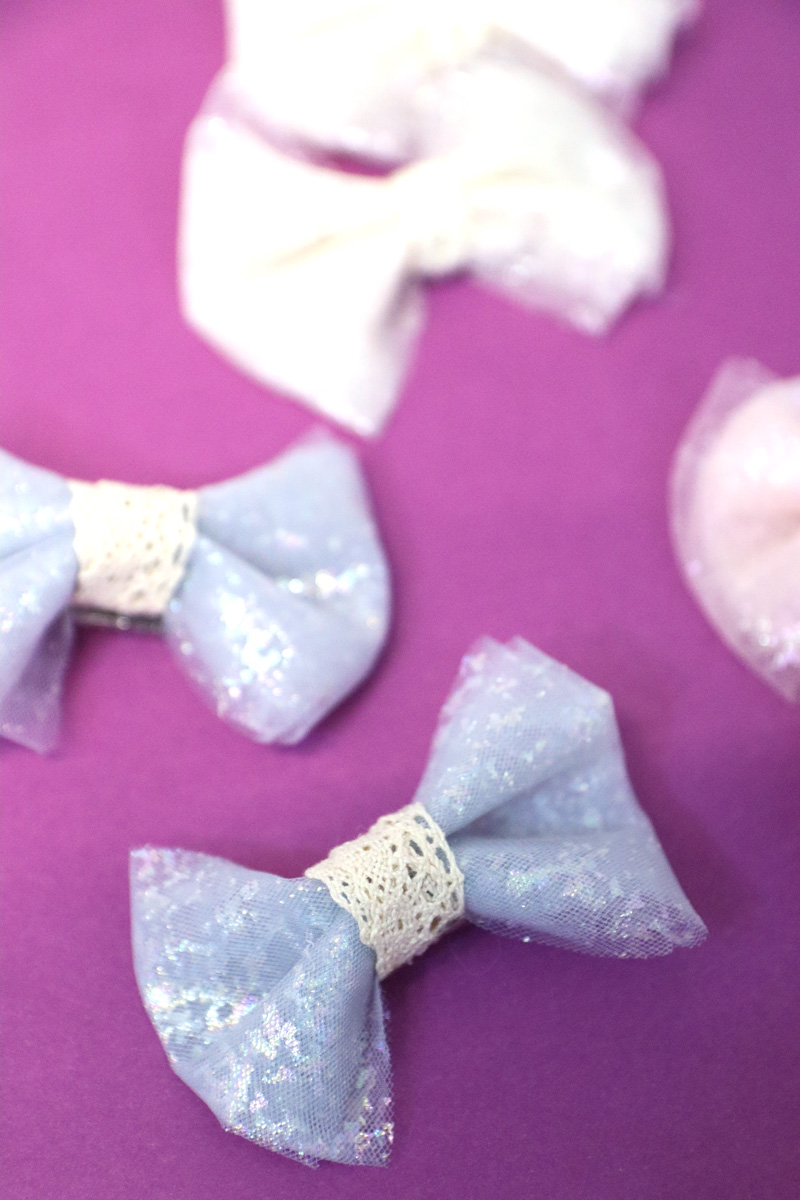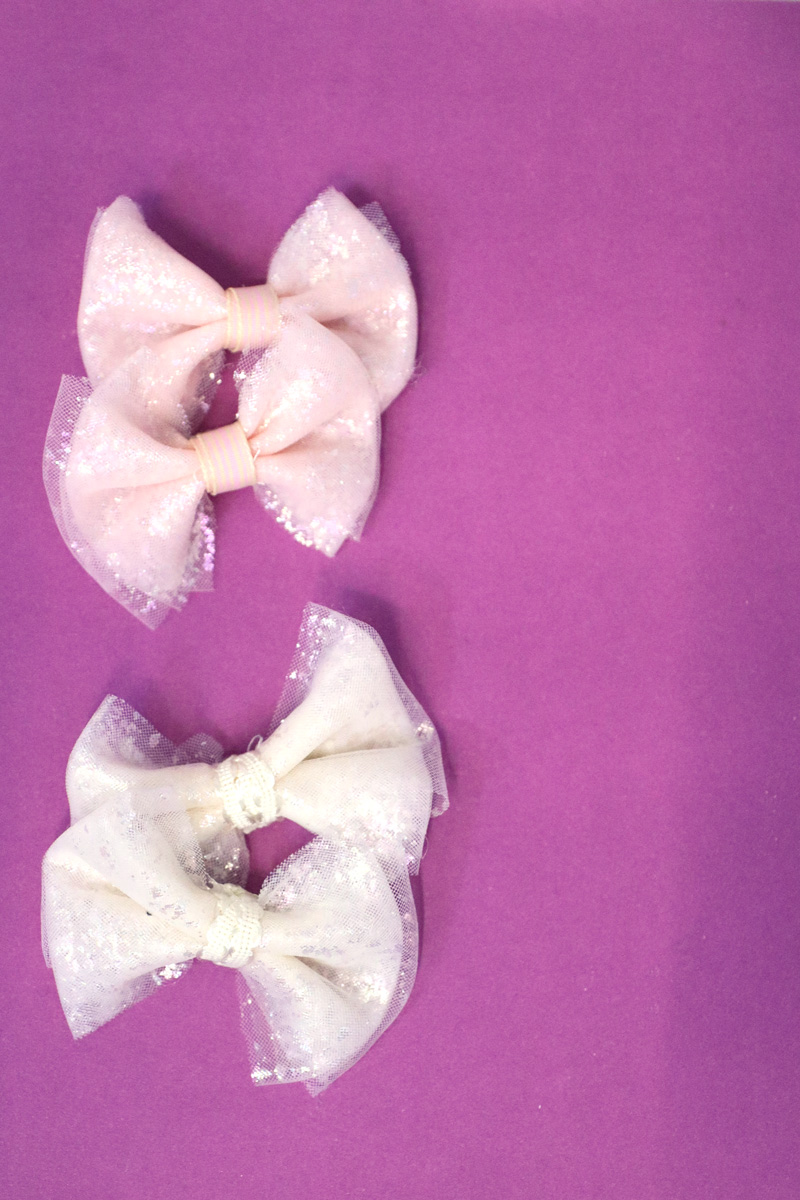 You don't have to stick with ribbon!
Try rolling a length of tulle into the right size and wrapping that. Add a large button to the center to cover the thread instead of ribbon (or in addition to).
If you're averse to sewing (or like the look) you can wrap a very small hair tie in the center. Use a clear one if you're doing it instead of sewing and wrapping ribbon on top, or a decorative one if you're using it instead of ribbon. Make sure to glue it in place!
The base
Since I made these as pigtail clips, I made them small and used a 1 inch alligator clip as a base.
You can also make it larger and glue it onto a barrette or headband.
Make it jumbo to top a special person's gift.
Glue it onto a hair tie and secure with a felt circle or extra ribbon on the back.
A few variations on how to make a tulle bow
As you can see, I made my tulle bows as small hair clips. If you're making a larger accessory, try the following:
Instead of just cutting loops, cut LAYERS instead, leaving enough extra as the "tails" of the bow. Cross the two ends over the center and cinch together to form a bow with tails.
Try making two bows in two different sizes and before finishing with ribbon, glue the small on the large to make a double bow. Secure with ribbon around both layers.
Try adding embellishments such as large buttons, rhinestones, small fabric flower appliques, or similar in the center.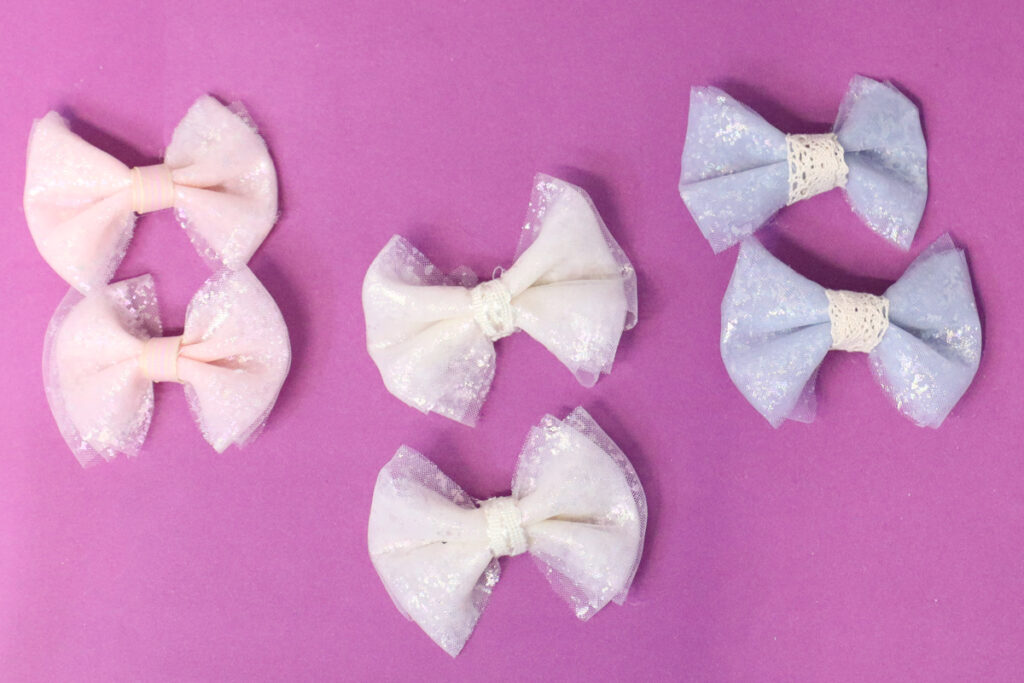 When you're done giving this tutorial a go, you'll want to learn how to make a hair bow out of ribbon!
Then, check out my tutorial on how to crochet a bow (even if you're not a pro!) and try to make DIY fabric bows too.
What you need to make tulle bows
How to make a tulle bow – the easiest way!
If you prefer, you can learn how to make a tulle bow using the full length video on Youtube!
1. Wind the tulle around your four fingers (or a piece of cardboard you can cut to the width you want your bow to be, if you prefer to work that way). I did it about 4-5 times per bow, but you can adjust according to your taste.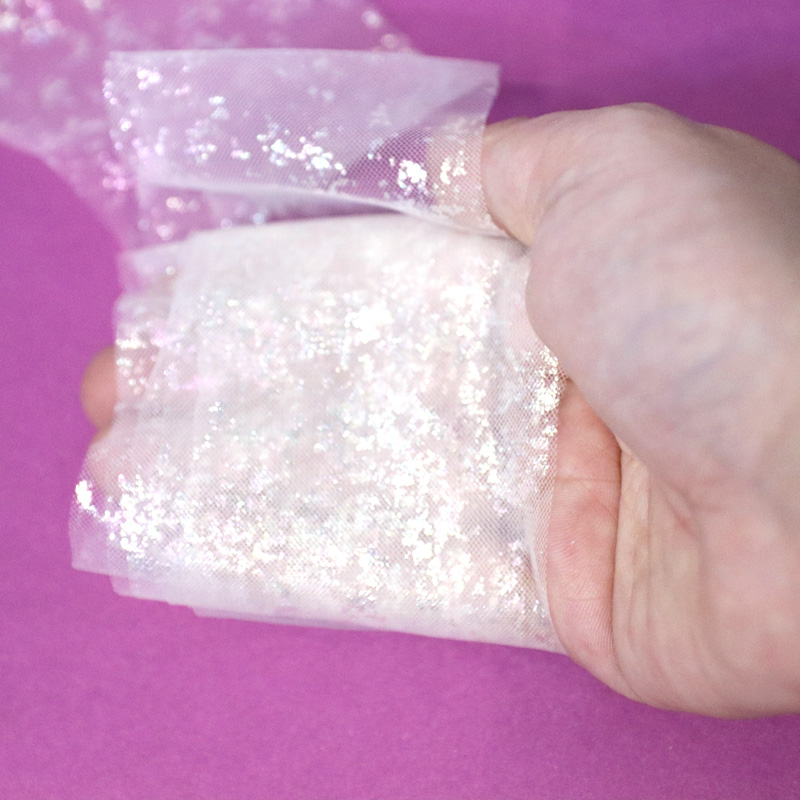 2. Remove it from your fingers and trim from the roll of tulle. Don't worry if the layers aren't totally even – this variation adds character!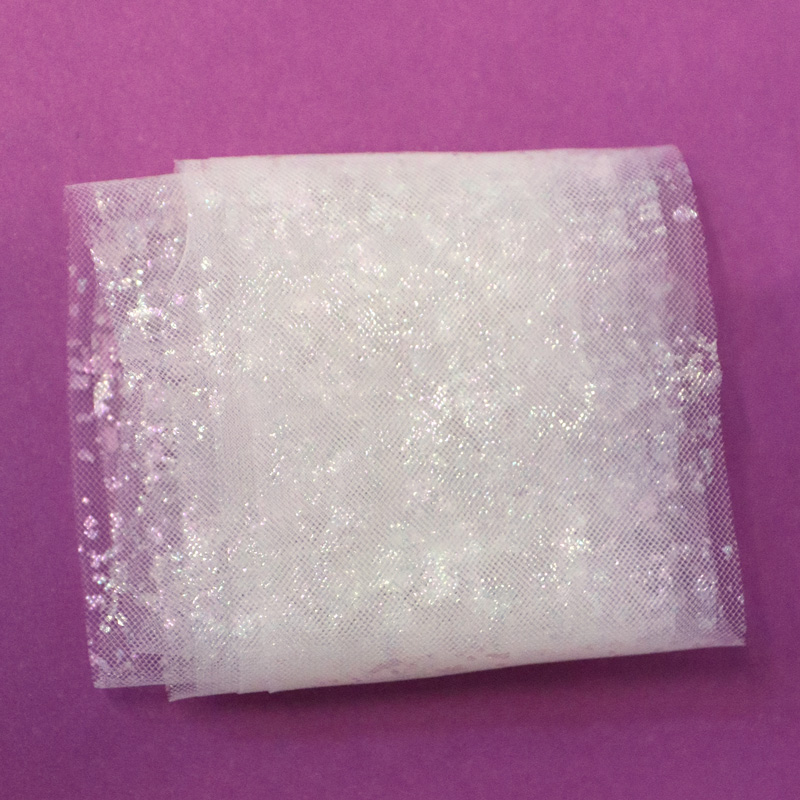 3. Have your needle and thread ready to go. Holding it so that the folds are on the right and left sides, cinch it in the center. Ideally, you're first folding in half, and then folding each side down.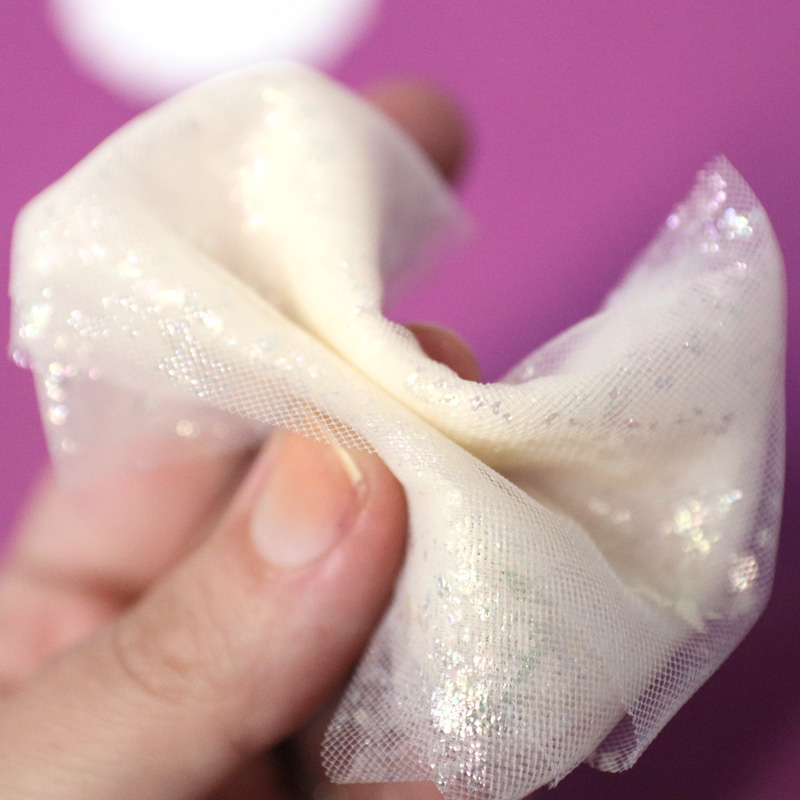 4. With your other hand, poke the needle through all layers and pull all the way through. It should mostly hold at this point, but don't let go yet.
5. Wrap your thread around the center of your bow a few times to get a beautiful cinch going in the center.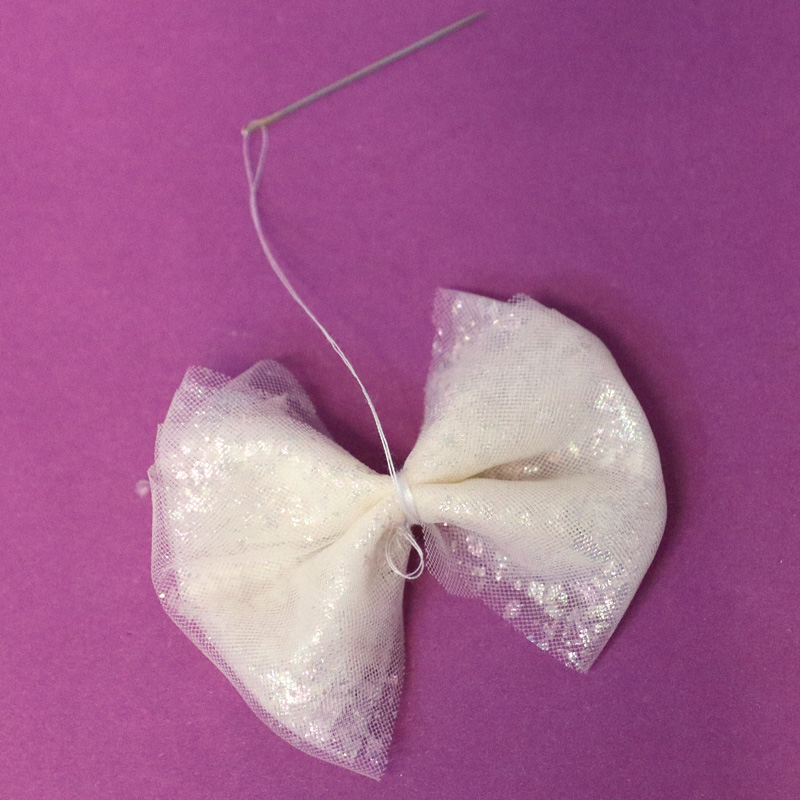 6. Now poke your needle back through to secure, pull, knot and trim your thread off.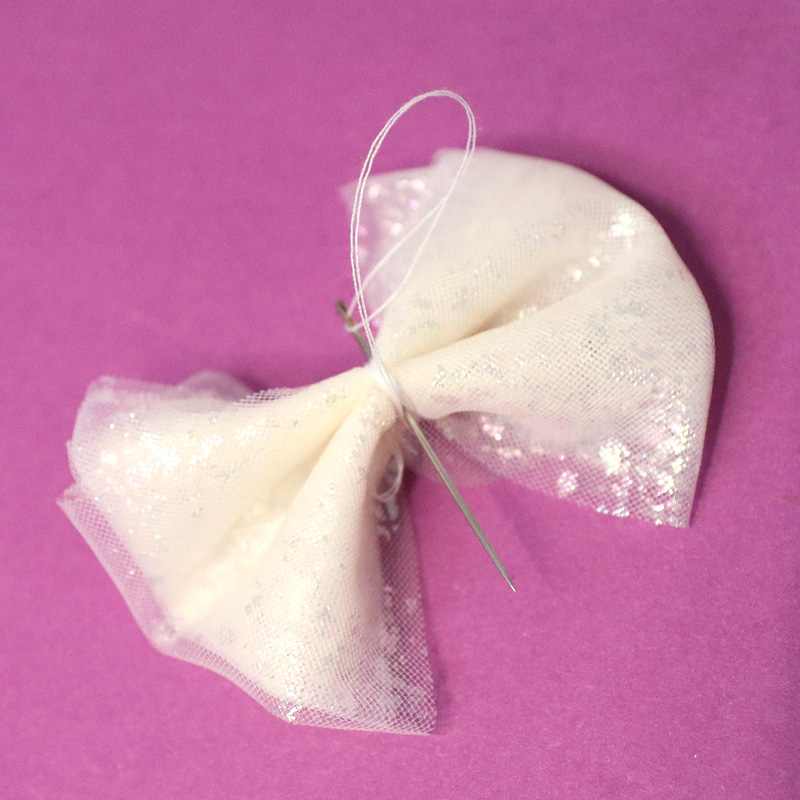 7. Take a piece of ribbon, and glue the end to the back of your bow.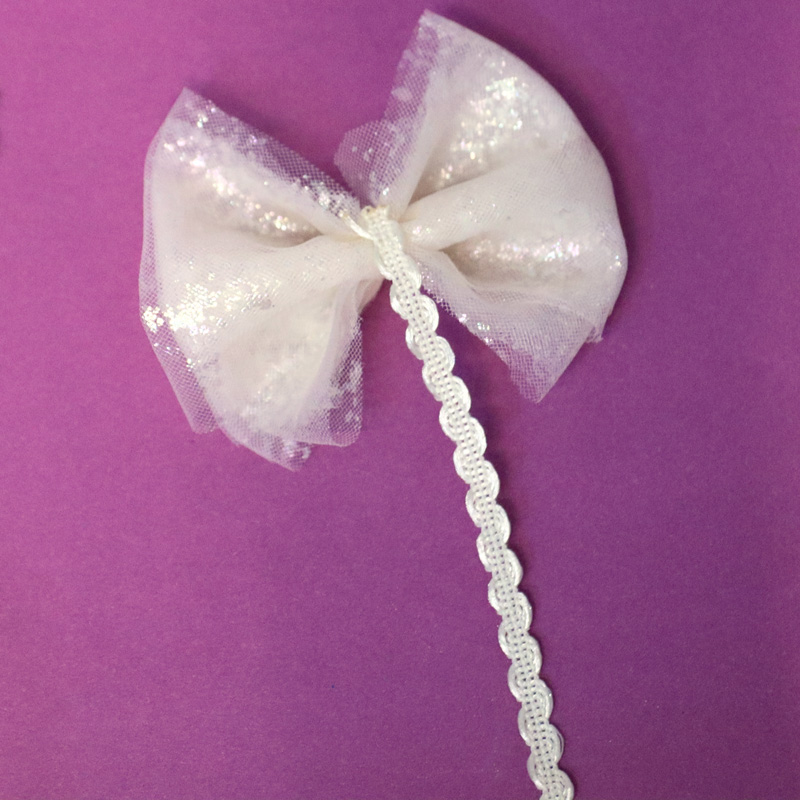 8. Flip your bow over and wrap it around 2-3 times, or until you're happy 🙂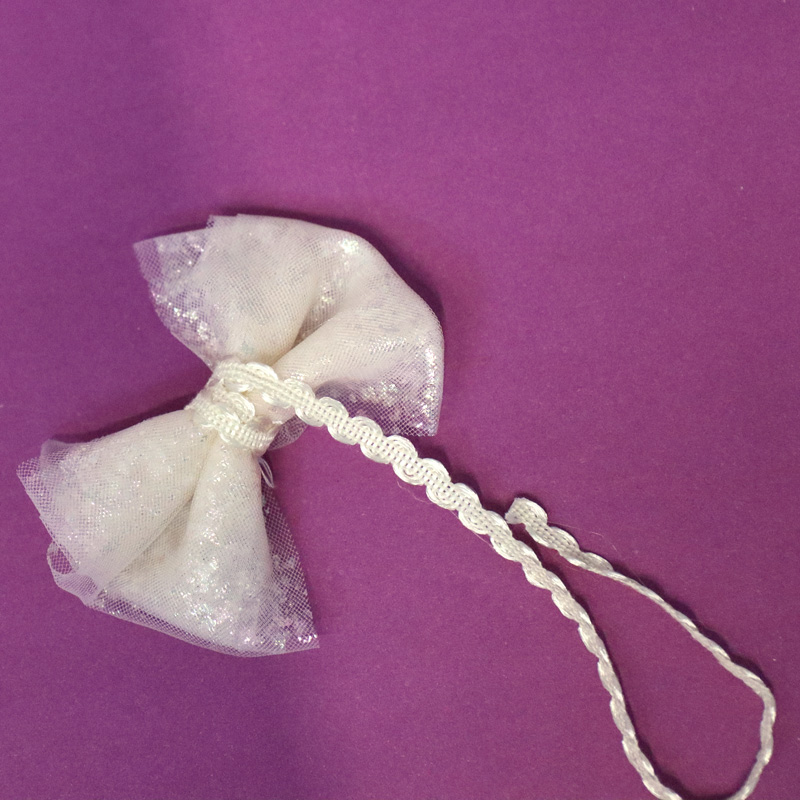 9. If you'd like, you can glue on the clip before your last wrap is final. Glue the end of your ribbon in place on the back and trim.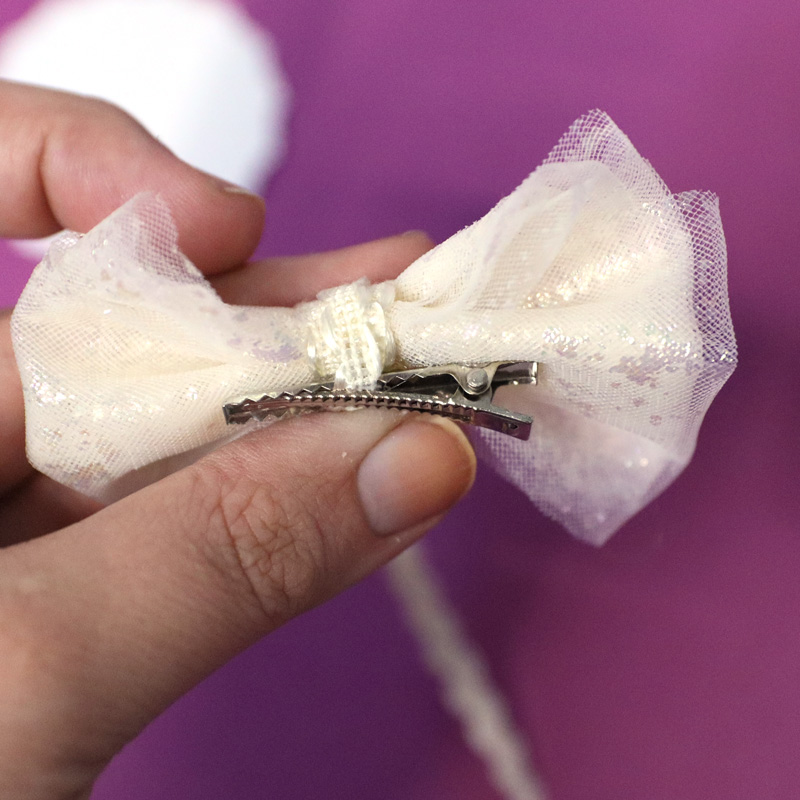 Make your bow a pigtail partner if you'd like!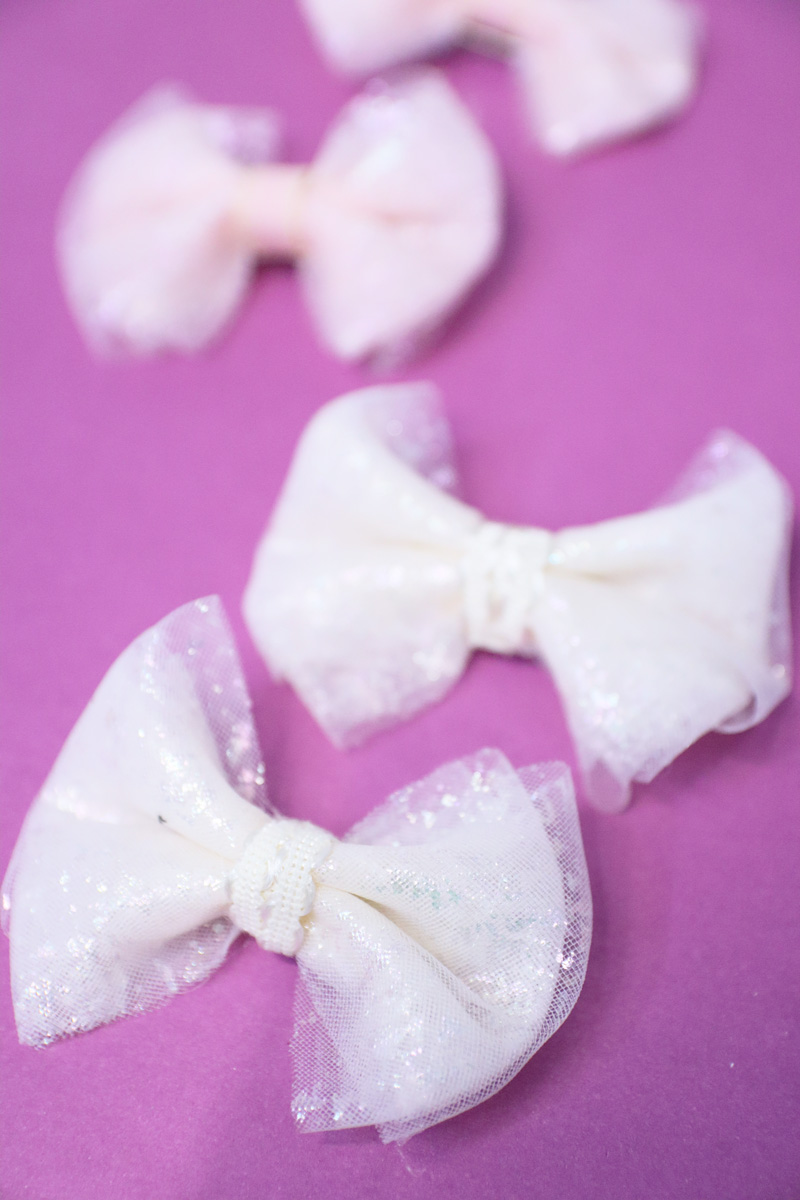 And try making it in another color!
I realized that I had an old tutorial that wasn't as good, that demonstrates how to make a tulle bow with separated layers of fabric, so I figured I'd plop that here to show you how I've done it in the past. You can still read the tutorial on how to make big hair bows.
This bow is much larger and less full.
How to make tulle hair bows
Here's a similar but slightly different way to make a tulle hair bow.
1. Layer a few pieces of tulle in the length you want (I layered 5 pieces).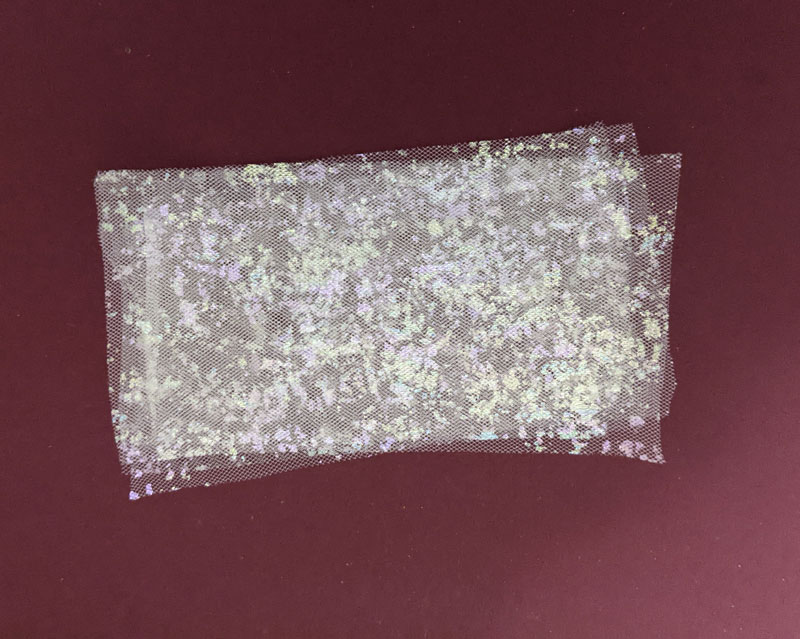 2. Cut a length of thread. Accordion fold your tulle layers.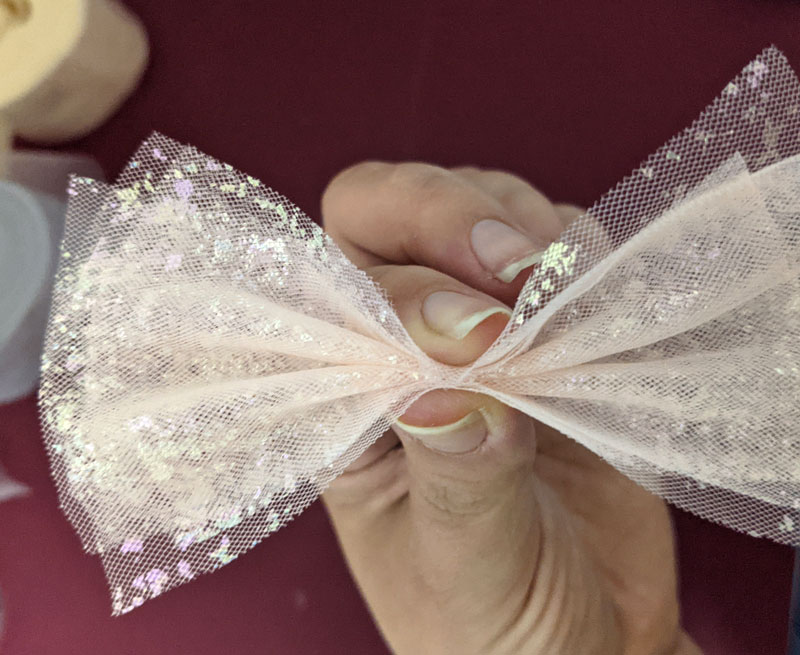 3. Wrap the thread around the center of the tulle, holding the accordion in place.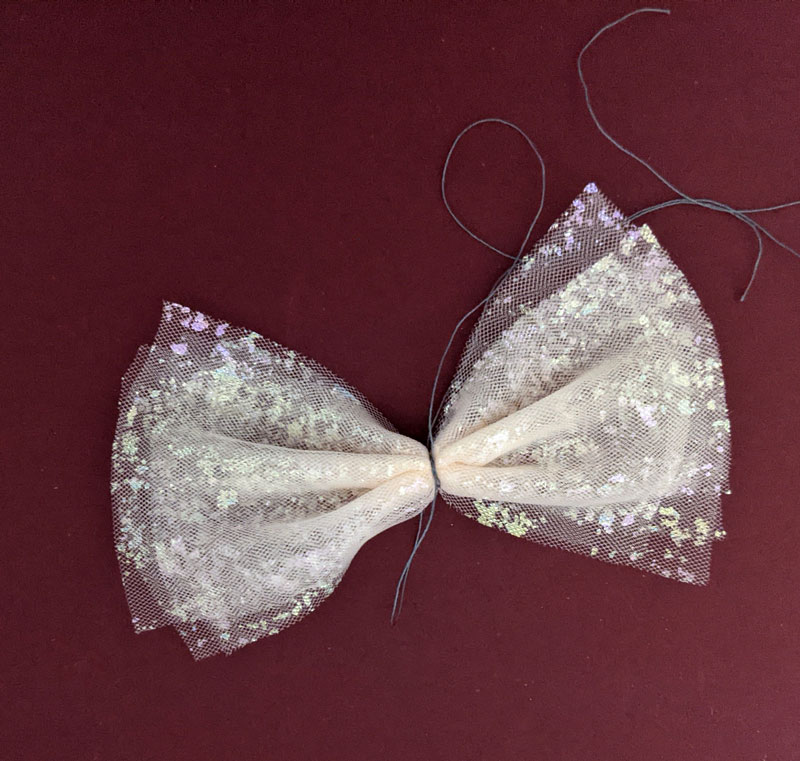 4. Glue the end of a bunched up piece of tulle ribbon to the back. Wrap a bunch of times until you're happy with the thickness. Trim and glue in the back.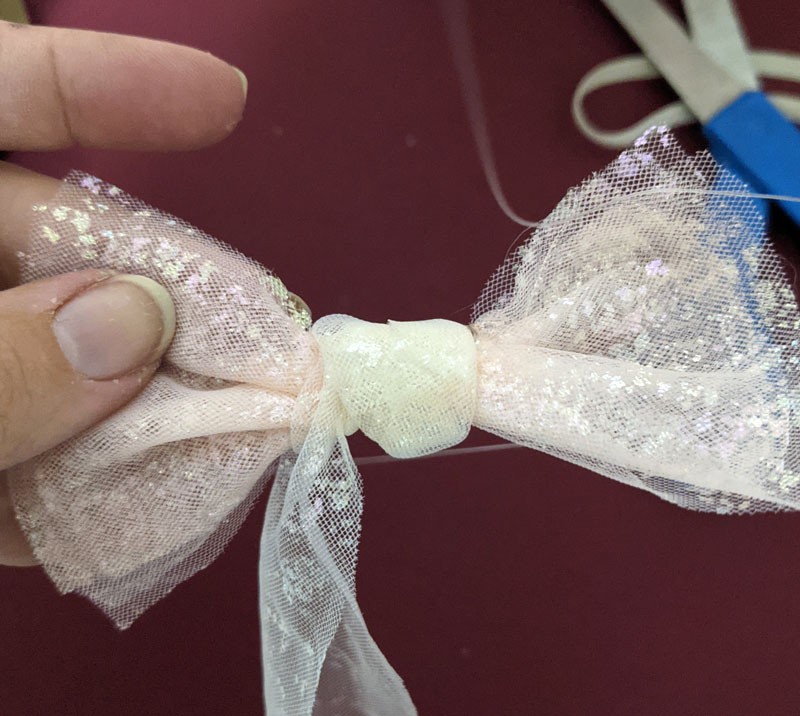 I hope you enjoyed learning how to make a tulle bow! What should I share next? Comment below!