Learn how to make a woven leather bracelet with a free SVG template. The result is gorgeous and open-ended! If you love making DIY bracelets you'll love this! This post contains affiliate links. Product in this post was received free of charge for posting purposes.

---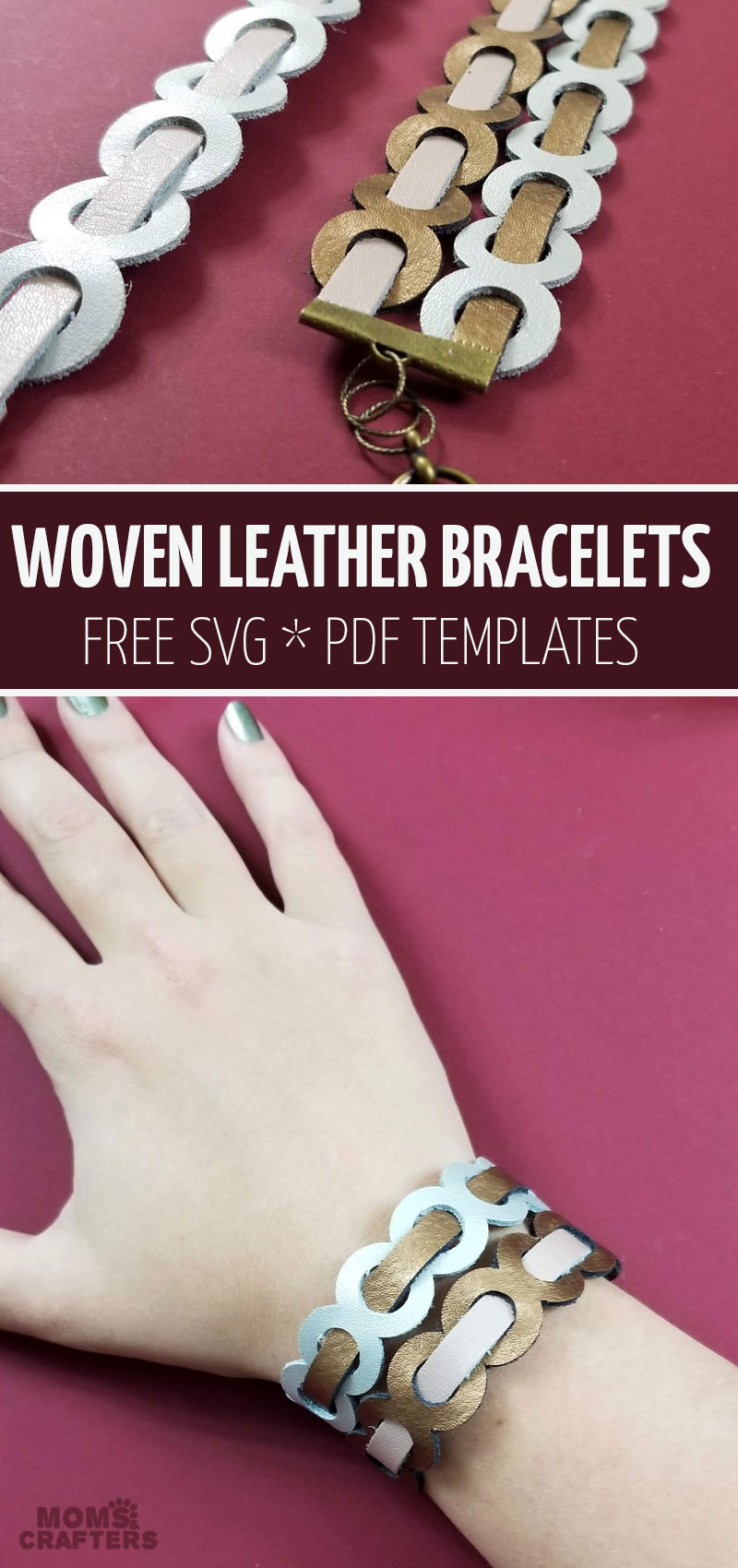 To make these leather cuff bracelets, I had the amazing opportunity to compare two Cricut machines and how they work with genuine leather: the Cricut Explore Air 2 and the Maker.
I also tried it with felt because I thought it might be cool and I always like to try something a little different. My layered felt necklace came out so good, I decided to try it with this too.
In this post I'll explore all these options and more k- scroll through to read thoroughly, or skip around using the table of contents.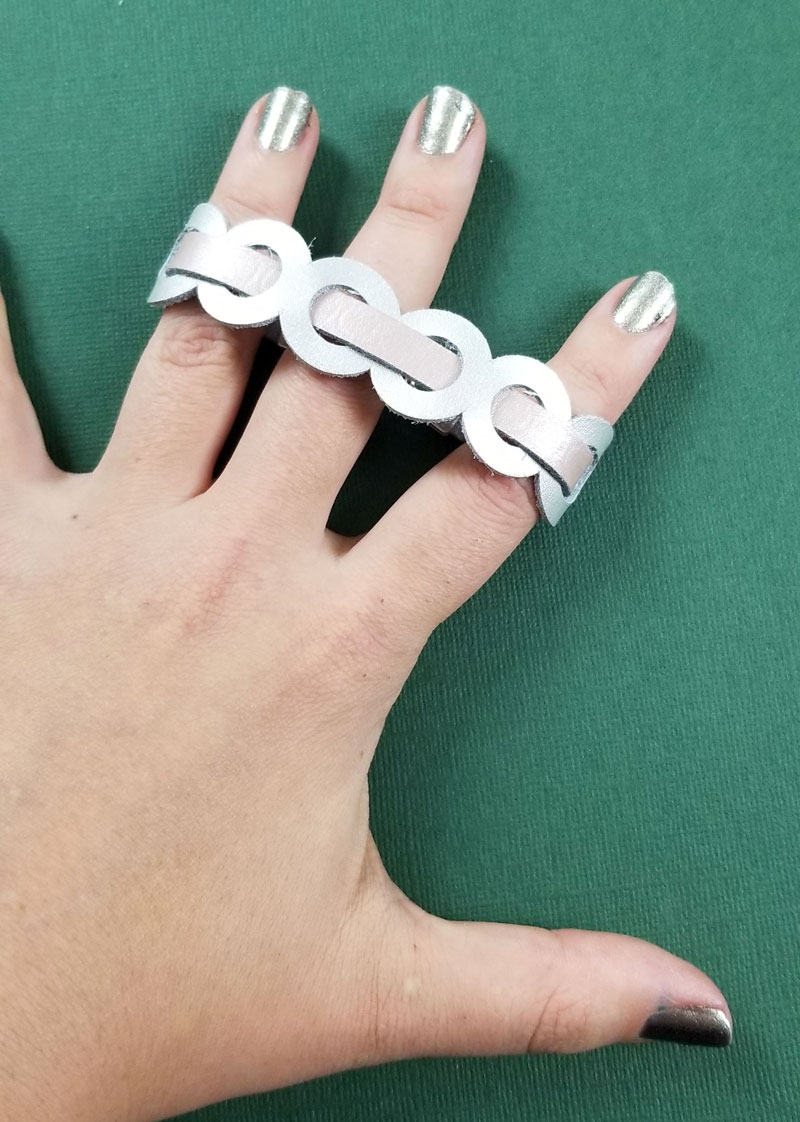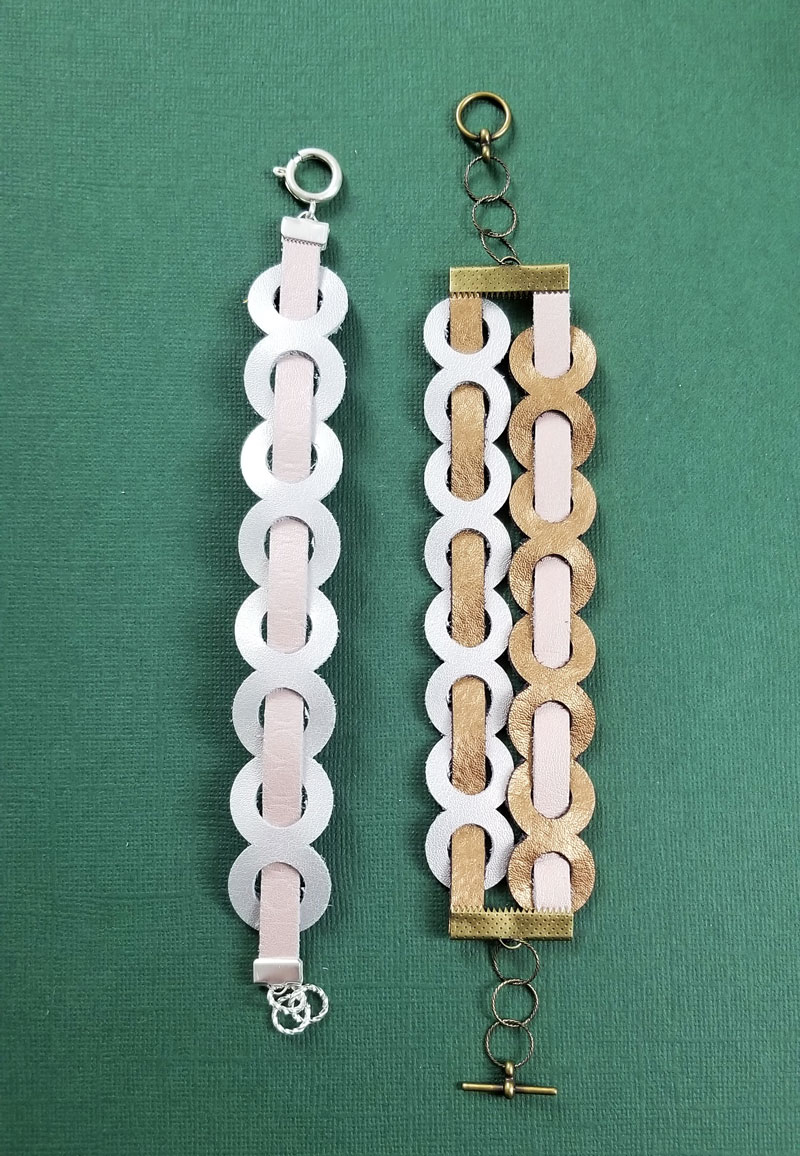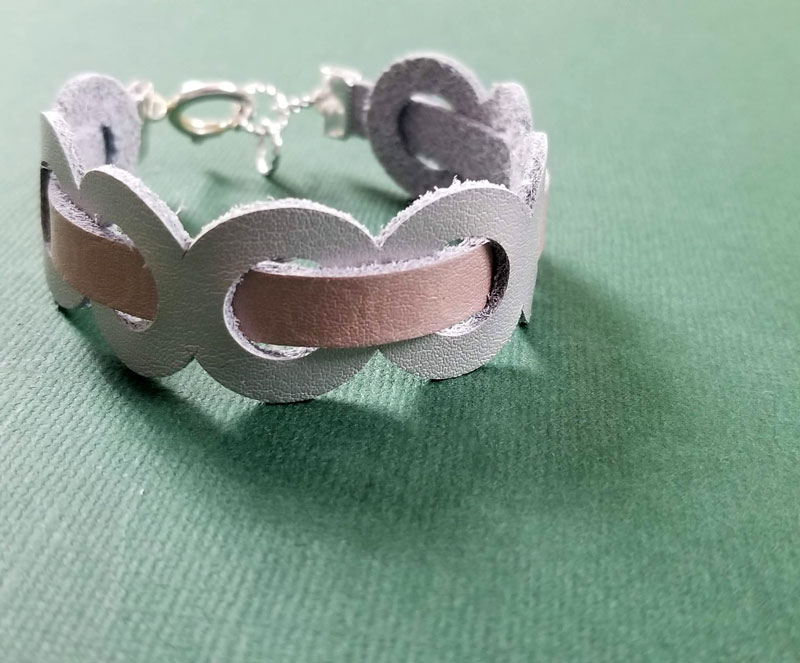 About this free leather bracelet SVG design
To make this, I had a vision of a simple strip of metallic leather woven through a series of circles. It's really pretty and so easy to assemble. I'm a huge fan of metallic finishes as you can see from this shirt design I shared.
There are a few ways to put your bracelet together.
The SVG includes two inner strips: one narrower one with circles at the ends, and one wider flat one.
The one with circles is intended to use with snap fasteners. It's thinner than the other because you'll need to manipulate it a little through the loops.
The flat one works wonderfully with ribbon crimps.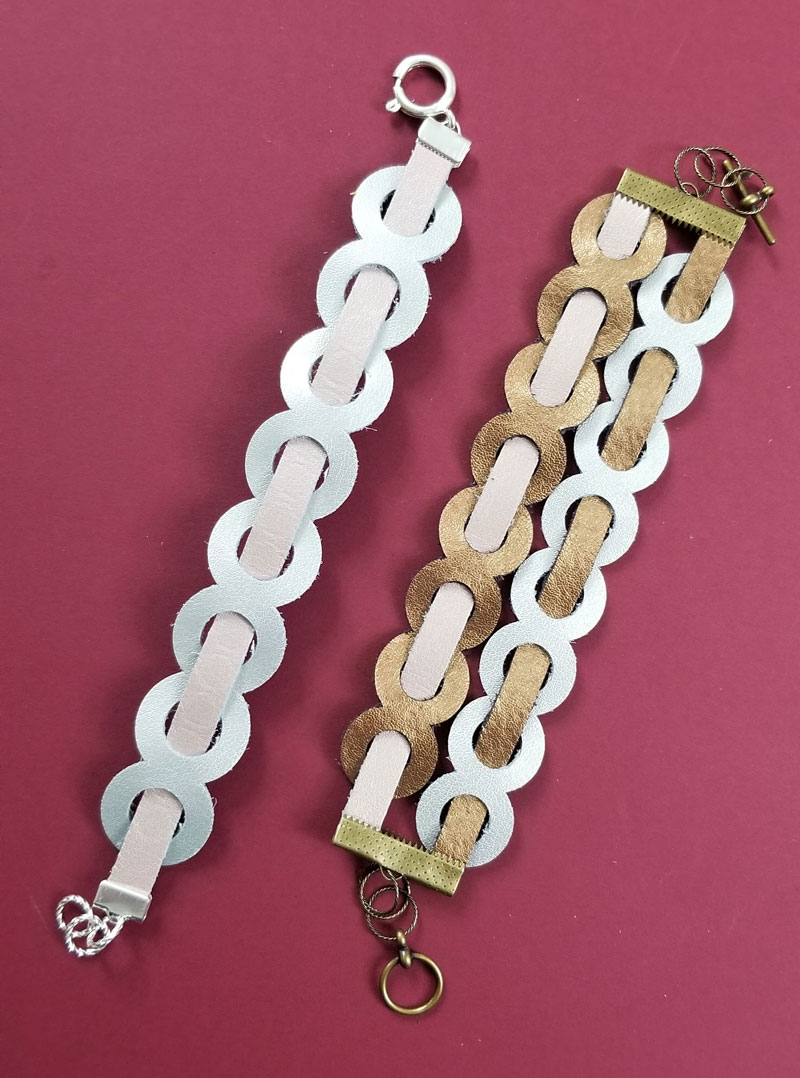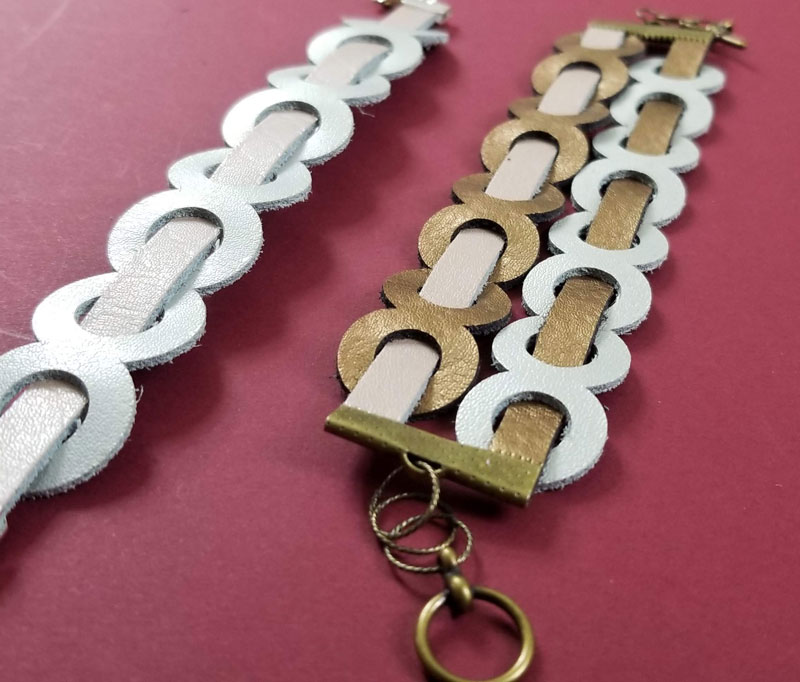 For one of my cut runs, I accidentally cut them too small. That gave birth to a new idea: to line two bracelet patterns up and make a wider cuff. I am absolutely obsessed with it and am wearing it almost every day since I made it.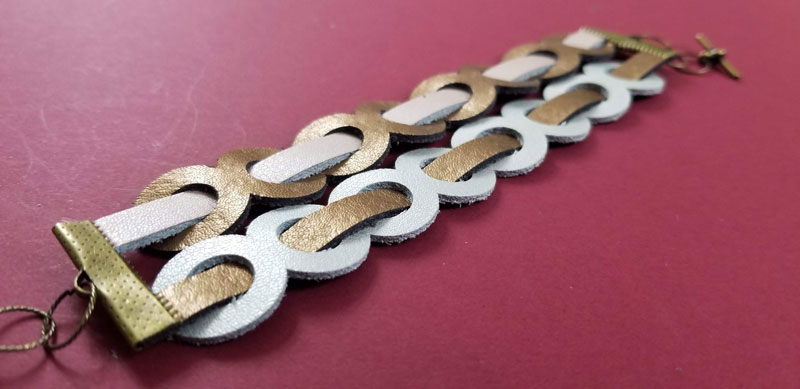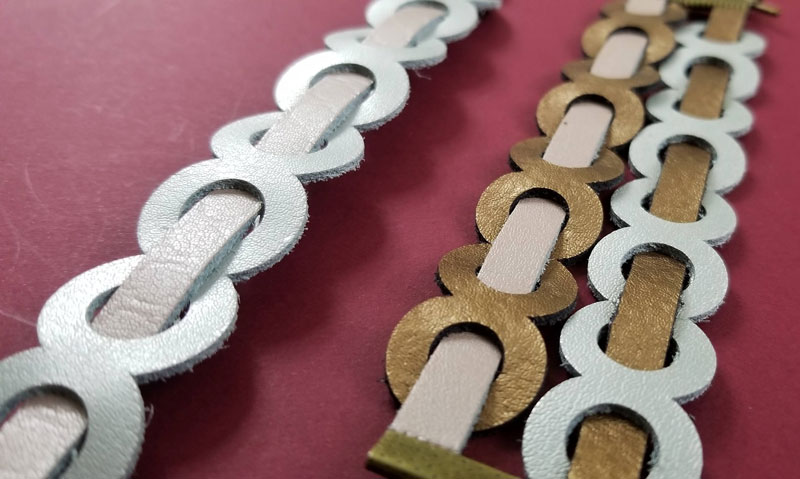 You can download the SVG for this here:
---
One of the big differences between these two machines is in the tool capabilities. So to properly compare, I used the Cricut Explore Air 2 with the deep point blade (which you can use with either machine) and the Maker with the knife blade (works with the Maker only.)
Cutting leather with the Cricut Explore Air 2 and the deep point blade
You'll want to use the following blade/mat combo and process:
Use the purple mat.
Back your leather with Strong Grip transfer tape – I left my mat dirty in the photos so you can see just what happens when you skip this step! You get lots of residue on your mat.
Tape down your leather with masking tape. I did it on all four sides for some and only two sides for some. To make sure you don't waste material do all four sides (I had a few go wrong, although a few did work with only two sides taped.
Use the deep point blade (the black one)
Mine cut beautifully on the factory default settings for metallic leather. But if you want to make sure first, cut a small shape out of a scrap piece of leather. If it doesn't cut nicely, play with your custom materials settings a little.
The result was very pretty, clean, and it worked quite smoothly.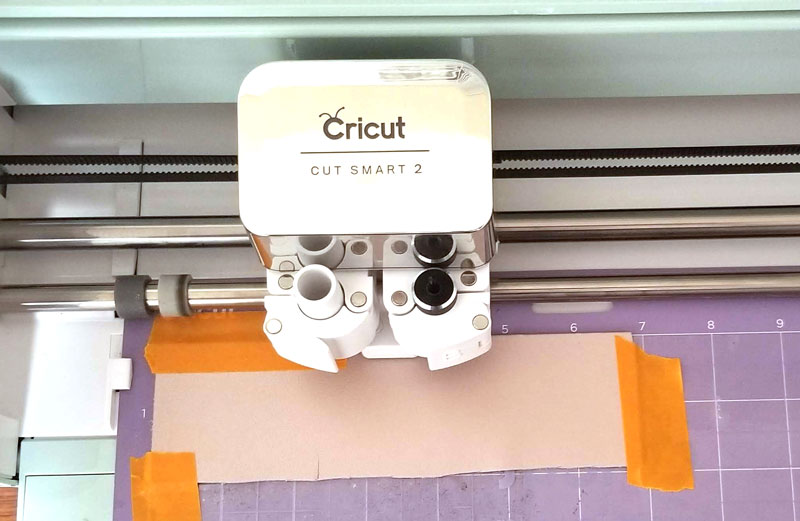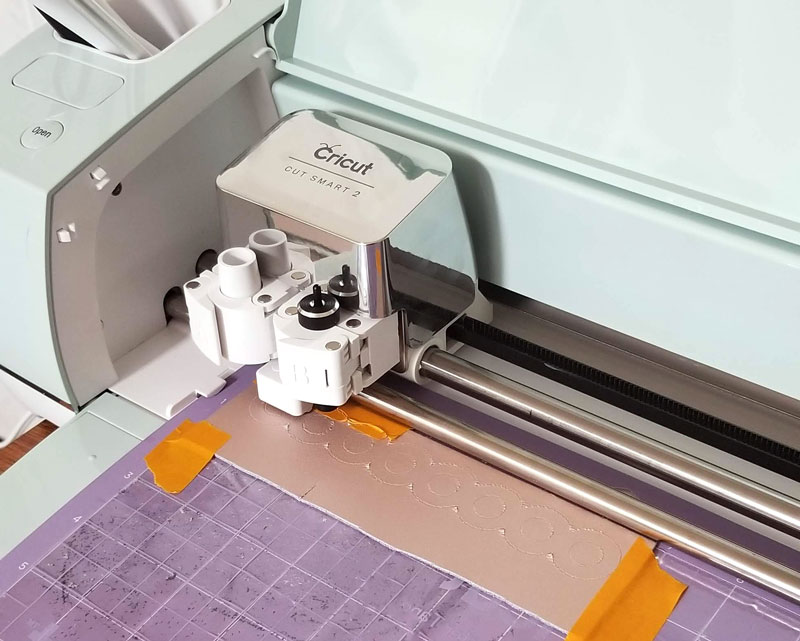 Cutting leather with the Cricut Maker and the knife blade
One of the biggest perks of the Cricut Maker is the ability to cut with the knife blade as well as other accessories.
For cutting leather with the maker, I used the same process, swapping the deep point with the knife blade:
Use the purple mat.
Back your leather with Strong Grip transfer tape.
Tape down your leather on four sides.
Use the knife blade
The default settings say to use the deep point blade for metallic leather. I changed my settings to garment leather to get the knife blade (you can also change it in your custom materials panel).
But here's another perk to cutting leather with your Cricut Maker:
You can deboss!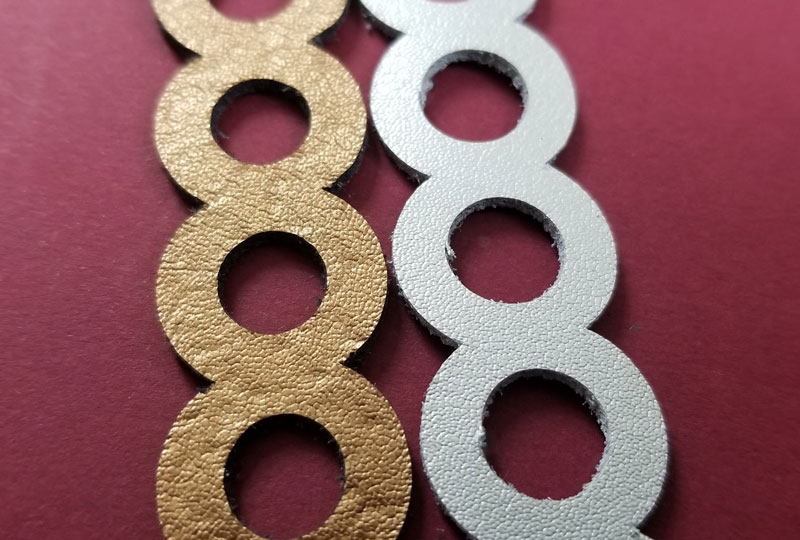 To be honest, I didn't know that you need to wet your leather first, so most of my samples that are debossed have a much more faint, textured look – which I love too!
But you'll get a much better deboss if you dampen your leather first.
Use the fine debossing tip for this.
Making woven leather bracelets with the Explore Air 2 vs. the Maker
So bottom line – which cuts better?
For most of the bracelet, you might not notice the difference. But once I got into the corners, I realized just why the knife blade is so awesome.
While the Explore Air 2 cut the leather quite nicely, the Maker + knife blade got me some really sharp corners. Look at the intersections on the silver circles vs. the rose gold circles.
So can you cut leather with the Explore Air 2?
The answer is absolutely yes.
But the Maker + knife blade combo gives you sharper cuts with more options – such as debossing.
---
Making this woven bracelet with felt
Another experiment I did with this bracelet pattern was to make it with felt. I had a vision, and I'll say it didn't quite come out how I'd imagined.
Cricut felt, such as the one that I used, is very thin and easy to cut with your Explore Air 2 or Maker using the included fine point blade. It doesn't ruin your mat and it comes in beautiful, classy colors.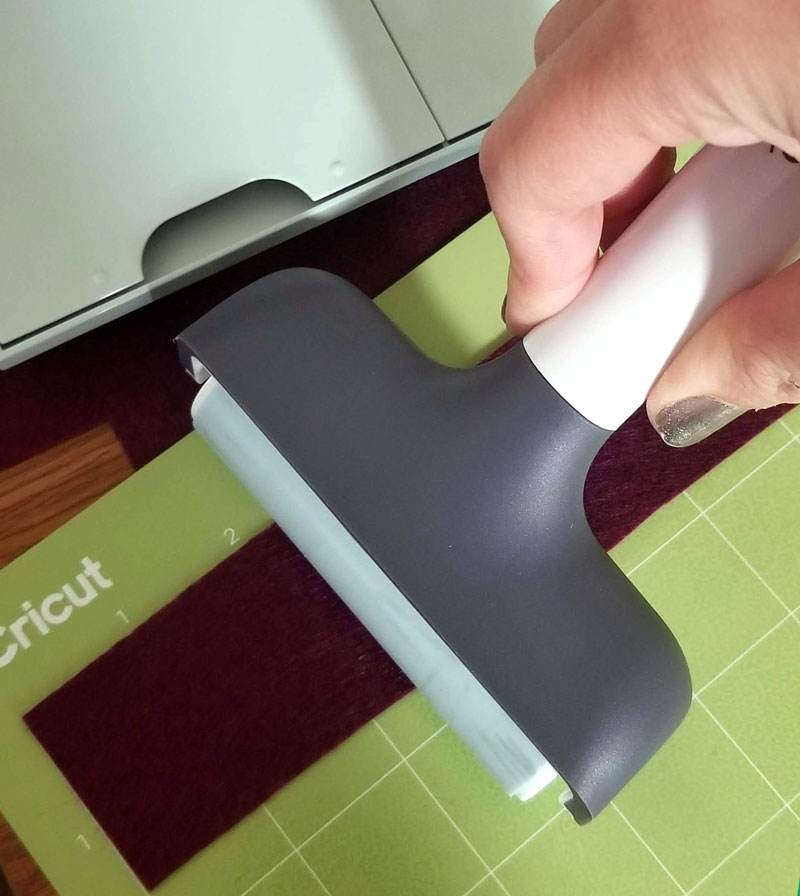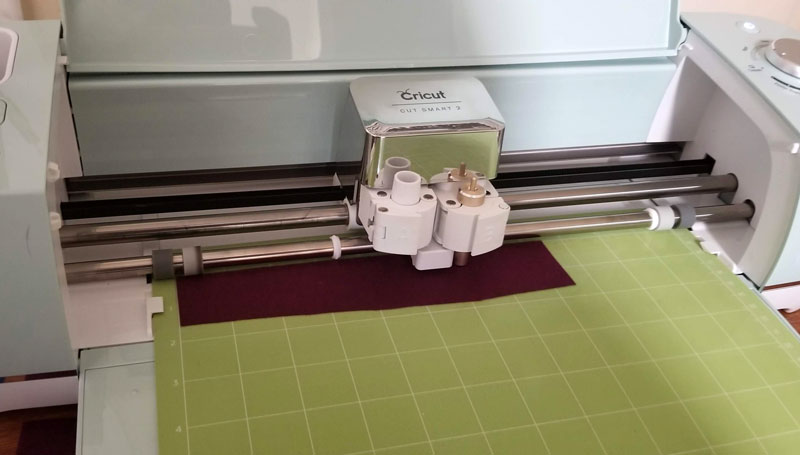 However, since it's thin, I really need to play with this design more before it makes sense. I already did so much in this tutorial and I didn't want to delay sharing it, so when I do play with the felt more, I'll update this post.
Meanwhile, I'd suggest, if you want to try it, double up your felt and stitch a nice border around the circle section. Do something creative with the strip too.
Update: find the DIY felt headband tutorial here – it uses this template and can be made as a bracelet too! I hand-embroidered and made a doubled, reversible style too.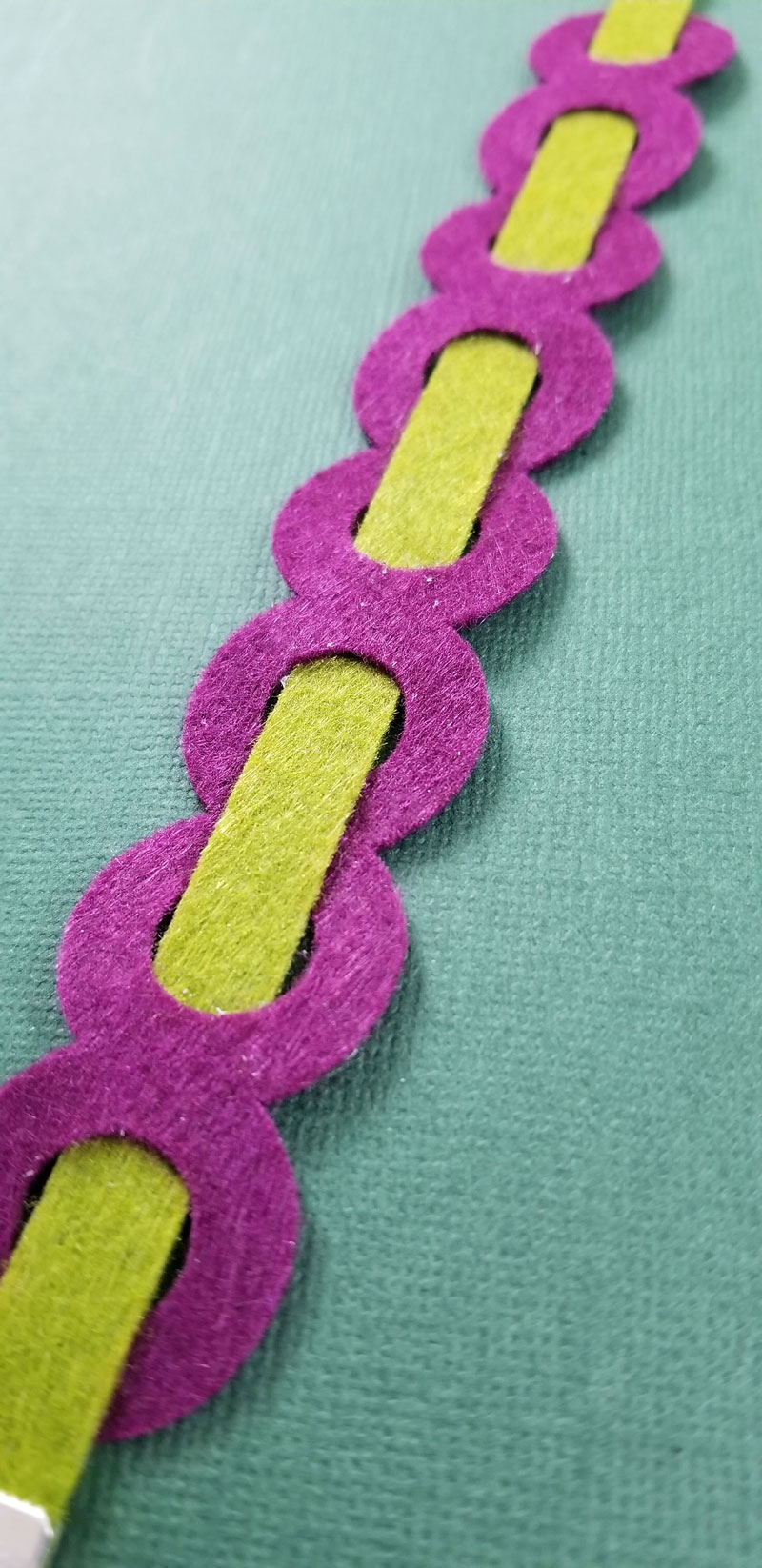 ---
Download your free SVG to make woven leather bracelets below:
It'll arrive right in your inbox! Email me if you have any issues with your download. Template is for personal use only – reach out if you want a commercial license to resell.
What you need to make woven leather bracelets
Cricut cutting supplies & tools:
Additional materials:
How to make woven leather bracelets
Laying out your project in Cricut Design Space
1.Before you do anything else, extract your SVG file from your ZIP folder and place it in a non-compressed folder.
2. Open Design Space, open a new project. Choose "upload" on the left, then "upload image" and choose the correct file.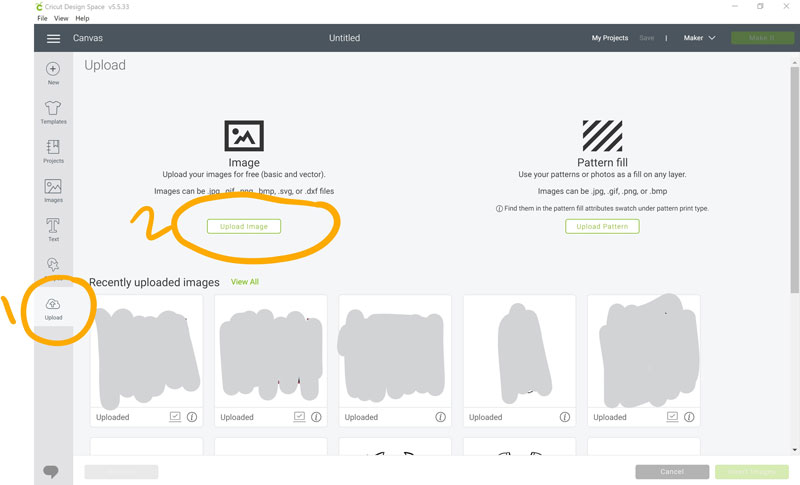 3. Upload your image, name it, and click save. Choose this image on the next page and then "insert".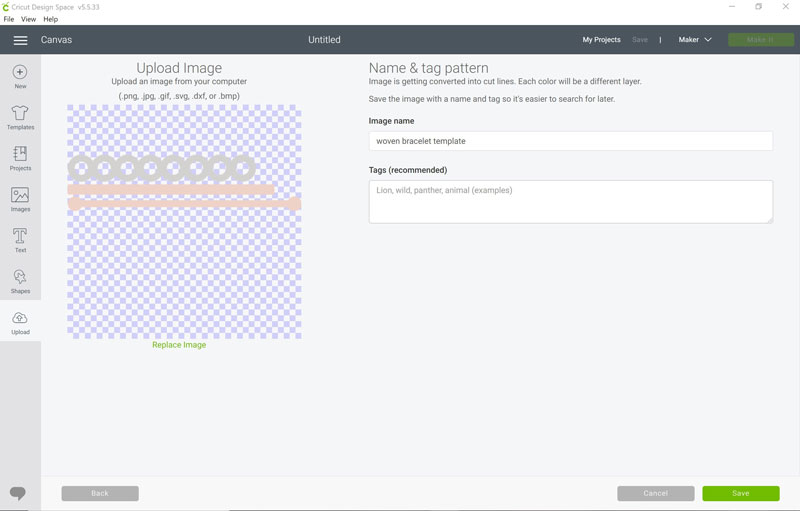 4. Resize all elements together. Size your bracelet proportionately, using the flat strip to best gauge your sizing – not the circles! Disable one of your center layers by clicking on the eye icon in the layers panel on the right – the flat one is for ribbon crimps, and the rounded edge one is for snaps.
If you want to make more than one, it's most efficient to lay them out and cut them out at once. Just make sure to set your colors so that all elements that will be the same color are identical.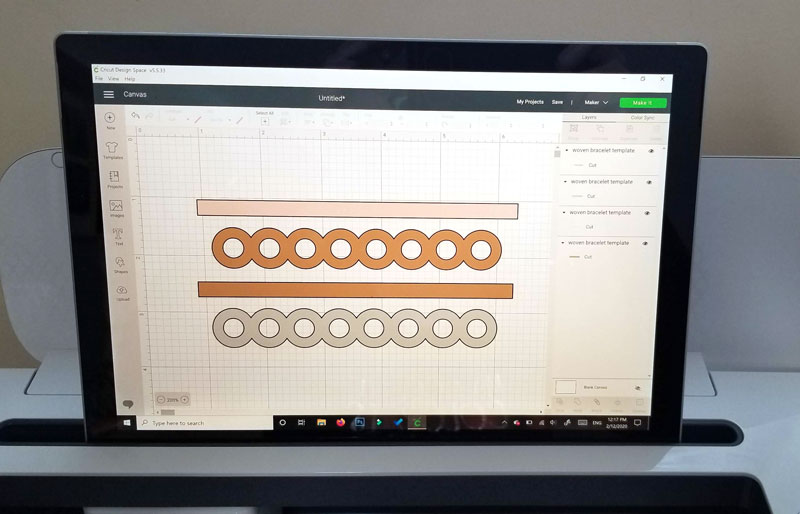 If you're not debossing, disable the layer with all the octagons.
If you are debossing, select that layer and and change the linetype to "deboss".
Arrange the octagons on the strip that you're using. Select them and the strip and "attach".
Hit "make it" and follow the prompts!.
Cutting your bracelets
1. Back your leather with StrongGrip transfer tape (don't put it on the whole mat – just behind your piece). You can see the residue left on the mat from another project, where I did not back it. Use the brayer to make sure your piece is firmly attached to your mat.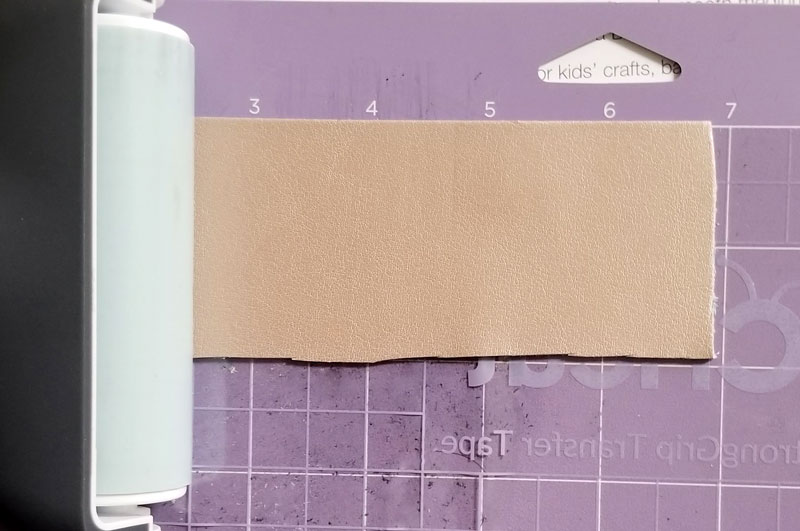 2. Tape your leather down on all four sides with masking tape.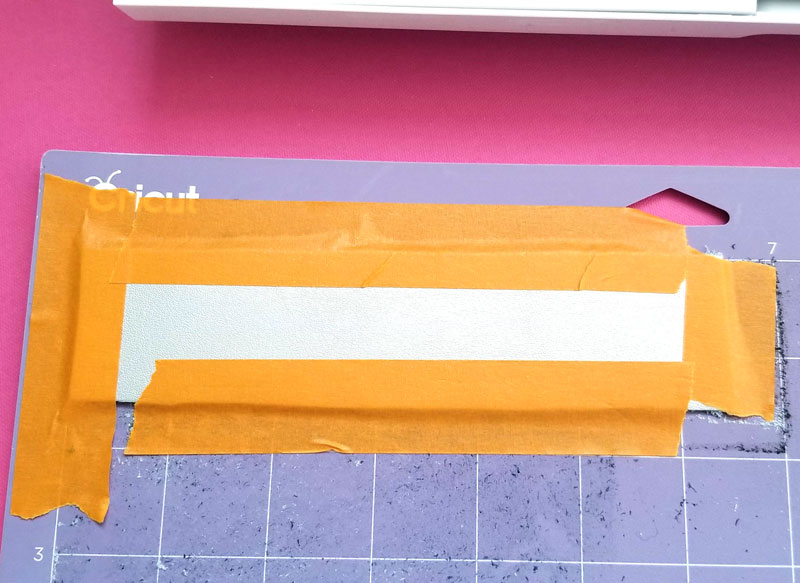 3. Move the white star wheels all the way to the right so you don't mark your leather.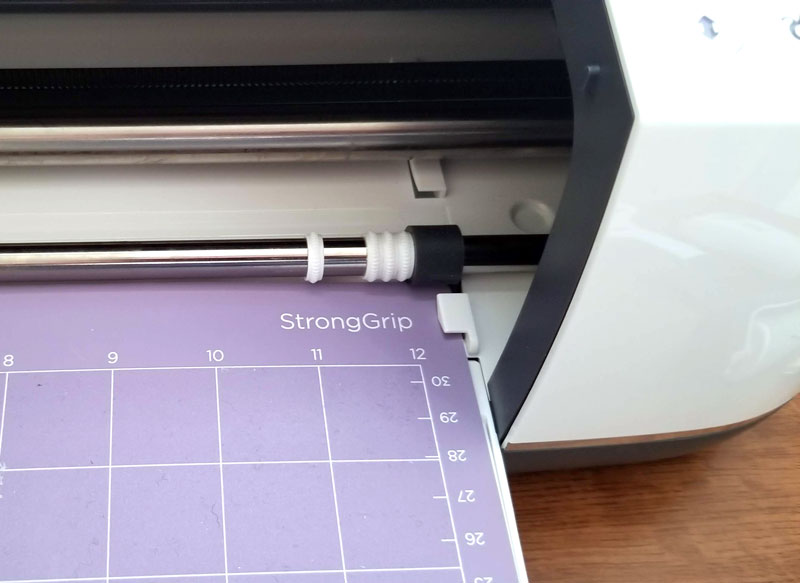 4. Hit "make it" and cut! If you're using the knife blade it'll take a little longer so go cook dinner, read the kids a bedtime story…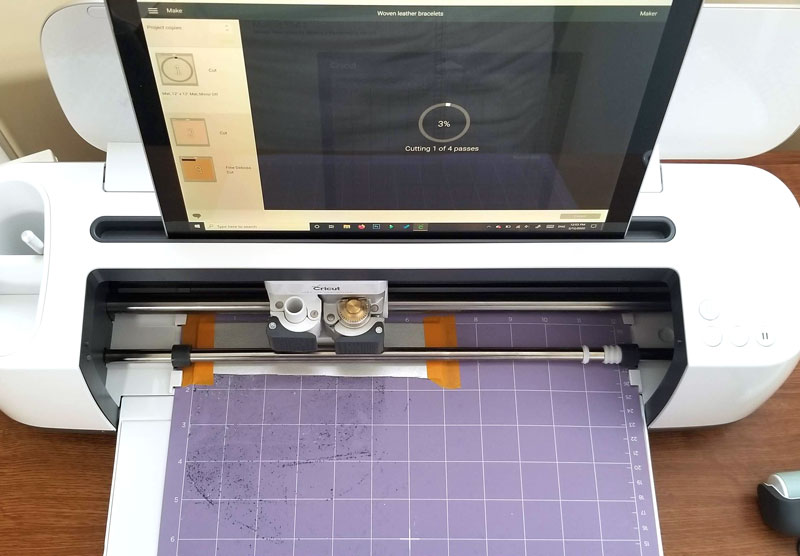 5. When/if you're ready to deboss, your machine will prompt you to swap blades. Make sure your settings are set at the correct material to deboss. Dampen your leather before you place it on your mat.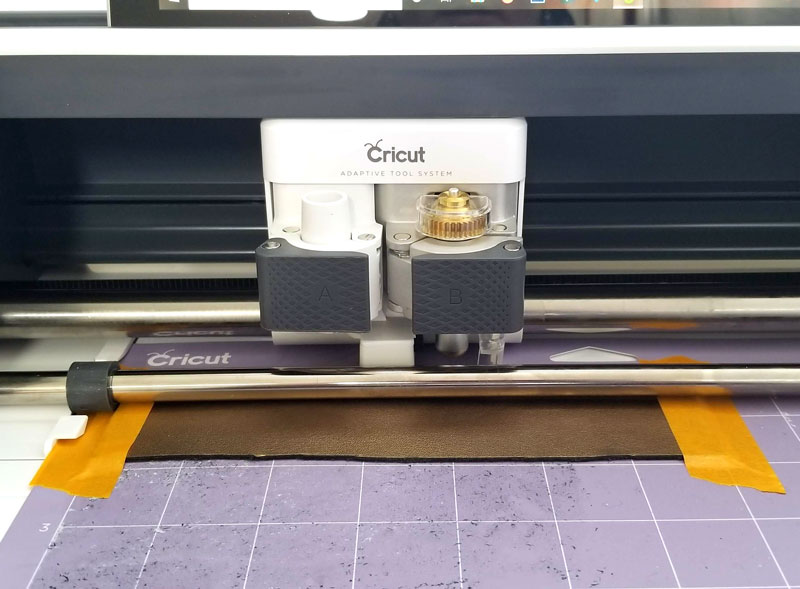 6. Debossing can really take a while, so go do something! I made another project or three while mine worked.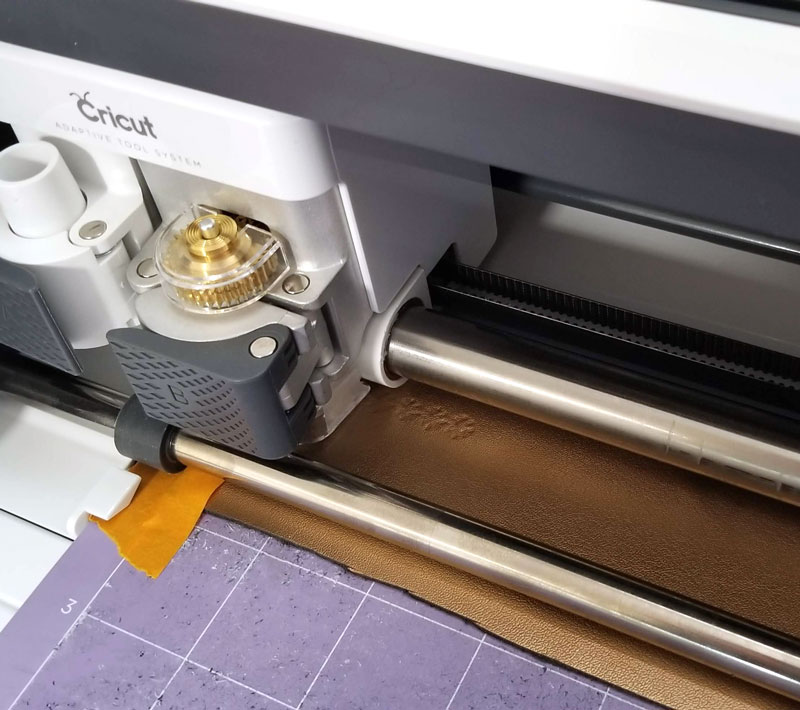 Assembling your bracelets
1. Remove your pieces from the mat, and save those circles for another project (I made simple ear studs)! Peel off the transfer tape from the back.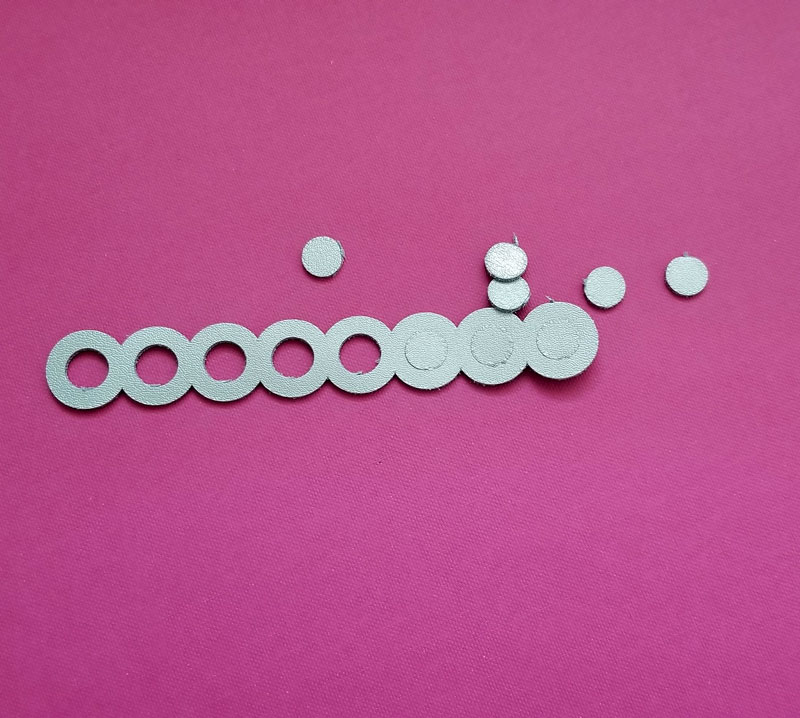 2. Start by weaving your piece from the outside to the inside so your circle ends don't stick up.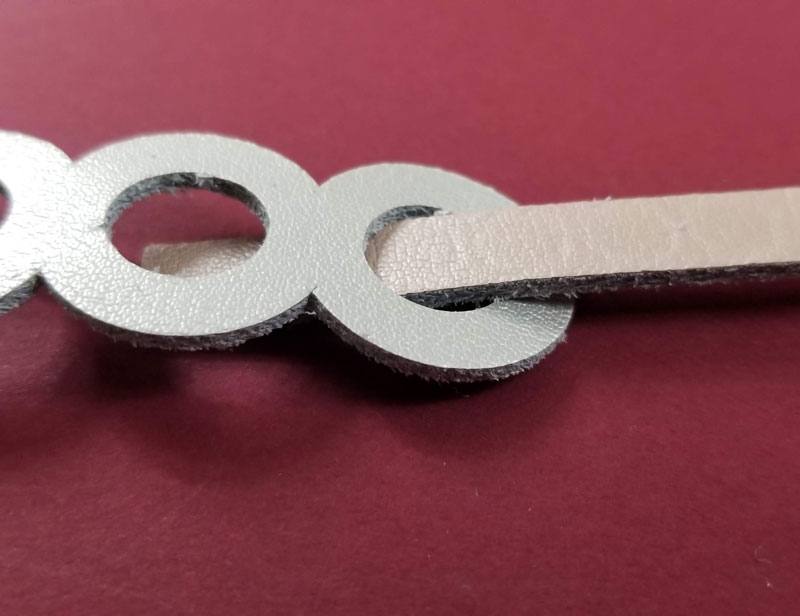 3. Weave it in and out, ending up with the strip on top of the circles. Center your strip.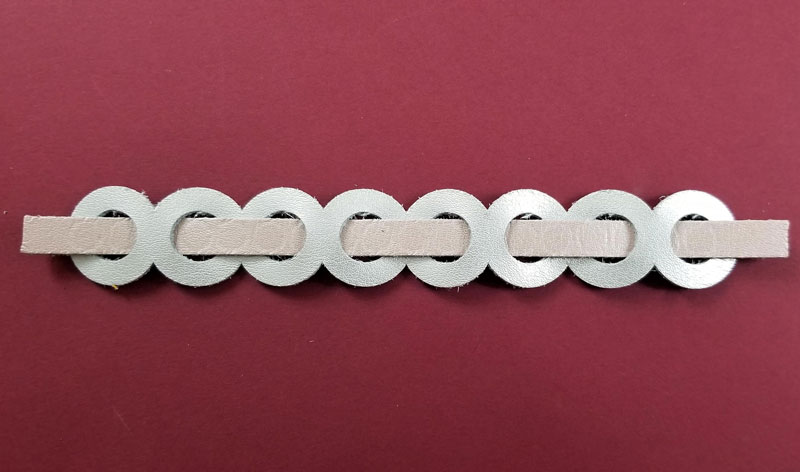 4. Attach a ribbon crimp to each end (or attach your snaps).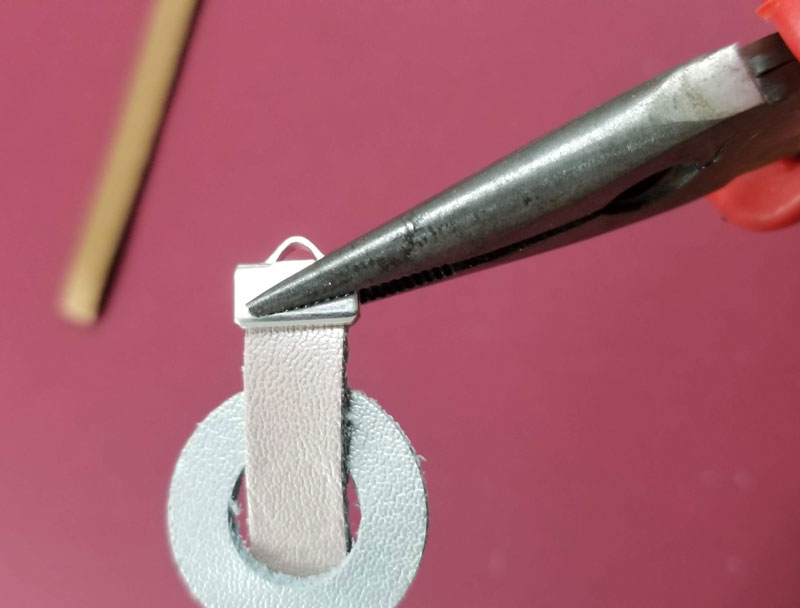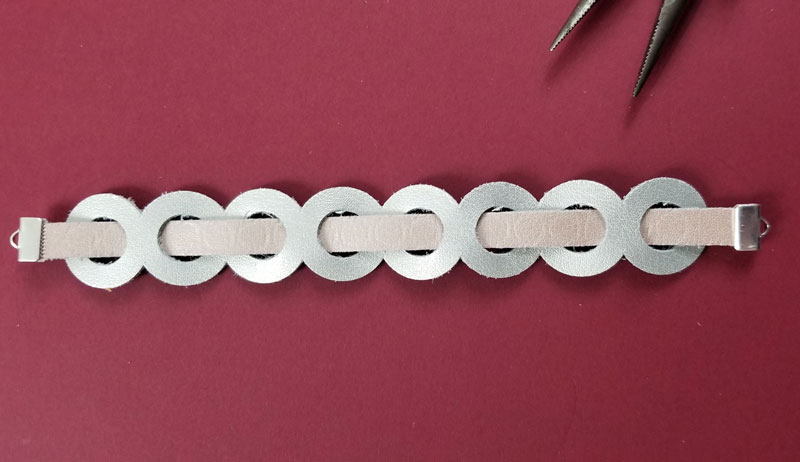 5. Attach a clasp to one end.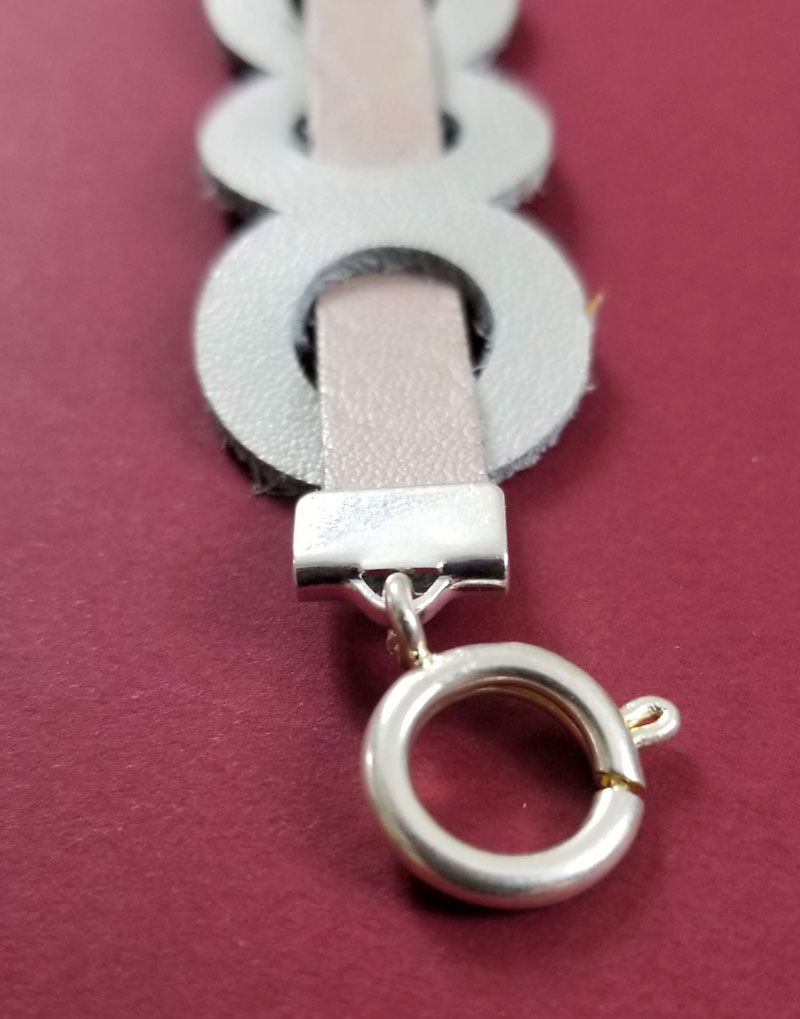 And a few jumprings to the other to make an adjustable connector.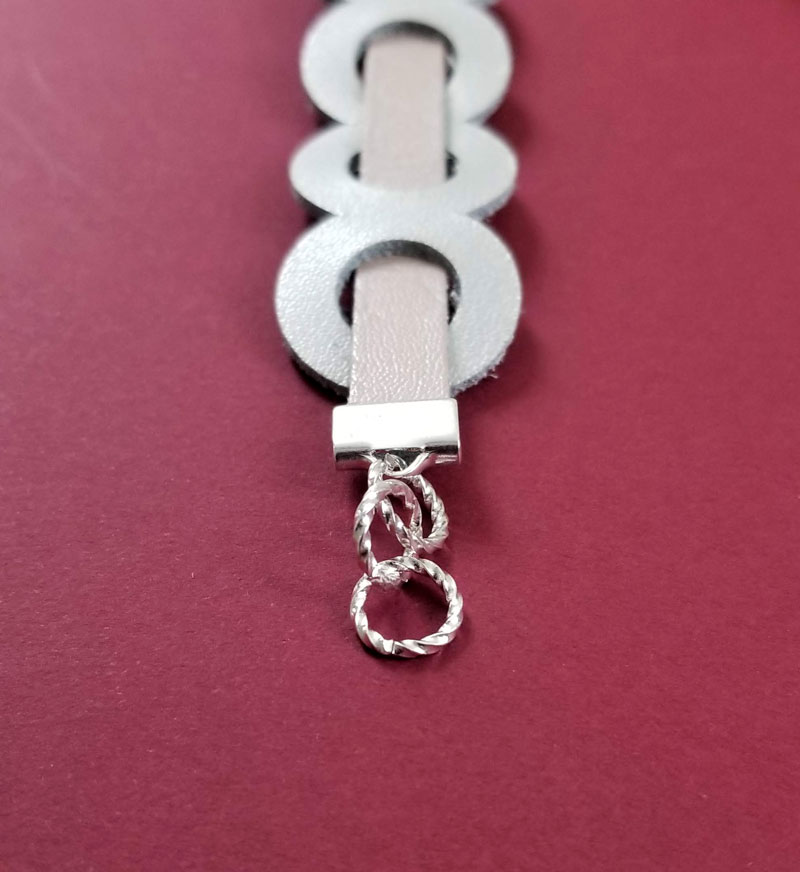 6. To make a double cuff, lay your bracelet out so that the strip isn't quite centered and the bracelets intersect brick-style as pictured. The strips should be pretty much level with each other.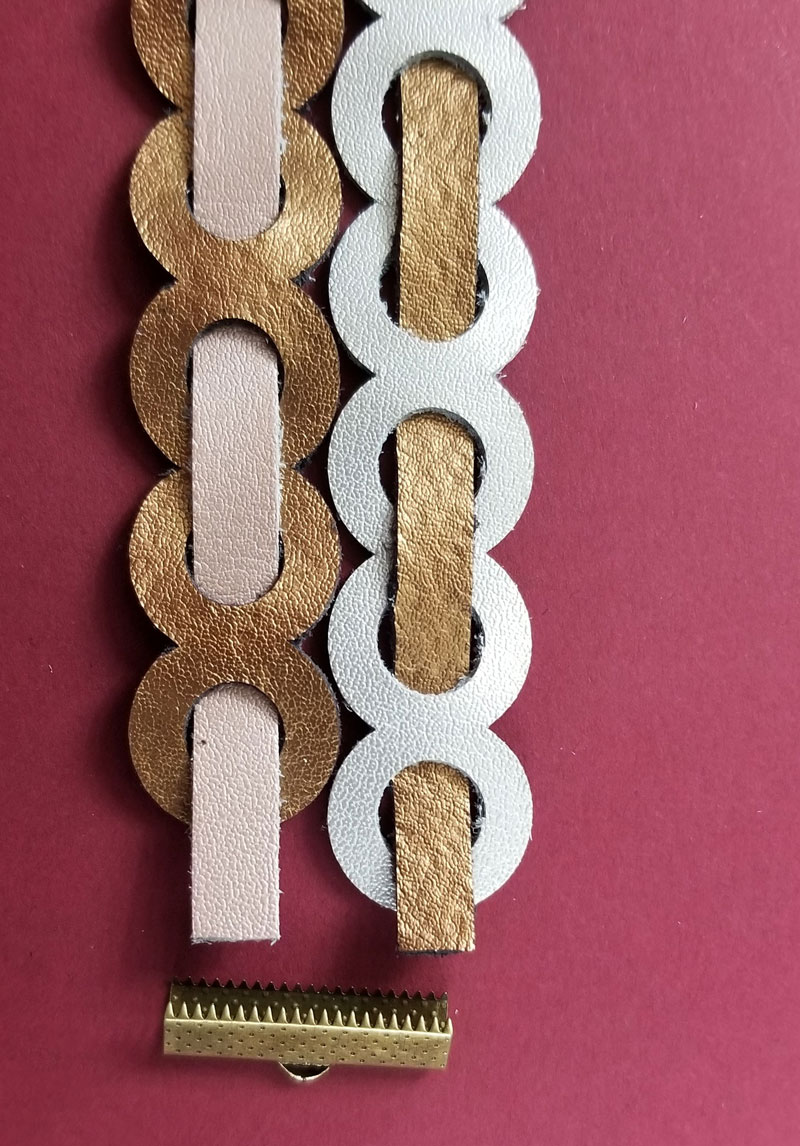 7. Start by attaching one half all the way at the end of a wider ribbon crimp.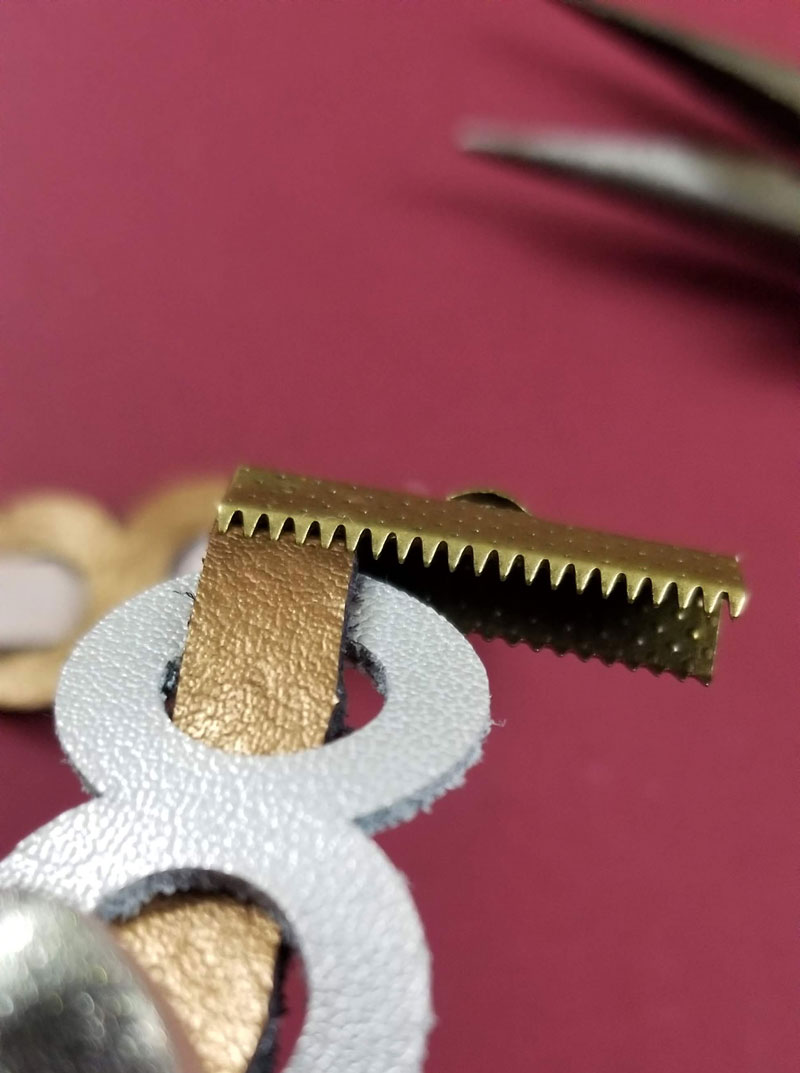 Then attach the other side, and clamp the center.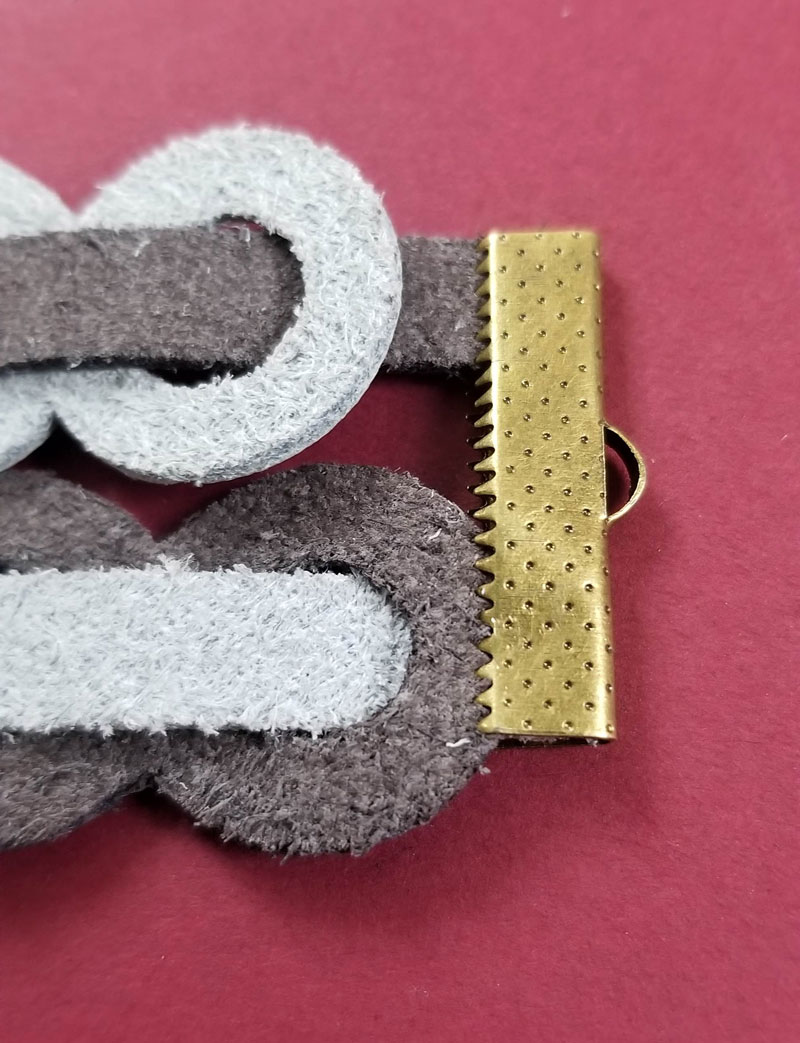 8. Attach your clasp and connector.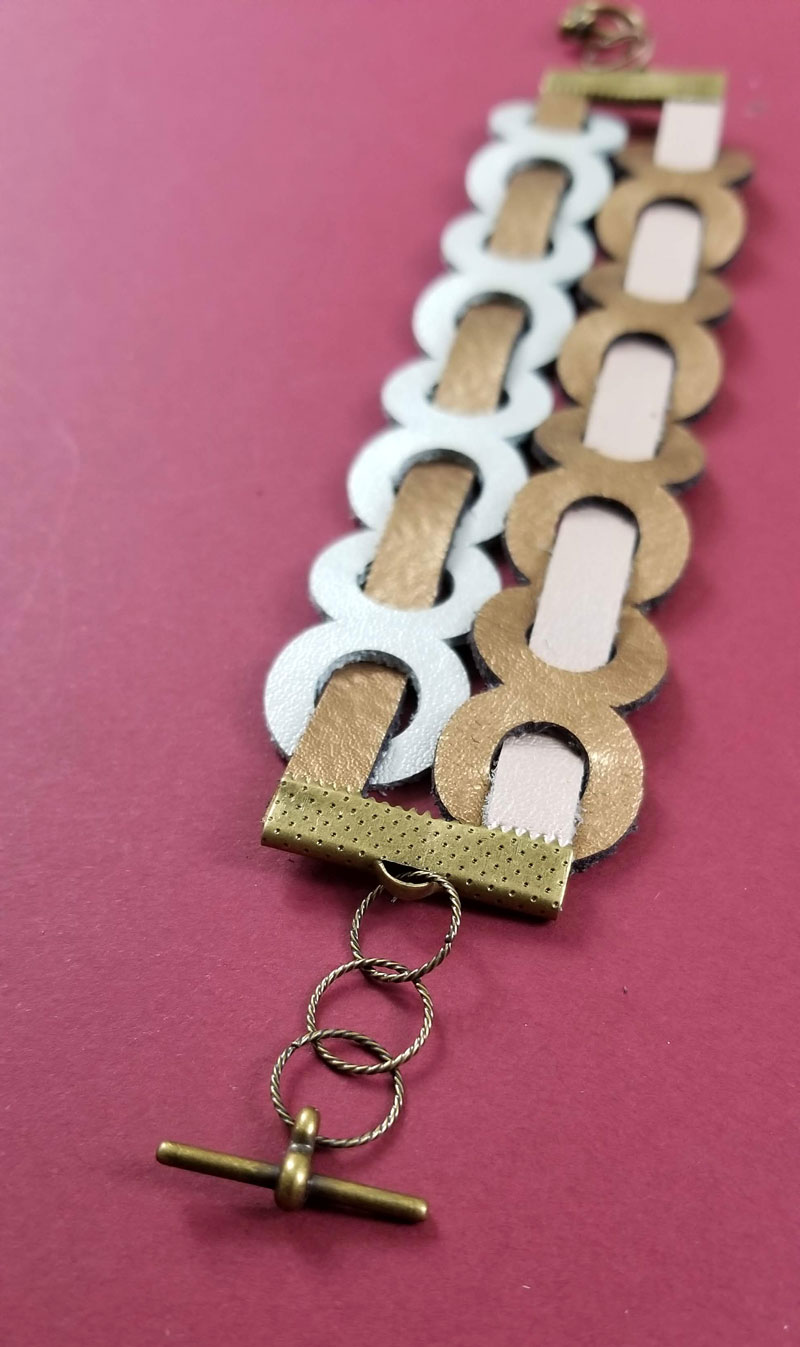 And wear it with lots of pride because you have definitely earned bragging rights right now!
I hope you enjoyed learning how to make woven leather bracelets with your Cricut Maker or Explore Air 2! Got questions? Comment below! Come join our Cricut crafting group for more ideas, tutorials, and templates!
And if you haven't yet, you can still download your free SVG below: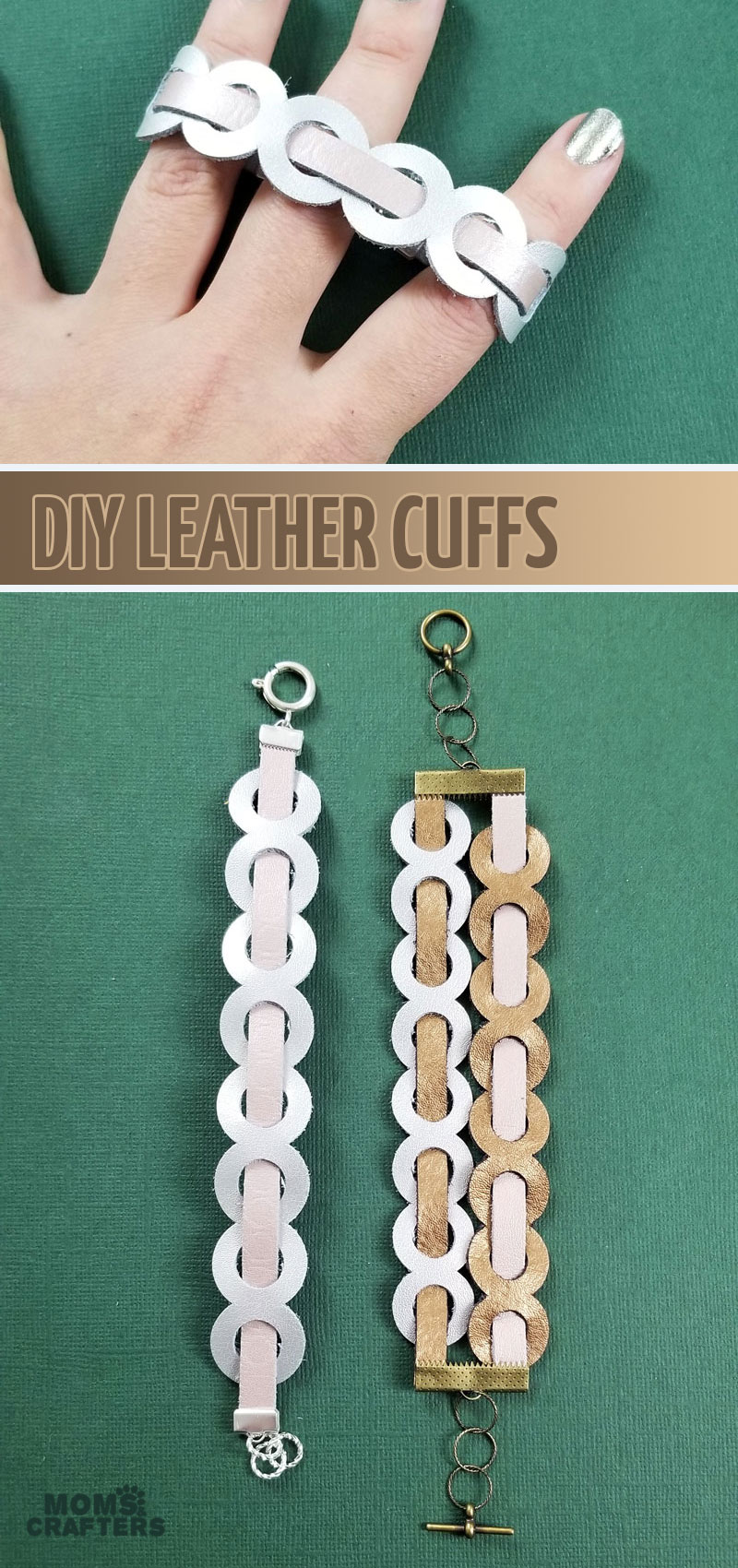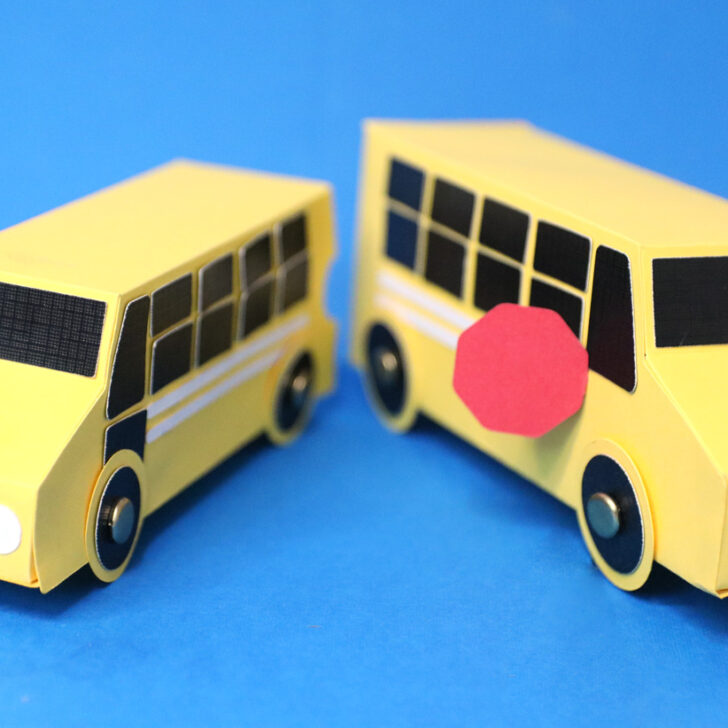 This beautiful school bus template comes in both SVG cut files and PDF printables to use as a gift box or paper toy! When you're …