Make your own DIY bracelets to wear and to stack! These super cool bracelet crafts come in all different types, styles, and skill levels – so I hope you enjoy! This post contains affiliate links and was originally published 1/2016. It has now been updated with more relevant and cool ideas for you to enjoy. Find the full list of jewelry crafts.

This post contains affiliate links.
---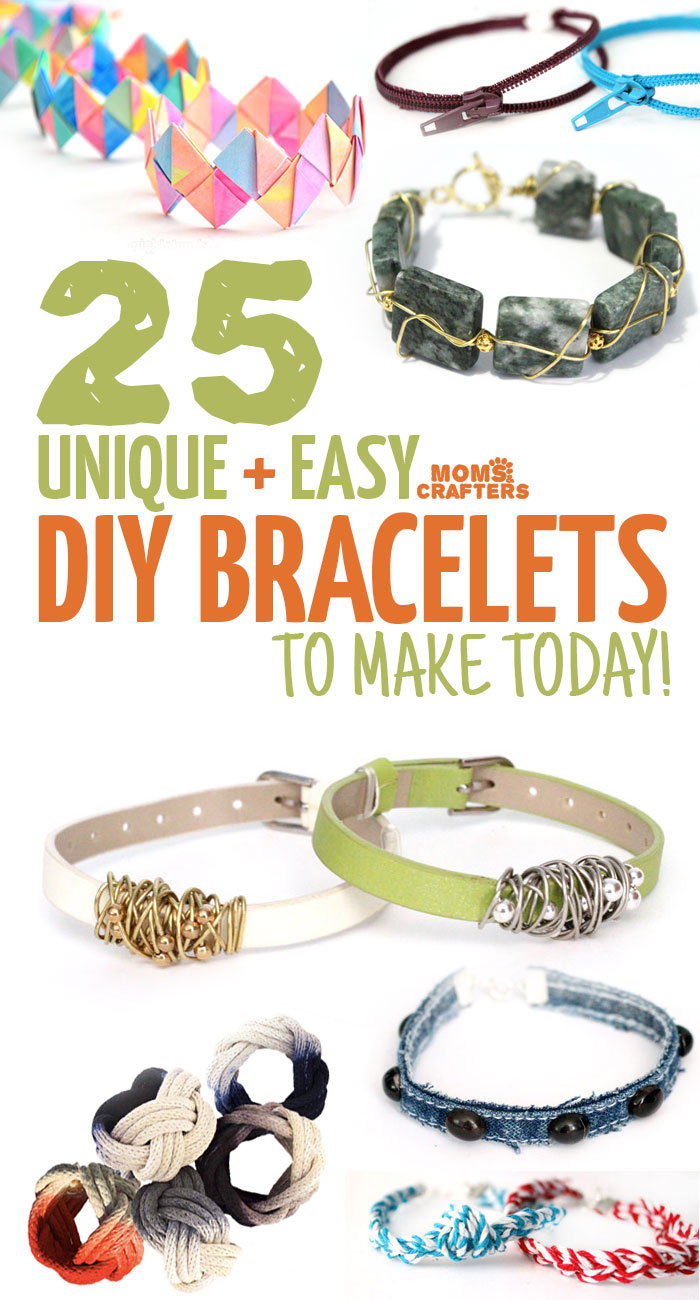 You can only wear so many pairs of earrings and not more than a few necklaces. Rings are limited to ten or so, but bracelets can be piled and layered as long as your arms are! This list of DIY bracelets will have you wanting to make – and wear – more and more!
Bracelets have always been my favorite jewelry which is why, of all my jewelry making tutorials, so many are bracelets. I put together this list of DIY bracelets, including ideas found here on Moms & Crafters, plus plenty of inspiration from other bloggers. I did this to serve both as a single reference page and for the fun of finding (and introducing you to) new, fun bracelet tutorials.
Once I was updating this post, I figured I might as well turn it into a full-fledged bracelet making guide – so that it's literally the only DIY bracelets post you'll ever need! If you just want to be taken to the specific ideas, scroll until you see the idea images.
If you're more of an earring person, you can check out my huge list of easy DIY earrings , or if you prefer to wear your bling around your neck, you'll love these necklace ideas
---
Bracelet making supplies and materials to start off with:
There are so, SO many different types of DIY bracelets you can make, that to try to give you a catch-all list of supplies would be near impossible.
However, I CAN share with you the basics of making and finishing off your typical string-and-bead bracelets – plus some other basics you'll want handy.
To start with, you'll want the following to make most bracelet crafts:
You can build up and add to your stash as you need supplies to complete individual projects.
You definitely will need more supplies for some of these DIY bracelets. The list above is really just a starting point for supplies you'll need for most projects.
Not sure where to get your bracelet making supplies?
One of my favorite places for stocking up is Jewelry & Findings. For one-off, fast-shipping, I use Amazon.
I put together a dedicated list to help you find the best places to buy beads online – and yes, it includes findings too!
How to finish off a beaded bracelet:
To finish a bracelet that's created by stringing beads onto a metal-based stringing material such as Tigertail, you'll want to START your piece with one half of your clasp. String on a crimp bead or tube, your clasp, and then back through the crimp tube in the opposite direction as pictured.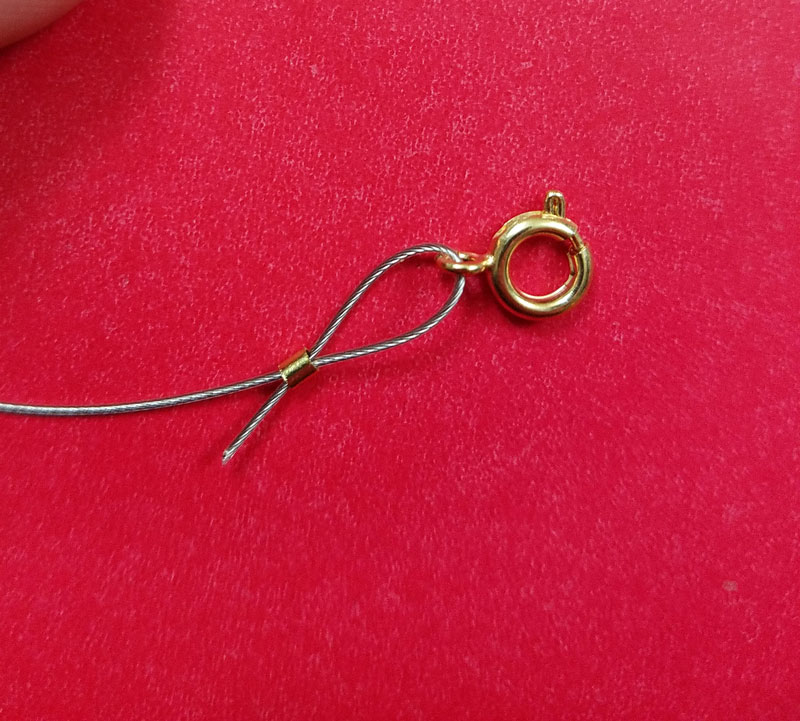 Use your pliers to crimp it flat and then fold it in half to complete your crimp.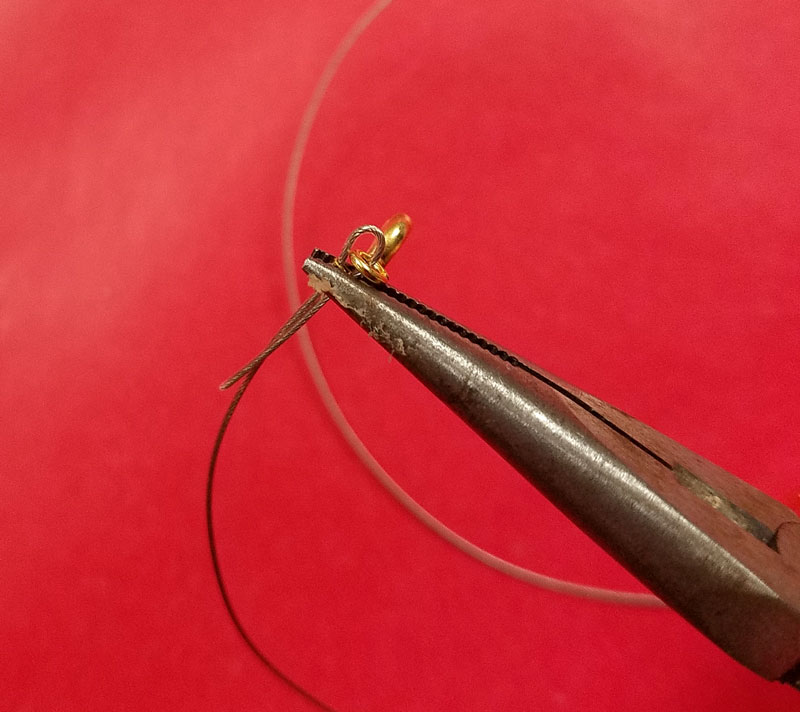 Your first few beads secure the closure by going over the "tail" of your beading wire.
When you finish off your bracelet, you pretty much repeat this process with the other half of your clasp.
How to attach clasps and jump rings to bracelets created another way:
If you're using crimp ends, or making a chain link type of bracelet, you'll need to attach your clasp a different way. It's a really simple process!
Some clasps come with a loop attached that opens. Others don't and require a separate jump ring. You might want to use a jump ring to connect your clasp, regardless!
To open clasps and jump rings, you want to work with a backward/forward motion, twisting the ring. You don't want to pull it apart right-left because it weakens it.
Loop it through your end loop (on your ribbon crimp or last link) and close it the same way.
Your connector – either a chain of jump rings or a bit of chain – is connected the same way. I'd actually encourage you to use a good, thick jump ring instead to keep it strong – even if your chain links can open.
How to finish a bracelet with a ribbon crimp or cord end:
Ribbon crimps and cord crimps come in many sizes. They have a loop and are open in some way to allow you to insert the typically fiber-based end of your bracelet. You then "squish" or fold it closed using flat pliers.
Cord ends are typically used for more circular designs – even if they contain a few strands.
To attach them, place the end of your bracelet in the crimp, with the loop of the crimp facing outward. Fold down one side at a time. Once you're sure it's secure (you can add a dab of glue for extra security but don't need to), trim down your string.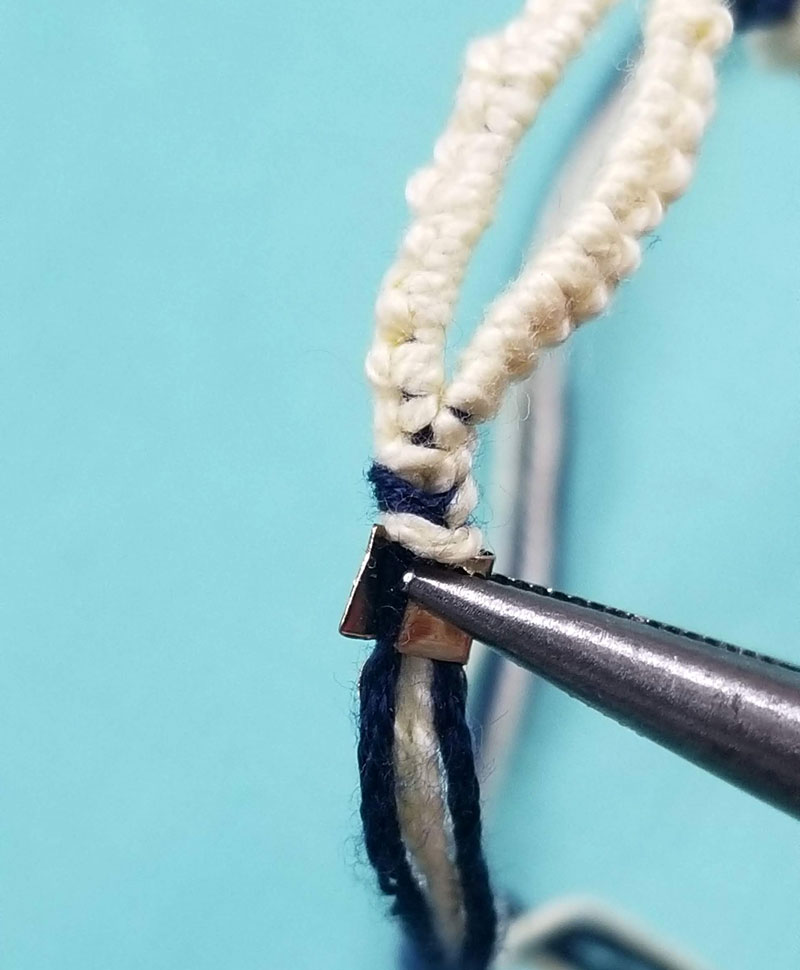 Attach your clasp and connector.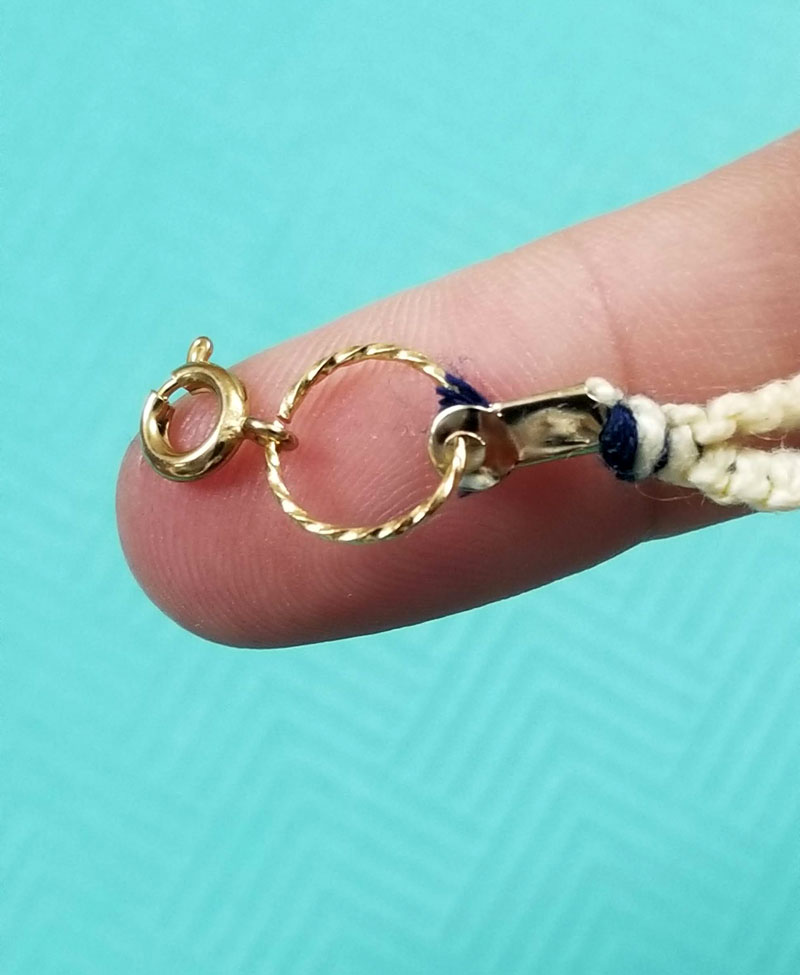 Ribbon crimps are typically used in flatter designs, as they are wide and flat for ribbons. You can get them really wide – I mean inches – for cuffs and multi-strand bracelets.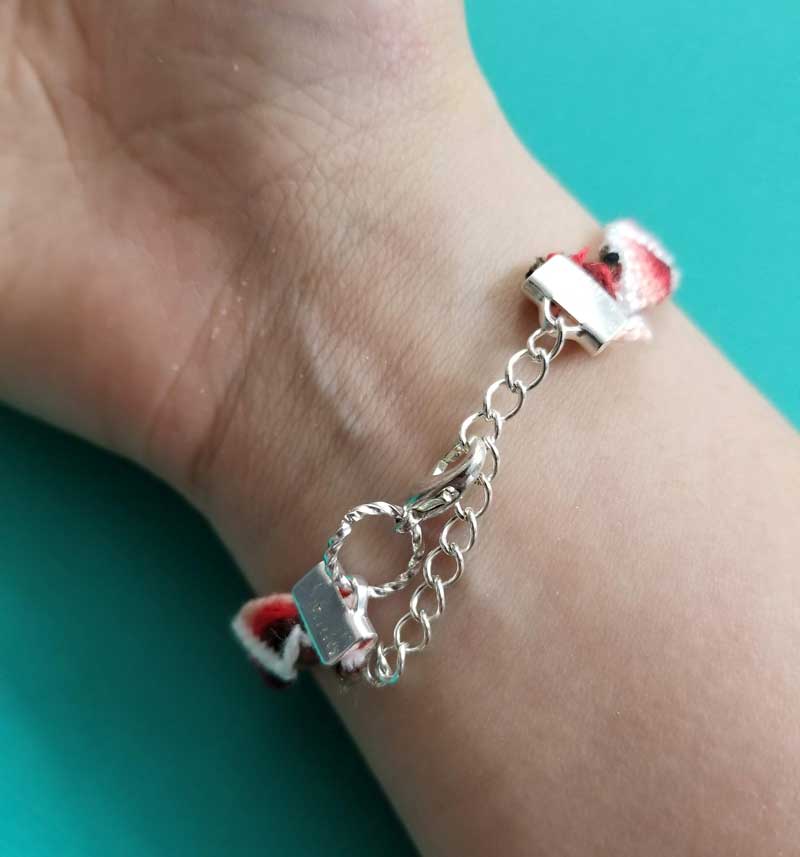 To finish these off, simply place your piece flat in the crimp and close it with pliers. They usually have some sort of serrated end that digs into the fibers and are really secure.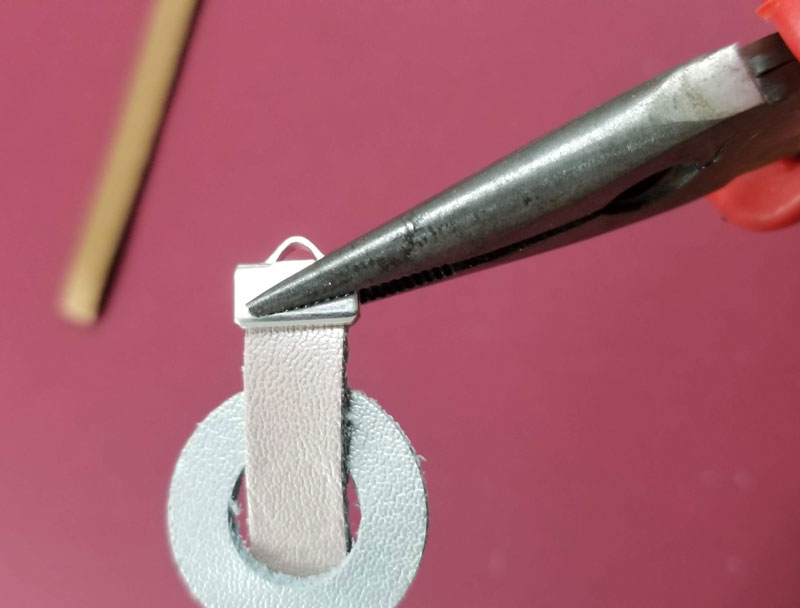 ---
Types of bracelet crafts – Plus loads of ideas for each:
If you're looking for specific ideas, I've got you covered!
The ideas below are organized by theme. Since these are bracelet ideas that I share a lot of, and that are within specific special interests, each one has its own list of ideas.
Friendship bracelets:
If you want to learn how to make DIY friendship bracelets, you'll find a huge range of ideas, including all those pictured below! Friendship bracelets are a great starting point for kids who want to make jewelry (that's how I got started!) but they're also fun for grown-ups who like more colorful jewelry ideas.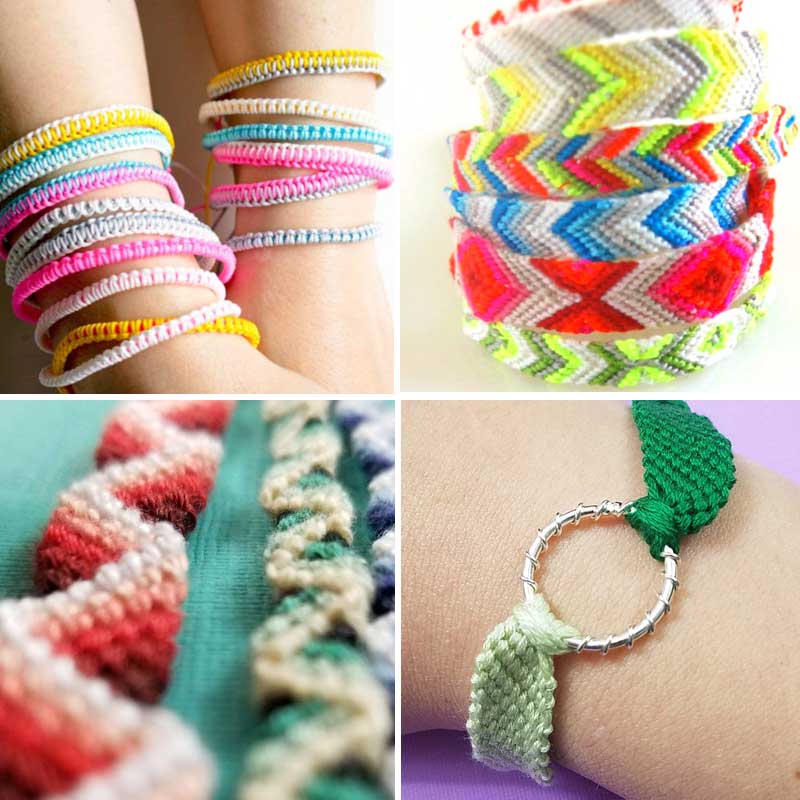 If you appreciate the beauty of macrame and knotted patterns, you'll love making friendship bracelets, no matter your age! It's also a fantastic jewelry making craft for those of us who don't have time, as, much like knitting, they are portable projects that you can do while talking on the phone, refereeing kids' fights, and in the waiting room.
To get started making friendship bracelets, you might want to start with an inexpensive big pack of embroidery floss that comes in every color of the rainbow. I recommend having many different shades of the same, as many designs, such as this zig zag friendship bracelet pattern, look so cool with ombre color schemes.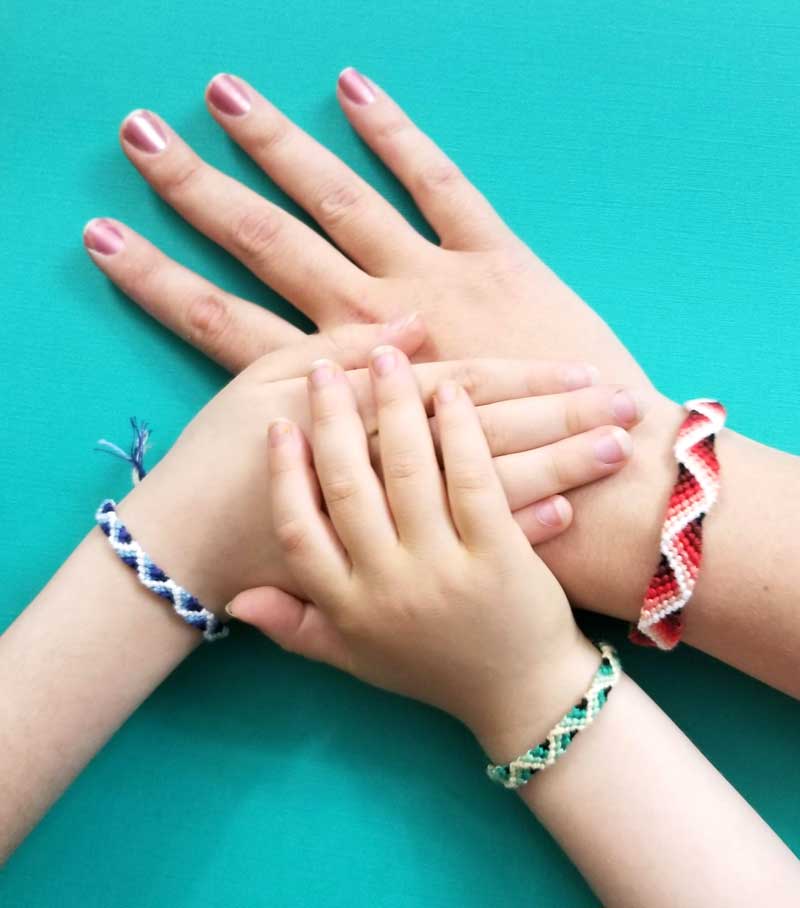 I like to finish my friendship bracelets off with cord or ribbon crimps, as I showed above.
If you've never made them, you'll want to first learn how to make your own friendship bracelets before you start fancy designs. First, start with three classic patterns.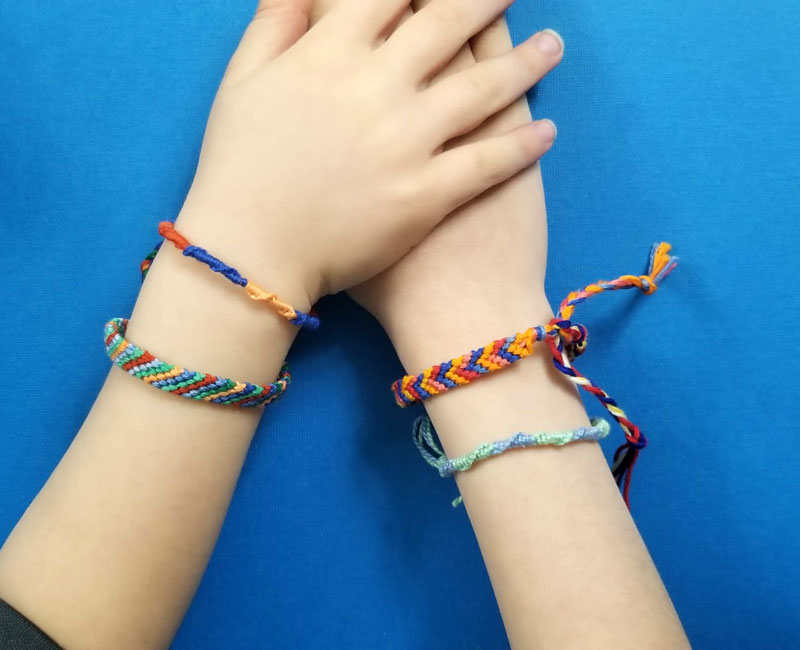 Wire wrapped bracelets and bangles:
Wire is an incredibly versatile material, and there are so many ways to work with it! Learn how to make wire bracelets in a variety of ways, including all those pictured below. These tutorials are appropriate for everyone – beginner to pro!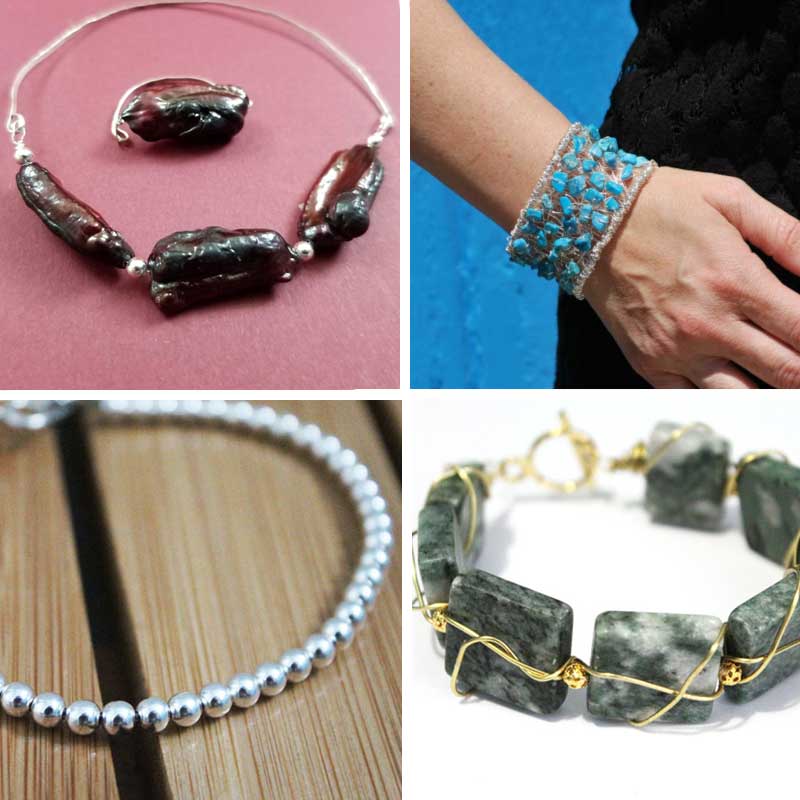 And it goes beyond wire wrapping – and into wire core designs, memory wire bracelets, and even a bit of wire crochet!
Yes, the possibilities are truly endless, even when making DIY bracelets in one specific category.
Braided Bracelets:
One cool category of bracelet that deserves respect in its own right are these braid bracelet DIY ideas (including all those in the collage below) Take a ridiculously simple skill – like braiding and see just how far you can stretch it.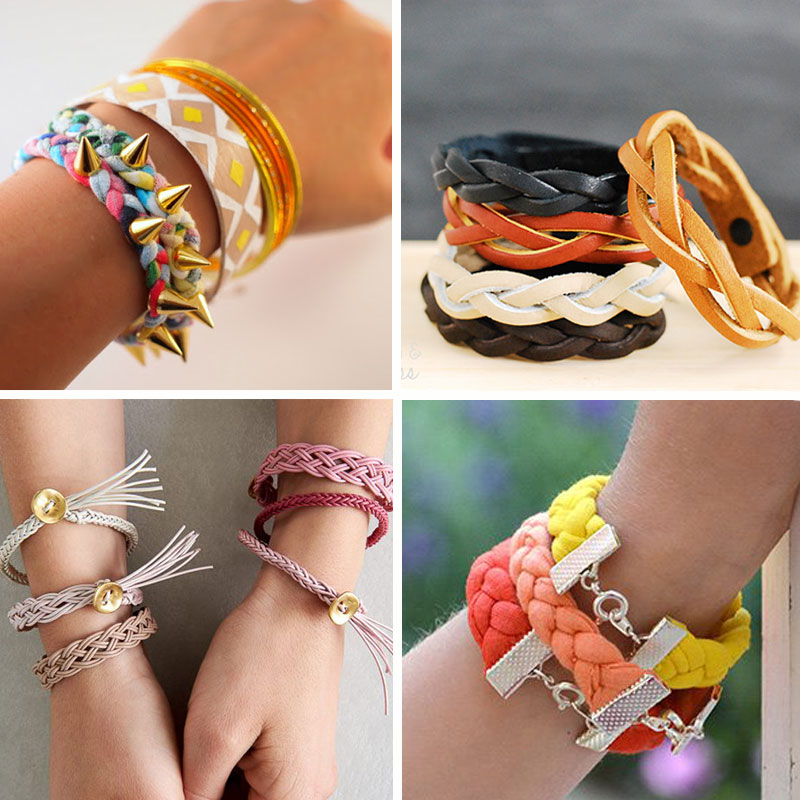 To get variety on something so clear cut like this, you start by mixing up the materials you use. You learn new braiding styles (and those can be very straightforward too), how to add in additional elements, and how to finish it off in different, aesthetically-pleasing ways.
By the time you're done you have so many bracelet crafts that look completely different!
Leather bracelet making:
While I don't yet have a complete list for this one, leather bracelets are insanely cool, and the perfect DIY bracelets who want something chic and high end, but without the intricate beading or knotting.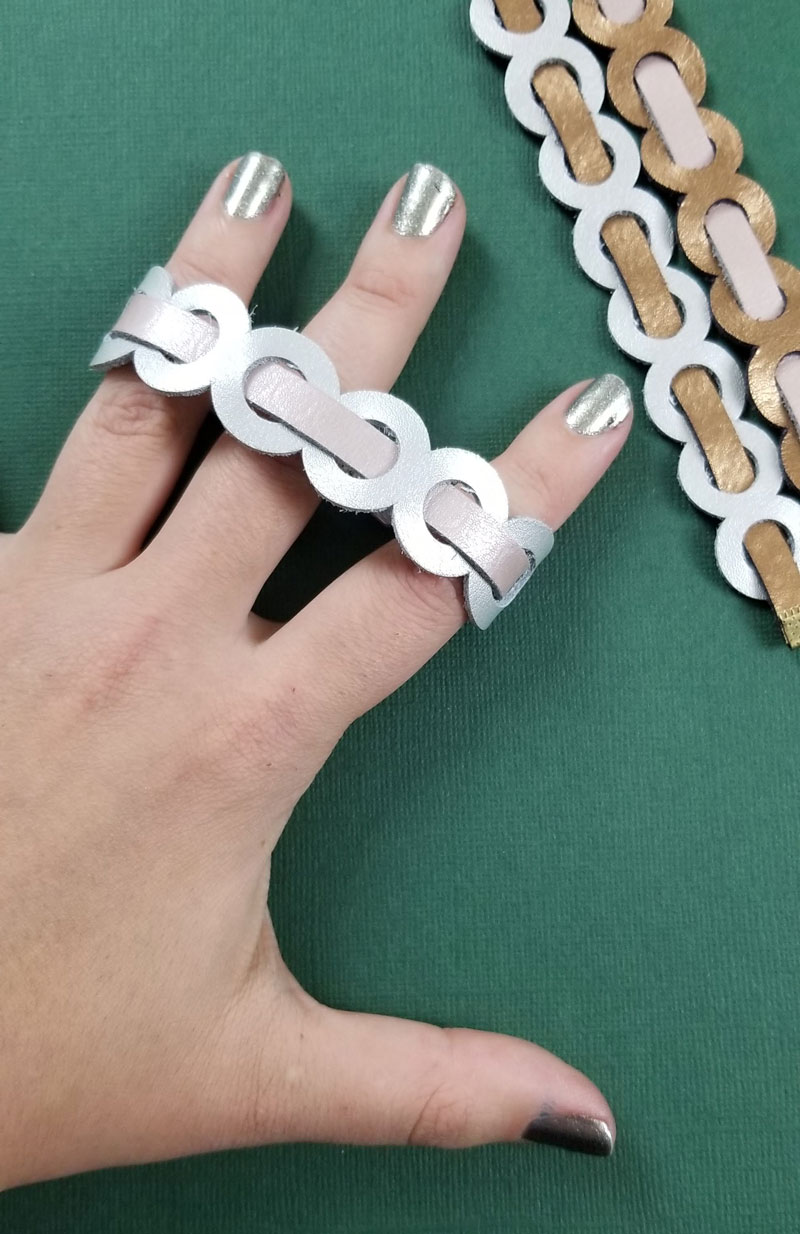 Leather bracelets are fantastic items for selling, and easy to reproduce. Use real leather for a higher end product, or downgrade to faux leather.
If you plan to get into leather jewelry making, I highly recommend getting the
Cricut Maker
cutting machine with the separate
knife blade
. The cutting results and professionalism are outstanding.
Of course, there are many more categories for DIY bracelets, but for now, this will do! When I share more category-specific posts, I WILL update this one! Now for specific bracelet making ideas!
---
When putting an age on any craft, it's all a suggestion. These bracelet crafts are categorized based on multiple factors – skill level required, design maturity being just two of them.
DIY bracelets for tweens, teens and adults:
If you want something chunky for the winter months, make DIY ombre dip dyed nautical rope bracelets by Love Maegan.
Marbled stone wrap bracelets are made using nail polish with a fun dipping technique. This is one of the most fun pieces I have made and was a blast to do with my sister in law. Find more ideas for nail polish crafts if you love that as an unusual craft supply. Or, use this technique to make beaded wrap bracelets.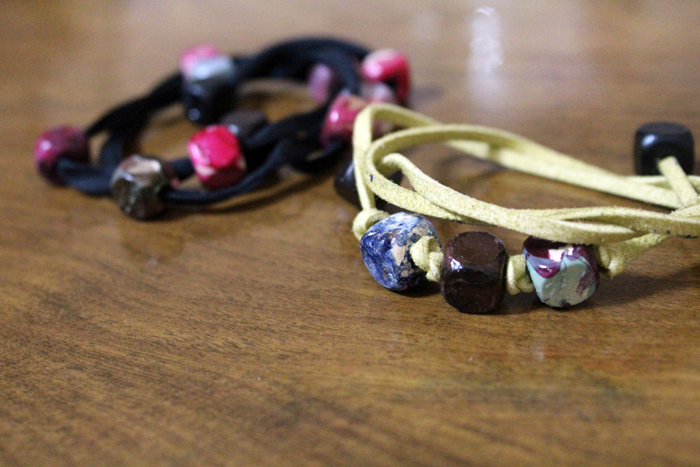 ---
Want to learn how to make jewelry out of anything? Get the book!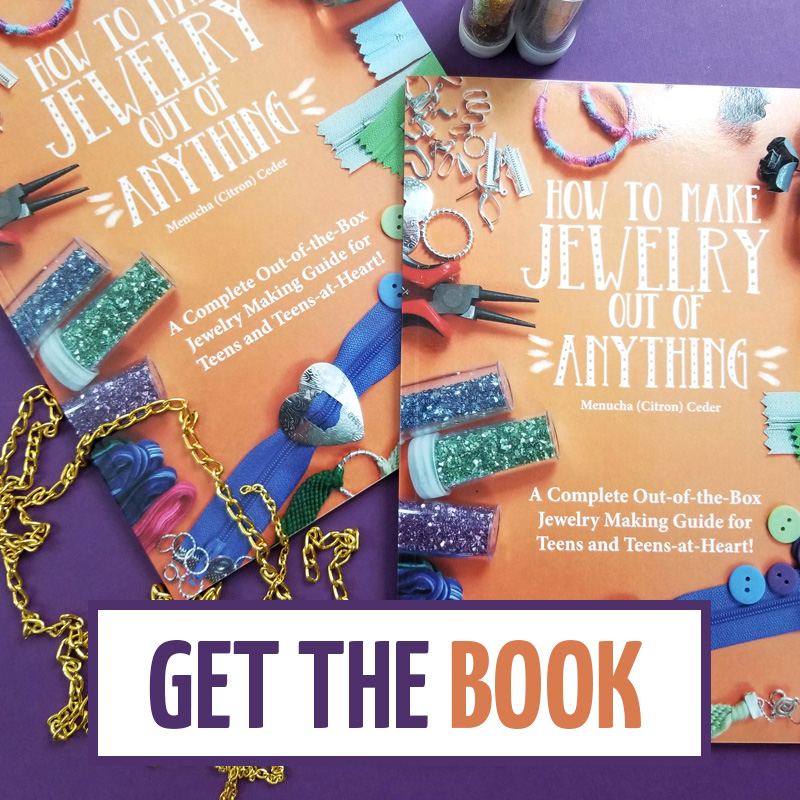 ---
Keep all those scraps and treasures from the beach to make these coral and shell resin bangles by the Soccer Mom Blog. Tip: you can buy the shells and coral too if you haven't collected any and just want some fun summery arm candy.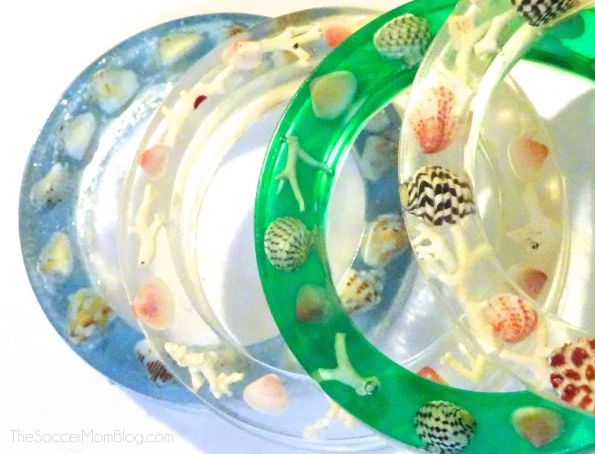 Leather chain bracelets are so much fun, and really easy to stack with like-colored bracelets. This is one of my first tutorials ever and they are SO chic!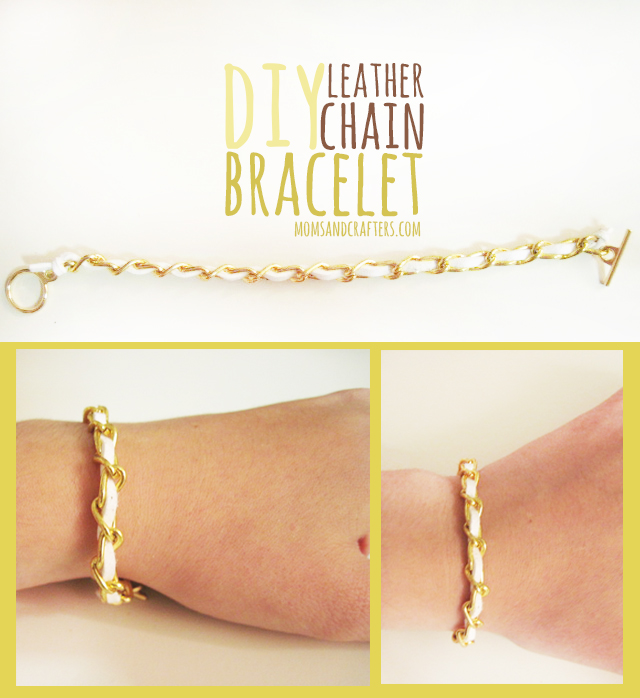 Junk mail bracelets? You'd better believe it! Bring out the office supplies to make this beautiful paper clip and junk mail bracelet by Homework.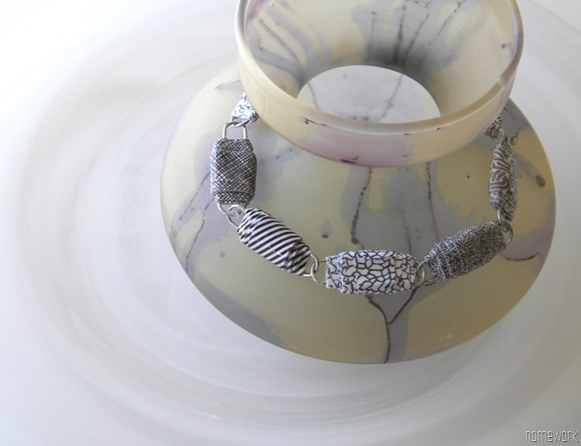 If you know or ARE a Tetris fan, this Tetris bracelet takes the cake! It's easy to make, and you can try a necklace version too.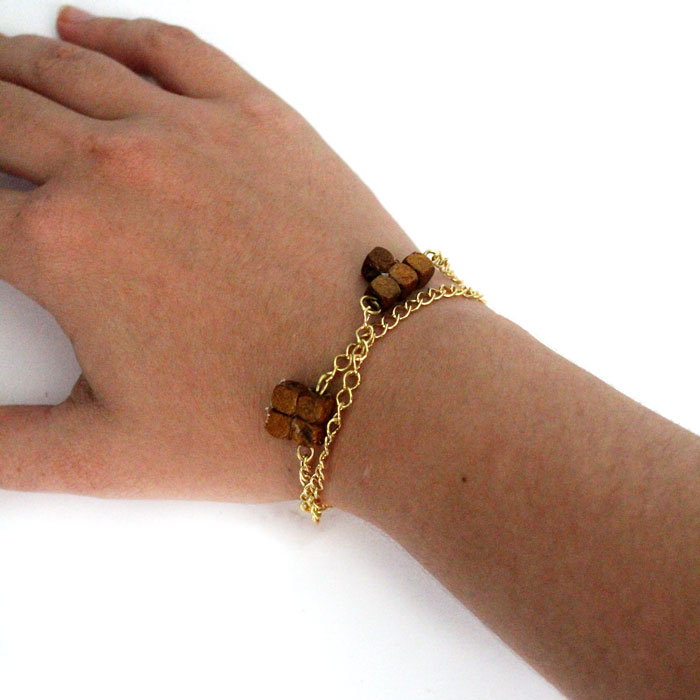 Update some old – or inexpensive bangles by making DIY painted bangles! And by painted, I obviously mean nail polish… These do get some wear and start to chip after a bit, but nothing's stopping you from patching them up!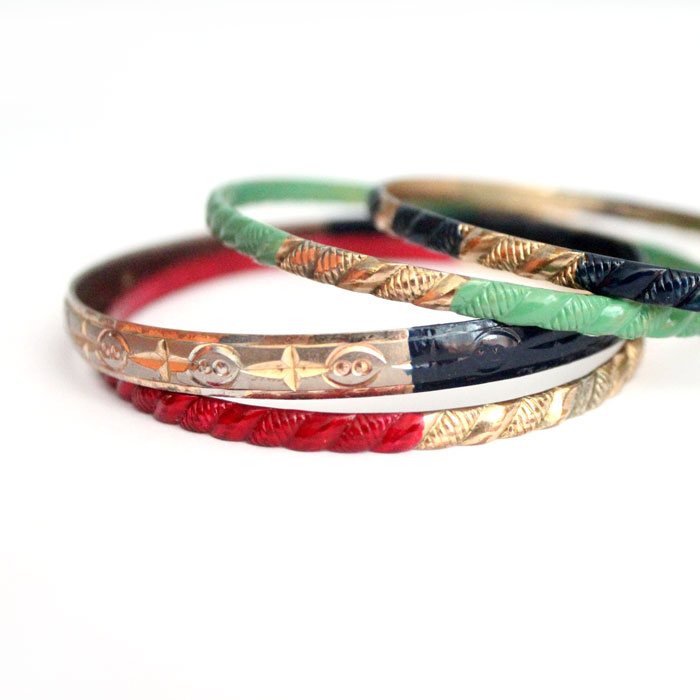 ---
DIY bracelets for kids to make:
Why leave out the little ones in the wonderful art of arm candy? These DIY bracelets for kids range from toddler to tween.
I started out making jewelry as a tween and was quite skilled at it by the time I hit adulthood – so don't underestimate their abilities!
Learn how to make a gimp bracelet with three different knotting styles. Gimp (or lanyard, or even boondoggle!) is all the rage among kids these days… so why not turn them into bracelets? The reason "why not" is that most boondoggle tutorials use a box knot, or similar, that is bulky and awkward to wear. These three knots are designed to wear flatter.
Try this fun and easy hair tie bracelet DIY tutorial! It helps you keep those hair ties handy when you need them, without digging into your wrist.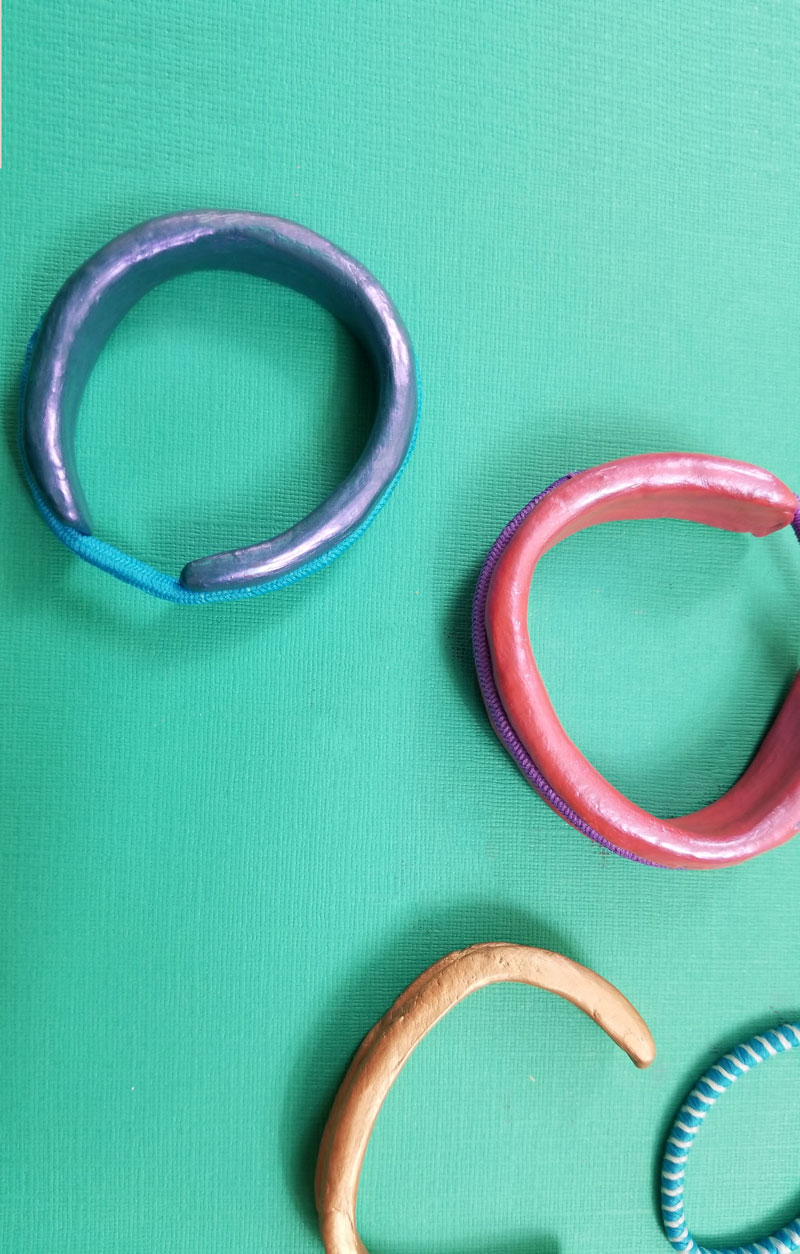 Make fun and funky zipper bracelets in minutes! This is my first variation on zipper bracelets, but I've got more!
This follow-up tutorial on how to make a zipper bracelet features buckle clasps that turn it into a fun fidget and wearable toy – perfect for travel (but not so school-friendly).
Okay, so this one is a watch. But it's still really cool arm candy. Make this shoelace bracelet watch by Arts & Crackers from an old watch whose band is bust.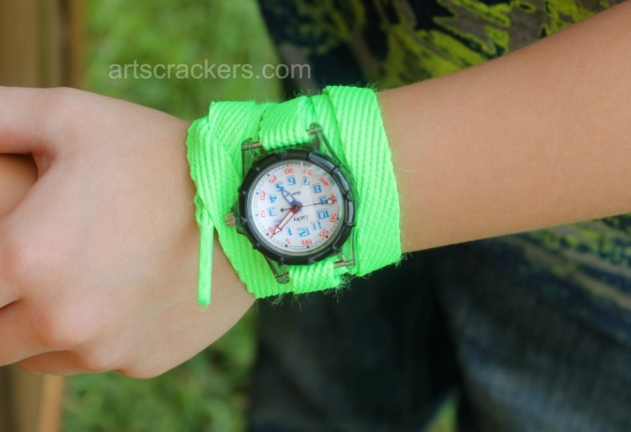 This chic recycled Denim bracelet is made from the SEAM of a pair of old overalls. How cool is that?!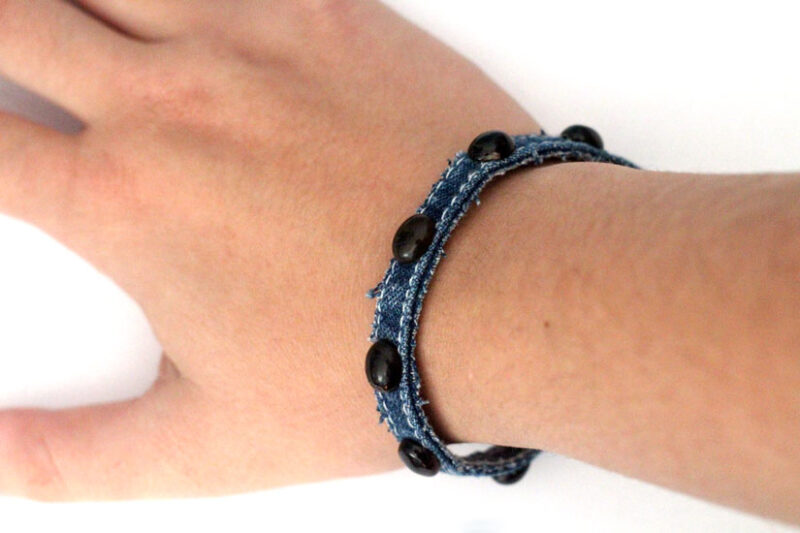 Try some origami jewelry with these folded paper bracelets by Picklebums.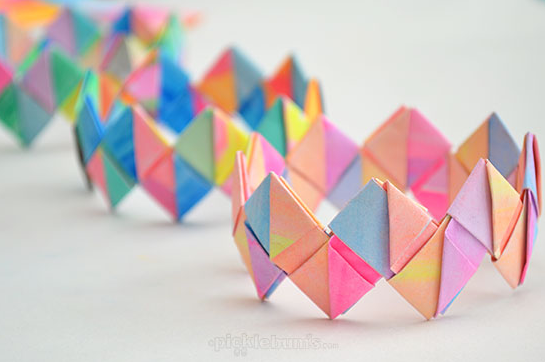 Making lists like these gets my craft bug really going! I think I need to get my bracelet making on once again… so stay tuned for more tutorials and make sure to sign up to receive updates on posts like these!
Which of these DIY bracelets is your favorite? Comment below!