Over the years I've been dedicated to using this blog to teach jewelry making for teens, since it's a hobby that really took me through my teen years. Today, I'm going to share my new book: How to Make Jewelry Out of Anything – a unique concept in jewelry making books for beginners! Disclosure: this post contains affiliate links.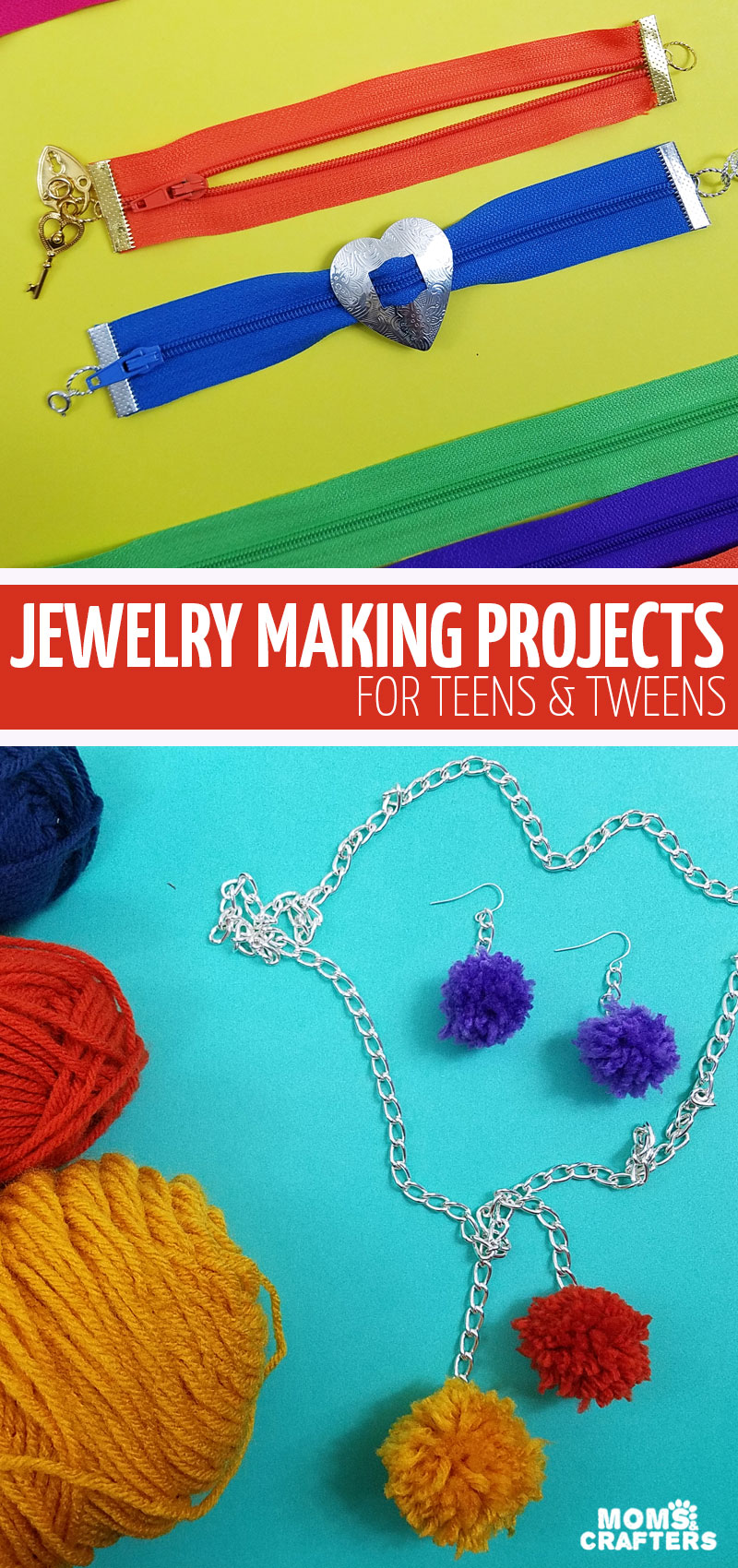 When I was a teen, I really needed an outlet. I played with scrapbooking but found it too tedious and not practical enough. I tried oil painting but I didn't really have the studio space to stick to a painting.
I fell in love with jewelry making.
The creative possibilities were endless. The results were fun and a means of self-expression. And while the initial investment cost was a big high for me, I found that I could really stretch my materials if I was creative enough.
I learned how to craft outside the box.
I leaned how to turn crafting outside the box into a lifestyle.
When my first son was born, I turned a coat hanger into a baby mobile.
When my holiday was hosted, I painted plain spoons with nail polish to serve dips with.
And when my first home was bought, my first craft room built, I turned a cheap metal stool into an epic perch for my creativity.
When it comes to jewelry making for teens, thinking outside the box is a necessity. It helped me continue my hobby on the cheap.
It helped me continue to express myself in a unique way.
As part of my mission to spread the joy of jewelry making for teens and crafting outside the box, I recently published some of my best jewelry making projects that use unique materials.
I also used it as an opportunity to teach the basics of jewelry making for teens and anyone who wants to learn from scratch!
In the book, you'll find the following:
An outline of materials for jewelry making – what you need, what you might want
An outline of unique materials that I love using in jewelry making for teens
Six introductory projects that aren't necessarily "outside the box" but teach the basics skills with hands-on projects.
36 projects using unique materials or methods to make fun, beautiful, quirky, and colorful jewelry
Step-by-step photos where needed as visual aids
Step-by-step instructions
Tips for making the pieces your own along the way.
"Skill alert" tips along the way that explain how the process can help you in making other pieces
Helpful resources at the end
Some of the materials I enjoyed using in the projects:
Natural materials – rocks, twigs, and seashells
Recyclables – bottle caps, old clothing
Craft supplies that can be bought cheaply: chenille stems, plastic buttons, colorful zippers, wooden shapes
Unique finishes such as acrylic paints, glitter, and… nail polish!
Paper! From solid cardstock to origami paper, and even my own artwork – paper, when finished properly can make great jewelry
I also have a section dedicated toward using beads in different ways (other than stringing them). This uses inexpensive beads rather than fancy gemstones.
I wrote a section dedicated toward upgrading the friendship-bracelet concept that many big kids and tweens love.
In the spirit of REAL jewelry making for teens, all of the pieces are professionally finished, teaching new ways to make beautiful handmade jewelry.
The full gallery of projects can be viewed at the back of the book. You can watch the promo video below:
But meanwhile, here are a few favorite projects from the book:

The book was designed to promote out-of-the-box jewelry making for teens. However:
Many of the projects were crafted by me, for me. I'm an artsy 29-year-old who loves to wear color. You can call me a teen-at-heart, but many of the pieces are the types of looks you'll find in the jewelry aisle at current fast-fashion stores.
Many of the projects are basic enough for younger kids to make. Testers as young as six enjoyed the book with adult supervision.
Children as young as ten should be able to complete most of the projects and it'll grow with them. Some projects require slightly adult skills, but not for the main portions. For example, I use lots of wooden shapes as blank canvases. The ones I used don't come with holes, but you can either use ones with holes, or punch it for your child.
The core age group for this book is age 12-16, but like I said, look at the types of crafts I included and judge for yourself if it's something you love!
Besides for age, I highly recommend How to Make Jewelry Out of Anything for hobby crafters, or even those that like to sell their crafts, who are looking for ideas that are more crafty than jewelry-y…
I personally enjoy these crafts because I'd rather paint surfaces than string dozens of beads.
So if you enjoy a less tedious, more active approach to crafting, that's really the idea of the book.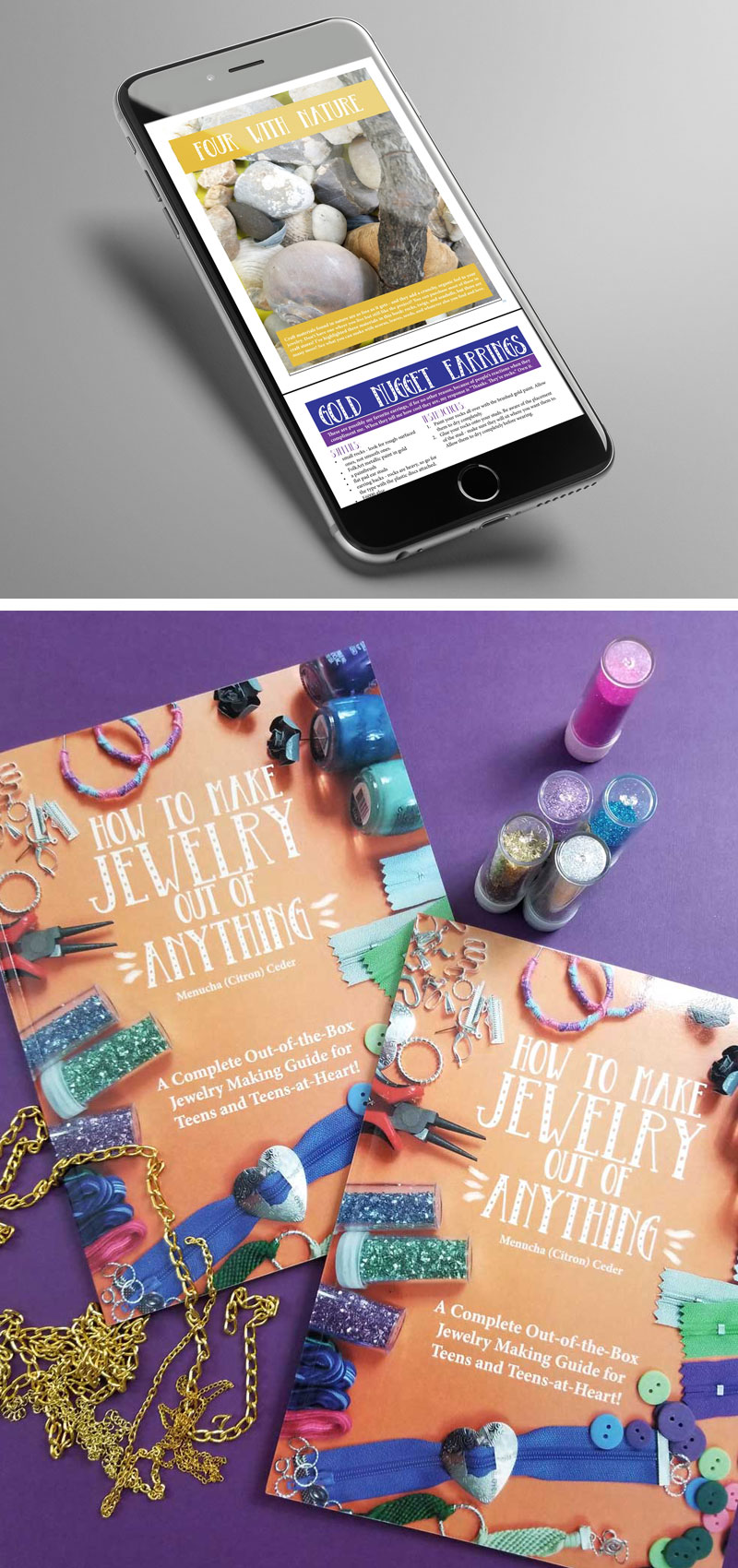 Anyway, I hope I've given you a good outline of my new book for jewelry making for teens How to Make Jewelry Out of Anything.
Any questions? Pop 'em below!
Learn more about the book here!
Get the Jewelry Designer Sketches add-on here!
Check out my list of recommended supplies to go with the book here!