Only moms need a convincing reason to treat themselves. Yes, moms need to relax! They need to allot those five minutes, those five dollars, to THEMSELVES occasionally.
So why am I talking so forcefully? I kind of need to convince myself too. How many full days go by, packed with baby, husband, and no ME. Here are five reasons moms need to relax, but scroll to the bottom to win a little cash to help you do so!
Sanity, man! Your kids need a sane mom, so if you're the guilt-driven type, consider that.
Because you deserve it. Yes, YOU! You work hard, and every so often, you need a little break.
If you don't take care of you, who will?
Be a role model for your children. You spend your days taking care of others, and they see that! But they should also see that you are responsible for your own well-being.
I always feel like a few dollars spent in retail therapy, a few minutes stolen with a twenty minute episode on Netflix is an investment (within reason.) We have tough days. Raising children plays with our emotions, and we blame ourselves for setbacks. So, give yourself that little bit of "extra" and allow it to comfort you on tough days. It's cheaper than therapy…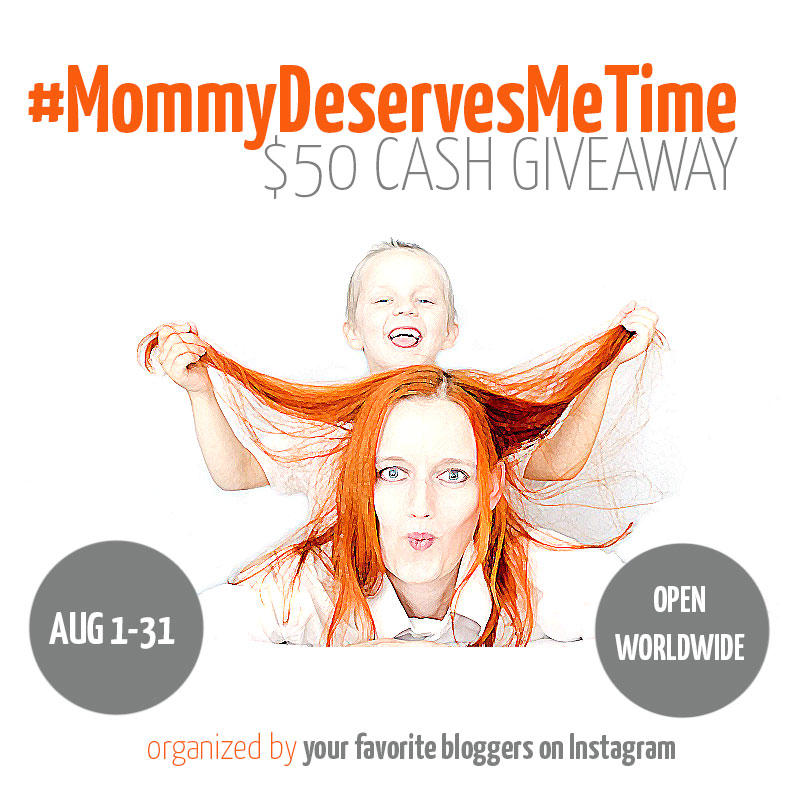 These moms on Instagram stole a moment to show you how they treat themselves (or try to remember to…) Then, we all got together and decided to offer you a little cash to help you reward yourself! Yup, one lucky winner will receive $50 USD via PayPal to pamper yourself.
Get yourself Starbucks for a week, treat yourself to a gel manicure, or splurge on those shoes you wanted! Hire cleaning help so that you can relax at home. The choice is yours! The only rule: if you win, you must use it for yourself. No cheating. No buying toys, baby clothing, or (dare I say it?) groceries!
Ready for it? First, here are some great ideas of how some of our favorite moms on Instagram treat themselves, or take time to relax. Make sure to follow them – as that's how you'll enter to win a chance to treat yourself!
Relaxin' A photo posted by Pam (@ourlittletinies) on
Now that you see how some of my favorite moms on Instagram treat themselves, share with us: how do YOU treat yourself? Post an image of how you relax or pamper yourself on Instagram with the following hashtag: #MomsDeserveMeTime. We'll make sure to head on over and give it a like! For now, you can enter using the form below.
If you've already followed all of us above, you can just enter your Instagram handle in each box, and submit. Otherwise, head on over to the links and follow whomever you'd like. Each one you follow gets you another entry, but only one is mandatory. Giveaway starts 8.1.2015 at 12 AM and ends 8.31.2015 at 11:59 PM, and is open worldwide. Good luck!
Disclosure: The bloggers involved in this giveaway are not responsible for prize fulfillment. Prize delivery and fulfillment is the responsibility of Moms & Crafters. The winner will be notified via email and has 48 hours to respond or another winner will be selected. Instagram is not endorsing or liable for this giveaway. Giveaway is open where legal, worldwide, to participants who have reached the age of majority. Prize will be fulfilled via PayPal. Winner is responsible for any associated fees or taxes. Limit one entry, per entry method, per household. Duplicate IP addresses will be disqualified. This promotion is in no way sponsored, endorsed or administered by, or associated with Instagram.