So much of Valentine's Day is focused on peer to peer love, I thought I'd take a break and remember those that love us most with this free printable home sign for Valentine's day. Just frame it and give it!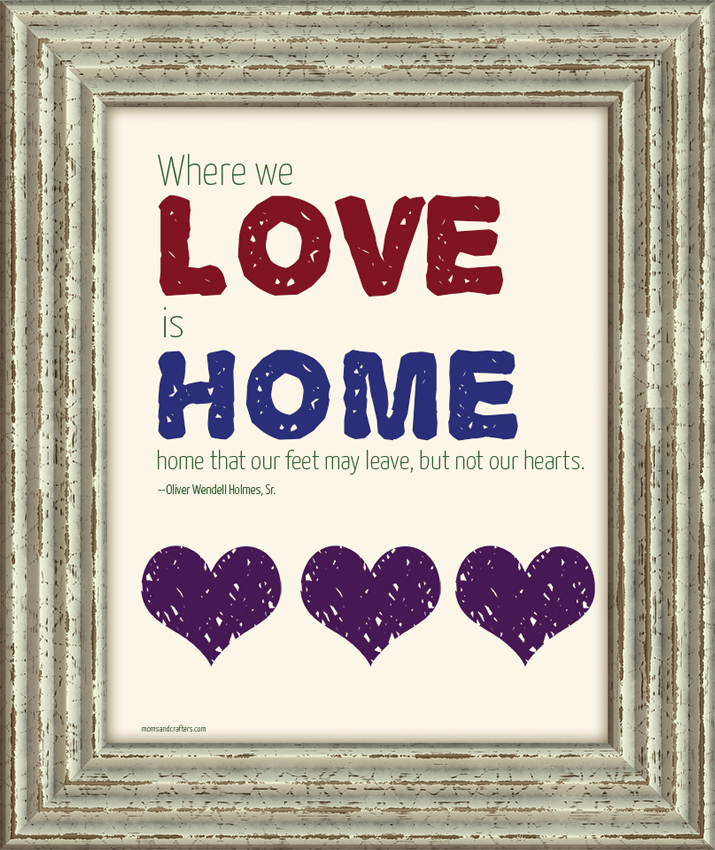 "Where we love is home – home that our feet may leave but not our hearts" is a quote by Oliver Wendell Holmes Sr. that reminds us just how much our family cares for us.
It makes a great addition to your home for valentine's day, and a perfect gift for a family member that is away from home. It's also a great gift for an adult living away from parents to give them as a reminder of much they are loved… What better way to spend Valentine's day than to tell our family how much they mean to us?
How to Download the Free Printable Home Sign:
Click on the image below to be taken to the full size image. You will see that the colors now appear to be strange – this is because they are print colors that appear different on screen. Right click the image and choose to save it. You can now print it however you would like.
The image was created as an 8×10 inch image and can be printed up to that size. You can print it smaller as well. It will print in the colors that appear on this page, not that of the image you click to.
Copyright 2015 Menucha Citron. You may use this for personal use only and may not benefit from it commercially in any way. You may not redistribute it in any form. If you would like to share this download, you must link back to me clearly and promote it as a free printable for my blog. If you have any doubts, you may contact me at menucha at momsandcrafters dot com.
If you liked this, you'll love: