If you're struggling with potty training your toddler (or even preschooler!) you may be making one of the common potty training mistakes that I made. Yep, I made every single one of these and I'm sharing it with you so that you don't make them too! Disclosure: this post contains affiliate links.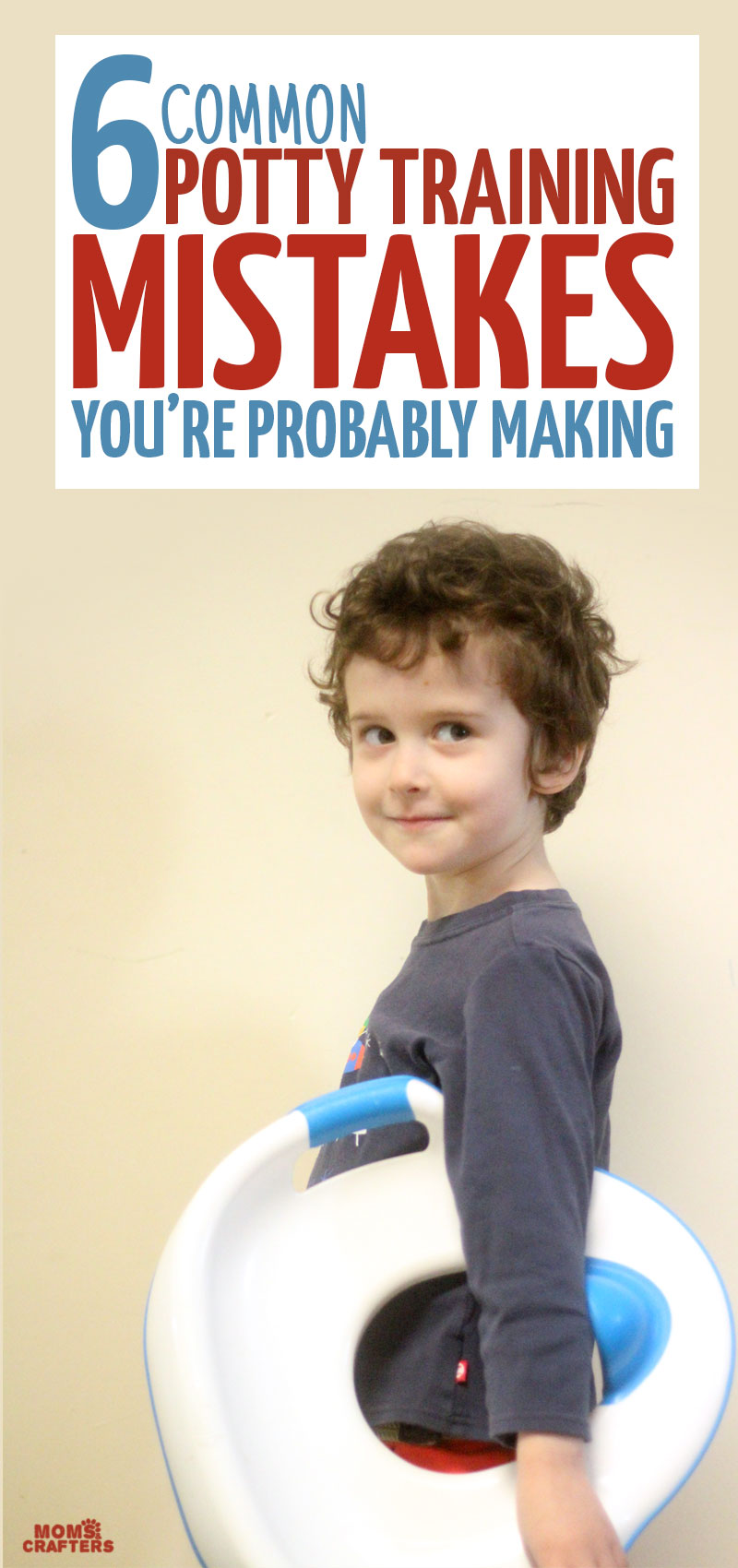 I was frustrated to say the least.
I read up on my advice.
I tried and tried.
Nothing was working.
My son was three years old plus some. We had tried before the baby was born. We had tried in the summer. And now the pressure was on – his preschool wanted him out of diapers, and he was the only one left.
I thought that the peer pressure – all his friends wear underwear – would help.
I thought that getting a BLUE potty seat would do the job and excite him.
I even thought (knew?) that going commando may help.
But something was obviously not working.
How I eventually realized I was making potty training mistakes: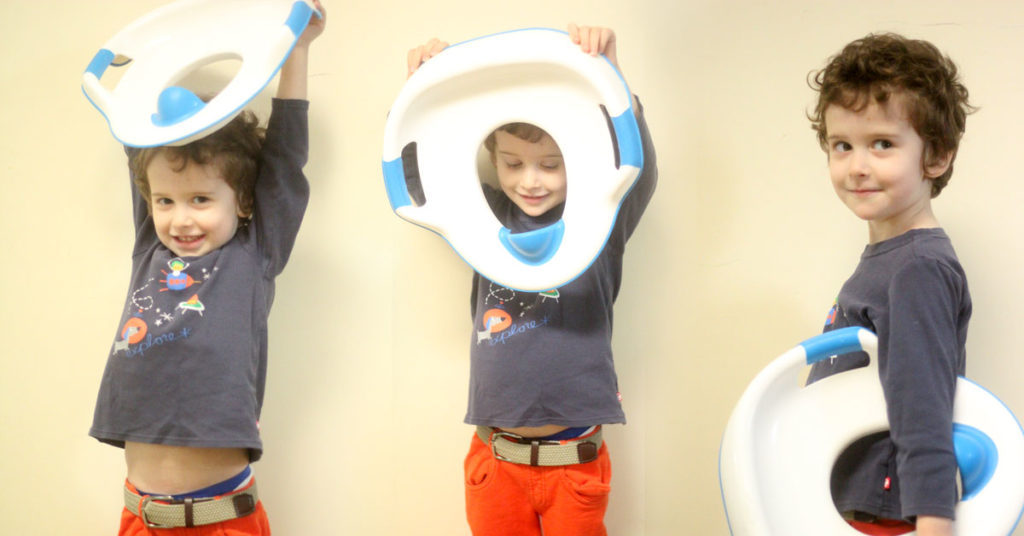 After skipping the advice I read online, after five months of trying, after making every mistake possible, M was finally fully trained. He was (is) even ready to night train!
I took the opportunity to think back and reflect on what exactly I was doing wrong!
Here's the thing: you'll read all sorts of advice, amazing tips, and cool strategies for easy potty training two-year-olds over the weekend. And it may work for some.
Potty training is an individual formula – and that is one of the first and most critical potty training mistakes that many moms make!
So why am I writing this list?
Call it a "potty training troubleshooting guide". Go through it. Figure out if that's what's holding your child back.
Oh, yeah, one more thing.
You are still an amazing mother if your child is NOT potty trained by three years. You are doing a great job! Potty training is not easy, but you've got this.
So, while I was joking about writing a blog post on "How to potty train your 3.5 year old in five months", I decided to go forth and share some common mistakes that I made, and the solutions and ways around them.
6 Common Potty Training Mistakes You're Probably Making: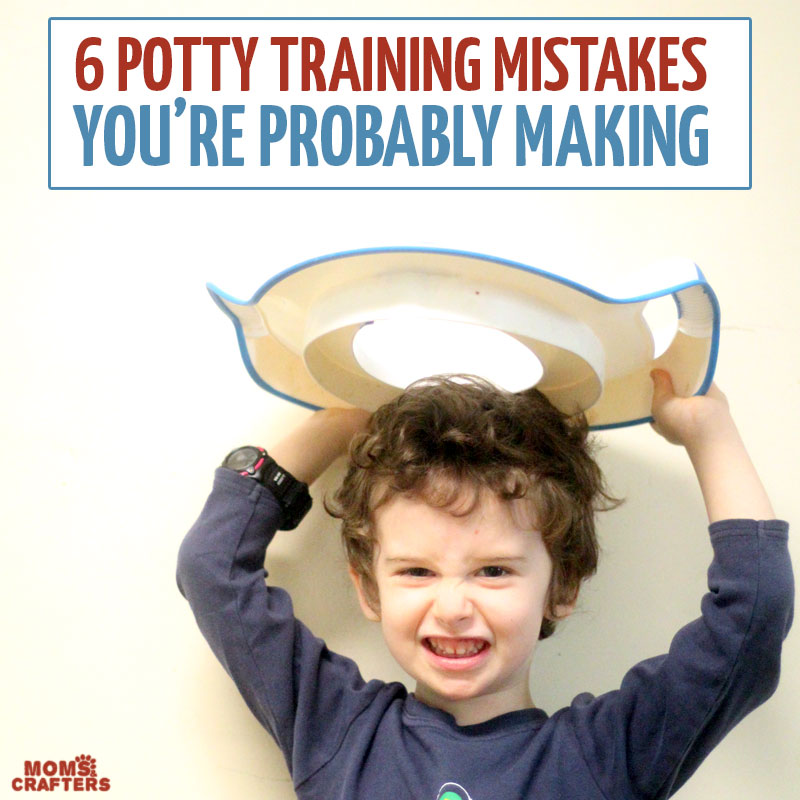 Potty Training Mistakes #1: Not being consistent
You can't potty train over the weekend if you're not going to head straight into the week with the same agenda.
Potty training is really habit forming, so if you take a break, you're interrupting the whole pattern. Even more so, your toddler probably won't understand why or when he or she gets to wear diapers sometimes and not others.
BE CONSISTENT.
We wanted to send M to preschool fully trained and realized his teachers probably did NOT want to clean up his accidents. But this was interrupting the whole flow. I was so frustrated that he was perfect on the weekends but during the week, when we'd change into underwear after school, he'd consistently have accidents.
Eventually I realized that this may be an issue.
I took him to his preschool, brought him to the toilet a few times, and almost overnight he was fully trained. We traveled with him in underwear at that point – a two plus hour road trip! (Having a travel potty for backup definitely helped.)
But let's backtrack a few steps in this process and go onto the next common potty training mistakes.
Potty Training Mistakes #2: Using disposable training pants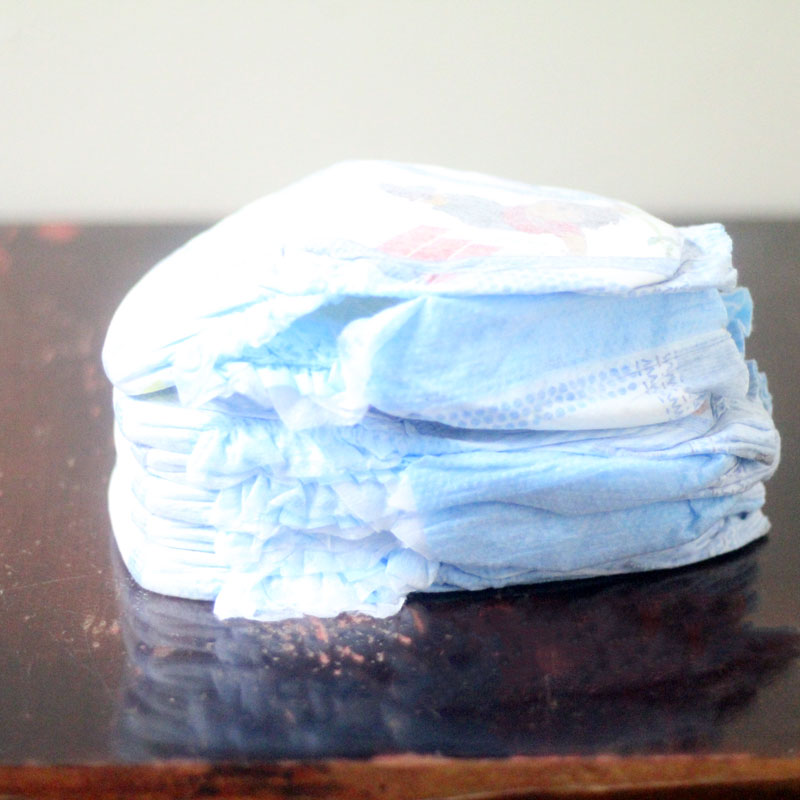 Here's what you need to know about disposable training pants:
They feel just like diapers
They don't hold a poop
When we felt like M was staying dry on the weekends, we sent him to preschool with his training pants. Well, he pooped straight up his back. I had to come in to clean him up. He screaming the entire time.
Did I mention that it was pouring rain that day? That I didn't have a car? And that I have a young baby too at home with me? I got sick afterwards.
Training pants are great for when you don't EXPECT your child to use it, but you want it as a backup. This applies to a FULLY TRAINED child who has already formed his toilet-going habits, and is used to going to the bathroom when he needs. We use it now during nap time, and it's great for long road trips too.
A possible alternative if you feel you need it (which I have not tried, by the way, so I'm not vouching for it) is cloth training pants. These are pretty much underwear with extra padding, so there's less to clean up if there's an accident.
So why didn't M just go to the bathroom that day if he had mostly formed this habit? Yeah, about that…
Potty Training Mistakes #3: Using a potty seat or potty ring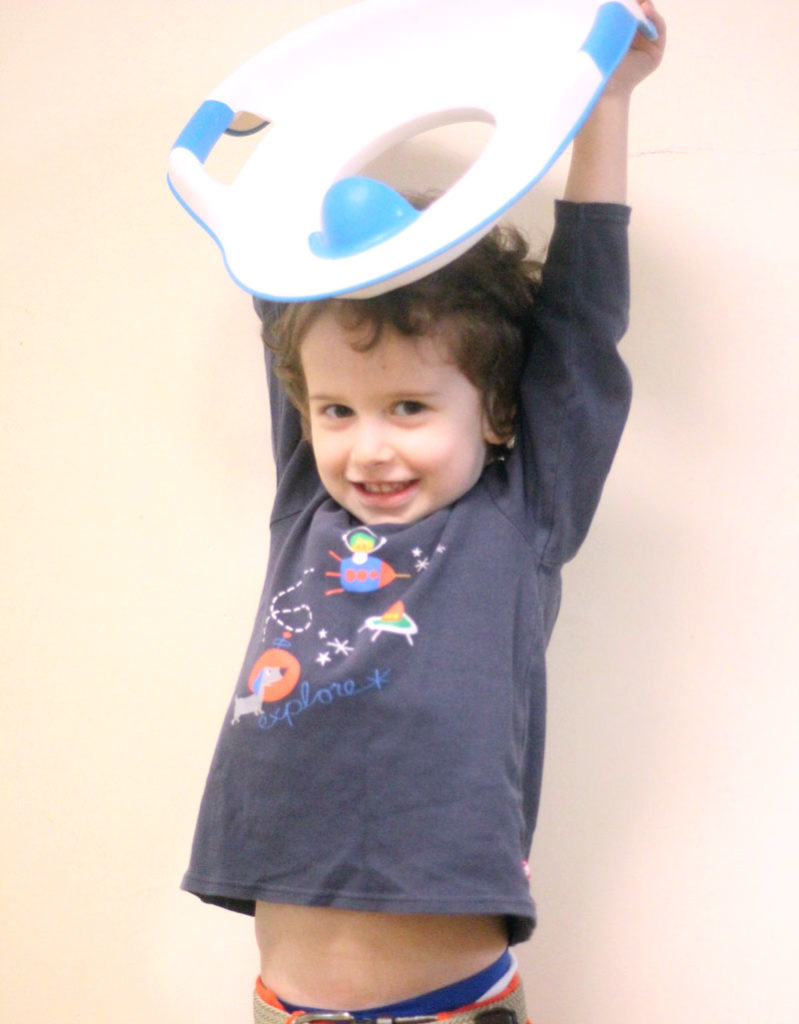 We didn't have space for a potty seat (though I was drooling over some adorable ones) so I just went straight to a ring that sits on the seat. All went without hitch, until that fateful day mentioned above.
We learned the hard way that when your child gets used to a potty ring, you're stuck. She will now be afraid of every toilet without a potty ring.
M was terrified of his school toilet. He is a very skinny boy, and he really can't sit straight on the seat. Except that he can. He just needed to learn how to hold himself up with his hands. By now he doesn't even need to.
In case you're wondering, yes, he does sometimes try doing it standing, but that doesn't work in all circumstances (ahem, ahem).
After our training pants episode above, when I realized that he was afraid, I offered his teacher (who is an experienced mother herself) our spare potty ring. She did not want to start with it, and encouraged us to teach him to go without.
We literally had to train him from scratch. And he did not choose a good day for that.
So, while in some circumstances a potty ring can be a great transitional step, if you're having trouble training your child, you might want to evaluate your own situation. If your child is in a place regularly with a toilet that does NOT have a ring, you'll want to skip that step.
If M can do without, you child definitely can!
Potty Training Mistakes #4: Turning it into a power struggle
Once things don't go straight and clean from the start, you head into power struggle zone.
I was actually aware of this from the start, so it was not the cause of most of our issues, but we did experience this some. There were two things that I tried to do consistently that helped us avoid the struggle (meaning, when I slacked on them, that's when the power struggle set in.)
1. Step back- To some extent, potty training is hands-on. You need to stand behind your child and be there for him. But we were guilty sometimes of asking him every second of the day if he needed to go. Your child needs to learn how to go on his own. Gently reminding a few times, at the very beginning of your training, is enough.
The biggest learning experience for your child is his accidents. Show how sad you are – but don't get angry. Your child will feel bad about it and want to do better.
Potty training will need to be an independent experience, this is a basic skill your child will need to be fully trained outside of the home as well.
2. Give choices – Do the words "I don't WANNA wear underwear, I wanna diaper!" sound familiar? This is the sound of the initial excitement of the patterns on the underwear wearing off.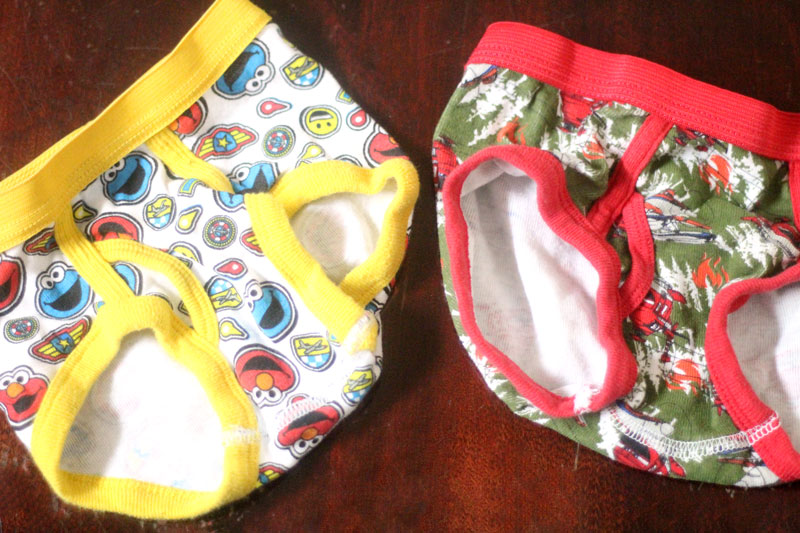 Giving a choice puts your child in control – even if both of the choices are exactly what you're telling him to do…
"Do you want the Elmo underwear or the airplane one?" simply works better than "We're wearing underwear, not a diaper". You can even give your child the option of going bare-bottomed or wearing underwear. It's surprisingly age appropriate.
Potty Training Mistakes #5: Starting too soon
Did I mention that we had tried before the baby was born? M sat on the toilet and had no idea what to do. We tried a number of times.
Make sure that your child is really ready before you try to train. Here are some guidelines you can follow, since clearly I'm not an expert on this. Some people have told me that potty training in three days did work when they tried again later on, so if your child is very young you may want to try again later.
Potty Training Mistakes #6: Using only reward charts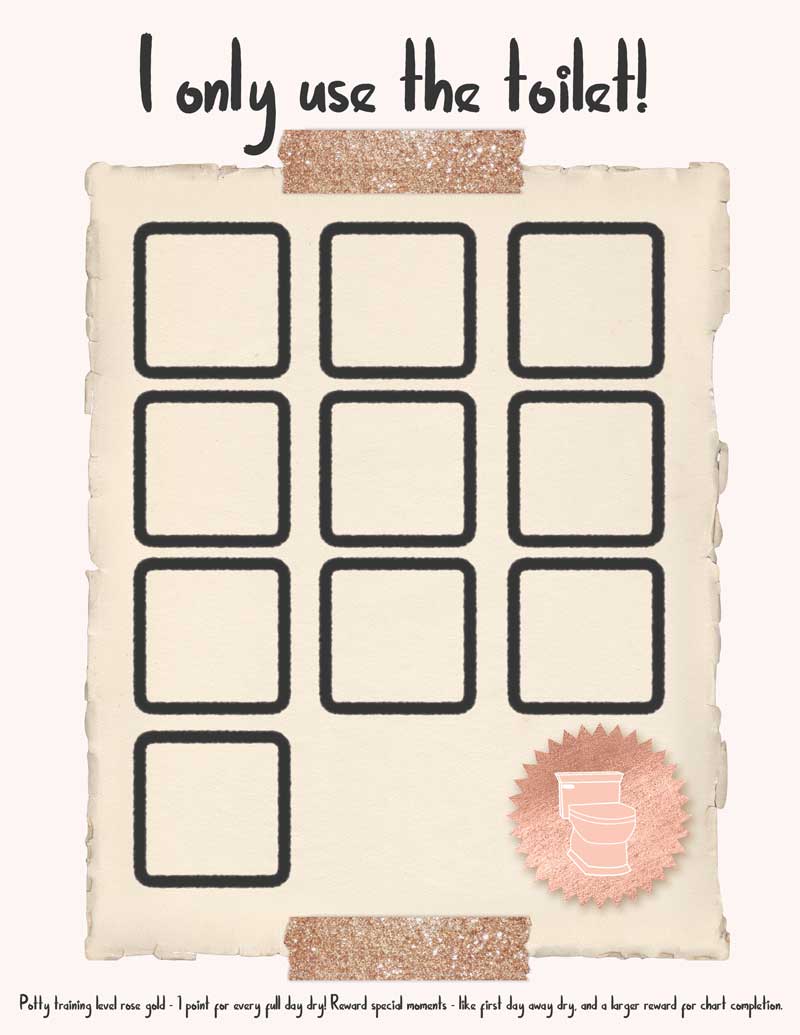 Reward charts make a great incentive for potty training, however, at least in the beginning, you want an immediate incentive as well. Unless your child is thrilled with the concept of placing a sticker on a piece of paper, she is simply too young to understand the concept of future rewards.
Go for immediate gratification.
All who know me know good and well how I feel about junk food. However, M has eaten so many chocolate chips and had so many lollies (our earlier poop treats), I no longer recognize myself and my parenting principles.
But hey! He's trained…
Bigger prizes (read: new toys) were given as follows:
First successful pee
First successful poop
First full day dry and clean
First full day at preschool dry and clean
Subsequent potty training charts that were used for smaller incentives.
Yes, I DID do charts as well. I used them for smaller prizes and to track our success. At first I gave him one sticker every time he TRIED to make in the toilet. We used another at the end to mark ten days totally dry – and after that we were good to go.
Charts were a HUGE part of our potty training system. They were, however, part of a system. I finally decided to share that system with you:
When your potty training mistakes are getting to you…
Remember the following:
Potty training is extremely hard.
You're not alone. Most moms are announcing things they are proud of. They're not broadcasting that their 3+ year old is now trained. They're not announcing their potty training mistakes, because they're not proud of them. Most bloggers who offer you tips are only doing so when they feel successful at it. Not when they struggled as well. But dare I say that the majority of moms struggle?
The job you are doing potty training your child is NOT a measuring tape for how good a mother you are. How much you love your children, how much effort you invest in them, how much you care when things get difficult. If you're read until here, you clearly care.
Finally, when you've successfully trained your child reward yourself. You deserve it.
Do you know of any common potty training mistakes to add to the list? Do you have any other tips to offer struggling moms? Comment below – and be nice 😉 !!