I was in the store the other day, thinking about my need to try something new, when I stumbled on a package of wheat berries. I decided I'll try my hand at making a wheat berry salad. I couldn't find a recipe that I liked so I decided to make my own…
I had lots of tomatoes I needed to use up. The avocado I had purchased for the weekend was not ripe on time. I love how tomato and avocado go together – both the colors and the taste. To use up my tomatoes, I tried brushing them and "roasting" them in the oven. They were delicious and we ended up snacking on them plain. I made another batch, as I thought it would be a great addition to this salad.
About Wheat Berries:
No, they are not a berry. Wheat berries refer to the whole, unprocessed version of wheat. They are very high in fiber and are a whole grain but are NOT gluten free. They take a while to cook – leave at least an hour – and lots of water. Soaking them in advance can help speed cooking time. Prepare them as instructed on the package – you need them to be cooked already for this recipe.
Wheat Berry Salad Ingredients:
2 Large tomatoes
Approx. 2 T olive oil (divided)
salt
garlic powder
Italian seasoning or similar spice
2 cups cooked wheat berries
1 avocado cut into cubes.
1 T balsamic vinegar
1 small red onion, chopped
Roasted Tomato Directions:
Pre-heat oven to 375 degrees. Slice the tomatoes into 1/4 inch thick rounds. Spread them on a cookie sheet. Brush on olive oil. Sprinkle with salt, garlic powder, and Italian seasoning. Bake at 375 for 45 minutes to 1 hour or until starting to brown. Be careful not to burn it.
Wheat Berry Salad Directions:
Cook wheat berries according to package directions – you need 2 cups after it's cooked, about 3/4 cup raw. Add avocado and onion. Add 2 teaspoons of the olive oil, the balsamic vinegar, more salt, garlic powder, and Italian seasoning. Top with roasted tomatoes. Serve at room temperature.
Hint: The softness of the avocado helps balance out the toughness of the wheat. It also helps make the salad creamy with the need for very little dressing.
Bon Appetit!
Did you love it? Share it by hovering over any of the photos on this post and clicking on your preferred share method!!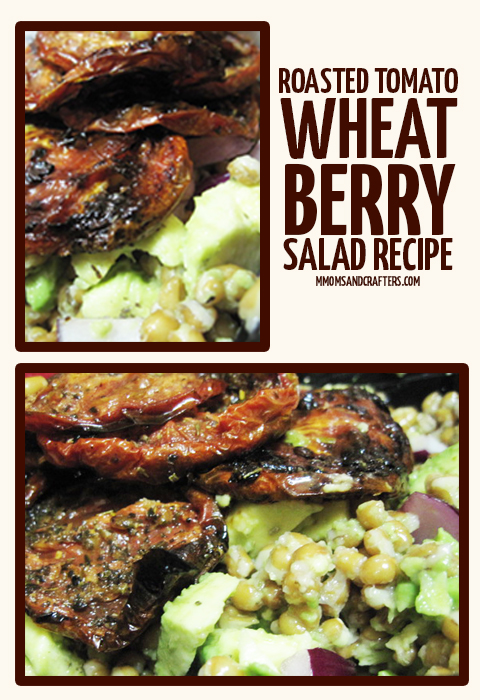 Did you try it? Post a photo to my facebook page. Did you modify the recipe? Share your ideas below!