These shrinky dink earrings are super easy to make – and include a free printable template to help you out! Find more ways to make your own easy DIY earrings. This post contains affiliate links.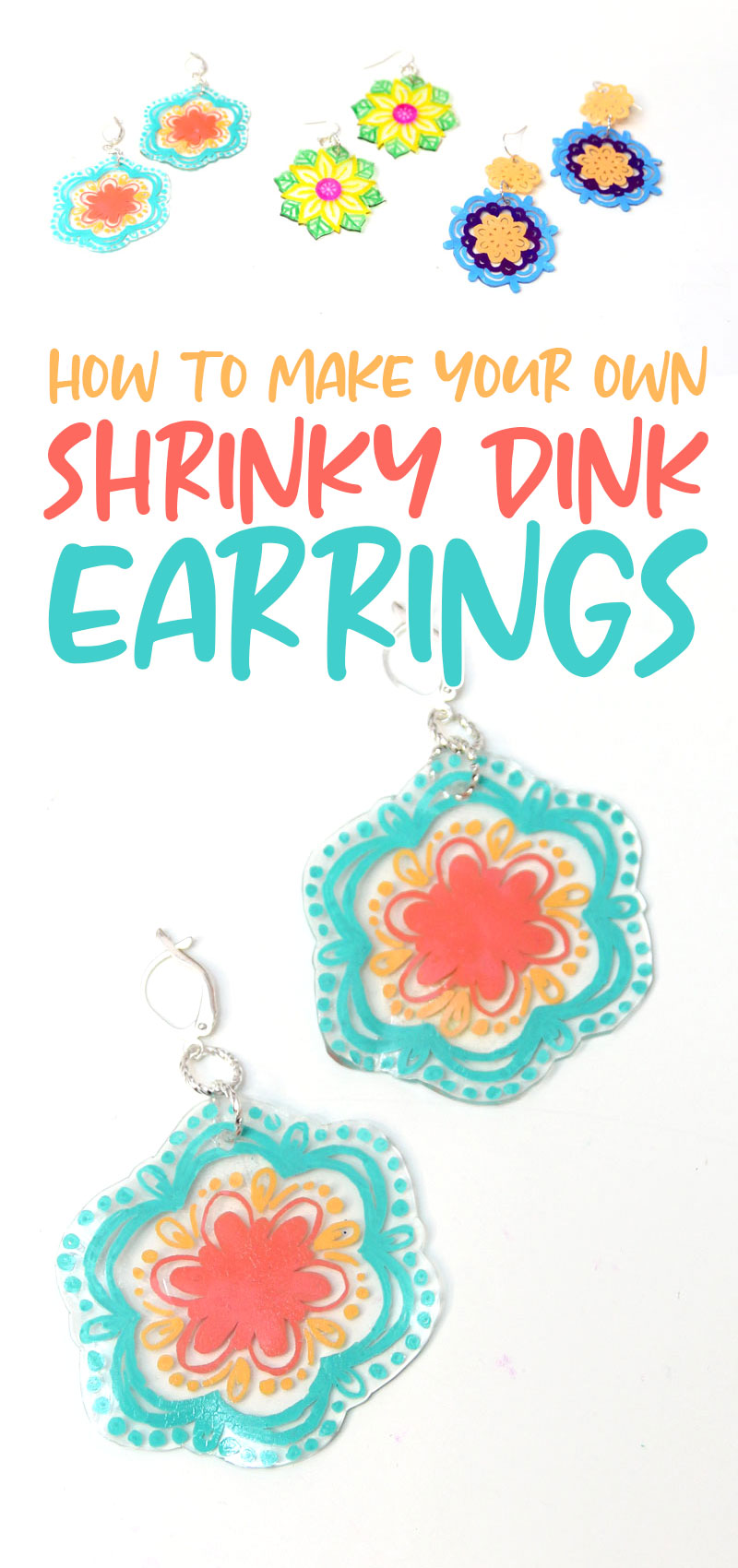 I'm excited to share with you today a few templates to make your own shrinky dink earrings! Shrinky Dinks are a childhood throwback and a super fun summer camp craft. However, did you know you can make jewelry with them?
These mandala templates were designed for earrings, however, you can use them to make keychains and bracelet charms too. You can also use any printed image to make shrinky dinks, however these were designed very specifically for this craft.
In this post:
Tips for Making Mandala Shrinky Dink Earrings
I made these templates on the larger end (about 1.5 inches) since it's always easier to make shrink a printable than to make it larger.
On one of the earrings, I retraced the center of the mandala to add detail. You can also add a beaded link between the earwire and the shrinky dink.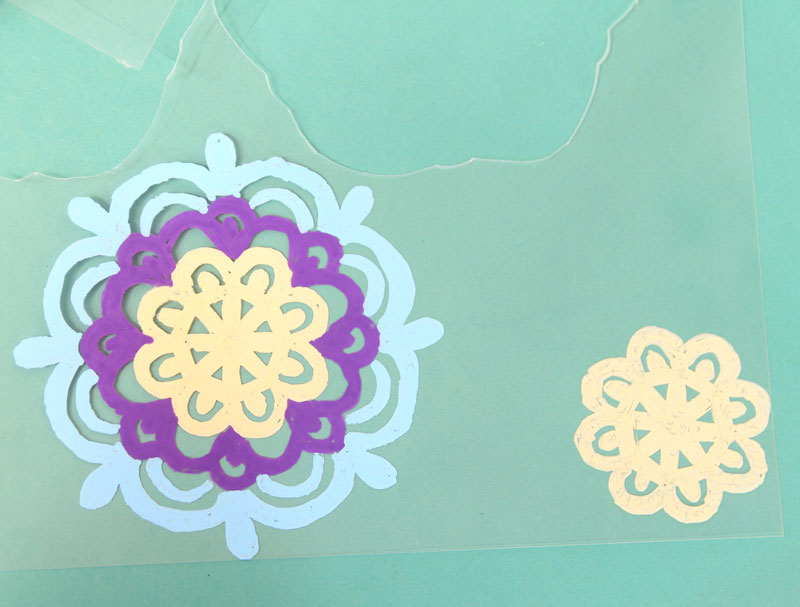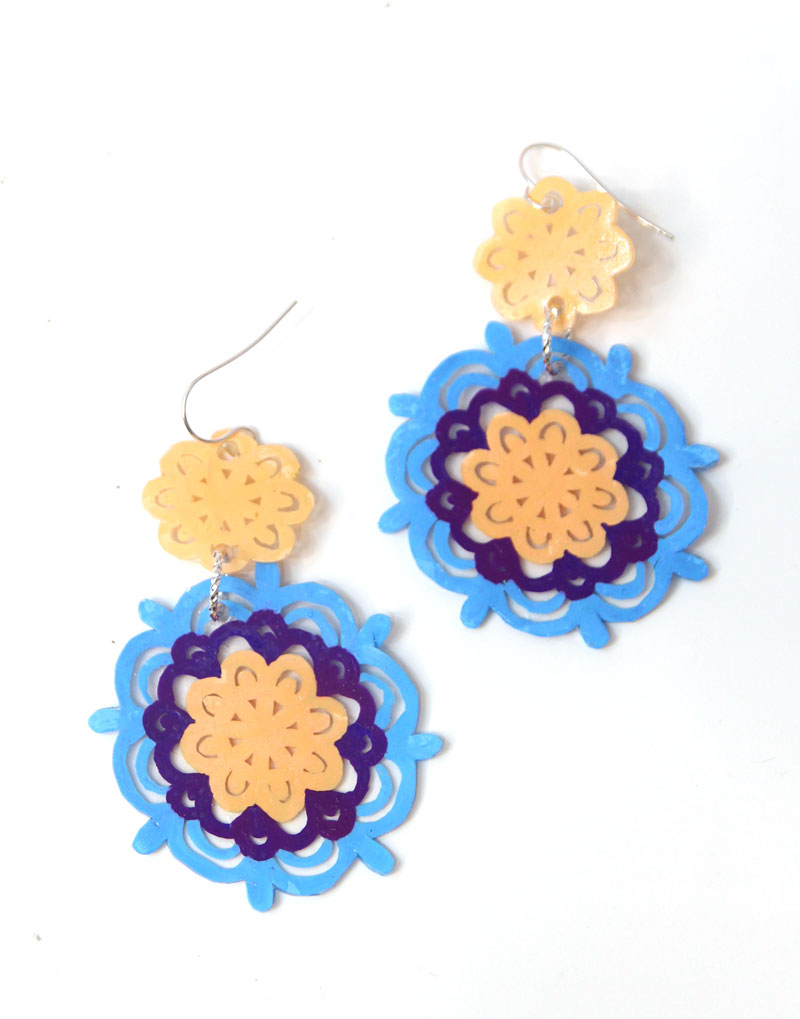 Shrinky dink earrings make a fabulous group craft. Print and cut out multiple copies of the template. Spread it around and allow your group to make these. It has multi-age appeal too, making it a fabulous craft workshop idea!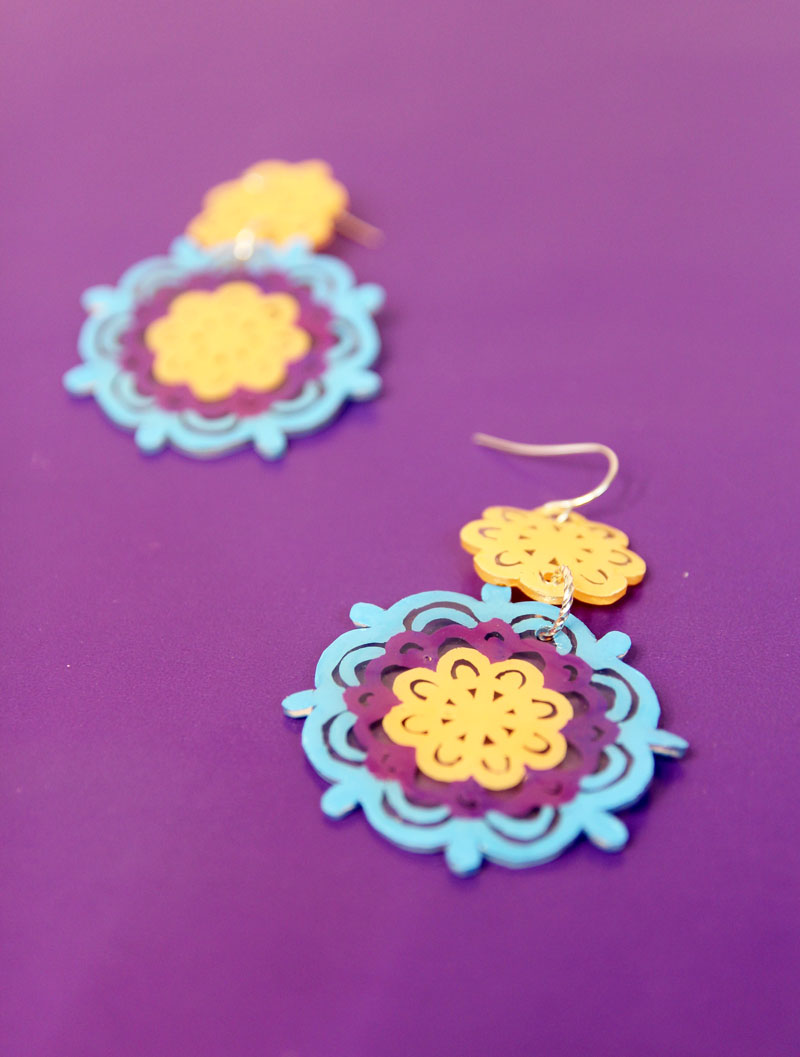 I always have a dilemma if I should share the templates in color or let you choose your own. I decided to make these full color, however, you can totally just color it in a different color than I did. You can even stick with metallics for a classier look – though I personally love the Spring vibe here!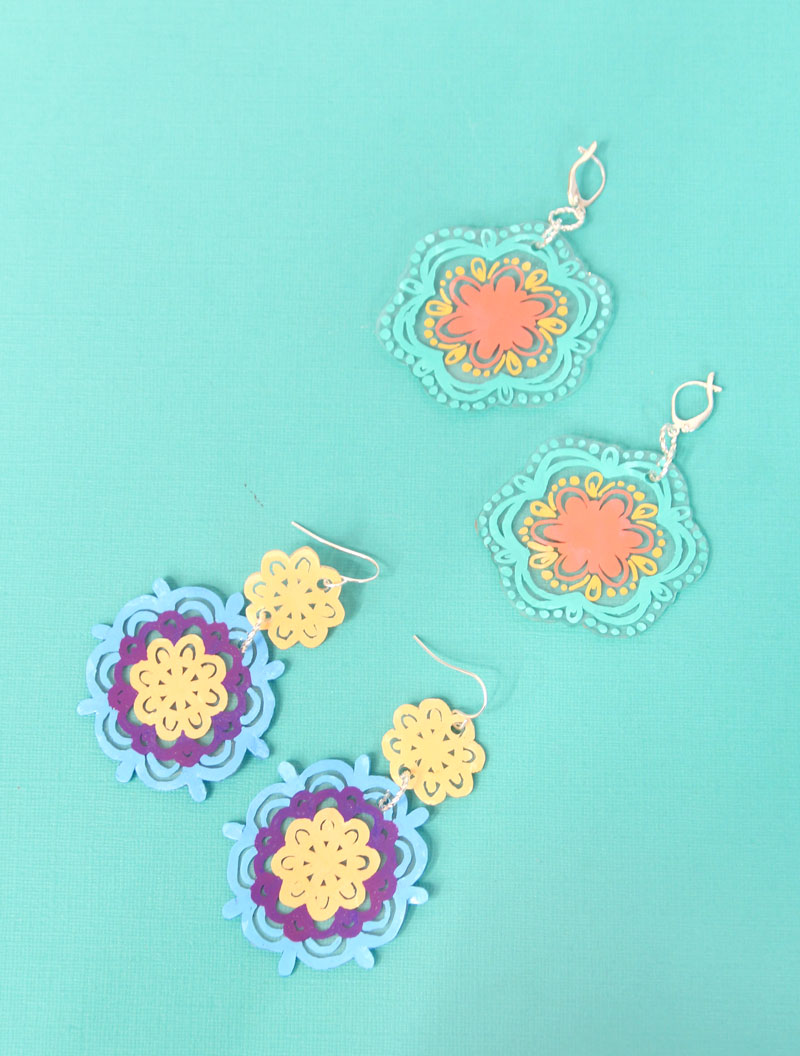 Which markers are best for Shrinky Dinks
Growing up, I always used Sharpies for making Shrinky Dinks. However, I was a bit disappointed with the results when making Shrinky Dink earrings. So I experimented a little with different materials. These are my favorites.
Uni Posca Paint Markers vs. Sharpie Permanent Markers:
Uni Posca (or similar) – This water based paint marker is such a satisfying option to color with if you enjoy the relaxing aspect of crafting. You get a stronger opaque color that shows through but sits on the surface like a matte paint. You'll get a gorgeous result but you'll need to seal it (see options below). I recommend using these for professional results.
Sharpie Permanent Markers (or similar) – The classic permanent marker is transparent, giving you less of a strong look. However, it really becomes part of the base and doesn't need sealing. I recommend this for when you need a quicker craft with fewer steps and no dry time – such as in group crafts, for younger kids, etc.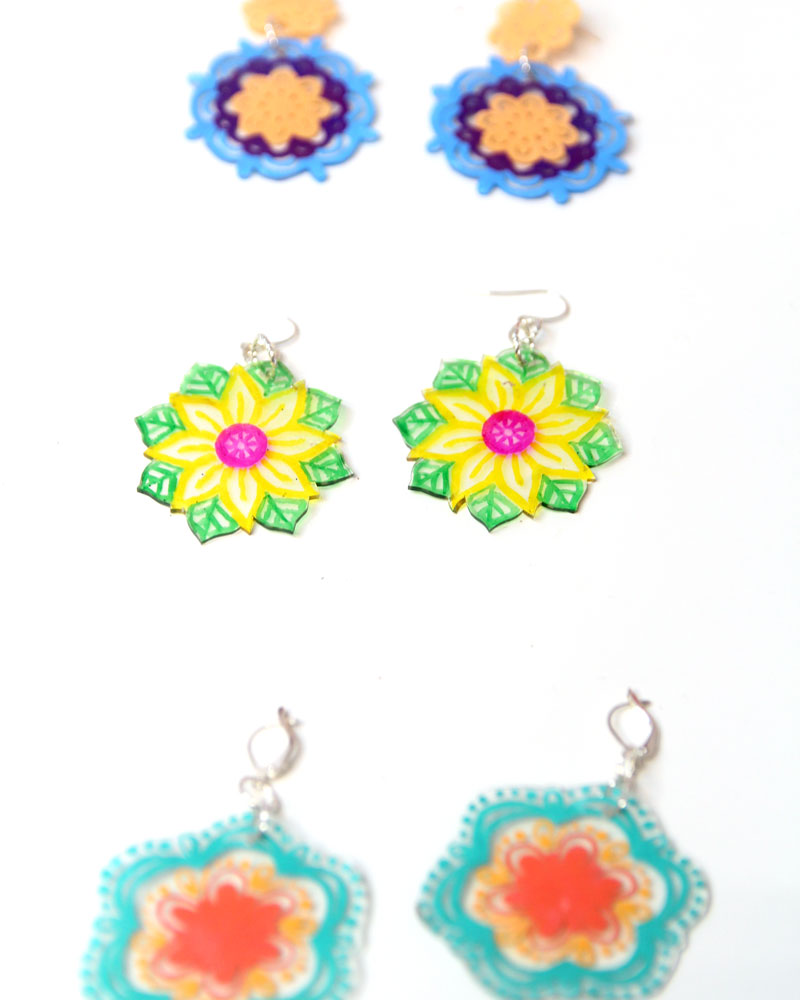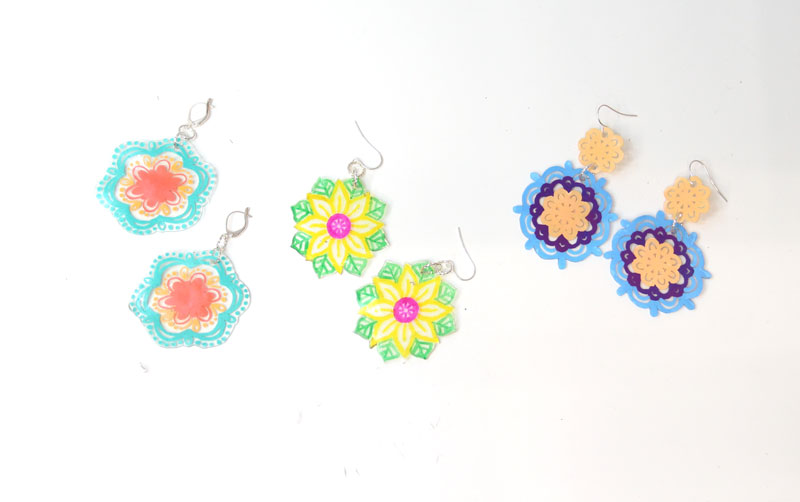 Finishing off shrinky dinks
If you used regular permanent markers to make your shrinky dink earrings, you don't need to seal it (although you can if you want).
Paint markers, however, can scratch off. You can use clear nail polish to seal it with a flat finish, for a purely functional seal. Or use Mod Podge Dimensional Magic for a beautiful resin-like finish. I haven't tried other options, but if you don't want to buy additional materials and have other varieties of Mod Podge handy, they should work.
UV resin is also a great option.
Just make sure that if you're using a thicker finish you don't seal the hole.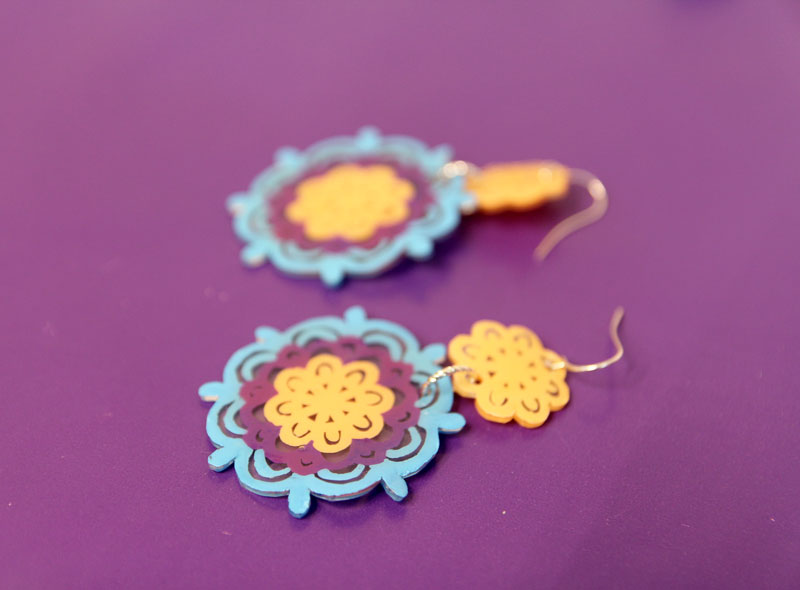 How to use a heat gun for Shrinky Dinks
While making these Shrinky Dink earrings, I decided to give a heat gun a go. My craft room is in a basement kitchen, but the old oven that's there is disconnected and used for storage. So I used a basic mini heat gun to shrink them.
And it worked fabulously!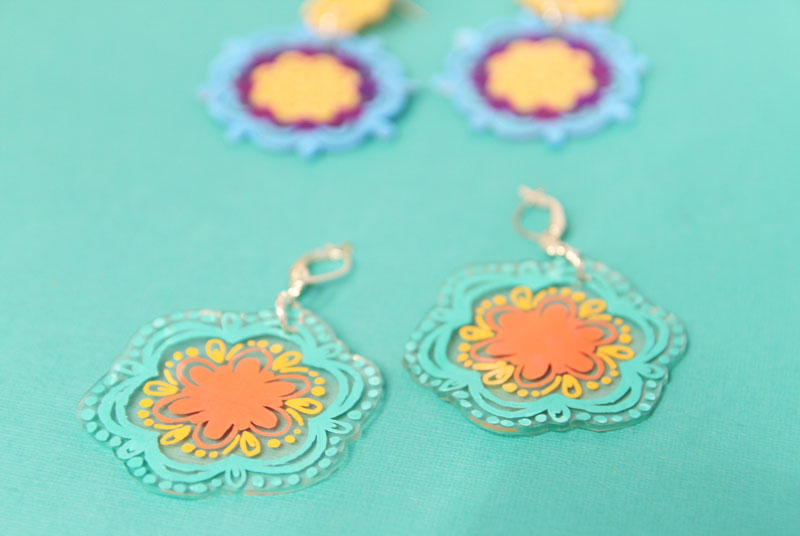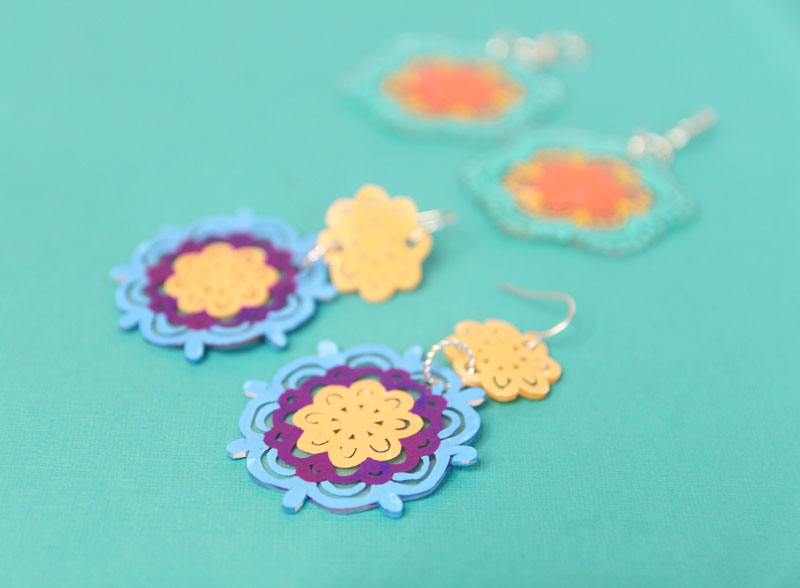 To shrink my earrings safely using a heat gun, I simply placed it on my Cricut EasyPress mat and shrunk it manually.
It curled up like crazy but eventually flattened. If you see the two sides connecting and sticking, simply pause, unstick and continue. This is definitely my new go to for shrinking Shrinky Dinks!
Of course, you can also do it like you normally would in an oven.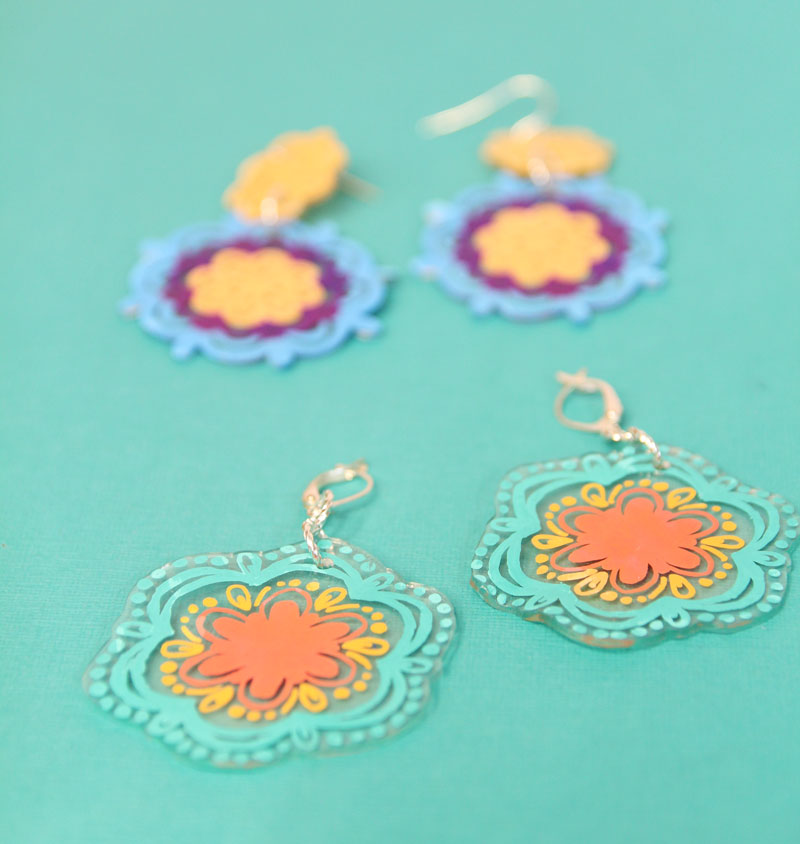 Punching holes on your earrings
I did not include holes in the Shrinky Dinks templates as it needs to be punched using a hole punch. You can do it two ways:
Before shrinking with a regular hole punch.
On larger pieces you can do it after shrinking with We R Memory Keepers 1/16th inch Crop-a-dile. If you do it too close to the edge it can crack it, so be careful.
Download the Shrinky Dink Earrings Templates
Download the template by logging in below! You'll get a PDF with the 3 designs pictured in the tutorial.
You'll be signed up for our free newsletter – unsubscribe at any time in the footer of the emails. I respect your privacy and the law and won't share your information with anyone.
Want more? Get the full template with ten designs in my Etsy shop!
Supplies needed
How to make Shrinky Dink Earrings
1. Optional: clip your design to the Shrinky Dink sheets. Start coloring it in using Sharpies or paint markers.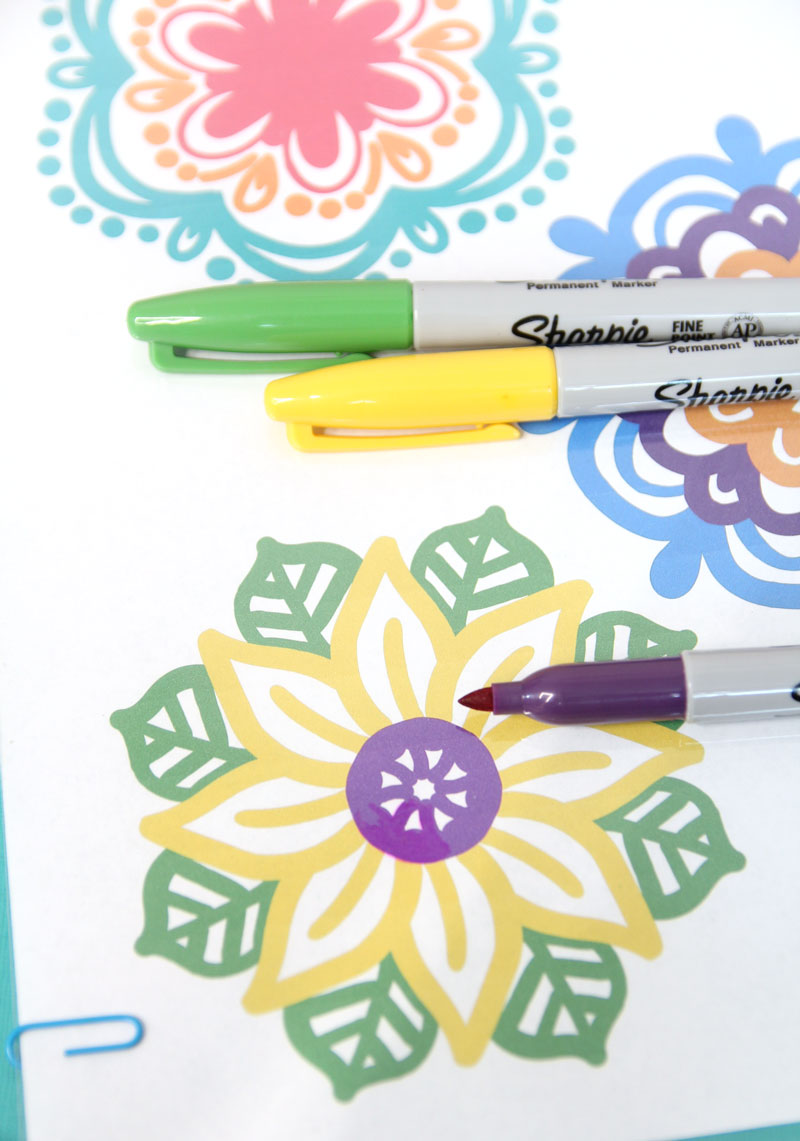 You can see the difference in color!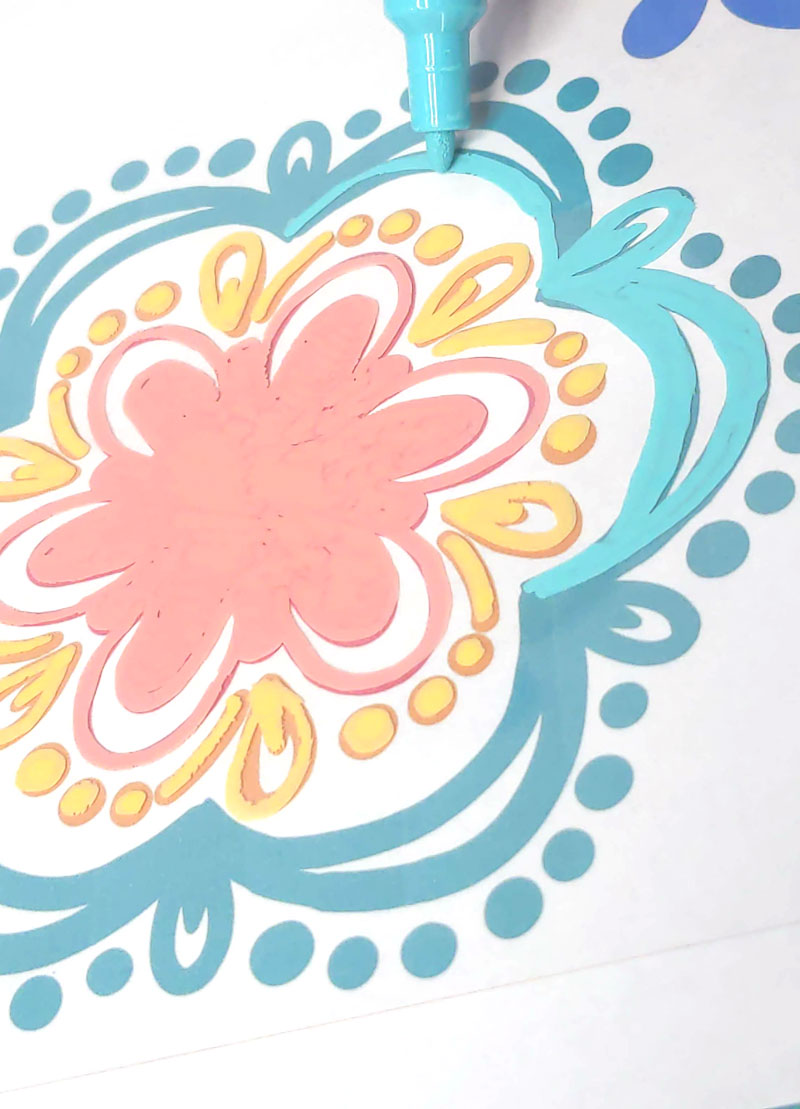 2. Move your template to a clean spot and trace another copy. Cut them both out loosely around the border.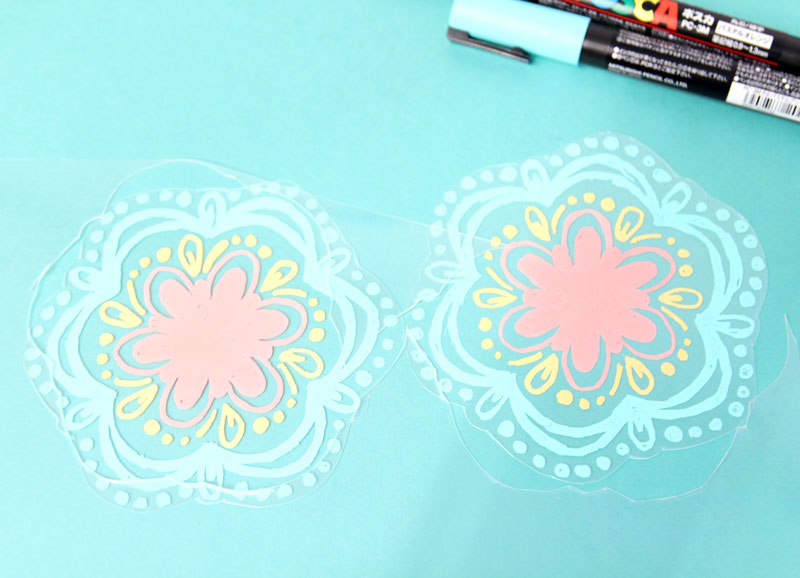 3. Punch a hole about 1cm from the edge using a hole punch.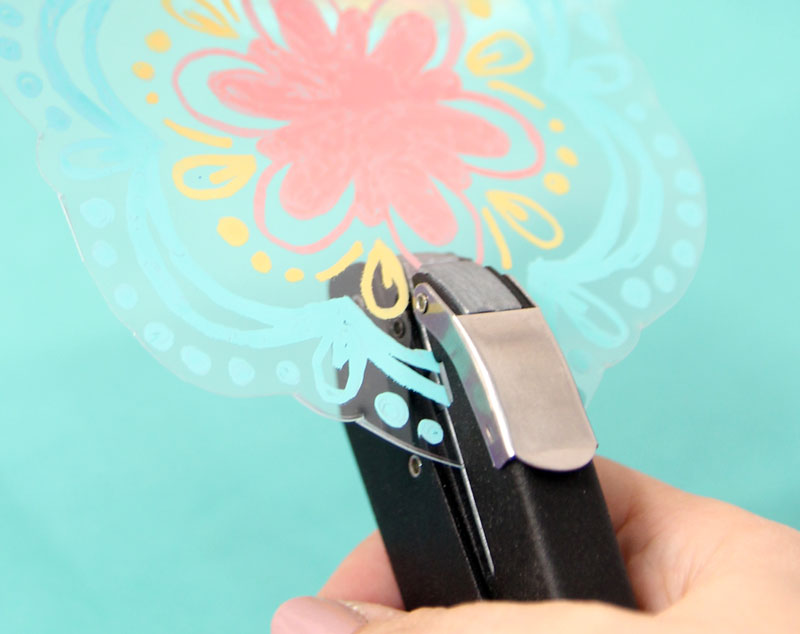 4. Shrink your design! If using a heat gun, you'll see it curl like crazy. Don't worry, it'll flatten out! If it gets stuck as you're shrinking, you can carefully separate it with your fingers.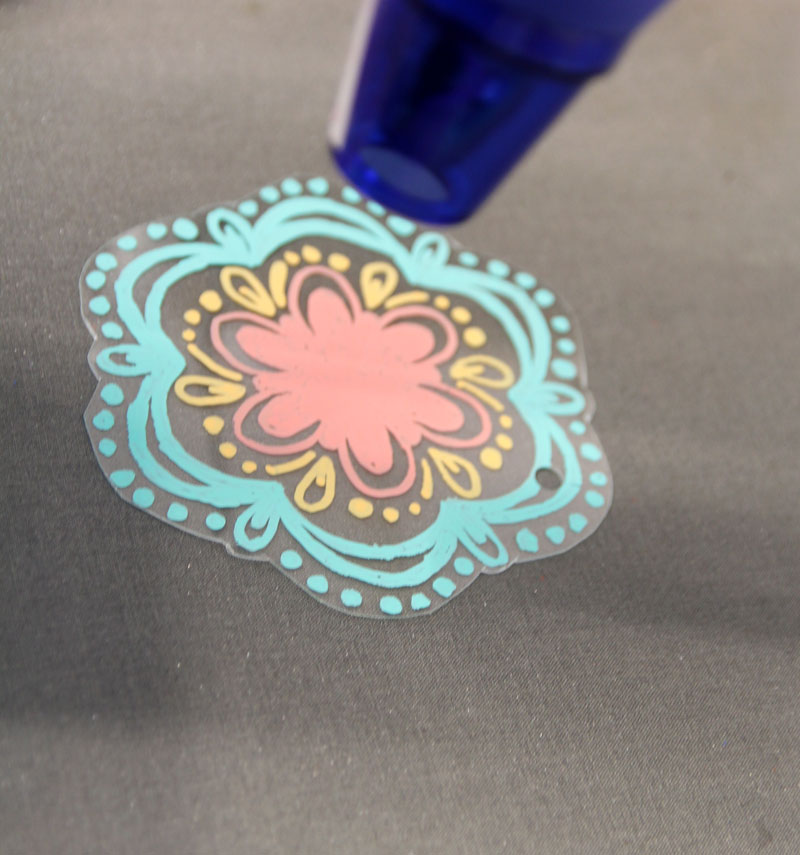 You're done shrinking when it's totally flat. It'll be roughly 1/3 of the original size.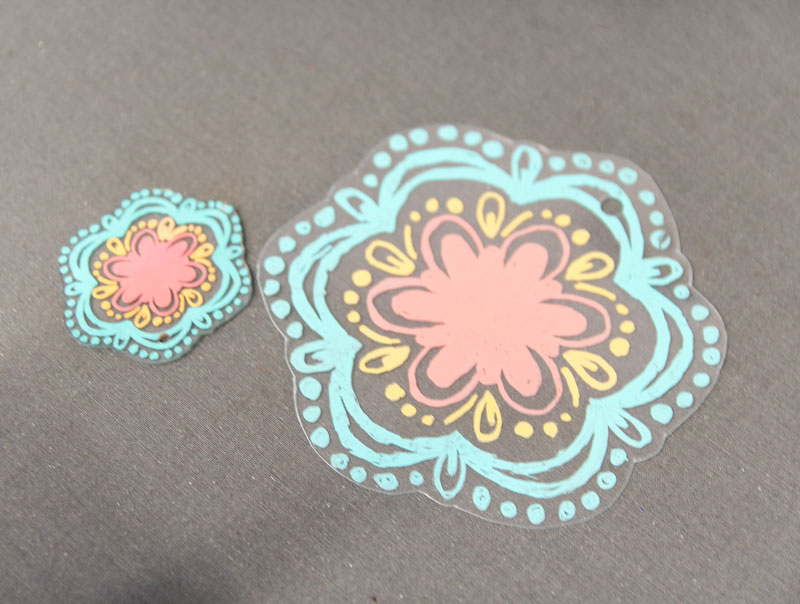 5. If you used paint markers, add a sealing layer. Be careful to avoid the hole.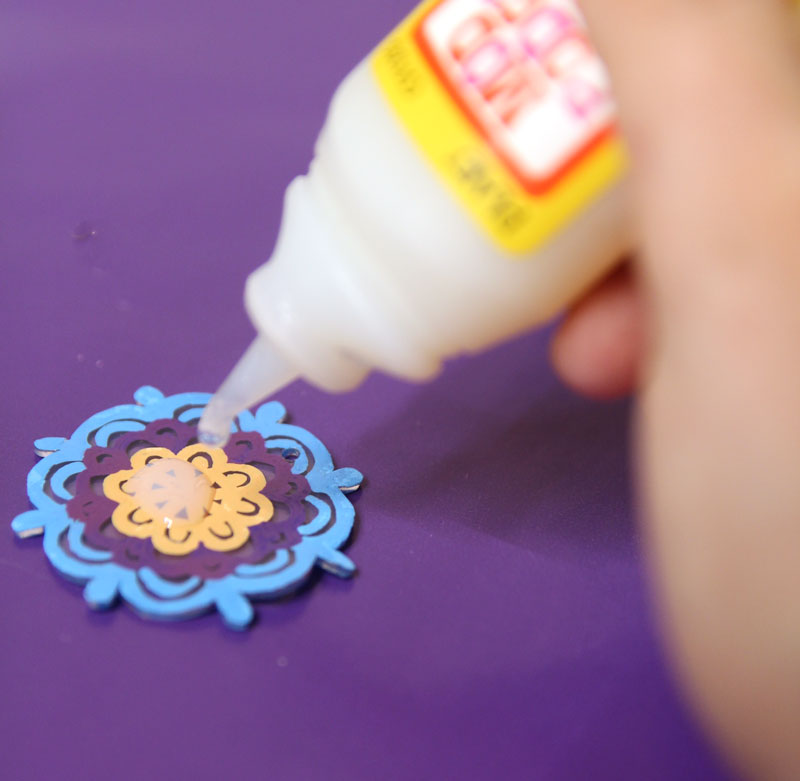 6. Add earwires and jump rings. Your shrinky dink earrings are complete!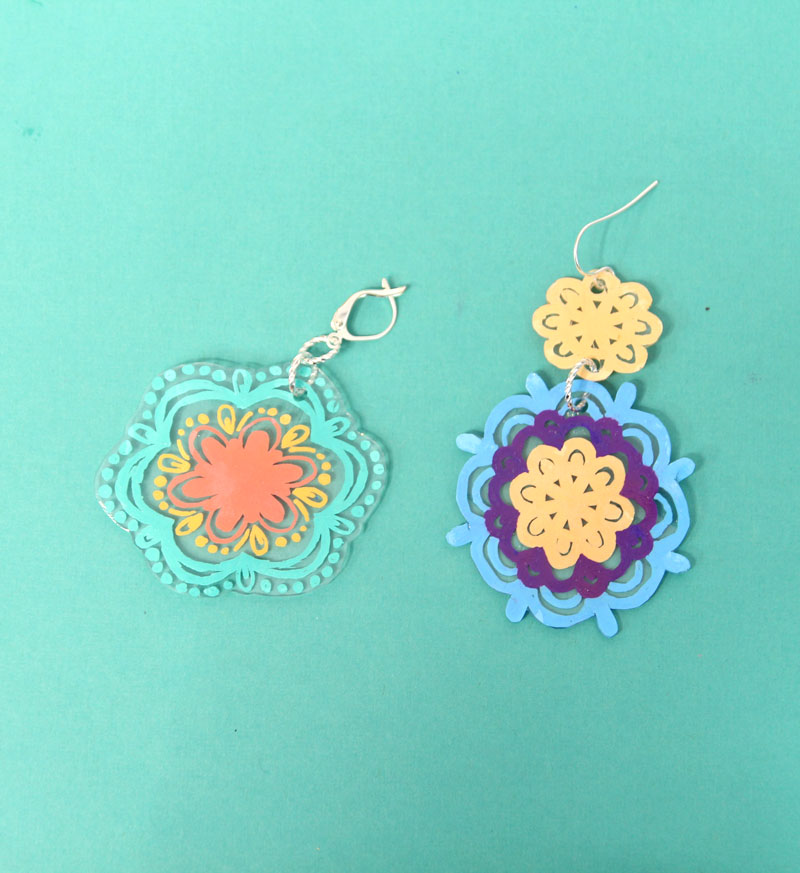 I hope you enjoyed making Shrinky Dinks Earrings! Which is your favorite style? Comment below!
And if you love these patterns, you can also get them in SVGs for other crafts here!