Does being dressed mean a sweet pair of earrings framing your beautiful face? Inside: the ultimate list of easy DIY earrings that anyone can make – even you! Get started making jewelry crafts today. Disclosure: this post contains commissioned links.
---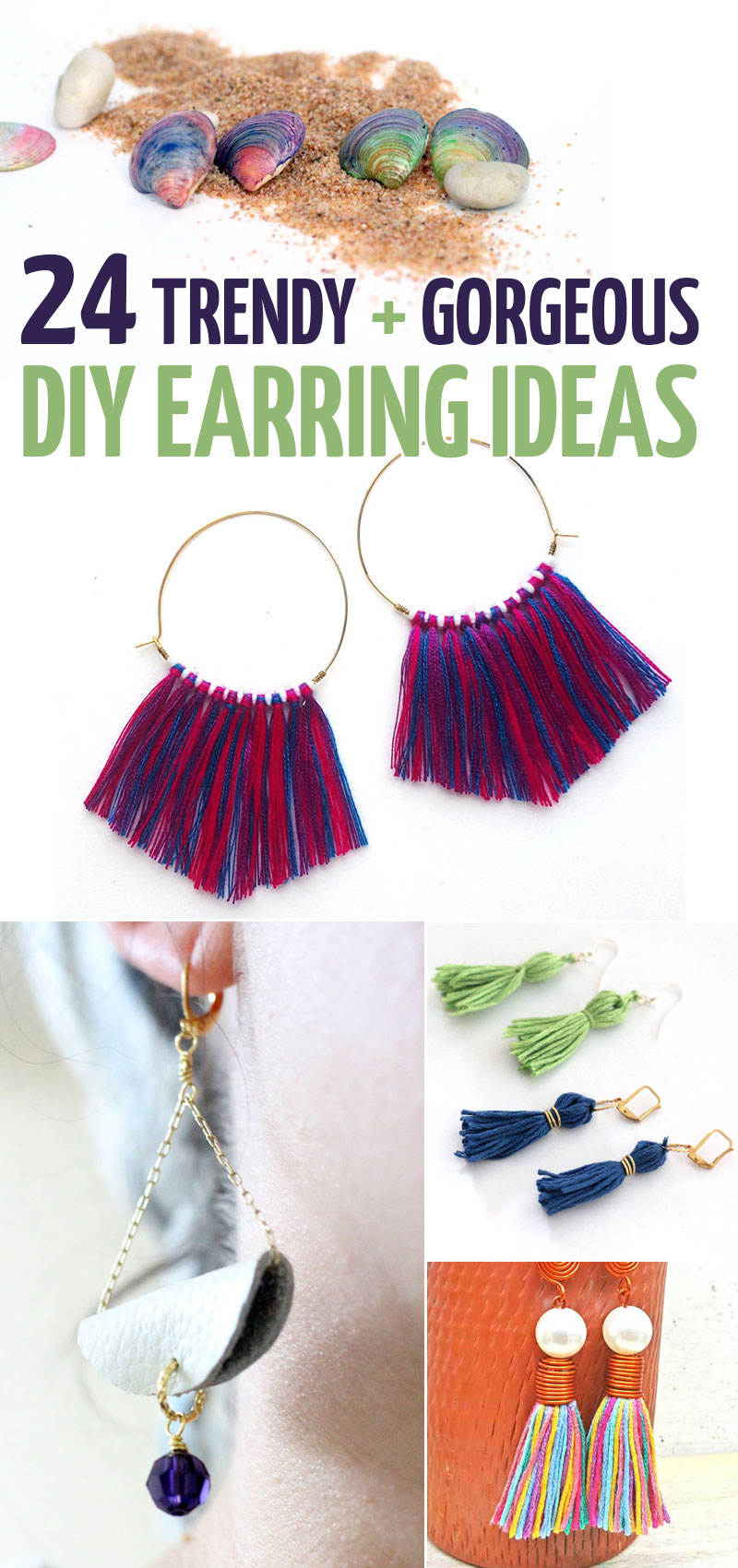 I actually don't wear a lot of jewelry, but when I need to throw something on, it is ninety-nine percent of the time going to be earrings over any necklace or bracelet. Without a good pair of earrings, I'm basically wearing pajamas.
Earrings are just so universal. All over the world, earrings enhance and complete outfits. Casual everyday, weddings, work- you name it, there's a style of earrings to match!
How to make your own earrings
It might seem intimidating, but earrings are the best place to start with jewelry making.
You can choose anything from hoops, to chandelier style or some funky tassel earrings. Even simple studs can really perk up a casual t-shirt and jeans.
How fun would it be to create something spectacular on your own instead of sifting through styles that you don't even like at the jewelry store until you find the exact pair you had in mind?
To make your own earrings, I recommend going through this post in order, picking the DIY earrings that I flagged as "great for beginners", easy, or similar, and then expanding your horizons through experimentation.
First, you'll want to build your basic earring-making stash. You can start with a kit, but here are some specifics:
Earring Making Supplies for beginners
Which supplies you need to get started will depend on which type of DIY earrings you plan to make.
For starters get:
You can purchase your supplies by project, but this is a good starter stash for making DIY earrings. You'll also want beads and other supplementary supplies.
With this in mind, I have put together some awesome and – most importantly – easy DIY earring ideas for you to check out.
DIY Stud Earrings
Stud earrings are a great starting point because you can basically glue a stone or anything to a base and call it an earring. And since they're small, you can get away with really expressing your creativity here without it getting outlandish.
To showcase this, I created four easy stud earrings designs special for this post. They use really simple materials and take minutes to make.
These DIY earrings are perfect for selling in bulk and at craft fairs.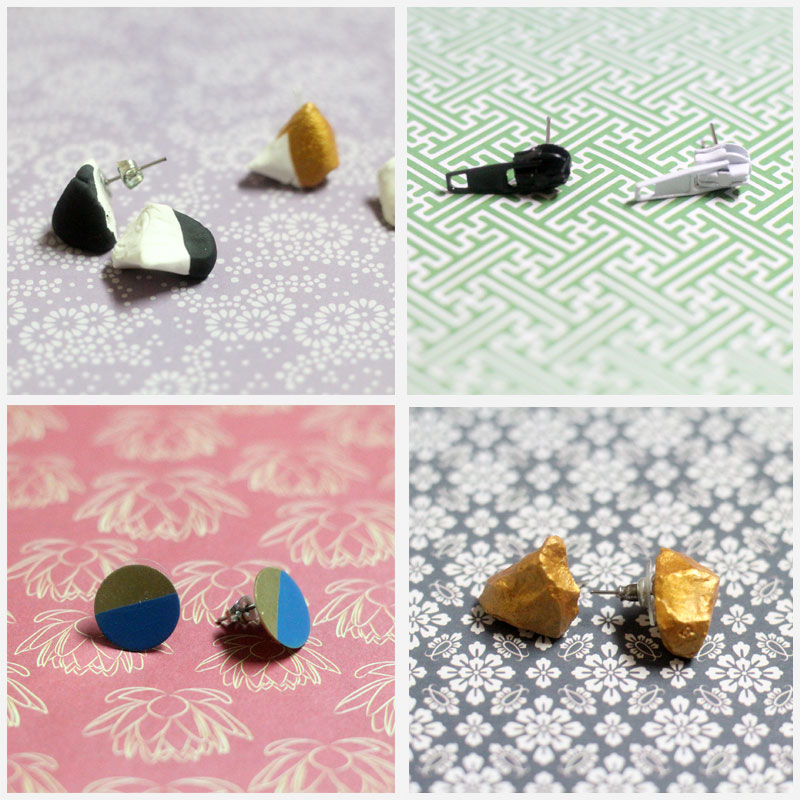 Watch the video below for the tutorial for these four fun two-minute ear studs! All of these are glued using E6000 glue to flat pad ear studs.
I recently shared a video on my Facebook page sharing all the rockstar skills that crafty people have – one of them being to make cheap things look expensive. In short, to turn rocks into gold.
These super easy gold nugget earrings are simply jagged rocks painted with gold acrylic paint! I get compliments on them every time I wear them – from people who have no idea that they're rocks (obviously).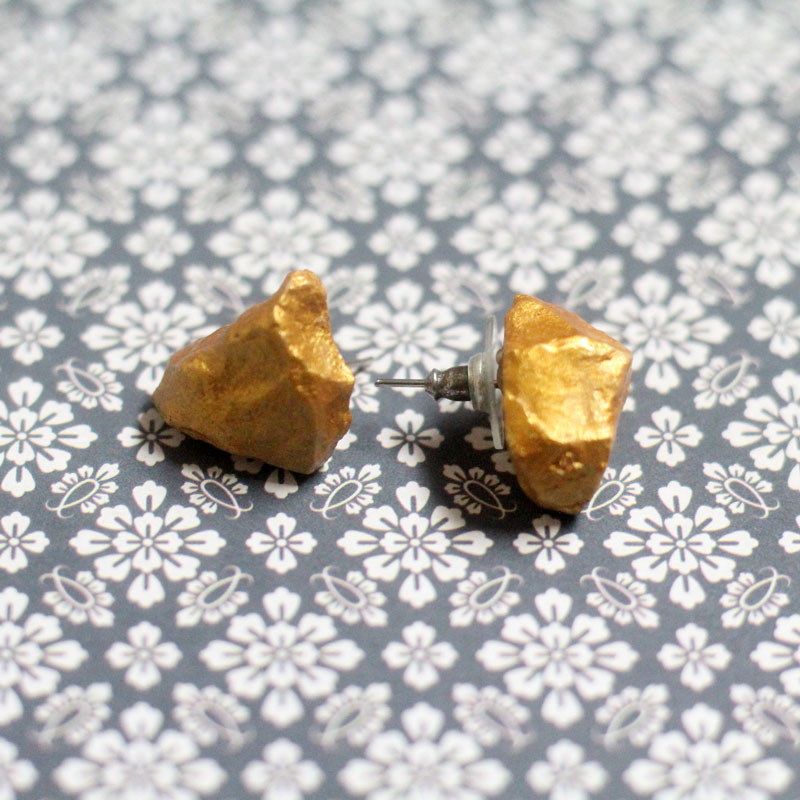 Color Block Earrings:
Make these using brass stamping blanks and a little bit of nail polish! Allow it to dry before gluing on the ear stud, of course…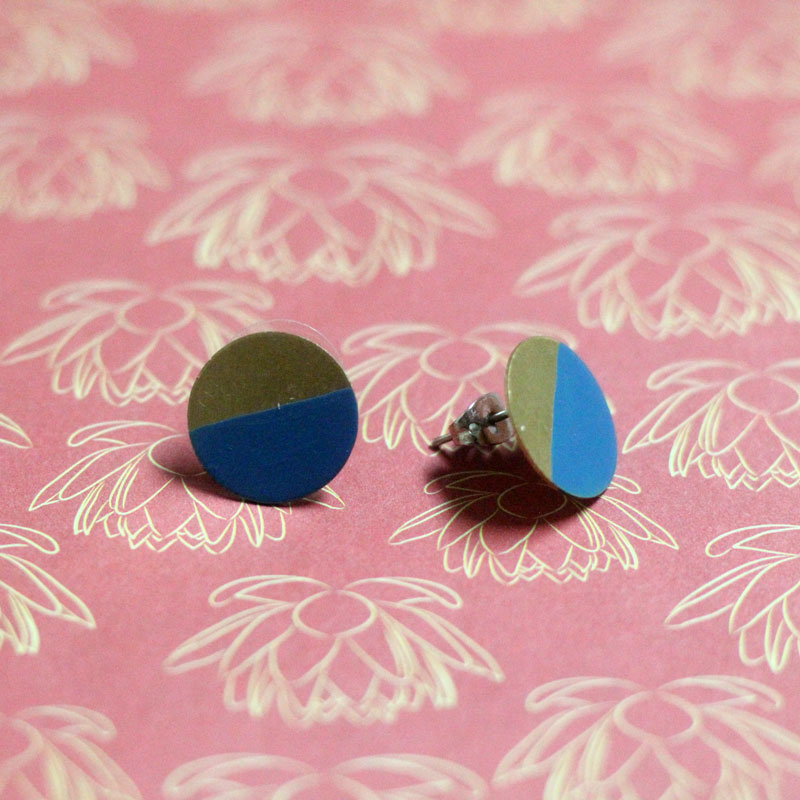 Faux Dipped Stones:
These "stones" on these earrings are made using air dry Sculpey clay. It's a great alternative for the rocks if you feel like those are too heavy for you, as it's very lightweight. I cut some edges, flattened some, to make some irregular facets. Once they are dry, they are dipped into acrylic paint.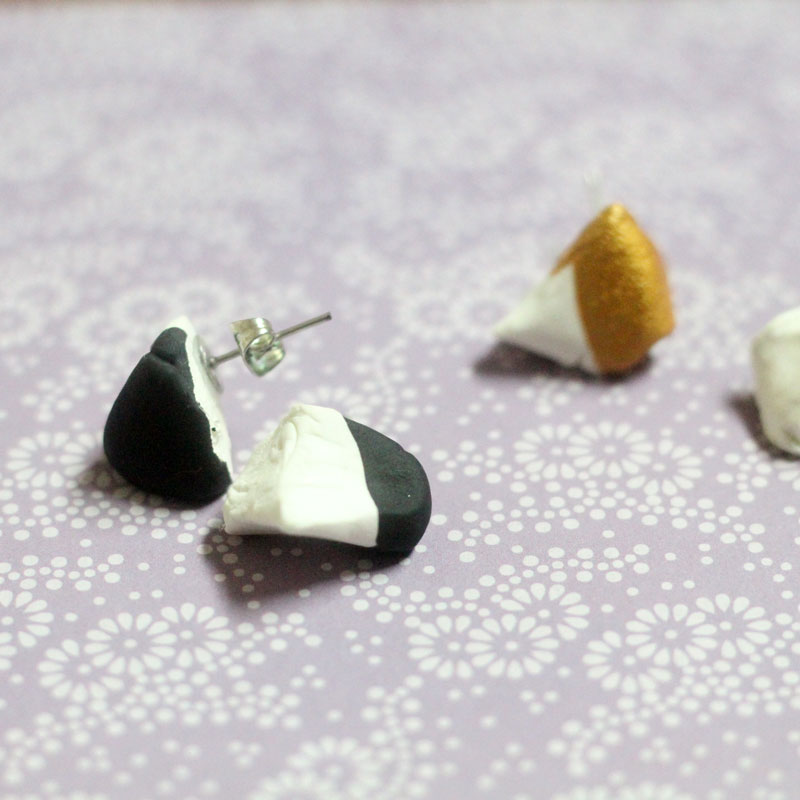 Zipper Earrings:
These are more quirky than my typical, but lots of fun. They are SUPER easy to make. Actually, after I made them, I regretted not painting them gold as well, but oh well! I kind of like that one is black and one is white, but you can definitely do them both the same color. Use cheap crafting zippers that come in every color. Just snip off the bottom of the zipper with the metal blocker, slide the zipper right off, and glue the ear stud on!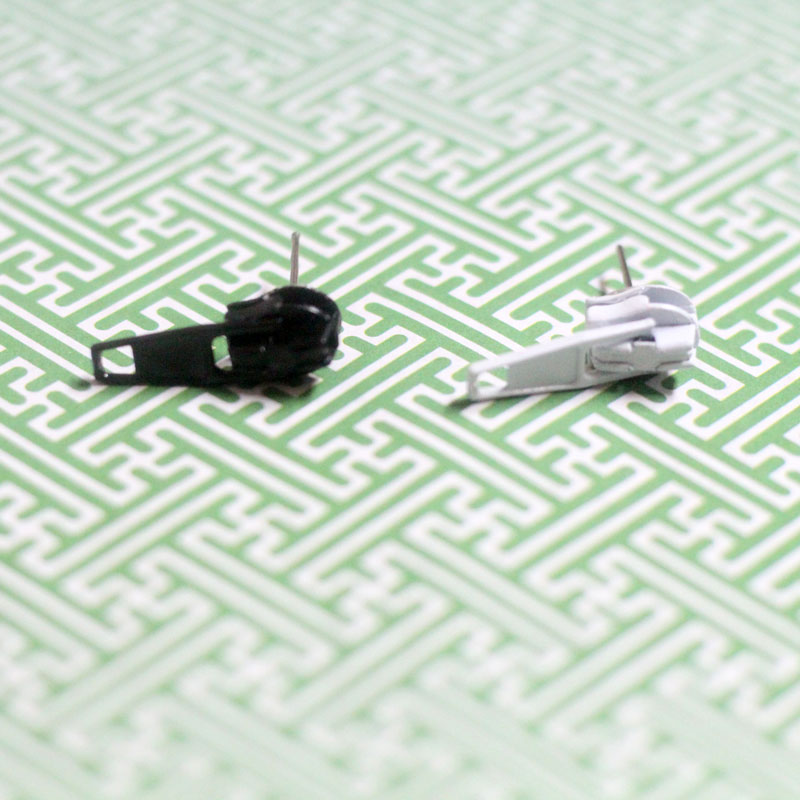 You can find more ideas for DIY stud earrings here including how to make clay rose earrings as well as a wicked cool version of those cool DIY Faux Druzy stud earrings that are so popular.
DIY Hoop Earrings
I'm crazy over hoop earrings and if you are too, these will be your favorite DIY earrings that you're going to make.
And while hoop earrings might call to mind 90's teens, there is no box on these ideas! They use a diverse range of materials, include different crafting techniques. Start with a pack of plain hoops and get crafting!
Knotted wrapped hoops:
While these string wrapped hoop earrings look quite dark in the black version that I used to make them, they can be made colorful, with wire, or anything else really!
They make a great project for jewelry making beginners who are graduating from friendship bracelet making.
Leather hoops:
Another simple idea for beginners, I created these DIY leather hoop earrings on the fly. You'll absolutely love how chic – and easy – they are!
More hoop earrings ideas:
Learning how to wire wrap hoop earrings will make you feel mad cool because c'mon, how awesome are these?
This is NOT the advanced project that it looks like and you can go crazy with color on it!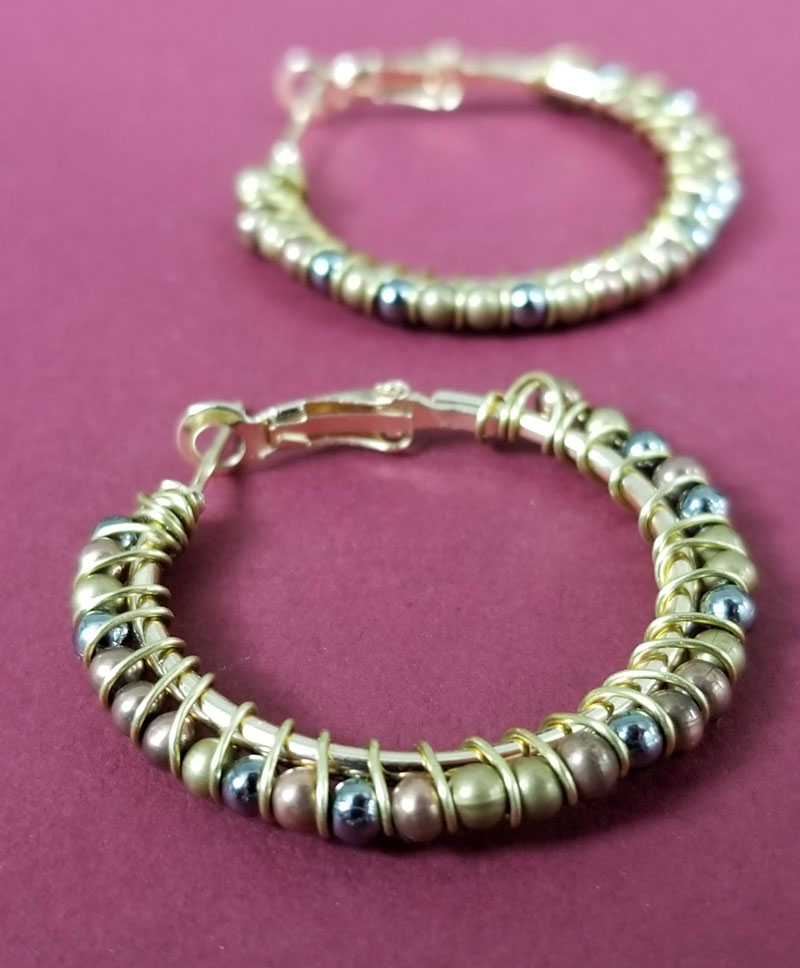 I also created DIY Fringe Earrings on hoops – a great way to add a little more volume to string earrings.
Finally, you don't need advanced metalsmithing skills to learn how to make hoop earrings from wire – but you'll love learning how to hammer your stress away!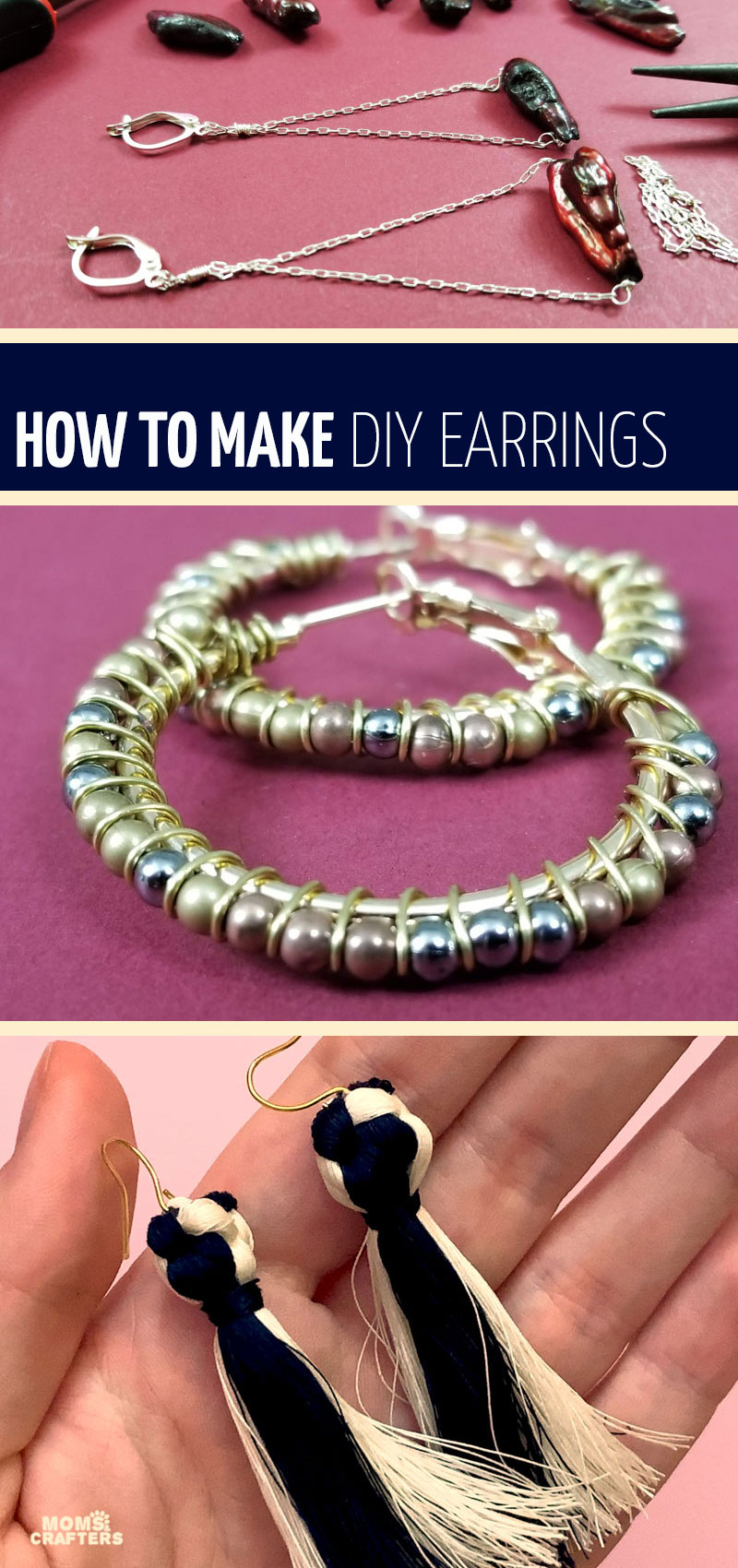 Beaded Earrings ideas
Ready to get beading? When you look at DIY earrings, beaded ideas are the first that come to mind. You can start making earrings using this tutorial for snowman earrings. And you can use any bead combination – they don't need to be snowmen. The technique simply shows you the basic process of making beaded DIY earrings.
Trapeze earrings – the next stage in DIY earrings:
When you're done with those, you can graduate to trapeze beaded earrings – a fantastic style for when you're looking for simple but want a little more dangle!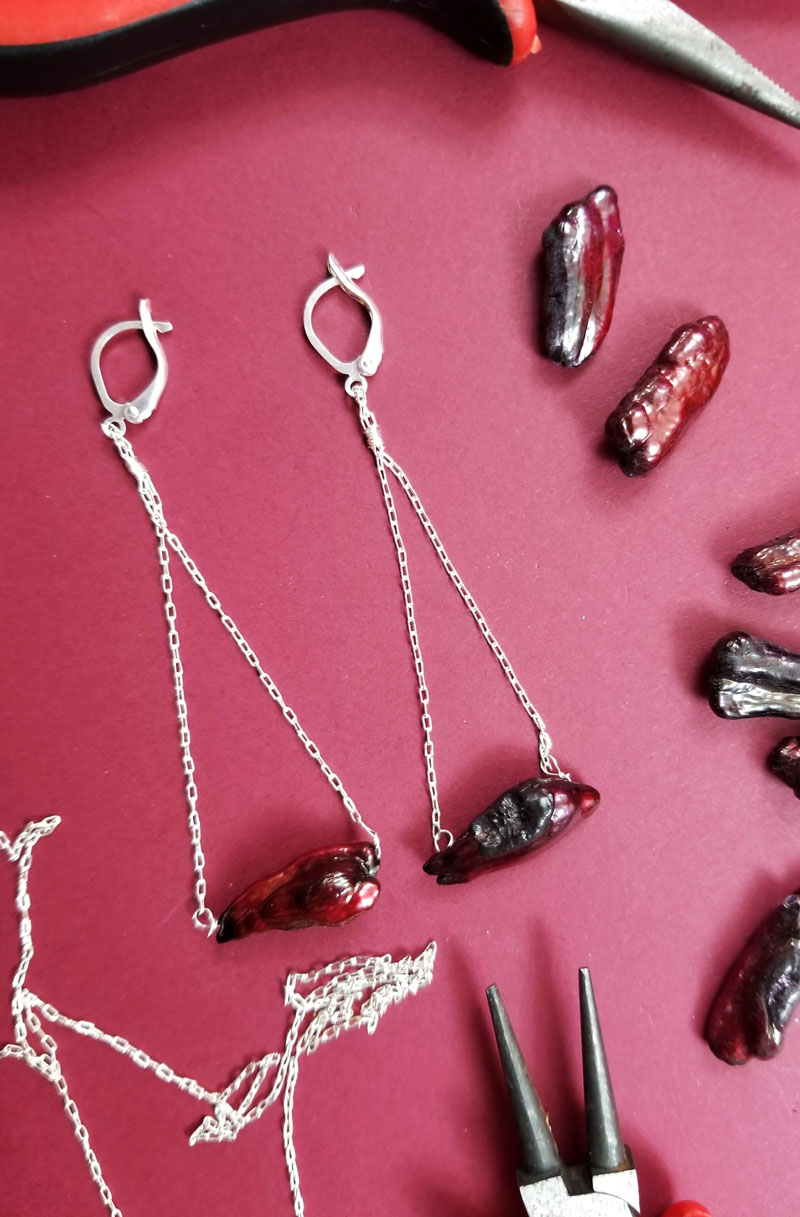 You can line up a few beads in a row, use statement beads, curve the base, or do whatever you want!
Wire Stick Earrings: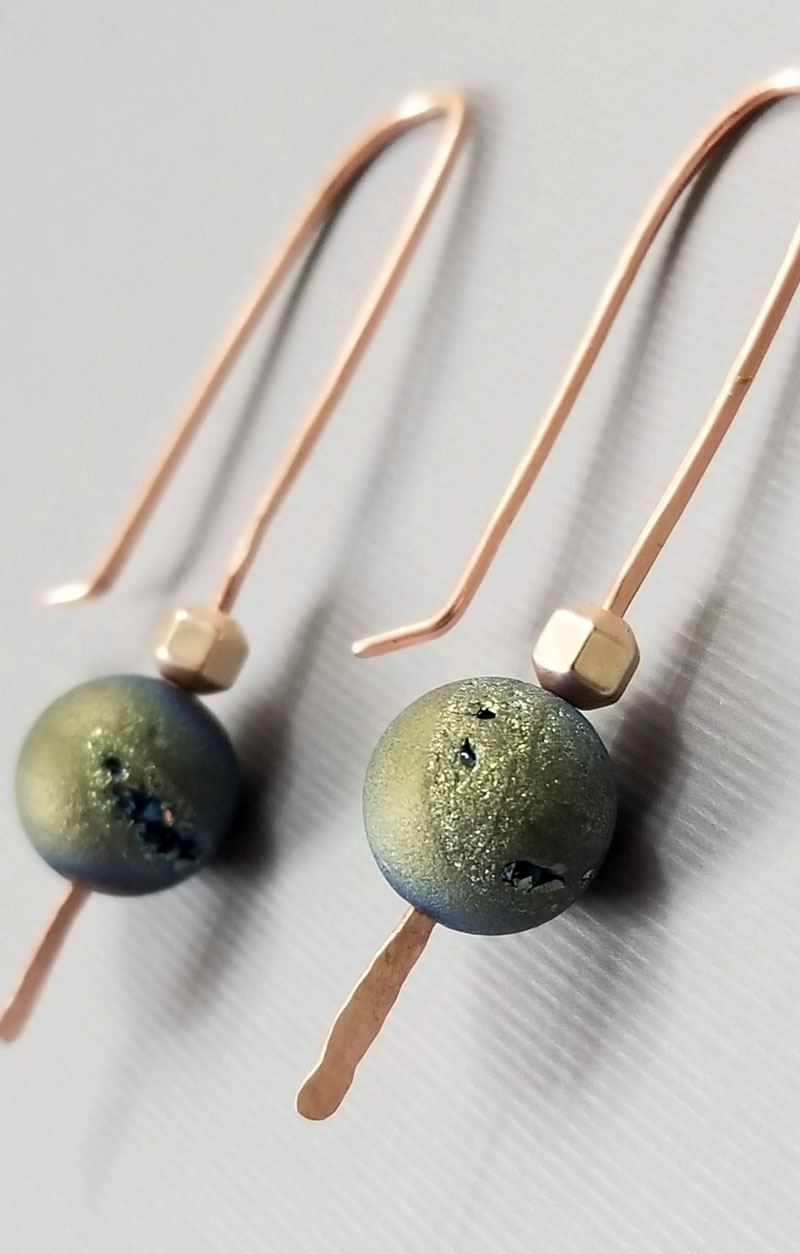 Learn basic wire jewelry skills by making these beginner stick earrings from scratch! You'll love having to stock fewer findings…
Finally, if you're ready to get real ambitious, combine two skills: wire wrapping and beading and make wire wrapped earrings that you can be proud of.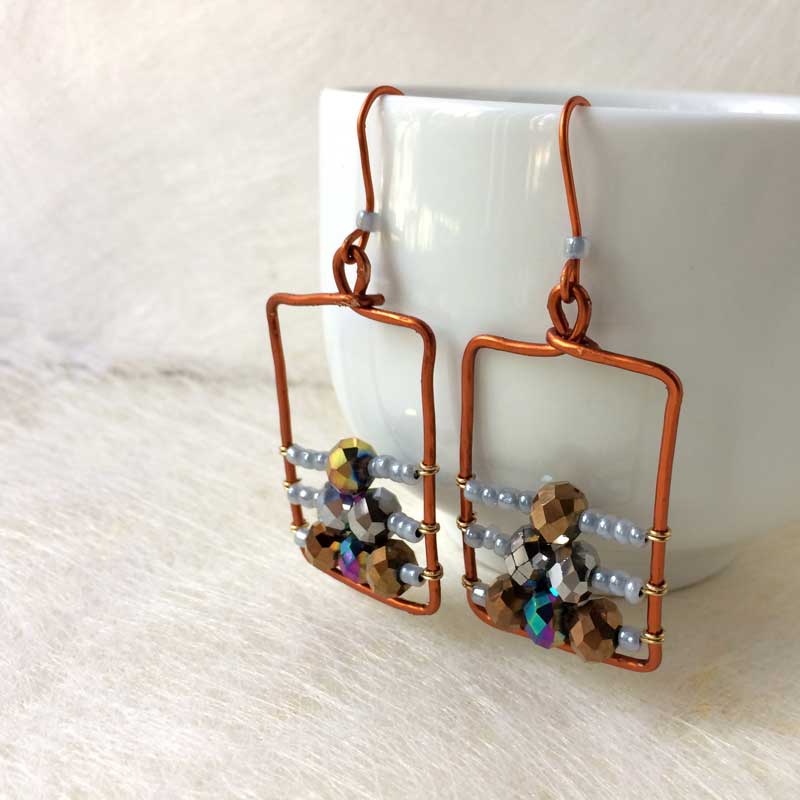 DIY Tassel Earrings
Tassels are a real score in the jewelry making world and one of the most popular styles of DIY earrings. For that reason, I decided to share with you a few ways to do it.
You can start with very basic colorful tassel earrings.
I love the versatility of embroidery floss tassel earrings. The color options are endless, they can be customized to the perfect length for your face, and they are the perfect pair to throw on when you're not sure which earrings to choose. Just get a pack of embroidery floss in every color, and make one to match EVERYTHING.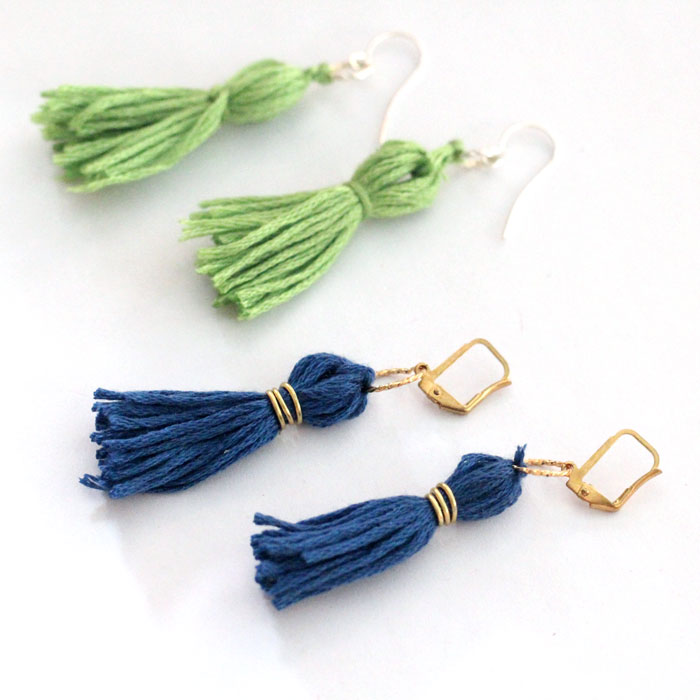 You can also make gorgeous tassel earrings with thread, using simple knotting skills.
The knot makes all the difference and gives it a nautical look that is SO chic!
Finally, learn how to make tassel earrings that once again combine with wire wrapping skills for a gorgeous show-stopping piece.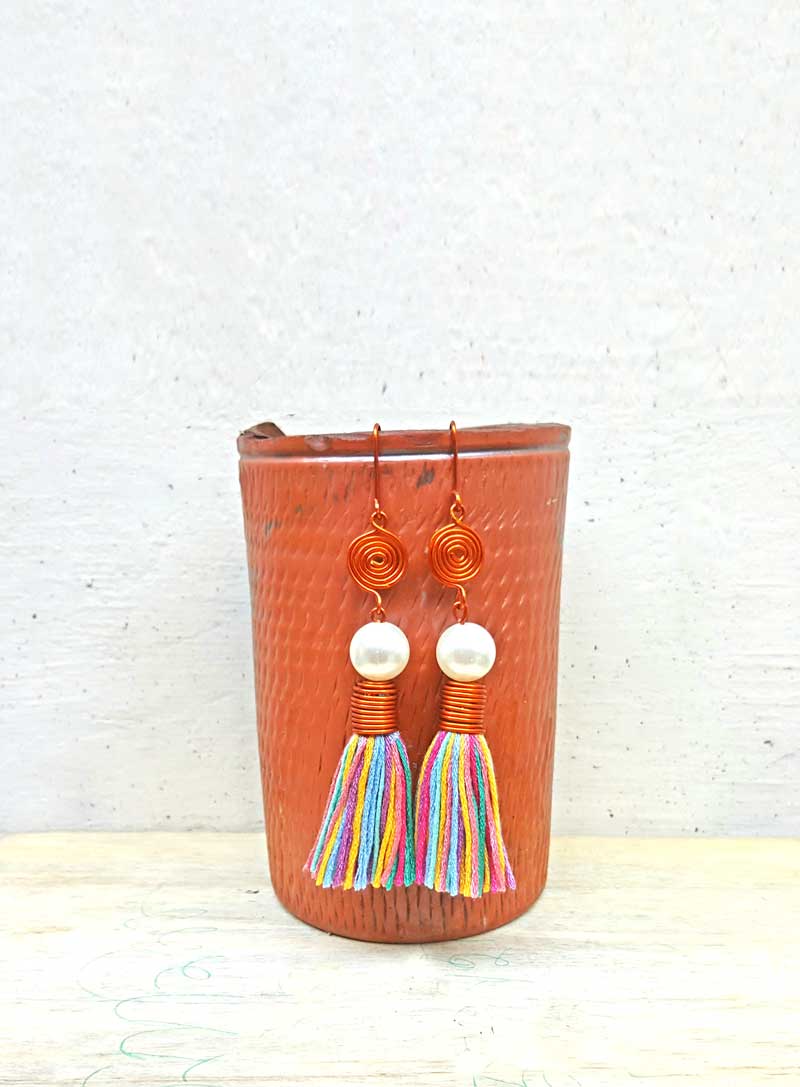 Want a bonus idea?
Holiday Tassel Earrings by In Honor of Design
These magnificent earrings really complete that holiday dress you've been waiting to wear all season long. Pick the stone color to coordinate and you'll look fabulous!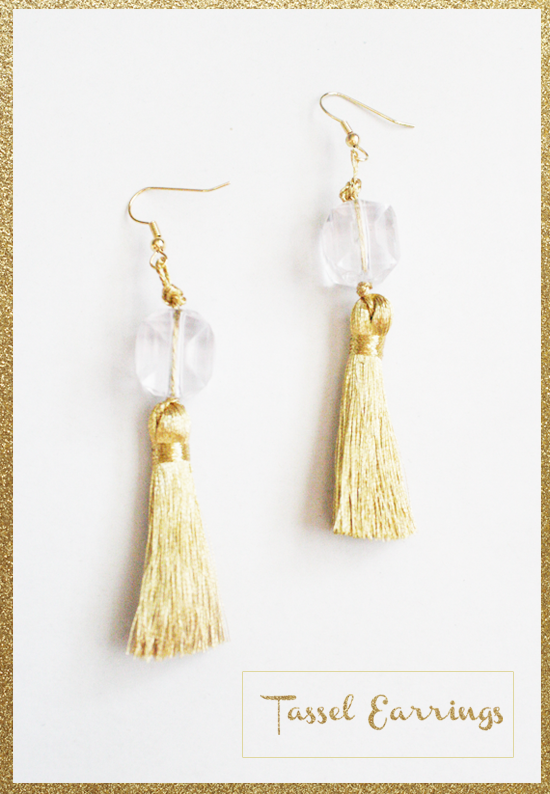 Easy DIY Earrings using unusual materials
Unusual materials have ALWAYS been my jam – wanna know why?
They make things DIFFERENT, quirky, and unique. As in, not boring.
They're cheaper than you might spend on beads.
They give new life to old stuff.
You have them handy when you're looking for fresh ideas.
And finally, they're NOT BORING!
That was my inspiration behind writing How to Make Jewelry Out of Anything.
Not only do you learn the basics of making your own jewelry, not only do you get to explore fresh, unique ideas, but you also get direction for taking the ideas a step further, for coming up with your own – leaving the possibilities for awesomeness open and infinite.
For now, you can check out a few ideas that use unusual materials including feather earrings as well as a sample project from the book: watercolor doodles statement earrings!
Shrinky Dink Earrings are childhood throwback was a hit in summer camps! Take them to the next level using Shrinky Dinks and a template. They're so bright, colorful, and fun!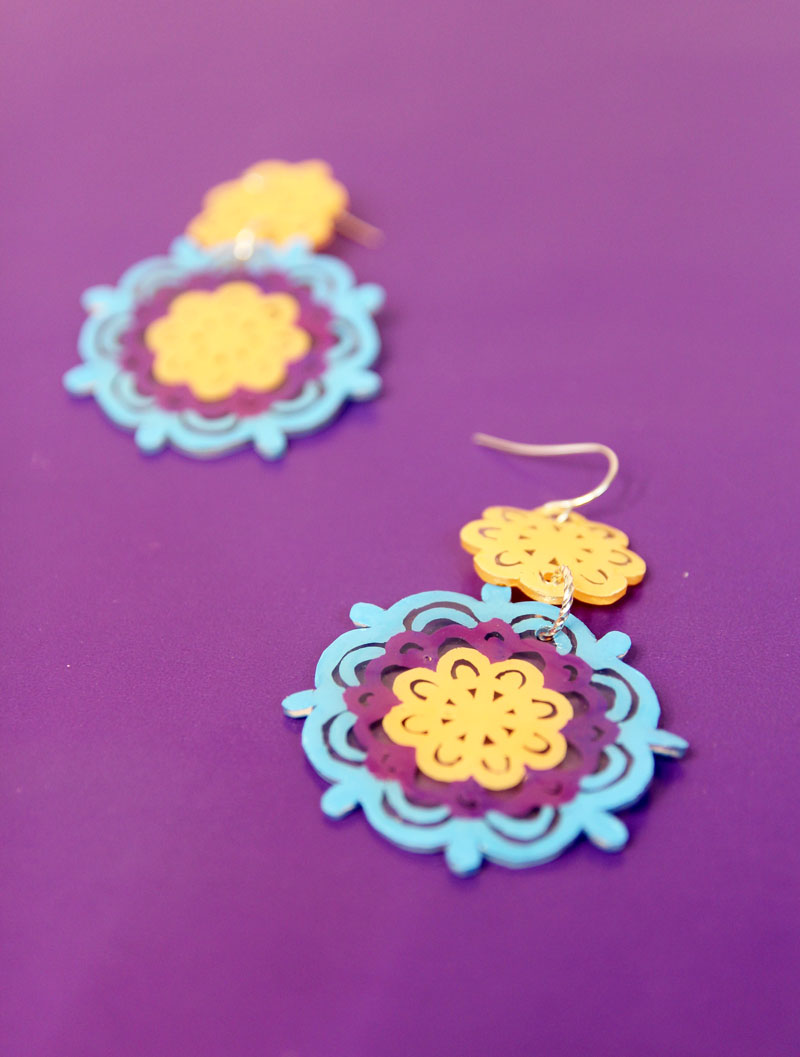 With color blocking still being a trend in all areas of fashion, these earrings are easy to make and a great DIY option to spice up your wardrobe. You just need to start with plain wooden cubes and acrylic paint. Flat pad ear studs are tweaked to make them work!
Simple to Make DIY Lace Earrings – by Lia Griffith
Who doesn't love lace? Gorgeous earrings like these are just what you need in your life!
These are perfect for brides, for dress, or even to add some glam to your jeans!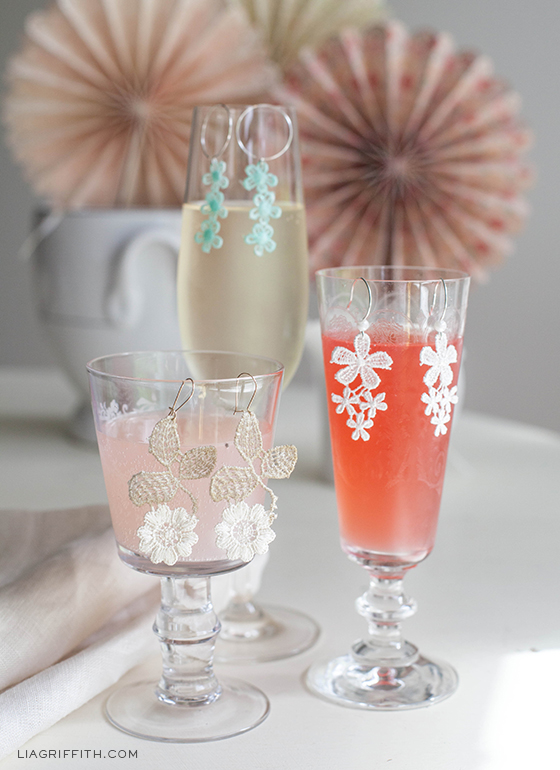 More easy DIY earrings to make
There are so many DIY dangle earrings to make that you'll want to check out that whole list!
Dangles frame your face, and can be made in many, many ways.
In the tutorials above, I've used materials such as leather, wire, and more, in addition to sharing more ideas from other bloggers.
Learn how to make DIY leather earrings with loads of tips and tricks for those of you who are just starting out!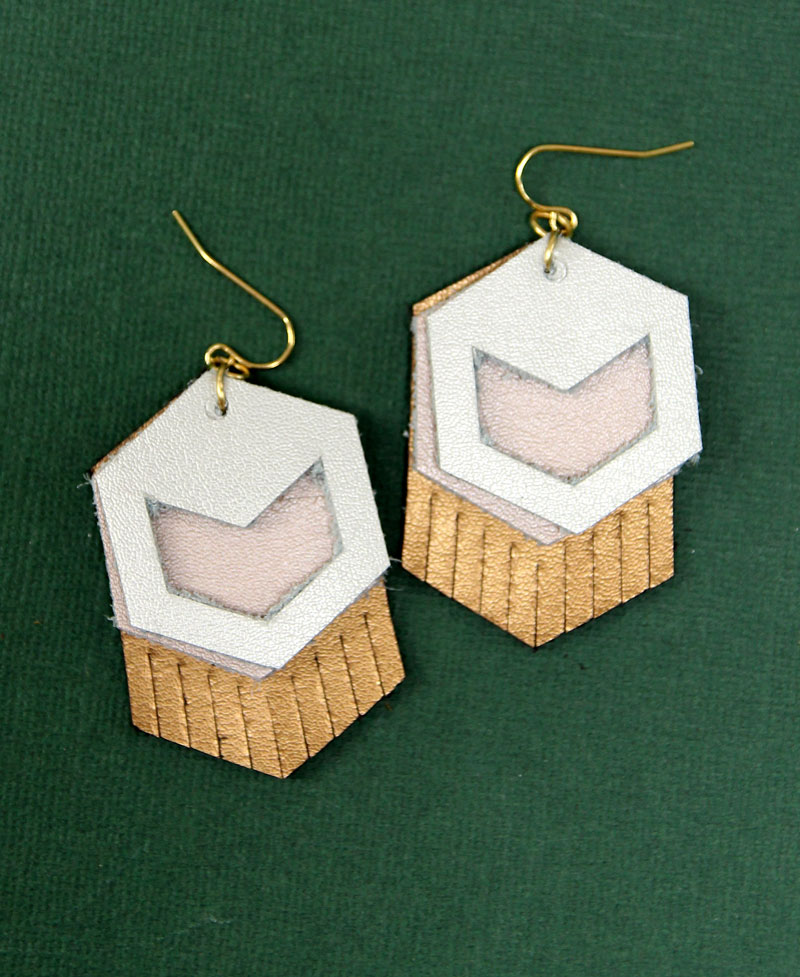 Here are a couple more DIY earrings to make to dangle and frame your face, and be awesome…
DIY Patinaed Filagree Earrings – by the Crafted Sparrow
These earrings look like they came straight out of my favorite shabby chic jewelry store. Pair them with your favorite knit sweater on a snowy day for a cozy look!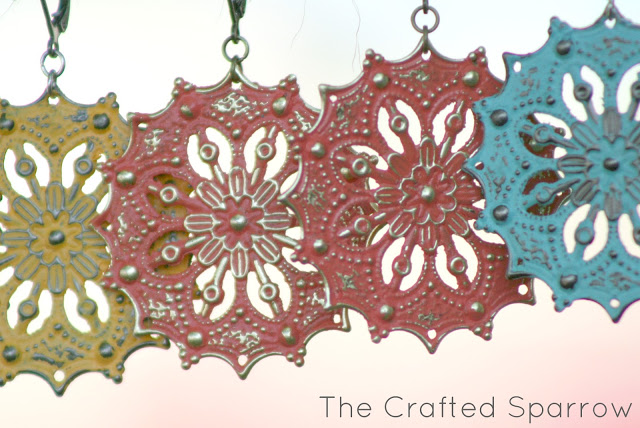 DIY Wood Burned Earrings – by Positively Splendid
When I first came across these, I couldn't believe how simple they were to make. Because you'll be using a wood burning tool, the experimentation possibilities are endless!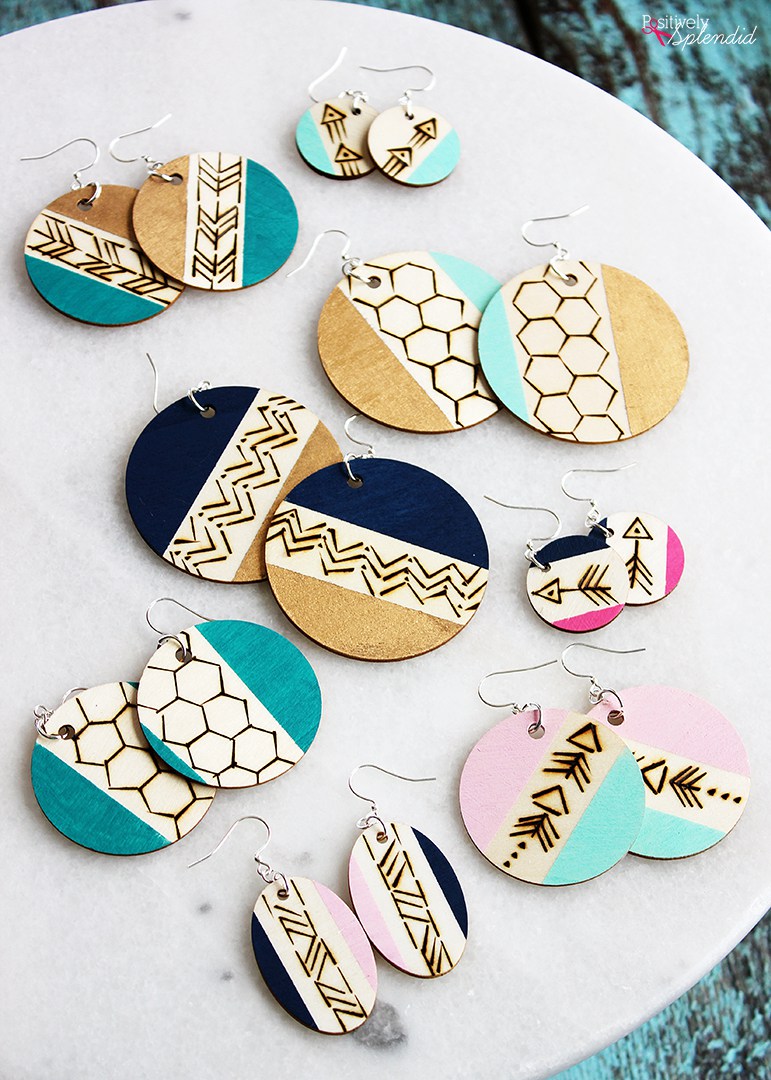 These easy DIY earrings are only a fraction of what is out there for you to create. The sky is the limit! Have you ever made your own earrings to match an occasion? Tell us about it in the comments below!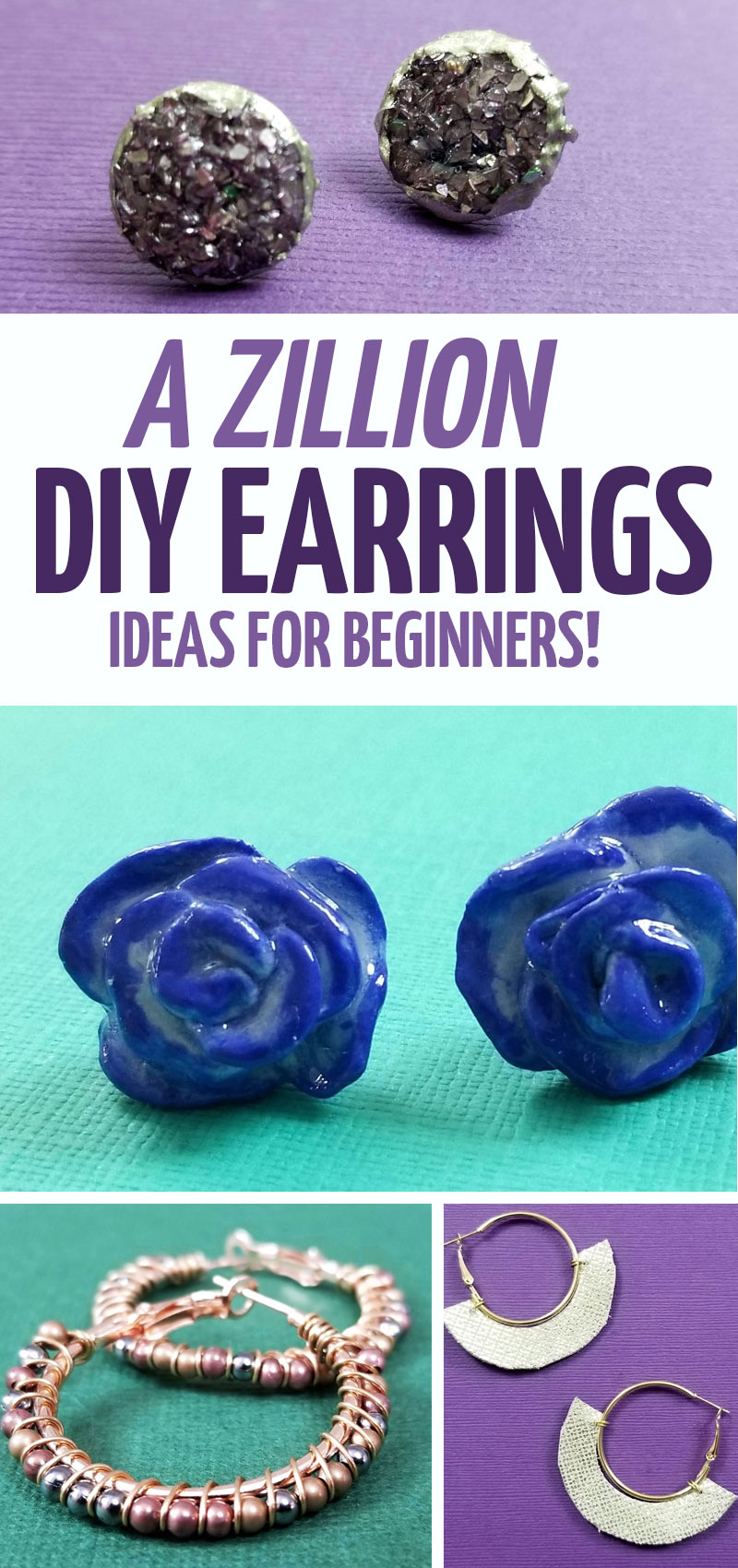 This post was originally published January 2017 and updated to make it more relevant.