I am so impressed and amazed at all these amazing, beautiful DIY candle holders and luminaries that are presented below!
I created this list as part of a monthly blog challenge that I participate in, to come up with a craft on a specific topic. This month's topic was luminaries and so I created these color block candle holders for it.
Scroll down for a beautiful assortment of DIY candle holders and luminary craft ideas!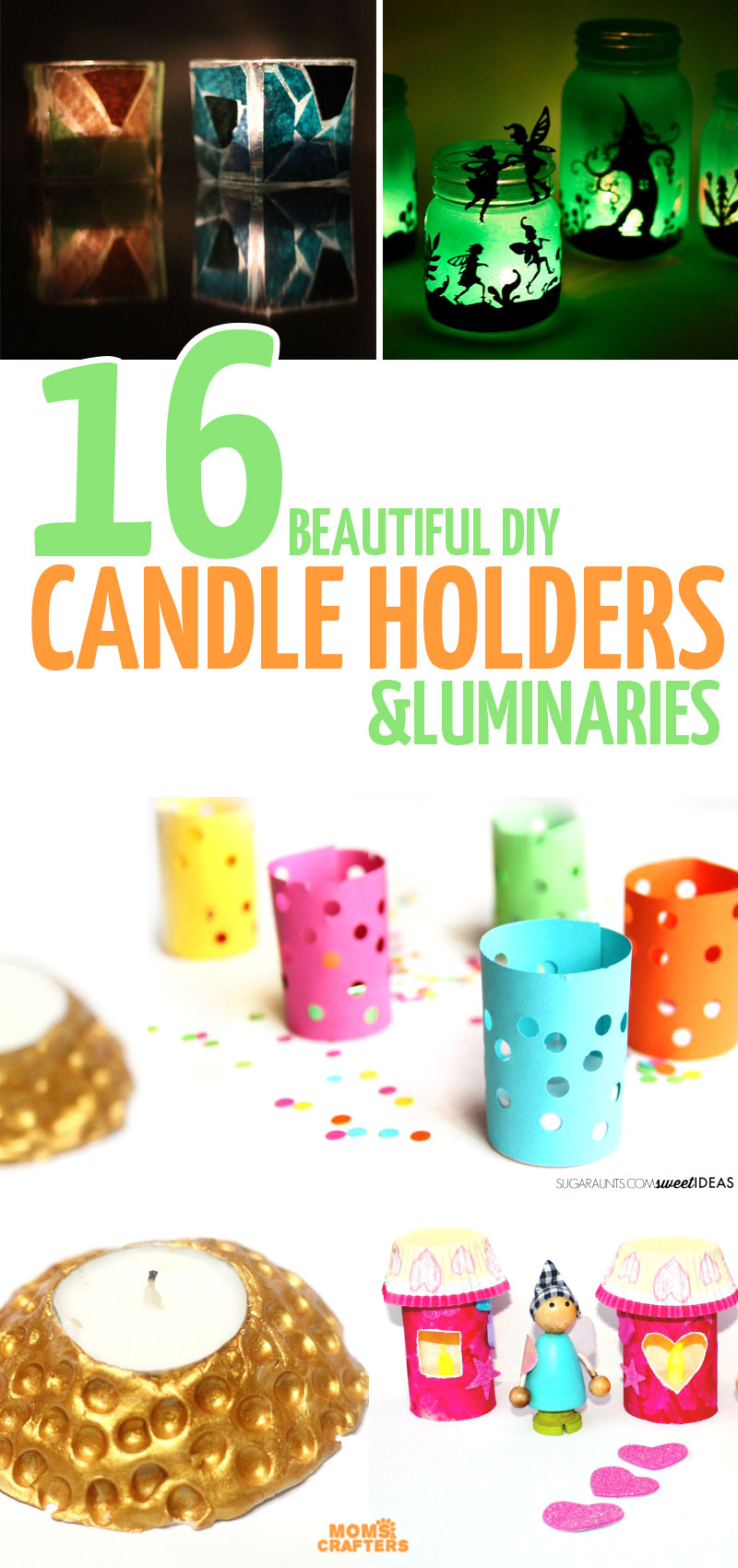 Disclosure: this post contains affiliate links.
I love creating luminaries. A Luminary means a source of light:
luminary – [loo-muh-ner-ee]
noun, plural luminaries.
1. a celestial body, as the sun or moon.
2. a body, object, etc., that gives light.
3. a person who has attained eminence in his or her field or is an inspiration to others: one of the luminaries in the field of medical science.
adjective
4. of, relating to, or characterized by light.
In the crafting sense, it has taken on the meaning of a lantern or something similar. I love this practical craft idea, as it seems to add a warm glow to everything… 😉
On a more serious note, these DIY candle holders and luminaries feature a huge variety of age and skill levels, with plenty of ideas for year-round and some extras for Christmas and winter!
They are a great way to upgrade a party table, or to display at a family dinner.
Copyright: All of the images for the DIY candle holders and luminaries below were used with the permissions of the respective bloggers for the purpose of this post. Click on the title link or image for the full tutorial.
I have created a square and vertical image for your convenience for sharing these amazing DIY candle holders and luminaries. Please use the first or last image in this post when sharing and not one of the individual photos below, out of respect for the creators' copyrights.
DIY CANDLE HOLDERS AND LUMINARIES FOR YEAR ROUND:
1. Color block candle holders:
These fun and funky DIY candle holders are ridiculously easy to make and use a surprise secret ingredient. Plus, you can even reuse the candle holders base for other parties and occasions – depending on what the color scheme is!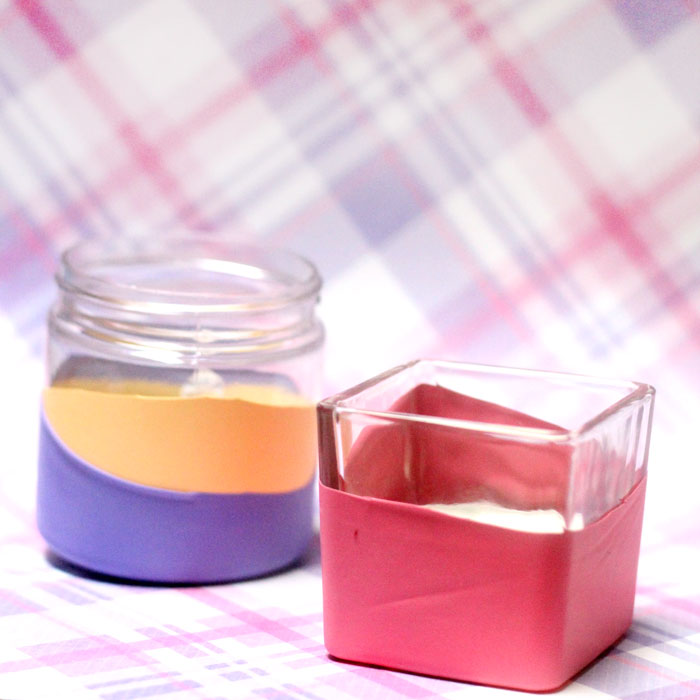 2. Fine motor lantern craft by Sugar Aunts:
Crafts aren't JUST for fun when it comes to kids – they are a great way to learn AND to help children reach developmental skills. Sugar Aunts tends to add an OT spin to her crafts and activities and these beautiful fine motor lanterns are no exception.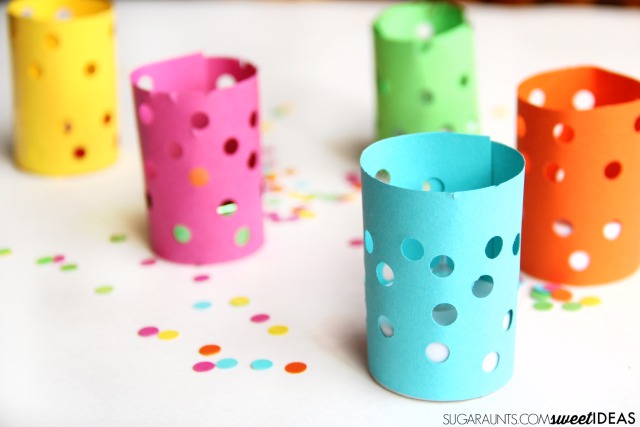 3. Fairy house luminaries by Messy Little Monster:
These little fairy house luminaries are simply adorable! Dig into your recycling bin for this one, and then use it for pretend play.
Messy Little Monster includes some fun ways to include the littles in this craft, so head on over and check it out!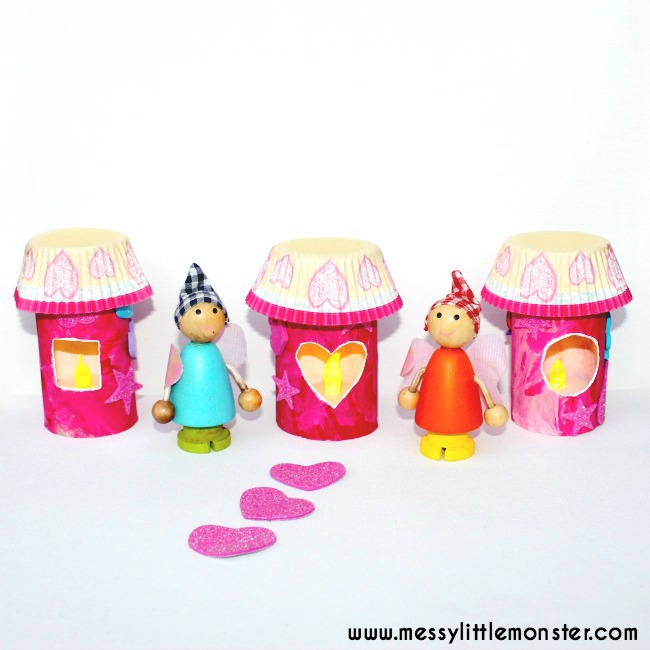 4. Faux hammered metal candle holders:
OK, so here's a word of caution. When making DIY candle holders to be used with actual real candles, always verify in advance if your materials are safe around actual real candles!!
I made these faux hammered metal candle holders using a clay that you should NOT used and then spent days researching which one you CAN use (and that won't mess up your project too…) This is the clay you can use – click on the image for instructions.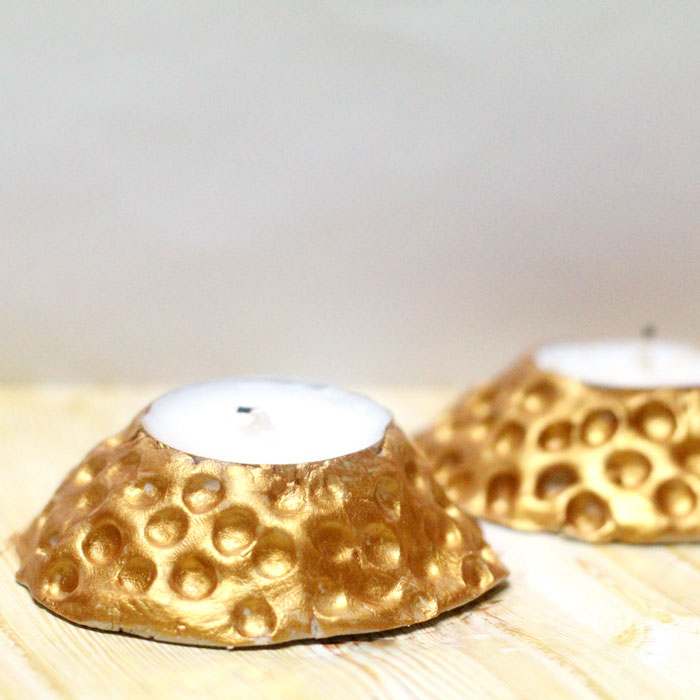 5. Mondrian-inspired jar luminaries by The Mad House:
These Mondrian-inspired jar luminaries by The Mad House are so simple but so beautiful! It's a great hands-on craft to do with the kids, but fun for the grown-ups too. Choose your color scheme and fit it to your event.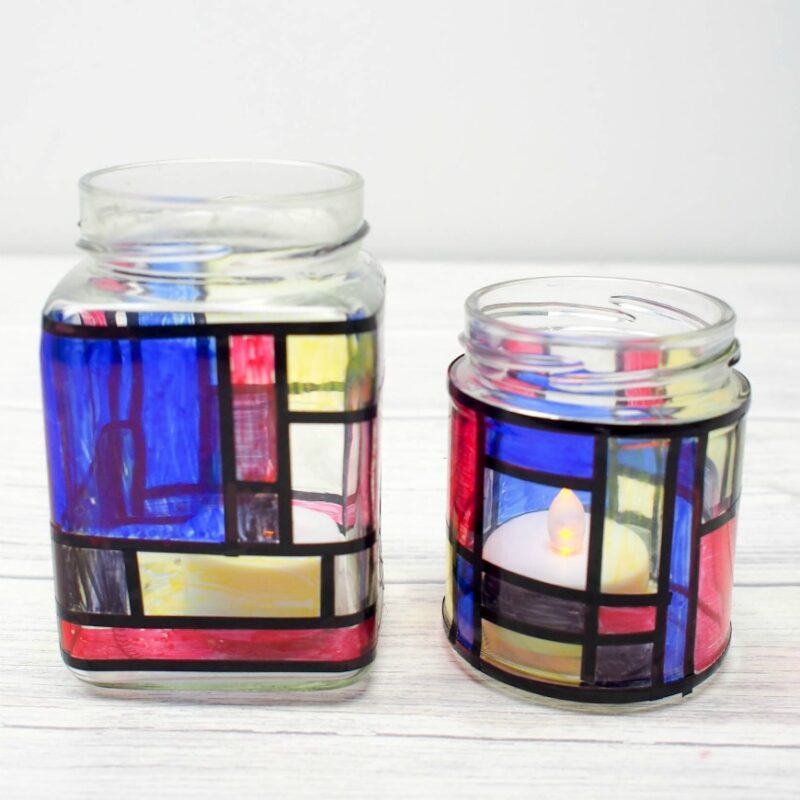 6. Fairy lanterns by Adventure in a Box:
Got patience and love a good challenge? This craft is for you!
Make these shadow fairy lanterns for an event or just to display in your home – you'll want to keep these around for a while.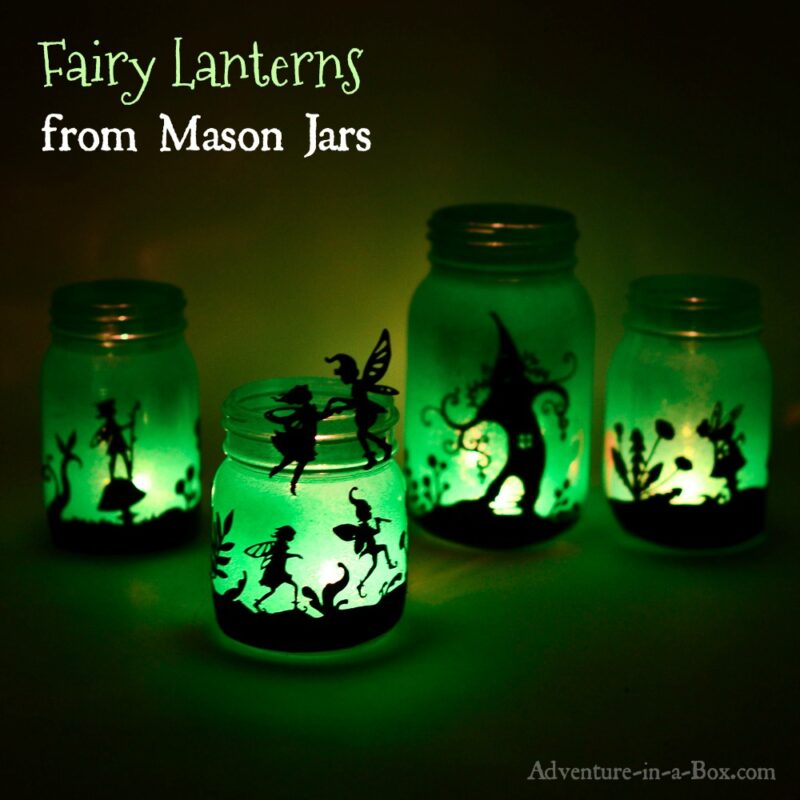 7. Felt mosaic candle holders:
If you're overloaded with felt scraps, snip 'em up small, and decoupage them onto simple square candle holders.
These DIY candle holders add a warmth and coziness to your home beyond the flame itself…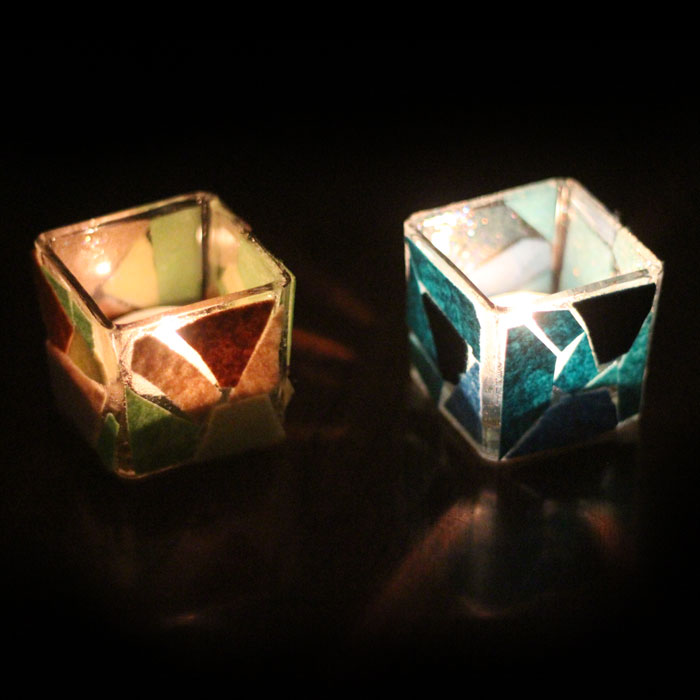 8. Tissue paper votive holder by Craftulate:
Involve the children with something that's so simple but so effective. These tissue paper votive holders by Craftulate make the perfect accessory for your next B-B-Q or a great kid-made DIY gift. I love the round candle holders that she used – and how they reflect on the circles of tissue paper!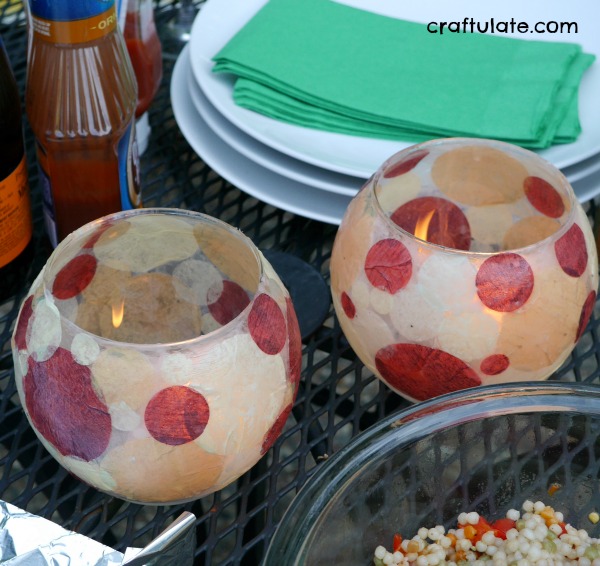 9. Hunting party candle holders by Playground Park Bench:
You actually DON'T need to be throwing a hunting party to make these quirky and unqiue DIY candle holders. You really just need to like animals. This original idea by Playground Park Bench doesn't take long to throw together but looks great!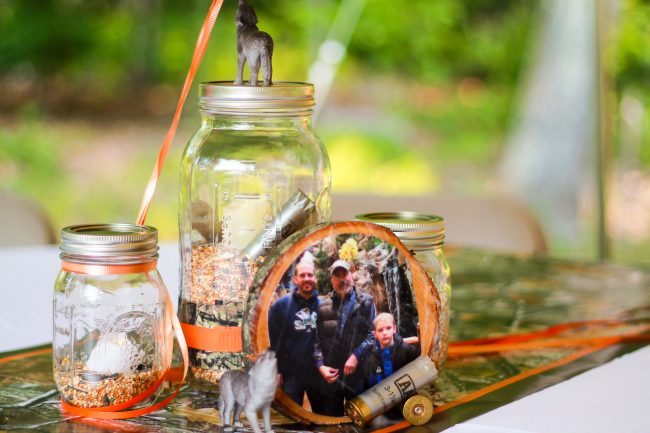 10. Hand painted candle holders by Rhythms of Play:
Kids love to go wild with the paint, but did you ever imagine it could look so good? Rhythms of Play always seems to make kid-painted things look like something you'd buy in the store, and these candle holders are no exception.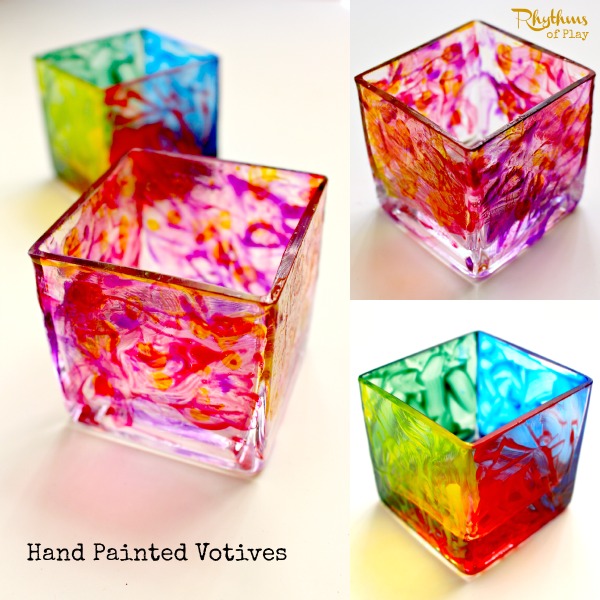 Bonus: Starry Night Light:
Yeah, I almost forgot these M-made starry night lights in this list!
He had the time of his life making this simple craft with me, punching the holes, and has since asked me multiple times if we can do it again.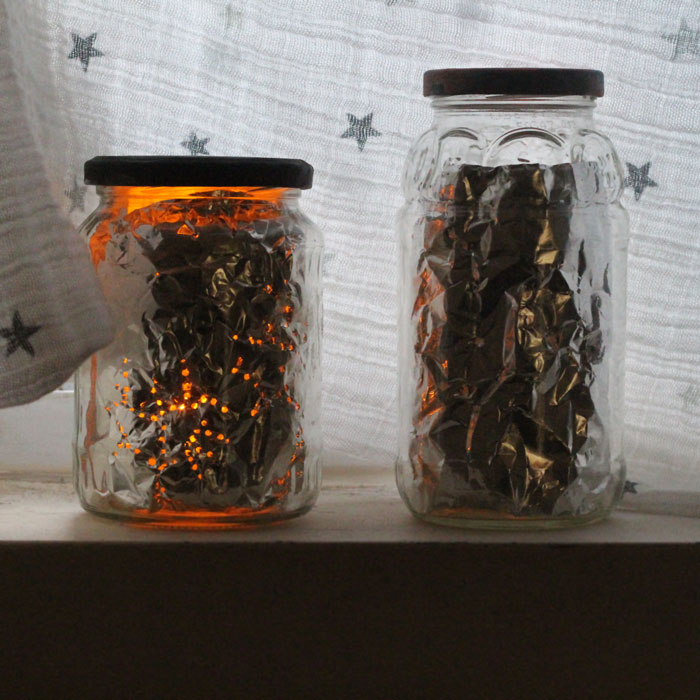 DIY CANDLE HOLDERS AND LUMINARIES FOR WINTER:
11. Snowy skyline lantern craft:
A slightly simpler take on a shadow lamp, this snowy skyline lantern is a wonderful way to perk up your winter decor. I used glitter decoupage – a great way to add more sparkle to the mix without all the mess.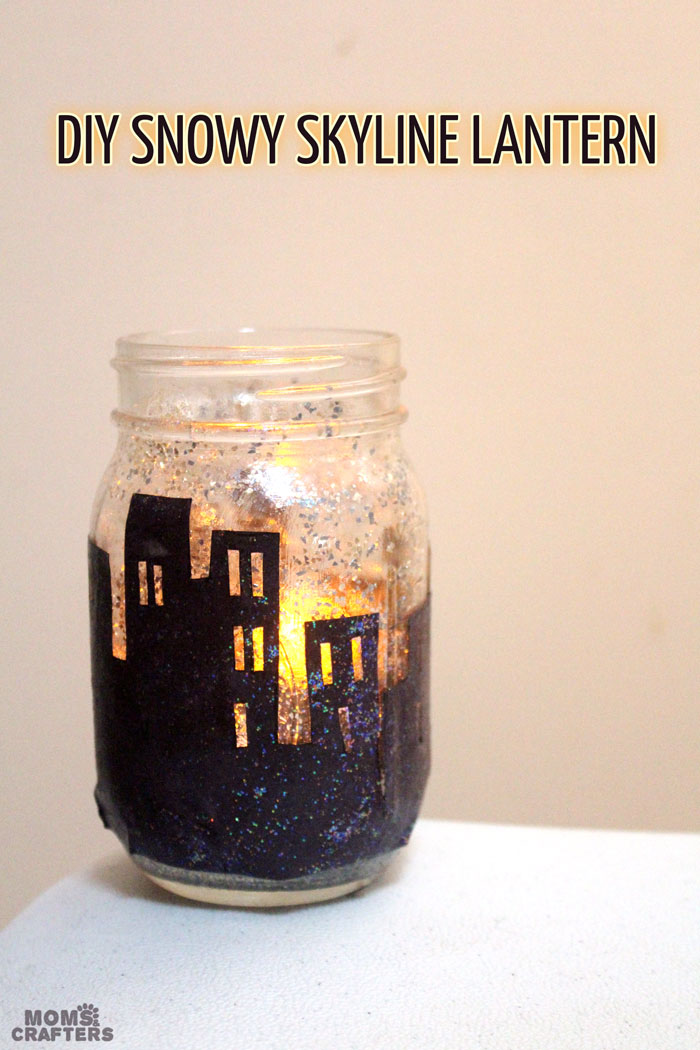 12. Frosted luminaries by Zing Zing Tree:
It's hard to capture the beauty of frosted glass in images, but trust me, these luminaries are worth it! Zing Zing Tree shares a few designs for creating these DIY luminaries – a perfect upgrade for your winter decor.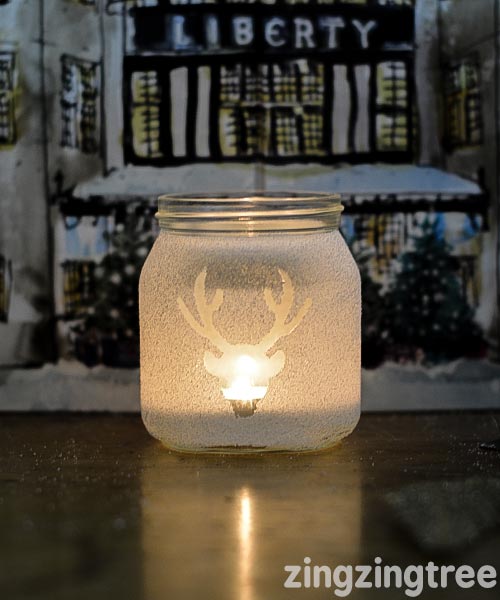 13. Christmas mason jar candle holders by Life Over C's:
Add just the right touch of festivity to your Christmas decor with these simple mason jar candle holders. You can really adapt the tutorial and tips for any holiday – just update the color scheme and tags! I may just give it a go in blue and white for Hanukkah!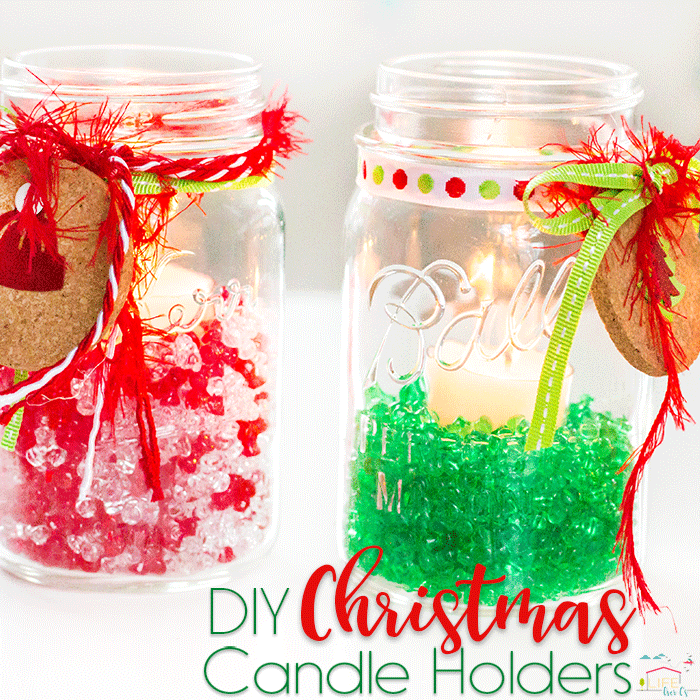 14. Winter village luminaries by Red Ted Art:
Make a charming winter village out of recyclables and then light her up! Red Ted Art shares a wonderful video tutorial for these, along with step-by-step instructions in case you prefer that.
I just love the setup of this!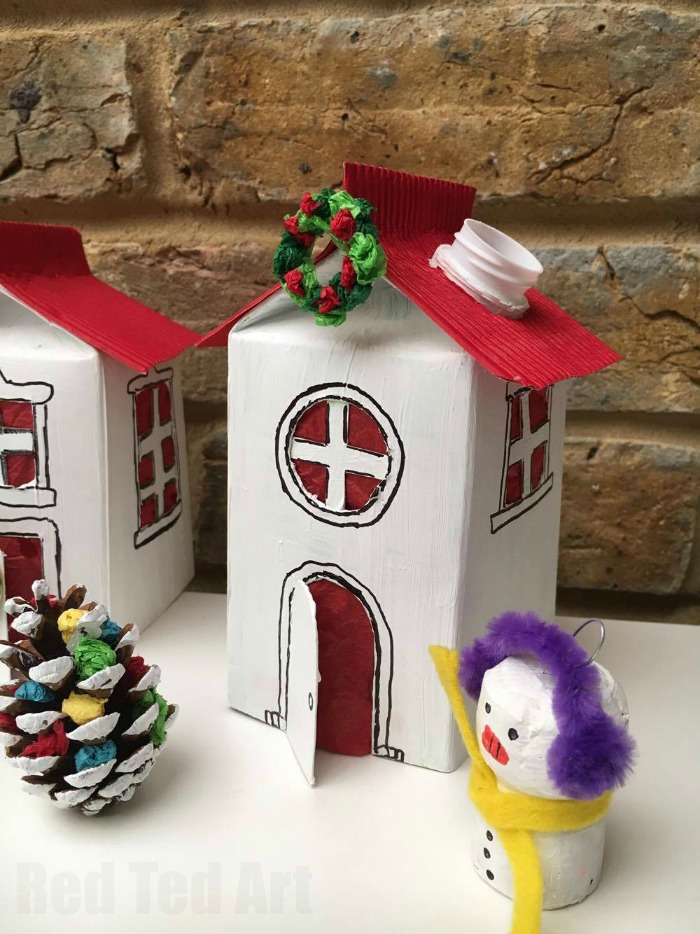 15. Paper craft snowflake luminary by Hattifant:
I am rather obsessed with Hattifant's paper crafts and she did not disappoint me on this one either! These beautiful paper snowflake luminaries create shadows when lit. They are a great craft for any age – with designs simple enough for children but mature enough for grown-ups.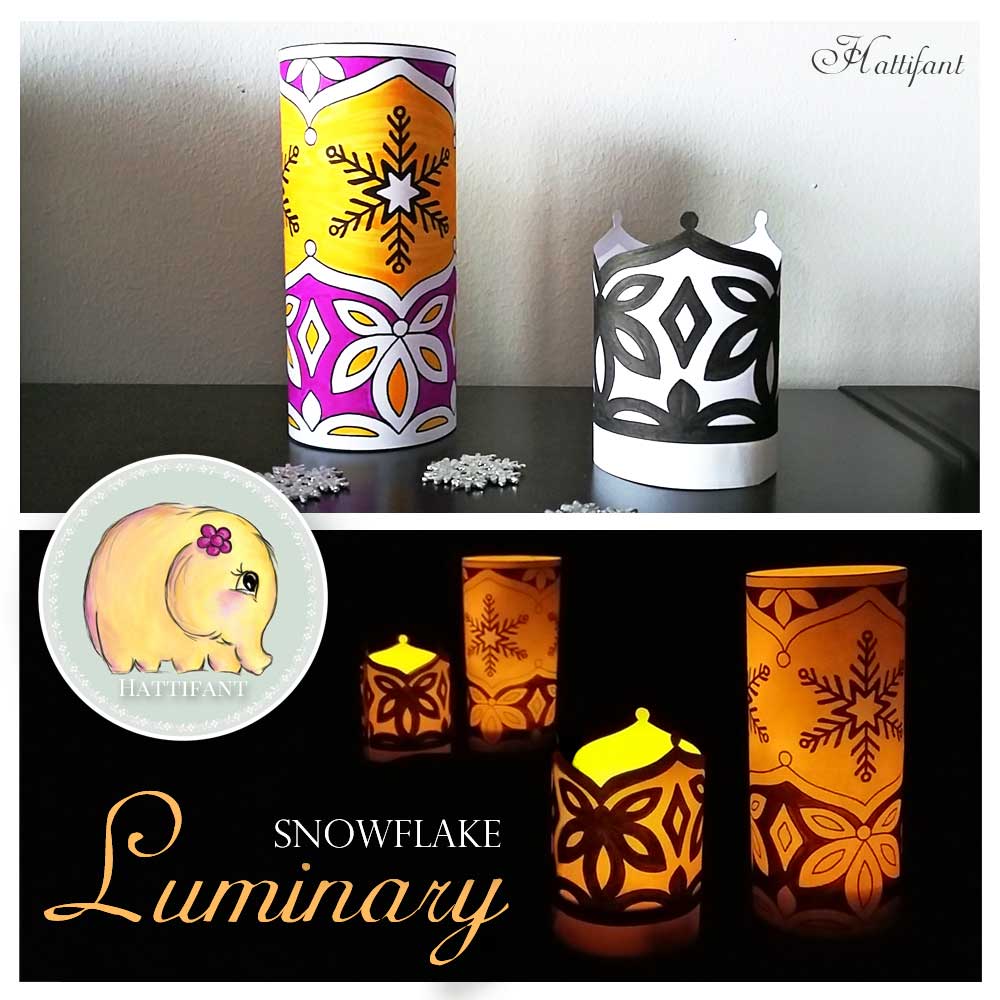 16. DIY ice lanterns by Nemcsok Farms:
And finally, my Canadian friend Evelyne naturally stepped in with these elegant and simple DIY ice lanterns! How freaking cool is that?
I have no idea how to keep them frozen other than keeping them outside but it is a great way to upgrade your outdoors this winter…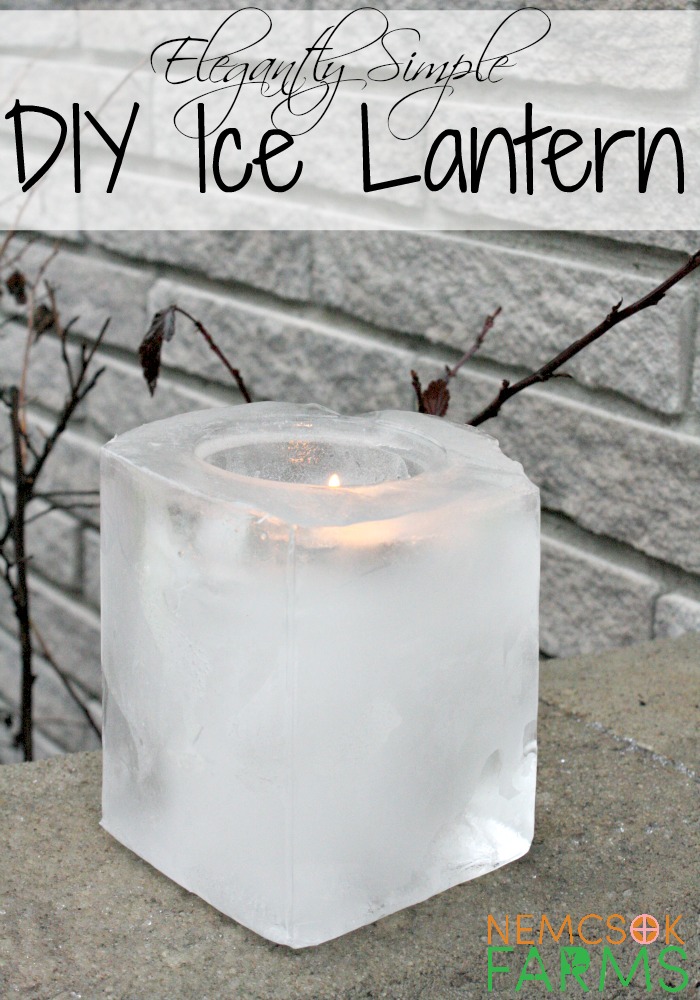 I hope you enjoyed this list of DIY candle holders and luminaries. Got any ideas or tips to add? Comment below!
Make sure to share the love by hitting the share buttons to the left. Hover over the first image in this post and click on the red "P" to pin this to your boards on Pinterest.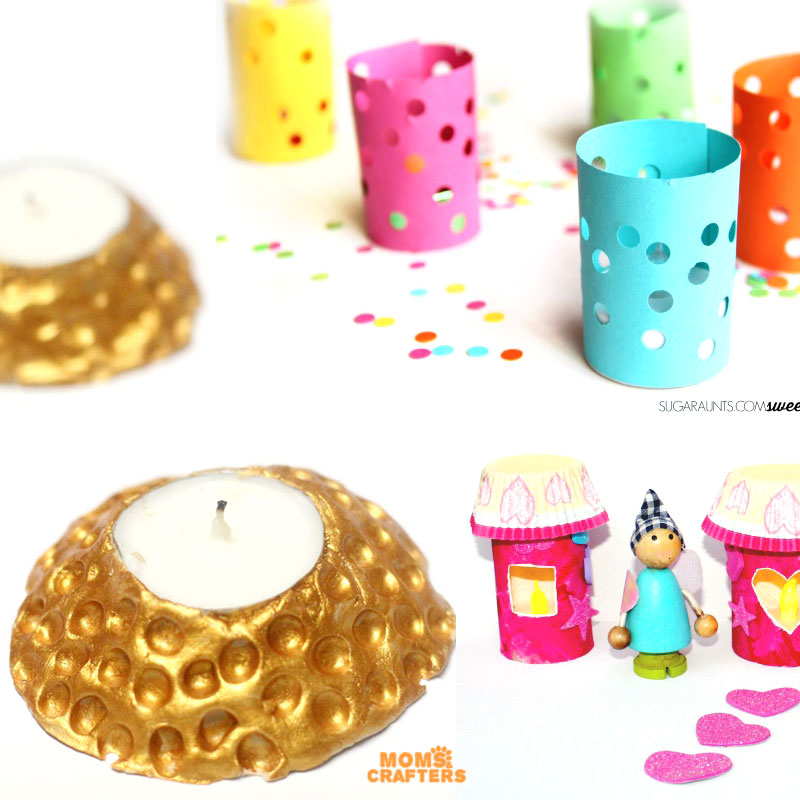 Get the book! By purchasing Moms & Crafters publications, you are supporting my blog and enabling me to keep on providing you with free craft ideas like this one. Coloring for Coffee Lovers is my most popular coloring book, but you can find all of my printed and digital coloring books here.