I made this delicious spaghetti squash kugel recipe as a simpler alternative to my favorite potato kugel – basically because I can use much fewer dishes. Watch the video below for the instructions and then scroll down for details. Disclosure: this post contains affiliate links.
For those of you who are not familiar with kugel, it's pretty much a Jewish casserole.
Kugel is a baked dish that has some sort of binder, and is served in slices. It usually does not contain dairy ingredients like a traditional casserole would, since we don't eat dairy with meat products at the same meal. You can probably add cheese to any of my kugel recipes and it will be simply heavenly.
This spaghetti squash kugel recipe was created out of desperation one Thursday night when I was cooking for our Sabbath meals and needed a crowd-pleaser that wouldn't take over the kitchen.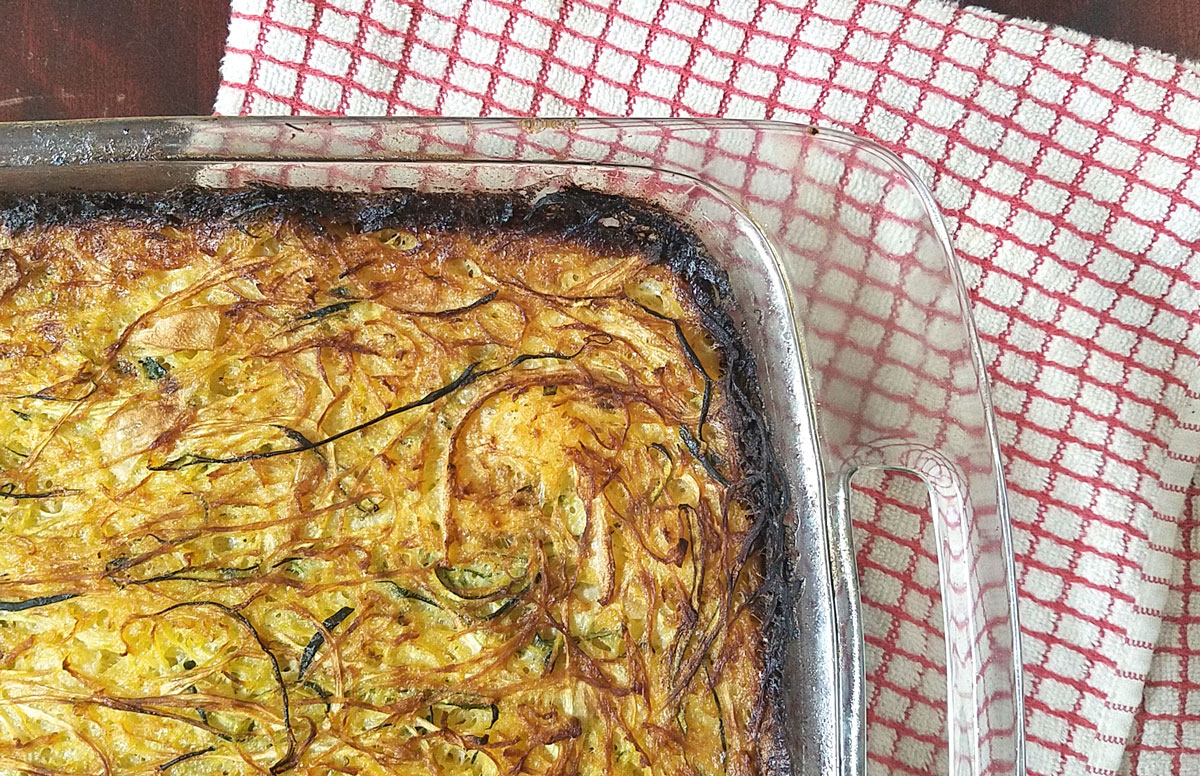 It was inspired by noodle kugels (which are made with actual noodles) and created as a crossover dish – since potato kugel is really also made from a starchy vegetable.
While I typically make this as a side dish for a big meal with guests, it's actually an amazing one-dish dinner.
It has in it starchy vegetables, plus protein since it has plenty of eggs. You just need to serve it in slightly larger portions…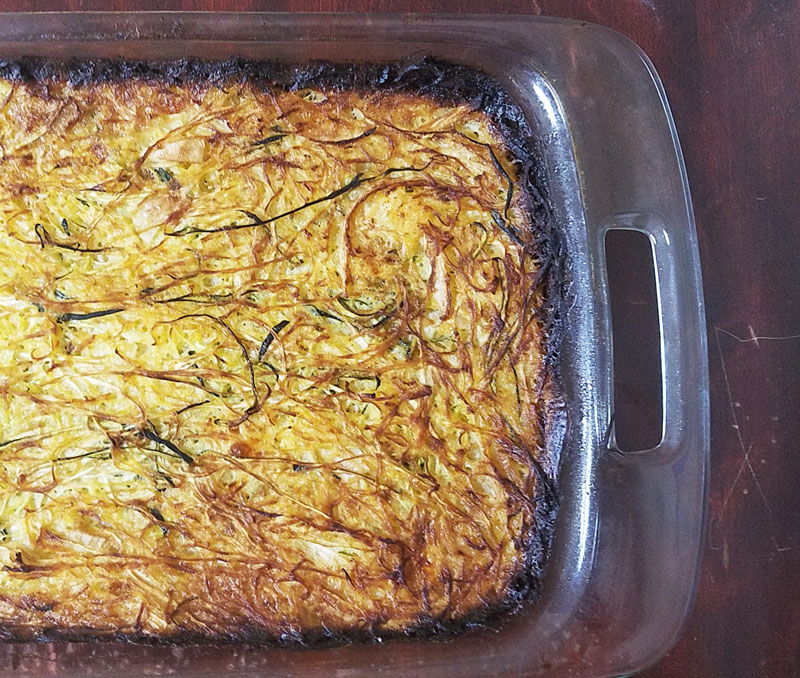 I tried this recipe in two versions – the "oil inside" version and the "sprayed dish" version.
In the sprayed dish version, I left the oil out of the recipe and sprayed the dish and the top before I baked it.
This is a little less caloric, but also not as tasty. I definitely recommend sticking to the oil inside version if you're not trying to lose weight.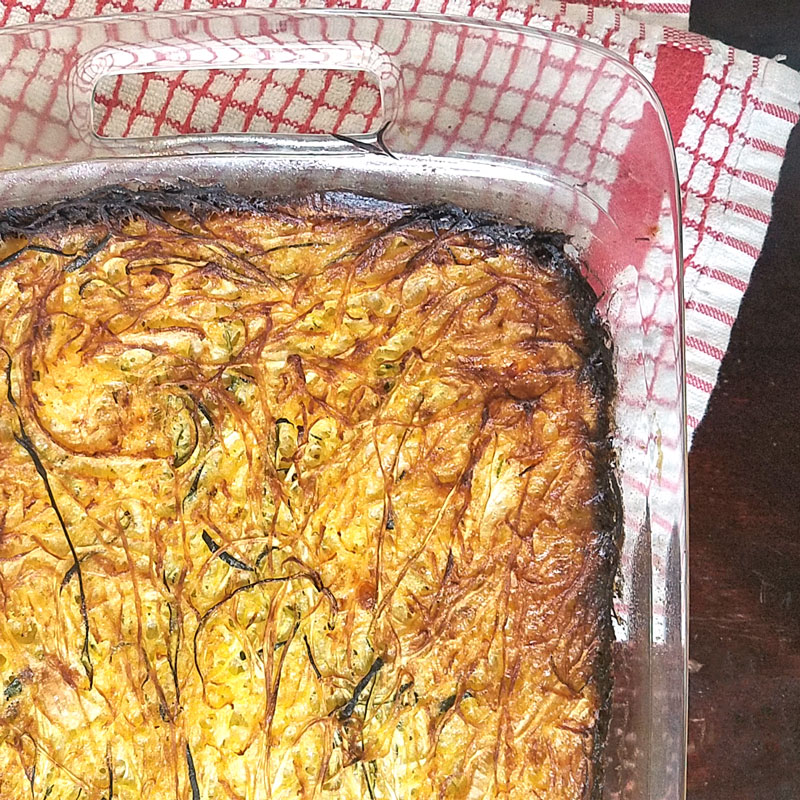 The oil inside version can also be done in one dish – meaning you don't need a separate mixing bowl. Just mix it up in your casserole dish.
I will be sharing the oil inside version below – the video is the sprayed dish version
I used a simple spiralizer to process the zucchini, while I simply sliced the onion thinly with a chef's knife.
The spaghetti squash was microwaved before I processed it to allow me to pull out the flesh. If you don't do "microwaves" you can definitely bake it until it's soft enough to slice open and fork out.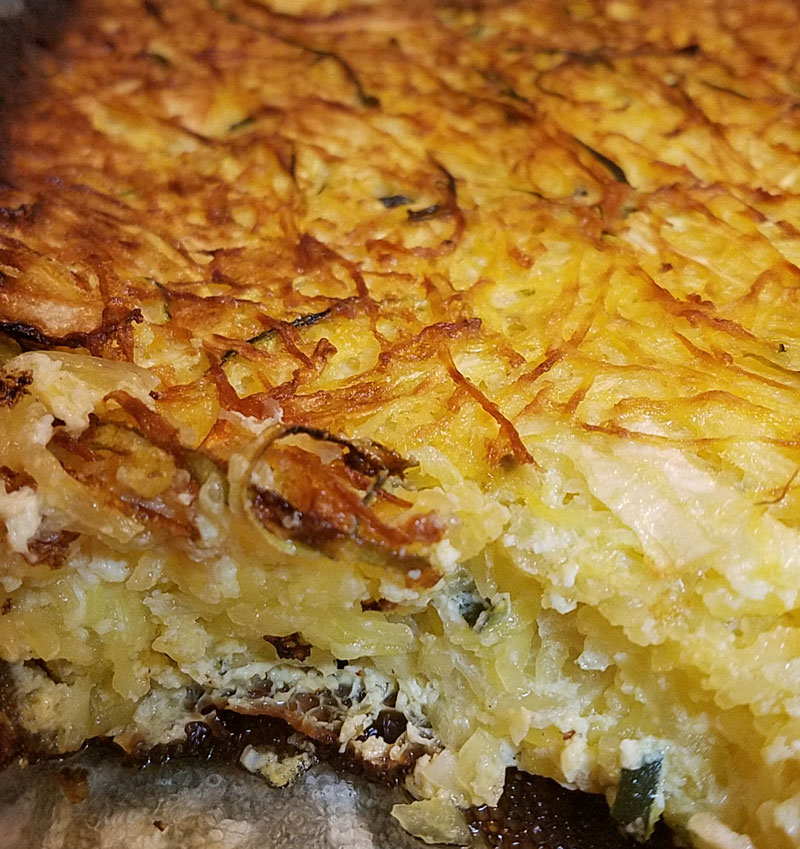 Ingredients needed for this spaghetti squash kugel recipe:
1 large spaghetti squash
1 medium zucchini
One large onion
6 large eggs (use less if you're using a smaller squash)
1/4 c oil
1 T salt (approximately)
Kitchen equipment needed to make a spaghetti squash kugel:
How to make your spaghetti squash kugel:
1. Preheat your oven to 400 degrees. Poke holes in your spaghetti squash and microwave on high for about 10-15 minutes, or until the insides are slightly softened.
2. Let it cool enough to handle. Slice in half using a chef's knife, remove the seeds, and use a fork to scrape the flesh into your baking dish.
3. Spiralize your zucchini using a vegetable spiralizer and add it to the dish.
4. Slice your onion thinly and add it to your dish, separating the rings as you go along.
5. Add your eggs, oil, and salt to the dish.
6. Mix it up till it's combined well – you'll get a nice, foamy texture. Hands work best for mixing….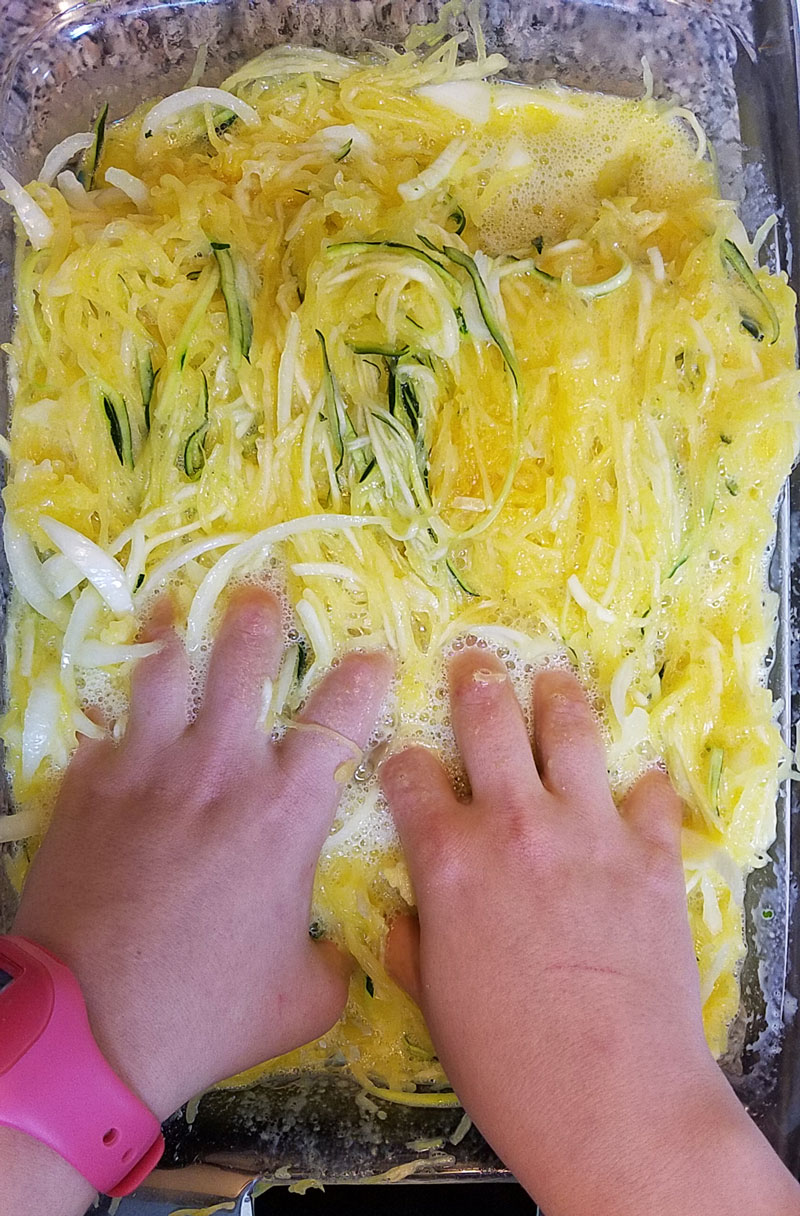 Smooth out the top if you want, or use a spatula to make some peaks if you like it more crusty.
7. Place your spaghetti squash kugel in the oven and bake uncovered for about an hour and a half, or until crispy and golden on the top. Note: cooking times vary widely, you may need two – or even 2.5 hours. Cook until it's golden – that will be your measuring point. I have done it in as little as an hour and a half with smaller squash, and I don't want you to overcook. A golden, crispy top as pictured is your best measuring point for readiness.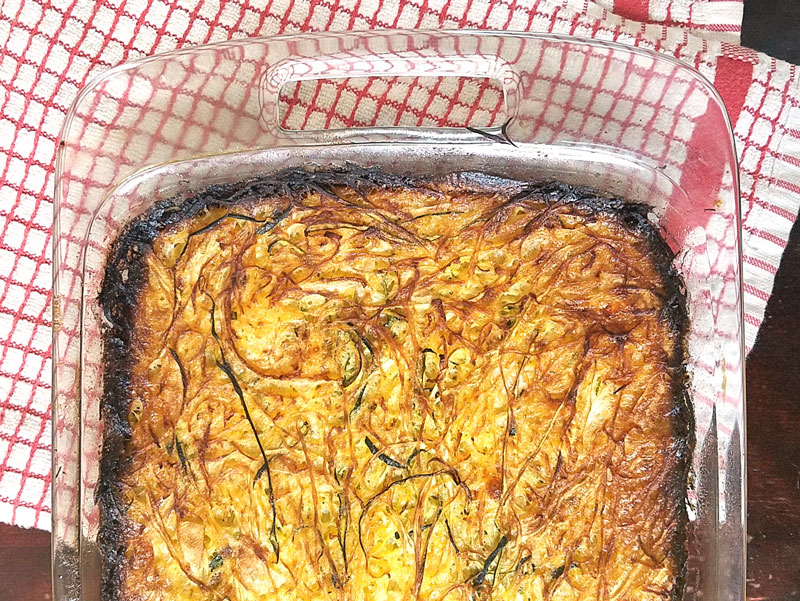 [yumprint-recipe id='15']
What will you be making this spaghetti squash kugel for? Comment below!
Get the book!
Love to relax, love to cook? The Color-in Recipe Binder is a unique concept in coloring books for adults. Create a keepsake journal while keeping your favorite recipes on hand.
You can get it in print on Amazon, as an instant digital download on Etsy, or as an instant digital download below!