Make these adorable toilet paper roll clothespin puppets using the free printable template – featuring loads of facial features and accessories that you or your crafty child can mix and match! I love creating fun paper toy templates that have an open-ended aspect to it, which is why I came up with this unique kids' (or adults'!) craft. Disclosure: this post contains commissioned links and images.

Not long ago, when I was challenged to come up with clothespin crafts, I discovered the art of making puppets out of clothespins. The clothespins are the perfect tool for opening and closing the mouth.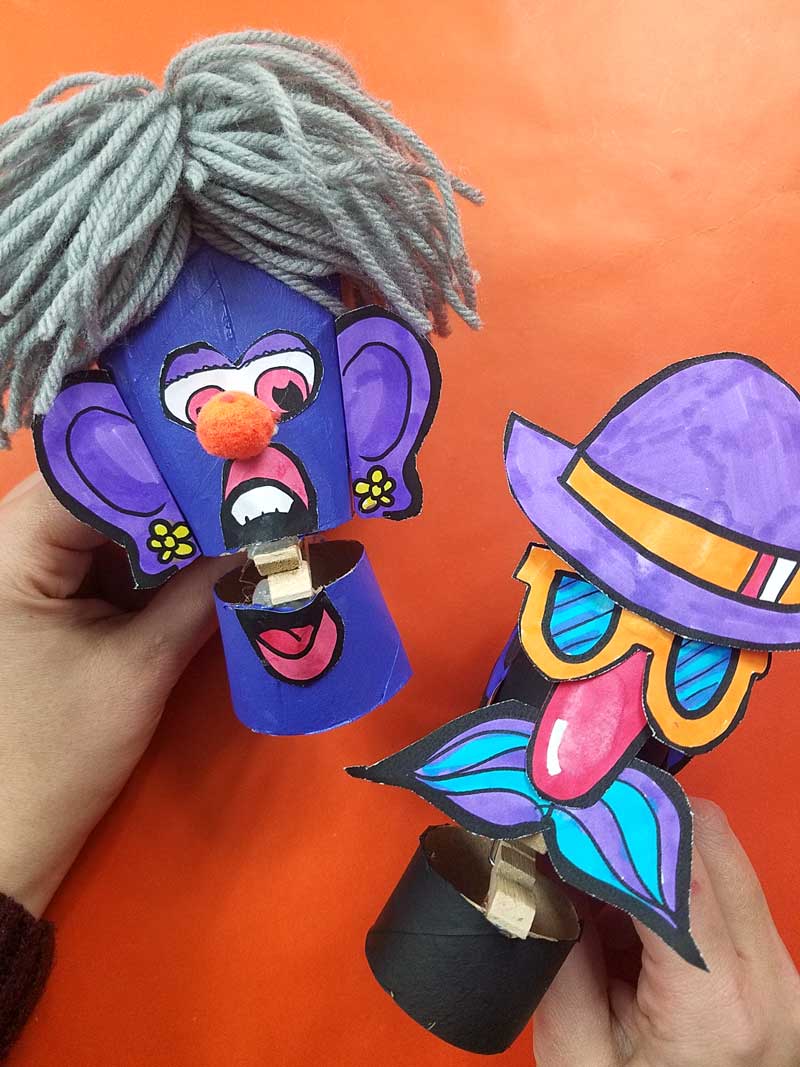 When my first set of clothespin puppets went viral, I was trying to come up with follow-ups but felt like my creativity was getting me nowhere! Giving it some time worked, and eventually I stumbled into this idea on Pinterest. The problem is, it didn't come with a link or instructions, so I figured I'd be inspired and create my own version of it.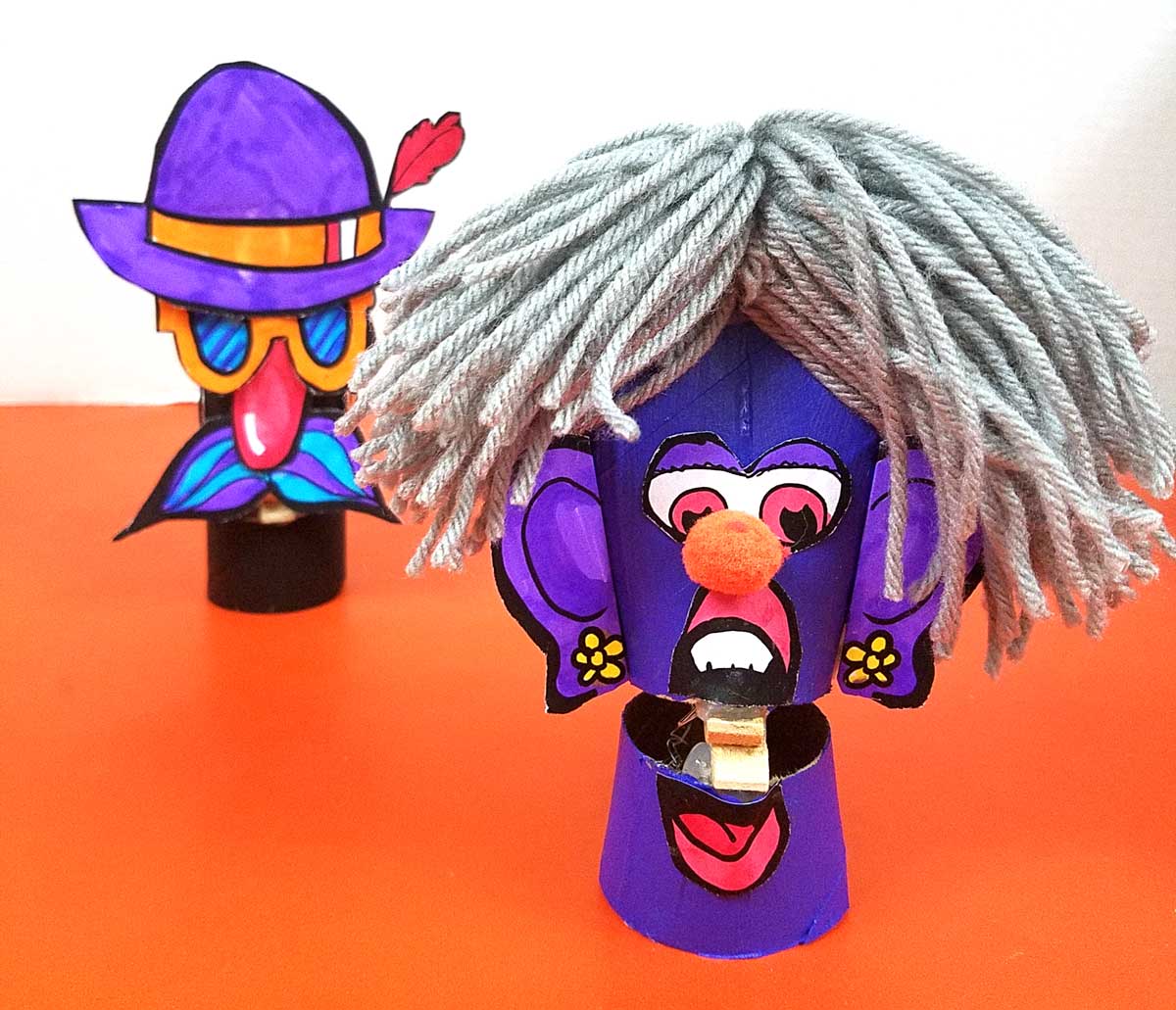 The cool thing about these toilet paper roll clothespin puppets is that you don't even need to use the template (although that makes it more fun!) You can stick to googly eyes and pom pom noses with yarn hair. The slit in the toilet paper roll automatically turns it into a mouth. But I like to give you extra resources to make this craft easier, and more doable with young kids (who may struggle with using the right kinds of glues that'll actually keep googly eyes stuck on…).
I actually mixed it up a bit. My "drama king" puppet I made using only parts of the template.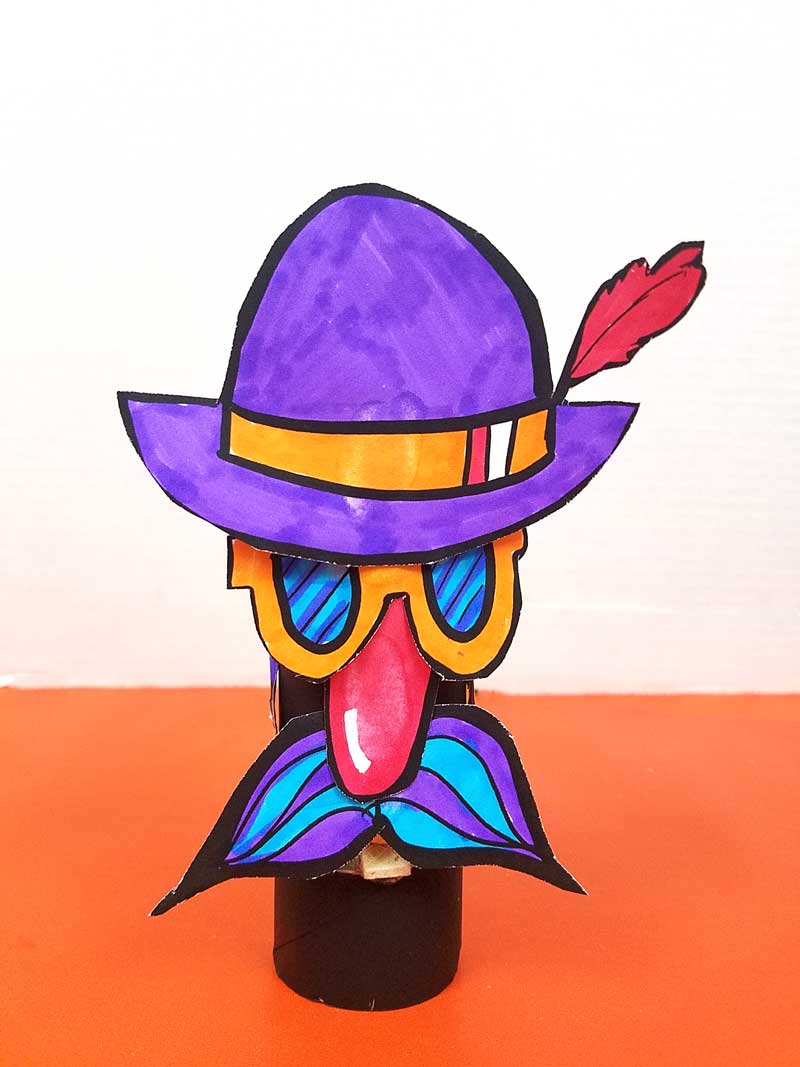 On my quirky lady puppet, I used parts of the template but added in a pom pom nose and yarn hair.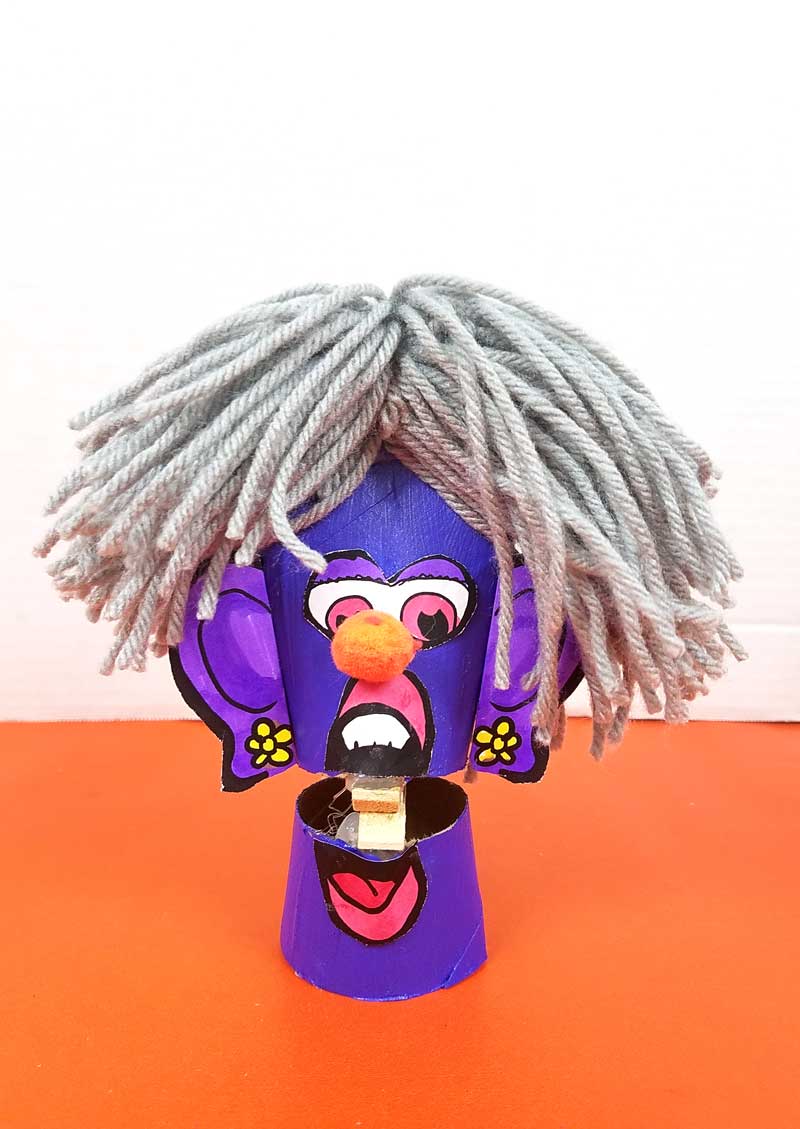 However you craft these toilet paper roll clothespin puppets, you can rest assured that it will come out good. The main thing is to keep the craft open-ended and to inspire creativity.
When you're done, these are an amazing fine motor toy, a cool way encourage self-expression, and a fun communication tool. I've had people tell me that they use puppet crafts for all of the above purposes, to teach about mood and feelings, to teach music, as a literacy tool, and so much more.
You can also try these toilet paper roll clothespin puppets in a turkey puppet version for a super fun Thanksgiving craft!
What you need to make these toilet paper roll clothespin puppets:
Paper tubes (or toilet paper rolls). If you don't like the idea of using used toilet paper rolls, here are some ideas: Buy them new, cut paper towel tubes in half, or squeeze and pinch to get them out of a clean roll of toilet paper.
Hot glue gun – adults only. Other types of glues might work, but I chose hot glue because it dries quickly. Since it's an awkward position, you may want this advantage
Any glue for the facial features
Markers (I used Stabilo Power markers)
Scissors
Paint. I used this beautiful craft paint that I received from Plaid as part of their Ambassador program. I also used this black paint.
Optional: accessories such as pom poms, yarn, googly eyes, etc.
The template. Enter your email address below to receive it straight to your inbox. You'll be subscribed for updates on more crafts like this, unsubscribe at any time.
[convertkit form=5166163]

How to make your own toilet paper roll clothespin puppets:
Watch the video tutorial below, or scroll down for step-by-step photos and instructions:
1. Cut your toilet paper roll about 1/3 of the way through. You can semi-smash it while doing this – it won't really ruin the shape.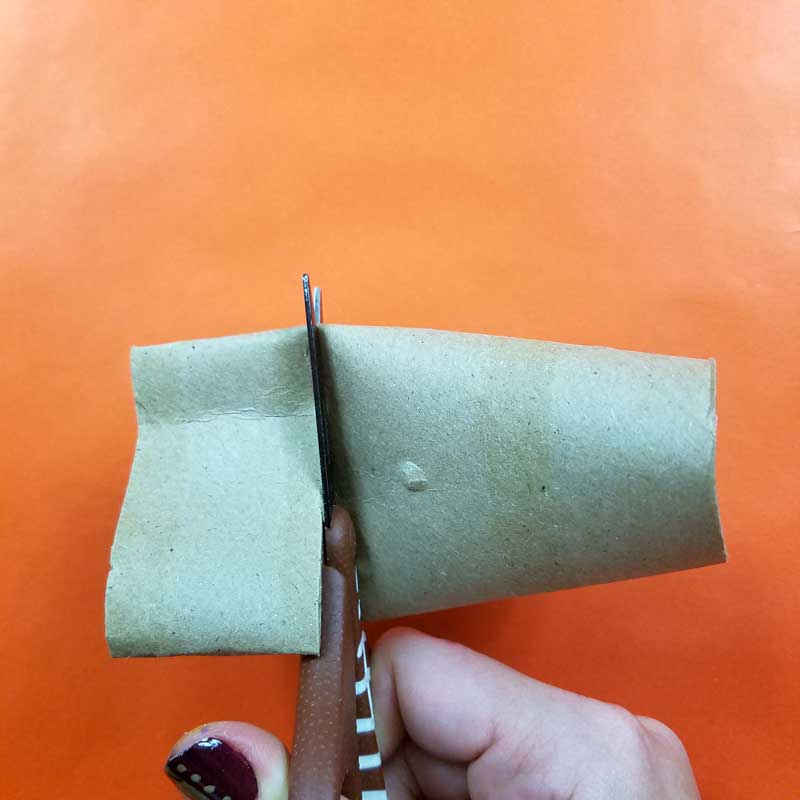 2. Adults only – hot glue your clothespin to the smaller half of your toilet paper roll as pictured.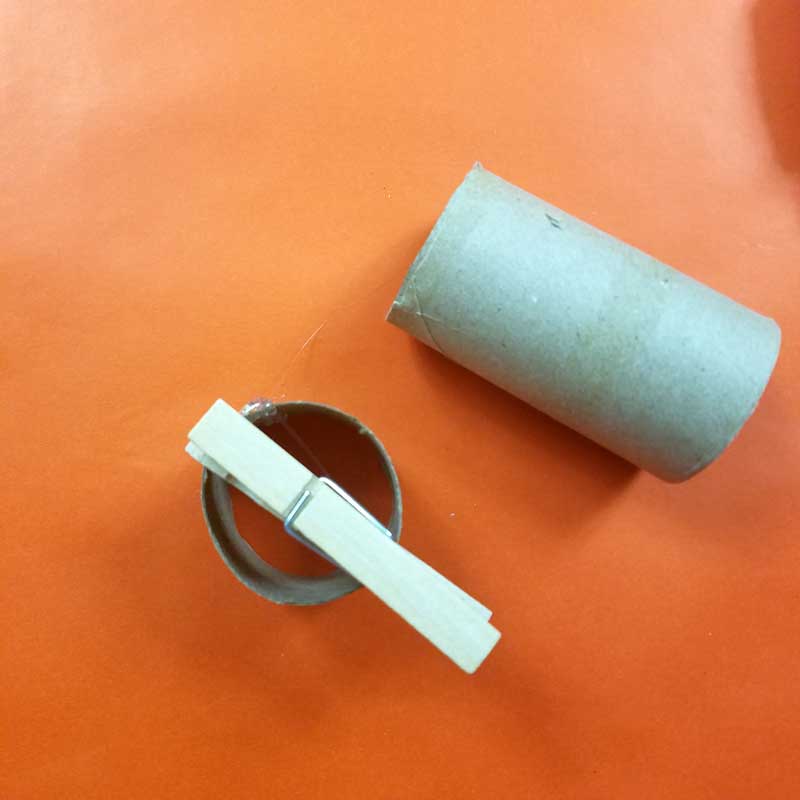 And then do the same with the larger half on the other side. If you're working with young kids, this would end the "adult prep" portion of the toilet paper roll craft and you can hand the "blank template" over to the kids.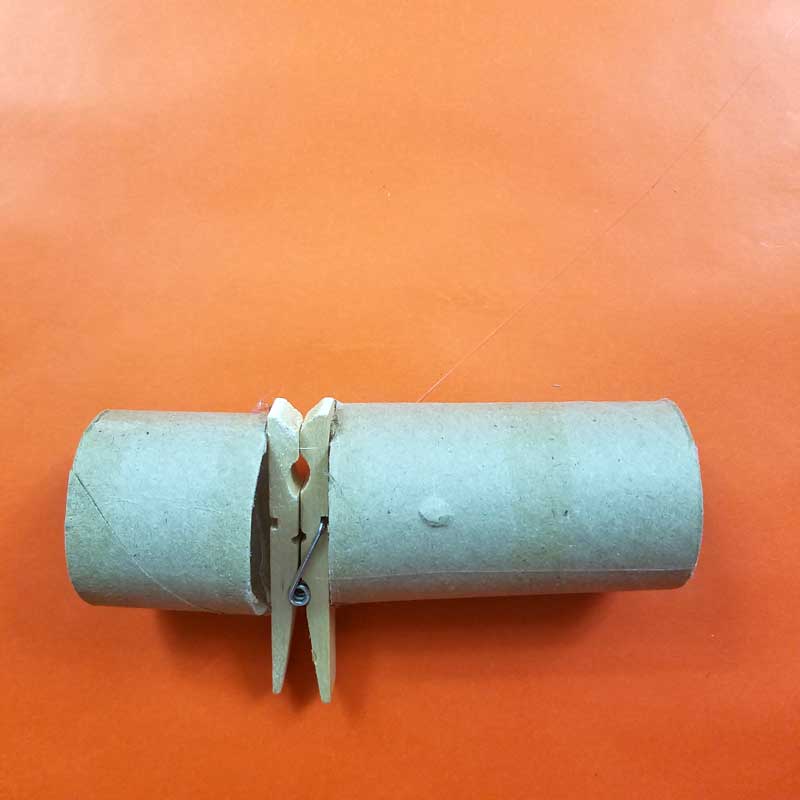 3. Paint your base a fun color. Set it aside to dry.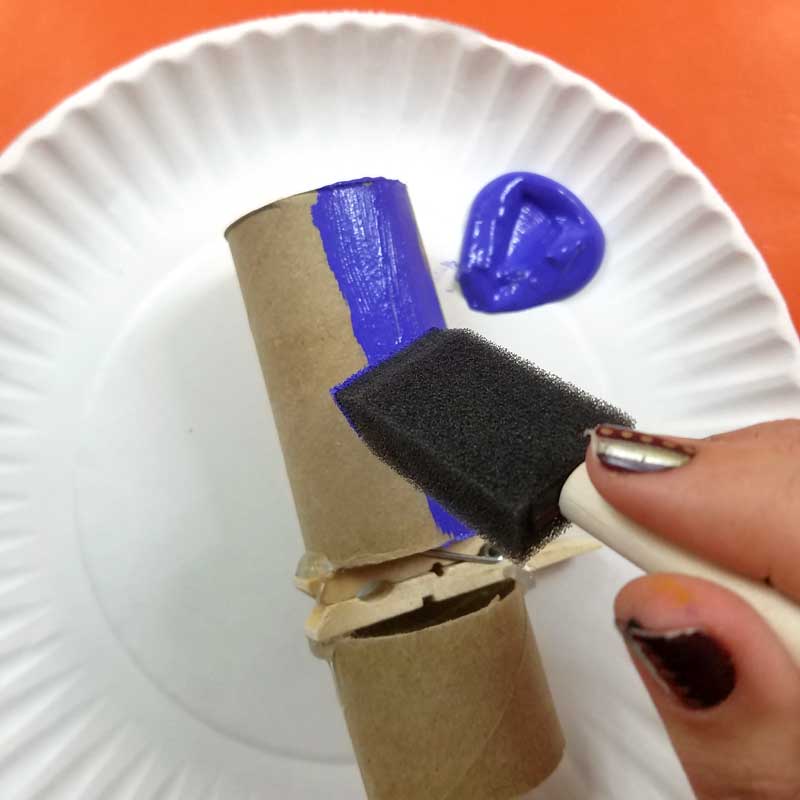 4. Color the parts of the template that you plan to use.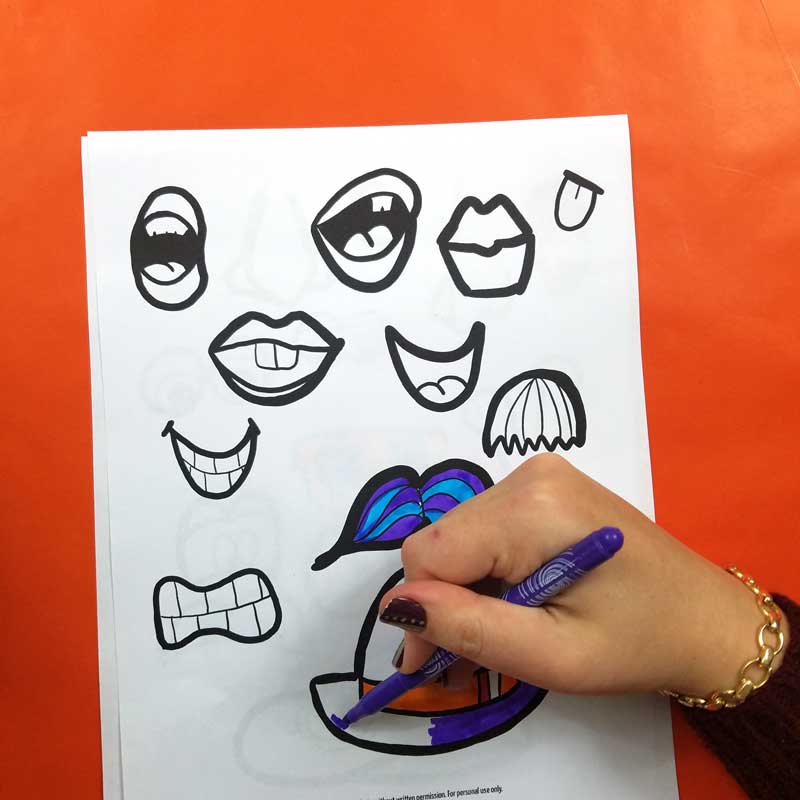 5. Cut them out.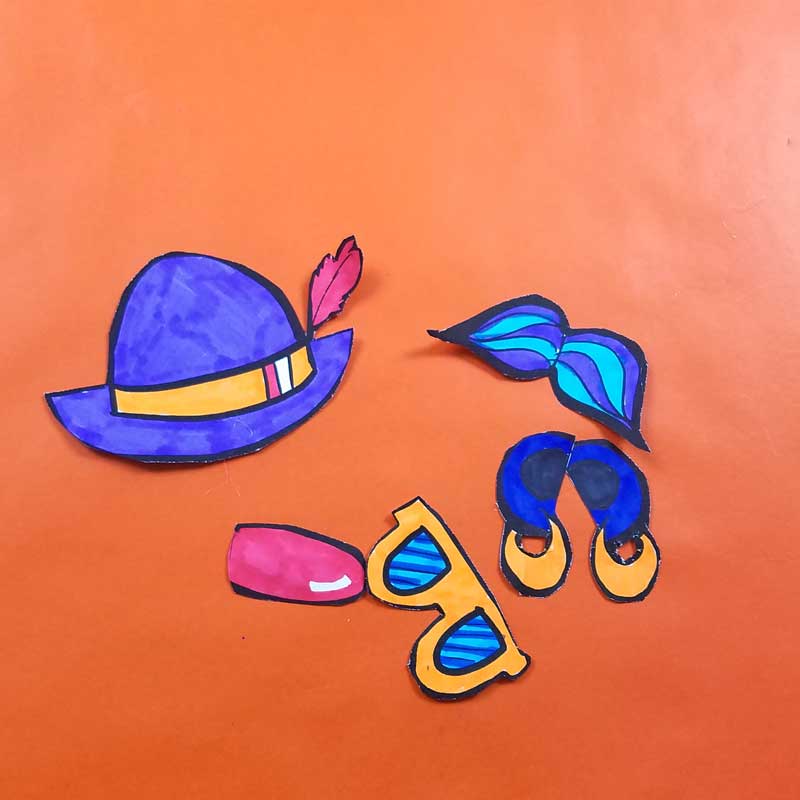 6. And glue them on (make sure to do it in order of how you want it to lay – nose over mustache, eyes over nose, etc.)
7. You can glue the ears on flat, or do what I did: bend a small flap of the ear back and add as trip of glue, using the folded part to attach it, so that it sticks out.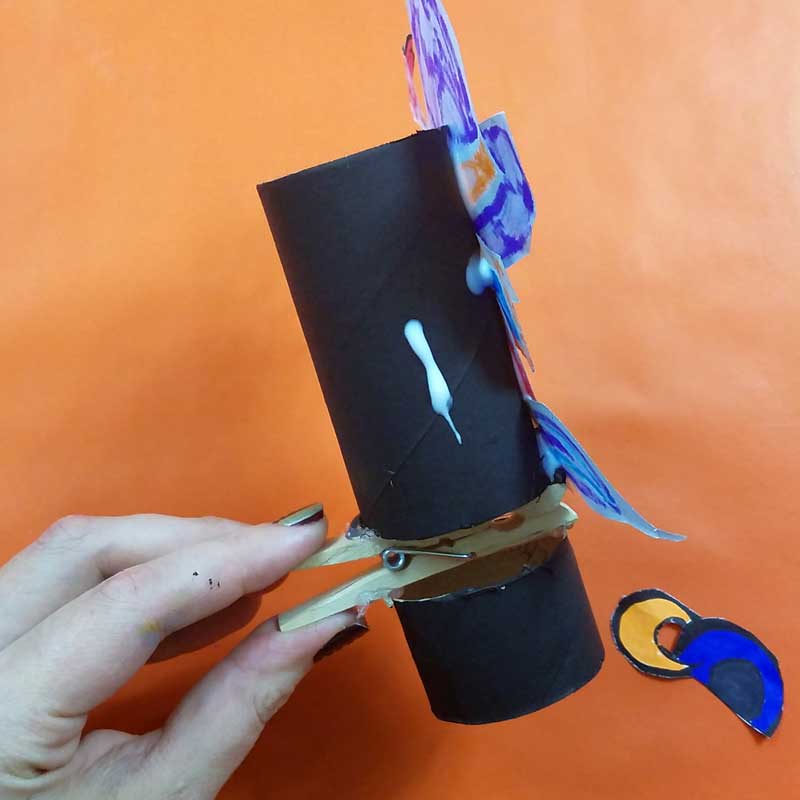 8. To make the yarn hair, you need to know how to make a flopped pom pom. . Wind yarn around your hand/four fingers until you like the thickness.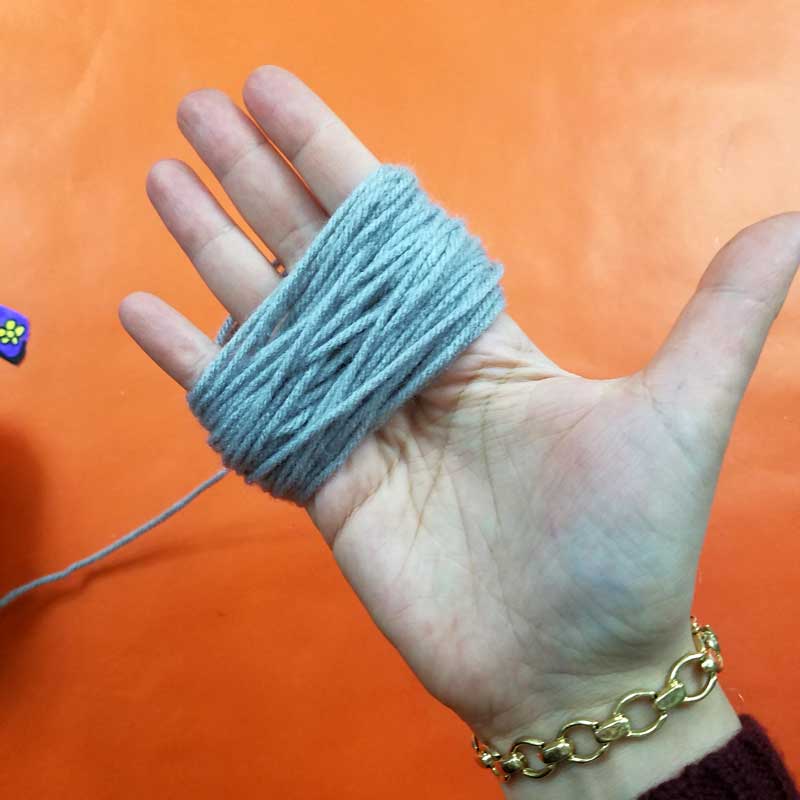 9. Place another strip of yarn on the inside, as pictured, perpendicular to the others.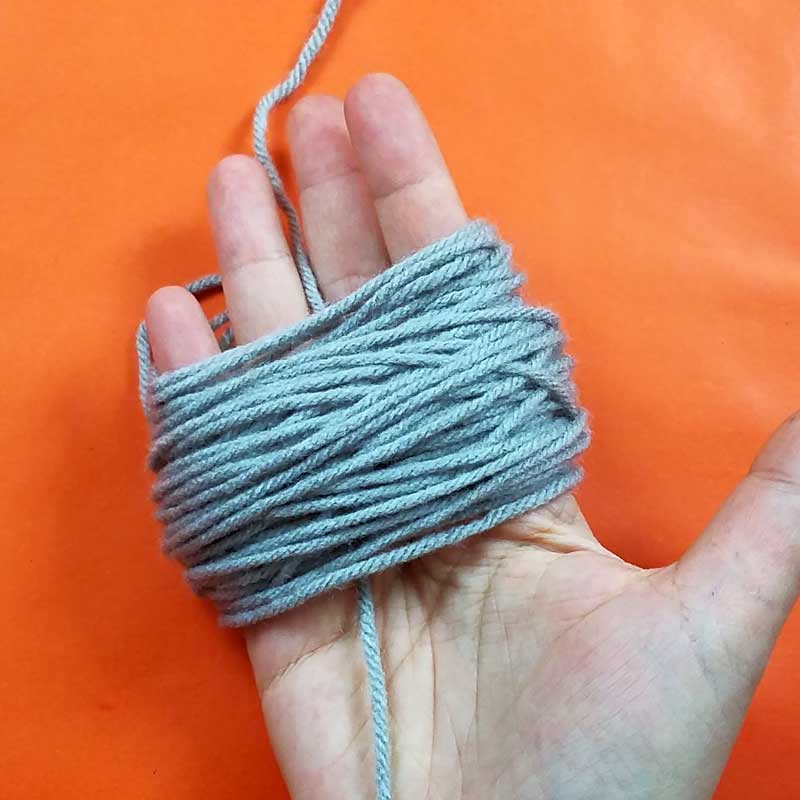 10. Slide it off your hand and tie your string tightly.
11. Flip it over and cut the loops open.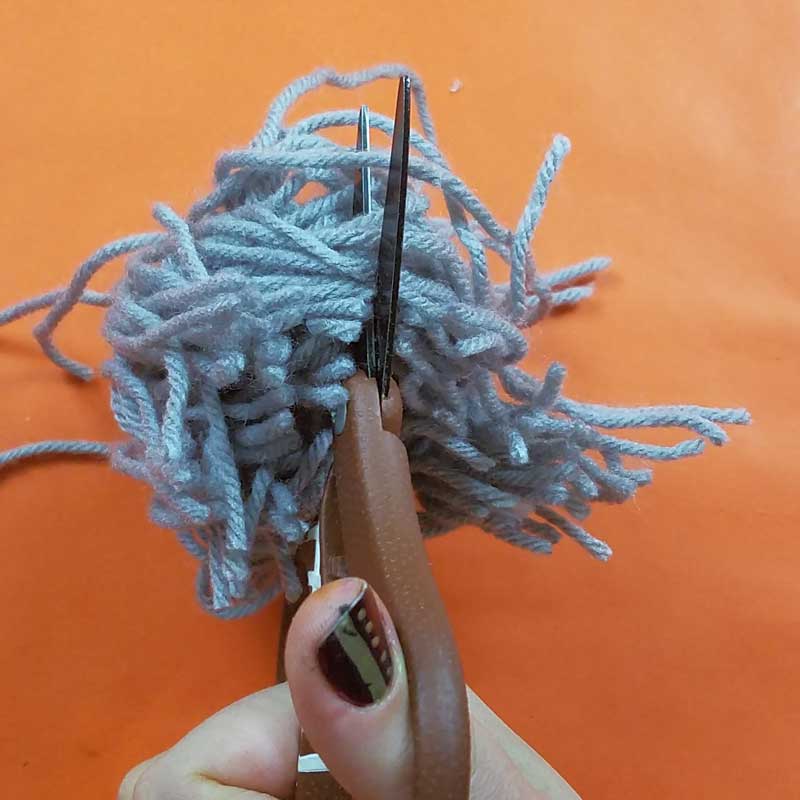 You should end up with this. Trim it if you want to, or leave it super messy like I did.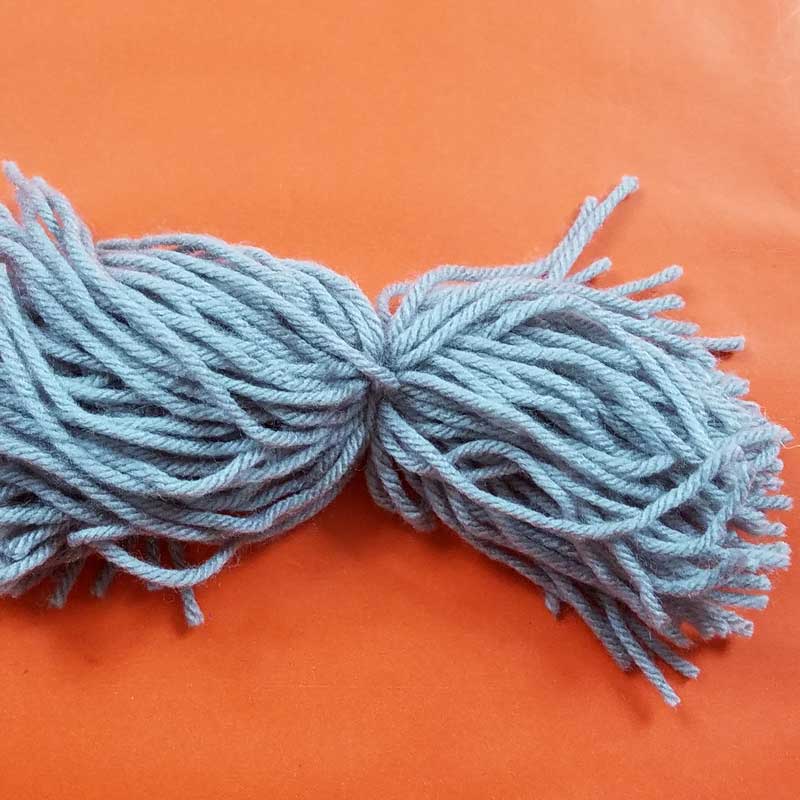 12. Before we attach the hair, I wanted to show you a few variations on this puppet. If you're using a mouth as one of your facial features, cut it in half, and place one half on top of the clothespin, and one on the bottom.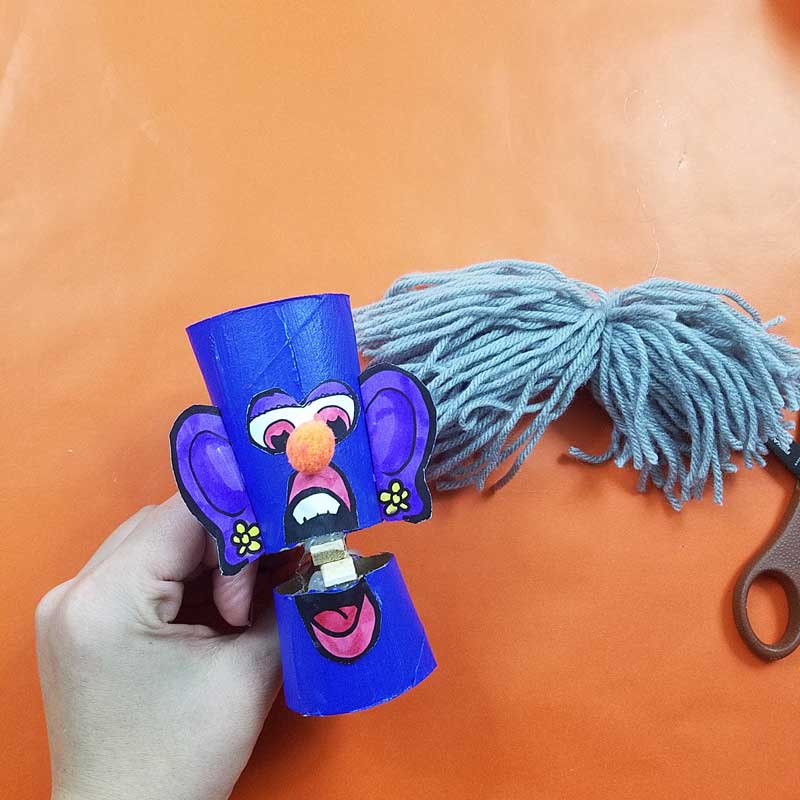 13. To attach hair, I first flattened the top so that it sits better. I hot glued (adults only) the top front to the top back.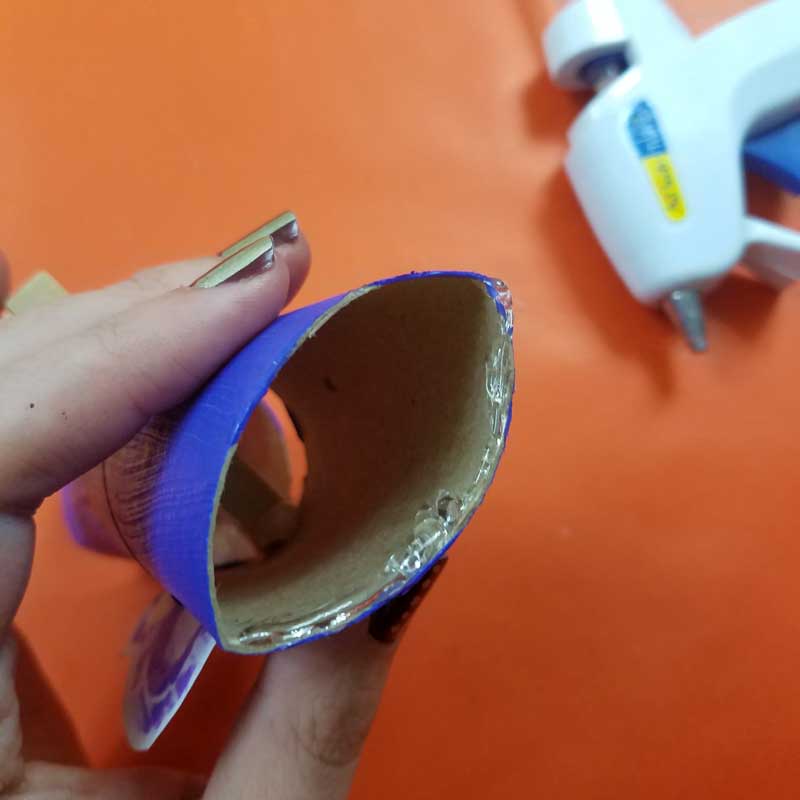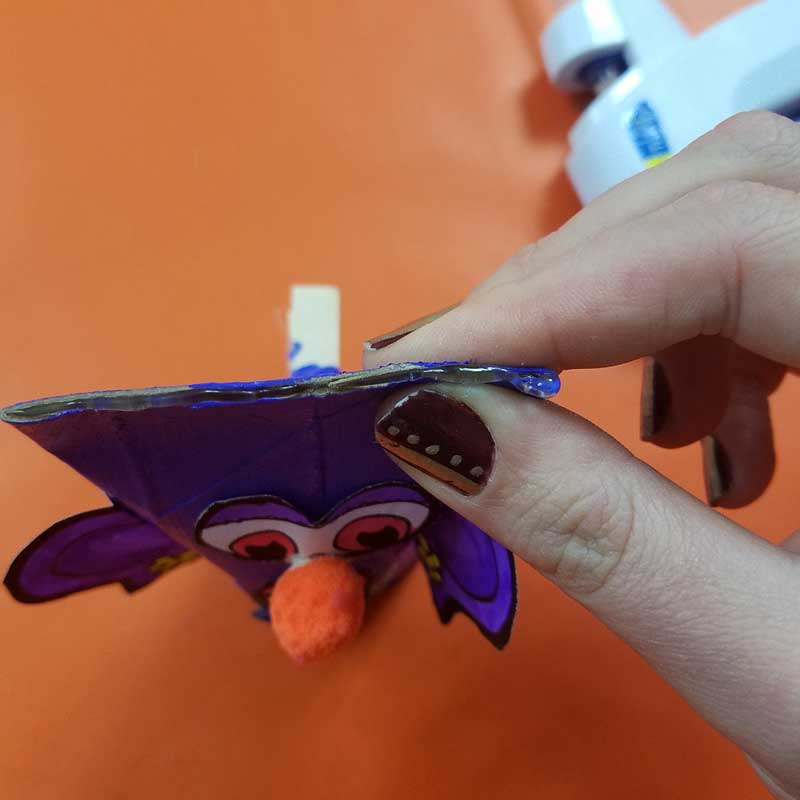 14. I hot glued it on (adults only), first placing a strip of glue in the front and then in the back, attaching the same hair on both sides (it's hard to explain with words but it works…)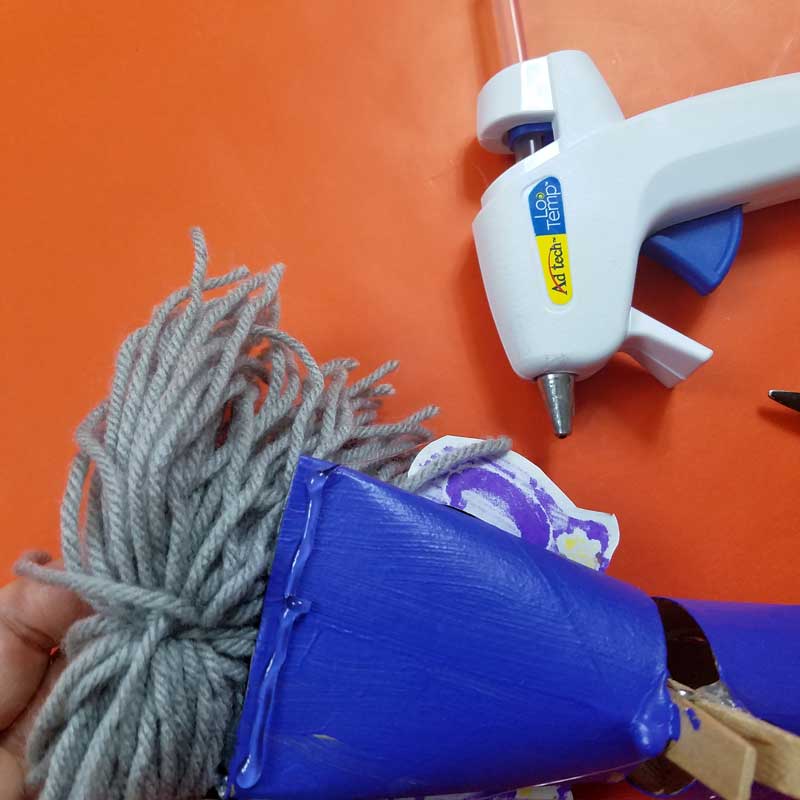 Now that you're done crafting your toilet paper roll clothespin puppets, it's time to put on a puppet show!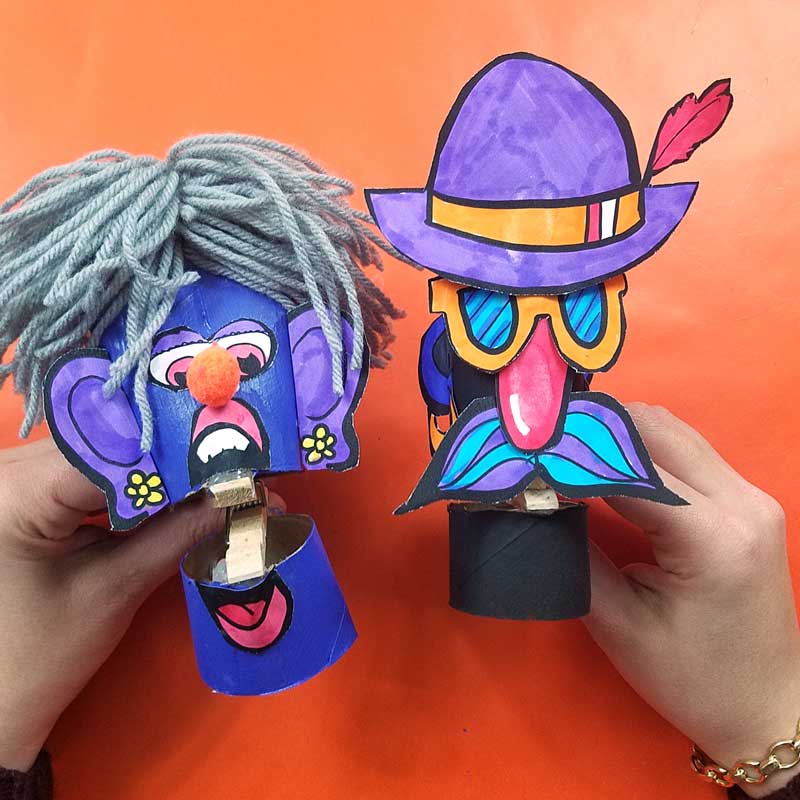 Make one or make a dozen – the main thing is to have fun with it!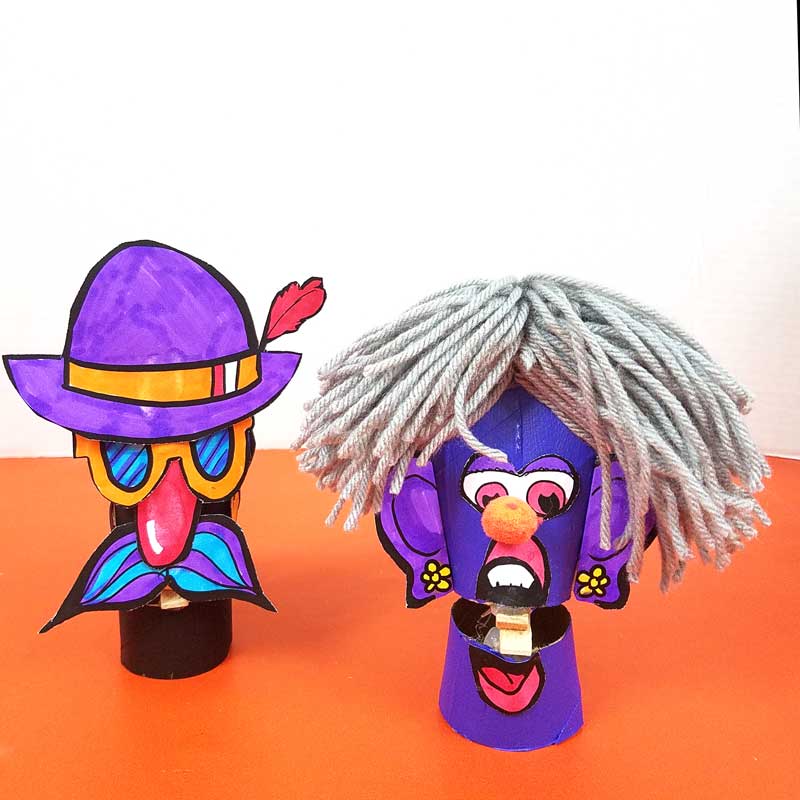 What or whom will you be using these toilet paper roll clothespin puppets for? Check out some more cool toilet paper roll crafts here and comment below!
Loved these cool DIY clothespin puppets? Check out the posts below – I'm sure you'll love them!
[pt_view id="746ea28ouy"]