Learn how to make tassel earrings that are fun, funky and colorful! I love finding new things to make with beads and wire, and these quirky, boho chic wire-wrapped DIY tassel earrings are the perfect place to start! Disclosure: this post contains commissioned links and images.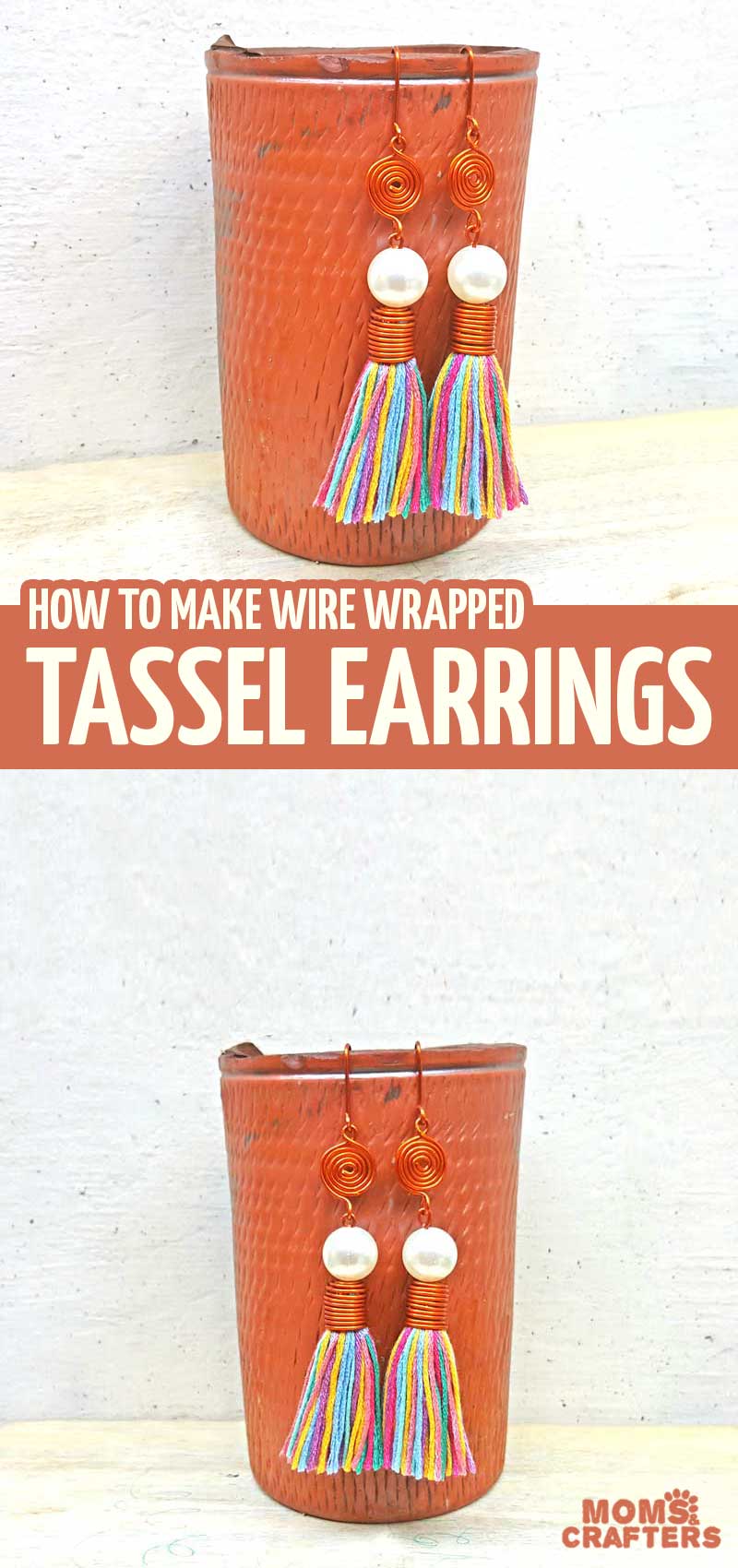 Tassel earrings are all over the place – and for good reason! They're just the right amount of quirky, with a good dose of "wearable" factor.
This pair features two jumbo pearls (glass ones, of course) which tone it down.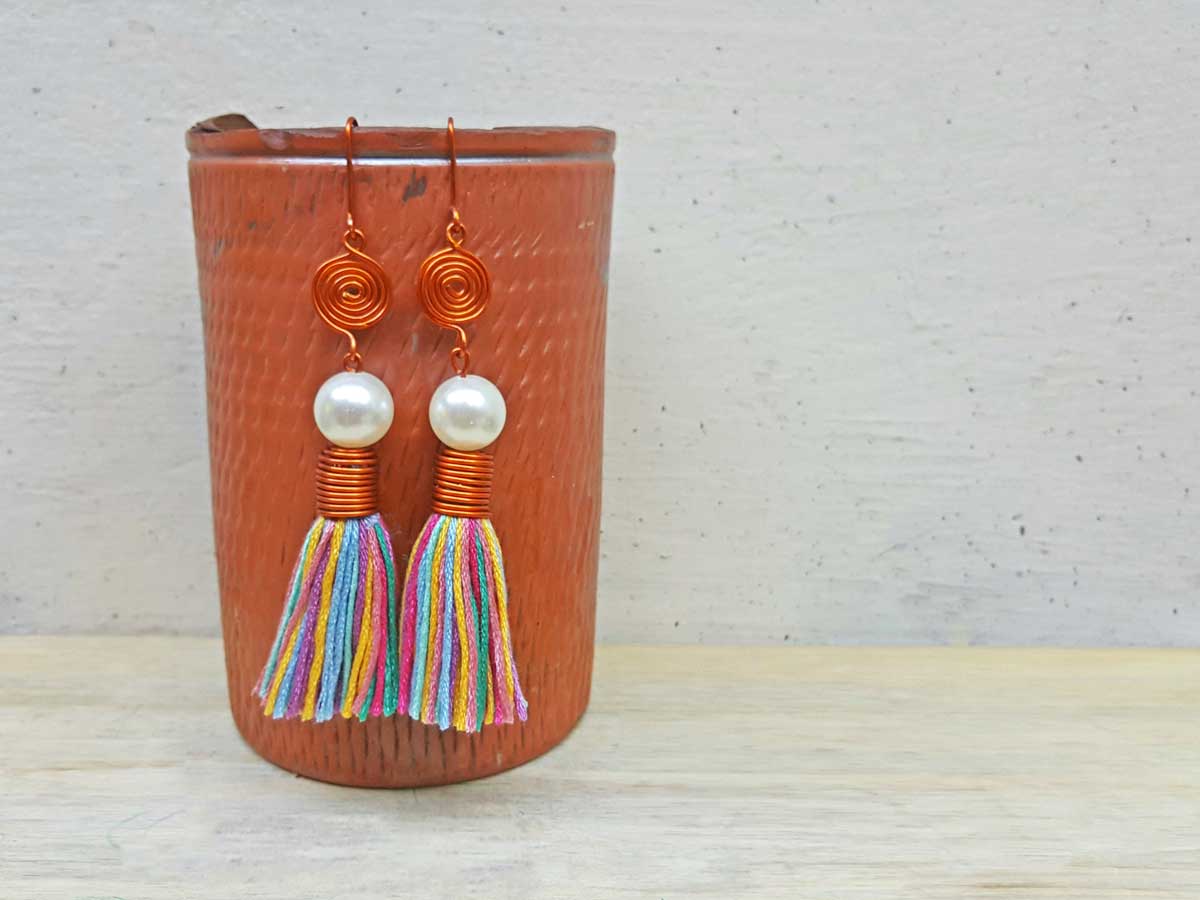 Adding in a generous amount of metallic elements keeps it even more classy. You'll still have that fun, boho touch without overdoing it.
If you want to keep it more bohemian, stick to the copper wire used in this tutorial.
To make it classier and more toned down, work with silver-colored wire.
If you want it more glitzy and "sparkly" use gold-toned wire.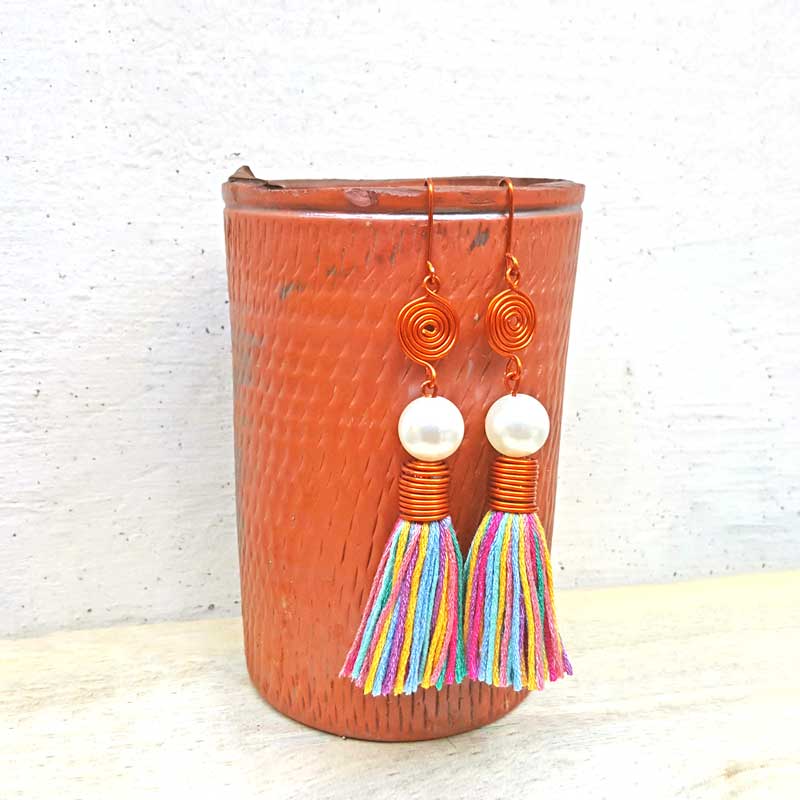 This tutorial on how to make tassel earrings uses multiple colors (about 6 – including multiple tones of the same color) but you can also tone it down by sticking to one color.
For example, if you love the tassel look, but need to keep it really subtle, stick to silver and black.
If you're looking for a simpler, more basic tutorial on how to make tassel earrings that's better for kids, I have one of those too! You can also check out my DIY beaded earrings tutorial here.

For another budget-friendly jewelry making project, check out this tutorial on paper quilling flower pendants.
What you need to make tassel earring:
Embroidery Floss – try a few colors or stick to one
Scissors
Pretty, large focal beads that will look great with your tassel -make sure the whole will fit 16 gauge wire
A round object such as a pen.
A cardboard scrap
How to make tassel earrings:
1. Select a few colors of embroidery floss for the tassel and figure out how long you want it to be. Cut a piece of cardboard to about 2 inches wide and your tassel length long. Hold your embroidery floss together with their ends aligned . Start to wrap the strands around the cardstock paper lengthwise. Keep the floss loose and even while wrapping. Trim when you're satisfied with the bulk of the tassel.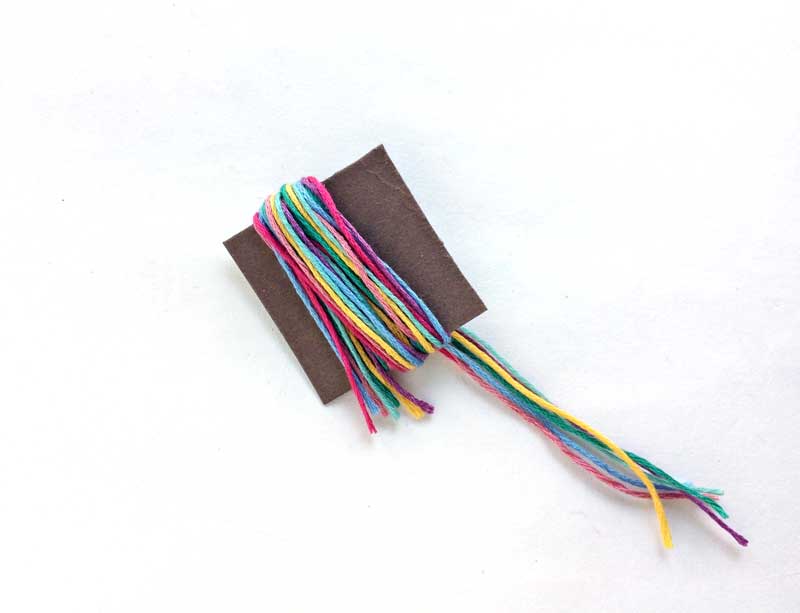 2. Carefully take the wrapped strands off the cardstock and secure the loop by tightly coiling a small piece (5 cm) of jewelry wire around it. Leave about 2 cm of the wire intact from either end after coiling the loop.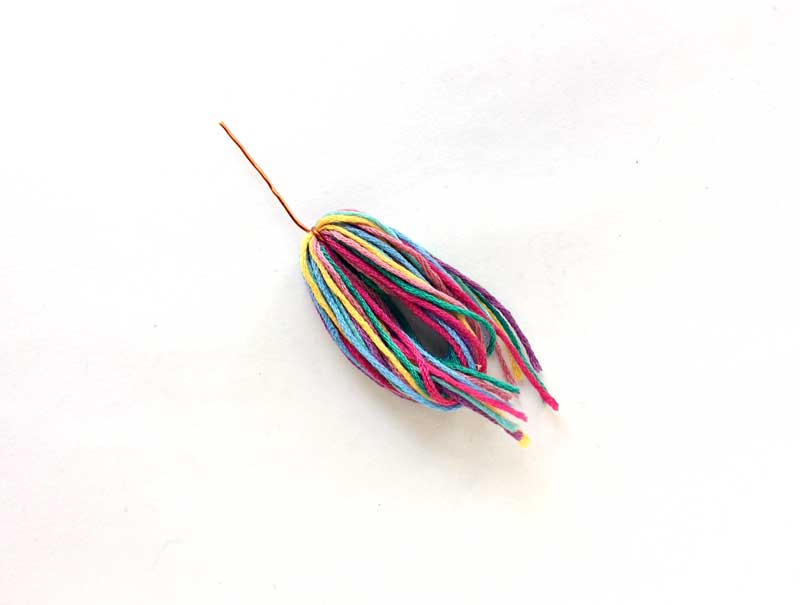 3. Take small piece floss and tightly wrap it around the floss loop right below the coiled wire. Tie a knot once you're done wrapping the floss. Cut the bottom loops of thread to create the tassel's fringe.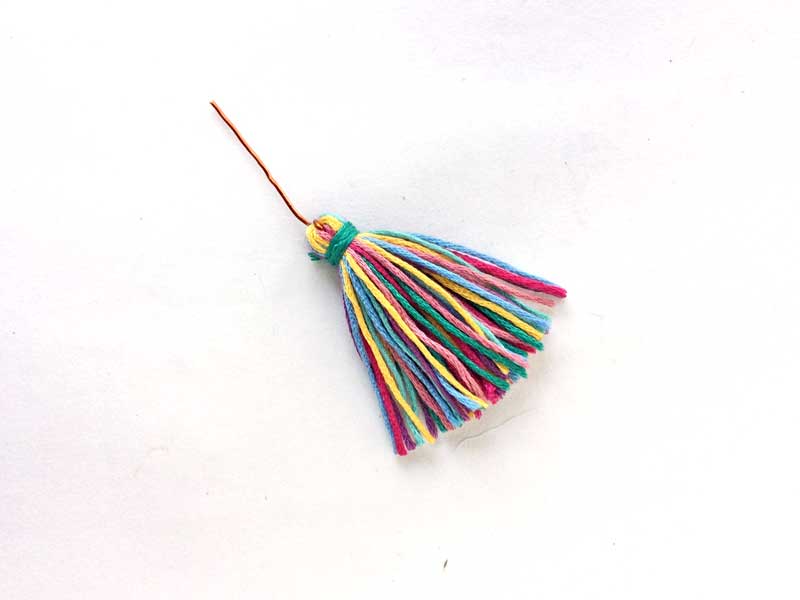 4. Take a small round object such as a pen and coil the wire around it, keeping the coil neat and even. You can stop coiling when it reaches your preferred length. Leave about 3 inches extra and trim your wire.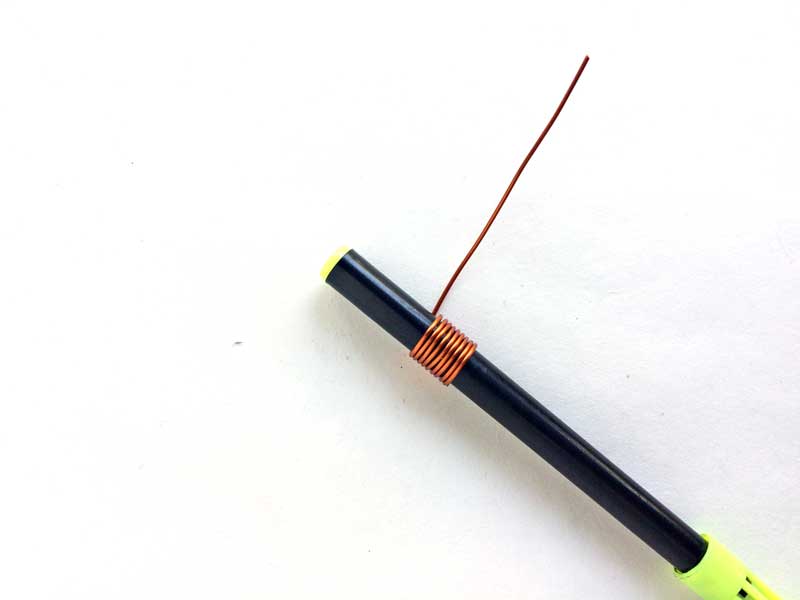 5. Create a small loop at the open end of wire cut from the spool and wind the rest of the wire around the loop to create the swirl that goes on top of the coil that you made in step 4. Turn it so that it covers the coil, creating a bead cap.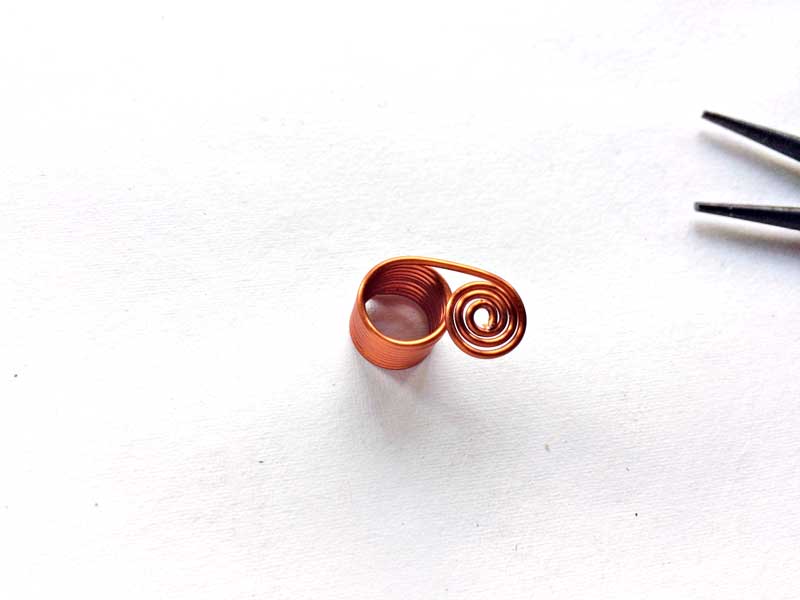 6. Make another swirl using a new piece of wire.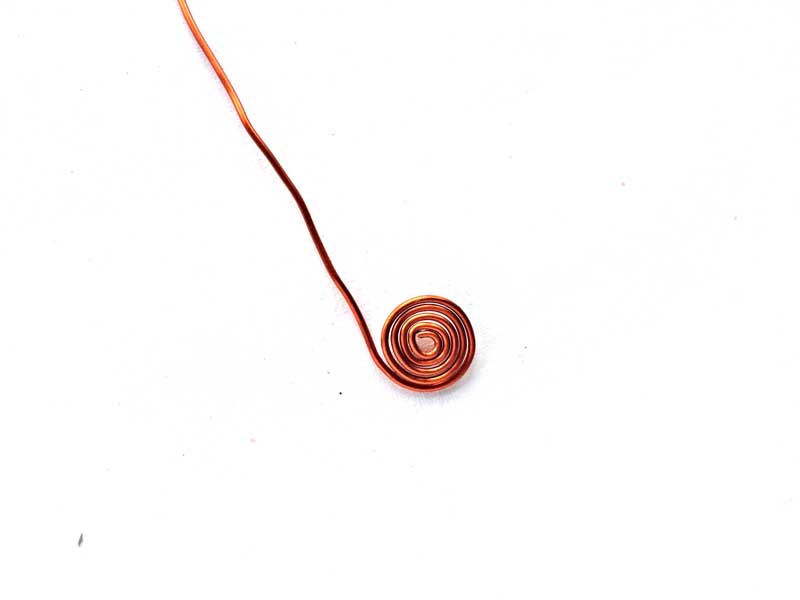 7.When you're satisfied with the size, create a loop adjacent to the pattern and bring the wire to the opposite side of the swirl. Keep enough wire at this point to create another small loop and then trim your wire from the spool.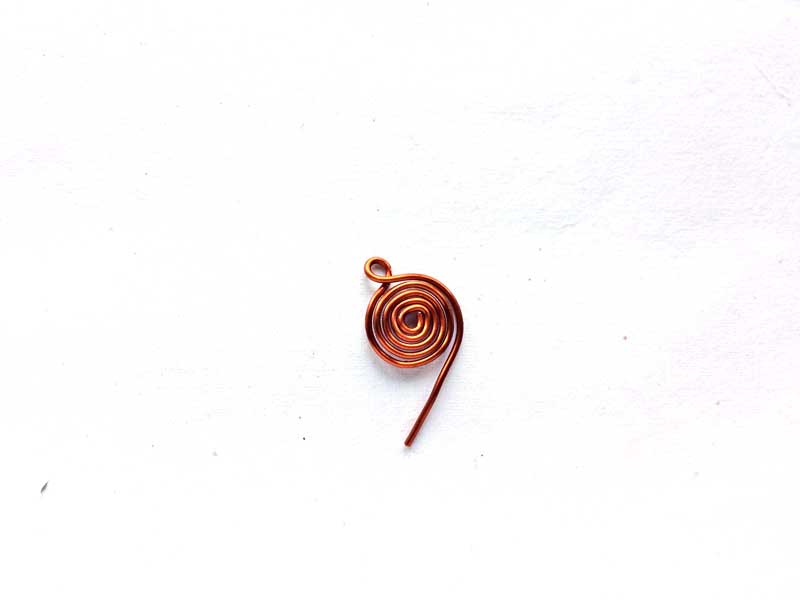 8. Create a small loop with the remaining wire at the open end. The swirl link is ready.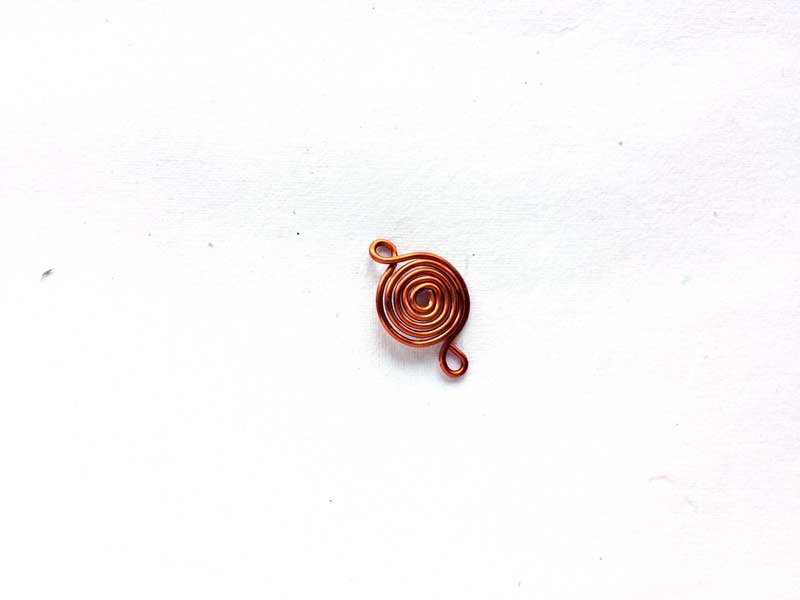 9. Take the tassel created in step 3 and insert the cap (created in step 6) and then a bead through the open end of the wire attached to the tassel.
10. Now attach the charm and an earwire to complete the earring. Repeat this whole process to create your second tassel earring.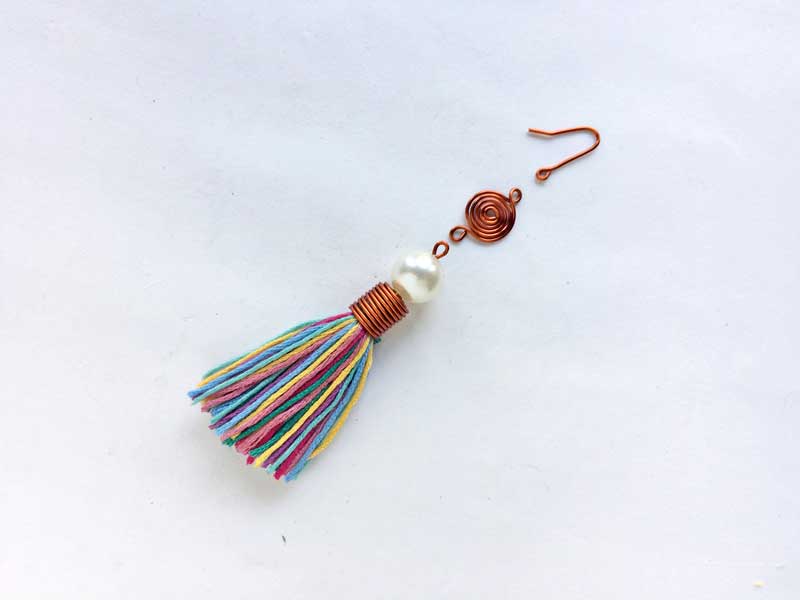 I hope that this tutorial has successfully taught you how to make tassel earrings that are cool and classy. Comment below: what's your favorite fashion jewelry to craft?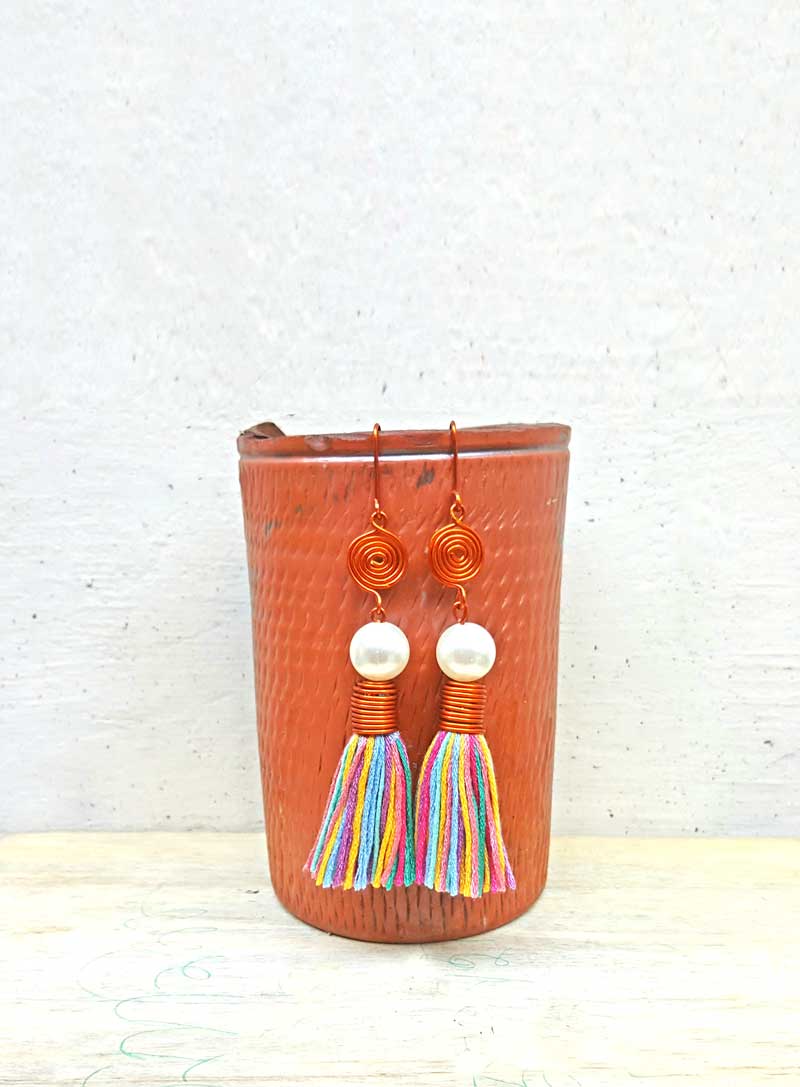 Looking for more great jewelry making ideas? Try these: