Enjoy these 20 Valentines crafts for toddlers to celebrate Valentine's Day this winter! This post contains affiliate links.
---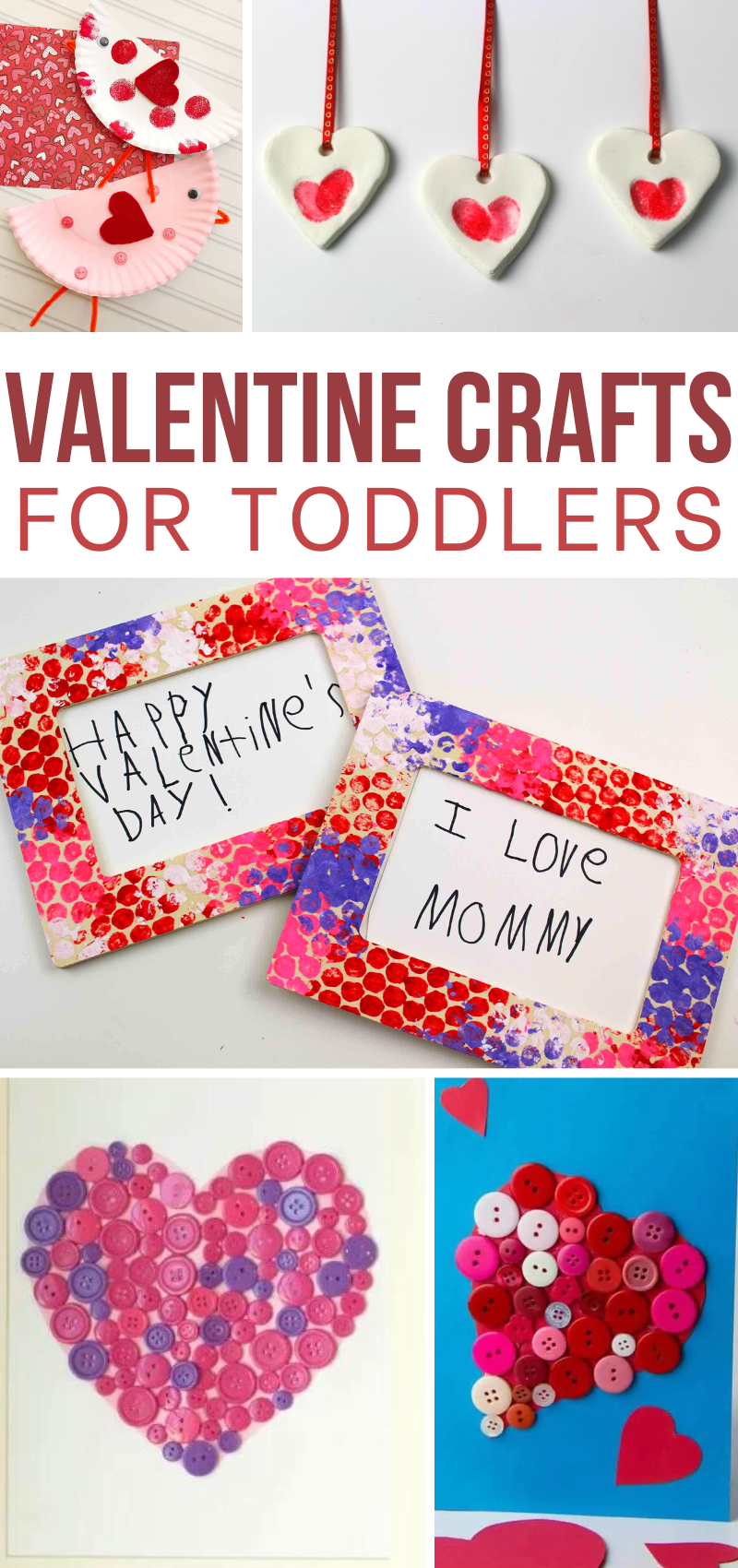 Are you looking for the perfect Valentine's Day crafts for toddlers? Valentine's Day will be here before you know it! If you're looking for a great crafting idea to countdown to Valentine's Day or prepare for the upcoming festive season of love, you can't go wrong with these crafting ideas.
With toddlers, you'll always want to supervise closely, as they often still mouthe things. Craft supplies are almost always choking hazards and so you'll want to exercise caution and craft alongside your child.
There are so many great ideas on this list that are all perfect for your little ones. Even your older kids might enjoy some of the crafts on this list. Whether you're looking for a fun homeschool project or a cool activity to do with your kids, here are the best Valentine's crafts for toddlers.
Valentine's Day Cards
There's nothing quite as sweet as your toddler handing you a card that they made with that pride beaming on their face.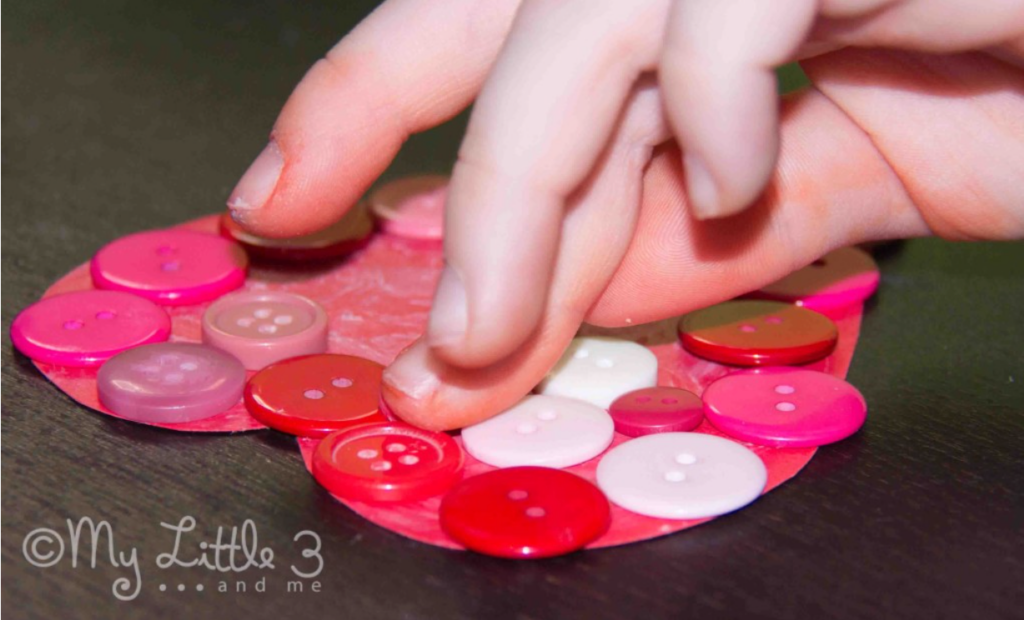 Toddlers love to glue things onto a surface, so why not have them glue buttons for a textured heart card? Just make sure to supervise this – and all cards closely!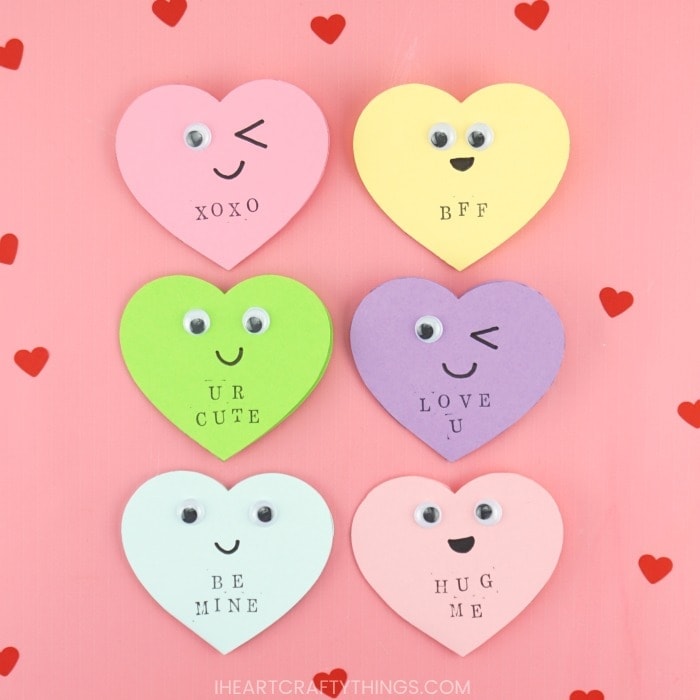 Craft these adorable, sweet little heart shaped cards! Older toddlers may not be able to draw yet, but if they recognize some letters, they can copy using stamps! Some tots may need to stick to upper case letters only, and some might just stamp random letters, but it's a step in the right direction!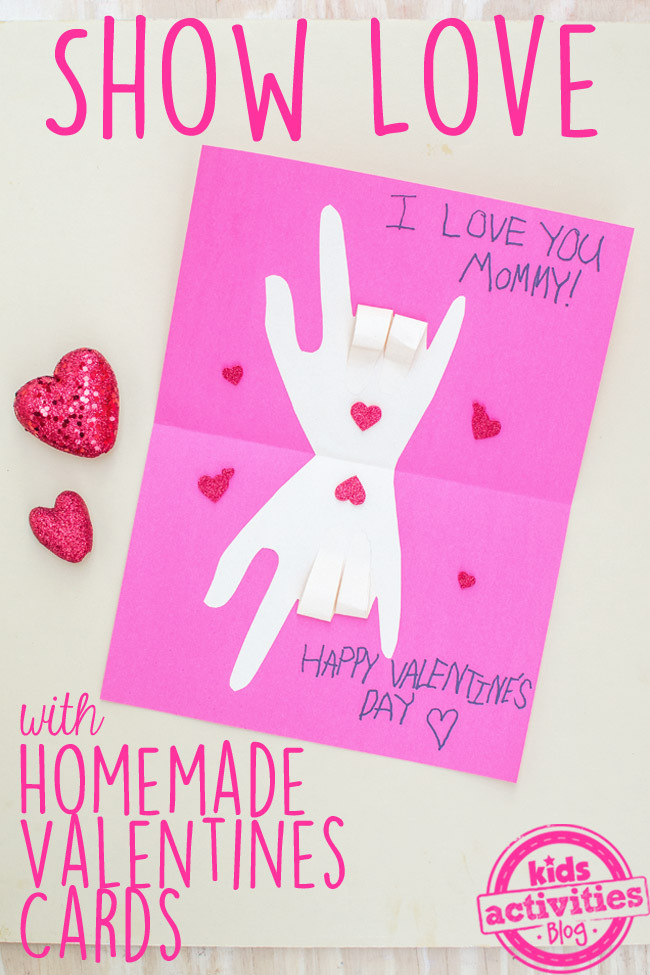 Especially if you've taught your kids to sign as babies, you'll love this card. It teaches kids to sign "I love you" – something even toddlers can learn – in a cute little card.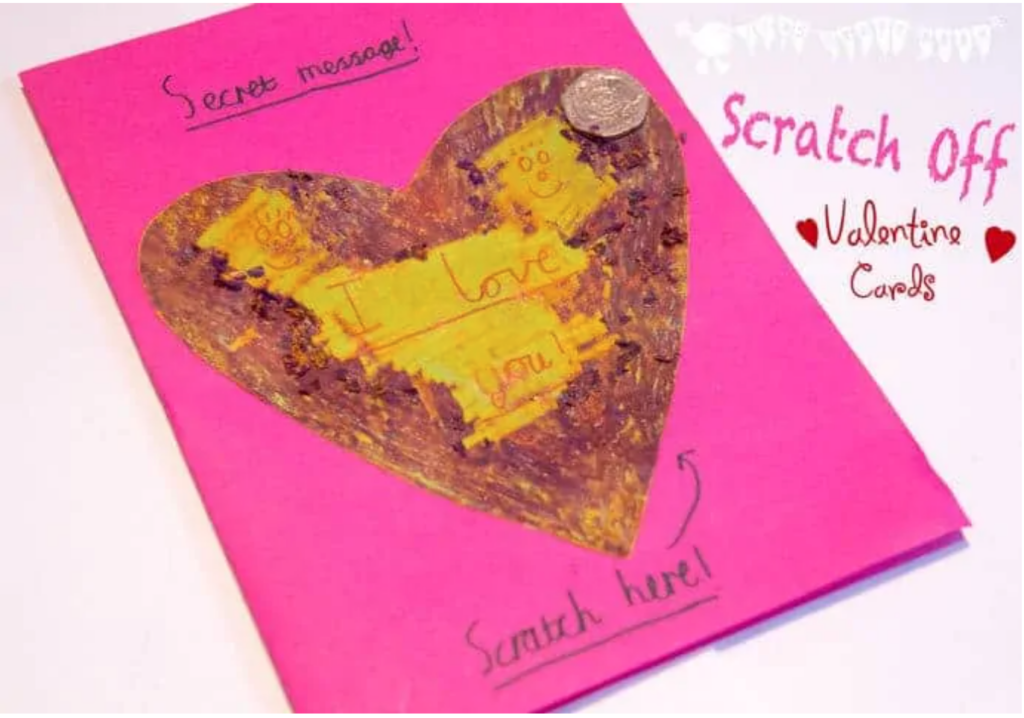 While they may not be able to write the message themselves, they can scribble a picture or tell a message. Then, they can hide it and the recipient can reveal it! So sweet! The toddlers will have fun going all-in on those crayons.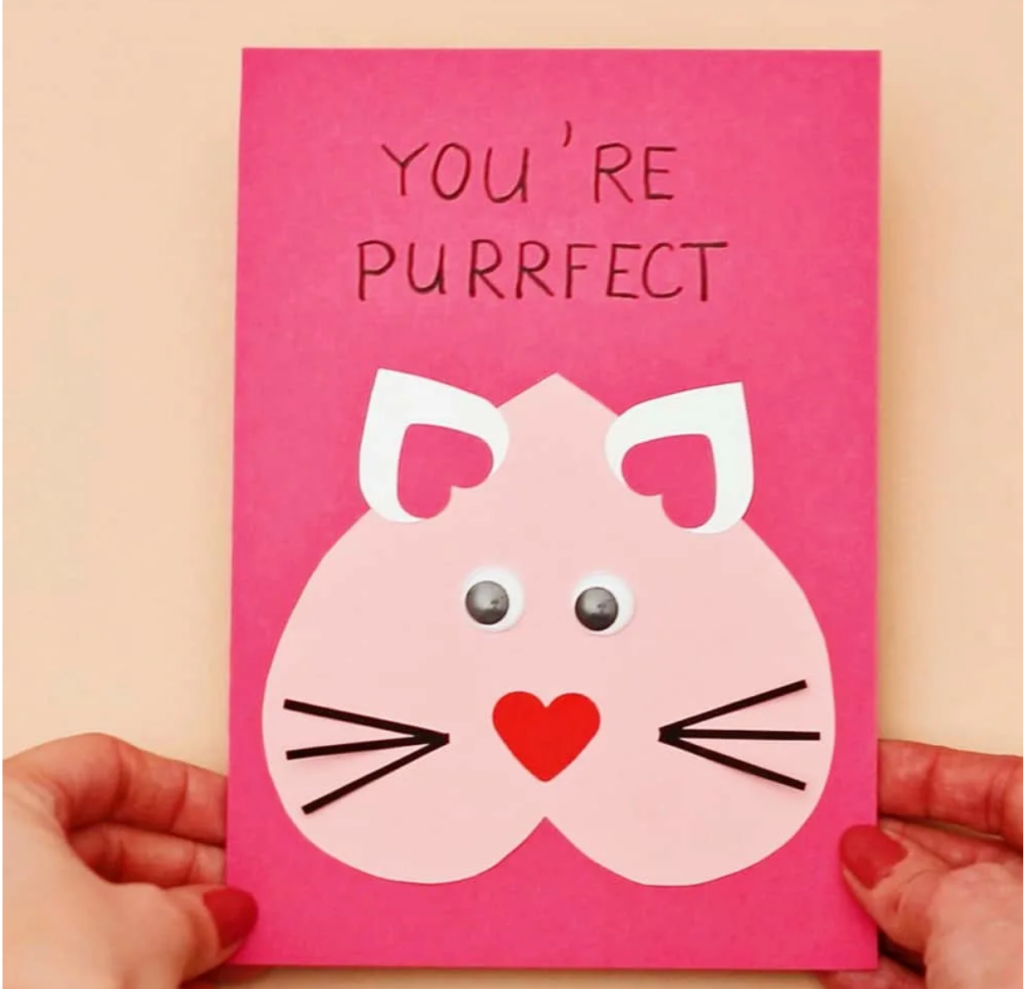 Simple heart shapes come together to make a cute little cat heart card, a cute idea for Valentines crafts for toddlers!
Valentine's Paper Crafts
Paper is the easiest craft supply to keep well-stocked, making it a fun starting point for Valentines crafts for toddlers! Try one or all of these ideas.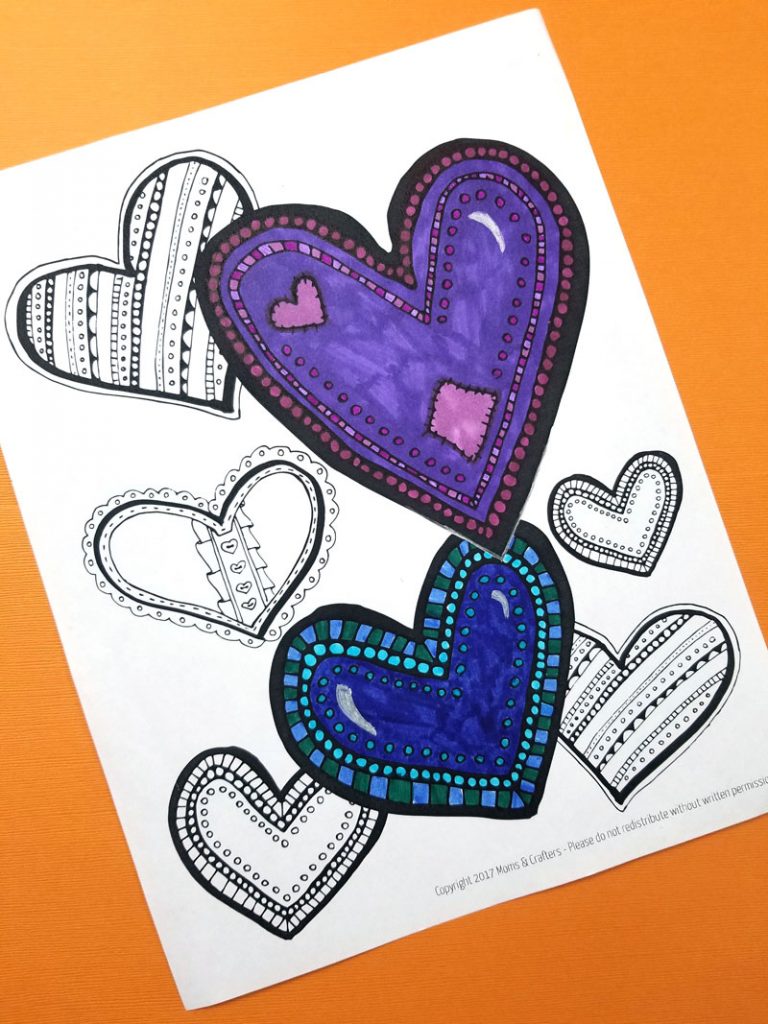 While this was designed as an adult-friendly coloring page, it's also got simple and easily recognizable shapes, making it fabulous for toddlers too!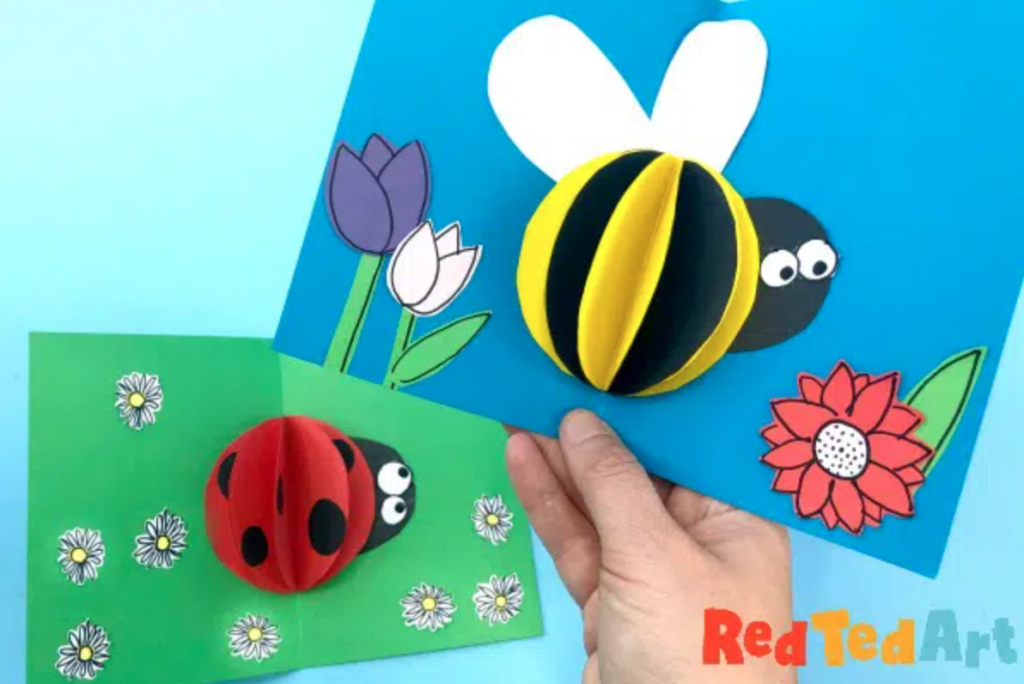 Your tot will love this friendly little bee, and while they may or may not glue the stripes correctly, it'll be so sweet when they proudly show off their work.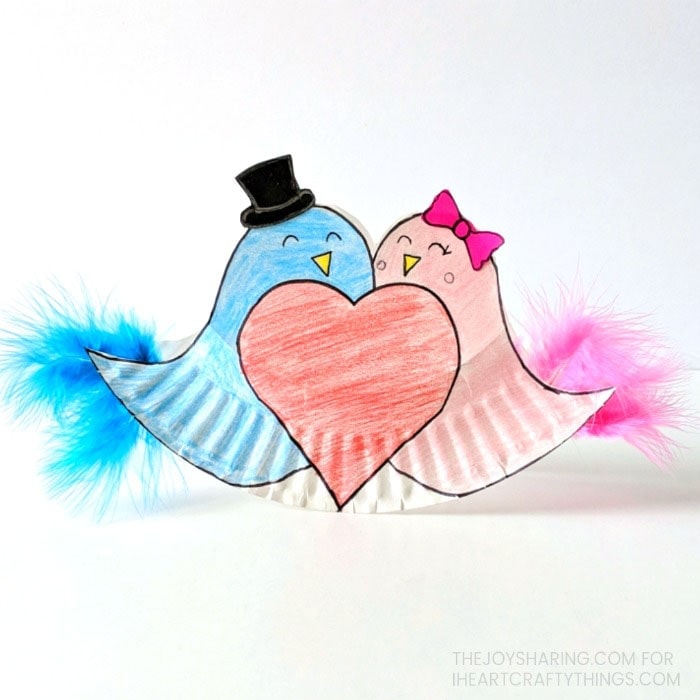 When a craft includes a coloring element, I know it's the perfect choice for toddlers. This rocking paper plate craft features two love birds. It'll really delight your tot to see it rock.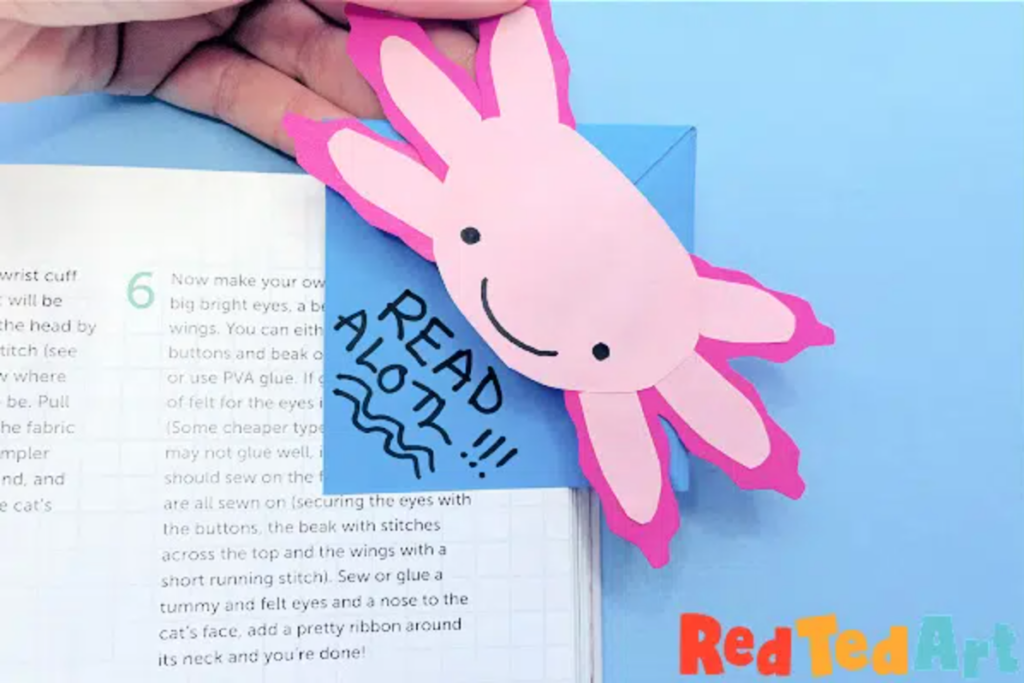 We love corner bookmarks, and this one features simple enough shapes for your toddler to glue together. One of the suggestions for what to write on it is "I love you axolotl" making it an adorable little valentine for your toddler to gift.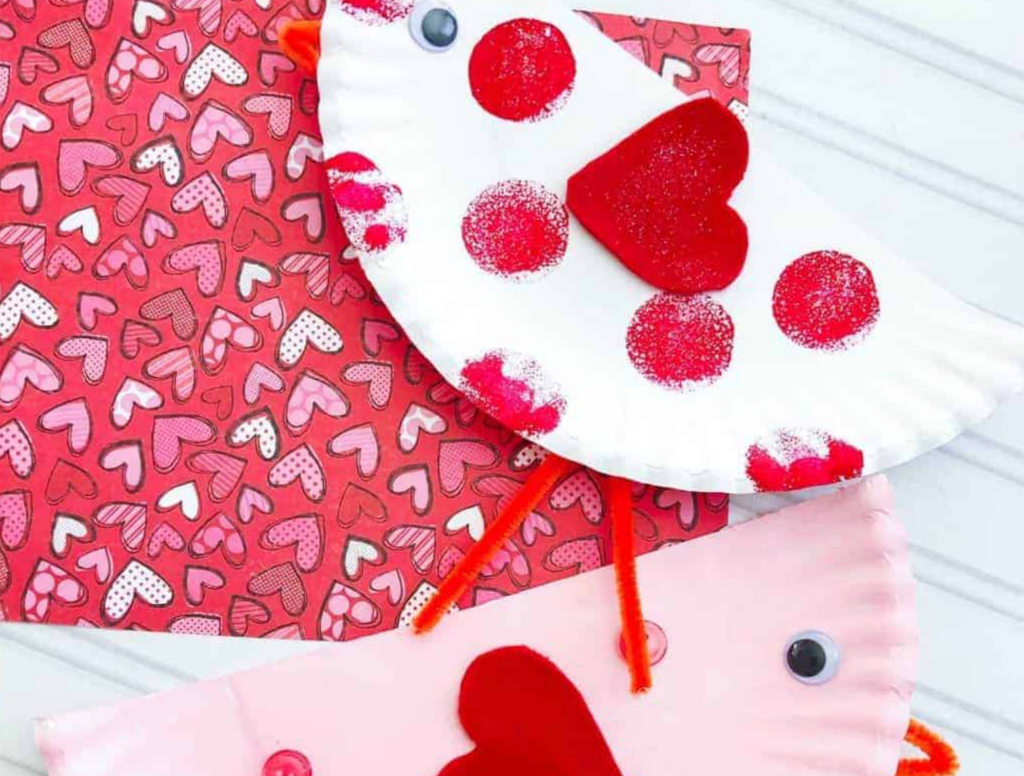 Make an adorable little love bird using this simple paper plate craft! The decorating process can be really open ended, the perfect Valentines crafts for toddlers.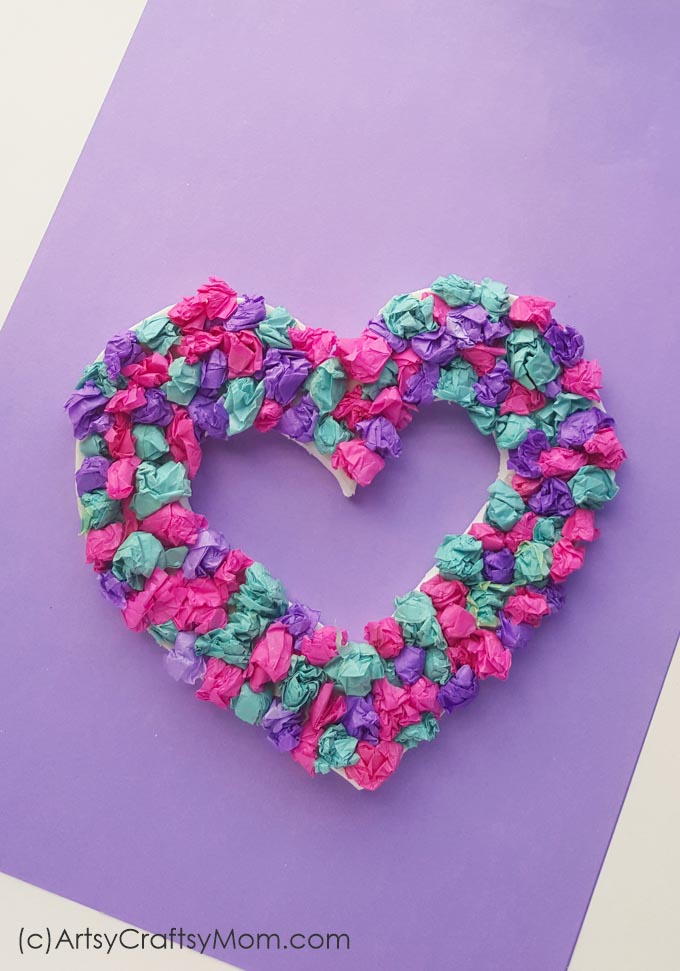 The other day, we went to the doctor, and A's stickers ended up crumpled in a little ball when she asked me to "hold it" for her. Toddlers love to crumple things, and so this tissue paper heart wreath is a fabulous craft for them! They don't need to go with such a specific color scheme – anything works!
More Valentines Crafts for Toddlers
Want something a little different and more unique? Try these cute ideas for Valentines crafts for toddlers.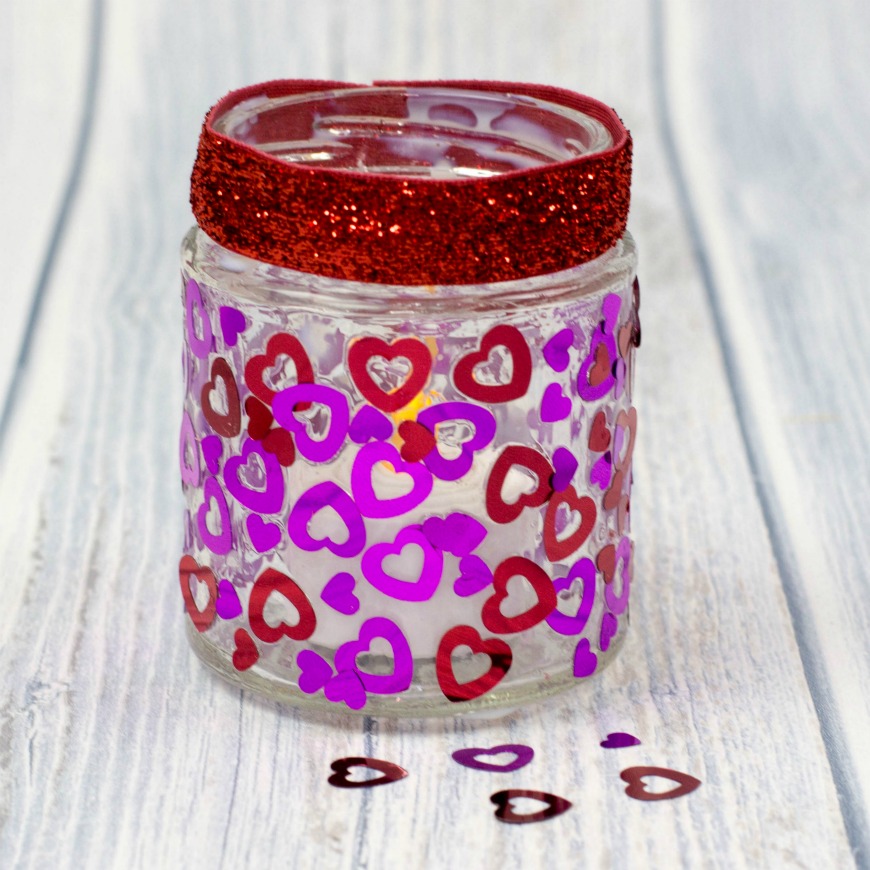 Light up the house with these sweet little luminaries that are quite simple for toddlers to make. They won't get that even pattern, but they'll have so much fun with all those sequins! Just make sure to use an LED candle, not a real one.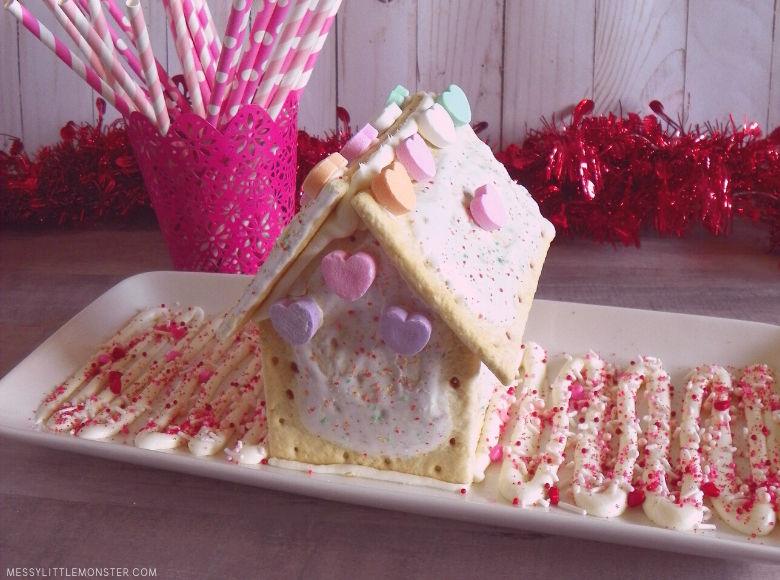 Get in the kitchen and create this food craft with your toddler. They'll be able to participate in very specific parts, such as smearing sprinkling, and decorating, but they'll have the most fun licking their fingers as they go along – and eating it themselves after they do just that!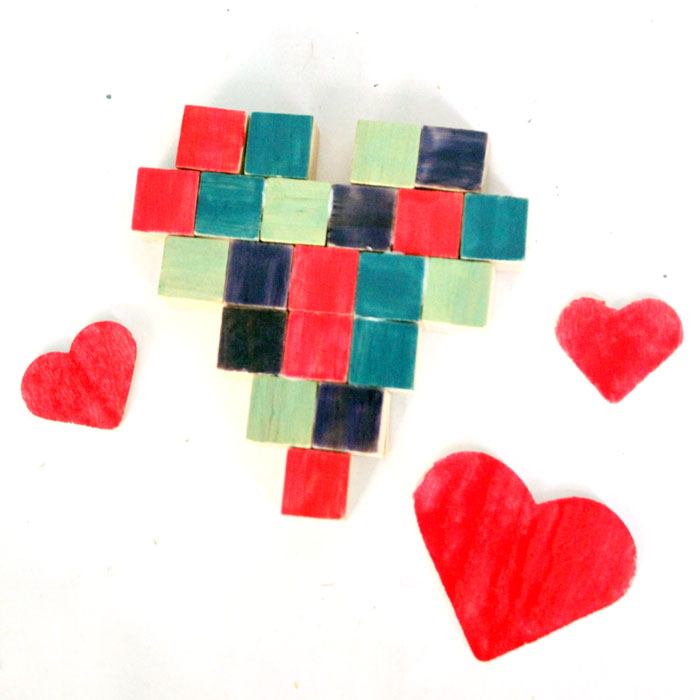 These adorable magnets make a fun toddler-made gift idea, made from wood cubes! While I used nail polish to paint mine, kids can use anything from paint to markers, or better yet, Kwik Stix paint sticks! They may need help gluing it into the shape of a heart, but you can also chart it for them to copy.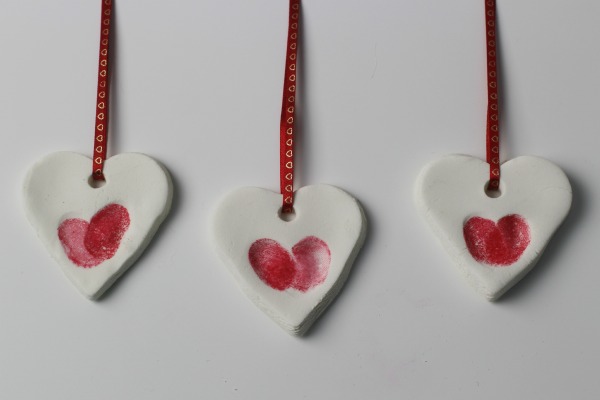 A little keepsake using those still tiny fingerprints is such a sweet Valentines gift for toddlers to make for their parents! And if you want them even more involved, allow them to explore and paint the whole thing.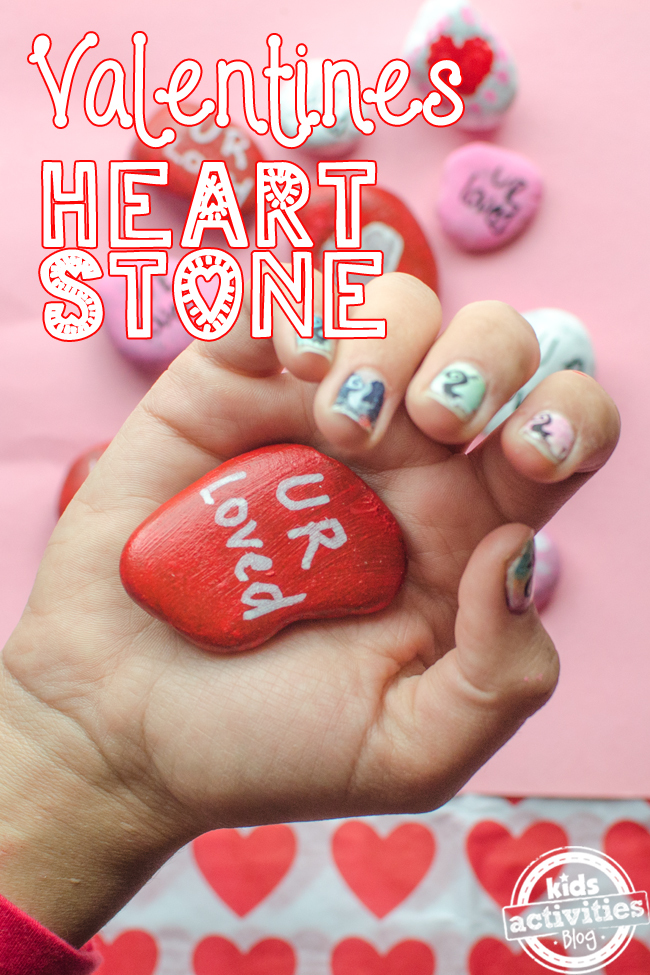 While toddlers won't exactly be writing messages on their rocks, they can definitely have fun painting them as gifts for friends! Have them add heart stickers to complete the project.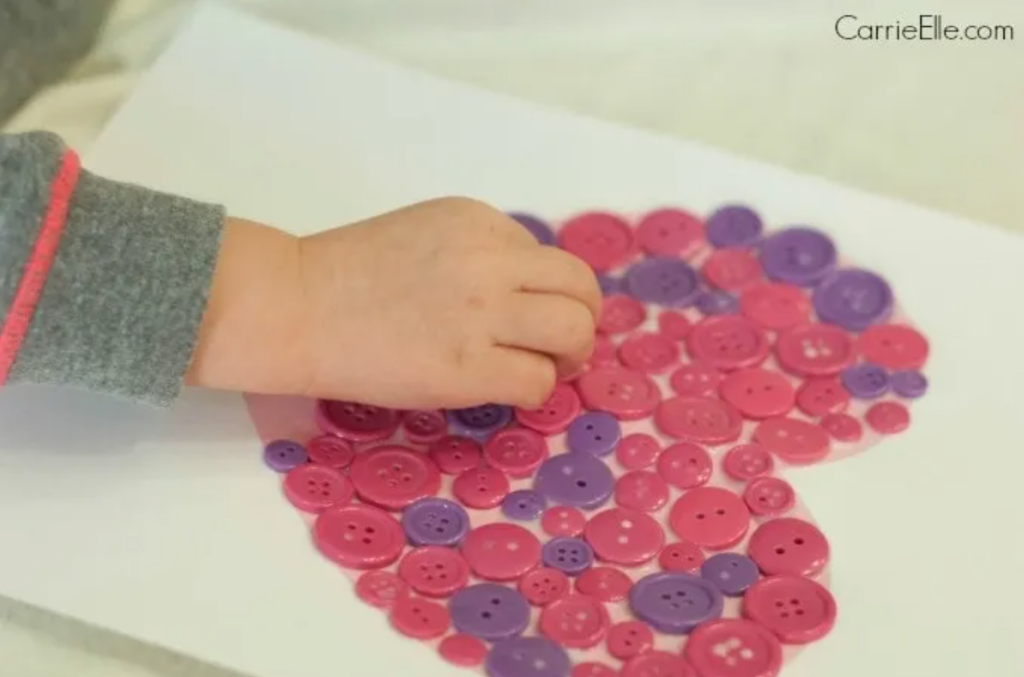 Another fun button craft allows toddlers to practice their pincer grasp while creating some sweet art. Just supervise it closely!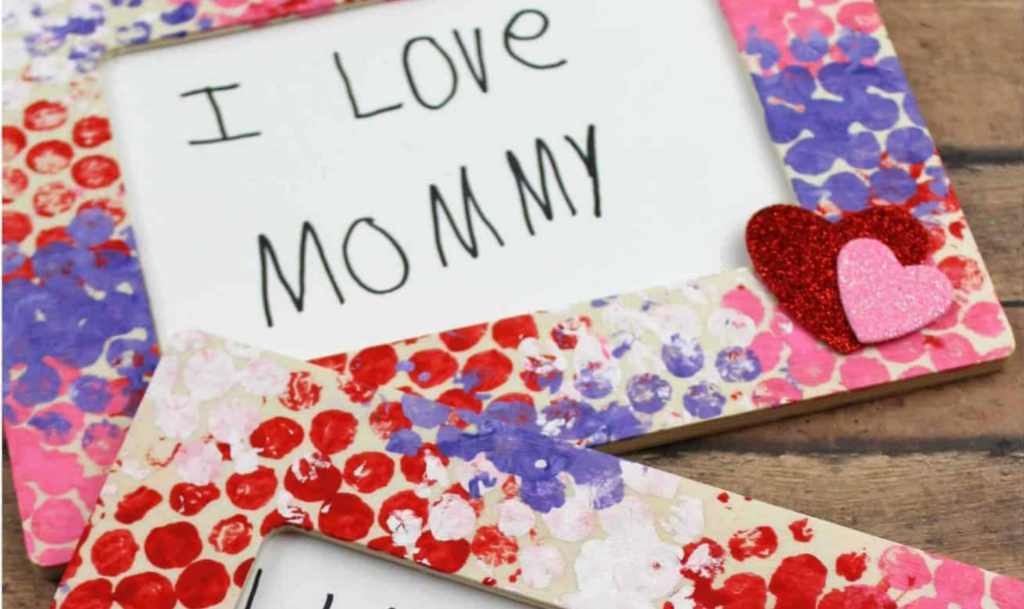 Kids will have so much fun creating these fun prints on frames that can be completed as Valentines gift for Mom and Dad! They're fun and pretty and totally toddler-friendly (supervised, of course).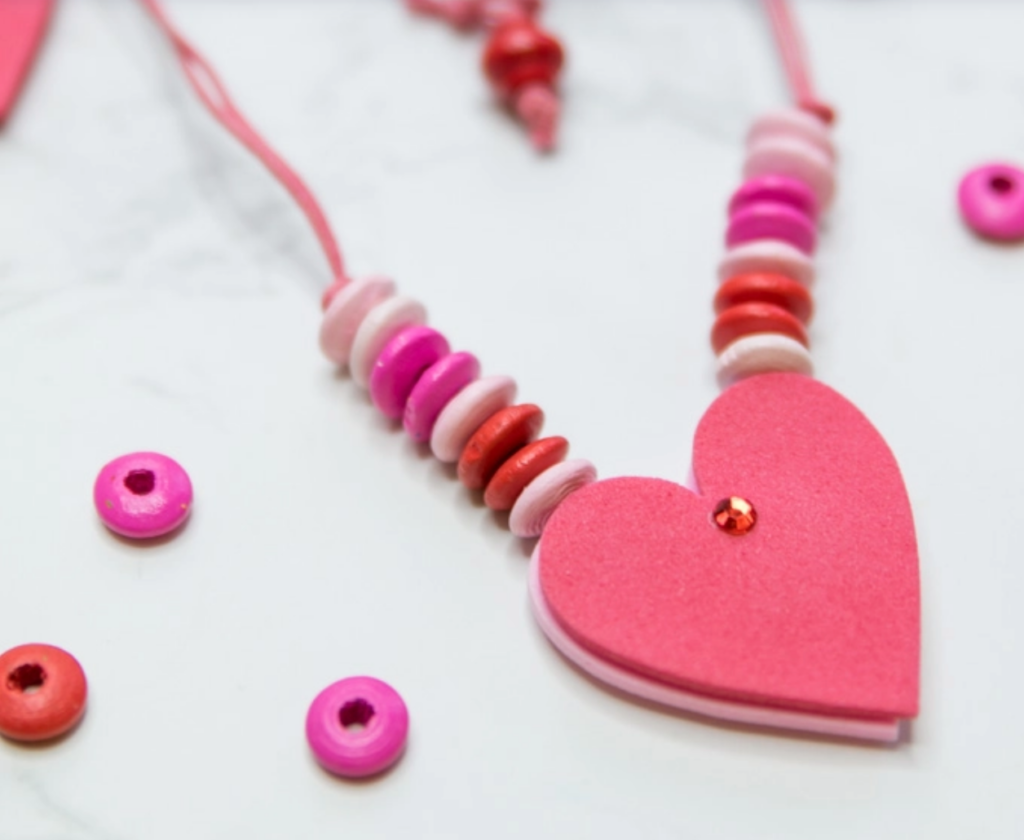 Beading is another fabulous fine motor skill builder for toddlers. Use stiff string, and if they still struggle, work with chenille stems instead. You can still turn that into "jewelry".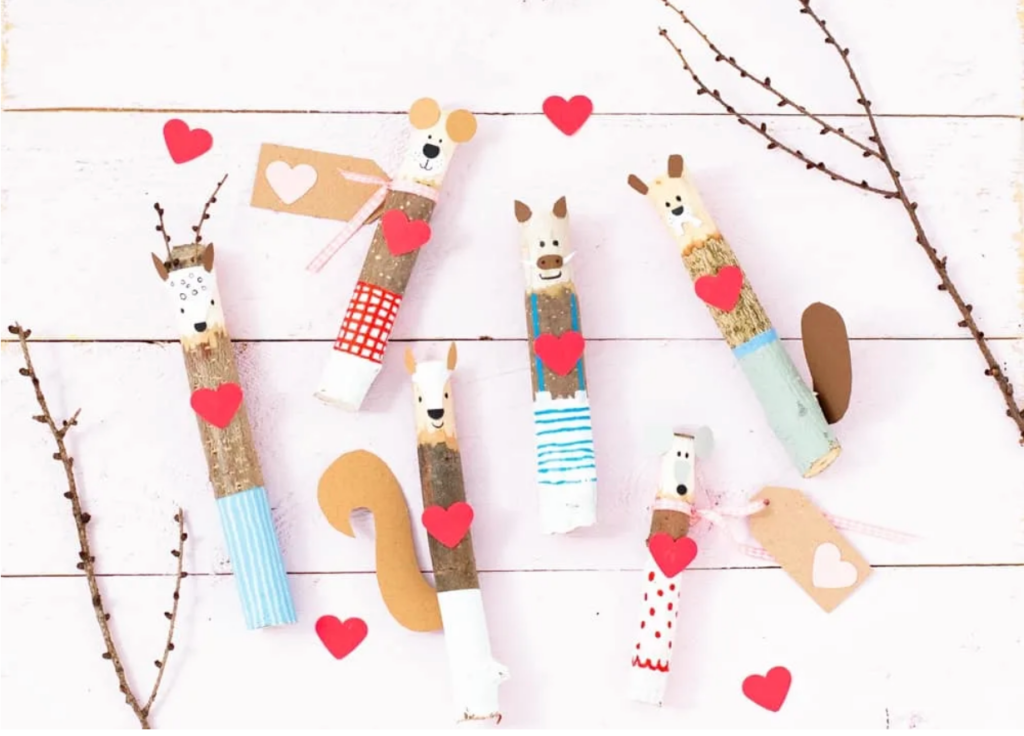 These adorable painted sticks turn into Valentines with the addition of fun hearts and faces. I'd recommend letting toddlers have fun painting the sticks and preparing the other elements for them to glue on at random. A grown-up can add faces. It won't look as good, but your toddler will be proud of their creation!
Got any favorite Valentines crafts for toddlers? Comment below.