I'm excited to be featuring a side-by-side comparison of two of my favorite drawing tablets the Wacom one vs. Intuos Pro. Wacom sent me product samples to thoroughly test so that I can provide you with an accurate comparison based on personal experience. They did not tell me which to favor – all opinions are mine. This post contains affiliate links.
---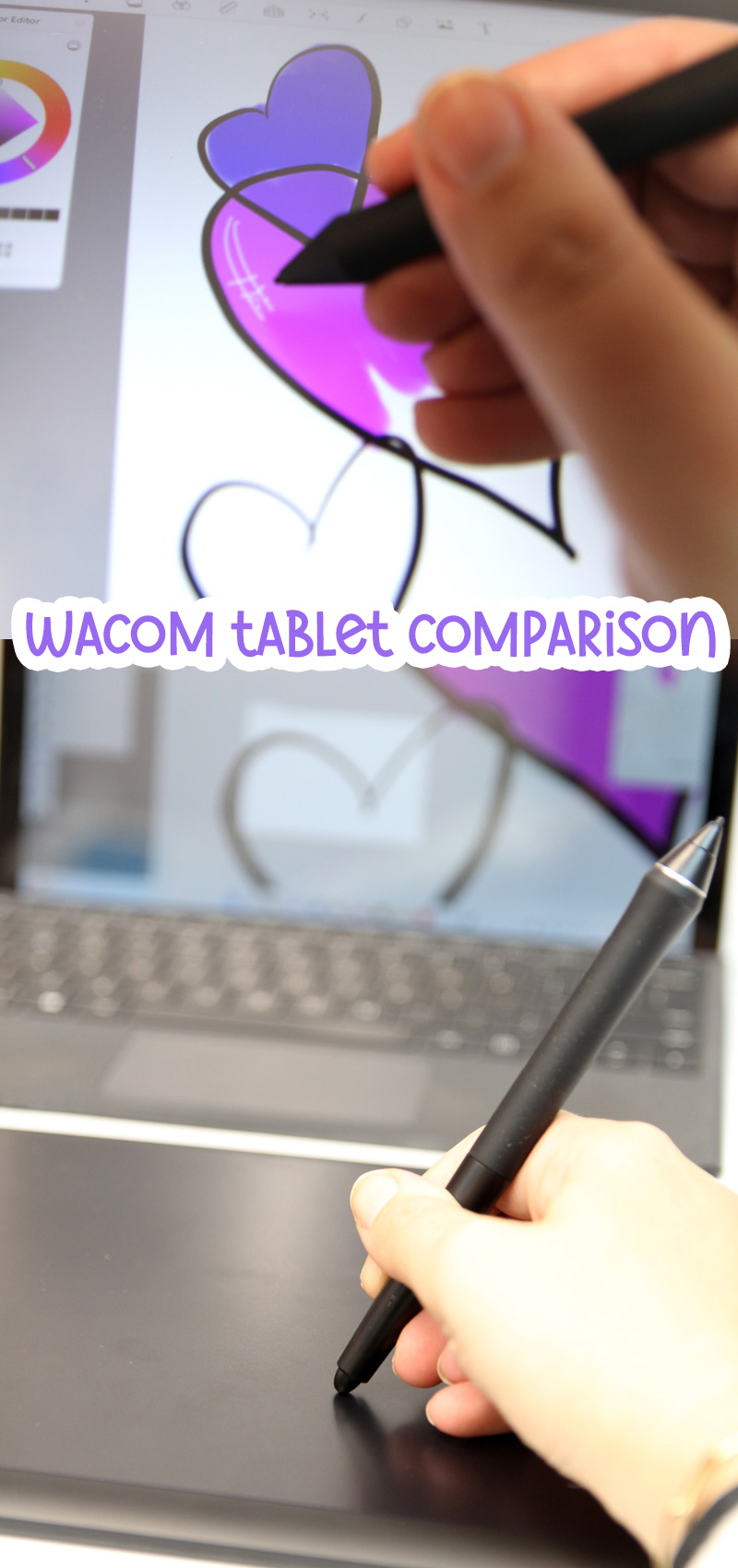 In my many years as a hobby artist, illustrator, and graphic designer, I always wanted to get my hands on a Wacom pen tablet. Wacom is the proven graphic design industry-loved creator of drawing tablets. They specialize in getting artist's to feel like they're really drawing on paper, for a natural creation experience.
Today I'm sharing the results of the thorough testing of two of their leading tablets with similar price points:
The Wacom One (NOT to be confused with the One by Wacom)
These are vastly different, as I'll share below.
Table of Contents:
First, I wanted to point out one important fact: if you're new to the world of drawing tablets, these are very different from what you might think of as a "tablet". These are more along the lines of an external controller for your computer that is designed for you to get accurate illustrations on your desktop (or laptop) computer. It works as a remote, or track pad – an external device that lets you operate your computer.
The benefit of this type of tablet is that it allows you to turn a much more powerful device into an artist studio. It also allows you to work with a desktop, and it costs much less than what a full high-end computer tablet (such as the Surface Pro that I use) would cost.
It also works in the reverse: draw right onto your phone (if it's compatible), but with the benefit of a much larger screen.
But even more so, as someone who has used the Surface to illustrate on a lot (and yes, this is begging for another comparison post – some other day!) the slick finish of a computer screen just doesn't feel natural, even with high end pens and nibs. Wacom's specialty is making you truly feel like you're sketching things out IRL.
And their drawing devices are just above and beyond as you'll see in two of their lower-mid range devices the Wacom One and the Intuos Pro.
Wacom One vs. Intuos Pro: a quick summary of each
Wacom One Creative Pen Display
Perfect for the drawing tablet beginner, this one shows the screen that you're working on directly on the surface and operates as a second monitor. It's fabulous for note taking or beginner illustration and has legs to prop it up a bit like an easel. It's got a fabulous, matte surface, with the resistance you need for drawing naturally. It's not a touch screen – you need to use the included pen to use it.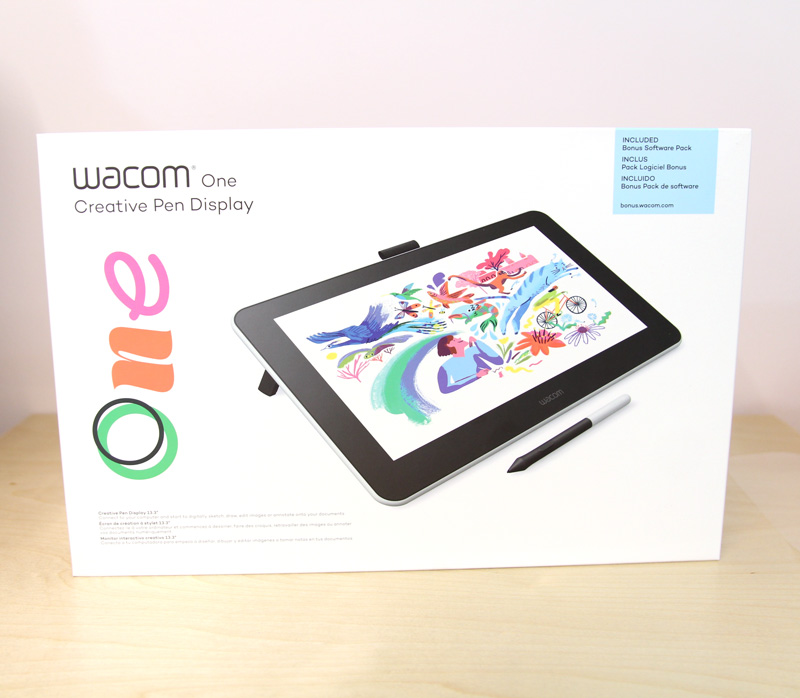 Wacom Intuos Pro Drawing Tablet
The Wacom Intuos Pro is a professional level drawing tablet. The surface is a comfortable texture for illustrating and features shortcut buttons too so you have everything you need at your fingertips. You have three size choices, a pen that feels natural and comfortable with a higher level of pressure sensitivity, and easier connectivity. Since there's no screen, it's got a bit more of a learning curve.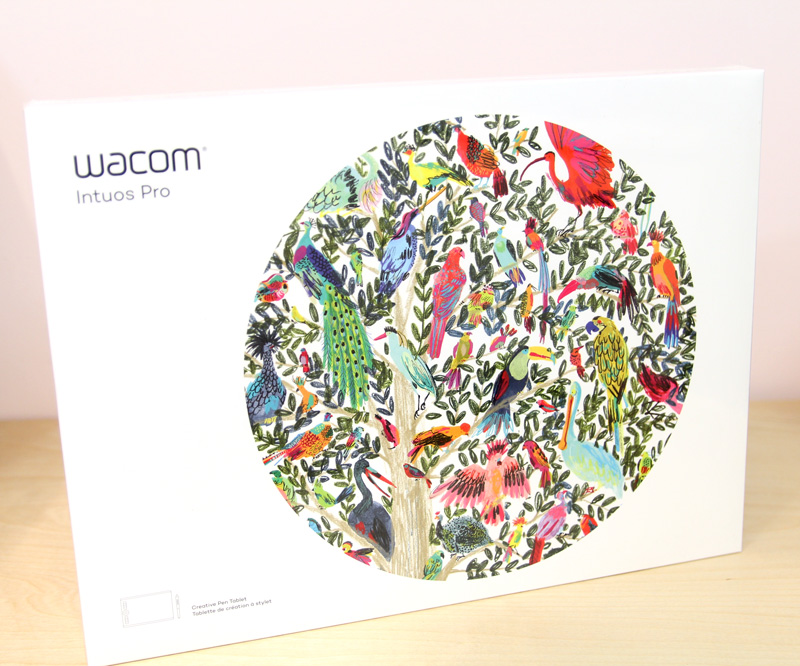 Both devices use an ergonomic battery-free pen that operates using EMR technology.
Both have a matte finish on the drawing surface.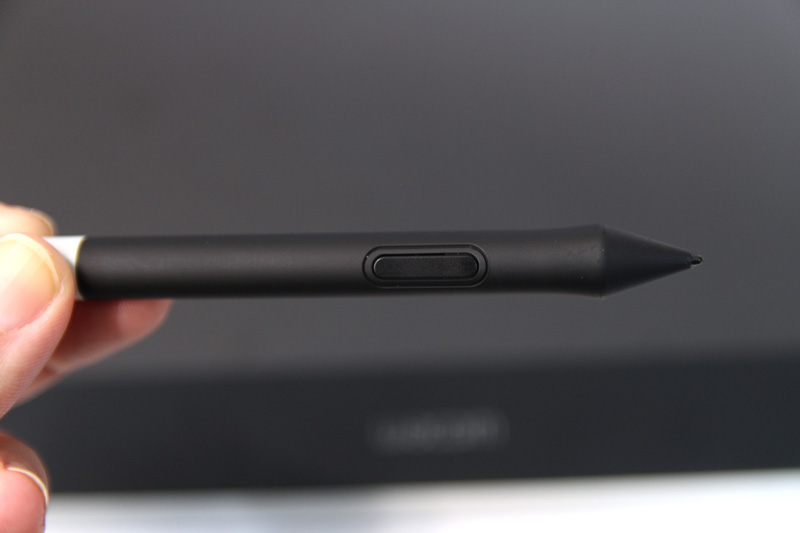 Now let's deep dive into the features of each one and give you a good idea of what the differences are between the Wacom One vs the Intuos Pro so that you can get an idea of which is better for your needs.
Wacom One Overview & Review
The Wacom One is a creative display tablet with a screen, the perfect option for entry-level digital artists, hobbyists, and students.
First Impressions
I like to think of the Wacom One as a cross between a second monitor and a pen tablet. What it does is showcase your screen on the surface so that you can draw on what you see on the screen.
Because of this feature, you can get a really natural note taking experience. This makes it fabulous for image editing. It more closely resembles the experiences you're used to with smart devices. But it has the finish, resistance, and features of a drawing tablet, along with the power of the device you're using.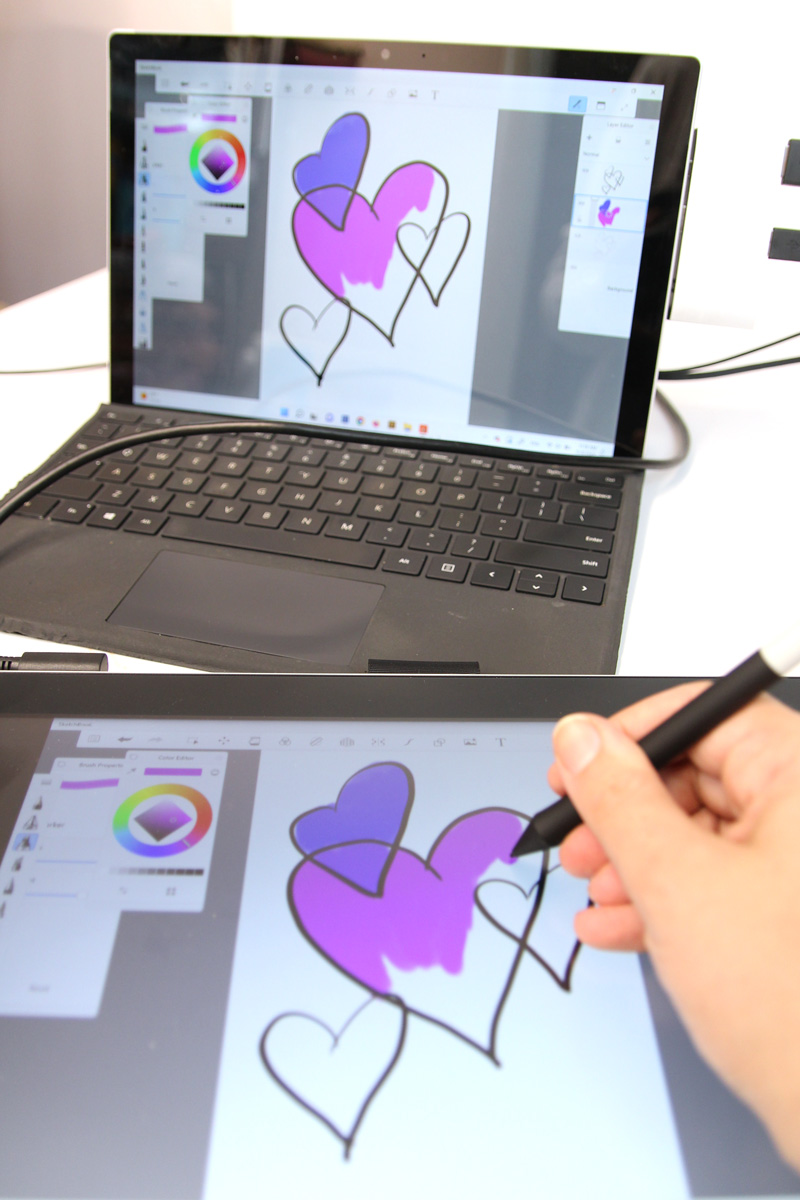 The Wacom One can be used as the only screen for your device. You can split your screen or use it as a second monitor – depending on your need. It's incredibly versatile. It is, however, NOT a touchscreen, nor does it have a brain or computer of its own. It responds only to the pen touch. It works with the pen to transfer your illustrations or writing into whichever program you're working with, functioning in a similar manner to a mouse or trackpad, but with better control.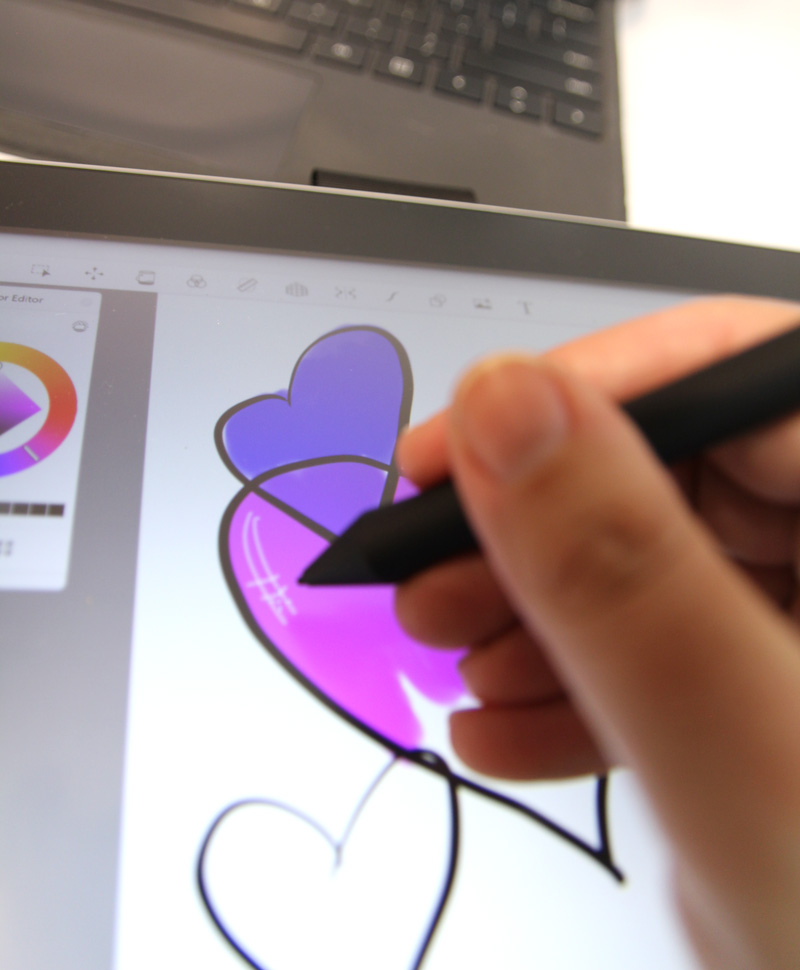 Specs & Feature rundown
In the box you'll find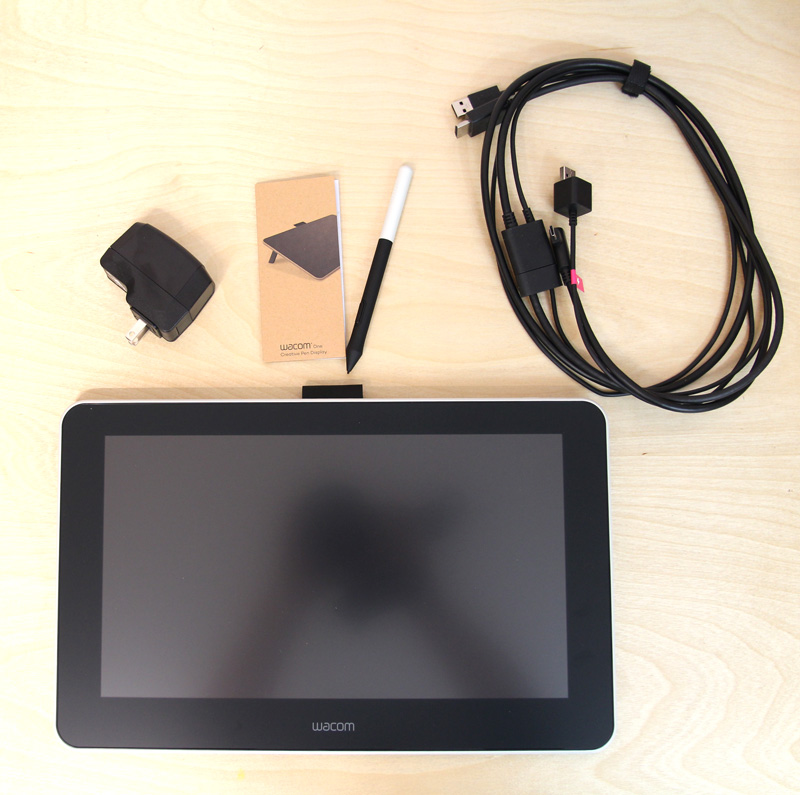 The drawing tablet
A Y cable that connects to the device, the tablet, and your outlet
The stylus
3 spare nibs (hidden behind one of the fold-out legs)
Specifications & features
Screen size: 13.3″
Screen resolution: 1920 x 1080
Compatibility: Windows, Chromebook, Mac, Androi using a 3rd party adapter
Connectivity: HDMI port and USB-A port
Fold-out legs
Pen holder
One pen button: right click
Built in spare nibs, changer
Tilt recognition – 60 degrees
4096 pressure levels
Pen resolution 0.01mm/point
Pro Pack features of Bamboo Paper (Wacom's software)
Includes free trials for a few supportive programs, plus Skillshare, so that you can learn how to use it better.
Pros
For digital illustration beginners, the transition can be hard. Working directly on a screen really helps ease that. Having your screen literally projected onto the pen tablet is a very seamless way to work.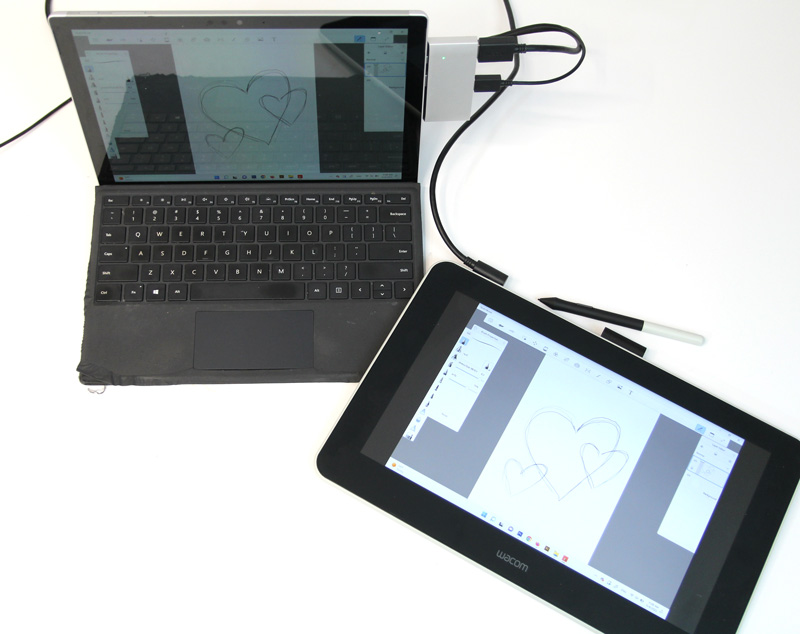 The pen has an on-device holder – it might seem like a small thing but it IS a big deal. I work all over the place and always lose pens. This keeps it handy.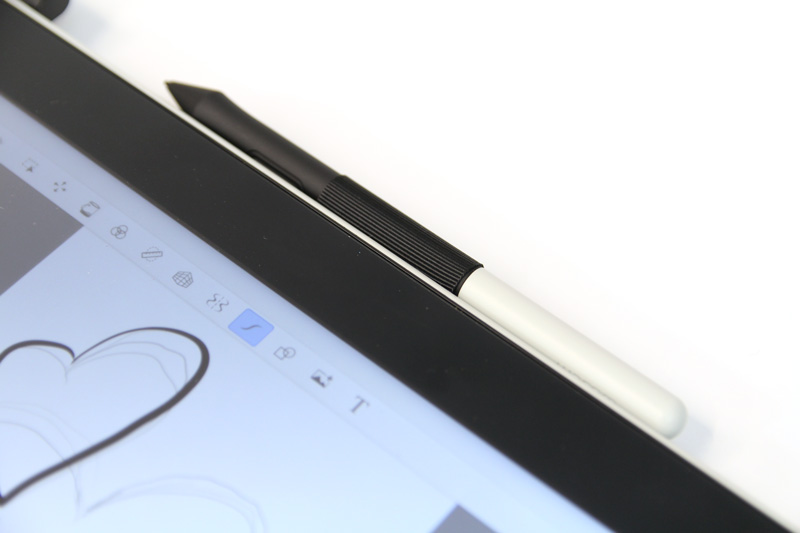 It has adjustable legs, allowing you to have it angled in a more natural position for illustration.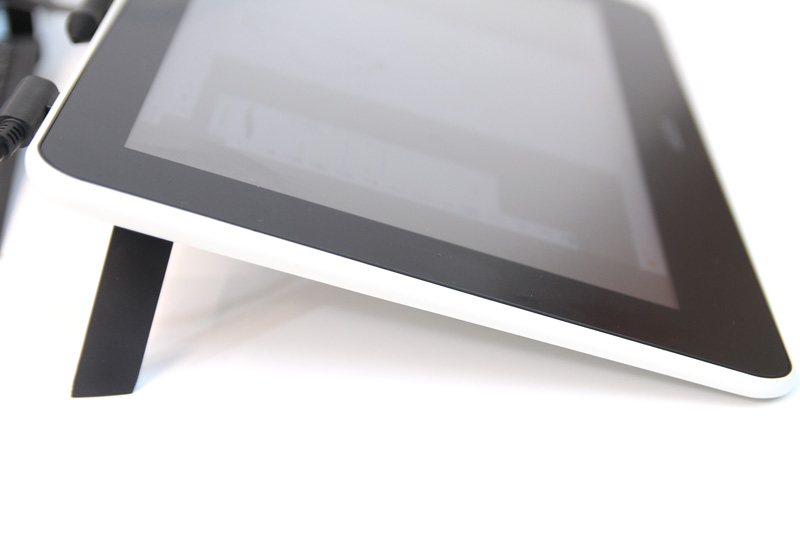 It's compatible with Chromebook, turning your lowest-end computer into a high end drawing experience.
There are compatible pens from other brands so that you can choose.
I found it to be easy to set up and calibrate with an accurate pen-to-surface experience.
Cons
The connectivity is very cumbersome. It makes it more of a solution for desktop studios rather than an on-the-go solution that is compatible with student life. Personally, this might be the "make it or break it" since I tend to do my illustration when I'm done for the day -sprawled out on the couch. If you tend to illustrate in a studio setting this will not be an issue for you.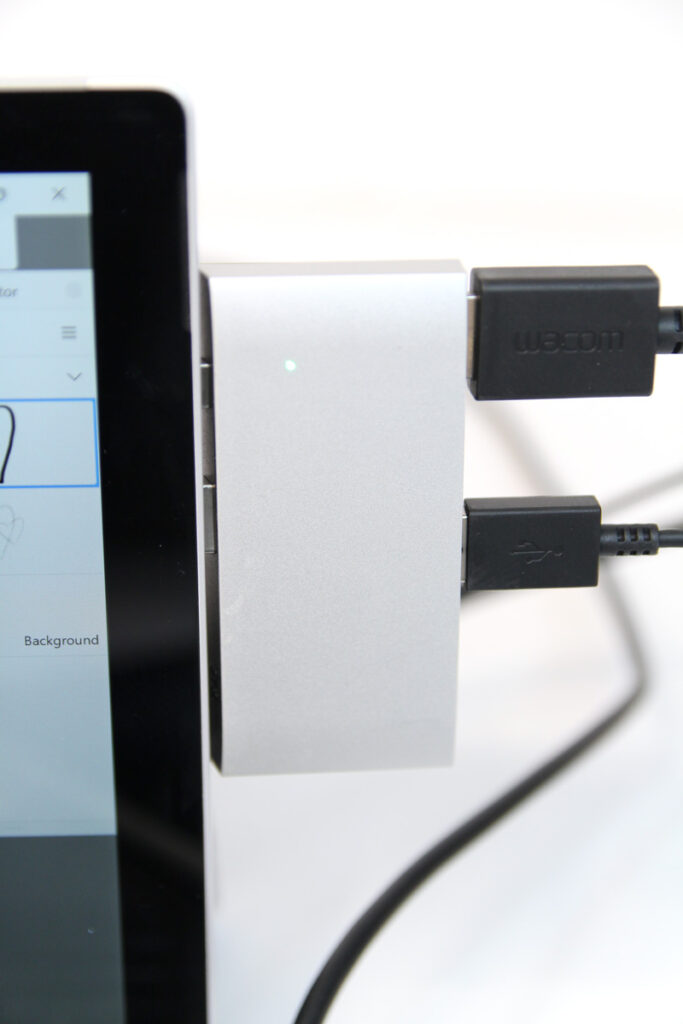 The lack of built-in pinch-zoom and undo features make the drawing process less seamless. You can get a separate accessory for this.
It is not cordless – it needs to be plugged in at all times.
Pen has fewer pressure levels than more advanced models. It's on par with the Surface Pen.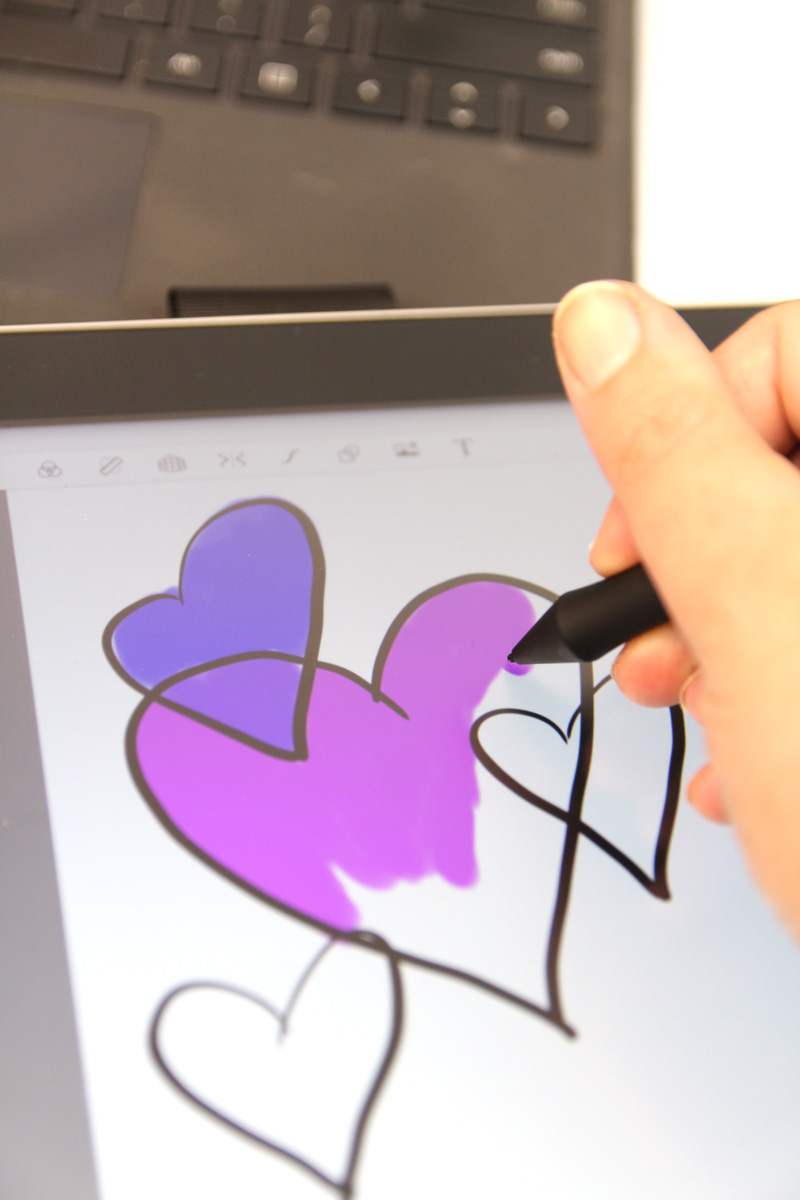 Intuos Pro M Overview & Review
The Intuos Pro is a drawing tablet that does not have a screen, rather it serves as a remote drawing surface for your device. It is a feature-rich device with at-your-fingertips buttons to make the drawing process more seamless.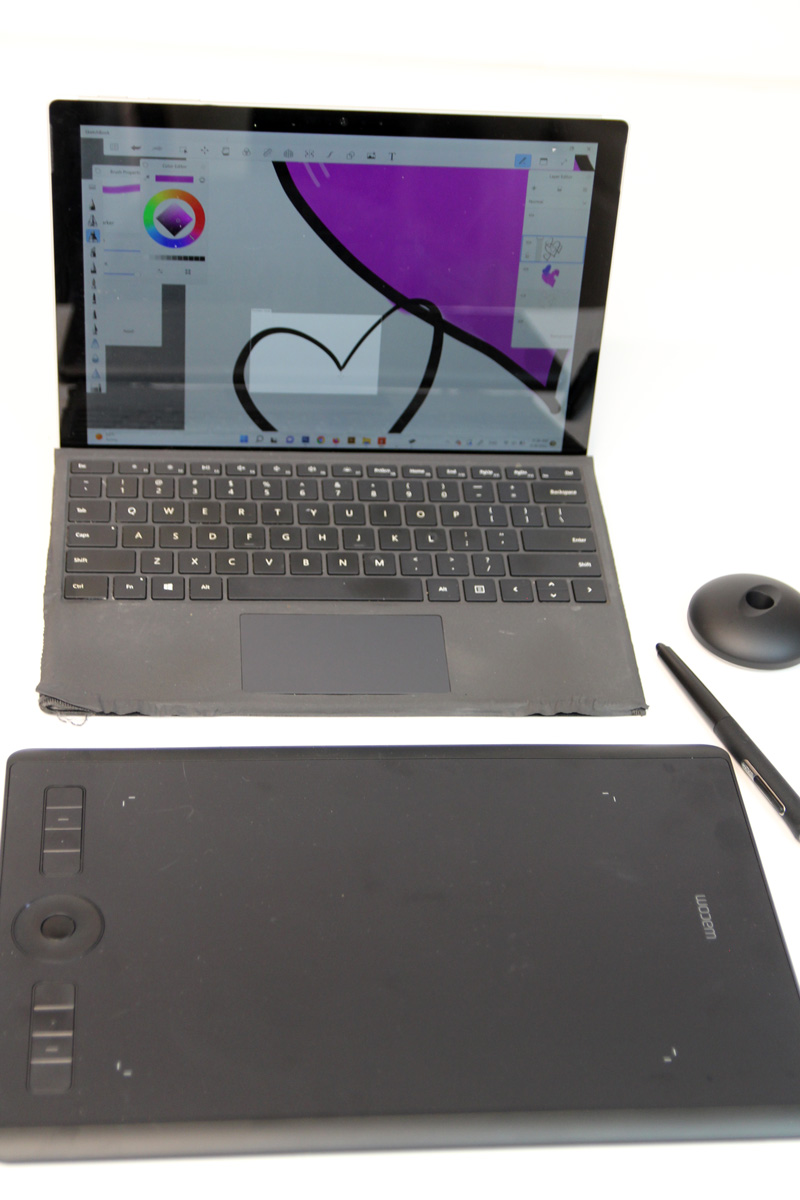 First Impressions
I have a LOT to learn with the Intuos Pro. And as someone who is a doer rather than a learner, I'm a hard sell when it somes to things with a learning curve. However, after having used the Intuos Pro a few times, I do think it'll be worth it for just a few of the features.
This drawing tablet is clearly geared toward professional illustrators and graphic artists, with features like one-button precision mode that converts your entire drawing tablet surface into focusing on a single small area.
It comes with a variety of nibs, focusing on getting you as natural a drawing experience as possible. It's the tablet of choice for getting every last detail right.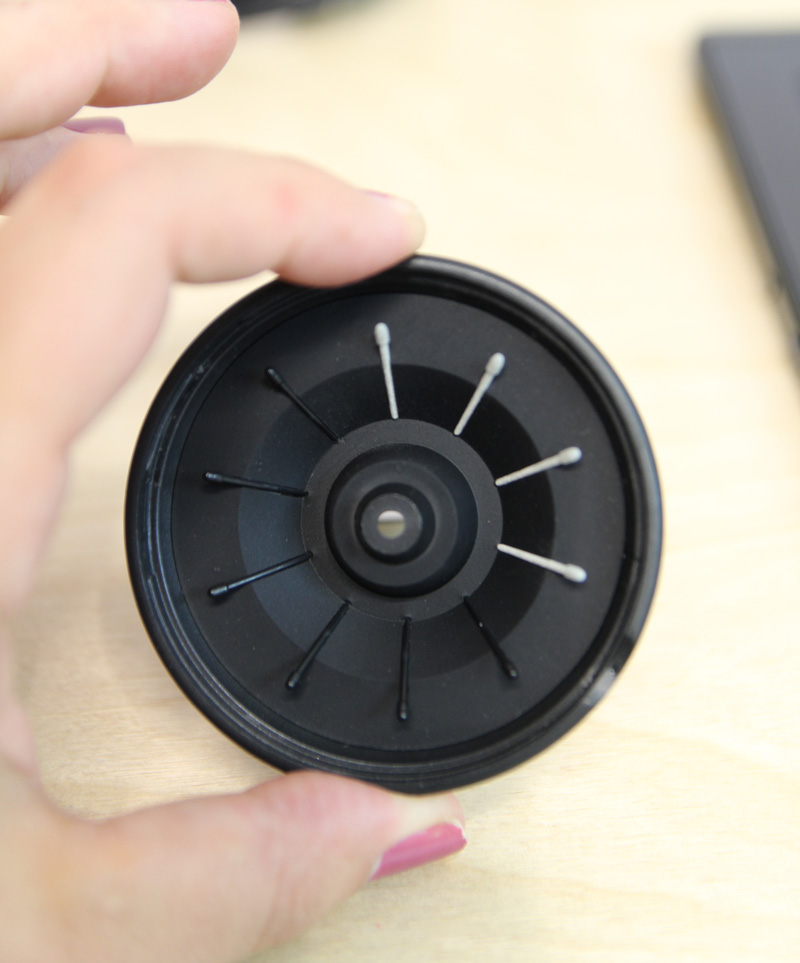 For me, the winning element is that everything you might need to click, push, zoom is on the tablet itself. You don't need to switch around. Hit a button and work the details. Scroll through a dial and zoom right in. Set the custom keys to redo, undo, or whatever you need. The back of the pen erases. It's awesome!
Specs & Feature rundown
Features vary slightly by size – listed here is the M.
In the box: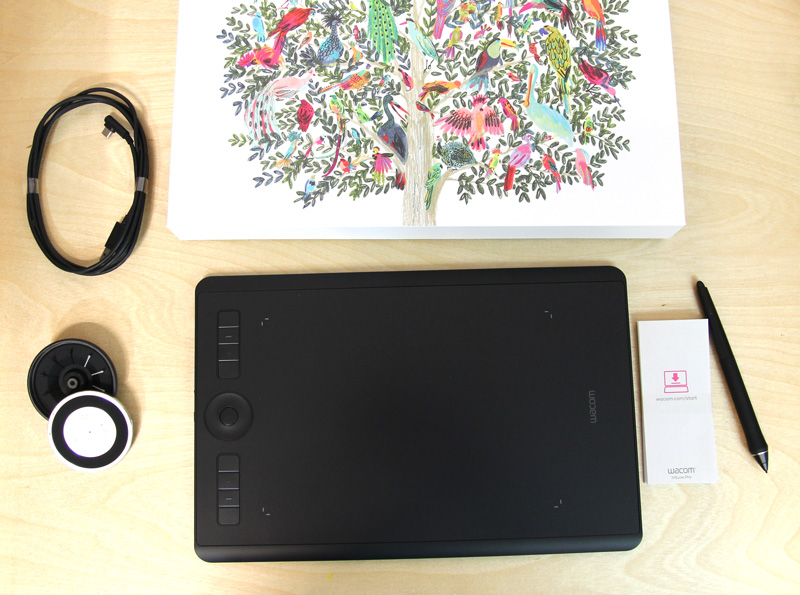 Intuos Pro tablet
Pro Pen 2
USB Cable
Stylus base/nib storage
10 Nibs (6 regular, 4 felt)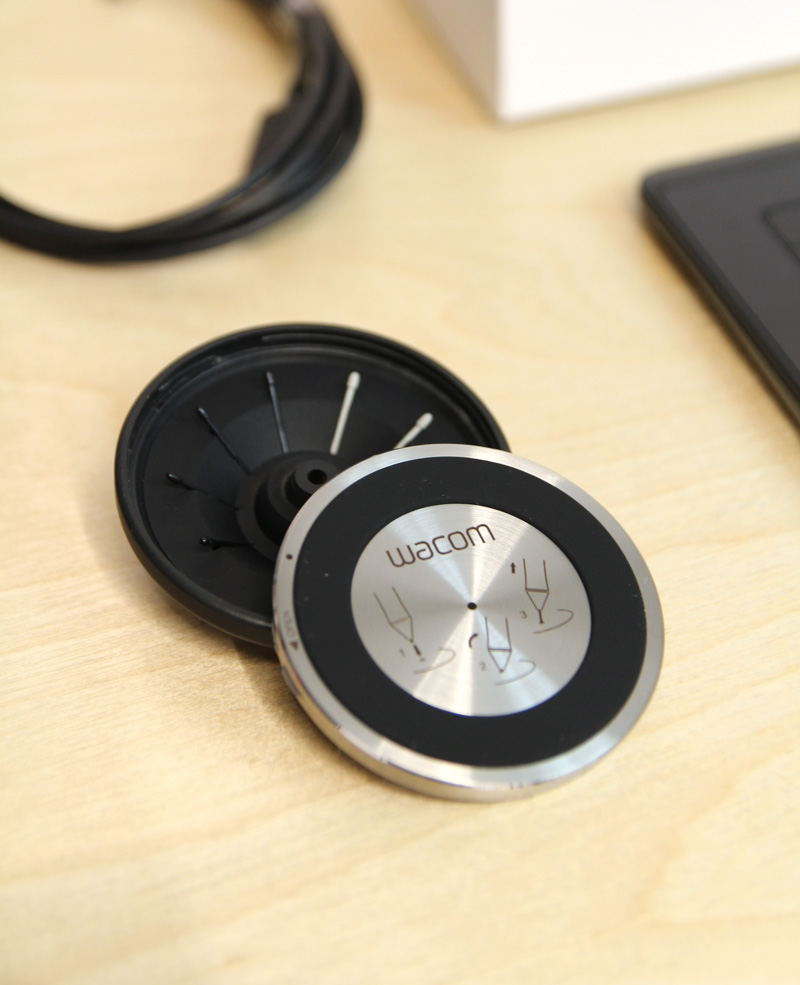 Specifications and Features:
Zoom using pinch zoom or touch ring
Button-activated precision mode
Turn touch on/off with a built-in switch
8 Express keys are customizable- so you can set them to undo/redo, etc
Different pen nibs (standard, felt) for different art experiences
Texture sheets (standard, rough) available separately for a truly custom experience.
3 size choices (pictured here is the M)
Pen stand
Connectivity: USB, Bluetooth
Compatibility: Windows, Mac
8,192 pen pressure levels on pen tip AND eraser
2 pen buttons are customizable
Tilt recognition 60 levels
Pros
The biggest advantage for me of the Intuos Pro is the fact that it can be connected via bluetooth. Even if you do need to connect it, the simple USB connectivity makes it still very seamless. You also don't need to plug it in (I'm assuming that your device is the power source.)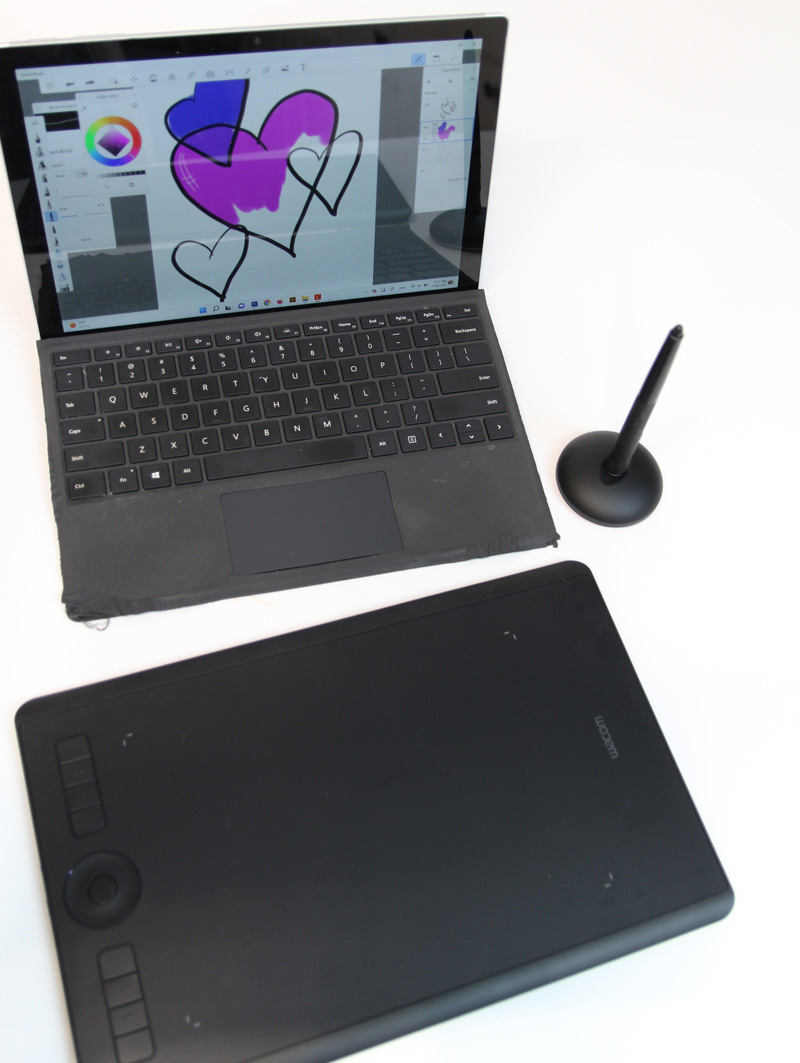 More pen pressure levels make for a much more accurate illustration experience. It's about double what I'm used to using the Surface Pen. (For reference, Apple doesn't provide pressure levels for their pencil.)
Customizable easy keys mean that you can have the functions that you need at your fingertips. For me that means undo/redo. You can also set touch gestures, pen button settings, and make it specific to the program you're using.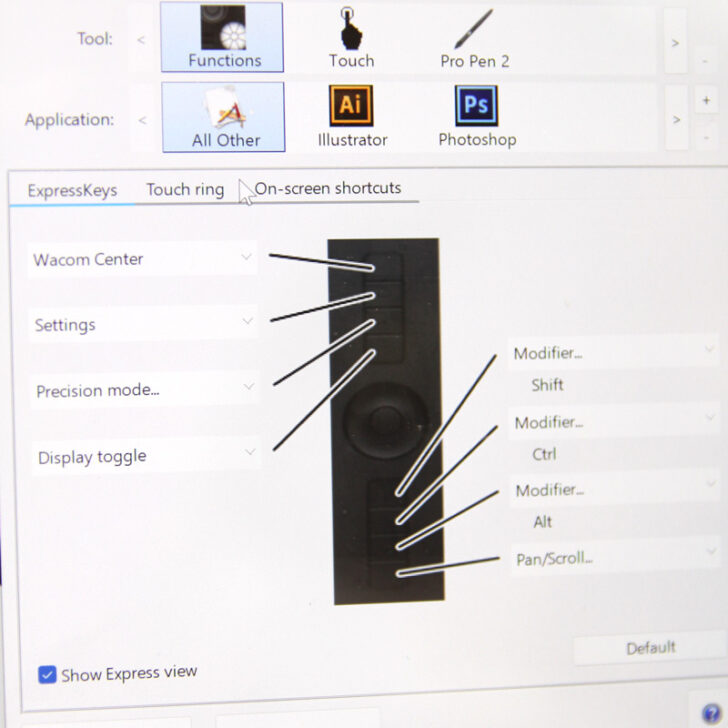 You also have an "instant" precision mode button. This essentially takes a small area of your screen and turns the entire tablet surface into the workspace for that unshaded box.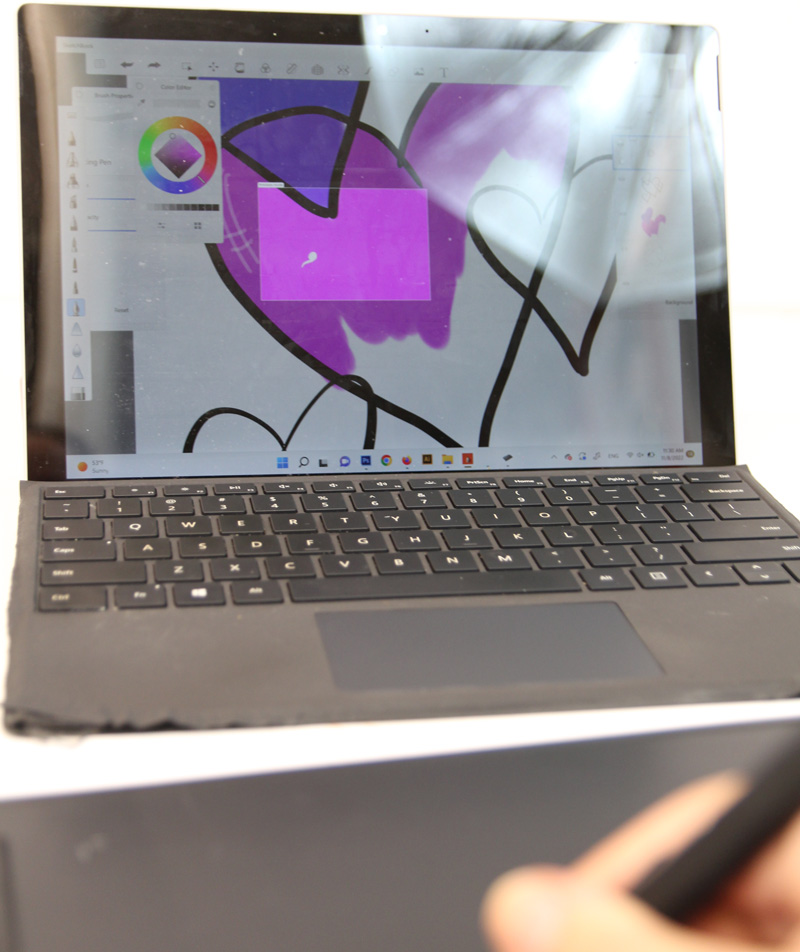 It has a more natural drawing experience thanks to the eraser on the back. This is a feature that I've gotten used to on the Surface Pen and it's unbelievable how convenient this is – especially if you like working in full screen. Just flip your pen over to automatically turn it into eraser mode.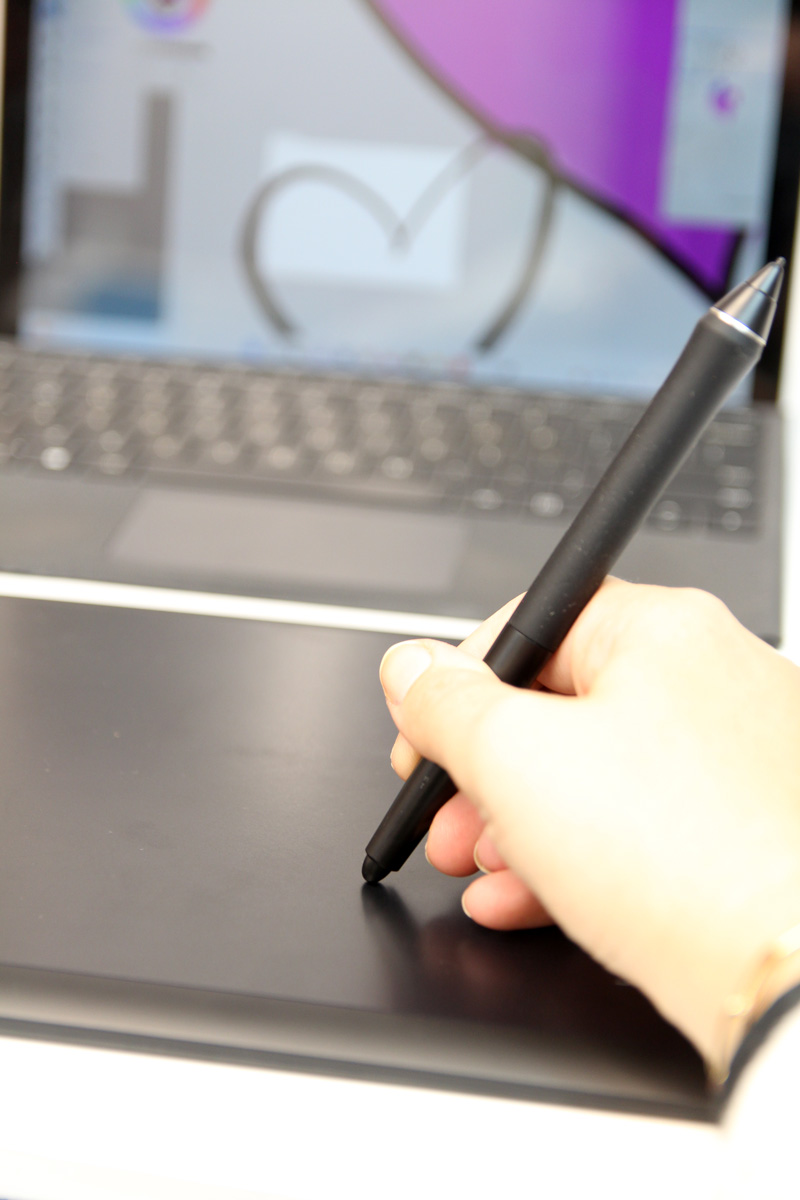 The touch ring allows you to easily zoom in and out. You can also set finger gestures (and turn those on and off in case you're having too many oopsies) including pinch zoom.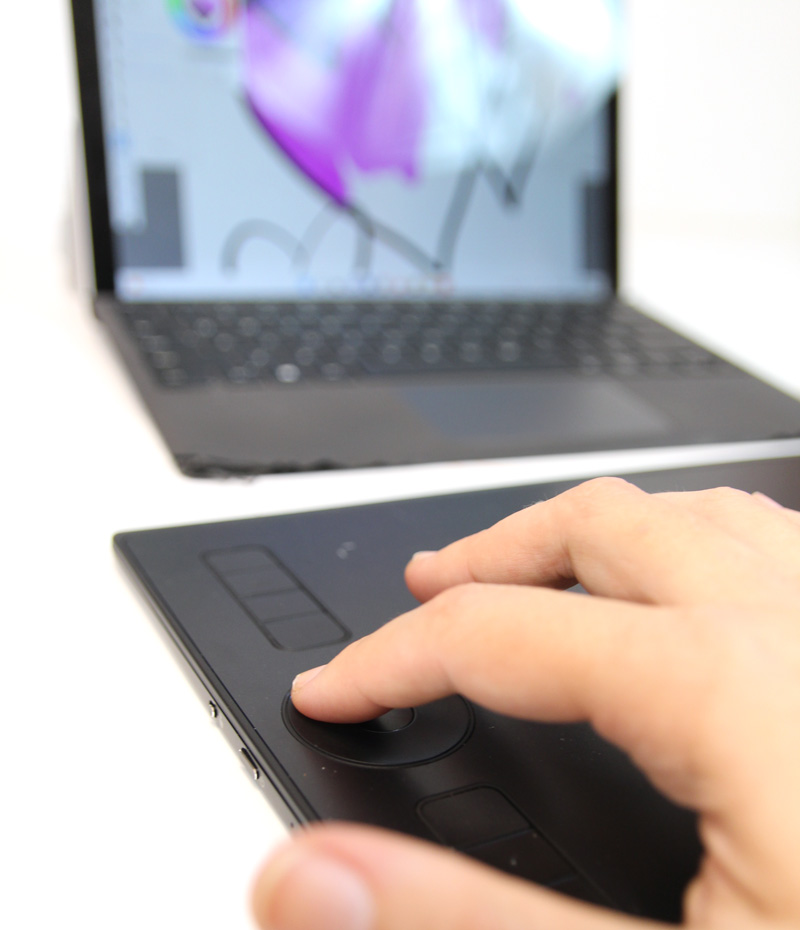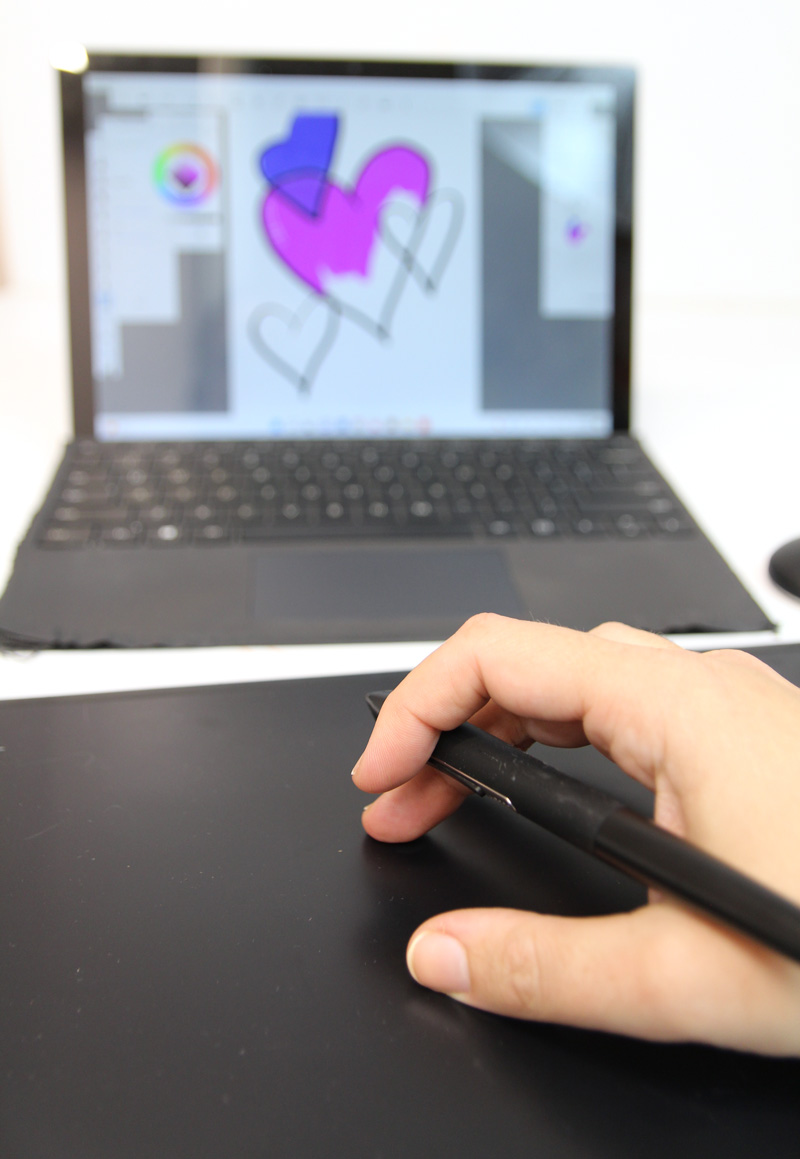 Cons
For me, the biggest con might be the huge learning curve – we're used to drawing on what we see and this doesn't give us that. I'll have to find the time to learn.
There's no way to tilt it to my knowledge. I do like working at a slight angle.
There is no pen built-in pen holder on the tablet itself. That means that I need to get a case to keep track of the parts.
Wacom One vs. Intuos Pro visual comparison
I tried to put together this little comparison with key features of the Wacom One vs. Intuos Pro so that you can figure out what works best for you based on these specs.
Device
Wacom One
Intuos Pro
Cost*
$399.95
$249.95-$499.95 ($379.95 for the M)
Size
13.3 inch screen (diagonal)
8.7 x 5.8 in (active)
Pen Pressure levels
4096
8192 on each side
Pen features
1 button
eraser, 2 buttons, standard & felt tips
Compatibility
Windows, Mac, Chromebook
Android (some)
Windows, Mac
Connectivity
USB and HDMI
USB or Bluetooth
Additional features
Screen, tilt, pen strap
Touch ring, express keys, pinch zoom,
desktop pen mount
* Costs are based on current prices on Wacom's website and are subject to change at any time.
Wacom One vs. Intuos Pro: Which is better?
At the end of the day, it will depend on what you need. If you're looking to really learn the art of digital illustration, something that meets professional standards, the Intuos Pro is the top pick. Its pressure sensitivity far surpasses that of the Wacom One and the creation process is more seamless once you learn how to use it. It's much less cumbersome to connect and easy to use.
If you want something that's quick and easy to set up, that you'll be able to use fully right out of the box, the Wacom One is the obvious choice. The way you use it is in-line with how you've been using technology all along. You only need to look at one thing: the screen you're drawing on.
If you're looking to upgrade your kid's drawing skills, this is the better option. I share mine with my kids' who use it as a fun way to practice their handwriting skills.
Which do you prefer, the Wacom One or the Intuos Pro? Comment below!