These big sibling gifts from the new baby are fabulous hospital take-homes for the new big brother or sister! You'll also want to check out the best baby products on a dime. This post contains affiliate links.
---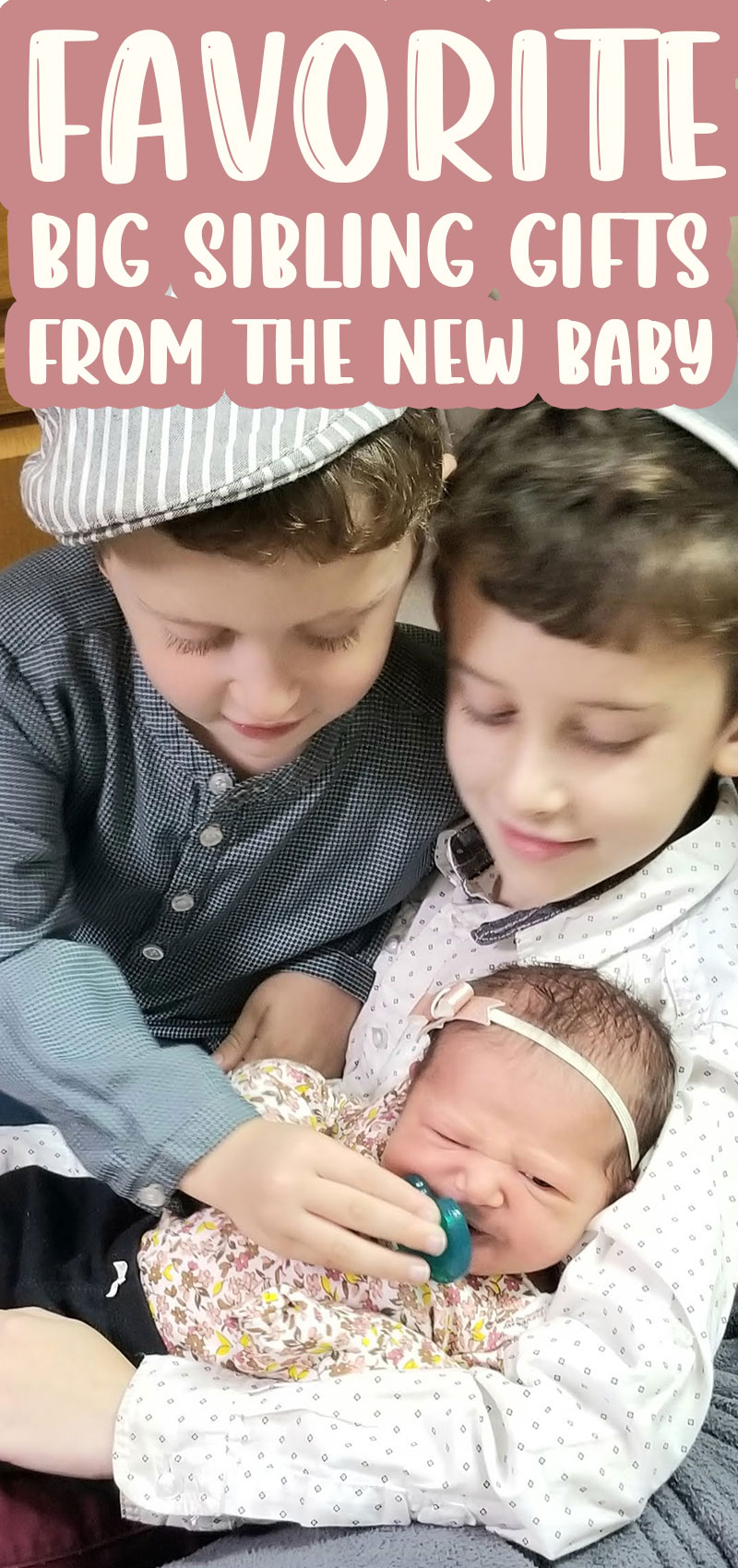 If your family will be welcoming a new one soon, you may be thinking non-stop about the big sister or brother, and what they're going to think about the new invader/playmate… And we've got a few tricks up our sleeves.
One tip that many parents employ is to give big sibling gifts from the new baby. Of course, if your children are old enough, they'll realize it's not actually from the baby. But it's a fabulous way to create a positive first impression.
In this post:
We like to give the older sibling(s) gifts in the hospital. However, when A was born, the siblings were unable to visit the hospital. So we "brought them back" from the hospital – as if A bought it from them at the hospital!
You can simply leave the gifts hidden in the trunk of your car and gift it that way.
Big Sibling Gifts from the New Baby
This list of big sibling gifts from the new baby is organized by age group. There's definitely some overlap, and you'll find it best to skim through other sections as well, however I did want you to be able to sort through it a bit more easily.
You'll also find that some big sibling gifts from the new baby are directly related and some are simply nice, highly entertaining gifts to give at this stage.
Big Sibling Gifts for Toddlers
This is the trickiest age since they don't really understand what's going on – other than now mama's not only mine. Of course, a gift alone won't do the job but that's what this is about. It's a small part of creating the first positive association.
It also serves to pre-empt the fact that the new baby will be getting lots of new things. (On that note: I highly recommend adding items for the big sibling to your registry too!
Go all-in with bottles and strollers, clothing and diapers for your child's new baby doll. This helps show the nurturing aspect and will help the big sibling feel involved.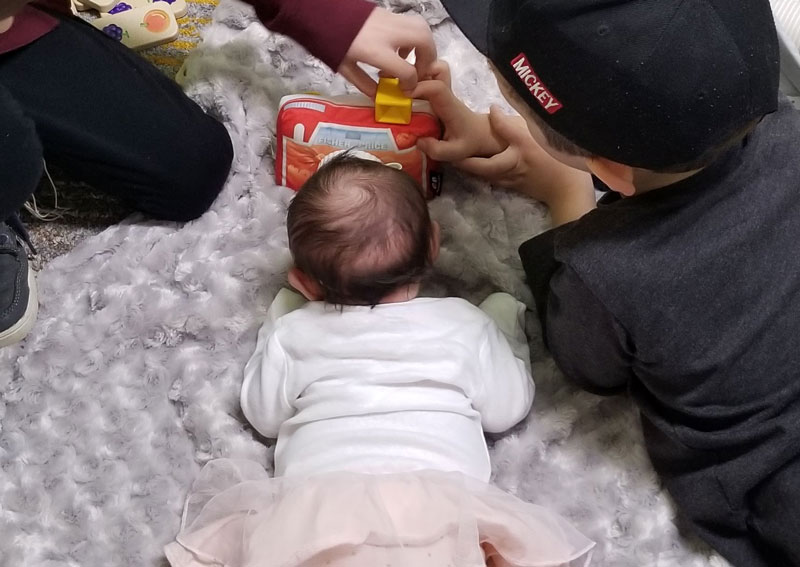 My children actually chose a camera rattle for A before she was born – and then ended up stealing it all the time for themselves! They see all the grown-ups taking photos of the baby and can "help" too. For the toddler stage, I recommend getting a toy camera that's non-functional but that they can pretend with.
The cool thing about gifting a subscription is that it keeps giving. And often, sibling jealousy gets worse as baby gets older starts doing things.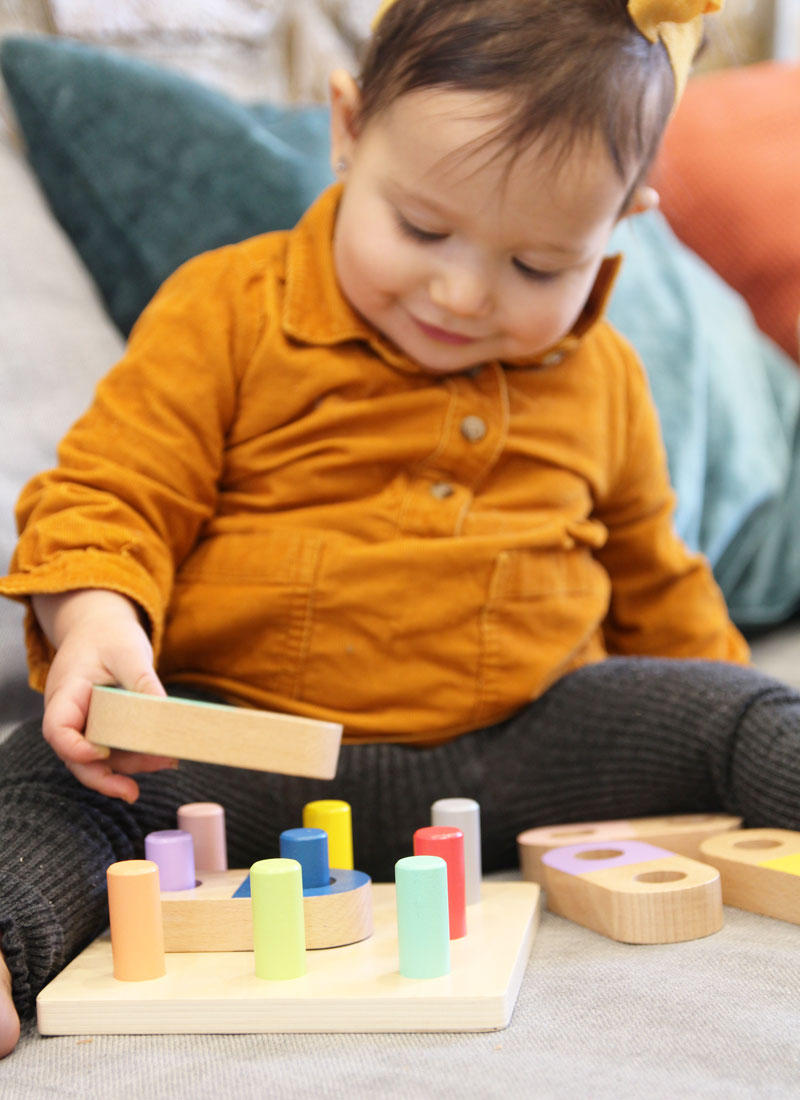 A monthly activity subscription covers a few bases: it entertains, it's something special in the mail from baby, and the newness of it can last longer. For under 3 get Panda Crate (featuring toys and activity cards – learn more here) preschoolers (age 3-4) get Koala Crate, for ages 5-8 get Kiwi Crate, and other ages, get the line closest to their age/interest.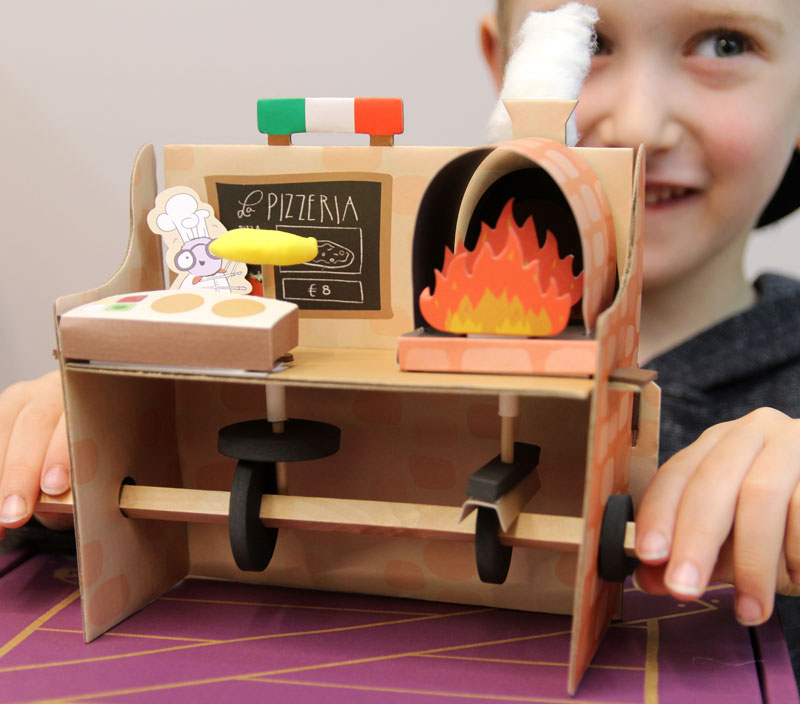 It's all about making them feeling special, and there's nothing quite like a personalized book to do the trick! M (age 8) still loves the one he got at age 2.5 when he first became a big brother. There are even special sibling versions you can opt for. But if you're opting to name the baby after birth, any personalized book will make them feel special.
4 in 1 Trike or Stroller Wagon
If baby is going to take over your toddler's gear, it's best to wean him or her before the birth. But if it's too late, or you can't for whatever reason, you can also upgrade to something fun and cool such as a trike or wagon.
Make sure it's something you're willing to push as well!
Personalized Family Finger Puppets
While not a perfect portrait, this set of family-inspired finger puppets is not only a fabulous dramatic play toy, it's also a great way for a toddler through preschool-aged big sibling to learn more about their new family structure, and to come to terms with their new position in the family through play.
Since it's an Etsy seller, you can likely request any customization you'd like, including different family sizes. Here's another fun option – this one is felt.
Big Sibling Gifts for Ages 3-6 (Preschool)
At the preschool age, a lot of how they act will depend on how attached they are to the parents. They can get jealous at this stage but it's likely not as brutal. They can be involved more in baby's care.
The big sibling gift from baby is still a fabulous bonding tool and a great way to preempt any hard feelings, especially if their position as the youngest is being usurped.
For this age group, a camera that actually takes photos but is designed for kids is perfect. The KidiZoom Printcam can even print them out using thermal paper – so it costs pennies. It does come with games too, which will involve screen time but will also grant the new mom some sanity.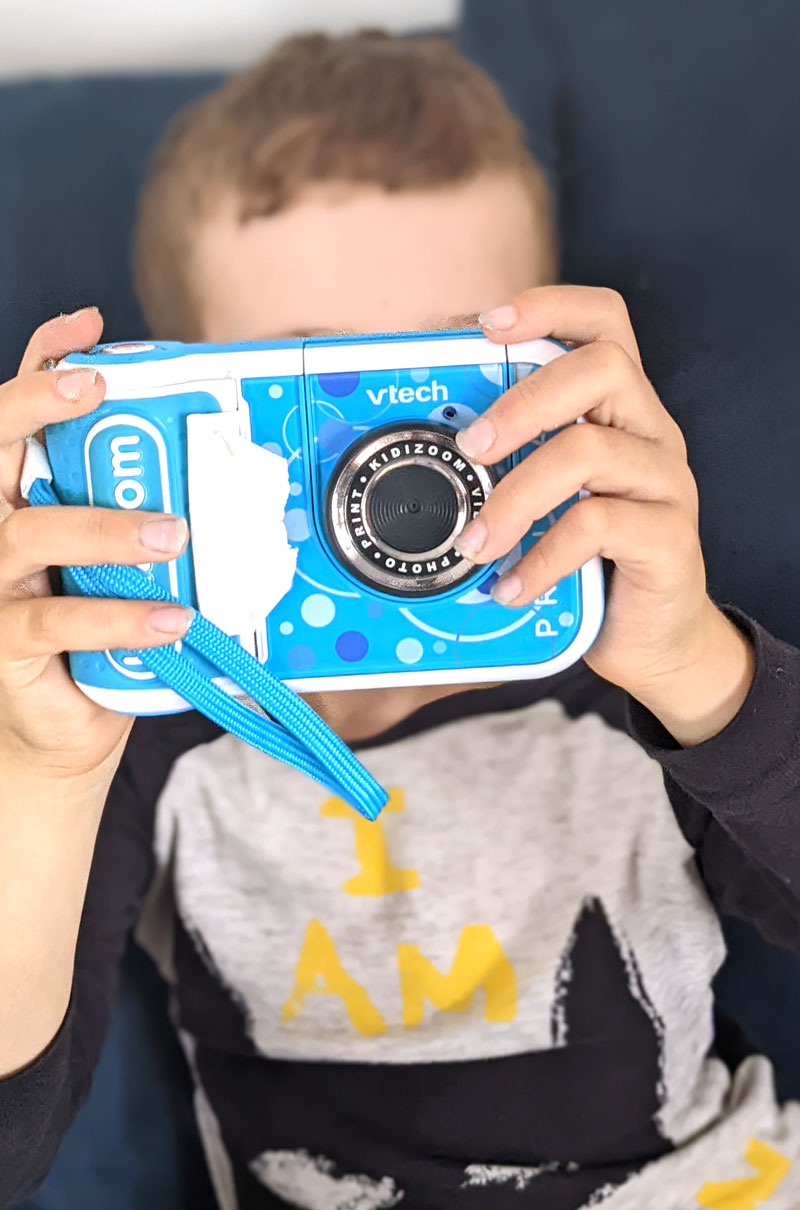 And it allows them to get involved with early memory-making for the kids. And you can even get them an album to go along!
There's nothing quite like unboxing a fun package, and this one is designed for big siblings! It's got a few low key activities that double as entertainment, in the big sibling theme.
Even if you're the kind of parent that keeps screen time to a minimum, it was created for a reason. And if there's any time it's appropriate it's as a postpartum sanity saver… So why not choose one that's full of preschool games and activities, and turn it into a gift from baby? And it can still be limited to specific times.
Matching Big Brother or Sister Shirts
When A was born, I made Big Brother shirts for the boys and a Little Sister shirt for her. I also made M, the oldest, a "promoted to biggest brother" shirt and Y a "promoted to big brother" shirt. They were old enough to understand it – and young enough to still appreciate it. It helped form a kinship. If you're a crafter, it'll be fun to make with your Cricut.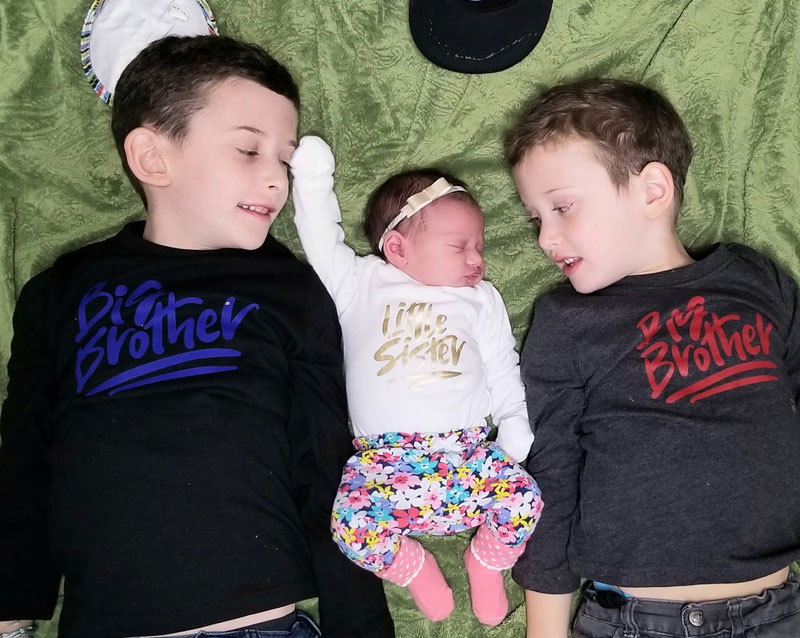 If not, you can get them made up by an Etsy seller.
In the coming days, it's going to be a big blessing whenever your preschooler is highly engaged by a toy that is educational and productive. Screen time can't happen all the time! Building toys such as Magformers or age-appropriate LEGO are timeless, classic hits.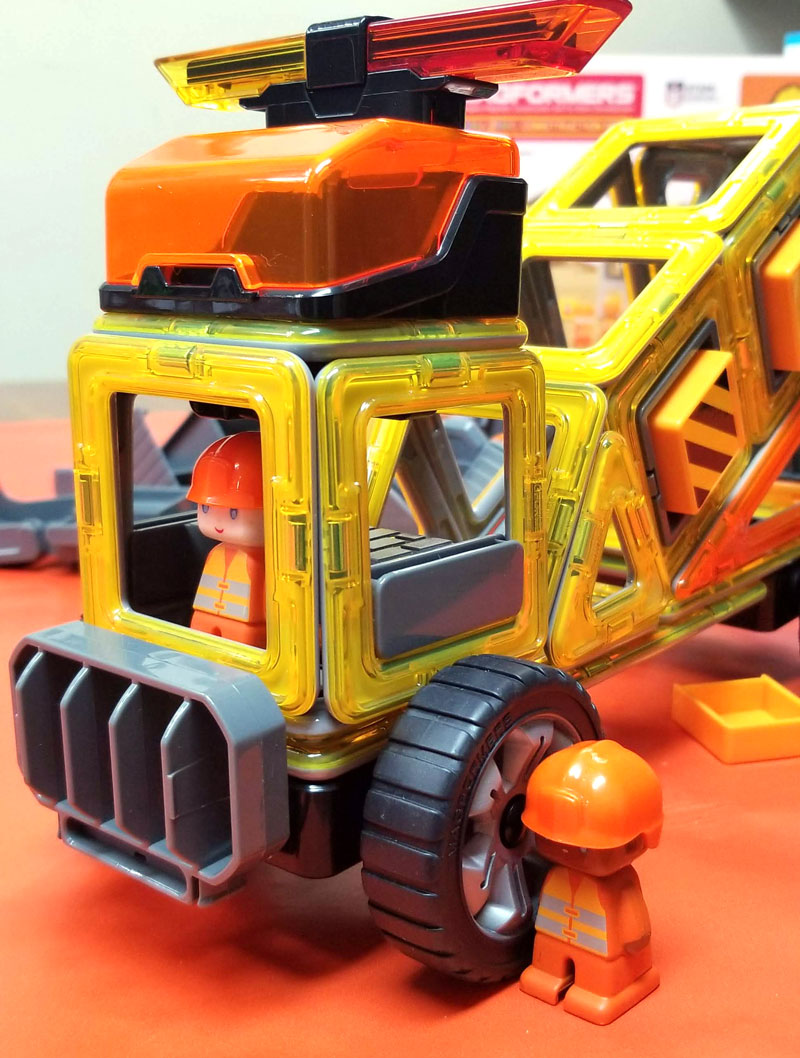 Big Sibling Gifts for Ages 7-10 (School Age)
Jealousy is less of an issue at this stage, however giving a gift from baby is still a great tool to connect them to the new family member. They can be more helpful at this age, and rewarding them in advance for the new responsibilities they may face is a great approach to making this whole new experience exciting.
You can find more ideas in my list of best birthday gifts for 8 year old boys (and girls too, of course).
Again, your child will likely see everyone with cameras in baby's face, so why not establish their position as one of the big ones by getting them a real camera? You can get them a photo album to go with it as well, so that they can keep memories of their time with their new sibling.
And finally, my favorite gift – especially for older siblings: A big sibling journal for them to mark down memories, paste photos and more! It's the perfect length, and attainable, fillable for kids who don't love to write too. It's full of meaningful things to jot down. It's perfectly pairable with one of the camera options!
Pair it with some washi tape for pasting photos, some spare photo paper, some gel pens, or anything else that's fabulous for journaling.
A more humorous and mature big/little sibling shirt
While your grade schooler might be a bit beyond the "big sister/brother" shirt stage, something like this "Did we just become best friends?" shirt can be quite adorable – especially when gifted by the baby!
A bit more mature than clothing, a pretty big sibling bracelet can be a super fun way to get an older sibling involved and feeling great about these changes.
When A was born, M really, really wanted to hold her. But he didn't quite have the experience, so it was all sitting, pre-positioned holding only. Having a special cuddle zone where the big sibling can hold baby can be really special. And which 7-10 year old wouldn't love a new comfy bean bag chair as a reading spot regardless?
You can include a fun note from baby as well, about how they hope they'll spend lots of moments together.
I feel like I've asked my son a zillion times while nursing the baby "what time is it?" Even though I wear a watch… It is a sweet gift regardless but also has a tie-in, making it a fabulous big sibling gift from the new baby.
A new hobby
A great way to occupy a school-aged child and a fabulous way to boost a healthy self-esteem, a hobby is a really great gift. This needs to be catered to the child. Get a new set of art markers for an artist, purchase a beginner jewelry making kit for the aspiring fashionista. More hobbies that can be gifted as beginner kits: polymer clay, STEM or model building kits, science experiment sets, cross-stitch, and more.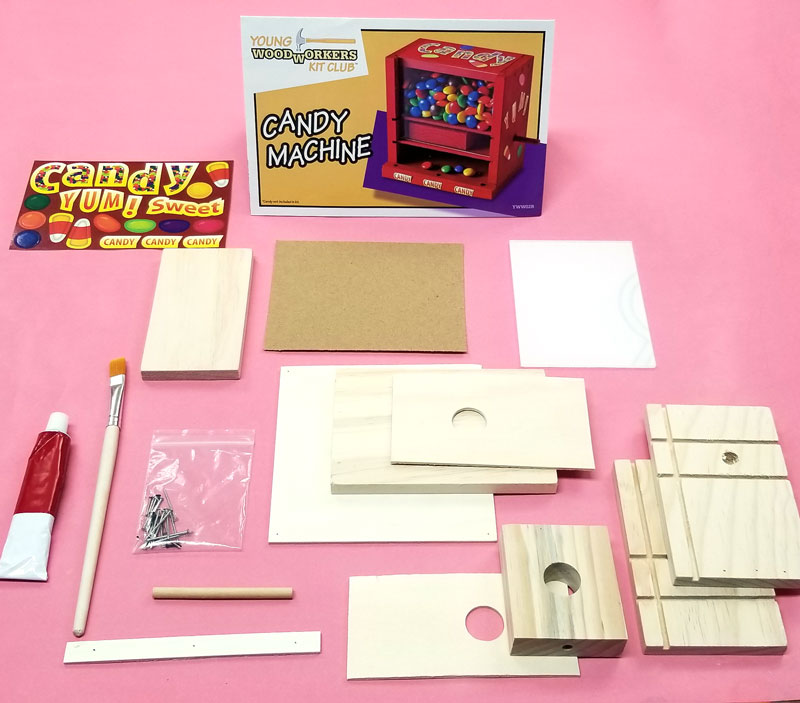 It can also be related to the baby – such as a Cricut Joy beginner set to allow them to make your thank you cards, custom bodysuits, or milestone blocks. Or, go for something like Annie's Kit Club.
There are so many possibilities for big sibling gifts from the new baby – starting with their favorite things to do, and on to unique ideas that are big-sibling themed.
Whatever you get, remember that your child wants to know that you're still there for them, and the small, low-energy things you do will make the biggest impact. Read them a book. Watch a movie together – their choice. Ask how their day was. Let them choose (takeout) dinner…
What are your favorite big sibling gifts from the new baby? Comment below!