Braid bracelet DIY ideas are not only cute and fun fashion accessories, but they're also a surprisingly mess-free craft. With no messy glue, fewer beads to account for, and no paints to spill, DIY braided bracelets are the perfect craft to work with on the go, or around the house. Check out my favorite DIY bracelets and then scroll down for these braided bracelets! Disclosure: this post contains commissioned links.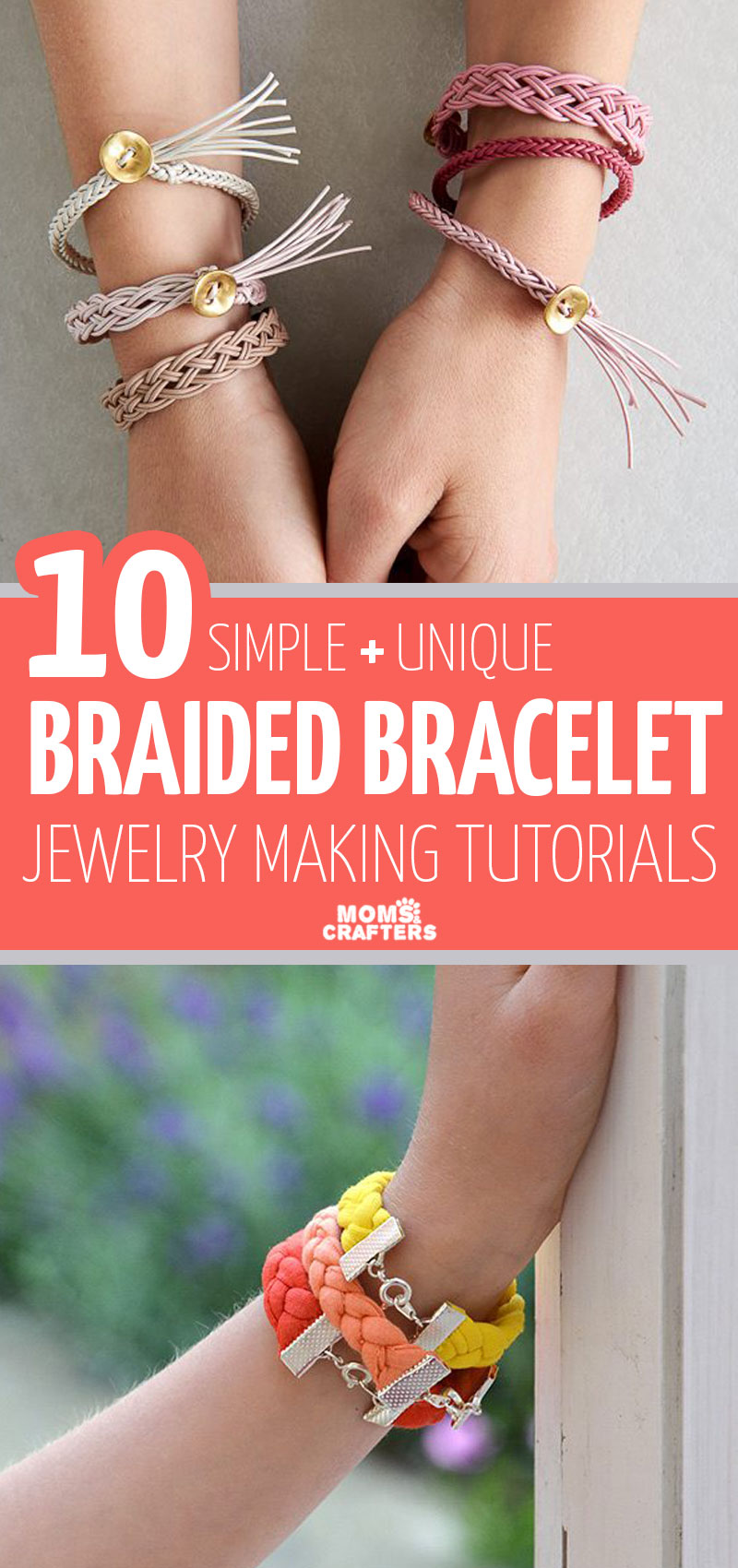 The no mess part is great and all, but the braided bracelets are just awesome! No matter what you braid, they always seem to turn out looking fantastic. These braid bracelet DIY ideas will have you making beautiful bracelets at home in no time!
Below, you'll find a list full of braided bracelet ideas for everyone! It is broken up into categories by the base material required:
Leather
Fabric
Other (Beads/Twine/Paracord)
Hopefully, this will make it easy for you to find the best bracelet for the occasion!
Braid Braclet DIY Ideas from Leather
These braid bracelet DIY ideas use leather to create timeless designs you'll love for years to come.
1. Mystery Braid Bracelet by A Pumpkin and a Princess: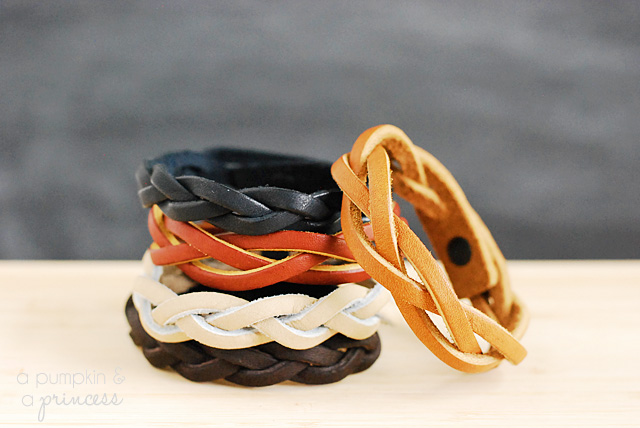 These DIY braided bracelets have quite the surprise… no loose ends! They're made from a single piece of leather, so there are no tied off or glued down ends. Even once you've made one, it's still a mystery how it works!
2. Braided Leather Bracelet by Moms and Crafters: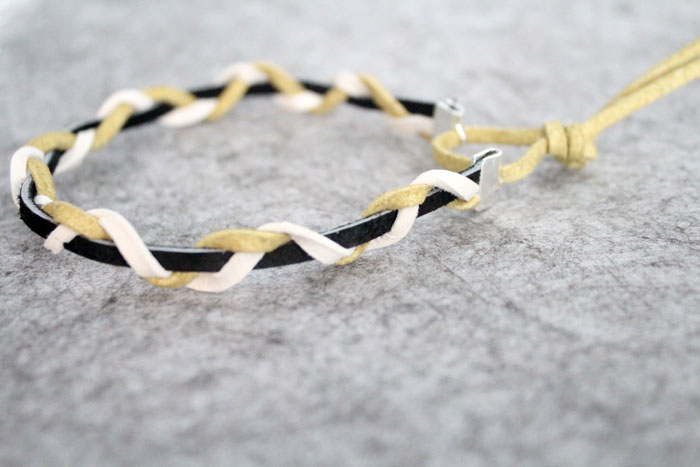 With just a few leather strings and ribbon end crimps, you can make a DIY braided bracelet that everyone in the family will love to wear!
3. Braided Friendship Bracelets by Purl Soho: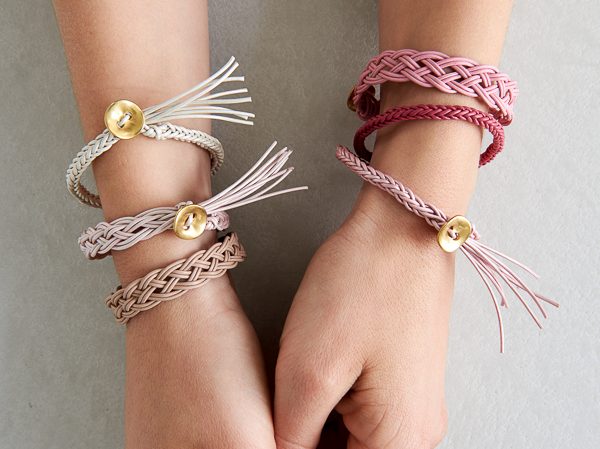 This braid bracelet DIY tutorial will create some awesome looking bracelets. These look like the sort of thing you might buy at a store, but you can make them at home!
4. DIY Braided Essential Oil Diffuser Bracelets by The Soccer Mom Blog: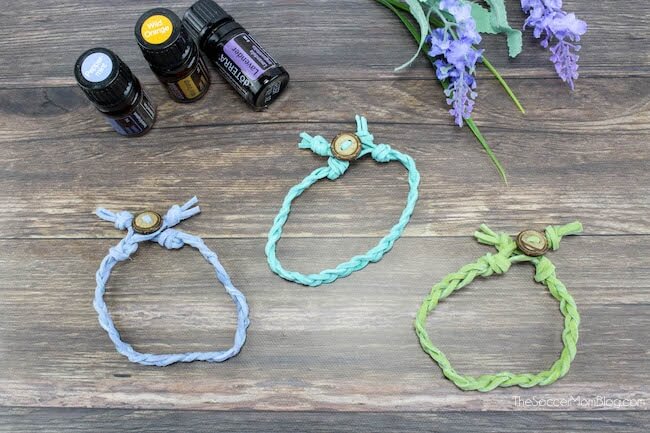 With just leather and a button, you can make this braid bracelet DIY. They'll even keep your world smelling fresh, and offer aromatherapy benefits, by diffusing your chosen essential oil while you wear them!
---
Want to learn how to make jewelry out of anything? Get the book!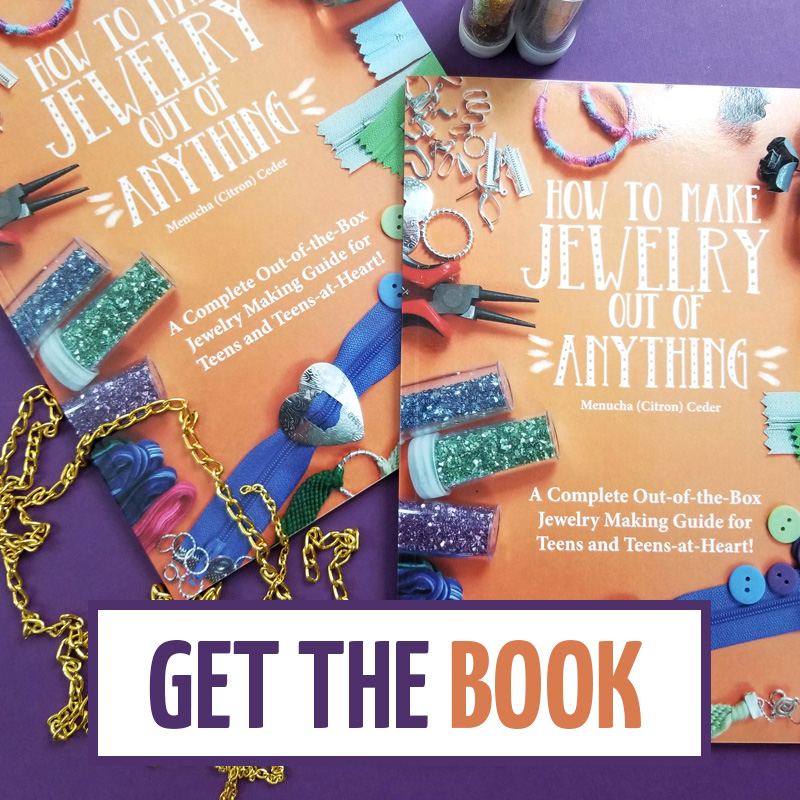 ---
Braid Bracelet DIY Ideas using Fabric:
These DIY braided bracelets use fabrics, giving you tons of color and design flexibility! The best part: most of these can be made using upcycled fabrics or scraps!
5. T-Shirt Yarn Bracelets by BlueBearWood: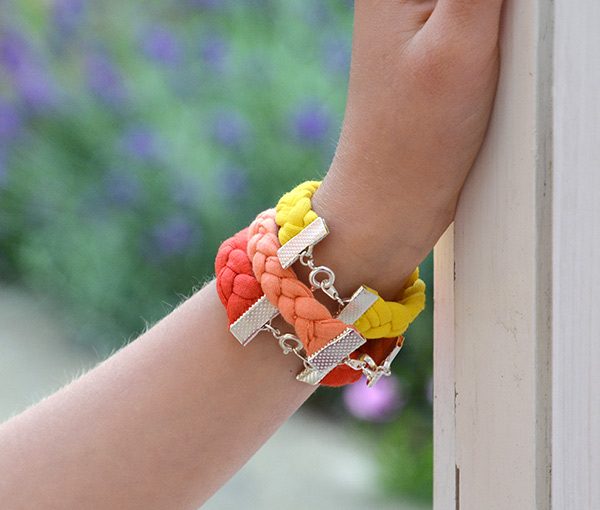 These simple fabric braided bracelets are so cute! They're easy to make too, making them perfect for parties or craft nights. You can try these as a cool party craft for teens too.
6. Spiked and Braided T-shirt Bracelet by Pink Stripey Socks: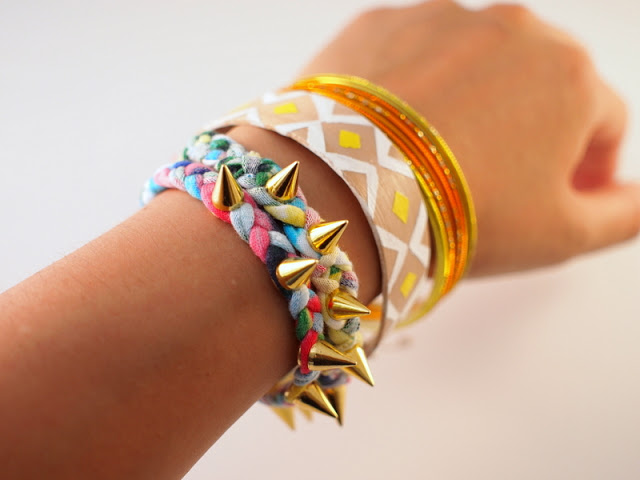 Perfect for that little rebel in your life, these DIY braided bracelets recycle old shirts to make something you can keep wearing every day! They are full of color, and feature a fun twist.
7. DIY Studded Braid Bracelets by A Pumpkin and a Princess:
The studs on this DIY braided bracelet really give it that extra pop! The studs come pre-attached to the fabric trim, so no riveting tools needed.

More braid bracelet DIY ideas with all sorts of materials!
These DIY braided bracelets prove just how versatile a braided bracelet can be. No matter the material, you'll love these ideas!
8. Melted Perler Bead Braided Bracelet by Pink Stripey Socks: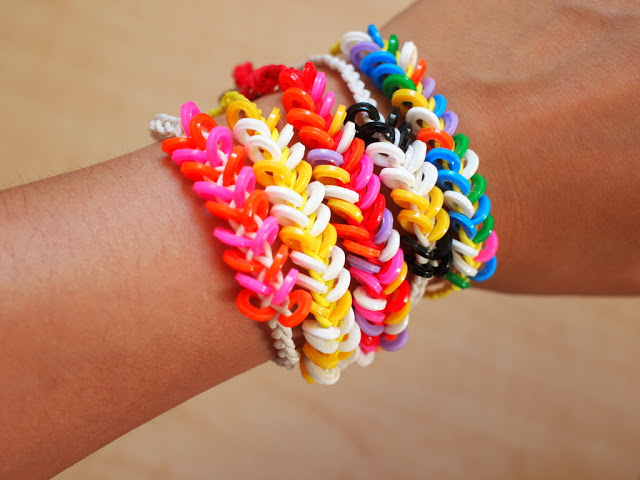 Stuck with extra Perler Beads left over from another craft? Put them to good use with this DIY braided bracelet! Isn't this a brilliant way to put those beads to use?
9. DIY Braided Friendship Bracelets by Moms and Crafters: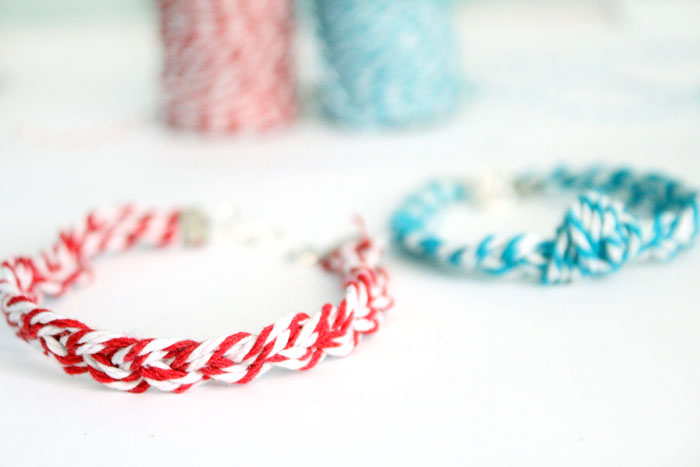 These fun braided friendship bracelets are so simple to make, but so pretty and fun to wear! Make one, or make a few to mix and match. This is perfect for when you have leftover baker's twine, but they can be made with any twine you want.
10. DIY Paracord Bracelet by Gluesticks: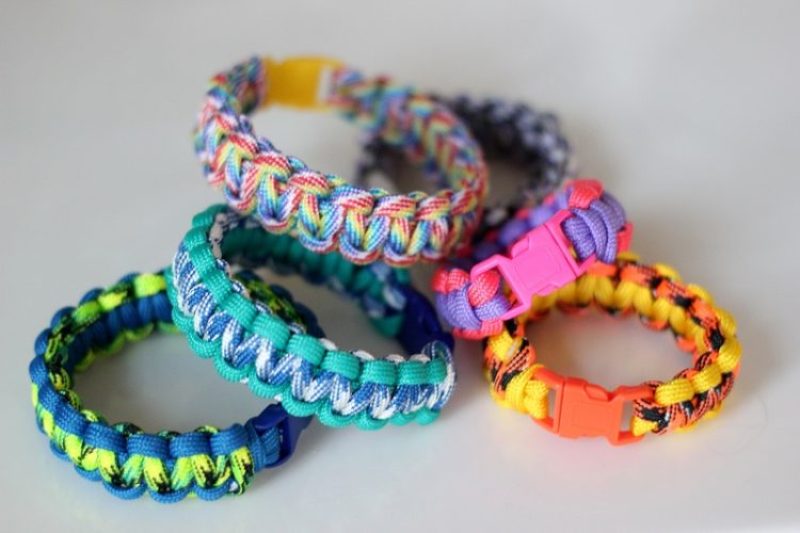 Paracord bracelets have been all the rage for years now, and they show no signs of disappearing! Learn how to make your own DIY braided bracelet from Paracord with this awesome tutorial. While this isn't precisely a braid, it's a great idea for those of you who love braid bracelet DIY ideas and a beginner tutorial for a new kind of knot.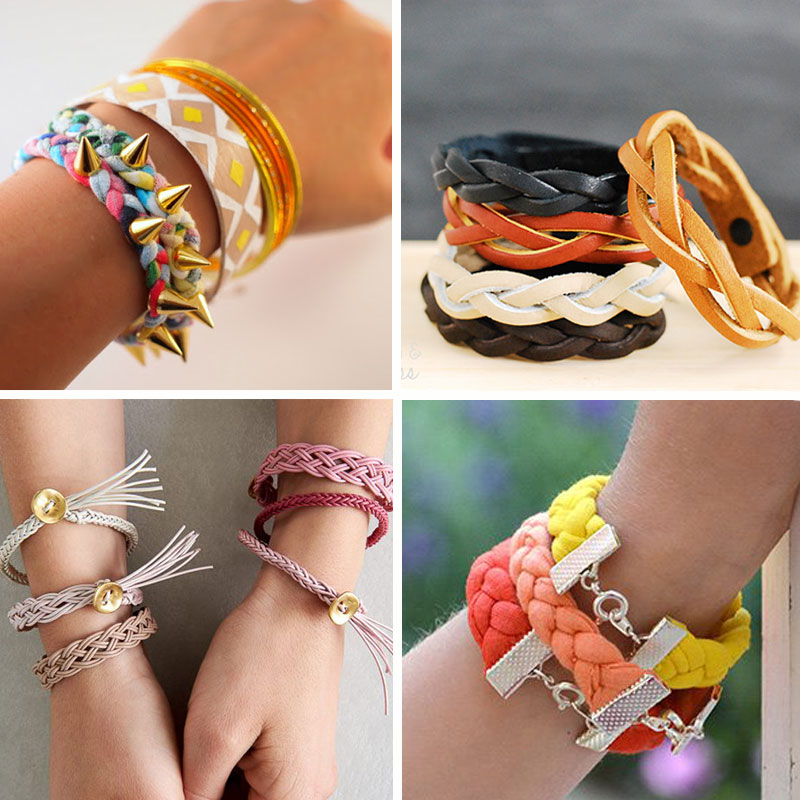 Which braid bracelet DIY tutorials best fits your style? What's your favorite material to craft with? Comment below and let us know!