Create this adorable pirate ship craft with a free template! When you're done, check out this toilet paper roll castle to add to the fun! This post contains affiliate links.
---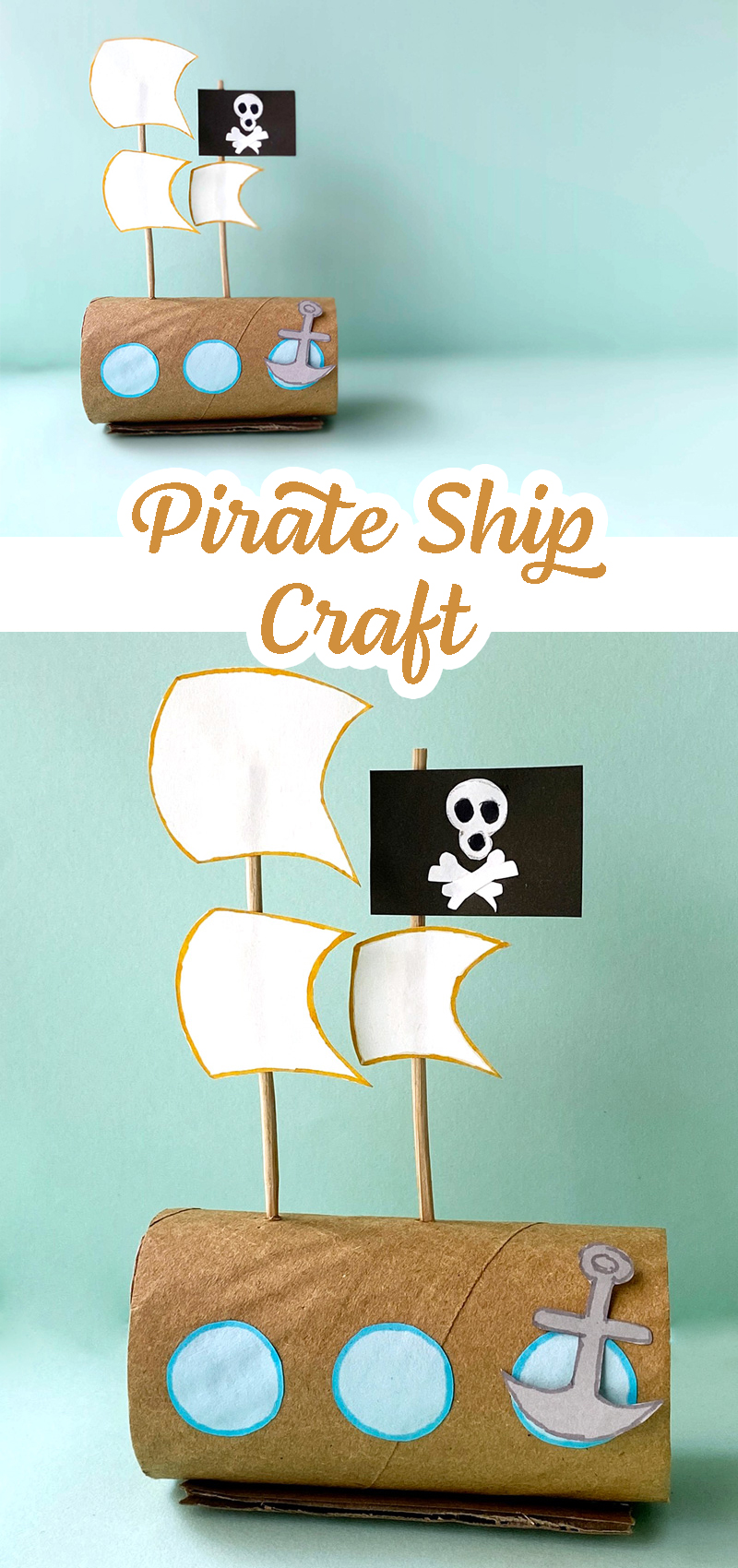 We feature a lot of beautiful crafts with all kinds of fun materials on this site, but sometimes the biggest winner is when you can use ordinary materials you already have to make something you'll have fun using.
Here, we use simple paper and objects that could be mistaken for trash, and the end result is instantly playable.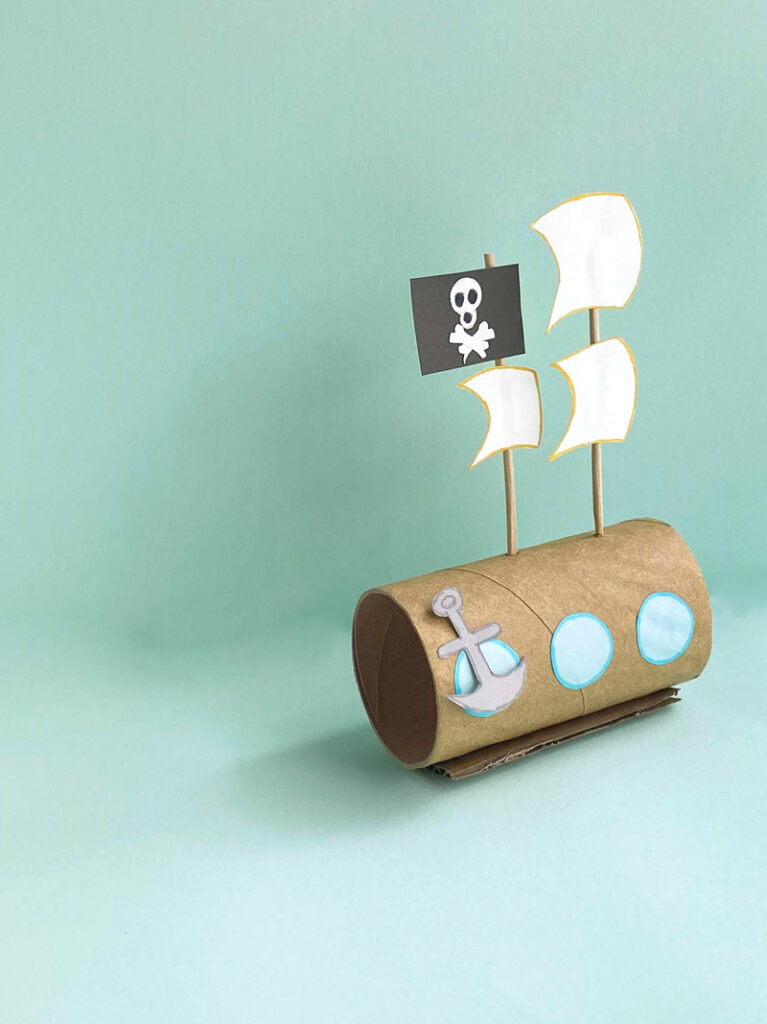 This pirate ship is not actually seaworthy since it's made from paper materials, but it is perfect for pretend play using a bed or floor as the ocean. Since it's made from a tube, kids can even stick little people inside for transport.
You can even experiment with it in the bath, just be aware that it might be a single-use endeavor!
You can also make a second ship for the "good guys" by just leaving off the pirate flag or designing your own flag using different colors.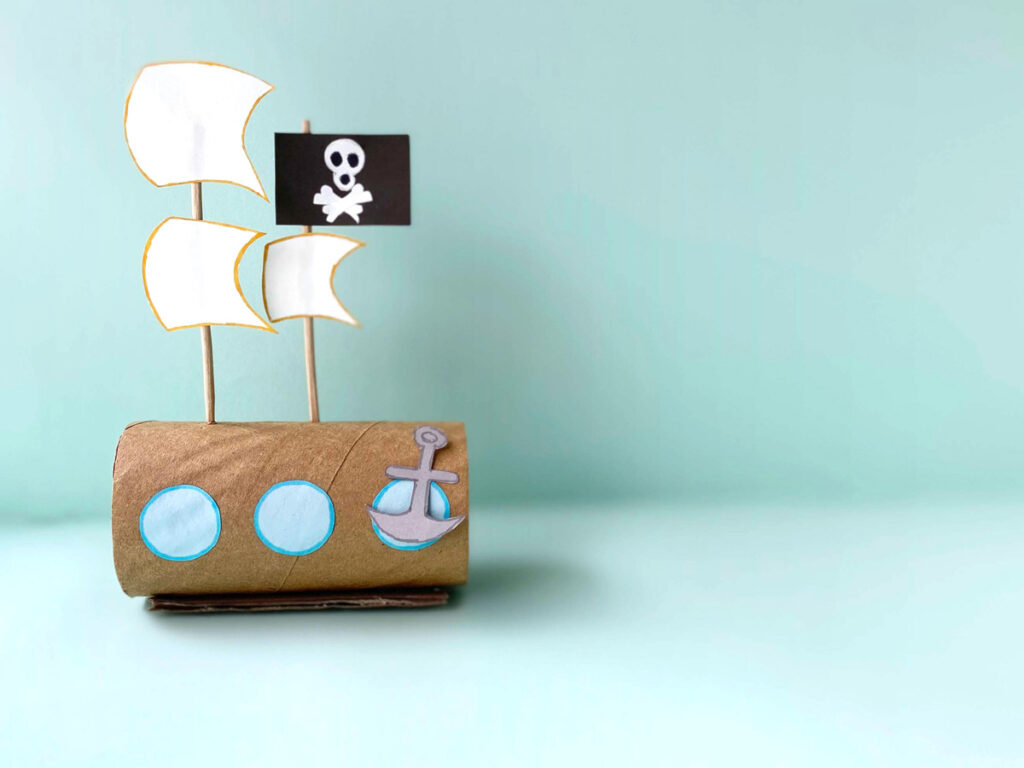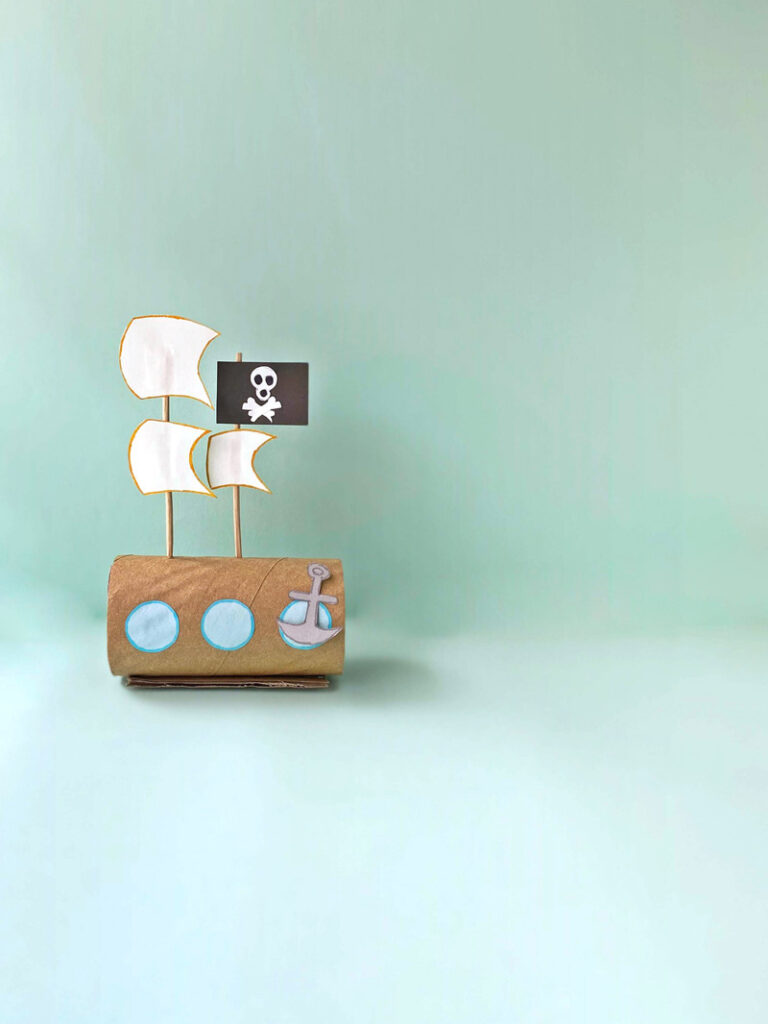 This craft is based on a cardboard tube. When I was a kid, empty toilet paper tubes were a crafting staple. They were almost endlessly available, and there were equally endless things to do with them.
These days, many people are more wary about hygiene and less encouraging of their kids playing with bathroom garbage. If that's you, don't worry – there are many other ways to enjoy the same crafts. Some ideas:
Amazon sells the same kind of tubes without the toilet paper. They are actually stronger.
You can use paper towel rolls from the kitchen or elsewhere, just cut them down to size if the instructions are made for toilet paper rolls. Other products that may come on cardboard rolls include wrapping paper, aluminum foil, etc.
You can make your own tubes by rolling up cardstock or thin cardboard and gluing or taping it closed
Empty a toilet paper roll before it goes into the bathroom by pre-cutting the toilet paper into sheets of 2-3 squares. This can also be a great lifestyle fit if you have a little one who likes unraveling the roll for fun, or family members who tend to waste too much paper.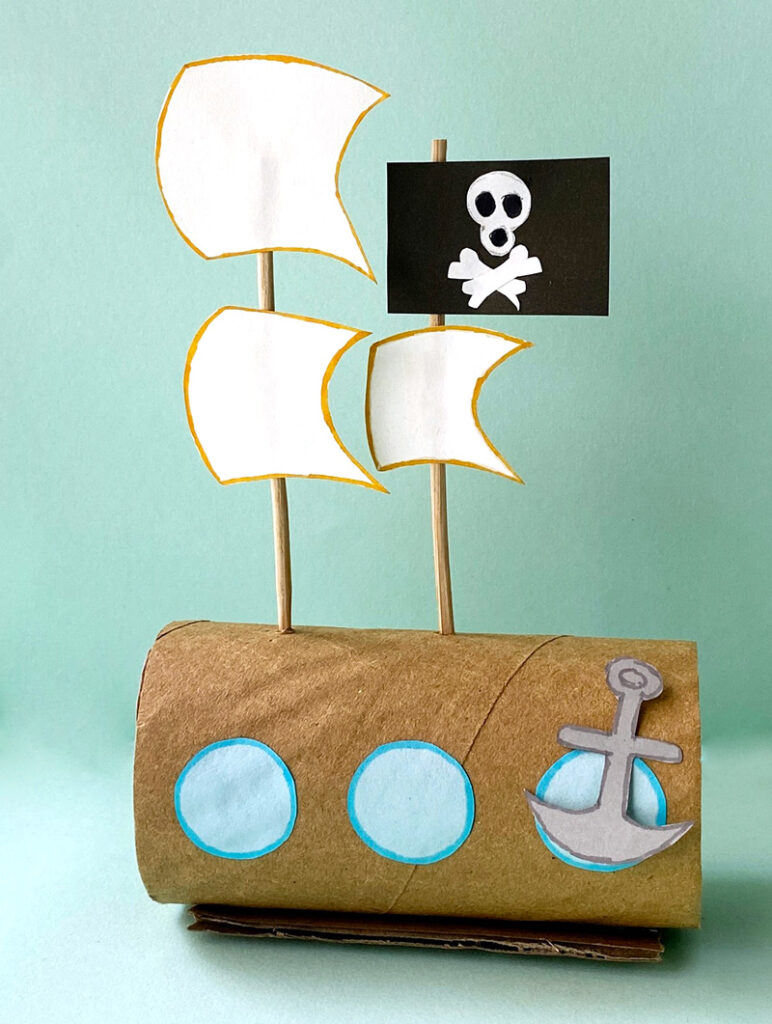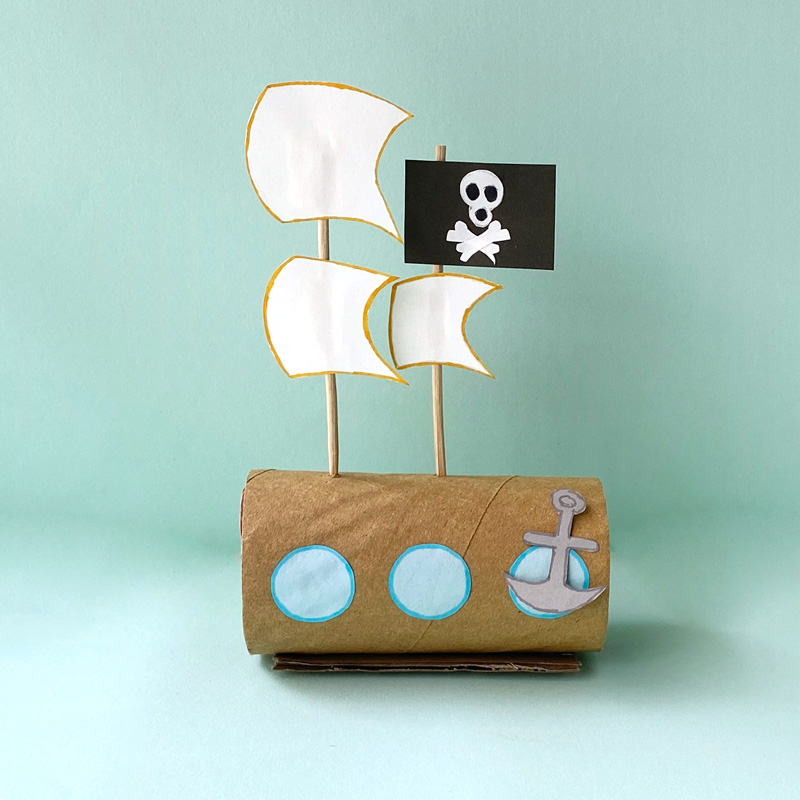 Personally, I think it's well worth the few minutes of extra effort of preparing the roll in order to engage kids in this classic activity of repurposing household "trash" by crafting.
My kids actually enjoy being the ones to pre-cut toilet paper themselves – it's a fairly easy task to teach at any age.
What you'll need
Cardboard tube (such as toilet paper roll or a purchased craft tube)
Ruler
Glue (I like tacky glue because it holds well before it cures)
Sticks (such as craft sticks, skewers, mini dowels, or natural sticks)
Template you can download and print at the end of this post
How to Make this Pirate Ship Craft
1. Cut out all the pictures from the template. For parts that you want to leave white, such as the skull and bones, you're done. For the other pieces, trace the template onto the colored papers of your choice and cut those out.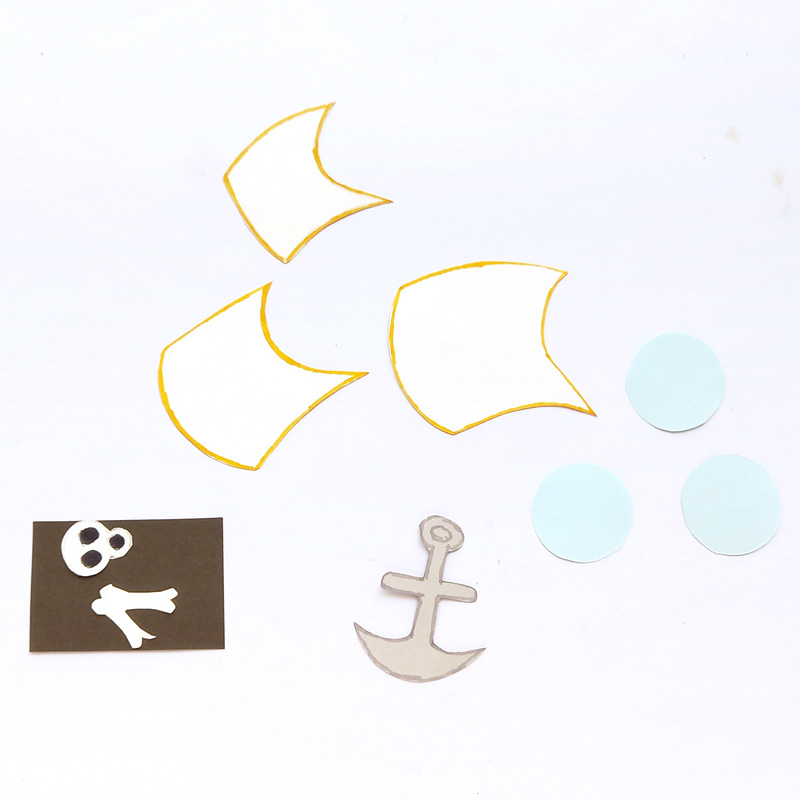 2. Glue the window cutouts onto your cardboard roll.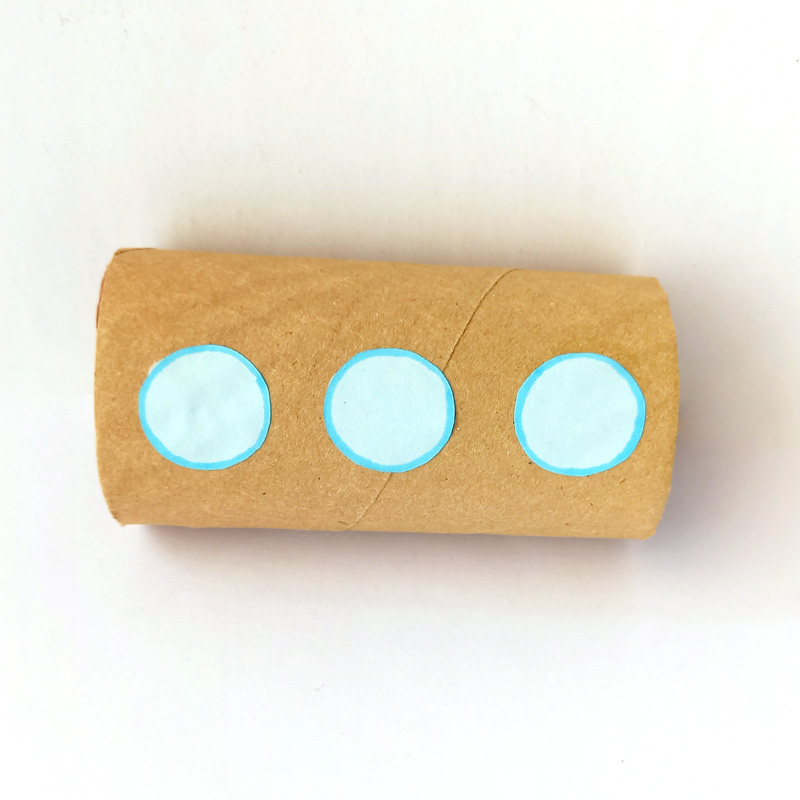 3. Take two sticks for the sails.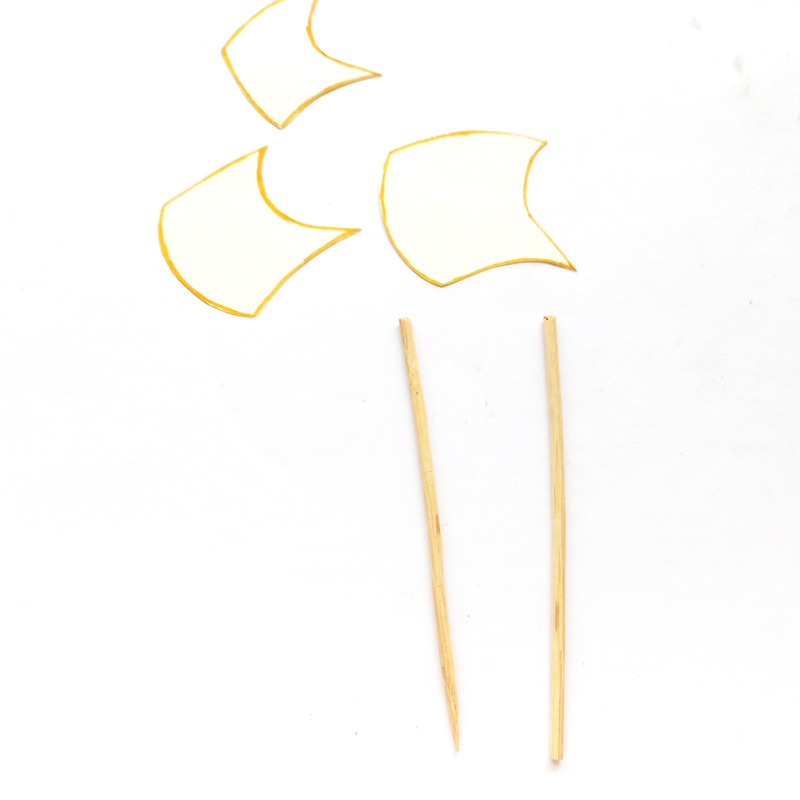 4. Glue a paper sail to the top of one of the sticks. You may want to secure it with a piece of tape across the stick as well.
5. Glue the skull and bones onto the flag cutout.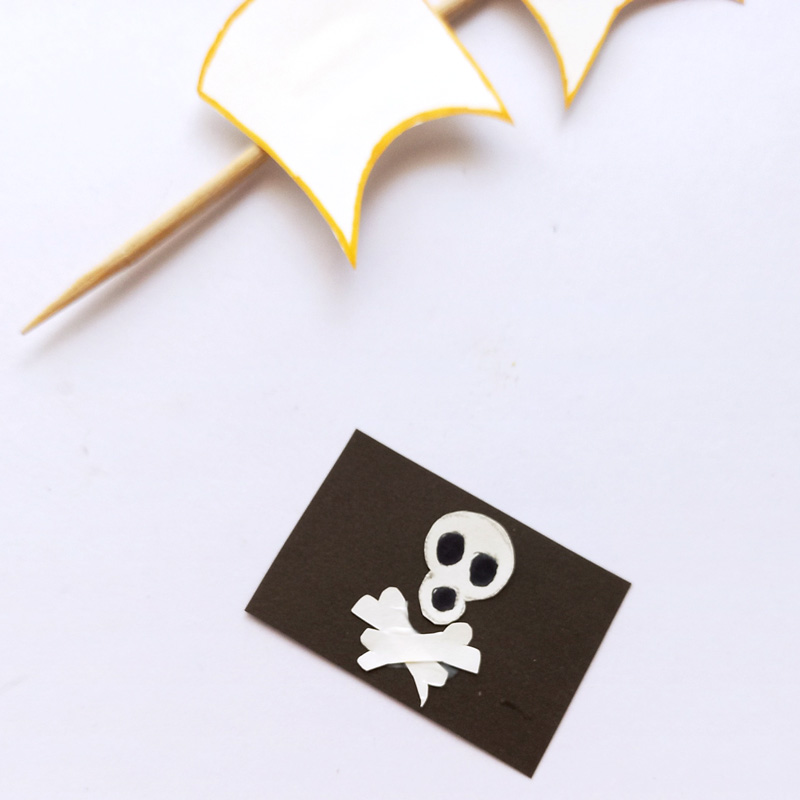 6. Glue the flag and the rest of the sails onto the sticks. Use tape to secure them as needed.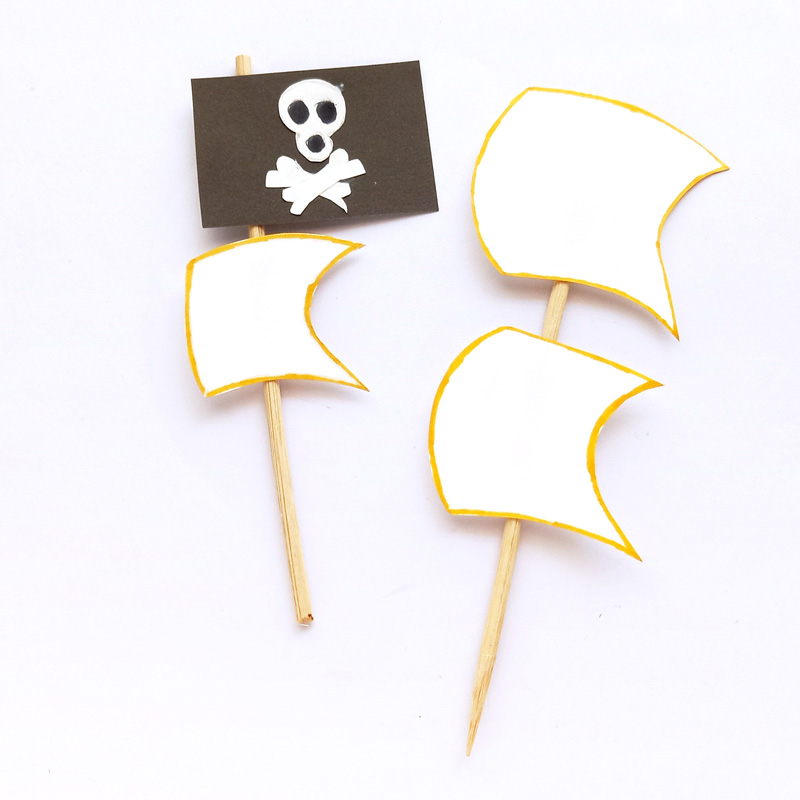 7. Poke two holes in the top of the cardboard tube to put the sticks through (you may want to help children with this step since it may require some force with a pointy object).
8. Poke the bottoms of the sticks through the holes. Use glue as needed to secure them in place.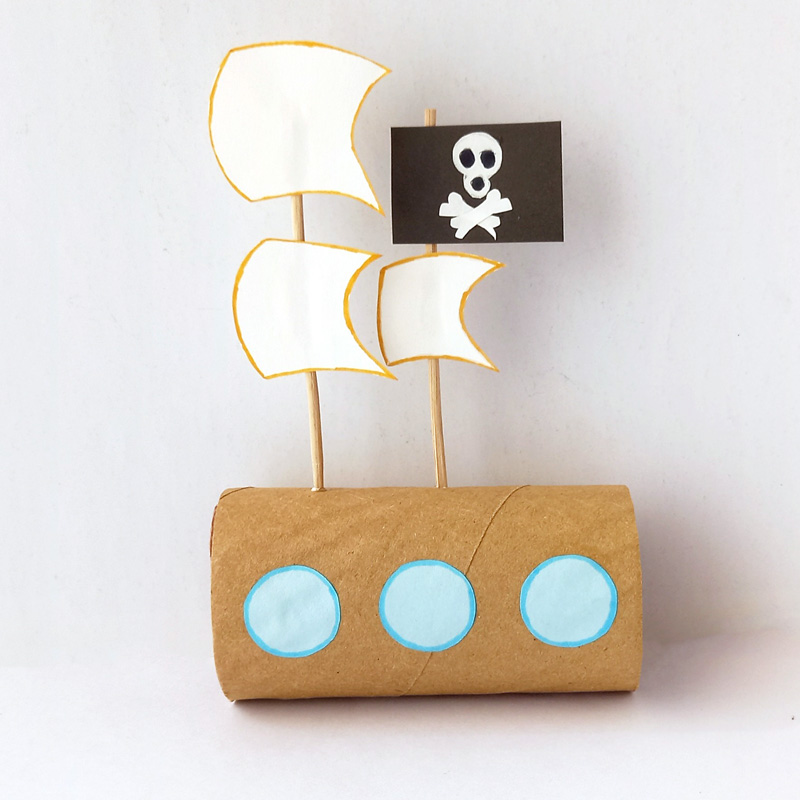 9. Glue the anchor cutout near the windows for a finishing touch.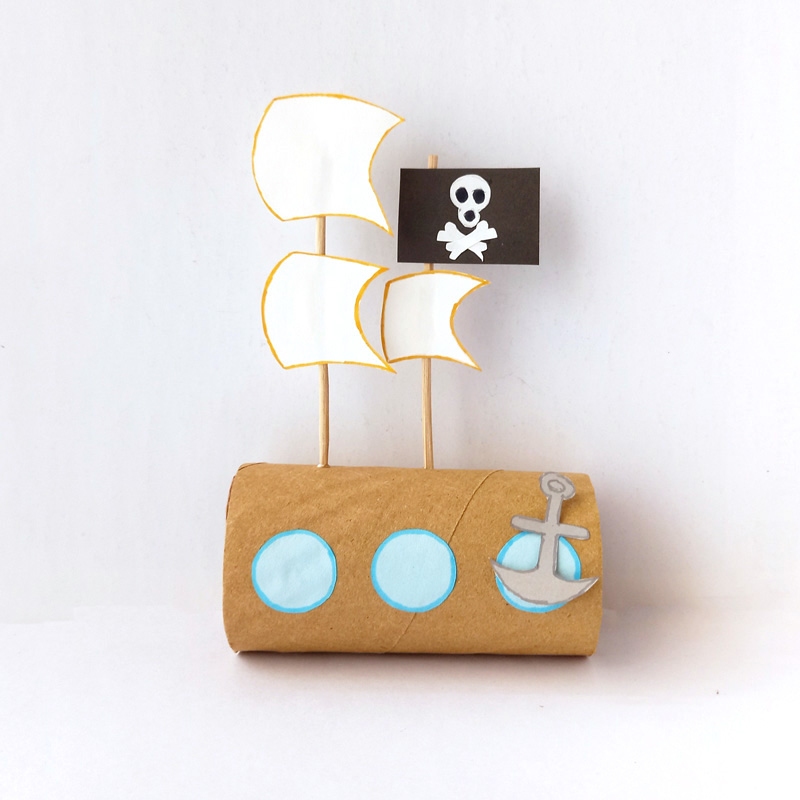 Your cardboard tube pirate ship craft is complete!
Download the Pirate Ship Template
To download, fill out the form below. You'll be signed up for our free newsletter – unsubscribe at any time in the footer of the emails. I respect your privacy and the law and won't share your information with anyone.