A DIY leather keychain makes a fantastic Father's Day gift for Dad – or a sweet gift for men and boys who are difficult to buy for. They're fun for women too, of course. Personalize it and add a name or write Daddy on yours. This post contains affiliate links.
---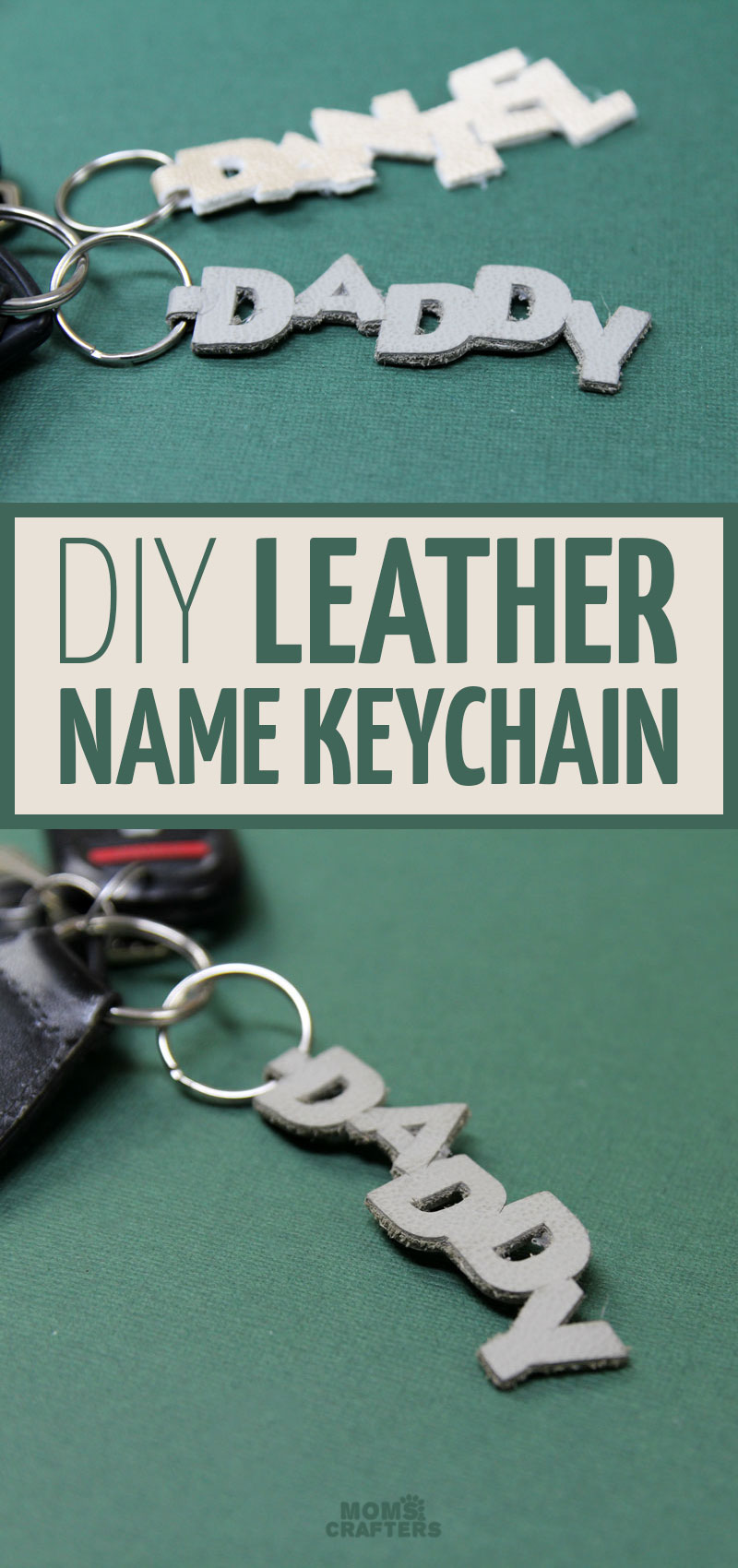 We've had an influx of short notice drive-by parties these days and since we want to make the day special for the birthday kid, we made an impromptu gift on our Cricut Maker.
We also popped out some quick and easy birthday cards on our Cricut Joy – I already shared more about Cricut Joy card making.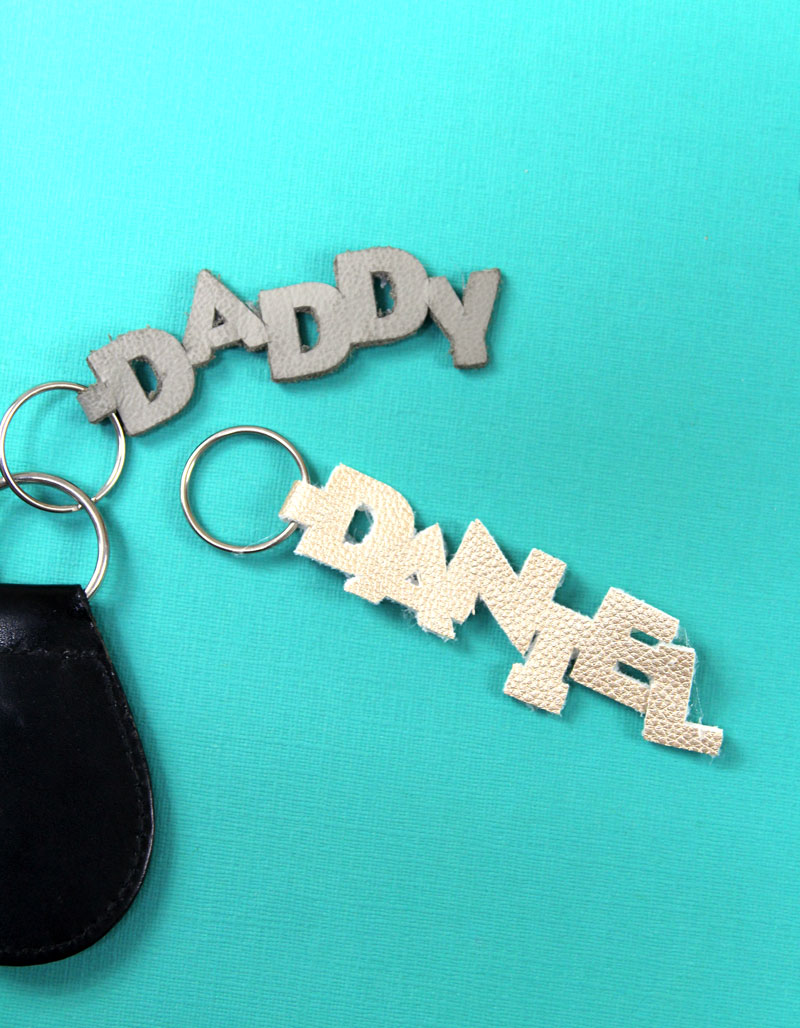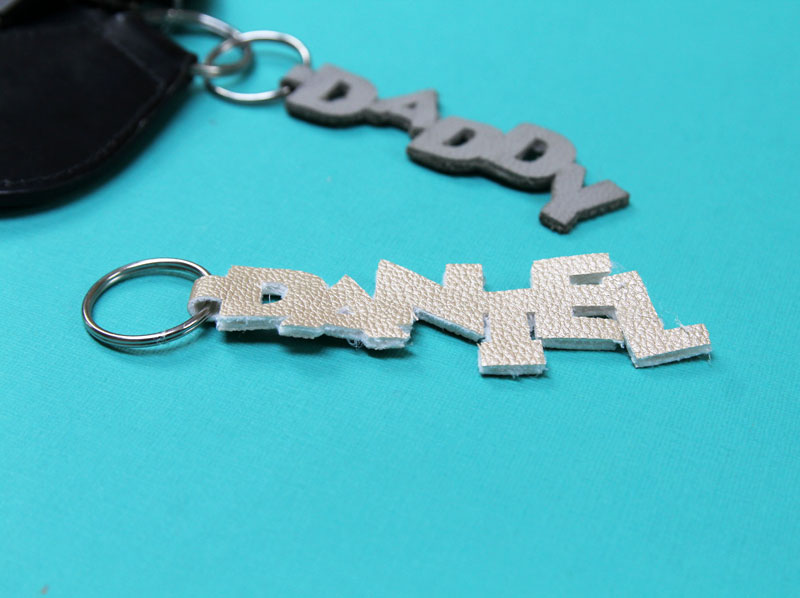 Then my and my husband's birthday rolled around (yes, we share a birthday!) and my boys said "we need to make a keychain for Daddy!"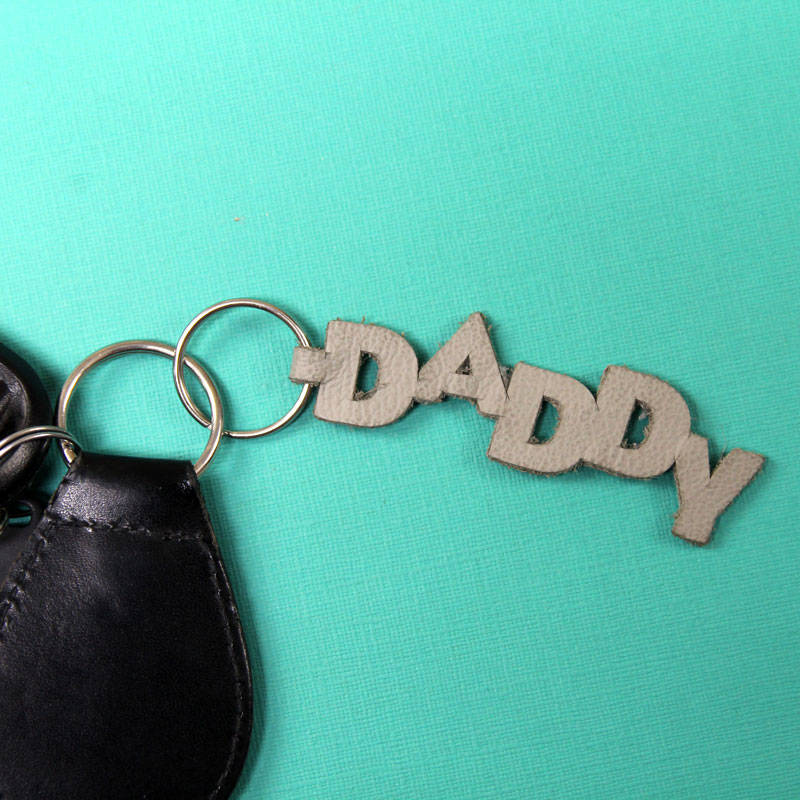 So while we did NOT make it for Father's Day we realized what a fantastic craft this is for then.
DIY leather keychains are fantastic for personalized gifting, last minute hand-outs, and make an amazing craft to sell.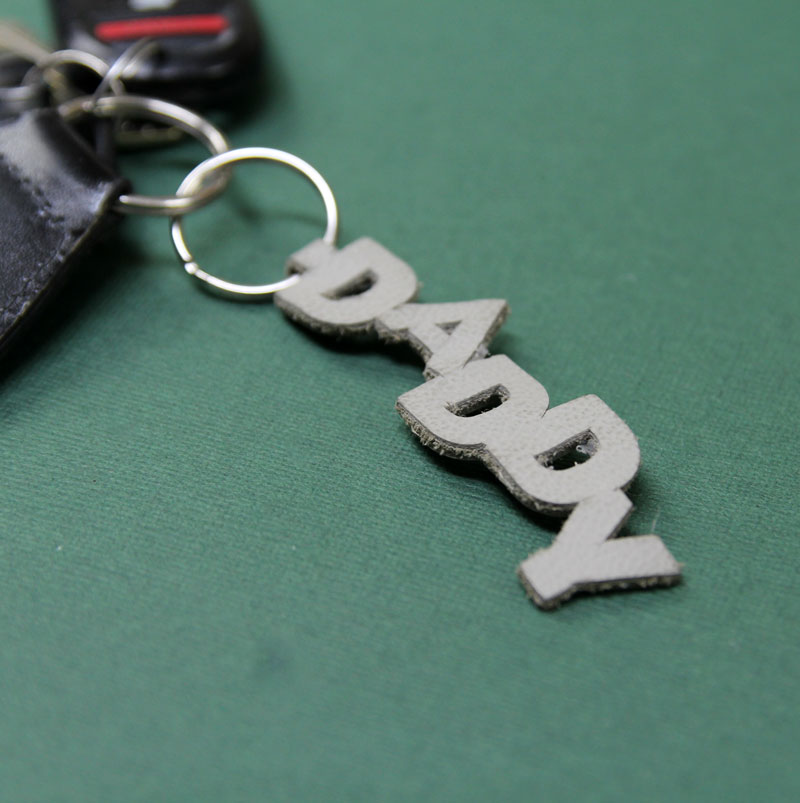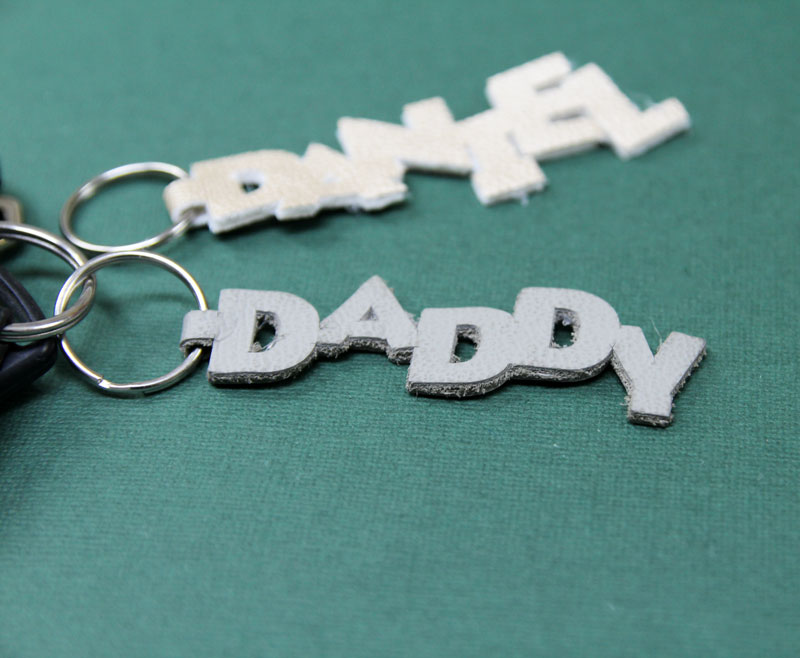 Cutting this DIY leather keychain with its intricate shape:
While you don't need to make this using a cutting machine, using our Cricut Maker made it that much easier, so this tutorial focuses on that. If you have the patience to carefully and accurately cut your leather by hand, you can definitely do it that way.
We used the Cricut Maker with the knife blade. Once again, this woven bracelet tutorial shares with you how to cut leather with the different machines, including the Cricut Explore Air 2.
Yes, you can make a DIY leather keychain on your Cricut Explore Air 2.
You can even do it with genuine leather. However, it's not as clean. in the post I shared above, I also share comparison results.
To cut leather on any machine you need the purple StrongGrip mat, StrongGrip transfer tape, and masking tape.
If you have a Cricut Maker, I recommend using the knife blade but you can also use the deep point blade. If you're using the Explore Air 2, you'll need the deep point blade.
Which leather should you use to make these keychains?
For M's friends, I used faux leather from this brand. Faux leather generally cuts more easily, but if it has a lot of stretch like mine does, you'll still want to reinforce it with StrongGrip transfer tape and tape it down.
For my husband's keychain, I used a scrap from this scrap pack that I got a while ago. Not all your scraps will be big enough for projects like this one (many of them are perfect for jewelry crafts).
If you plan to make these in quantity with real leather, you'll be better off getting full sheets.
What you need to make leather name keychains:
I highly recommend using a good quality hot glue gun for this as you get a more solid core on your key chain. It also dries quickly, avoiding any shifting and inaccuracy.
Cricut cutting supplies:
How to make leather keychains with your Cricut:
Design Space tutorial:
1. Choose "text" and type in your name. Choose a font that's bold and all-caps (or type in all caps). I chose Eagle Bold.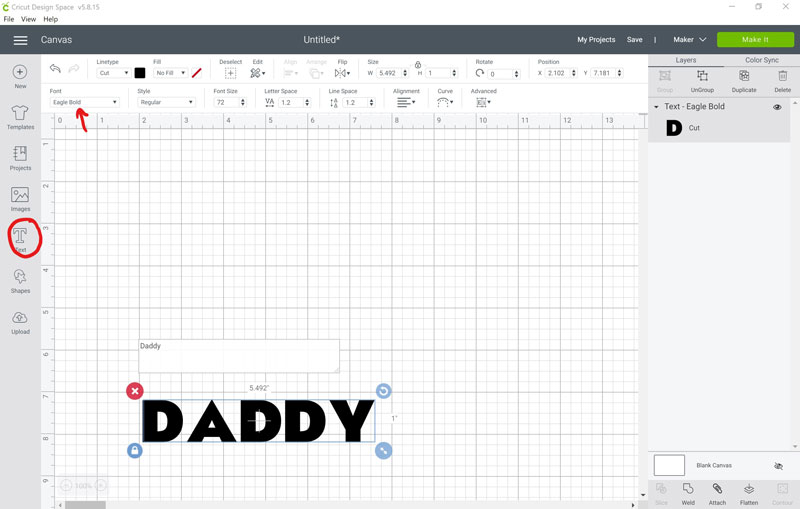 2. Ungroup your text and rearrange it so that all letters overlap. Keep in mind that you want to retain legibility as much as possible.
3. Select all your letters and weld.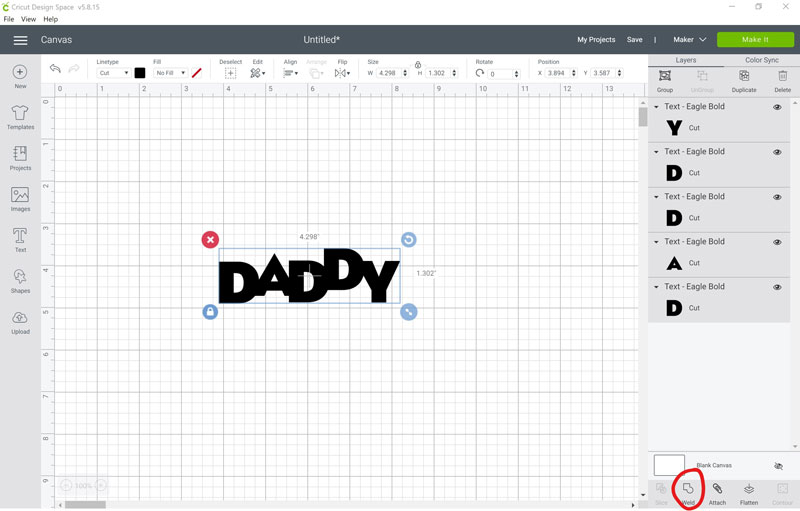 4. Select your word, duplicate and then choose flip – flip horizontal.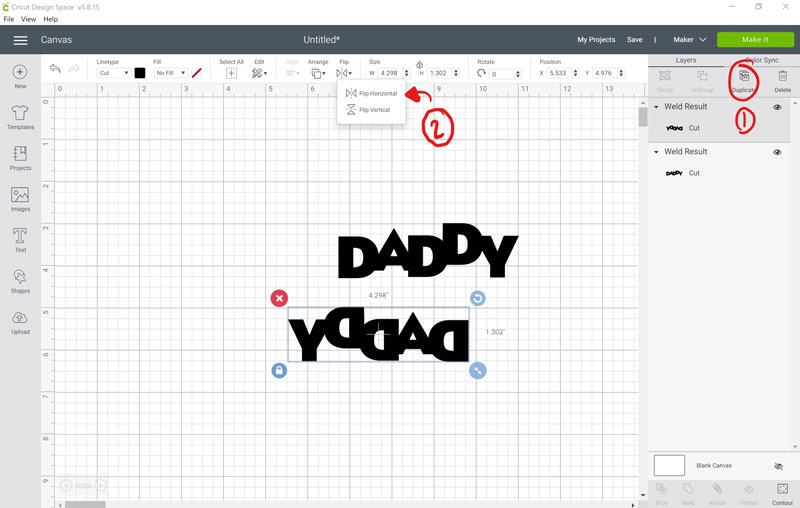 5. Move the two words next to each other with about 3/4 of a letter width in between. Select them both, click align, and center vertically to make sure they are exactly even.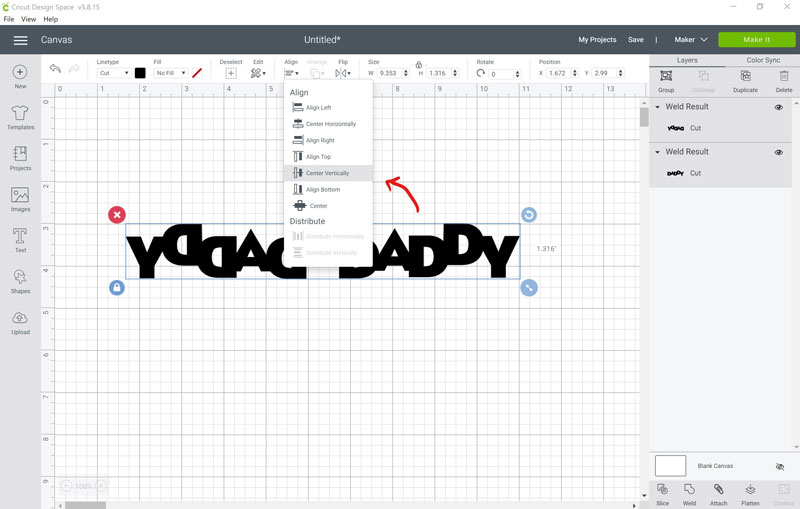 6. Go to shapes, choose square, and unlock in the bottom left corner.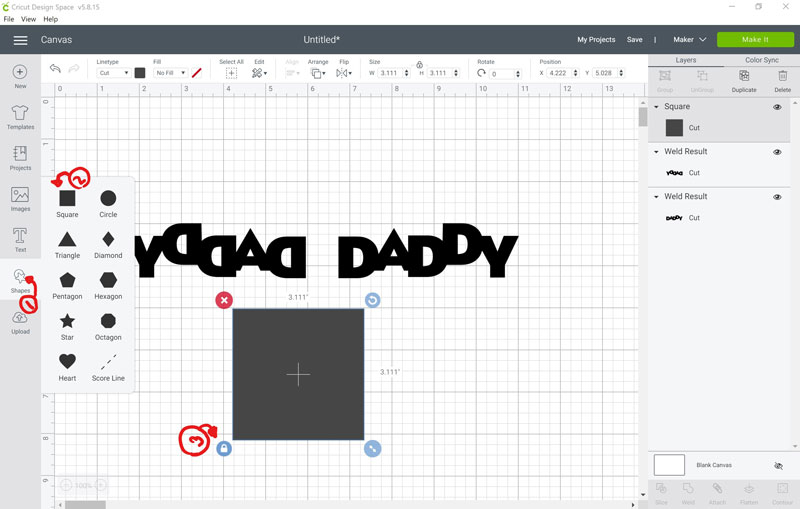 7. Turn it into a rectangle that overlaps both your words. Weld your 3 parts.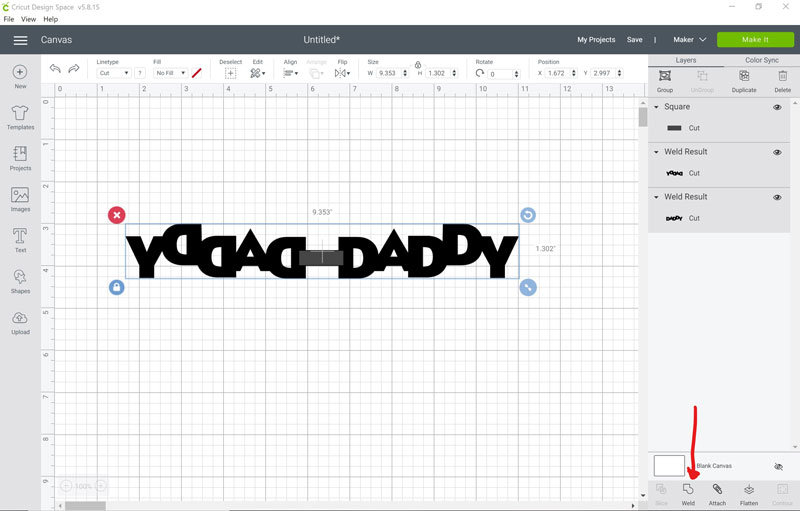 8. Figure out which size you want your final keychain to be. Keep in mind that you want as much width as possible but you don't want it to be too long. So go as long as you can without overdoing it. I aim for 3-4 inches in length.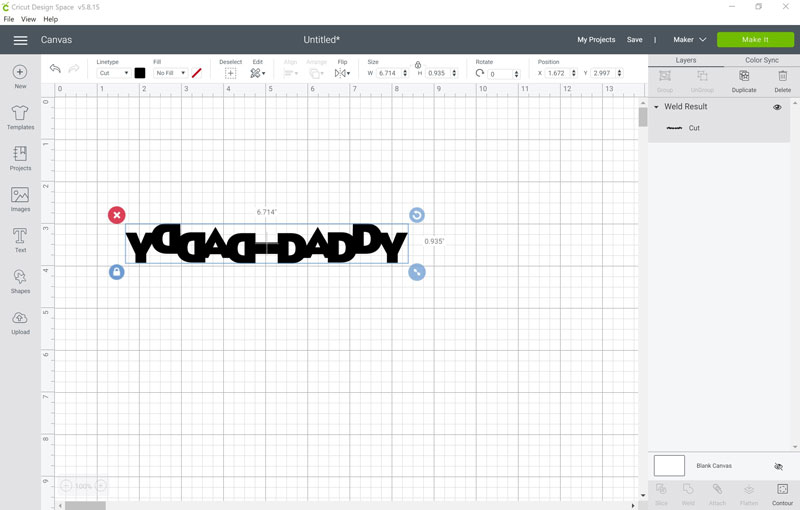 Hit "make it" and prepare your leather! Cut your leather to size. Back your leather with StrongGrip transfer paper.
Place in the top left corner of your StrongGrip mat. Use the brayer to make sure your leather is smooth and adhered well.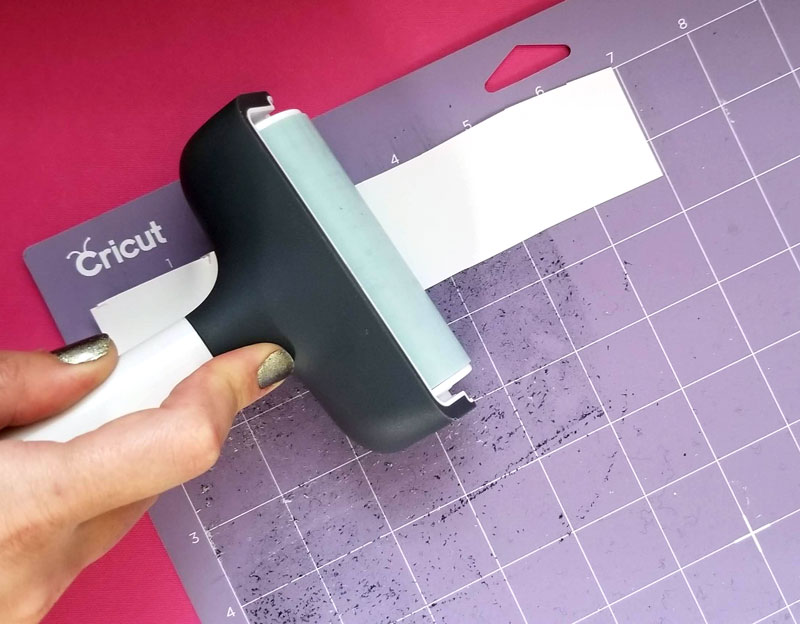 Tape down all ages, and move the white wheels on the metal bar on your machine all the way to the right so you don't mark your leather.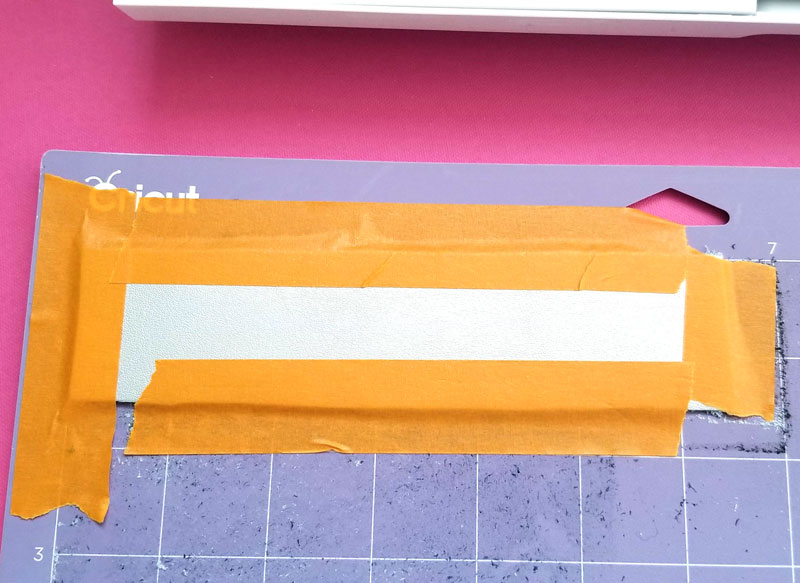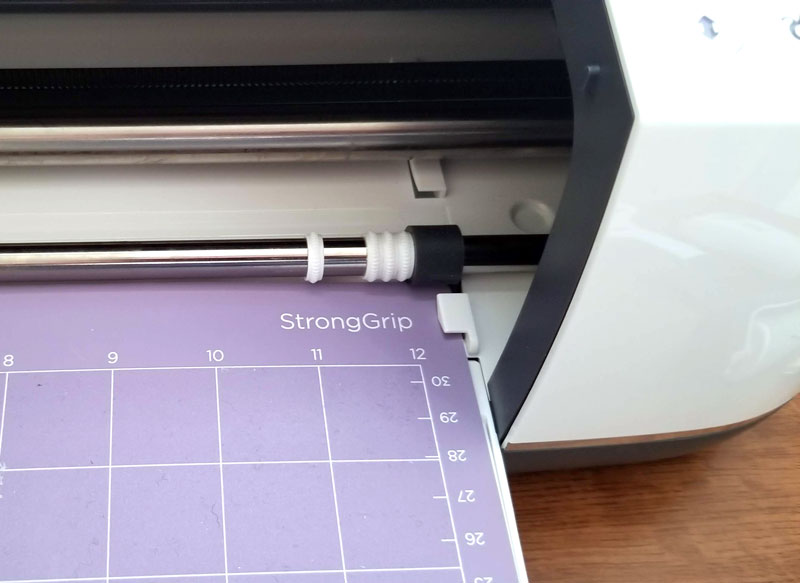 Insert the knife blade (or deep point), load your mat, and cut your leather!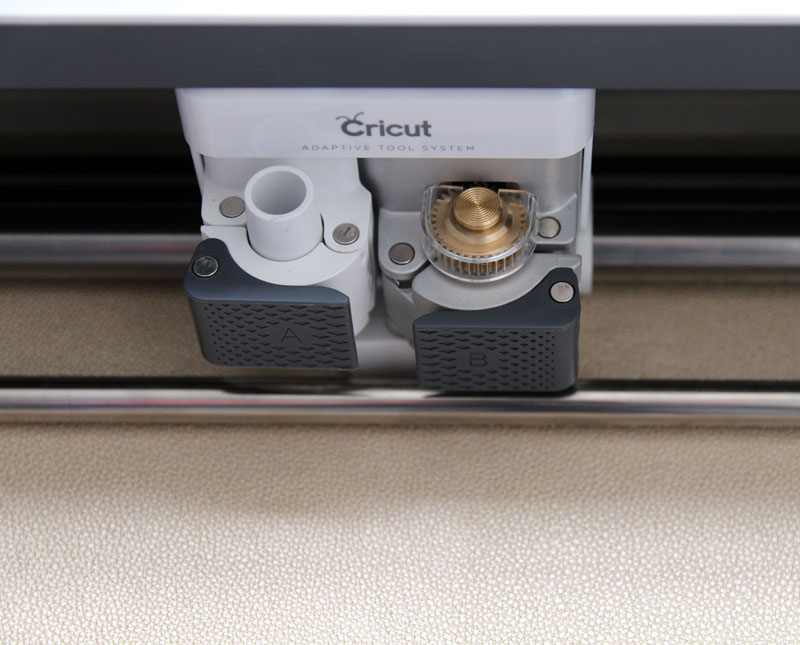 Assembling your DIY leather keychain:
1. Remove your project from the mat, and remove the transfer tape backing and all masking tape. If you have some frayed ends (the faux leather did that a little) you can use a pair of detail scissors to clean it up.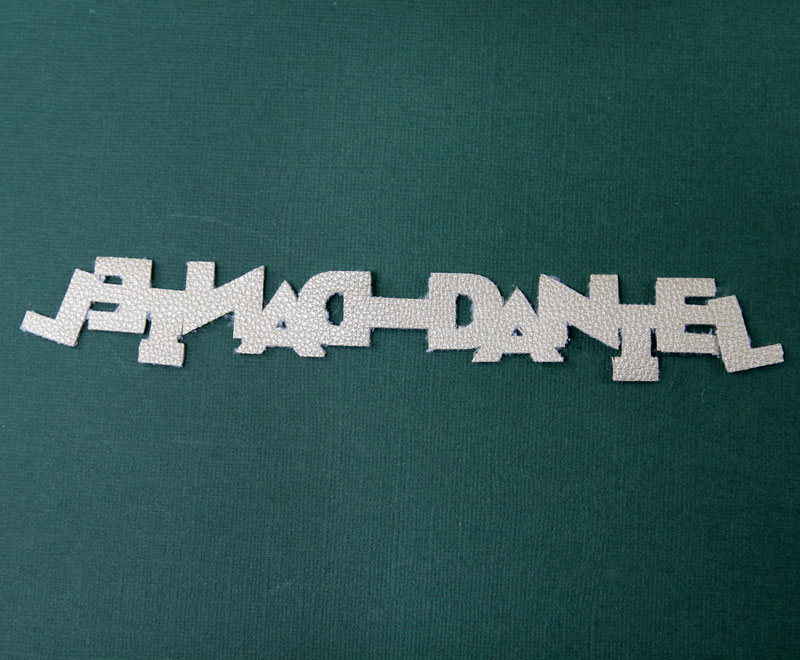 2. Thread your leather through your key ring, curving it if you need to, and fold it over so that the rectangle connection part between the name and its mirror image is folded.
3. Place glue on your first letter. Avoid the center strip and the key ring.
4. Carefully connect the two sides of that letter so that things are even. Continue by adding glue to the next letter.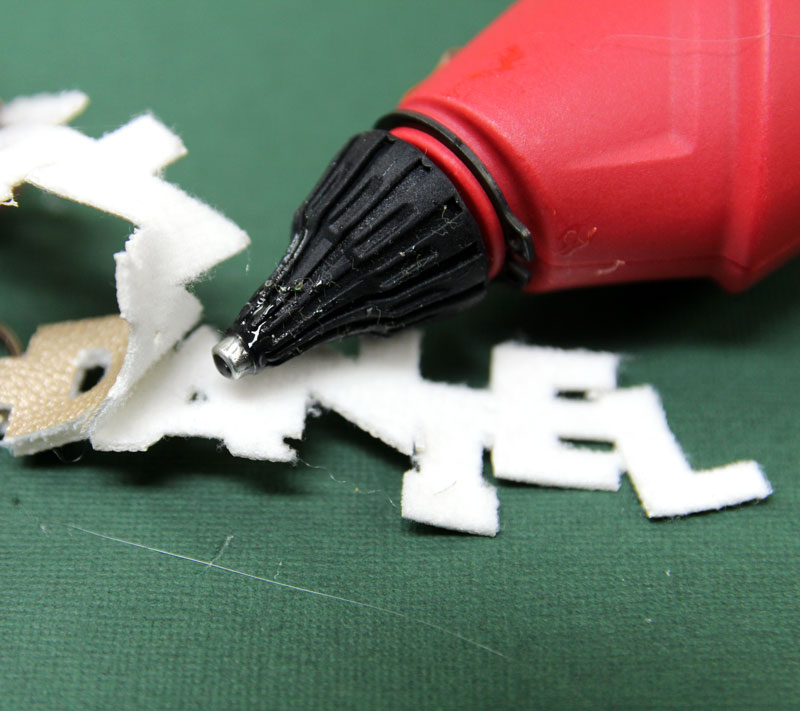 5. Glue down one letter at a time, carefully matching the two sides so that they line up. If need be, use detail scissors to trim any clutter and glue strings around the edges.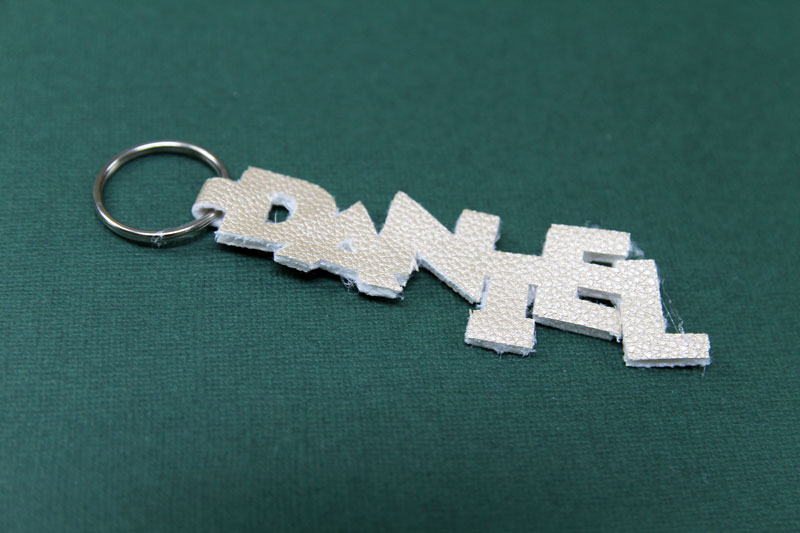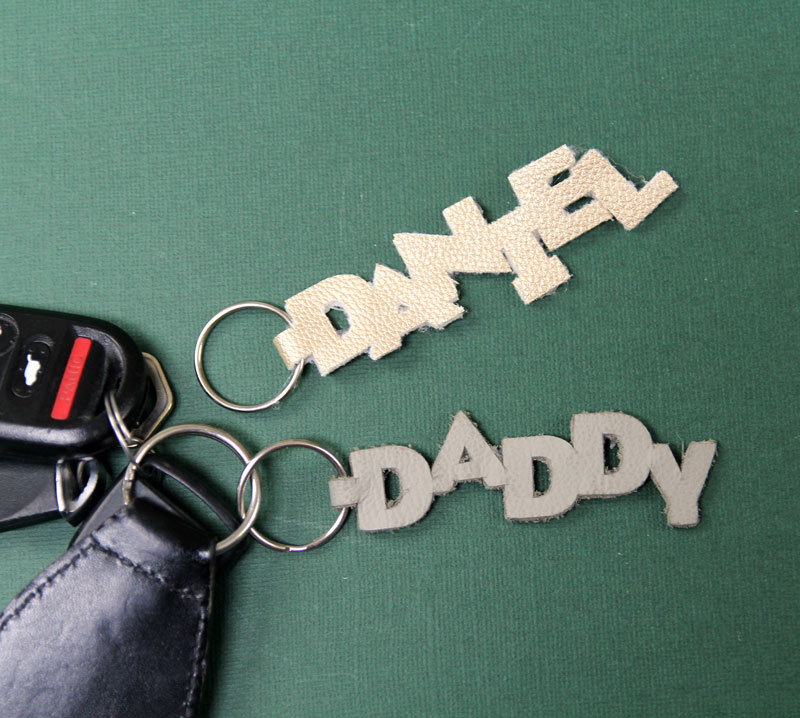 I hope you enjoyed learning how to make a DIY leather keychain! Now try adapting this with your own twist and share it with me!

What is your favorite leather craft to make with your Cricut? Comment below!