What's better than getting cheap craft supplies? Craft supplies that are totally free, of course. It's the season to go out pine cone hunting, and so I created this list of 16 perfect pinecone crafts to get your crafty inspiration going!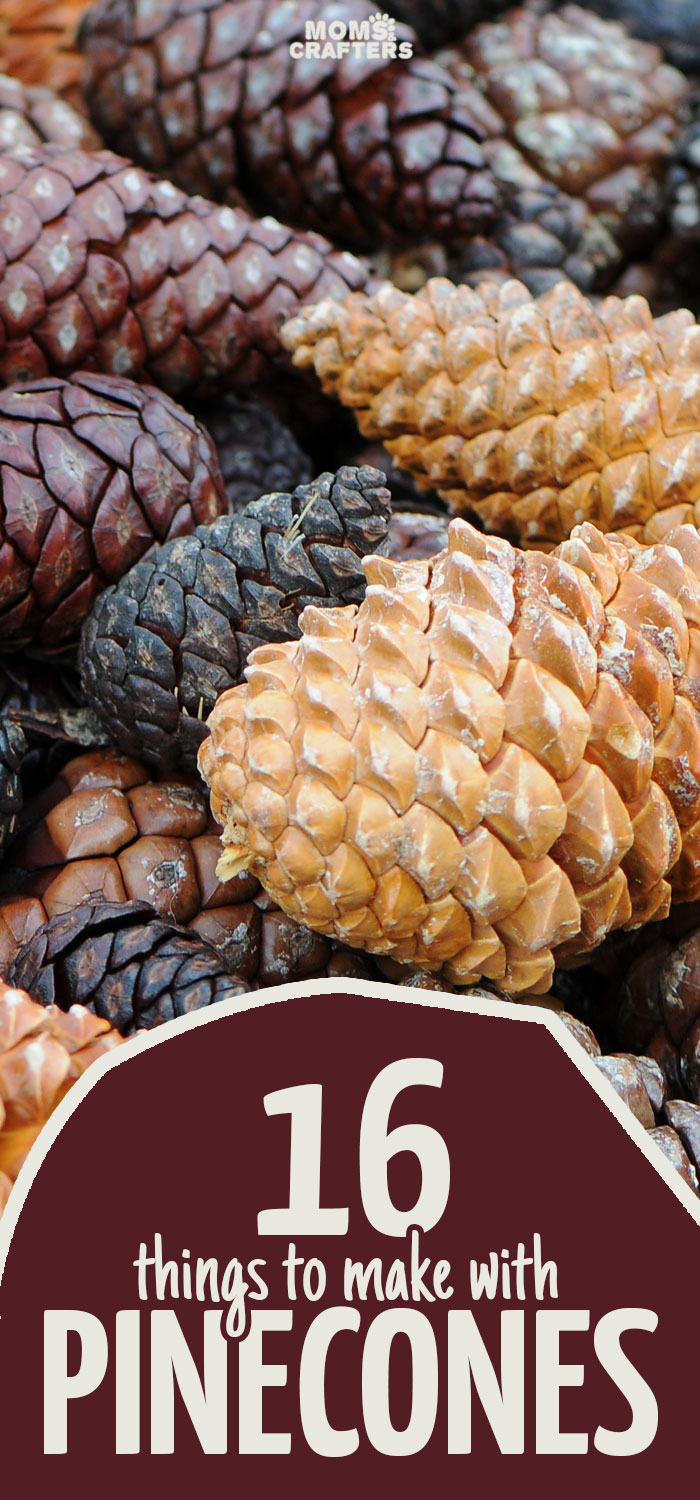 Last year, I had endless frustrations with finding pine cones. I had always taken for granted that the New Jersey streets are littered with them during autumn, but now, with my Far Rockaway, NY neighborhood still recovering from Hurricane Sandy a few years ago, I learned to appreciate pinecones much more. Last year I couldn't find any. All I saw was a bunch of dead pine trees. This year I'm starting to see some.
Still, there are none in my backyard, and so I didn't manage to come up with any new pinecone crafts this year. So I decided to put together a list from other sources instead.
Disclosure: this post contains affiliate links.
One trick I discovered: even when pinecones are hard to find, you can actually buy them! Of course, they're not free then, but to me it's worth it. Now to find the time to make something…
16 Perfect Pinecone Crafts & DIY Ideas:
Copyright: All of the images for the pinecone crafts below were used with the permissions of the respective bloggers for the purpose of this post. Click on the title link or image for the full tutorial.
I have created a square and vertical image for your convenience for sharing these perfect pinecone crafts. Please use the first or last image in this post when sharing and not one of the individual photos below, out of respect for the creators' copyrights.
Disclosure: this post contains affiliate links.
1. A snowy pinecone wall hanging is the perfect way to blend Autumn and winter! It's an almost free craft – the other supplies, jute twine and acrylic paint, are craft staples you should anyway have. A dusting of glass glitter (another craft staple) lends it some extra sparkle.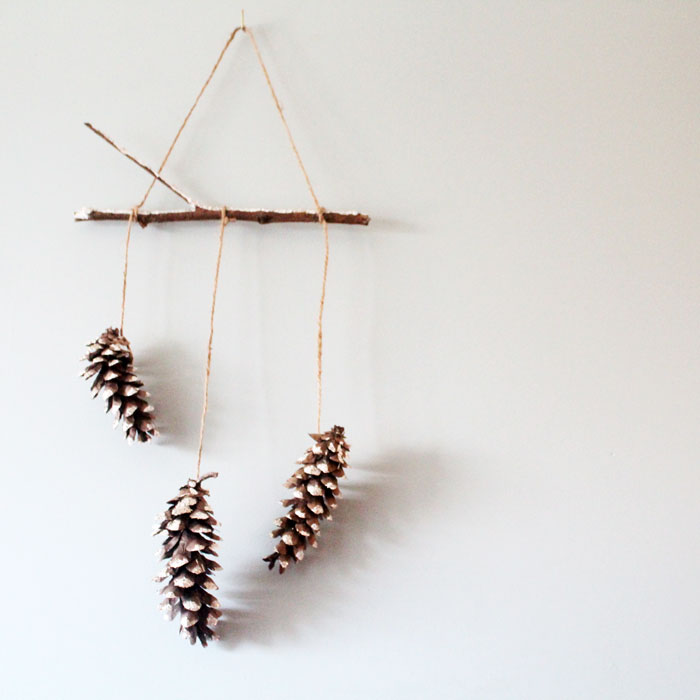 2. This monster wreath by Craftaholics Anonymous is super cool! You can use the concept to make a wreath for any time of year.
3. Friendly pinecone animals by Empress of Dirt are perfect for kids or adults to make!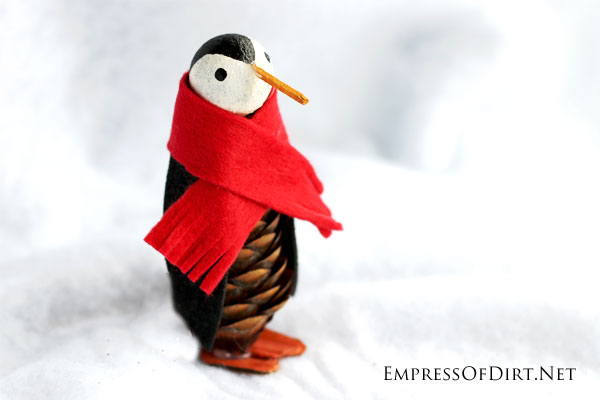 4. A Pinecone Chandelier by Dollar Store Crafts is perfect for indoors or out! I love the color combination on this one!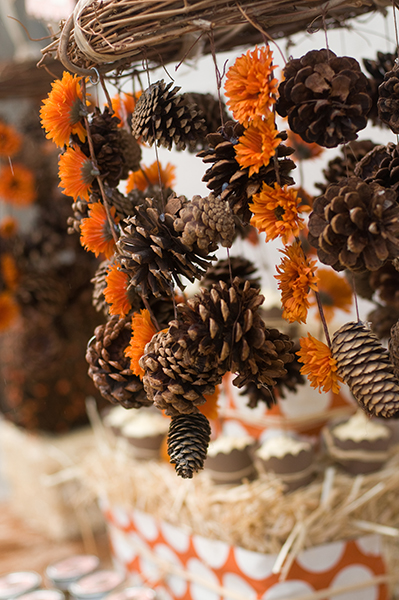 5. Dress up your place settings with handmade pinecone napkin rings by Between Naps on the Porch.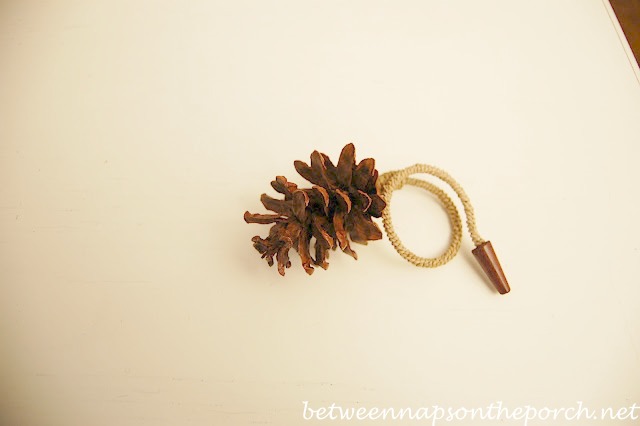 6. I'm a huge fan of pretty fridge magnets as you can see by now. The Painted Hinge brings it up a few notches with these Pinecone Flower Fridge Magnets.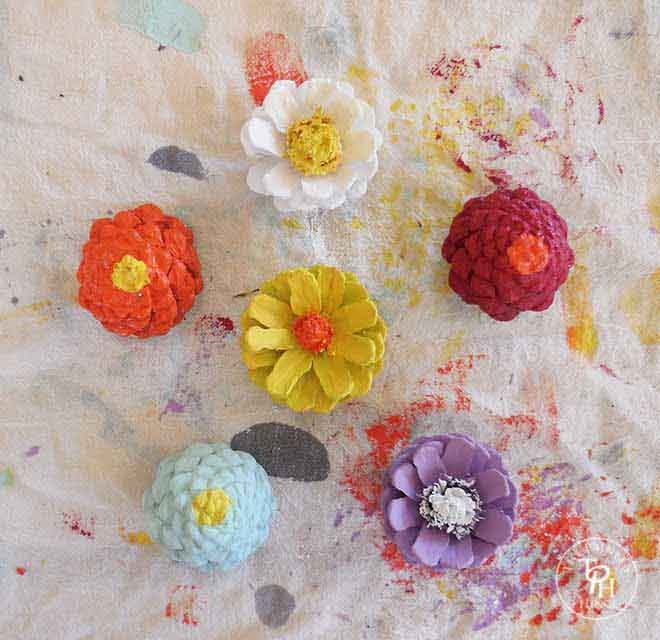 7. Invite nature into your home in its full glory with a Twig & Pinecone Garland by Funky Junk Interiors.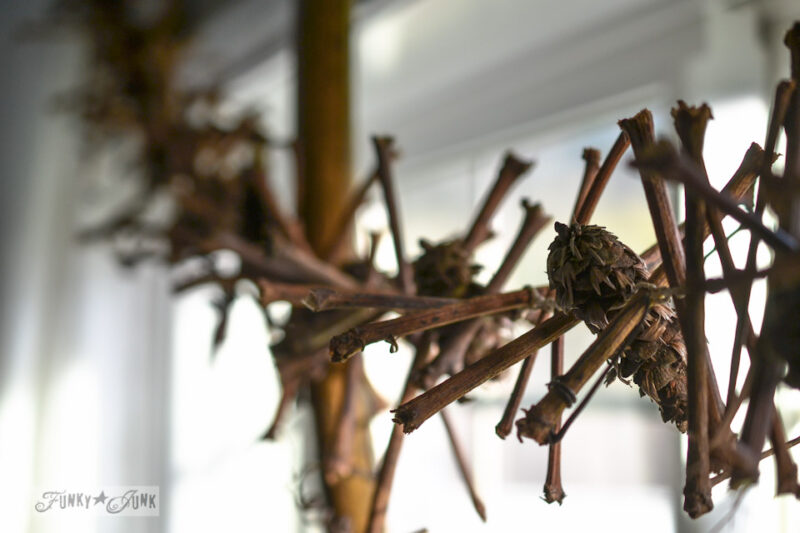 8. These Frosted Pinecone Trees by Flamingo Toes are quite convincing! Aren't they pretty?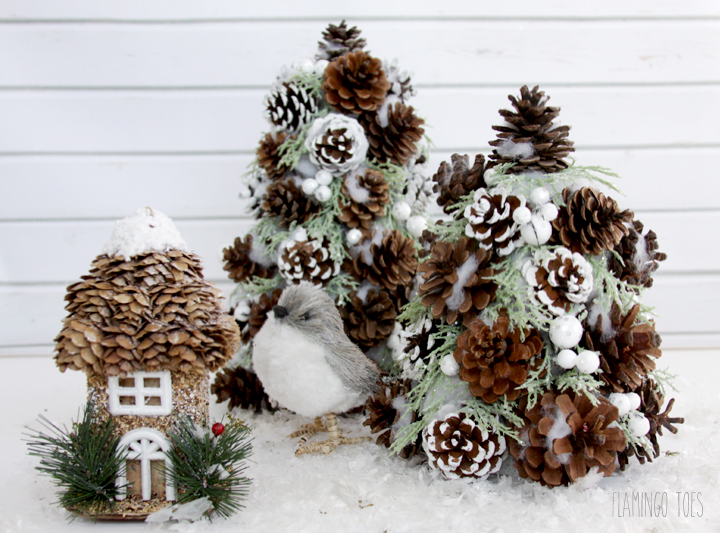 9. Craft a Pinecone Rose Bouquet with this tutorial by Creative Green Living. It's a perfect centerpiece for your patio table.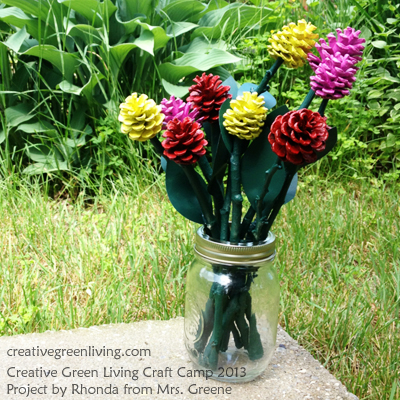 10. These Lacey and Snowy Pinecone Luminaries by Crafts by Amanda remind me of a winter night. They'll definitely add warmth to your winter nights.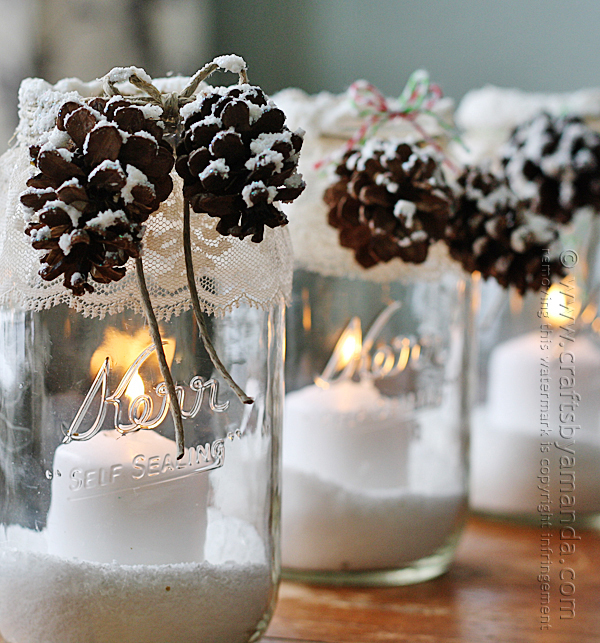 11. Ombre Glitter Pinecones by Lia Griffith prove that doubles of a good thing can be… double as good! Take ombre, mix it with glitter, and this is what you get!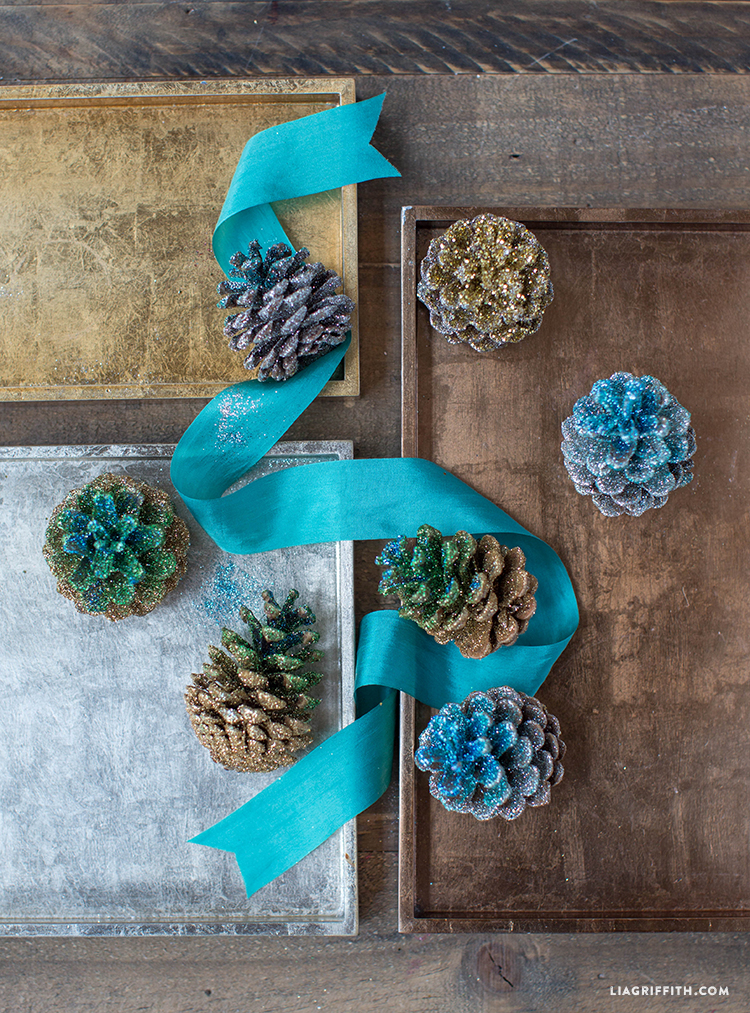 12. Here's a new take on your favorite craft material: Bleach them! This Bleached Pinecones tutorial by Garden Therapy prove just how endless the possibilities are when it comes to pinecone crafts.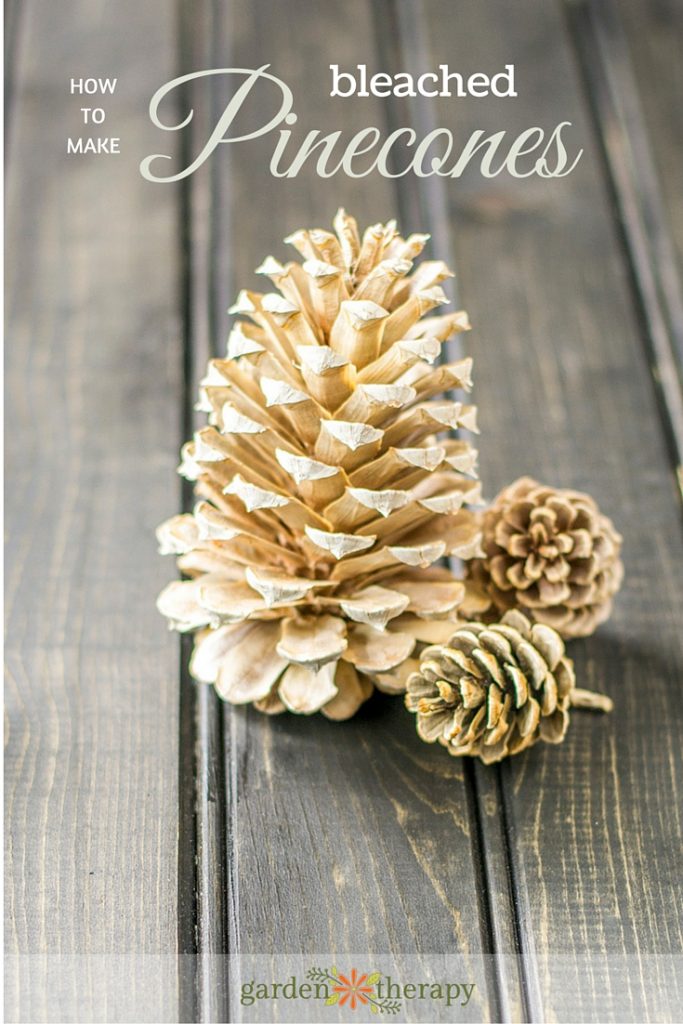 13. Another simple, versatile pinecone trick: make DIY Scented Pinecones with this tutorial by Soapqueen. You can gather them loosely in a bowl in the center of your table, or use them in any of the decor pinecone crafts in this list.
14. Give one back to nature by making a Pinecone Bird Feeder by Adventures in Wunderland. It's a great project to get the kids involved in!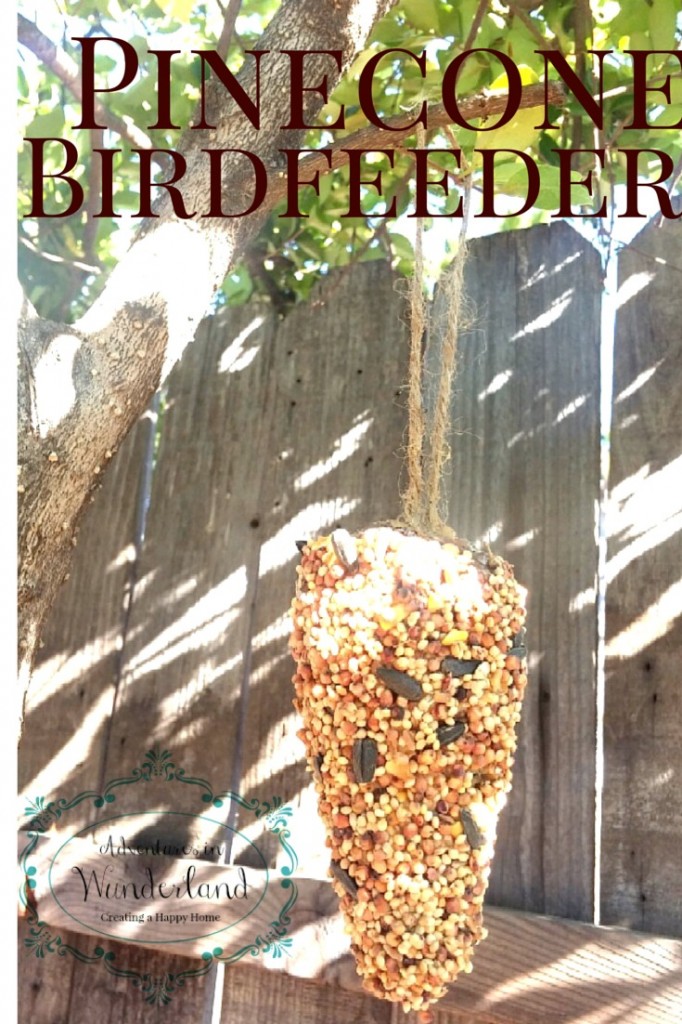 15. Watch them sparkle! These Rhinestone Pinecones by Rhythms of Play show how drab+a bit of glitz=fab! I love the shabby chic look here.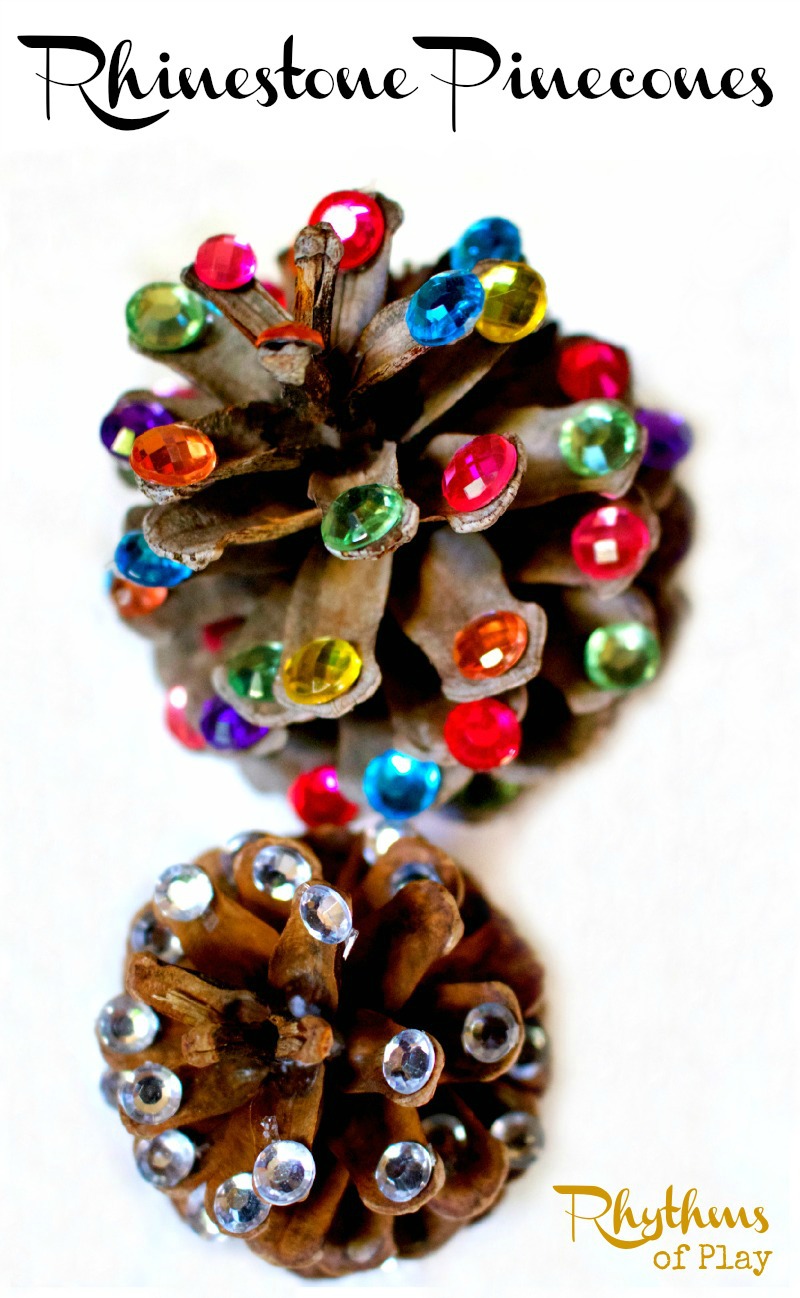 16. Finally, these Pinecone Spiders by Fireflies + Mud Pies are simple and easy for kids to make and spook everyone out with!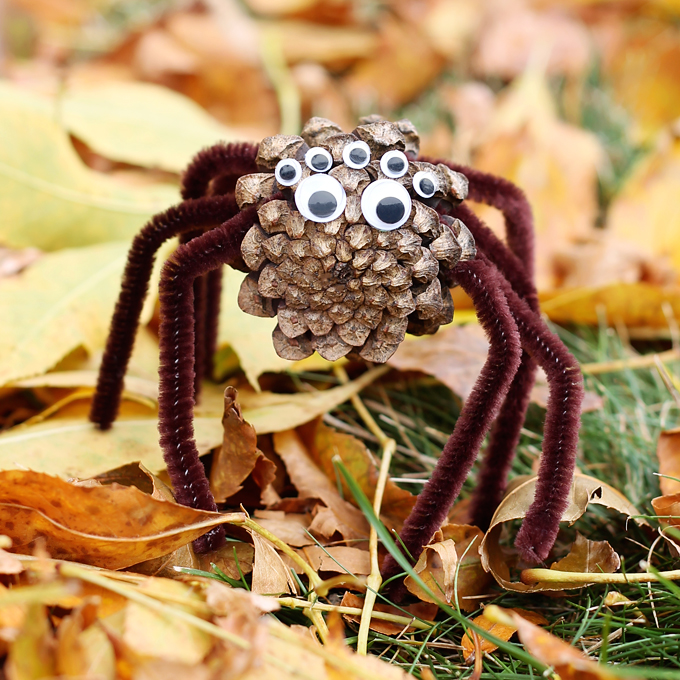 Which are your favorite pinecone crafts? Comment below!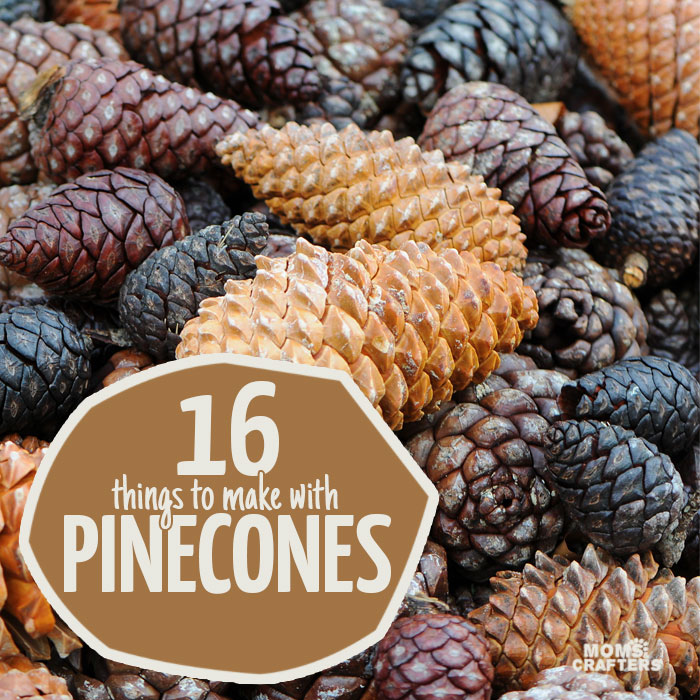 Image credits:
First and last image derivative of: By böhringer friedrich (Own work) [GFDL or CC BY 3.0 at], via Wikimedia Commons
All other images belong to the site that the tutorial is on.