Ready for mittens and pumpkin spice? These fall crafts for preschoolers are fun for little hands to get creative with! This post contains affiliate links.
---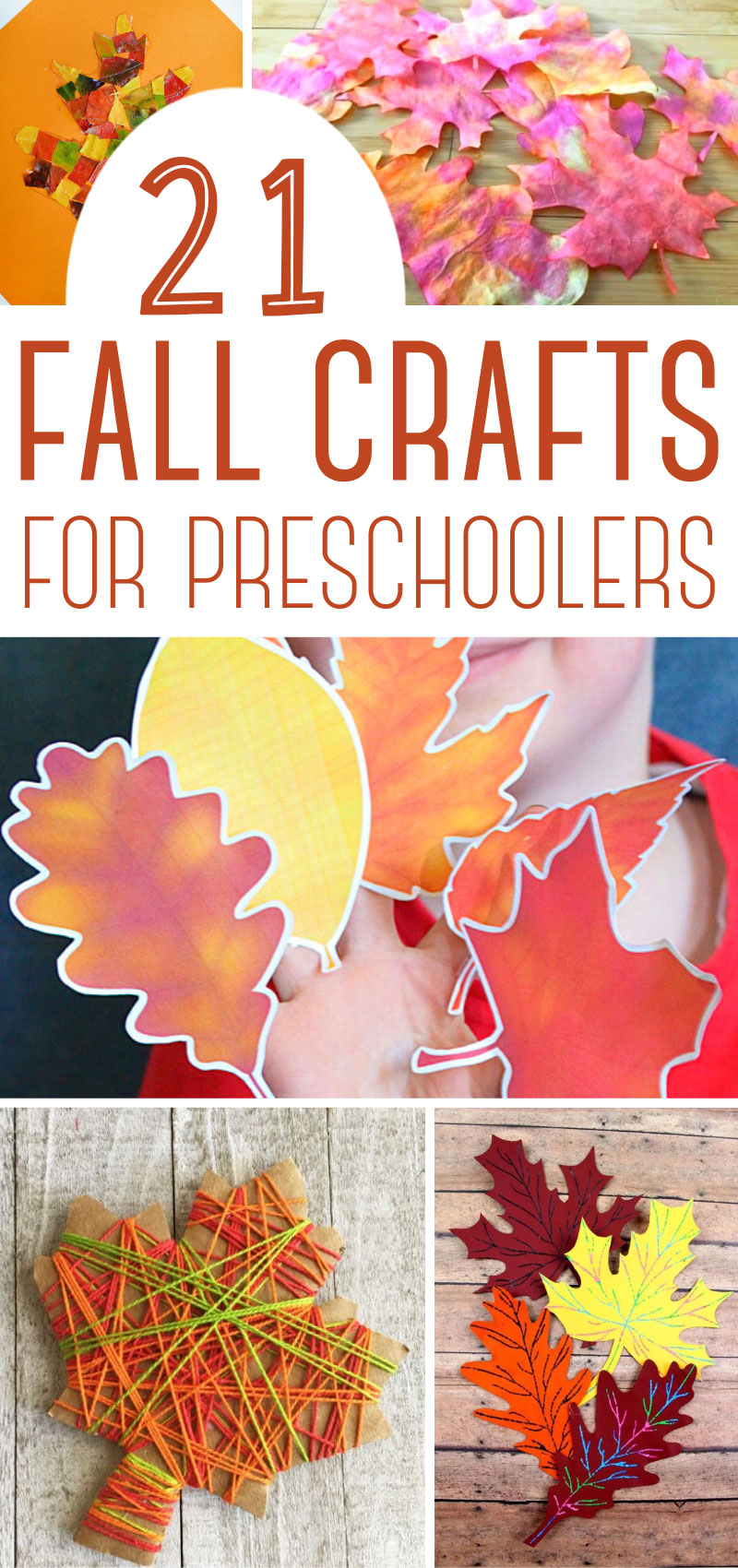 Fall is the perfect season to craft with your little ones. These fall craft and fall art ideas are perfect for doing at home or in the classroom as part of a unit study.
Fun fall crafts for preschoolers can teach your kids about the wonders of the colorful fall season. Teach them about the science of why leaves turn colors in the fall, which do and which don't, and how to differentiate between the complementary colors.
There are a ton of great fall crafts out there for kids, but this list was put together with preschoolers specifically in mind! The best part of these fall crafts for preschoolers are they are so easy to make, and you might already have all the materials you need right at home! Here are the best fall crafts for preschoolers.
In this post:
Pumpkin Fall Crafts for Preschoolers
Pumpkins are one of the first signs of the fall harvest and symbolic of bounty. Use pumpkin crafts to teach preschoolers appreciation for the food that comes from the ground. Any of these can be turned into a Jack O Lantern by adding a black cut-out face, but plain pumpkins are all about autumn!
Paper Towel Tube Pumpkin Craft for Toddlers by Two Pink Peonies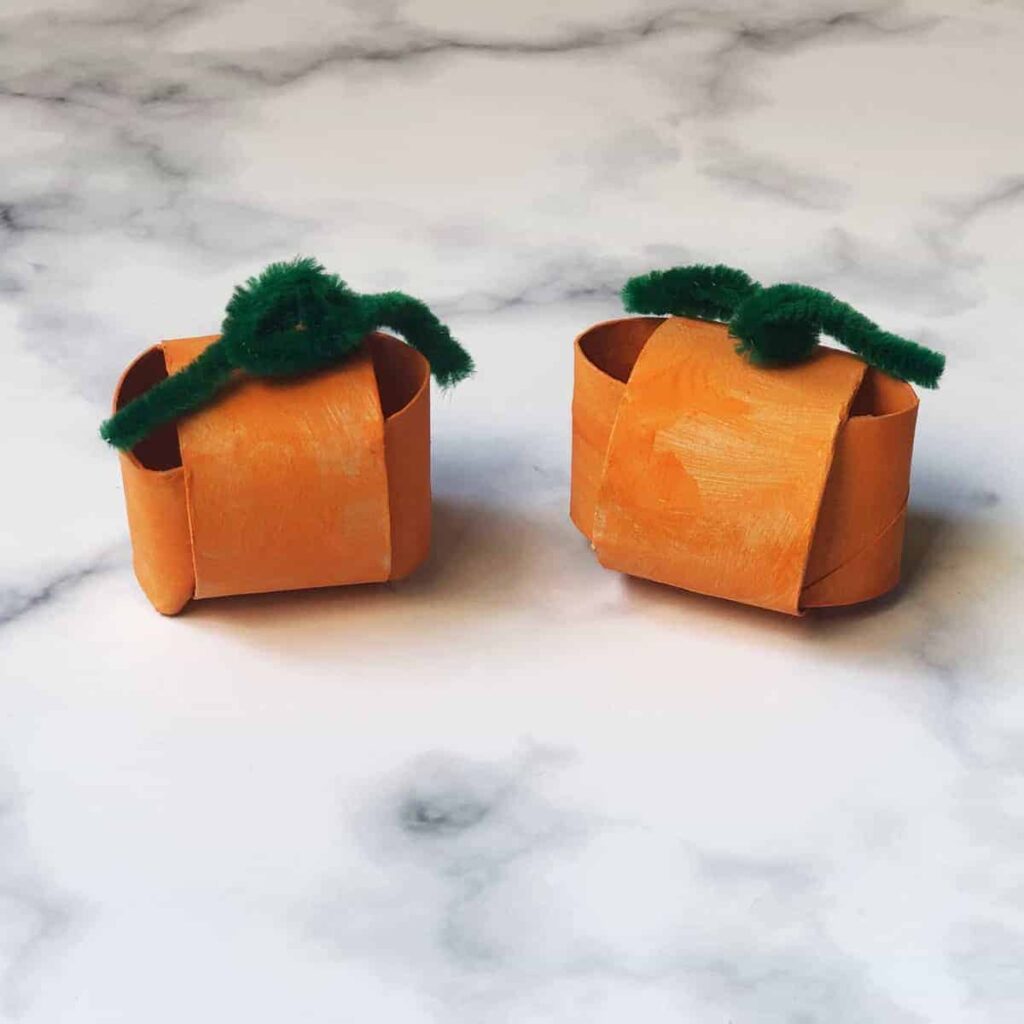 Give cardboard tube crafting a unique fine motor twist with this adorable intersected pumpkin craft! It's brilliant in its simplicity – and anything that involves paint is a delight for preschoolers.
Pumpkin Craft from Plastic Yogurt Cups by Moms and Crafters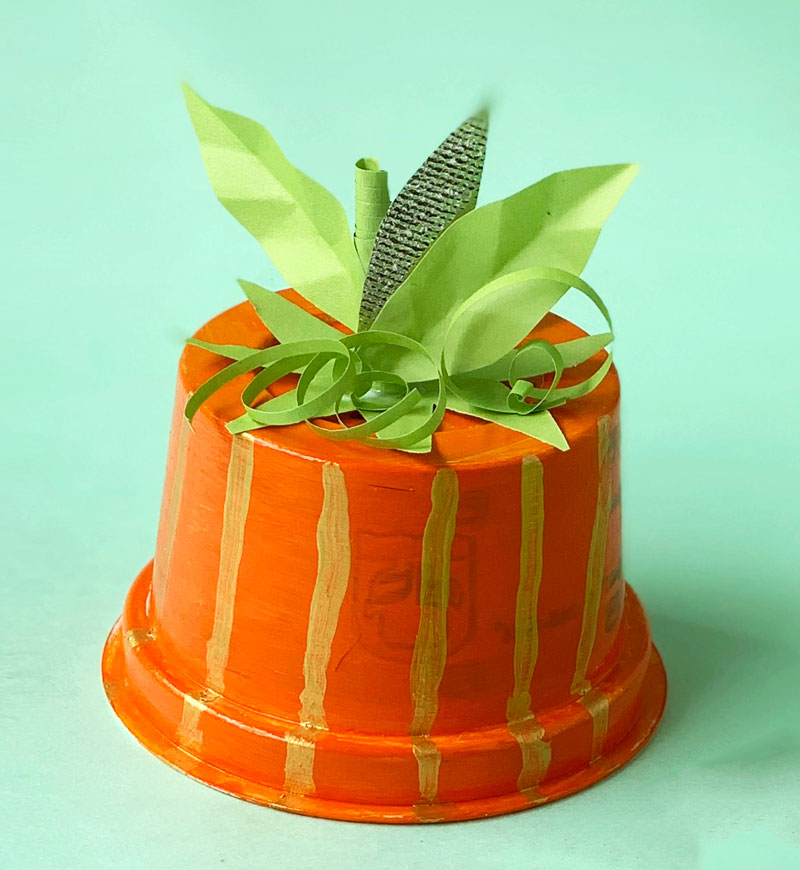 Repurpose plastic yogurt cups and save them from the landfill with an adorable pumpkin craft! You can de-germ these by washing them with antibacterial soap. Or you can substitute purchased cups to make these. Give the kids a selection of vines and leaves to choose from since that detail can be a bit difficult for young kids to handle. And of course, don't worry if there's isn't picture perfect! Just let them get creative!
Friendly Pumpkin Face Paper Craft by Simple Everyday Mom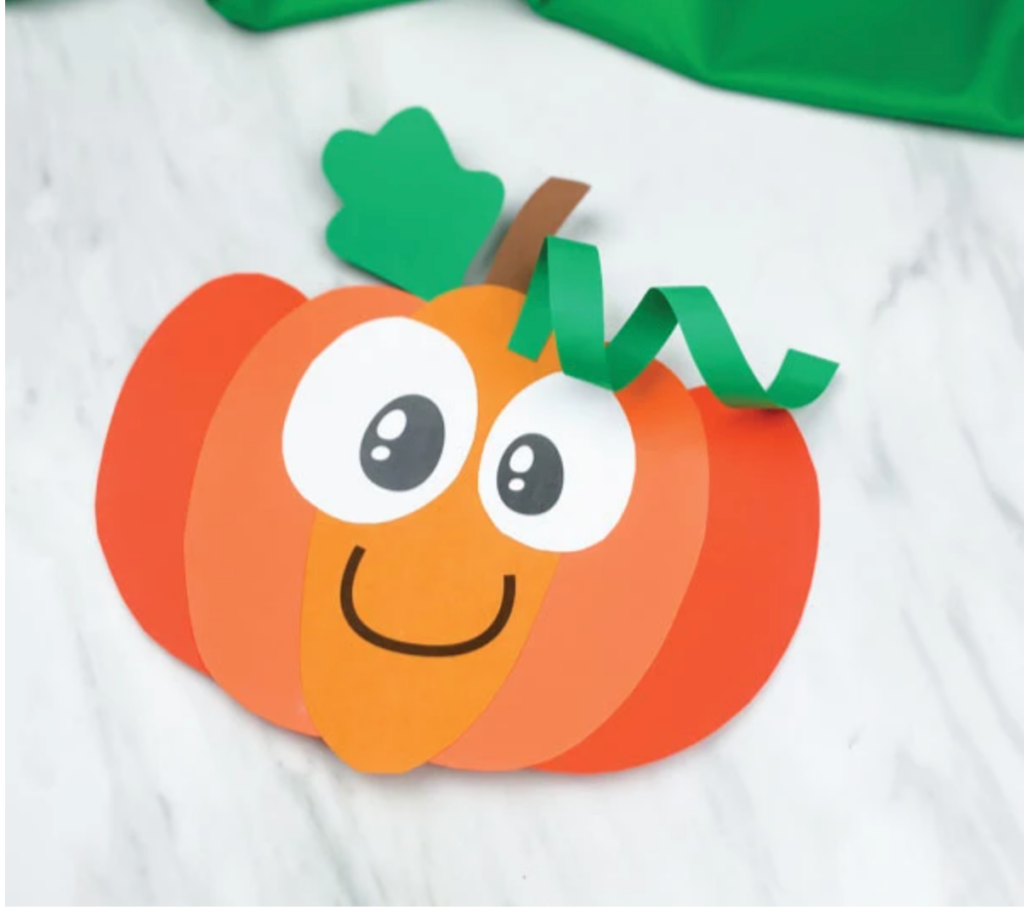 While I'm a big fan of 3D crafts, adding a 3D touch to flat paper art can be a fabulous fall craft for preschoolers who need to keep things simple. Keep it open-ended by allowing them to design their own faces.
Pumpkin Apple Stamping by In the Kids Kitchen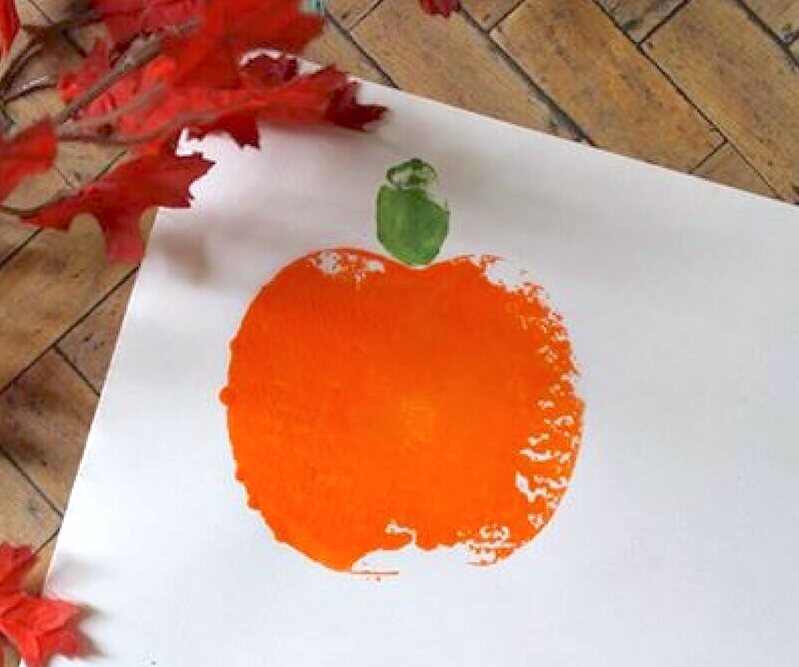 Combine two hallmark elements of fall by using apples to stamp pumpkins! This highly engaging craft can be left open-ended as well. You can repurpose the paper they make for further crafting too.
Puffy Paint Pumpkins by Mom Brite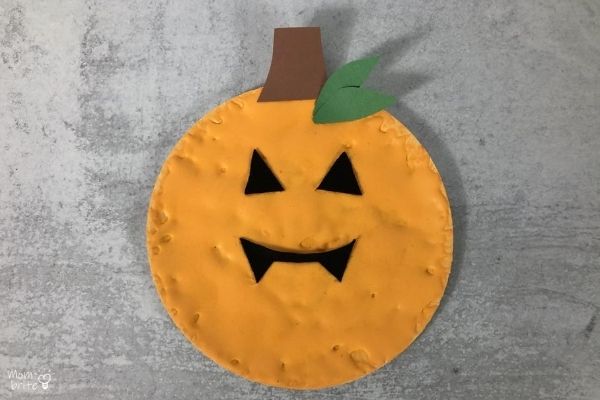 Puffy paint is a sensory delight for 3-5 year olds. Turn this pumpkin craft into a generic fall idea by ditching the Jack O lantern face and sticking with a plain pumpkin.
How to Make an Egg Carton Pumpkin Craft by Taming Little Monsters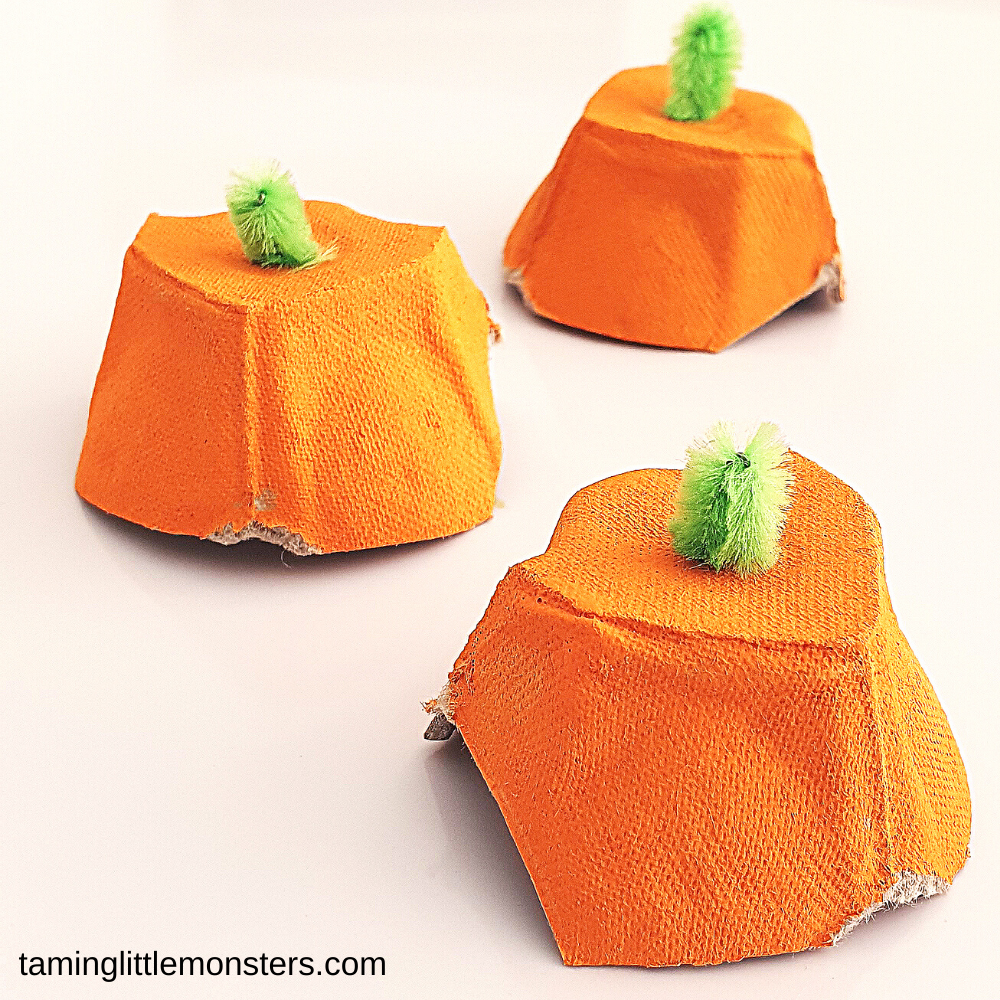 I love kids' crafts that can be completed by them from start to finish – at least the functional parts! These egg carton pumpkins will encourage kids to repurpose while working on their pincer grasp. And it's an adorable craft too!
Fall Leaf Crafts for Preschoolers
Of course, fall leaf crafts are a favorite for crafting with preschoolers! Use the moment to teach them about color mixing and theory. Starting the year off with Red + Yellow = Orange make for fabulous fall crafts for Preschoolers!
Cookie Cutter Process Art Made into Fall Placemats by Projects With Kids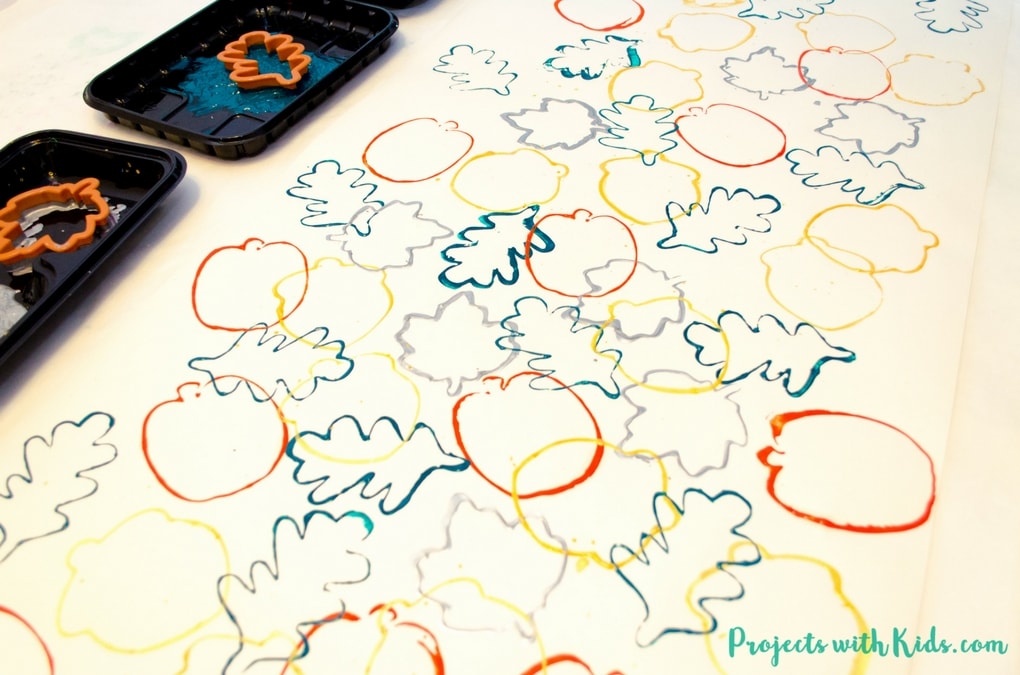 Process arts are fabulous, but take it to the next level by making it functional! These adorable placemats fully engage kids at the preschool level in the process of creating them. And they're perfect for Thanksgiving! If you're creating these in the classroom, you can hang them on the wall through fall, and then send them home for Thanksgiving (when you're anyway getting ready to decorate for Winter).
Scratch Art Fall Leaf Craft by Moms and Crafters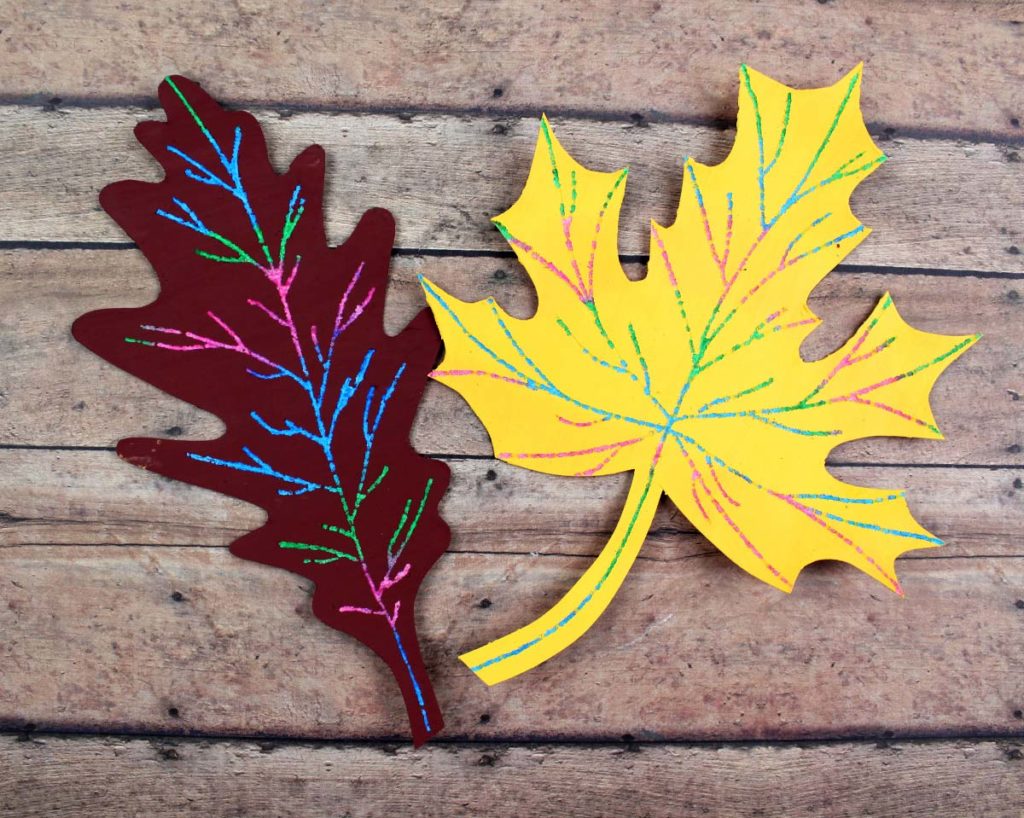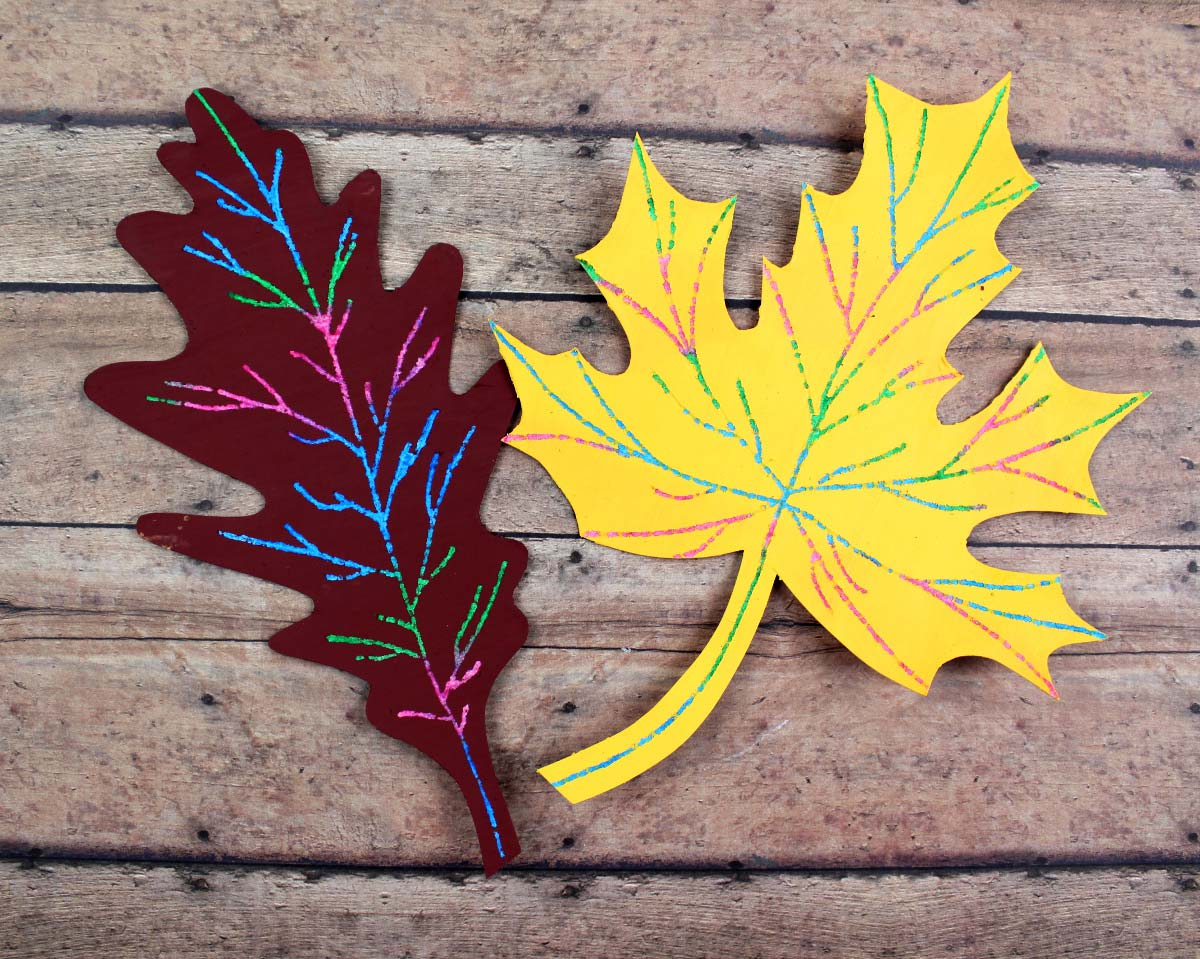 Scratch art was a childhood favorite, and it's taken to the next level with this fall craft for preschoolers. Mine have the base layer all different colors and the top layers fall leaf colors, but you can also use fall leaf colors for the base and black (or brown) for the top. This might be ideal for preschoolers who get ambitions with their scratching… In the classroom these can make for a fabulous bulletin board or border and at home, you can string the family's efforts into a garland.
Fall Leaves Paper Plate Wreath Craft by Glitter on a Dime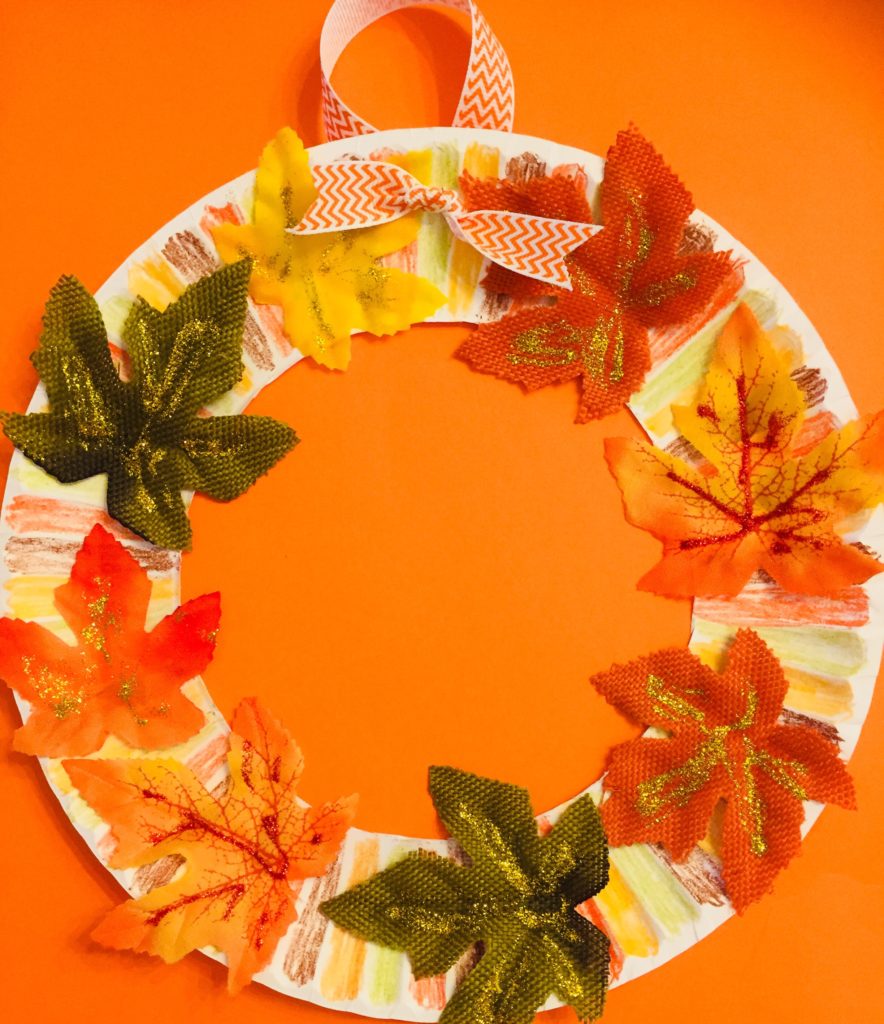 I love the idea of engaging preschoolers with a craft that is normally "grown-up"! They can even hang it on the door of their own bedrooms as you decorate the house for fall.
Coffee Filter Fall Leaves Craft by Mom Brite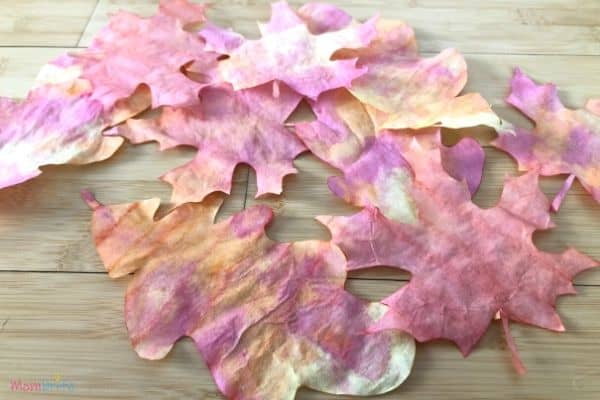 Coffee filters are incredibly absorbent and the perfect base for this fall craft for preschoolers!
Printable Autumn Leaf Puppets by Pickle Bums
Y'all know by now that I'm a huge fan of printable puppets, and so I'm totally in love with this fall leaf version! Puppets are fabulous for circle and music time, and this one even comes with a song to sing. Not all puppets need faces!
Fall Leaf Craft With Yarn by Little Bins For Little Hands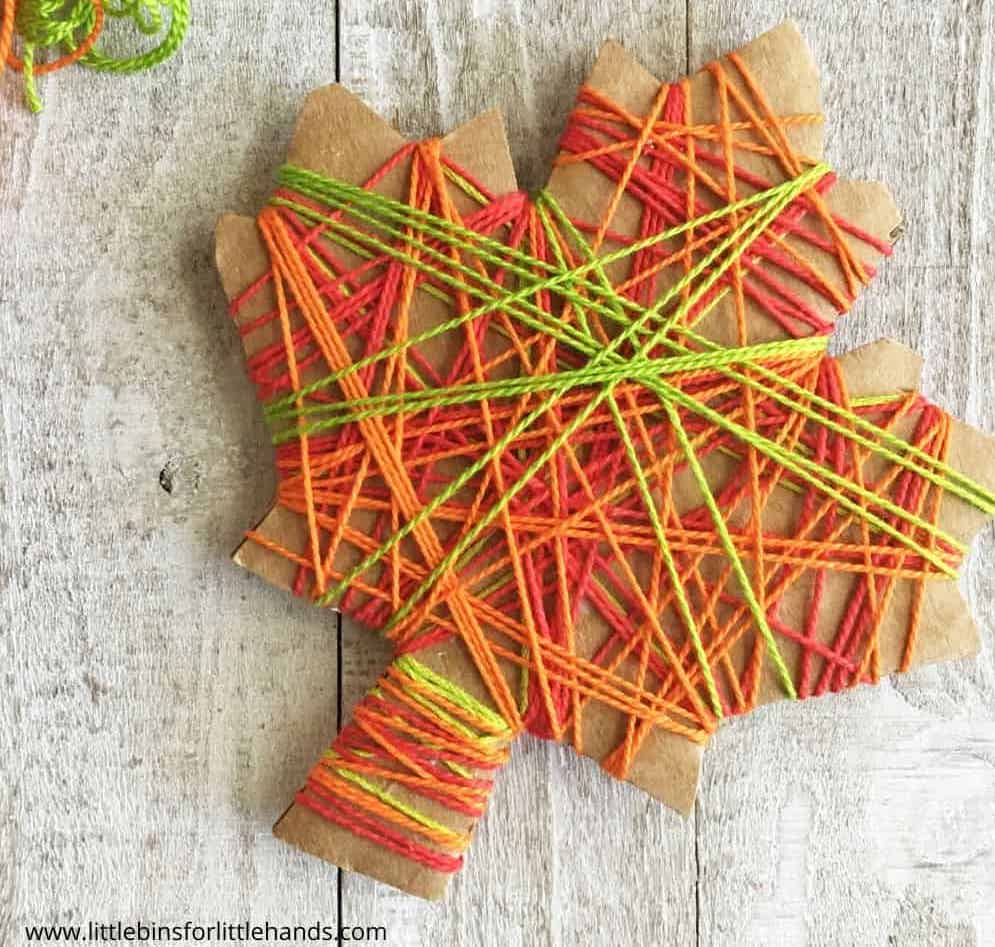 Yarn wrapping is a fabulous activity to work those little finger muscles and prep them for writing. Plus it's tactile, and a break from paints! These yarn wrapped leaves are so pretty, your preschooler will be simply exploding with pride in them.
Fall Leaf Butterflies Craft by Living Life and Learning
For those of us who miss the Spring, there's no reason not to celebrate its beauty year round! This fusion of Spring and Autumn in the fall of fall leaf butterflies is brilliant.
Autumn Leaf Mosaic Collage by Pickle Bums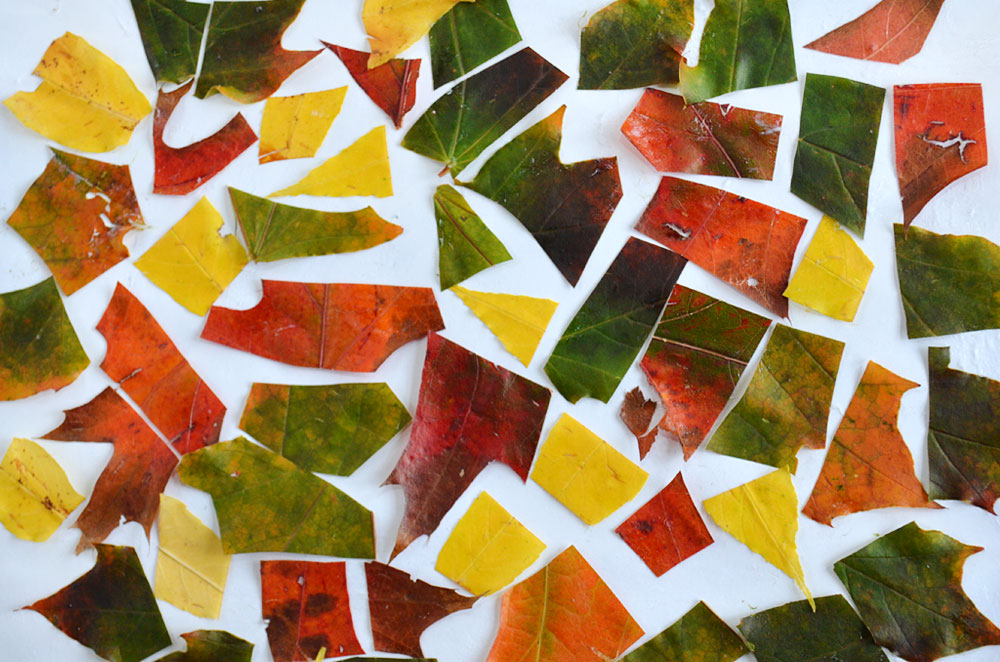 Another fall craft for preschoolers that uses real leaves, this mosaic art prompt is truly open-ended.
More Fall Crafts for preschoolers
Acorns, owls, anything harvest… there are so many opportunities for fall crafting beyond pumpkins and fall leaves! Check out these ideas below.
Fall Paper Dolls by Moms and Crafters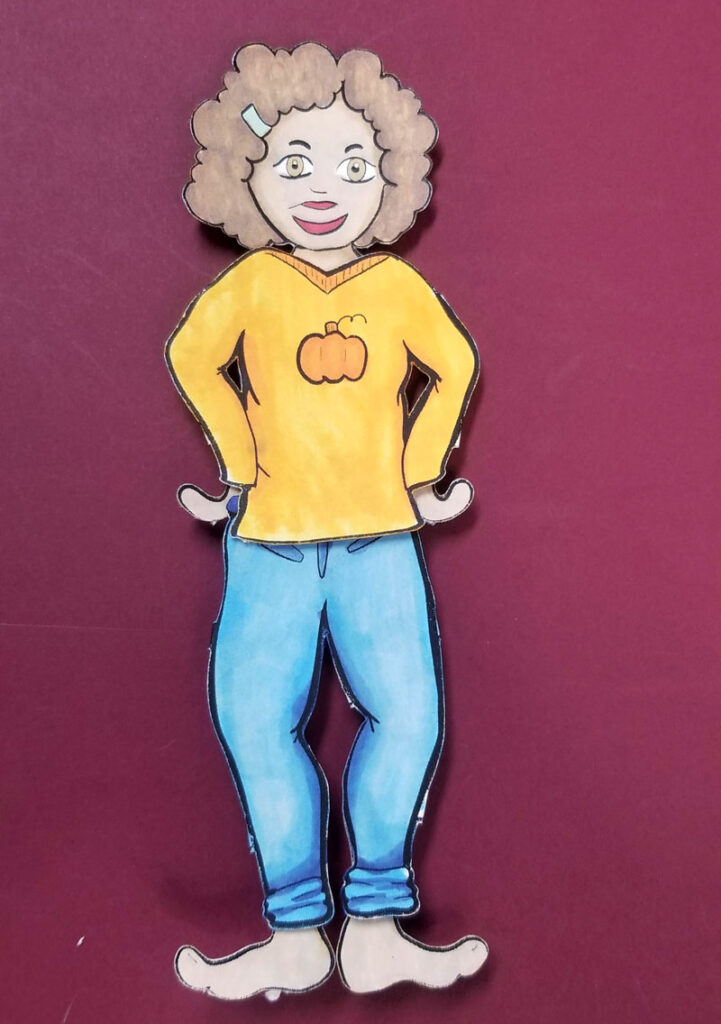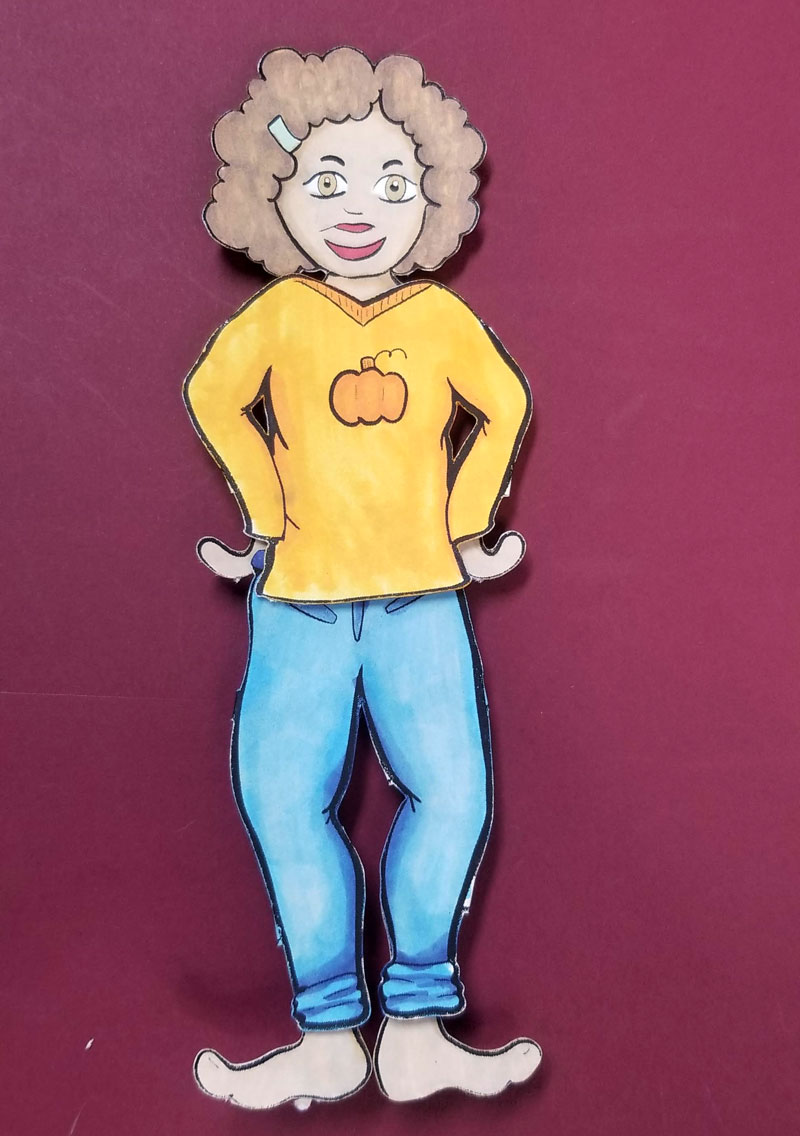 Teach kids all about seasonally-appropriate clothing as the weather cools off. And these color 'n craft paper dolls are the perfect tool for that! This throwback to my childhood is such a simple, preschool-friendly idea. Use colors-of-the-world crayons so that kids can get the skin tone that they can most relate to. Get the printable here.
Scarecrow Puppet Craft by Little Ladoo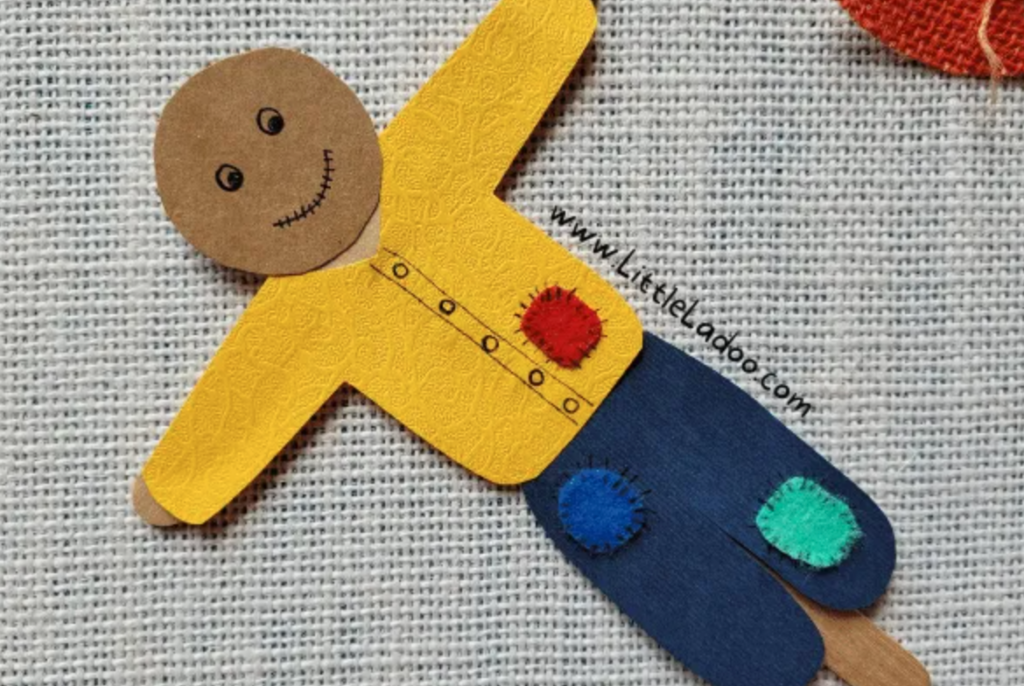 Did I mention that I love puppets? This adorable scarecrows can be used in home plants just for fun or as a puppet. Make it more open-ended by pre-cutting different outfit parts from different materials and allowing kids to mix 'n match their own.
Toilet Paper Roll Owl by Moms and Crafters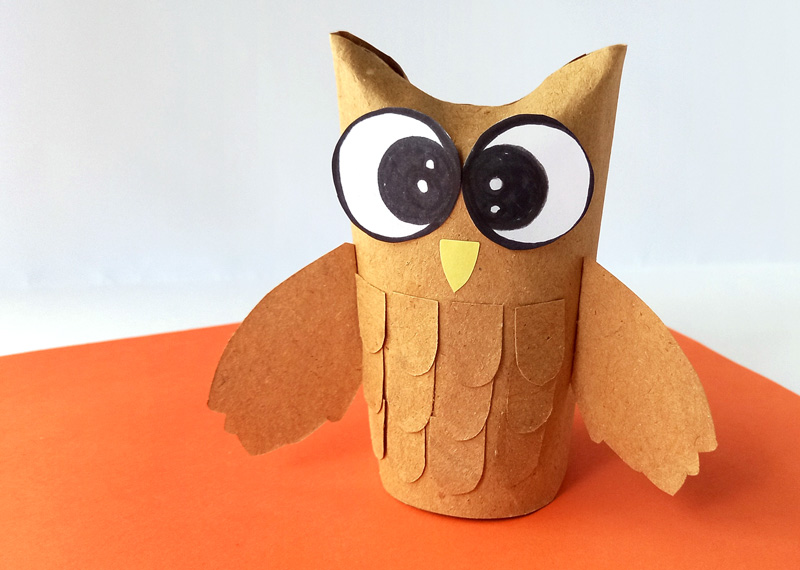 Owls are too cute to really be birds of prey, and this craft just shows it. They are woodland animals, which make them a fun choice for fall crafting. Kids can have fun layering the feathers and you can have them paint it too if you want to involve them a bit more.
How to Make an Egg Carton Apple Tree by Taming Little Monsters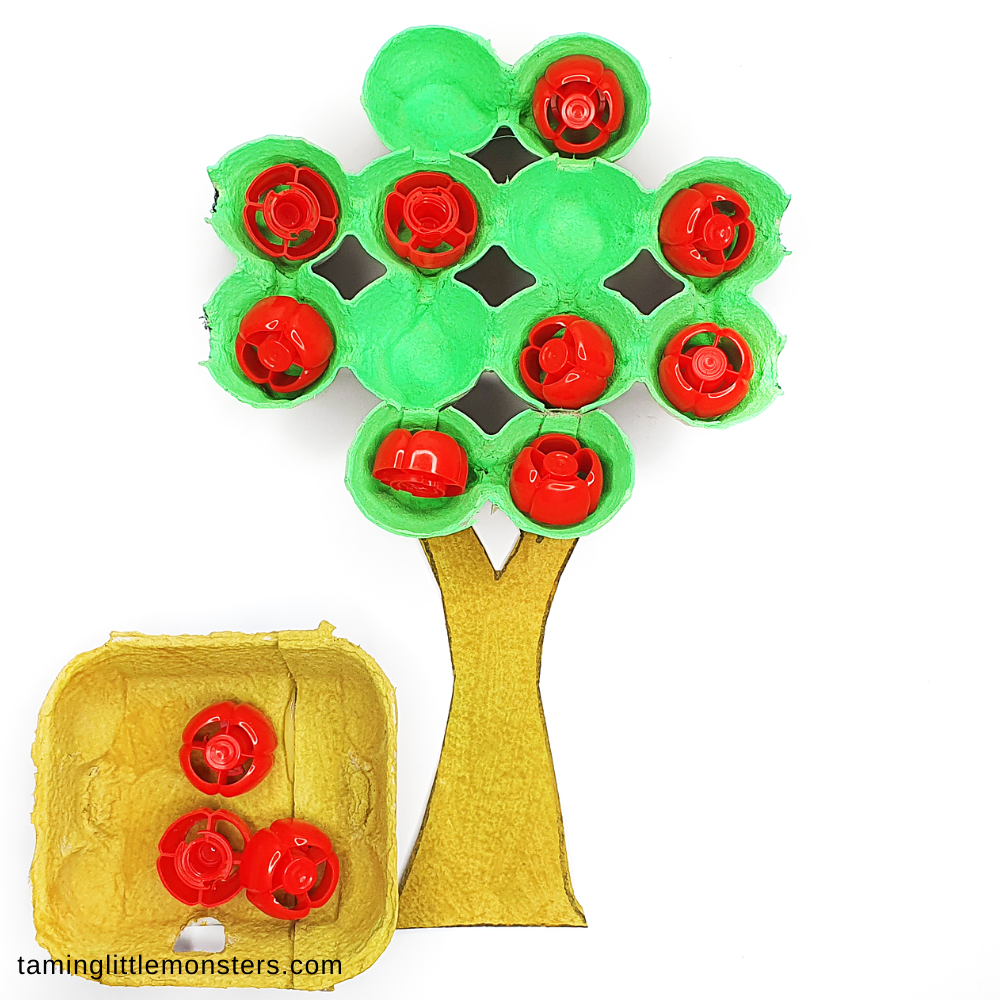 An adorable fall craft for preschoolers that doubles as a fine motor toy AND is a double upcycle? Count me in! This adorable egg carton craft turns into a sorting toy too.
Cute Acorn Craft by Simple Everyday Mom
Craft a friendly acorn with an adorable, sweet face. This paper craft is easy and fun and oh so cute!
Fall Tree Handprint Craft by Little Bins for Little Hands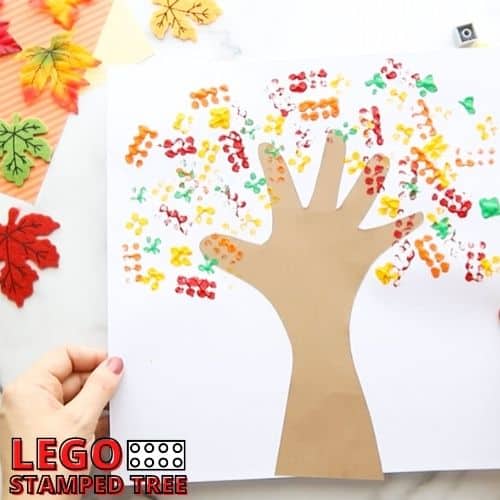 Kids can make fall art with this sweet LEGO stamped fall tree! Plus, it's got their adorable little hand traced on it too.
Easy Toilet Paper Roll Scarecrow by Red Ted Art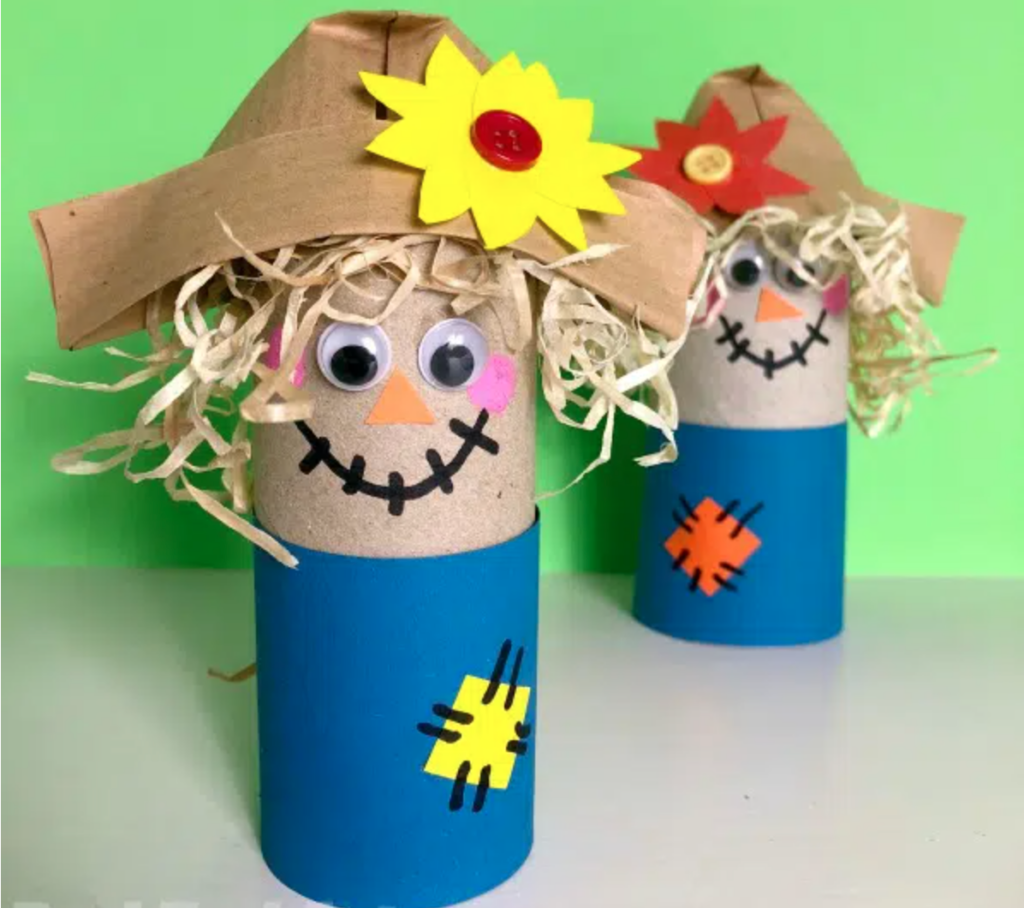 Another sweet toilet paper roll craft, these scarecrows include a bit of Origami too. If younger kids can't follow along, you can provide them with a cut-out instead. Allow them to get creative with designing their scarecrows. If you're concerned about germs, you can cut toilet paper rolls down to size or use purchased craft tubes.
What are your favorite fall crafts for preschoolers? Comment below!