If you've been blogging for some time now, or even for a short time, you might be wondering how to go about finding sponsors for your blog. I know I was.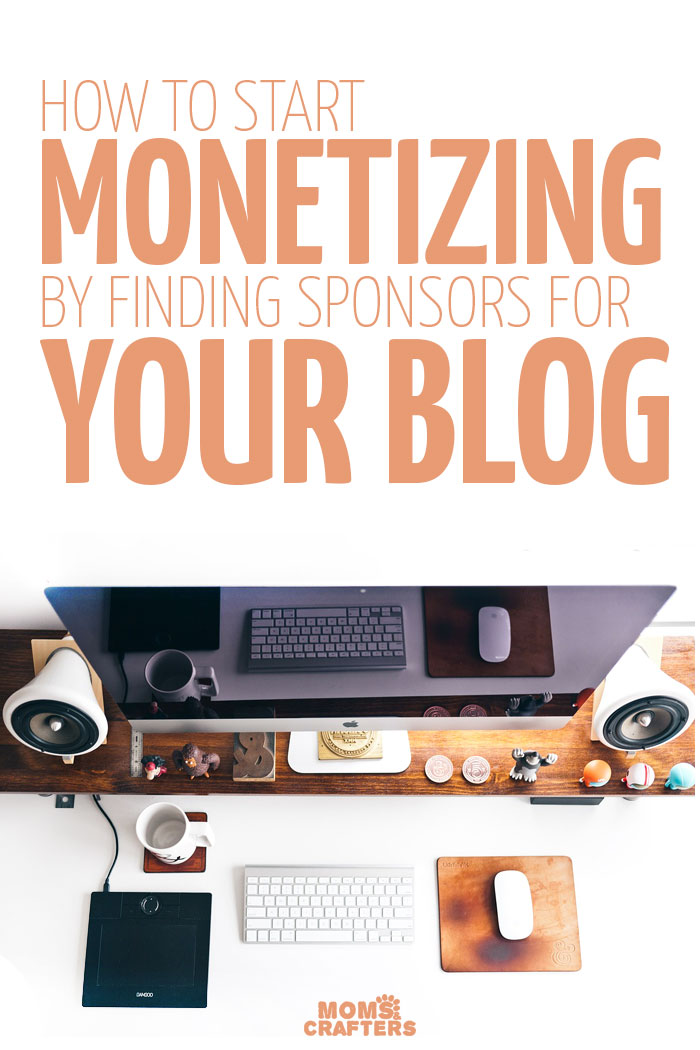 It's not just about earning money – it's about justifying the time spent (for me, all day), and justifying the monetary investment (on hosting, craft supplies, any advertisement that you do, or services that you purchase).
This post offers a step-by-step guide to help you start earning money off your blog, big or small. It's not about getting to the pro-blogger stage of earning six figures, but it's the first step toward generating a consistent income.
Please note: This post contains some affiliate links. I have, however, shared my honest experiences with each one, and shared with you the networks that don't offer affiliate bonuses that I love too.
Increase your traffic.
The first step toward finding sponsors for your blog is clearly to have people visit. Focus on improving your traffic before tackling sponsored posts.
Make sure your blog design looks great.
Having a convincing blog design is a surefire way to make your blog look serious enough for potential sponsors. You want branding, a great logo, and legibility above anything else.
IMPORTANT: Make sure you are not using wordpress.com as you may NOT offer advertisements or sponsored posts if you are on that platform. If you still need a free option, use blogger. However, I highly recommend self-hosting using wordpress.org. It's a lot simpler than you might think, and not that expensive. It also looks much more professional to potential sponsors.
Please be aware: budget hosts that promise unlimited traffic will eventually cap you, but in a more discreet way. I am working on finding a better host now, and will share my recommendation once I have one.
Create evergreen content.
No great blog survives solely on sponsored posts. You want to show brands that you can create a killer blog post, without the pay.
Create engaging posts that DON'T focus on affiliate sales, or a specific sponsor.
I've seen many posts that encourage you to create product reviews on things that you already own, to convince brands to send you products to review. That is great advice if you have a review blog. However, to get people to PAY you, you'll want to show that you can create helpful, informative posts in your niche.
Later, you'll create sponsored posts that flow seamlessly with that evergreen content. (Here is a great example of a sponsored post I did for Nautica that fits in well with the rest of my blog.)
Get social, be social.
Make sure you are on as many social networks as possible, and then master two. The rest you can automate using various plugins, however, you do want to be there. Many social campaigns will expect you to have a basic presence on Facebook, Twitter, Pinterest (read my tips here), and Instagram. Some also require Google+.
Have a media kit.
While this is not a must, I have been contacted to work with brands directly via my media kit.
If you scroll to the top of this page, you can see in my top menu, it says "advertise." That is easy for brands to find, but not in the face of my readers, and that has all the information potential advertisers need to see if they'd like to work with me.
Advertisements:
Sidebar advertisements are a great place to start! They offer passive income (meaning, you don't need to do extra work.) They won't provide a full source of income, unless you have a lot of traffic, but the little bit extra should definitely cover hosting fees!
I don't recommend selling them yourself, unless you are a local or very targeted blog. Otherwise, you can look into ad networks. Here are some of my favorites:
Adsense – is great for those of you starting out! They are my first and foremost network that I worked with.
Sovrn – I use them to supplement Adsense. So far, so good.
The Blogger Network – if you have higher traffic, consider The Blogger Network for your ads. They offer higher rates, but do have minimum requirements. I am currently working on switching over to them for my blog.
Join networks!
The best way to start finding sponsors for your blog is to join networks that connect advertisers to bloggers. These networks coordinate sponsored posts within various niches, and with major national brands. Most of my sponsored work, actually most of my blog income, comes from this. Apply to ALL OF THEM that you are eligible for – as your sponsors will likely come from a mix, and the more networks you join, the more likely you are to have a steady stream of sponsors.
Check each network's individual requirements. If you don't get accepted to one, see what you can improve, and try again a few months later! I was rejected to Pollinate when I first applied. I re-applied after my blog re-design and got accepted.
Here are some favorites:
Use affiliates.
Don't underestimate the power of affiliate links! They are also more passive than sponsored posts. You have more control over them, so that you can decide how to use them.
Their use is always disclosed, however you can make it blend really seamlessly. For example, when I list craft supplies, I include the links to them as affiliate links. Then I let it sit, and the little bits add up. Some favorites include:
Some great programs to join on ShareASale:
For craft bloggers: Craftsy is a favorite – they have a "lead" commission too, which works for referring new people to their free courses too.
For parenting/kid fashion bloggers: Tea Collection is my highest earner to date. I love sharing about Gymboree, as it's a favorite of mine. Shutterfly is also a popular choice.
For lifestyle or fashion bloggers: Julep is great because you get a bonus for referring people to their free trial too.
Disclose!
Whether you're dealing with sponsored posts or affiliate links, always include a very clear blurb on your posts that notifies readers of the relationship with the brand, as I did in the fourth paragraph on this post.
WHAT ARE YOUR TOP TIPS FOR FINDING SPONSORS FOR YOUR BLOG? DO YOU HAVE ANY QUESTIONS? COMMENT BELOW, AND I WILL REPLY SHORTLY!