Which mom wouldn't be delighted to receive a fun kid-made mother's day card? These eight clever crafts range from punny, to beautiful, with clever use of materials and techniques. I know you'll love them! This post contains affiliate links. First version of this post was published April 2015.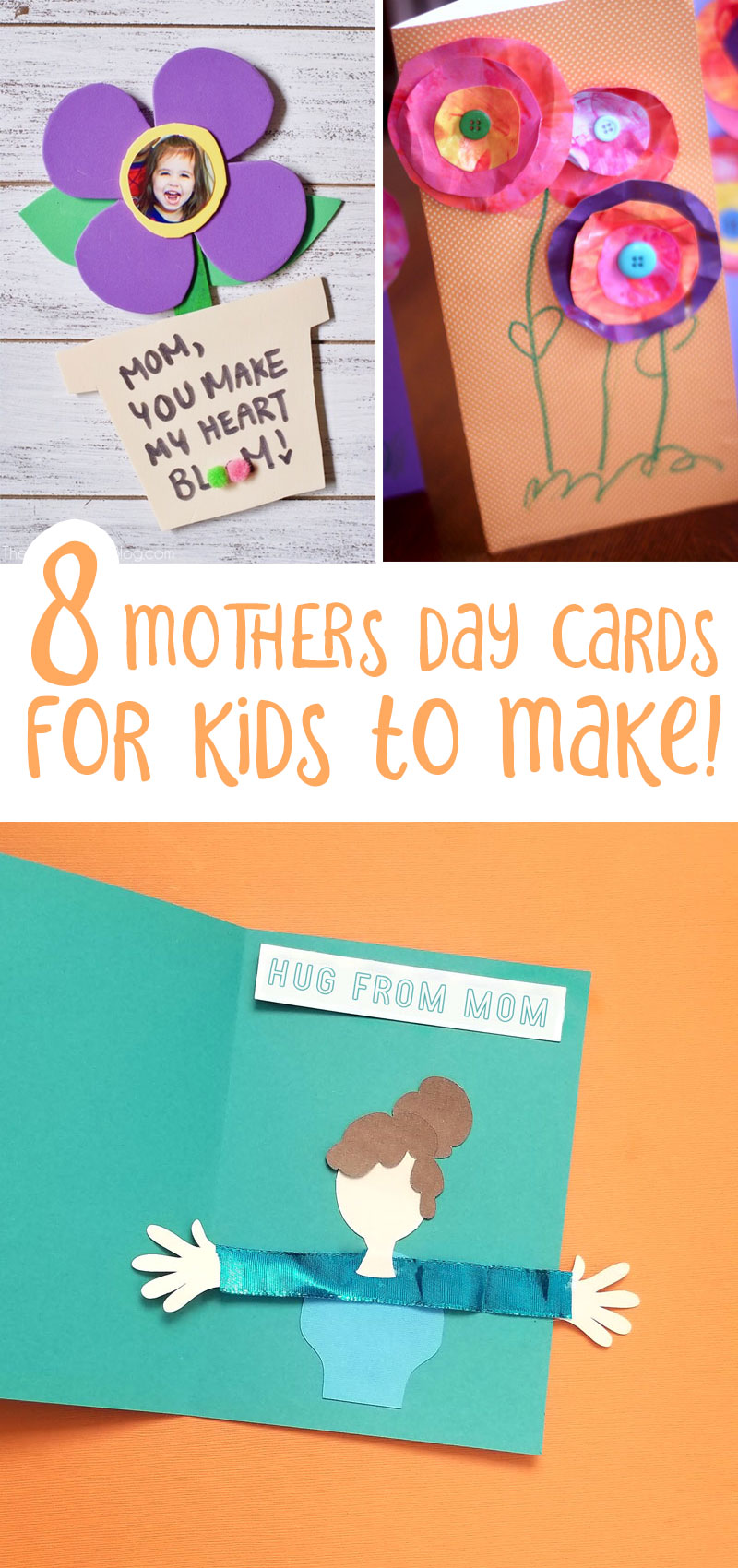 When my oldest was just a little toddler, I put together this list of kid-made Mother's Day cards to share. Now he's seven and I've received some sweet kid-made gifts and cards from him since. And so I decided to make another mama happy and share this idea.
So whether you're a caregiver, Dad, teacher, or anyone else helping a young one with this, know it'll bring a big smile to Mom's face!!
To be honest, not all of these were designed for Mother's Day. But all are totally appropriate and perfect for mom. And the best part is, when a kid is involved, there's that extra special touch of pride for mom!! Because what does she want more than seeing how talented and creative her child is?
Clever Mother's Day Cards Crafts:
Click on the link or the image to be taken to the tutorial. If you love it, comment on the tutorial post to let the writer know!
1. Turtle Themed Mother's Day Cards by Sugar Aunts for Coffee Cups and Crayons
Ouch! I love a punny card that's also gorgeous, as this one is. It's simple enough for young kids to make if you cut out the legs and head for it.
I love how it makes use of household items! And it's the kind of humor your preschooler will appreciate.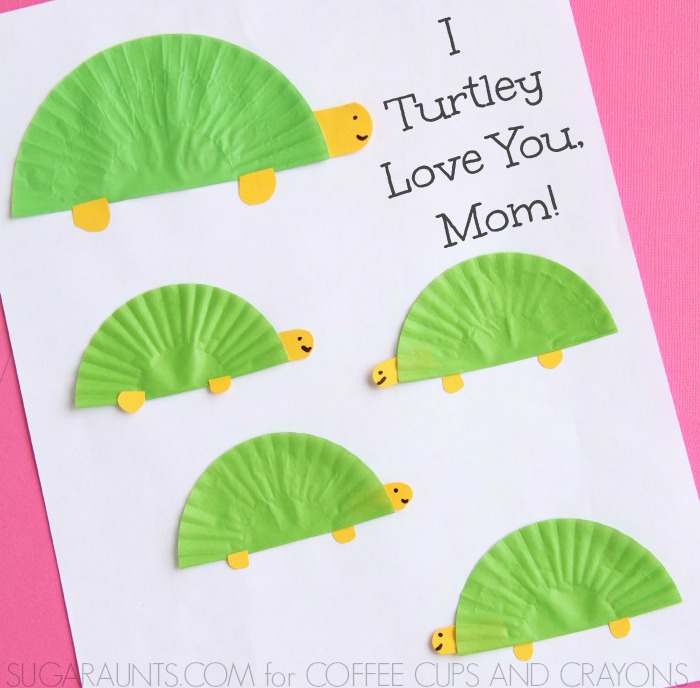 2. "Showering you with love" Mother's Day Card from I Heart Crafty Things
Oh, this is so sweet! And so simple to make too. Once again, cupcake holders make an adorable mother's day card craft. You can turn this into a coloring craft by using white hearts and encouraging your child to color them. Or, cut the hearts from a piece of paper your child has already colored.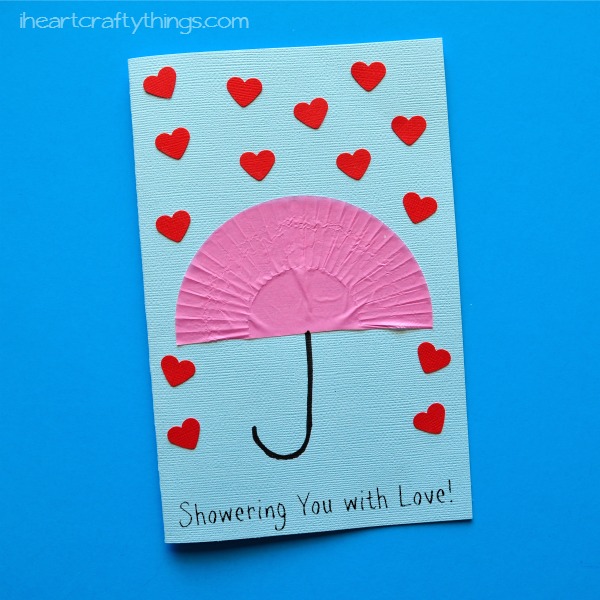 3. Huggy Mother's Day Card from Moms & Crafters
Because which mom doesn't love a big bear hug? This ridiculously cute card is so clever! You can make it using the template (PDF to cut by hand or an SVG to pre-cut on your Cricut). This is the one I designed myself, and originally I made it without a template – so you can definitely free-hand it too!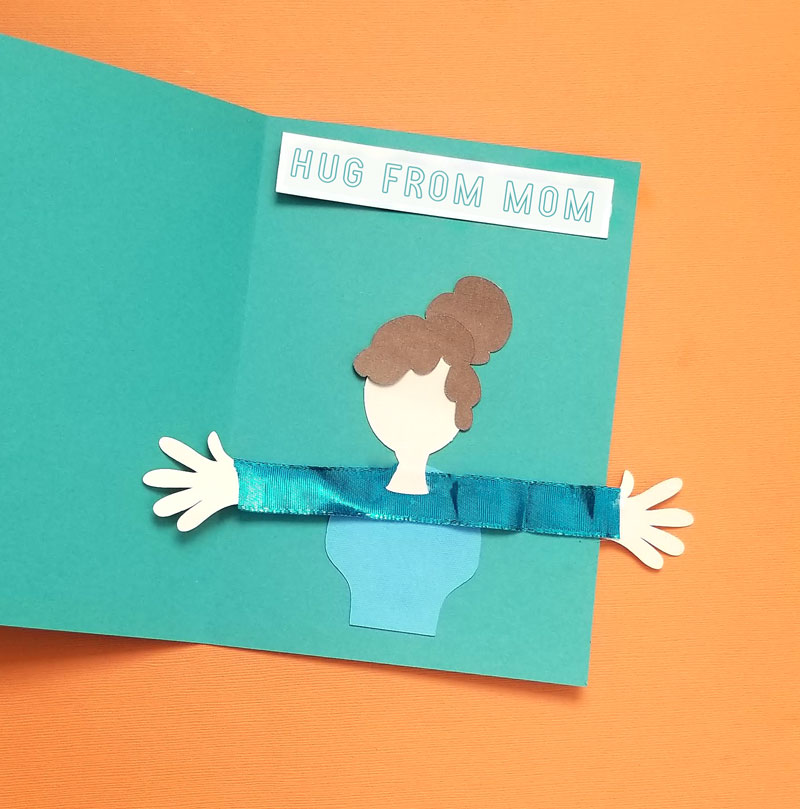 You can watch a video of the process here:
4. Dancing Flower Card from Soccer Mom Blog
Never mind the sweet face in the center – this card is just the cutest! Mom will love seeing her loved one featured in it, but she'll also appreciate the clever design of this cute card.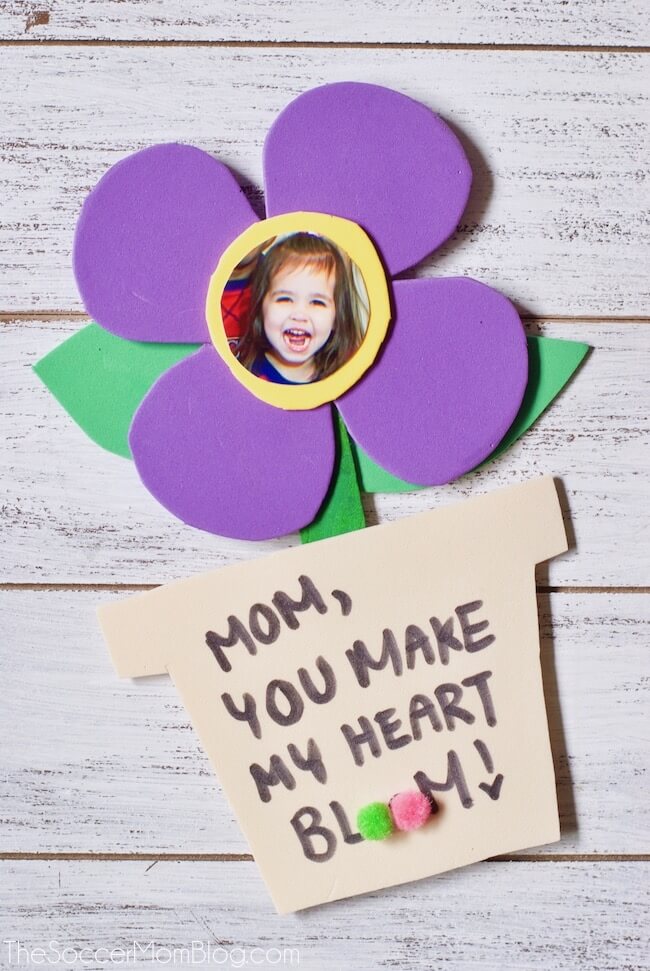 5. Tea Cup Cards from In The Playroom
Got a tea loving mom? This one is perfect! Gift it with a box of tea, a mug, or even better, a beautiful tea set for the mom who loves to host. This is my absolute favorite – I just love the ingenuity of this card! Mom will too.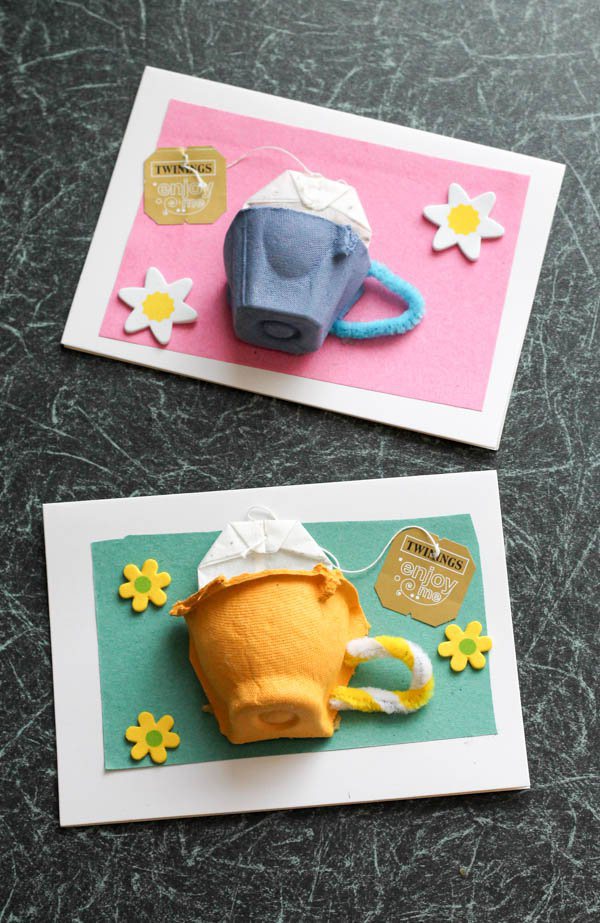 6. Paper Quilling Heart Card by Artchoo for Red Ted Art
Okay, it was originally designed for Valentine's Day. But it's too clever not to put in, especially since it teaches a new crafting technique. Just make it in less "red" colors (try blues, purples, greens) to turn it into a perfect card for mom!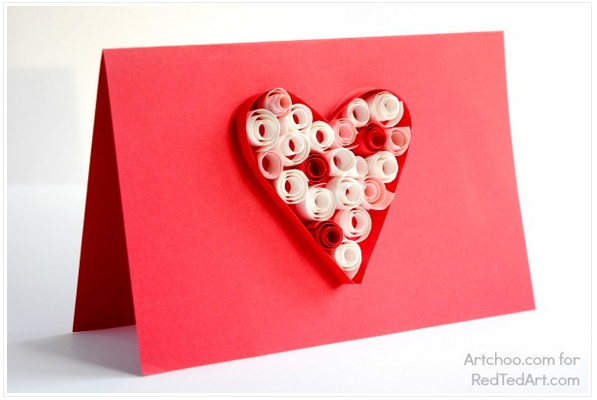 7. Flower cards for Mother's day from Hands On As We Grow
The 3D card is perfect for making with little ones and the finished result is beautiful! This is one mom will put on the fridge for sure. It's a fantastic, simple project that shows that it doesn't take much to make a beautiful craft.
What I love about this one is how versatile it is for different age groups.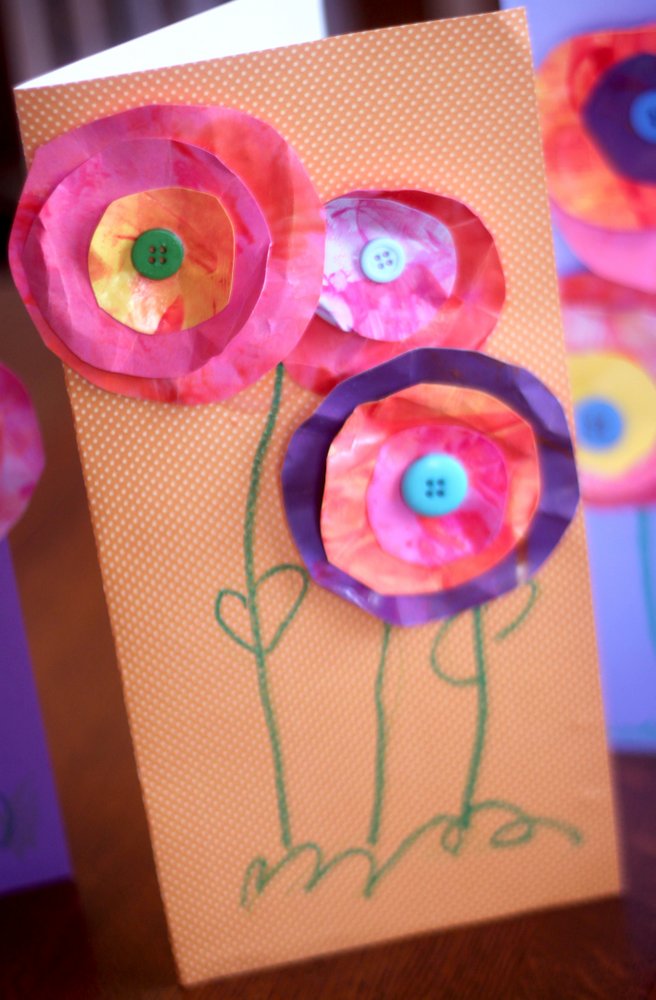 8. Simple Mother's Day Card from Powerful Mothering
Get a little messy with this clever tutorial. The result is a fun, bright "What? You made this?" kind of card… Kids can pull out their art skills and play around a little with the technique they use here. Kids who don't enjoy the cutting and gluing process as much will enjoy the art angle on this.
Heres a bonus one I found after I put this together:
An adorable Mother's Day Card from JDaniel4's Mom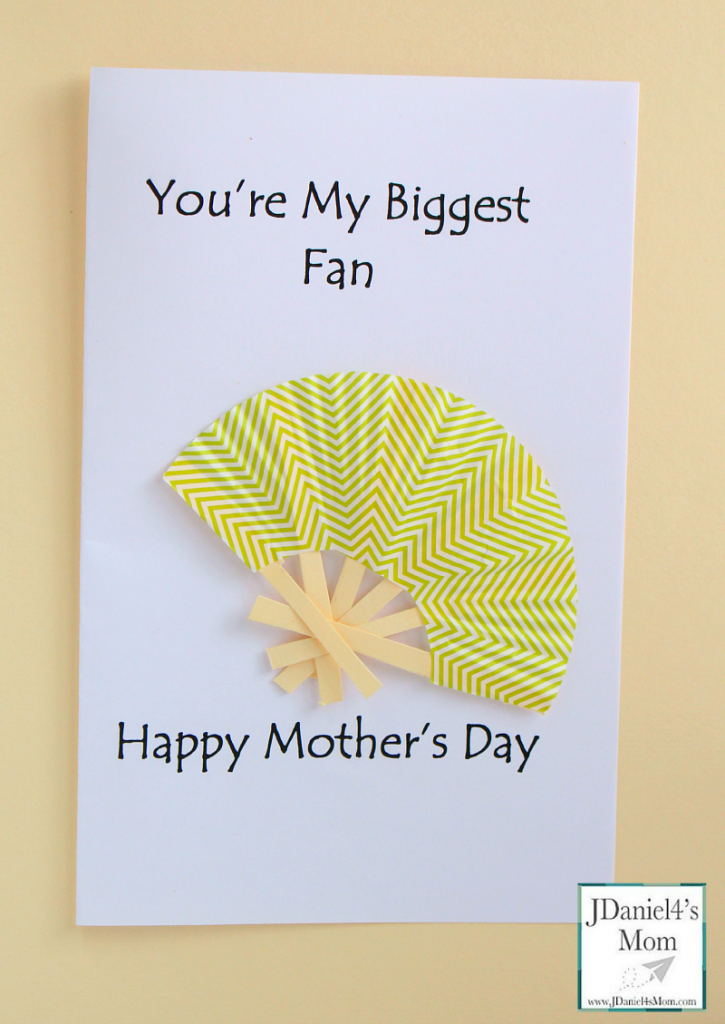 Don't you just love these? I think my favorite is the teacup from In The Playroom. Especially since Twinings has always been my favorite tea. I'd love to hear if you make one of these!
What are your favorite mother's day cards for kids to make? Comment below!
Loved these? Try the crafts below!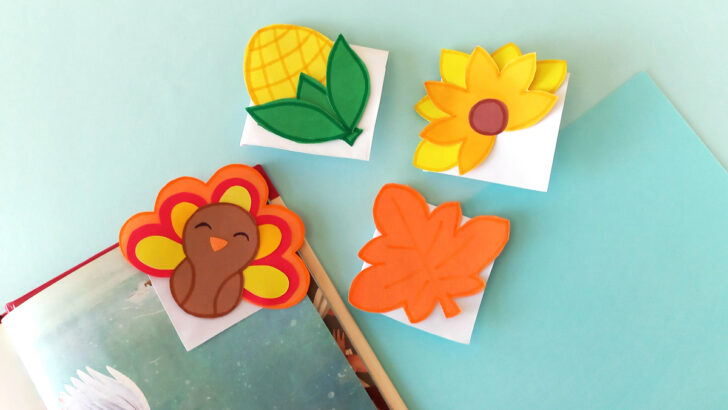 Craft these adorable Thanksgiving Bookmarks using this free template. When you're done, check out these Thanksgiving turkey puppets. This post contains affiliate links. Thanksgiving is …