Got leftover turkey or chicken? Make this leftovers quinoa salad using yesterday's dinner and last week's produce.

What do you do when you have leftover chicken, but want to switch it up? You make something new. This delicious quinoa salad can be served warm or cold (well, it's technically only a salad if it's cold?) I served it at room temperature.
We have been having lots of quinoa lately as I'm cutting down carbs to lose weight. I love quinoa as a white pasta alternative. Bonus points: it's got protein!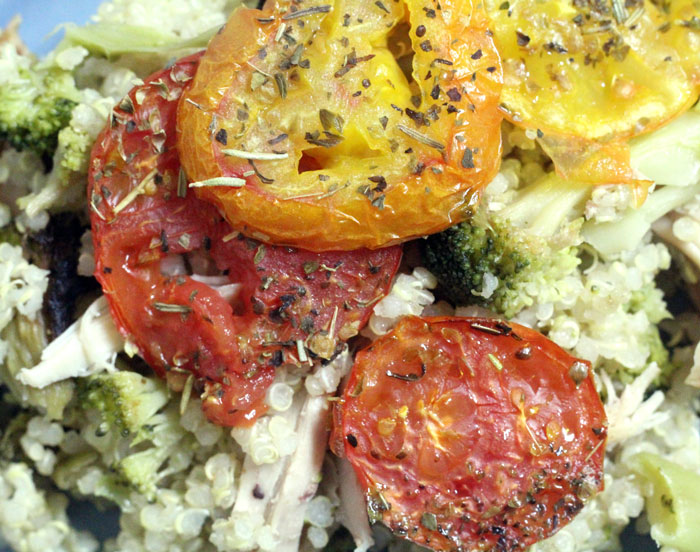 This easy dinner can be made with leftover turkey, making it a great choice for the day after Thanksgiving. And it doesn't feel like leftovers! When I made it, I had not enough broccoli, not enough chicken, and overripe tomatoes. You can adapt the concept and make whatever you want. Any roasted veggies would go great with leftover poultry or meat.
Overripe vegetables are a great option for roasting. I roasted these heirloom tomatoes that I had picked when we went vegetable picking. They were rich and added lots of flavor. The quinoa is mild enough to go with a variety of flavors and really fleshes out your dish.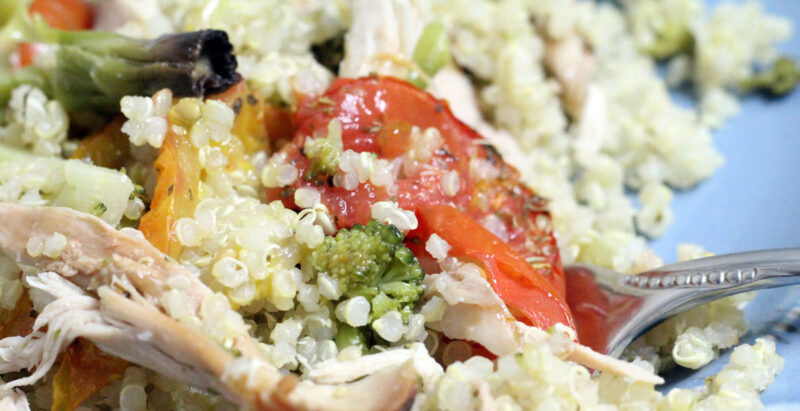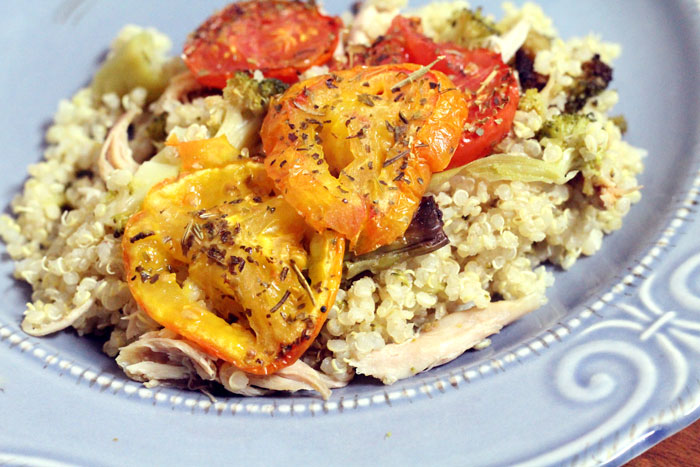 How to make leftovers quinoa salad:
Bring one cup of quinoa and two cups of salted water to a boil.
Reduce to a simmer and cook until all the water is absorbed, about twenty minutes.
Chill.
Add your leftovers from the fridge – I put in chicken (take it off the bone of course) and roasted broccoli.
Roast your overripe tomatoes and add it in as well. (Drizzle with olive oil, sprinkle with salt and Italian seasoning, and roast on 450 for about half an hour)
You can season it if you want with soy sauce, sesame oil, or a little bit of oil.
Other things you can add to this quinoa salad: roasted peppers, zucchini, eggplant; strips of leftover beef or turkey; leftover hot vegetables or beans.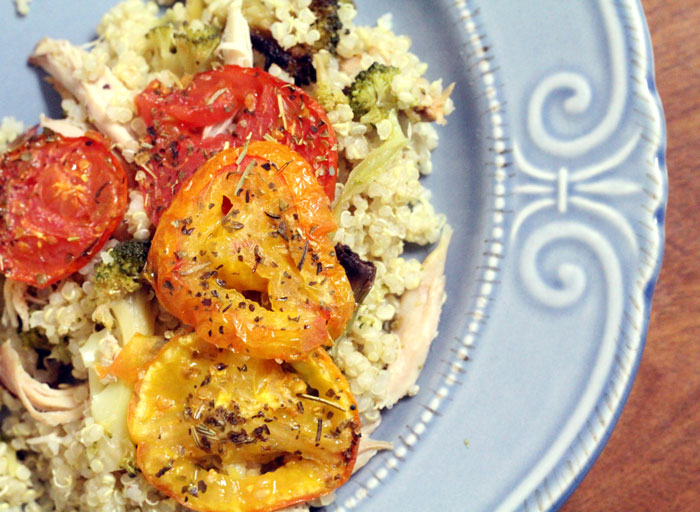 This leftovers quinoa salad is the perfect way to make a new dish out of your leftover chicken, turkey, vegetables, or overripe produce.
Switch it up to make it something your family will really enjoy for an easy, kid-friendly dinner idea. I have included a printable recipe card below that shows how I made it, but it's really a very rough guide. Do it how you want.
[yumprint-recipe id='13']