I love dressing up together as a family – it's a fun thing to do together. This Sesame Street inspired family costume was something we did last Purim. The costumes are simple DIY costumes that are totally no-sew and quick to put together.

Even though we do these in March for the holiday of Purim, I like to blog these around Halloween time since that's when most of you dress up. The seasons are quite similar, at least here in New York. March was chilly but not very cold as it often is in Autumn.
M was obsessed with everything Sesame Street (he still is but not as much…) and so I decided that my best bet was to create a cute family costume that he would enjoy. So we were all good sports and dressed up together as Elmo, Big Bird, and Cookie Monster.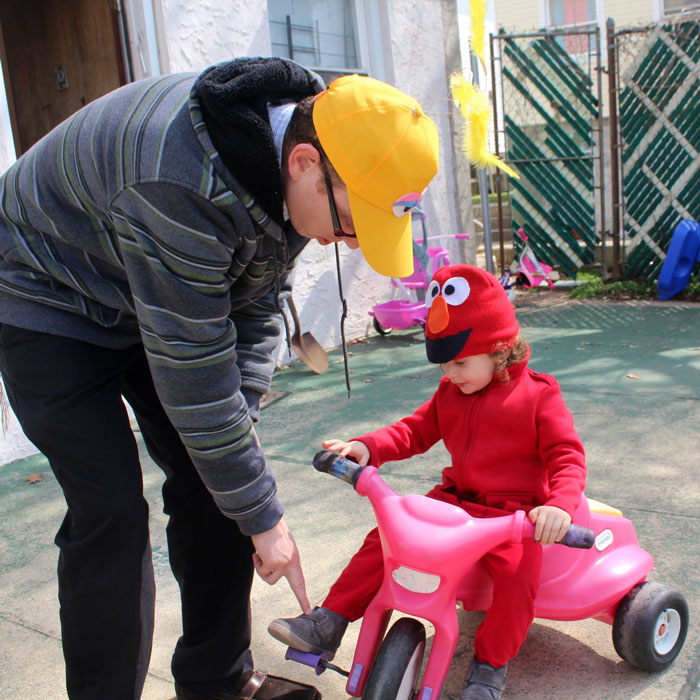 Disclosure: this post contains affiliate links.

3 DIY Costumes for a Sesame Street Family Costume:
Click on the title or the image to be taken to the full tutorial. I've also included "buy" links in case you like the idea but don't feel like DIY this year.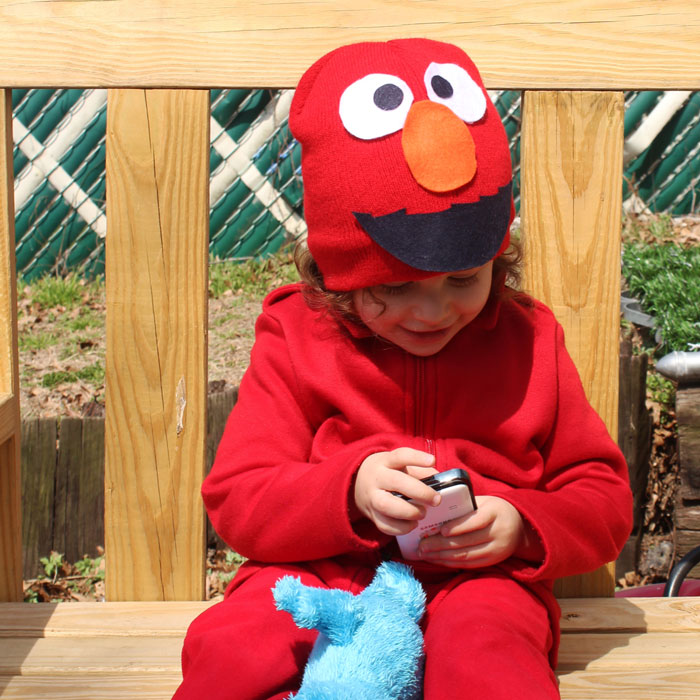 This is the costume that my toddler actually wore. You can totally shuffle these around the family and swap out who wears what.
Don't want to DIY? Here's a great "buy" option!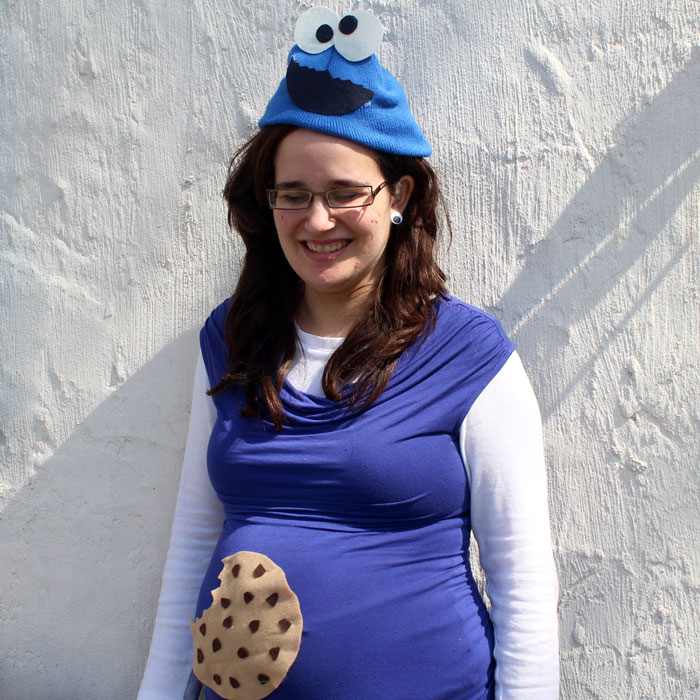 Since I was very pregnant at the time, I decided to do something cute. Of course, you can do the "cookie on the belly" thing for toddlers too – we really are the same.
Don't want to DIY? Here's a great "buy" option!
My husband simply "hatted up" for the occasion and sported this fun baseball cap that doubled as his costume.
Don't want to DIY? Here's a great "buy" option!
And here we are, getting along real nicely as all of Sesame Street *usually* does: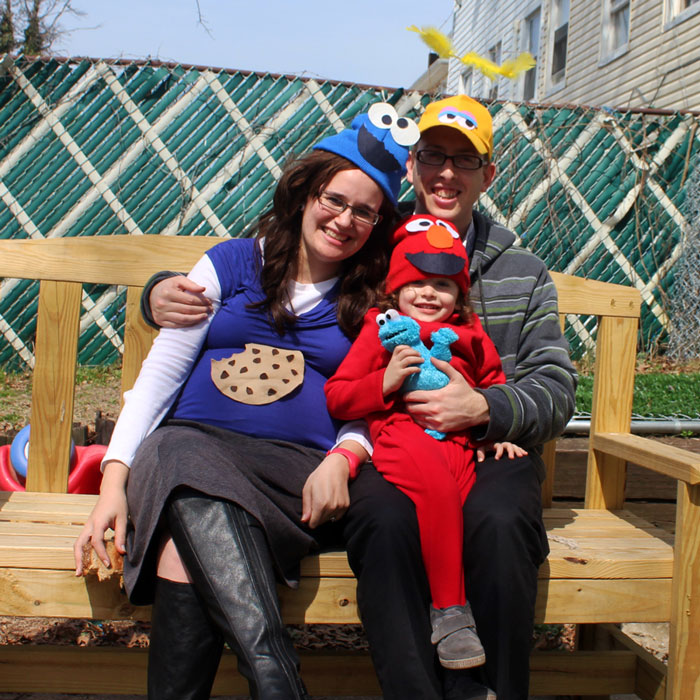 How I took the Sesame Street Inspired Family Costume Idea a step further:
On Purim we hand out food-centered gift baskets and treats so I followed along with this theme. You can get inspiration from this for Halloween as well.
I got the Apple & Eve Sesame Street juices and put one of each in each of my food packages. It's a great healthier treat alternative and super popular among the younger crowd.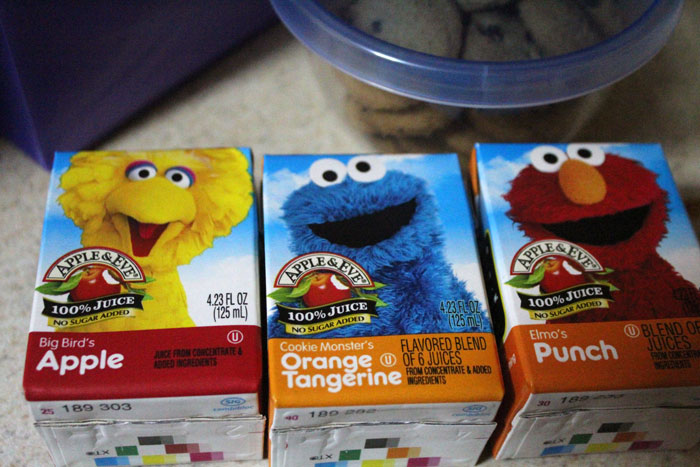 I also painted a small round container with a blue lid with crazy Cookie Monster eyes using acrylic paint. I filled it with mini cookies. The acrylic paint actually can peel right off so that the container can be reused without the eyes (you may need to wash it for it to peel) but it's durable enough to last as long as you need it.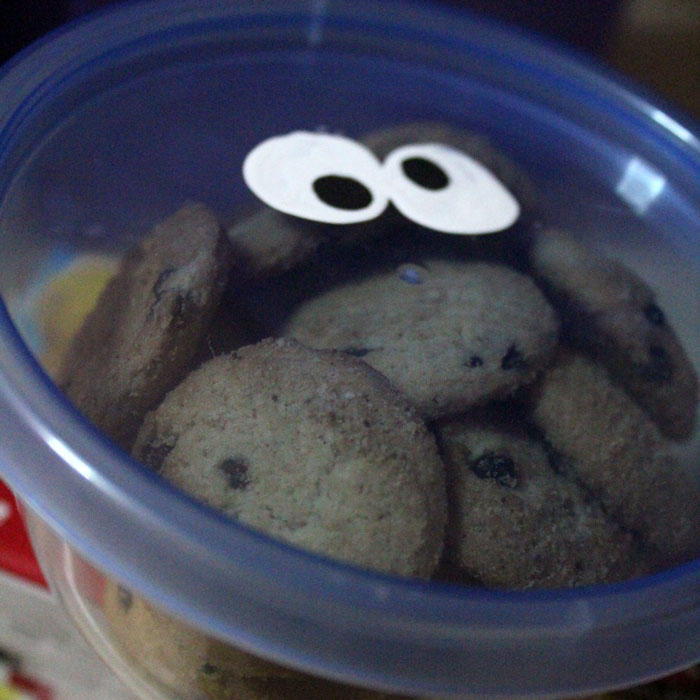 What do you think of our Sesame Street family costume? Which family costumes have you tried? Comment below!