Enjoy these adorable one year old birthday gifts for girls – including great ideas for first birthdays and for holiday gifts as well! Find my top gifts for preschoolers here. This post contains commission-earning affiliate links. Some samples were received free of charge for potential inclusion.
---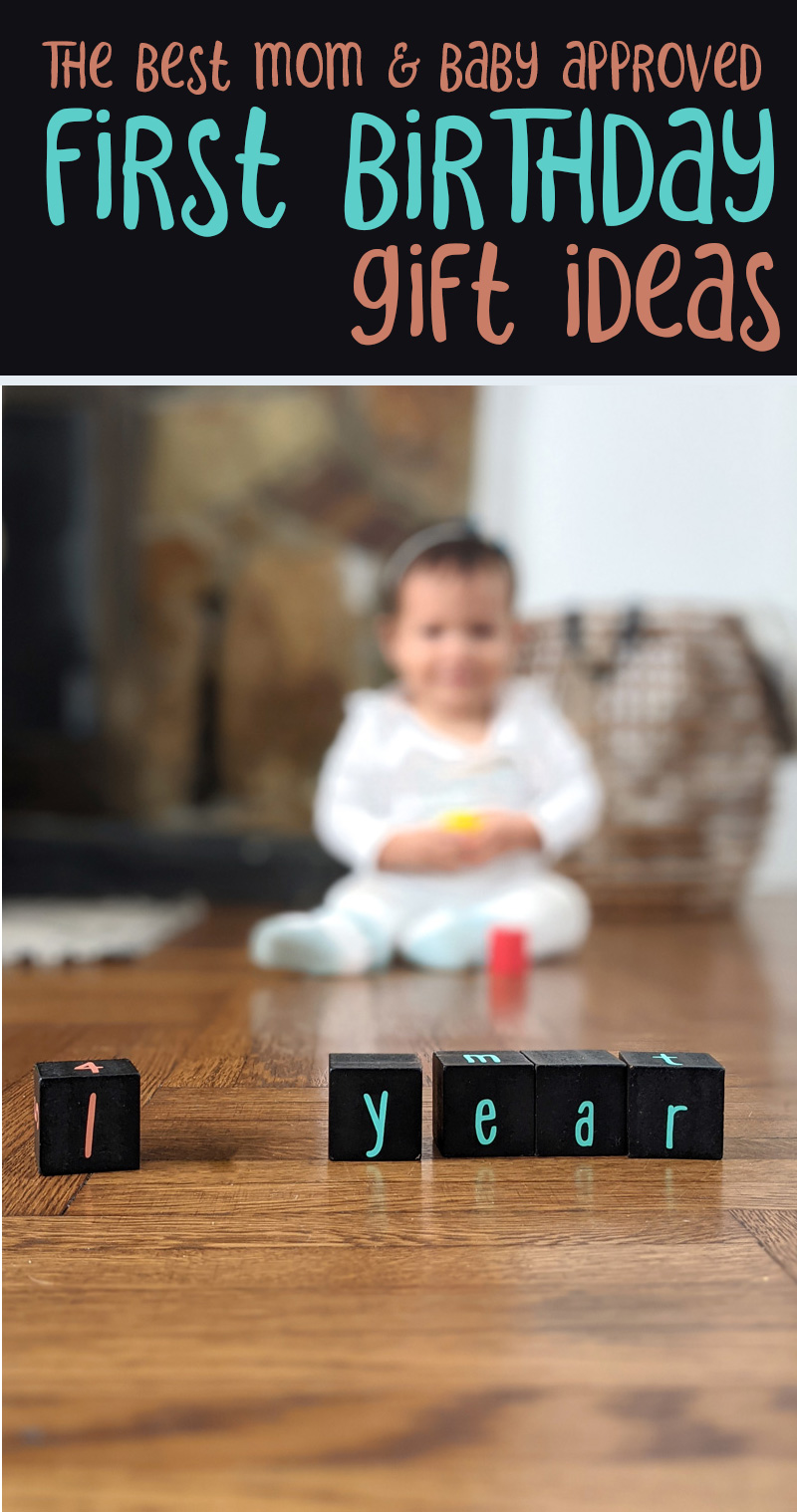 A year old is a magical age, when your baby starts showing a unique personality, and is no longer a baby. To me, it's simply magical.
When looking for one year old birthday gifts for girls – or even holiday gifts – you'll want to look at both 12 months and up toys, and 18 month plus toys.
First of all, brands tend to create milestone targets for ages based on children other than the one you're buying for. So while it helps to know where a child is at developmentally before buying one year old birthday gifts, age guidelines are really just a guideline (other than the 3+ choking hazard warnings, which is a safety issue).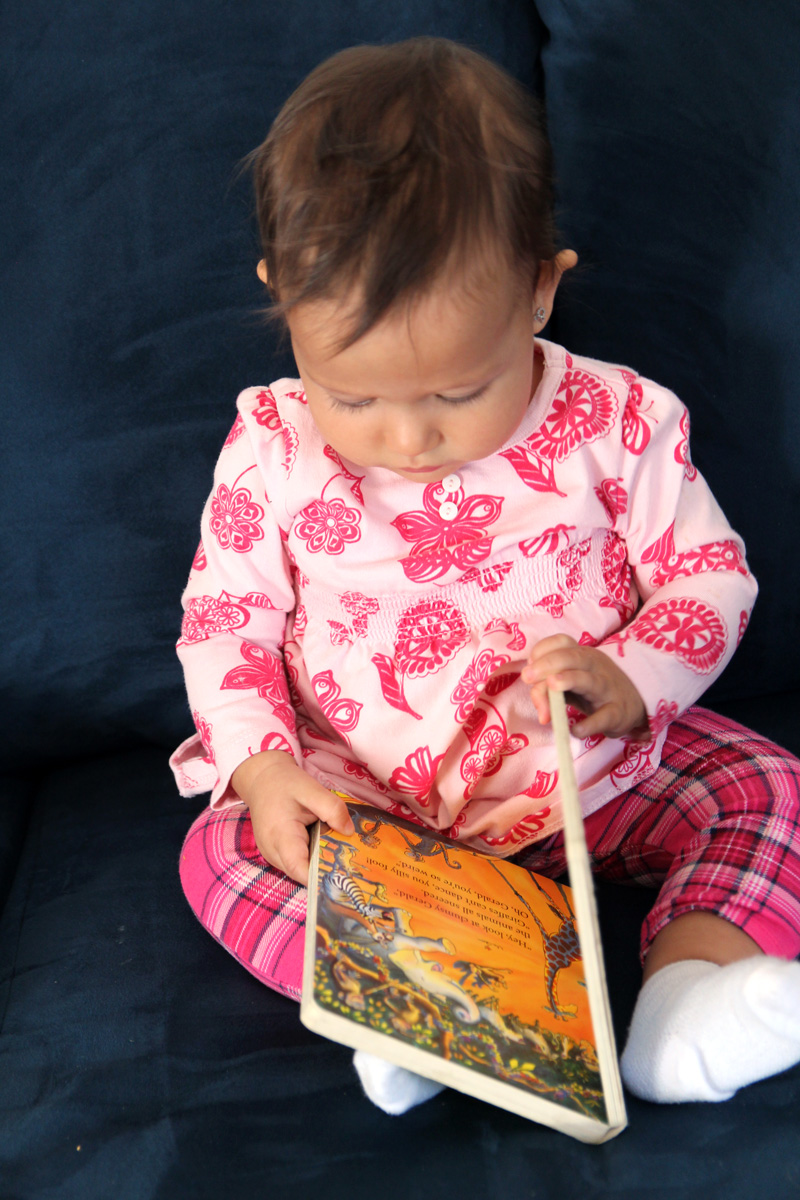 Also, since the baby won't be having another birthday or holiday until the age of two, it makes sense to cover developmental milestones age range until the next gifting occasion, even if the baby isn't quite ready for it.
And finally, at this age, you can literally buy the baby cute diapers and mom will be overjoyed – and baby won't know the difference.
Table of contents:
Non-toy One Year Old Birthday Gifts for Girls
Not every gift needs to be a toy! While some things are maybe a bit more specific and best left to mom, some things make fantastic gifts. Or, if you're mom, you can present it to your one year old as a gift – even if you would have gotten it anyway.
Grow a little artist: Melissa & Doug finger paint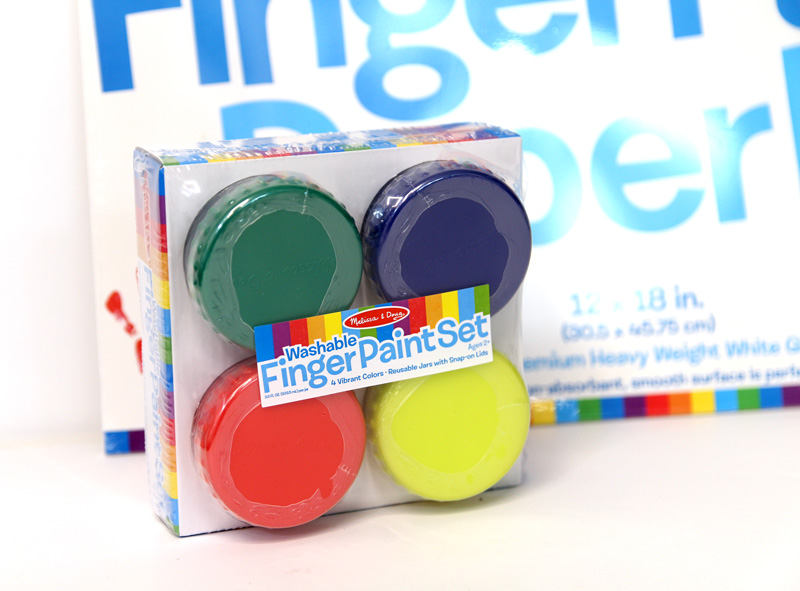 While this is technically marketed towards age two and up, many younger toddlers (especially those who don't mouth everything and can follow basic directions) are ready for basic art supplies such as finger paints. I love that Melissa & Dough make a fun art pad to go along with it, so that baby has paper that works for this medium too.
They're never to young to begin reading: Board books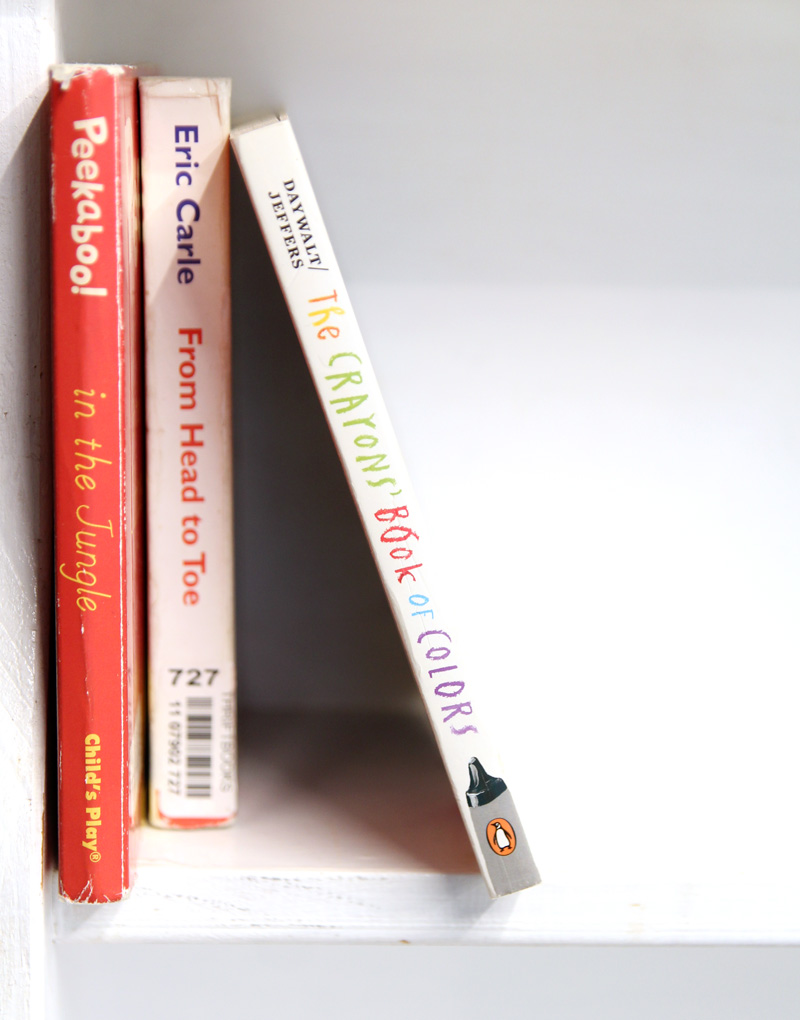 They're never too young to begin reading! One year olds can already hold books, and while they might still eat them (hence the need for board books), they can already flip pages and enjoy the pictures.
I personally prefer books that can grow with baby and have more of a story line. My five year old still loves the book Giraffes Can't Dance, and since it's a board book, it's still baby friendly. But any book that encourages language learning is also a fantastic one year old birthday gift for girls.
Other favorites include The Crayon's Book of Colors, From Head to Toe, and Peekaboo! In the Jungle – but I linked my list of favorite board books for baby below. I wrote that one when M was a baby so it's a bit of an older list.
For the fashionista: Adorable hand-made shirts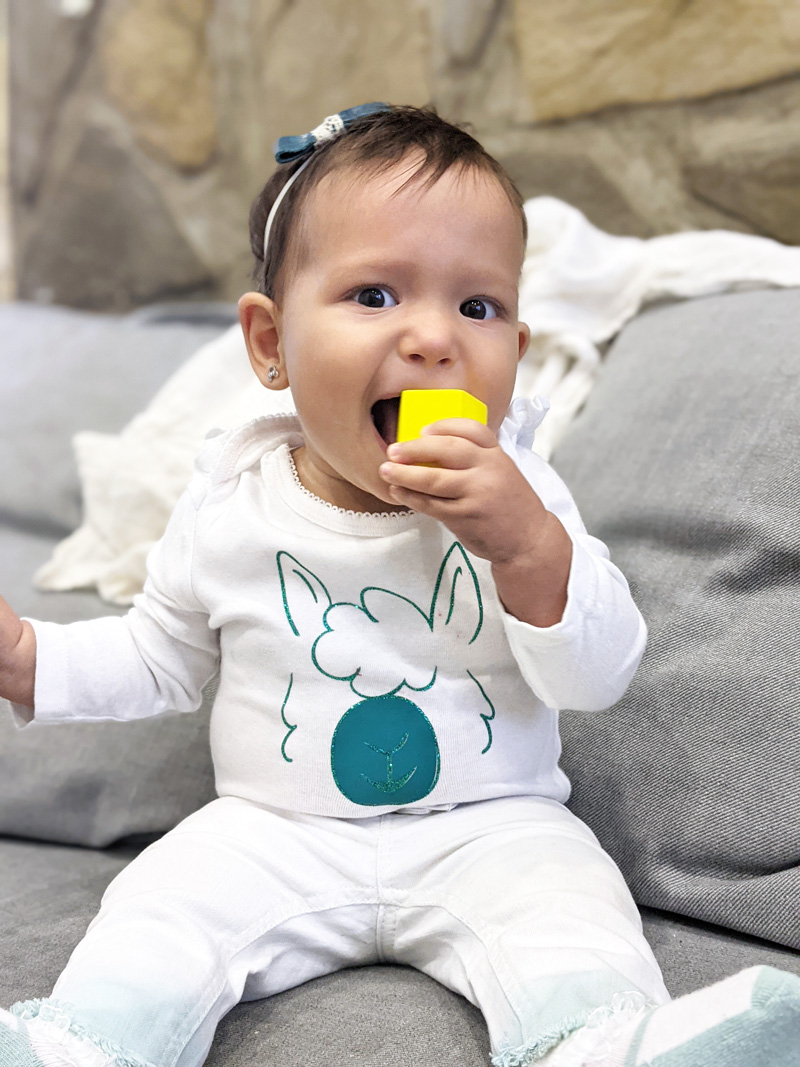 Got a Cricut? Fire it up and make some sassy shirts! Or sweet ones – whatever floats your boat. You can personalize it to mom's interest, which makes it a bit more special.
Not about to craft? There are so many people who can do it for you – find them here.
Toys that promote learning and development
The first thought that comes to mind when buying gifts for any age group is: "What toy will help promote learning at this age?"
For babies, it's so specific. They grow and learn a LOT at this age, so the difference between a 12 month old and 15 month old, or even between two 15 month olds, can be very extreme.
I always recommend erring on the side of buying ahead. And of course, knowing your baby well always helps…
For those who want toys developed by experts: KiwiCo Panda Crate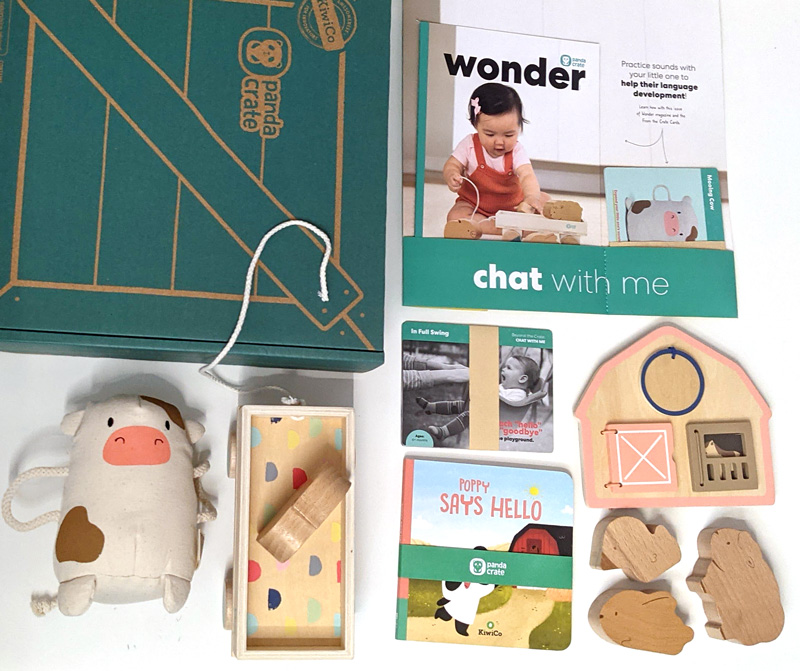 Panda Crate is KiwiCo's "crate" that is created for the baby – 0-36 months stage. Crates full of innovative, developmentally-appropriate toys arrive every other month, along with advice for mom. These toys play directly into baby's current milestones, and encourage them to learn through their natural play habits.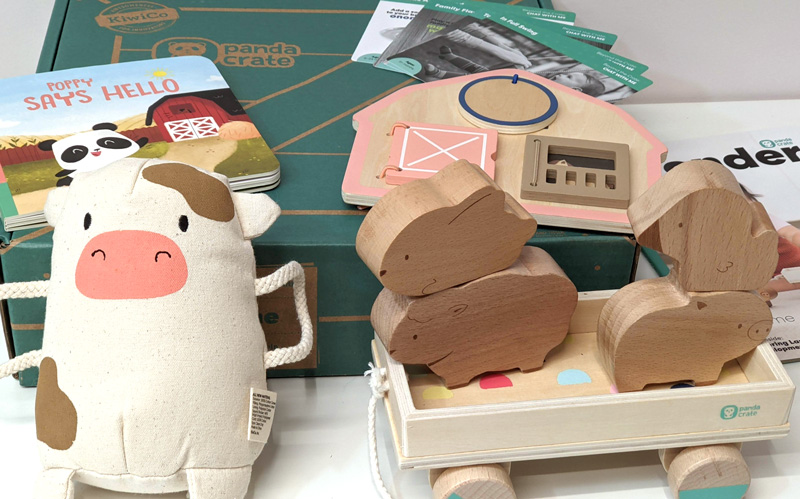 Our favorite is the plush cow that moos when you turn it over. Princess tries to mimic the sound and gets such a kick out of it. Each box comes with a board book as well. The box pictured is an example of the 6-12 months stage. It's totally still appropriate for A, but you'll get the age that you sign up for, for the second year of baby's life.
The toys are all beautiful , gender-neutral, and seem to be keepsake quality. They are developed in partnership with Seattle Children's Hospital. I love how KiwiCo took their typical goal of encouraging problem solving to the baby level. Babies explore how to stack animals, open and close doors, make the cow moo, and more.
For the future puzzle person: Spike the Fine Motor Hedgehog Puzzle Playmate by Learning Resources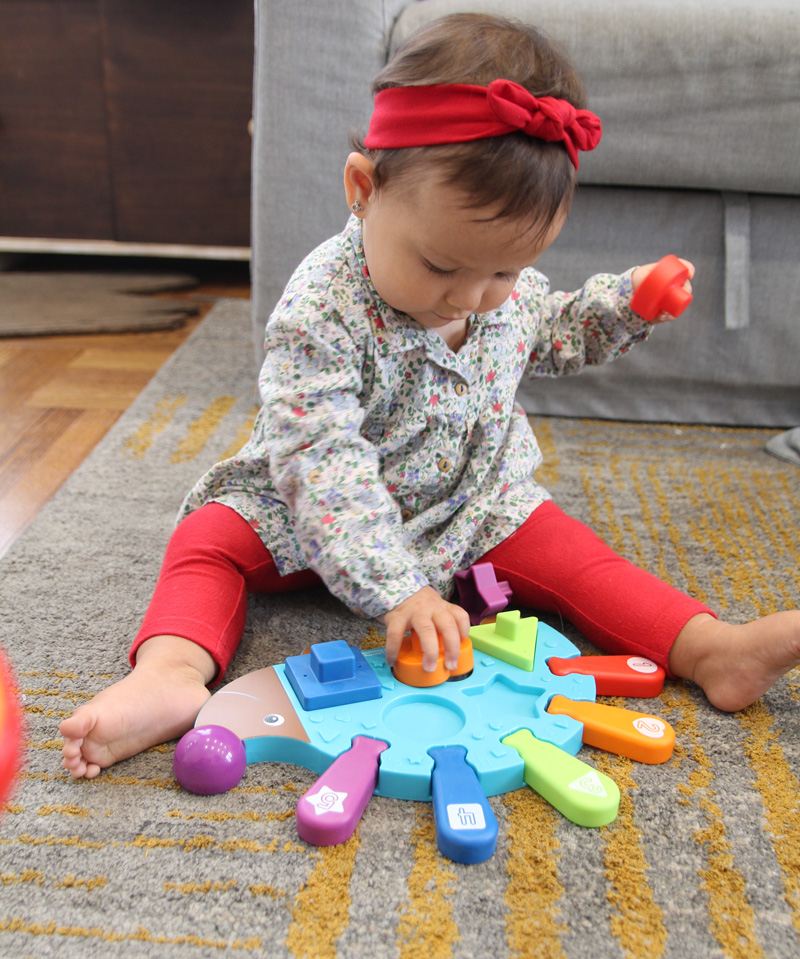 Princess A loves playing with this, even though she's not quite ready to do it properly. First of all, the hedgehog's friendly face features a big nose that's really fun to "beep". Also, the bright colors are just right for a little baby.
This toy is a new member of the Spike the Fine Motor Hedgehog family. It's like a first peg puzzle, only with the very basic shapes that a shape sorter has, to promote shape recognition of course. And I love that the spikes are numbered for future preschool play, but all fit into all the slots for young toddler fine motor practice.
It's targeted to ages 18 months, up till age four, making it quite a long-lasting toy for this age group!
For the junior fidgeter: Dottie the Fine Motor Cow by learning Resources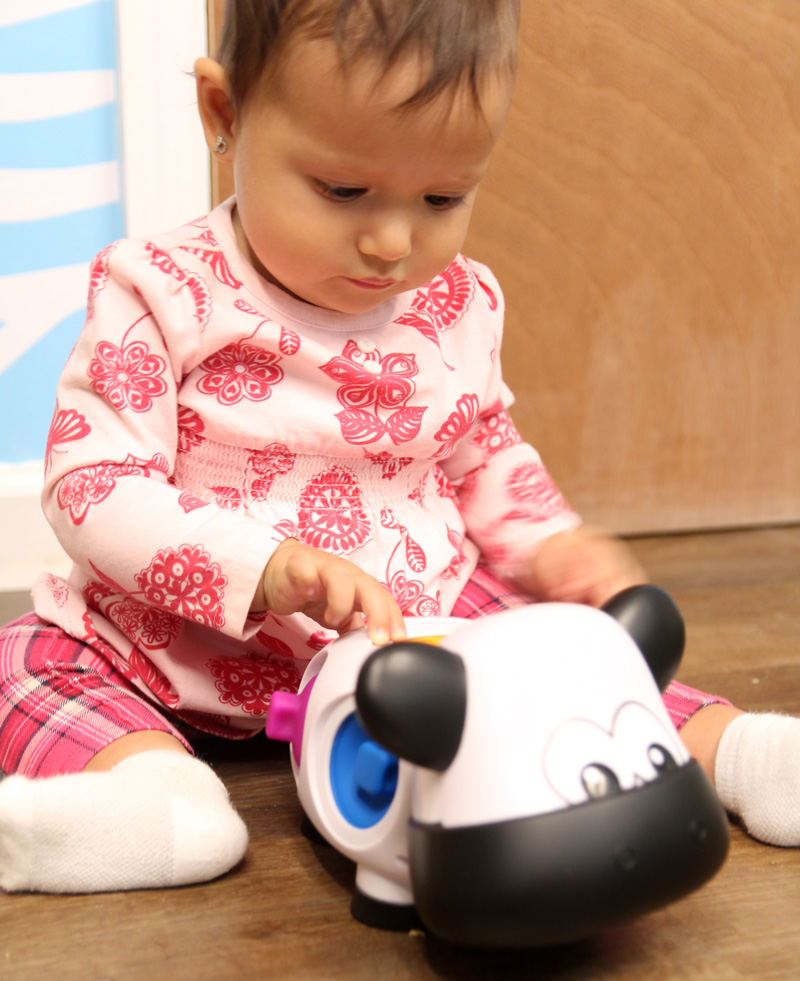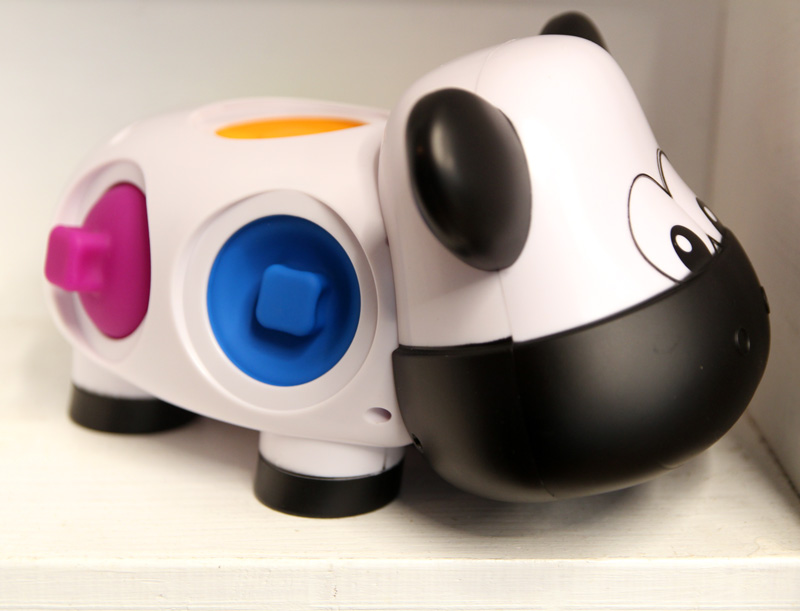 Another adorable, friendly animal, Dottie has attached pop-in bumps that are different shapes. They're kind of like the bubble pop toys that the bigger kids are so obsessed with, only with a baby fine-motor twist. The best part? You won't lose any pieces! I love this as a car or hotel (or even bring-to-the-grandparents) toy for that reason.
We also love how sturdy this toy feels. It's very tactile, with a satisfying pop, but it's also solid, and feels like it'll take us far.
For the little fangirl: Green Toys Mickey Mouse Stacker
We featured this as one of our favorite lockdown toys, and we love it for first birthday gifts too!
Green toys makes their stuff from recycled plastic, and a stacker is the perfect beginner toy and one year old birthday gift for girls. Add in a favorite character (it comes in a Minnie version too) and you have a fantastic gift for that Disney fan. I've always found Green Toys to be very thick and sturdy, and have passed them on from sibling to sibling.
For the one that's taking her time: Wooden walker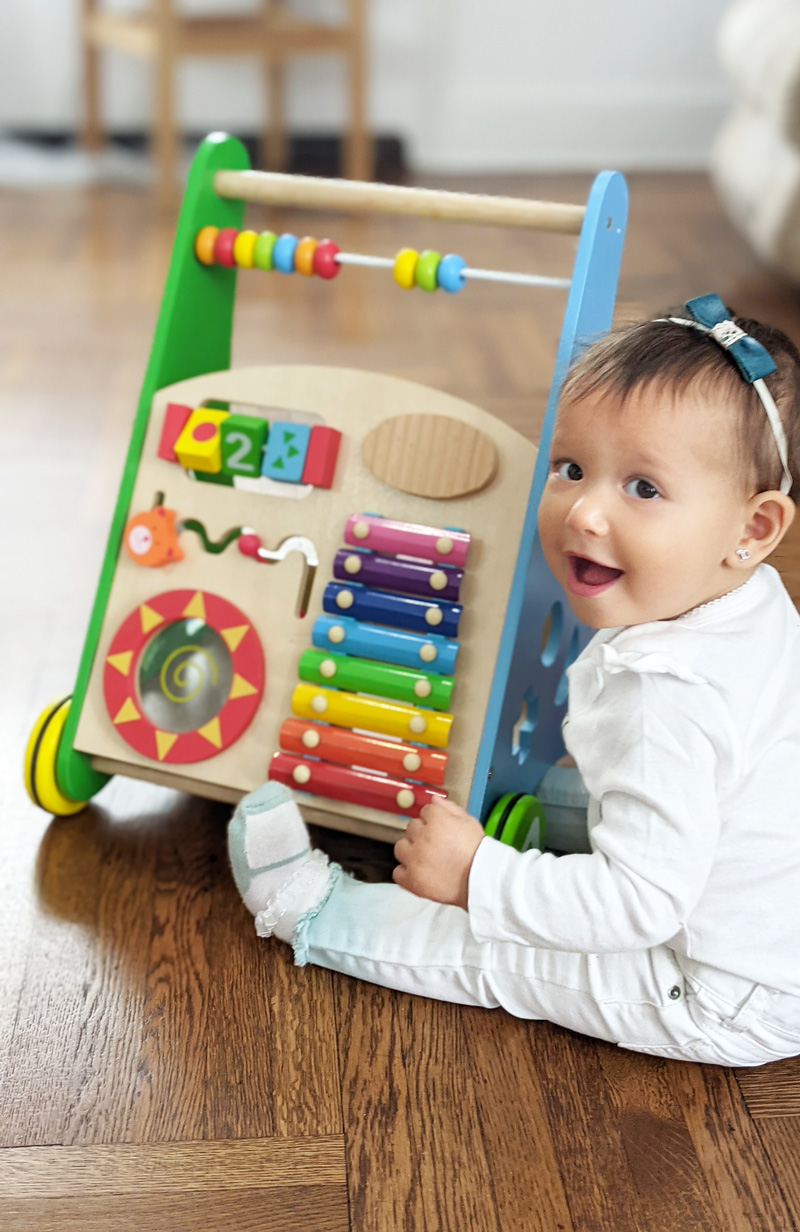 Not every baby does the same thing at the same time…. My kids tend to walk closer to the 1.5 mark, making a walker the perfect one year old birthday gift for girls. Princess has just pulled to stand for the first time, and this wooden walker is spot on. Rubber traction on the wheels slows it down. It's wooden, and not a total eyesore all over my house.
It also has amazing built-in toys that go beyond the learn-to-walk stage. Not only does the back compartment make it a great toddler toy (they just LOVE to load and unload things) bu tit also features a shape sorter, a xylophone, beads, and more cool play opportunities for young toddlers.
Toys that grow with baby
With baby learning new skills at lightning speed, there's nothing quite like the gift that grows with a child! These are either multi-purpose toys, or those that are open-ended enough that toddlers and preschoolers can enjoy them for many years to come.
Baby's first magnetic blocks: Blockaroo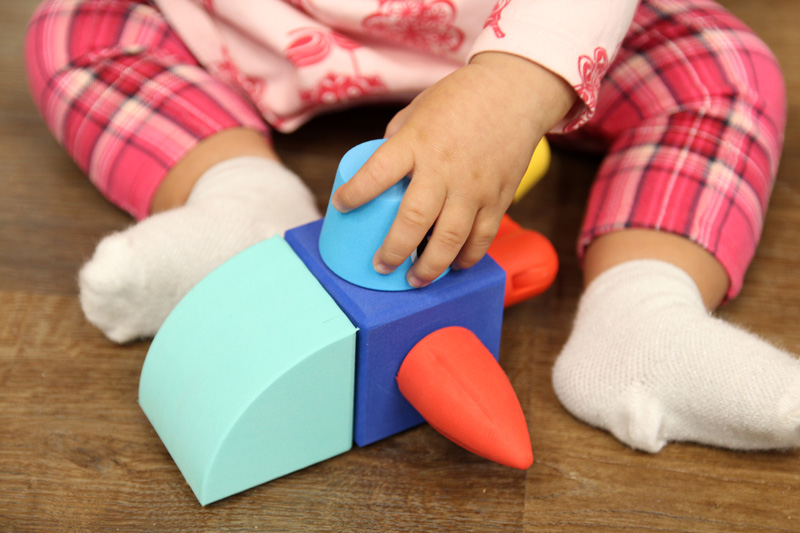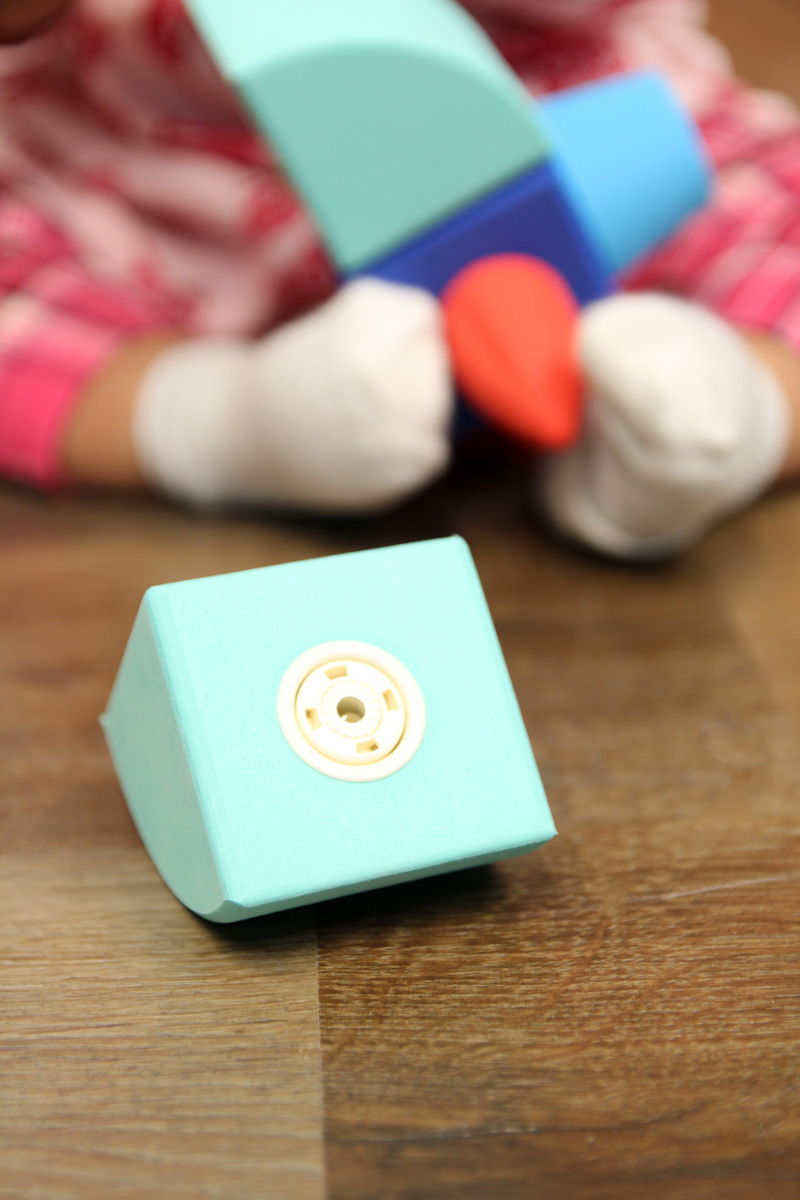 Magnetic toys are always a hit for a huge age range… but what about baby? You got it! Blockaroo are larger foam magnetic blocks that have recessed magnets. Baby just needs to match two pieces to have them make that satisfying click together.
And while she can build something if she wants, she's more likely to enjoy doing that when she's a little bigger, making this an awesome "grow with me" toy. But for now, she can develop baby skills, bringing the blocks together. They're also bath friendly!
Baby's first real bike: Mobo Wobo 2-in-1 Rocking Baby Balance Bike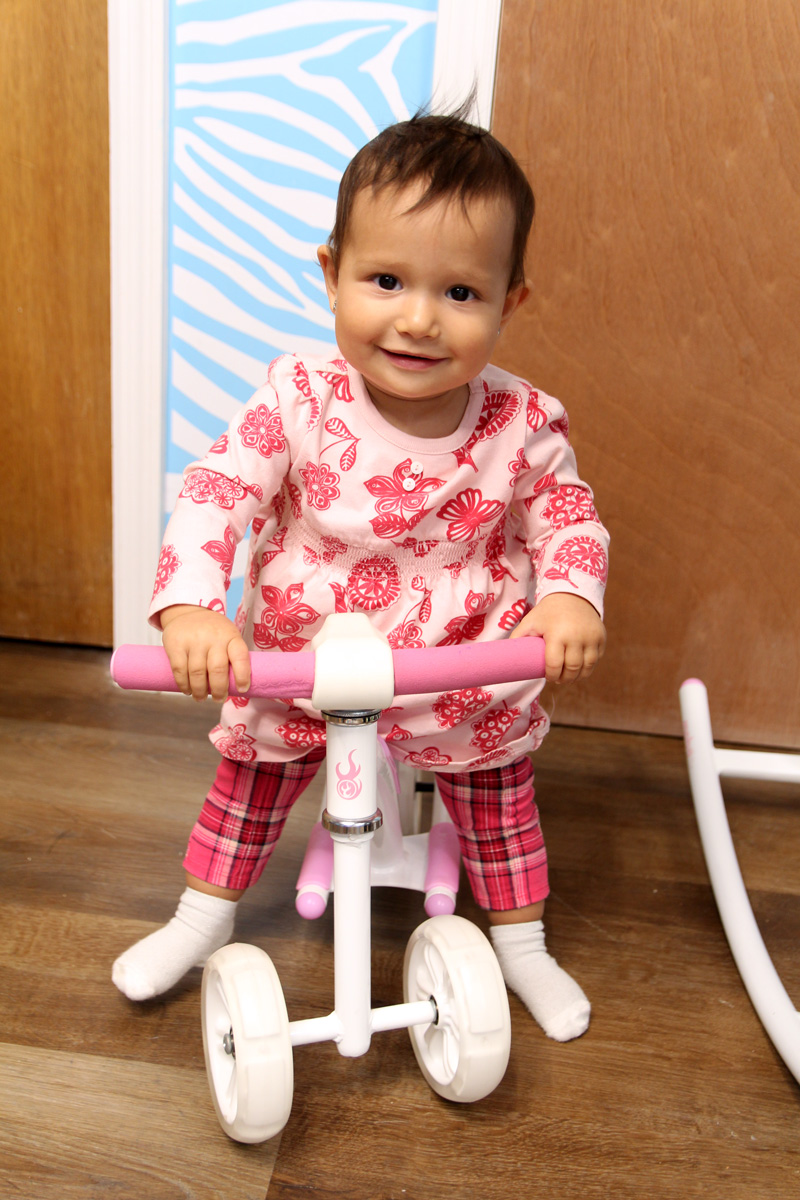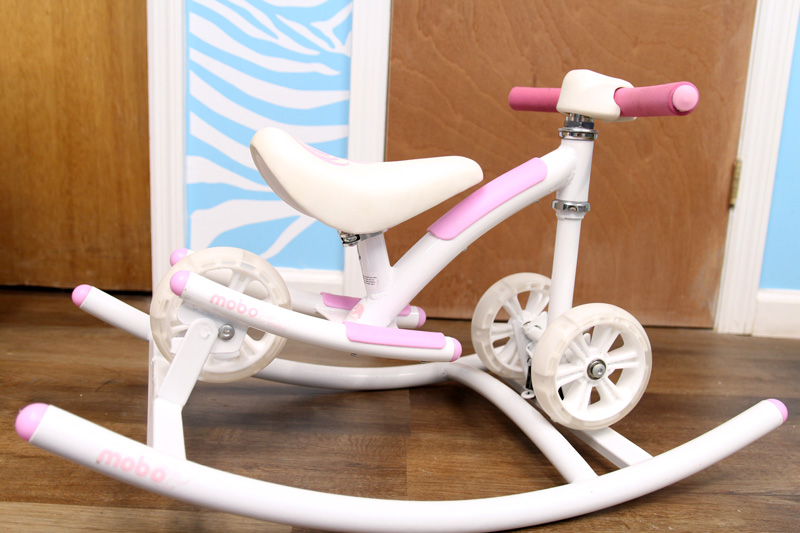 Forget baby bikes – the Mobo Wobo Rocking Baby Balance Bike is a 2-in-1 rocker-turned bike that is SO easy to swap! Like insanely easy – for parents – but still too complicated for your clever toddler to manipulate. A simple 3 wheel bike (by that I mean a 3 light-up wheel bike) latches into a rocking base. Pull a lever to release it – no tools required. It features different height settings too.
This toy is sized for ages 1+ – and while Princess is a little girl who takes her time with milestones, this makes a great first indoor active toy that she should be ready for in about half a year. And it's a real, sturdy toy, with a steel frame. Get it in different colors too.
For a timeless classic: Wooden blocks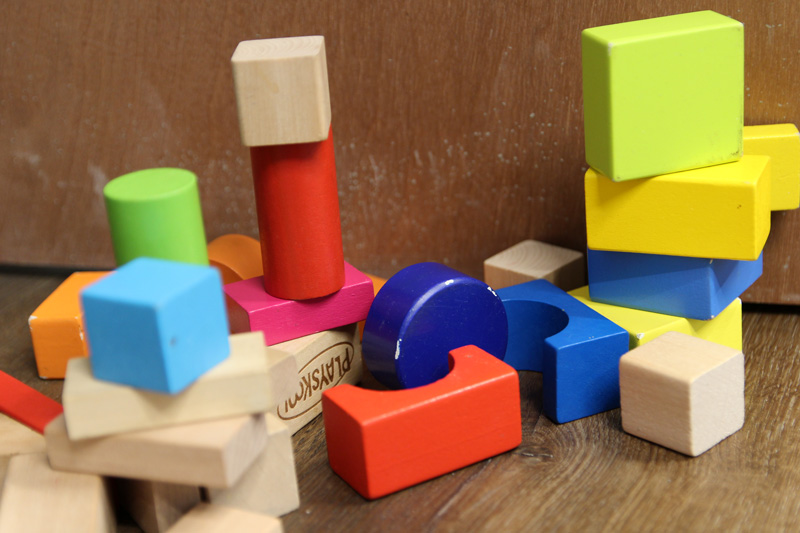 M received wooden blocks from a relative as a first birthday gift, and it's been a hit ever since. It's still in regular use 7 years later!
While the original Playskool set we had doesn't seem to be available as I'm writing this, we've since added other brands to the mix. As long as you go for a brand that conforms to US safety standards, you're good to go.
For a slight challenge: Mega blocks
The precursor to LEGO bricks for older kids, Mega Blocks are large and very easy to assemble. It's still a challenge for a one year old, but it's also the good kind of challenge. My kids play iwth it through the preschool years, making it one of the few toys I've saved (I mean intentionally saved) from the boys for Princess A.
More fun one year old birthday gifts for girls
Not all of the best one year old birthday gifts for girls fit neatly into a category, but we love these as well!
Baby's first pretend: Little People Zoo Train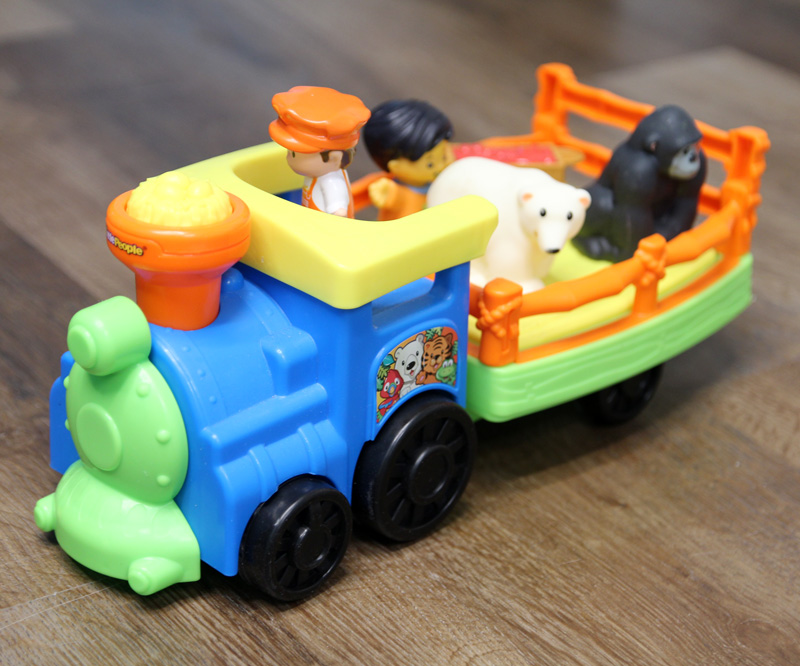 Okay, it make annoying music, but kids love it! If your one-year-old is still at the crawling stage, it's a great chasing toy. Hot wheels cars are a choking hazard – this isn't.
Young toddlers do great with pretend play toys, and Little People are fantastic first play figures.
For the fresh air fan: Little Tikes Swing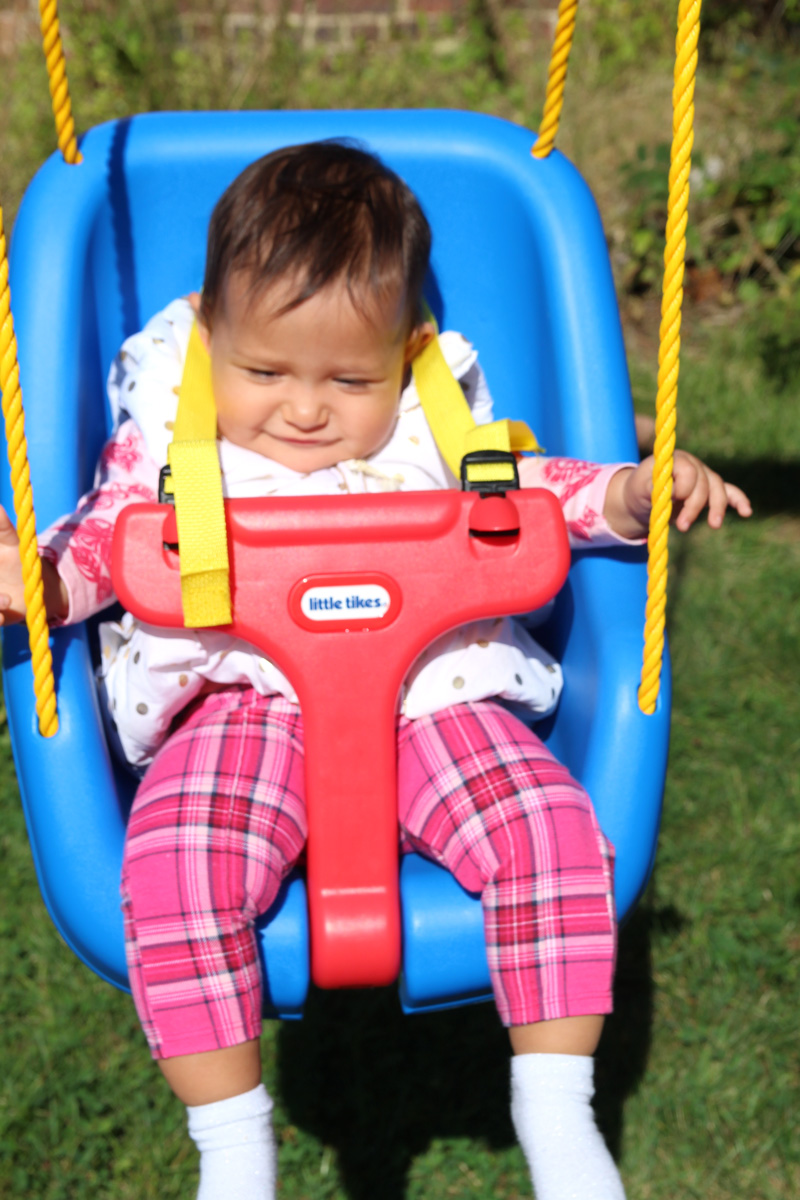 Our new home came with a swing set with an empty slot, and after leaving it empty the whole summer (what a waste, I know!) we decided to get a baby swing so that I can have a spot to put Princess down. The Little Tikes swing is a classic for a reason. A is a smallish almost-one-year-old and fits in fine. It's also easier to get toddlers in and out than those infamous playground versions. And while the buckle can be a little hard to operate, it's nice that it's an adjustable solution that can properly secure toddlers of different sizes.
Baby's first doll: Soft doll
This soft doll (which I've neglected to photograph – sorry!) was actually what we chose when my grandmother told us to pick a doll for Princess's baby gift. Many dolls are geared toward the preschool age group. Soft dolls are great, not only for infants, but also toddlers who like to cuddle with them too.
And they have the same pretend/nurturing play benefits as dolls do, because they look like babies too!
There's a reason they're a classic: Classic toys, such as this xylophone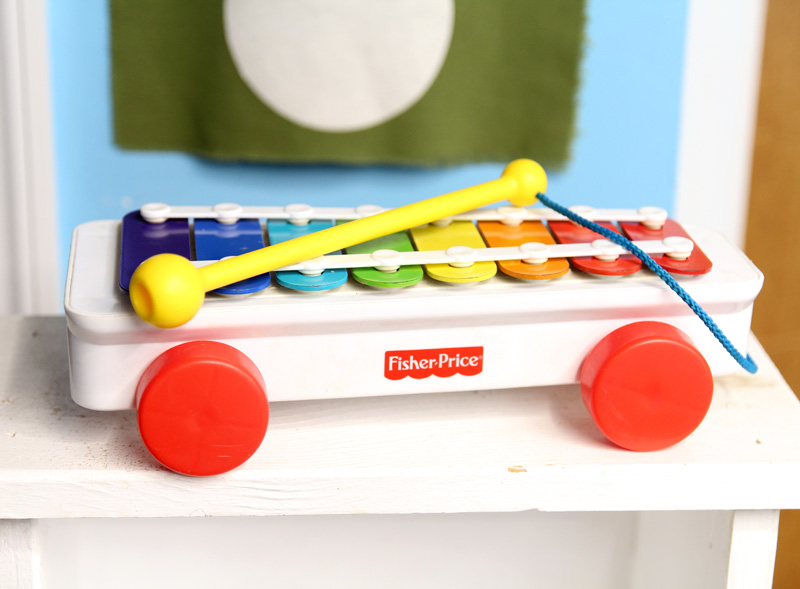 Some toys remain classics for many years. One of our favorites, the Fisher Price Xylophone was received as a first birthday gift for M, and it's still being played with 7 years later.
What are your favorite one year old birthday gifts for girls? Comment below!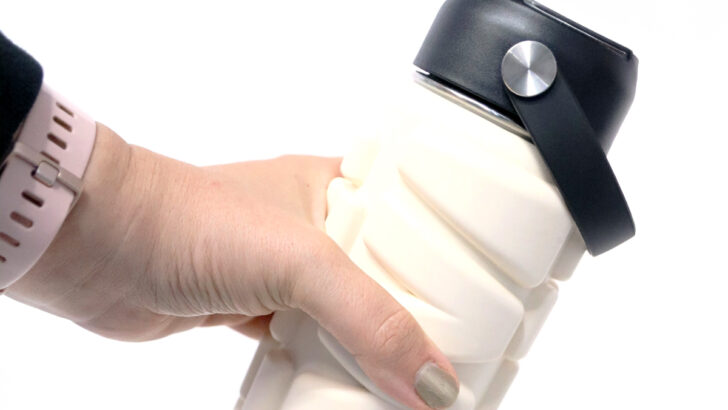 Looking for the perfect gifts for new parents? These ideas spoil mom and dad! You can also check out my favorite luxury baby gear and …