I'm excited to share with you these fun, easy, and doable spy birthday party ideas from M's 9 year old birthday this past September. When you're done, check out our Dog Man themed birthday party too!
---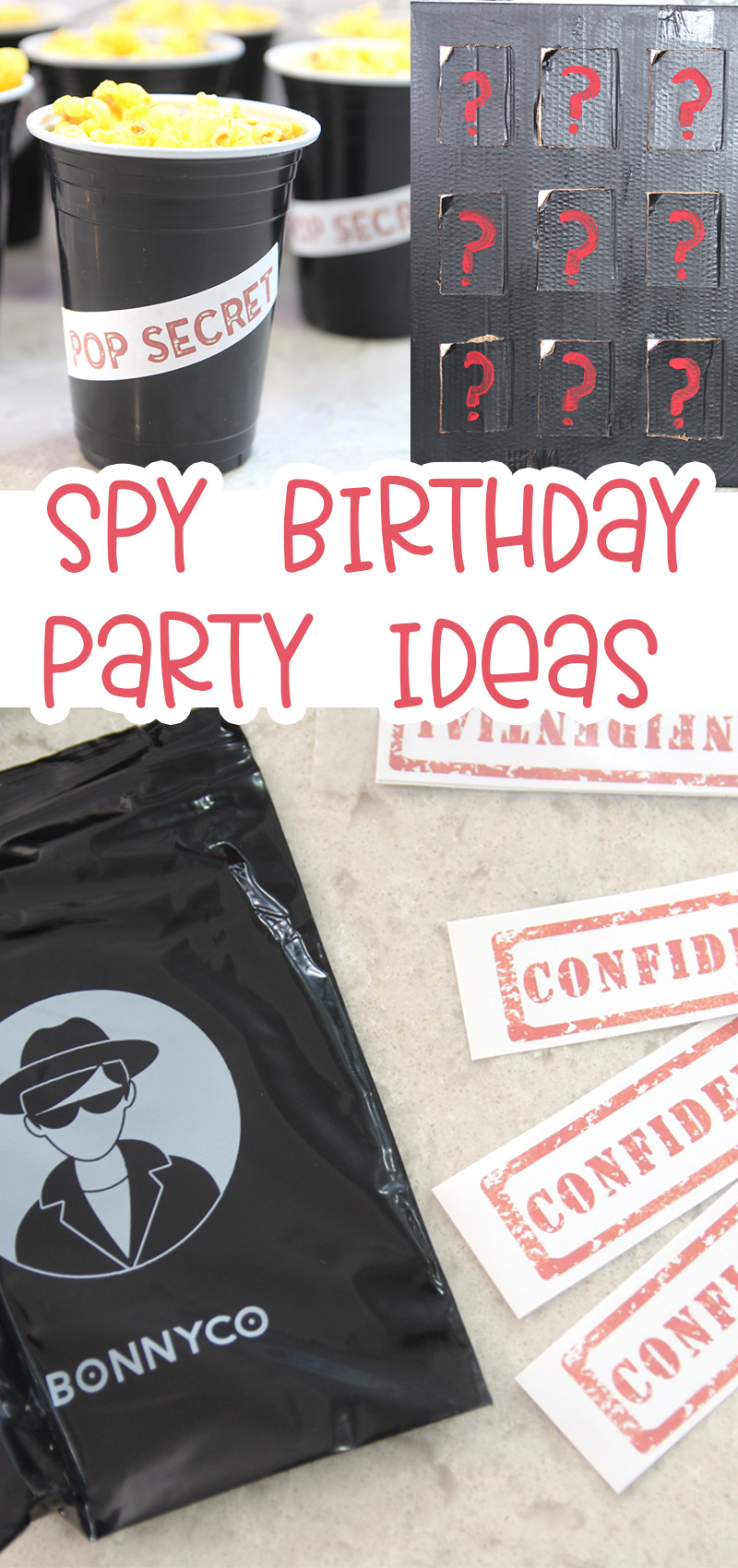 When M requested a spy themed birthday party for his ninth, I was thrilled. It's a theme that's full of intrigue and pretty easy to accomplish!
In reality, we were making him two birthday parties: a Sunday party with family, and a weeknight joint birthday party with a friend who moved to Arizona and whose birthday is very close to his. The weeknight one was more kid-focused, but they both involved children.
We pretty much did the same party twice and my kids had fun by both.
You'll see that I was short on both time and energy throughout planning and throwing this party, so our spy birthday party ideas are all pretty low key!
The invitation was made using Canva and was sent digitally. You can steal ours here – hit the pencil button to use mine as a template!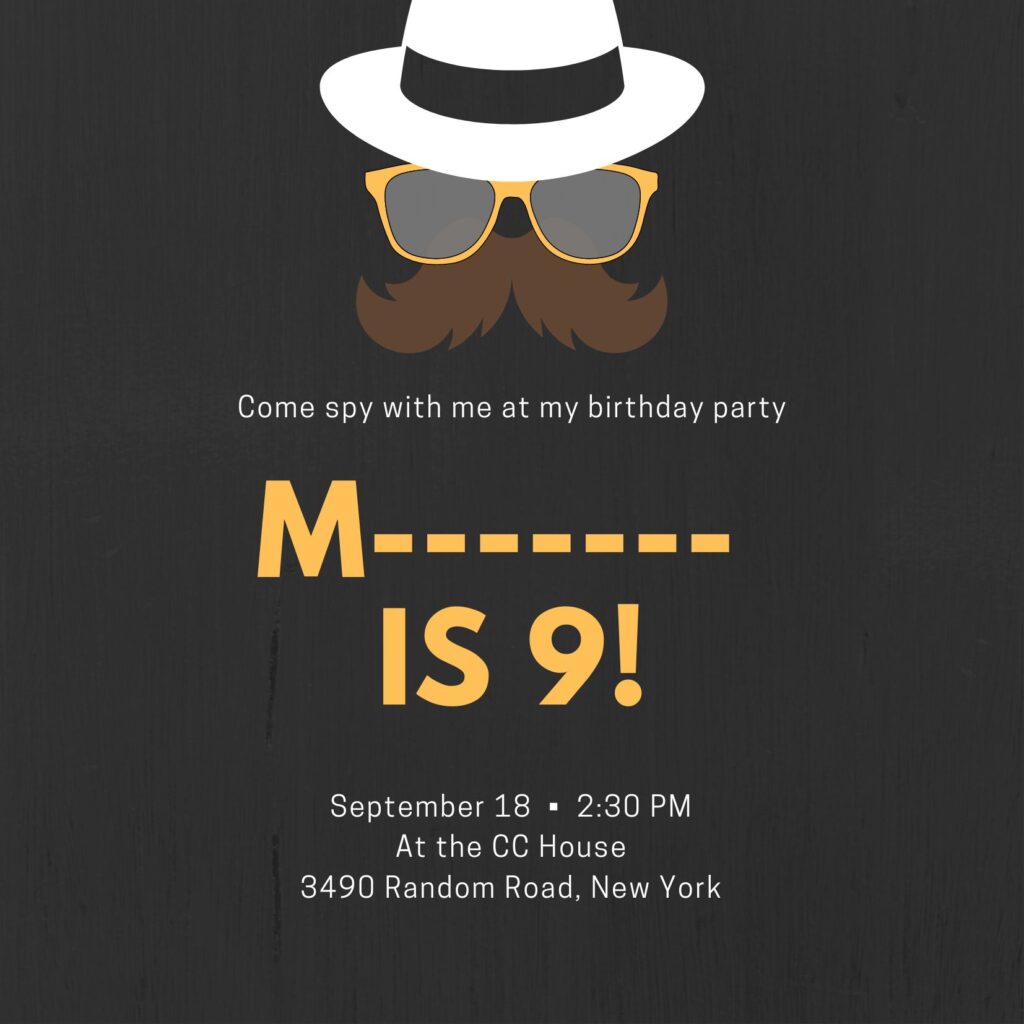 Spy Birthday Party Ideas for Activities
As my kids get older, I am more and more intimidated by the thought of entertaining them and I feel like I need to get more creative.
We are trying to stick to smaller groups to keep it manageable but still special for the birthday boy. Here's some of the things we did.
Choose a Disguise
As kids arrived, they were encouraged to choose a disguise. I went really primitive and simply wrapped a cardboard box with wrapping paper, wrote "choose a clever disguise" and tossed in loads of dress up items!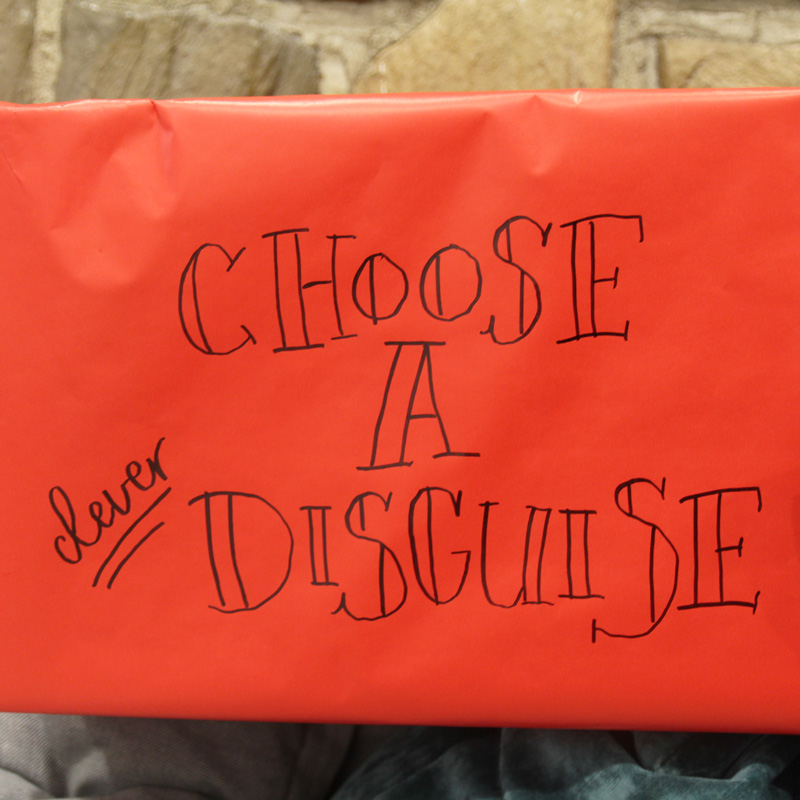 This included dress up accessories from our existing stash, dollar store items, and some fake mustaches (more on that later).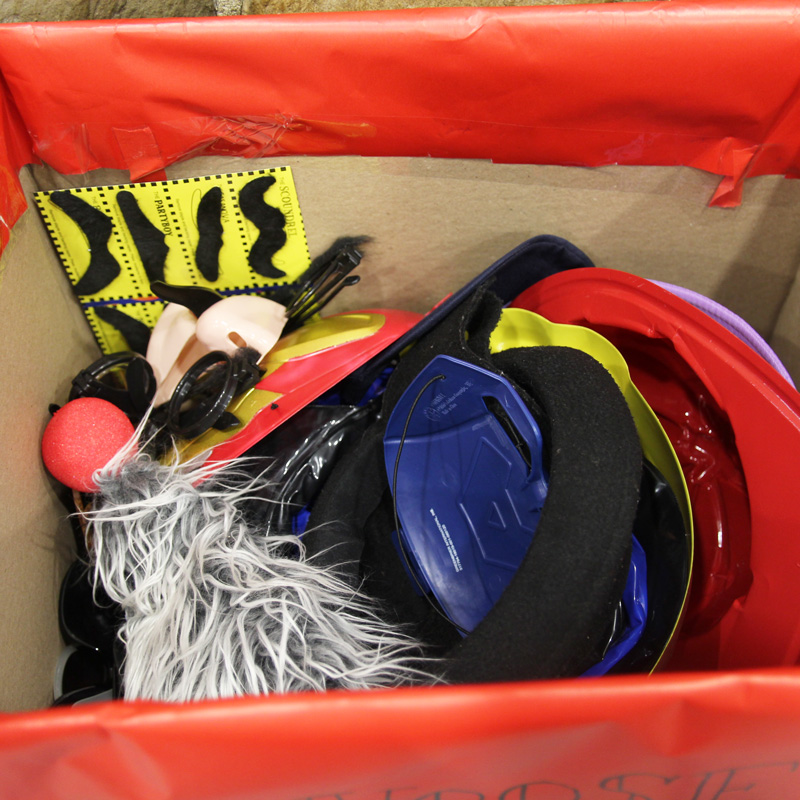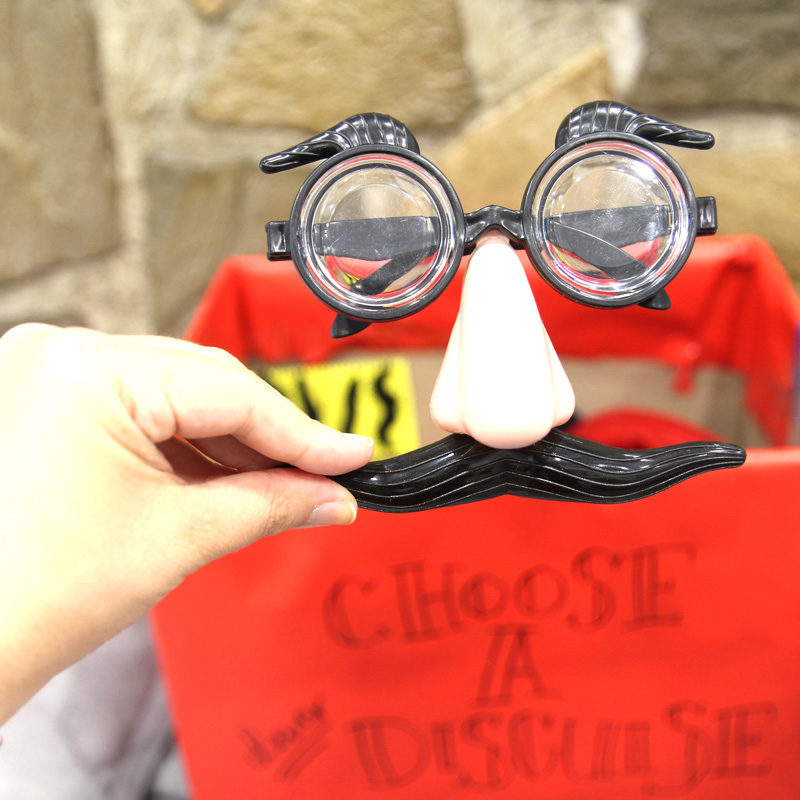 The mustaches were a HUGE hit!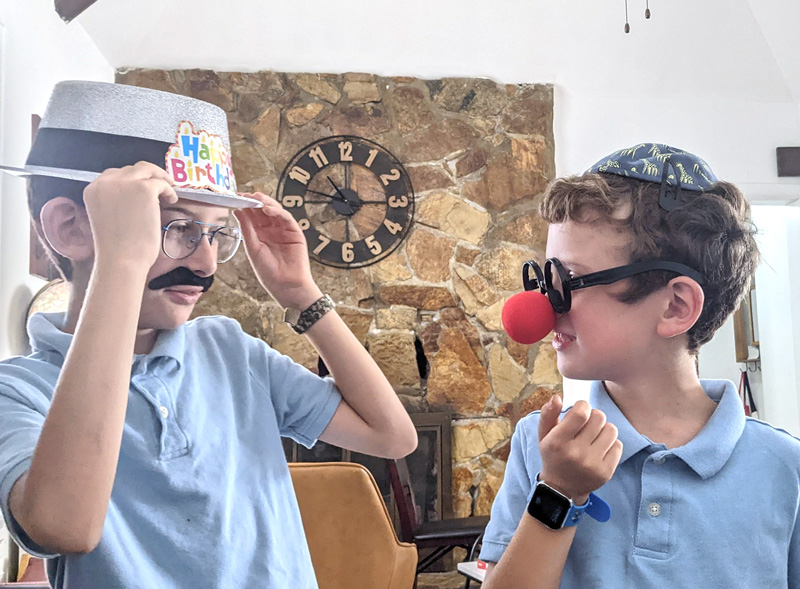 Pick a Spy Name + Security Clearance Tags
Kids were seated at a table with a minimal amount of art supplies. We printed out a sheet of spy name components (download this at the bottom of this post) and split them into adjectives and nouns. Each kid chose a name from a cup – an adjective and a noun – and the two together became their spy names!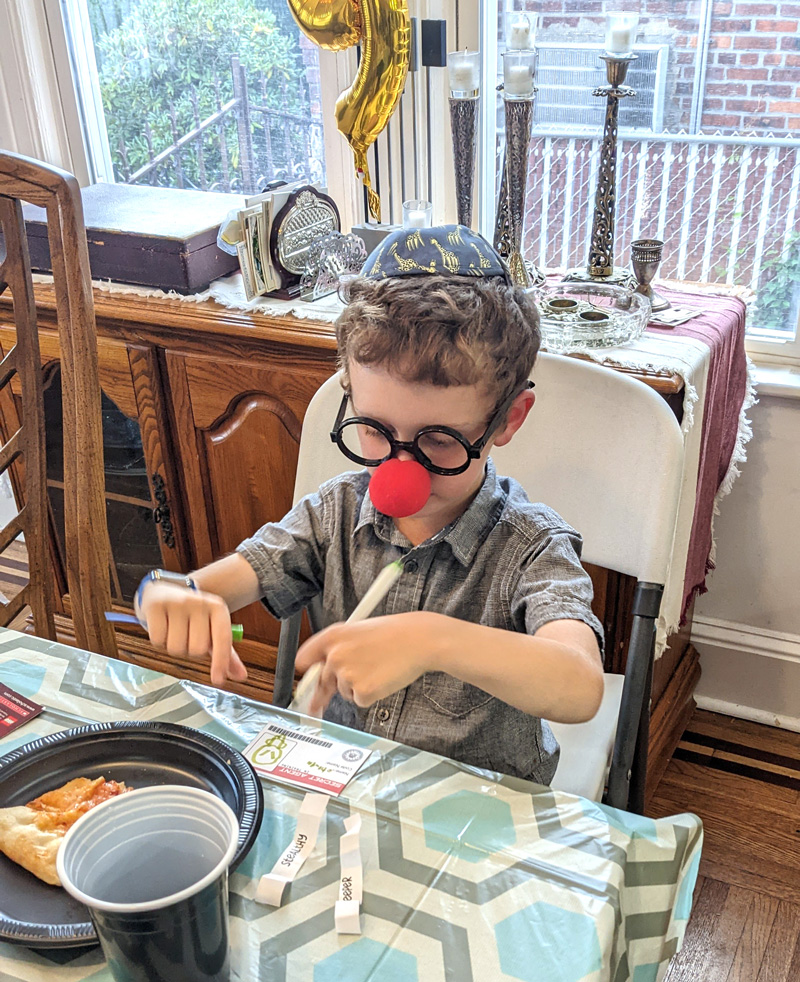 Then, they decorated badges (find them here) with their spy info. We didn't bother with photos as I just had my hands full. They simply drew their own self-portraits.
You can, however, add photos by taking a picture of them (in their disguises) with your phone and printing it on an instant printer such as the HP Sprocket.
Pick a Door Game
I turned a cardboard box into an epic "pick a door" game.
The way it worked was simple: kids chose a mystery door. Each door had a card taped to the back with either a candy, a gift, or a bomb. If they got a candy, I gave them a gummy "spy" watch. If they got a gift, they got a prize from a box that I prepped in advance. If they got a bomb they had to do a "penalty action". I repurposed these from our science birthday party.
To prep the box:
1. Ideally, start with a box that is a flat rectangle. Tape it shut so that you can treat it as a solid box. Cut out one of the flat sides leaving a small margin.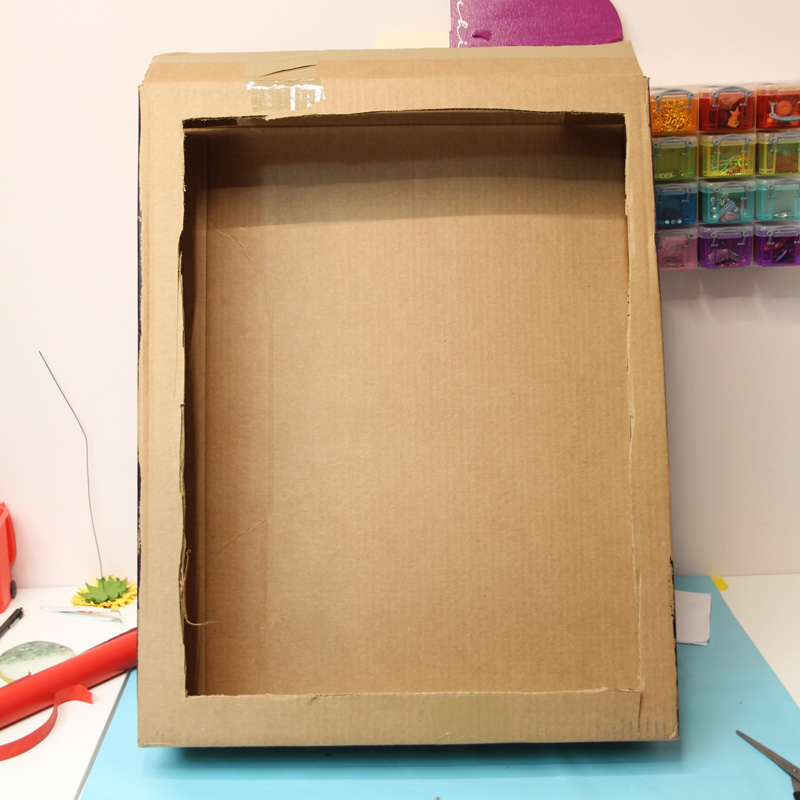 2. Sketch out your doors. I did a 3×3 grid. Each door is the same shape as the box.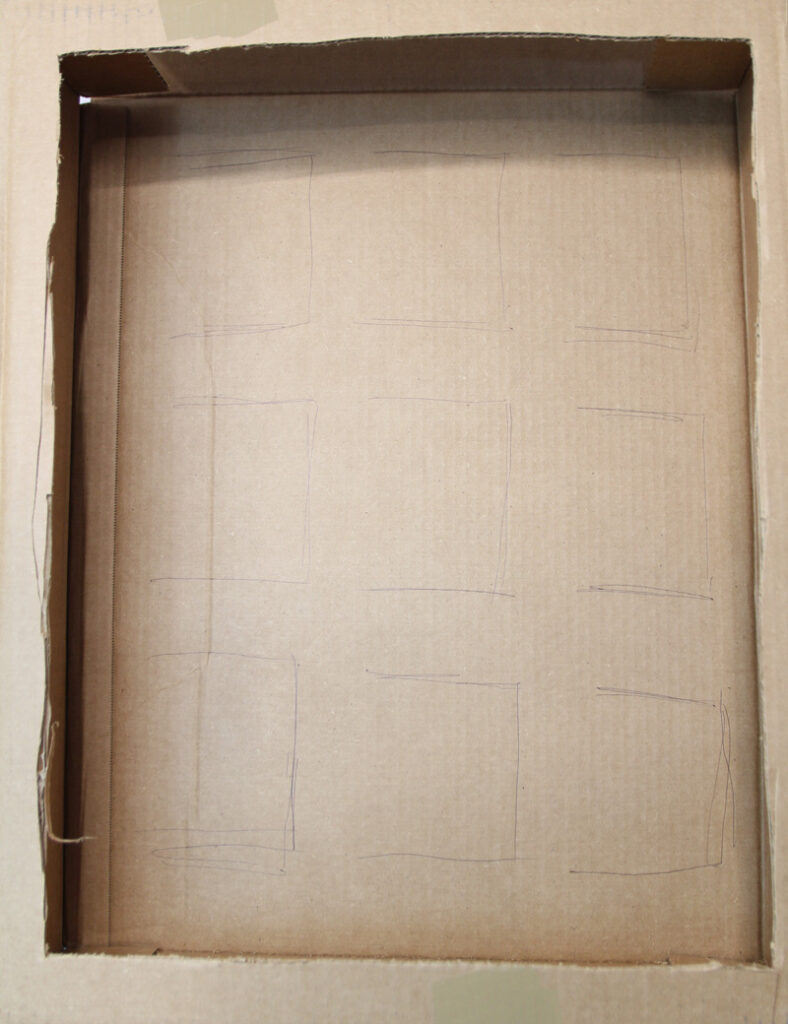 3. Cut your doors. Tip: for a cleaner edge, use a knife against a good cutting ruler. I also used the ruler to keep things almost even.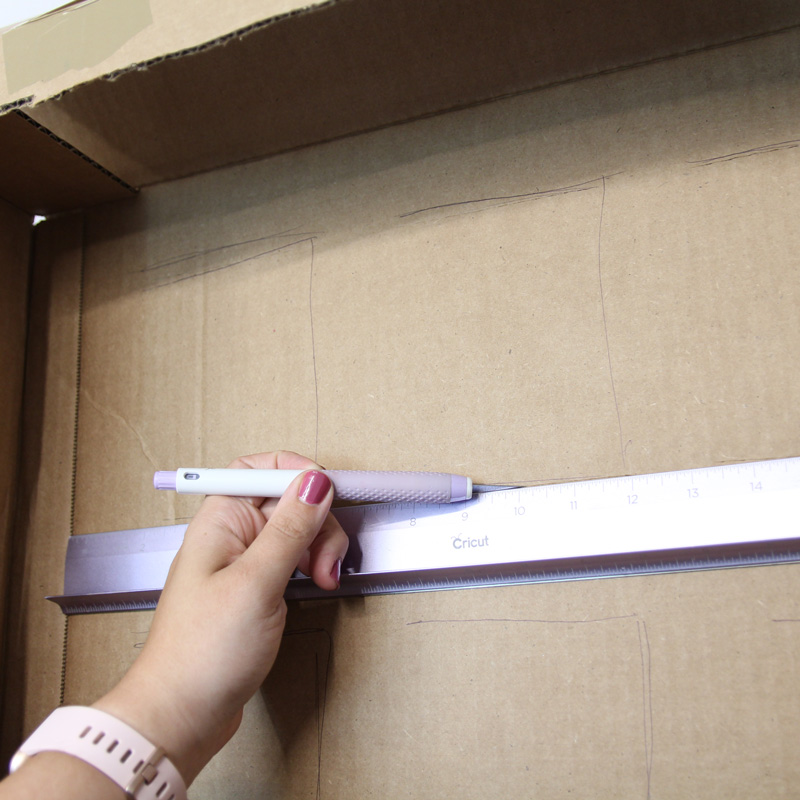 Cut all your doors on three sides.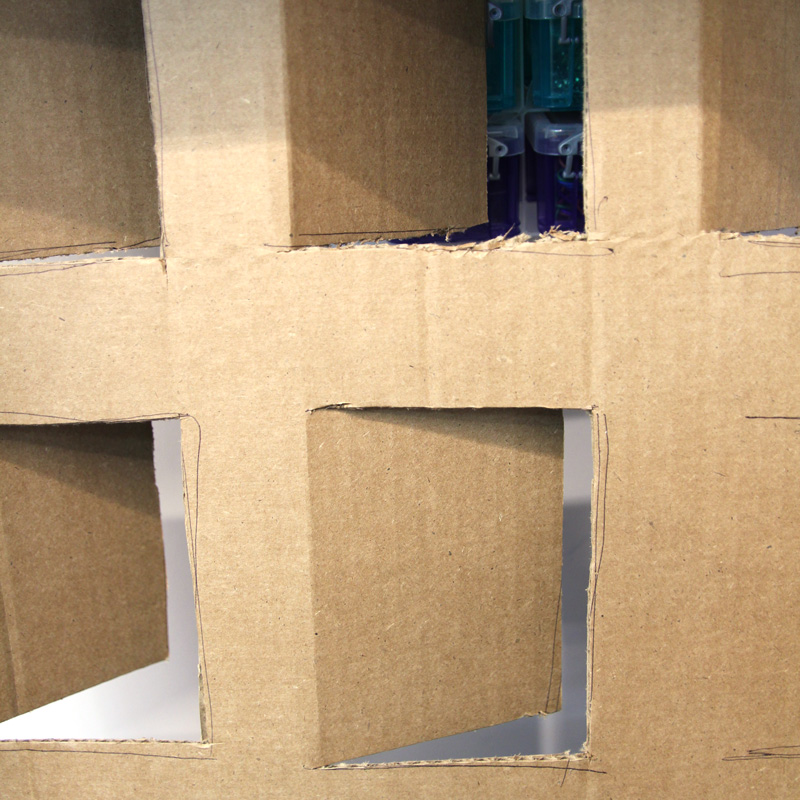 4. Paint the front and sides of your game using acrylic paint.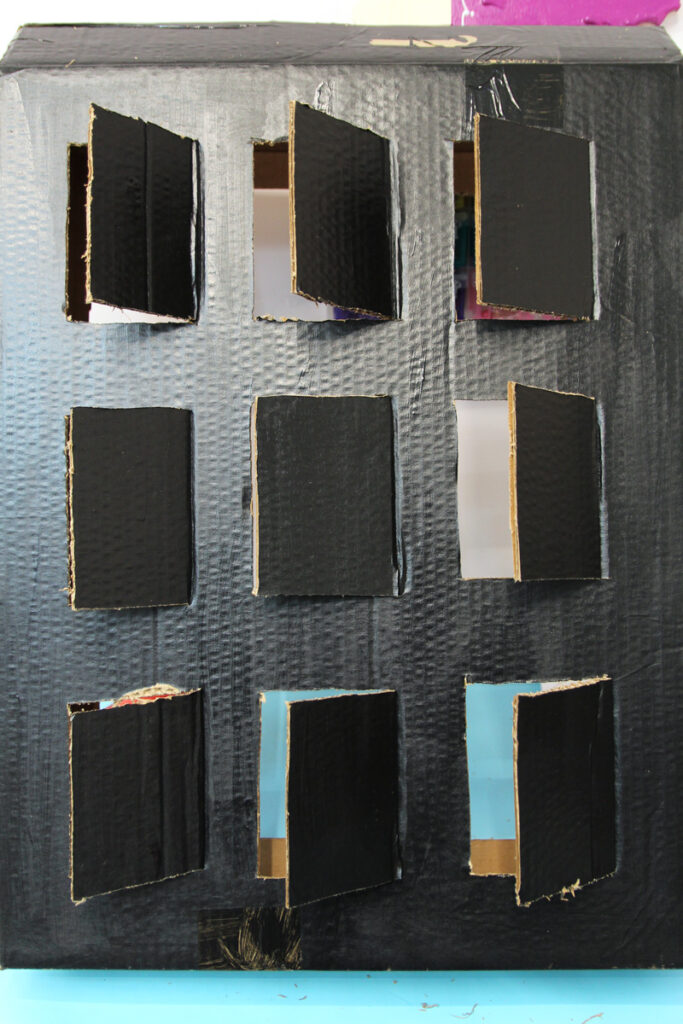 5. If you want, you can paint a question mark on each door. I used red paint to fit with the color scheme but I also love the look of red paint on a black background for the spy theme.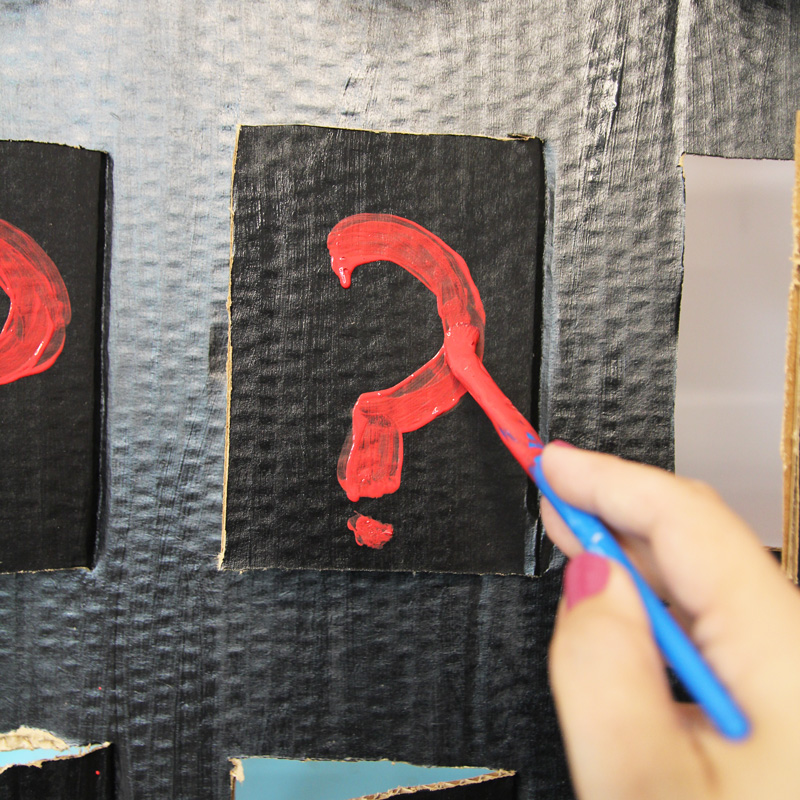 6. Print images for your cards. I used Canva to create all these elements for free. You can access this file for free here!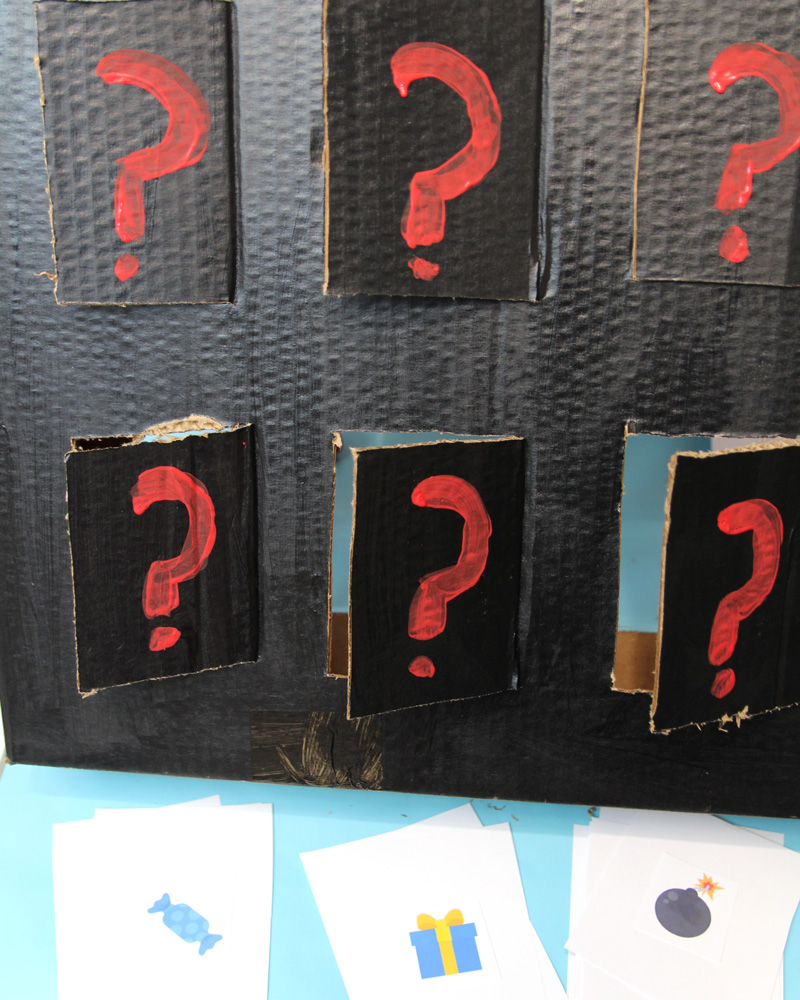 7. Cut them to size (mine were actually smaller than the door – so not as neat – but it doesn't really matter).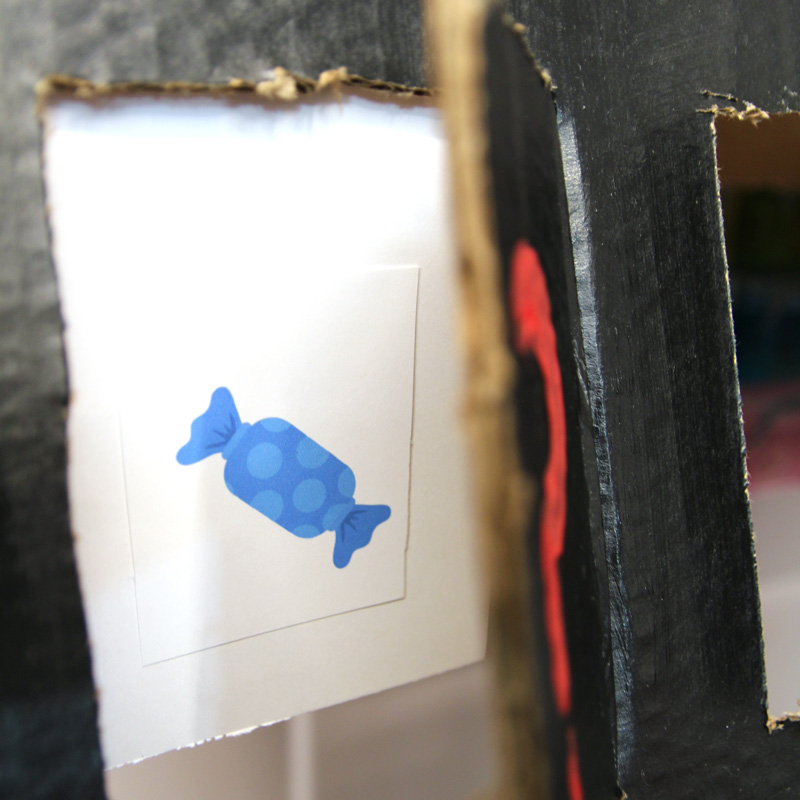 8. Tape one to each opening using a low tack tape such as masking tape. This way you can easily reshuffle between players. Set yourself up with a box of prizes, a stack of penalties, and your candy behind the game.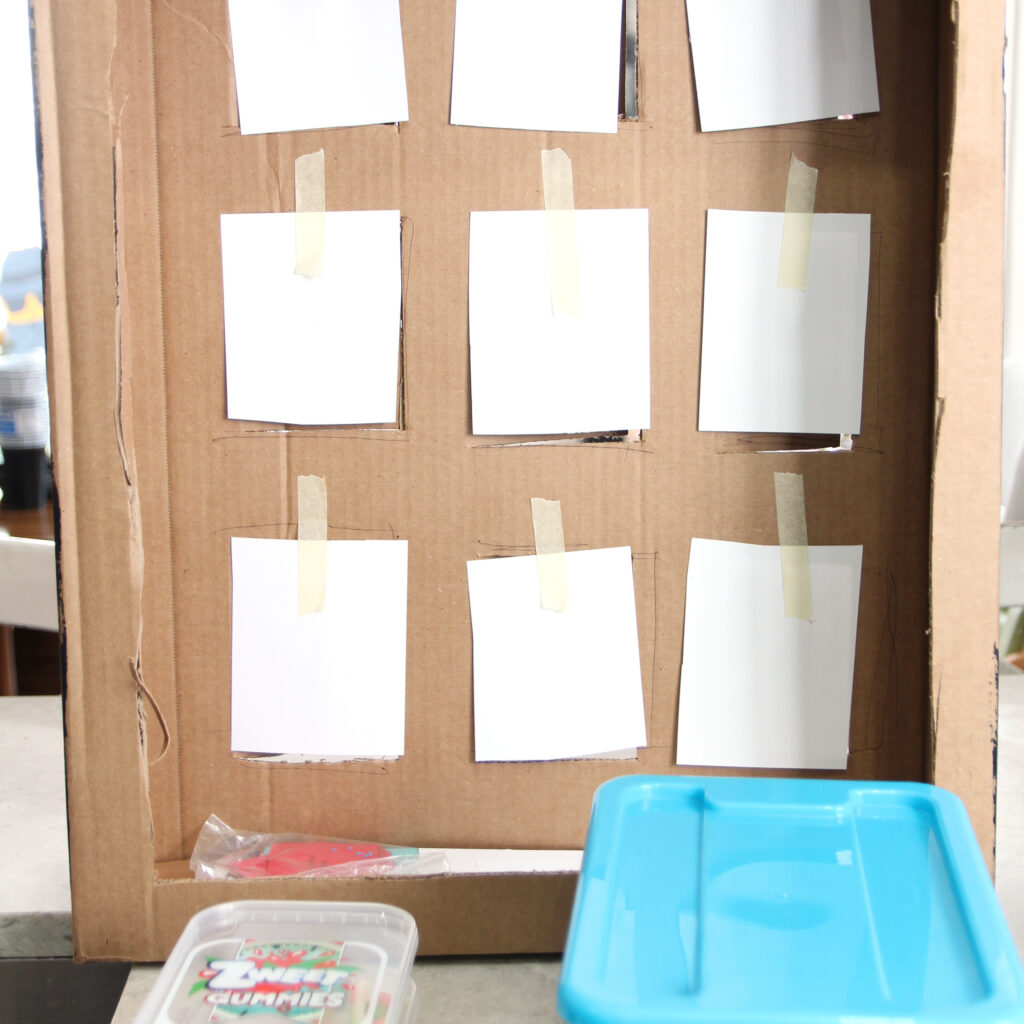 Now, kids queue up to pick a door! Don't forget to shuffle it each time! We let each kid have a few turns.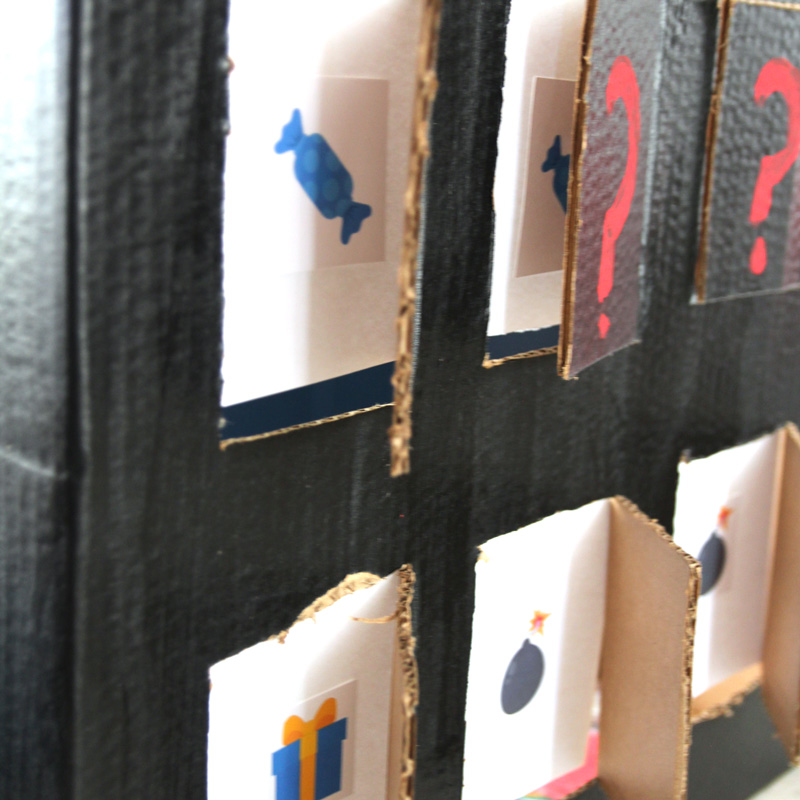 After one round, I bent back the corners a bit to make them easier to open.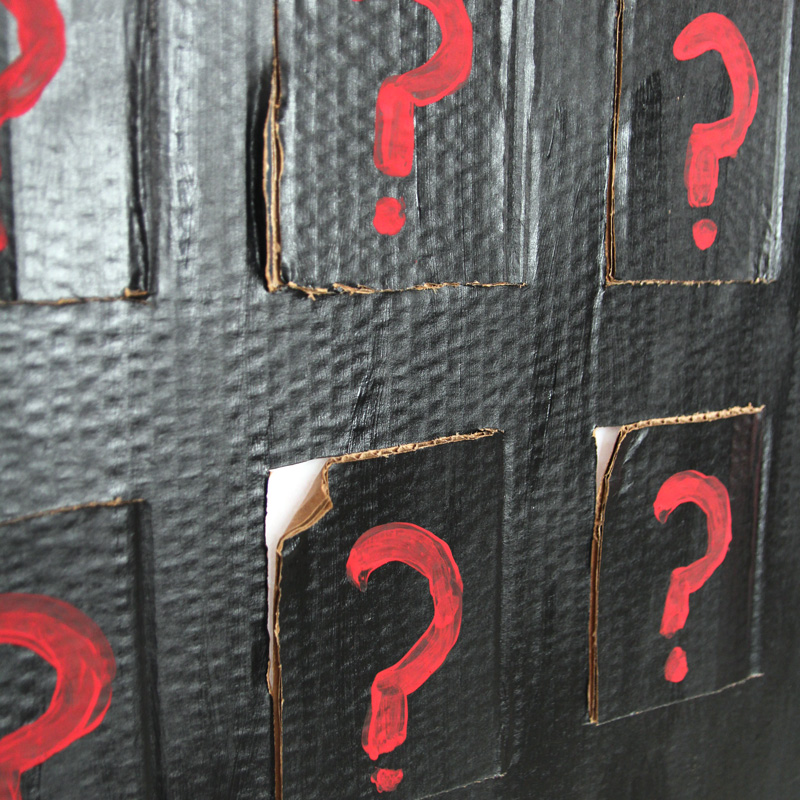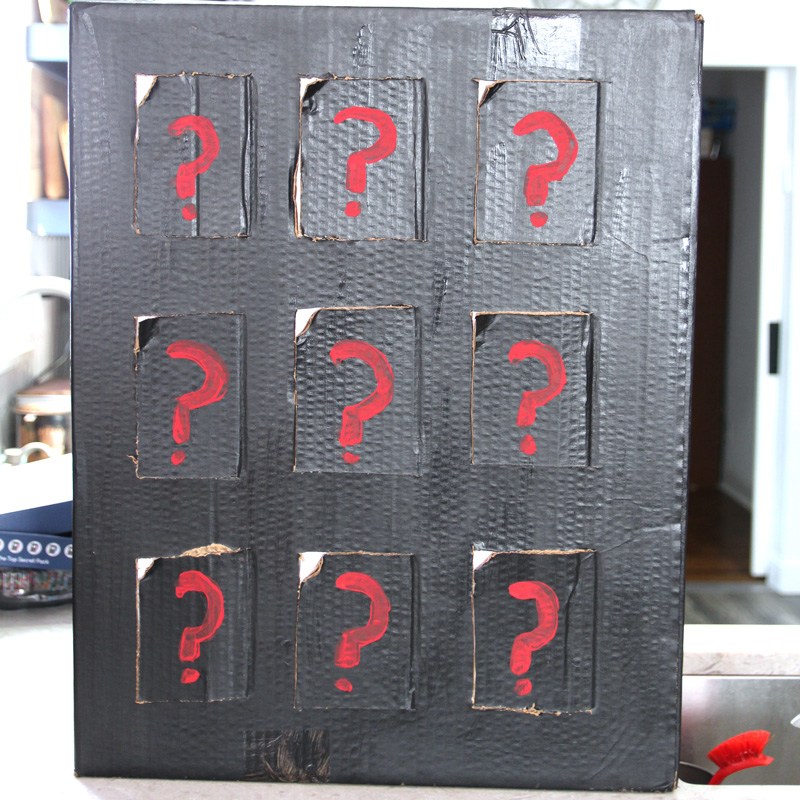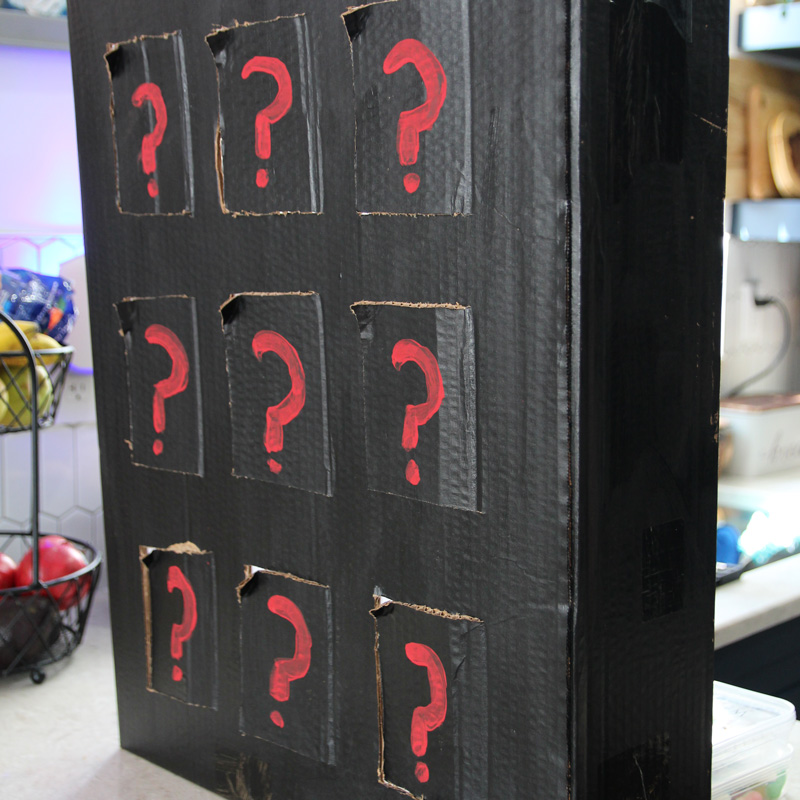 Dodge the Laser obstacle Course
Another fun, casual activity was the "laser" course. I basically criss-crossed red crepe paper streamers throughout a room (for the family party it was the basement playroom since all guests knew how to access it on their own, and for the friends one it was the family room – both are pictured here).
Kids had to try getting through it without knocking down a streamer/activating the laser!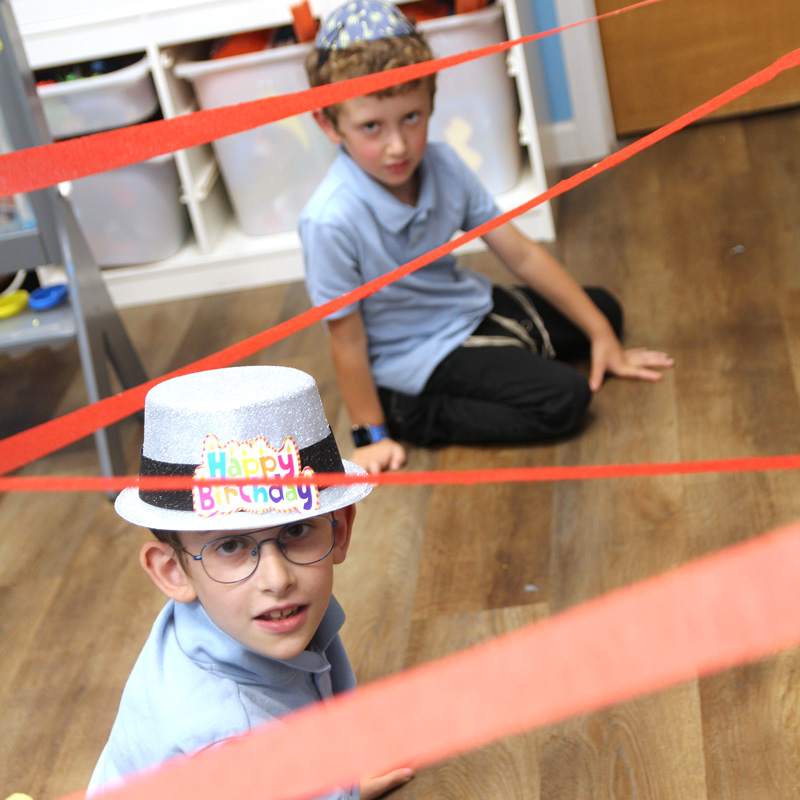 The kids had so much fun with it and finished it off by pulling all the streamers down.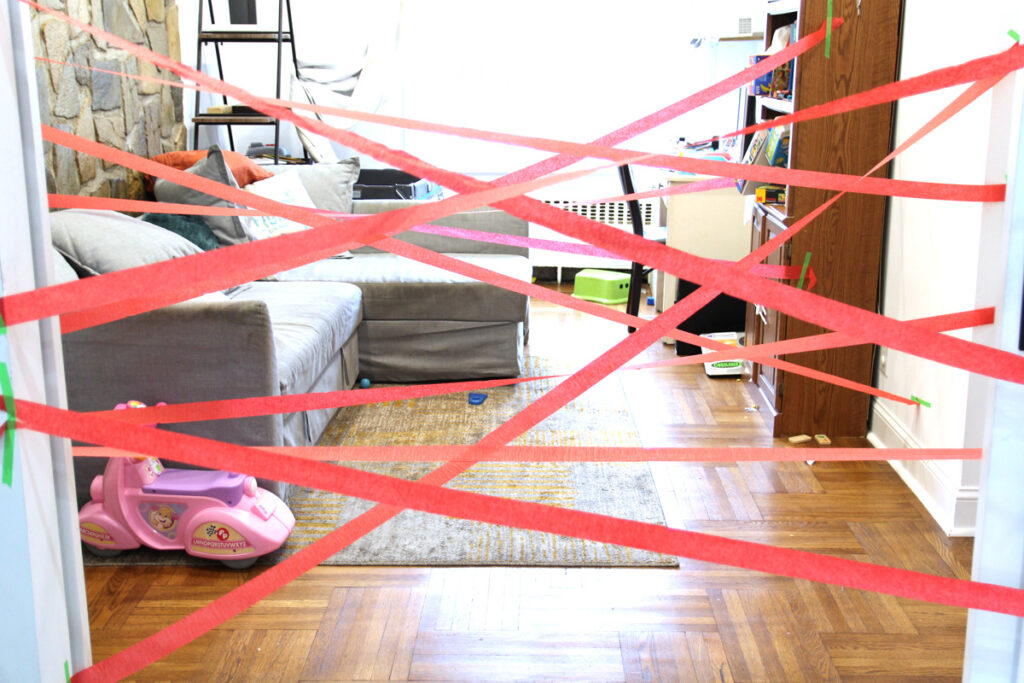 Spy Birthday Party Decor Ideas
When it came to the decor, I sadly did not get too many photos without kids in it (and I never share photos of other people's kids here for obvious reasons).
Most of it was things I found on Canva and printed out – since I was doing things with very little energy. I found spy images, printed them, mounted them on dowels, and placed them in vases. Here's an example of one that you can "steal" and download from me.
The color Scheme
One of the biggest and easiest ways to create a vibe is to simply build around a color scheme.
Ours was black, white, and red. Black table settings were accented with red streamers and all those stamps and badges with things like "top secret" that I'll be sharing shortly.
Decorations
As I mentioned, we didn't do much (let's be honest, nine year old boys don't care about decorations…)
We did hang some streamers in strategic locations to make more "lasers" around the house.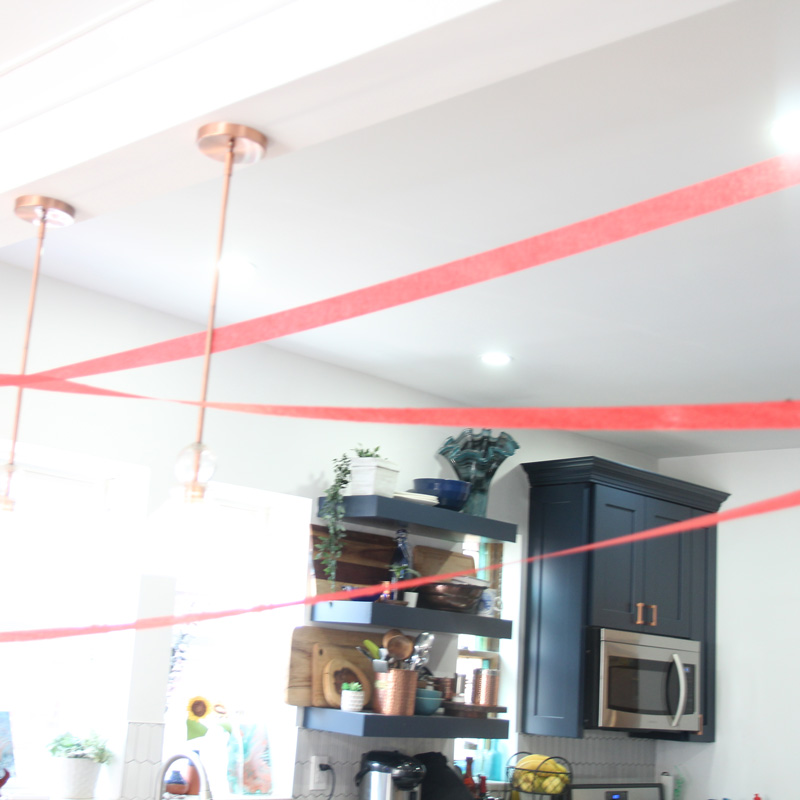 Spy Birthday Party Food Ideas
Your classic nine year old birthday party consists of pizza and fries (the kids' version) and for family we served an assortment of unthemed salads and such.
However, here are a couple of "specials" that we created to fit with the theme.
The cupcakes/toppers
When it comes to cakes, I've learned the hard way to just. not. go. there. You can read more about our mishaps at our pastel rainbow first birthday party.
I've started using my Cricut to make fun cake toppers and cupcake topper party picks.
For this party, I simply sized "classified" "confidential" and "top secret" stamps (downloaded here). If you own a Cricut, simply add a white circle to the back and "attach" it in design space so that you can Print then Cut.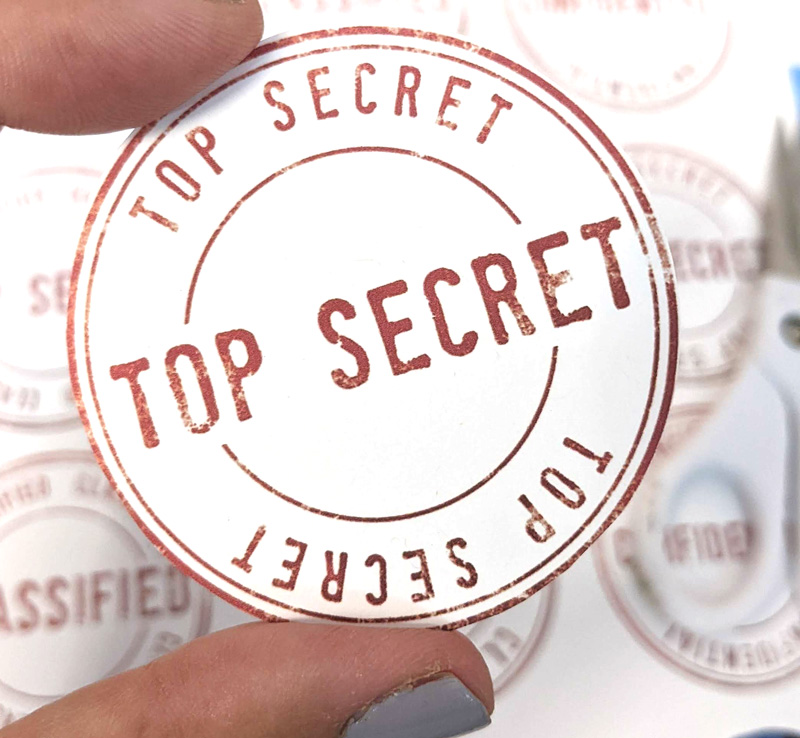 Glue a toothpick to the back and voila, the easiest cupcake topper EVER! Look how cute!
For the family party, I treated the bakery pack of cupcakes as a cake, with a candle, and some toppers scattered around. The kids just got toppers.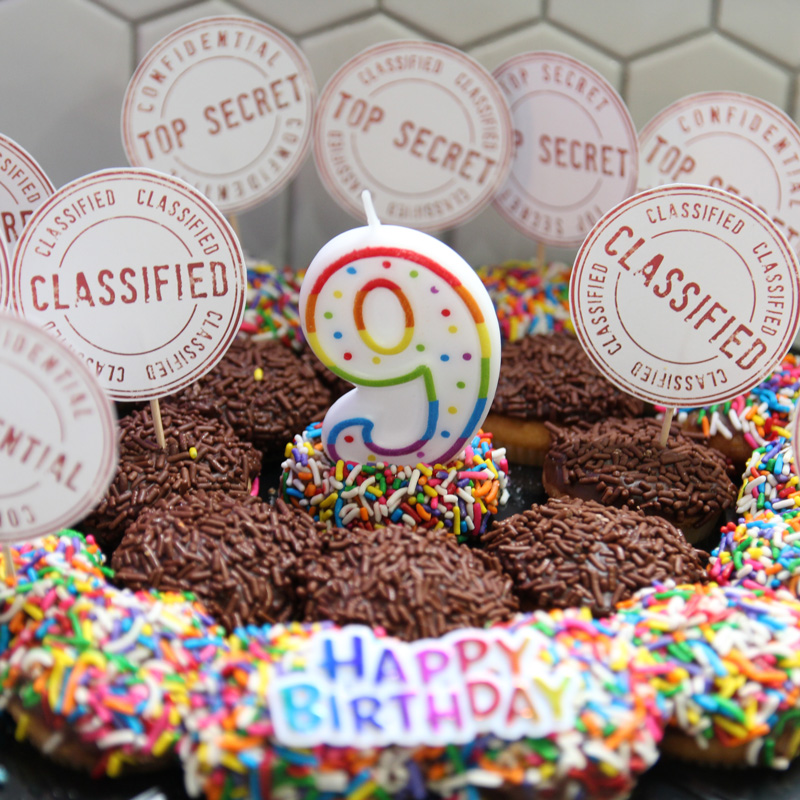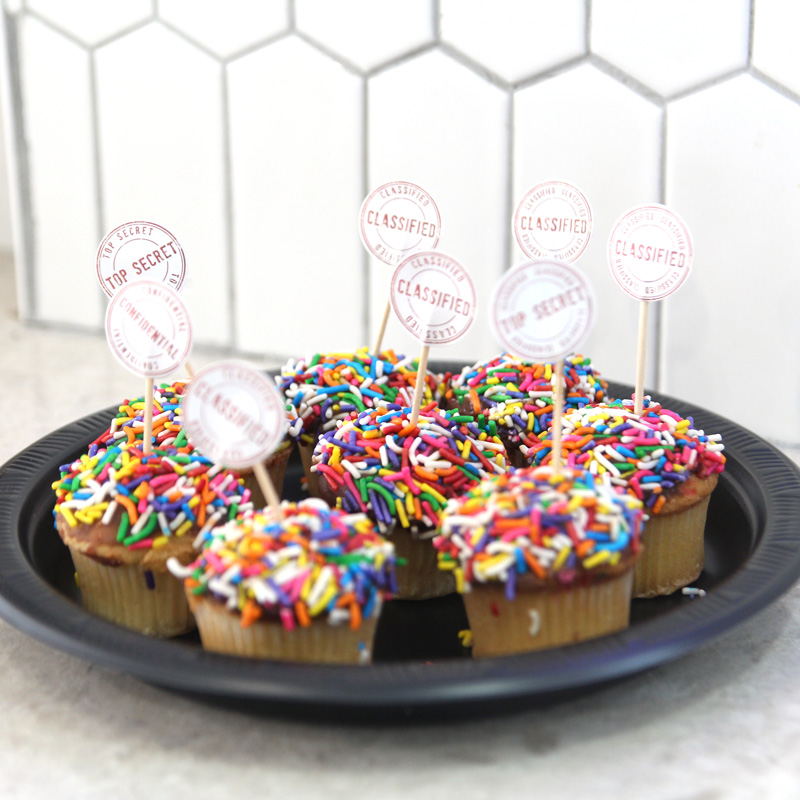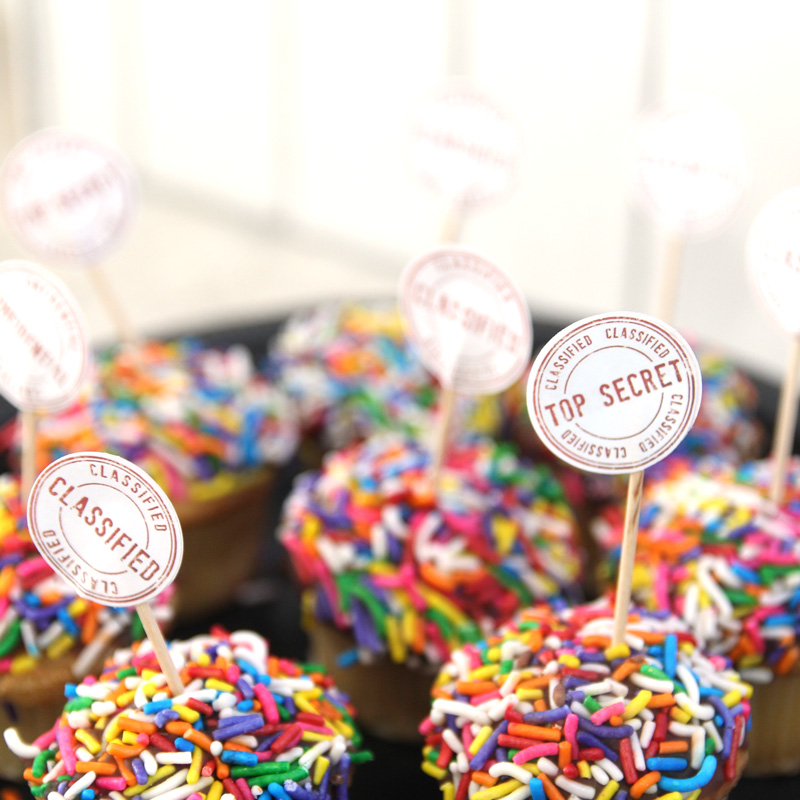 Pop Secret Popcorn Cups
I saw this idea somewhere and it was SO EASY – especially if you BUY the popcorn (hello, big movie night party bag at the grocery store…)
Note: this is just a cute spy birthday party idea and not associated with the brand Pop Secret.
I literally just wrote the word "pop secret" a bunch of times using a stamp-y font, printed cut it out on sticker paper, and cut it using a paper trimmer. Slap it on the black party cup at an odd angle and it's perfection. The download for this is at the end of this post.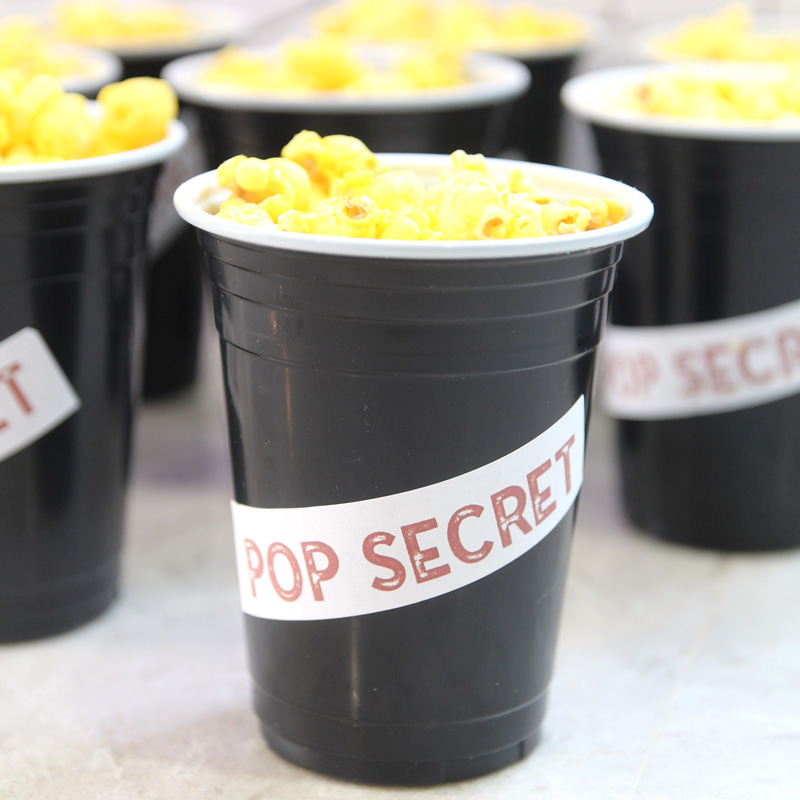 And the kids LOVE having popcorn at a party!
Of course, it makes a mess…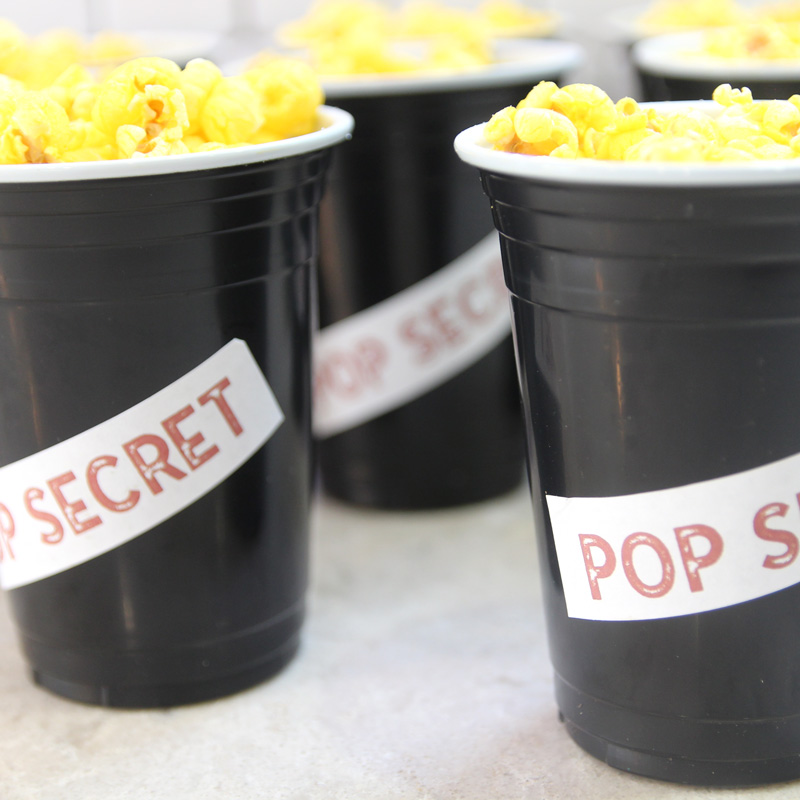 Spy Birthday Party Favor Ideas
The main favor + bags
AT each birthday party I throw, I spend time prepping bag toppers or treat boxes – or even these DIY rainbow keychains that we Cricuted for A's first birthday!
I was THRILLED when I found these invisible ink kits that came in a good-to-go favor bag! WHAAT?! Perfection!
I printed these confidential stickers – again, found an image, laid it out on a document in the right size, printed on sticker paper, and cut using a paper trimmer. Just slap it over the branding on the bag and you have a fabulous party favor.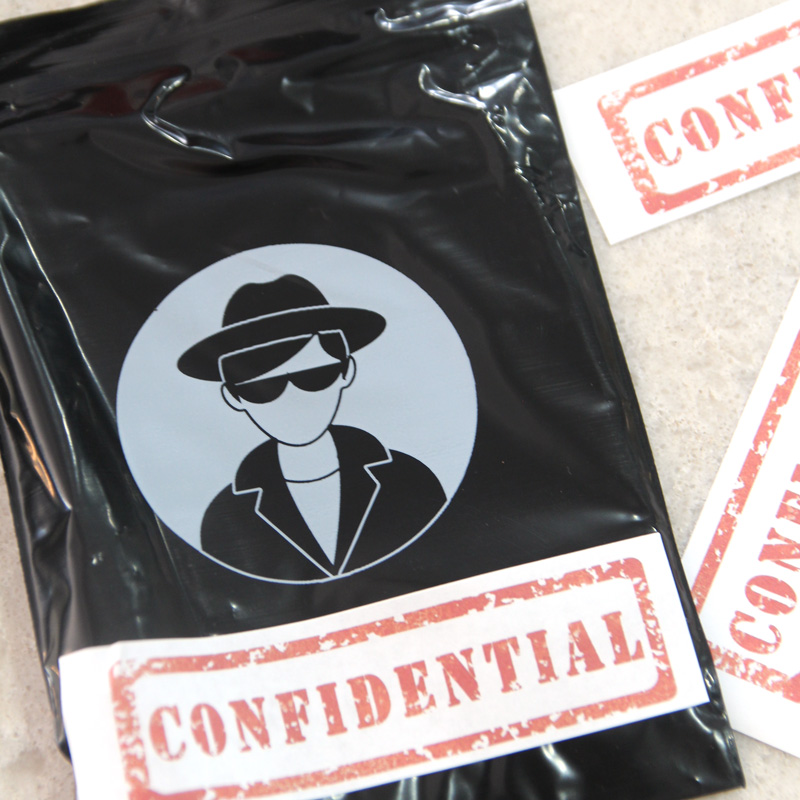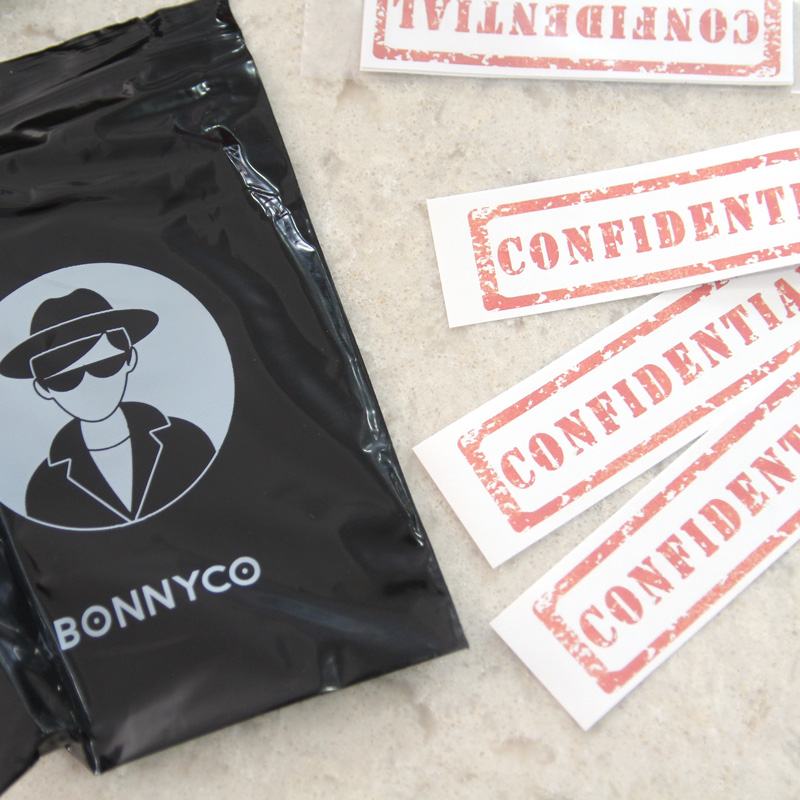 Added in
Of course, I also tossed in some stick-on mustaches so that kids can continue the fun at home.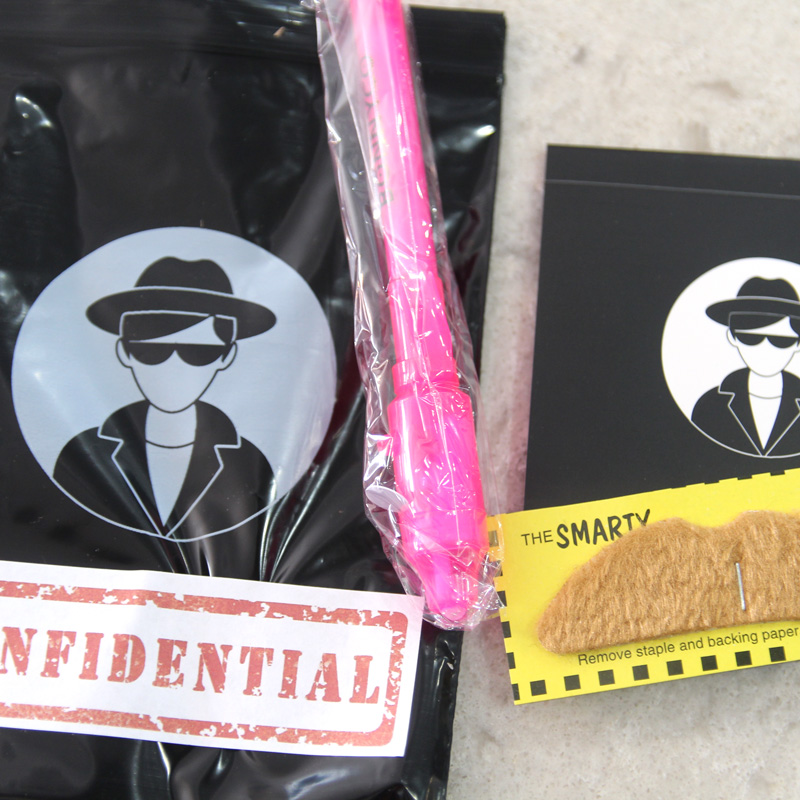 Got any spy birthday party ideas to add to the list? Comment below!
Download the spy name and Pop Secret printables
To download, fill out the form below. You'll be signed up for our free newsletter – unsubscribe at any time in the footer of the emails. I respect your privacy and the law and won't share your information with anyone.
Your file will arrive in a ZIP folder. Learn how to unzip files here.