I'm thrilled to finally be sharing with you the fun we had at A's pastel rainbow first birthday party! This post contains affiliate links.
---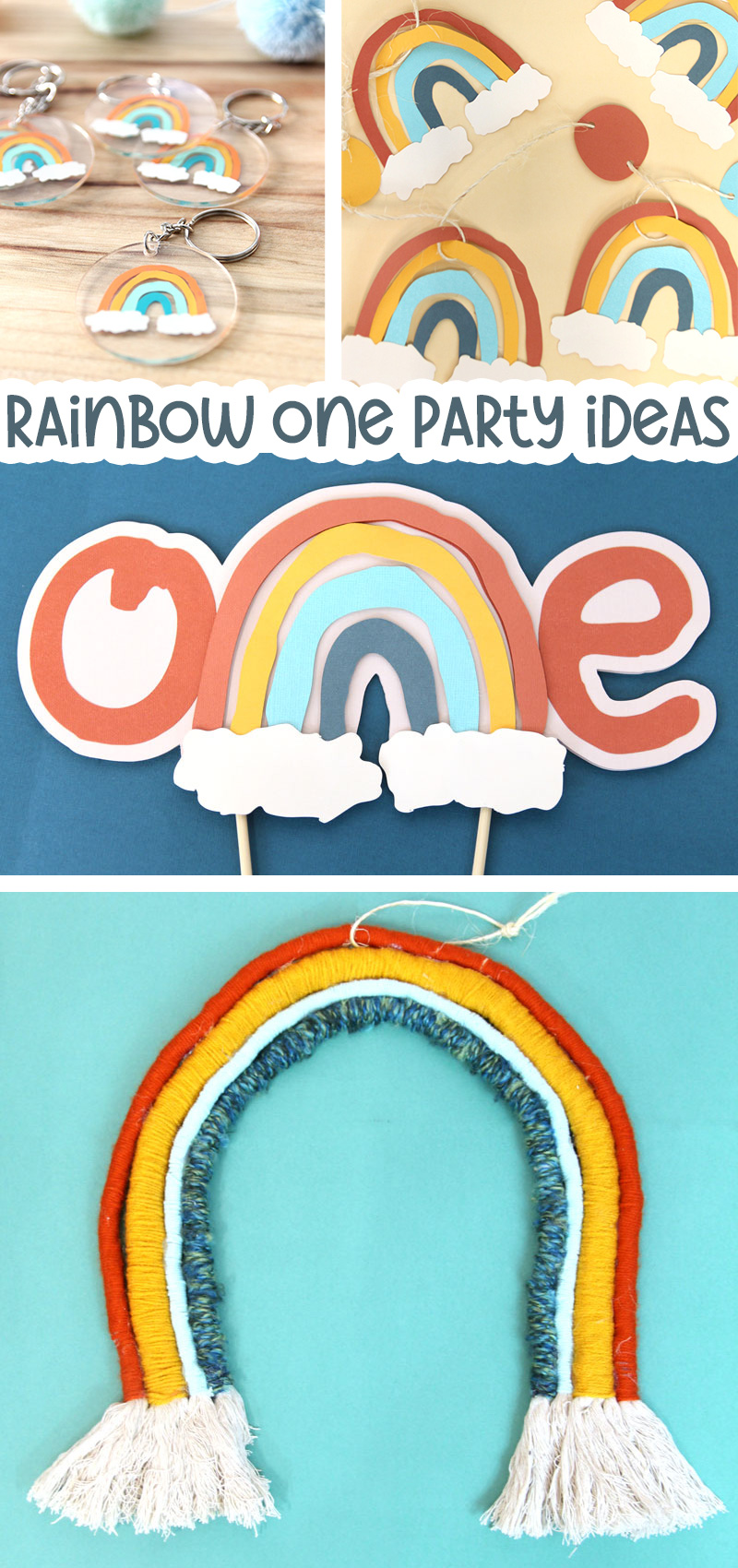 Wow, I can't believe I'm only sharing my two year old's first birthday party roundup NOW!
She's so big – she's putting on full concerts, saying full sentences and the proper "r" sound, and even telling Alexa – successfully – to "Play Nursery Rhynes".
There's a lot of detail, so I linked to more specific posts where necessary, but I also did include as much as I could within this post. So if you're looking at something and want more deets, there should be a link for that somewhere in the vicinity.
The Theme Behind the Pastel Rainbow First Birthday Party
For A's first birthday, we went with a "rainbow one" theme. In some of the elements, we actually made the N of the word "one" serve as a rainbow.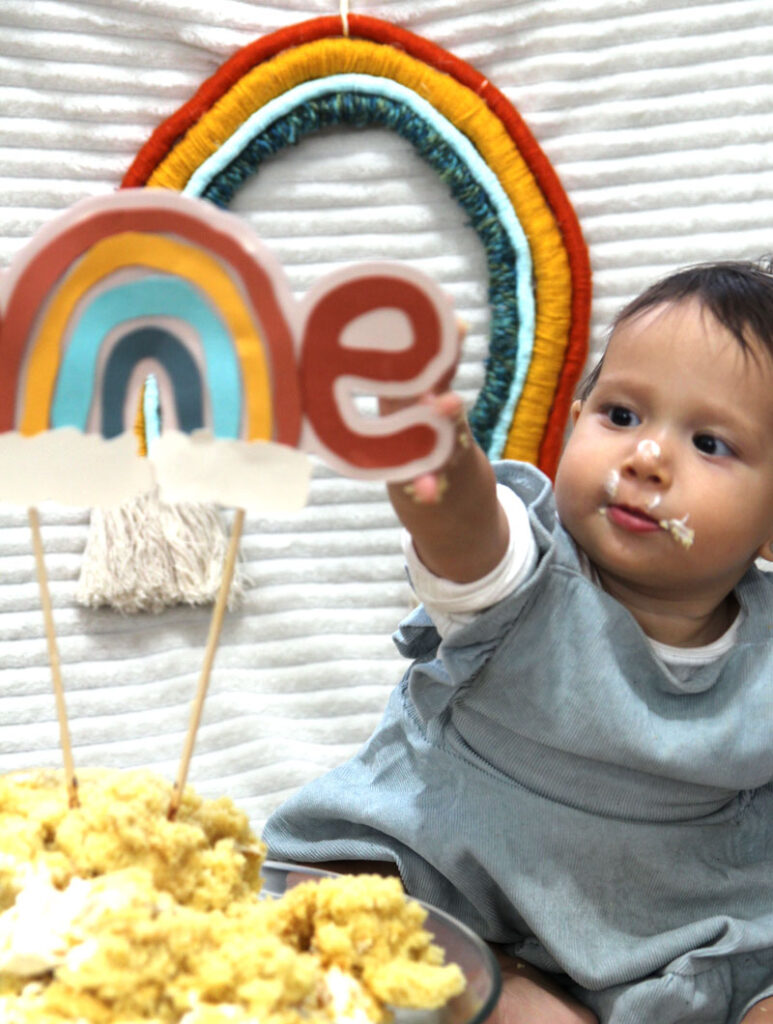 For others, we just stuck to plain rainbows.
If you're looking to make a pastel rainbow first birthday party, you can work it either way.
I also wanted to note, that I had originally planned on making it a muted rainbow – not necessarily pastel. So you'll see that it some of the elements. Things shifted gears a bit when I found the perfect paper goods at Target – always start with the paper goods! – but you'll still see some colors that aren't exactly pastel.
However, those are all in elements where you can easily replace the materials I used for pastel colored ones, and all of those items WORK with pastels – they're just a bit of a darker shade.
The Downloadable Party Kit & SVGs
In the past, I went all-out with downloadables. For this one, I stuck with basic images to use as clipart, SVGs, or whatever it is you need.
Pastel Rainbow First Birthday Party Decorating Ideas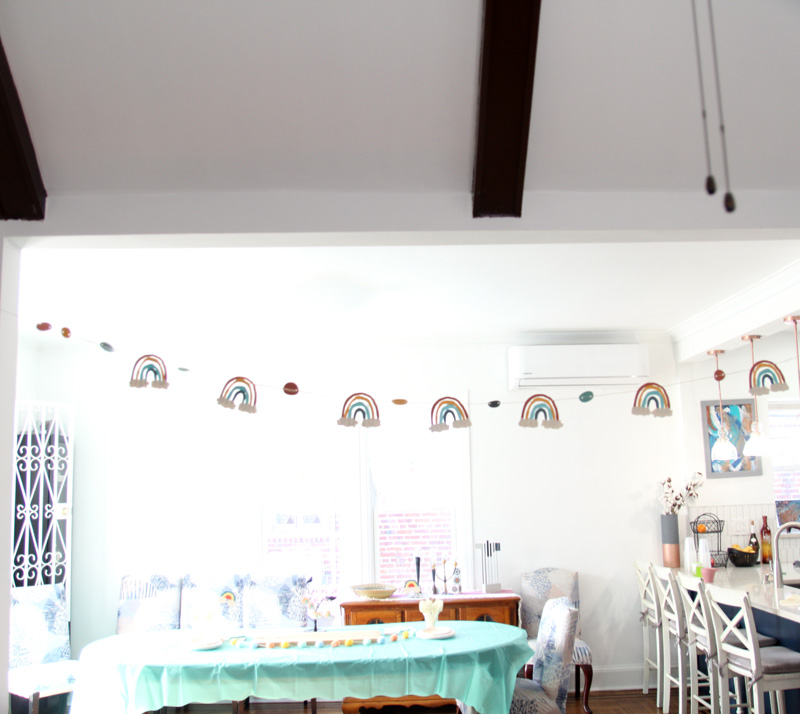 Let's start with decor! I'll enter my "full disclosure" here: I'm not a pro party planner. I just decorate my home minimally and create a bit of an atmosphere with some paper decorations, party goods, and a couple of extras.
If you want to go all out, grab a package of balloons and come connectors and make some nice, big sculptures.
Use the SVGs I created for this party to make larger scale designs and wall hanging, banners, etc.
Rainbow Party Table Decorations
For the table, I picked up some fun settings from Target, including a bright mint tablecloth. This really set the stage.
Cream colored cutlery, and a pom pom garland spread on the table adding a soft touch. And I had some skewered wooden rainbows propped into some of the cups and foods to add to the atmosphere.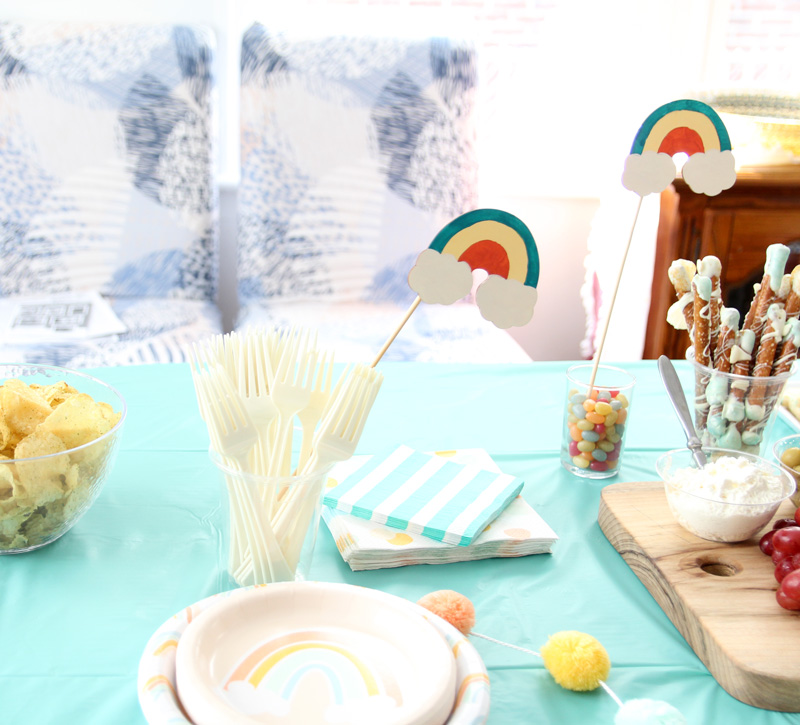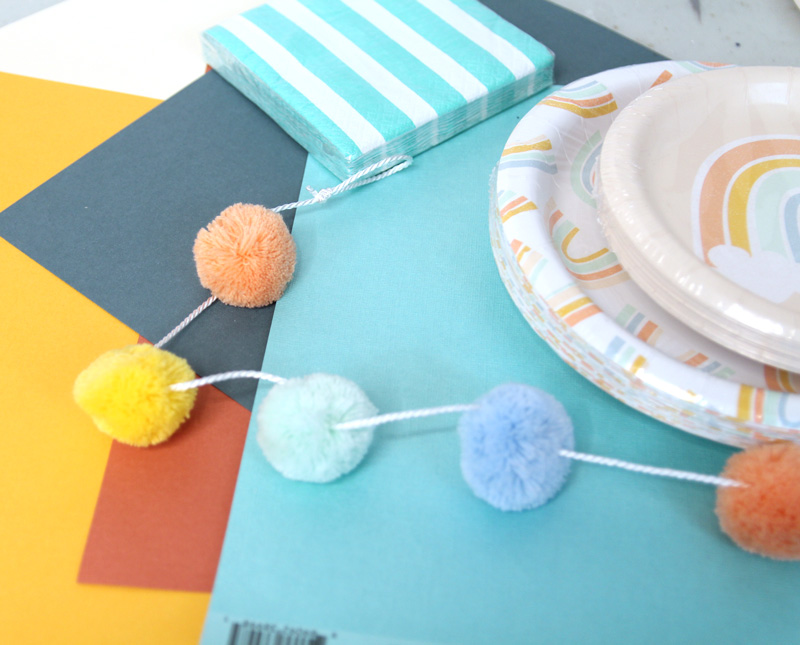 As you can see from the image above, even though it didn't all perfectly match, it coordinated enough with the paper goods I had already selected to retain a pastel vibe.
Room Decorations
I picked some open stock scrapbook papers as I planned my theme. I designed an SVG bundle to help me create the different assets, including this banner.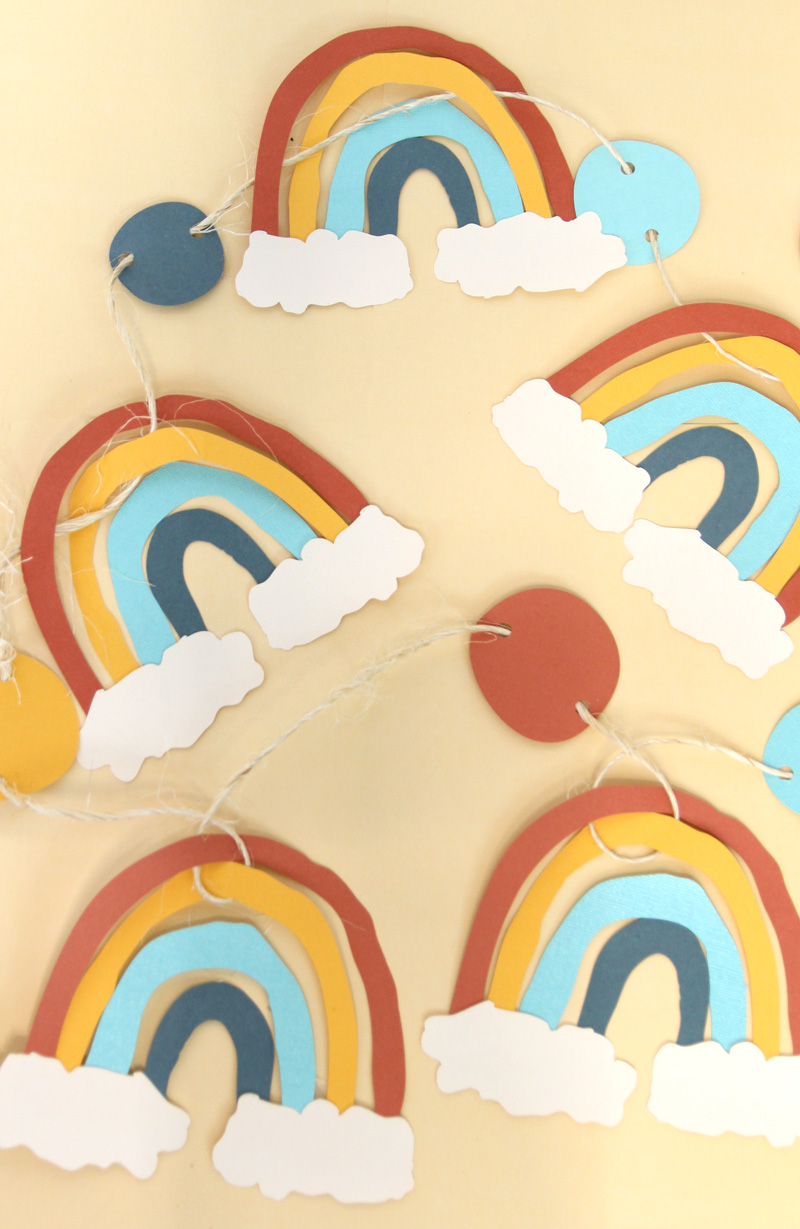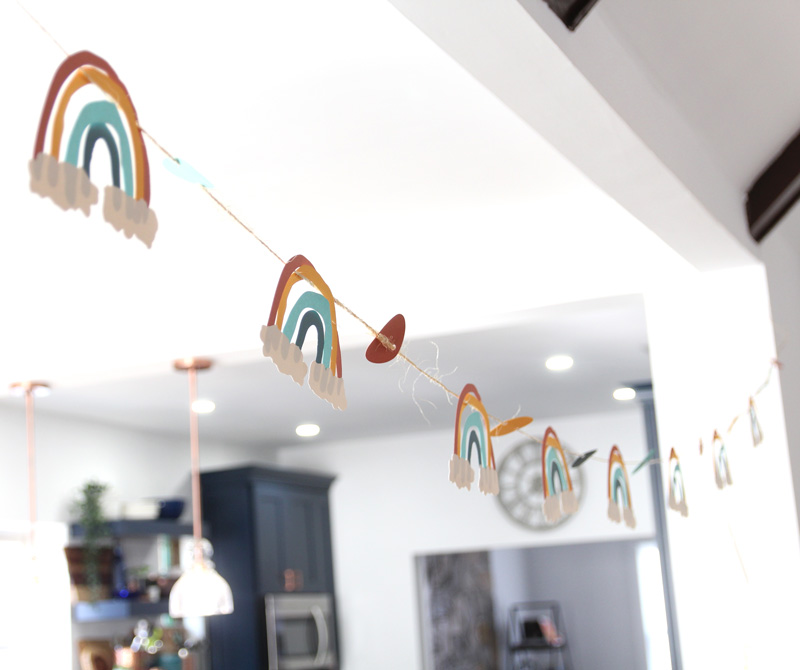 I also created a large macrame rainbow wall hanging to go over A's high chair. It now hangs in her bedroom. Again, you can swap out the rust and teal for more pastel shades of the same – such as peach and baby blue.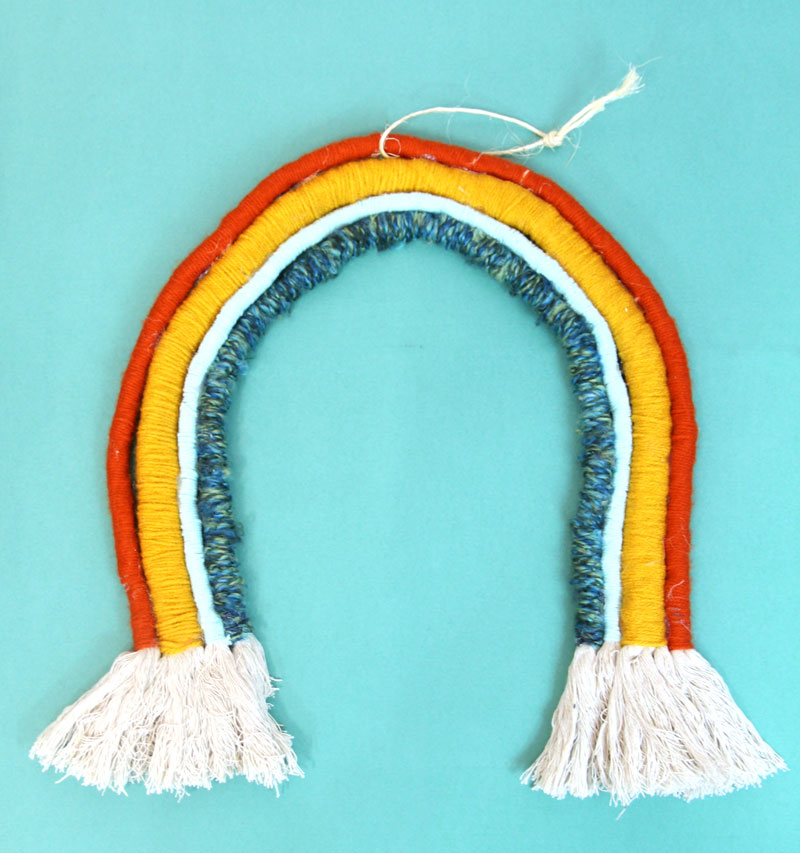 READ MORE ABOUT OUR RAINBOW BIRTHDAY PARTY DECORATING IDEAS HERE!
The High Chair
The high chair serves as the birthday girl's throne and decorating it is so much fun! First, I created a pennant banner – included in the template kit – and I also created an adorable, last minute and SUPER easy high chair tutu from tulle ribbon.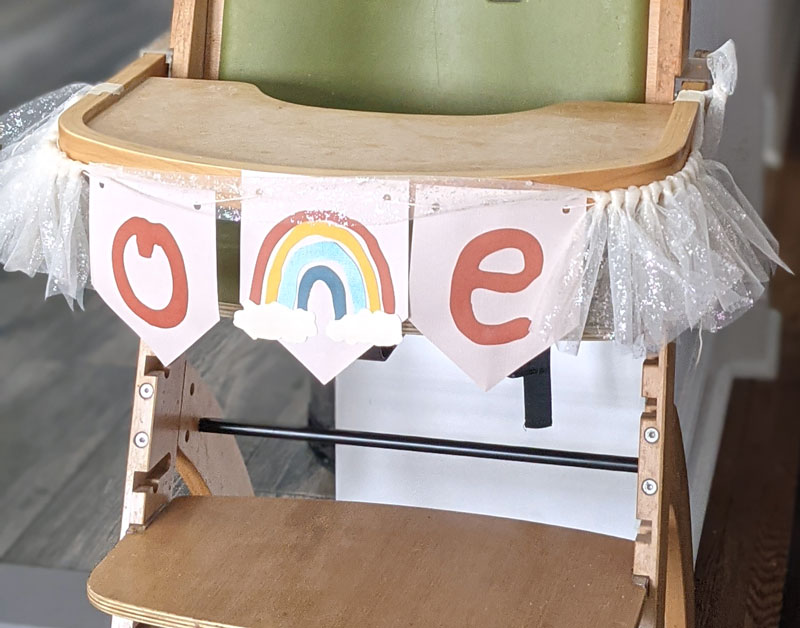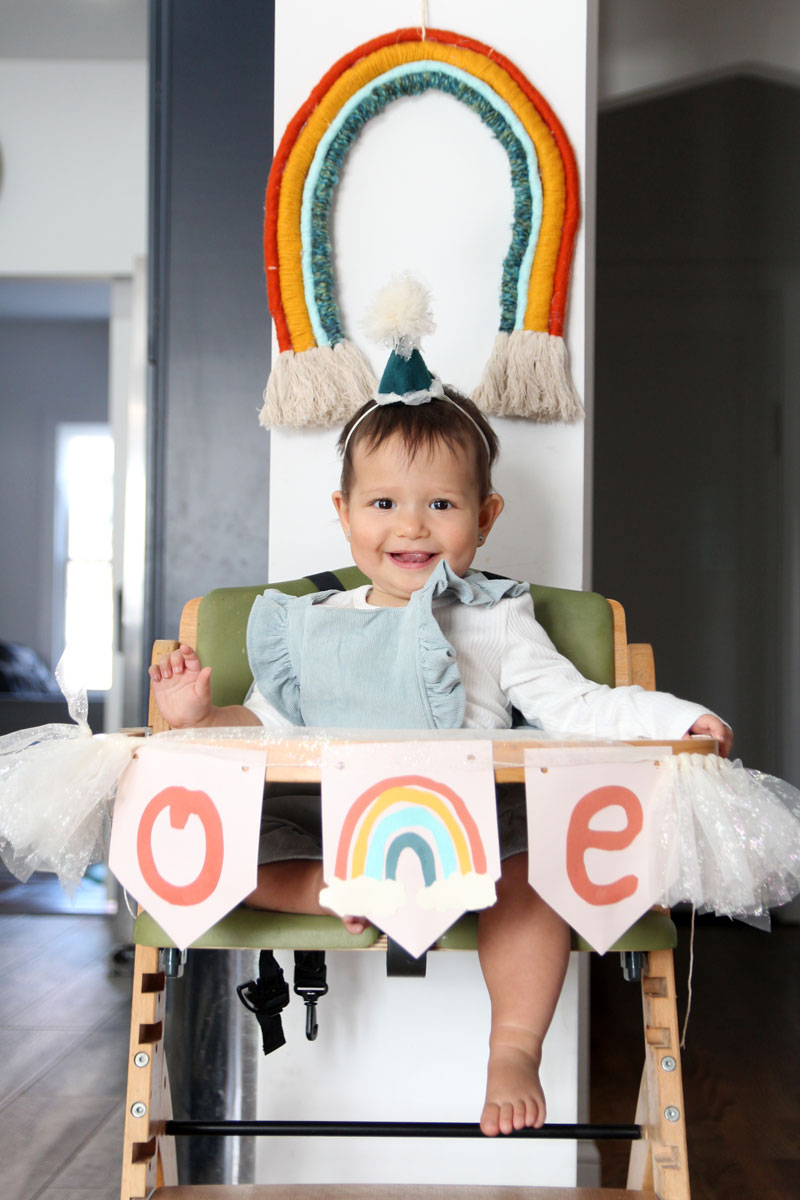 Pastel Rainbow First Birthday Food Ideas
I did NOT create a separate post detailing the food we served this time, so I'll go over it briefly.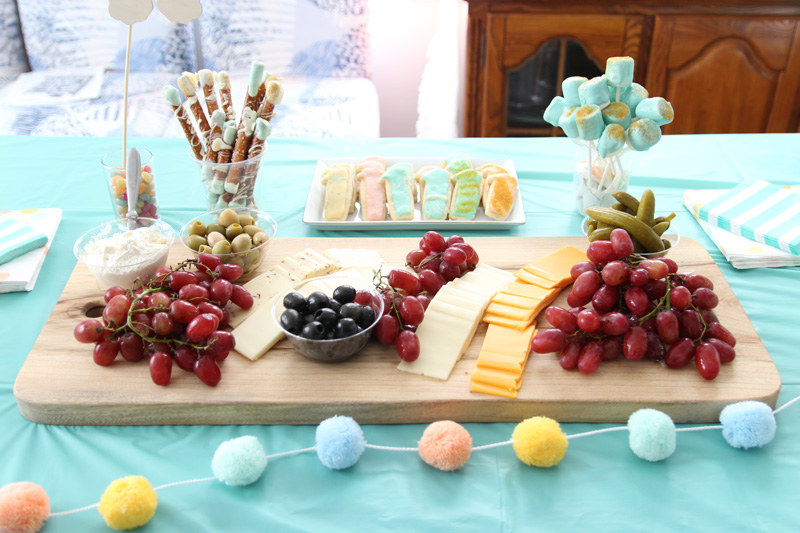 The Menu
When it come to food for a first birthday party, I don't necessarily stick to sweets. I like finger food that baby can actually eat, even if it needs pre-cutting. I do put out some sweets, but I make sure there's a good spread of things that the birthday girl or boy can actually eat.
The centerpiece of the party was a simple cheese board. A sampler pack of cheese, with a few types of crackers, some olives, grapes, and pickles did the job.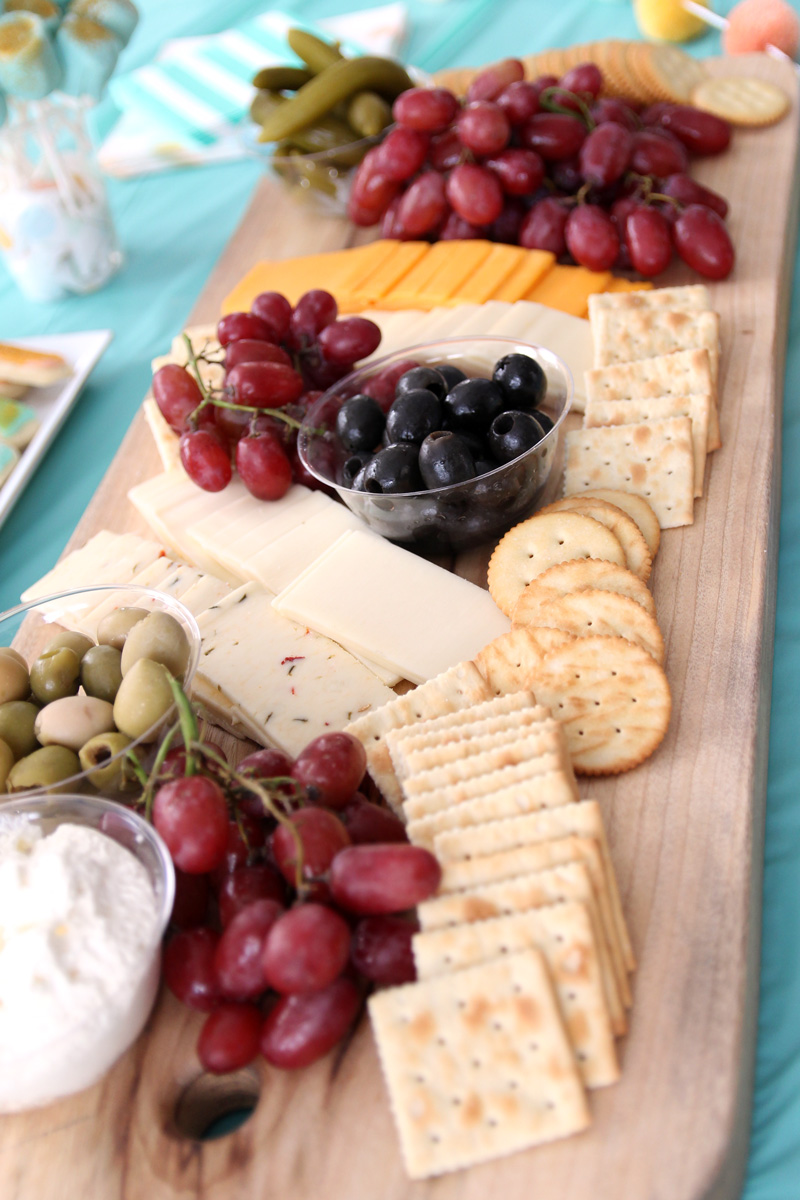 I also served a spread of different salads. There was a sushi salad (basically dismantled sushi in a salad form) and another grain-based salad (I think Farro). There were a few leafy green salads. My favorite was this beet and arugula salad, topped with toasted almonds and drizzled with a light balsamic vinegar-based dressing.
We were able to pick out the beets for A, making it another thing she could enjoy.
We like to put out chips and dips too, and keeping the guacamole simple means A can enjoy it.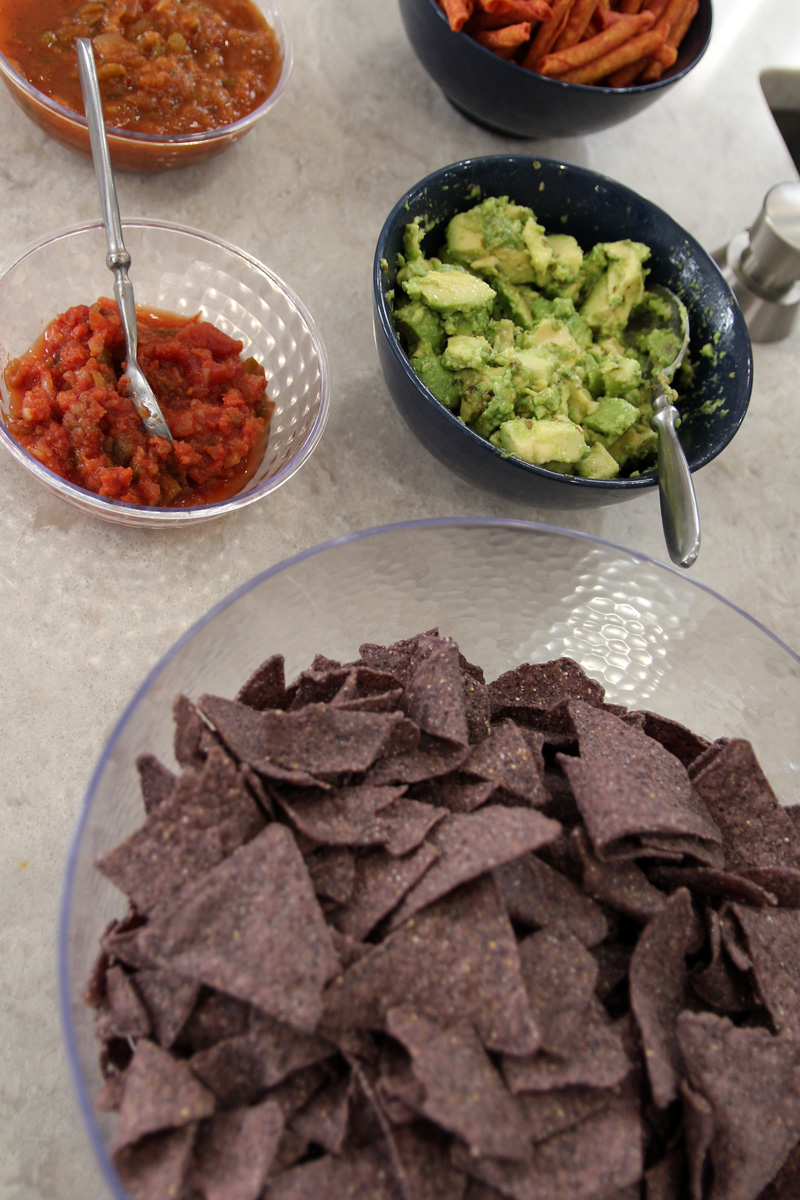 The Sweets & Treats
We included snacks such as Bamba peanut puffs, and veggie straws. These are baby-friendly options. No popcorn was allowed, but we did also include different chips for the big kids and adults to enjoy a bit more.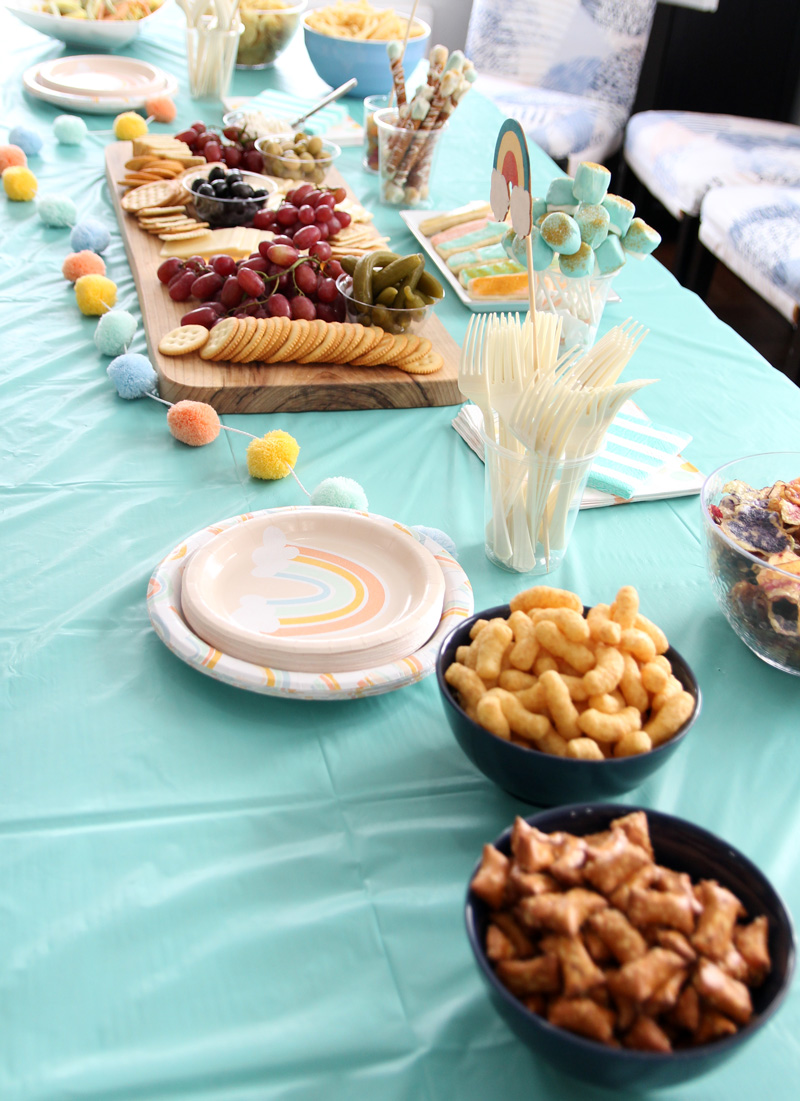 I got a one-shaped cookie cutter and wanted to decorate cookies. However, I decided to stick to a non-royal icing, which meant I couldn't go into the detail I wanted. Still, simply decorated with pastel colors and sanding sugar in the right colors made for a sweet little cookie plate that even a complete novice can create.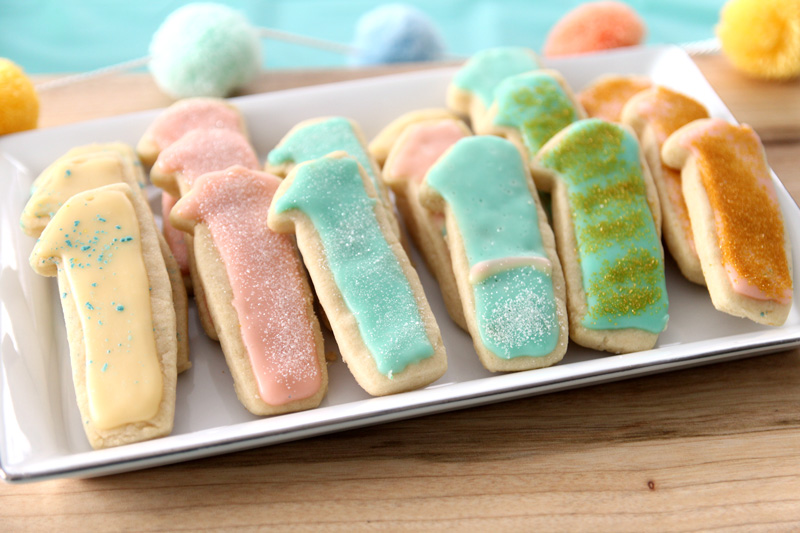 I mimicked the look by tinting white chocolate and dipping pretzels and marshmallows into that and sanding sugar. It's totally not professional, but looks fabulous!
Trader Joe's sour jelly beans are the perfect color for the pastel rainbow first birthday party scheme.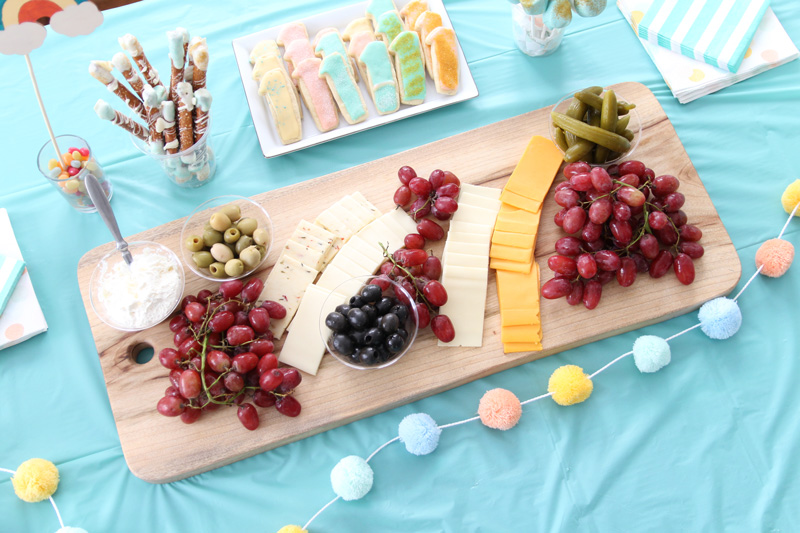 And finally, I found these Peruvian potato chips at Trader Joe's too (they may not have them anymore) that really added some fun color to the table.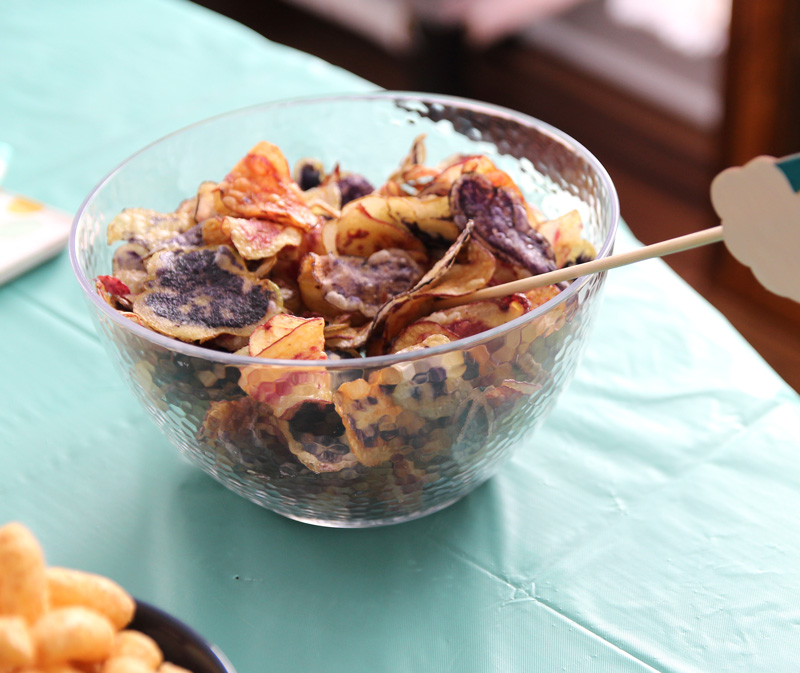 The Cake
Confession time:
I can not decorate a cake. And I keep on trying.
Knowing this, for A's first birthday party, I had planned on frosting a simple white layered round cake and topping it with this rainbow cake topper.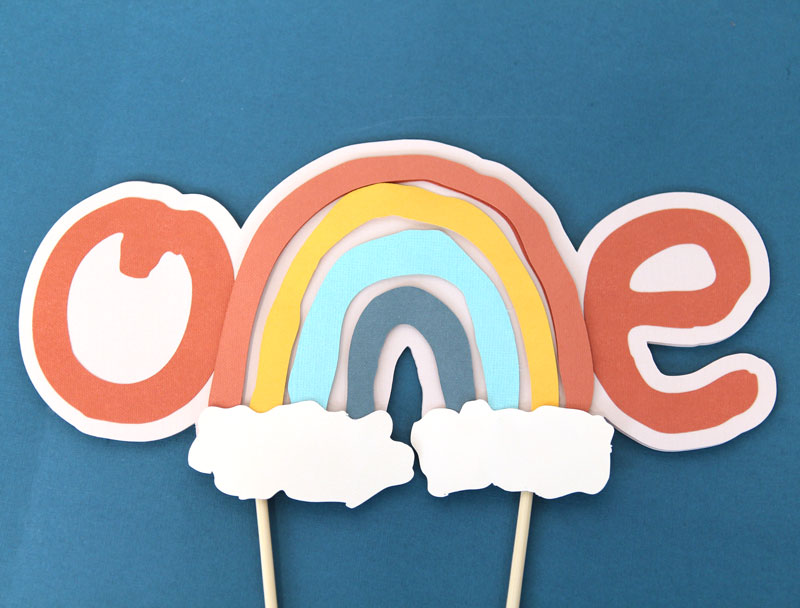 However, I clearly overestimated my cake frosting abilities and ended up with a last minute run to the bakery for whichever cake would clash the least, and a bonus cake that was pre-smashed for an impromptu photo shoot…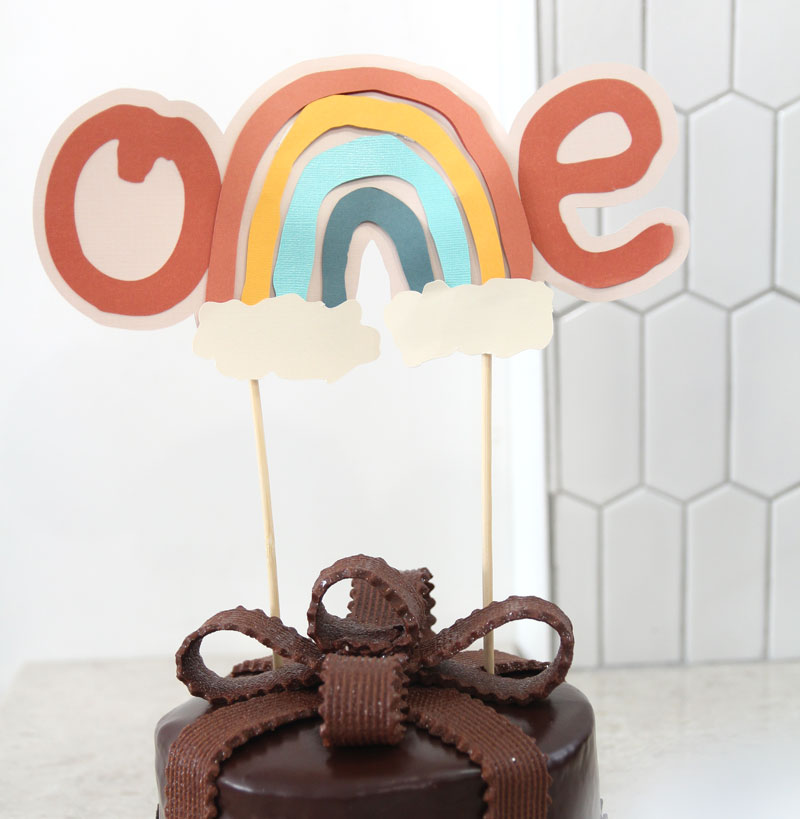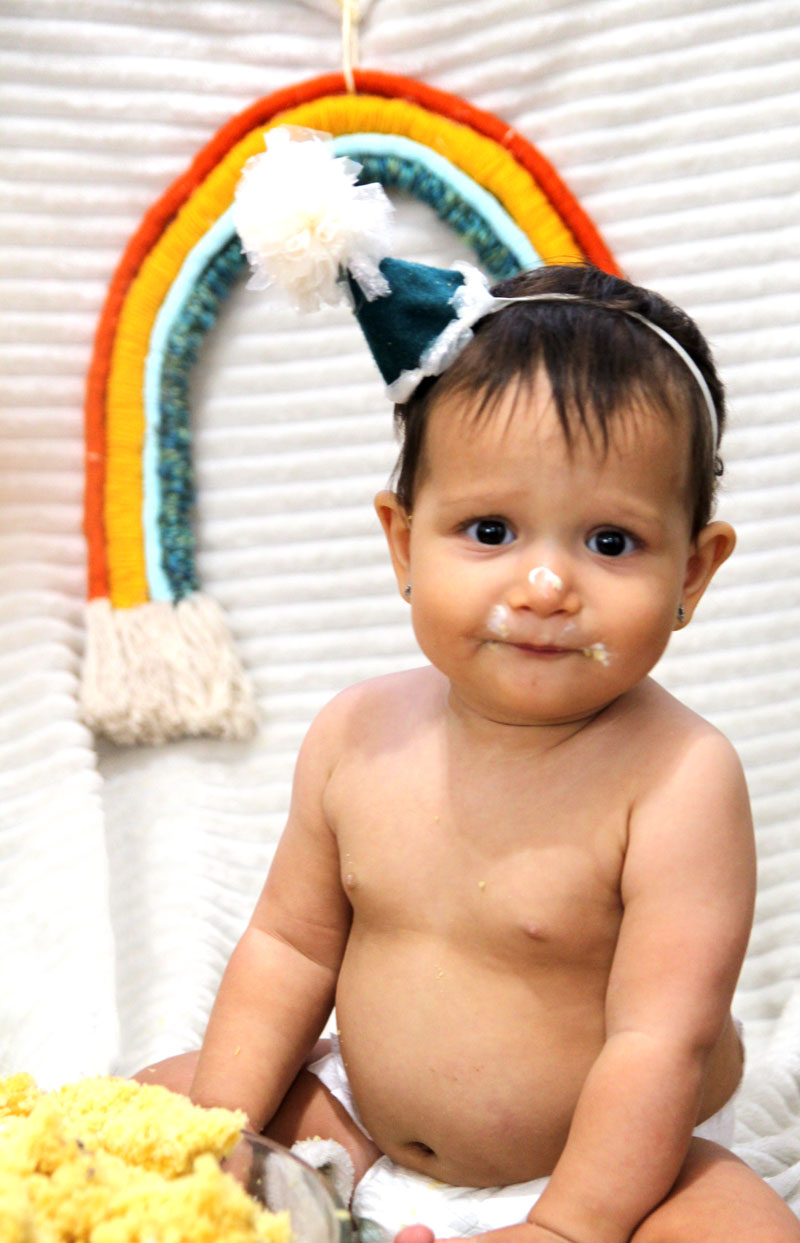 It may not have been as classy as I had planned but it was sweet. And I was so happy that my plan had included a cake topper to begin with!
The cake topper template is included in the template kit.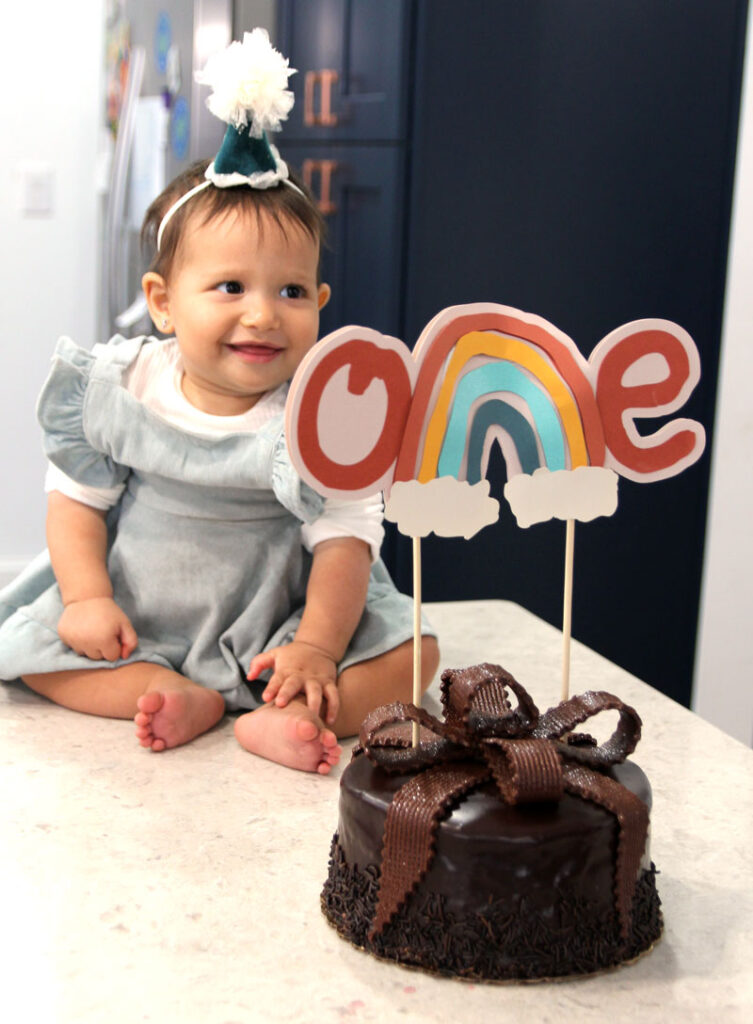 More Pastel Rainbow First Birthday Party Ideas
Ready for the finishing touches? Here you go!
The Outfit
A's outfit was just so stinkin cute! We started with a pretty dress and a cream ribbed bodysuit underneath. It was November, so we needed the layer, but if you're dealing with a summer birthday, skip it!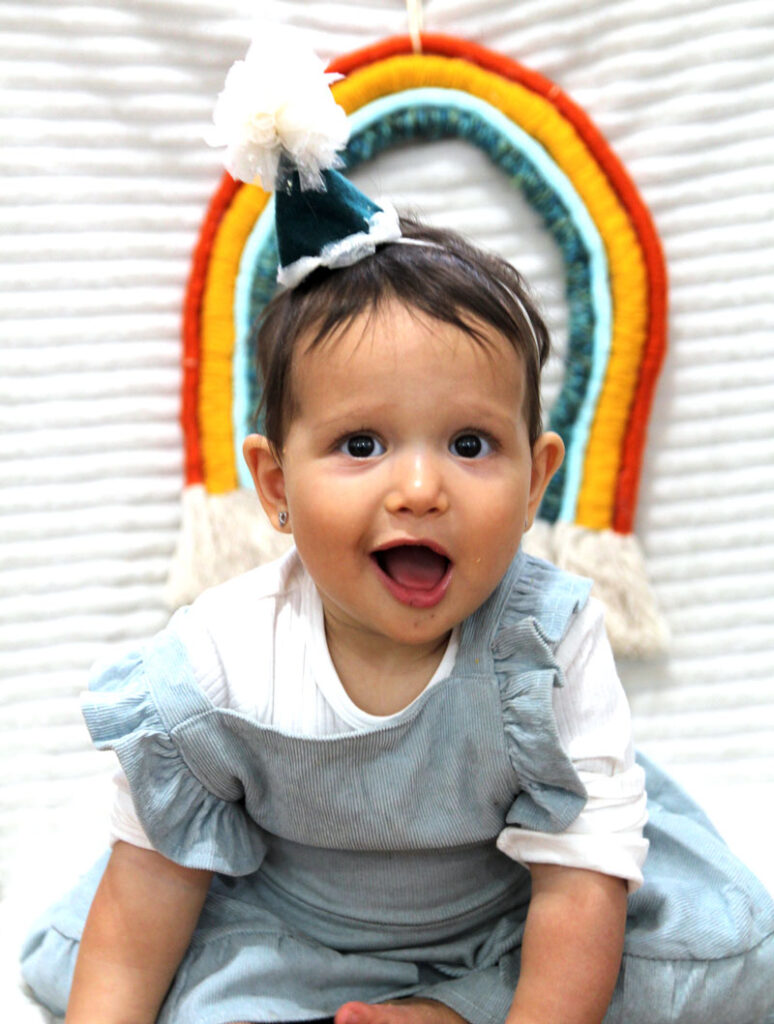 Next came the hat. It was really a headband – something she was used to wearing and keeping on at that stage. The mini felt hat had an oversized tulle pom pom and sat perched on her head like a bow. Find out how to make the first birthday hat here.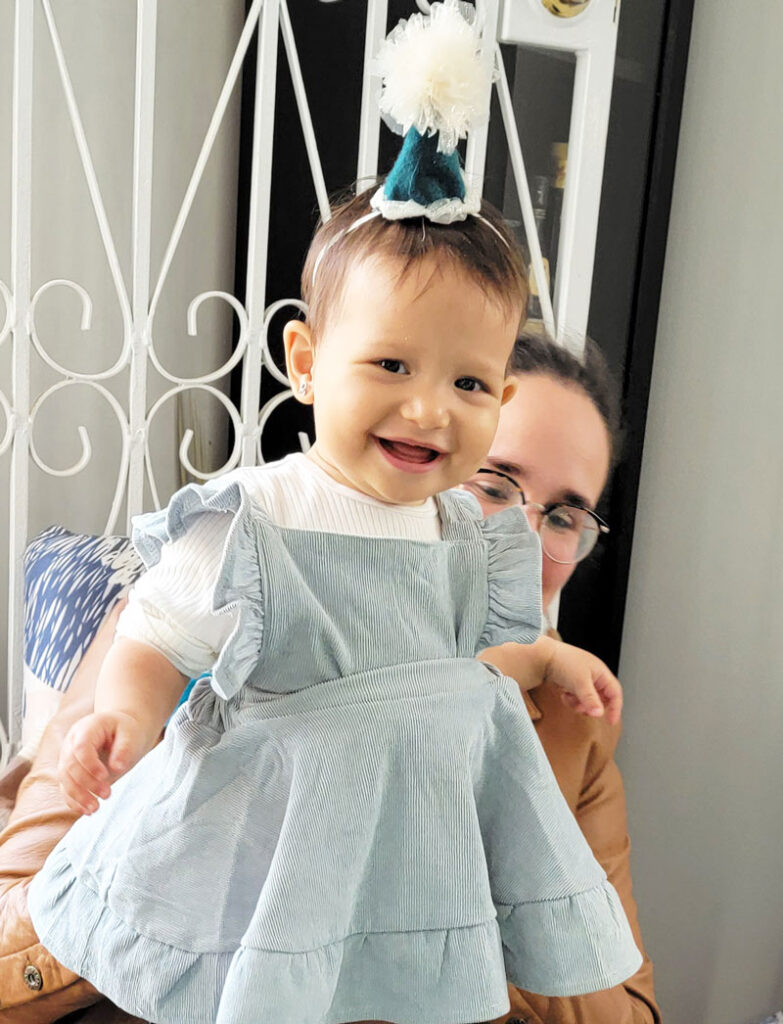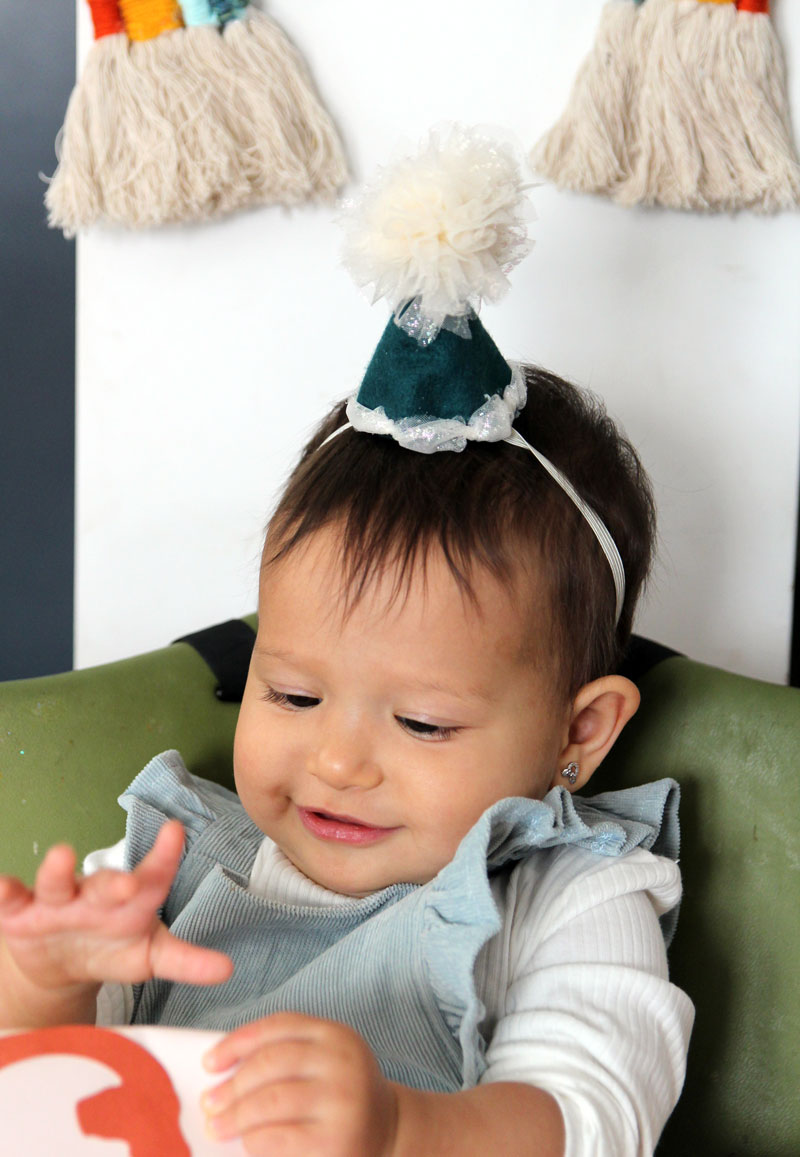 The Favors
Favors might be controversial, but I am a big fan! For a first birthday party, which is really designed for the adults, I decided to give classy acrylic keychains with the same rainbow motif on them. I made them using the SVG from the template kit.
They came together really quickly and weren't expensive to make. You can learn more about how to make DIY rainbow keychains, and how I came to make it as an acrylic keychain rather than other methods.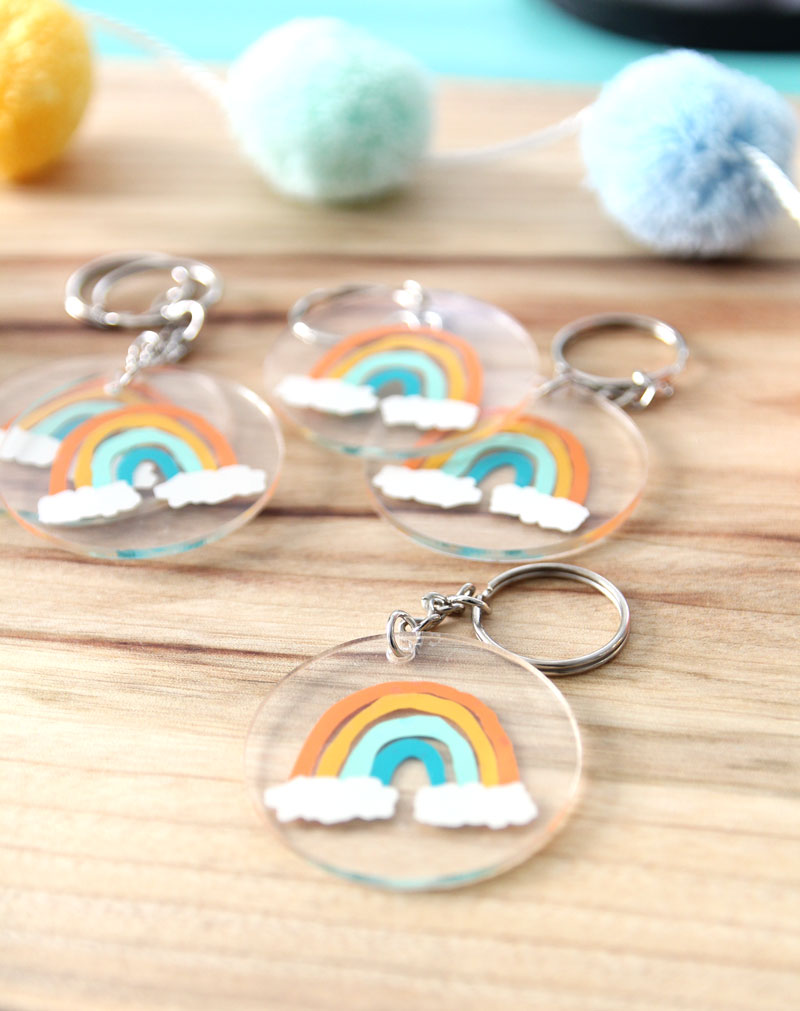 Got more ideas for a pastel rainbow first birthday party? Comment below and don't forget to send this to any friends who might be interested!