Color and craft these paper dolls – a fun summer paper craft for kids! You can find more paper toy templates here or scroll down for this one! This post contains affiliate links.

---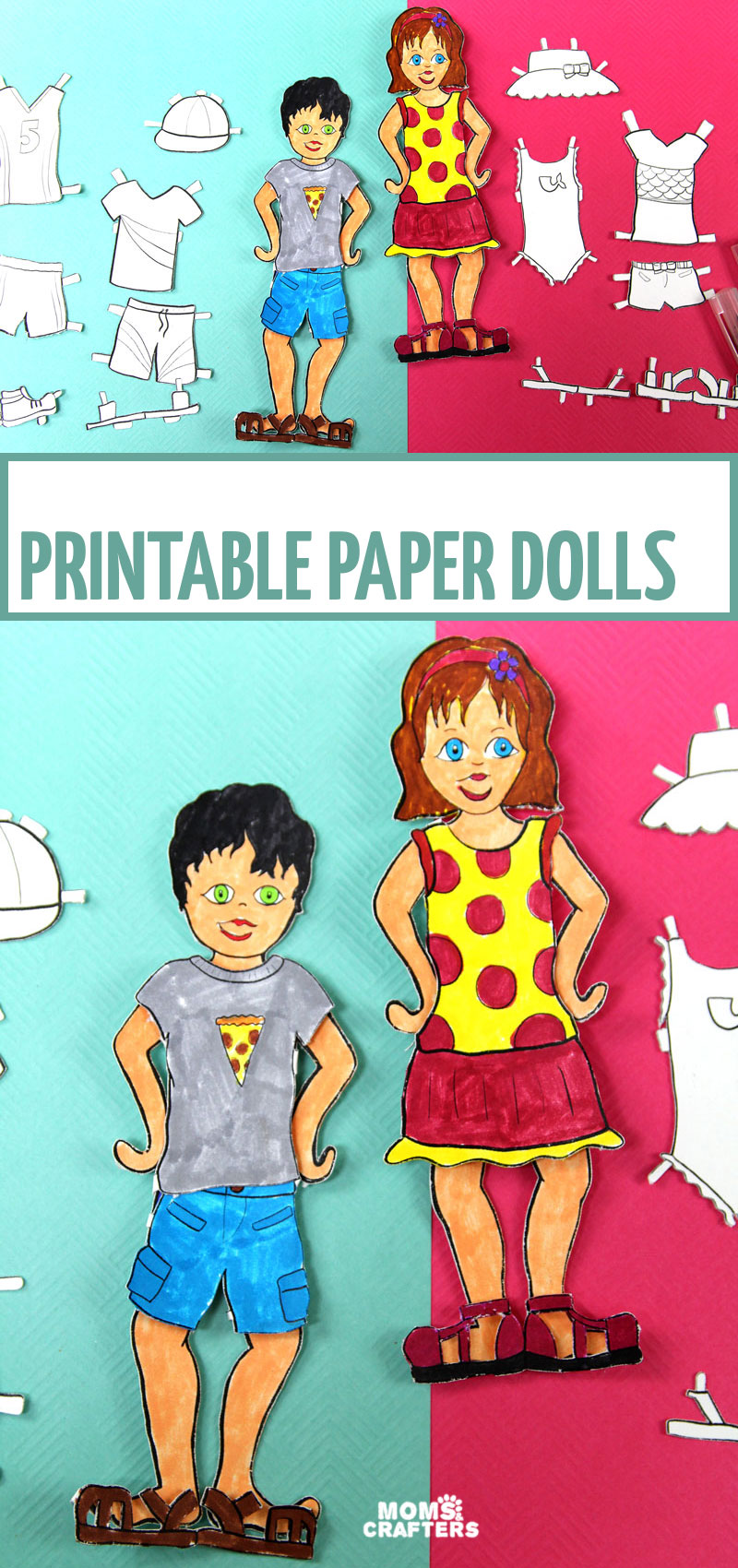 This year, I created winter paper doll printables as well as paper doll templates for Spring. Just in time for warmer weather, I have ready for you the summer version as well!
They are compatible with each other – you can use them together as a set! I used the same template but redesigned the base doll so that you have different characters, but they can swap clothing. The only catch is that the summer clothing needed skimpier undergarments, so if you use the summer clothing on the winter base doll, the sleeves of the undershirt might show through a little.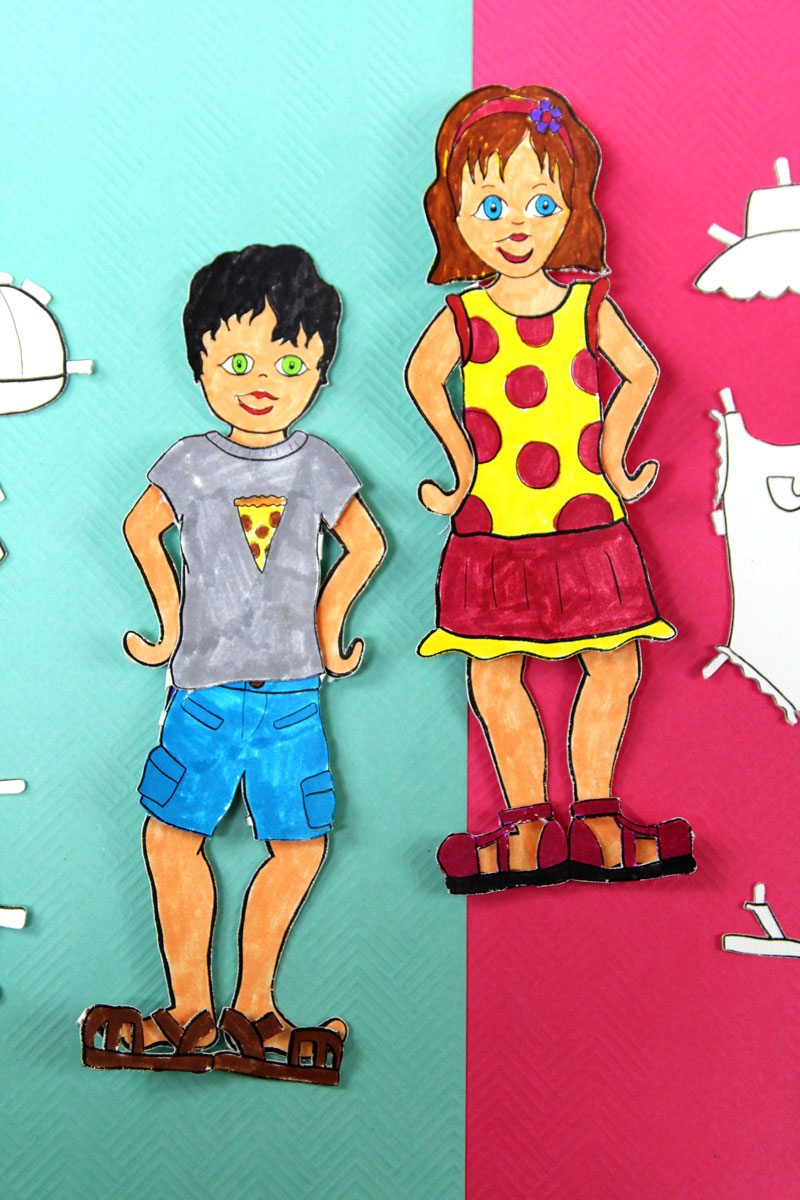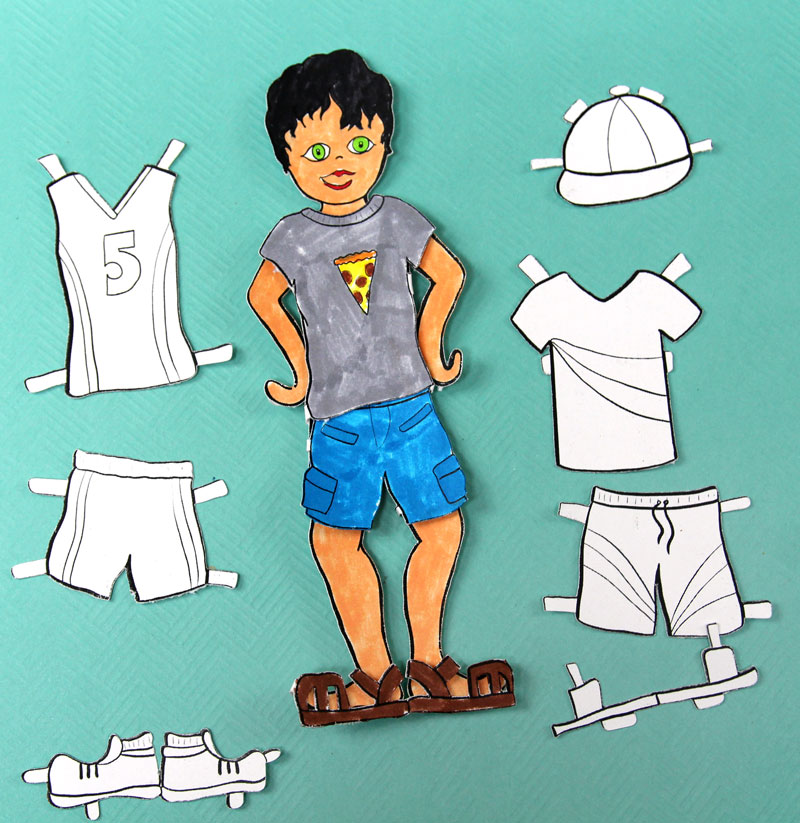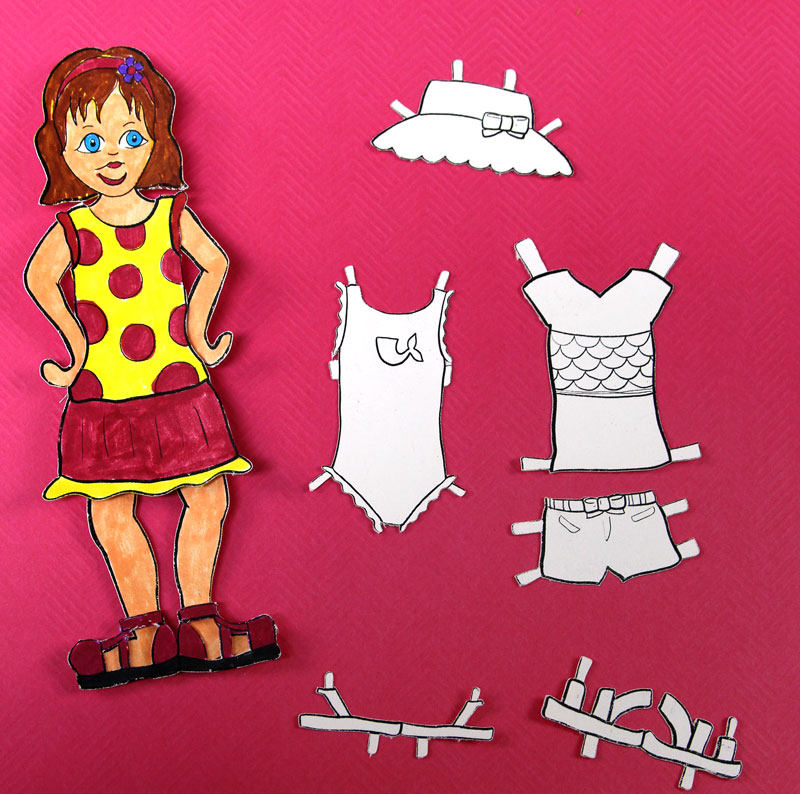 These paper dolls make a fantastic summer paper craft for kids and tweens! I loved paper dolls as a child, and it's even more fun when you can take part in the design and color it yourself!
Mix 'n match outfits, learn about weather-appropriate clothing by mixing the sets, and even go for a swim with the included swimwear! Wear a hat to protect your delicate face from the sun and put on those flip flops or slides when you go to the beach.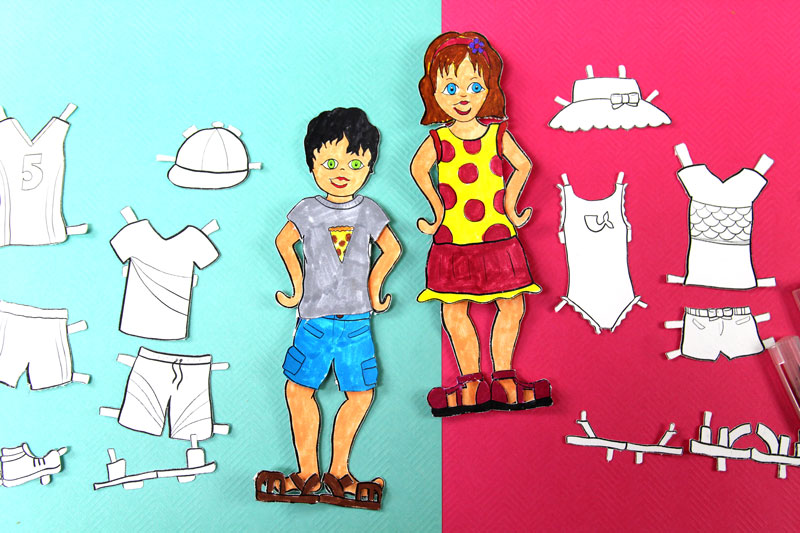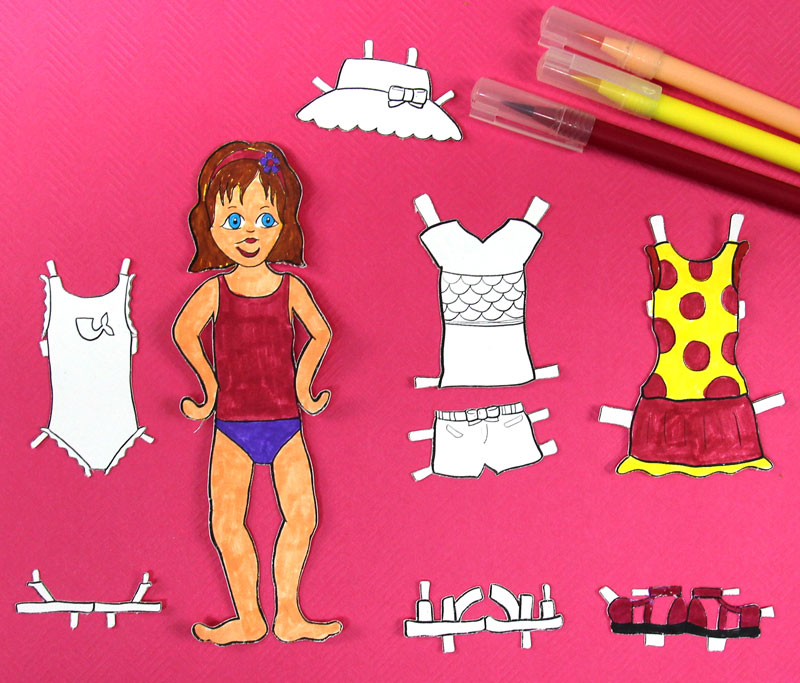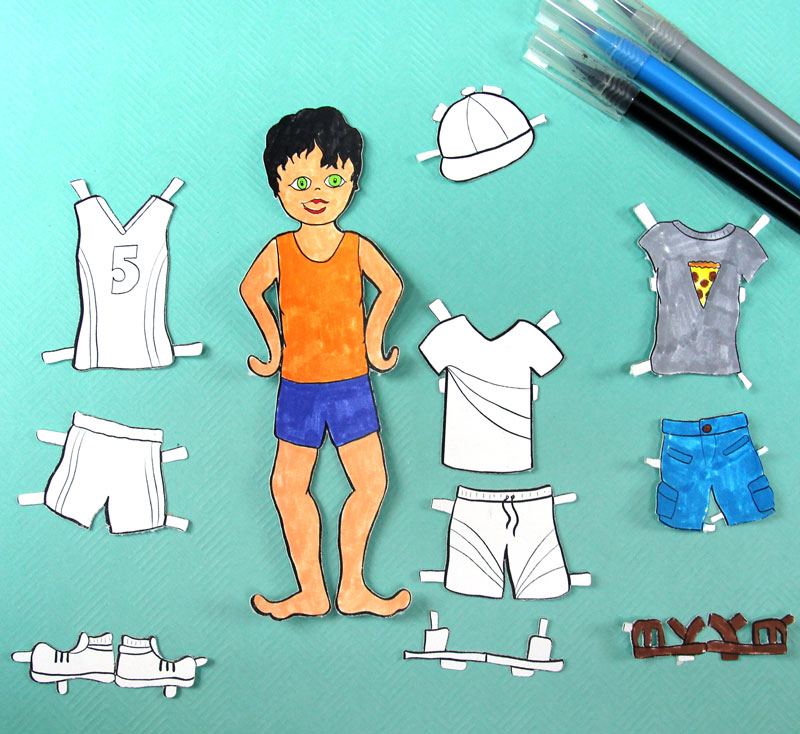 I illustrated these digitally using a pen in my Surface pro – so you get sharp lines with hand-illustrated, storybook feel. I kept it somewhat realistic for children to relate to, and focused on different hair styles, eye shapes, etc (your child adds the skin tone!) so that every child can feel part of this!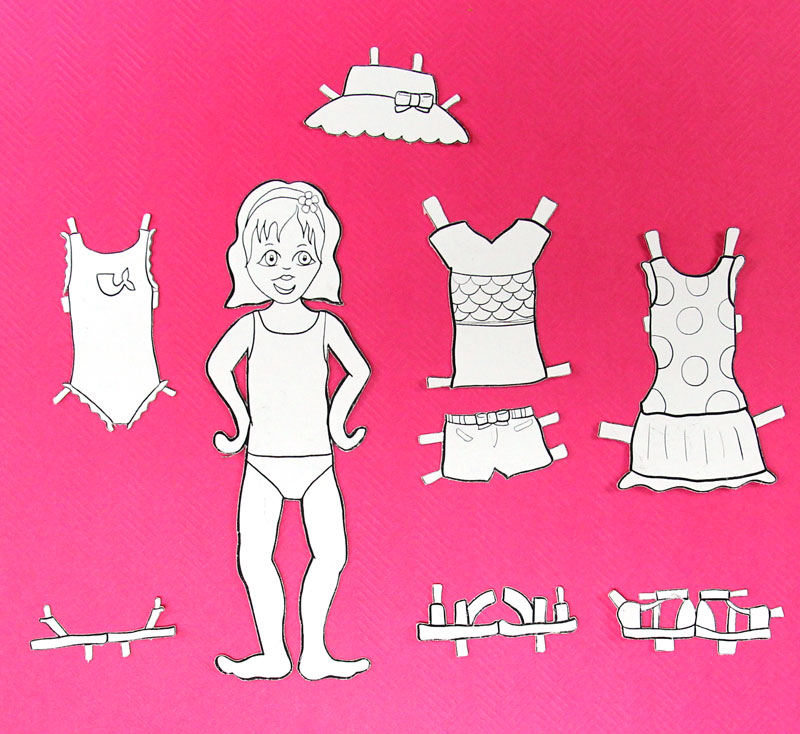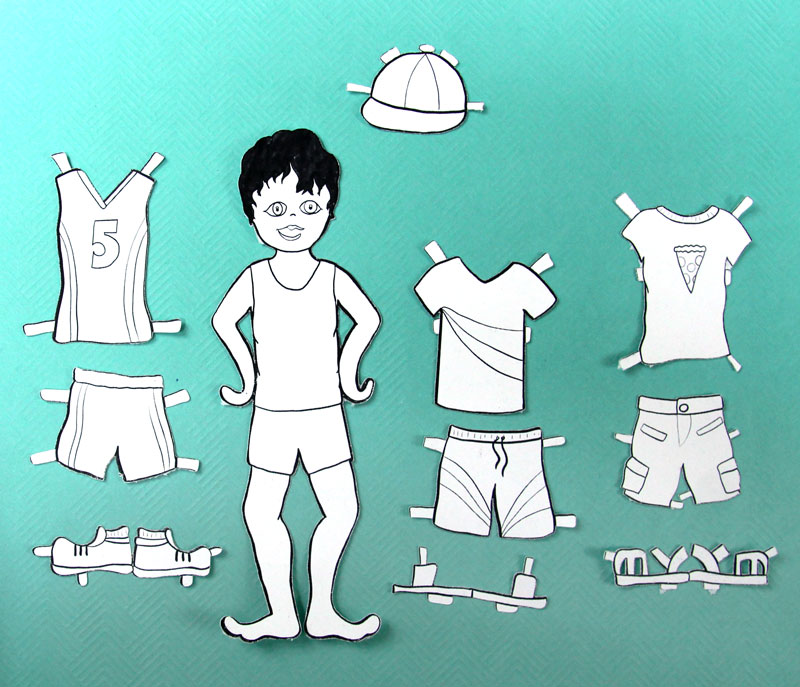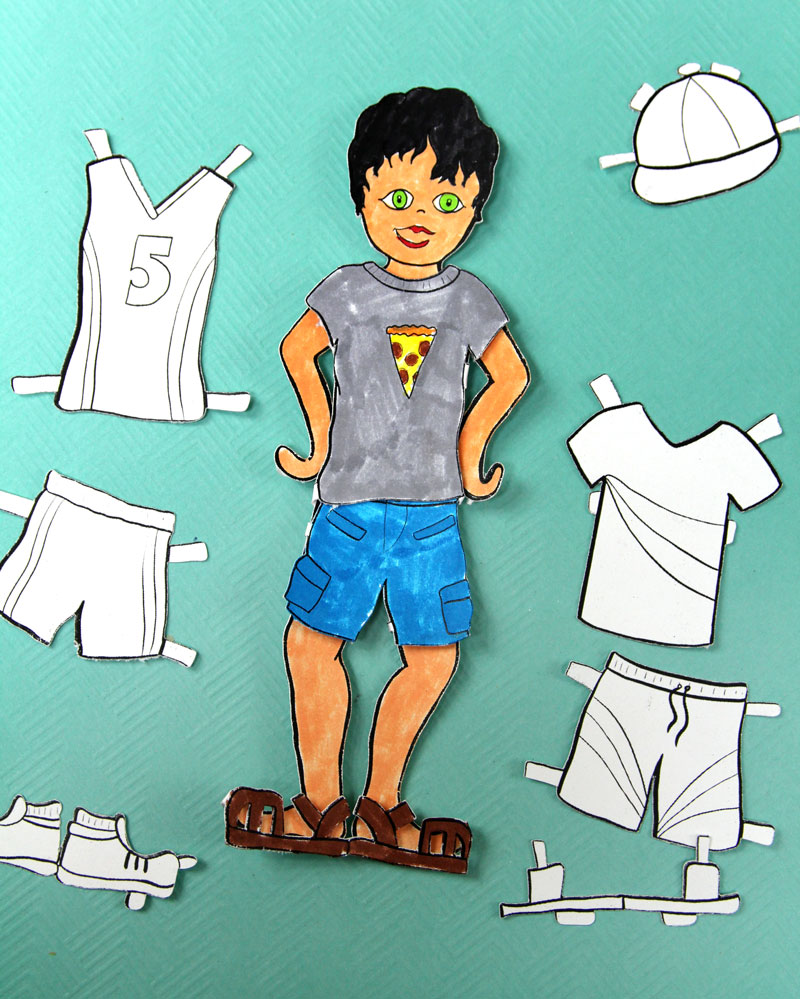 There are two ways to assemble this summer paper craft. You can cut it by hand with the included PDF file, or use the PNG images that I formatted special for Cricut's Print then cut feature.
I did mine using the Print then Cut feature on my Cricut Maker. I recommend doing it this way if you have kids who don't like doing a lot of cutting, or if you're gifting this as a "craft kit" to a loved one.
Click on the image to get the set you want! You'll be taken right to the listing in my Etsy shop. If you're looking for the winter set, get it here. Or find the Spring set here.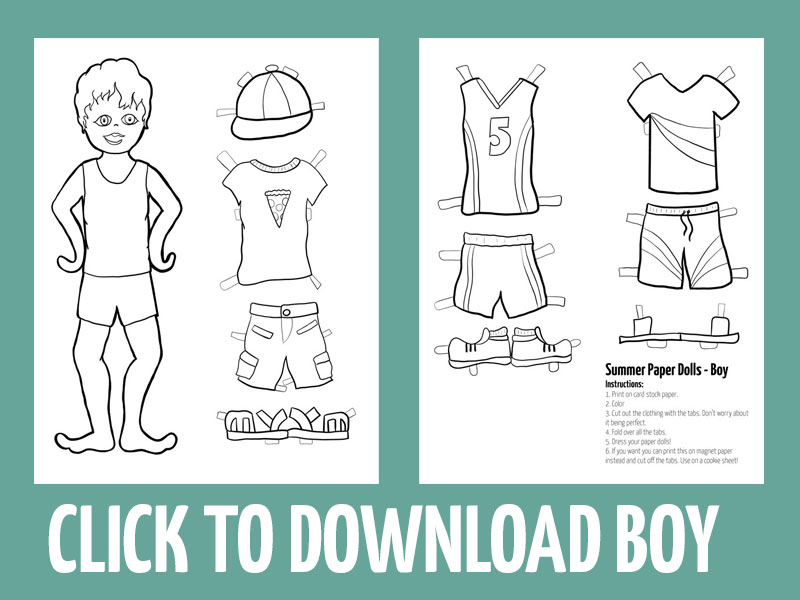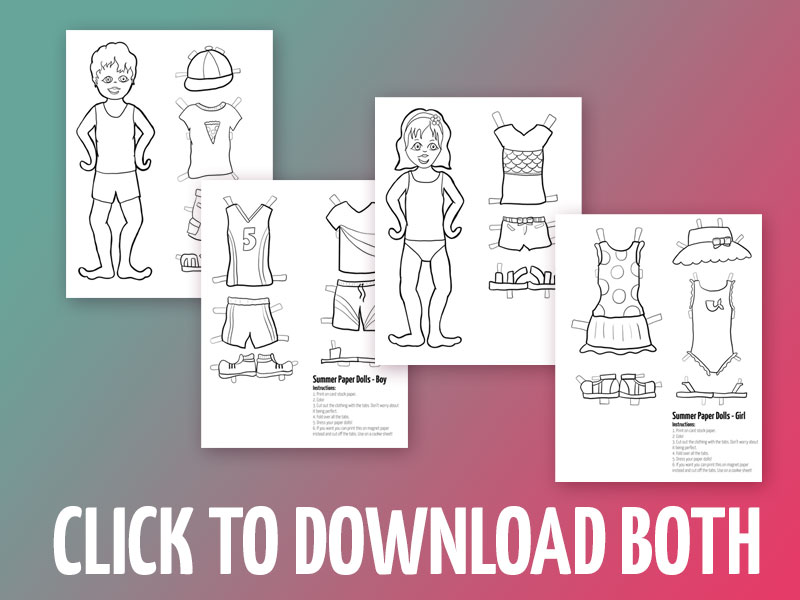 How to print and assemble your summer paper craft:
You need:
(Instructions are also included on your actual printables.)
When printing, choose to print actual size so all paper dolls are compatible with each other.
Print on card stock.
I find it easier to color before cutting, unless you're cutting it in advance for your child.
Cut out around the outer border.
Fold down the tabs.
Dress up your doll!
Print then Cut with Cricut Explore Air 2:
I recently became a proud Cricut user, so if you're wondering about using your cutting machine to make this easier, I have your back!
For a change, I made these paper doll templates with Print then Cut-ready PNG files. These files have white backgrounds on the areas you'll want to color, but are transparent around the cut border.
You're welcome.
You need:
A Printer
A Cricut machine (Explore Air 2 or Maker)
Fine point blade (included with your machine)
Blue mat (included with your machine)
How to print then cut this summer paper craft:
First, download the Zip file that you received with your purchase and move your images to a new folder. The tutorial below was screenshot on my Spring set on my Explore Air 2, but the tutorial is the same for this set on the Maker.
Open Design Space and create a new project. Click "Upload" and then "Upload Image".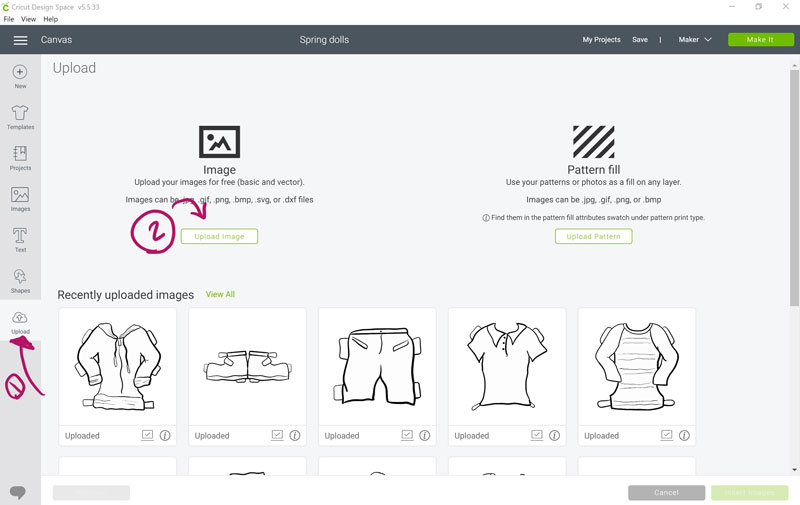 Find the image you want to upload. You can upload the individual elements separately, or choose the one that has everything laid out to fit the max size for Print then Cut.
Choose "Complex" and then continue.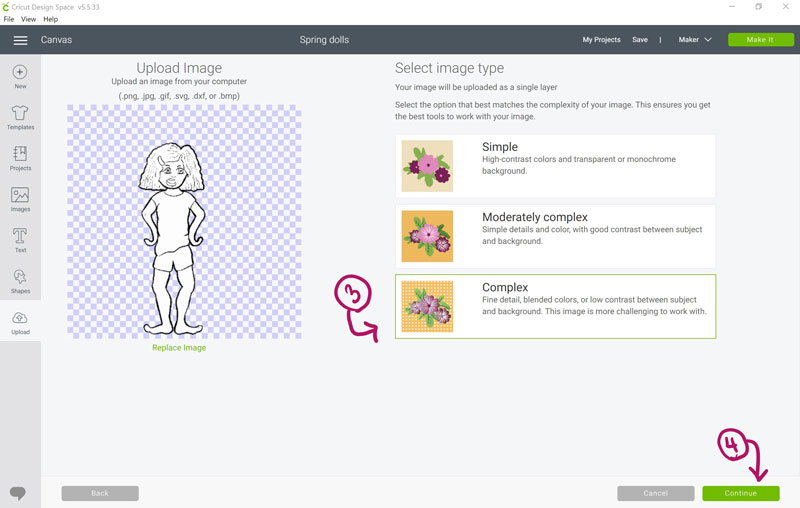 You don't need to do anything on the next screen – just hit "continue". The checkered background is for transparency.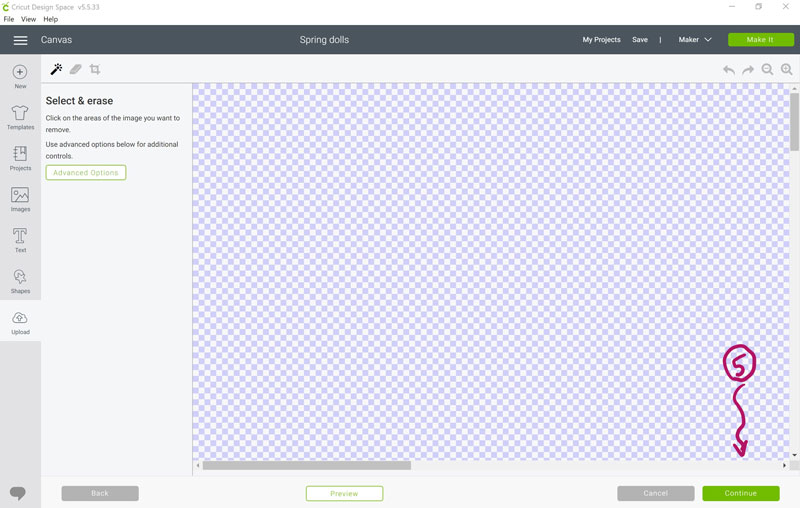 Choose "save as a print then cut image" but take a peek at the "cut image" because that's exactly how your image will cut after it prints. Name and tag your image so you can easily find it later.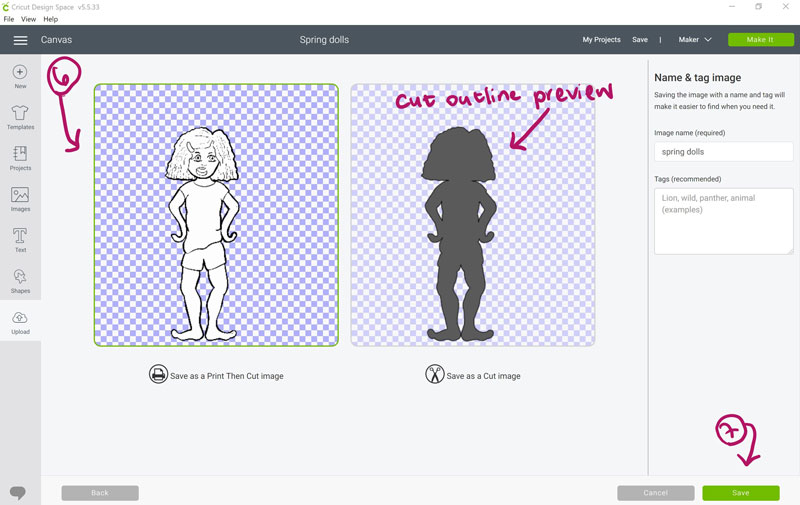 Do this for each image. Once all your images are uploaded, select them and hit "insert images".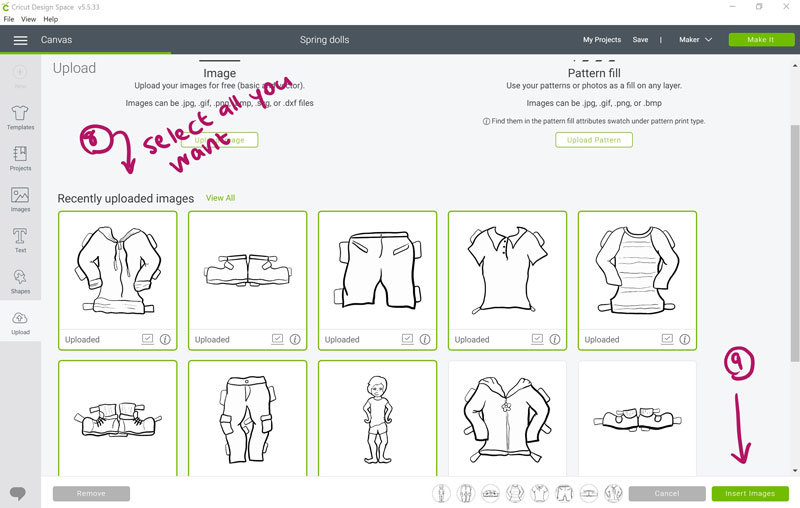 Resize your images to the desired size – but make sure you do it proportionately so that the clothing fits!! Your max size for "Print then cut" is 9.25×6.75 inches so make sure it fits. Then hit "make it".
Design Space will automatically lay out your paper doll templates to print then cut. It'll also add a box around your print file. That's their "registration" marks – the scannable points from where Design Space figures out where to cut. Hit "Continue" and keep on following the prompts to print then cut your image.
I leave bleed "on" when I print then cut, so that if my calibration is slightly off, it still looks good.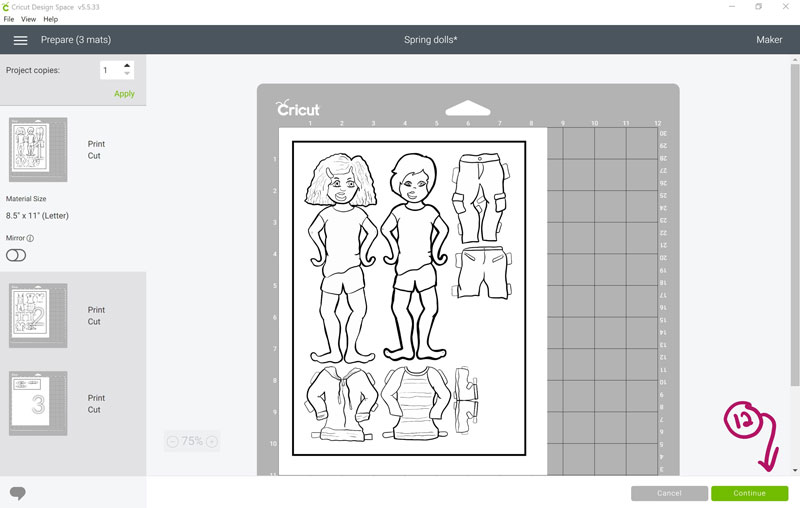 You'll see that when you set up your cut, there's a blue light that first locates the box around your image.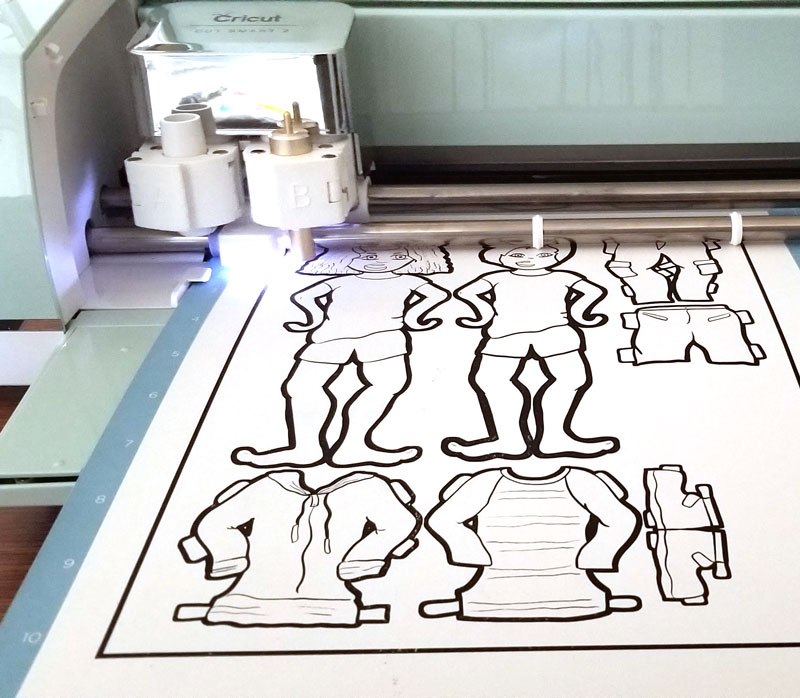 Then it'll cut beautifully.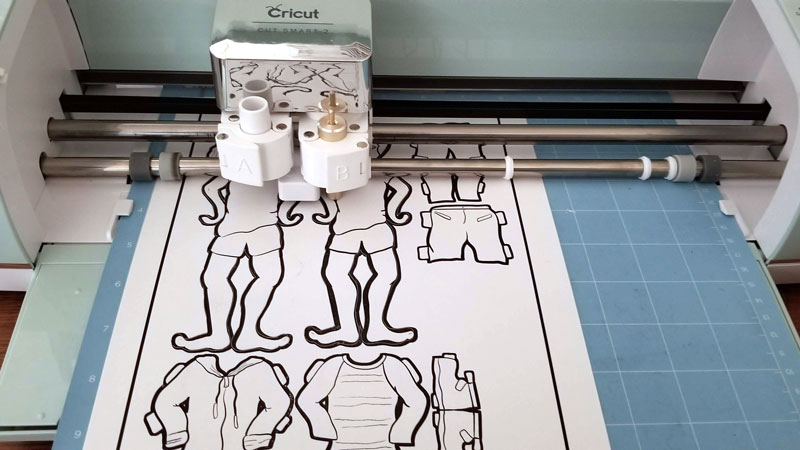 If your cutting is a bit off, you may need to calibrate your machine. Read how to calibrate Print then Cut here.
Remove your parts carefully using the spatula and weeding tools.
Or, find more of my paper crafts for kids below: