Create these beautiful art projects for tweens and teens and then display them in your home! Finding arts and crafts for tweens might not be the simplest tasks but I have you covered! Disclosure: this post contains commissioned links.

I remember my first painting that I made – there was simply nothing like it! And I am still proud of it today. There is a pride in finishing an art project – and these art projects for tweens are perfect for giving them that same great feeling.
The art projects for tweens featured in this post come in an assortment of styles: some focus on the process, others create a functional product (or rather, decorate one), but all of them include some sort of art element and a result that your tween will want to display – and be proud of!
Copyright:
All of the images for these art projects for tweens were used with the permissions of the respective bloggers for the purpose of this post. Click on the title link or image for the full tutorial.
I have created a square and vertical image for your convenience for sharing these art projects for tweens. Please use the first or last image in this post when sharing and not one of the individual photos below, out of respect for the creators' copyrights.
12 Easy Art Projects for Tweens (and teens):
1. Bubble Art Butterflies by Red Ted Art: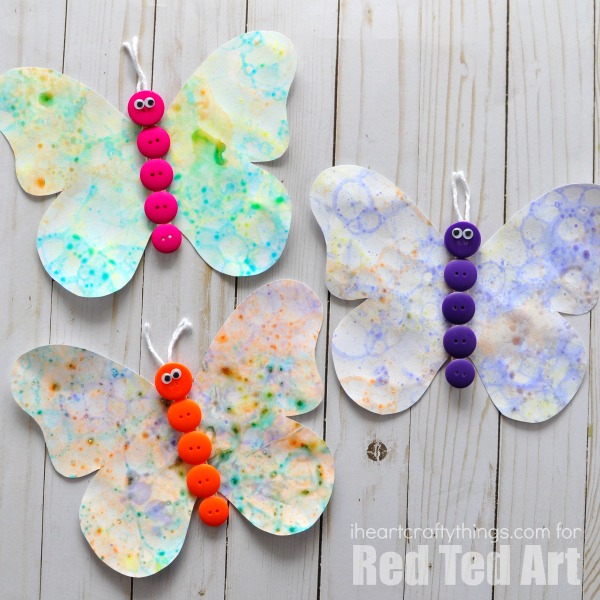 These butterflies could not be any cuter. And the process to make them is super fun and something you would never think of- blowing bubbles! Once you get the hang of it, you can make tons of these in various colors. Don't limit yourself to butterflies; try hearts, stars and other shapes!
2. Wine Craft Process Art by Mosswood Connections: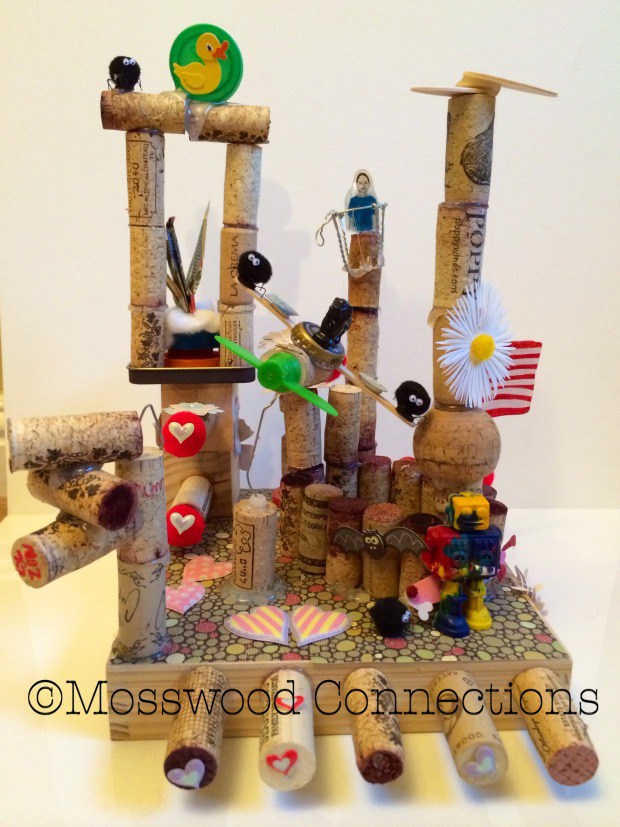 This project made of upcycled wine corks is seriously cool. If you like to collect recycled materials like wine corks, spice containers and the like, now is the time to turn it into a masterpiece! Every project will be super unique because it will be YOURS, with your creativity and imagination.
3. Lipstick Resist Process Art Activity by Moms & Crafters:
Your tween might have fun trying on your lipstick in the mirror, but here's her chance to turn lipstick into art. (Maybe not your good lipstick, though!) Cheap lipstick comes in so many colors, and it has a beautiful, creamy texture to "paint" with, and it's definitely more fun than crayons! Use it together with diluted water based paints to create a one-of-a-kind art project.
4. Geometric Canvas Art by Burlap and Blue: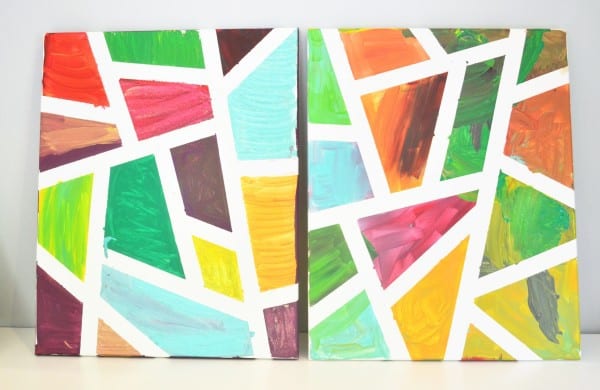 This cool geometric canvas art is easy and fun to make! Go colorful or monochromatic, or try a color scheme to match your bedroom. The best part about this art project for tweens is that you can't really mess it up! Have fun with it, and try mixing colors to get depth and texture on your canvas.
5. DIY Pegboard Wall Art by Sugar and Cloth: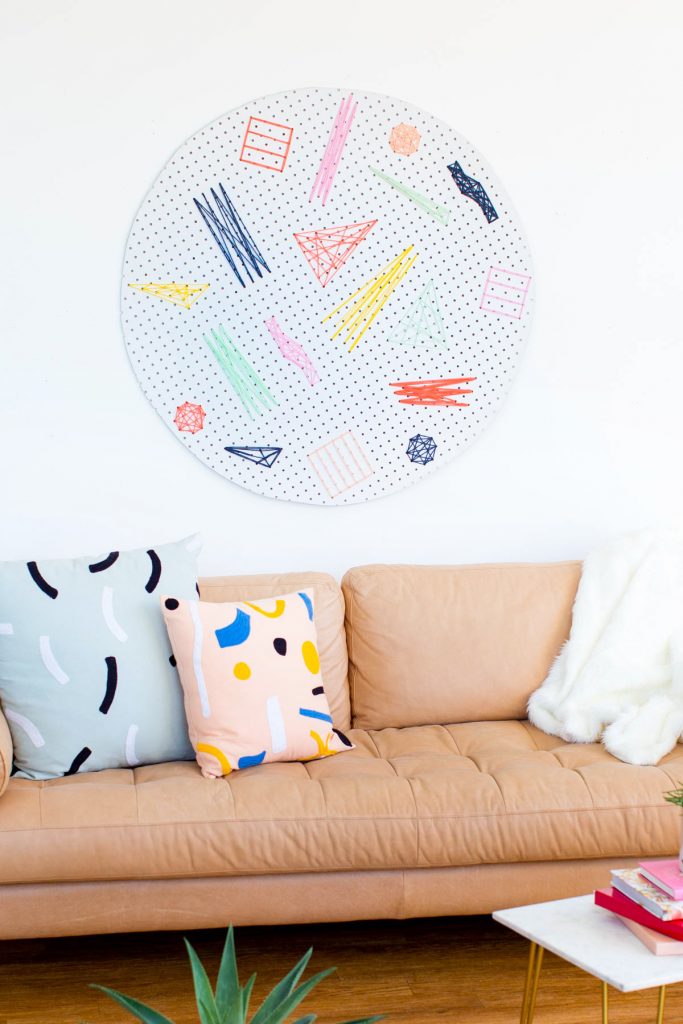 One of the few memories I have of summer camp is creating a beautiful art project much like this one, with string. I'm pretty sure it's still hanging out somewhere in my parents' basement. This wall art is a great way to get some fresh decor in your room without spending much. It's fun, easy and mindless- a great way to spend time with friends!
6. DIY Painted Glasses by Moms & Crafters: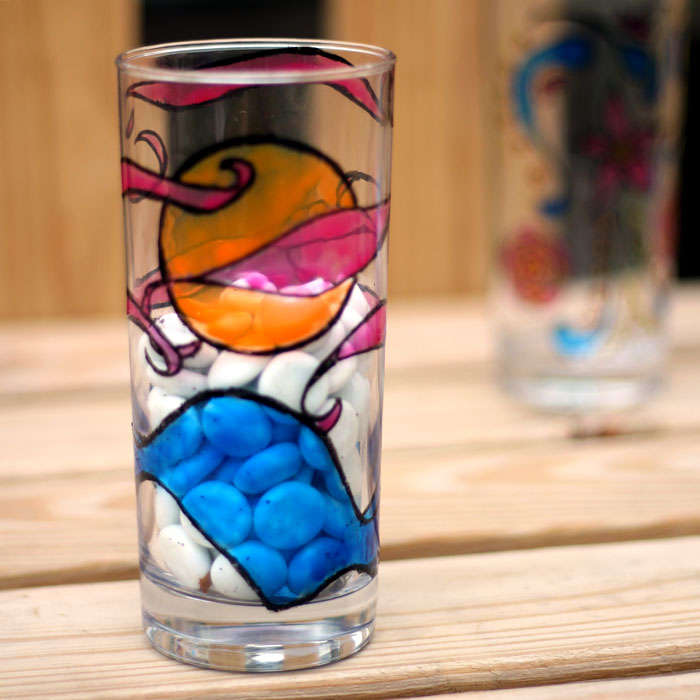 These beautiful glasses are actually decorated with coloring pages! With some glass paint markers and enamel paint you can create a masterpiece to be proud of . It's a versatile craft that you can not only try on glasses but also vases, trinket bowls and more. You can also try to go free-hand, but utilizing coloring pages is a really cool way to get a unique look on glass.
7. Slinky Painting by Fantastic Fun and Learning:
Painting with a slinky? I know, it sounds crazy! Slinkys aren't just for bouncing down the stairs anymore. A slinky can actually give you a super cool painting effect! You can use it in different ways, like by stamping it or letting it bounce over your paper. Let your creativity take over and see what you and your slinky can create!
8. How to Paint Sunflowers by Pamela Groppe: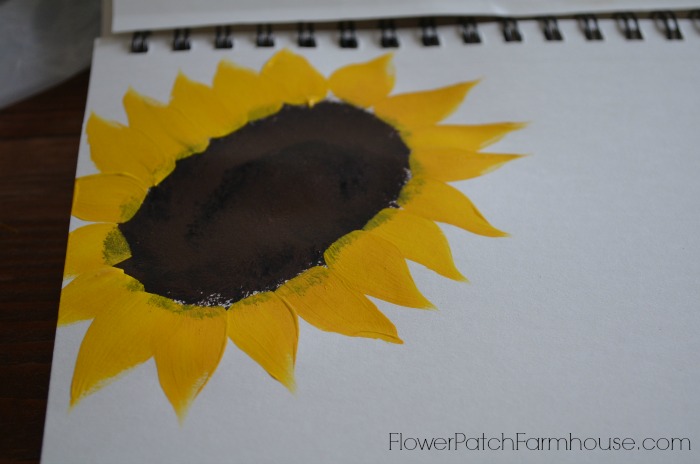 Sunflowers make me so happy. They're actually one of the first bouquets of flowers my husband ever brought me. They're bright, big and cheerful and scream summer. If you're new to painting, this art tutorial on how to paint sunflowers teaches a great technique to get a realistic looking sunflower on your paper or canvas.
9. Macarons Coloring Page by Moms & Crafters: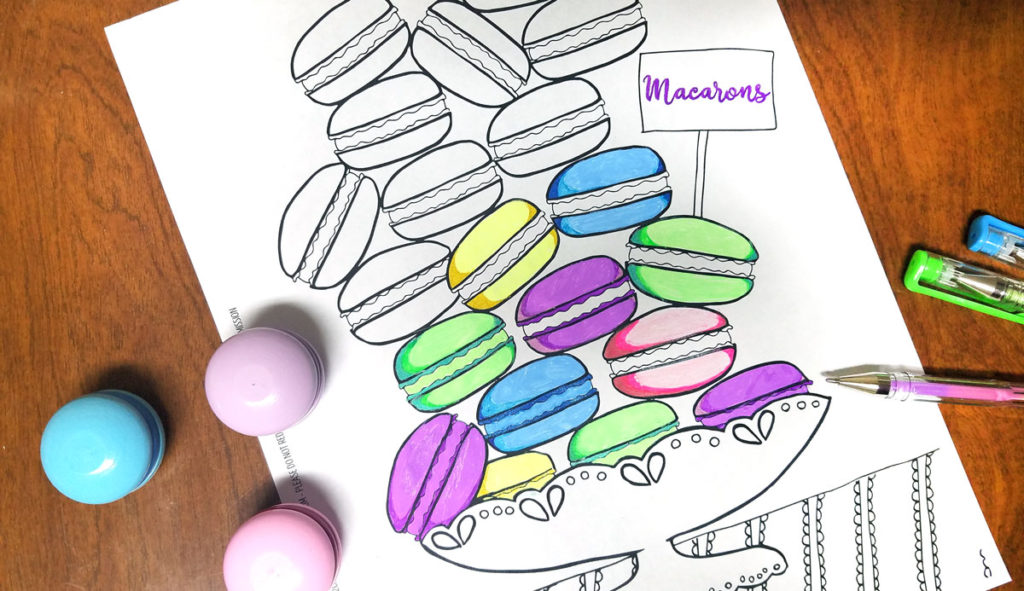 This coloring page may just look like a bowl full of macarons, but it's actually a page filled with possibilities. Macarons are a delicious pastry that is made in a huge variety of colors and flavors. Try putting those dreamy tastes and flavors into your coloring, by experimenting with different colors and shading to get them looking as real as possible. Gel pens (especially milky ones) are a great tool to use so that you can work with vivid and pastel colors.
10. Melted Crayon on Wood by Creative Jewish Mom: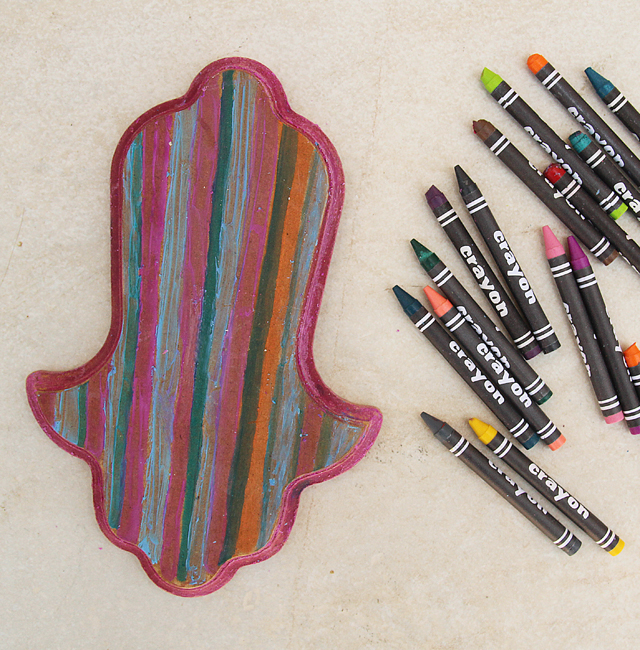 Melted crayon art has been all the rage for a while now, but this art project takes it to the next level. Color on hot wood (carefully!) and watch as your crayons melt as you go. Try experimenting with different colors and patterns, like chevron or ikat, on various wooden shapes and make a whole collection of melted crayon wood art!
11. Salt Painted Snowflakes by The Best Ideas for Kids: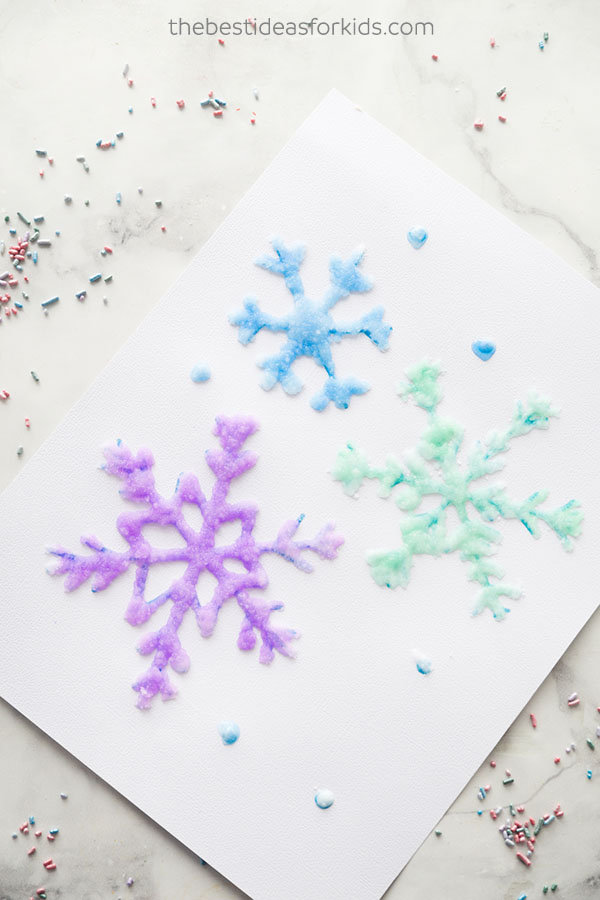 This beautiful painting technique has me going crazy for these stunning, realistic snowflakes. Salt painting is not something I've tried before, but it looks so cool and different, that I'll definitely be trying it soon! These snowflakes are gorgeous, but you can also try salt painting other things, like butterflies or a special drawing of your own.
12. Painted Seashell Craft by Moms & Crafters: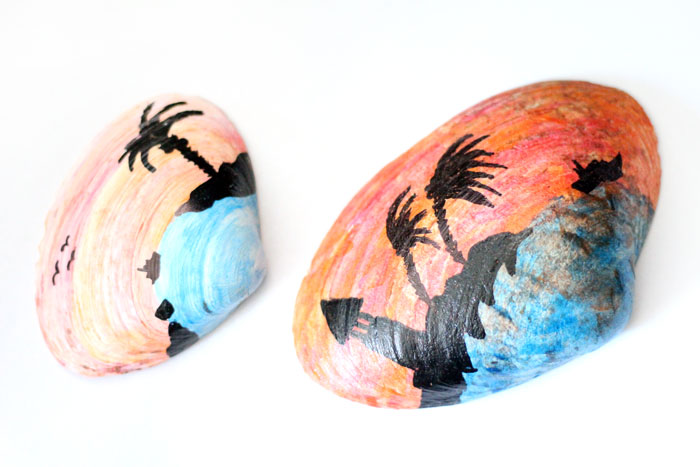 Seashells are always fun to gather by the beach, but have you ever turned them into art? I love turning my seashells into usable items, like these earrings, but here I decided to paint them. This sea-inspired sunset scene is made with enamel paints, so that the paint dries somewhat sheer and the natural beauty of the seashell shines through.
---
Want to learn how to make jewelry out of anything? Get the book!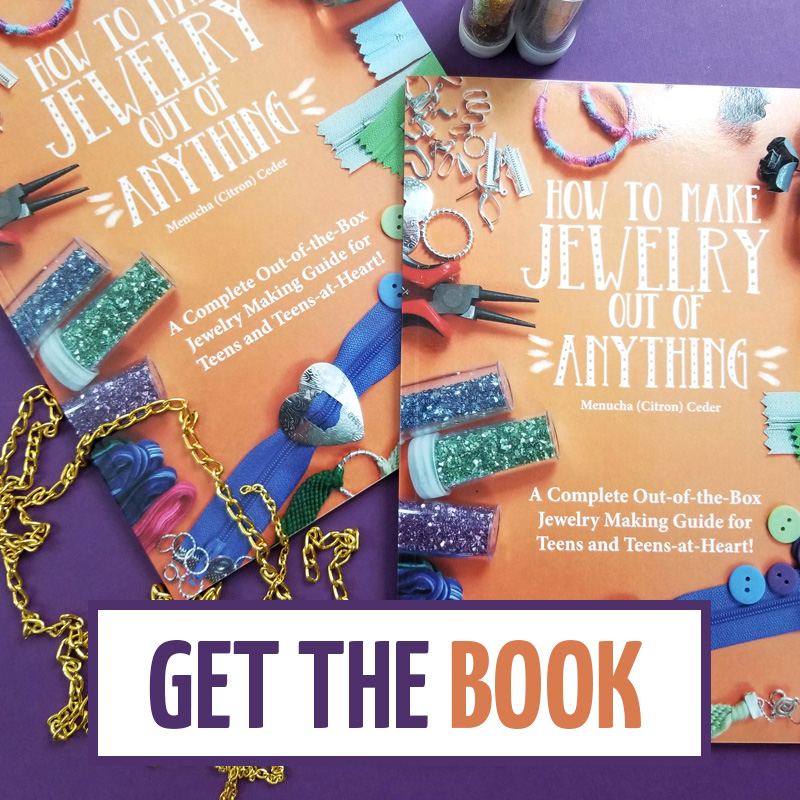 ---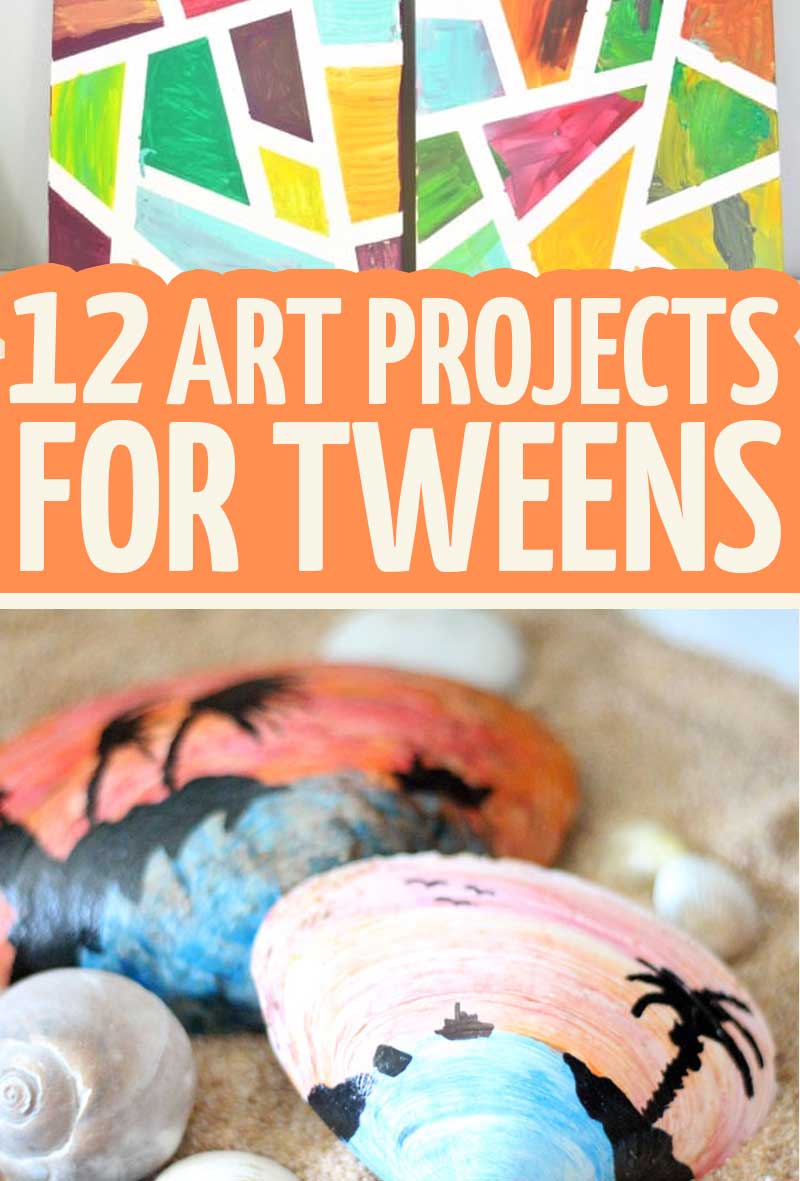 What are your favorite art projects for tweens? Comment below!
Want more? Check out some of my favorite crafts for teens, and these awesome crafts with beads! Working towards a new goal? Grab this free printable countdown calendar now!